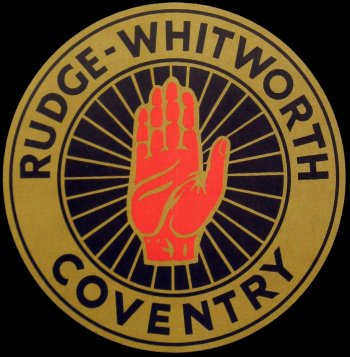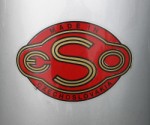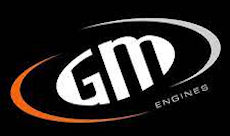 ---
Bikes Page 1
Bikes Page 2 Bikes Page 3 Bikes Page 4 Bikes Page 5 Bikes Page 6 Bikes Page 7
Bikes Page 8
1926 AJS G8
Pre-War Grass Track Bikes
The
Crocker
During the early days of motorcycling, during the 1920s, most motorcycle manufacturers produced a dirt or grass track bike. Out of the dozens of makes (mostly British) a handful of machines stood out from the rest. They were Harley Davidson, Douglas, Rudge and the JAP. The first three companies could not compete, so The JAP reigned supreme for 30 odd years, eventually falling foul of the challenge from ESO, JAWA, Weslake, Godden and GM. My 8 bikes pages cover most machines used on our tracks over the last 90 odd years. The many british bike marques including AJS, BSA Velocette etc may well have survived if they had invested in speedway machines.
I have pulled together a few items from the sports beginning to the present day (see below)
Harley Davidson Peashooter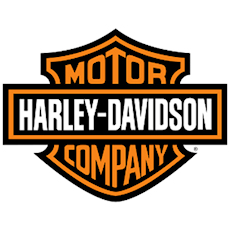 1926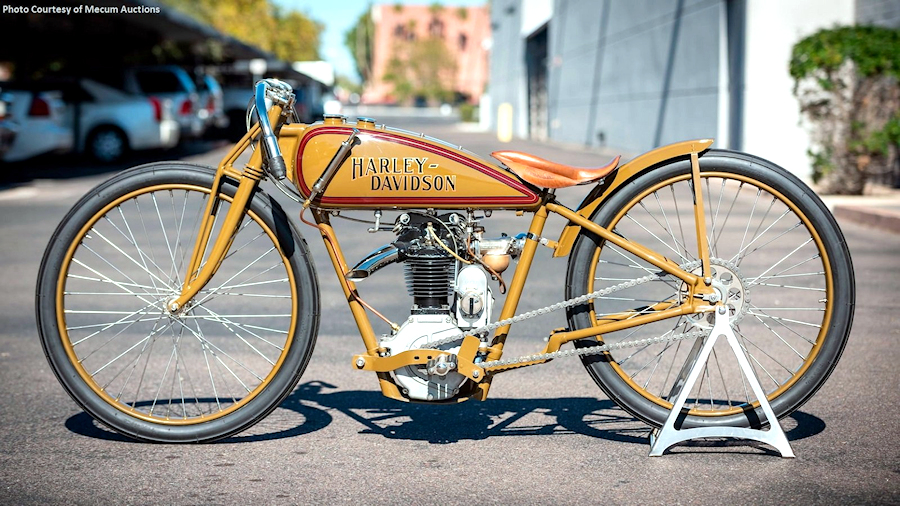 Courtesy of Mecum Auctions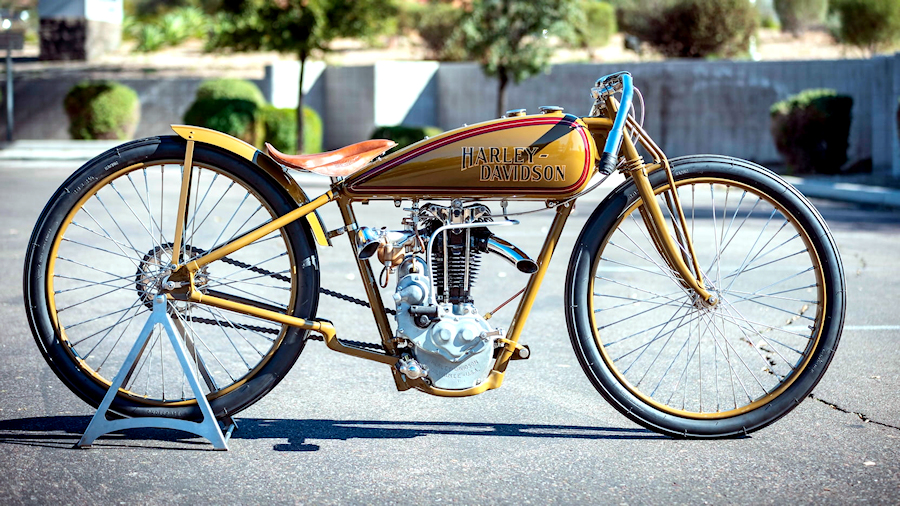 Courtesy of Mecum Auctions
Harley's Peashooter was a very capable broadsiding bike the American's took to Australia when they went there to race in the early 1920s. The Peashooter was raced against all of the other early/mid 1920s makes available in the land down under and it had the edge on them when in 1928 the Aussies came to Britain bringing their bikes with them. The Peashooter soon found in Britain they has a serious rival in the shape of the British bike, the flat twin Douglas. Douglas' swept the Harley and most other makes aside. If you wanted to win things you needed a Douglas.
Douglas DT

1928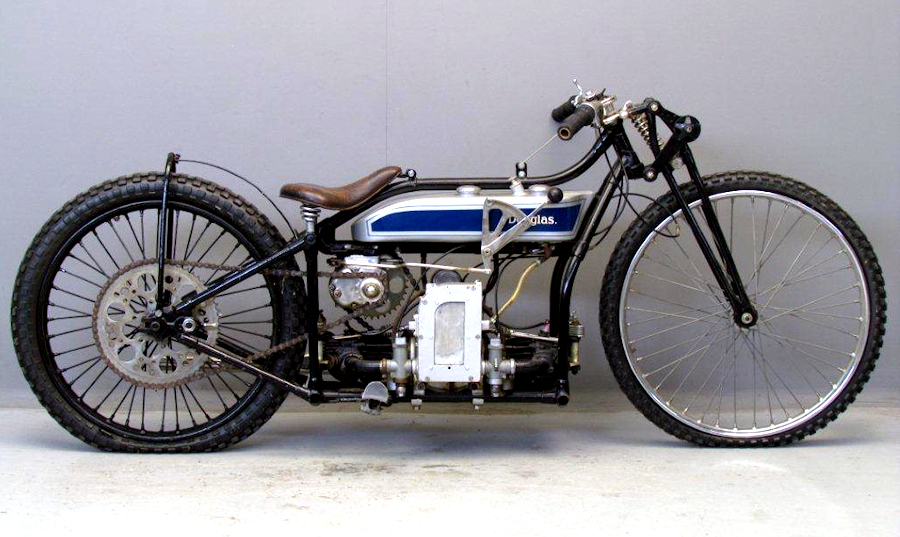 Courtesy of Yesterdays Antique Motorcycles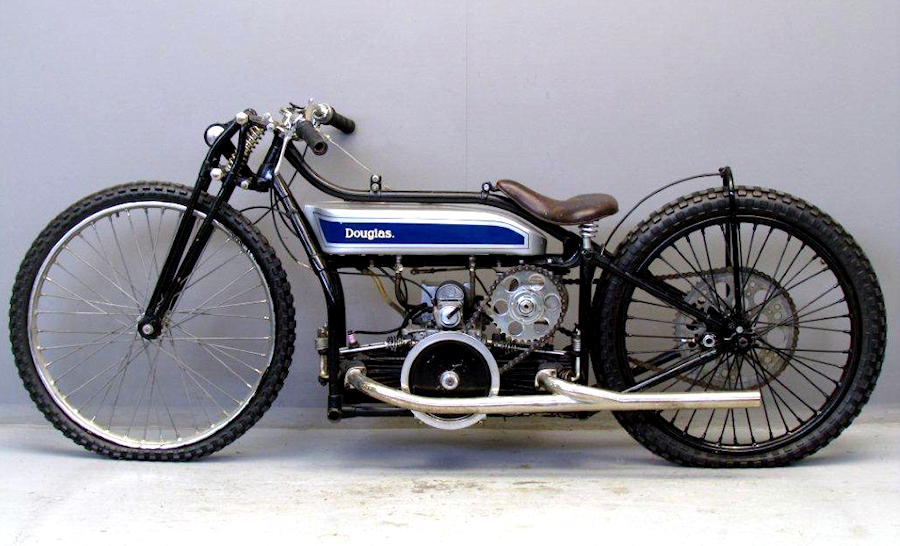 Courtesy of Yesterdays Antique Motorcycles
The Douglas was hardly taken from a blue-print of a successful speedway bike. A flat-twin engine requiring an increase in wheel base, with 3 gears. The bikes had a low centre of gravity and a low saddle height which lent itself to leg trailing. So fans in 1929/30 must have been treated to a much more spectacular event visiting their local track to watch the Douglas riders. However, the Douglas had a rival. Along came the Rudge.
Yesterdays Antique-Motorcycles is a website to visit if you have an interest in old machines, most of which have been brilliantly restored.
Rudge Dirt Track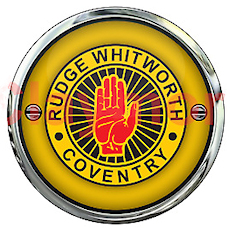 1930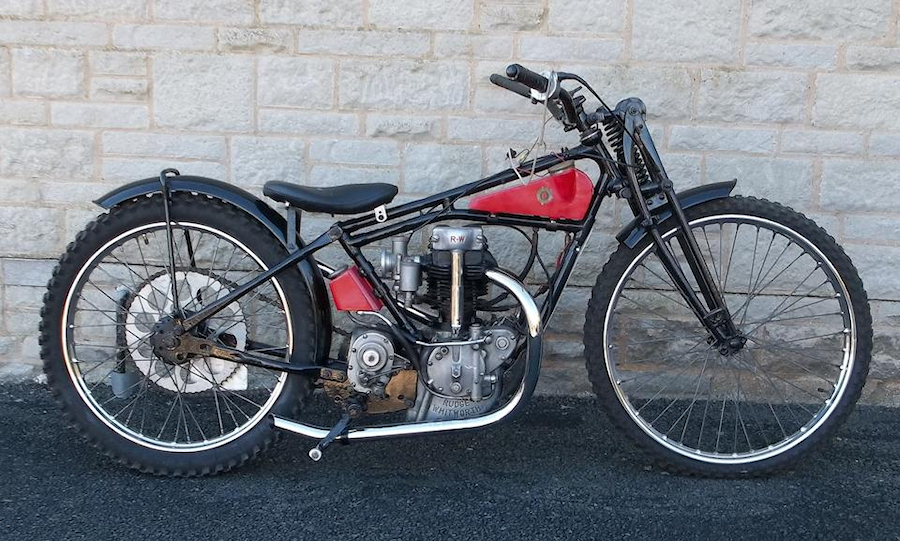 Courtesy of "Yesterdays"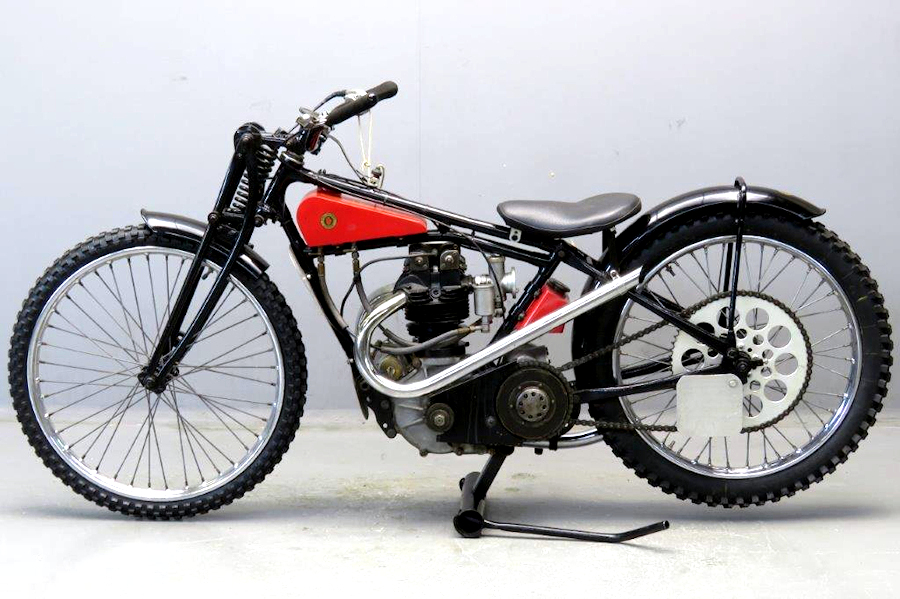 Courtesy of "Yesterdays"
I

f the Douglas was an unlikely speedway machine its successor the Rudge conformed to what most of us think of as a successful speedway machine, a conventional single cylinder upright engine, no gears, it was lighter and had a shorter wheelbase giving rise to the foot forward style of cornering. Like its predecessor the Douglas, the Rudge wasn't going to last long. The JAP Speedway bike was ready to take over for the next 30 odd years!

Rudge 1930 Speedway 500cc 1 cyl ohv 2607

Dirt track (speedway) racing arrived in the UK in 1928 from Australia, the first make of motorcycle to achieve dominance on the cinders being Douglas.
The latter was soon deposed and for a while it was the lighter and more compact Rudge that ruled the roost, before the arrival of the ubiquitous 'Speedway JAP' set the pattern for the next 30 years. Equipped with the 1927 works-type engine, Rudge's first 4-valve speedway prototype was assembled in June 1928 and the model entered production the following month; at first the frame was fitted with bracing struts to prevent flex, though these would soon be abandoned. Once the JAP engine had established its superiority, production of the Rudge speedway model ceased (in 1933), though they continued in use for a number of years, sometimes fitted with JAP engines.
We found this 4-valve Rudge speedway to run very well after a change of the large main jet , intended for alcohol, to a more suitable jet for regular fuel.
Speedway JAP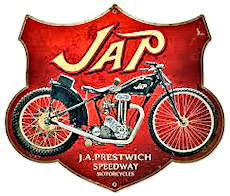 1932
Comerford
JAP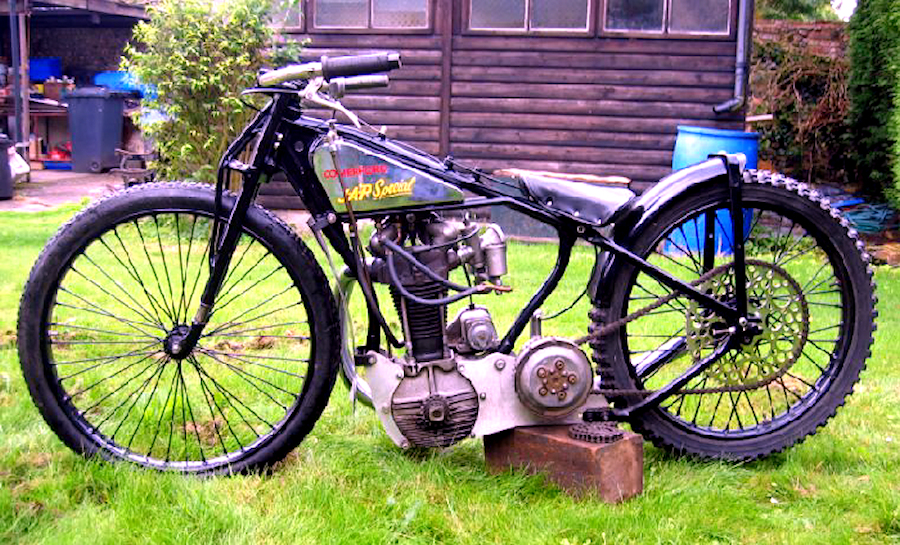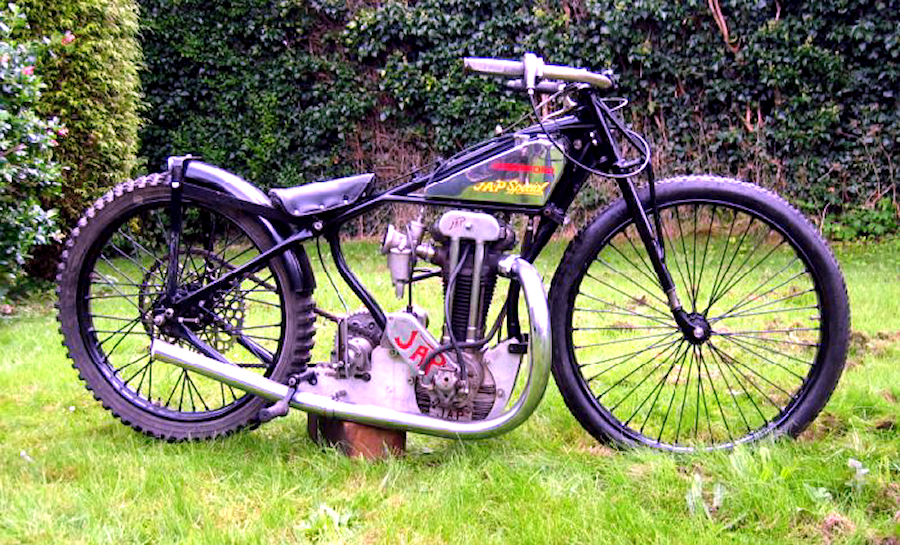 Courtesy of Cheffins Auctioneers
John Alfred Prestwick was an inventor who turned his talents to producing a very strong engine and from his initials the JAP engine was born. JAP engines appear in a variety of frames. The Cornford (pictured) and the Wallis were two of the most popular.
Rotrax JAP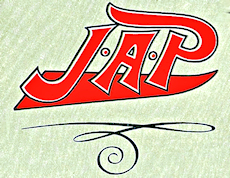 1952 Jackson-Rotrax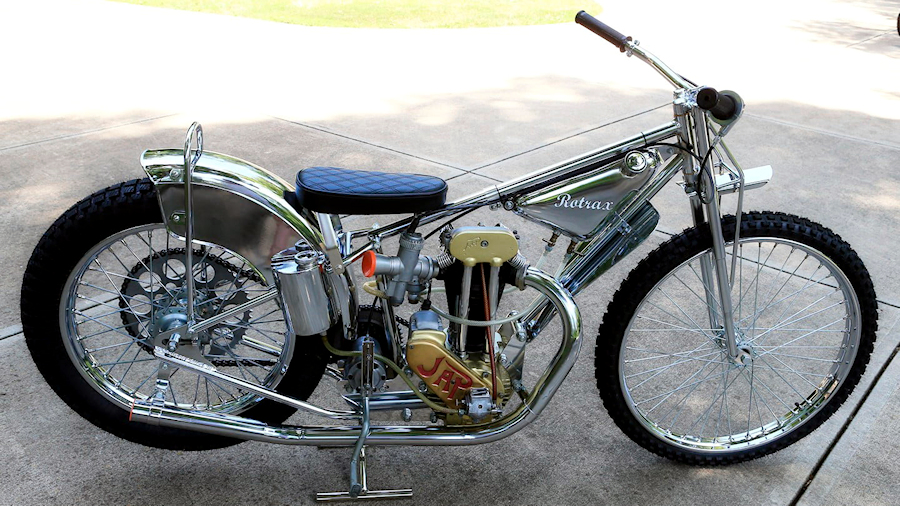 Courtesy of Mecum Auctions
Tony Webb says: Rotrax JAPs are arguably the best looking speedway bikes of all time! The frames were made utilising a revelutionary brazing technique. It was later, in 1952 that Rotrax started to produce their first

Rotrax Speedway Frames

. Mike Compton, who was the Rotrax Workshop foreman, together with the British Oxygen Company, developed a nickel-bronze brazing technique for the frame lugs and "Renolds 531" tubing that was to give the beautiful hand-built frame the strength and quality needed for track racing. This method of brazing was later adopted by the aircraft industry on their jet engine frames!
Meanwhile,

Alec Jackson

(himself a former rider) had taken over manufacturing rights of the JAP speedway engine in 1951 and continued to hand build engines and spares for many years afterwards, later still to be taken over by

George Greenwood (another former rider).
The Rotrax frames were initially chromed by Blakes of Gosport and then sent on to Alec Jackson's in London for the fitting of a JAP engine and so the Jackson-Rotrax JAP was formed. The early Rotrax frames sported a "RT" badge (shown below)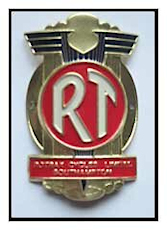 The earlier Rotrax Mk1 machines were fitted with 22 inch rear wheel whilst in 1956, this was changed to a 19 inch rear wheel. Former Norwich rider Phil Clarke made many of the Rotrax frames under contract from his workshop in Norfolk.
ESO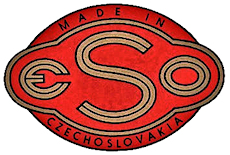 Eso-Joli Speedway c.1950
ESO translates into English as "ACE" As you can see from these photos the engine is a blatant copy of the British JAP. Josef Linhart made his bikes "The JOLI," between 1947 - 1950, the name being derived from the first two letters of his first name and his surname. The JOLI wasn't a financial success and in 1950, Jaroslav Simandl bought up all the remaining spares of the by now defunct JOLI engines and used them to produce his own version - the ESO. The JOLI engines were fitted with a Bronze cylinder head and used five holding down bolts, whilst the early ESO's came in three different cylinder head options. 1. With Bronze head and five holding bolts. 2. With Bronze head and four holding bolts. 3. With cast iron head and four holding bolts.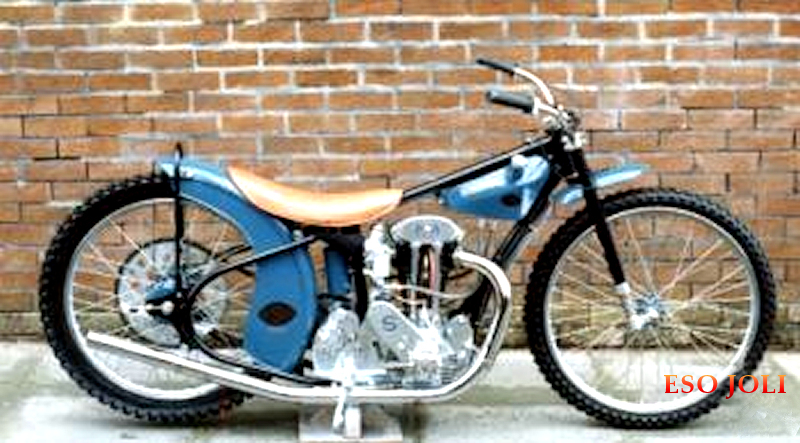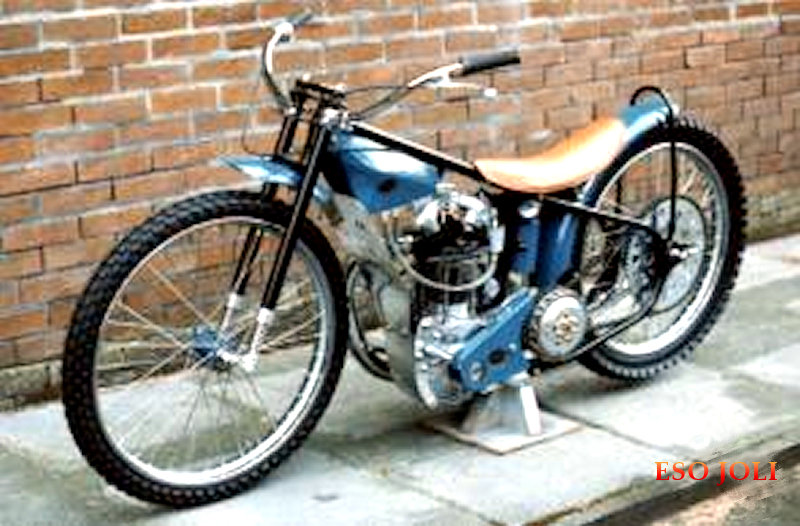 Courtesy of "The Workshop"
One striking feature of the ESO was the handlebars "Clipped On" to the front forks downtubes. This feature appears to date back to Josef Linhart's ESO JOLI machines circa 1950.
ESO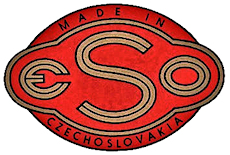 1966 Jaroslav Simandl Machine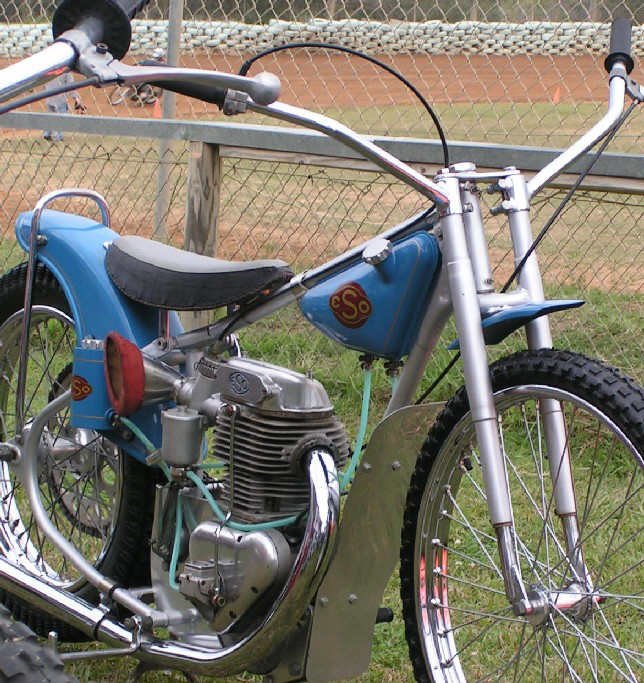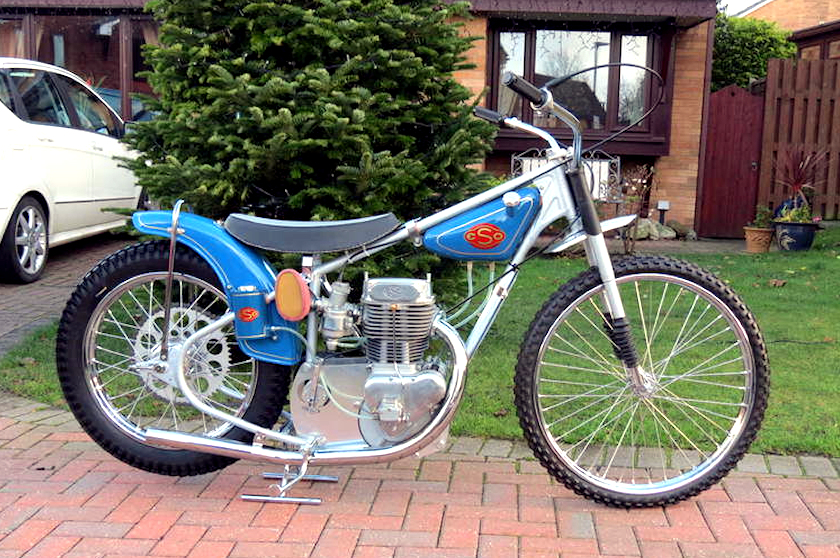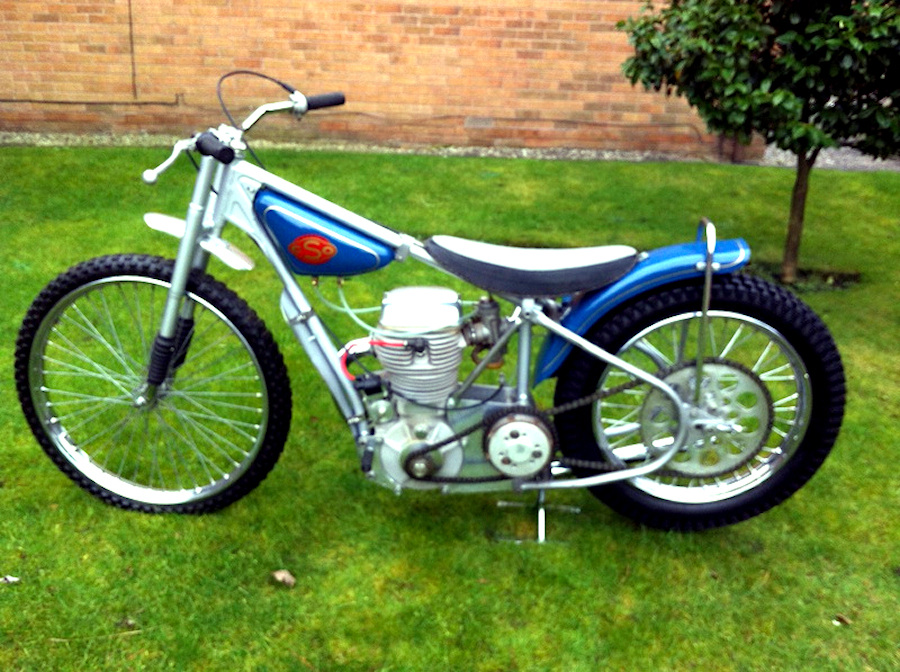 1962 ESO 2 Valve DT-6
JAWA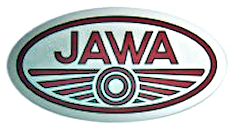 1970 2 Valve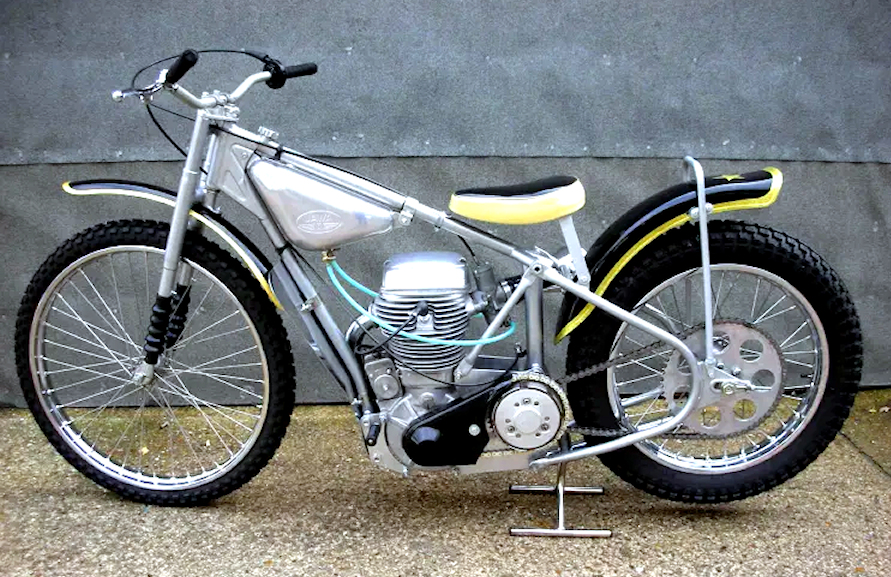 Courtesy of Coys Auctioneers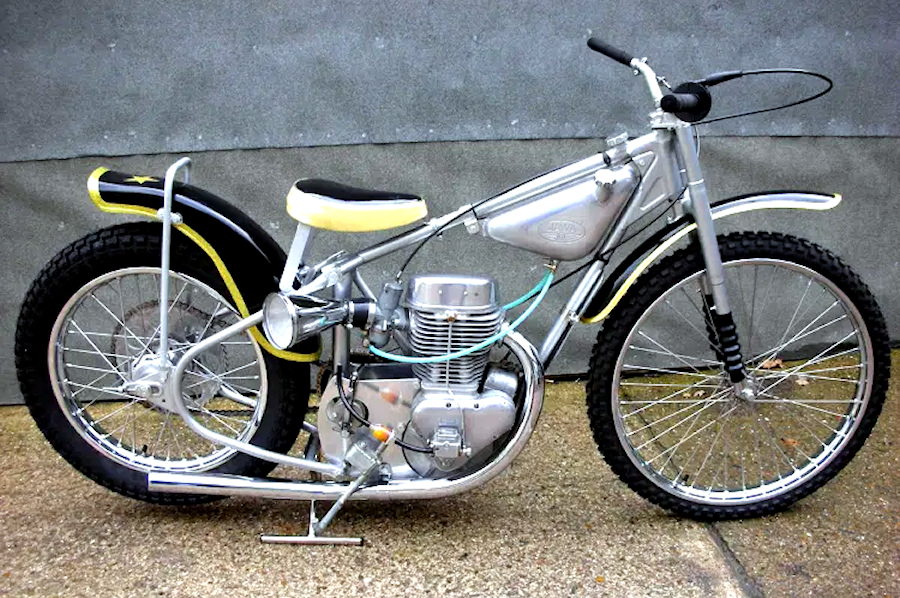 Courtesy of Coys Auctioneers
Weslake

Approx 1976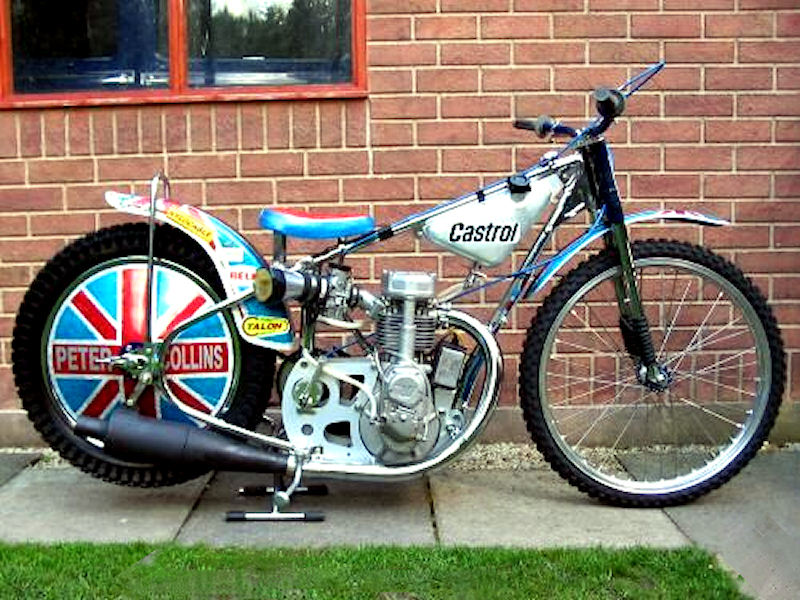 Godden Weslake
Dates between 1978 and 1982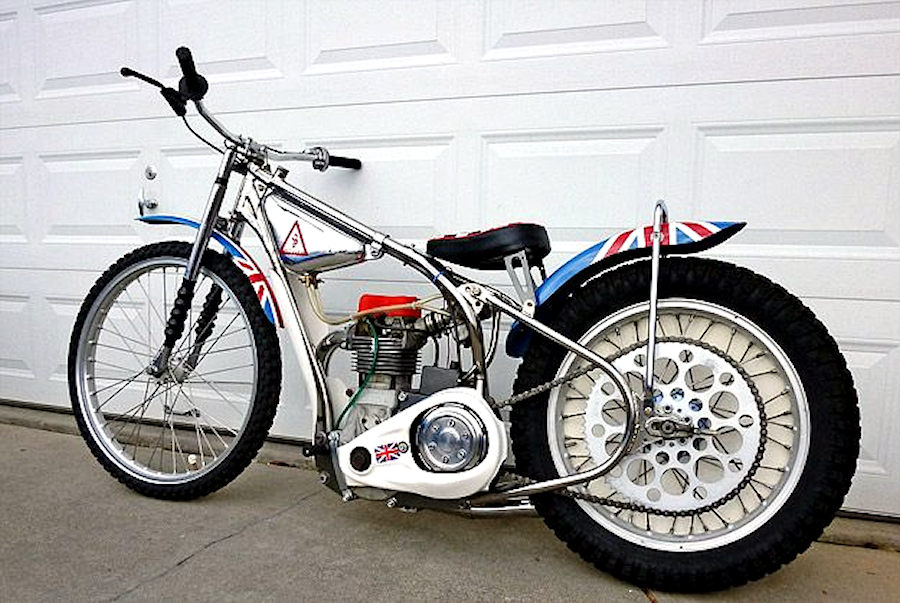 500cc Weslake 4-valve motor in a Godden frame, built sometime between 1978 and 1982.
Godden

GR500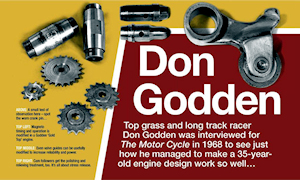 1980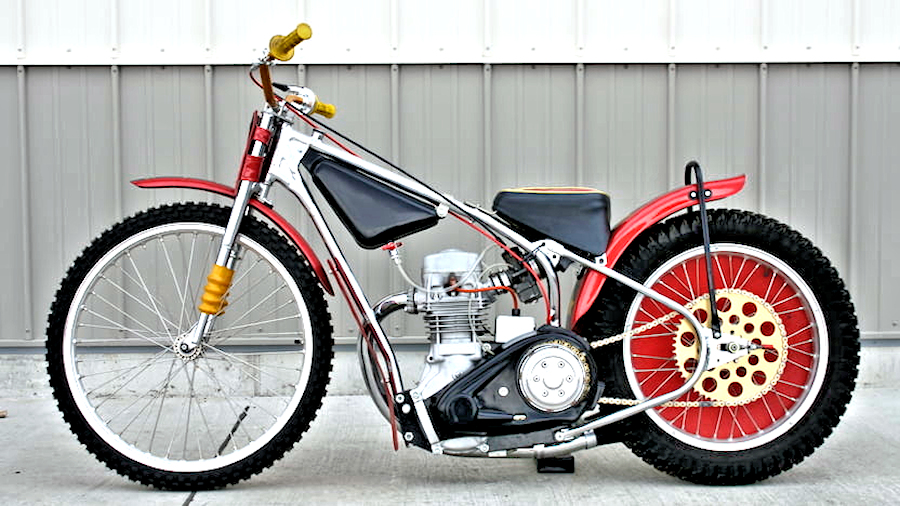 Godden Engineering is a small precision engineering company founded in the 1970's by former European Grasstrack Champion Don Godden. He initially start out by making speedway and grasstrack frames. Don quickly progressed into engine manufacture for speedway and grasstrack application and by the end of the 1970's the GR 500 was an established world class engine, soon to be followed by the Godden V-Twin.
To be able to keep up with demand for Godden engines, a very well equipped machine shop was established being able to produce high quality precision components. Don sadly died a few years ago
Godden Engineering is now owned by Gary Drake, who has 30 years of experience with the Goddens. Gary is keen to keep the machine shop up to date by investing in the latest CNC machinery.
GM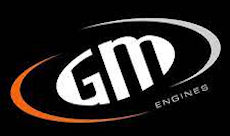 1979 Onwards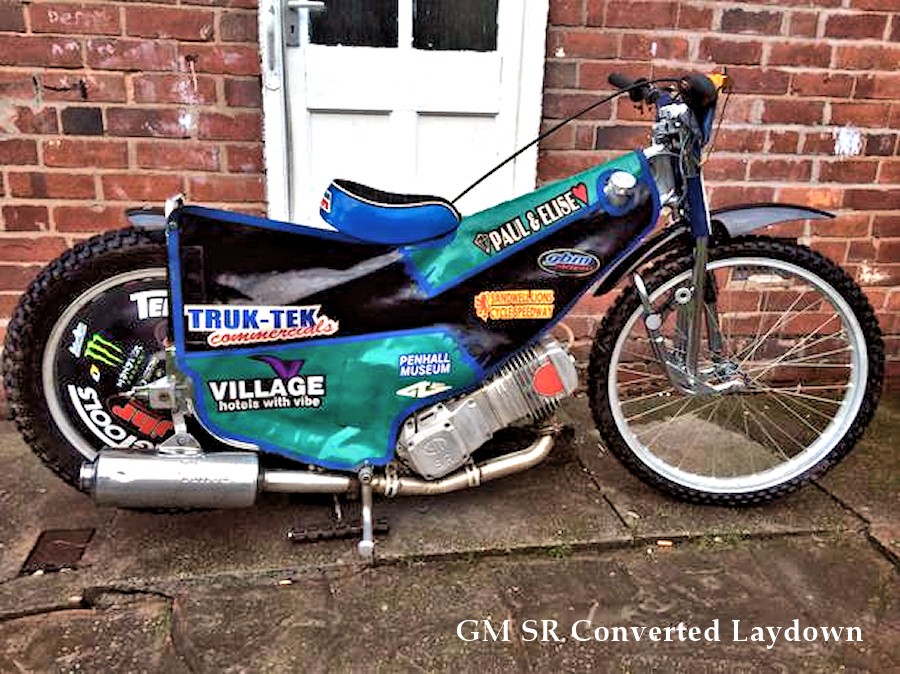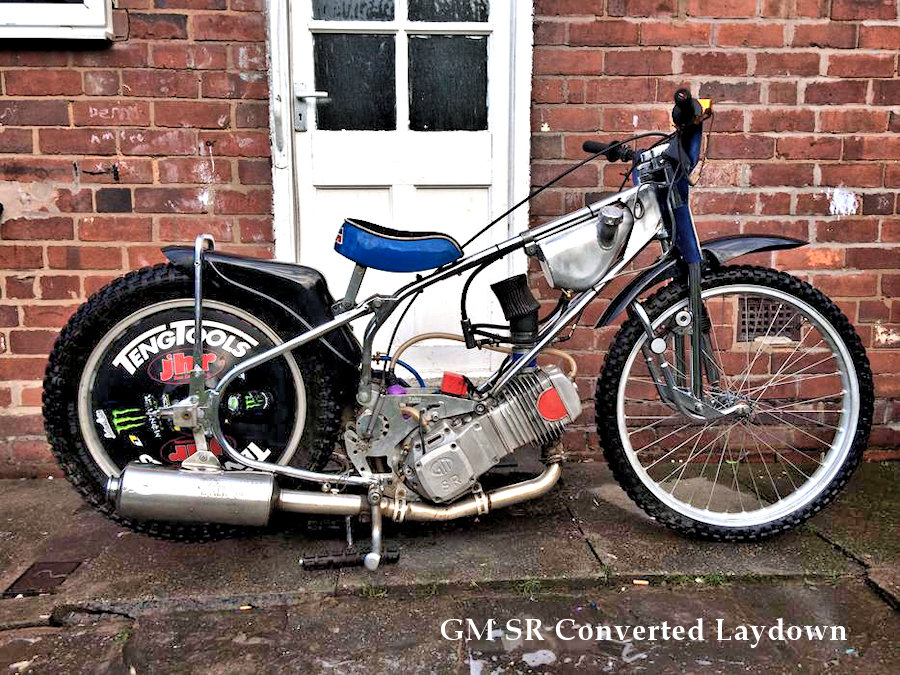 G
iuseppe Marzotto (born 30 January 1944, in Arzignano) is a former Italian international rider. He started making his own engines in the late 1970s. GM's then went on to rival JAWA as the choice of champions.
---
Auto Magazine 1929
Speedway Bikes
For 1930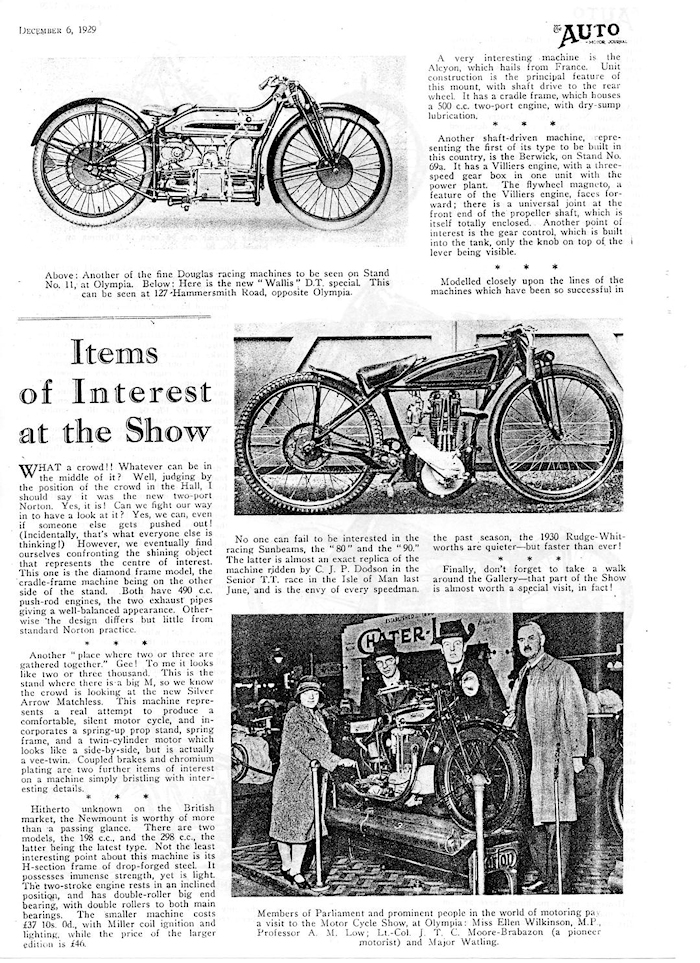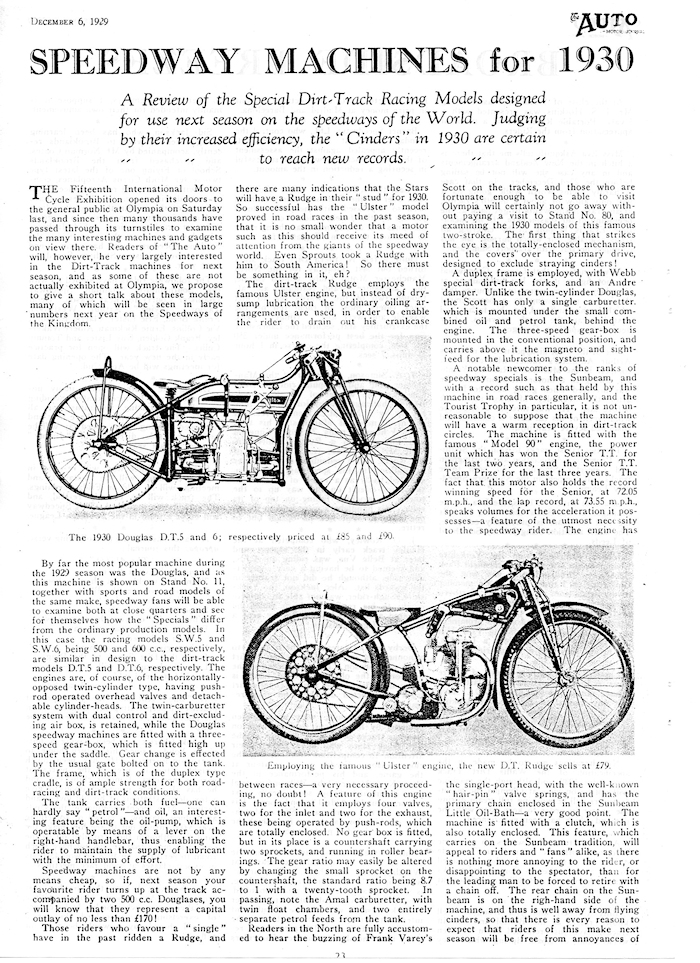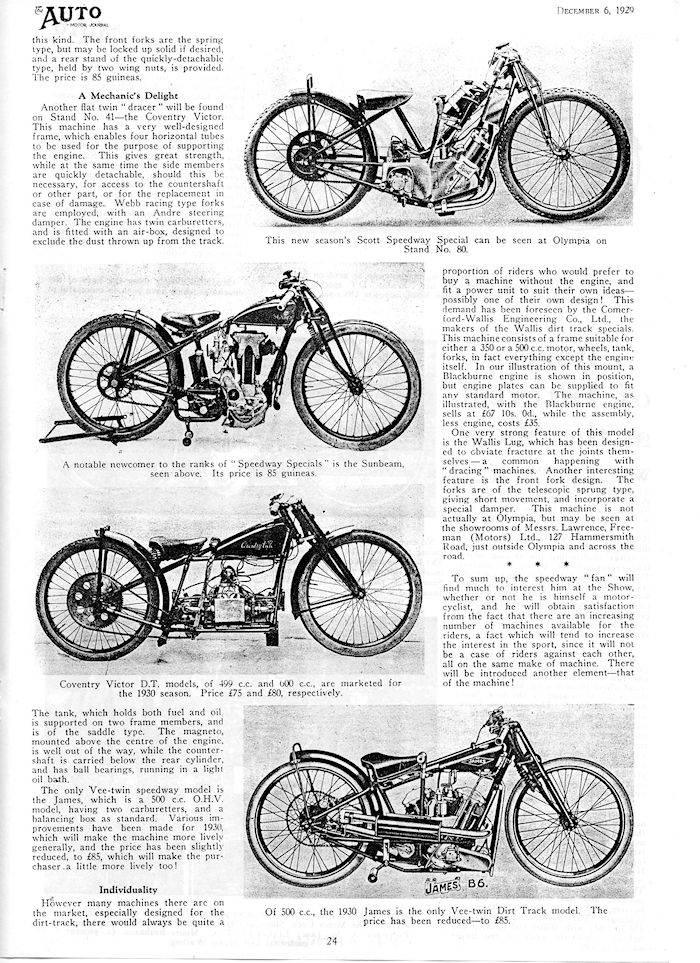 ---
Giffy's Engine Restorations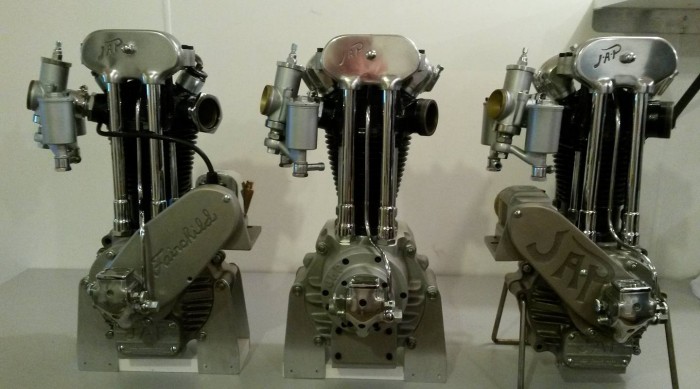 Courtesy of Dave Gifford
Giffy says: Hi John, I hope all is well with you. I have attached a picture, (see above) this one is for JAP lovers everywhere! The motor on the left is a Fairchild modification done by Jerry Fairchild in Los Angeles in the 1940's, the idea was to prevent fuel from the carb getting into the magneto. Jerry made crankcases as well but I only have the mag platform on JAP cases. The motor in the centre is a Thornton JAP made in Auckland NZ by John Thornton in the mid sixties, He made cases and a mag platform at first and then came up with this coil ignition set up. I know of two others still in existence. The motor on the right is a common old four studder which is to go into a Rotrax frame. Viewers will notice that there are no air cleaners fitted, this is because I don't have any! I can get the original gauzes and circlips for the Amal Type 27 carbs but not the original Amal intake Bell Mouth trumpets. If anyone could help with this I can be contacted at giffords@clear.net.nz. Bit cheeky John, I hope you will forgive me just this once. All the very best, giffy
John says: How could I ignore a talent like Dave's. So if you can help Dave with the Amal Carb items please email him or me and I will pass you on to Dave in NZ John
---
Modern Speedway bikes look very much alike now, but this wasn't the case with the early dirt bikes.

Basically any powerful road going bike was stripped down, tuned up, tinkered with, for racing on the dirt tracks.

It was common then to see the great British bike marks, in dirt track form.

Famous names like John Alfred Prestwich (JAP), BSA, James, Royal Enfield, Rudge, Vincent, Velocette, Sunbeam and Douglas from factories the length and breadth of Great Britain once graced the tracks. Now speedway is dominated by Jawas from the Czech Republic and the Italian GM's.

Other bikes have come and gone but the Jawa still remains as ideally suited to going sideways at speed! But on these pages let us look at some of the other bikes that thrilled the massive crowds of yesteryear: -
---
Pre Speedway
Early-English
Track Racing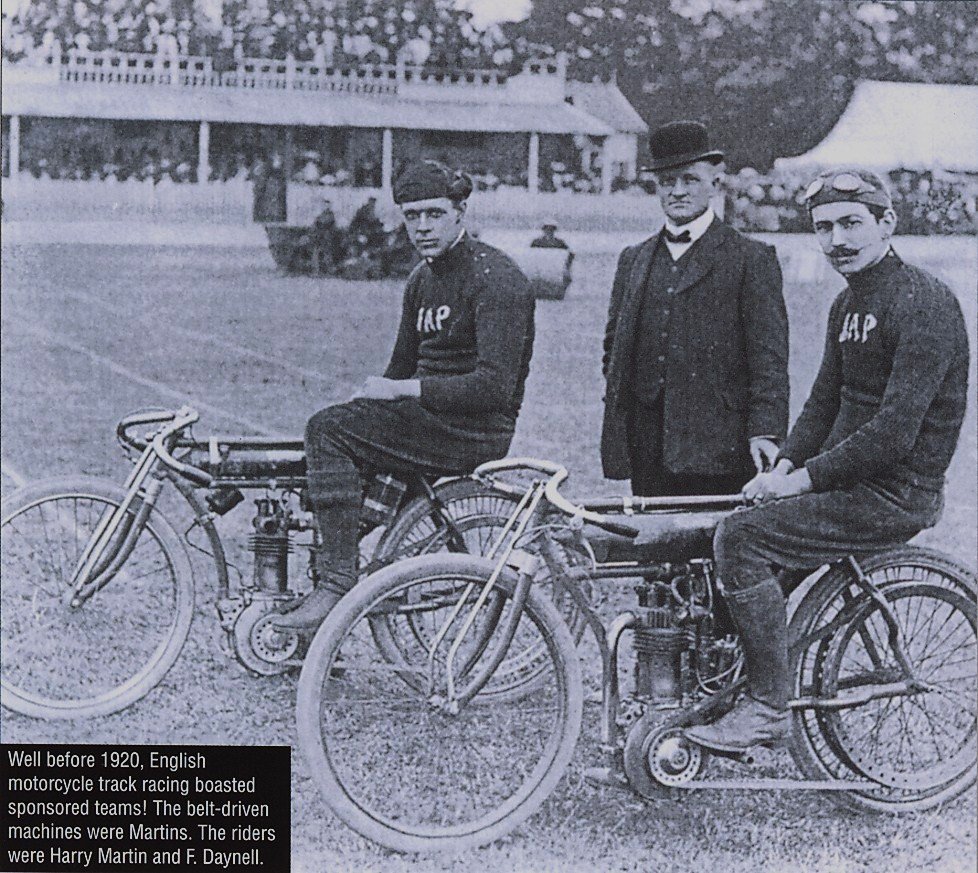 Evidence of speedway in England, well before the cinder sport began in Australia? Well no! The bikes were fitted with JAP engines and certainly look like early speedway bikes. I believe they raced on grass. These old bikes show their bicycle frame roots, the front forks for example are borrowed from bicycle technology.
---
James

500cc V

Twin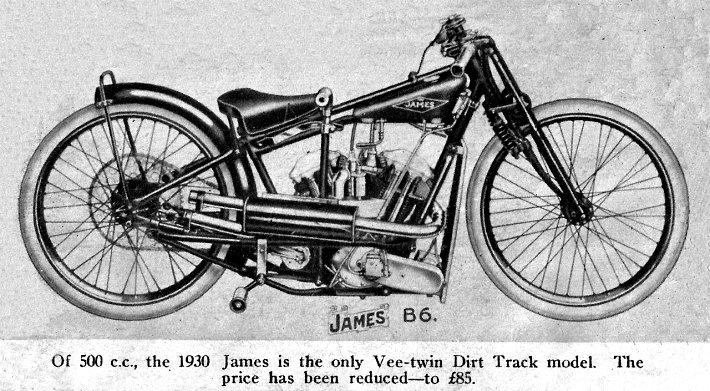 Courtesy of Paul Wild
Thanks for the above image Paul. A photo of an actual Dirt Track V Twin James is shown below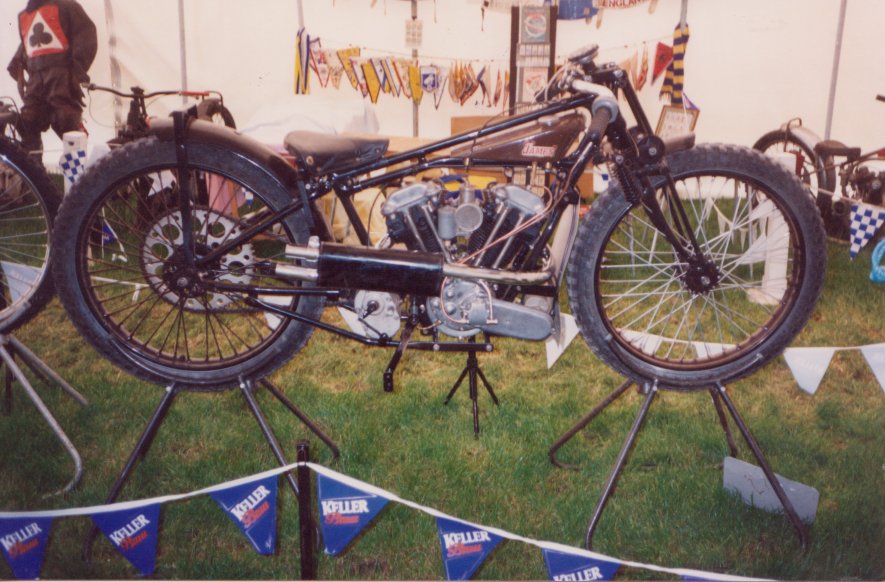 ---

I believe this is a Crocker from the USA. The picture must date from the early 1930s as I think the factory started production of speedway bikes then. The manufacturer did not produce many bikes so they are collectors items now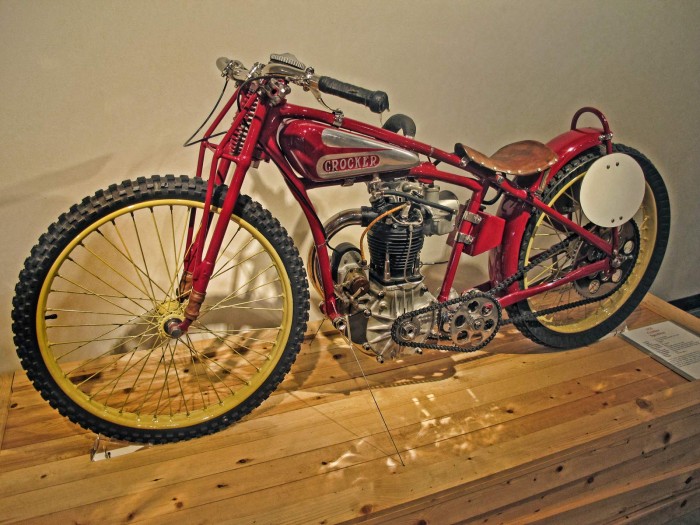 A potent looking 1930s speedway machine. Crocker was an American guy and he deserves a mention on my website despite making just a few machines. No other details are known
Crocker Rudge?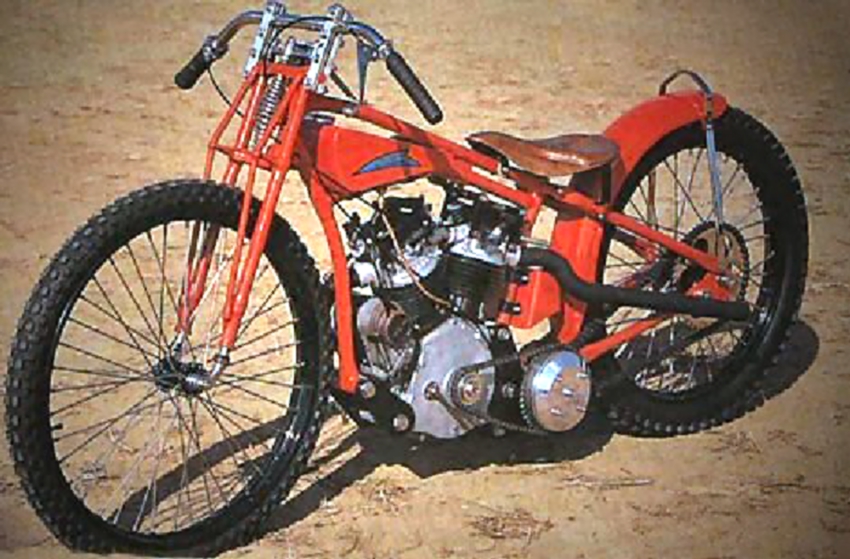 This great looking bike has a Crocker engine fitted in a Rudge frame. Crocker made speedway bikes with a single cylinder engine from 1932. However, this bike appears to be a V Twin so I wonder if it was a restoration project and not actually raced. Crocker's road bikes were V Twins.
Paree Strickland Info About The Crocker
Looking at the Red "Crocker" OHV on your site, it's a fake by Gwen Banquer. Crocker never used Rudge frames or 45 OHV.
The 1931 Crocker-Indian used Indian 45-inch side valve 2-7/8 x 3-1/2
The 1932 Crocker-Indian = Crocker frame and forks with Indian 101 Scout cases with 2-1/2 x 3-1/16 = 30.50 OHV
1933 Crocker developed the 30.50 OHV single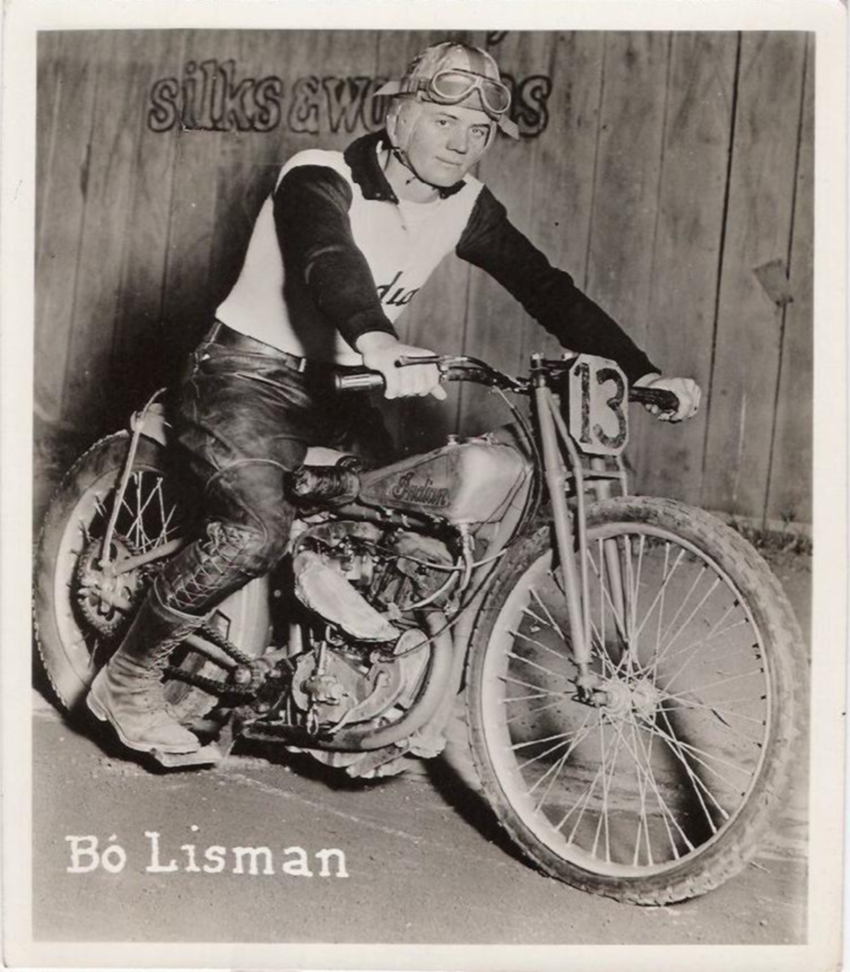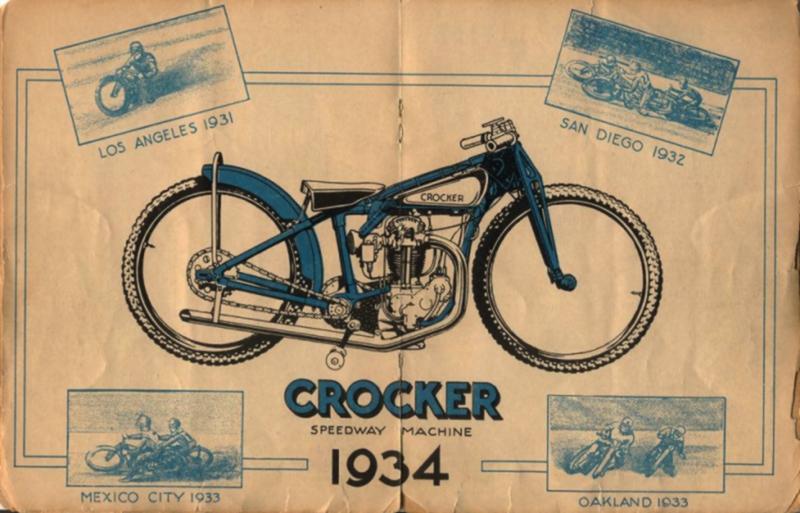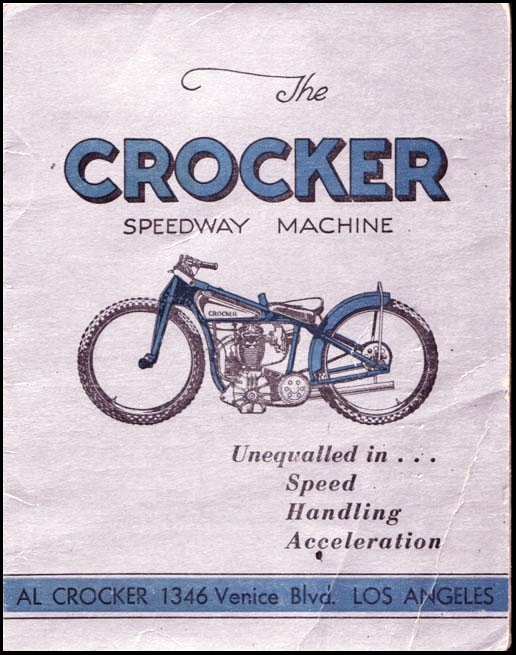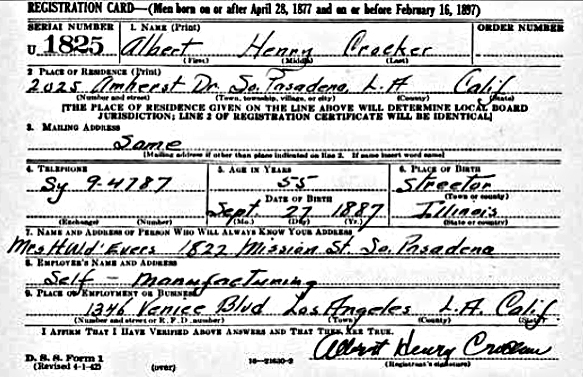 Courtesy of Paree Strickland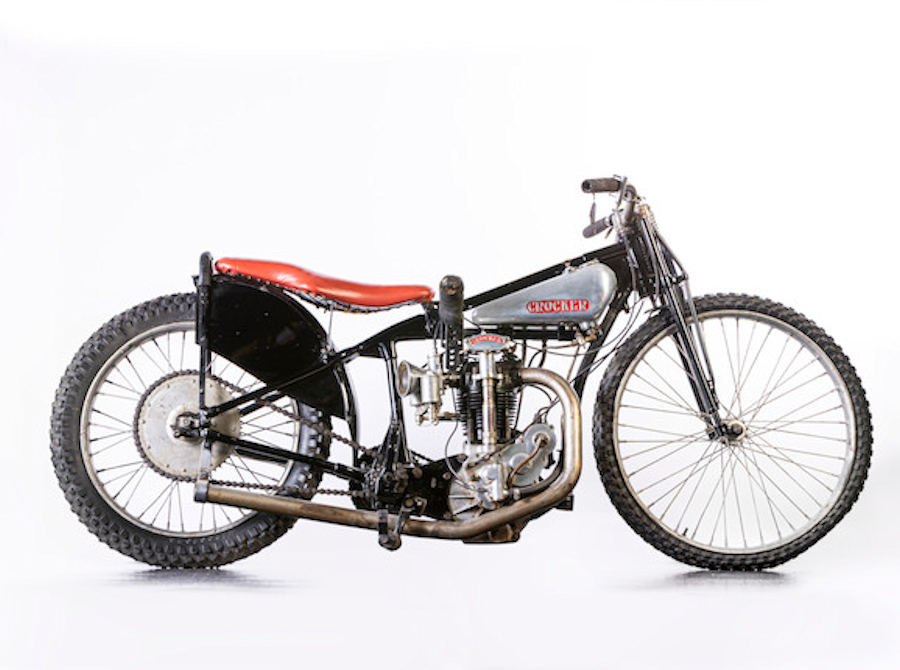 Bonhams Auction
c.1934 Crocker 500cc OHV Speedway Racing Motorcycle £100,000 - £150,000
---
1926

AJS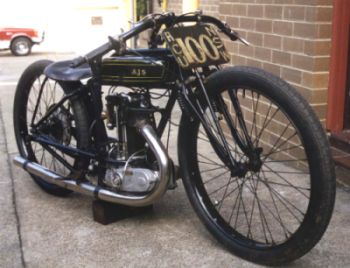 This 1926 AJS could be the worlds oldest surviving Dirt Track Bike. The bike was used in Australia in 1926 by Tony Batros, it has to be older than any British based bikes as our tracks didn't get under way until 1928. It is a 350cc AJS Special Racing GR7 Big Port. 350cc bikes were quite common on dirt tracks then, another 350cc was the Harley Peashooter.
Andreas Raab says:
the AJS-Speedway Motorcycle on Your Homepage is an AJS Model G8, it is an 1926 500 ohv TT-Model.
John says: Not sure if I can agree with Andreas, I think it is a 350 not a 500, what do you think?
Paul Reed says: As the current owner of the Batros AJS, I can confirm that it is a 1926 GR7 350 , described in the AJS catalogue as "Special Racing" . Engine number G 46334, Bore and Stroke 74mm 81 mm = 350cc. Andreas Raab is incorrect in asserting that it is a G8 500cc. This is obvious at a glance, as the G8 has a horizontal magneto chain cover, while on the GR7, the cover tilts up to the front
John says: Thanks for sorting that out Paul. Can you send any more pictures of your great bike?
John says: I think the A-J has changed owners. I have made it famous, at least it is "Famous" on my website!
Richard says: Hello John. I was just looking at your website and saw a picture of the AJS with a link to this email if the reader knew anything about it.
It is a 1926 G8 known as "Killer 3" that's supposed to have belonged to Jack Brantom. I bought it last week. Let me know if you want to know anything else about it. Richard
John says: My 2 speedway websites are now "

Officially

Colossal." I have put thousands of items on display on them so it is always possible that I may miscue occasionally. I hope that this Dirt Track AJS machine isn't being confused with a similar machine somewhere else on my websites. I will ask Richard if his recently aquired bike

has the Engine number G 46334, that should confirm we are talking about the same machine.
Another

1926 AJS
Richard has been in touch about his AJS. He says:
Engine number G89173

Apparently Jack Brantom was a Leicestershire speedway rider. I've attached an article about it. I haven't been able to verify any of it …. Except that the article definitely isn't in the magazine issue referenced.

See above.

In terms of price, I got it in an auction for about 6k as a non-runner. Auctions are a bit funny at the moment and much of it going below reserve.

I've attached one photo.
By the way, I have a 1927 AJS H8 hill climb racer that I have just got going for the first time today (bought it at auction in April). Sadly my email wont let me attach the video file of it to send to you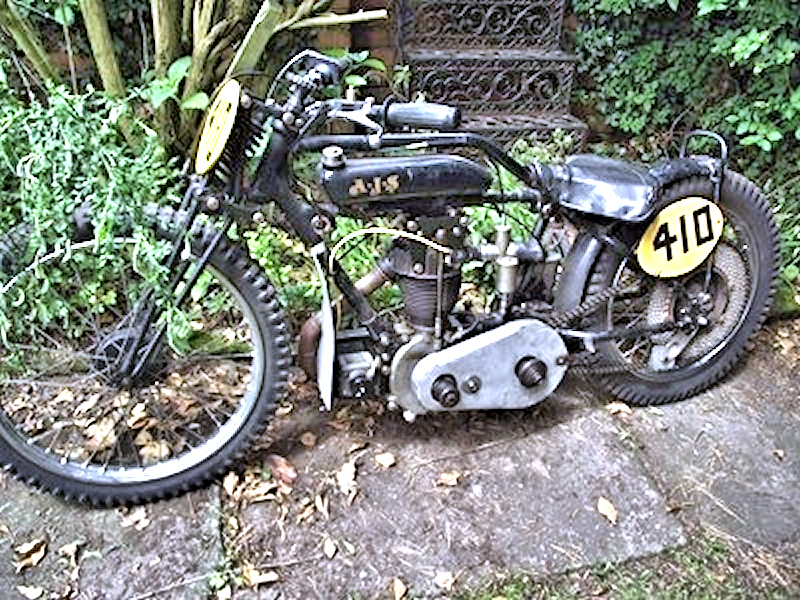 Richard's 1926 AJS G8
The "Killer III"
Bryan Lambert kindly sent me this most interesting story that originated from an article in the The Classic Motorcycle January 1988 and one that many, we are sure, will find most intriguing. The original article was written by Celia Walton, once VMCC grasstrack sidecar champion along with Barbara Coombes and a long time member of the VMCC who used to race sidecar grasstrack with her husband Simon - they are both now retired from racing but still play a large part in running the section.
In 1934, Jack Brantom was looking for a bike to use for grass and dirt track events. He searched for a while and then bought an ohv AJS engined machine offered as a 1924 dirt tracker, although it was on the road at the time.
It had a 1925 AJS frame, converted for grass track (the AJS factory never produced any specific grass machines) indeed, the whole bike had been altered for the sport. The original tank would have had a built-in oil tank, hand pump and gear lever, but the person who converted the Ajay had got rid of this in favour of the more usual tiny fuel tank. Therefore, these components were missing, and a saddle tube mounted oil tank had been made and a mechanical Best & Lloyd oil pump fitted (the builder's personal choice against the AJS Pilgrim pump presumably). The rocker plates were about the only place left to put the gear lever. The magneto was not the usual make either, being an ML. There was a three-inch bore flexible exhaust pipe with a genuine AJS aluminium silencer. The engine was tilted forwards - no one knows why, but it seemed to work all right so it was left in that position.
(Left) Mike Coombes looks apprehensive before venturing out on the AJS "Killer".
Jack had owned two previous grass and dirt track machines, both named "Killer". Before the war they were ridden on private tracks near his home (with no transport available he simply pushed them along the road to the track). An old lady in the village used to lean over her gate whenever she saw this weird machine being pushed past. In her cracked voice she'd cry "Ah, you'll get killed, you'll get killed"" Which, as you might have guessed by now is where the name derives. You see, the first "Killer", a Rex Acme road racer, was stripped for overhaul and needed painting. Jack found some beautiful royal blue enamel - "my favourite colour" - so tank, frame, wheels and just about everything else ended up royal blue. The two plated parts were polished and all the half plated parts derusted and covered with aluminium paint. A close friend, a signwriter, was most impressed and suggested Jack put a name on it. This wasn't as simple as it sounds, as Malcolm Campbell had already pinched "BlueBird". Then up came the standing joke. Giving his best impression of the old lady, Jack croaked "Ah, you'll get killed, you'll get killed!" "That's it!" said the signwriter, "Why not Killer?", and so it was.
The next machine was an OK, and he put Killer II on that, so the ohv AJS was naturally, Killer III. Jack himself made one or two alterations to the bike. The magneto chaincase was removed to reduce weight and in 1937 he tried fuel injection, just the same as a carb without a float chamber. His "unusual method of cornering" (his words) meant that all his bikes had flat pipes and bent footrests, so the only answer for the track was to take them off and use the pillion footrests. The AJS was used with mixed success. At one point a new piston became essential, but the Second World War was just beginning and new pistons were not available for love, money or anything else. Jack had a sidevalve engine, and in desperation used the cylinder and piston from this, bought some methylated spirit from the chemists (with petrol on coupons during the war there wasn't a lot of that about either) and rode it half a mile up the road. The imbalance that the cast iron piston caused was unbelievable. Back to the drawing board. About that time there was a strong appeal for aluminium to build Spitfires, and Jack found himself in the army. He reckoned that the more Spitfires, the sooner the war would be over and the sooner he'd be ex-army, so the engine, gearbox and aluminium silencer went to the good cause. What remained of the Killer retired to the back of the shed.
With the war over, the bike languished under a sheet until Jack fell over it while searching for something else. He looked at it and thought it seemed a shame, somehow, to leave it there, and his son Dave was enthusiastically riding in VMCC grass track events with a variety of vintage and post vintage machines. So he started to look for the bits to get it going once more. Bill Davies gave Jack a cylinder head for the bike, and by pure chance it had Jack's "mark" on it. So much for the war effort ! But did the rest survive? If anyone finds an AJS engine with a sawn mag chaincase........... Jack was talking to the late Ormond Gurr one day and the subject of spares came up. Ormond suggested joining the VMCC, which he did and went to dozens of autojumbles. Even so, more of the motor was manufactured than bought, so it's lucky that both father and son are engineers. The flywheels are from a sidevalve, but considerably lightened. The smaller pushrods and cases are all home-made, though old bits were sometimes used for patterns - occasionally slightly improved for weight and so on.
Ken Cobbing was able to supply beaded-edge tyres, as used pre-war, to fit the home built wheels - rear with AJS hub, front of an unknown make. The chain case came from a 500cc JAP, cylinder head, twist grip, rocker return springs, taps and the magnet off the magneto are about all that is original. The flexible exhaust pipe was rebuilt to pattern. It was finished about 1973. It doesn't comply with modern rules and regulations, when first built there weren't any rules or regulations to comply with. The choice had to be made - rebuild as original, or go along with modern rules - and Jack chose the former. The original used pump petrol and straight grade oil, the present model started out swimming in Castrol R but Jack subsequently found that the vegetable oil becomes horribly gummy when left idle for months at a time and this was changed to straight monograde of the mineral variety. Fuel? He quite automatically mixed two parts of two-star with one-part paraffin and added an eggcup of oil.
At the machine's first try-out, a VMCC hill climb, the rider was asked to wear helmet, leathers and so on. The machine was not passed by the scrutineer as it failed to meet present rules such as no ball ended levers, snap-shut throttle or silencer. Latter impossible to fit anyway. He couldn't get the bike going properly, even though he was given the opportunity for a demonstration run after the event. It had carburation problems and the engine tightened up at the slightest provocation.
(Above number 410)* The "Killer in all its glory.... including beaded tyres !!
It was a bad day. A while later on Jack took the bike to a local field and ran it all he could. He made three new jets, but "the blighter still played up". Finally he took it out to Quainton mid-week when it was deserted. He found a hard spot at the top of the hill to bump it on and it fired first time but there were still obvious carburation problems. Then, some months later, along came this woman who was intrigued by the thought of a special made over 50 years ago lying idle in a shed for all that time and then restored by the original owner. It seemed a shame she thought, to let it vanish again, forgotten without even getting going properly. So she cornered Jack and started asking him questions about the bike's history and development - you've just read the story. It seemed to me that the best way of finishing such a tale would be a test ride. I am no solo rider, goodness knows, especially on grass, but I did want to see what it felt like. So we took it to a field where a VMCC hill climb was to be held. We didn't even try to enter the event, Jack had fitted ball-end levers and a quicker closing throttle, but it still had no mudguards or silencer and there were a number of uncovered chains.
Perhaps fired by the desire of getting someone else to ride his machine Jack had done a great deal of work on it. He had sorted out the carburation for one thing, and it started pretty easily (leaving the owner on his hands and knees on the grass at one point, as it started more abruptly than expected). I brought it back for various adjustments to be made, then rode off up the field desperately looking for the footrests. I found them, in time to discover I needed to turn around and then came the search for the brake! The beaded edged tyres were a bit unnerving on slippery grass, and I couldn't get the hang of the hand gear change at all, but there was no question acceleration was pretty good. I asked Jack if someone more competent on a solo could have a ride, and he agreed. So I fetched Mike Coombes, who successfully rides all sorts and ages of vintage Grass track and speedway machines. His first comments were that he didn't like the gear lever, or the position of the footrests, or a number of little things. But he agreed it went very well indeed, and handled nicely - he felt that with a weekend's work altering the various details (all riders have their preferences for position of handlebars etc) it would be a very competitive vintage grass track machine indeed. So the "Killer" is alive again. I wonder how many such specials, built long ago, are lying in sheds perhaps occasionally robbed of spares by their owners either for use or sale? So many machines were altered and improved in their past by riders for their own use, they have a special place in the history of motorcycle sport. I'm glad I'm one.
The Classic Motorcycle, January 1988.
John says: So the picture and description of Richard's machine (Number 410) appears to be of the same type of machine but is a completely different Ajay to the Australian bike (Number 100) shown at the head of this section of the webpage. My thanks to everyone who got involved in the discussion about the 1926 AJS G8 350cc. I will ask Richard for more pictures of his Ajay and his hill climber too.
---
Another Early Bike
1927AJS

Grass/Dirt Tracker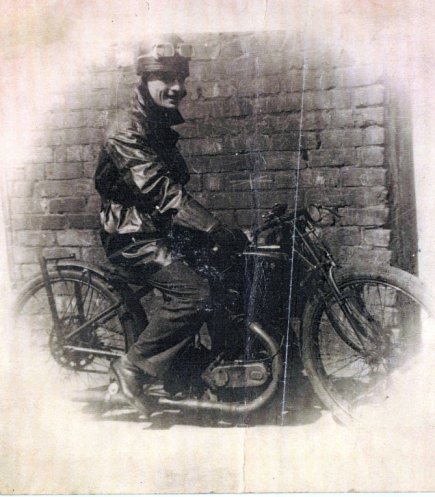 Courtesy of Phil Newton
Phil Newton says: Here is a photo of my Dad Arthur James Edward Newton on his AJS grass/dirt bike in 1927 The picture was taken in the street of (27 Bligh St Wavertree, Liverpool)
Dad used the AJ for work (Liverpool Gas Co ) he was a Plumber /Gas fitter. He fell off after winning Golden Helmet in about 1926 and got married 1927 Nearly turned pro I believe. Doc set his collar bone on the track and had a lumb there but lived to 82 d 1983
John says: The years (1926/27) Phil is talking about predate what we call UK speedway, i.e. beginning in 1928. I have asked him for more details of his dad (Arthur Newton) not a name I know, perhaps Arthur rode his AJ in races somewhere before speedway started here in the UK and he later went on to race at Stanley Stadium Liverpool when the speedway track was born for "open meetings" in 1928, or maybe Phil has the wrong years in mind?
---
Grass Track Bikes
Jeremy Whittet says: Hi John,This may be of interest to you? I recently bought a New Imperial grasstrack bike, for sale as part of a collection of four bikes which used to belong to Jack Brantom, racer in the twenties, and his son Dave. See link below to auction.
https://agilitypr.news/FOUR-VINTAGE-GRASS-TRACK-SPEEDWAY-BIKES--11296
The four pre-war grass track bikes are all part of the late Leicestershire grass tracker Jack Brantom and his son Dave's collection. Mark Bryan of H&H Classics comments: "It is rare these days to find complete examples of grass trackers from the 1920s and 1930s, so to find four from one collection with such an interesting provenance is very satisfying."

The bikes are:
c1928 OHV 500cc Douglas DT5 £13,000-£18,000

c1936 OHV 350cc New Imperial £4,000-£6000

c1926 OHV 500cc AJS M8 "Killer 3" £7,000-£9,000

c1936 OHV 350cc James B4 - £4,000-£6,000
Bike No 1: 1928 OHV 500cc Douglas DT5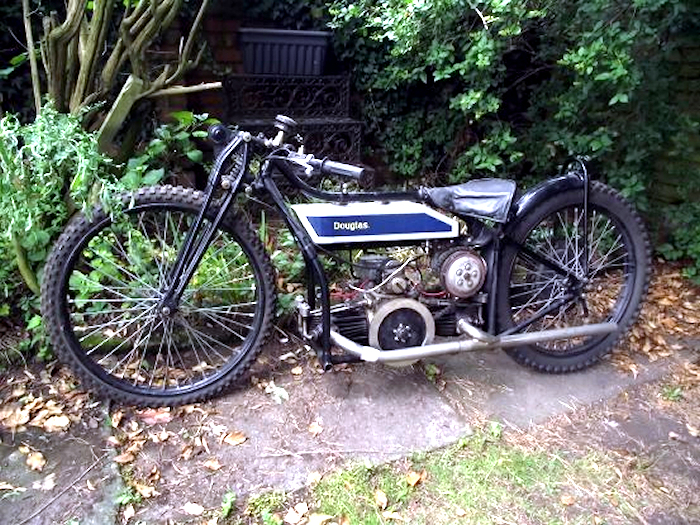 The c1928 OHV 500cc Douglas DT5 £13,000 - £18,000 is believed to have been raced by the well-known Leicester Grass Track Racer Dave Brantom. It is fitted with a "Norton Clutch" modification. It has not been used for some time so will need restoration or recommissioning, but is a great opportunity to purchase a much sought after "Dirt Track Dougie". A number of Jack Brantom's bikes were given the name Killer' as a result of a warning Brantom received from an elderly lady in his village. His "Killer III" grass racer was featured in The Classic Motorcycle Magazine in January 1988 written by Celia Walton, once VMCC grasstrack sidecar champion along with Barbara Coombes and a long time member of the VMCC. She explains how the "killer' name came to be. "In 1934," she writes, "Jack was looking for a bike to use for grass and dirt track events. He searched for a while and then bought an ohv AJS engined machine offered as a 1924 dirt tracker, although it was on the road at the time.
"Jack had owned two previous grass and dirt track machines, both named "Killer". Before the war they were ridden on private tracks near his home (with no transport available he simply pushed them along the road to the track). An old lady in the village used to lean over her gate whenever she saw this weird machine being pushed past. In her cracked voice she'd cry "Ah, you'll get killed, you'll get killed"" Which, as you might have guessed by now is where the name derives.
A close friend, a signwriter, was most impressed with the bike and suggested putting a name on it. This wasn't as simple as it sounds, as Malcolm Campbell had already pinched "BlueBird". Then up came the standing joke. Giving his best impression of the old lady, Jack Brantom croaked "Ah, you'll get killed, you'll get killed!" "That's it!" said the signwriter, "Why not Killer?", and so it was.
The next machine was an OK, and he put Killer II on that, so the ohv AJS was naturally, Killer III."
Bike No 2:1936 OHV 350cc New Imperial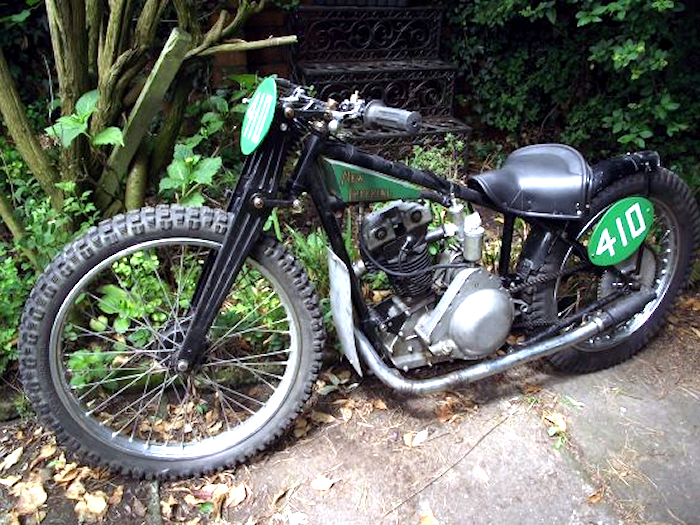 Jeremy Whittet says: Hello John, I emailed you a couple of years ago to say I had bought a New Imperial grasstrack bike, which came from a collection of four bikes. The intention was to let anyone interested to know where these bikes go. You put my bit somewhere near the bottom of bikes page one. I intended to convert it for road use. It is now registered and on the road, see attached pictures. The type 27 track carb has been replaced by an Amal 276, kickstart parts were eventually found and back brake sorted. There is no charging system, lights are LED from a battery. The tank is a pre 65 trials tank with a cut out for the air filter. Very difficult to find parts for these bikes. Sounds like you would imagine a 1930s grasstrack bike should and goes surprisingly well. See the 2 pics below.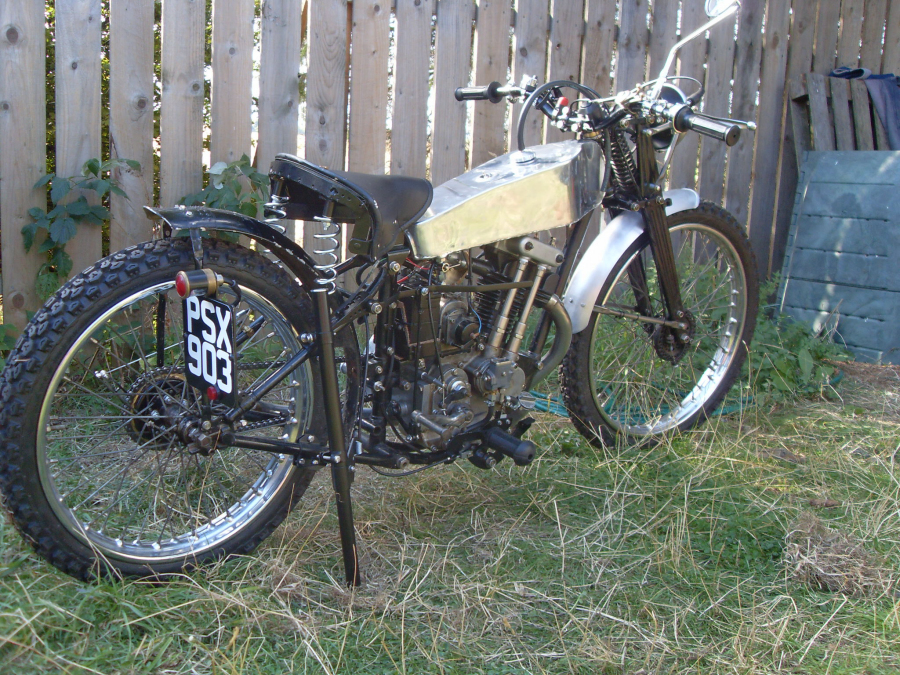 Courtesy of Jeremy Whittet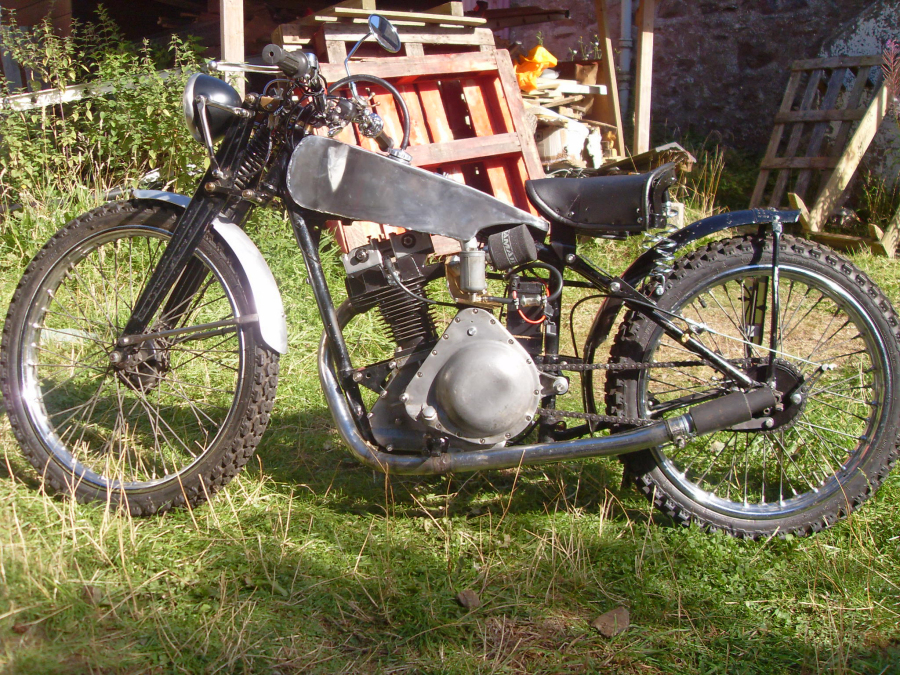 Courtesy of Jeremy Whittet
Bike No 3:
1926 OHV 500cc AJS M8 "Killer 3"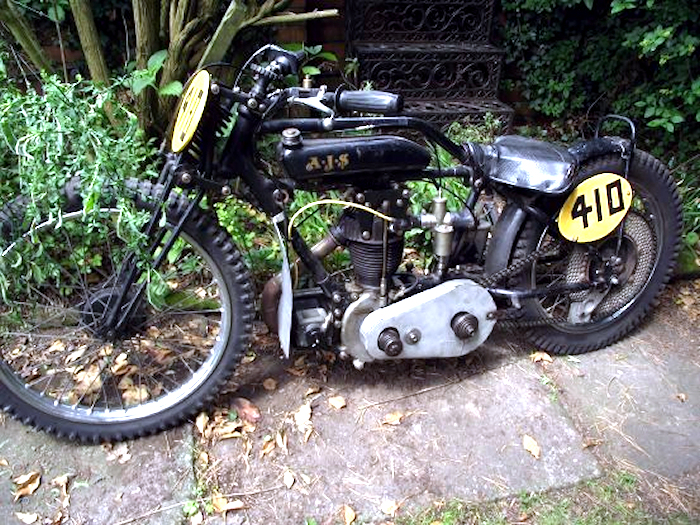 Appears to be based on an AJS M8 model. Raced by the late Leicester Grass Track racer Jack Brantom. The bike was known as "Wally Lamont Replica" and the bike was also referred to as "Killer 3". It was later raced by Jack's son. It featured in an article in Jan 1988 Classic Motorcycle magazine. It has not run for some time so will need some recommissioning or restoring. It has potential to revert back to desirable pre-war model M8.
Bike No 4: 1936 OHV 350cc James B4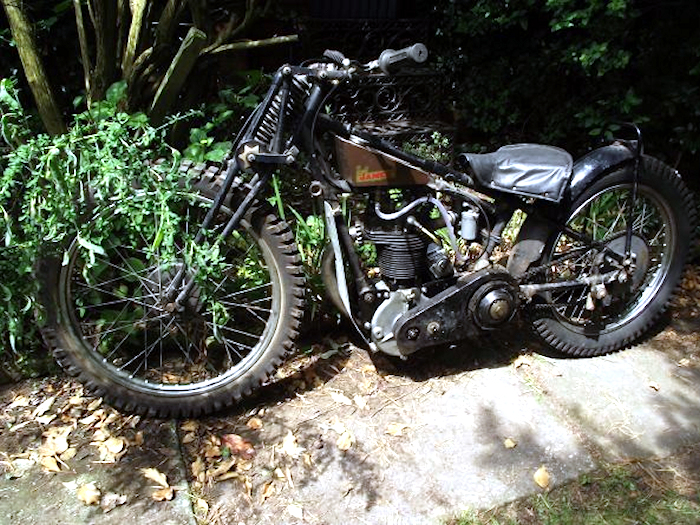 Courtesy of Jeremy Whittet
Believed to have been built from a 350cc B4 Super Sports model. It has not run for some time so will need either recommissioning or restoring but has the potential to revert back to the rare B4 Super Sport model. Motorcycle Grasstrack is a form of motorcycle racing which typically, in its current form, takes place on a flat track consisting of two straights and two bends usually constructed in a field. It is one of the oldest types of motorcycle sports in the UK with the first meetings taking place in the 1920s. In the United Kingdom, kidney-shaped circuits were sometimes used to include a right hand bend, and undulating hillsides were also used to increase the challenge for riders. The events traditionally occurred after haymaking and before harvesting season on newly-cut fields. Postwar grasstrack circuits included "permanent" venues such as Brands Hatch and Mallory Park which were not simple oval shapes, although solo motorcycle races were run in an anti-clockwise direction. Later, these were converted into tarmac circuits with races using the more common clockwise direction associated with modern road racing.
Jeremy continues: The Douglas and AJS sold at auction, the New Imperial and James didn't but appeared on ebay shortly after. I bought the New Imperial with the intention of making it road legal, which I'm working on at the moment. It's not going back to original, some things will have to change, like the tank, but otherwise it's going to pretty much stay as it is. It will probably look like a trial bike, I ride trials, all my old road bikes end up looking like trials bikes.
The main reason I'm writing is that there is a picture of the New Imperial on your website, Speedway Bikes, Part 6, Brian Winch's pictures from Chalfont St Giles Hillclimb. Looks like the 80's going by the cars in the background. It has No 411 on it rather than 410 on the auction picture but definitely the same bike. Also in the picture is the 500 AJS which sold at the auction. There is another picture of it by itself two pictures up on your site.
Other issues I'm having to look at on the New Imperial are
The carb is a needleless dirt track type, have got a different one to use
First gear cog has been removed, only second and top are there. Very difficult to get parts, going to have to see how it goes. Was originally three speed hand change.
No kickstart or mechanism, will have to push it.
No rear brake drum, managed to get an unmachined casting which can be made to fit.
Compression ratio, probably high due to domed piston. Also didn't run on petrol, main jet was 550.
Thought you might be interested in keeping track of where some of these bikes go. Jeremy Whittet
---
Harley Peashooter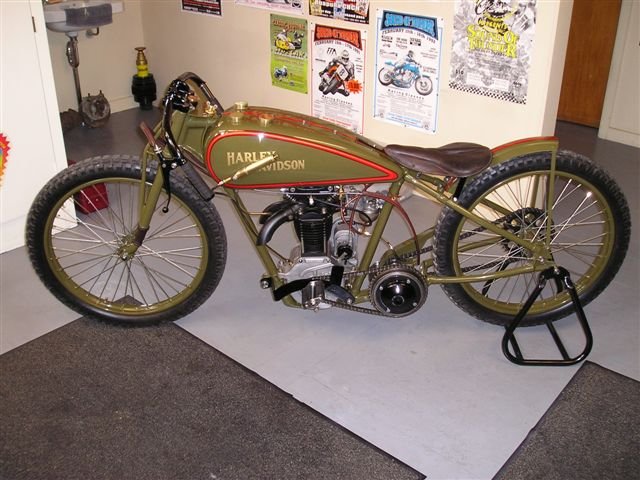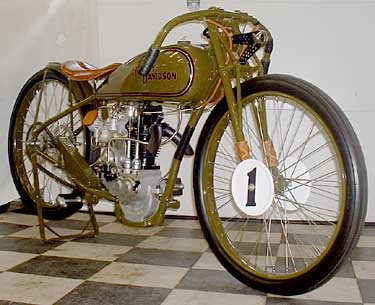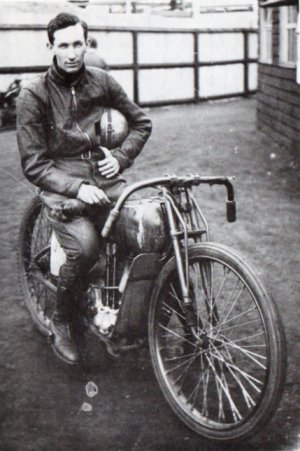 Frank Arthur (above right) astride his Harley Peashooter. The bikes were 350cc or 500cc. The Peashooter was a mid 1920s winner until the Douglas & Rudge came along.
Douglas v Harley
Late
1920s
A Harley Peashooter inside battles it out with a Douglas flat twin
---
A Number Of
Old Bike Pics
From Tony Webb
The Calthorpe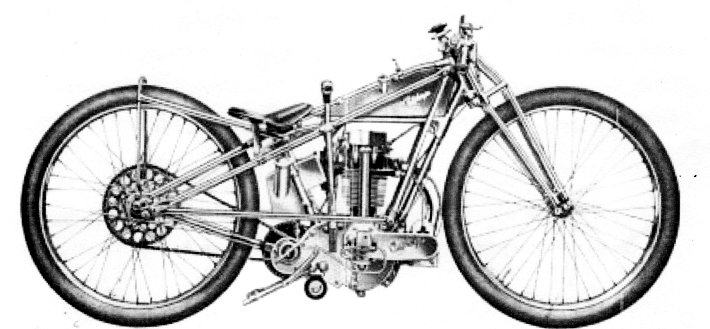 The Chater-Lea (Coppernob)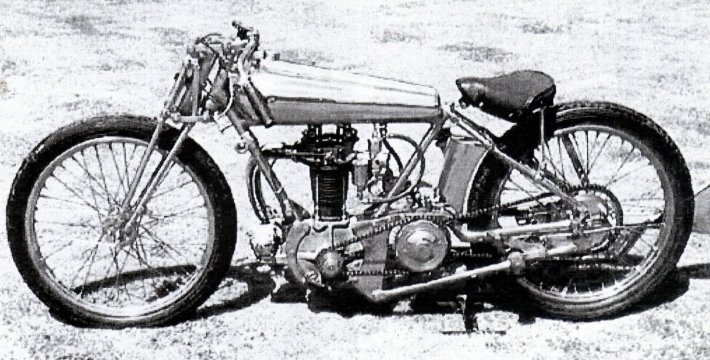 The New Imperial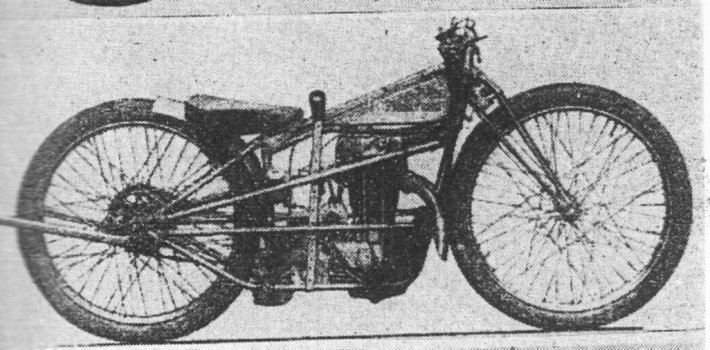 Norton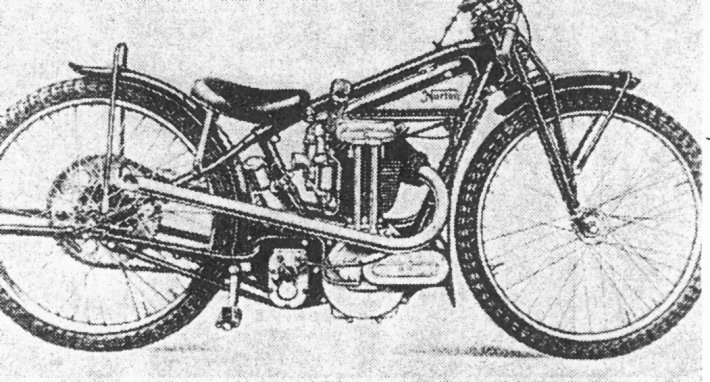 Velocette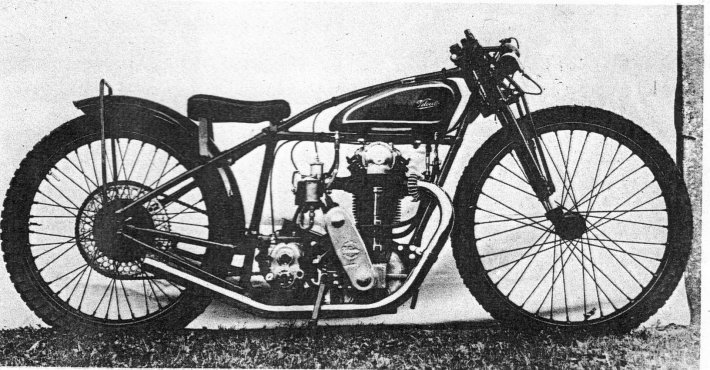 Wallis DT 1929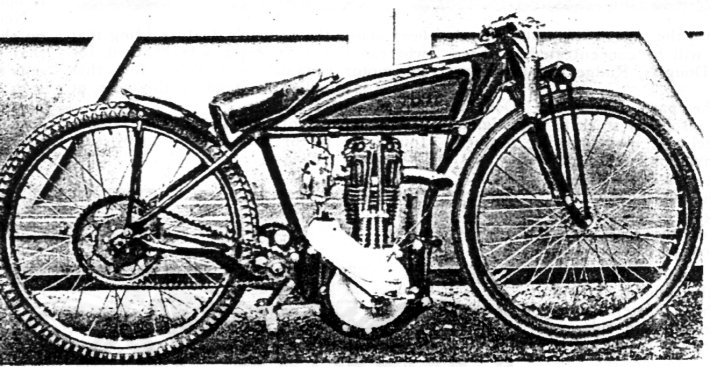 An
OEC
With A

JAP
Engine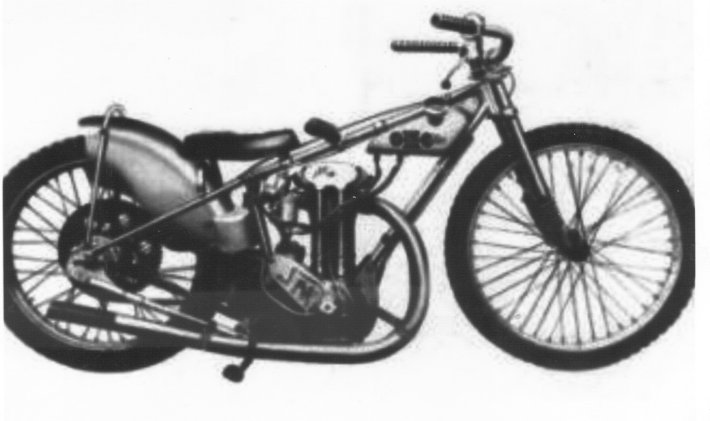 Zenith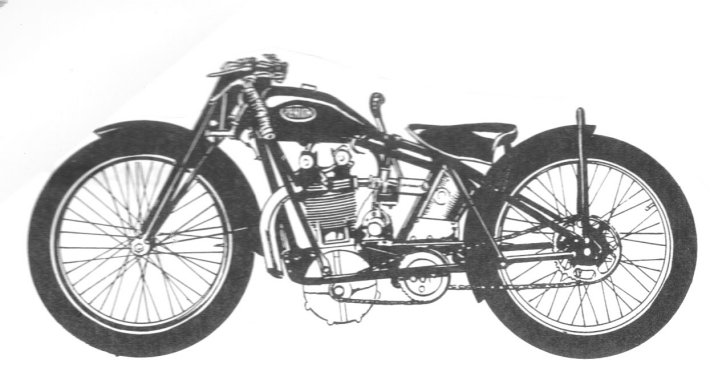 ---
Scott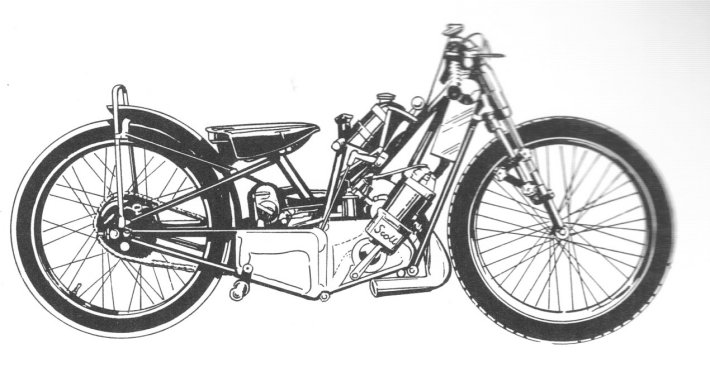 The Only Two Stroke Machine Used On British Speedways
McEvoy Blackburne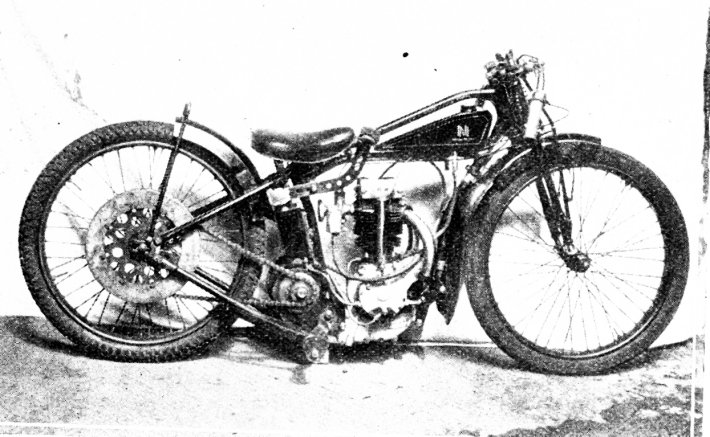 ---
Douglas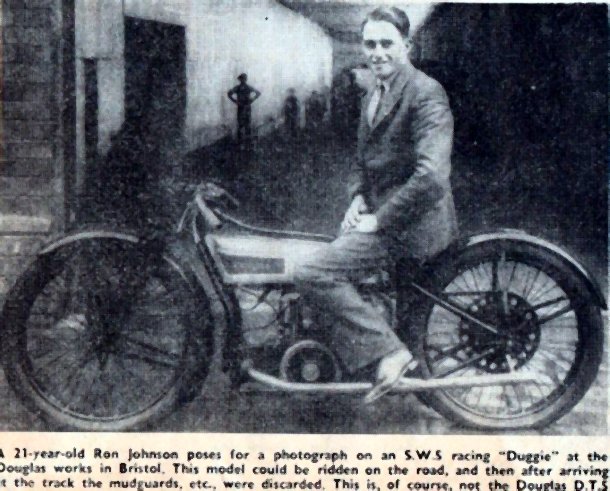 `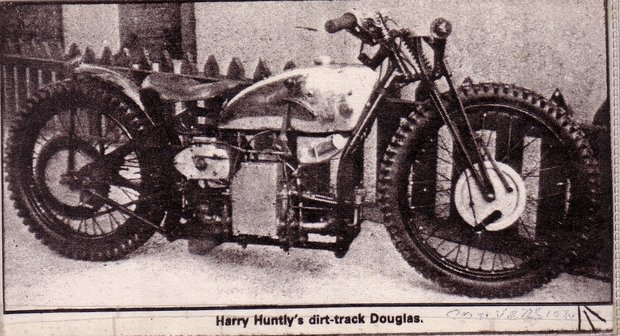 This bike was assembled from a "box of bits" by Harry Huntly. His son Ian, emailed this: -
Ian Huntly says:

In the late 50's, Dad bought a big box full of motorcycle parts which proved to be a Douglas Speedway bike !! Some parts were damaged or missing so I remember Dad fabricating new bits in his garage. He gave the bike a very special gear box and some special-metal pushrods. He sat down and built this race bike which ended up being entered at Druridge Bay Sand Track, ridden on the sand by a rider Dad picked for the "job". It was a heavy bike with straight through exhaust but it bump started immediately. It sounded glorious. Dad sold it to the local grass track sidecar champion who added a sidecar and did well with it for a couple of years.

I wish I knew where it is now !! Can you help please ??
John says: If you know what happened to the Huntly Douglas please send me an email
JOHN
---
BSA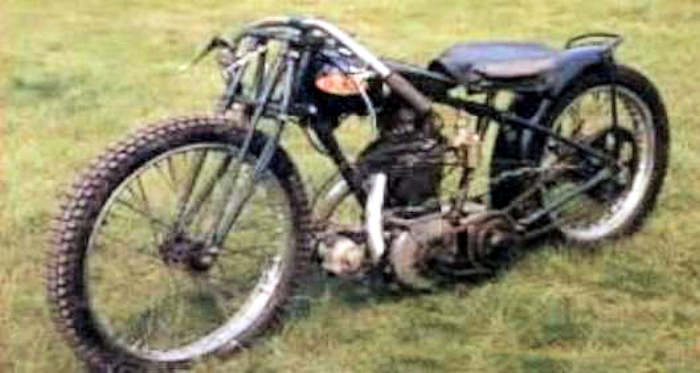 Above: a BSA 500cc

Dirt Track

Bike
John says: A very affordable machine at the time. The poor mans speedway machine! For those who don't already know. BSA was a great British company that began making weapons. BSA is a shortened version of Birmingham Small Arms. In the 20th century the company turned it's attention to motorcycle manufacture. BSA along with Royal Enfield (another old British company) were armaments makers turned motorcycle makers. The Beezer didn't last long as a dirt-track bike (1929/30), which is a pity as JAP could have done with some national rivalry and who knows maybe BSA would still be going now if they had invested properly in making speedway machines?
New Zealand Restorer Frank Brookland has one of these machines to restore and would appreciate contact from anyone who has any photos etc of the Beesa
John
Pat Jeal has been in touch with the following info and a couple of photographs: - I've attached a couple of pictures you may like.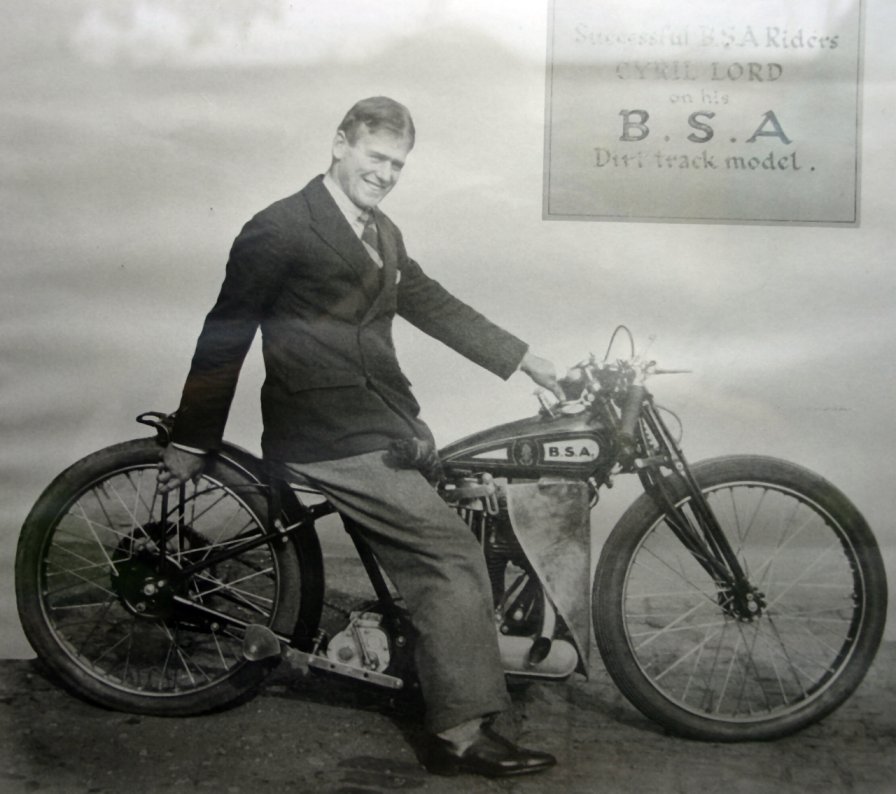 Pat Jeal says: I suspect the BSA photo on your site is of this following restored bike, which was ridden by Cyril Lord and later owned by Noel Somerfield. The photo is of it in grass trim at the 1968 High Beech reunion but I know it later had a brakeless 21" front wheel refitted.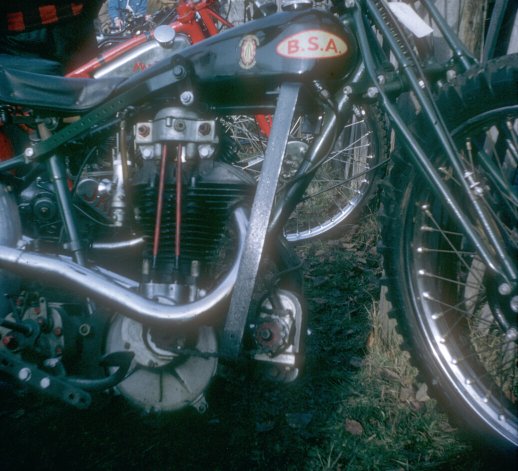 1929

 BSA Road Version 
(For Comparison)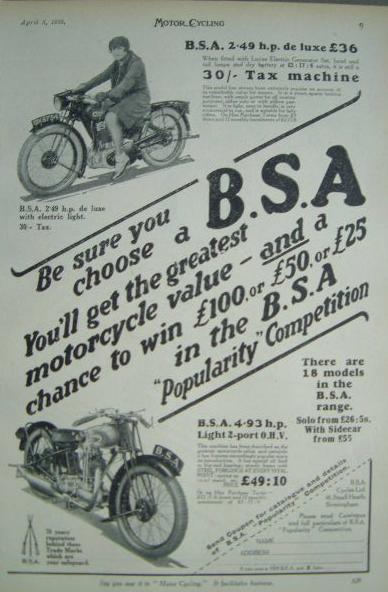 Courtesy of Les Elmer
1930 BSA S29- S19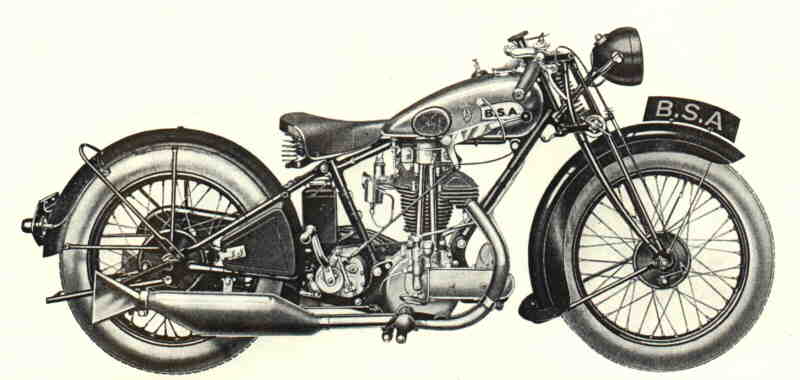 Courtesy of Les Elmer
1929 BSA
Roadster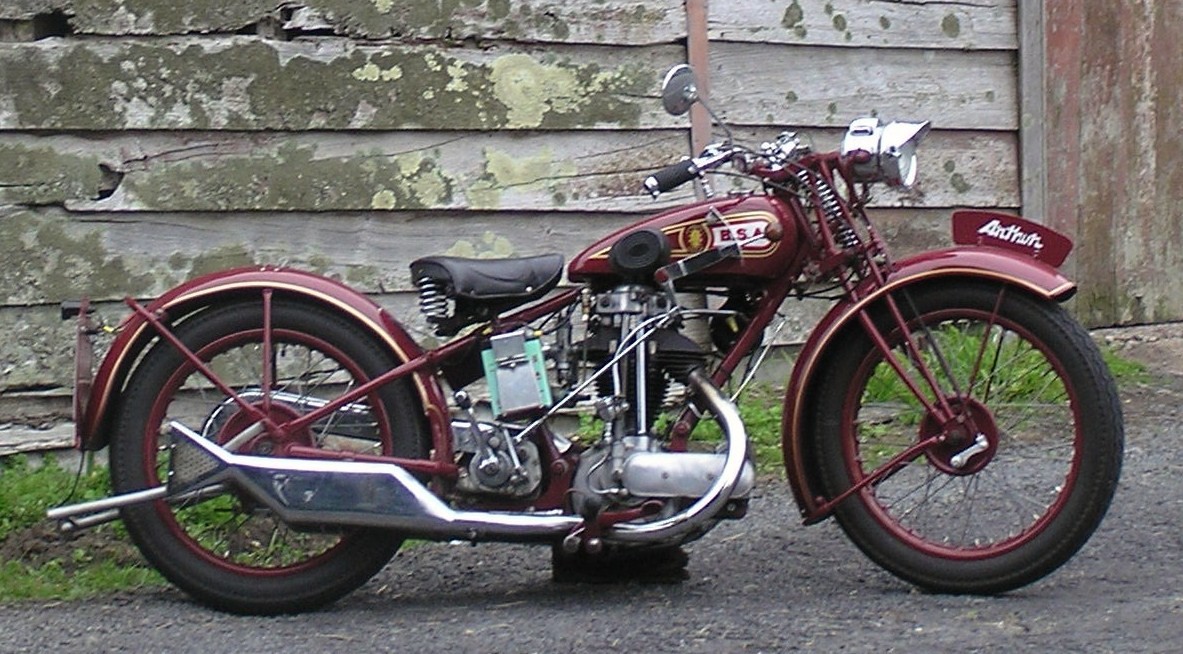 Courtesy of Les Elmer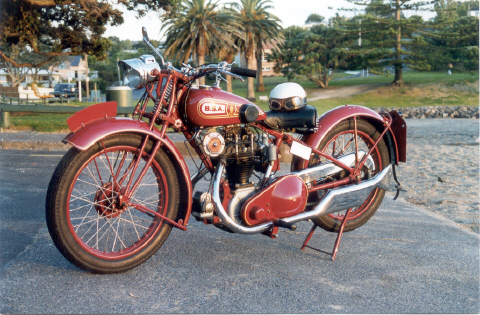 Courtesy of Les Elmer
The 1929 BSA roadster appears to be the machine BSA used as the basis for their speedway machine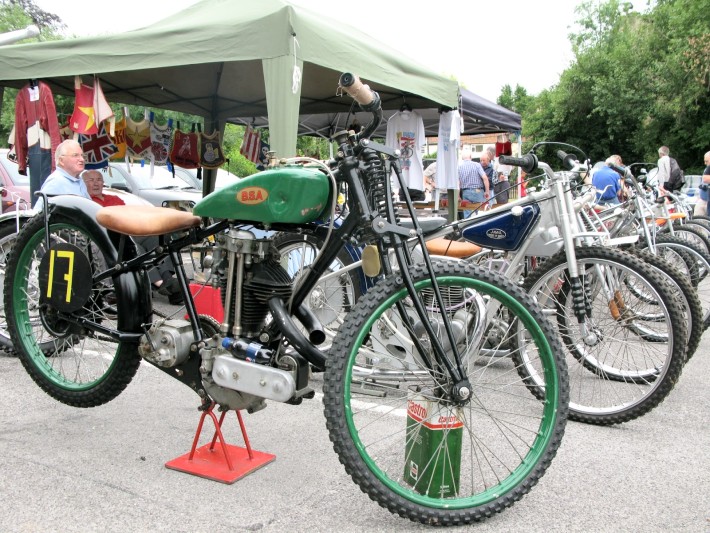 The Dirtrack BSA appears to have a similar engine to the JAP. If BSA had seriously opted to build speedway bikes, their company would have continued longer than they lasted with just their road going machines.
---
Velocette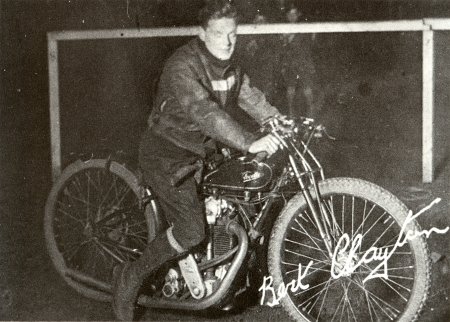 Let's hear from you if you own the engine. Velocette produced many powerful single cylinder engines for their road going machines, pity they didn't concentrate on speedway bikes more
---
Sunbeam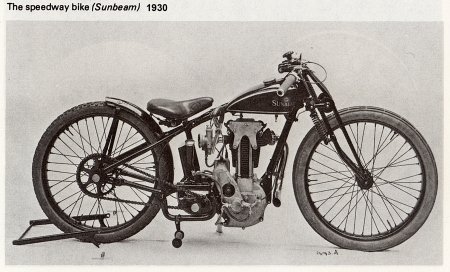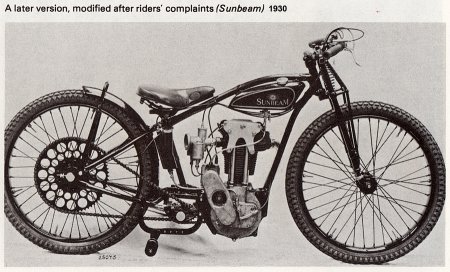 J

ohn says: What jumps out from these Sunbeam pictures is the size of the wheels 28". Later regulations limited wheel sizes to 22" and then to the modern day size 18 inch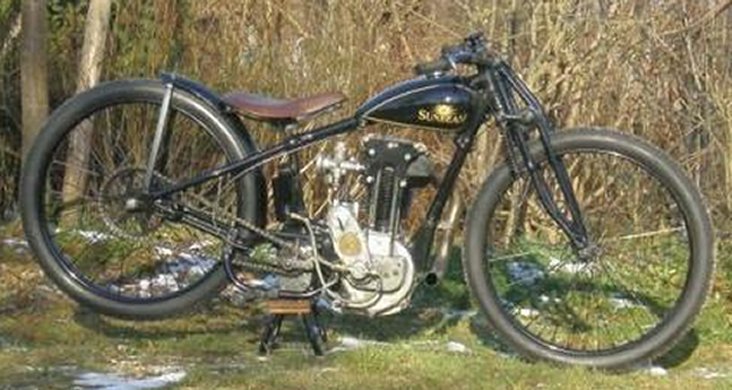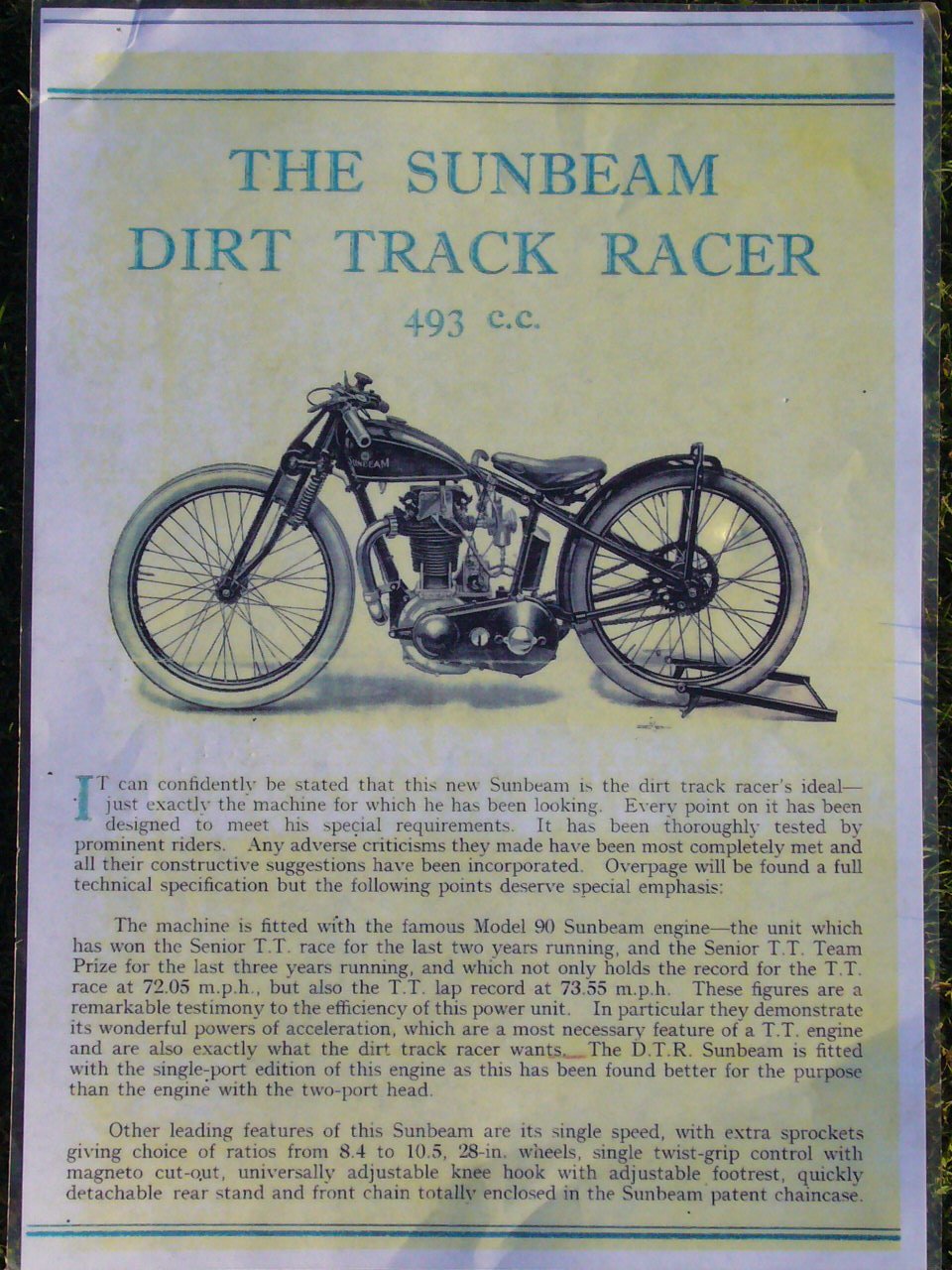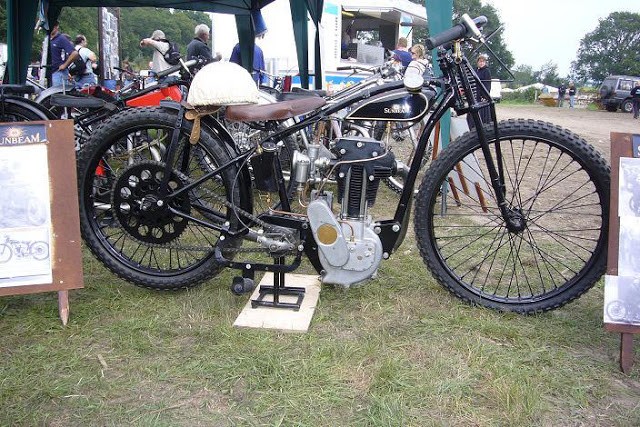 This Sunbeam I am told was a 1948 model. I doubt that and would date it as a 1930s machine. The bike however is immaculate whatever its year of manufacture.
---
Rudge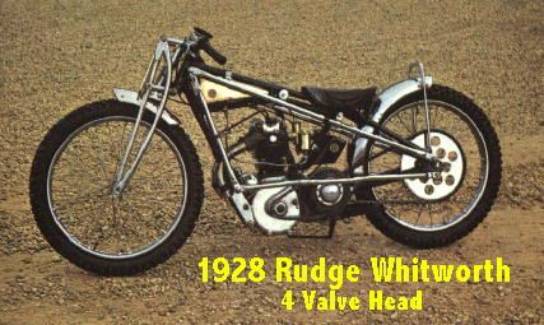 Above: The Rudge 500.This example looks very potent even by modern bike standards. (Four valve technology is not modern ) I bet this machine raced flat out would frighten the life out of a lot of modern bikers!
JAP In A Rudge Frame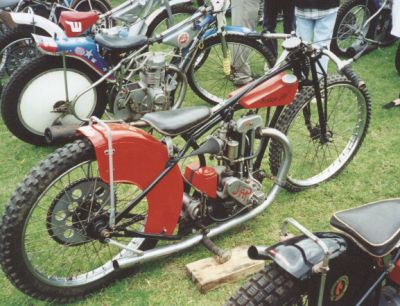 ---
American Riders

1920s Or 1930's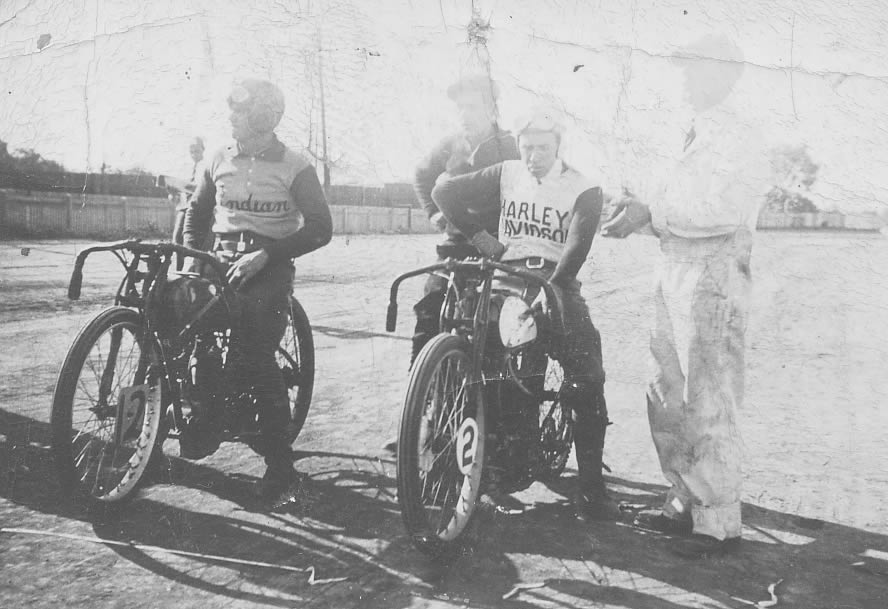 American Riders 1930's at the Richmond Raceway, (Picture courtesy of Carrick Watson) US riders had been racing around their dirt tracks for a number of years before we got underway in 1928. These riders are obviously mounted on an Indian (left) and a Harley Davidson. The Indian became a popular mount for Wall of Death riders. They don't appear to be wearing much body protection. I assume therefore that they are simply posing for pictures but who knows maybe they raced in their long johns in 1930's, Richmond USA!
---
So, in the late 1920's and early 1930's the pioneers quickly discovered which bikes to use to be a winner. The Harley Peashooter had the edge at first.
The long wheel base Douglas was the first choice of the "leg trailing winners" with the shorter wheel base Rudge giving the foot forward riders the edge. Then came the JAP in 1931 and the older bikes gradually gave way until all riders were mounted on the mighty JAP.
---
Douglas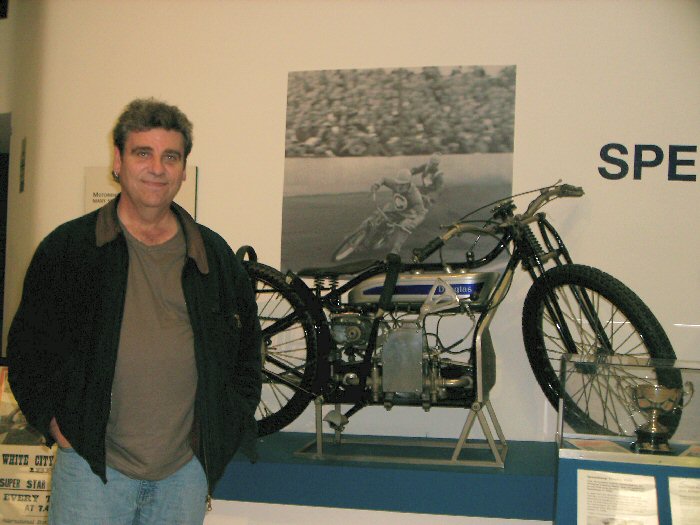 The Website owner, John Skinner, at the Glasgow Transport Museum. The Bike is a 1929 Douglas D.T. The picture on the wall shows an Glasgow rider leading a Newcastle Diamond. The Glasgow museum is well worth a trip, whether you pay the speedway a visit or not.
The Douglas had 3 gears but no clutch! For three years, the Dirt Track Douglas was the supreme dirt track machine selling around 1,200 bikes in 1929 alone. A bike like this one ridden by Gordon Byers, won the first ever race at Newcastle's Brough Park.
David Turner says: That bike was owned and ridden by George Pinkerton. A farmer near Glasgow. He restored the bike about 25 years ago. I lived on the farm next to him, and now live in Detroit. He had a brother called Jimmy Pinkerton who was of more note in the Scottish scene and also a very successful sand racer. George is also notable for being a Spitfire pilot with City of Glasgow. He and two others shot down the first German plane over Briton (near Edinburgh). I believe the bike is still owned by his son Ian who still farms the same lan
d. George died about 10 years ago
---
Alex Kynoch Shows How It Was Done In
1929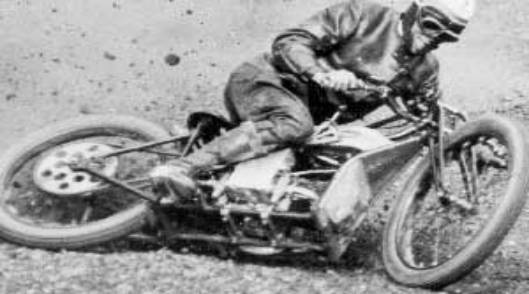 A 500cc Douglas Dirt Bike.
Alex Kynoch shows how it was done in 1929. No, he is not falling off! These long wheel-base bikes had a very low centre of gravity because the "heavy" engines were horizontally opposed flat twins mounted along the bottom of the frame. The Leg Trailers were usually mounted on these bikes.
---
Rudge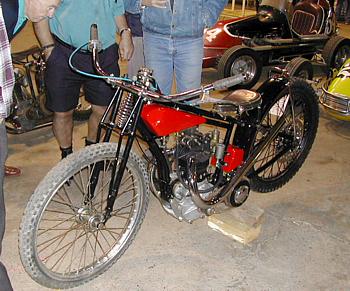 A Speedway Rudge
The shorter wheel base and higher centre of gravity of the Rudge did not suit some of the Douglas leg trailers although many adapted to the foot forward style of riding when they switched from the Douglas to the Rudge
---
JAP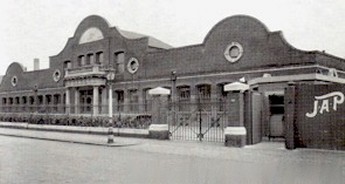 This "Art Deco" building in Tottenham, housed the JAP Factory
John Alfred Prestwich

(JAP)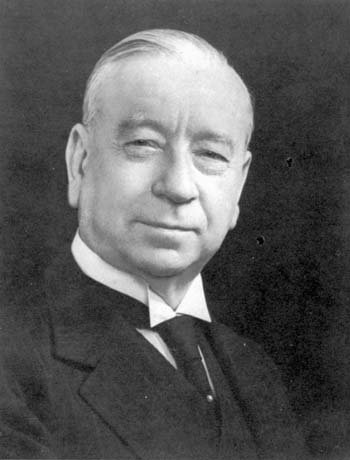 John Alfred Prestwich. A very clever man who invented a number of things including his JAP engines used in speedway
Dawn Of The JAP 1931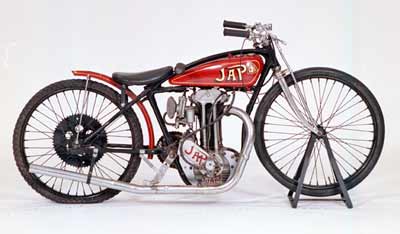 This early machine probably dates from around 1931? The JAP engine in a variety of frames reigned the speedway world for decades. You could say modern speedway was born in 1931?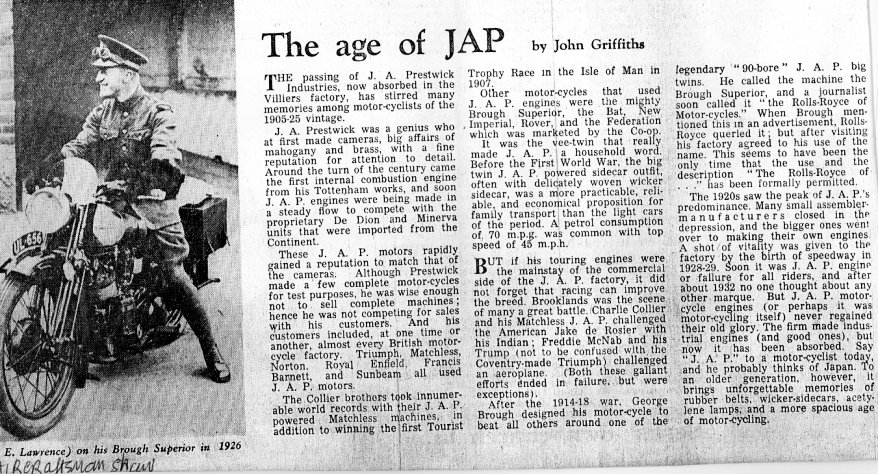 Courtesy of Phil Newton
Harry On An Early

JAP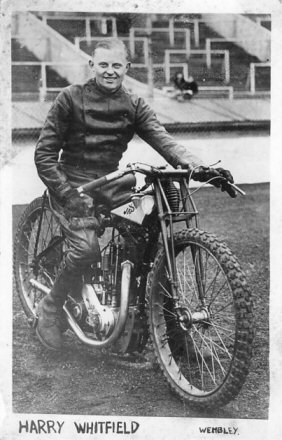 This picture shows an early Jap. Harry by the way became a Newcastle promoter when his riding days were over.
Martin Comerford

JAP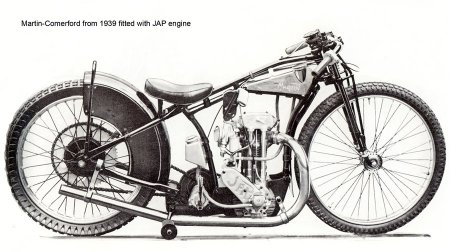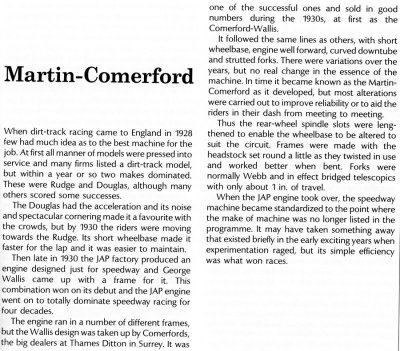 ---
Bikes Page 2 Bikes Page 3 Bikes Page 4 Bikes Page 5 Bikes Page 6 Bikes Page 7
---
The contents of this website are © and should not be produced elsewhere for financial gain. The contributors to this website gave the pictures and information on that understanding. If anyone has any issue or objections to any items on my website please email me and I will amend or remove the item. Where possible credit has been given to the owner of each item.