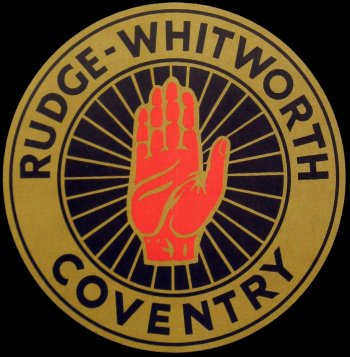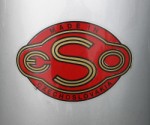 ---
Bikes Page 8
Bikes Page 1 Bikes Page 2 Bikes Page 3 Bikes Page 4 Bikes Page 5 Bikes Page 6 Bikes Page 7
---
Tony Webb Australia
Tony and I exchange emails from time to time. He and I share a passion for the machinery used on speedway tracks around the world over the years. I have added this page to show some of the machines he has unearthed, thank you Tony
Osbourne Engineering Company (OEC)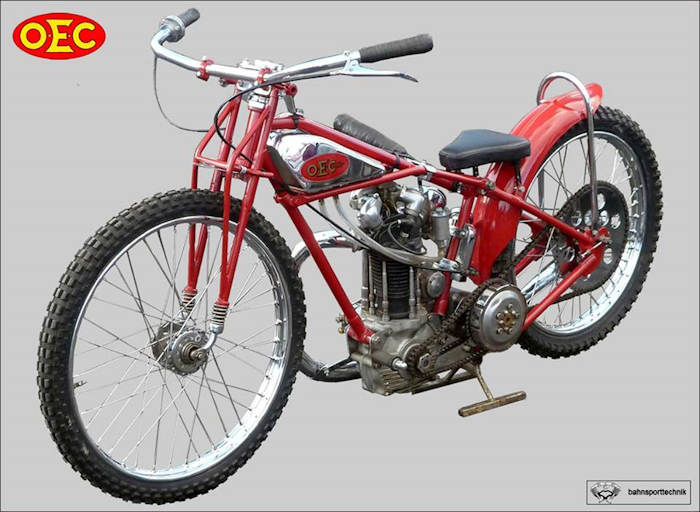 Courtesy of Tony Webb
I believe OEC was an English engineer/bike maker. I understand OEC stands for Osborne Engineering Company, correct me if I am wrong about this John The above picture shows a great restoration of an old British machine. The engine looks powerful so why couldn't OEC compete with the OEC era's all conquering JAP?
More OEC Machines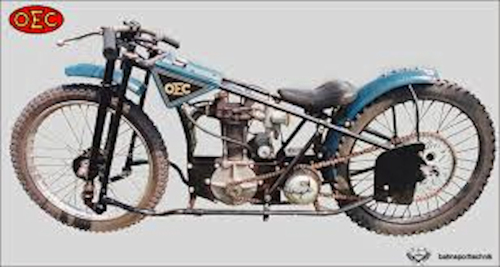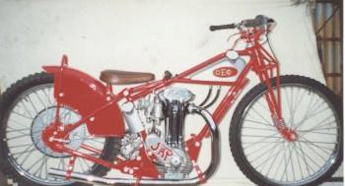 OEC Owned by Noel Clark
---
ONC Bike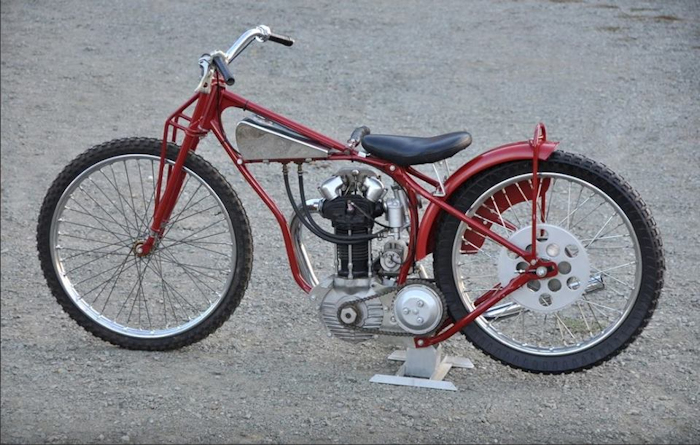 Courtesy of Tony Webb
Tony thinks this bike may have been used in the Netherlands but little is known about it. The bike wouldn't get very far as the rear chain is missing! John says: It is probably a long track machine
---
Pre War Long Tracker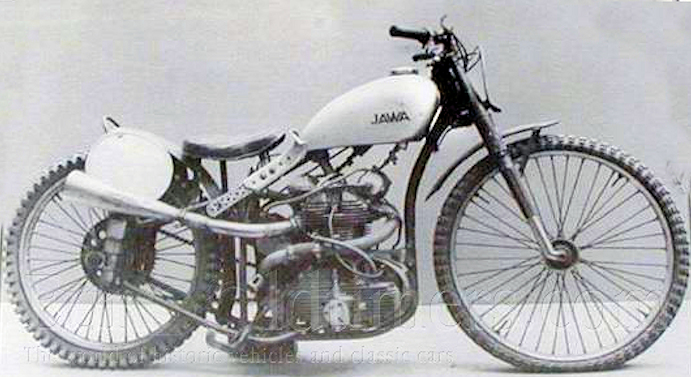 Courtesy of Tony Webb
Pre war Jawa longtracker
---
Skilton Rudge/

JAP 1936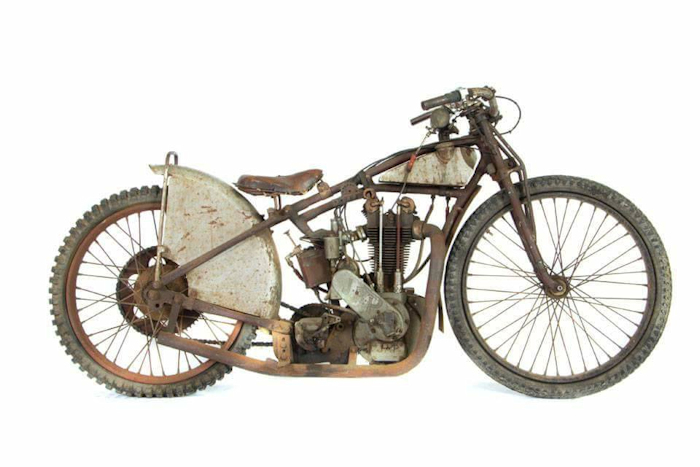 Courtesy of Tony Webb
Skilton Rudge 1936. Note plunger on oil pump and down draught on carb.
Vintage collectors do not see a rusty old bike they would say its patina is attractive!
---
Comerford

JAP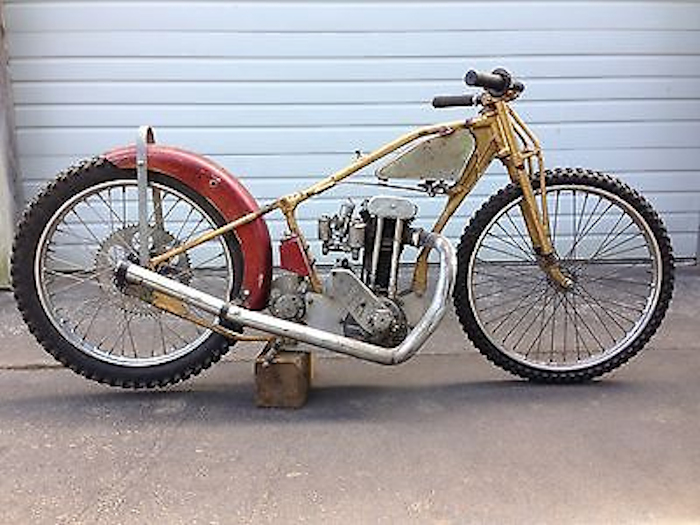 Comerford JAP Unusual engine position. Looks like original diamond with headstock plates indentations. not sure about the bottom chain stays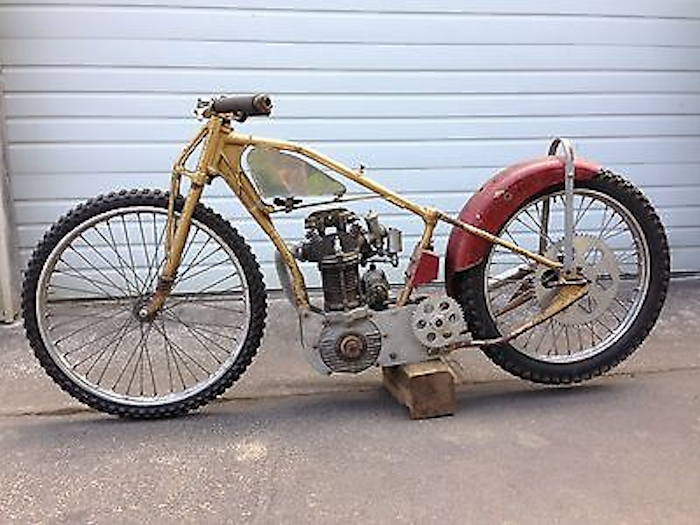 Courtesy of Tony Webb
---
Briggo's Handlebars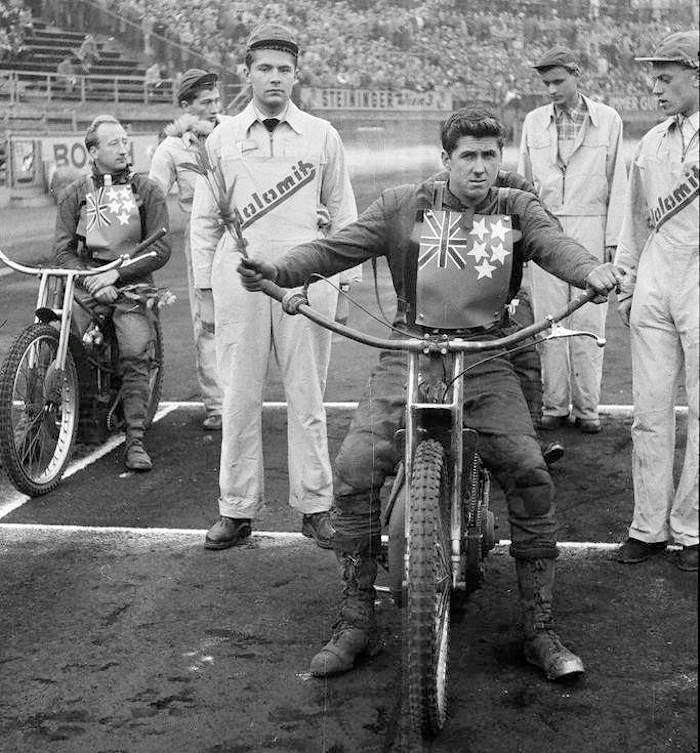 Courtesy of Tony Webb
Tony Webb says: Briggo with some extra wide handlebars, note the position of the clutch lever and the trend that briggo started by turning the throttle cable skywards. Jack Geran in the background on what looks like a early Huck Fynn. Photo source unknown
John says: In a chat with Ivan Mauger I asked him about these wide handlebars from years gone by. He said when tracks were deep, to turn a JAP you needed extra leverage. John says: Barrys clutch lever may have been personal preference but I remember Mike Broadbanks gripping his bars in a similar position well away from the ends. These wide bars must have meant extra strain on the clamps at the fork yoke. I had a Royal Enfield road machine which I fitted ape hanger bars to and the leverage meant the bars moving about, so I went back to straight handlebars for safety's sake.
---
1929

Blackburne

Wallis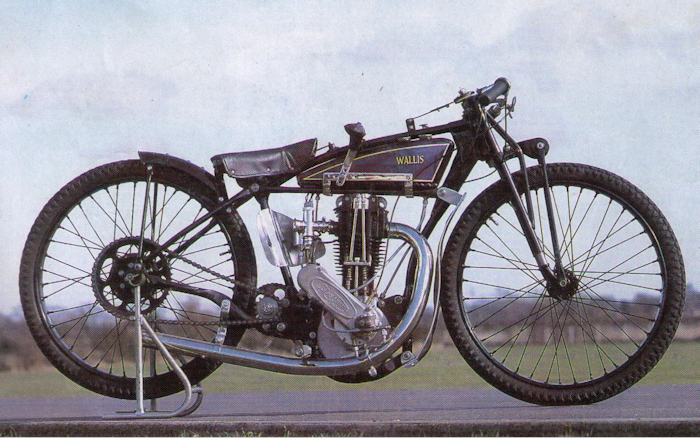 Courtesy of Tony Webb
---
Early Riders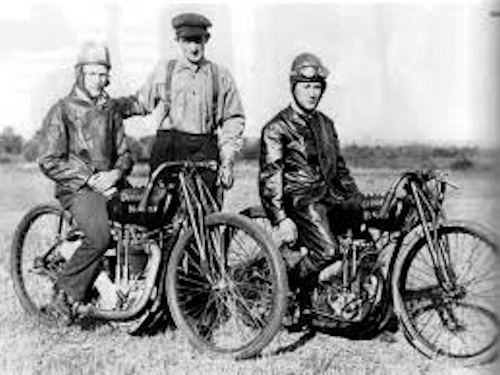 Courtesy of Tony Webb
Tony Webb says: Charlie Ogden was one of the most respected engine tuners in Australia. The riders either side of Charlie are John Patman and Bobby Blake , the photo is believed to have been taken at Moore Park in Sydney.
These riders are on identical machines possibly OEC engines but their handlebars suggest they are mounted on Harley Davidsons. I think OEC engines, but if you can help send me an email John
The Comerford Special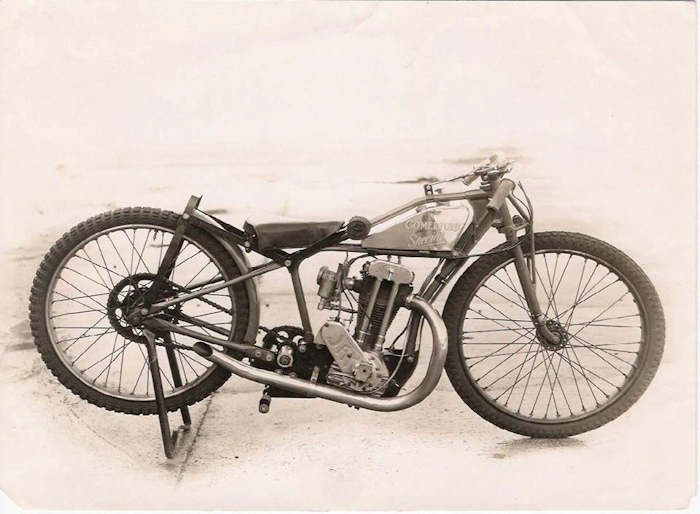 Courtesy of Dave Gifford and Tony Webb
"The Comerford Wallis with direct drive 1932 Photo Giffy
". John says: a "Sloper engined JAP" with "Skinny" tyres. I don't understand the term "Direct Drive" I think all speedway bikes are direct drive via a chain from the engine sprocket to the rear wheel sprocket. They don't have gearboxes! I will email giffy in NZ for his advice as maybe I am missing something here?
Giffy says:
Hi John old mate, I think this is a pic I sent to Tony, I have a Wallis frame that he wants to buy and the Comerford was developed from the Wallis. Anyhow, what he said is not quite correct, a true direct drive is when a single chain or belt runs from the engine to the back wheel. The early board track racers were like this. The Comerford and several other early speedway bikes used a countershaft system like the one in the picture which enabled gear ratios to be more easily obtained. The down side of this system was that the bikes were hard to move around, when the back wheel turned so did the motor and a decompresser which lifted the exhaust valve off itís seat was fitted to early JAPs I think it was around 1933 when clutches fitted to the countershaft became the norm and gate starting became possible. The correct way to describe modern transmissions might be Single Geared with a clutch. Hey man, the maggies are back next season!!!!!!!!!!!!!!!!!!!!!!!!! All the best, giffy
John says: Hi giffy, Yeah well I forgot the primary chain used by speedway bikes clutches! As a Magpies fan you must be happy that the "Toon" have been promoted to the premiership 2017 as I am too "Howay the lads" let us pray the team can attract top players with a 100 million player fund pot. Problem is other teams are paying nearly that for just a couple of players.
---
The Fastest Quarter-Miler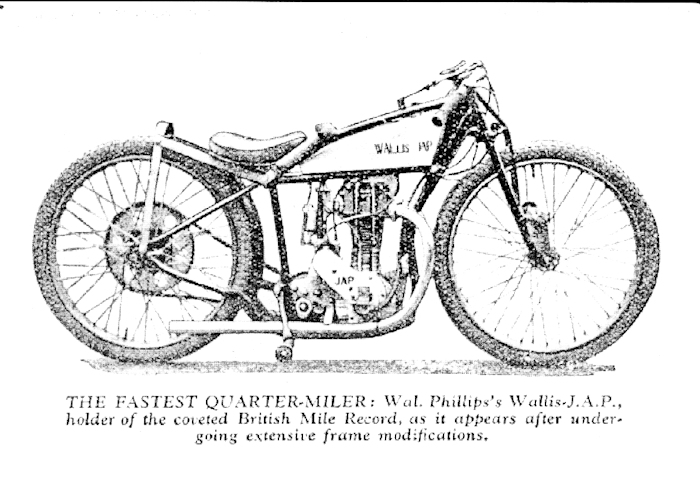 Courtesy of Tony Webb
The JAP engines brute force torque, propelled this bike to break the quarter mile record and the Wallis JAP bikes were excellent speedway machines too
---
Two Bike Pics From giffy
Rotrax

JAP 1966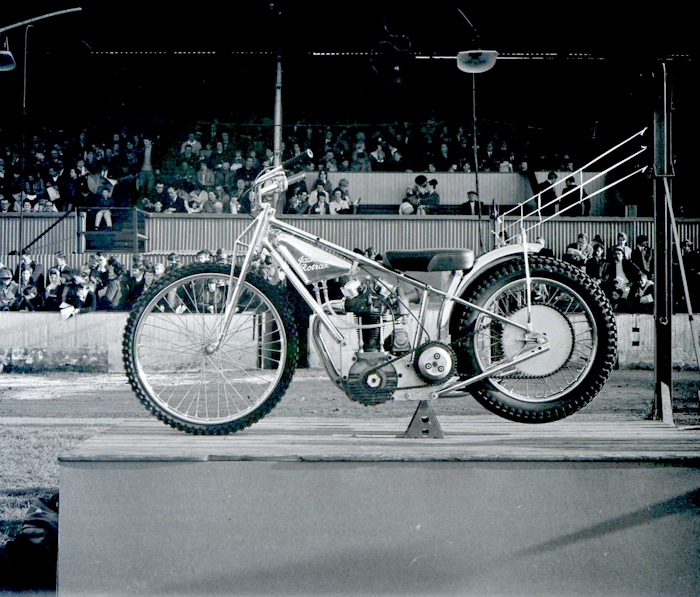 John says: Thanks giffy The most beautiful speedway bike ever made in my opinion. The mighty JAP engine housed in the Rotrax frame.
The Rotrax was first prize at the Scottish Championship 1966 at Old Meadowbank
28th May 1966. The bike was brand new hence the solid rear sprocket. Riders drilled out the socket to lighten the weight slightly. I wish I had one to start up on sunday mornings to annoy my neighbours!
Early 1960s ESO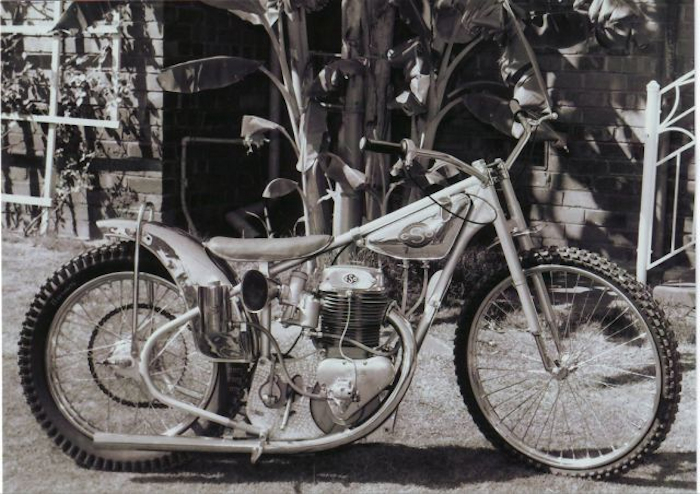 Another great looking machine. This Eso was the first to be imported into Australia sometime around 1960. The ESO had a shorter stroke engine and needed far less work than the JAP. It was also easier to ride, so move over JAP, the Czech machine later to be called the JAWA was about to claim first place in world speedway
---
---
Bikes Page 1 Bikes Page 2 Bikes Page 4 Bikes Page 5 Bikes Page 6 Bikes Page 7
---
The contents of this website are © and should not be produced elsewhere for financial gain. The contributors to this website gave the pictures and information on that understanding. If anyone has any issue or objections to any items on my website please email me and I will amend or remove the item. Where possible credit has been given to the owner of each item.