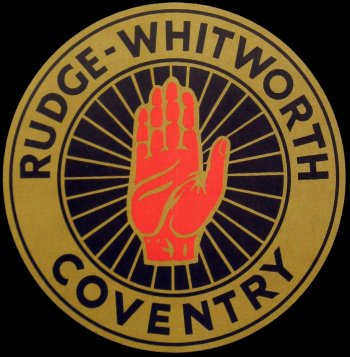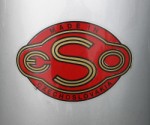 ---
Bikes Page 3
Bikes Page 1 Bikes Page 2 Bikes Page 4 Bikes Page 5 Bikes Page 6 Bikes Page 7
---
JAWA
Dave Gifford ex Newcastle now back in his native New Zealand has sent these pictures of a meticulously restored machine. Dave has other projects in mind and I will badger him for updates on his restoration works. So watch out Giffy I am on your case mate, get that camera charged up.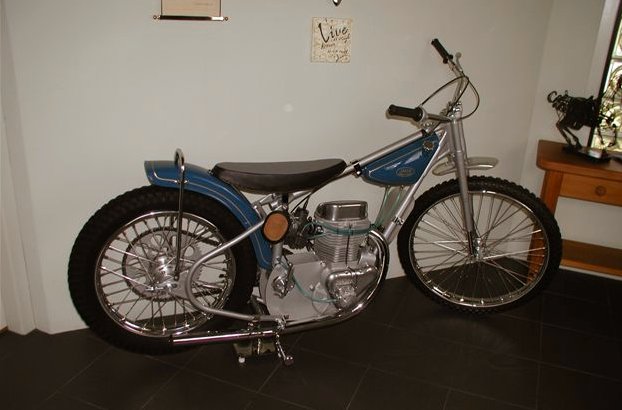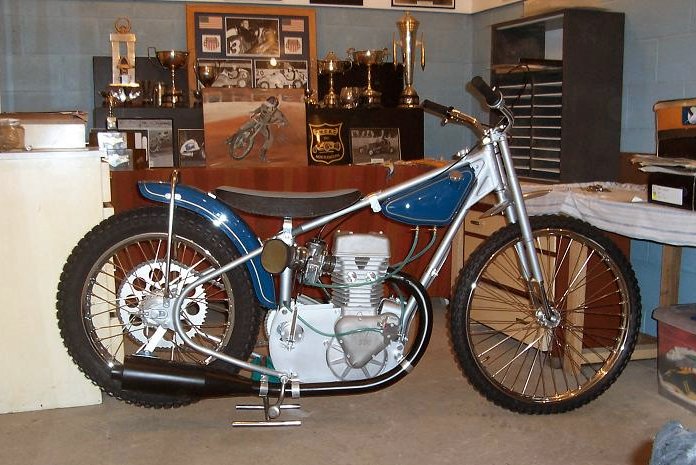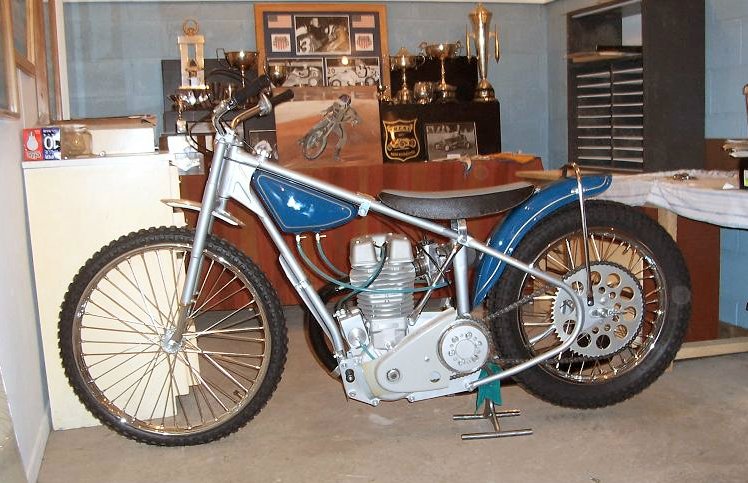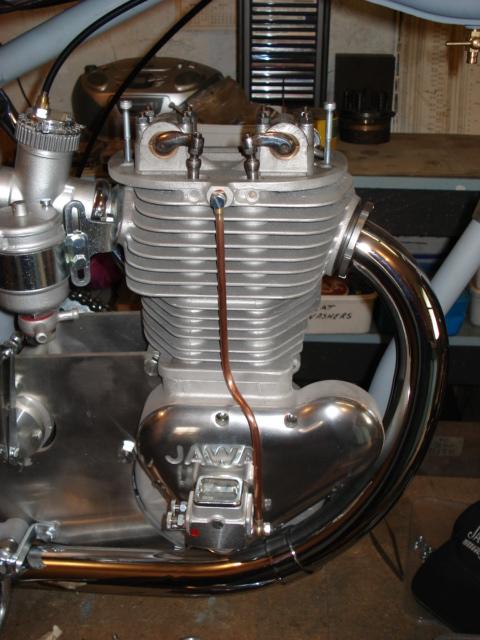 I will ask Giffy for information re these pictures but isn't it clear that he has real skills at restoration work? I will bet the bike looks better after Dave's work on it than it did when it left the JAWA factory
Giffy says: Hi John, re the photos. The two pics of the twin cam, Jawa 1976 model 894 4 valve twin cam. The motor is a Jawa model 890 and is the last of this design and has two more crankcase webs than the earlier two valves. Joes bike is the same, a late model Jawa 890.
---
Remote Float Bowl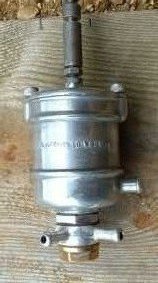 Same as shown on the Jawa?
Andy Stimson says: Hi John, In picture 4 of the "Bikes 3" page (the Jawa engine close up), it shows the remote float.... I have this float on my Triton, and have spent a couple of years trying to identify the make and model.. would be extremely grateful for any information to put my mind at rest ! I have been told by an ex-speedway rider that it might be grasstrack/speedway but unable to confirm.
Here's a picture of my float (See above)... Kind regards, Andy Stimson
Hi Andy, please send a couple of pics of your Triton
John
Finland's Harry Lahti says: Hi John, I was looking at your fine speedway pages, and found a question without an answer on your Bikes Page 3. The float is an ESO/JAWA float for speedway used at least up to 1969. Best regards, Harry Lahti, Finland
The Triton - Bits In A Box!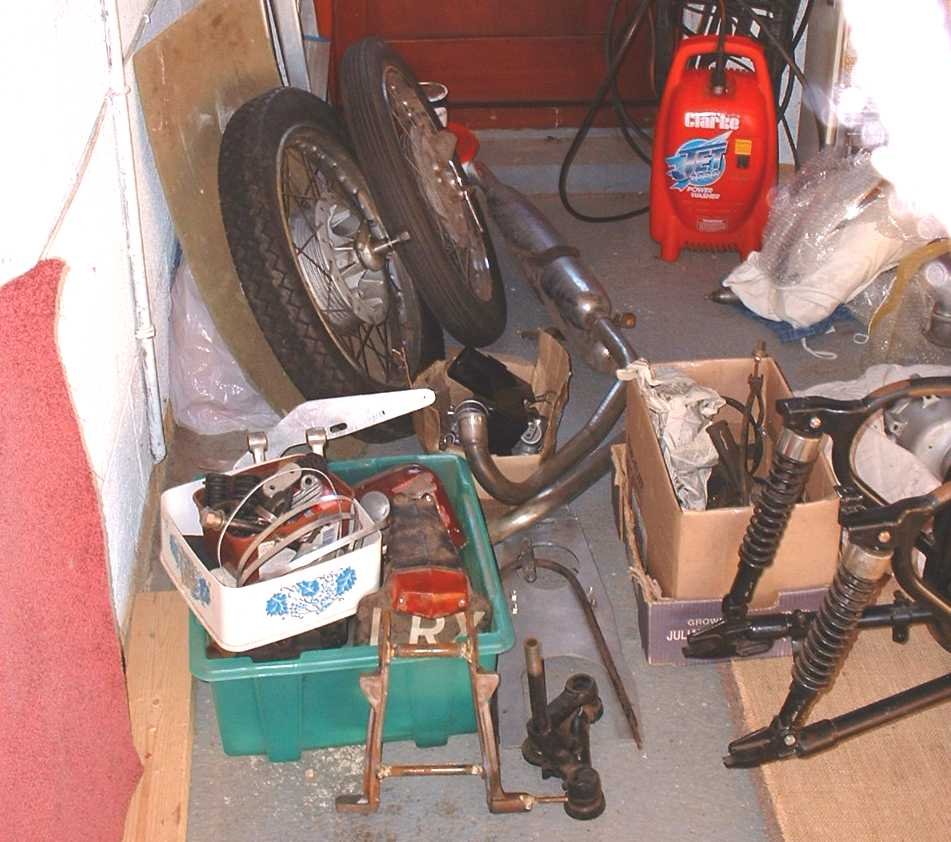 Courtesy of Andy Stimson
A box of bits; one week after Andy bought the "Triton" which for the uninitiated is a Triumph engine housed in a Norton Featherbed frame. Seen as the ultimate machine in the 1960's and early 1970's until Honda headed the Japanese invasion. The early Japanese bikes, great as they were, have "been and gone", but the Triton still turns heads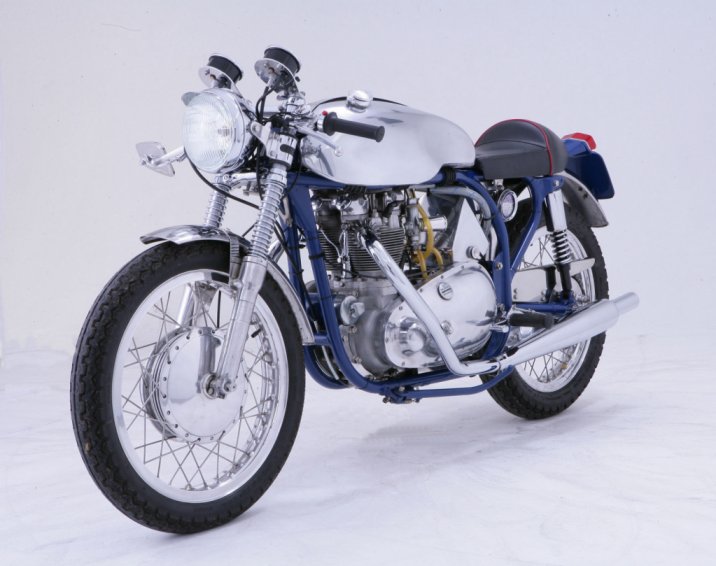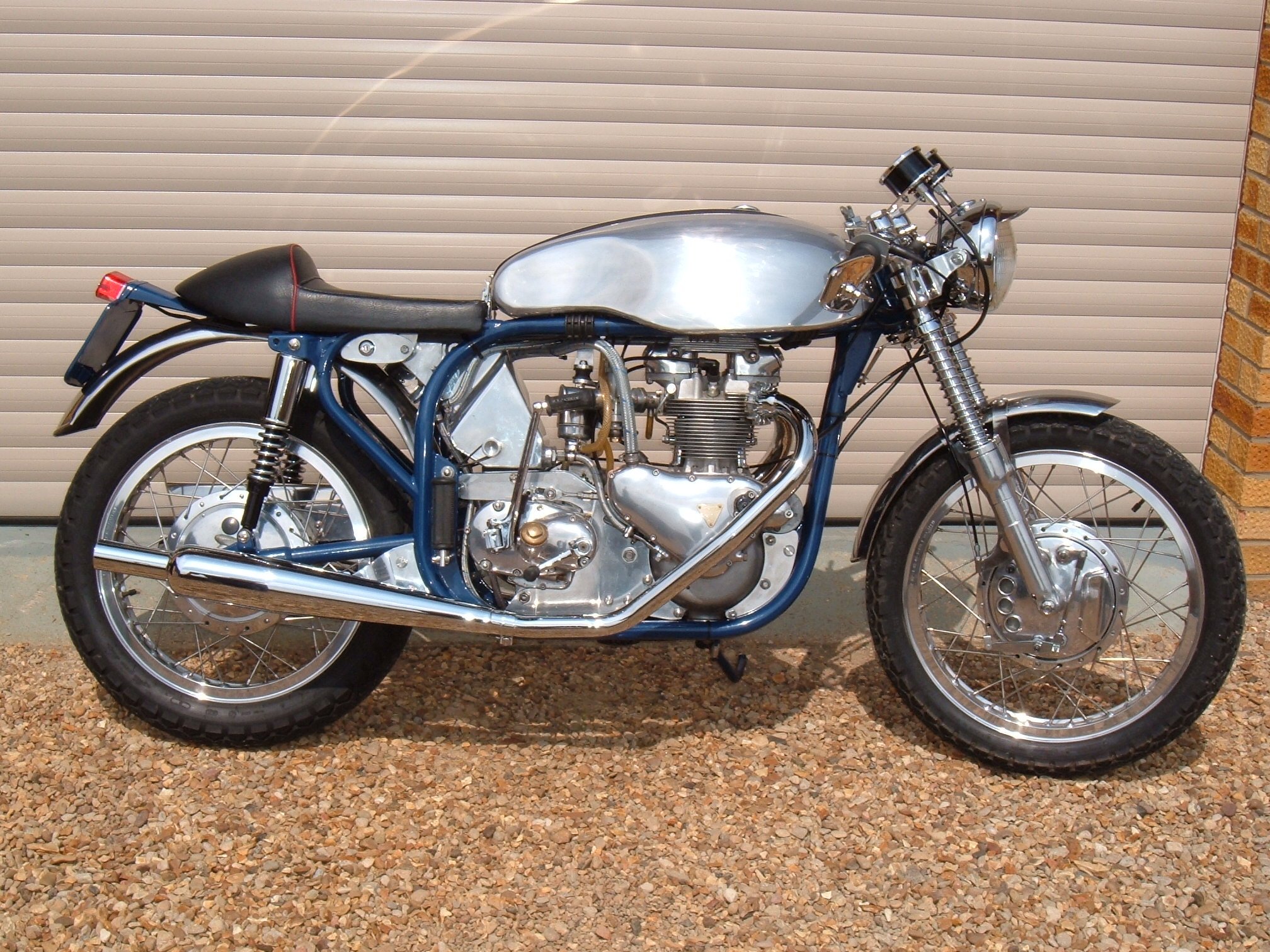 Courtesy of Andy Stimson
From a box of bits to this gleaming beauty. Well done Andy mate! Your Triton looks amazing. Can anyone put a name to the float chamber used on Giffy's Speedway Jawa and Andy's Road-Going Triton?
John
---
Velocette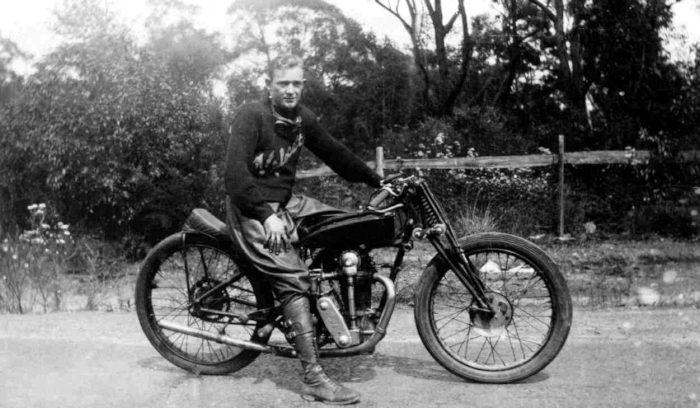 Velocette was a great British bike company that dabbled a little bit in the dirt track/speedway market. In a world of 500cc speedway bikes Velocette came up with a 400cc engine. Surely underpowered and maybe it shows that the company were not that concerned about making speedway bikes?
---
Argentina

1920s

Bike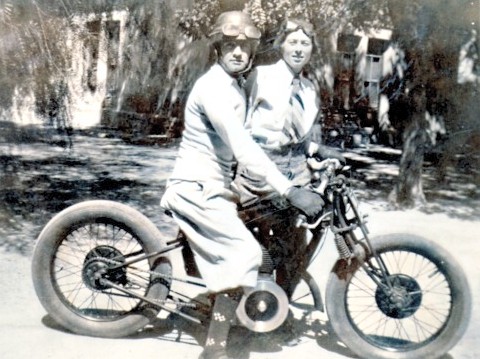 Courtesy of Argentinian "Anibal"
I received the above image from Anibal who is one of my websites regular Argentinian visitors. He has this photograph of a stripped down bike which he thinks could be a 1926 AJS and the photo may have been taken around 1930. I do not recognise the bikes main feature, the large flywheel but maybe my knowledge of early AJS engines is lacking? Can anyone confirm it is an old AJ or identify the actual make of machine? John The bike must have been an accident waiting to happen! I dread to think what injuries it would have caused if the rider had been knocked backwards between the saddle and the back wheel at speed.
---
Early

1930s

Rudge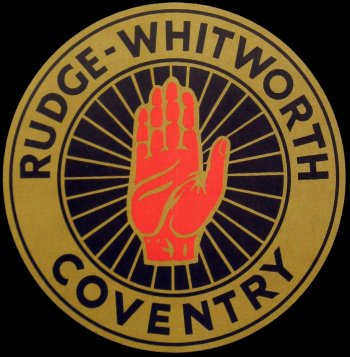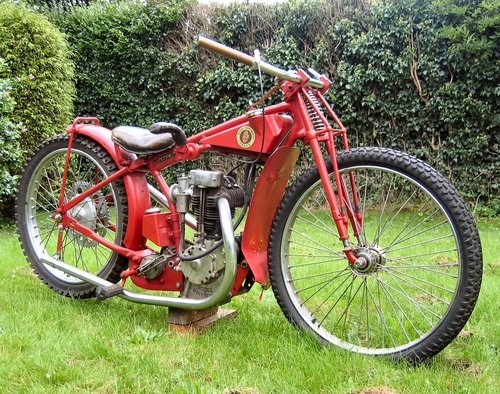 Circa 1930 this is a beautifully restored 500cc Rudge Whitworth Dirt Track machine. The Rudge had a relatively short span as a speedway bike. 1929 saw the Douglas DT monopolise the winners rostrums but Rudge did a similar thing in 1930. The bike's importance should not be overlooked as the engine and frame designs must have been influences on another British bike maker John Alfred Prestwich or JAP. The JAP that came in into the arena in 1931 was very similar to the Rudge but Mr Prestwich's machines wiped the floor with Rudge and Douglas which is a pity as Douglas and Rudge could have rivalled the JAP for longer than a couple of years if they had really wanted to.
---
AJW JAP
Courtesy of David Pipes
AJW stands for Arthur John Wheaton and JAP refers to John Alfred Prestwich. Wheaton made frames and Prestwich made the JAP engines. This picture shows the innovation of AJW in making a frame with a top tube to replace the fuel tank. It seemed such a good idea, I wonder why it didn't catch on in speedway? If you have any information on this matter please send me an email John
A Conventional AJW/JAP
Machine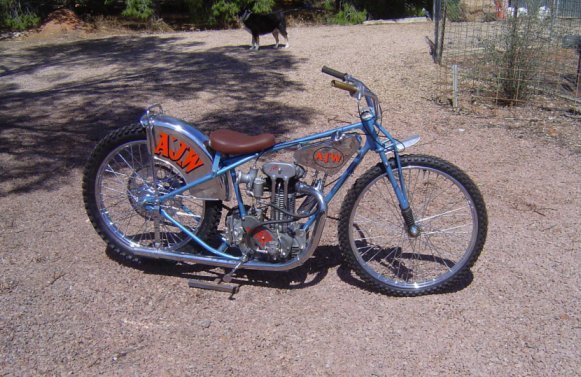 There is no doubt that a bike frame made by AJW or any other company looks better with a fuel tank so maybe AJW's Top Tube Fuel Tank was simply rejected for cosmetic reasons?
---
British Made Engine
Don Godden
4 Valve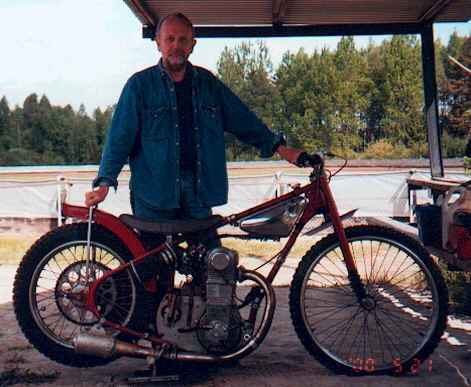 Don Godden with his innovative 4 valver, 4 valve engines have now become the norm
---
Excelsior

JAP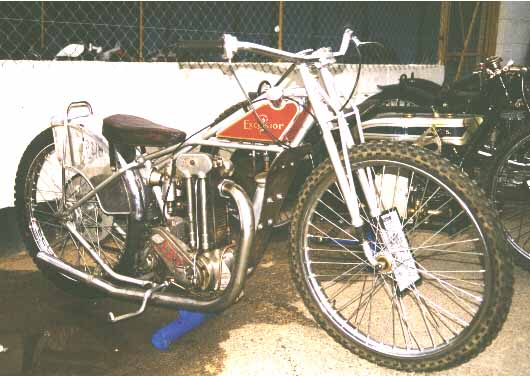 Photo by Steve Magro, Australia. http://homepages.ihug.com.au/~stvmagro/
Excelsior made great frames and JAP great engines in the days when British was best
---
The Mighty

JAP

Engine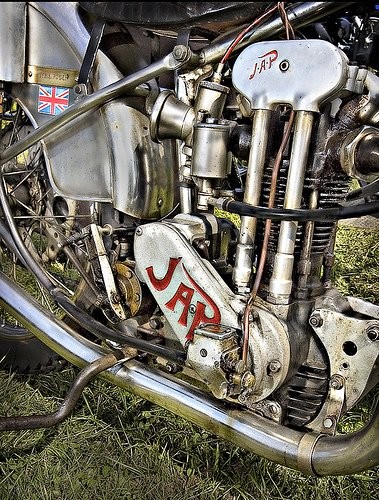 A nice clean picture of a JAP engine. The two chromed tubes housed the pushrods on this long stroke engine. I am a petrol head, so I love this picture. JAPs were at the high end of engine technology for many years and their old engines are still surprisingly quick.
Can anyone say what model and year this engine is John : Terry Stone says the engine is a 4b what about the year rough guess will do. John
---
Frank Varey Aboard
His

1929

Scott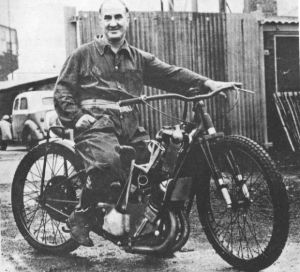 Frank Varey aboard his 1929 Scott. This "ugly duckling" bike was a water cooled 2-stroke and at that time Dirt Bikes had no silencing so the Scott must have been deafening at full throttle.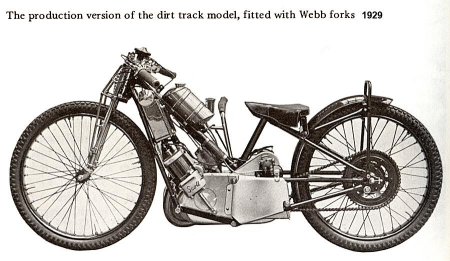 ---
Upright GM Italian Engined
Bike From The 1980's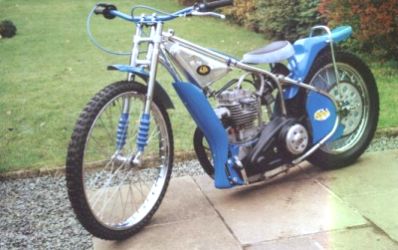 GM are the initials of the company owner, Italian: G
iuseppe Marzotto
---
Ivan Mauger's Gold Bike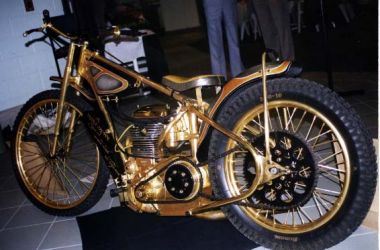 Ivan Mauger's gold plated bike. It is his 1970 Jawa. The bike was gold plated as a result of him winning the triple world crown! Ivan was world champion in 1968, 1969 and 1970, and before his third triumph in 1970 he was told that if he won a third world title on the trot his bike should be given the "golden" touch. He won it, so the bike got the treatment.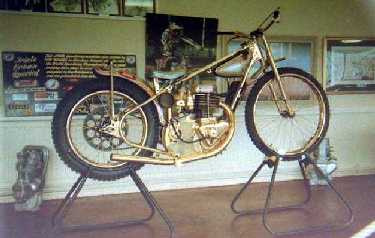 ---
Ice Racing
I am on the lookout for details of these bikes and pictures etc so get in touch if you have any.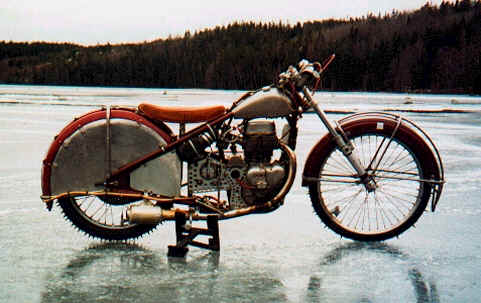 This Jawa Ice Racer has never been anywhere near my beloved Tyneside, despite the North East weather! But New Zealander Bruce Cribb did race around Brough Park on a bike like it, His 4 lap time was incredible but then again the spikes gave him a bit of an advantage. It was more like slot car or scalextrix but great to watch. Do you have his heat times then? email me
John
Stu Towner says: The first ice racers were just speedway bikes with spikes in the tyres, but they have seen much more development than their speedway counterparts. These forks can be adjusted for pressure by pumping up or down. They now have rear suspension albeit set quite hard as the track gets very cut-up by the end of a meeting. They also tried laydown engines but a lot have gone back to upright ones.
Jim Miller USA used the above picture to promote an Ice Racing event he took part in. Jim has been back in touch and has kindly supplied the following 3 photographs which is more motorcycles racing on ice than Ice Speedway but I'll bet it's great anyway.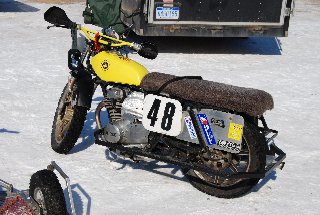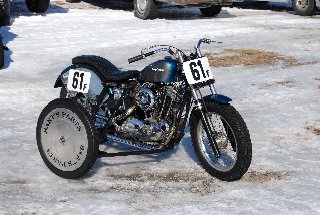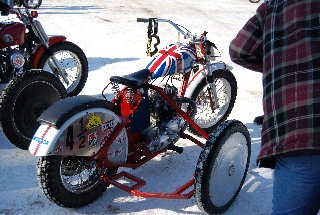 John says: It certainly looks interesting, pity the UK has no outdoor Ice Racing.
Jim says: -
The racing was excellent! We had perfect weather conditions - cold, sunny with great ice. The turnout was especially good
John says: Thanks mate, if you want to tell us more about the bikes, feel free
---
"If Ivan Can Have A Gold Bike Then So Can I !"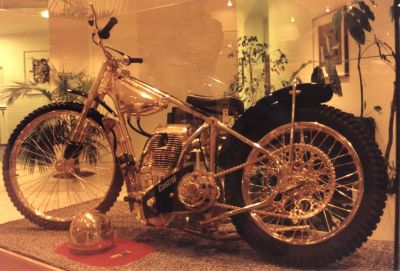 If Ivan can have a Gold Bike then so can I! Ole Olsen's bike another Jawa but a year newer (1971) than Ivan's machine. Having seen both I would say Ole's is the nicer to look at but as the saying goes "Beauty is in the eye of the beholder".
---
Vic Ridgeon's Fully Chromed Rotrax

JAP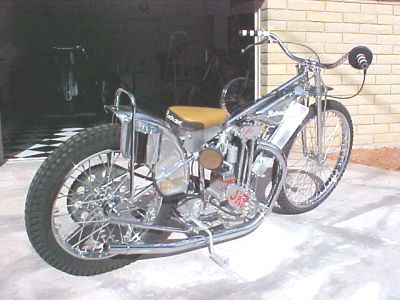 It is a pity that this photo is not crystal clear as I think this is the most beautiful speedway bike I have come across, It is Chrome, not your vulgar gold! (Sorry Ivan and Ole). Vic Ridgeon's Rotrax JAP from the 1950's when they knew how to chrome plate a bike!
---
The Vincent Vampire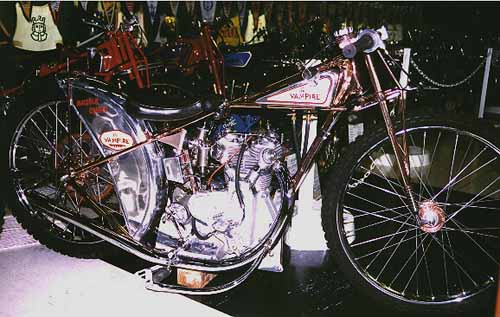 Photo by Steve Magro, Australia. http://homepages.ihug.com.au/~stvmagro/
Bike fans who are old enough will tell you about Vincent's 1000cc V Twins but the British company dabbled with a 500cc single cylinder machine for use in the late 1940s on the speedway tracks. The speedway bike was known as the Vincent Vampire.
Another Vincent Vampire
From The Late 1940's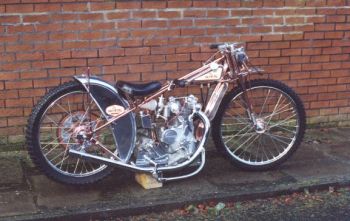 Us old bikers will tell modern bike owners that Vincent was the Rolls Royce of the motorcycle world back in the 40s, 50's and 60's. Great pity that this machine couldn't compete on the speedway scene because it was a great British company.
---
1970's

ERM

Jawa
(4 Valve Conversion)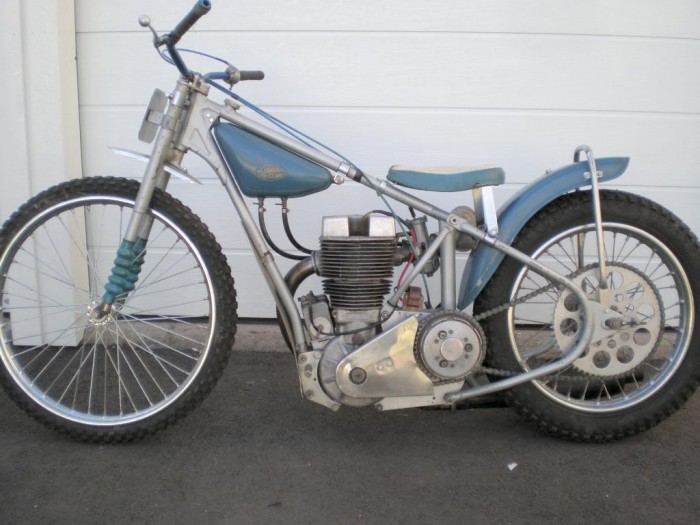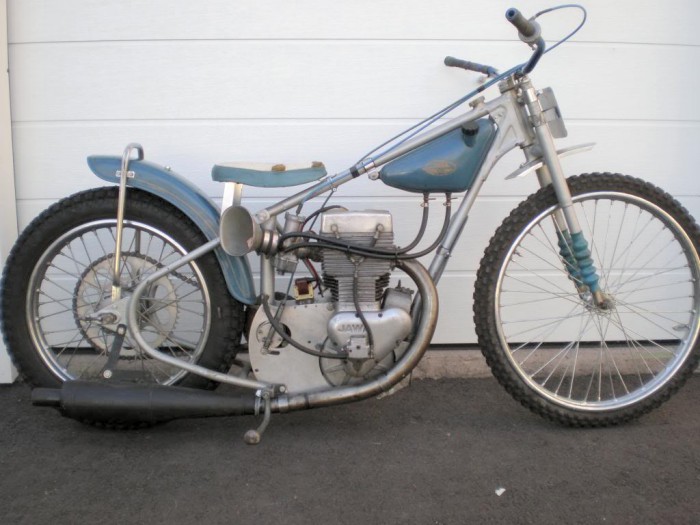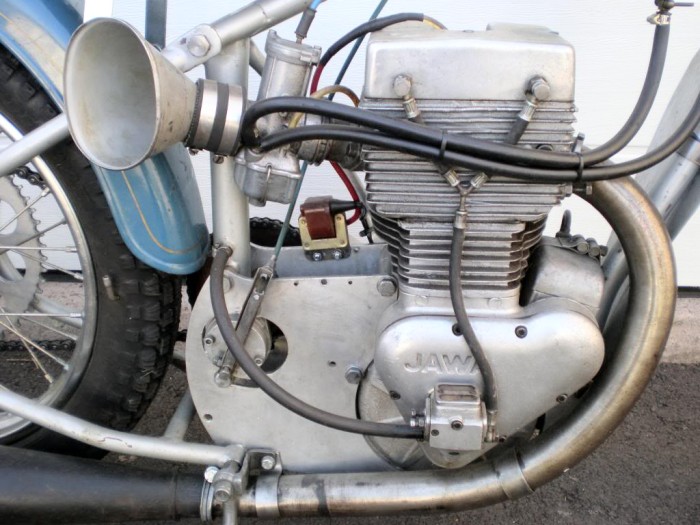 John says: I understand that the Jawa had a couple of early 1970's 4 valve conversions the above bike has the Swedish ERM (Endfors Racing Motor) engine conversion..a four valve cylinder head. The ERM began as the JJM (Jan Johanssen Motor) It was Jan Johannsen that designed this DOHC 4V conversion in 1973. I am told Swede Christer Lofqvist used the ERM (in fact a JJM) in the 1974 world final. I have heard of German and Dutch Jawa 4 valve conversions but it wasn't until Aussie Neil Street made his SRM Street 4 Valve Conversion ridden by his son in law Phil Crump that the world took notice and within a few years every speedway rider used a 4 valve engine.
If you can supply me with a timeline of 4 valve conversions please send me an email John
---
JAP

Engined
Chater-Lea
The use of copper components earned it the nickname "Copperknob" Another engineering firm using JAP engines in their frames. I am not certain but I think the Chater-Lea would be from the 1920s!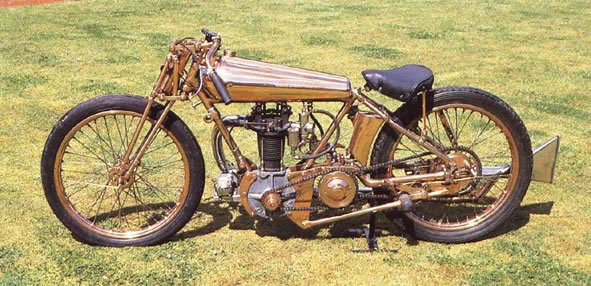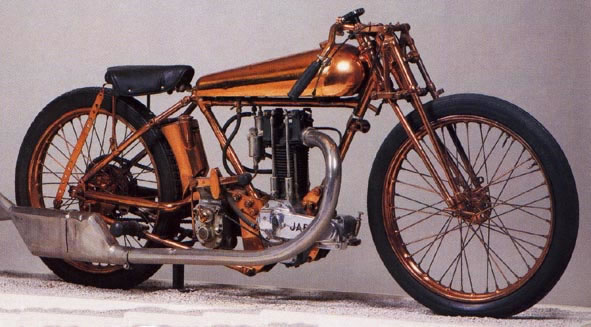 Another view of the Chater-Lea Jap which was also know as the Copperknob! Very doubtful that these bikes were raced on speedway tracks but they do look the business. If the bike is from the 1920s and it was used on a dirt track then JAP were a bit slow in cottoning on to speedway. The first JAP speedway bike didn't appear til 1931ish!
---
Excelsior

JAP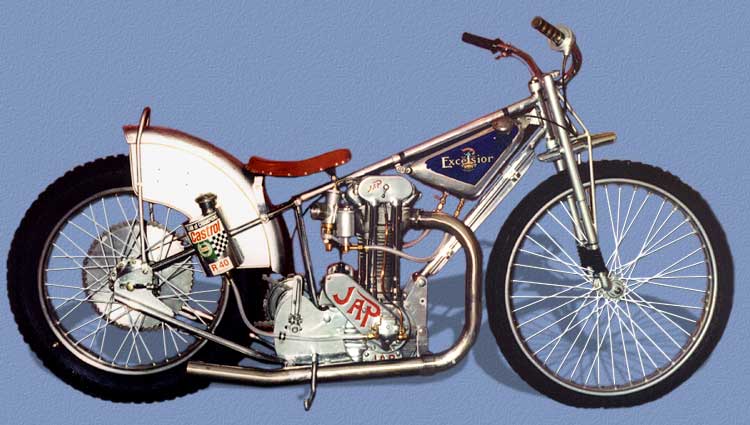 The oil tank on this bike has a Castrol R sticker. I can almost smell it from here
---
Weslake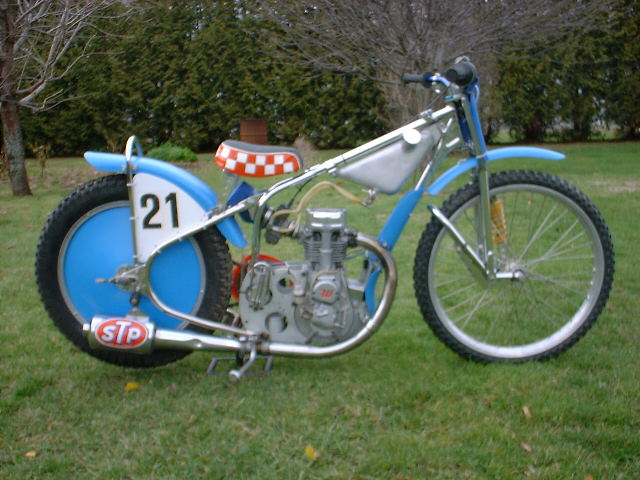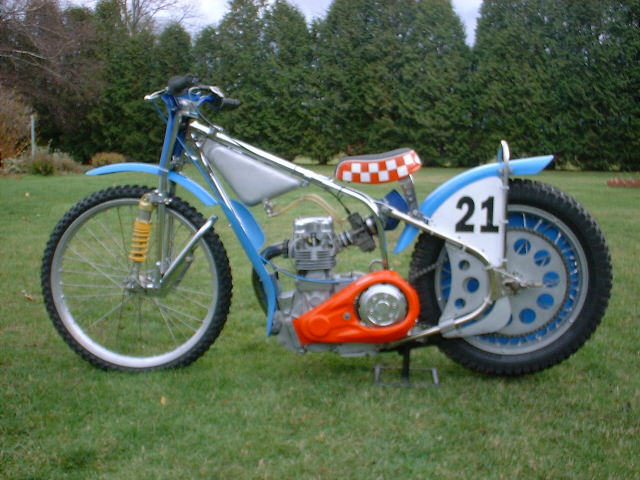 Weslake was another great British machine. They led the way for a while from the late 1970's until mid 1980's when the Italian GM and the Jawa took over. Jawa is the most successful bike in speedway history (lasted the longest). It was a pity Weslake could not keep it going as Jawa has now surpassed Britain's JAP by a number of years and are still going strong.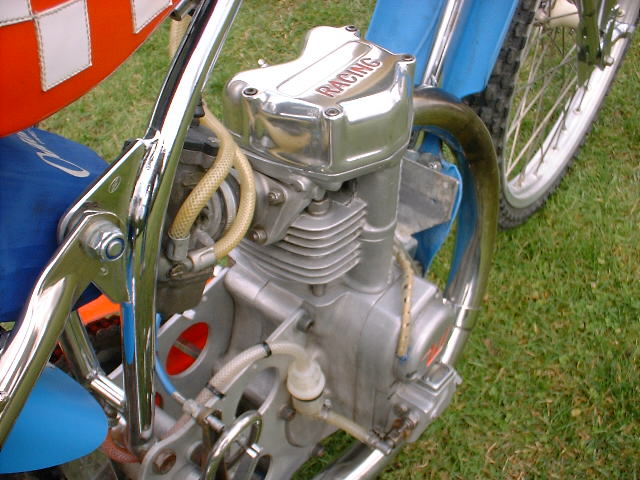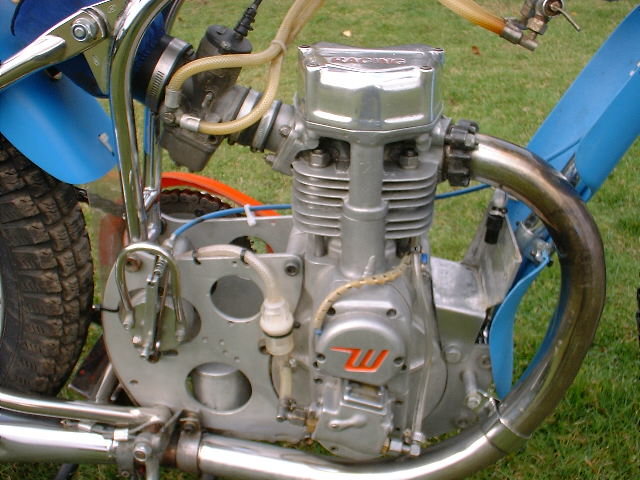 What a beautiful machine!
This Weslake is in beautiful condition, it belongs to Philip Small. He recently emigrated to Canada and is continuing his passion for the sport over there. Your bike is spot on Phil mate!
If you want to know more on the technical side visit Phil's website
Phil's site
and I am sure he would be pleased to get a few emails from old blighty.
Compare the above short Weslake engine to this engine in the old technology Rotrax JAP.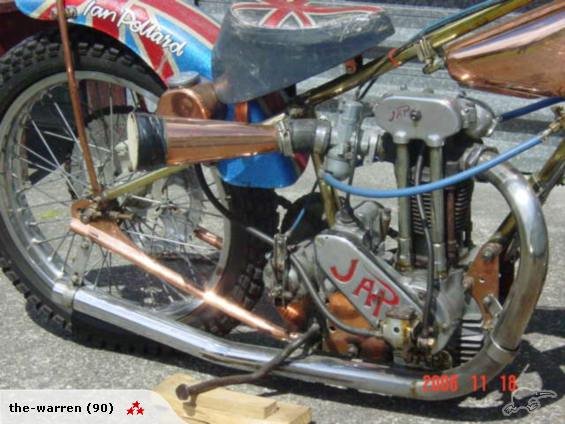 The old JAPs had a very long stroke cylinder and the engine filled the frame, by comparison the Weslake was very compact with a short stroke cylinder. The JAPs power came from the torque it developed by the huge punch down from its cylinder head, from the long stroke engine cylinder. Whereas the Wessie's power came in due to it revving higher than the JAP. Higher revving machines be they racing motorcycles or cars are what is needed to get every inch of power out of a motor. Formula 1 cars scream as the engines are revving so high. Speedway lagged behind, relying on the older technology like the low revving JAP. Modern speedway machines rev much higher than the JAP but still our bikes get low down grunt from the single cylinder engines.
John goes on to say: I am a motorbike fan and a speedway nut. In my view, single cylinder engines should be upright not laying down. Bikers can identify more with upright speedway bikes and who wants to look at the boring modern engine fitted as a lay down. Come on Jawa lead the way back to uprights for artistic reasons eh! If anyone knows the history of the Weslake please email me and I will put it here John
---
Another of
Phil Small's
Weslake Machines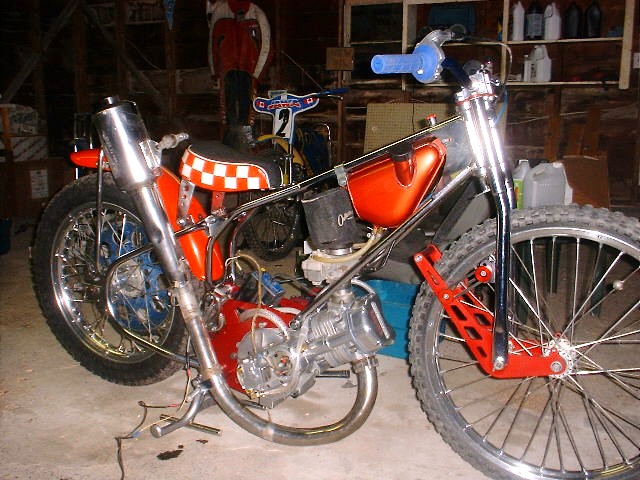 Weslake laydown! It looks awesome. The shape of things to come? maybe not! Surely in a spill the pipe and silencer will take a hammering? I will ask Phil a few questions about this bike.
Phil's response is below: -
I thought that might come up as a topic of conversation sometime! The exhaust is only there for test running the motor. I have not fabricated the laydown exhaust header pipe yet, so I put the old upright system on for testing only. It looked so hilarious I couldn't resist but to post the picture!
Regards,
John says: Thanks Phil, so you hadn't gone mad after all. So how does a laydown Weslake go? visit Phil's site to find out
---
Another JAP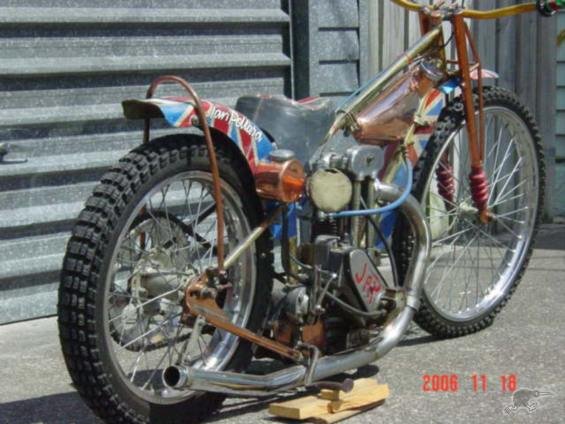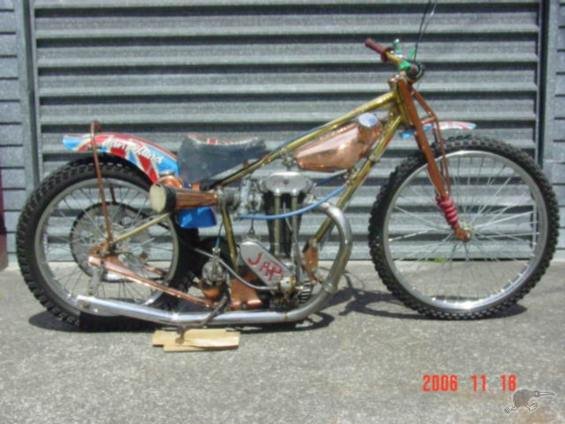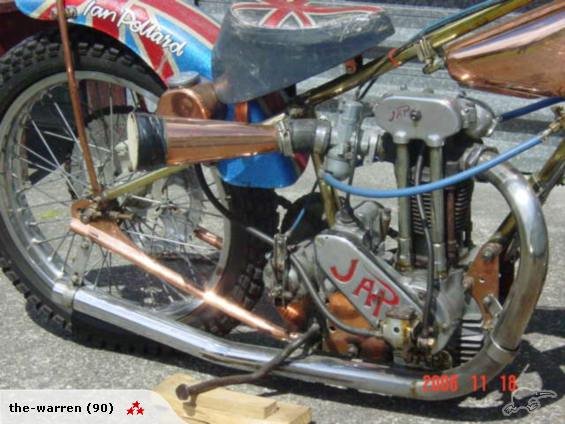 John Clegg says: Love your website. Attached are some pics of a bike that was still in use up to 1979 here in NZ, basically it is a 1949 Rotrax JAP which has been left in the condition it last raced. It still runs well, I can't believe it has as much power as it does for such an old bike. They were brave men. regards John Clegg. Thanks John the bike looks superb. bring back the JAP
John Skinner says: Well it is low revs and high torque v high revs. Progress eh? The BSA Road Rocket was a low revving 500cc single cylinder and it did 70mph in first gear. So that engine should have been tried out for speedway as our bikes do not reach 70mph
---
Bikes Page 1 Bikes Page 2 Bikes Page 4 Bikes Page 5 Bikes Page 6 Bikes Page 7
---
The contents of this website are © and should not be produced elsewhere for financial gain. The contributors to this website gave the pictures and information on that understanding. If anyone has any issue or objections to any items on my website please email me and I will amend or remove the item. Where possible credit has been given to the owner of each item.