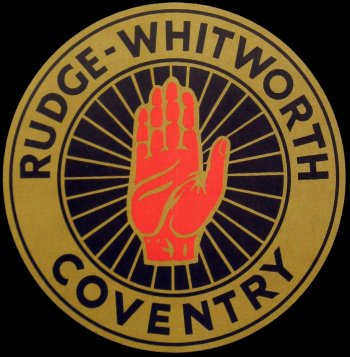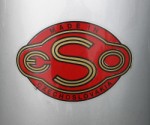 ---
Bikes Page 4
Bikes Page 1 Bikes Page 2 Bikes Page 3 Bikes Page 5 Bikes Page 6 Bikes Page 7
---
JAP

Engined Schoolboy
Grasstrack Machine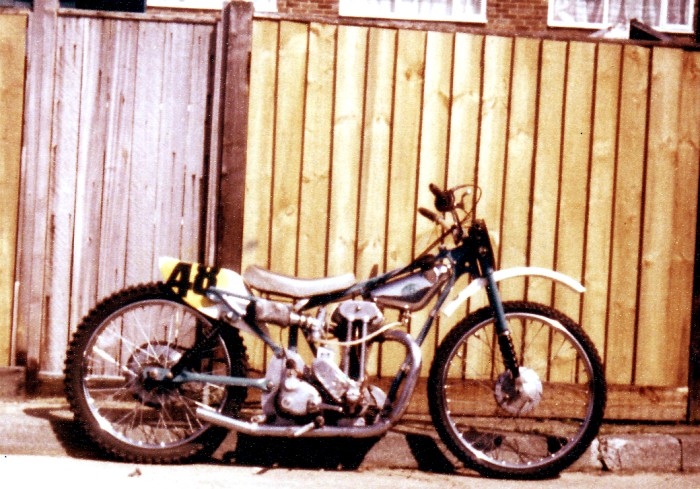 Alan Painter says: Hi John, great website, as a speedway fan of many years I find your site very interesting especially the bikes. Graeme Smiths Hagon Springer reminded me of the JAP. I used to race a Hagon springer with a 4 b 500cc JAP engine This was basically a speedway front diamond with a sprung rear end. Mine is pictured with a 22inch rear wheel rather than the 19 inch speedway wheel. I hope you find this interesting Regards Alan Painter.
---
Speedway Velocette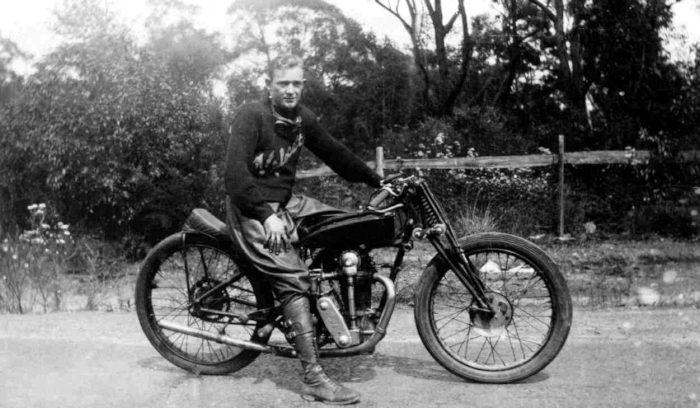 Picture from Mick Alexander taken around 1930. The bike could be a Velocette KTT. Can you supply any information John
---
Speedway Fuel
Our sport got underway the UK in 1928. The early riders were using road machines stripped down to lighten them for extra speed. Ordinary engines burning petrol were used at first. Very quickly the mechanics and engine manufacturers turned to experimentation and innovations were brought into dirt track racing.
According to "speedway Panorama" by Ron Hoare, Ivor Hill toured South Africa in 1930 with an English team. Because Johannesburg is so far above sea level, Ivor had problems tuning the bike so he decided to run his bike on Dope (in the early days quite a lot of machines were still on petrol or Benzoline.) he went to a firm of chemists to get a formula to run his bikes which was 75% Methylated Spirit, 20% Benzine, 3% acetone and 2% ether. Running at about 9:1 compression ratio.
I am told that Sprouts Elder was running his bikes on dope in the late 1920's.
In 1929 Bill Bragg, the Captain of Stamford Bridge, approached the JAP stand at the 1929 motor cycle show at Olympia. He was anxious to obtain a better engine in order to retain his position as one of the top riders of the time. Within 3 months an experimental engine was delivered to Bill, who tried it out at Crystal Palace..................The short version is -- that the engine was an immediate success & after much testing it was tried out at Stamford Bridge where Bill unofficially lapped at an average of 46mph which was faster than the track record. Unlike the 4 valve Rudge, the Jap was a 2 valver with a high compression ratio and it ran on Methanol [wood alcohol], and ruled the roost for over 30 years.
Fuel was just one thing in the tuning of an engine. Another vital engine tuning aid was and still is "Timing" here we have below a picture of a Jap Timing Wheel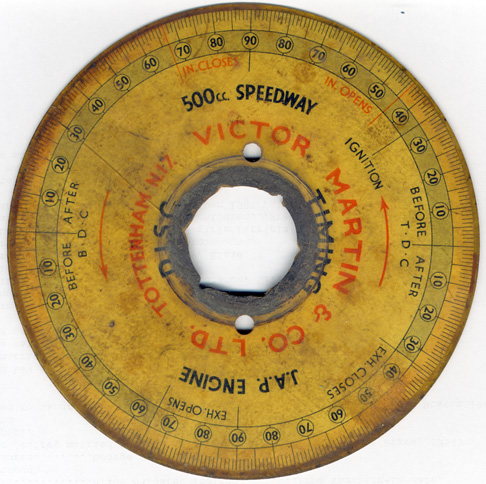 Setting up an engine was a lot easier if you owned this disc. My thanks go to Jeff Crawford, it's owner, for sending me the picture.
---
Speedway Tyres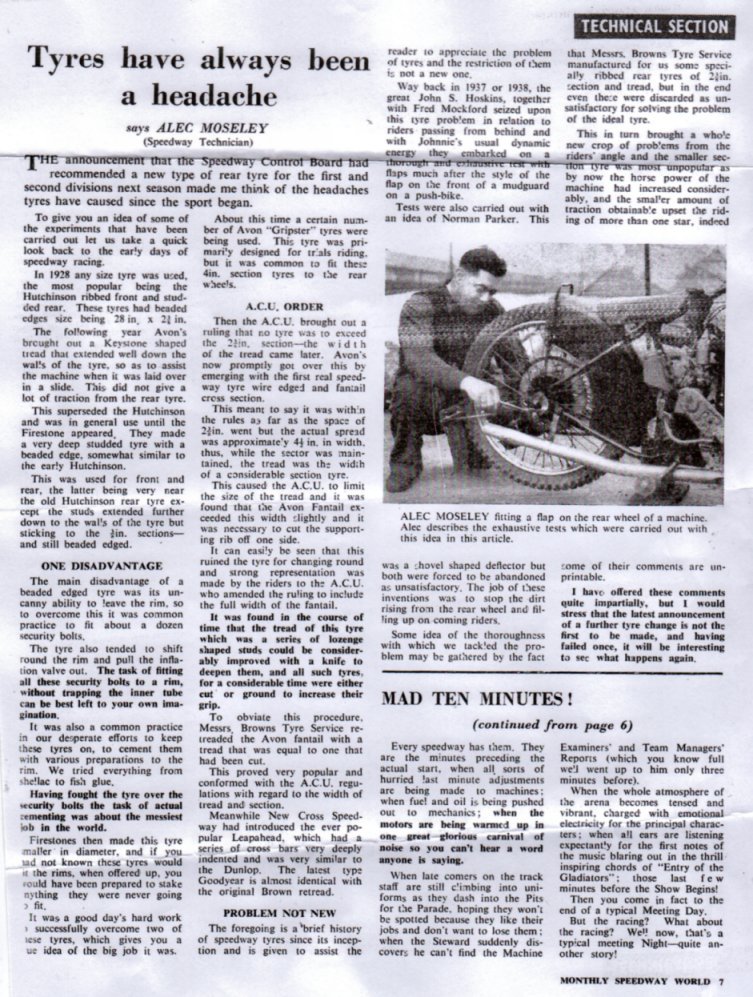 ---
AJW/JAP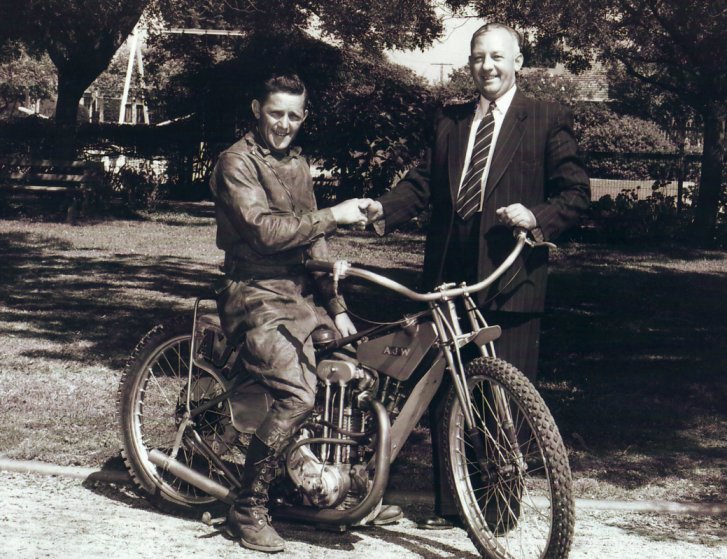 Jack Young being presented with a new AJW in the summer of 1950 by his Australian sponsor Fred Jolly. AJW used JAP engines in their frames
The Bike In
Recent Times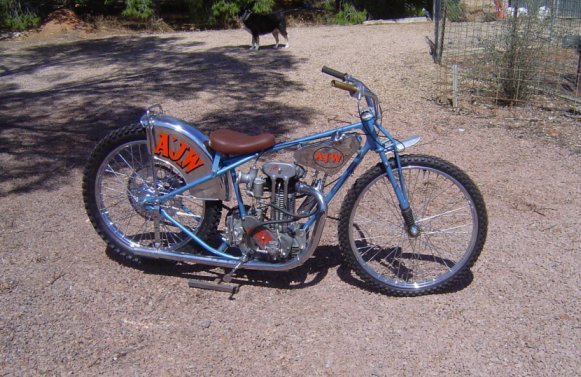 Neil Burston says: I purchased the bike a couple of years ago and have restored it to its original condition, it had been converted to 350cc for long track we call it here (same as grass track) and the rear wheel changed etc it had been sitting in a shed for a few years. The engine is now back to 500cc - I got most of the original parts and it has the correct wheels fitted.
I have not shown the bike anywhere yet but thought you might like some pics for your site. I also have the ex Gerry Hussey machine I emailed you about already and a couple of surprise bikes I am working on right now but I will send more info when I am more progressed with the restorations.
Neil Burston
South Australia
Thanks Neil the Jack Young AJW looks great. These surprise bikes sound interesting. How about a clue?
Neil has been in touch again, he has the following declaration about the "surprise" bike.
Mitchell Frames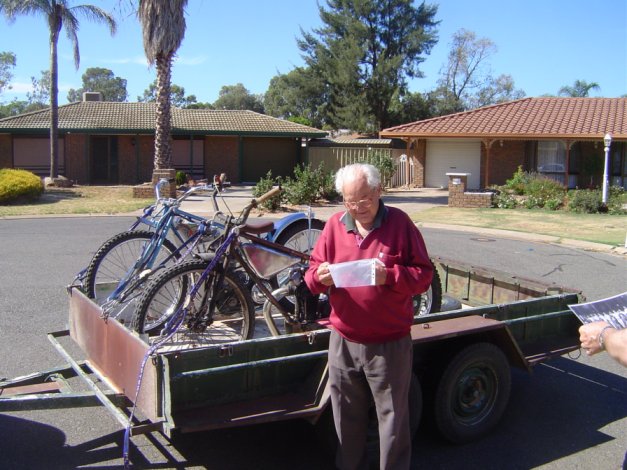 Lindsay checking the bike's docs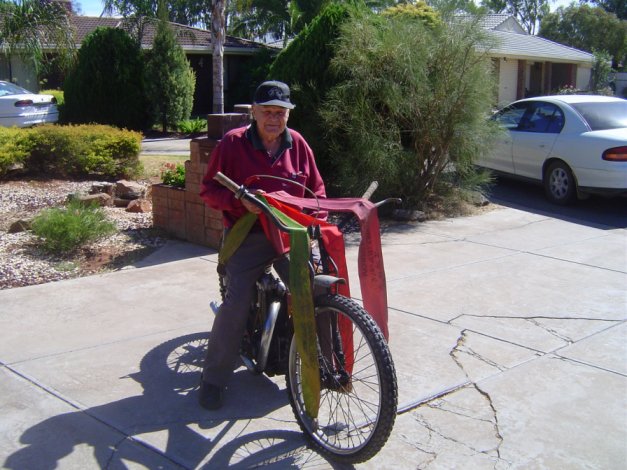 Photos Courtesy of Neil Burston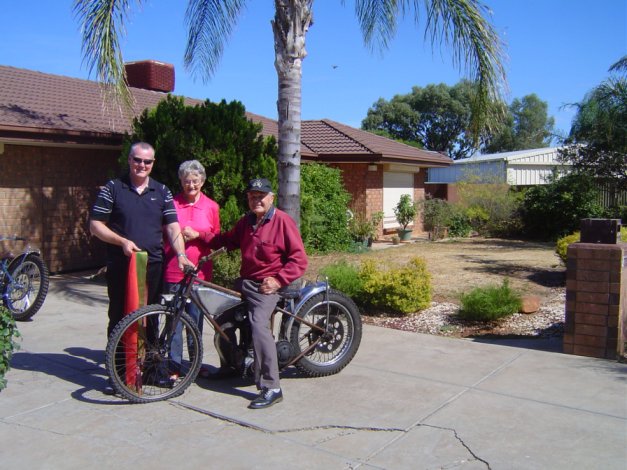 Photo Courtesy of Neil Burston
Lindsay Mitchell with wife Thelma and their son Graham at home in Adelaide, South Australia
Neil says: I imported the Mitchell Japs in January 2008 after they had sat in a shed in Sheffield since 1959-1960 – they were sold by Frank Varey to the former owner who tried riding himself but parked the bikes shortly after till now, when he was moved into an old peoples home and they were sold by his family.
I am going to go public later this summer season and display the bikes at the running of the Jack Young Cup at Gillman speedway in Adelaide as the 51 bike is well on the way to being finished. Once the cat is out the bag the 51 bike is going to the Birdwood Museum here in South Australia.
The other bike is also a Mitchell and according to Lindsay was probably the Edinburgh track spare in 49 which was ridden by Clem at times and Jack Young when he first come to Scotland. He has been unable to positively identify it yet because it was bought in many pieces and is still in the same state away being plated.
The bike is also copper plated and press reports at the time said Young won the title on a rusty looking bike.
I have attached documents and pictures for you note the rear wheel in the pics is a 19 when in 51 it had a 22" – it was swapped when 22s were banned in 55 I think it was - but the rest of the bike has stayed pretty much as it was, I have re fitted a 22" now which I got in a pile of parts with the bikes- I had to remove a pile of rust first and get the rim reworked.
I can supply more pics for you for your site once the cat is out the bag and the bikes are more secure.
John Skinner says: I hope you can send more pics of what is undoubtedly Jack Young's 1951 world championship winning bike and the other machines too.
Clem and Lindsay built the frames on which Jack Young won his World Titles. Known as the Mitchell frame, everybody wanted one so they sold the copyright to Victor Martins of Tottenham who were the JAP Agents. The frame became the Martin Mitchell.
---
The Rotrax JAP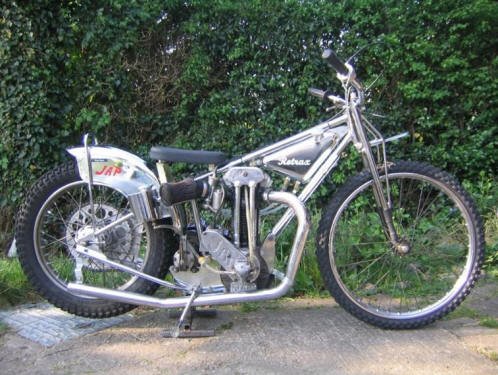 Mk 1 Rotrax Jap. John says: Rotrax JAPS are the most eye-catching speedway machines of all time. After watching a meeting, as a boy I used to wander through the Brough Park pits (Newcastle) in the 1960s for close up meeting of the riders/autographs and to see their bikes. How I wish I had, had a mobile phone with a camera app as pictures of the Rotrax JAPS in use would have been captured by me. But no mobiles or digital cameras in those days. I can only tell you therfore, that Rotrax JAPS were the best looking bikes in our pits! Then there was the heady smell of Castrol R which hung in the air around the stadium! Bring back a Rotrax replica alright! with modern components, the sport would look much better
---
The Simandl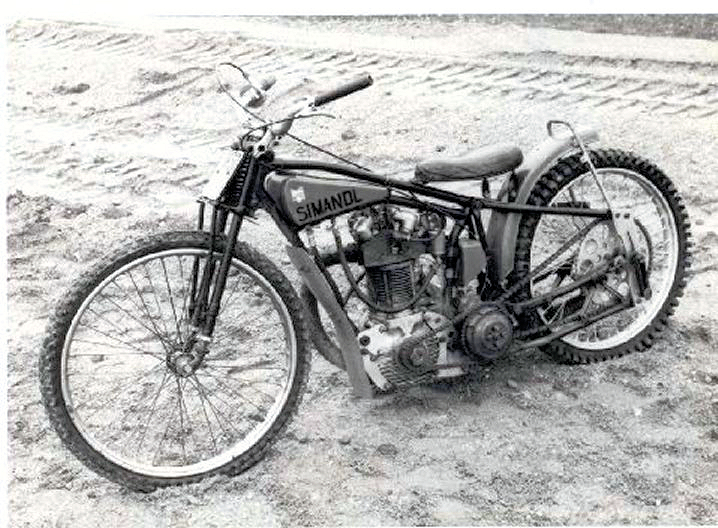 A rare bike and certainly one I never heard of "The Simandl" It came out of Czechoslovakia and seems to be in a Rudge frame. In those days "Health & Safety" regs were not an issue. The bike would have been used without any guards on the chains. Many injuries would have happened as a result. My thanks go to Jeff Dooley for sending the picture to me and if you can supply some info don't hesitate email me today
John
---
Kyokuto

1965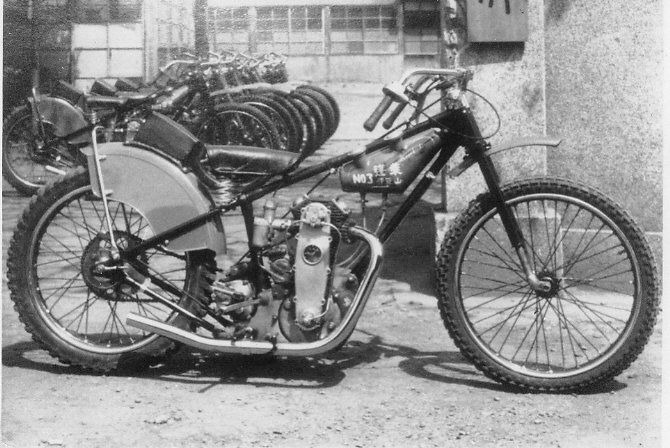 Giffy has sent the picture shown above and the description that follows is his too
Please find a photo of a Japanese speedway bike attached. It dates from 1965 and the company that made them, Kyokuto, contacted a local bike dealer here in New Plymouth, NZ, to see if he wanted to be an agent. We still have the brochures and stuff. They made a 350 and a 500 but I think they were quite a low compression motor.
Thanks Dave
---
Velocette

400cc
Veloce Ltd., based in Birmingham had a stab at producing a dirt track bike pic shown below
Velocette. For some reason the company made 400cc speedway bikes which this one appears to be. I wonder how competitive they were amongst the 500cc competition? Why did you not supply a 500cc engine Veloce? Did you not want to be competitive?
---
AJS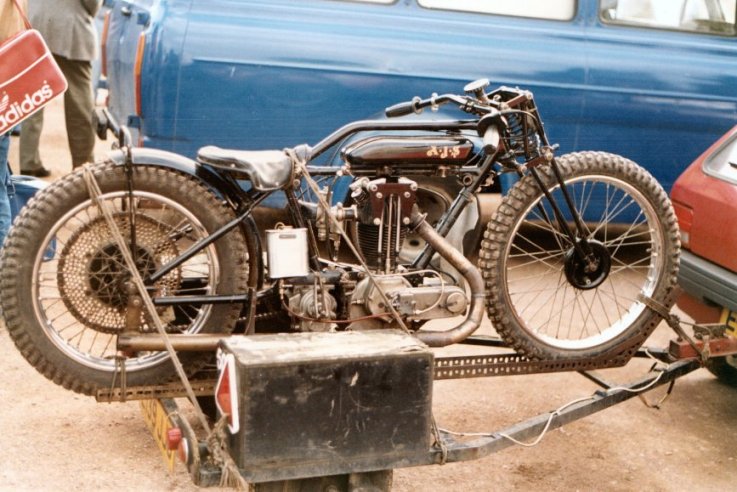 John says: AJS! I have no details of this machine please email if you can help
John
Andreas Raab says: Here are some pictures of AJS Speedway bikes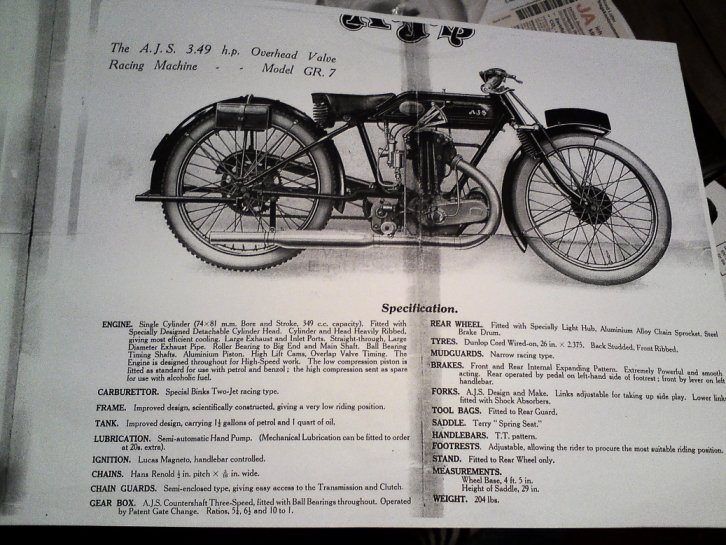 The AJS GR7
Another

AJS!


A Road Going

GR7


With A TT Tank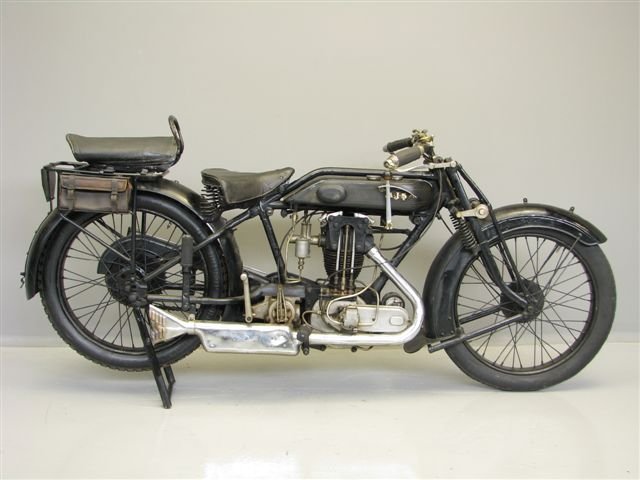 ---
Possible Hybrid Machine
Harley/AJS?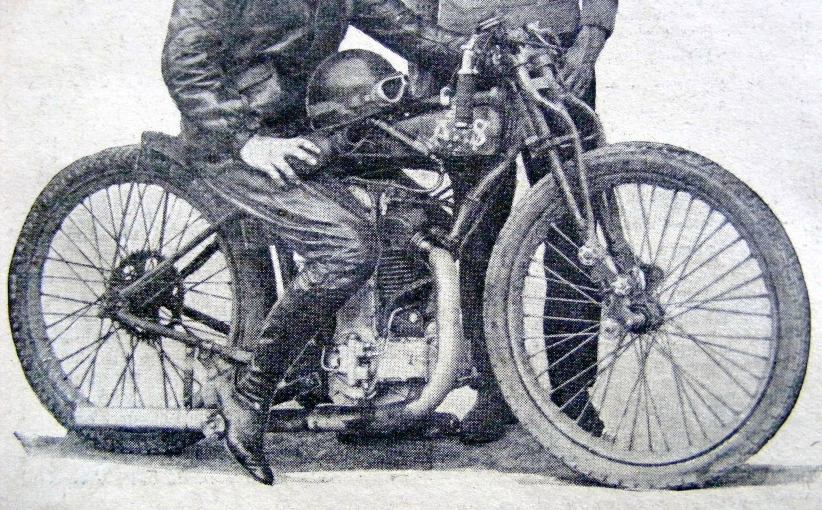 G8? I cannot say that I am aware of this bike being used on our dirt tracks but it does look likely.
A potent looking AJ obviously in speedway trim. The tank appears to read AJS. I will ask Andreas.
Andreas Raab says: A Harley Davidson "Peashooter" with Max Grosskreutz but the engine looks like an AJS R10 (1930).
---
An Indian With A BSA In The Background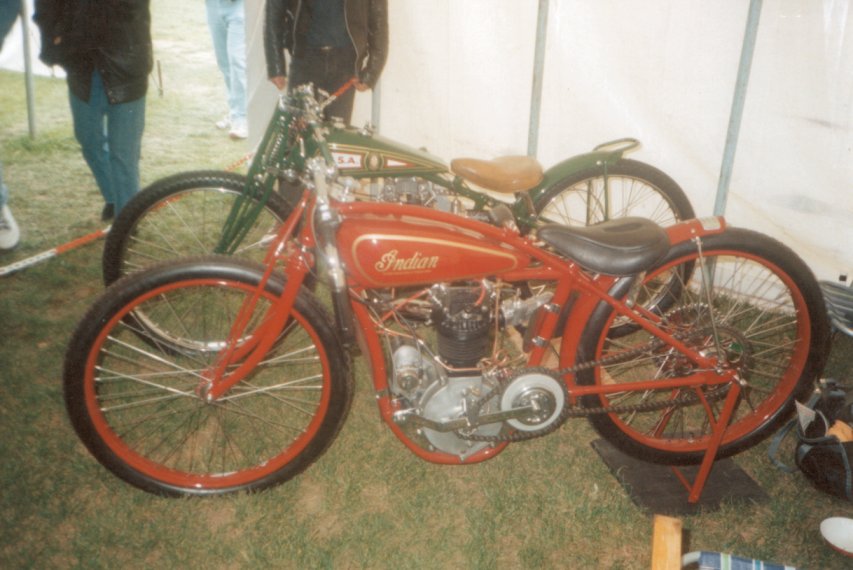 Dave Gifford has been in touch about the Indian shown above he says: Now on page 4 of your Bikes site is a picture of a 20's Indian and is it the bike once used by Kiwi Spencer "Smokey" Stratton? I understand that Stratton became Promoter or team manager at Newcastle after he quit riding and was killed in a road crash coming back from a meeting at Workington? Can you verify or give me any additional info? So! can anyone shed any light email me
John
Smokey, along with Stewie St George were probably our very first riders, they both rode for Johnnie Hoskins at West Maitland where it all started and I have an idea they came to England with Johnnie but we know very little about them. Cheers the noo, Giffy
I will ask around Giffy and let you know if we come up with anything John
Unknown writer says: There was an obituary in Speedway News June 11 1938. Basically confirms what you write, but doesn't specify the town where he crashed. He had been team manager of Johnnie Hoskins' Div.2 track at Newcastle. Before coming to England in 1928 he had crashed at Newcastle, NSW and been unconscious for 23 days. The article mentions his love of the "Indian" bikes.
Unknown writer says: I have a newspaper report from Monday 6th June 1938 which says that Spencer Charles Stratton, aged 33, was killed in an head-on collision between two cars at Brigham, near Cockermouth (Cumberland) on Saturday night (4th June 1938).
Unknown writer says: Three companions, Canadian riders were travelling with Stratton, were seriously injured, as were the occupants of the other car (John Roan, of Cockermouth, and G.O Smith, of Whitehaven), Stratton's injured companions were Ellwood Stillwell (28) Bruce Venier (21) and Robert Sparks (23), The five injured men were taken to Cockermouth hospital with severe head and face wounds.
John says: Yes Ellwood Stilwell, Bruce Venier and Bob Sparks all rode for
Spencer "Smokey" Stratton at Newcastle.
There is more about Spencer on my other website

D

efunct Speedway on the first Miscellaneous page.
---
Dirt Track Indians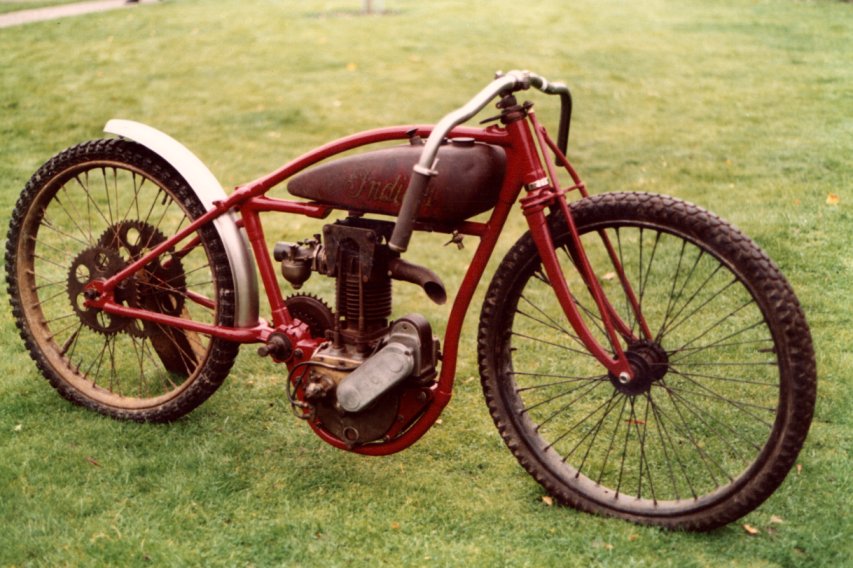 A 1920s Indian in need of some TLC, a saddle would be my first part purchased! The Indians were almost sculptures in steel. I have seen works of art with less appeal.
Richard Forshaw's Indian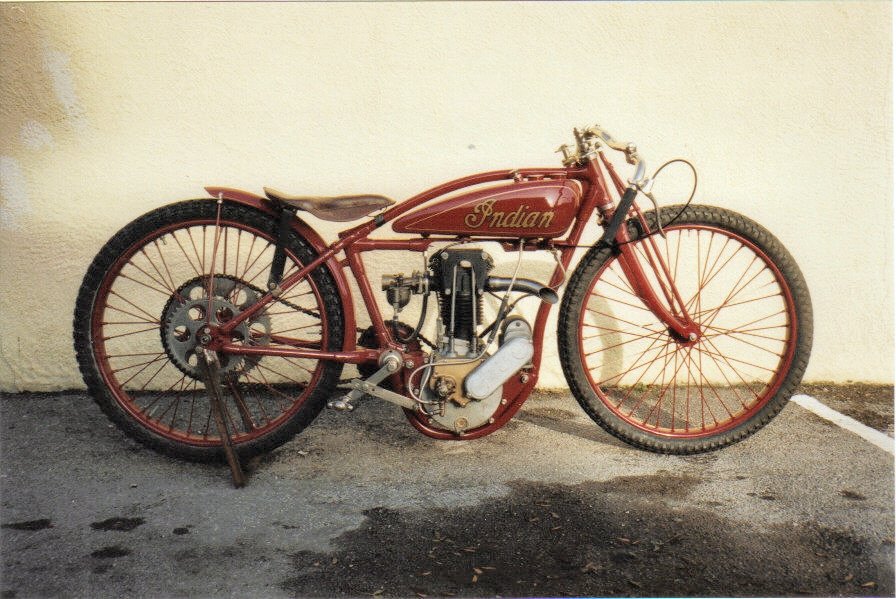 Courtesy of Reg Fearman
Reg Fearman says: This picture was part of a Christmas card received some years ago from Richard Forshaw who lived near Poole and had the Aston Martin agency. He had a collection of some 30 old machines and this was one of them - all restored. He died suddenly and his wife gave them to a Museum at Yeovil on loan.
---
1930

Dirt Track Norton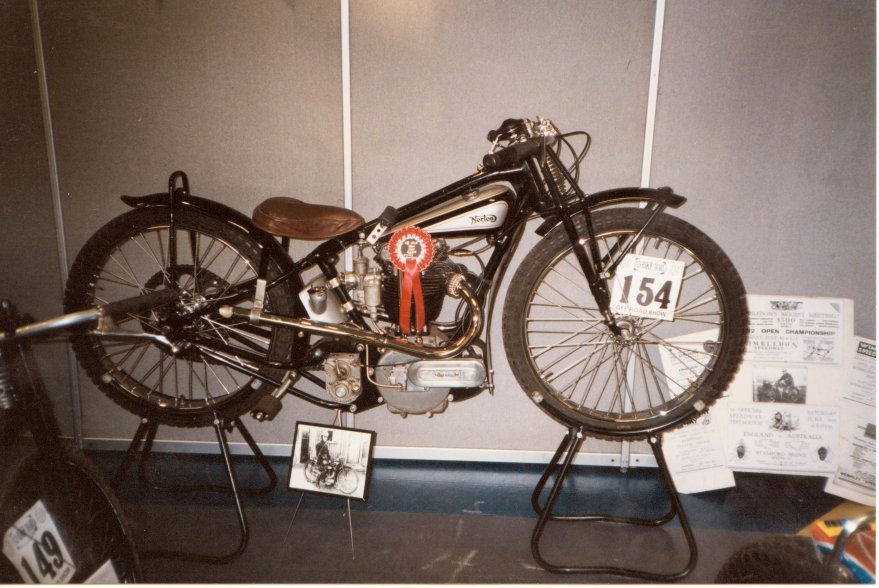 A 1930 dirt track Norton. Who knows what might have been if Norton had channelled some of its road racing efforts into speedway
---
Scott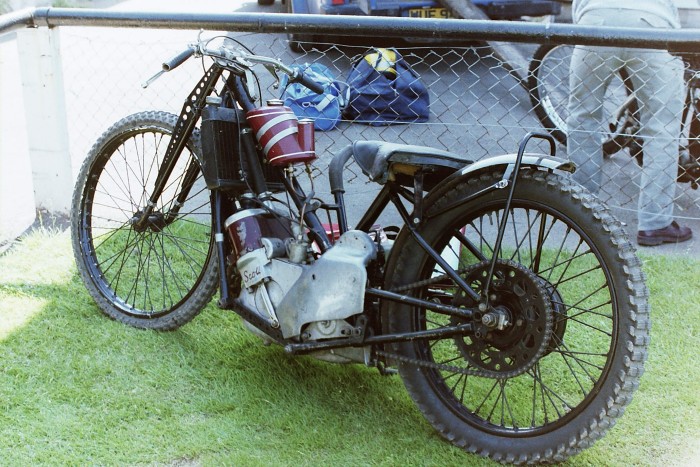 Water cooled two stroke. A curious looking bike and I wonder about the radiator. Just how robust the radiator was I will never know, but I presume it would fare badly in a spill
---
Harley Davidson Peashooter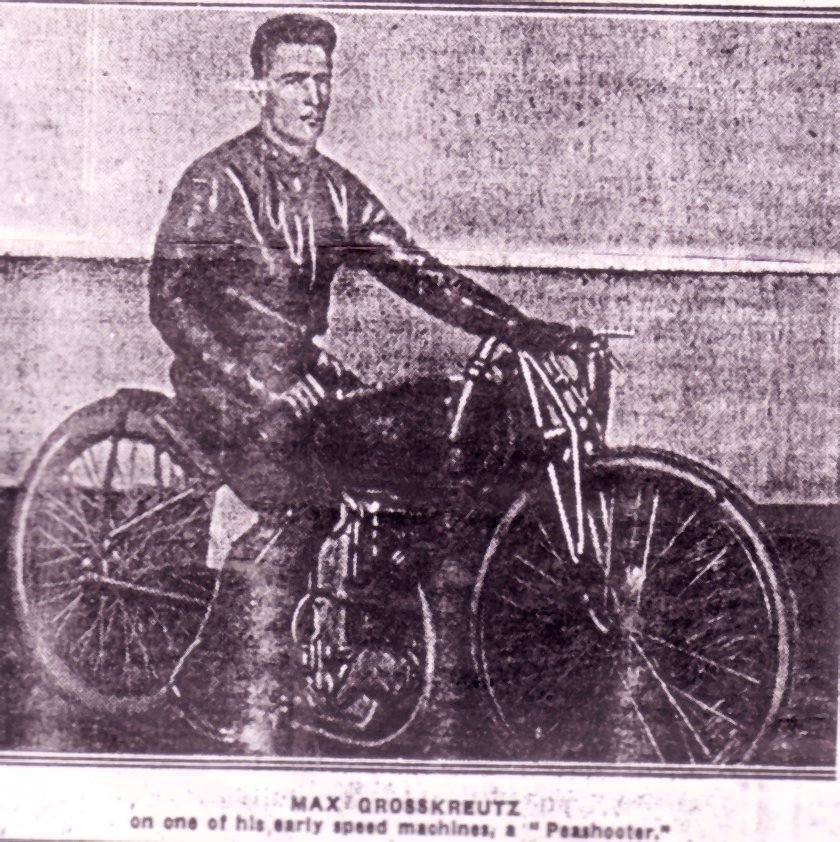 1927

Peashooter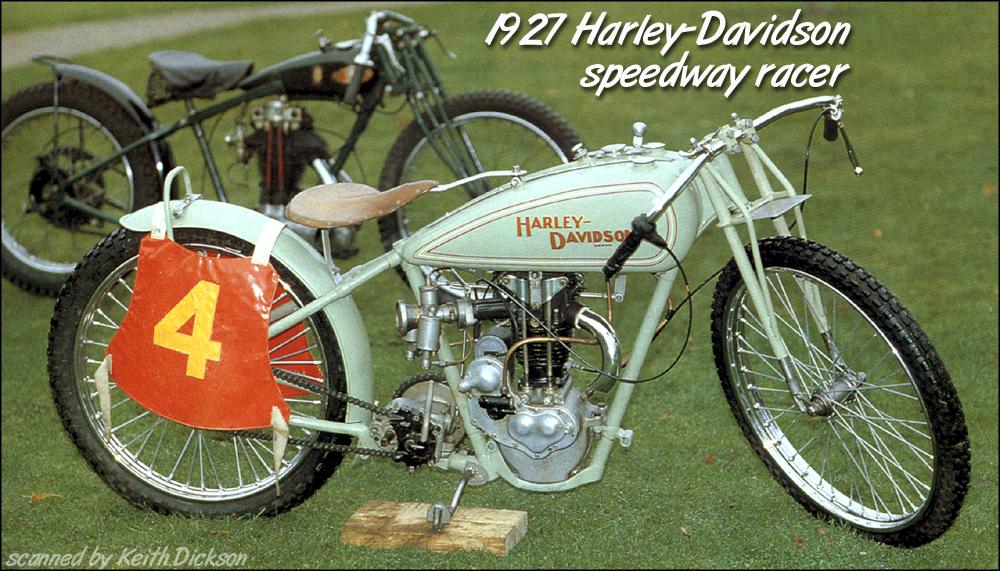 Can you say where this Peashooter was used in 1927, Australia or USA? That is a BSA in the background
A "Used" Harley Davidson
Peashooter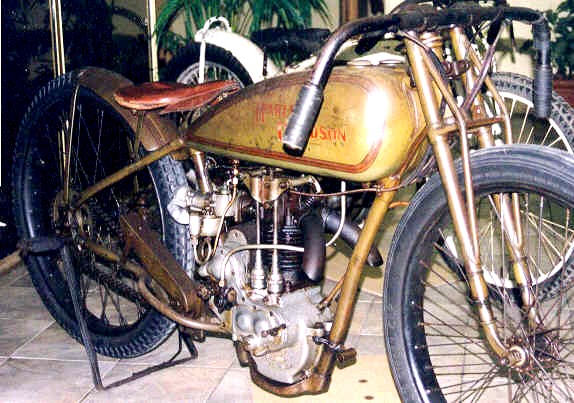 This Harley Peashooter is interesting as it looks as if it has been well ridden, oil leaks were very common with early motorcycles
---
1928

Scott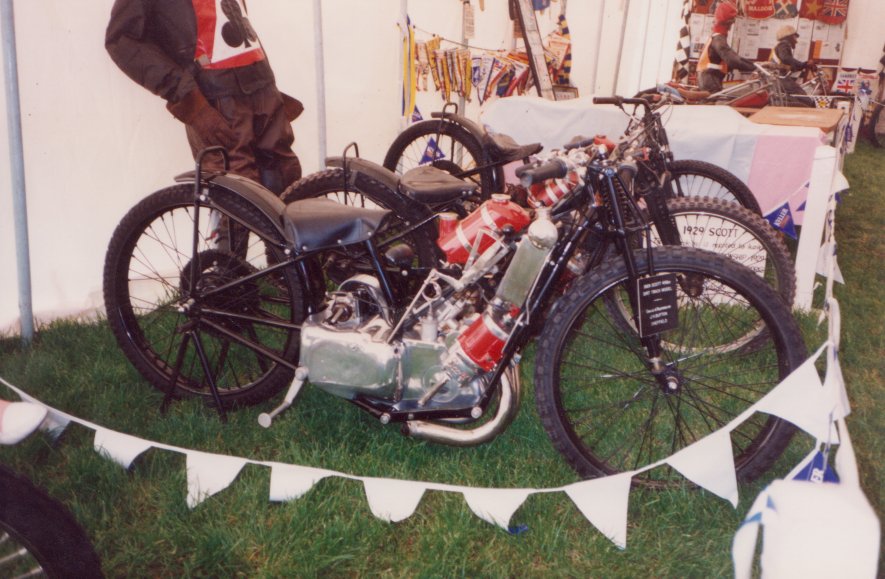 1928 Scott, the only 500cc two stroke engine used in speedway. The most famous rider to use a Scott was Frank Varey
---
1929
James V Twin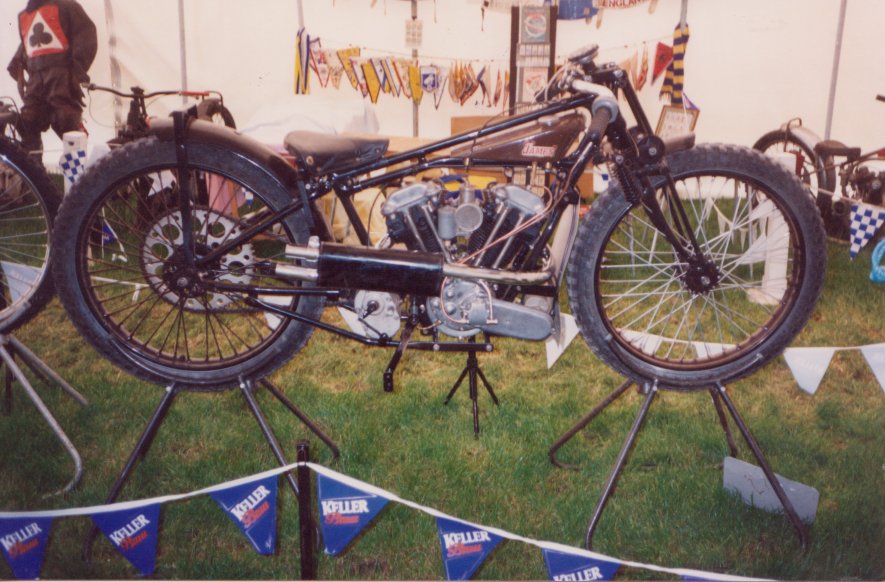 1929 James V Twin. Can anyone say how successful these bikes were? John
---
Douglas DT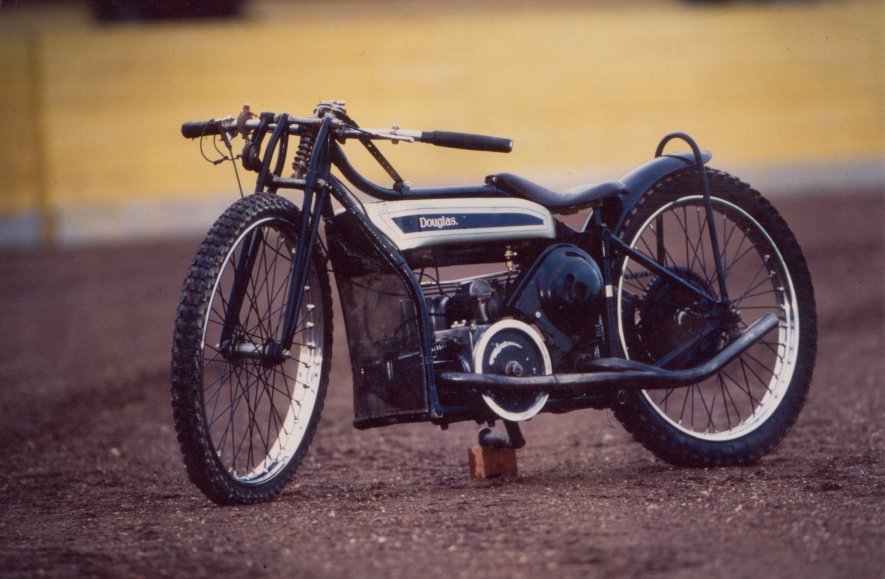 ---
¬
Terry Stone's Douglas Machines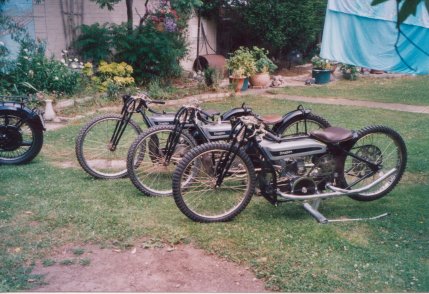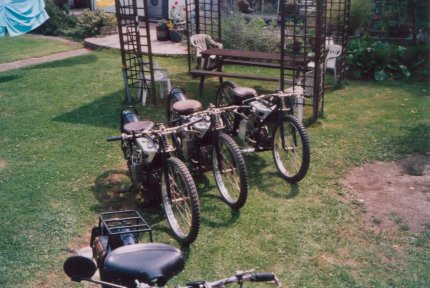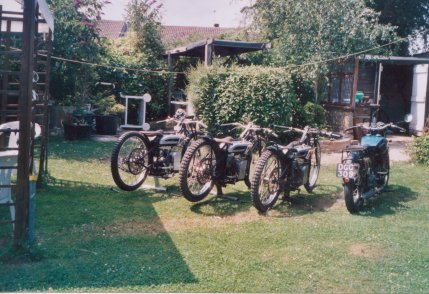 3 Douglas DT machines, they are owned by Terry Stone a member of the Men In Black and VSRA. The bikes are in tip top shape and ready to race in Men in Black events. The Douglas was the only Dirt Track / Speedway bike to have flat twin engines. The low centre of gravity and longer wheelbase gave rise to "leg trailing"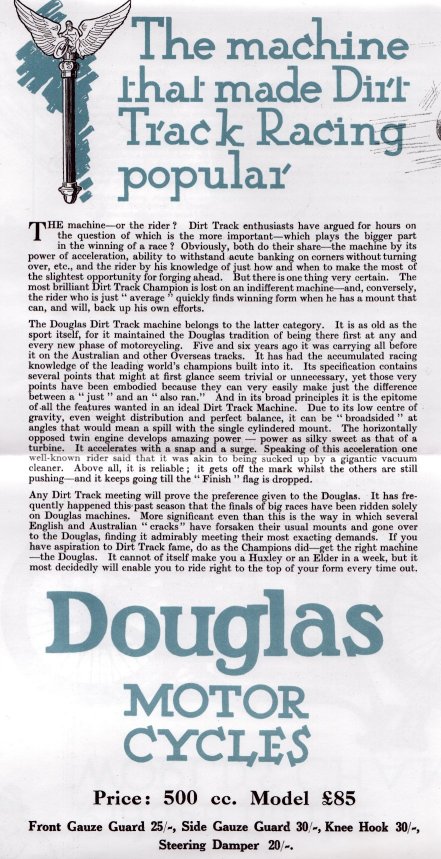 The Duggie was an Immense early machine and the most successful twin cylinder engine that speedway has ever known. Maybe modern day manufacturers Jawa and GM should experiment with a modern version of the Douglas.
---
Rudge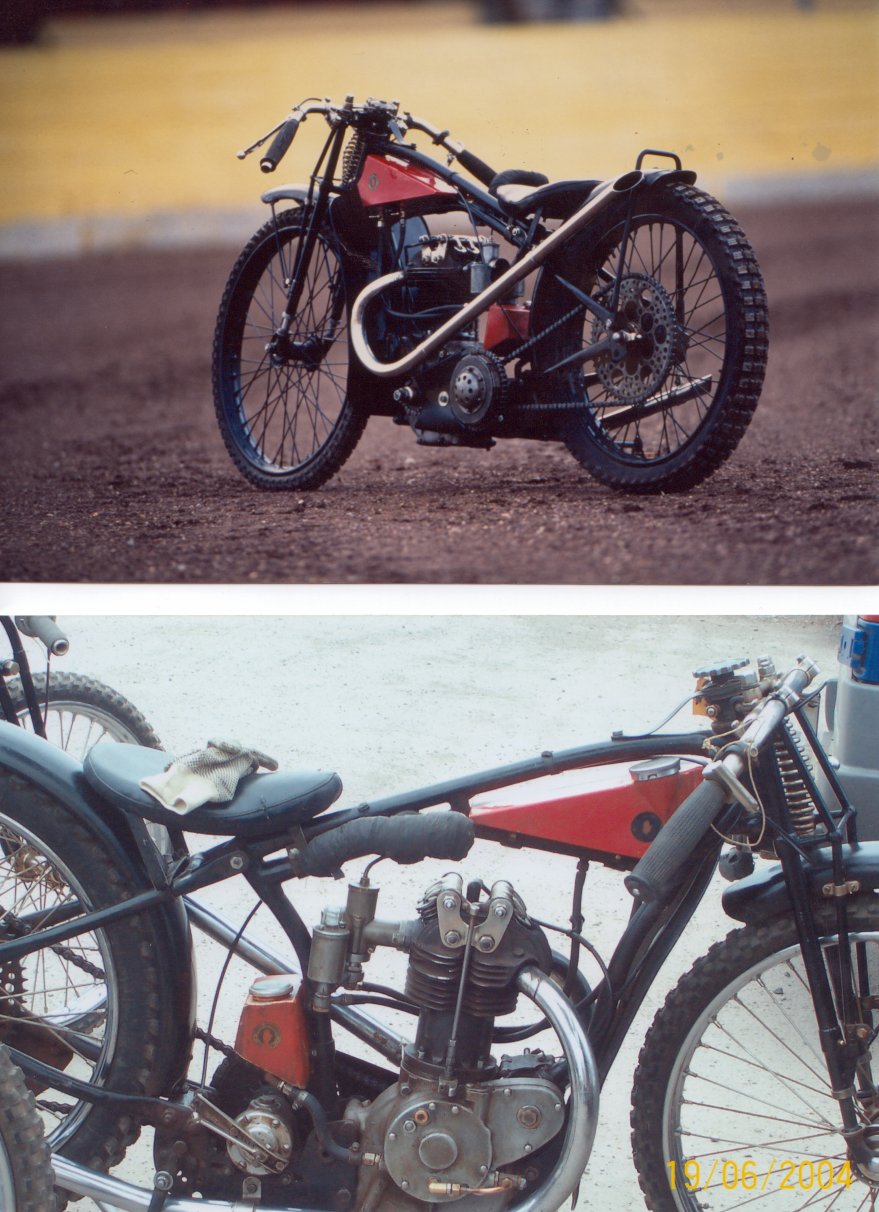 The famous red tank says that these are Rudge's. Top picture is of a 1934 model and the other is from 1928. That was it as far as Rudge and speedway go 5 or 6 years of manufacturing speedway machines although a few bikes would have been in use throughout the reminder of the 1930's. I am always surprised that engines such as this Rudge have their rocker gear exposed. Surely they would have been better enclosed in a rocker box and filled with engine oil!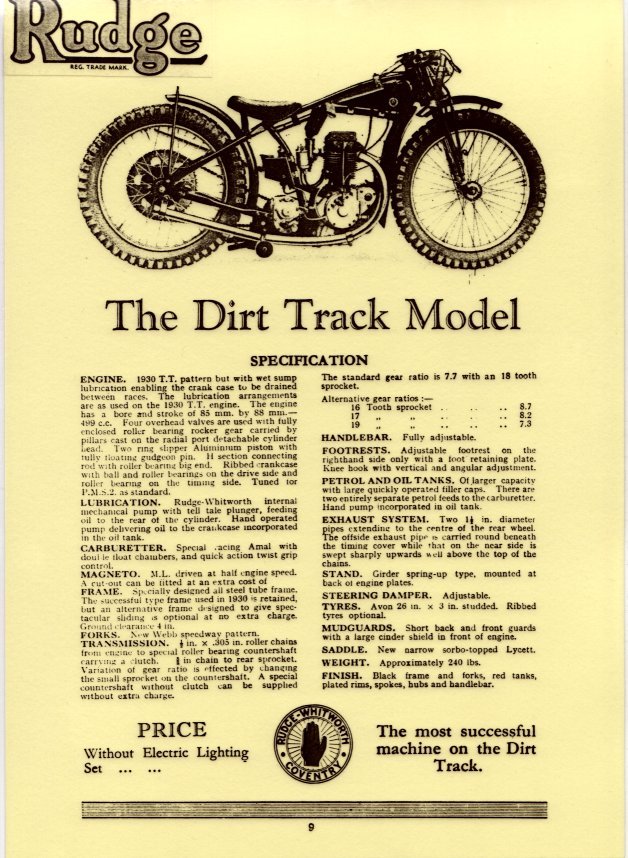 These are the specifications of the highly successful but all to brief reign of the Dirt Track Rudge
---
1928 OEC
Osbourne Engineering Company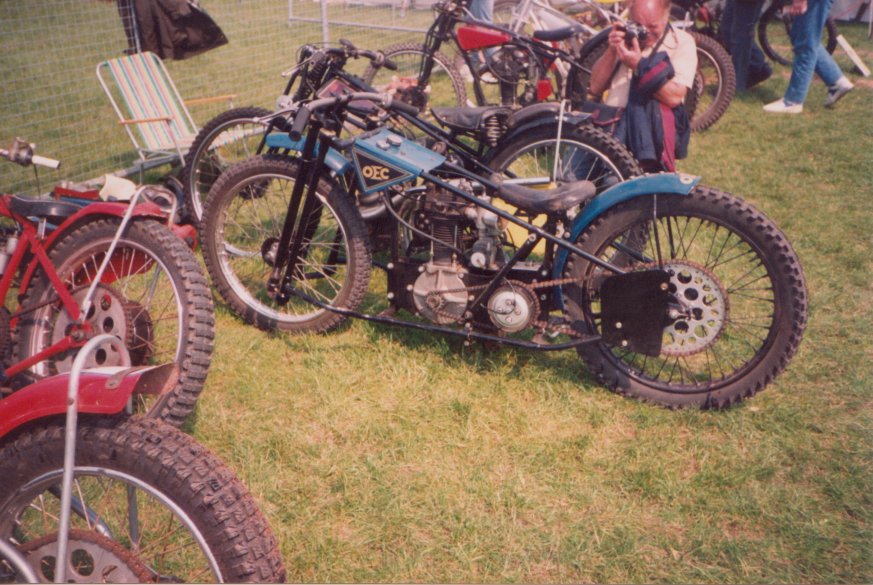 I don't know much about the OEC apart from them looking different from other dirt bikes of the era.
A rare machine. OEC stands for Osbourne Engineering Company. I am told by Terry Stone that there are only 2 left, of this model in the world. The other one is in New Zealand. I wonder what the black rod is running parallel with the ground. Surely that would hit the ground on the corners.
Jim Henry Says: Hi John. The OEC you show on your web site and comment about the bar near the bottom of the machine is a very rare bird. It is a centre hub steer machine and is not like any other bike you will see. I've sat on the bike a few times and it is difficult to take in just how the the mechanism works. It is an amazing bit of engineering. It used to belong to Ivor Thomas (Barry's brother) and I saw Ivor ride it at a BMF Rally at Peterborough. I'm sure MCN magazine published a photo of Ivor using it
A Beautifully Restored

OEC JAP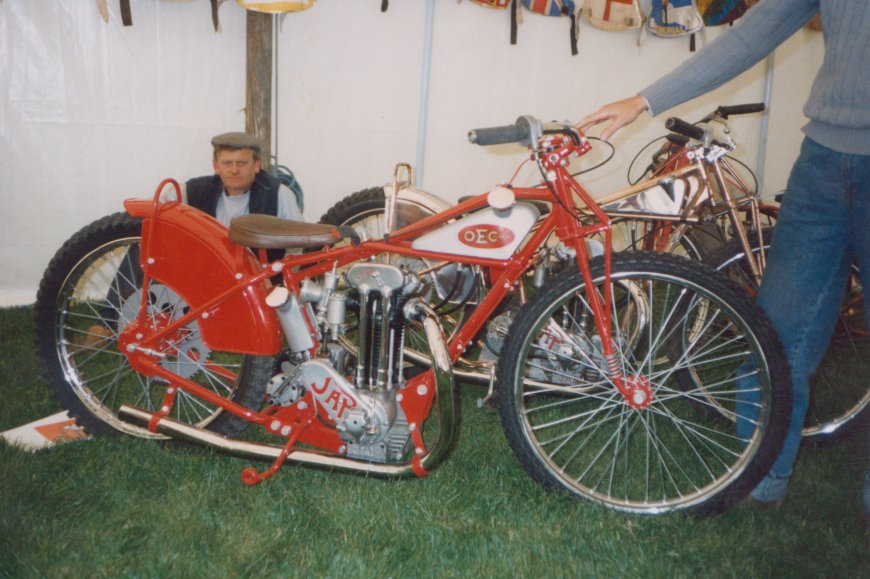 A beautifully restored OEC JAP. If you want an incredible old machine go for a JAP in a variety of frames. Is that Ginger Abigail sitting behind the machines?
---
Terry Stone's

1960
Rotrax
JAP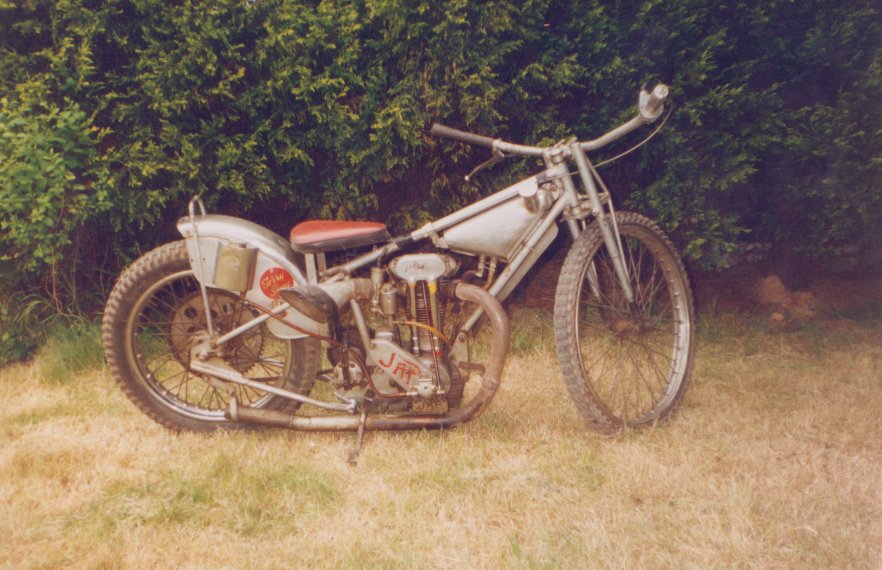 Terry Stone's 1960 Rotrax JAP. Arguably the most successful Speedway machine of all time? or is that the JAWA! Tottenham built JAPs dominated world speedway for such a long time.
When looking at pictures like this one of the Mighty JAPS. I am always fascinated by the variety of big cow-horn handlebars the bikes had, were they a fashion item? No! I didn't think so, I asked Bob Andrews about the big bars and he says:
Handlebars:- well in the JAP days you had to have bars that were up to 3 ft. wide. Because JAP bikes were very hard to turn. The bikes were a sprint bike just to go in straight lines, so when you got to a bend You had to "flip" the throttle to break traction. And get it sliding, on small tracks it was an art. That's why it took 3 to 5 years to master the bike. Then came JAWAs/ESOs. And the frame they were in just seemed to turn on their own. So riders mastered the art quickly, you saw new names spring up very quickly. So you didn't need wide bars. In fact the way I saw it. Riding the JAP ( which I loved, as I had throttle control.) I used to have to think where my back wheel was pointing, to steer it well. Then on the Jawa's all you had to do was steer the front wheel,
Much the same now with these hi revving Lay Downs.
Bob.
John says: Thank you Bob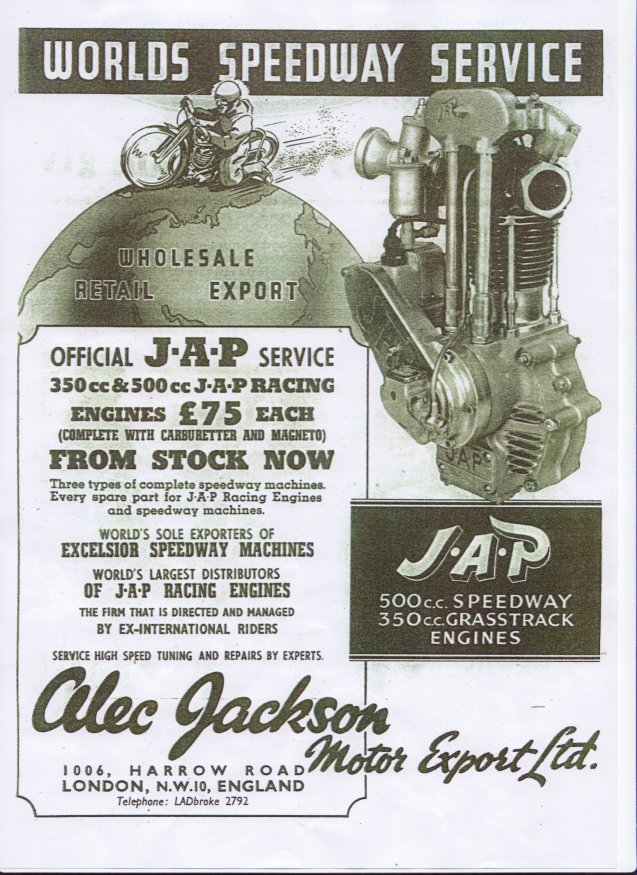 Late

JAP

Engine
In A

JAWA

Frame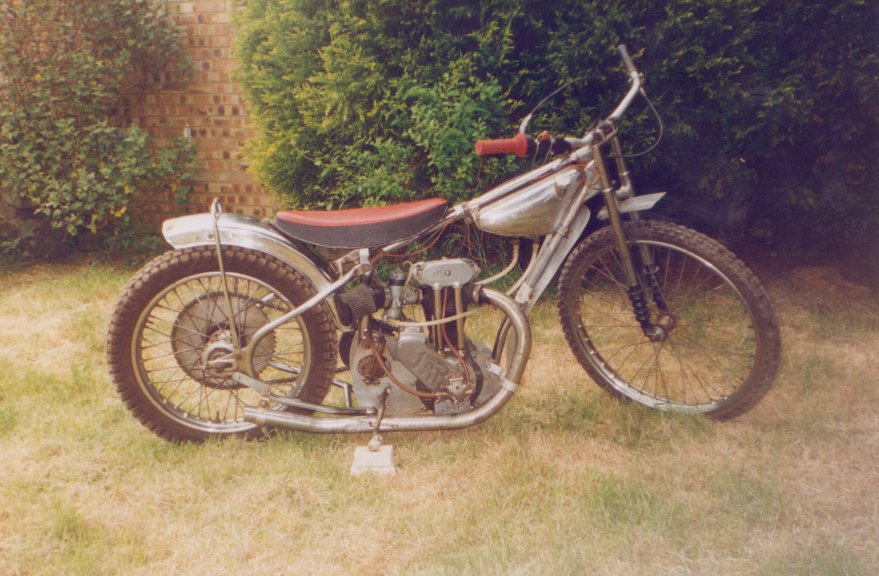 The above machine, I am told that the frame is a Jawa from 1970's with the last of the JAP engines from around 1980. I am surprised if it is true as I didn't know JAP were still in business as late as that. So come on then put me right
John
A Laydown

JAP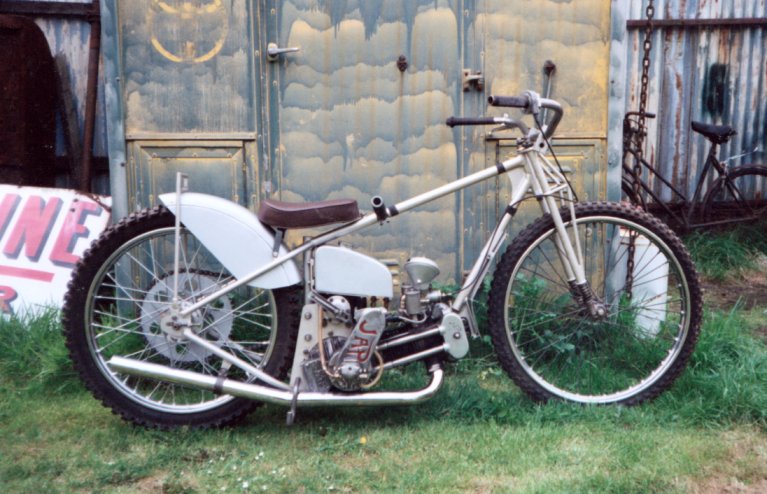 This JAP has been converted to a "Laydown". The idea is not new I wonder if the idea was ever patented if so someone would have made a wad of cash! The exhaust pipe would have been specially made for this bike as a one-off
---
Jawa

1968 Or 1969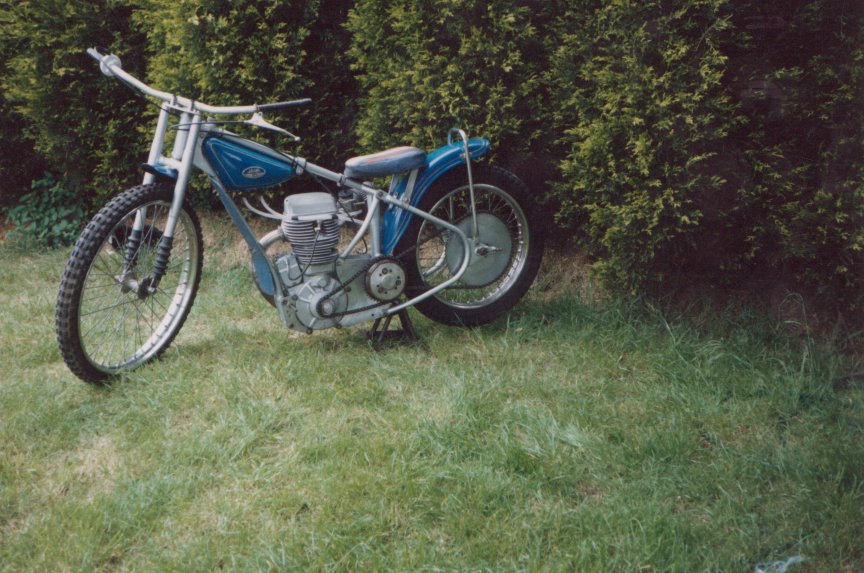 Jawa 1968 or 69. These Czech built bikes took over from the JAP. Mainly because the Jawa was cheaper, easier to maintain and last but not least, it was a whole lot easier to master than the JAP.
Most of the pictures shown above came from Terry Stone. Thank you Terry for sharing them with us.
---
Bikes Page 1 Bikes Page 2 Bikes Page 3 Bikes Page 5 Bikes Page 6 Bikes Page 7
The contents of this website are © and should not be produced elsewhere for financial gain. The contributors to this website gave the pictures and information on that understanding. If anyone has any issue or objections to any items on my website please email me and I will amend or remove the item. Where possible credit has been given to the owner of each item.