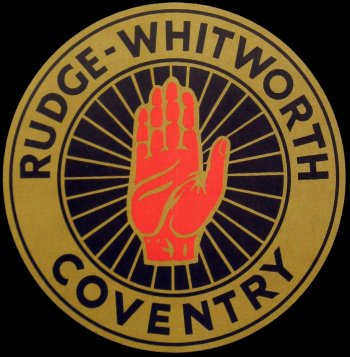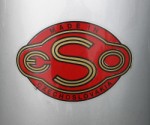 ---
Bikes Page 7
Bikes Page 1 Bikes Page 2 Bikes Page 3 Bikes Page 4 Bikes Page 5 Bikes Page 6 Bikes Page 8
---
Matchless Speedway Engine
1959 Speedway & Stock Car World Article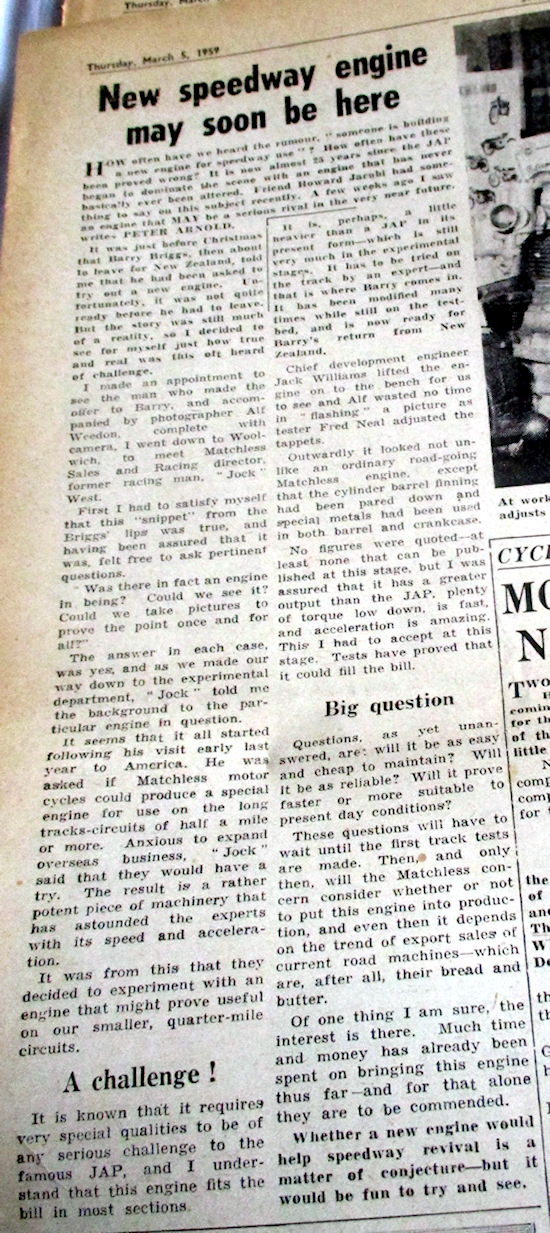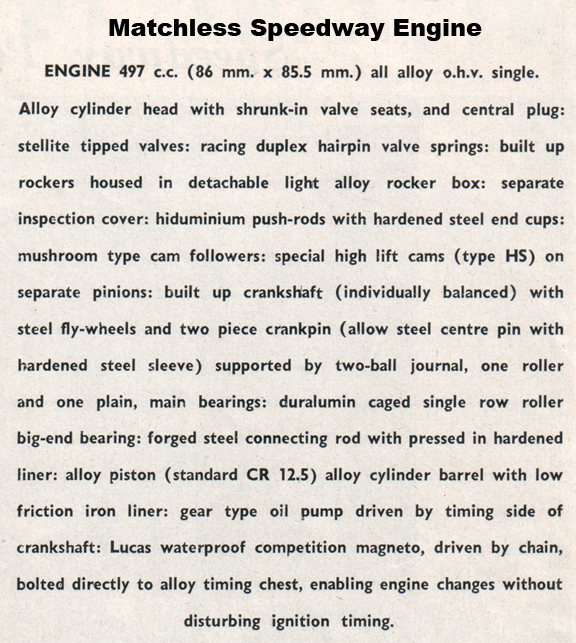 1966 Matchless


Speedway Post Picture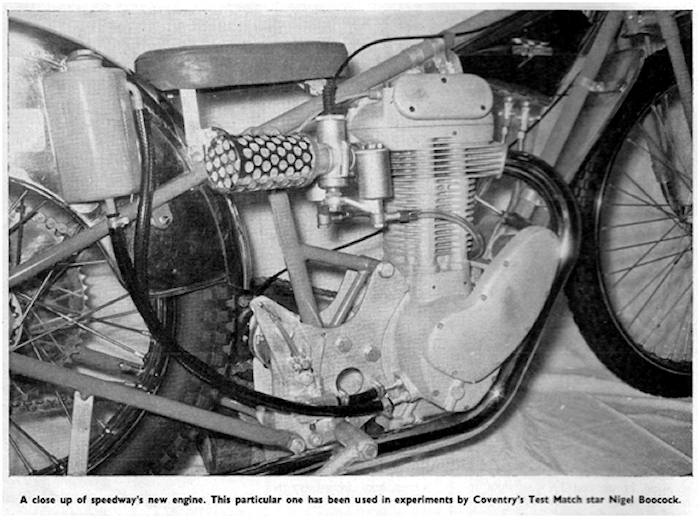 Courtesy of Speedway Post
Matchless did not set the speedway world alight. Does anyone know why it failed? When the British bikes companies died a death during the 1960s/70s at the hands of Japanese imports. Perhaps one or two marks could have survived by getting involved in speedway where the competition would have been limited to just two rivals JAP and JAWA, but none did. Triumph, Norton, BSA, Matchless, Velocette, AJS and a few others rolled over as Honda, Suzuki, Yamaha came along and highjacked the British bike market.
---
JB Hoffman's
Bike Pictures
USA JB Hoffman says: Greetings John, from Belle Fourche South Dakota, USA (very near Sturgis) John, I am an old retired mechanic/welder and with some time on my hands I dabble in metal art which has taken me to building 1/4 scale motorcycle sculptures inspired by vintage racing bikes. I am now completing one inspired by the n1923 Ace that Red Wolverton set a speed record nearing 130 mph. I want next to do a tribute speedway bike and think the JAP to be a fine choice. I have spent many hours pouring over your website, absorbing all the wonderful rich history and machines. For lack of better material, I start with 10 inch baby carriage wheels and try to keep that scale. Any help you might offer would be greatly appreciated, like maybe steering me to some good pictures of engine detail. I would like to keep the vintage pre-war but I don't see much visually different from the 30s bikes and the last of the JAPs, so any small details I would need to attend to that you might point out would be helpful.
I strive to make the bikes look old, not restored. I see many beautiful restored bikes on your site but personally would walk right past 10 of those to drool on a battered old soldier in "as raced" condition with scars, bruises and makeshift trackside repairs. Enclosed are a couple pictures, the first bike I made, albeit crude, its inspired by a late teens-early 20s board track racer and was fitted with an engine made from a weed whacker. The ace has better detail but no finished images yet. Thanks, JB Hoffman
JB's Bike pics are shown below: -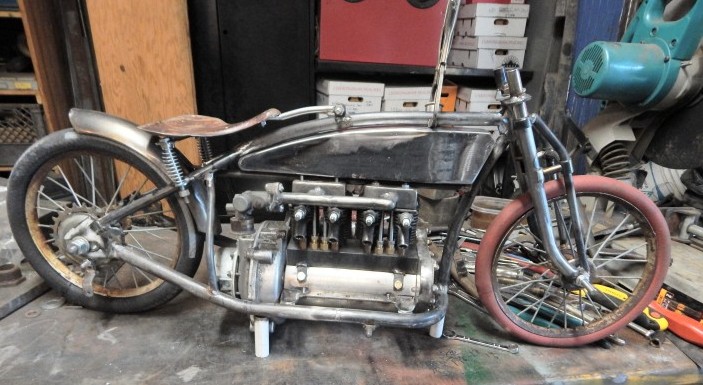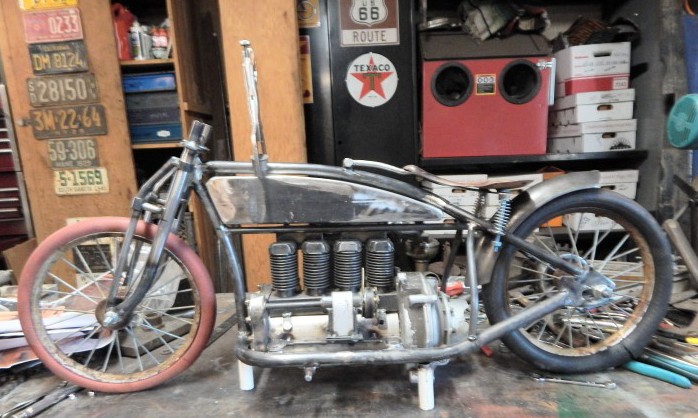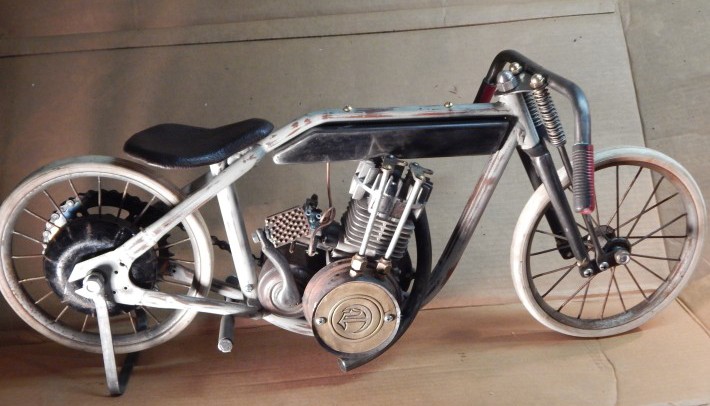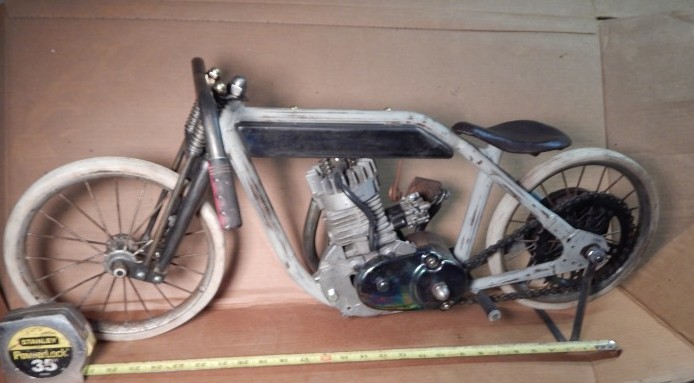 John says: Hi JB I like the pics of your creations. My eyes were telling me they were actual machines but my brain spoilt things and I knew they were scaled down miniatures. To capture speedway at it's best you are right to choose JAPs to make models of. Each of my 7 bike pages will feature at least one pic of a JAP because I love them, particularly the Rotrax JAP machines in chrome. The Rotrax frame with JAP engines date from the late 1950s to the mid 1960s so I would urge you to do a miniature Rotrax. Browse my site and copy anything you want, you have my permission for the sake of Mechanical Art. Good luck
JAP Engine Looking For A Good Home

Sold
Kees van Beijmerwerdt says: Dear John, I have a JAP speedway engine with a magnesium bottom half and alloy connecting rod. It needs a complete rebuild, however none of the parts are worn out, badly damaged or ruined by home mechanics. It is nearly complete, magneto chain and crankshaft sprocket are missing.
Do you know anyone who is interested to put it back on the road again? I have had it in my dry workshop for 30 years, and I am not going to use it myself.
Enclosed you find some pictures. Please let me know if you know a good home for it!
I travel to the UK at least 2 times a year, so I can bring it if someone is seriously interested…..
Kind regards
Kees van Beijmerwerdt
Moerlaken 19
4871JN Etten-Leur
Netehrlands
tel. 0031 76 503 0074
mob. 0031 6 2207 2001
Kees' photos of his JAP follow below: -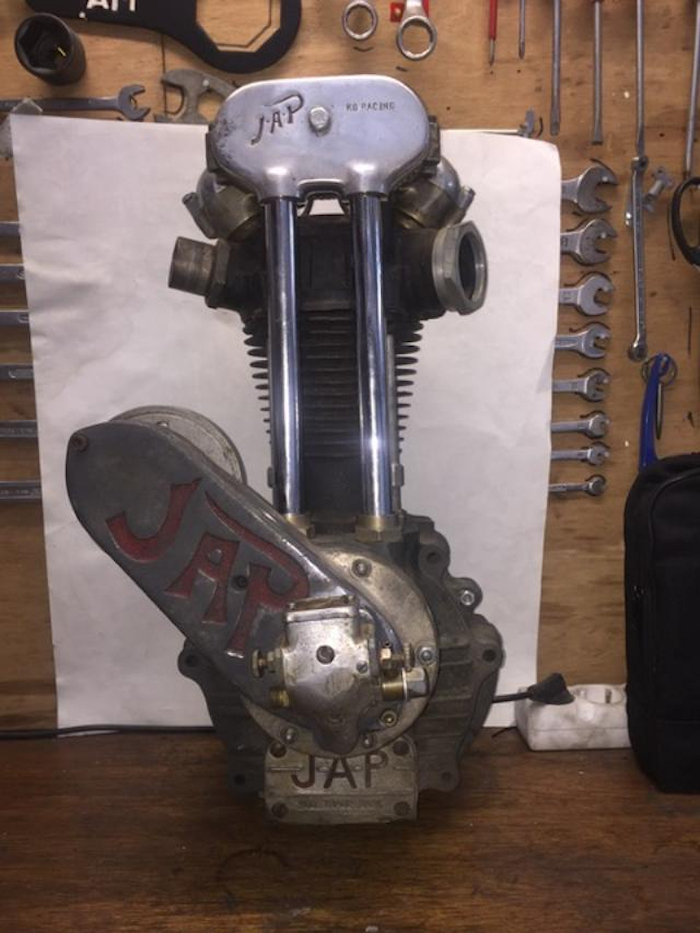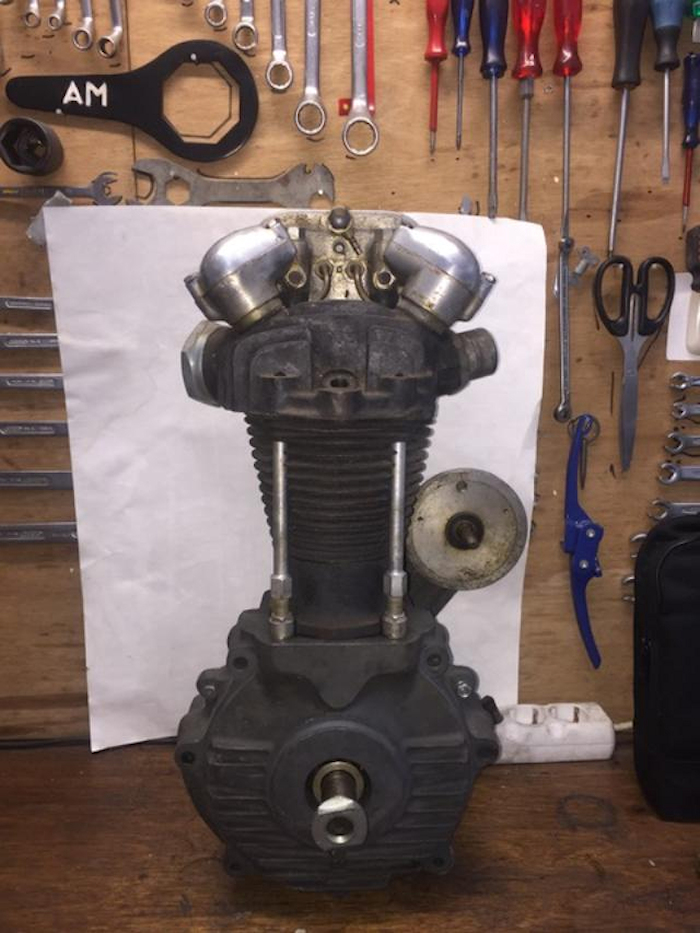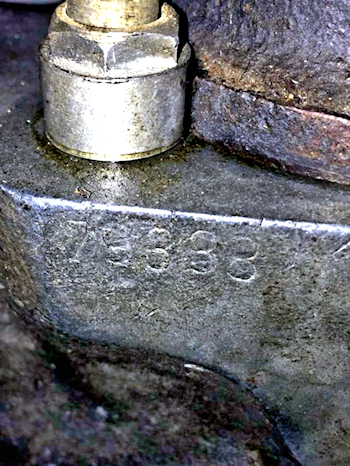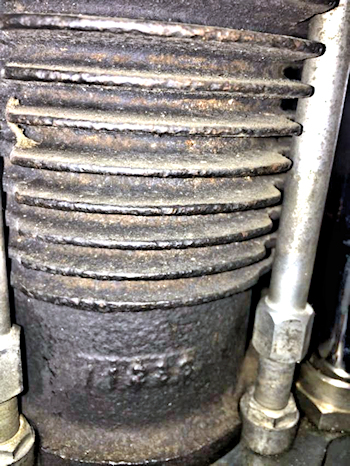 The engine looks pretty good to me and most importantly Kees says it is complete apart from magneto chain and crankshaft sprocket. Hopefully someone with the ability to restore the engine will see this item on the website and call Kees in Holland or send me an email and I will ring him John

Engine Sold
---
Graham Hartley's


JAWA

Restoration
Hi John , I've enjoyed browsing the website and thought you may be interested to see my recent project . I started learning to race at Sunderland in 1973 and then at Newcastle and Middlesbrough in 74 and 75 . Getting a place in the team at ' Little Australia ' was rare but I managed to get into the team at Boro eventually . After a bad crash I had to call it a day as the Fire Service didn't see the funny side of me being off work through racing injuries . Let me know what you think of the bike , Dave Gifford has set the bar really high , cheers , Graham Hartley .
John Says: I don't remember Graham at Newcastle perhaps he was better known at Middlesbrough. I am pleased that Graham has sent me pictures of his restoration project. I have asked Graham to supply some details of his Jawa, photos of which follow below: -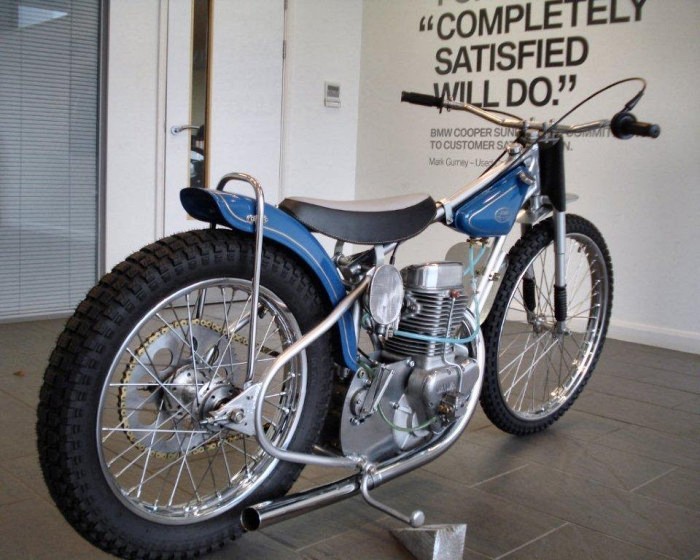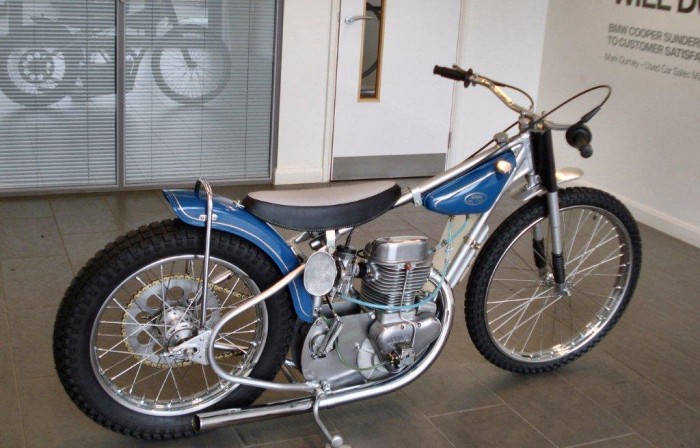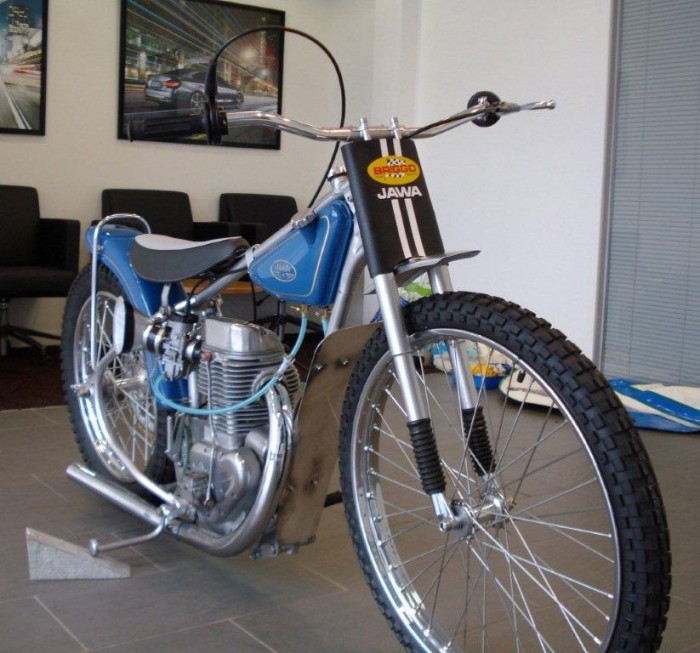 A sparkling Jawa 2 valve upright motor. Worn chains involve fitting a new one and the sprockets at either end. Younger fans will see these older engines as strange, as modern engines are "laydowns." Most older fans and almost all bikers will prefer to see an upright engine such as this one. We think these engines were beautiful! Ha ha!
---
A

JAP

In Canada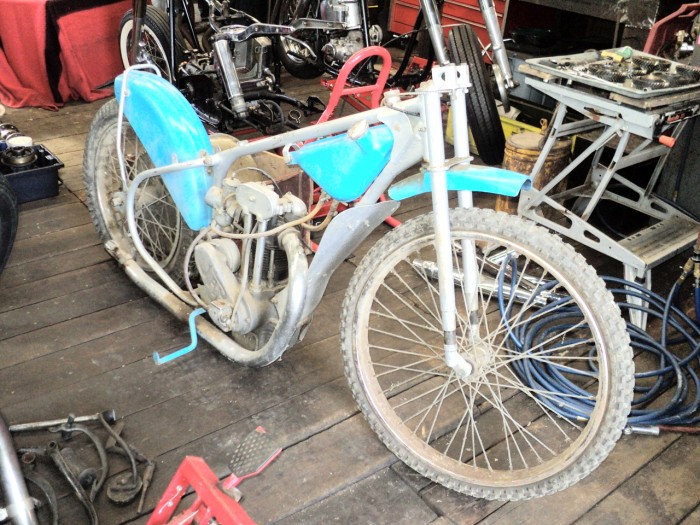 Hello from Canada ! I just bought a JAP similar to the 1975 you so beautifully restored ! I was hoping you could help with info. The Engine serial number is 84S 76369 (B?) It does not have a conventional mag . Here is a picture. Cheers, Barry Brown
John says: If anyone can identify this bike please email me and I will pass on the info to Barry Brown across the pond in Canada John
---
Pete Harrington's
Rotrax

JAP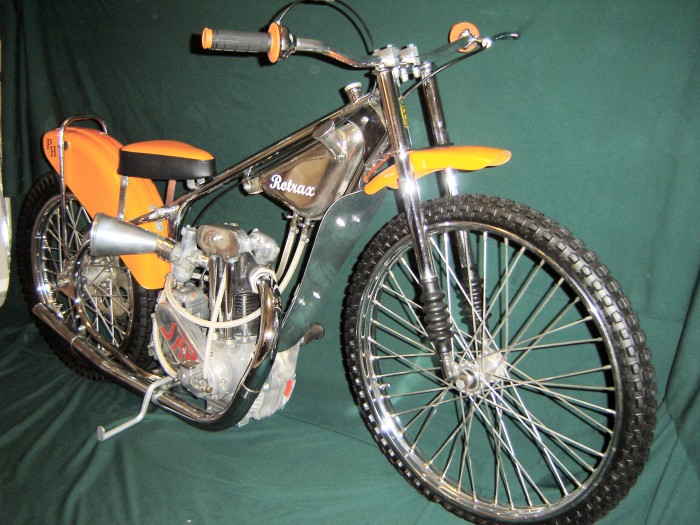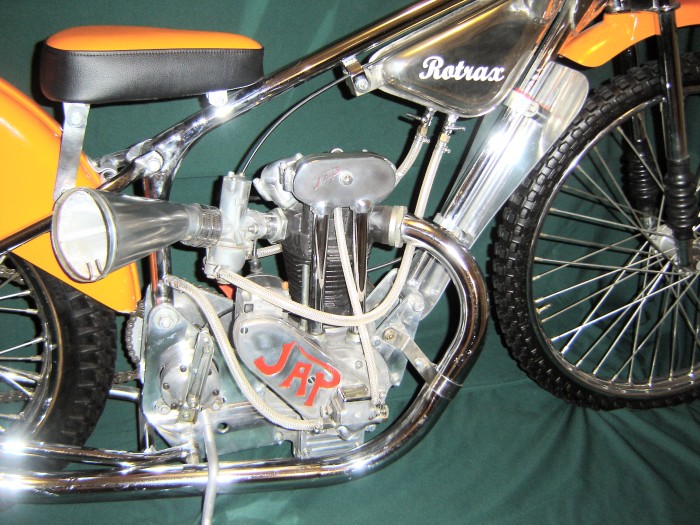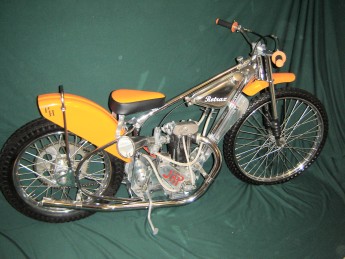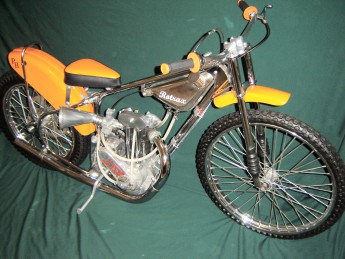 The 5 photo's are shown above with the bike's owners permission. John says: Douglas made a beautiful machine for speedway around 1929. Thirty years later another British company JAP came up with The Rotrax JAP. The best looking bike ever used for speedway and Pete Harrington has restored the Rotrax. Usually restorations end up looking and performing better than the bike in its original state did! Well done Pete
Peter Harrington says: Not sure if this is the correct e-mail to send this to but I have a couple of bikes that I own and have restored and wondering if you have any use of any of the photos that I am attaching for the website, I would be very proud if they made to be included. I spent many a day racing at Weymouth in the late 70's and early 80's under the instruction of Lew Coffin. I was good enough to represent Weymouth in junior matches. I now live in Canada and miss speedway very much.
With the Jap that Dave Gifford restored he asks the question as to who was the last rider in British League to use one regularly and I believe it must have been Colin Goody for Poole.
Thanks,
Pete Harrington
Pete Harrington's Weslake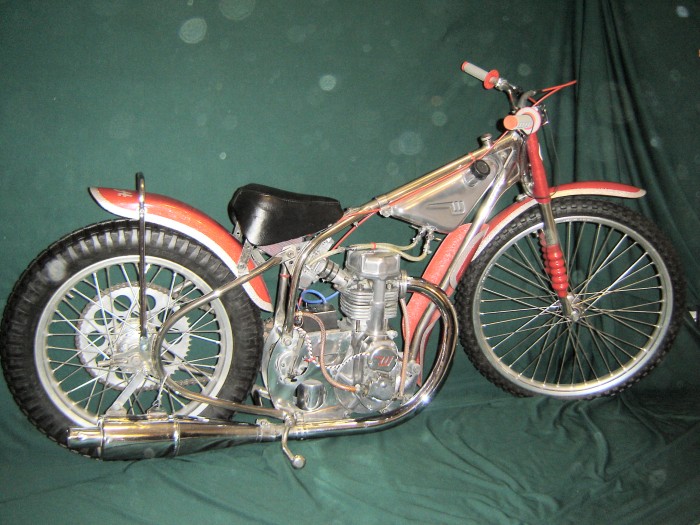 John says: My favourite bike is the Rotrax JAP but Weslake (another British Company) came along. Pete's pictures of his restored Weslake shows how good the Wessie looked.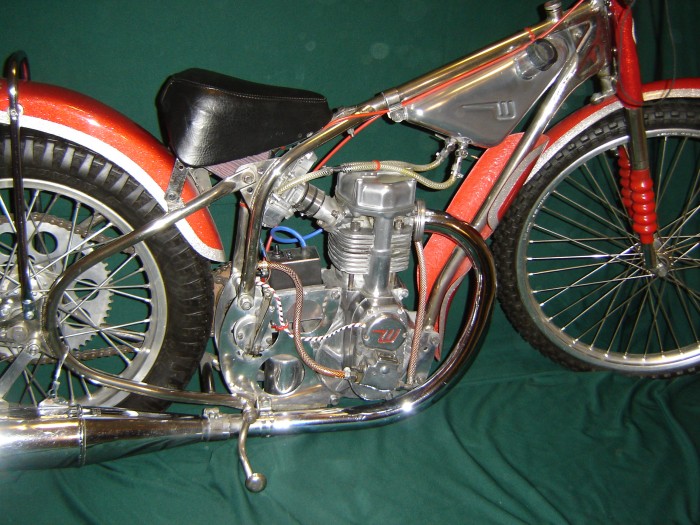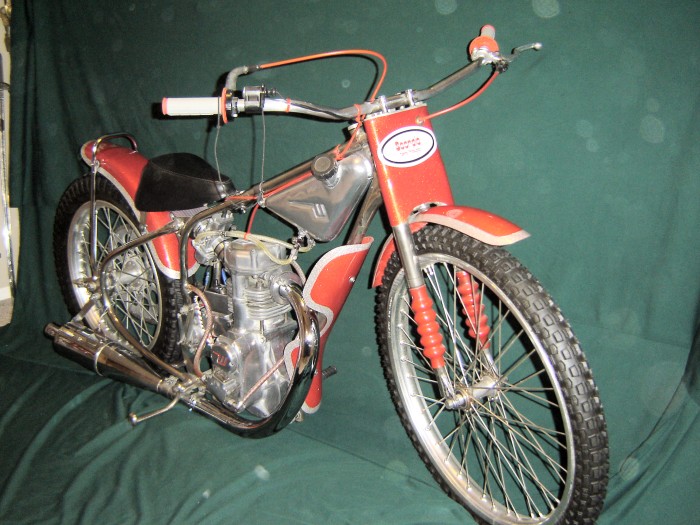 Pete's Bikes are a sight for sore eyes. The JAP belongs to an earlier speedway era and the Weslake a later era but both machines are so much nicer to look at than the current laydowns from JAWA and GM
Pete Harrington says: Hi John, Thank you so much for putting my bikes on your website, sorry that the photos are not of good quality, both bikes are ready to race just add fuel and oil. The only problem the nearest track is probably about 2000 miles from Calgary away on the east coast. I am now 63 but I think if the opportunity arose I would still want to have a go. I still have all my riding gear. I also have a set of leathers that Gulf Oil provided to their sponsored riders but I do not know who they would have belonged to, a rider of about 5ft 6ins , they were made by Kett in blue and orange (Gulf colours) with a Gulf Oil logo. I never could fit in them as I am 5ft 9 ins but I bought them when the opportunity arose.
I know it is probably only nostalgia but I think racing with the uprights was a better spectator sport and with a bit more dirt on the track riders could show their track craft to the full and you did not necessarily have to have the fastest engine and the biggest bank balance to win. Perhaps with cheaper costs some more tracks could exist and survive. It would be interesting to see some current riders on both types of bikes – uprights and lay downs, the times would be slower but the racing could be better with much more overtaking and different race lines.
Oh well, this is progress!
Thanks once again,
Pete
---
Leonard Covell's
350cc
AJS
Big Port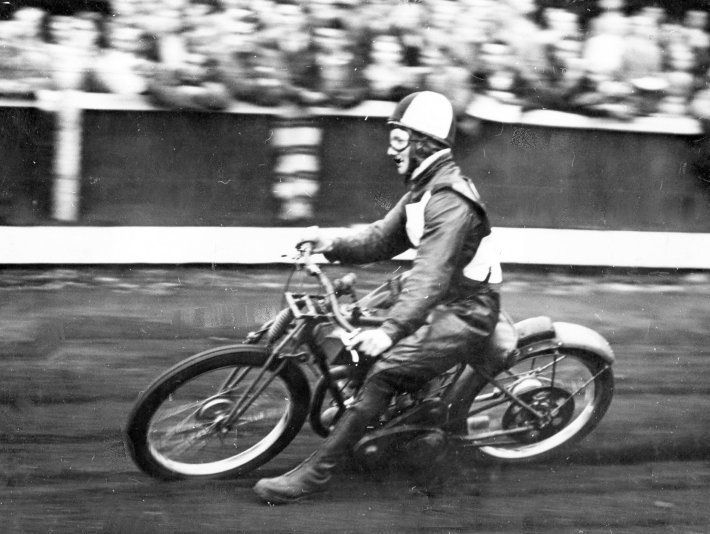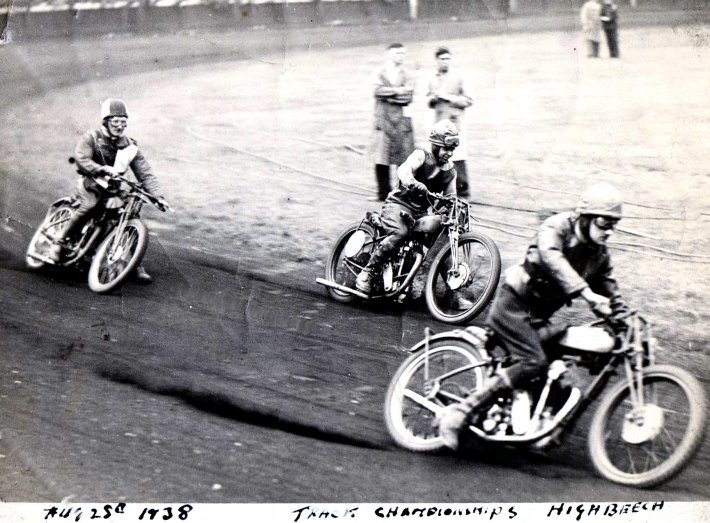 Peter Covell says: These 2 pictures were taken at High Beech in 1938. They feature my grandfather Leonard Covell riding his 350cc AJS Big Port. In the 2nd picture he was back in third place. My grandfathers bike is still a part of our family, but the bike (now more than 75 years old) needs a lot of work.
John says: As usual I am eager to see the old bikes even if they are now in poor condition, so I asked Peter to send us some photos of the AJS and he has sent the following: -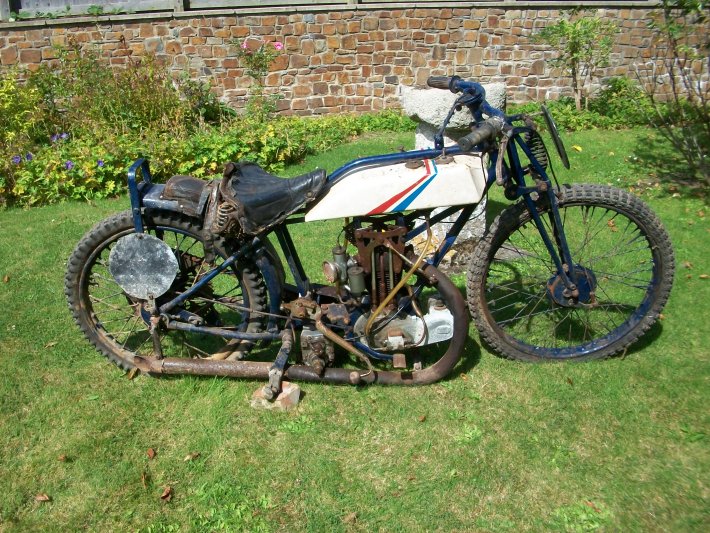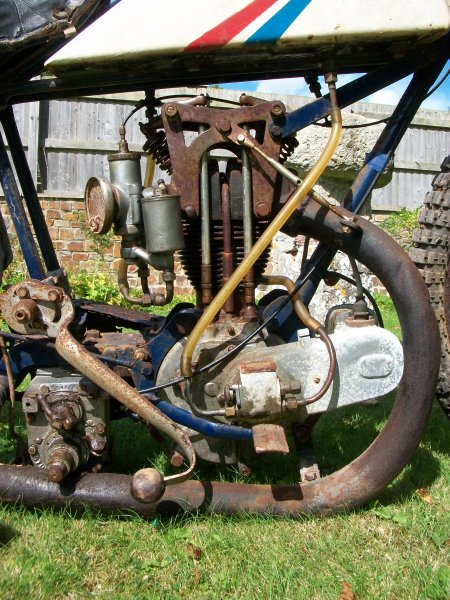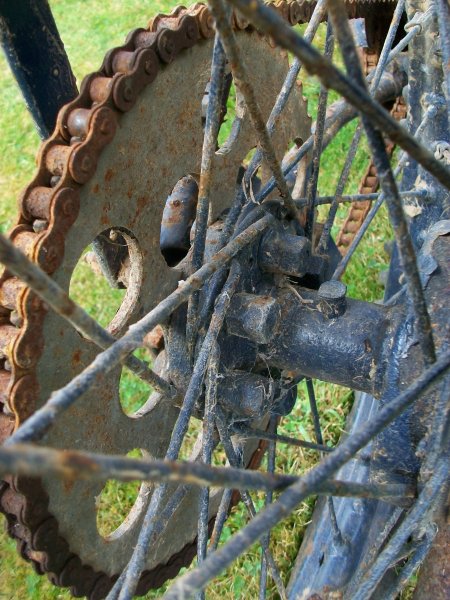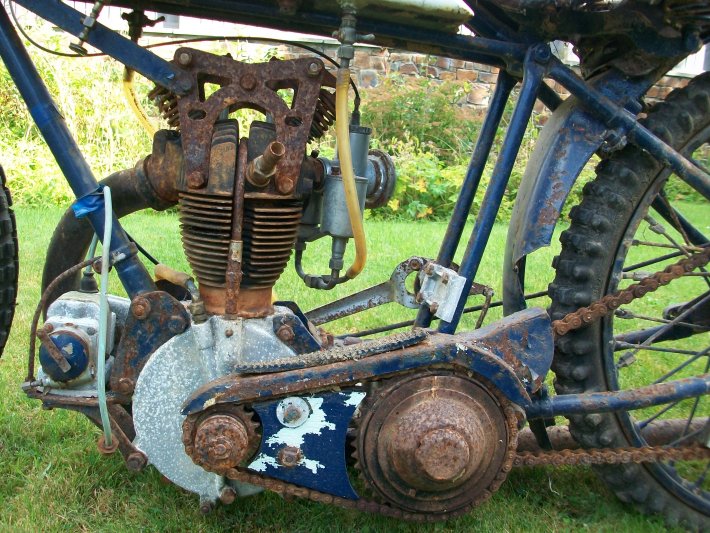 Peter Covell says: It's so nice to see pictures available for others to see on your website. I believe grandad's 350cc bike was somewhat "outdated" at the time he was using it but from what I've read of his, he seemed to have great faith in the design of the AJS. He was a metal polisher by trade and at the height of his career he was lightening and polishing engine components for Vanwall formula 1 cars in the late 50's so I presume the AJS engine was in a pretty decent state of tune back in 1938. He also raced a more typical 500cc JAP engined machine. I've attached some pics of the 350cc bike as it is now.
John says: Thanks Peter what a great thing to do, keep grandad's old bike for ever. I would too if my grandad had tried his hand at racing a bike but no! My grandad was a full time ship-builder up here on Tyneside. I would suggest sending the old AJ to Giffy in New Zealand as I know he likes a challenge, pity giffy is on the other side of the world. The bike is probably salvageable but I am no expert, I just love looking at old bikes in any condition..
---
Beautifully Restored

JAP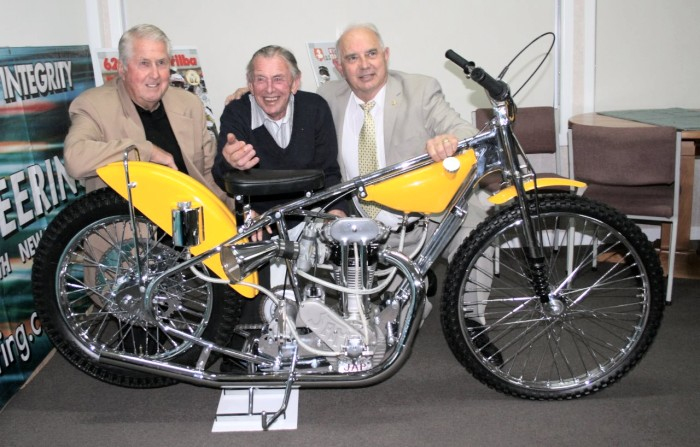 Courtesy of Reg Fearman
3 riders who know every nut and bolt of JAPS from this era. Barry Briggs, Ronnie Moore and Ivan Mauger at the 2013 New Zealand riders reunion
giffy says: Hi mate, just looking through the Bikes page 7 and came across a pic of " a restored Jap" with Briggo Sprouts and Mirac posing with it. The bike is actually a JAP in a Buchanan frame, one of about six I believe, made by Buck Buchanan in Christchurch NZ. Apart from the forks it is very similar to a MK 2 Rotrax but with much better finish and engineering. This particular bike is one I scrubbed up for Bobby Thomson from Palmerston North, he started putting it together in the seventies I think but never got around to finishing it. It has never turned a wheel in anger as far as I know. Hard to believe we will never see these guys together like this again. take care, giffy
John says: When giffy says he "scrubbed up a bike", I know he did much more than that to it. The yellow Buchanan JAP looks amazing. As a petrol head I just wish modern speedway was contested on bikes like this one. I look at the modern laydown engines and think they are just a little more interesting than lawnmower engines.
Bob Andrews says: Cheers John, Just looking through your great website again and on Bikes 7, I see a photo that Reg Fearman sent you of Briggs Mauger and Ronnie Moore. Probably one of the last one of them taken together? Well I was the photographer of that Photo, I got them to get behind the bike at a Reunion in New Plymouth a few years ago.
John says: Great photo Bob, it's amazing that you took it with your trusty Kodak Brownie you got for Christmas when you were 11 yrs old!
---
Giffy's 1938
Excelsior JAP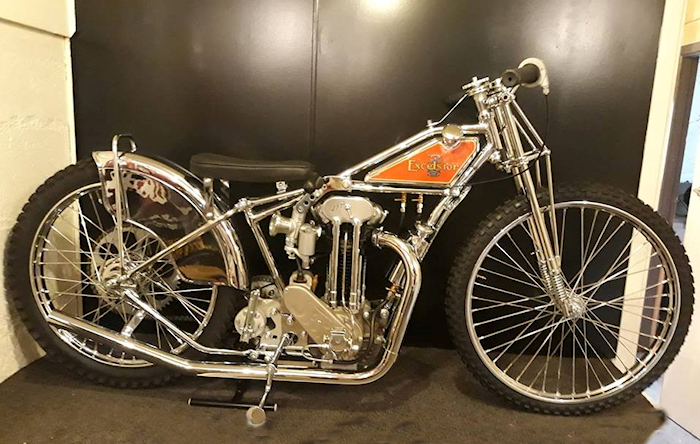 Courtesy of Dave Gifford
I'll bet this restored machine will be better now than when it rolled out of the factory in 1938
---
Argentinian
Paul
Testori
's Bike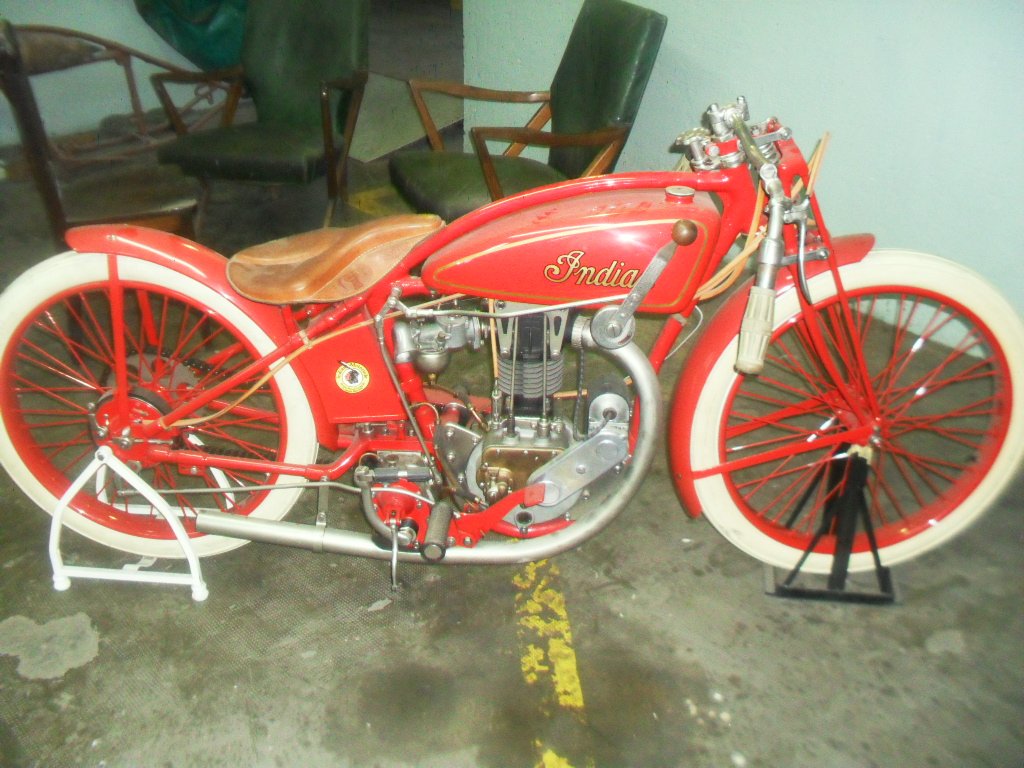 1926 Indian 350cc Dirt Track machine.. John says: Not with the white tyres I suspect?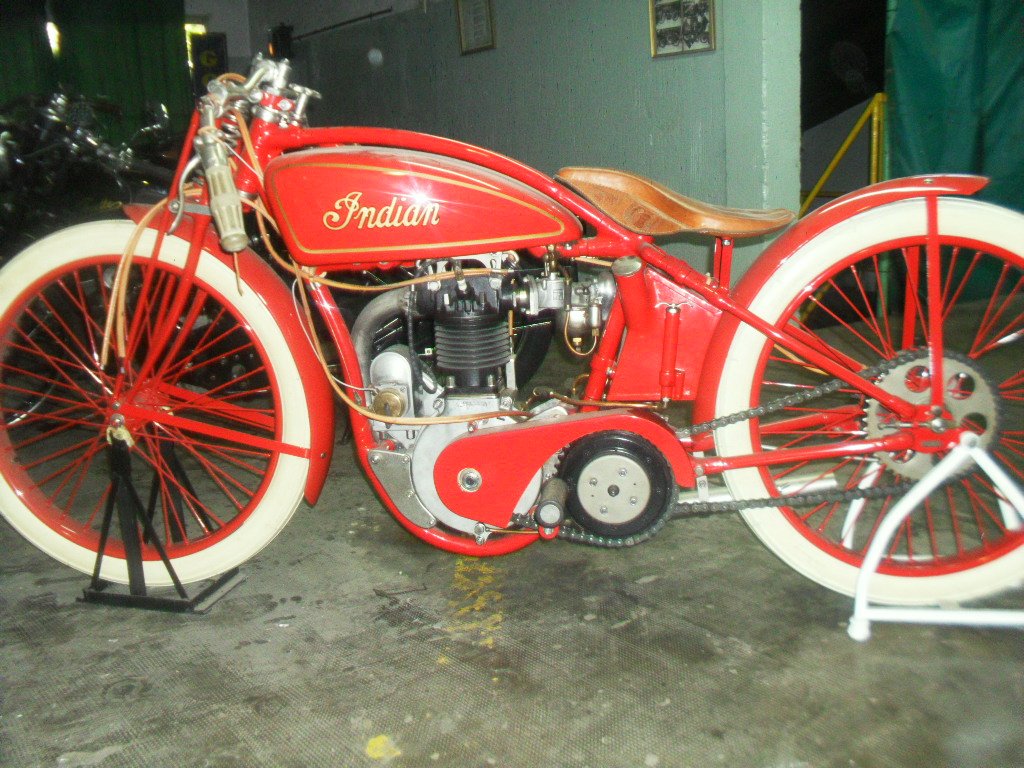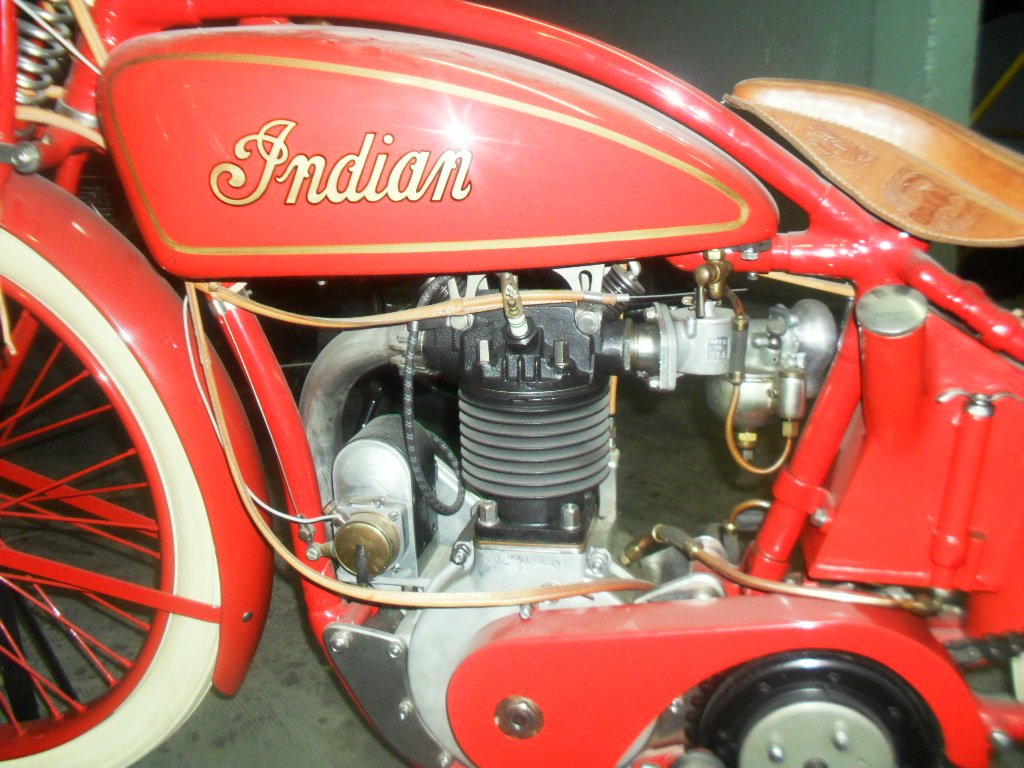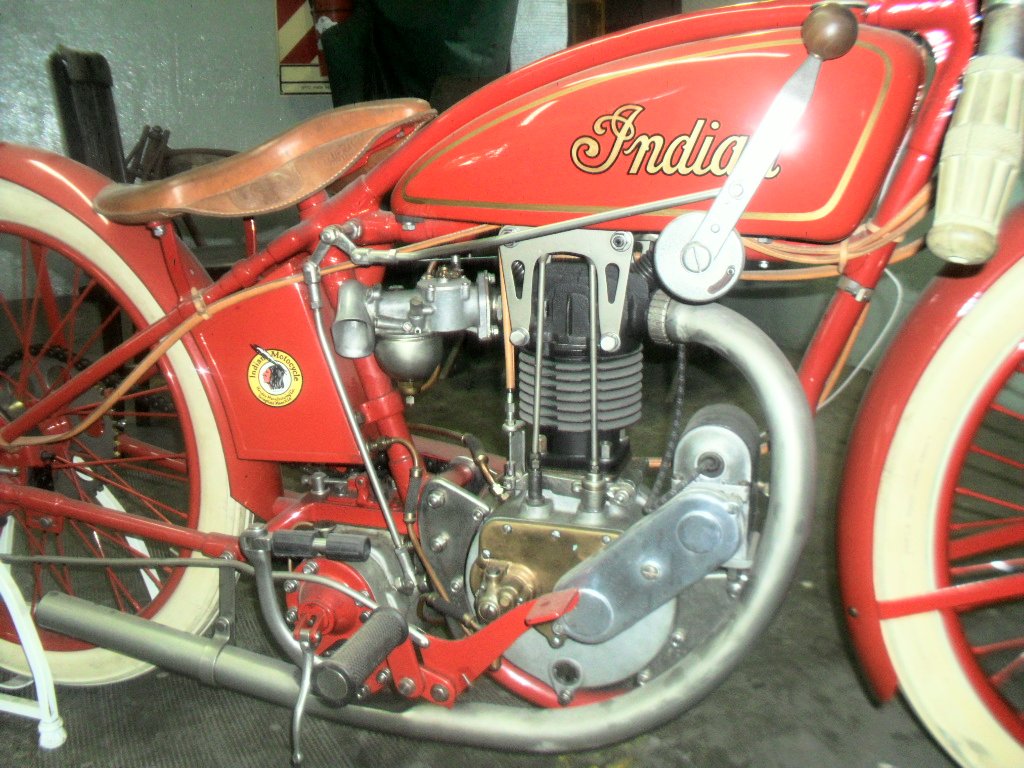 Paul
Testori
says:
Dear
John,
I have a
Indian
motorcycle
dirt track
from 1926.
By chance
visit
your
website
and found
valuable
information.
I want you to
advise me on
the bike
in question
and
if possible
send me
everything you
know about
this model.
The bike
c
ame
into my hands
10 years ago, I send
pictures
for you to enjoy
.

I'm

in

Argentina

regards

Paul Testori
.
John says: The bike is an 1926 Indian 350cc Dirt Track machine. As we all know there was no dirt track racing in England in 1926 so I assume the bike if it was raced at all was probably raced in the USA. Paul would like some information from anyone in the world about this model. If you see this article and can help Paul with any info please send me an email and I will pass it on to Paul,
John
---
650cc

Triumph Twin
Dirtrack Combo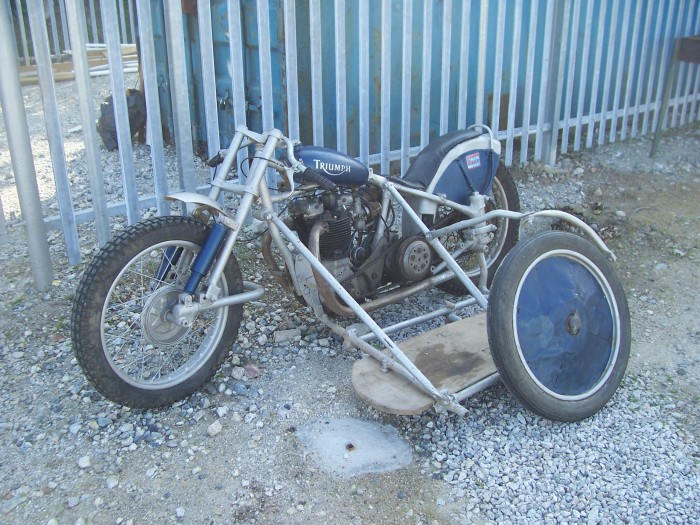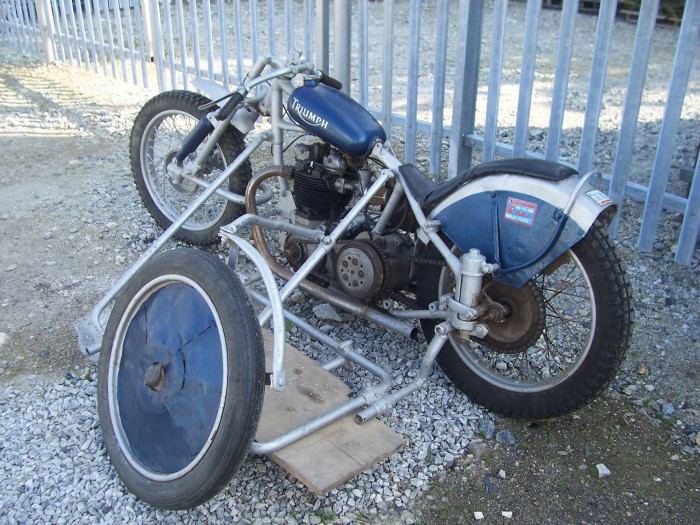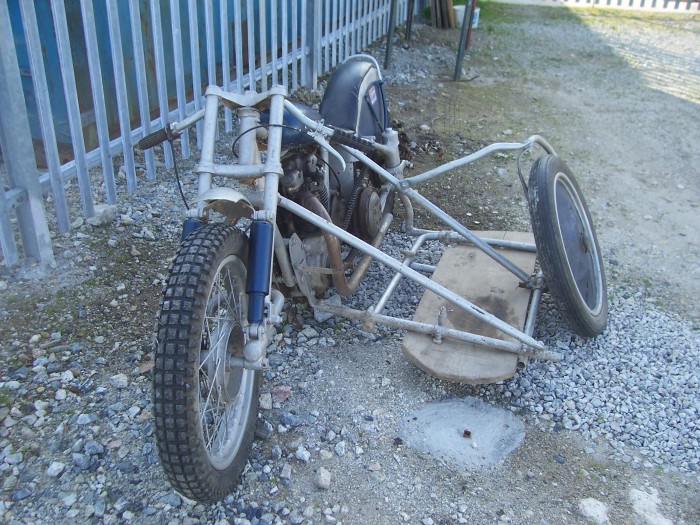 Justin Westaway says:
Please find some photos (3 above) of a sidecar raced at Pennycross Plymouth by Roy(Shaker)Wedlake. We still use the combo and do demo rides at local steam rall
ies etc. Regards
---
Giffy's

Excelsior

JAP

Restoration
Work in progress March

2013
Dave Gifford a New Zealander who rode for Newcastle and Berwick in the 1960s/70s takes on restoration projects back in his native NZ and he sometimes sends me images of the completed bikes. He has just put the finishing touches to the orange Rotrax JAP shown below, (well he will of when he fits the air-filter which I notice is missing!). Giffy has acquired another JAP which is much older, shown below in a sorry state. Can't wait to see the bike once the maestro has finished with it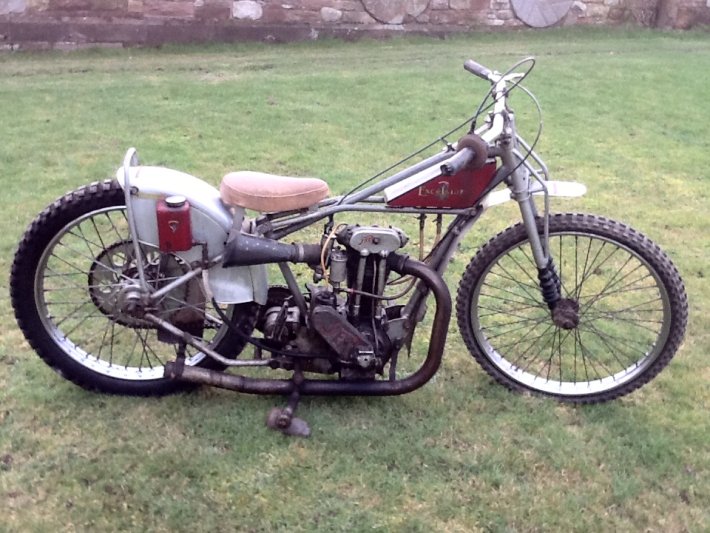 The pre restoration Excelsior JAP
Dave could use some help from owners or ex-riders of this particular type of machine.
I will ask Dave for more info but if you already know bikes of this type and you can help Dave, send me an email here
John
---
Giffy's Rotrax

JAP


Completed

2013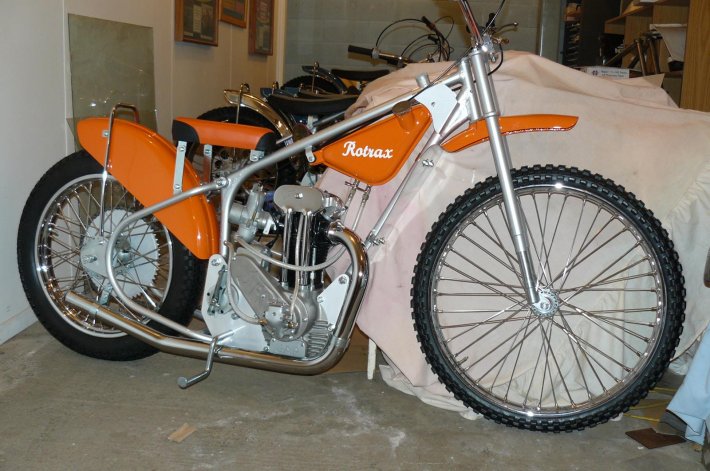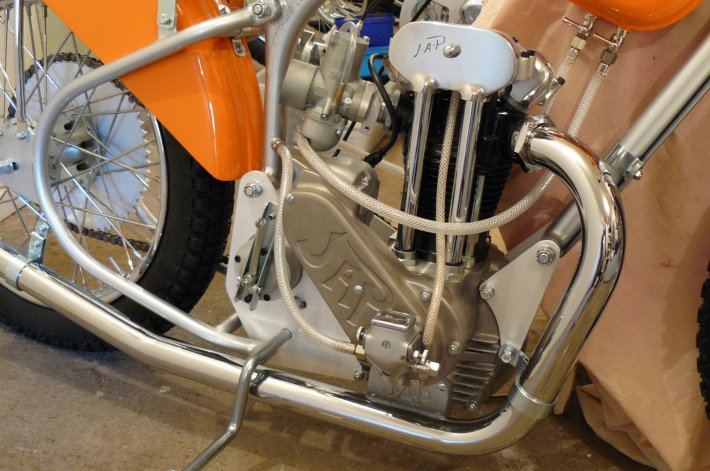 Dave Gifford says: Hi John mate, hope all is well with you. A couple of pics are attached that may be OK for the Bikes Pages; Mk 2 Rotrax JAP circa 1975. The motor is the short stroke Type 84S JAP 500. I don't know of anyone who rode one of these, perhaps your readers might be able to help? Oops! I forgot the air cleaner!!! giffy
John says: Did anyone own/ ride one of these
John
---
Speedway

ESO

Engined
Road Racer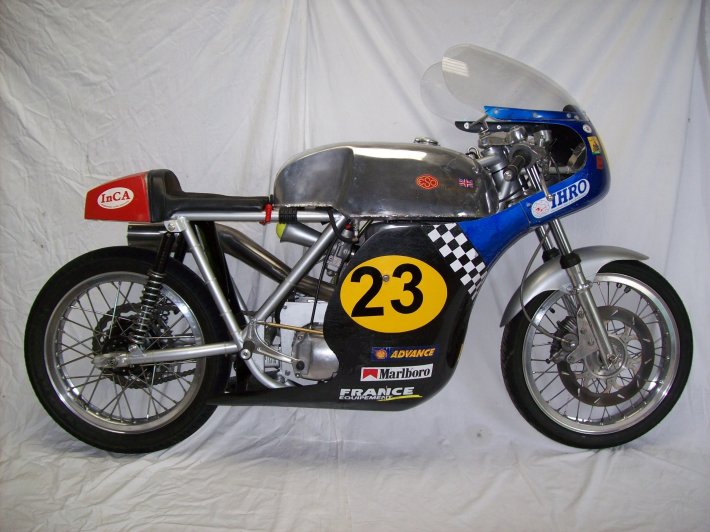 This bike is powered by an ESO
speedway engine in a non speedway bike frame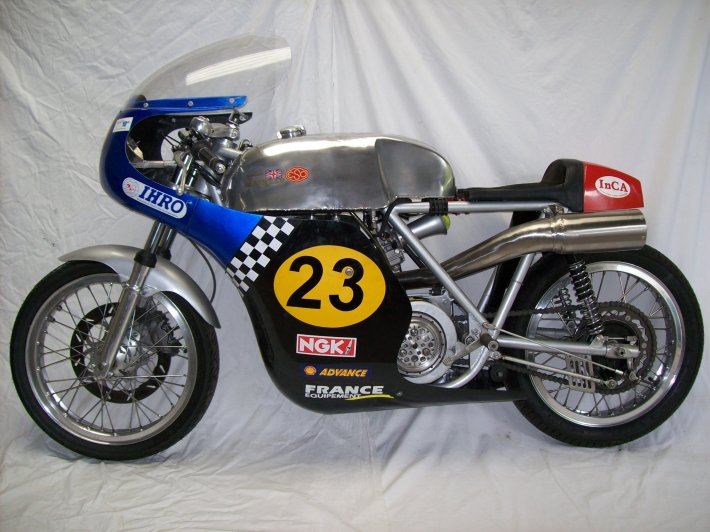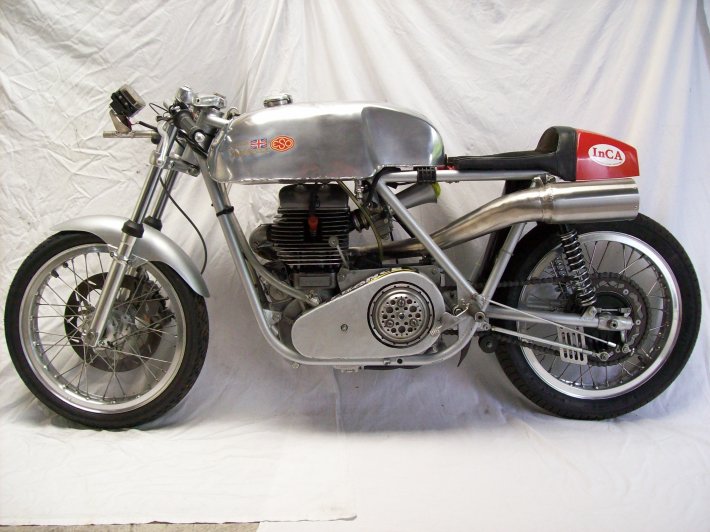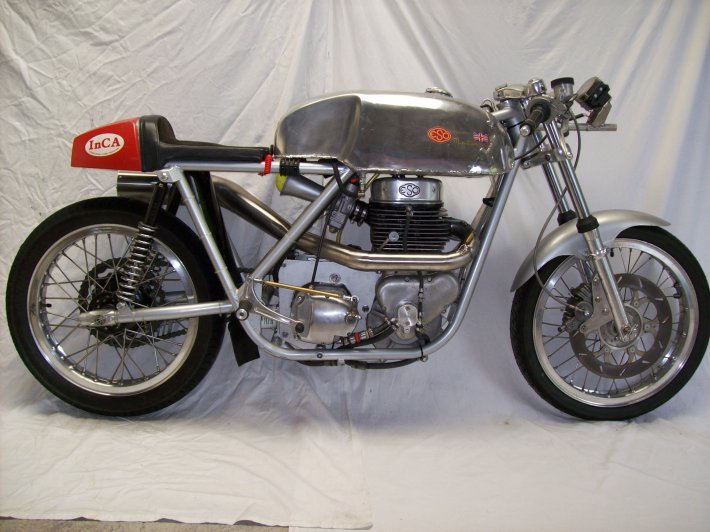 Berti says: Here's my Rickman Metisse road racer with ESO engine. Cylinder head is a four-valve Weslake with additional finning welded on.
John says: I will try and find out more from Berti about his incredible 500cc road racer. I wonder about speedway engines being used in other forms of Motorcycling. The engines in our sport have very high compression ratios and are designed to run at full throttle for around 60 seconds. The above bike has had extra cooling fins welded on to prevent the engine over-heating. "Blown Engines" are common in speedway and expensive to repair or replace. I wonder how long a road bike would last with an ESO or JAWA engine fitted?
---
JAP Speedway Bike Found On A Scrapheap
In South Africa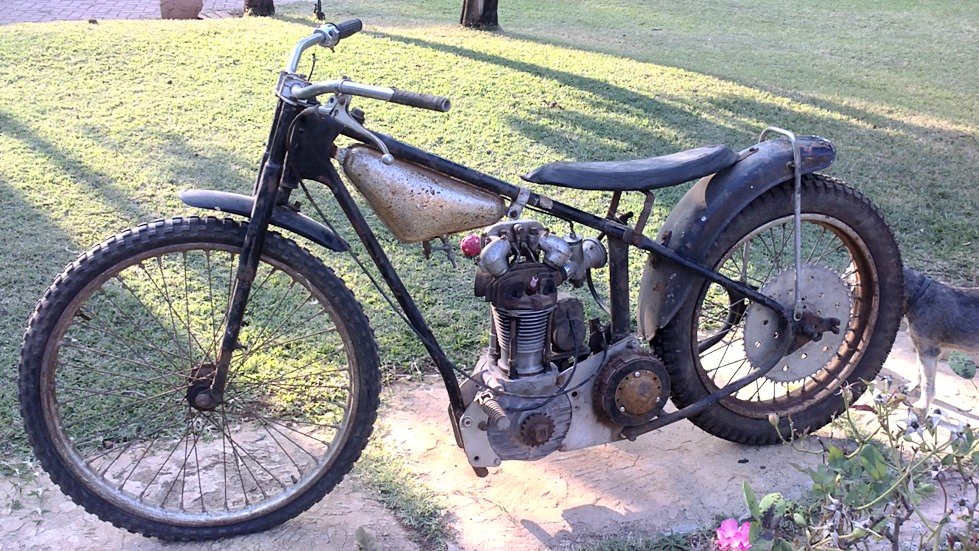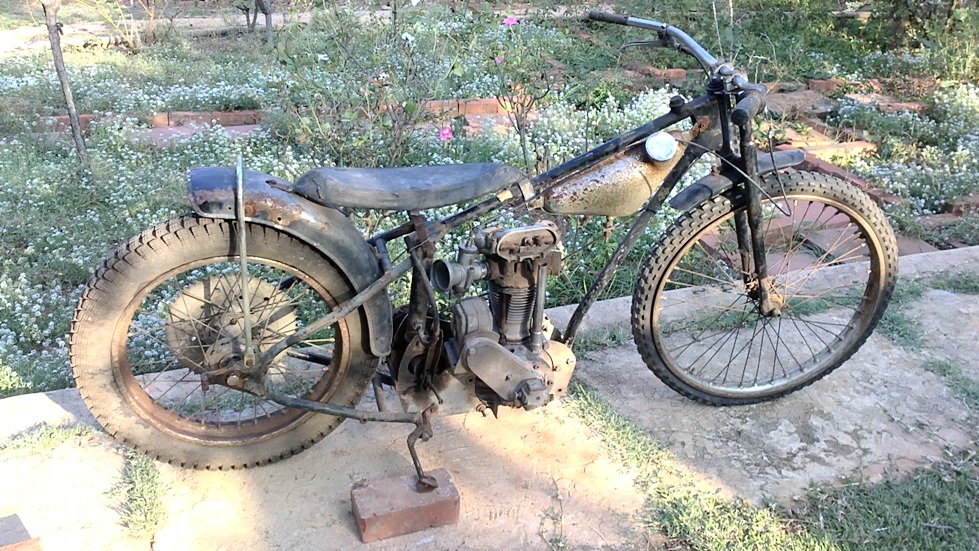 Hello John
,
I recently found this J
AP
engined Speedway bike on the scrapheap. There were two bikes but the one had been cut up and the frame thrown away before I found out about this. On the spare engine one can clearly see where the frame had been torched off. From what I could gather this was a Rotrax frame. Luckily I was able to save the front rim but this was cut very close to the front axle. Both engines are of 1948 vintage. The pics of the separate engine is how I found it on the scrapheap. Engine plates seems to be Rotrax?
Any idea what make of frame this is in the attached picture? (black bike). I have been told this may be a Godden, but seems more plausible to be a late sixties Jawa due to the oil in frame setup?
The plan for now is to rebuild the black frame & engine and to re-create a Rotrax frame. Any idea whether drawing would exist, or perhaps even better, if a spare Rotrax frame may be lying around somewhere?
Much appreciated. Francois Swanepoel
,
Pretoria
,
South Africa.

More pics of Francois' scrapheap challenge follow below: -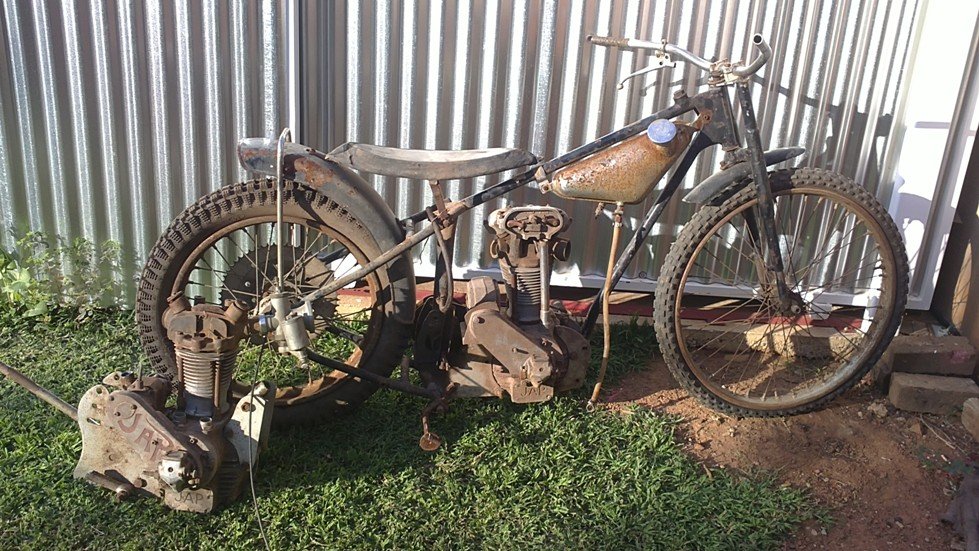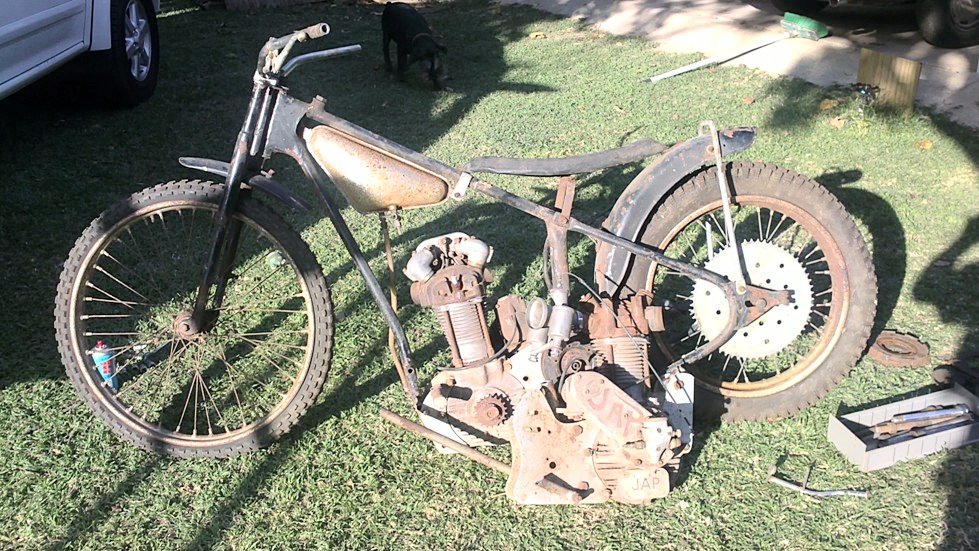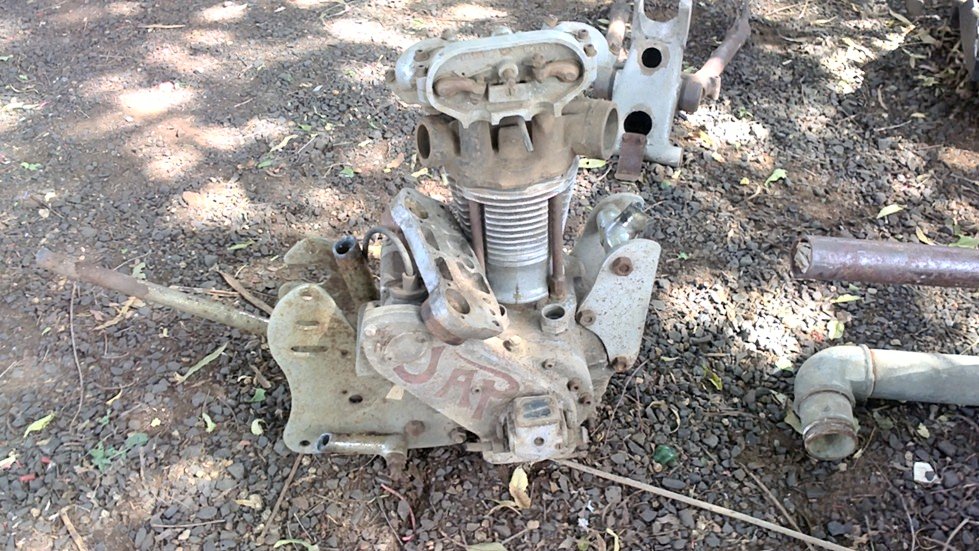 Can anyone who is able to help Francois with advice or tech drawings etc send me an email and I will forward it on to Francois in South Africa John
---
JAP Engined
Road Bike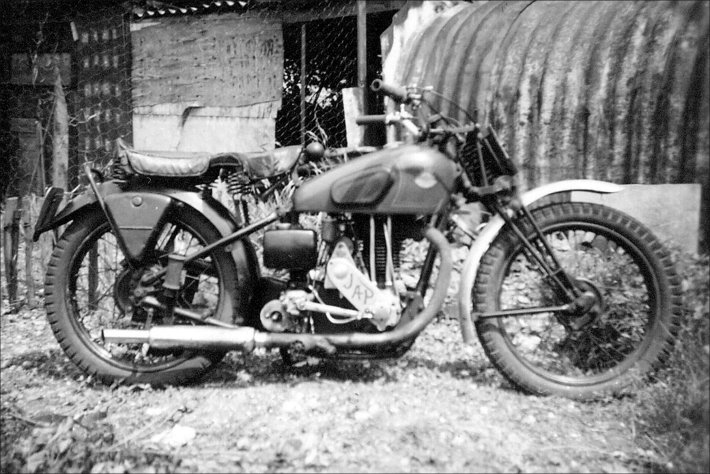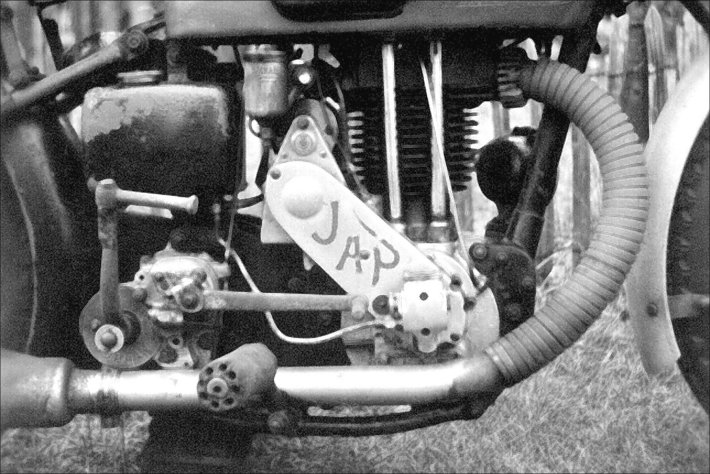 Fred Pallett says:
Hello John again, I have been fascinated by the numerous photos of speedway bikes on the website, particularly those with JAP engines. This is not only because I was an active Wembley Lions fan at the time, but also because my first road motorcycle, a 1937 OK Supreme, was fitted with one – a 350 cc OHV model that closely resembled a speedway engine, although only externally. I attach two photos - one of the bike and a close-up of the engine, etc.
Engine lubrication was by the customary Pilgrim oil feed pump on the outside of the timing case. The lubrication system was known as "total loss", because the oil was not returned to the oil tank after circulation; after lubricating the valve rocker gear, it drained down to the engine sump and any surplus that accumulated was blown out through a breather pipe on the outside of the crankcase. The pump could be manually adjusted by a knurled wheel on the outside and owners were merely advised to turn up the adjustment a couple of notches if going on a long fast trip.
The bike, equipped with a Burman gearbox, was typical 1930s style with damped, girder front forks and no rear suspension. The initials "JAP" were not engraved into the timing case cover in the usual way, so I painted them on with red bicycle enamel. My other customisations included raising the saddle height to that of the pillion, and fitting alloy front and rear number plates and front mudguard to make it look more like a trials bike (I was member of the Bexleyheath & District Motorcycle Club at the time). The front wheel appeared to have come from an Army DR bike, as the inside rim was painted khaki-green.
I purchased the bike at the age of 16 from my brother-in-law for £20, although it was not in running order because of a broken camshaft. A kindly engineer uncle of mine, who worked in the Woolwich Arsenal workshops, made me a replacement camshaft during his nightshifts. Once this was fitted, I applied for my provisional riding licence and it was the bike on which I took my test a few months later, passing at the first attempt. Later, it became clear that the big-end bearing needed replacement, a task that
accomplished myself, spares still being available from J A Prestwich over 15 years since the bike was new. The bike was something of rarity and the subject of much interest by passers-by whenever I parked on the public highway (no yellow lines in those days).
Hi Fred, Your old bike pictures are suitable because of the JAP engine. Thank you for sharing the pics with us John
---
Giffy's Restored JAWA 890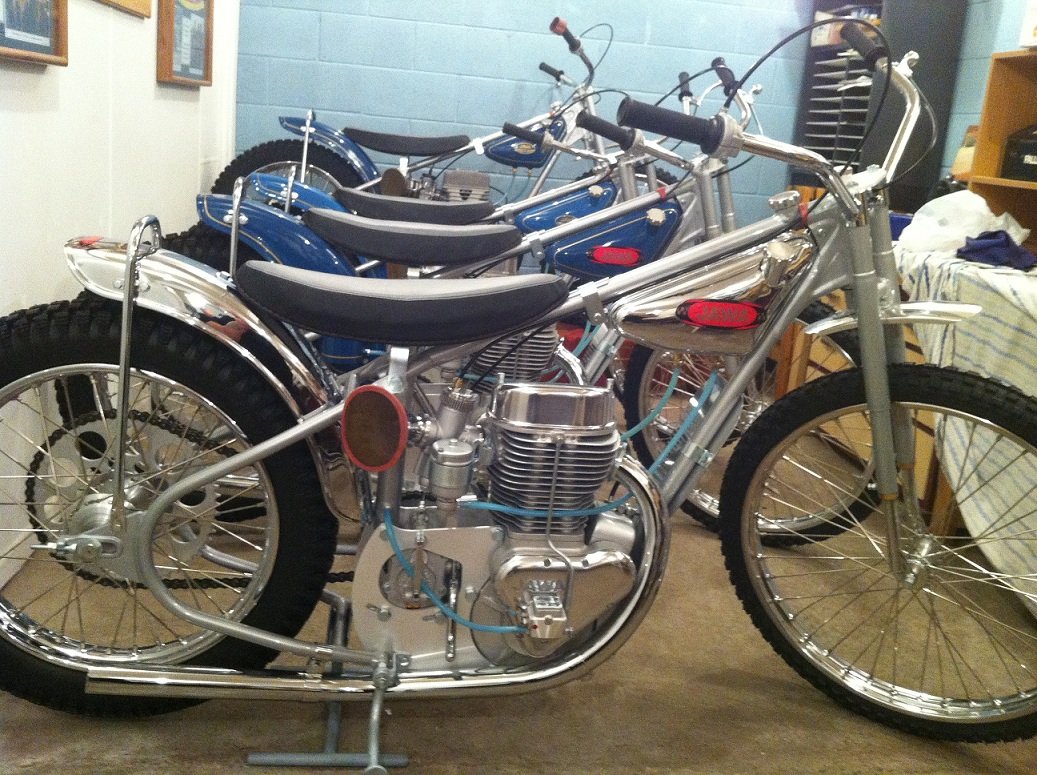 John says: I am always very happy when Giffy decides to email me as he usually attaches some really interesting images as he has done this time. See above. An excellent example of the bike that killed off the JAP. This is a 2 valve and 2 speed example which Dave Gifford (giffy) has restored to its former glory. Two speed! Is it from a long track bike Dave?
Giffy has been in touch with a pic from the other side of his Jawa shown above. I am showing Giffy's photo of the other side of it below: -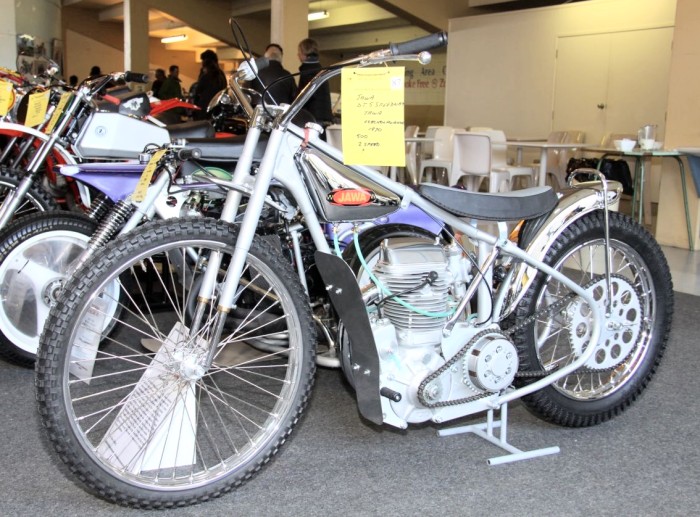 Courtesy of Dave Gifford
Well done giffy. The bike is a beauty, is it not?
---
Rob Lidgate's Bikes
Rob Lidgate says
Congratulations John on a great web site, very interesting photos and information. I would appreciate some help please, can you tell me when the rear tyre size changed from 22" to 18" and what the differences between the MK1 and MK2 Rotrax frames. I managed to full fill a life time ambition of owning a Rotrax and purchased one last year, although complete needs some work and putting right ! I am fortunate now to have 3 bikes from different era's a 29 Rudge, the JAP and a Weslake.
Regards, Rob Lidgate.
If you can answer Robs questions please email me
John
Rob's Rotrax

JAP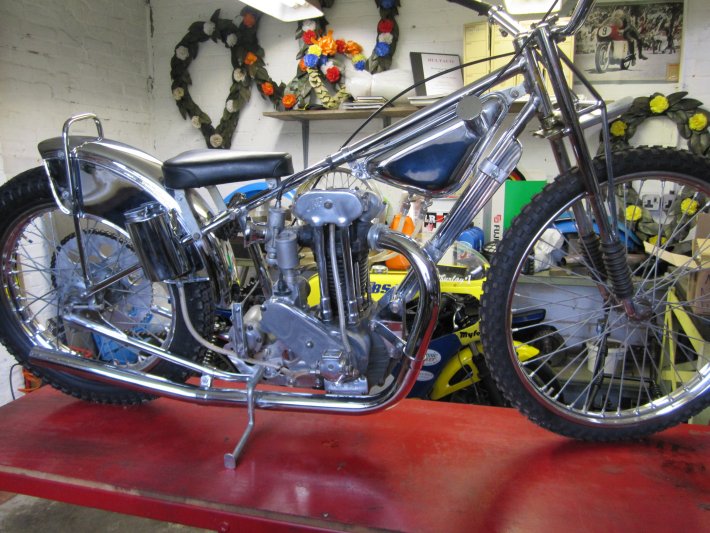 Rob's Weslake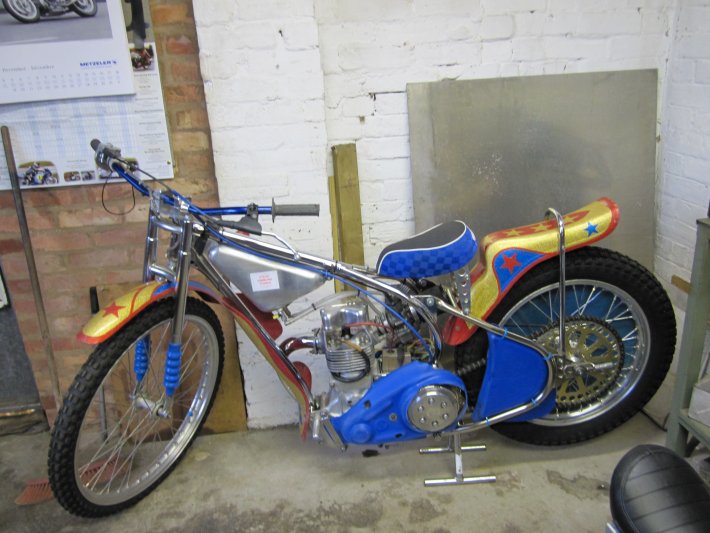 Rob Says: I bought the Weslake from Steve Simmons (his son Nick is the leading rider for the Isle of White) the bike itself was last raced by Martin Smolinski to win the Telford ice meeting in 2009 I believe
---
Manchester Weekend
30th July 2010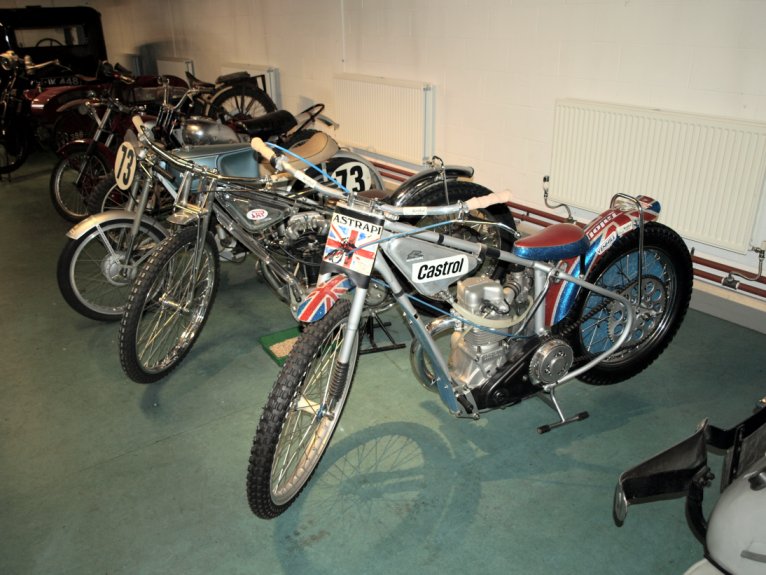 Ove Fundin's JAP and Peter Collin's Weslake
---
The French Connection #1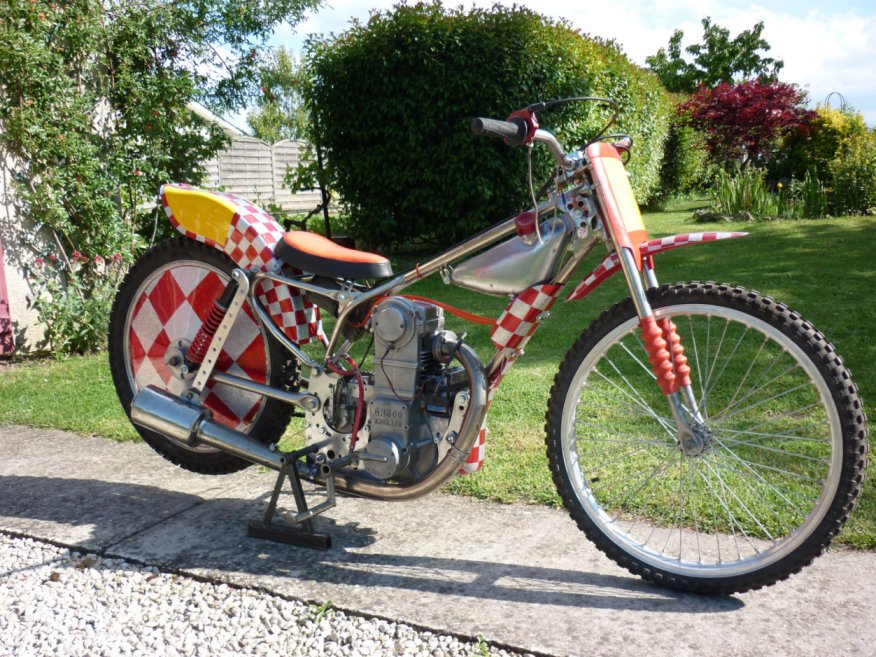 Jean-Michel Caze' bike a Godden Racing 500 mk 5
---
The French Connection #2
J
ean-Michel Caze says: Hello John, Here is my last restoration project finished, a grass-track bike with a DULA frame and a GR MK5 engine tuned by Petersen. I ride in the French veteran championship.
Best regards from France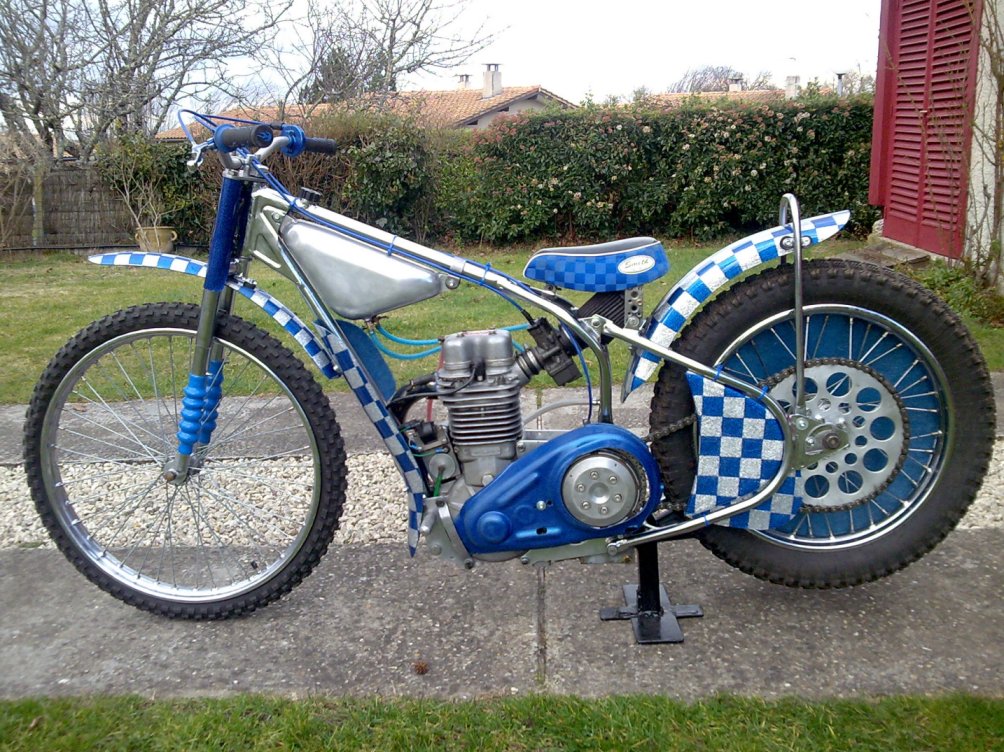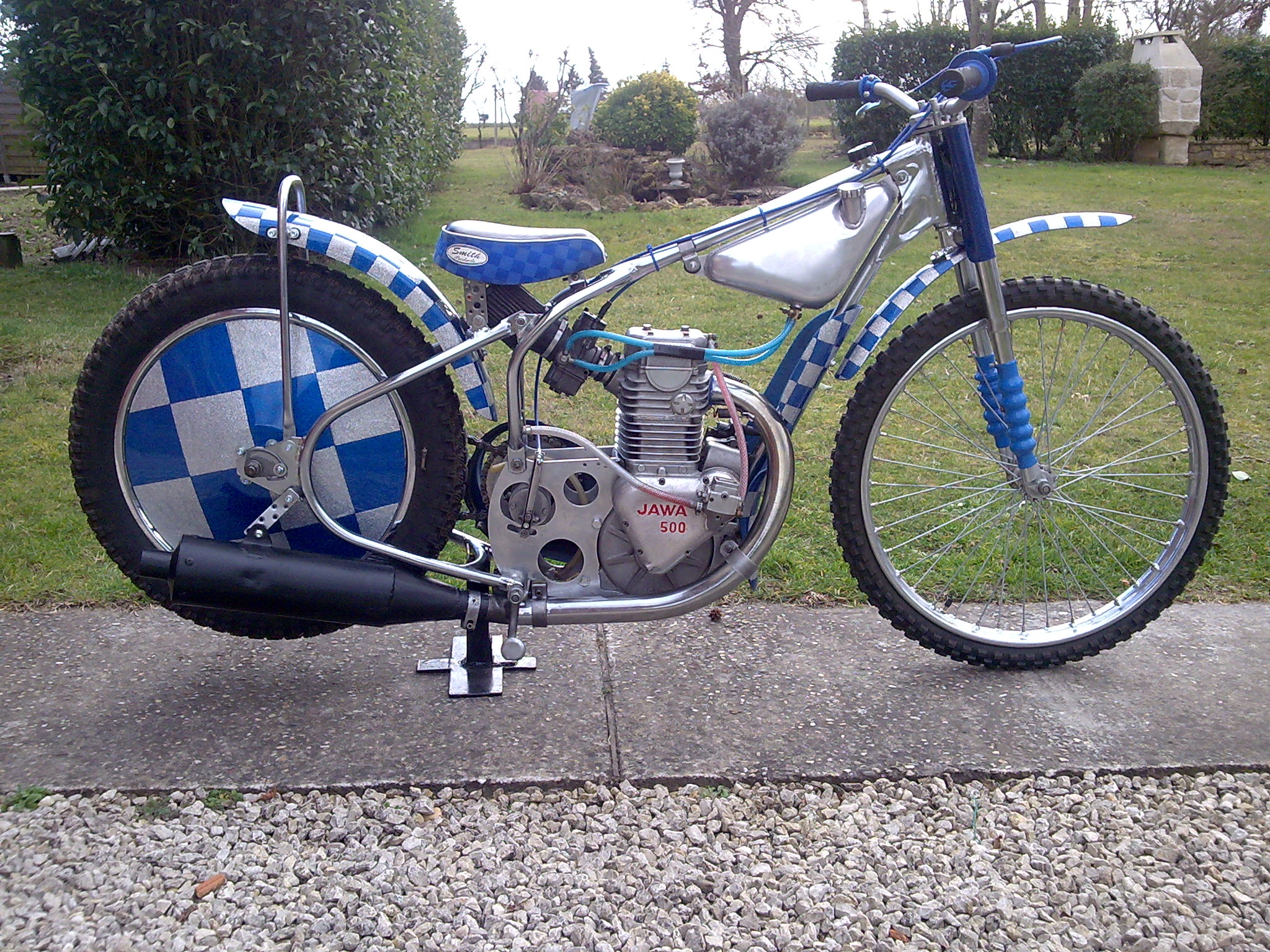 Jean-Michel Caze says: Thank you and congratulations for your very interesting website. Here are pics of one of my others bikes.
see you, regards, Jean-Michel
The French Connection #3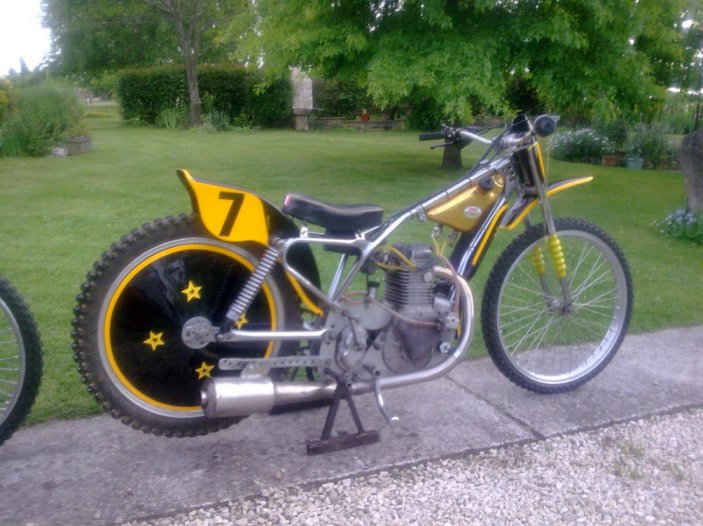 Hello John, Here are some additional information's about my track bikes. The first (in black and yellow on pics) is a bike that I bought from a former GT rider in 2006 to ride in the French veterans championship. It was not complete when I bought it. It is constituted of a DULA frame and a JAWA 897 engine which was previously the property of the famous French GT riders family TRESARRIEU. The gearbox is a Bewley. In 2008 I bought two other bikes from another French former rider Jean-Paul PAGES. These are the Dula/GR GT bike and the Jawa speedway bike. They were not in good condition but complete. I chrome-plated the frames, changed some parts like clutch plates, levers, cables, sprockets , chains ...and rebuilt engines. Set of mudguards and spoilers are from the British manufacturer JUST CONCEPT. All are from the 80's. I hope to have satisfied your curiosity and that my bikes please to you. Thank you for your interest
Best regards
Jean-Michel
John says: Great bikes Jean-Michel, send more if you do any more old bikes up.
---
Can You Identify This JAP?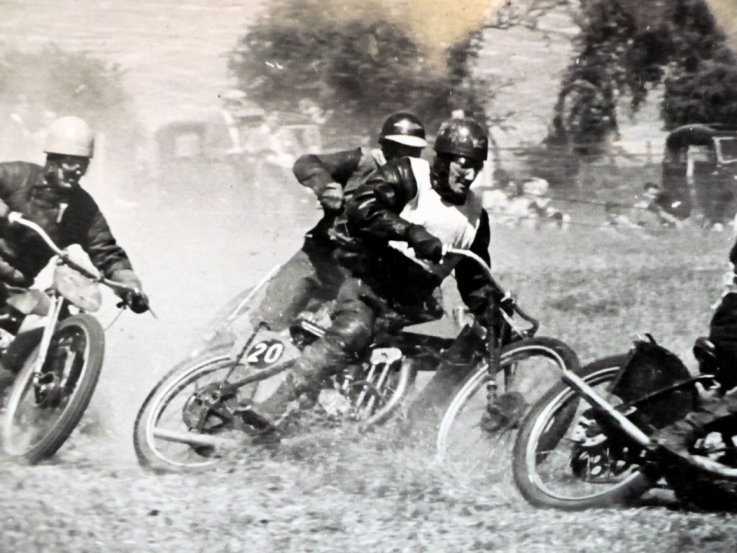 Courtesy of Peter Covell
Peter Covell says: I was wondering if you could help me identify my late grandfathers grass-track/speedway bike, all I have to go on is an old photo, and for a while I have thought that it was a Rudge, mainly because of the wedge tank. however after looking through the site I think it may well be the Martin JAP pictured on page 1. pretty much every detail seems to be the same, I wonder if you could take some time to look at the photo and if you think it is a Martin JAP, you could even put the picture up on your site next to it, should you want to.
John says: It is possibly a JAP engine in a Rudge frame? Here is another Jap in a Rudge frame: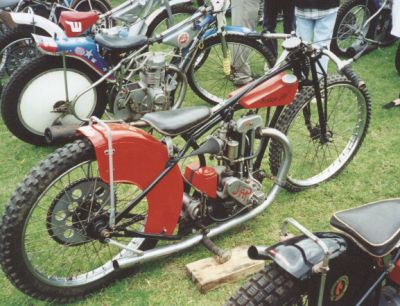 From this picture, you will notice the iconic Rudge fuel tank, same as your grandfathers? well maybe? Question: Open to all visitors to this page: Can you identify bike number 20 ridden by Peter's grandfather John
---
Cordy Milne's JAP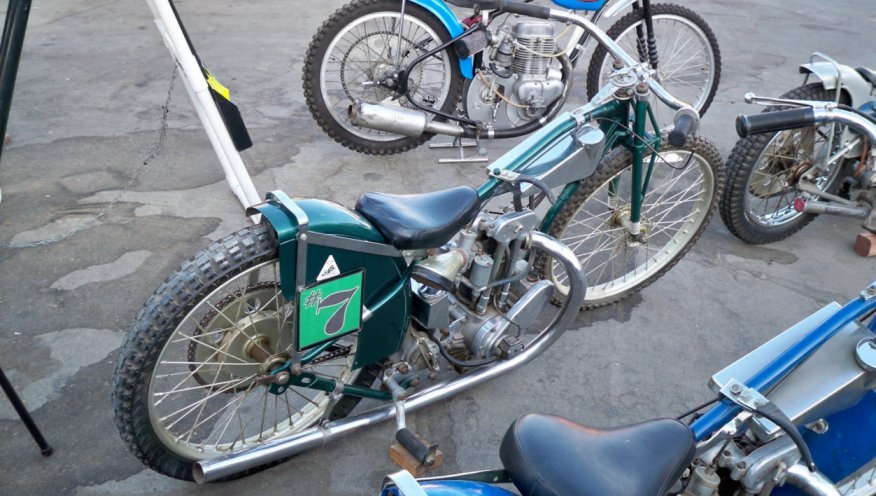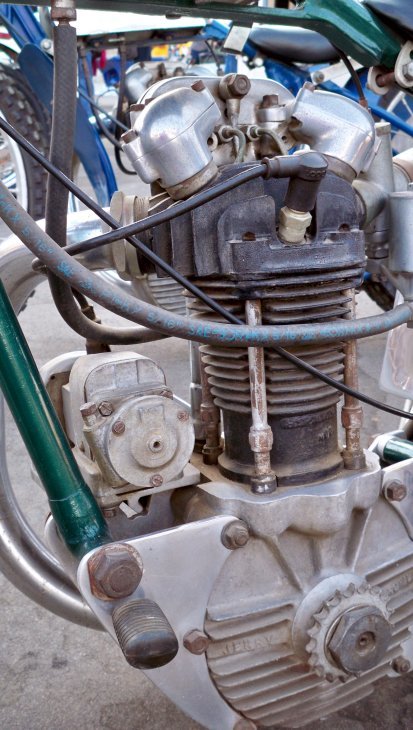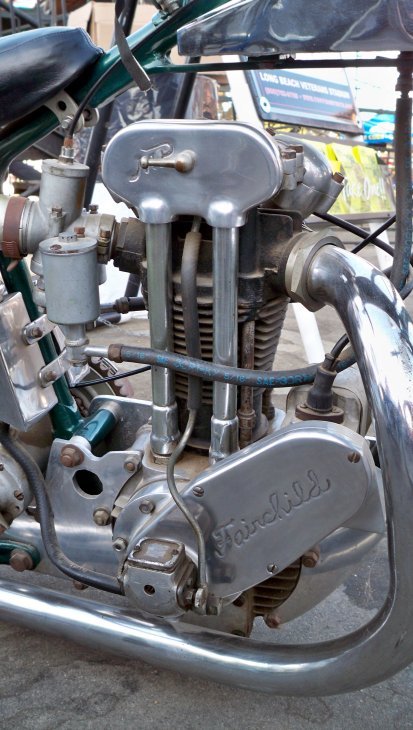 Cary Cotterman says: Hi John, I thought you might be interested in some photos of an unusual JAP that was on display at the recent Jack Milne Cup at Costa Mesa Speedway in southern California. Quite a few vintage racing machines were shown, the highlight of which was a three-heat match race between Brad Oxley and Gary Hicks, both mounted on JAPs with no silencers. No mere parade this--it was flat-out racing and you can imagine the sound. When the modern bikes came back for the next regular heat they sounded like a swarm of sewing machines in comparison.
As for the unusual JAP I mentioned, it was raced by Cordy Milne in the 1940s, with an engine modified by Jerry Fairchild, an ace engineer and tuner who was still preparing speedway bikes into the 1970s. In the photos you can see that the magneto chain and timing covers have been reversed from their normal position, so that the magneto is mounted in front of the cylinder instead of behind. I suppose this was an attempt to move the centre of gravity forward and improve the handling of the bike. Not long after he made this bike, Fairchild built a JAP with a laydown engine. That machine could still be seen in action at Whiteman and Costa Mesa speedways in the late 1960s and very early 1970s. It was regarded as a novelty and we never could have imagined that all speedway bikes would one day be laydowns.
Cheers, Cary Cotterman USA
---
Bikes Page 1 Bikes Page 2 Bikes Page 3 Bikes Page 4 Bikes Page 5 Bikes Page 6
---
The contents of this website are © and should not be produced elsewhere for financial gain. The contributors to this website gave the pictures and information on that understanding. If anyone has any issue or objections to any items on my website please email me and I will amend or remove the item. Where possible credit has been given to the owner of each item.