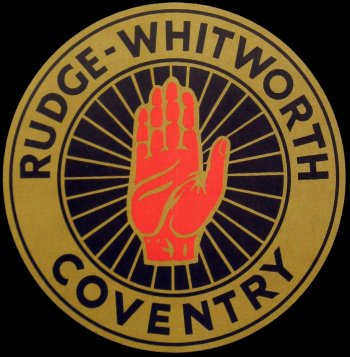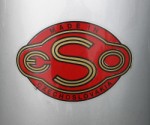 ---
Newcastle Speedway
2010-2019 Part 1
Rene & Kenni
George Stancl
Kenni Larsen
Kenni with Archie Freeman
Mark Lemon
Rene Bach
Jason King
Derek Sneddon
Dakota North
Adam Mckinna
2011 Newcastle
Lubos Tomicek
Claes Nedermark
Kyle Newman
Richie Worrall
Matej Ferjan
2013 Team
2014
Stuart Robson
Christian Henry
Ludvig Lindgren
George English Junior
---
Brough Park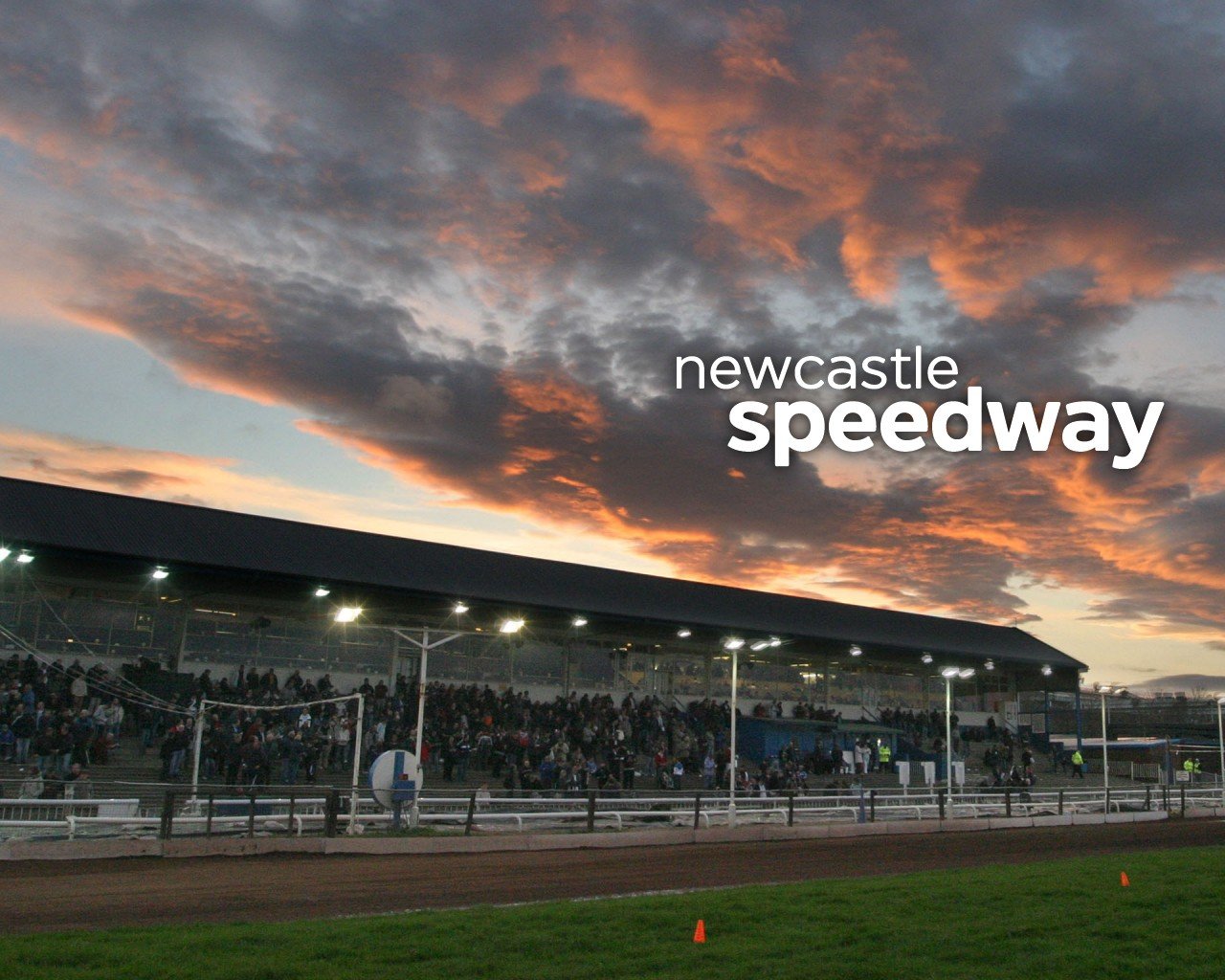 Courtesy of The Match Day Mag
A great photo by Steve Brock
---
The Trophy Winning
2010 Team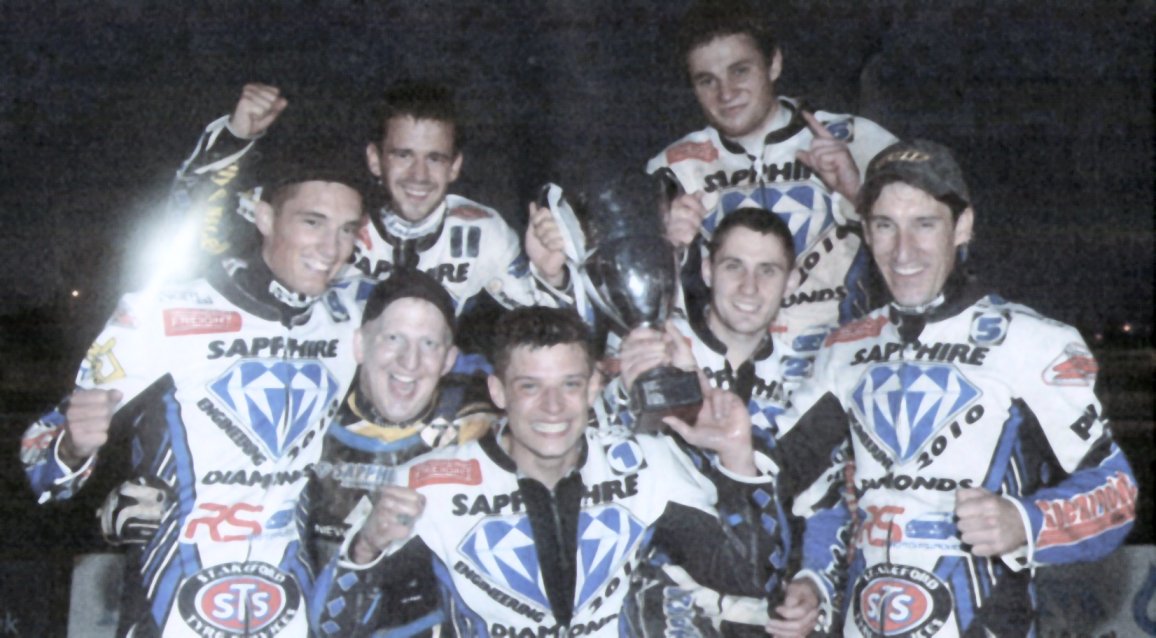 Courtesy of Steve Brock
Rene Bach, Anders Anderson, Jason King, The ever-smiling Kenni Larsen, Deek Sneddon, Dakota North and Mark Lemon
George Stancl Farewell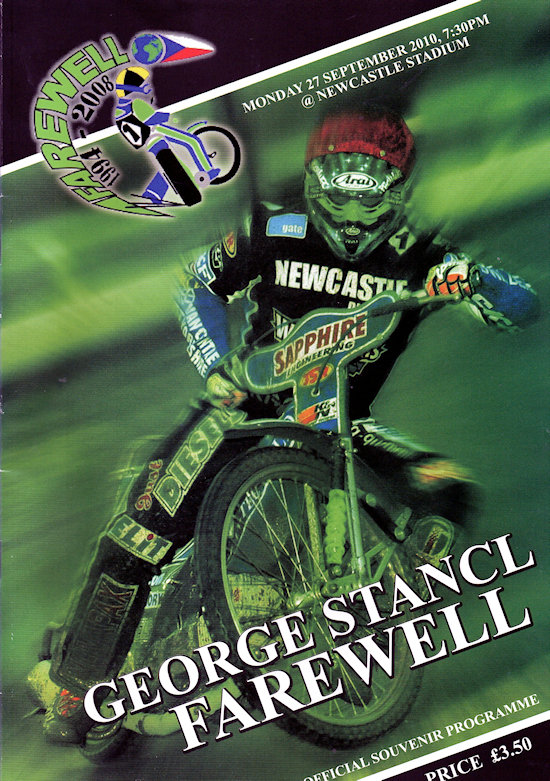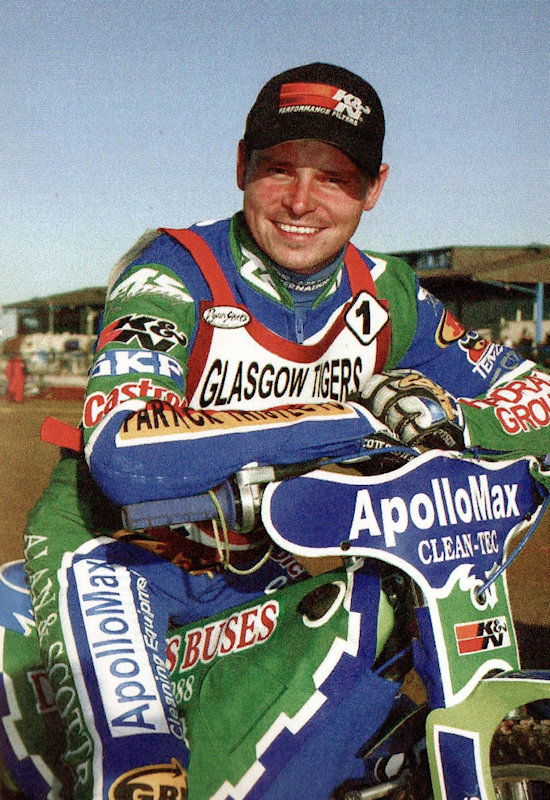 Team Photo From George's

Souvenir

Programme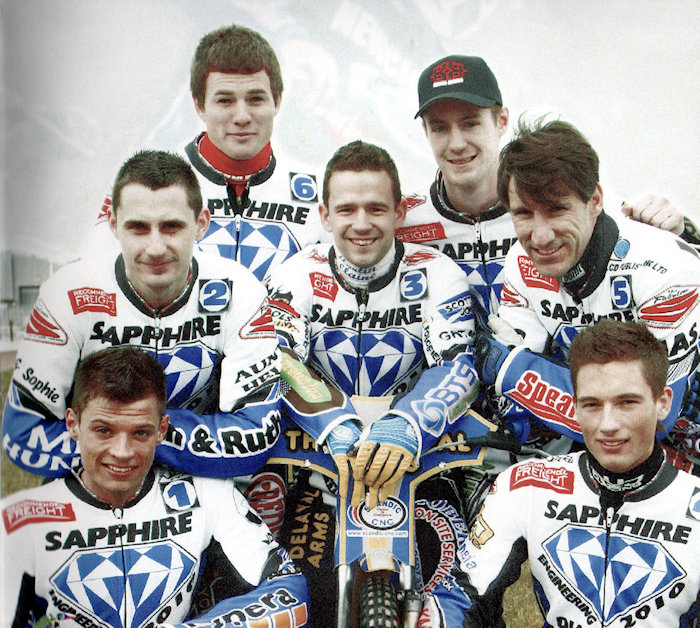 Dakota North, Adam McKinna, Derek Sneddon (2), jason King (3), Mark Lemon (5), Kenni Larsen (1) and Rene Bach
---
Kenni Gets The "Bumps"

Courtesy of Colin Poole
Kenni Larsen gets the bumps and a pensive looking Dakota North. Dak will remember his first full season. He promises to make a step up next season into the 2011 Diamonds line up
---
Rene & Kenni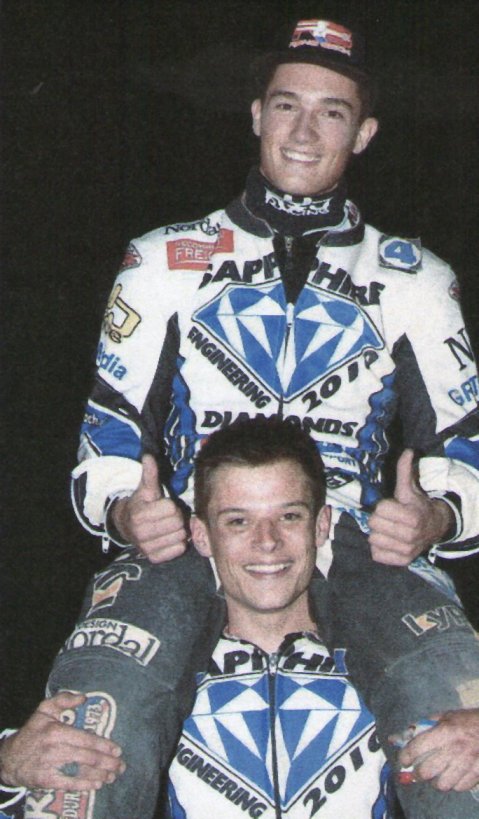 Courtesy of Colin Poole
Kenni Larsen Brightest Diamond
In

2010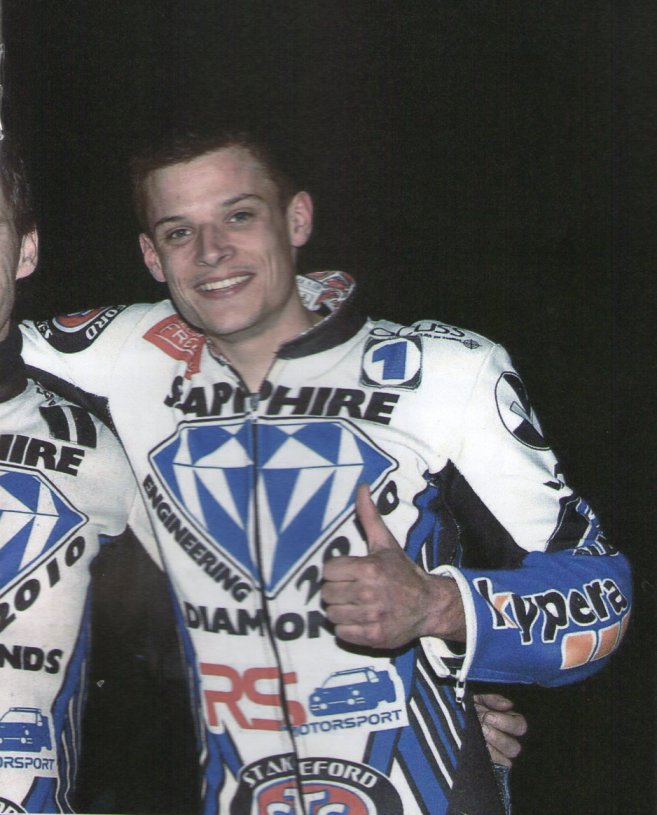 Courtesy of Colin Poole
Kenni Larsen gets the thumbs up as our best rider from 2010 but he was chased hard by Rene Bach and Mark Lemon. Kenni recorded some impressive heat times and was often 2 seconds quicker than the rest.
2010 Team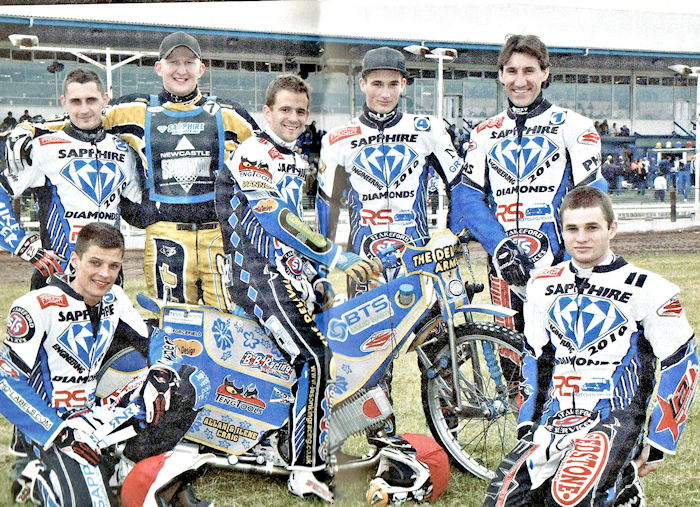 Derek Sneddon, Anders Andersen, Jason King, Rene Bach, Mark Lemon, kneeling Kenni Larsen & Dakota North
---
Steve Brock Photography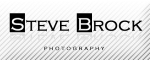 To be able to do a website like this I have had to ask for permission to use photographs taken by a number of professional photographers. Steve Brock has bent over backwards to help the site with his excellent photos of the Diamonds. The photos on this page are from the lens of Steve, donated free for the cause and I am very happy to add here a link to Steve's website. Please visit his site if you want to buy photo's or hire Steve's services
---
2010 Season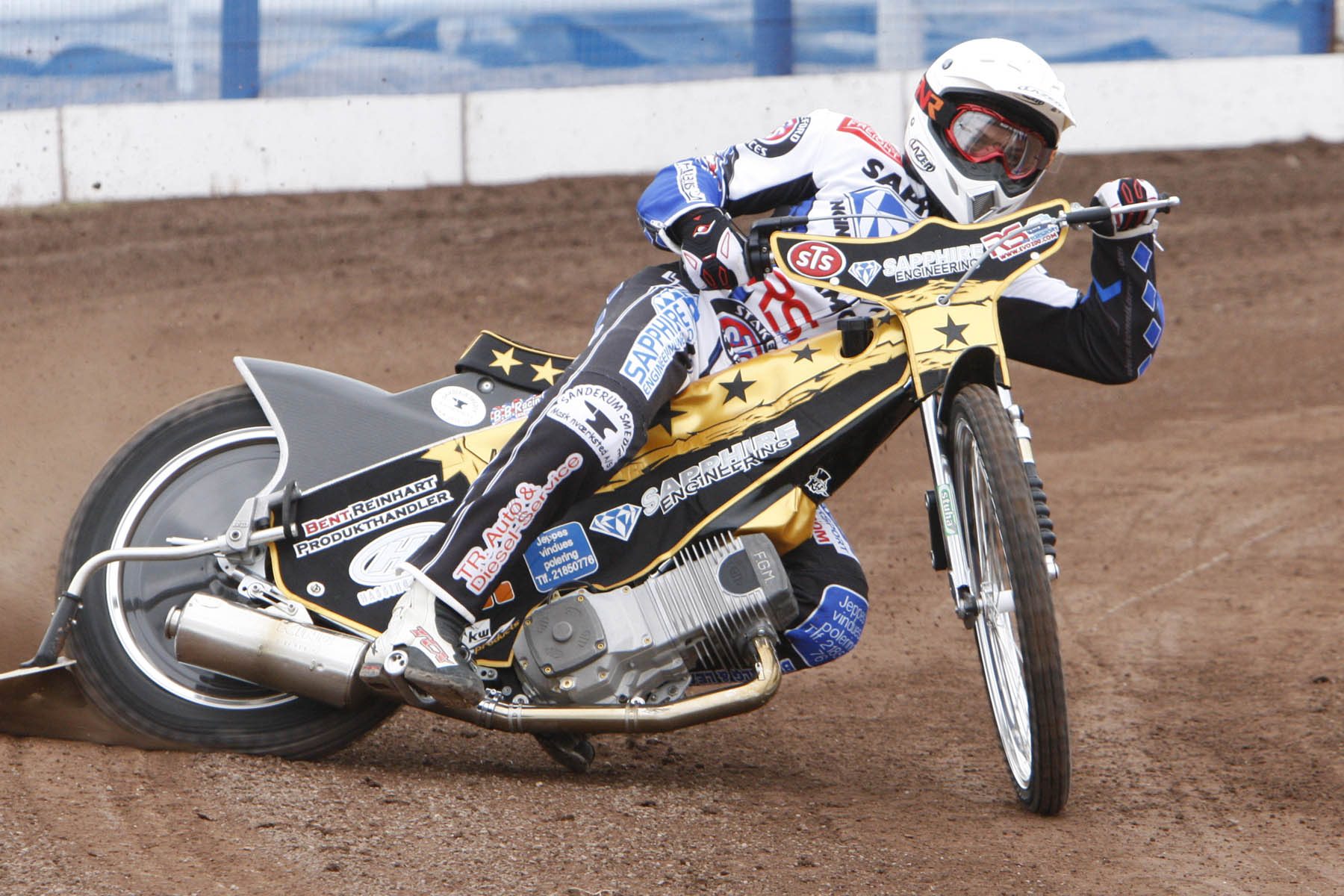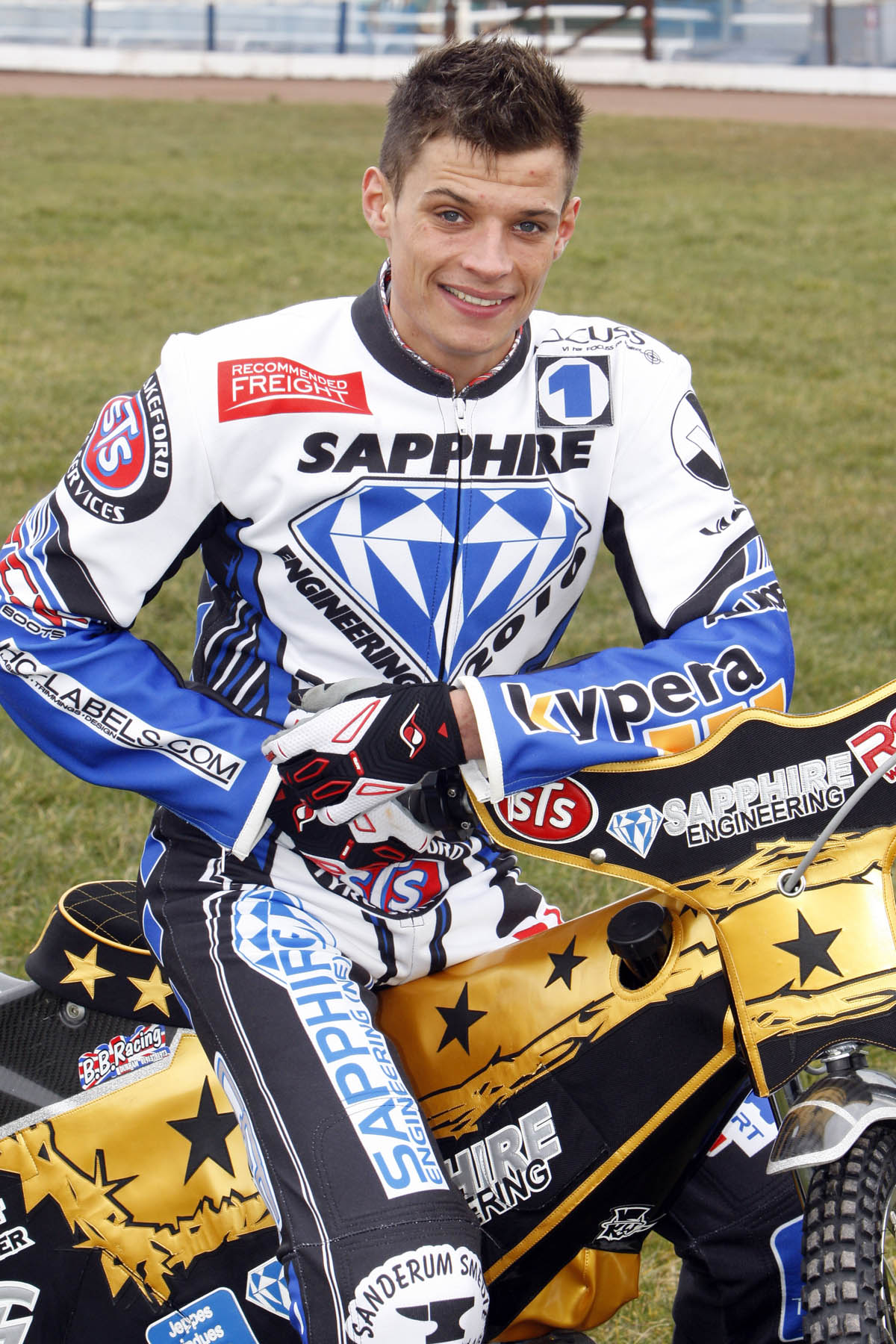 Kenni Larsen during 2010 became one of the most popular riders ever to don the diamond. Kenni became the PL riders champion and ended the season as track record holder, he consistently clocked times a couple of seconds faster than anyone else in most of his races. In heat 15's he often "won" the match for us and with team mate Rene Bach celebrated heat 15 5-1's with a number of different "goal celebrations" clucking like a chicken (see below) in one of them.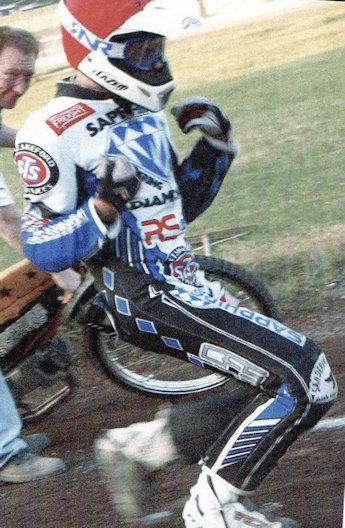 Kenni will go on to greater things as the Elite League beckons him, but we will never forget the young man that entertained us at number 1 in 2010.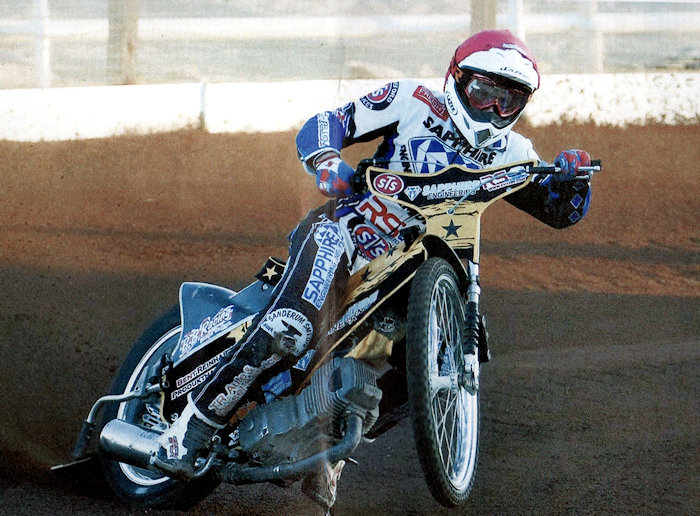 Kenni Wins The
2010 PLRC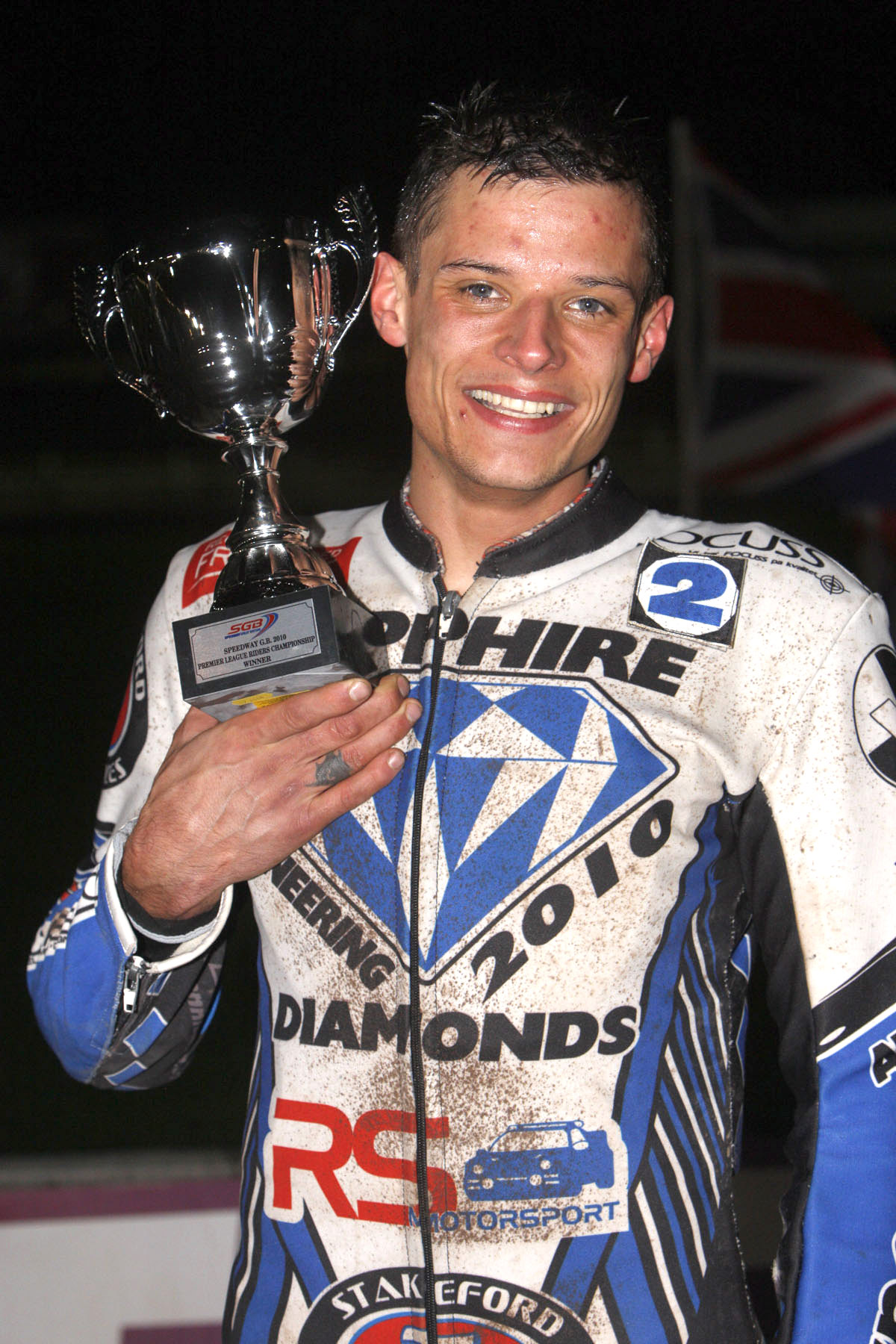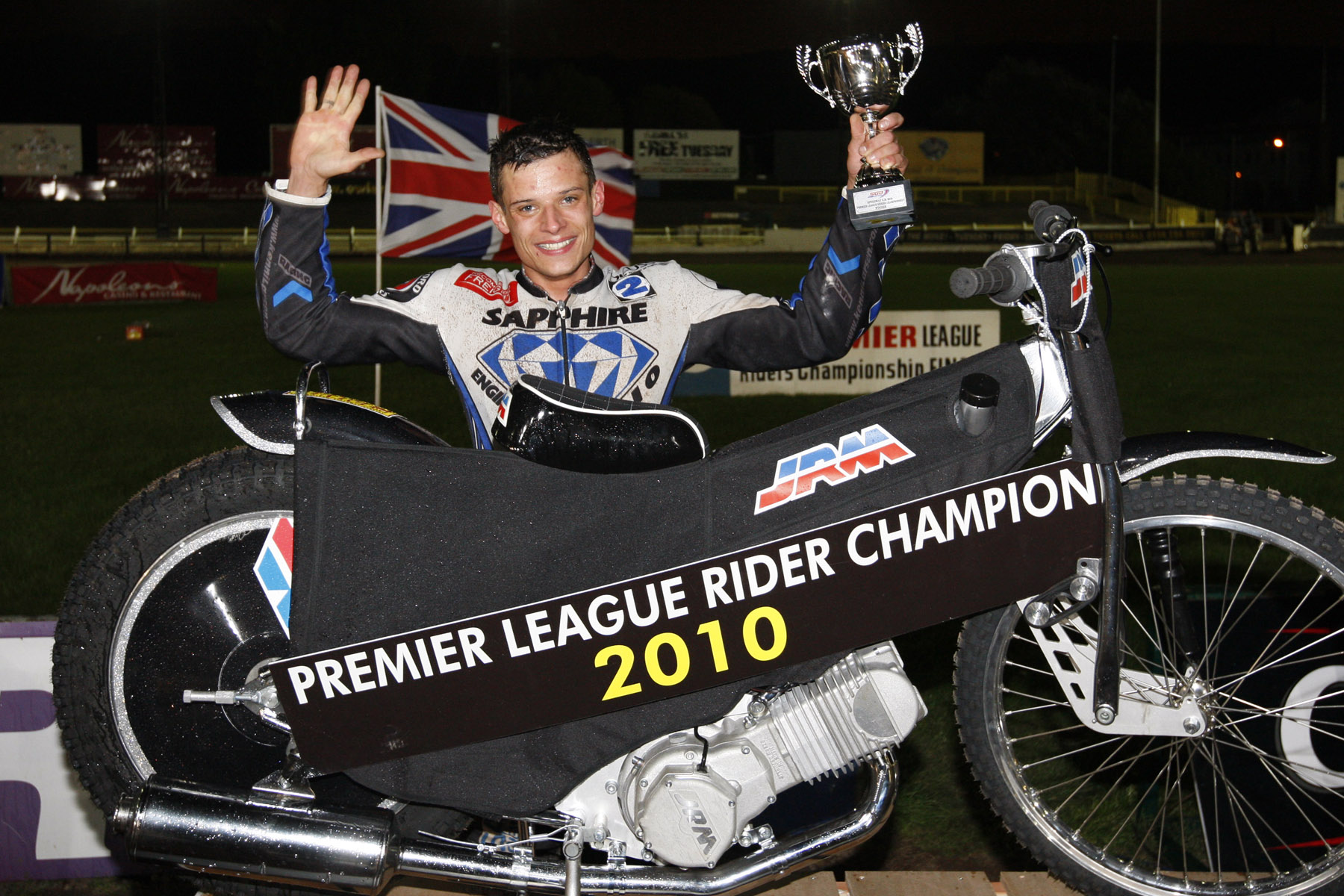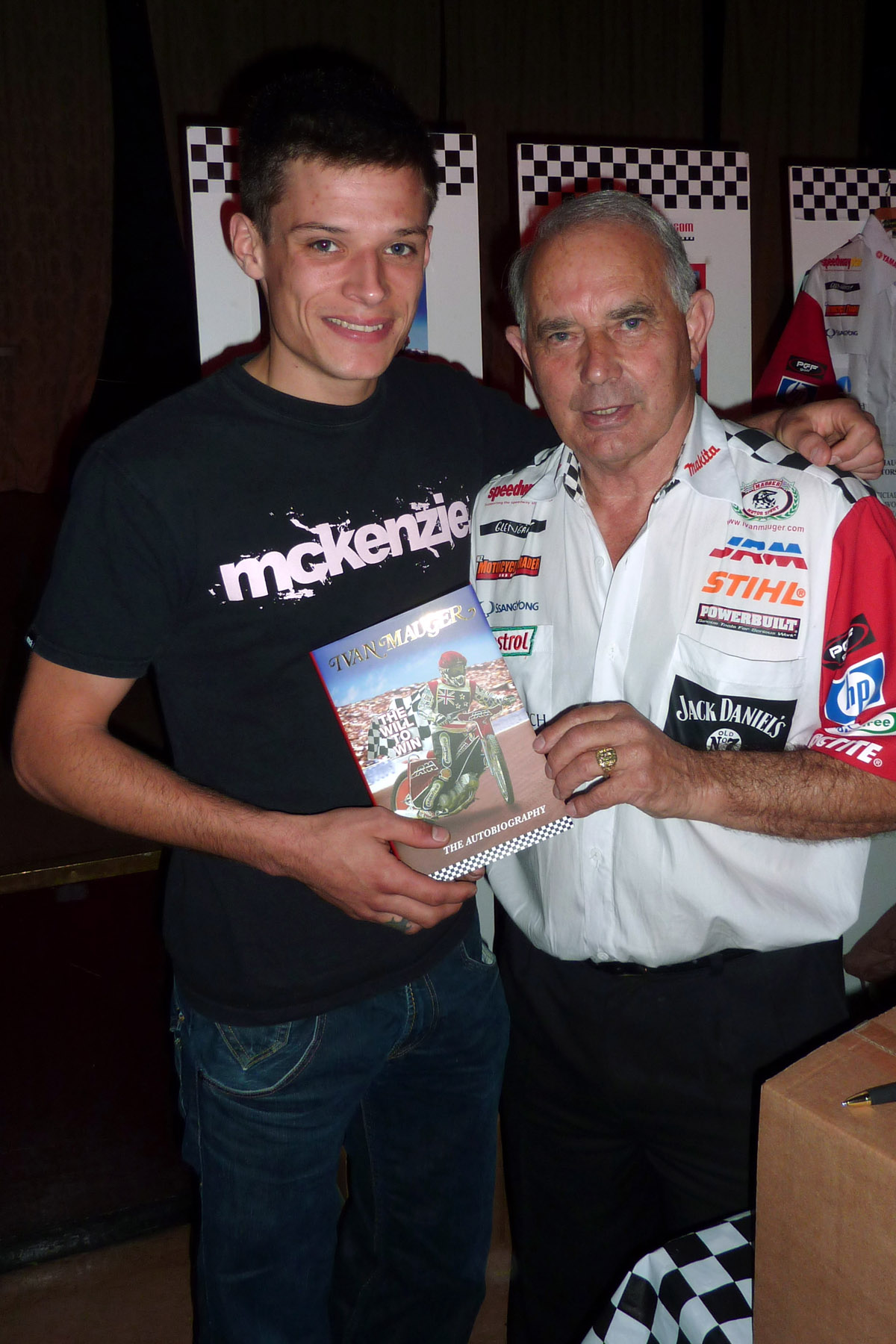 Kenni with Ivan Mauger 2010
Kenni Larsen says
:-
Hi John. Here are my words about my time at Newcastle.
In 2008 I was on a track in Denmark, with my Little brother Victor. Victor was riding that day.
A guy came over to me and started talking, and told me that he knew me and Victors dad "Peter Larsen" about 30 minutes later he asked me what my name was, I said "Kenni"
He then Replied "Kenni Larsen?" and I answered him "Yes Why" he said "I am over here to find you" ain't it funny that he knew my dad and was looking for me, but didn't know that I was he's friends son. This Person Was Richard Juul. I then decided to go to Newcastle and try to see if I was good enough, so I did the 5 last meetings for Newcastle in 2008.
My first meeting was at stoke, where I scored 6 then it was Newcastle, where I scored 8, then rye house where I scored 11, then Newcastle where I scored 13, and I finished the season of with a meeting at Newcastle where I scored paid 14. I was over the moon!
I came back in 2009 to ride for a full season for the first time, I started out where I finished in 2008, and progressed, and half way through the season I was number one.
this was a very good learning year for me, and I also broke the track record at Newcastle.
In 2010 I went over for the second full season, and everything was twice as good as the year before: New Mechanic (Roy Clark) which was brilliant for me, me and Roy just clicked from the first minute. I also lived at Roy's which produced many funny hours. My workshop at Jackie Campbell, which was the best workshop i could think off. Jackie helped me with everything in the workshop and even when I wasn't there to clean the bikes she did them for me, and they were just SPOT ON!. Jackie wasn't just someone that helped me in the workshop, she was also driving me every where together with Roy. And i could talk with her about everything. Roy and Jackie was like my mom and dad.
we all three went down for the Premier league riders championship and WE WON IT!! this year I also broke the track record again at Newcastle, and at Scunthorpe.
I had 13 maximums this season, both home and away. I ended up with an average over 10 (cma). I also became very good friends with Jesper Olsen and he's family.
Newcastle has been so good for me that they have earned a special place in my heart, both fans and the people that helped me.
I hope you can use it. And I wish you everything good in the future. I'll come to Newcastle sometime this season and say hi.
Kenni Larsen
March 2011
Kenni & Archie

2018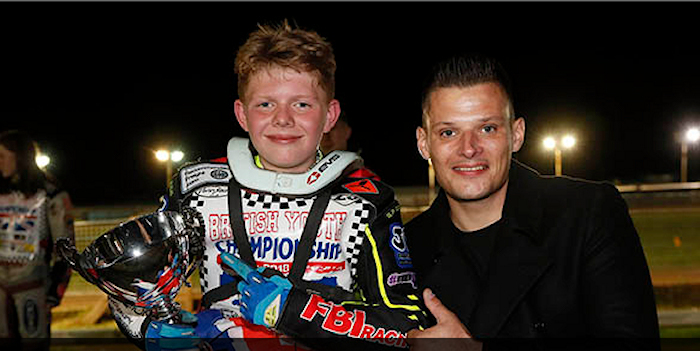 Photo by Steve Brock
Kenni paid Brough Park a visit in 2018.

Where he was asked to present Archie Freeman with the first of many national and international trophies. 13-year-old Geordie Archie Freeman won his first major national championship in the 150cc class of the British Youth Championship series.
April 2016. Danish star Kenni Larsen reportedly sustained his gunshot wounds to the head in an airgun accident as he remains in an induced coma this morning.
Larsen was taken to Odense University Hospital on Thursday afternoon and has undergone two operations to remove the airgun pellet and relieve a build-up of fluid on his brain.
If his condition is stable, doctors will try to wake him in about two to three days. Kenni's family is very grateful for the support they have received at such a difficult time.
While police investigations are ongoing, Larsen's family released a brief statement via Falubaz.com, admitting the incident was a tragic accident.
The statement read: "What happened to Kenni was an accident". Kenni underwent neurological surgery to remove the bullet from an air gun. It was followed by a pharmacological coma and he had another operation on Friday. They had to remove extra fluids from the brain, which caused additional pressure. "If his condition is stable, doctors will try to wake him in about two to three days.
Fyn police believe there were no witnesses to the incident and are waiting to speak to Larsen when he is medically fit. Police chief Christian Rasmussen told Ekstra Bladet: "Our investigations suggest that the gun went off while he was alone. But we cannot ask him yet, so hopefully he comes out of the coma soon. We do not know exactly. We simply lack the young man's explanation."
---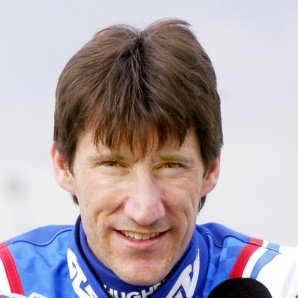 The Aussie oil painting that is "Lemo!"
Mark Ian John Lemon (born 12 February 1973) Mark Lemon came to us in 2009 as a bit of a spent force. What a mistake his previous promoters made as Mark soon learned the quickest way around our track. He reeled off a number of maximums and combined so well with Kenni Larsen in heats 13 and often 15 too to notch up maximum heat wins at the end of matches when the match result depended on him. A great Diamond in 2010. Lemo was with us until 2012 when he was released as he didn't figure in the team plans any longer.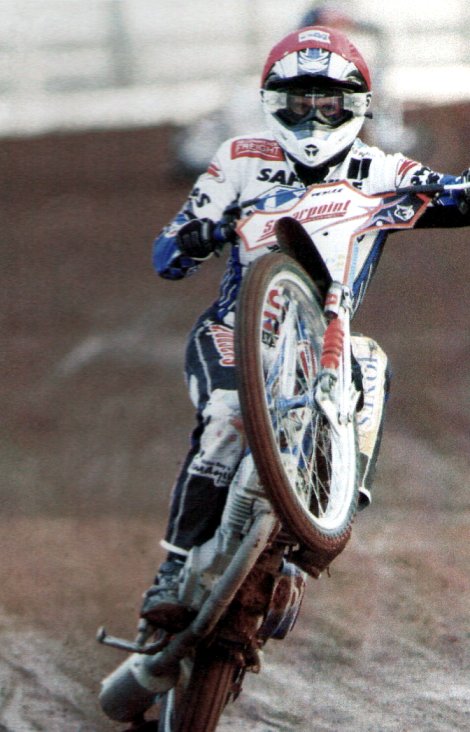 "Lemo" celebrating a race win with a wheelie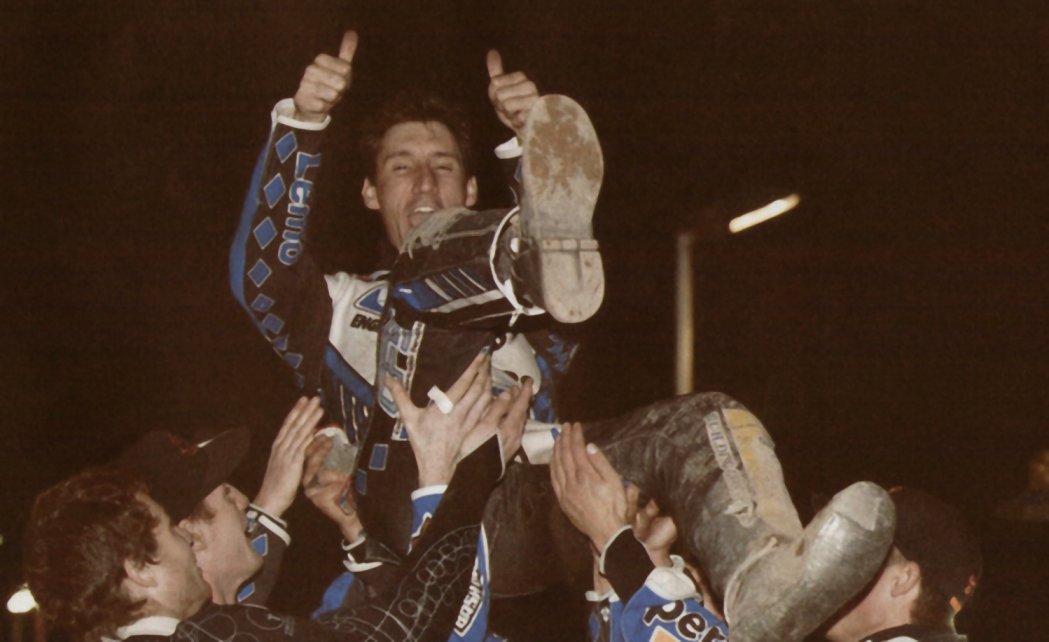 Maximum man Mark Lemon getting the treatment!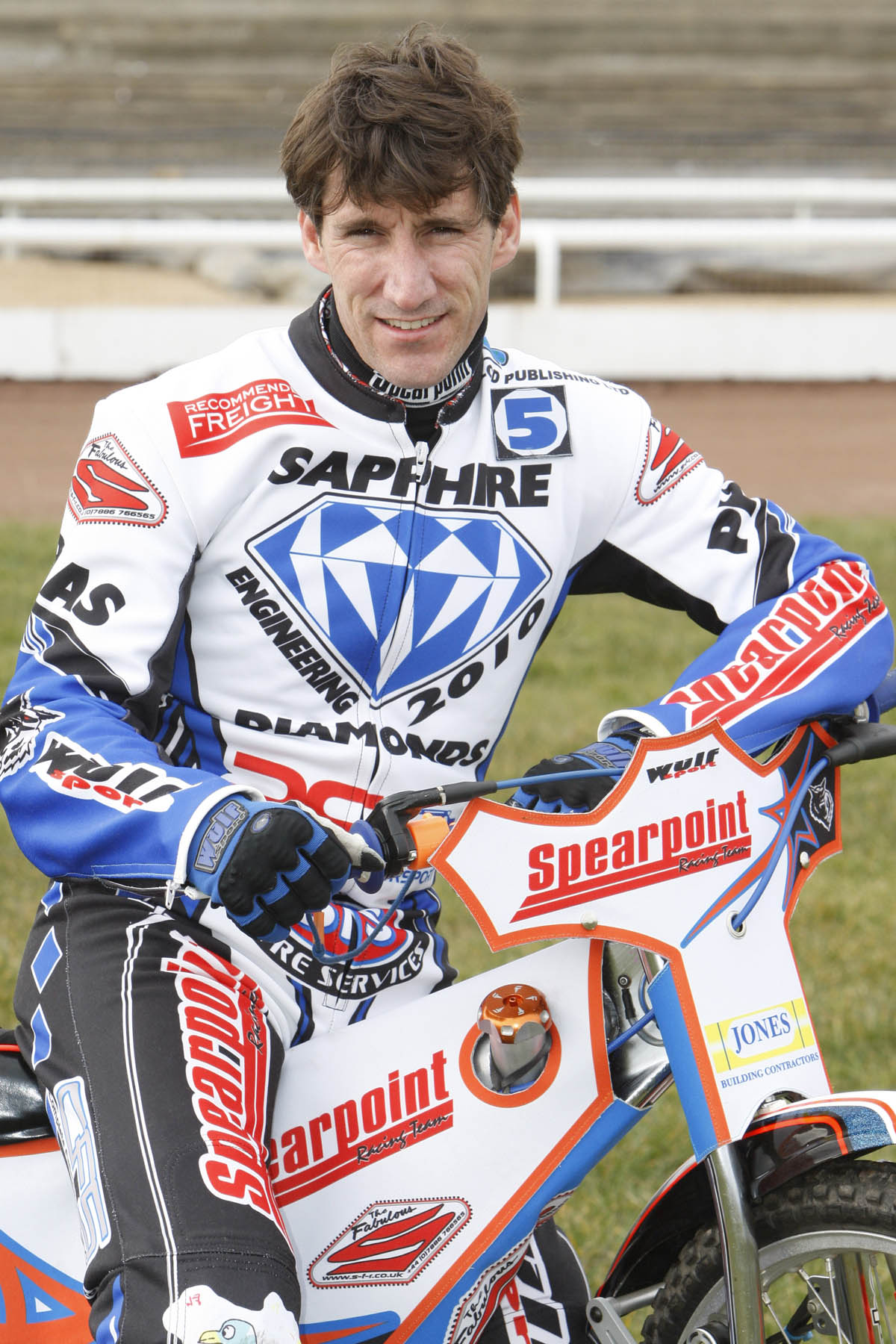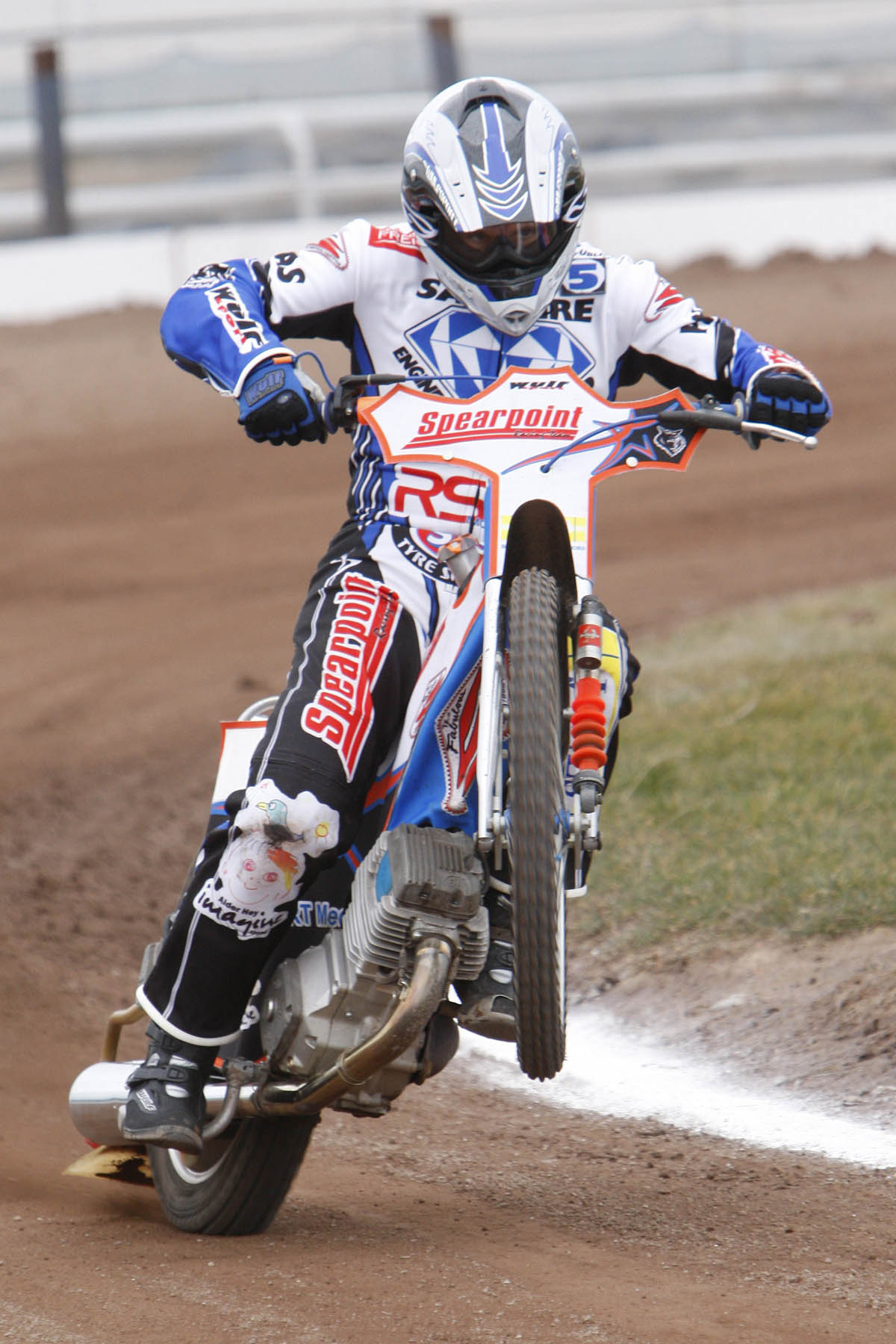 Mark Lemon Leads
Michal Makovsky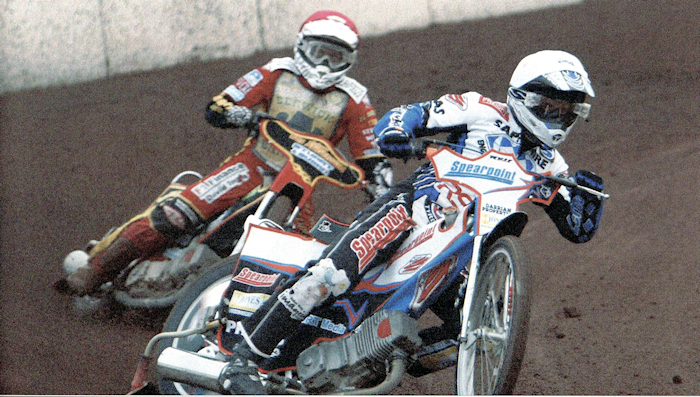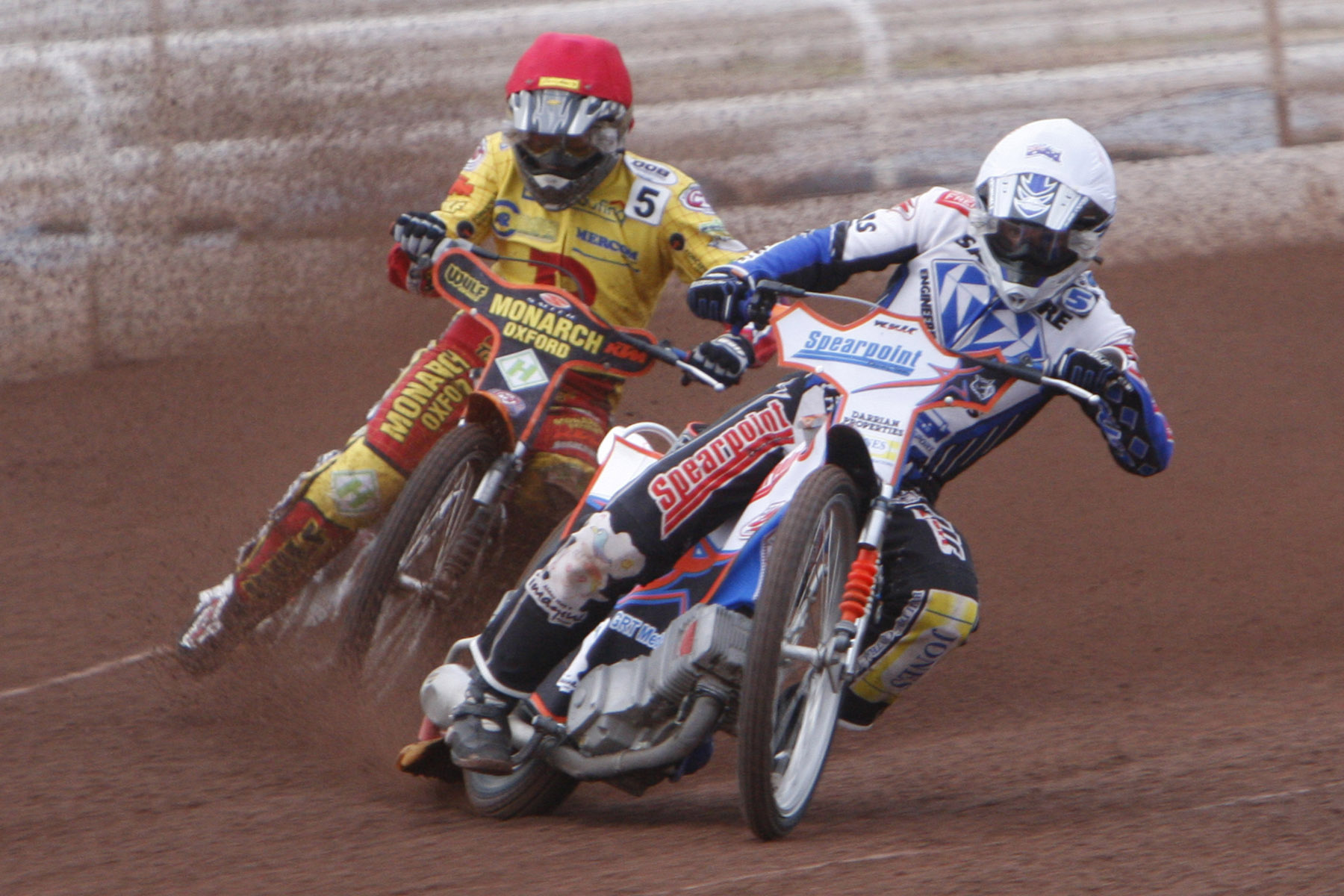 Mark leading Brummie Steve Johnson
Australian Lemo became Newcastle's first signing for 2012. 2011 was a bad year injury wise for Mark. He fell heavily on his right shoulder and had to have surgery to repair the break but still managed to average over 9 points. Here is his shoulder x-ray!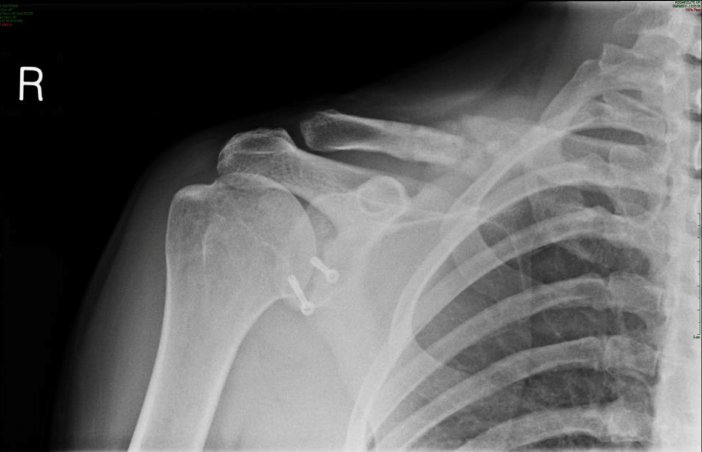 Hey Mark lets hope the screws don't rust! You must be the only rider in the world with an x-ray amongst his action photos? The winter break will help Mark overcome the 2011 injury.
More of Mark Lemon
---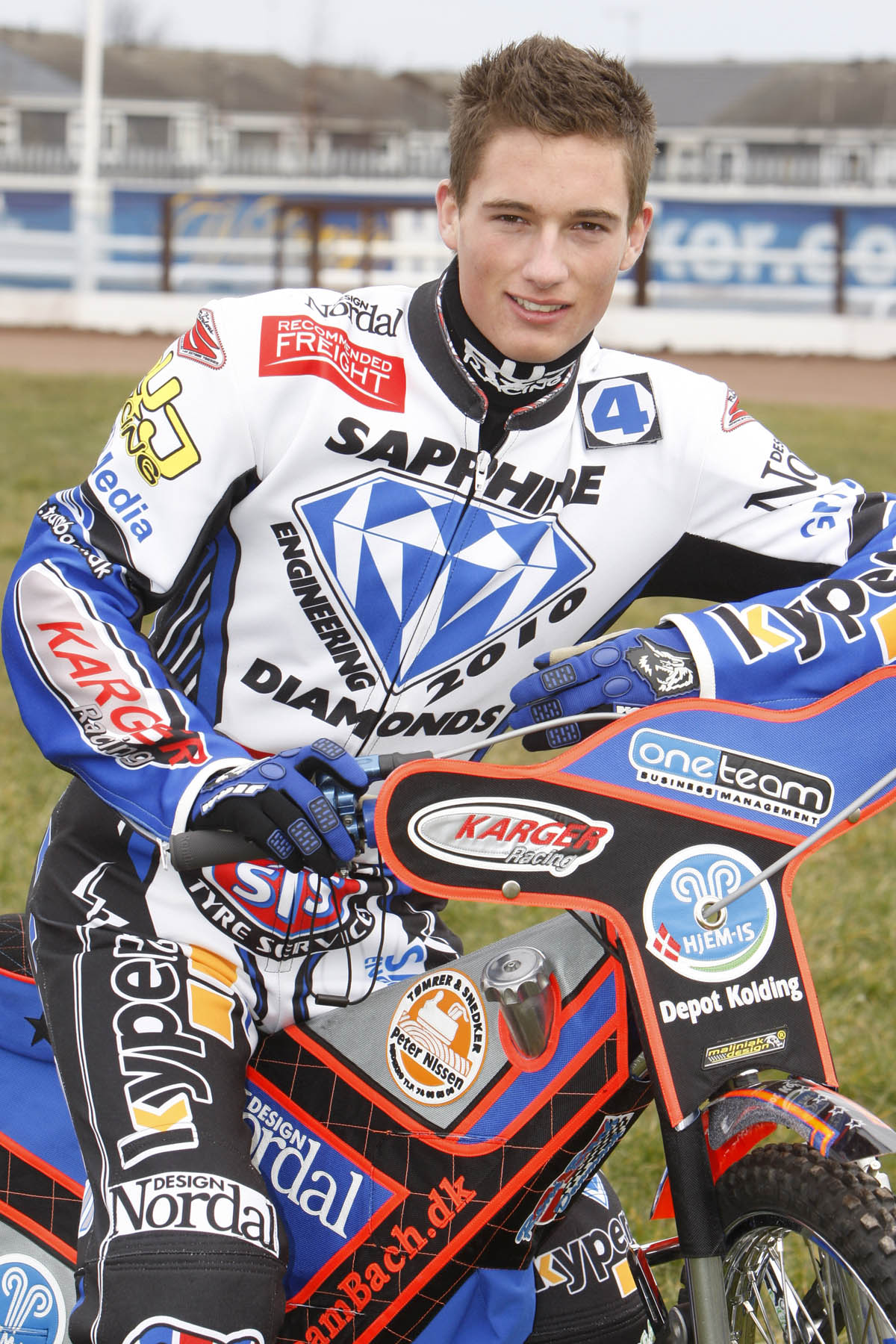 René Bach (born 7 June 1990, in Hjordkaer, Rřdekro) joined the Diamonds in 2009 and stayed until 2011. Everyone I know likes René and we all would welcome him bach!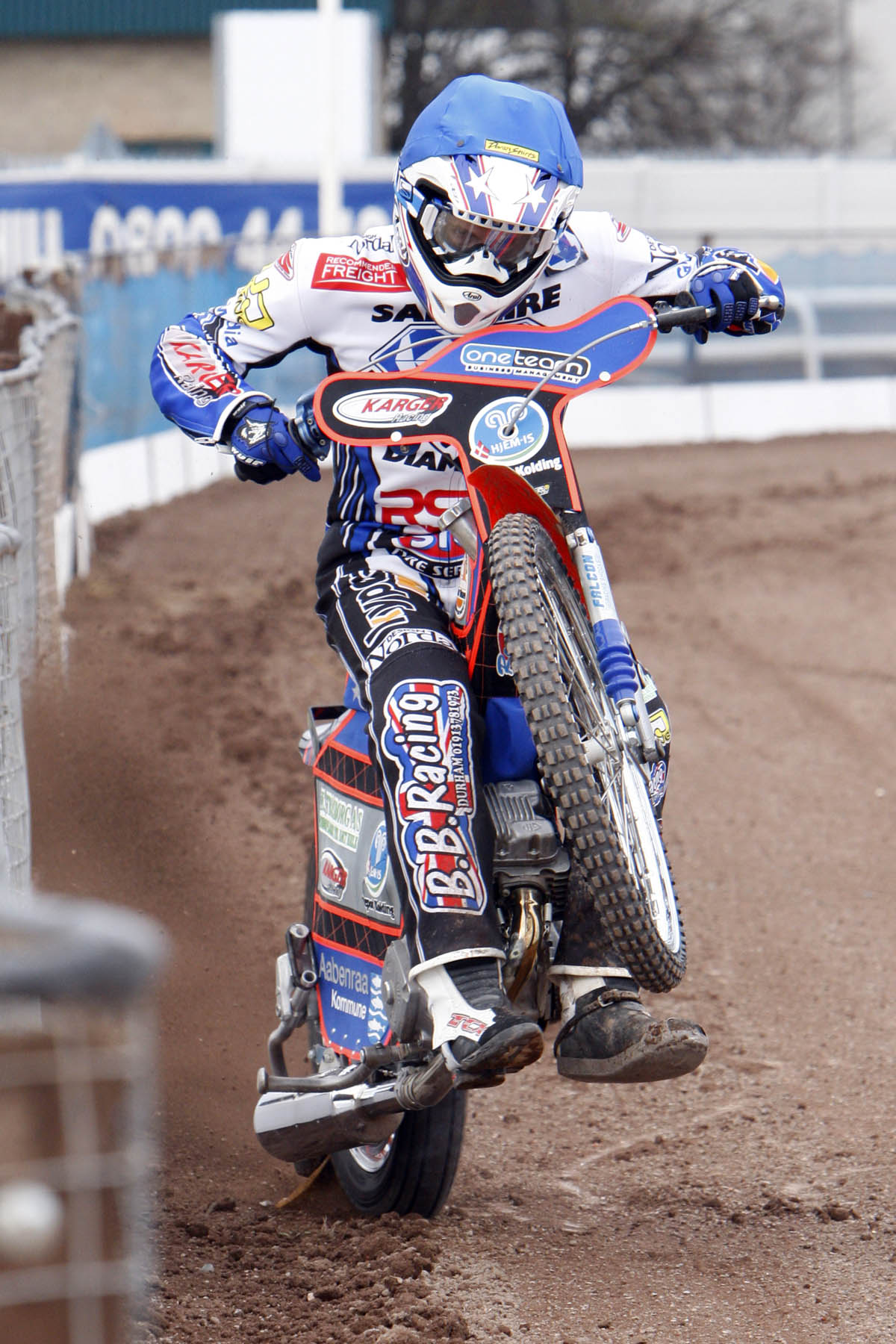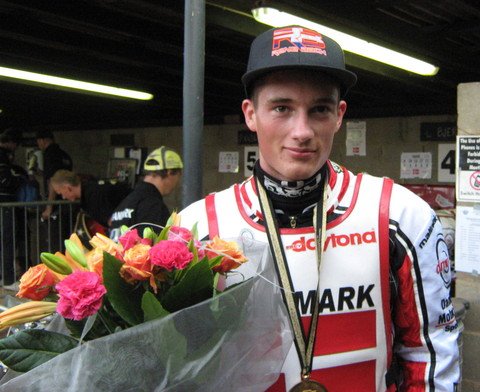 Rene at Rye House
My personal favourite diamond in 2010. Rene kept missing the gate and had to chase the opposition for a couple of laps. He usually overhauled the leader with a breathtaking swoop around the outside. He was just one step behind his Danish team mate Kenni Larsen. Denmark have a great future with these two young riders. All Rene has to do is brush up on his Starting technique and he could follow previous diamond Nicki Pedersen and become world champion, but look out Rene, Kenni Larsen will be up there too.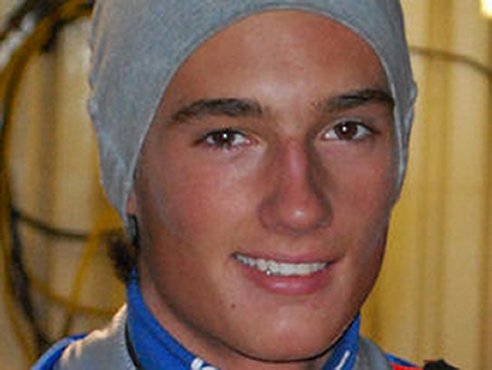 René Bach had a serious injury at Newcastle on 10th April 2011 in which he suffered a number of broken bones.
René

was coming from behind as usual, having missed the gate. The accident took place entering bends 3 and 4 at Newcastle, he found himself on the inside of Rye House rider Jordan Frampton, Frampton clipped Rene's back wheel and sent René at full speed into the Newcastle safety fence. A lengthy delay with the St John ambulance on the track indicated all was not well with René. We found out later he had badly broken his leg. René Bach

is

the crowds favourite as he often misses the gate and has to come from behind. He usually overtakes at speed around the outside but this time he overtook Frampton at speed on the inside and ended up in the fence. Boos from the crowd as Jordan made his way back to the pits were unjustified as this was simply a racing incident with no one really to blame. As 2011 wears on we will learn more about René's injury and comeback time. I will hope with fingers crossed that his injury it isn't as bad as I fear it is and when he comes back he isn't in fear of pleasing the crowd with his blasts from the back. René Bach is a nice lad, a special rider and is irreplaceable in the team. Good luck René.
Rene Bach &
Derek Sneddon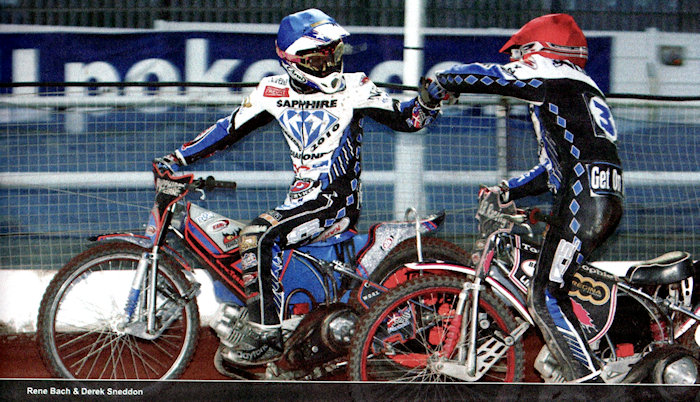 A Typical Shot Of René Overtaking On The Outside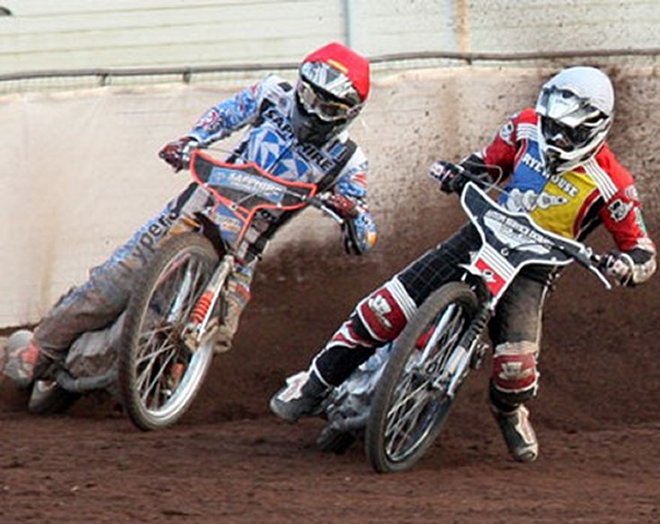 More on

René

on 2000-2009
page
---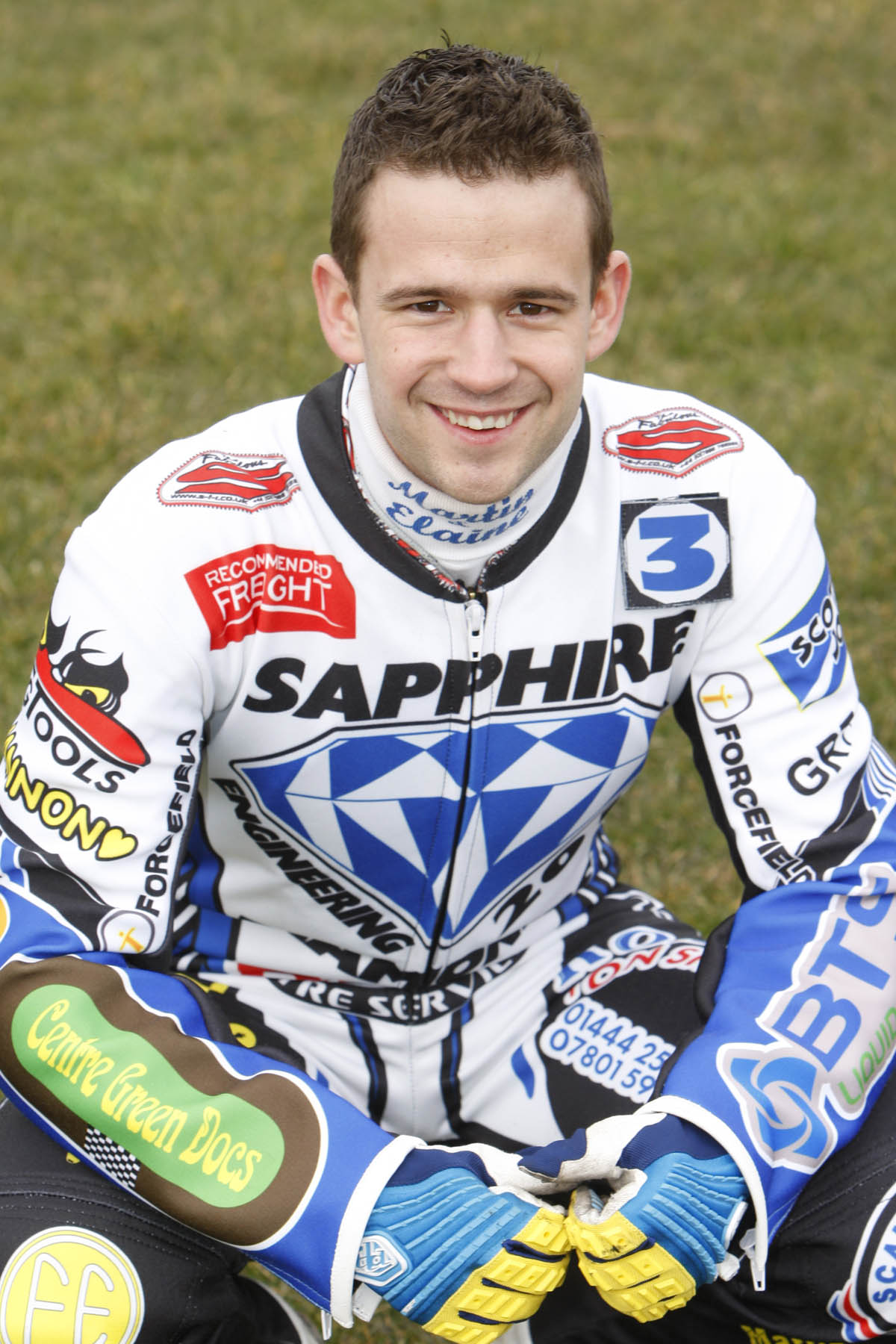 Jason Gary King (born 13 April 1985 in Maidstone Kent)

Jay rode for us 2008 to 2010 captaining the side. He married local girl Jill and settled on Tyneside. Jay has been very unlucky with injuries which appears to have brought his career to a premature end.

Although Jason is not named in the starting 7 riders for 2012 he is currently unsigned by any other team. Perhaps he will figure if any of our 7 riders suffer an injury or a lack of form. I hope J is fixed up as he is too good a rider to sit out the season
Jay has been in touch he says: "I had only ridden Newcastle once before I signed in 2008 and from what I remember I didn't get that many points. After my winter relocation up north, I had a chat with George English and we quickly agreed a deal for me to join the diamonds.
It took me a few weeks to get dialled in at Brough, but once I did, I had the best season of my career and followed that up again in 2009 when I was made captain.
2010 was to turn out to be a year of mixed fortunes for me. I had an average start but the team were flying and won our first piece of Silverware in the PL Trophy. Sadly, that was the only one of the three I was able to collect as I ruptured my knee ligaments in a crash at Glasgow in August. I missed the end of 2010 and what would turn out to be most of 2011 (apart from 8 terrible meetings).
Newcastle own my contract so I hope to be part of the diamonds once again, but for now (2012), it looks like I will have to find another club. I'm not fixed up for this season yet and it looks like I will start the season on the sidelines, but I hope something will turn up early on!"
John says: Yes Jason let's hope you are back in the diamonds team soon and hitting big scores
Jason Gets The Bumps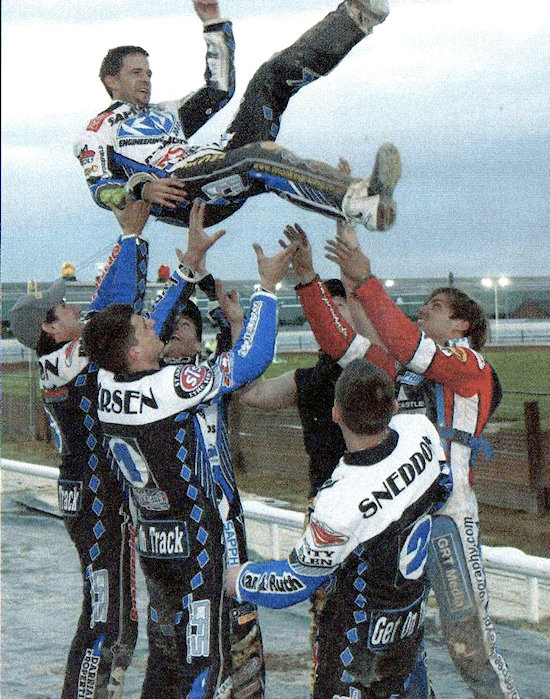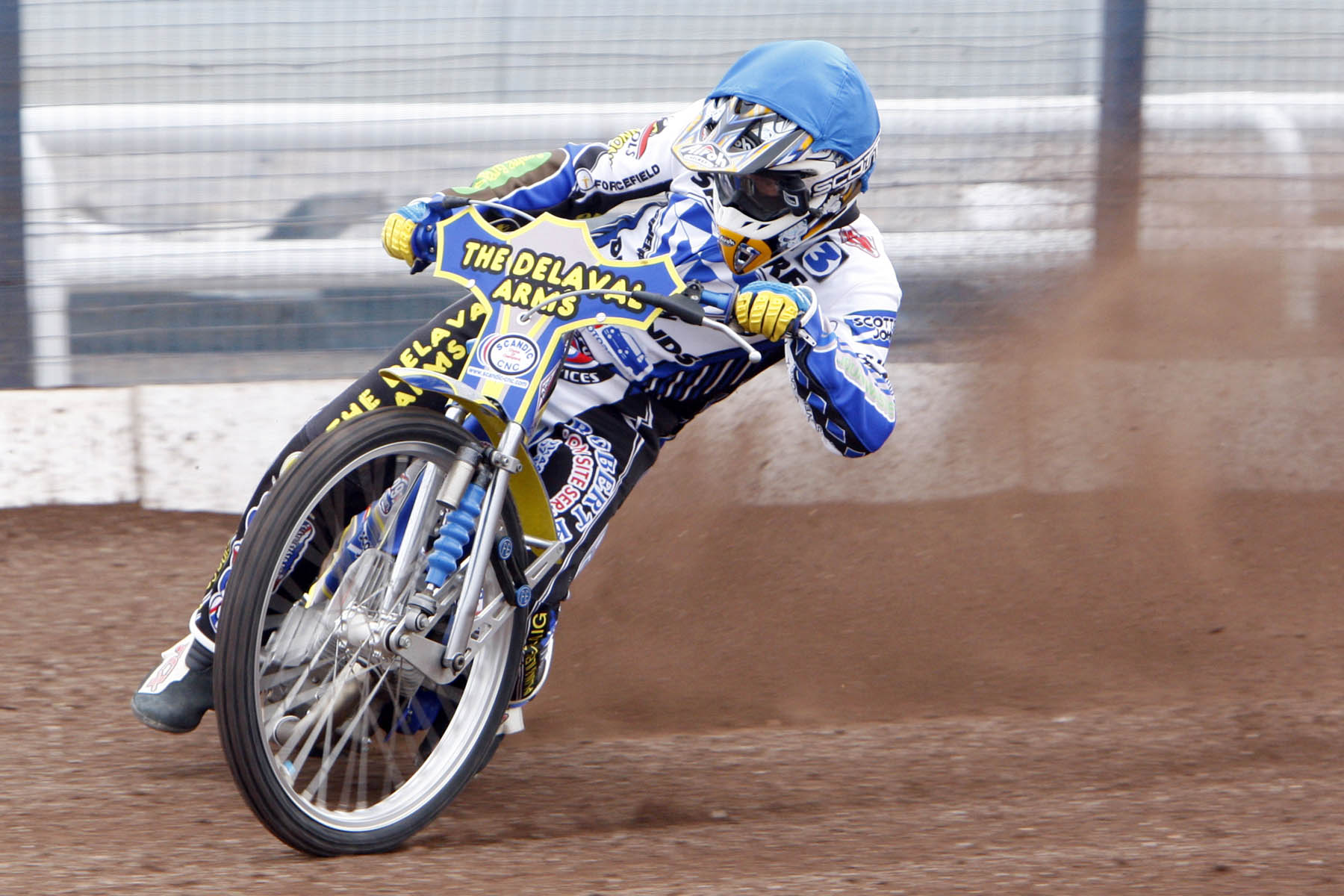 Jason was the sole Englishman in the diamonds 2010 side. He started the season well then his season went haywire. J suffered a loss of form then crashed heavily, being sidelined for the last few weeks of the season. Rider replacement for Jason was no substitute for a fit Mr King. Lets hope 2011 is a better year for him. It wasn't! At the time of writing this (2014) It appears Jason's riding days may be over? Such a pity!
---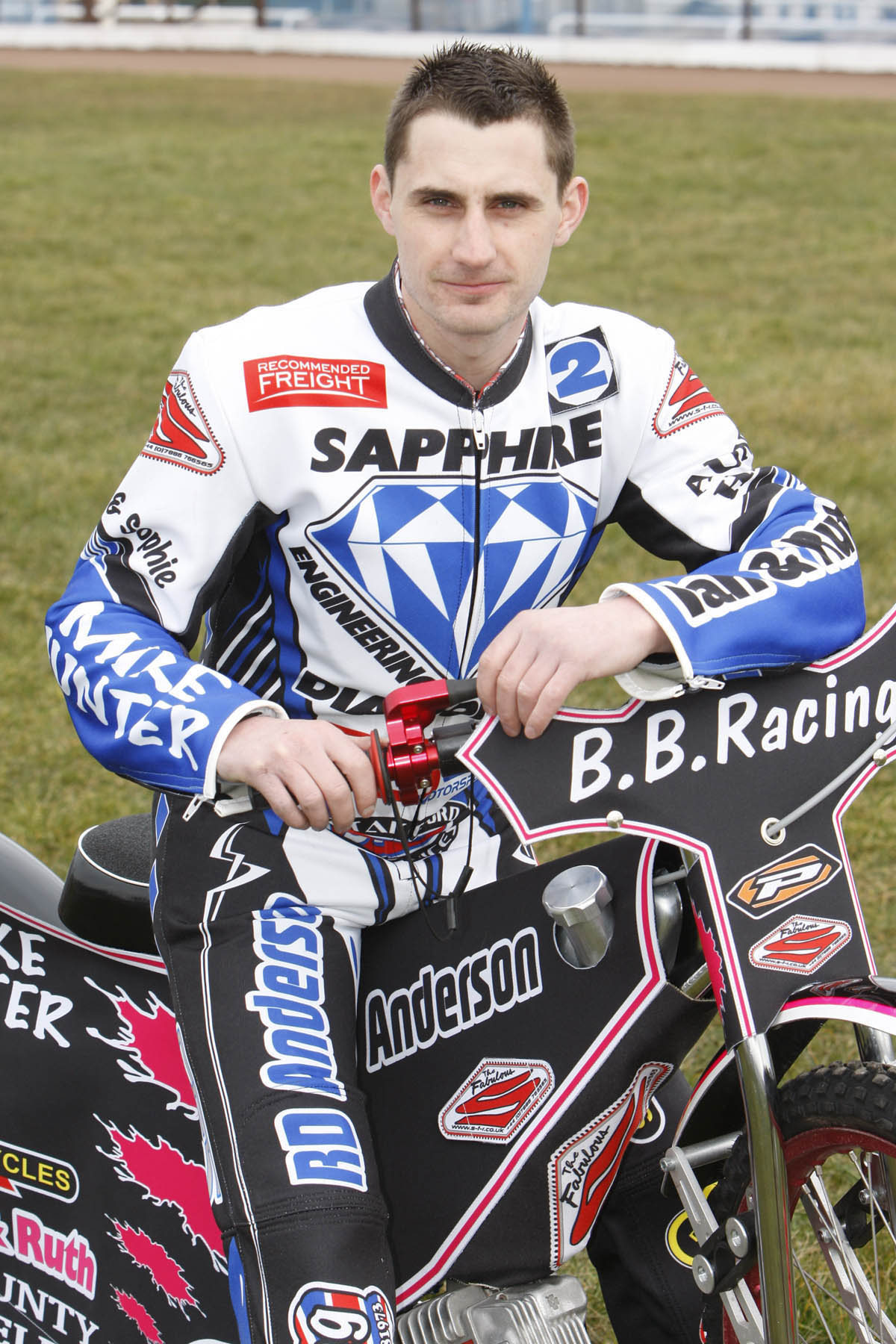 Derek Sneddon born 27.07.1982, Falkirk, Scotland has had two spells with the Diamonds 2002 and 2009-2011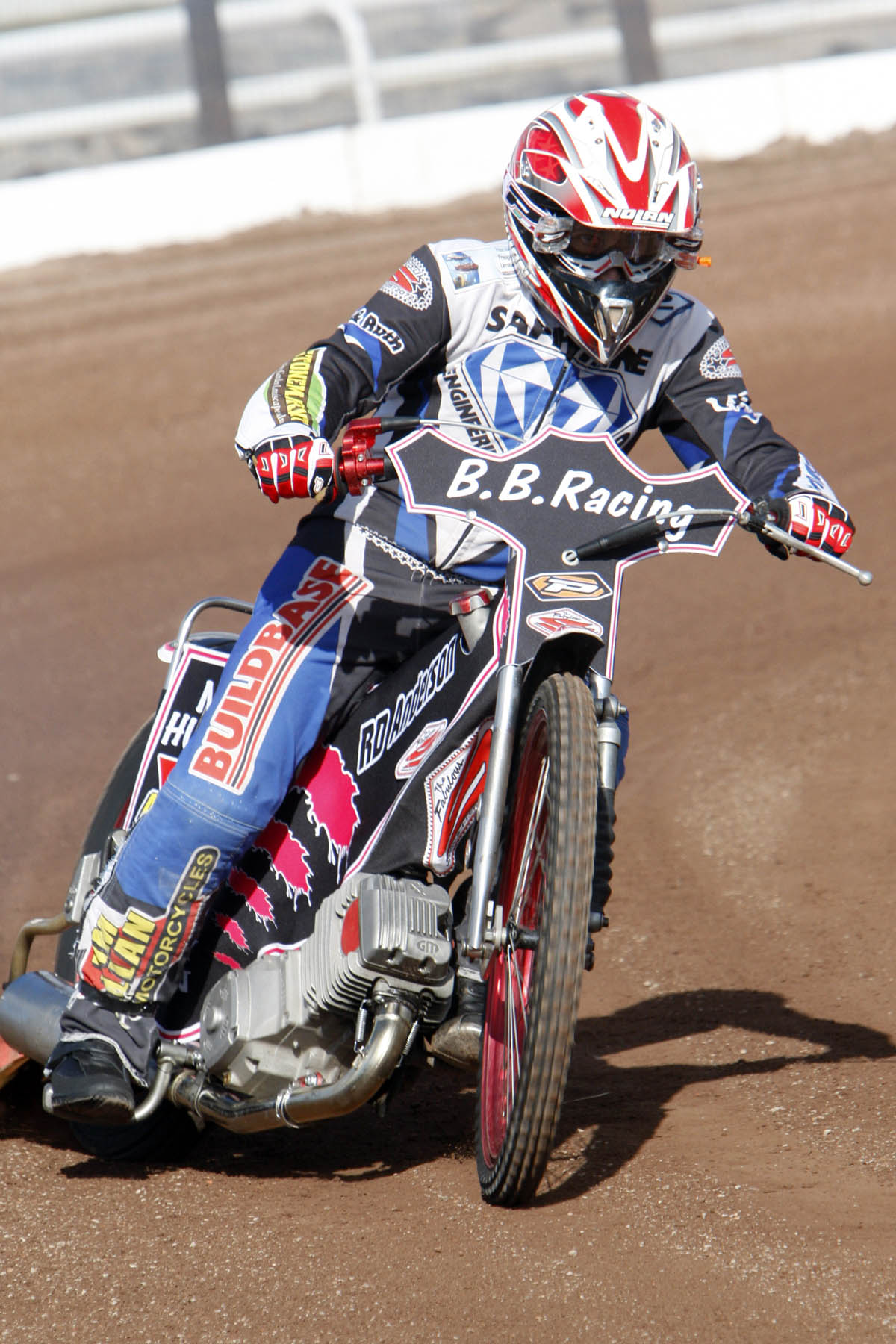 Mr Popular, riders like Derek are a necessity in every team. The fans loved the guy and engaged themselves in a guessing game would Deek win, finish last or fall off? So he was inconsistent but so what, his delighted celebrations of heat wins woke the crowd up. Lets hope the rest of his career is good for the "wee Scotsman" Even though he will be riding against us!
Derek, Rene & John Branney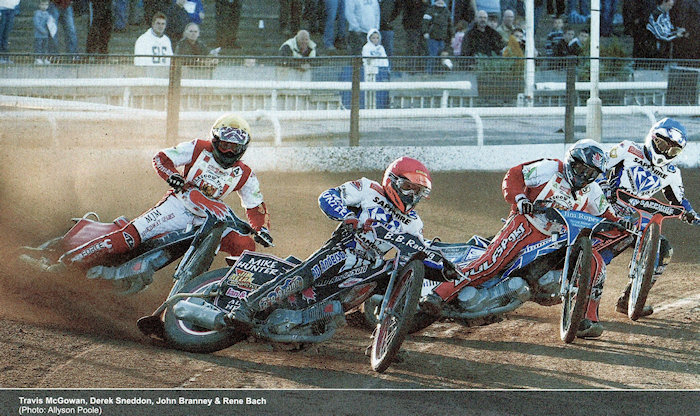 ---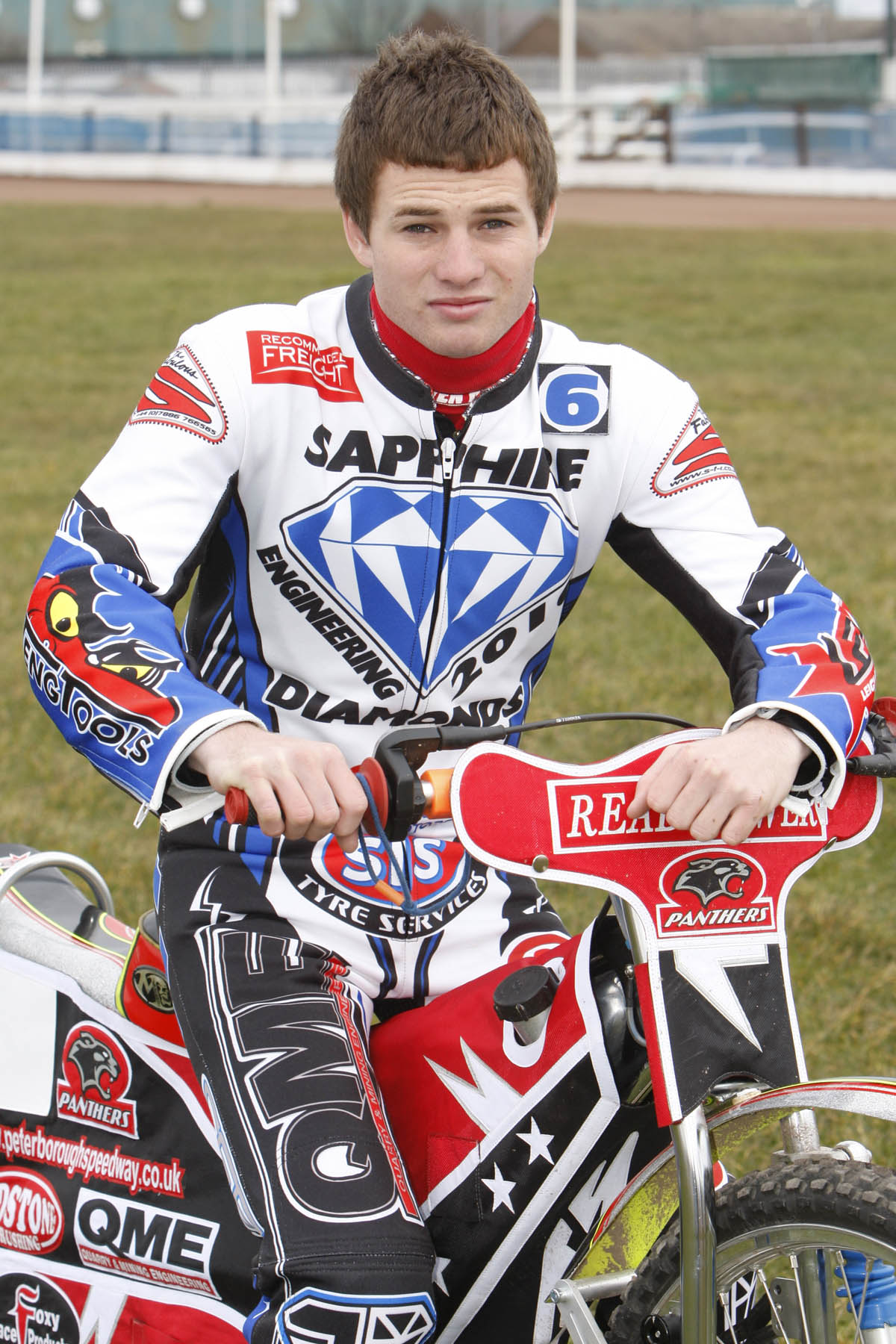 Dakota Max "Dak" North (born 4 August 1991). He came to us 2010. This young Aussie is headed for the top. He can gate and also will have a blast when needed. Rumour has it that he is headed south next season 2011. What a shame that our fans will not see him improving every week. Yes he moved on after just the 2010 season.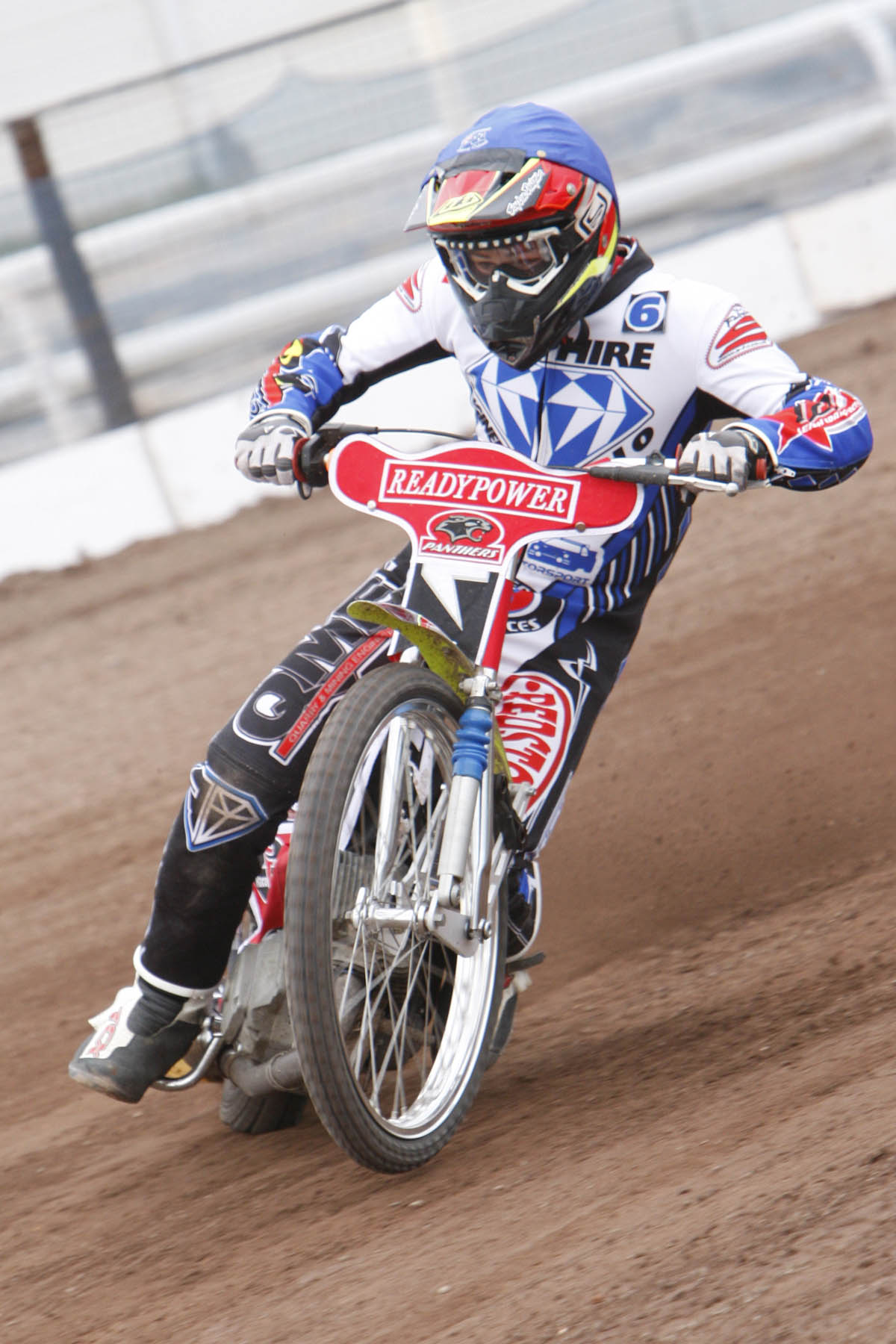 Charles Wright &
Dakota North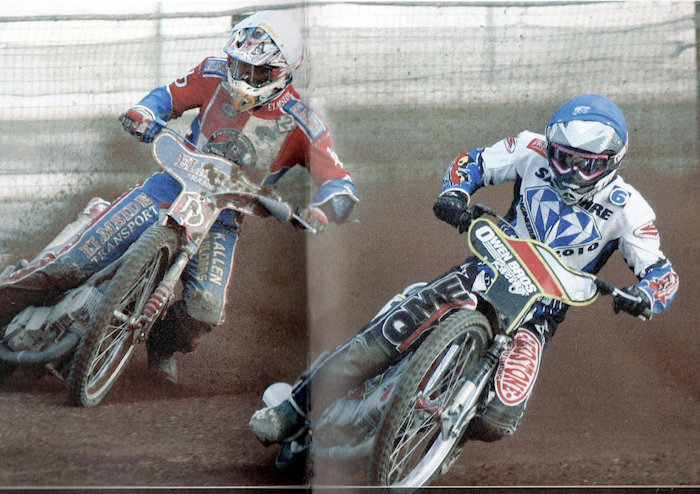 ---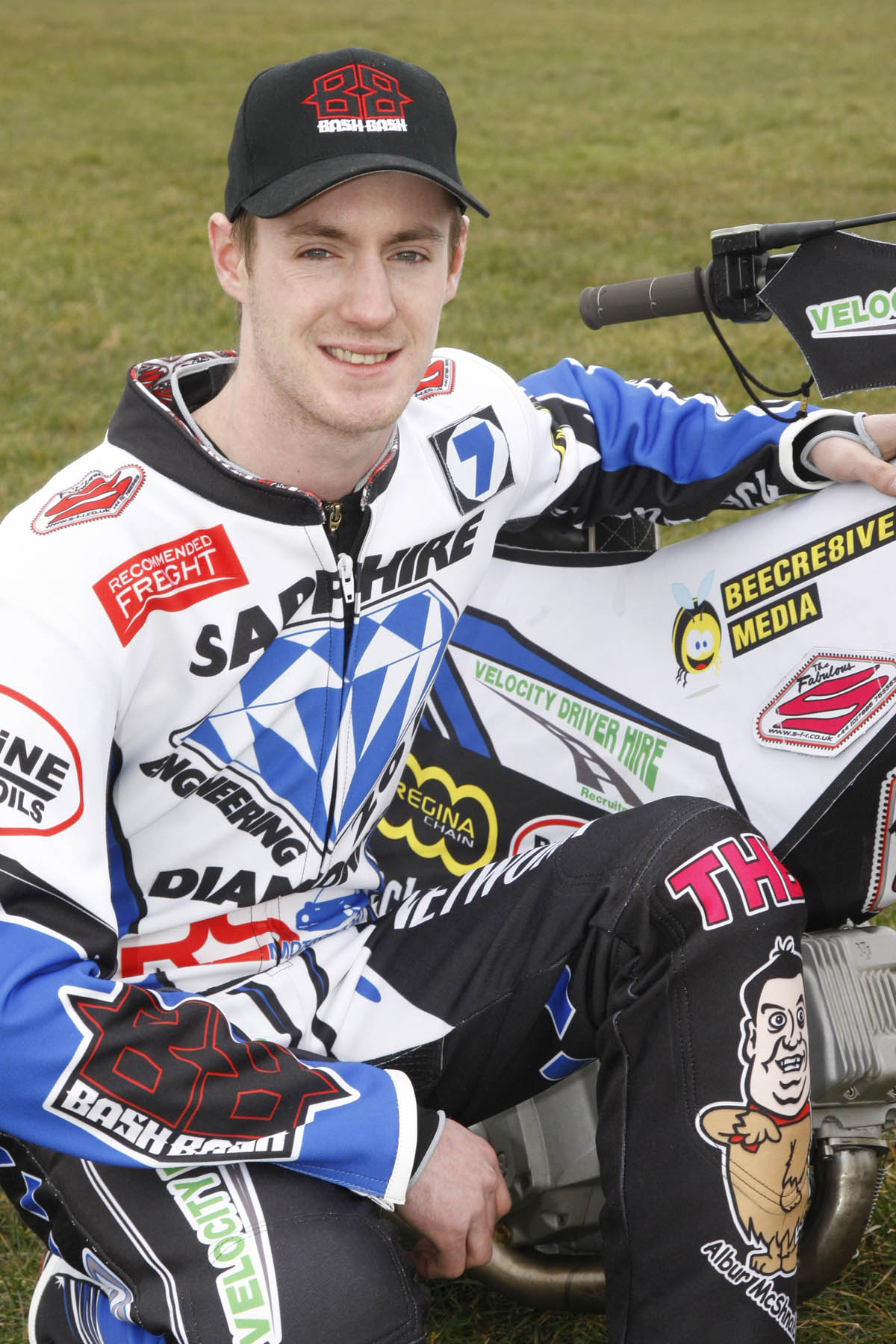 Adam Kenneth McKinna, Born
17 August 1986, Crewe, Cheshire. Adam came to us in 2006 and featured in and out of the team for a few years. He never Made it in the Premier League unfortunately.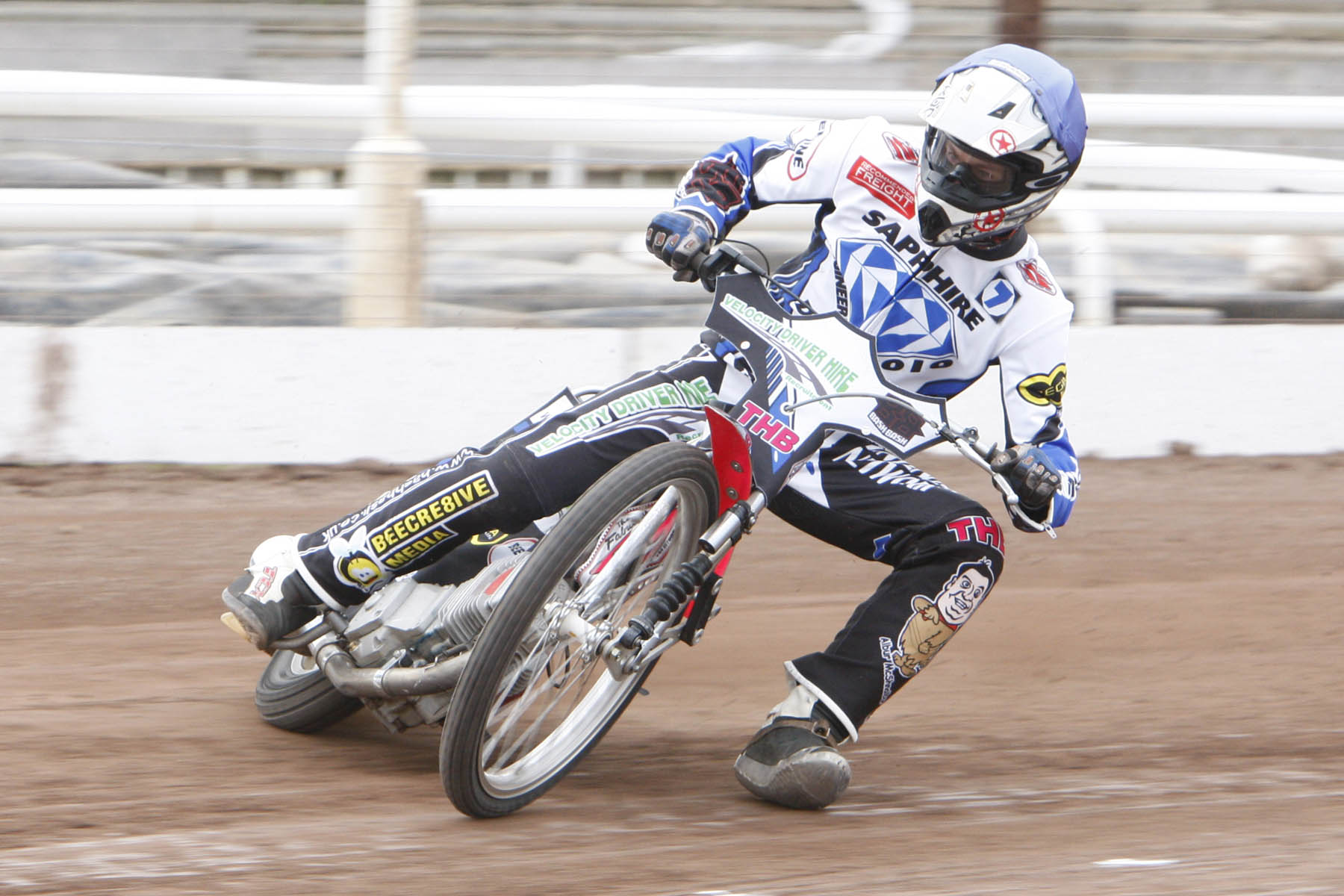 ---
h
Anders Andersen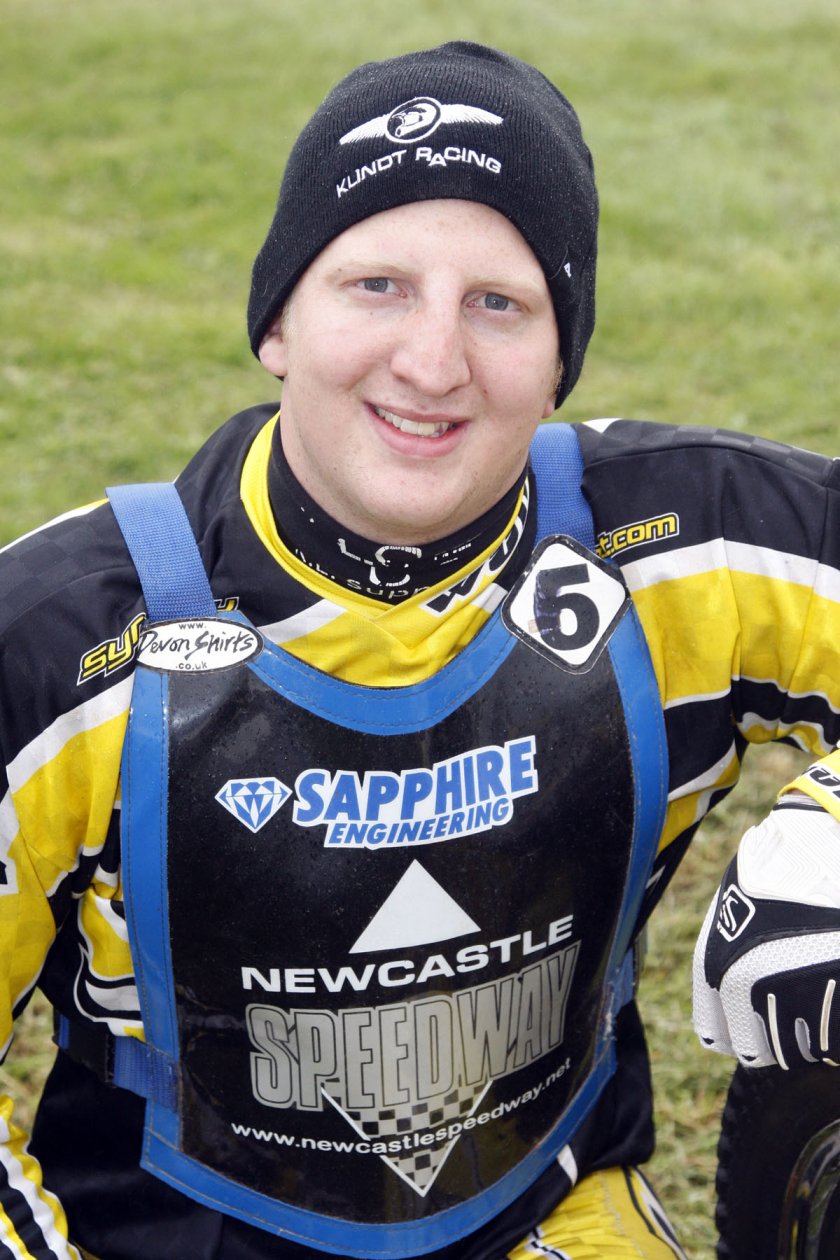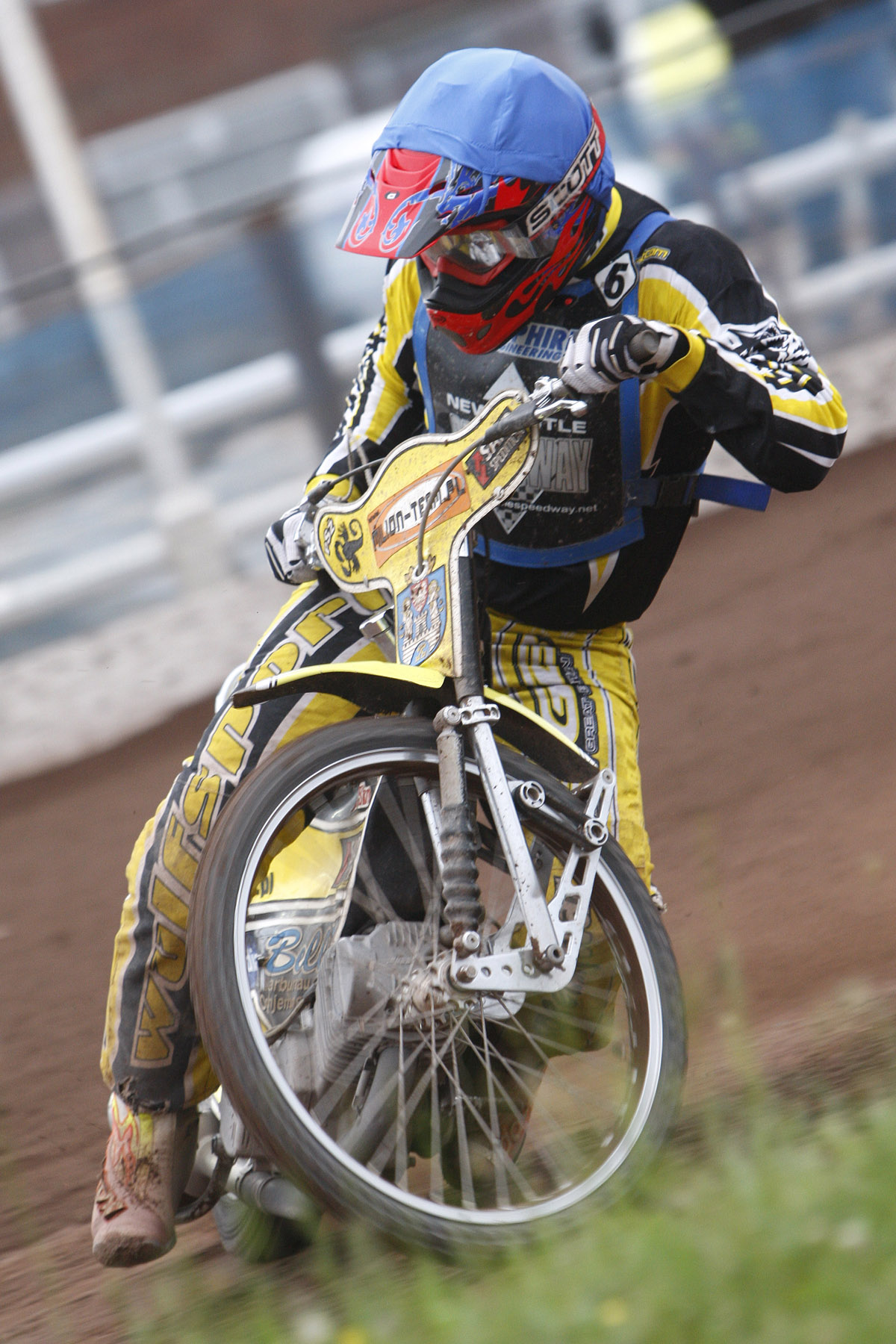 Anders was signed as a 2010 mid season replacement for injured Adam McKinna. The Dane had his moments but did not do enough to elbow Adam out of the 2nd reserve position. Good luck Anders we do not expect to see you back in 2011
---
2010
Premier Trophy Winners
Celebrate With The Fans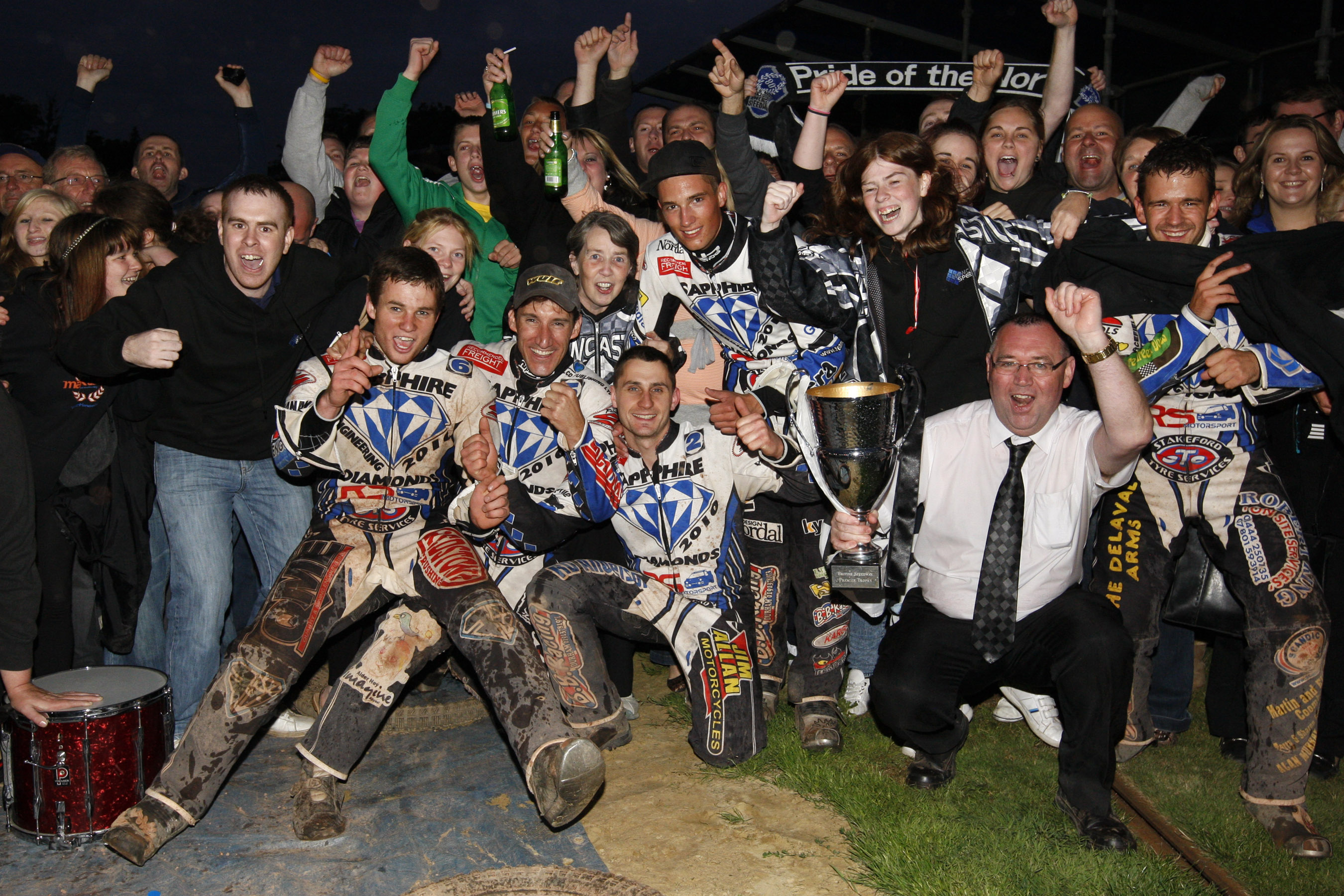 The team are swamped by fans on the greyhound track. This is the Premier Trophy and George English is now starting to rival Ian Thomas as the teams most successful promoter ever. Looking at the fans I recognise most of the Smith family, familiar faces home and away.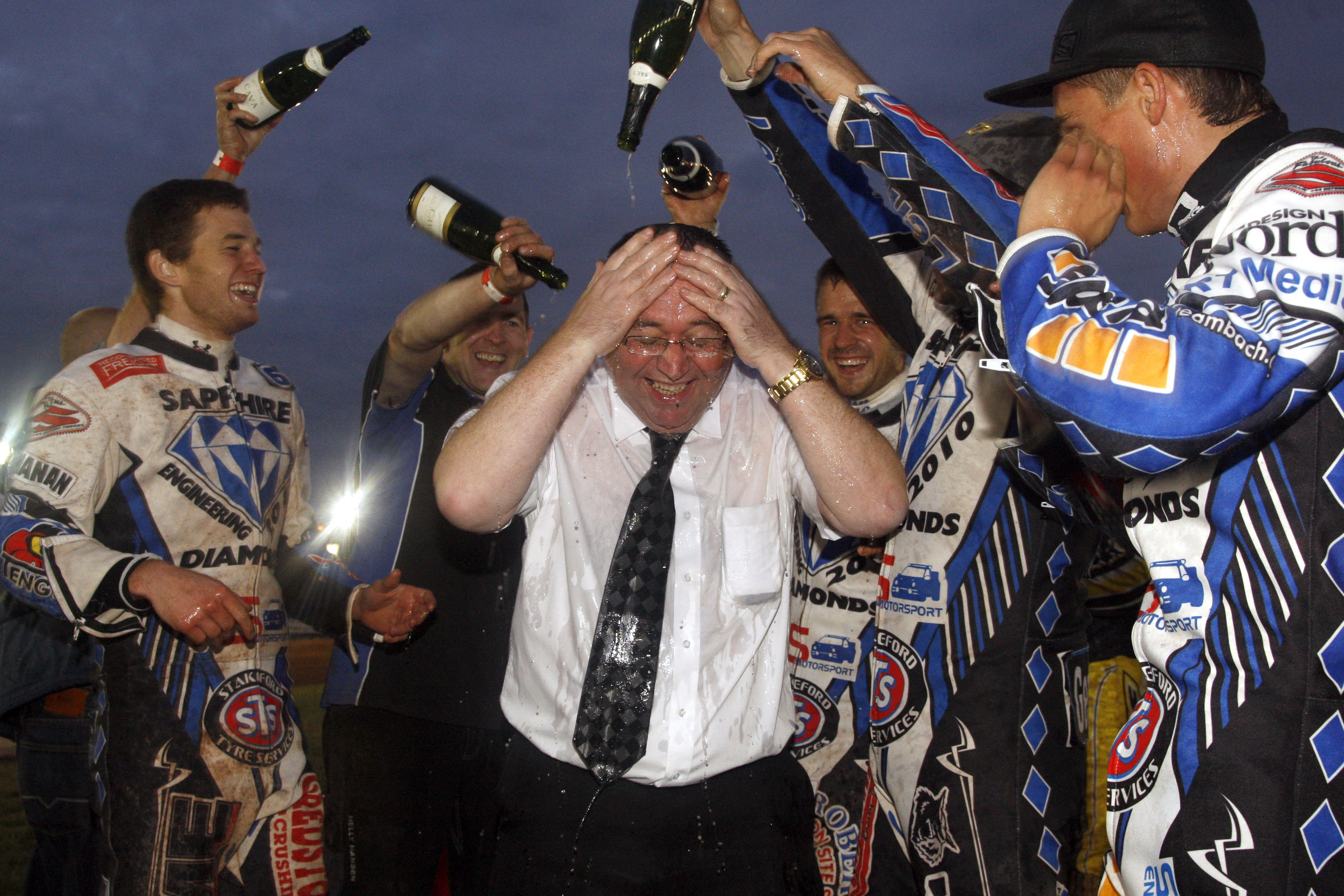 George gets a round in at long last and the riders celebrate by pouring it over his head!
2010 Premier Trophy
Winning Side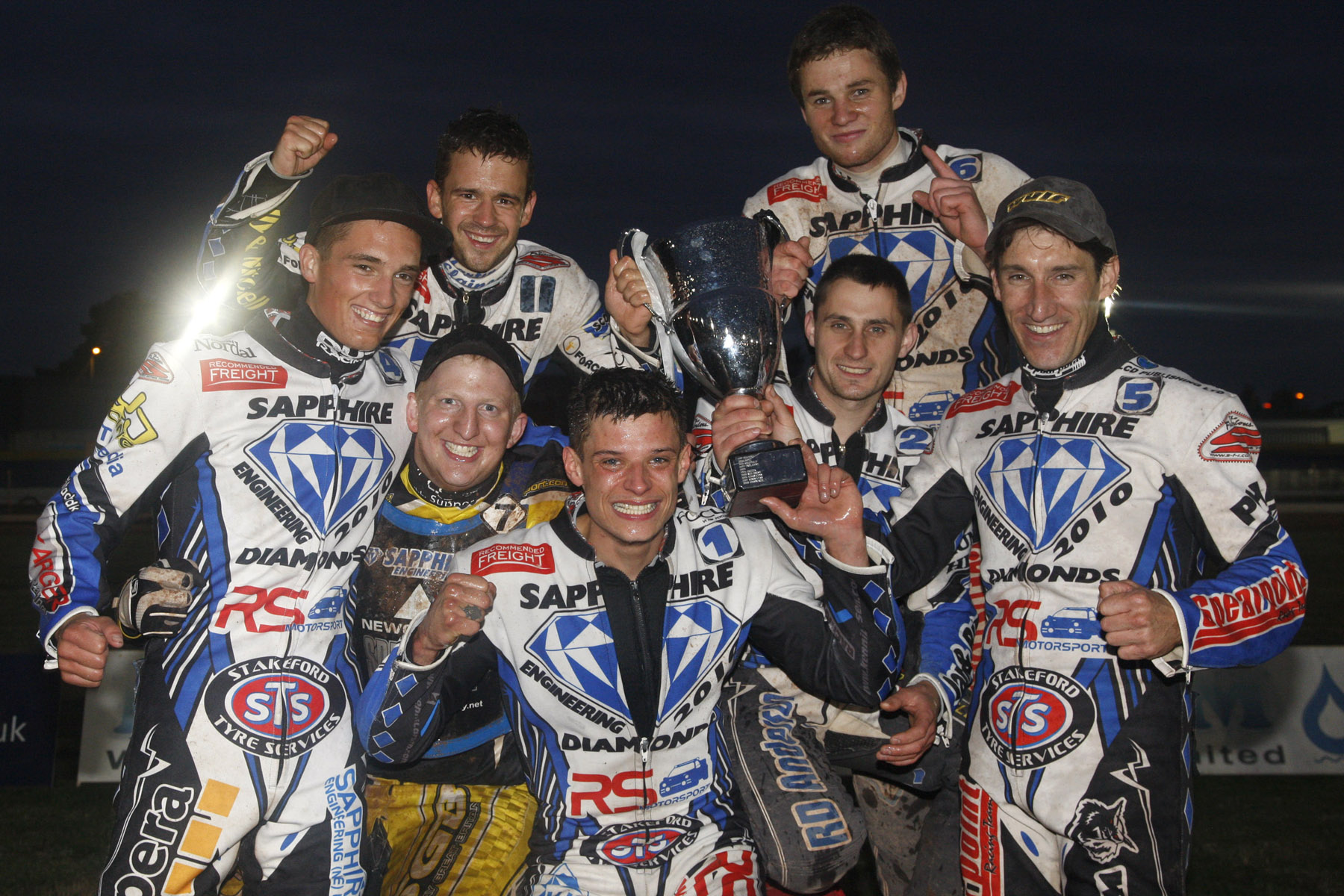 The 2010
"Play Offs" Final
Newcastle v Sheffield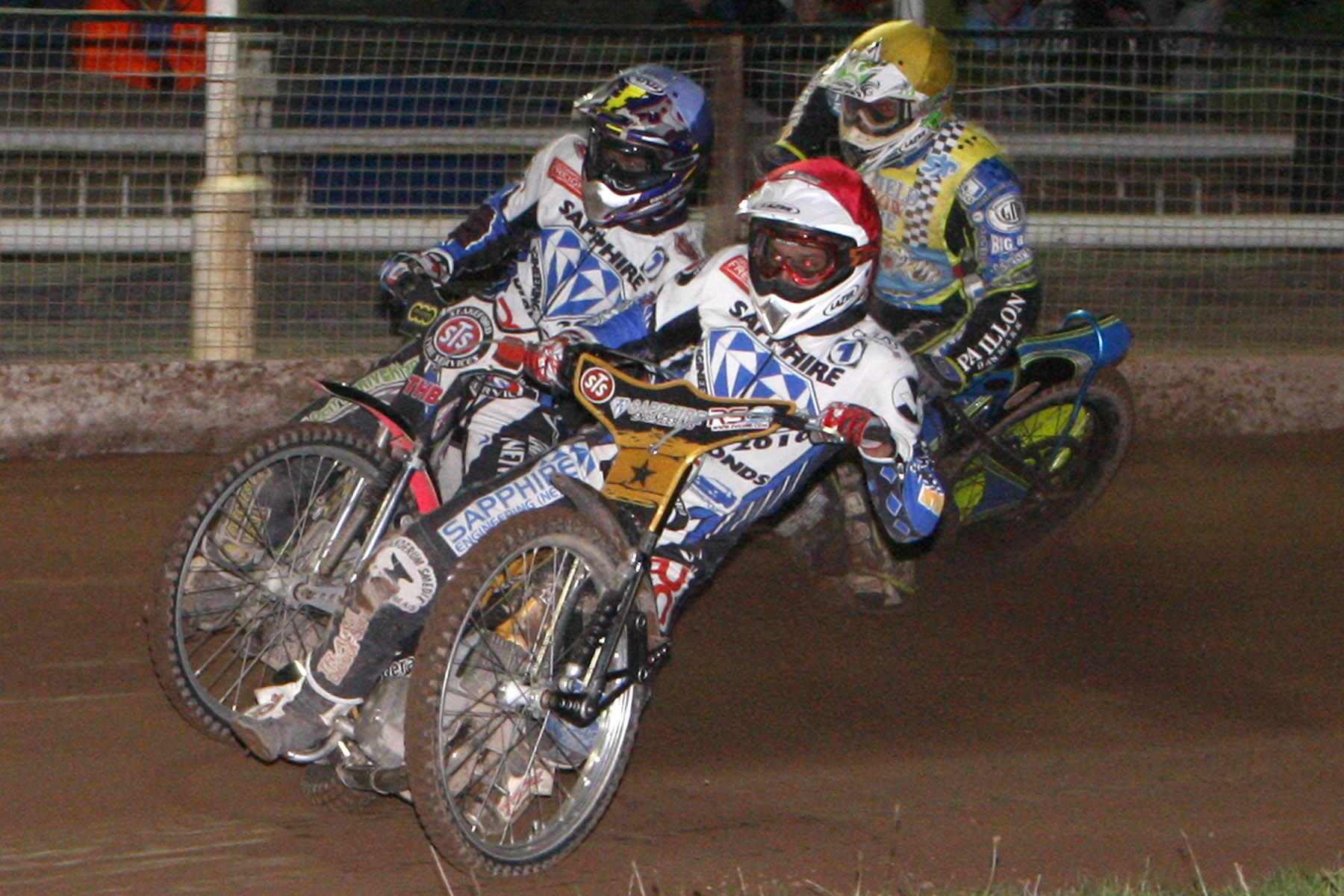 Kenni Larsen, Adam Mckinna and Tiger Casper Wortmann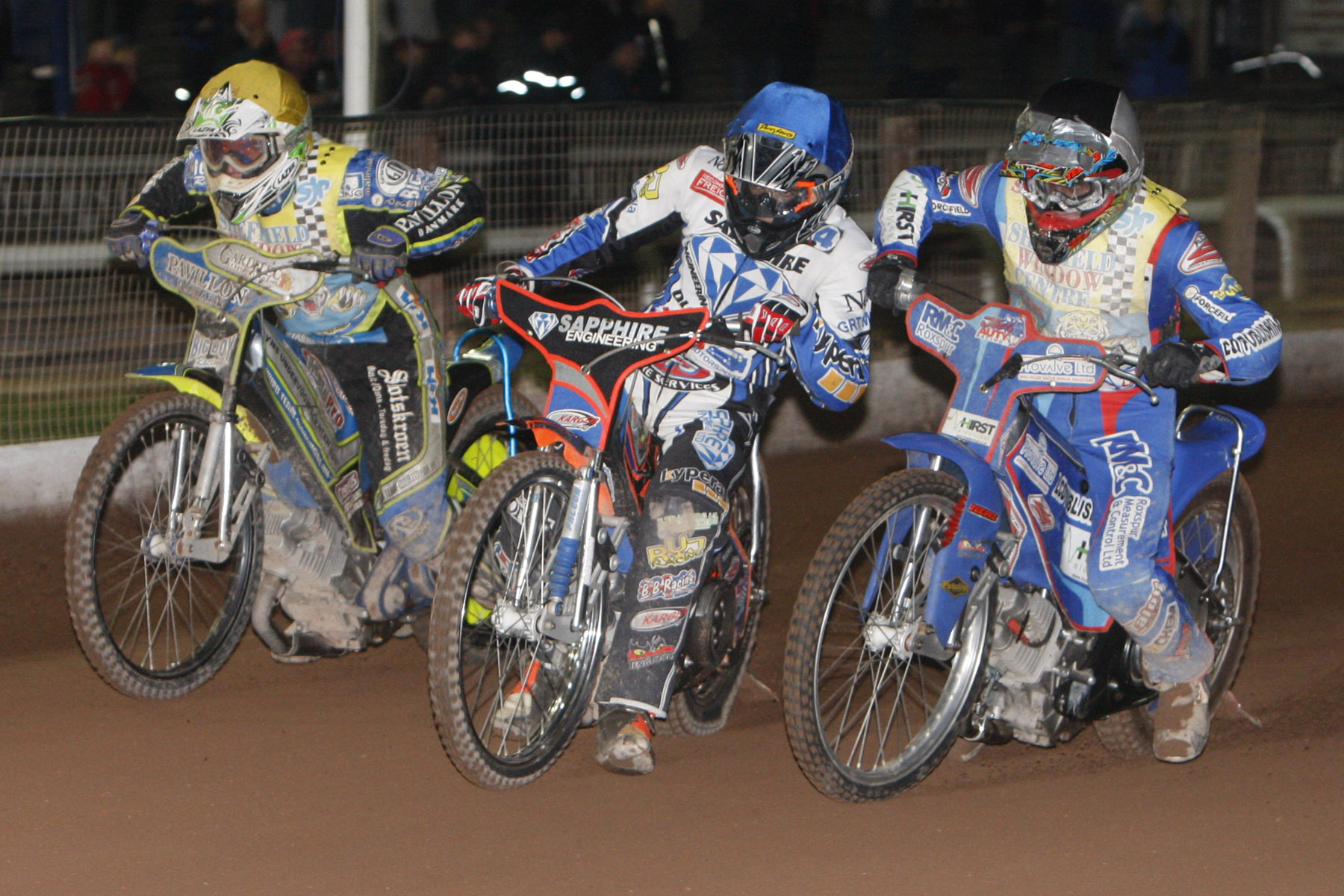 Casper Wortmann, Rene Bach and Josh Auty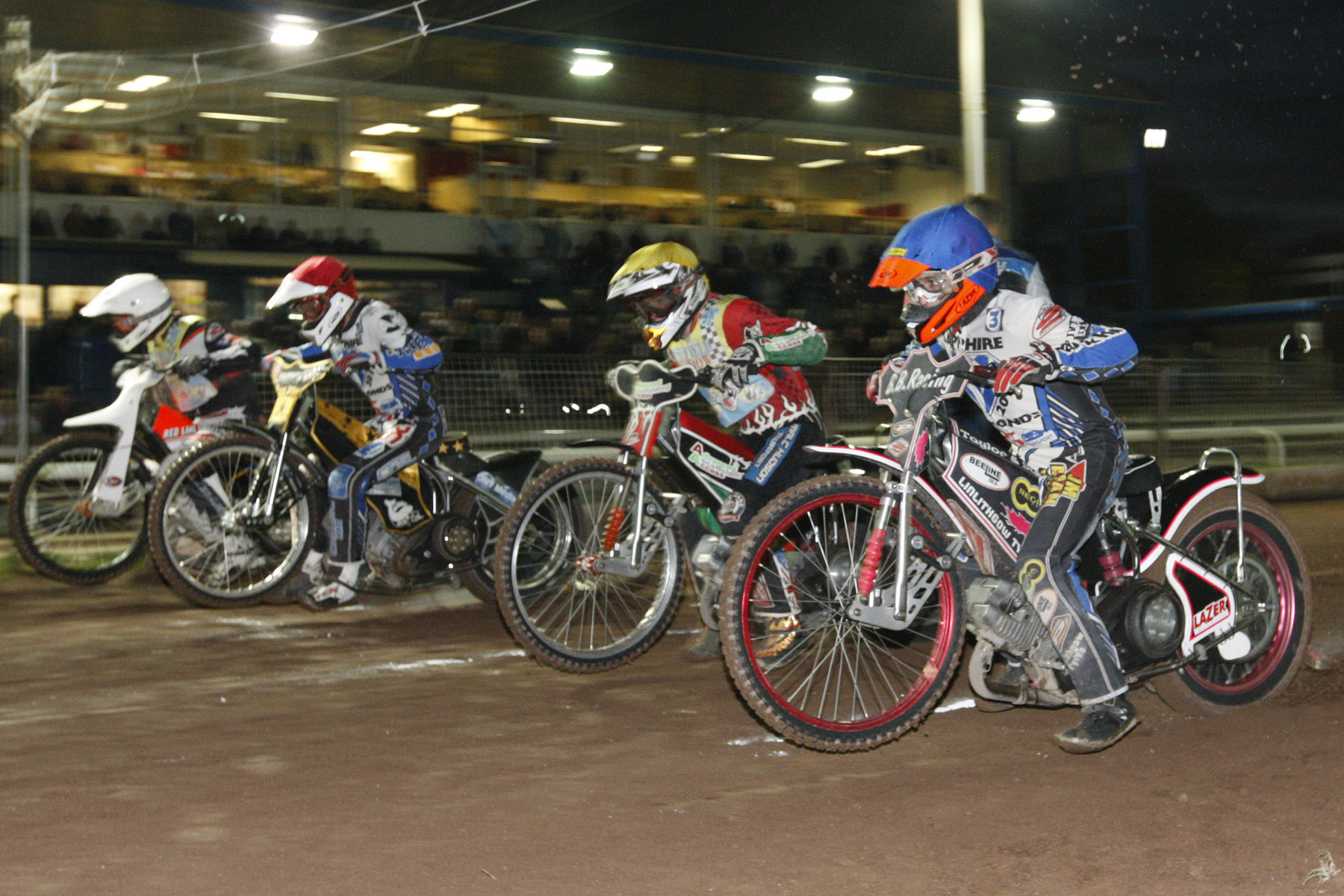 Ricky Ashworth, Kenni Larsen, Hugh Skidmore and Deek Sneddon blast off from the starting gate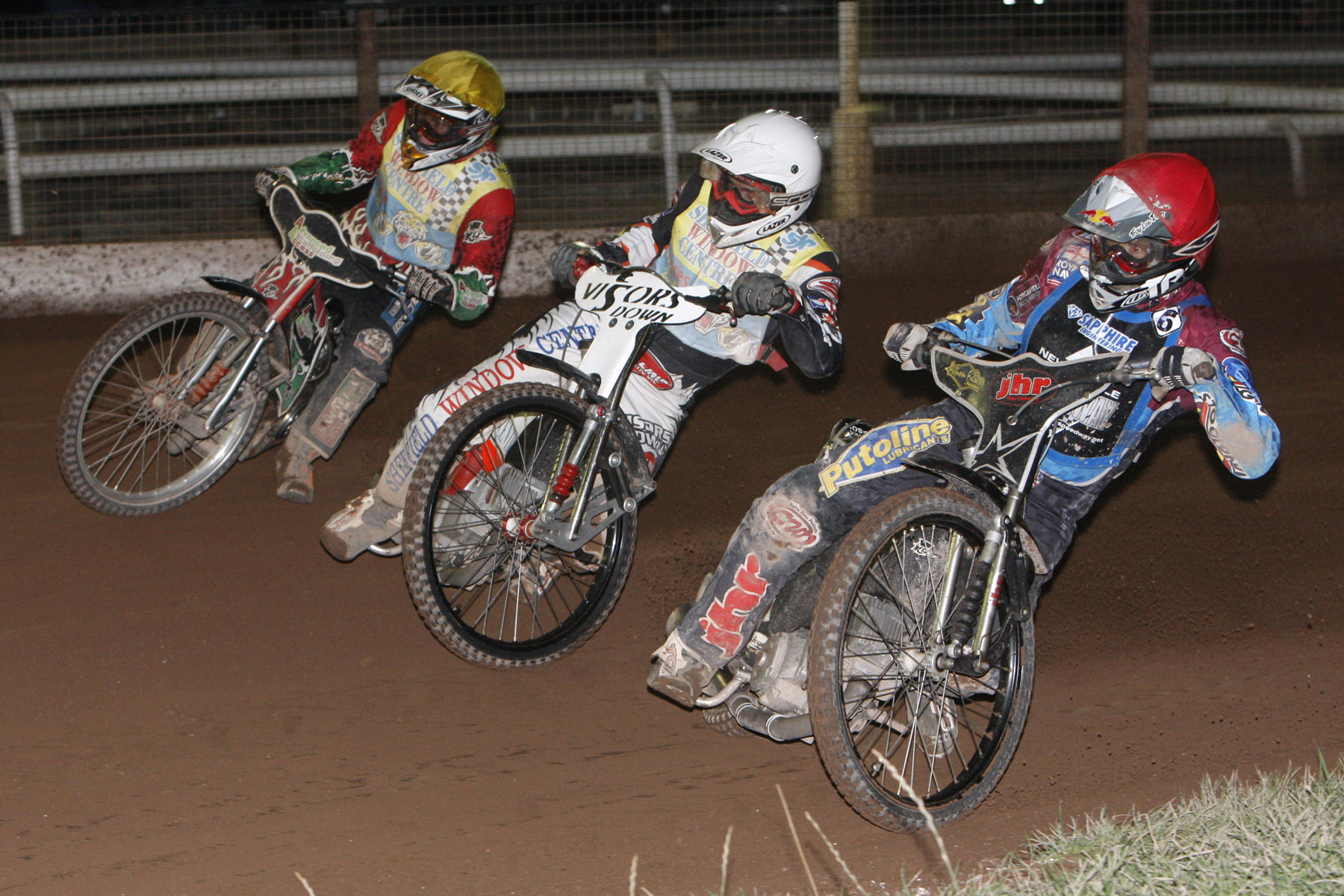 An excellent photo showing that Brough has as least 3 riding lines. R-L Stuart Robson, Ricky Ashworth and Hugh Skidmore. Sunderland's Stuart Robson is the fans favourite in Newcastle. We all want him to ride again for Newcastle. Hopefully 2011 will be the year Stuart returns to his native north east.
Newcastle Win The "Play Off" Tie Against Sheffield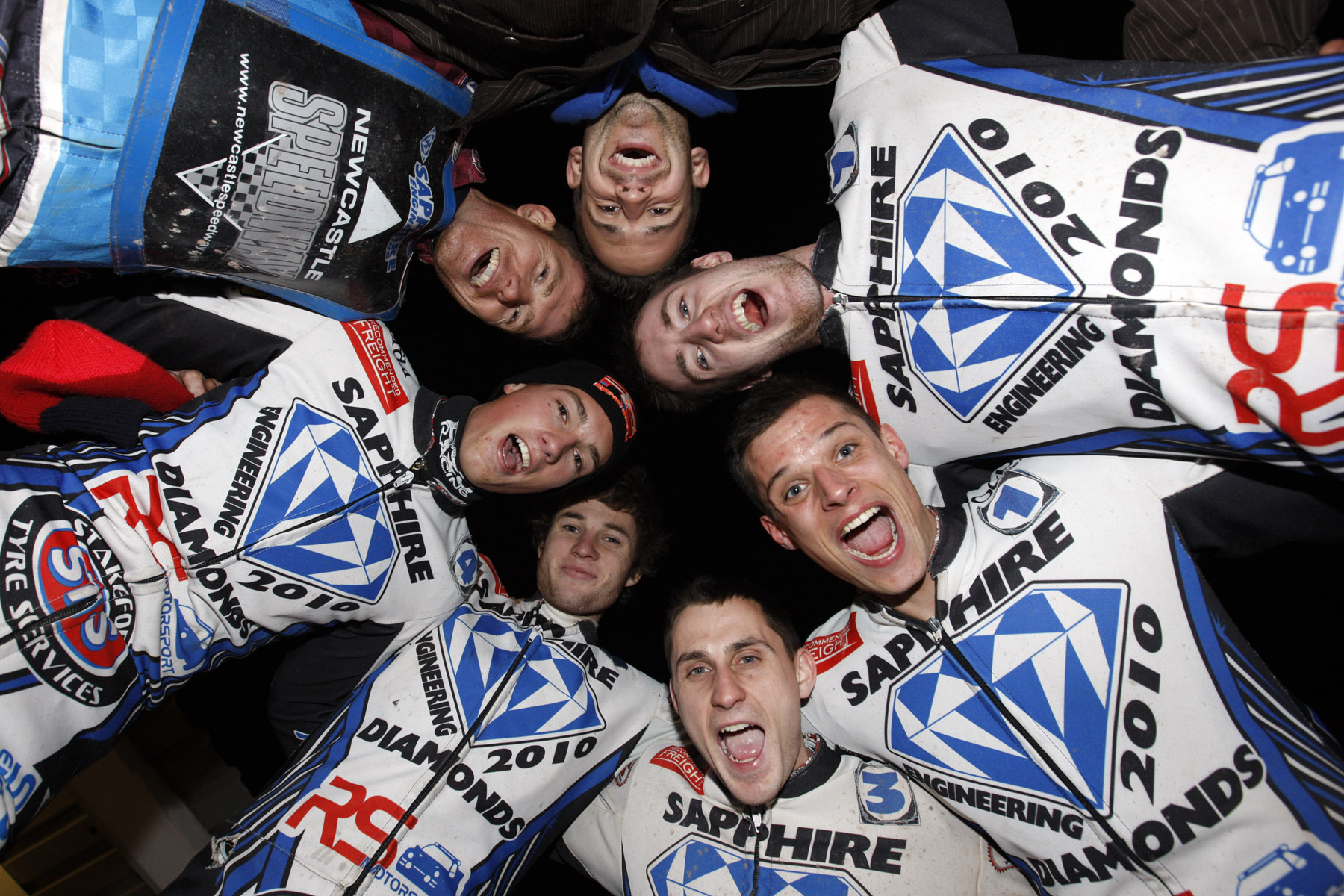 Another great photo from Steve Brock. Football type quote"The Boys Done Well"
Diamonds Win The
Play Off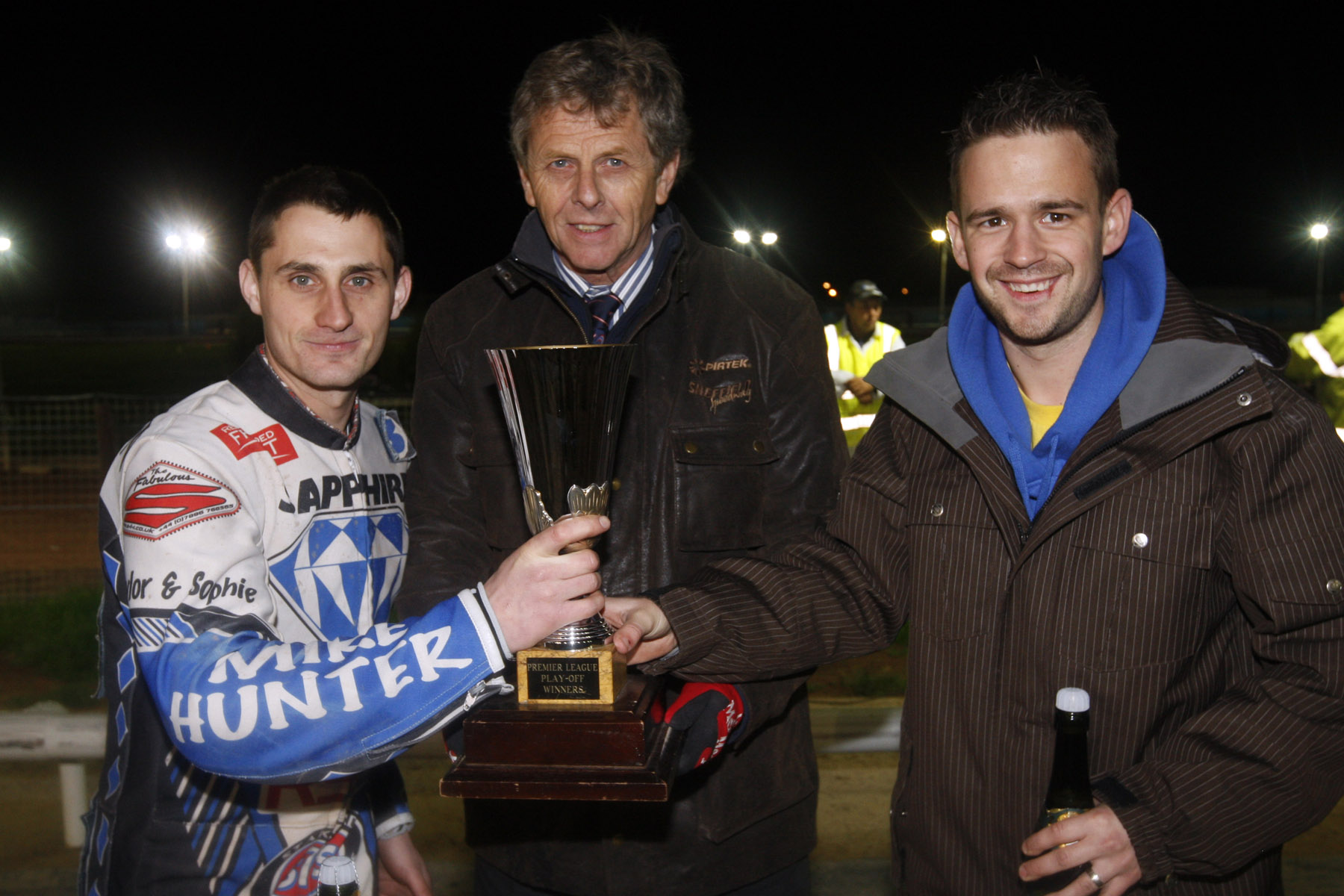 Newcastle's 2 captains Deek and Jason with Sheffield's Neil Machin. Diamonds win the Play Off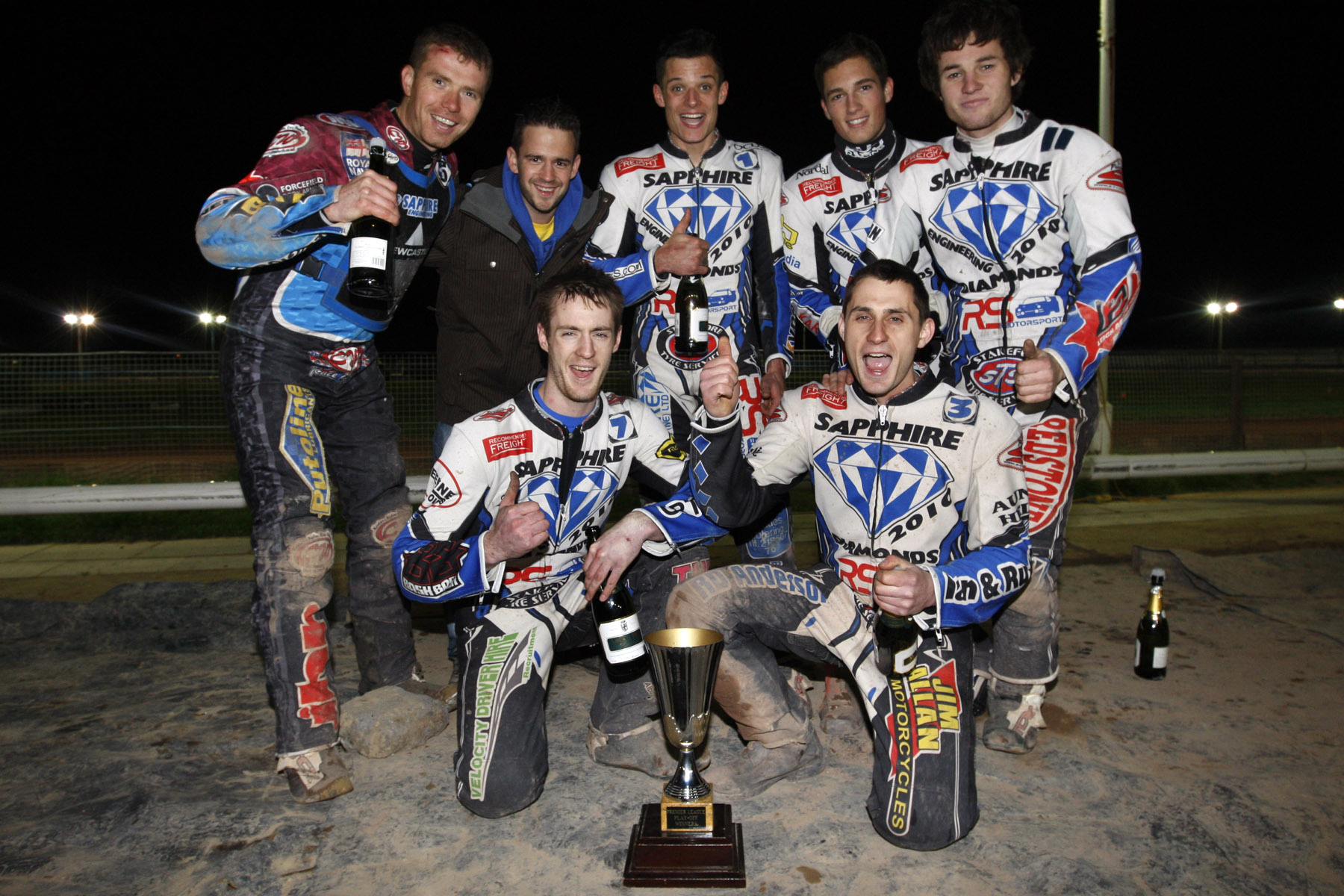 Stuart Robson (Guest) Jason King, Kenni Larsen, Rene Bach, Dak North with Adam Mckinna and Derek Sneddon with the Play off trophy
---
2010 Promotion
Play Off's
Newcastle
(Premier League) v
Ipswich (Elite League)
David Howe (Guest), R Miskowiak, Richie Hawkins and Adam McKinna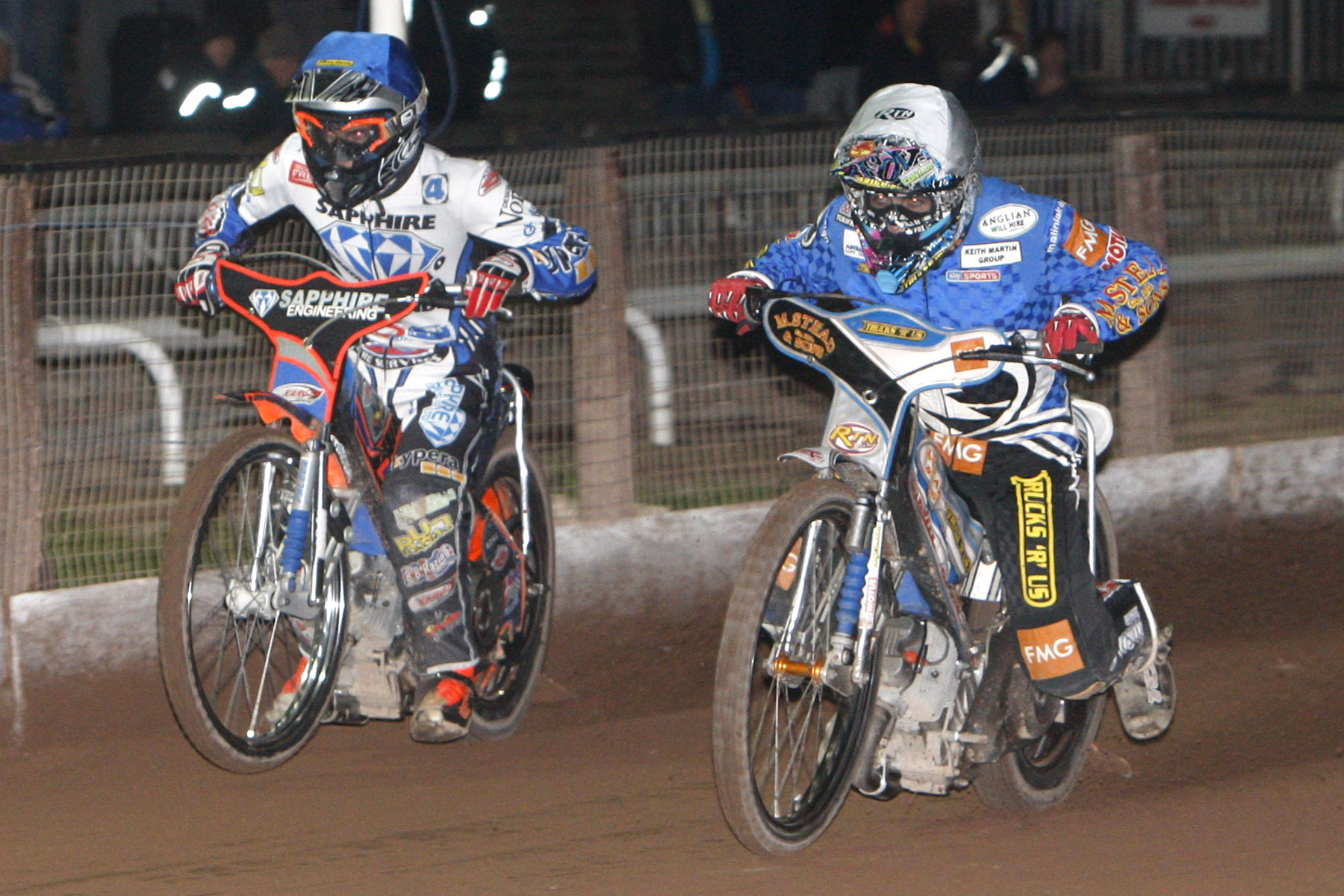 René Bach beaten from the gate by Scott Nichols. Diamond René needs to make the gate against opponents before he can move up to the Elite League. René was excellent in 2010 but we think he needs to stay with the Diamonds in 2011 before joining the Elite riders Scott Nichols showed his class in the Play Offs.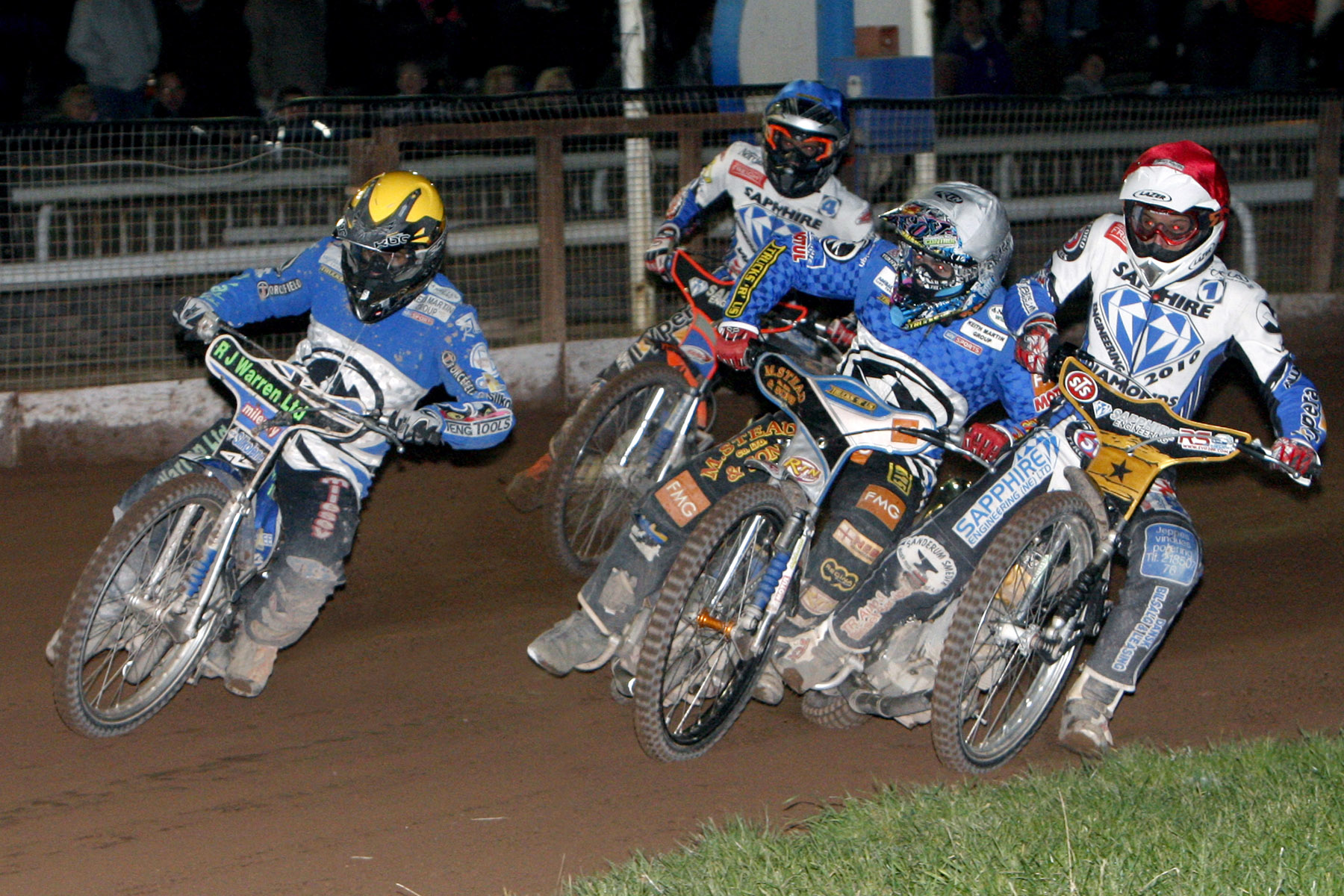 Danny King Scott Nichols, Kenni Larsen and Rene Back at the back. The Elite League boys showed our team how to win. Ipswich ran out winners at Brough by two points but won the return leg down in Suffolk quite comfortably.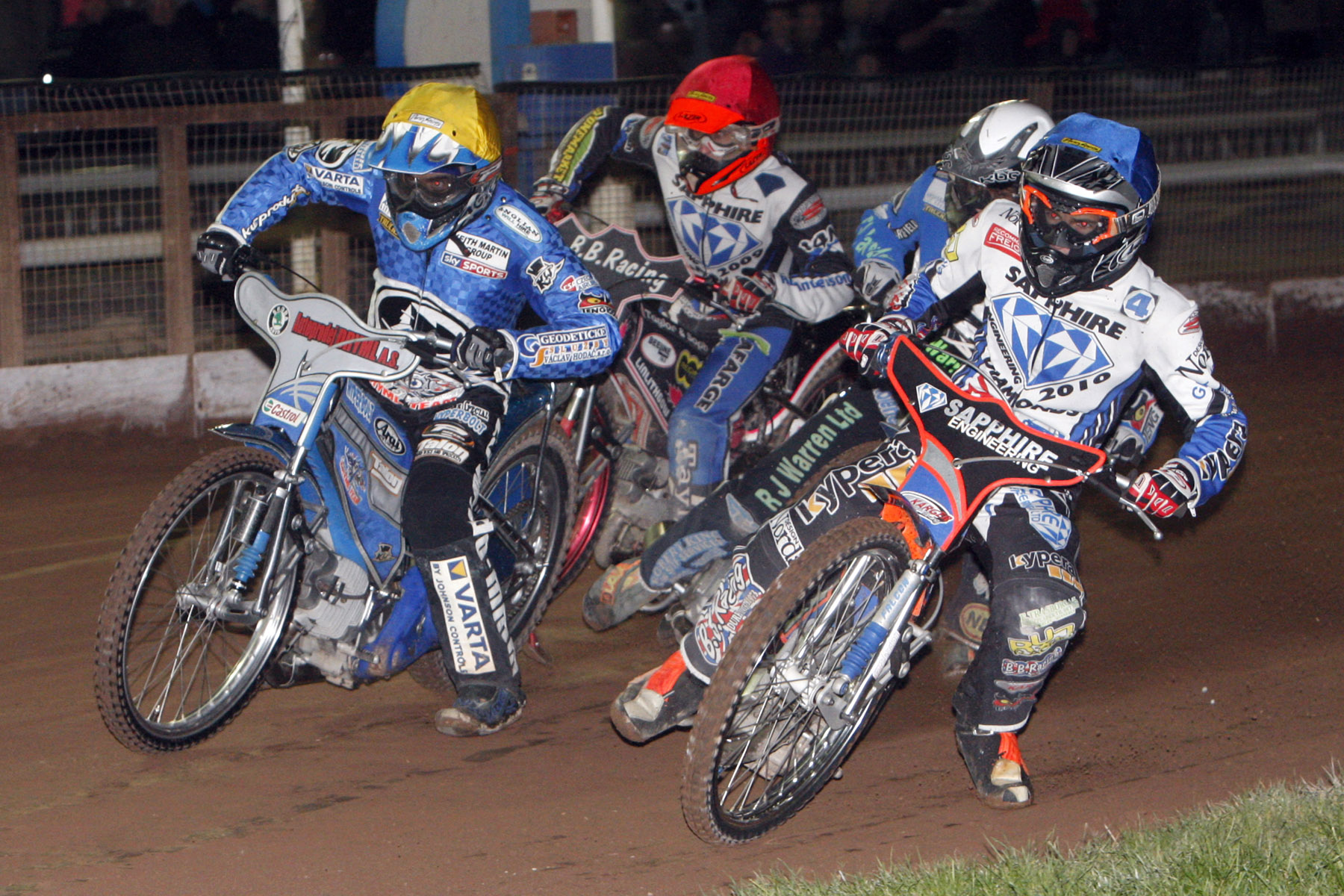 Ales Dryml, Derek Sneddon, Danny King and René Bach. 2010 was a great year for the diamonds we may have lost the Play off against Ipswich but not by very much. The Premier League is where Newcastle belong and hopefully we can do well again in 2011.
Newcastle v Berwick
12th September 2010
I prefer good racing and a last heat decider but every now and again it is good to run up a big score, especially if the opoosition is one of our local rivals, so this match v Berwick is just what the doctor ordered. A 40 point win!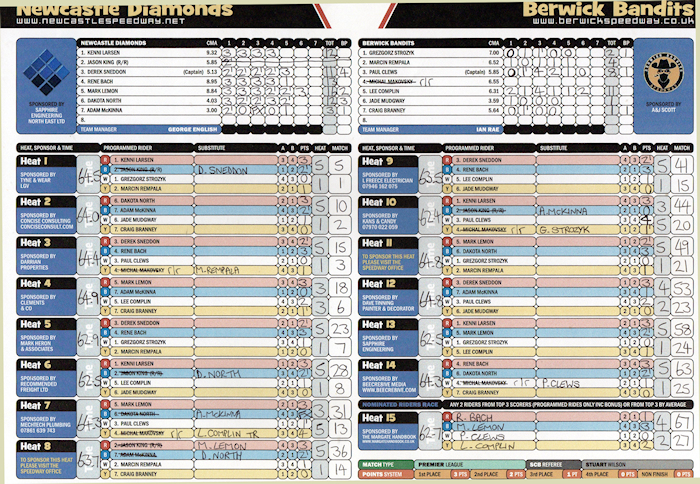 ---
Newcastle & Ipswich Riders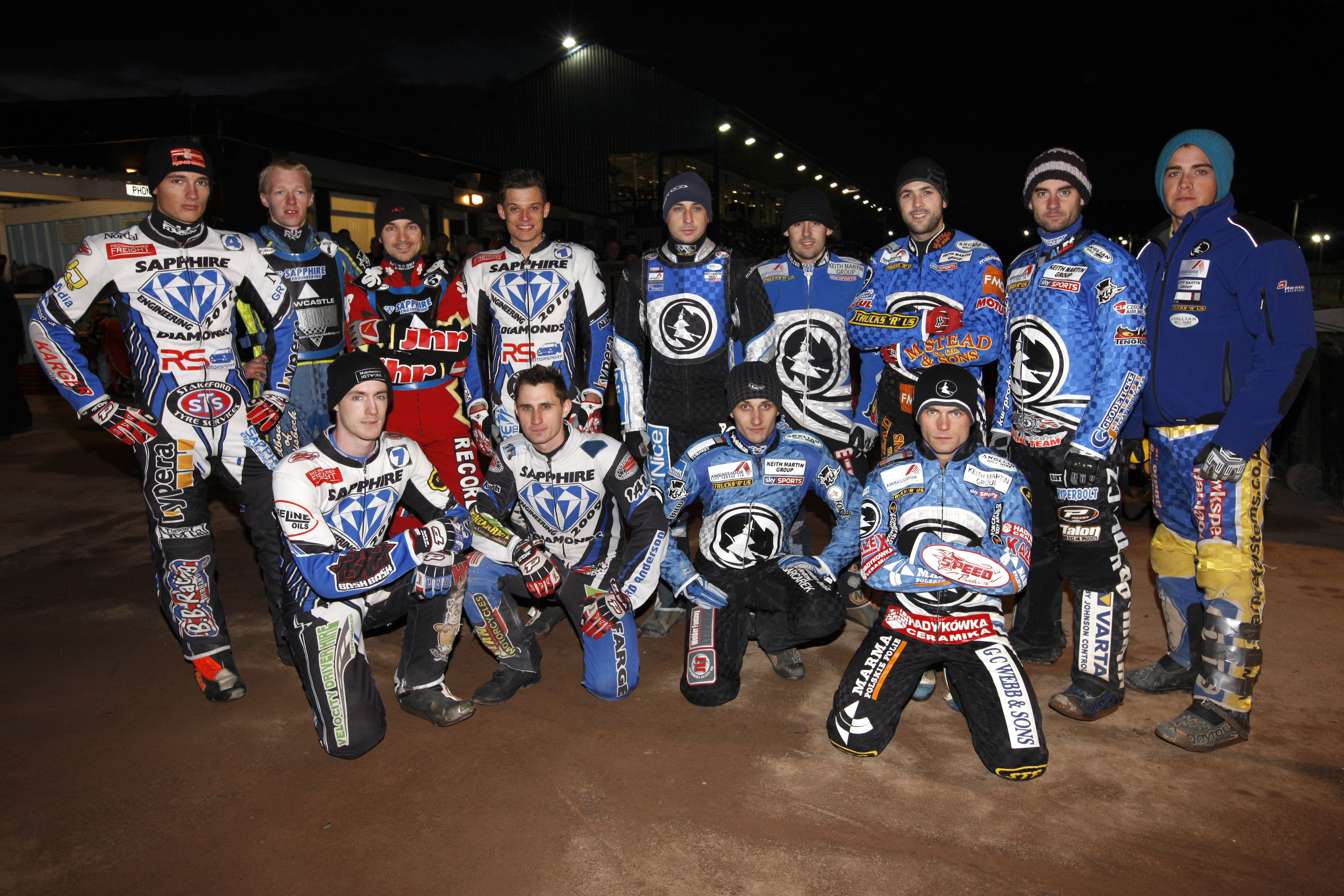 ---
2011

Newcastle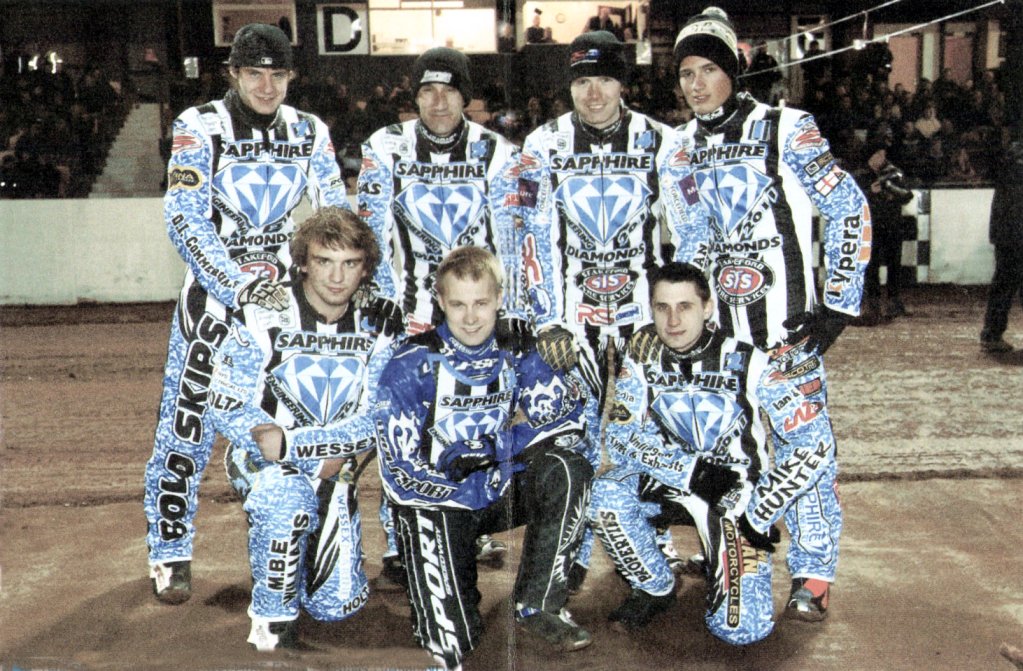 Richie Worrall, Mark Lemon, Stuart Robson and Rene Bach and kneeling Kyle Newman, Lubos Tomicek and Derek Sneddon
Jason King has not yet recovered from his leg injury and as the rules do not allow us the Rider Replacement facility or a guest the promoters have had to sign another man to take J's place. The "new" rider is the Czech Republic's Lubos Tomicek who last rode for us in 2005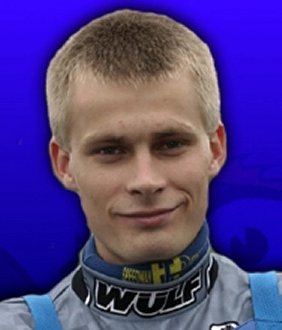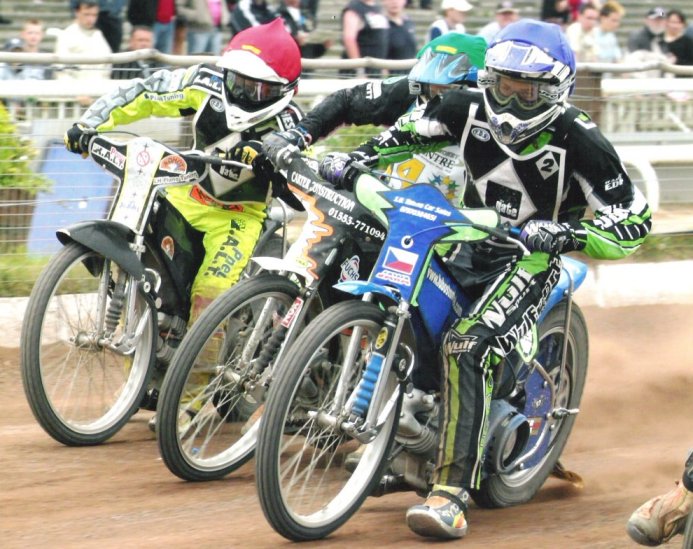 Lubos in blue and fellow Czech Pepe Franc in red
---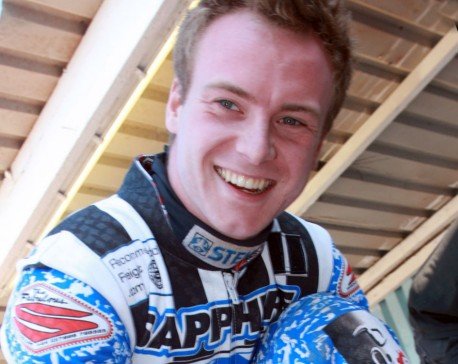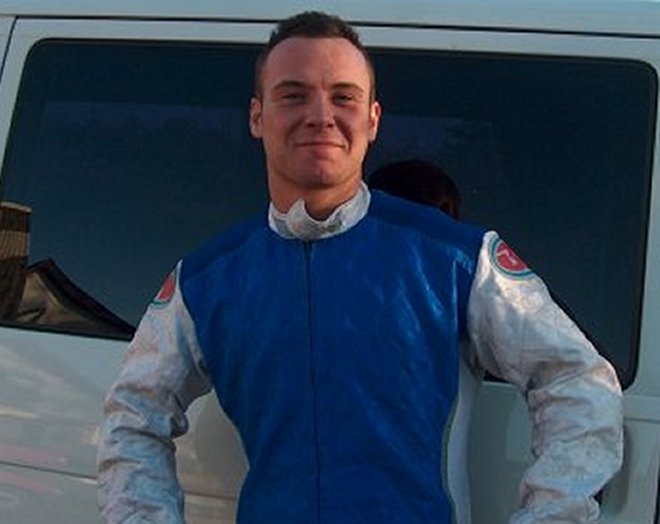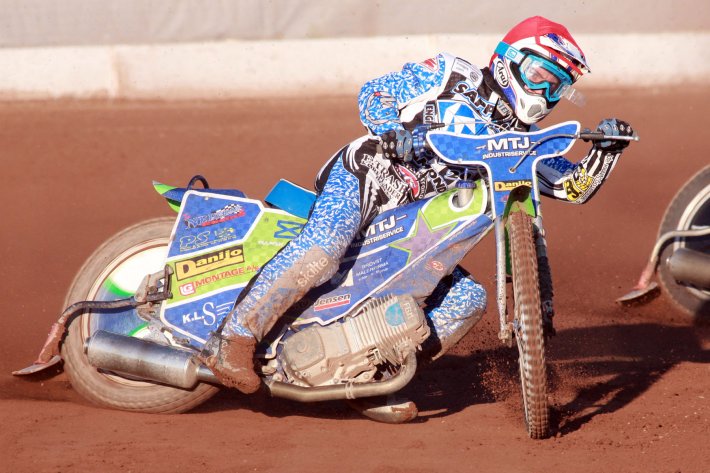 This 21 year old Dane came into the side as a replacement for Lubos Tomicek/Jason King. He will remain in the side until Jason is fit. Look out J if Claes is good you may not get your place back. Its a hard life in the Premier League 2011.
The latest in a long line of Danish talent to grace the Diamonds race Jacket. Ned is usually a fast gater something that has been lacking in Newcastle colours of late. He needs to improve his coming from the back though, to up his 2011 average.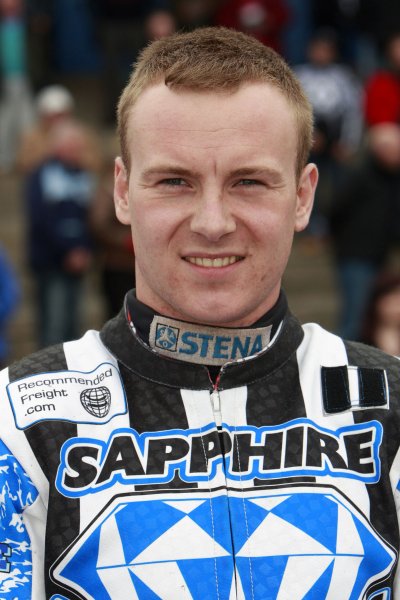 Claes turned out in his first year with us (2011), to be a lightning quick gater and good around the first two bends. If he was in the lead after the second bend he was usually fast enough to win the heat. Not so good at overtaking though, will he be invited back in 2012? watch this space
---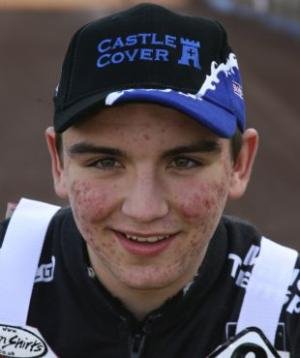 Kyle Newman DOB 14th December 1991 lives: Weymouth came to Newcastle in 2011.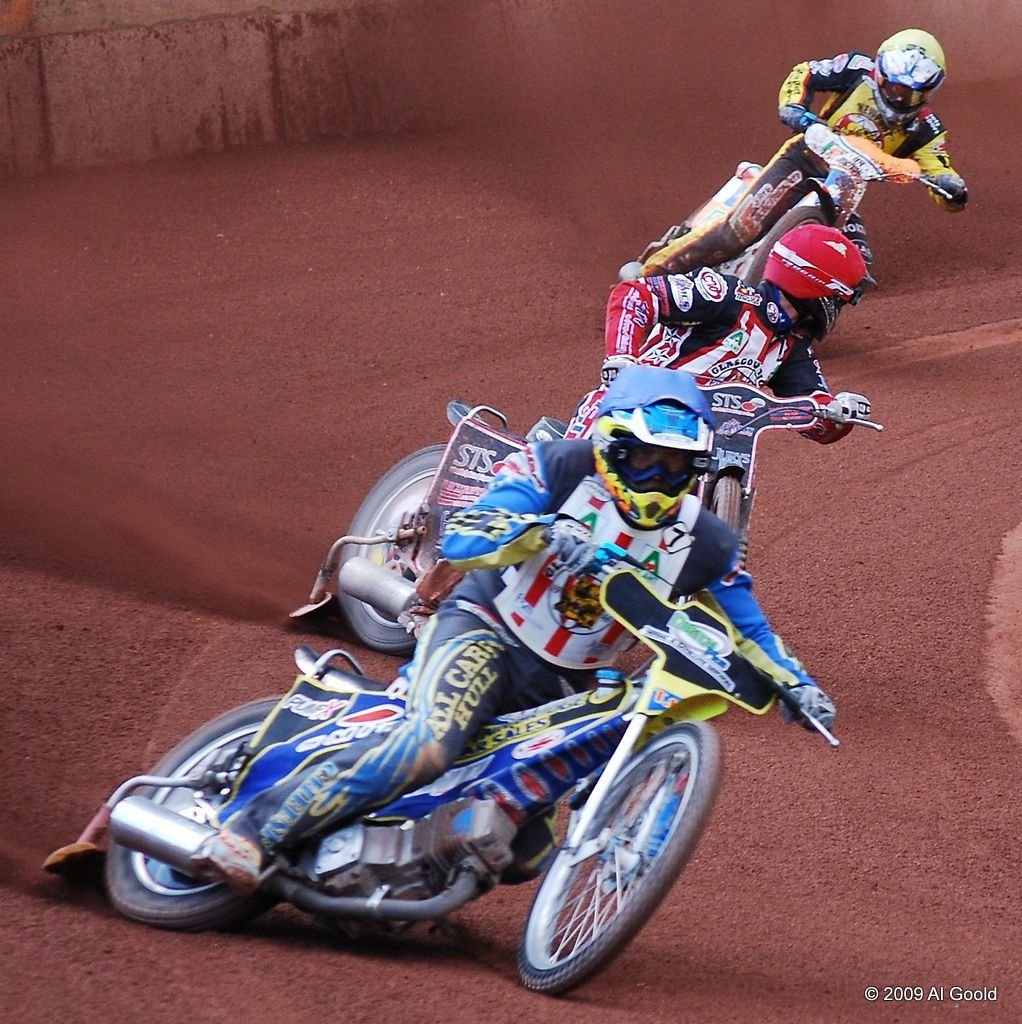 Kyle became a very popular diamond in 2011. He managed double figure scores from the reserve berth. Please come back in 2012 Kyle
---
Richie Worrall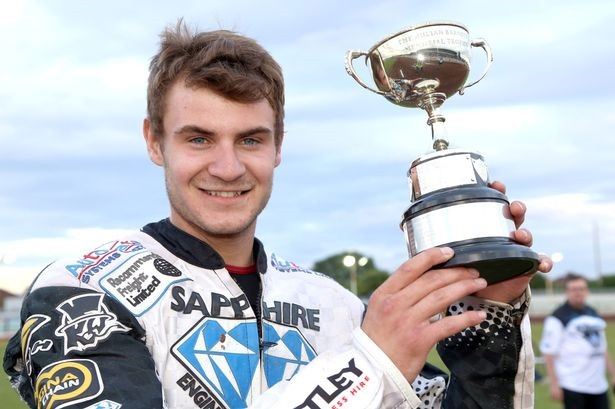 Richie's trophy count goes +1 with this one. It is the Julian Barnett memorial trophy which is raced for every year and has it's origins in the 1960s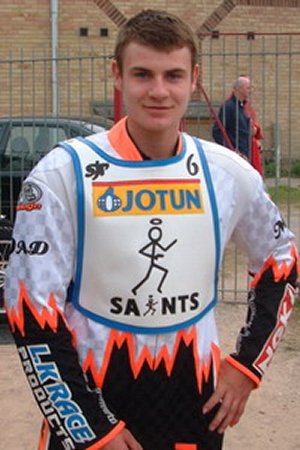 Richie Worrall (born 23 September 1991). Richie in his Scunthorpe days. Richie signed on with Newcastle for 2011 and was the least experienced Newcastle rider in 2011 However he raced to many heat wins against far more experienced riders. The older Worrall twin was with us for 3 years and in 2013 he decided to move on to further his career. We wish Richie well and thank him for the past three years with us which have seen him rise from a three-point reserve to become our No 1." His twin Steve is struggling but I have seen enough to forecast him being at least as good as Richie. Hopefully both lads will want to ride for Newcastle.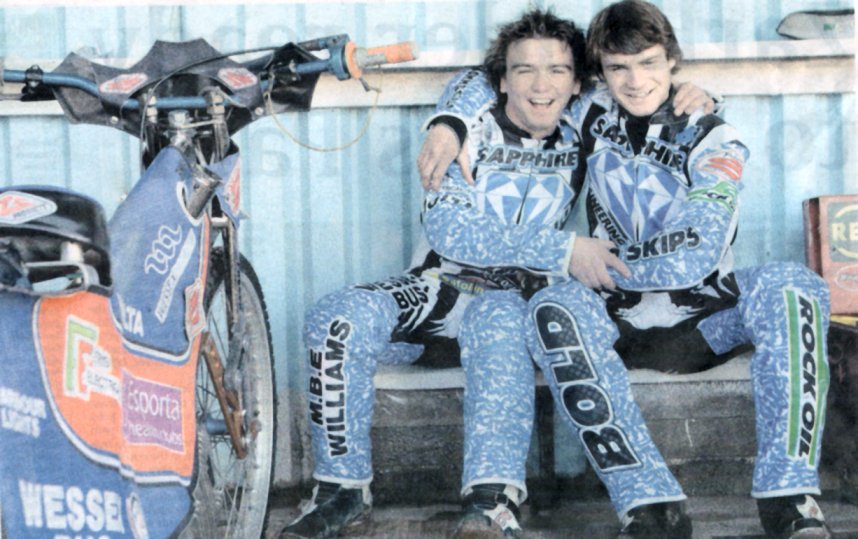 Kyle and Richie rode together as Newcastle reserves in 2011.
The Worrall Twins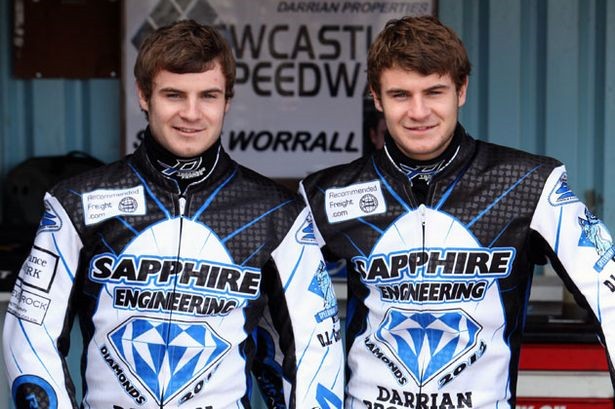 This is Richie with Steve and no, I cannot tell which is which! At a guess I would say Steve left and Richie right, see I told you I cannot tell which is which
---
2011 Starting Team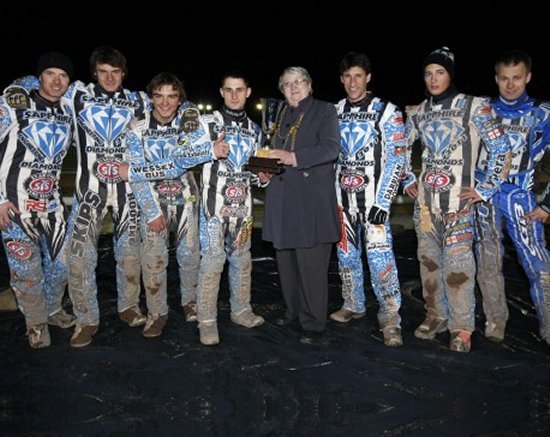 Stuart Robson, Richie Worrall, Kyle Newman, Deek Sneddon, The Lord Mayor of Newcastle presenting the Tyne Tweed trophy to the Sapphire Diamonds, Mark Lemon, René Bach and Lubos Tomicek. Lubos is back in the team awaiting the return of Jason King (Then we will have to wait and see if Lubos keeps J out of the side.)
---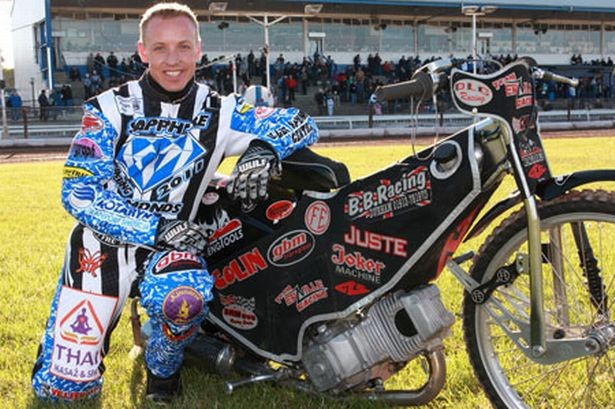 April 2011: Newcastle Diamonds have signed Slovenian rider Matej Ferjan as cover for the injured

René

Bach. Matej seemed happy to be with us according to our management during his brief spell with Newcastle, but then in May 2011 tragic news broke: "Matej Ferjan, 34, was reportedly found dead in his van at his home address in Poland yesterday morning." I don't know the reason(s) that his life was ended this way and if I did know I wouldn't record them here anyway. It is enough to say rest in peace Matej
John Courtney says: Hi John, Just been looking at your site (very good by the way)
On 22 May 2011 Ferjan was found dead in his van at the apartment block where he lived. His cause of death has been attributed to a blood clot in his leg." He had been involved in two bad crashes (one at Glasgow I think the other abroad) and it was confirmed at the time that a blood clot had come off his thigh and lodged in his heart literally turning him off like a light bulb

---
Stuart Robson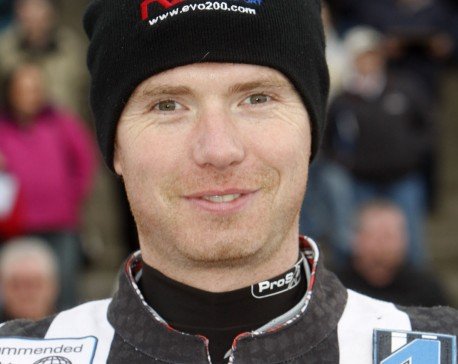 Every team should have a Robbo in their line up and Stu has been a Diamond 3 times. We were very pleased to bring back the popular "Mackem" to captain our team.
Stuart Anthony Robson Born 8th November 1976, Sunderland. His spells at Brough Park are as follows: Newcastle (1993, 1994, 2003, 2011-2014) Robbo starts 2011 on a near 9 point average and with Mark Lemon also around the 9 point mark there will be friendly rivalry between these two to be top at the end of the season. Lets hope both reach 9 points again. If only Stuart could gate consistently he would be a ten point man!
---
2012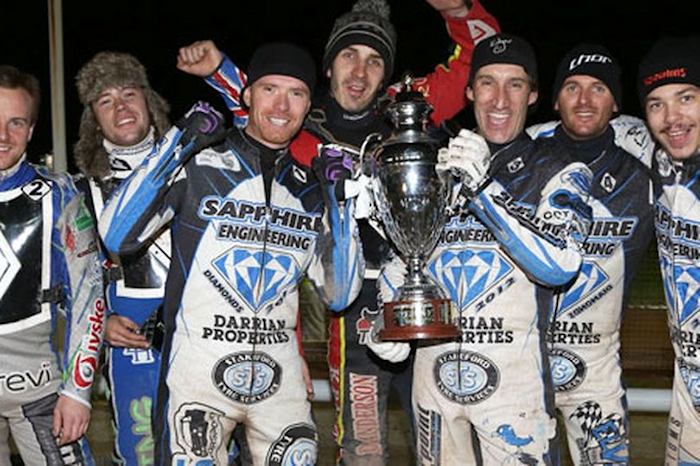 KO Cup winners
---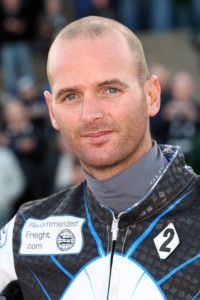 Christian Henry: Date of Birth : 22 Feb 1981. at Sydney, New South Wales, Oz. South Australia's Christian Henry. Starting his second spell with the Diamonds on an average of 5.45. Capable of putting two points on that average. Another decent gater which is so important to Newcastle and Christian can overtake too.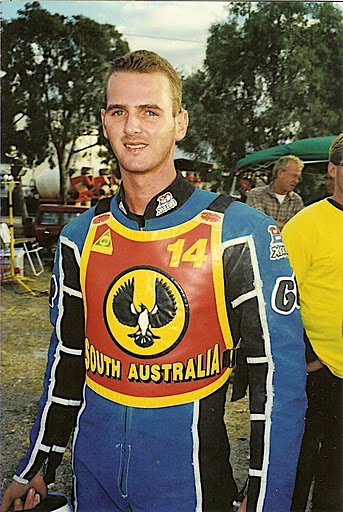 ---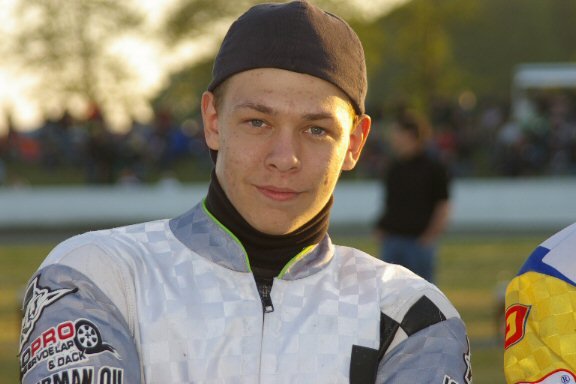 Ludvig Lindgren (born September 23, 1990 in Örebro, Sweden) new arrival for 2012. Ludvig is the younger brother of Freddy Lindgren. Ludvig along with Christian Henry and Claes Nedermark will vie for the 3rd heatleader role. The best of the 3 will likely be at no 4 in our line up. Ludvig is proving to be the best of the 3 and is riding at the more difficult number 5 position. He is proving to be a heat leader not a good gater but is good at coming from behind. If he continues in the second half of the season like he has done up to now (July 2012) then Newcastle's chances of success in 2012 are good.
Ludvig says: I was born 23 September 1990 in Örebro, Sweden. I started to compete at the age of 9 in the 80cc class. But started to ride motorbikes when I was about 5. I started my English career in wolves 2008 doing late season riding for them my first full year was 2009 for Birmingham when they were in premier league.

John says: I asked Ludvig: When you started at Newcastle did you think you could be our number 1 rider? I think you can be our number 1.

Ludde says: Of course I think that I can be your number one and I won't be happy until I am

J
ohn says: What do you expect from 2012?


Ludde says:
I expect a lot from us we are a strong side and I think we can go all the way.
---
2013 Team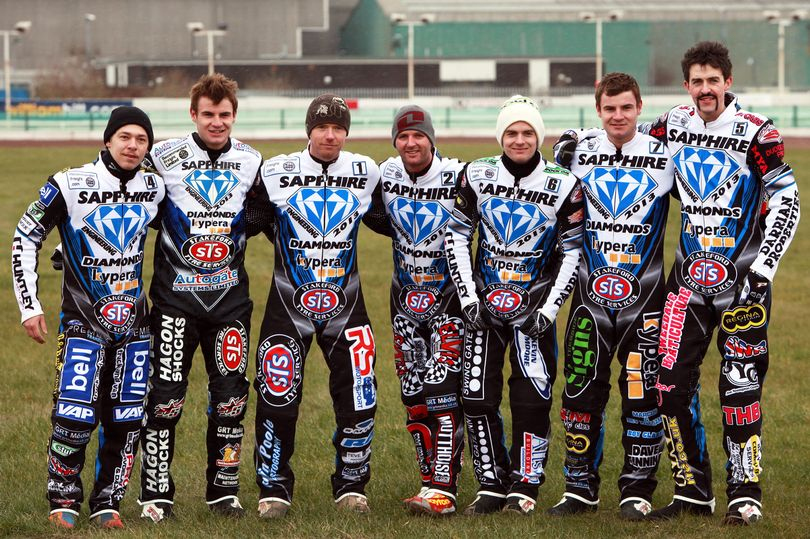 Ludvig Lindgren, Richie Worrall, Stuart Robson, Christian Henry, Lewis Kerr, Steve Worrall and Andrew Tully
Ostergaard, Dyer, R Worrall & Robson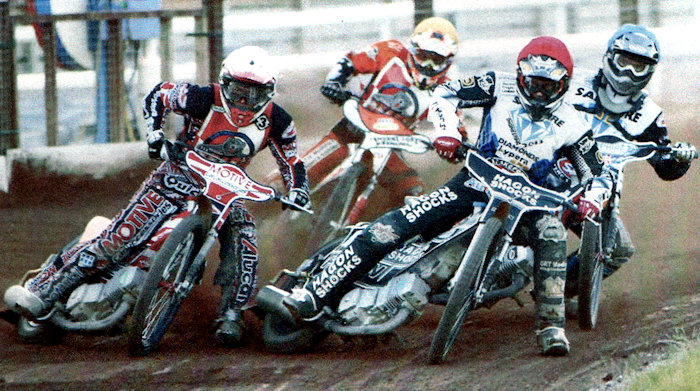 Ulrich Ostergaard, Micky Dyer, Richie Worrall and Stuart Robson
Ulrich was riding for Redcar back in 2013. He has always gone well around Brough so no surprise when he signed for us during season 2019 and delivered the goods.
"Bat" Robson &
Ulrich Ostergaard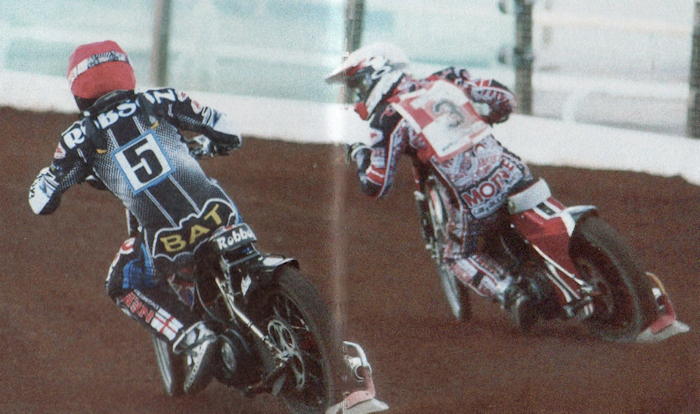 Andrew Tully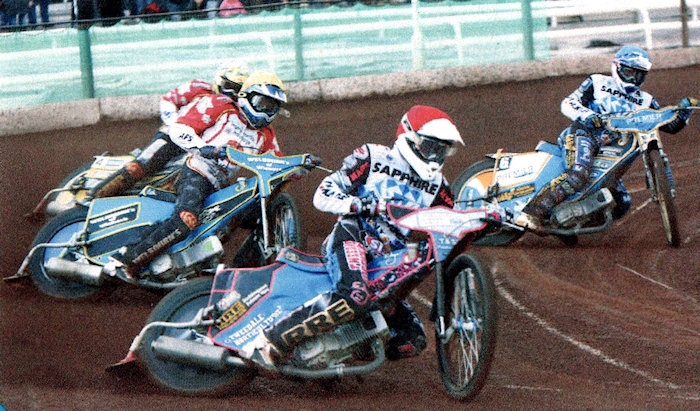 Andrew Tully red and Ludvig Lindgren blue
Andrew Tully, Richie Worrall & Phil Morris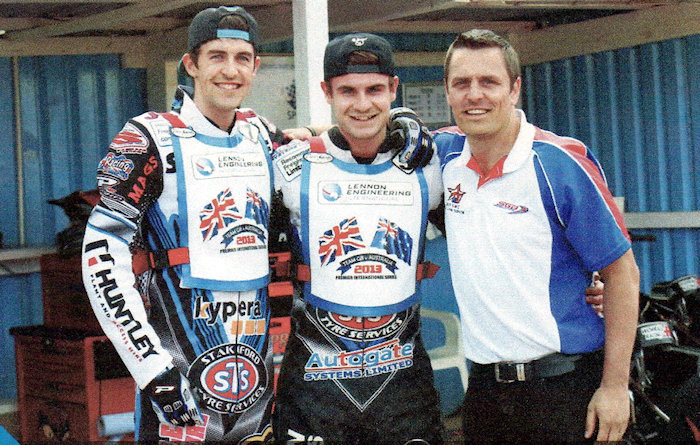 GB Team mates with GB manager Phil Morris who was a Newcastle rider in 2005
Ludvig Lindgren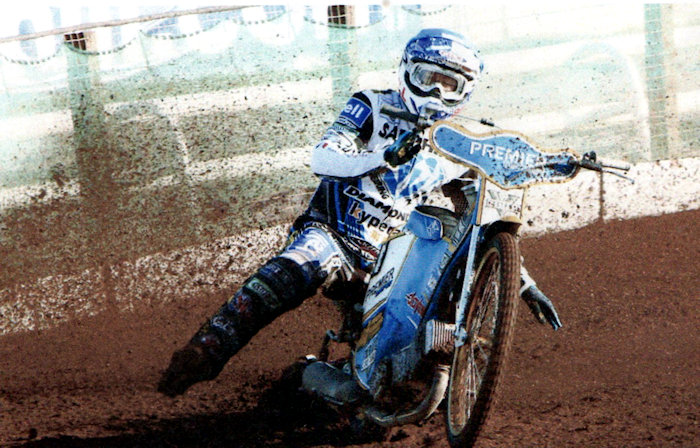 Team GB v Team Australia
18th August 2013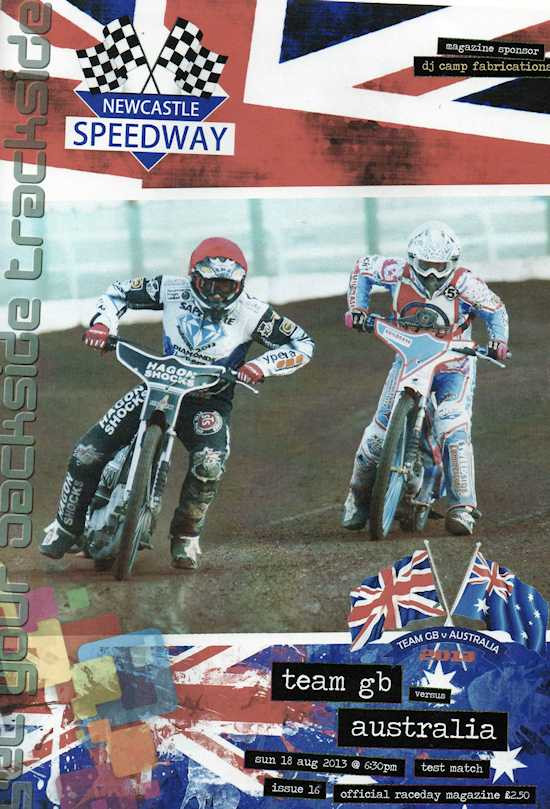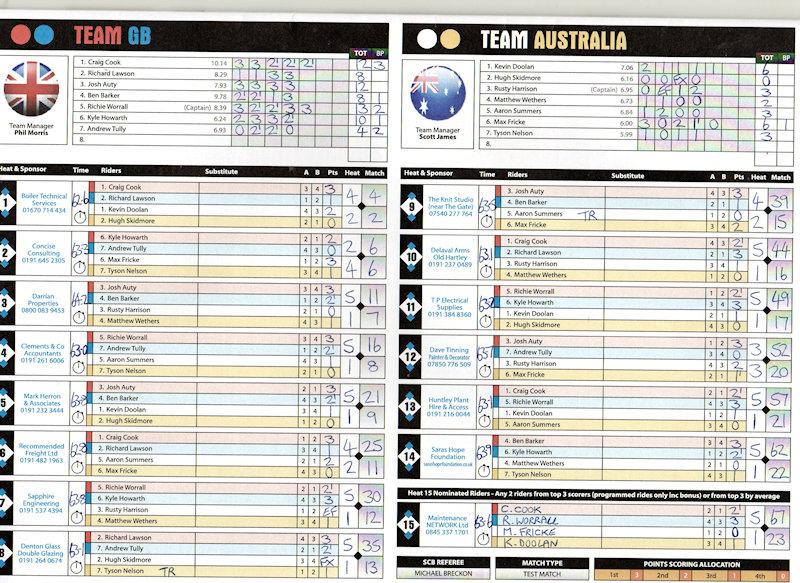 A strong looking GB team ran out easy winners against a weak looking Aussie team
Anton Rosen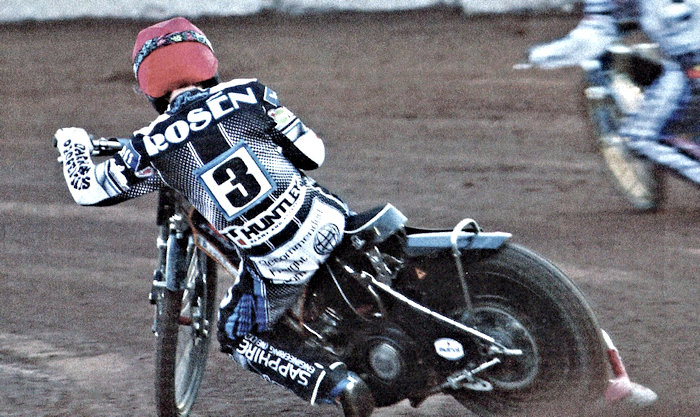 ---
Chris Schramm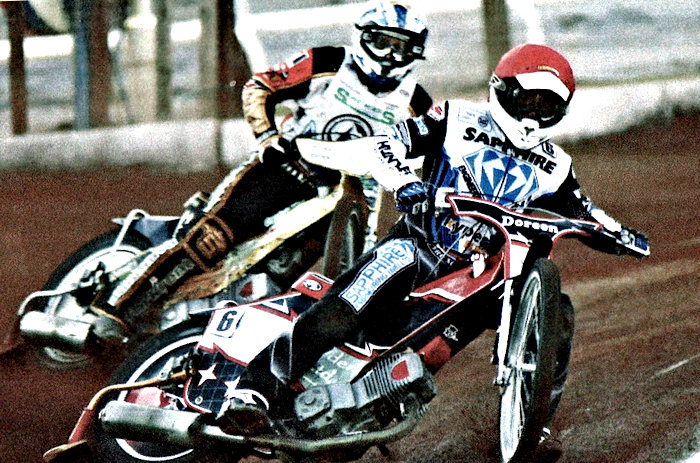 Torturing Chris!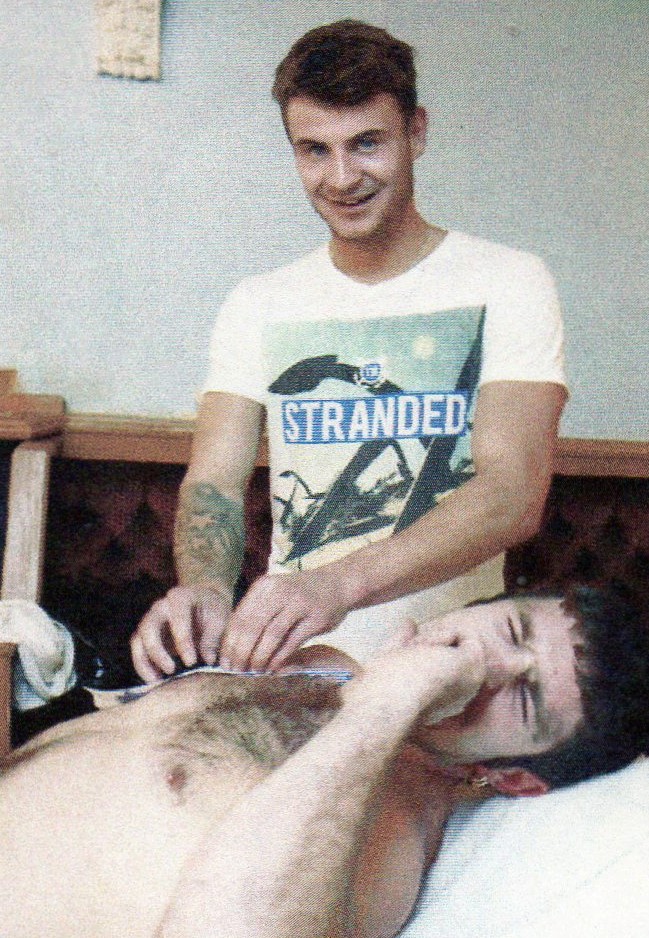 Evil twin Richie waxes Schrammys chest. I hope it was for charity!
2013

Premier League Cup Winners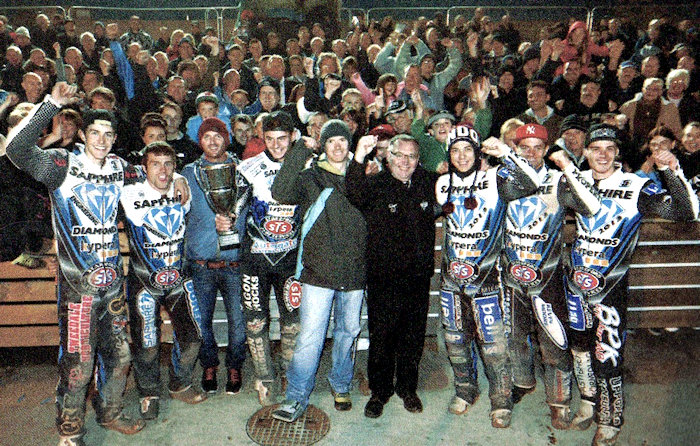 Richie Worrall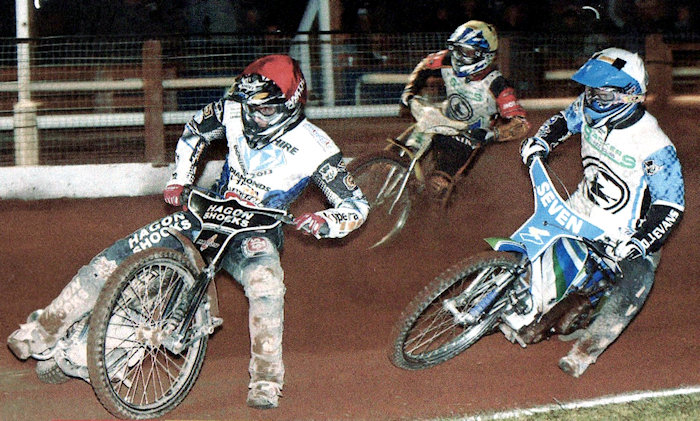 Richie Worrall leads Ipswich riders Benji Compton & Morten Risager
Richie Worrall & Lewi Kerr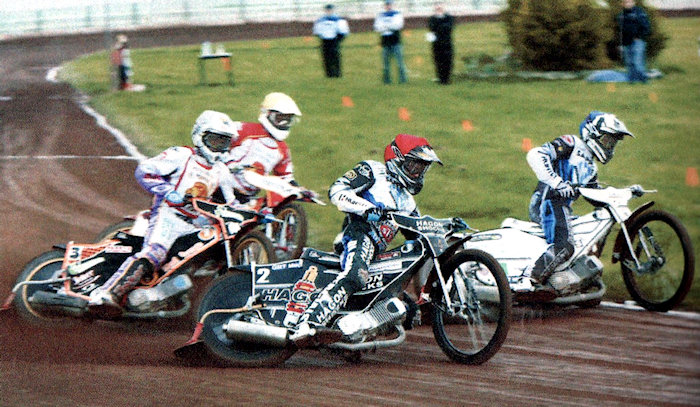 Richie red and Lewis blue heading for a 5-1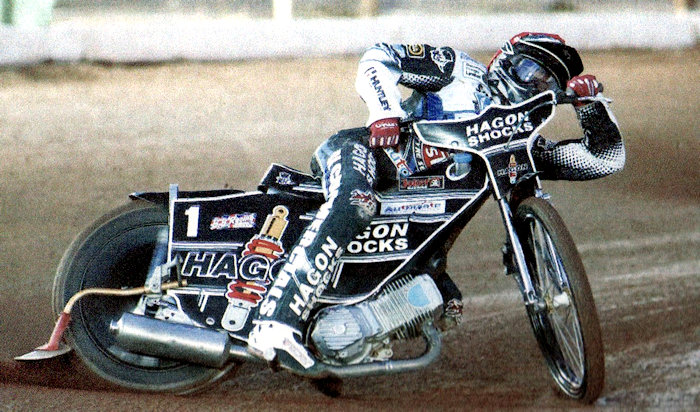 Another fine action shot by ace photographer Steve Brock of Richie Worrall
---
2014
Team Picture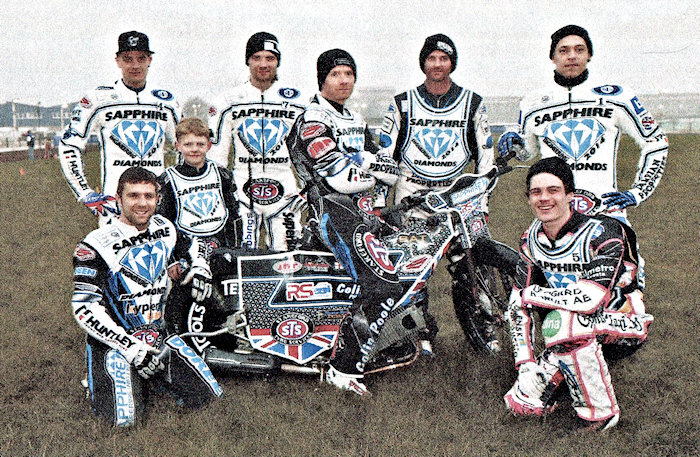 Lewis Kerr Lewis Rose Stuart Robson Christian Henry Ludvig Lindgren Chris Schramm mascot-Archie Freeman and Anton Rosen
Another 2014 Team Picture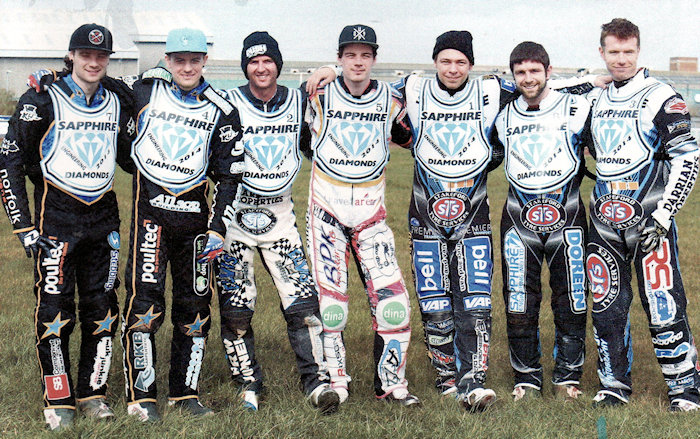 Lewis Rose & Lewis Kerr wearing parent club Kings Lynn kevlars, Christian Henry, Anton Rosen, Ludvig Lindgren, Chris Schramm & Stuart Robson
Anton Rosen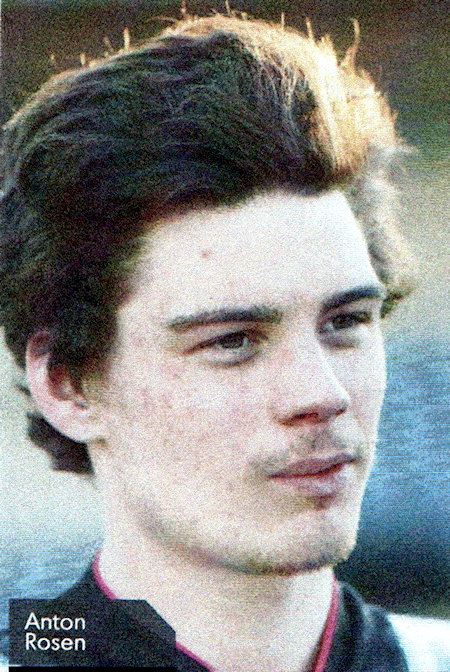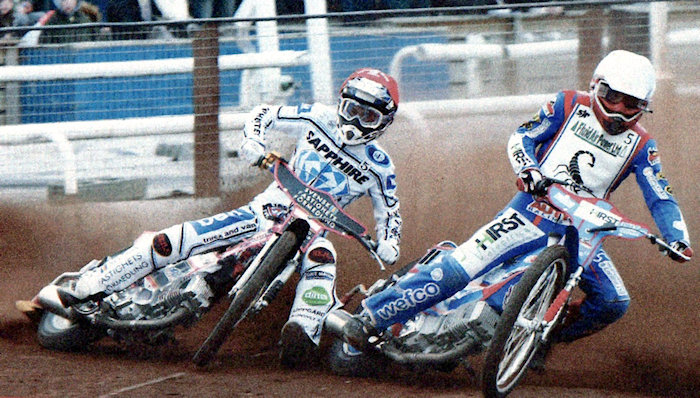 Anton Rosen having his foot taken away by Josh Auty
Lewis Rose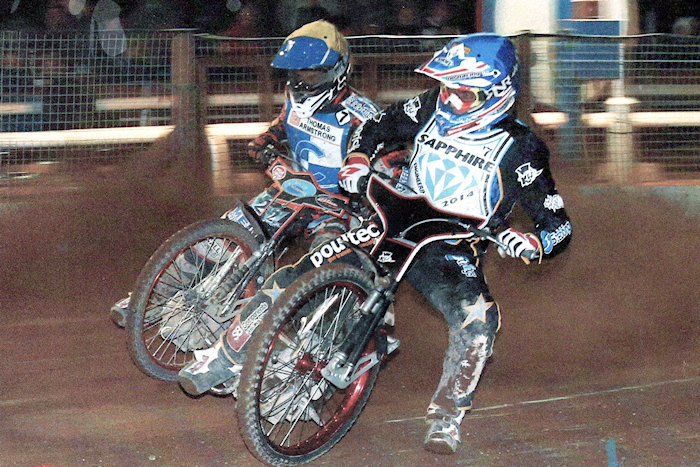 Lewis Rose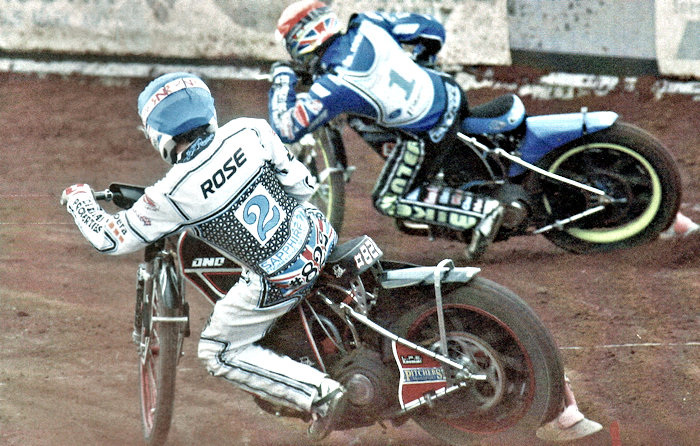 Lewis Kerr & Lewis Rose
The "Kerrminator" was out as a "Tac Ride" and by the body language he must have done well. Its never a happy situation as you have to be behind and that is not good at home.
Danny King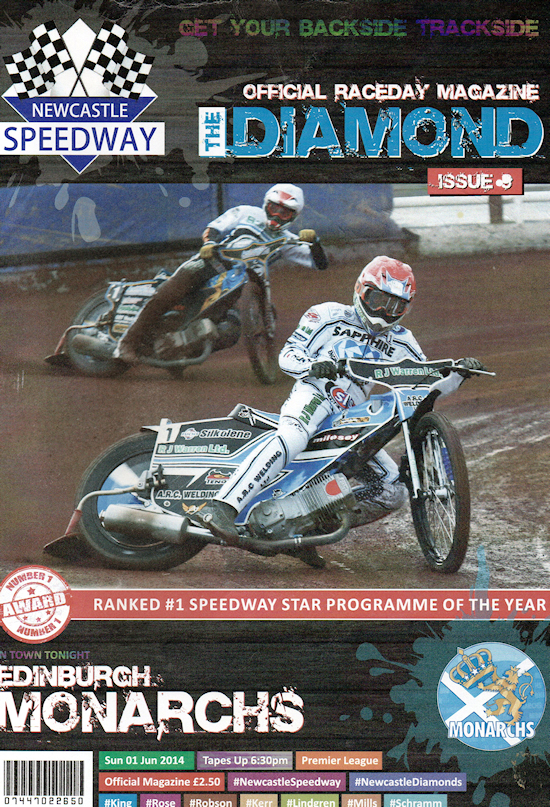 Danny King took the difficult Newcastle number 1 slot and did us a good job. The programme won awards, we have been
treated to top quality week in week out programmes for quite a few years now
Danny King & Lewis Kerr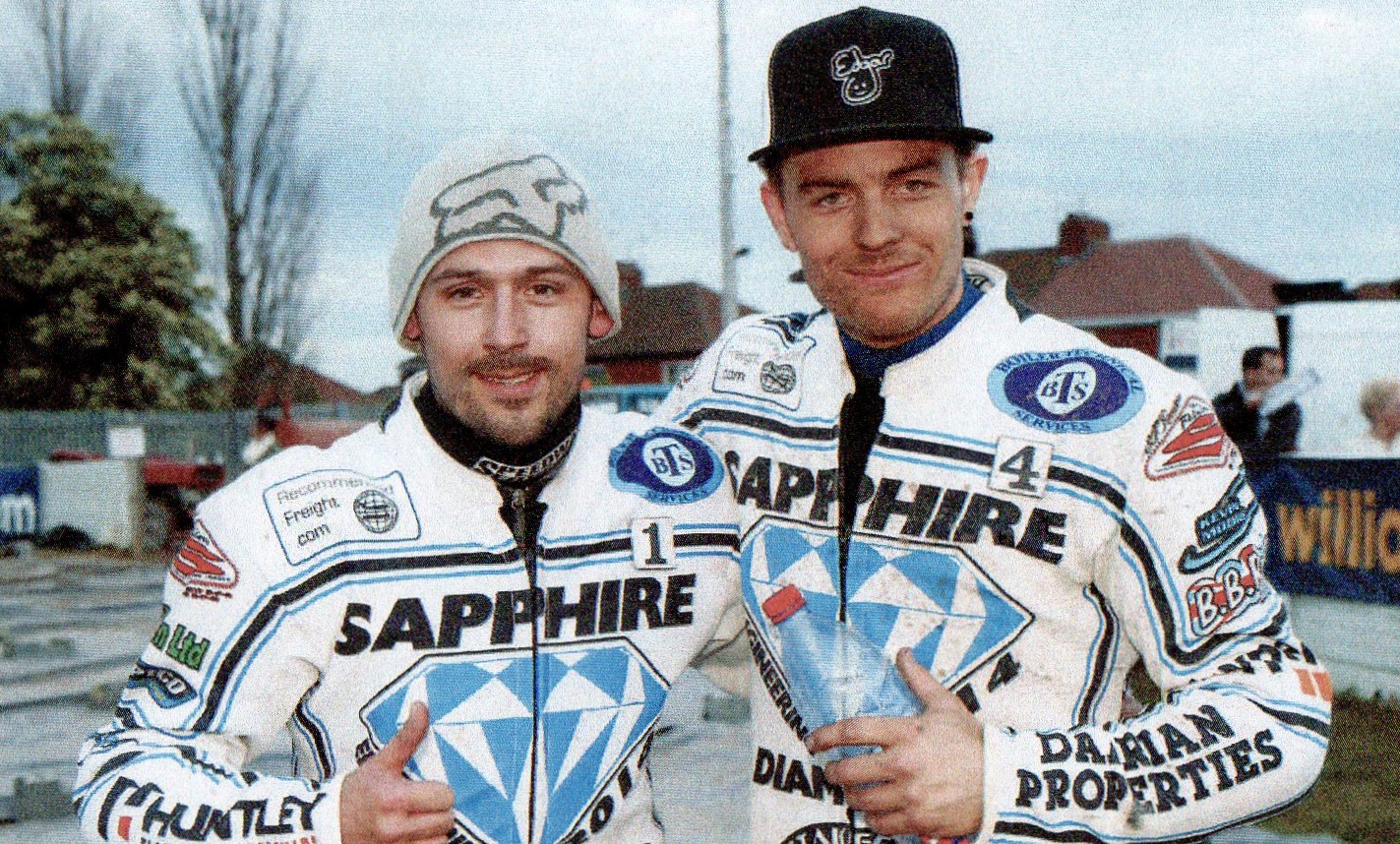 Danny King in Action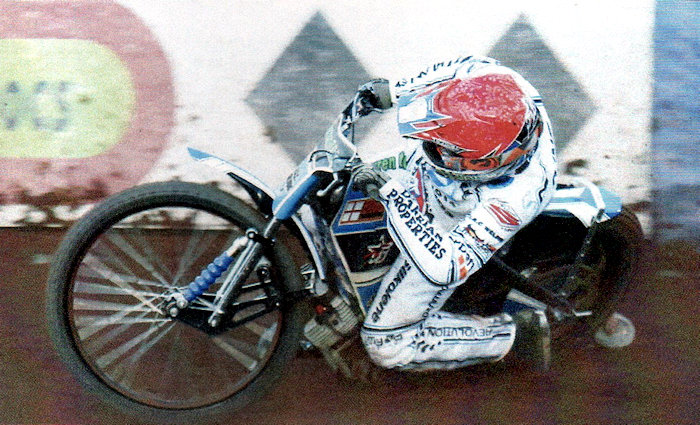 A speedway photo by Steve Brock. As good as you will find anywhere
Christian Henry &
Lewis Rose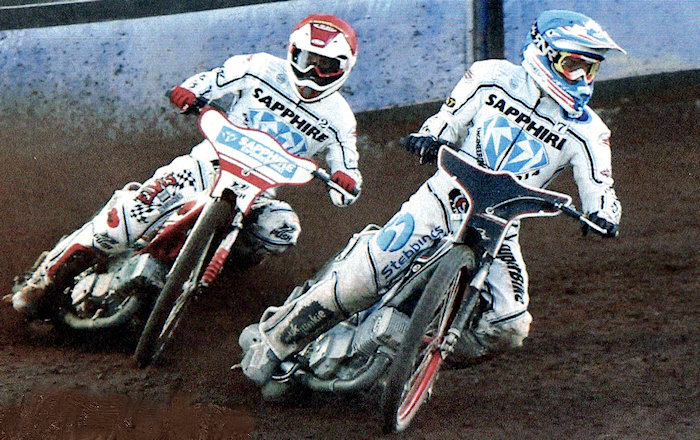 Christian Henry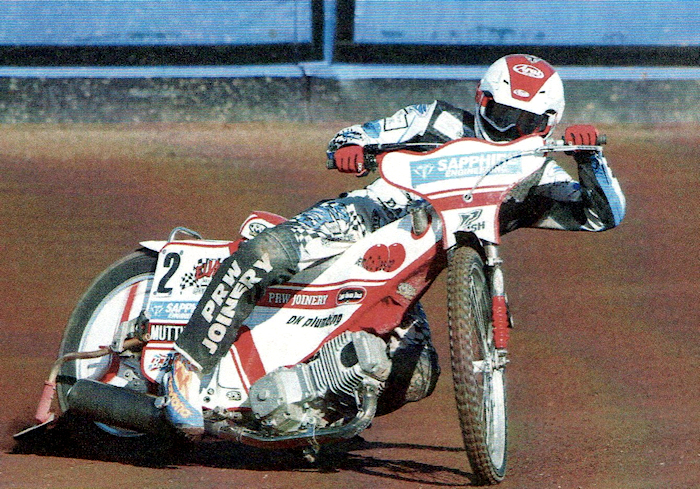 Ludvig Lindgren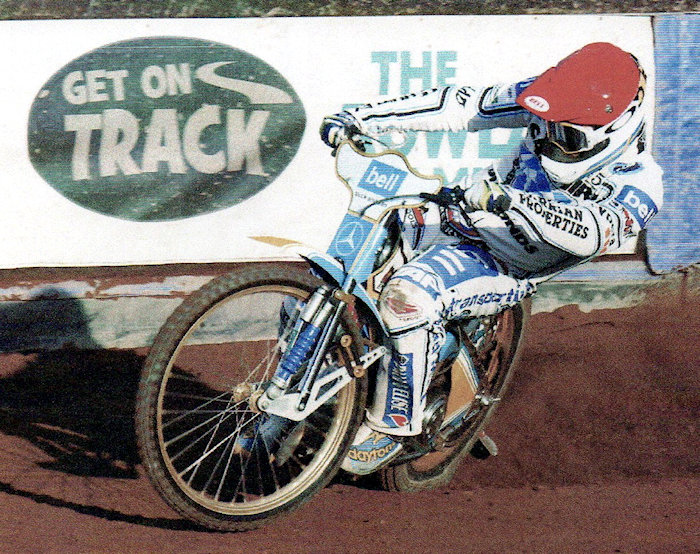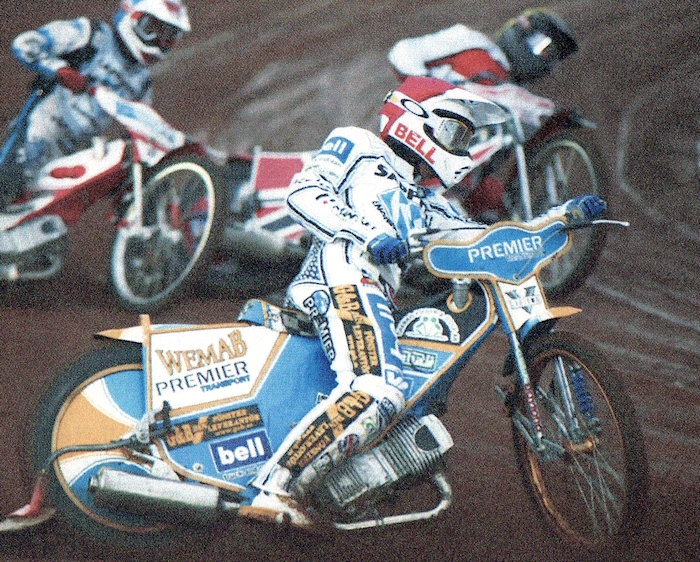 Stuart Robson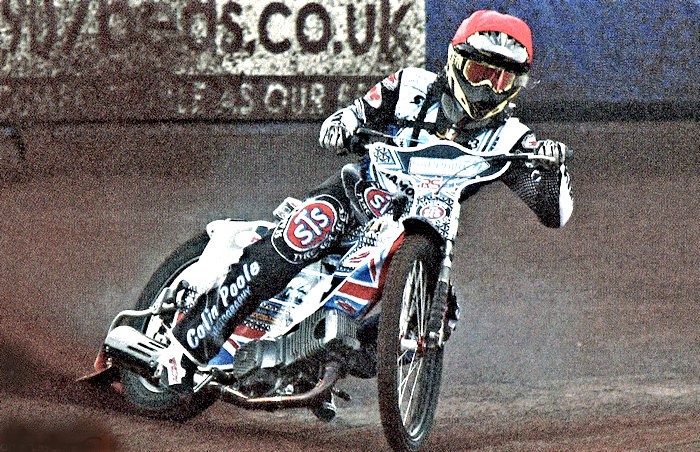 Robson, Kerr lead Matej Kus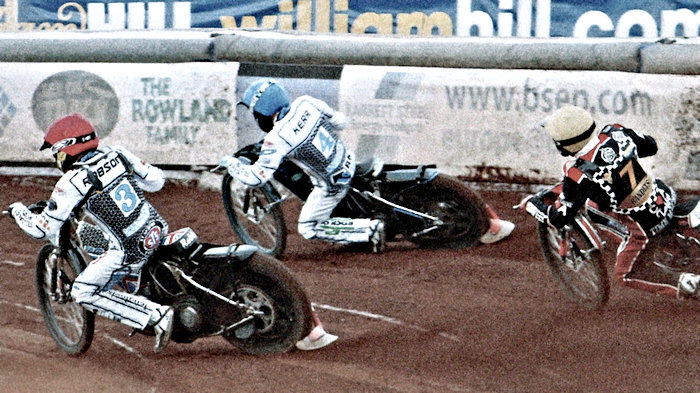 Chris Schramm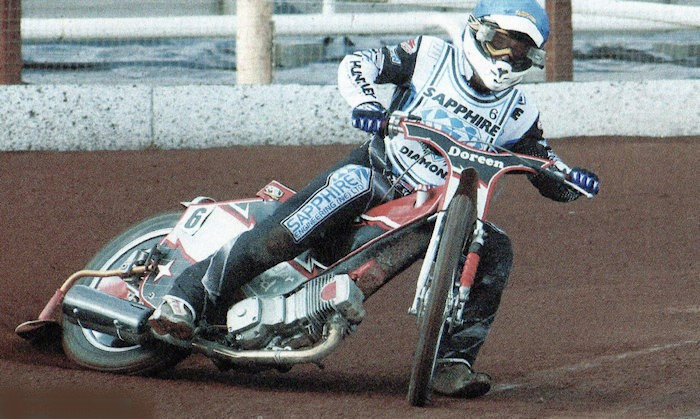 ---
George English Jnr
I asked George English if he would contribute something for the website. He declined saying my website was not the "official" history of Newcastle Speedway. I agree that it isn't official as he nor any other member of the owners/management group have given me their blessing and I understand his point of view even if I do not agree that it should be a problem for him to contribute to the one and only "Newcastle Speedway History" website. I am happy to "beg to differ" with George as I respect the guy.
George English Junior was born of speedway fans George Senior and mother Joan English. Young George spent many seasons involved in supporters club matters with his parents. In 1994 he became a promoter along with a consortium name of

Whiteload Ltd. Members were Dave Rowland, Brian Havelock, Bunter Barnes and George English junior, but at the end of 1994 the Brough Park faithful were without their sport once again as the club closed down for the 7th time as Stadium owner Kevin Wilde decided he did not want speedway at Brough Park.
George was back as promoter in 1997 and with a number of different promotional partners and helpers he has run Newcastle Speedways for 19 consecutive years, at the time of writing this in 2016. Please continue George!
George has been a little bit shy of supplying anything for the history site so I am delighted that he has agreed that I can use his interview with Lawrence Hepple which was shown in the match day magazine for our 2012 opener. George is a Newcastle Speedway record breaker. He has been team manager and promoter since 1997 which is by far the longest unbroken spell of speedway in Newcastle. Well done George and with respect to Darryl Illingworth and a few others, you are probably the reason we are still going.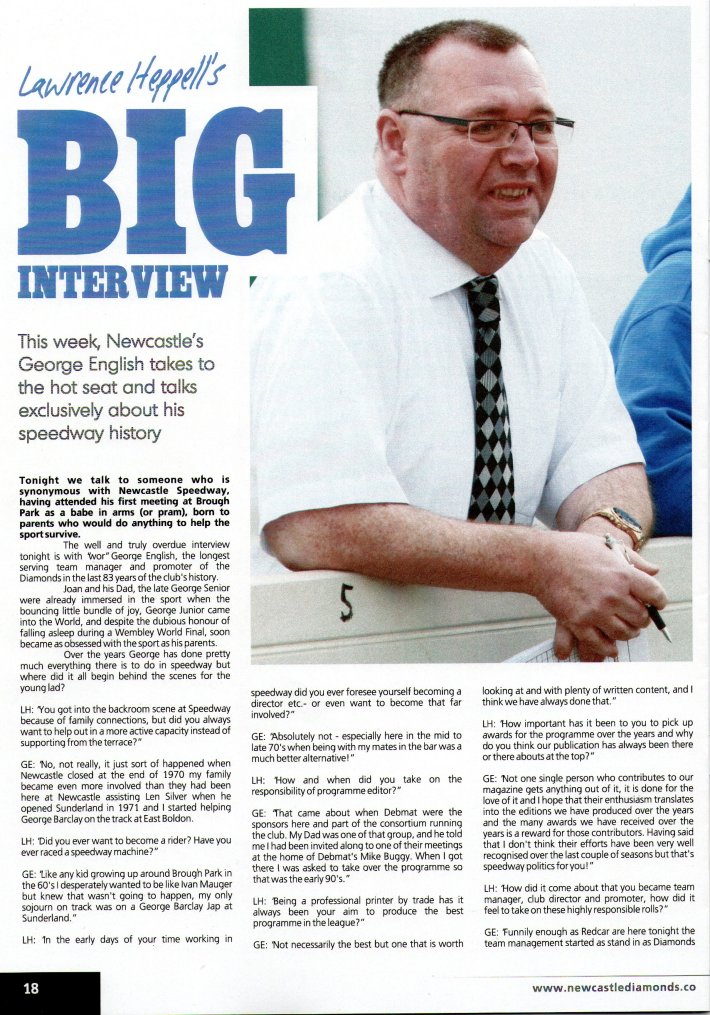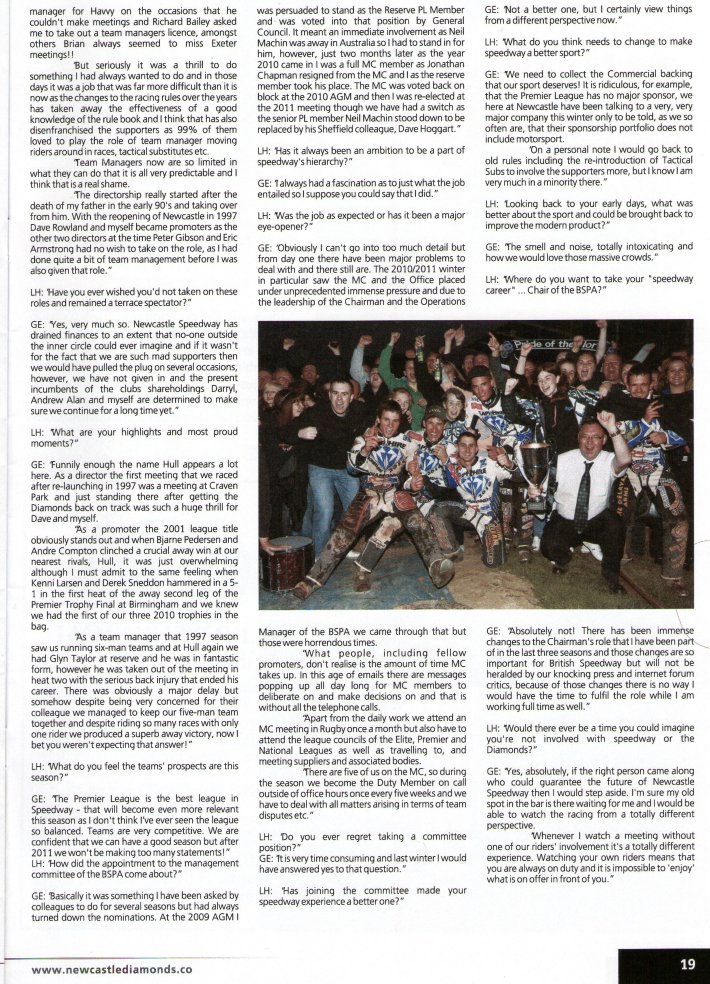 Newcastle finished top of the Premier League table in 2012 but lost out in the play-offs so the league title alluded them, they did win silverware however in the shape of the 2012 KO Cup
---
Steve Brock Photography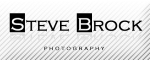 To be able to do a website like this I have had to ask for permission to use photographs taken by a number of professional photographers. Steve Brock has bent over backwards to help the site with his excellent photos of the Diamonds. The majority of the photos on the website are from the lens of Steve, donated free for the cause and I am very happy to add here a link to Steve's website. Please visit his site if you want to buy photo's or hire Steve's services
2010-2019 Part 2
---
The contents of this website are © and should not be produced elsewhere for financial gain. The contributors to this website gave the pictures and information on that understanding. If anyone has any issue or objections to any items on my website please email me and I will amend or remove the item. Where possible credit has been given to the owner of each item.