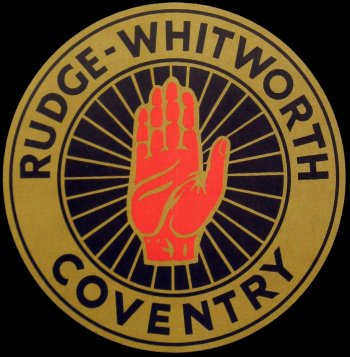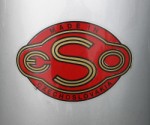 ---
The 1960's - Part 1
Stan Holey Vic Lonsdale Slant Payling Peter Lloyd Don Wilkinson Gil Goldfinch George Glen Brian Craven Bill Andrew Mike Watkin Alan Butterfield Gordon Mitchell Ivan Crozier Provincial League v National League Bob Duckworth
---
Newcastle closed at the end of the 1951 season, (I wonder why?) my mate Colin Greenwell from Middlesbrough thinks the "Entertainment Tax" Which came in around that time might have been the reason? Anyone know why Newcastle closed down despite big crowds? Bigger puzzle is why it did not re-open until Promoter, Mike Parker came along in 1961. Maybe there was just no promoter around who was willing to risk starting us up again? Parker was not a speedway man his main interest was midget cars and stock cars.
The 1960's were good for Tyneside Speedway fans, after a shaky start in '61 Parker strengthened the team and Newcastle became an attractive team first in the Provincial League and then in the British League. The Diamond race jacket changed colour to black and white from red and white from the 1961 season.
1960's Race Jackets ?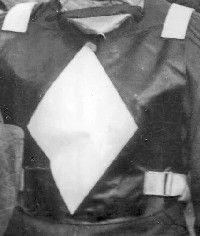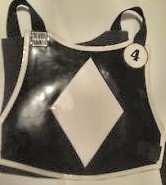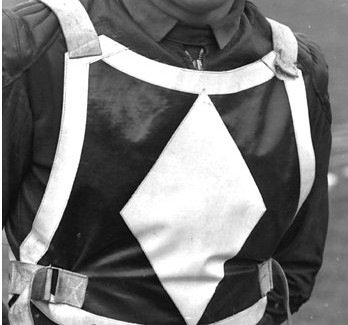 Left early 1960s (Stan Holey's Racejacket) Number 4 Jacket Courtesy of Paul Bredael and right Murray Burts late 1960s jacket
John says: I was there from 1961. I recognised immediately the race jackets at left and right above but the one in the middle has me puzzled. I cannot remember the team wearing that jacket! So if you can help me please send an email John
John says: Oops! my mistake, the middle racejacket is from the 1970s unless you know different! So the team used only the other two jackets in the 1960s
V Train says: the mention as to the diamonds change from red and white-to black and white was instigated by Don Wilkinson, who was asked by Mike Parker, what the diamonds colours happened to be [prior to him opening Brough in 61] Wilkinson said that "we" wore red and white, BUT if it was up to HIM, it would be black and white. Parker had little knowledge of speedway, compared to the likes of Reg Fearman and Ian Hoskins, and was purely a business man.
Regards Dave Train
[the site is still great!]
---
1961Brough Park Re-opening

Newcastle v Wolverhampton
22nd May 1961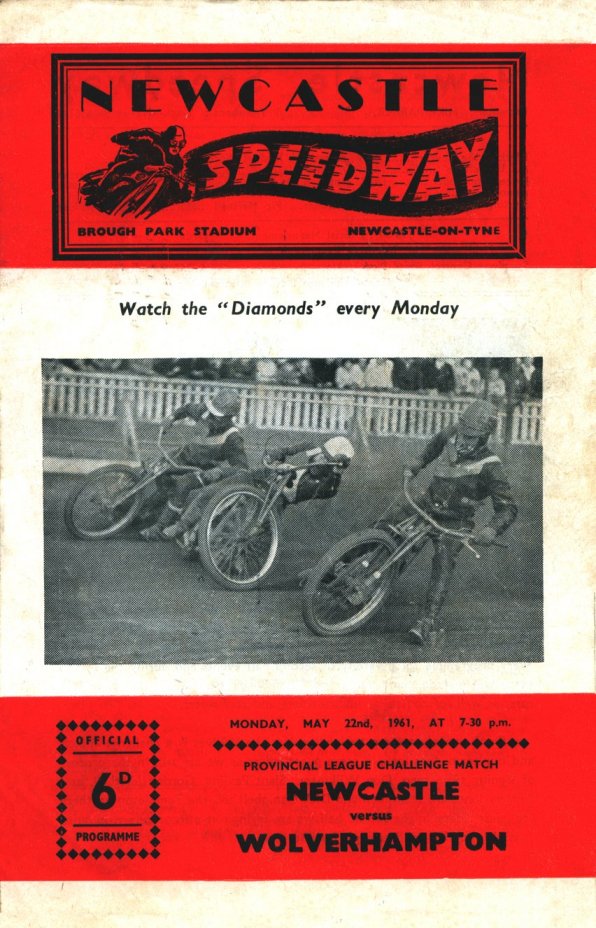 Larry says: Hi John, Newcastle's first meeting for 9 years was on Monday 22nd May 1961. The Diamonds had just been accepted as members of the Provincial League, but didn't have a complete team and had to use three guest riders from Edinburgh, Dick Campbell and the Templeton brothers. As you can see we had a good win over Wolverhampton. We then lost the next 15 matches till finally on Monday July 31st we won a match against Stoke 53-25. Captain Don Wilkinson was our best rider in a very weak team until the arrival of Gil Goldfinch in late July. Nice shot of Peter Craven on the front cover, I think the two Oxford riders could be Ronnie Genz and Colin Gooddy, but what do you think.
John says: I've no idea who the other 2 riders are I did recognise Peter Craven of course.
Jim says: Hi John, On the page 'Newcastle 1961 on the web site, there is a programme with a picture of Peter Craven and two Oxford riders. They are in fact; Gordon McGregor on the inside and Roy Bowers on the outside. It was taken by Peter Morrish in 1960 and he won an award at the time with it. Reference: Brian Burford's book, "Peter Craven" - The Wizard of Balance.
Hope this helps.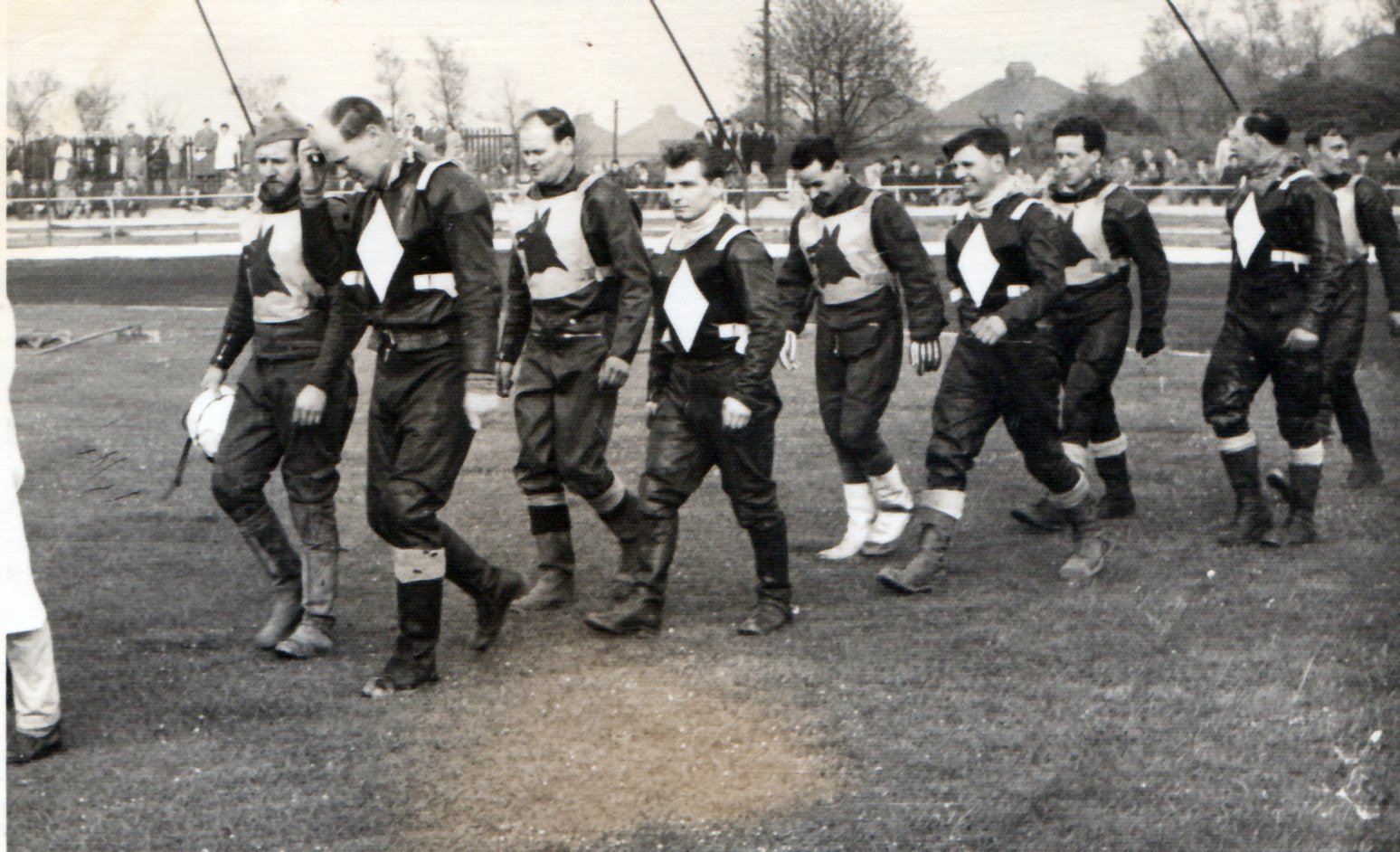 An historic moment, as there had been no speedway at Brough Park since 1951. The Newcastle team shown above paraded before the crowds at the opening meeting of 1961 before a crowd of 10,000. Don Wilkinson leads out Slant Payling, Willie Templeton, Doug Templeton and Vic Lonsdale extreme right. Newcastle could not field an entire team of their own and "borrowed" Dick Campbell and Doug and Willie from Edinburgh.
Ian Presslie says: Jim Chalkley, is the Wolverhampton rider wearing white boots
Bob Bath says: Graham Warren is leading out the Wolves team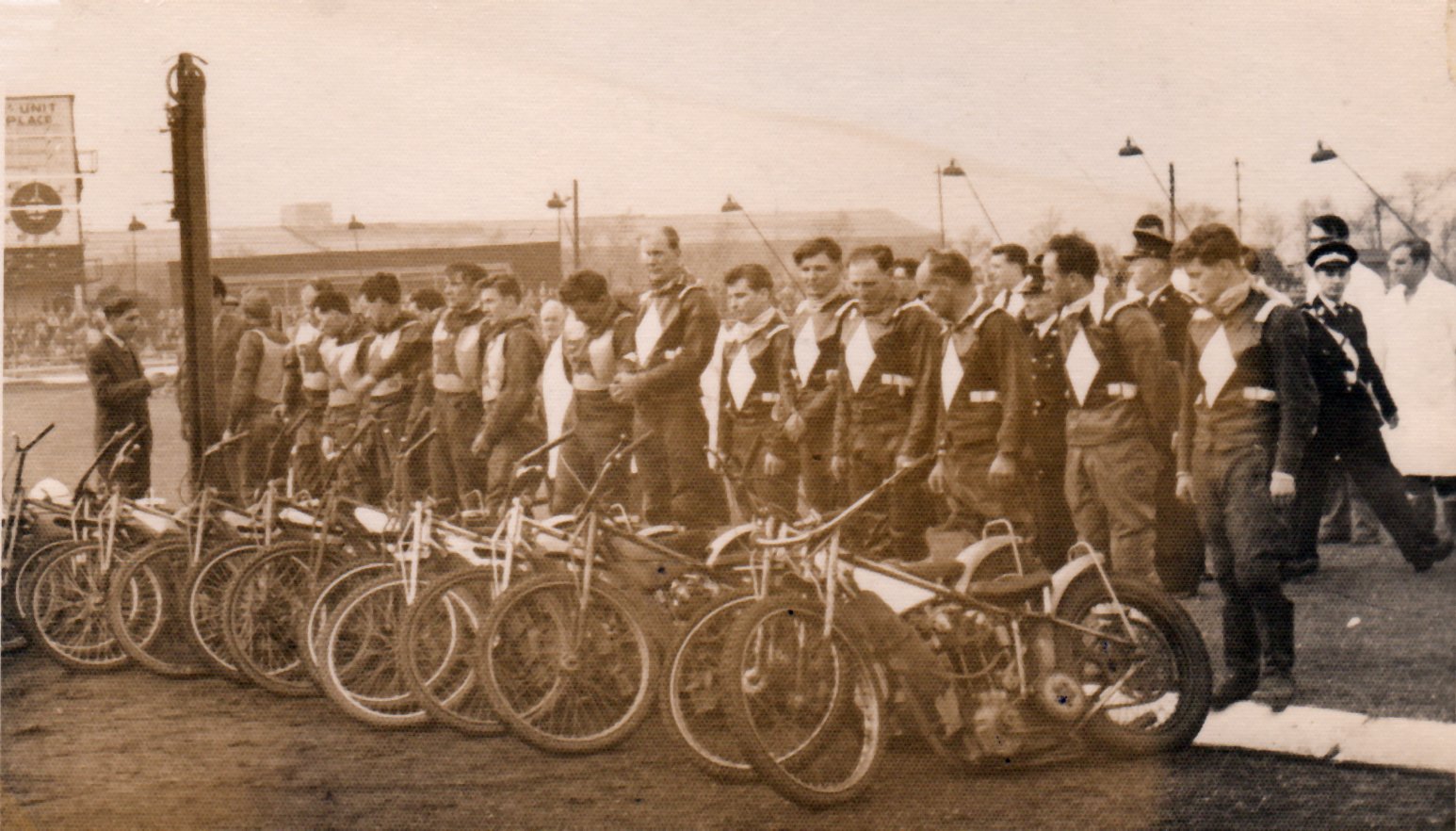 This is Newcastle's first line up against Wolverhampton, about to do battle for the fist time in the 1960's era, Don Wilkinson, Slant Payling, Willie Templeton (G) Doug Templeton (G) Dick Campbell Gordie Mitchell and Stan Holey. The guy in the white coat, extreme right is my uncle George Ince.
Did we win. I think so it was 48-30. 10,000 fans went home happy.
---
Scots Doug & Willie Templeton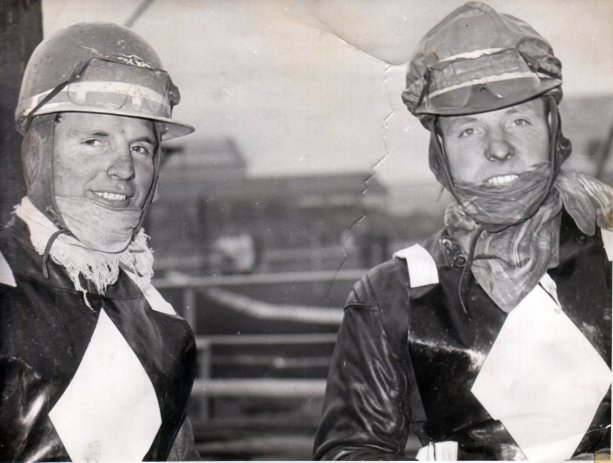 Guest riders are not a recent blight on speedway here we have Doug and Willie Templeton of Edinburgh helping out a woefully weak Newcastle side in the first meeting of the season in 1961. Promoters have never sorted this out and double guests exist in the current speedway climate. The Templeton Bros made many appearances later in the 60's at Brough for their own teams and were always points scorers.
---
Another 1961 Line Up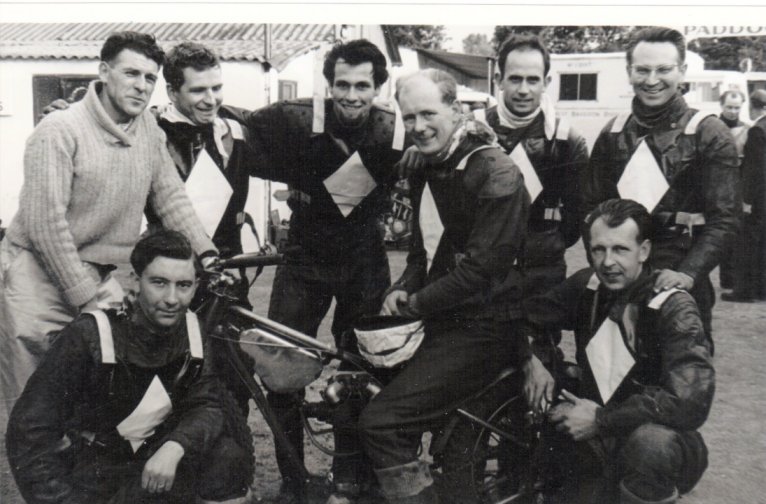 Above: 1961 : Maurice Morley (Manager), Slant Payling, George Major, Gordie Mitchell, Norman Redmond, Front: Johnny Green, Don Wilkinson (Capt), Peter Lloyd
This was the team that took to the Brough Park track after a gap of 9 years without speedway in the city. There were a number of riders tried by the promotion namely: - Antony Jones, Graham Beattie, Brian Loach, Bill Gillam, Norman Redmond, Stan Holey, Freddie Fewsdale, Stan Pennel, Norman Johnson. If you have pictures of any of them send them in please. John The track record holder was Frank Hodgson although track record was not recorded in any 1961 programme!
---
Coventry v Newcastle
Early 1960s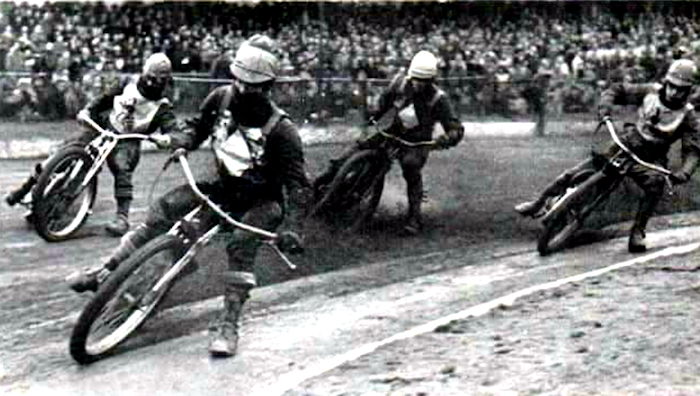 Courtesy of Norma Duval
If anyone can supply any details regarding this photo please send me an email John
---
Dick Campbell, Vic Lonsdale &
Eric Boocock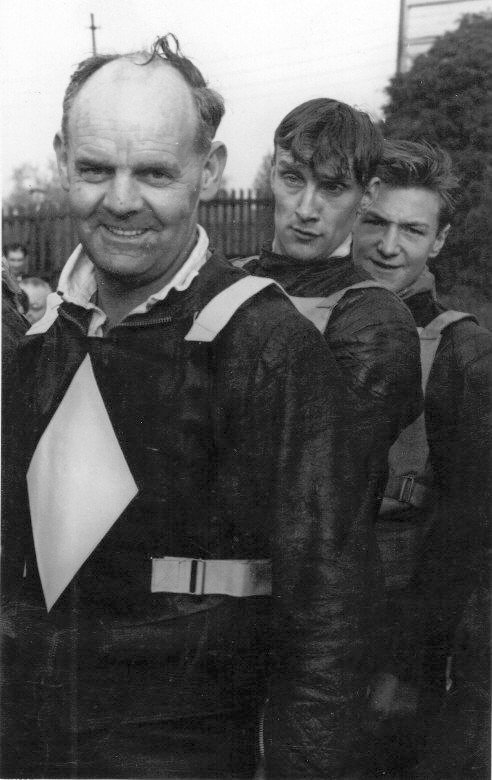 Another Kiwi of many turning out for Newcastle in the 1960's this is1962 , Dick Campbell with Vic Lonsdale focusing on the photo shoot with his one good eye and Eric Boocock looking over Vic's shoulder.
V Train says: I have just noticed this photo which you say is from 1962. In fact it is from the opening meeting in 1961.
Hi John, just noticed on the site [1960s part 1] that a photo showing Dick Campbell Vic Lonsdale and Eric Boocock is listed. My father used to be a novice speedway rider in the late 50's and/or early 60's. He was probably a reserve or B Team rider for Newcastle Diamonds then went on to grass track. Grass track is what I was brought up with until he gave it up in the early 70's. He had always kept one piece of memorabilia from those early days and his story went like this. "I drove to London and purchased my new bike. It had the number 3 on the tank. It was Alf Hagon's third bike ever built. I took it to Brough Park to race and just before my heat Vic Lonsdale's bike packed up or something so I allowed him to use mine. He came off the bike and it was wrecked." So he kept the dented tank but where it is today I have no idea but I can still picture it sitting on his work bench in the garage. Dads name was Melvyn Hogg and later he assisted Will Hunter to set up a speedway school in Felton Northumberland.
I went to Ponteland High School. On my first PT lesson, Mr MacDonald, teacher, asked us my name. I gave mine and he looked at me and said "Did your dad ride speedway?" I replied yes. He went on to say that he had documentation at home and had seen my old man race at Brough Park. He brought the program's in and I showed them to my Dad. At the annual school parents night both he and my old man chatted for about an hour. It was quite a pleasing thought to know he had been recognised. However, I have never seen or heard his name mentioned since. As I say, more likely a novice but still a hero in my heart. Regards Melvyn Hogg (jnr)
---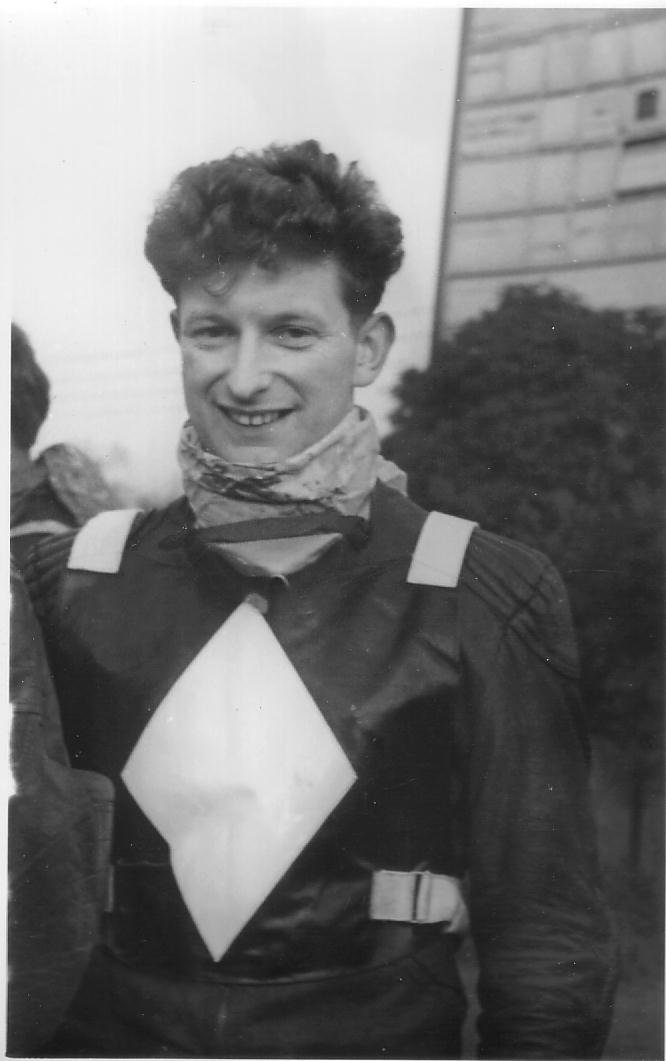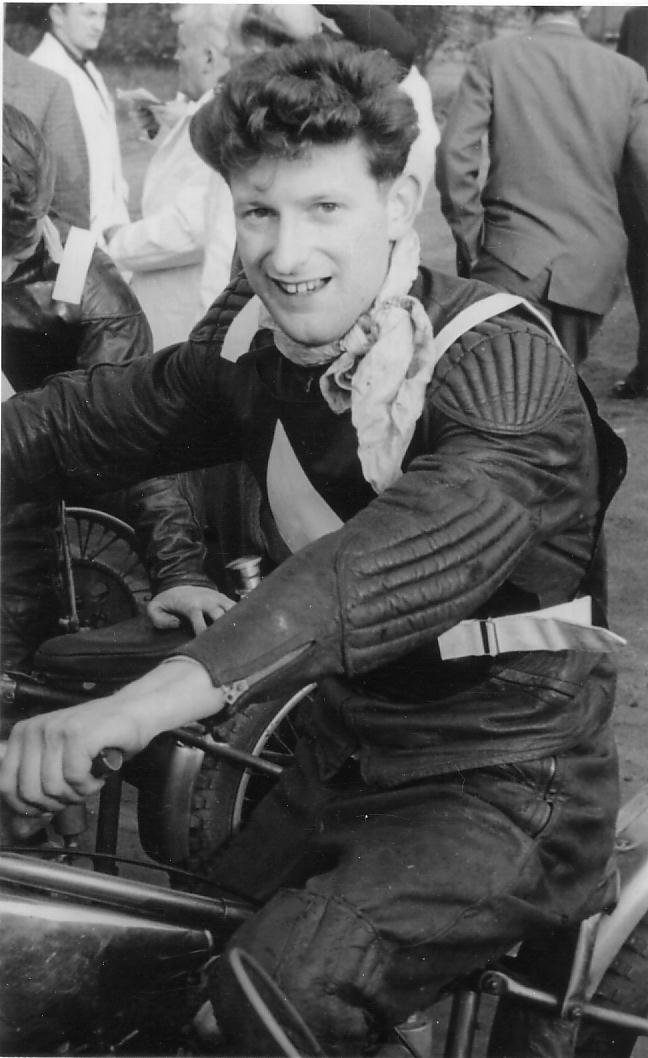 Stan was a Diamond, all too briefly but he can say that he rode for the same club as Ivan Mauger, Ole Olsen, Anders Michanek and Nicki Pedersen. Stan died in 1982 at the age of 48. His daughter Sue has been in touch, she had never seen these pictures of her dad so again the site has brought a bit of interest to someone. I hope that Sue will supply some info about her dad for the site, so come on girl.
Stan In Action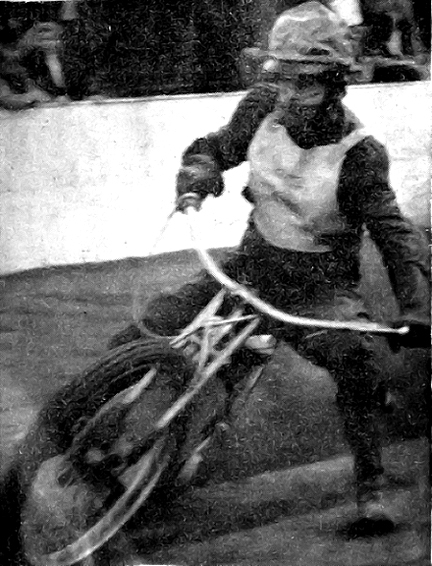 ---
1961 Newcastle v Stoke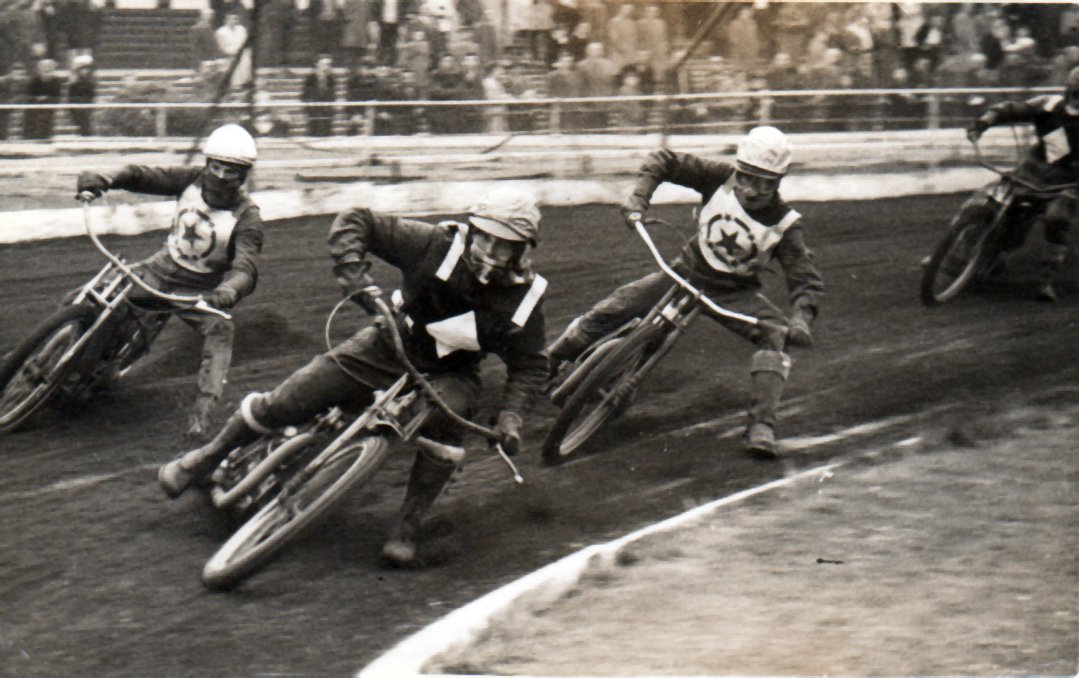 L-R Brian Craven, Johnny Green and John Edwards Northern League 1961. Brian joined Newcastle from Stoke in 1962 and was the first hero of the modern era.
---
Gordon Mitchell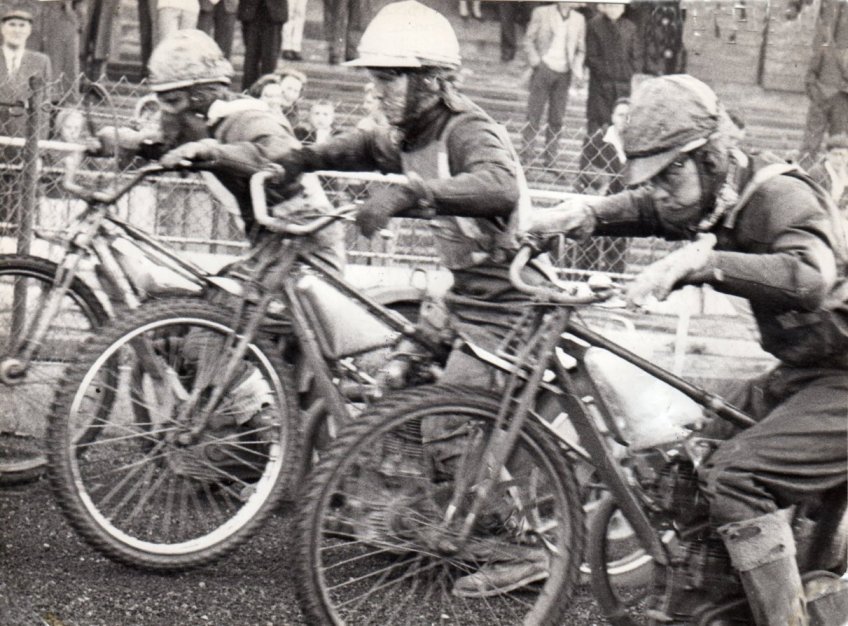 Won't someone pass legislation to bring back the handlebars, speedway looked so much more exciting with the cow horn bars. 1961 Gordon Mitchell Tony Lewis and Don Wilkinson.
Gordon Mitchell
Come in Rider Number 3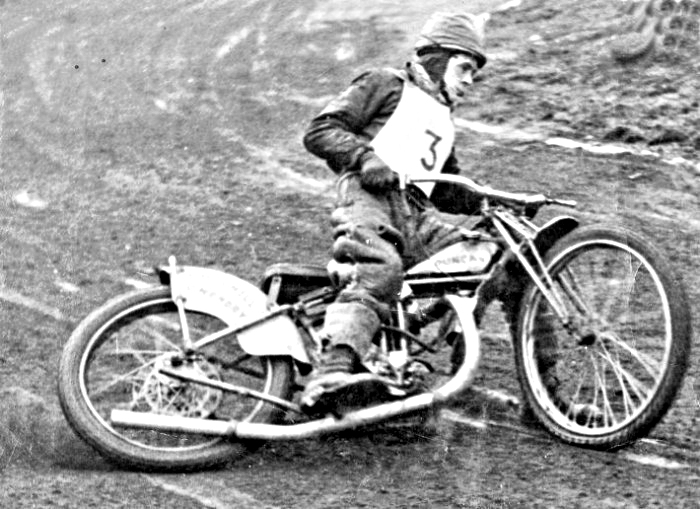 John says: I found this pic amongst my Newcastle images. I don't know who the rider is but there could be a Newcastle connection. There is a name "Duncan" on the fuel tank which may be a clue. If you can help send me an email John
Steve Baker says: Hello John, I hope you are keeping well. I notice no one has named your latest picture, rider number three, so I thought I would have a go! Although I know of no connection to Newcastle I think it could be Tommy Allott, though as you know the older stuff is not my forte I may be totally wrong! Anyway, that's my offering, maybe someone else can agree or disagree!
Jim Henry says: Rider on his own with number 3 on the race jacket is Gordon Mitchell and it was taken at Bothwell. Gordon rode for Newcastle in 1961.
---
1961The Rebirth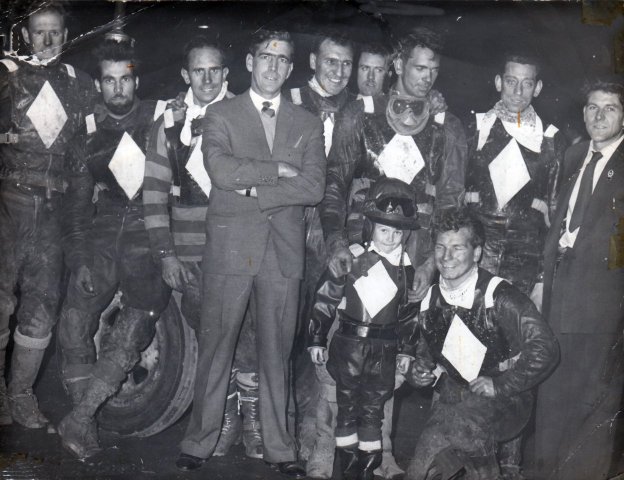 1961 Don Wilkinson, George Major, Gordie Mitchell, Mike Parker, Gil Goldfinch, George Glen, *Flanagan, Slant Payling. Please have a close look at this picture and supply the missing names John
Bob Bath says: The guy on the far right in jacket and tie is Maurice Morley. Keep up the good work John, Cheers Bob Bath (Toronto ,Canada)
*Stewart Adamson says: The rider you have as 'Flanagan' was 'Pat Flanagan' who joined the Diamonds at the same time as Gil Goldfinch.
---
"Wild Man"
Vic Lonsdale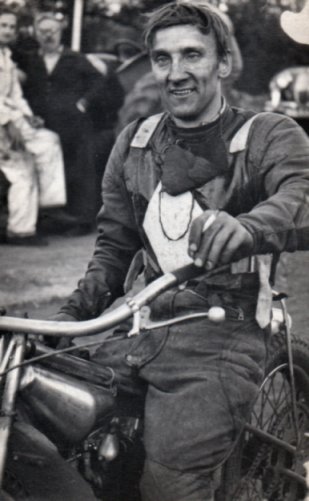 Vic Lonsdale &
Guy Allot (Sheffield)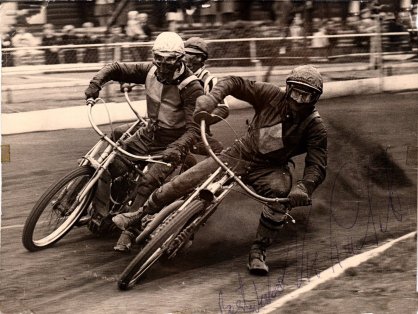 1962 Hard man Vic Lonsdale muscling his way through on the inside. Sheffield's Guy Allot and Newcastle's Gil Goldfinch are also in this shot. Vic's handlebars are massive. Big bars were needed when the tracks were deep. Ivan Mauger told me that!
Vic Lonsdale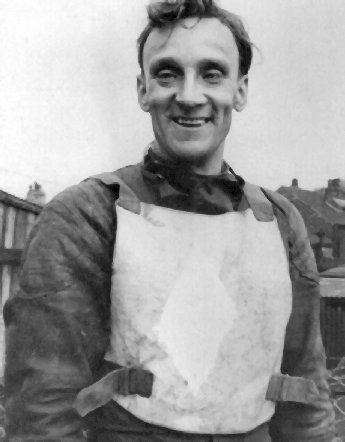 A popular rider with the fans, always one rider to watch. Vic only had one eye. He was known for his hard man approach to his speedway. Other riders with the same handicap (only one eye) were Alec Grant and Paul McHale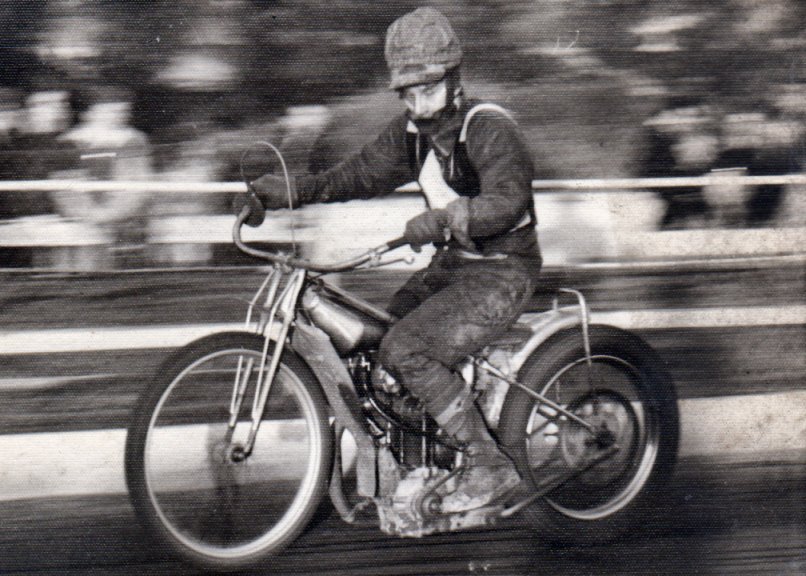 Vic Lonsdale &
Gil Goldfinch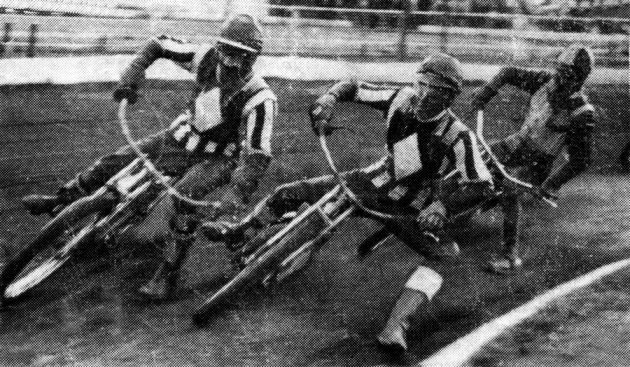 Vic outside with Gil Goldfinch. Gil was instantly recognisable by his left leg on the corners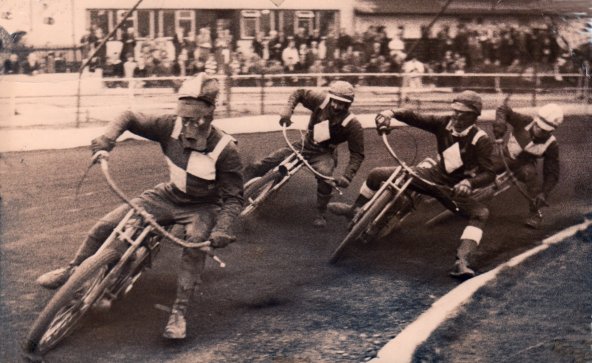 Another shot of Vic and Gil from Newcastle V Middlesbrough 1962. Kevin Torpie Vic Lonsdale Gil Goldfinch and Brian Mckeown.
Vic Lonsdale & Sheffield's Ron Bagley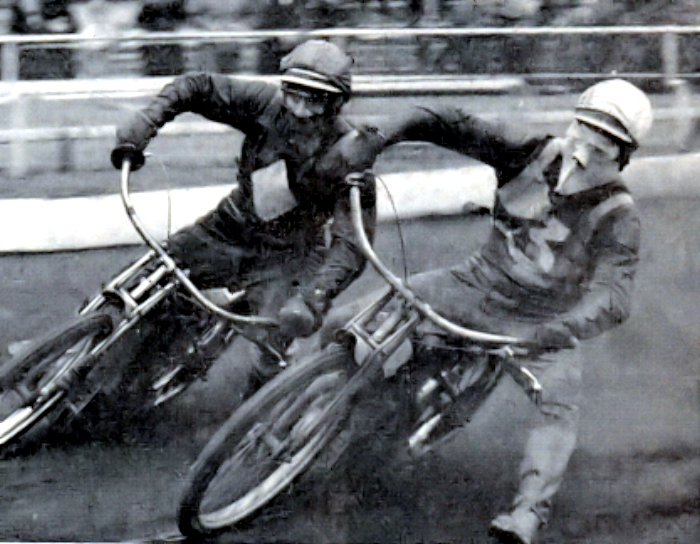 Courtesy of John Spoor
Vic was with the Diamonds for just 2 seasons 1961 and 1962
---
Tractor Ride, The Victory Celebration
A Thing Of The Past!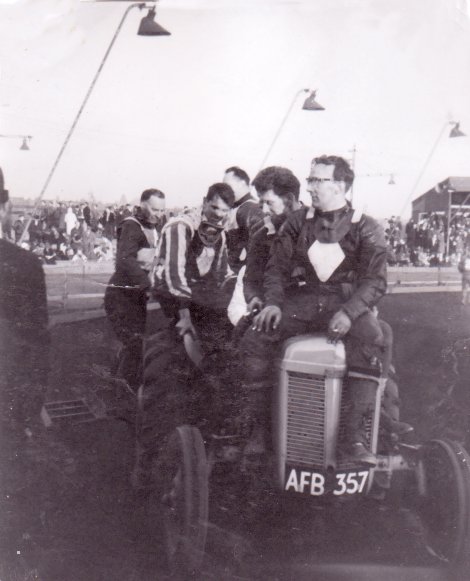 1962 Newcastle victory celebrations down at Middlesbrough's Cleveland Park. Vic Lonsdale was the main reason for Newcastle's success and Vic is sitting at the front on the tractor. I suppose tractor rides are a thing of the past now due to Health and Safety regulations.
---
1962 Newcastle Diamonds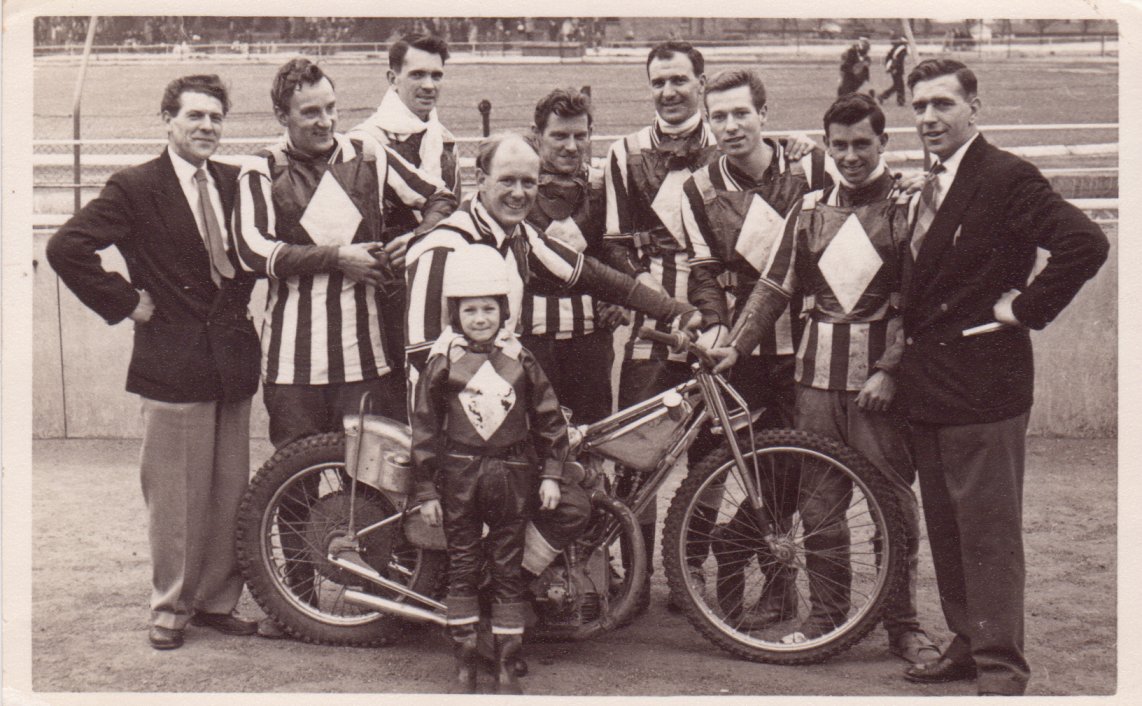 I was 10yrs old in 1962 but can name: Maurice Morely, Vic Lonsdale, George Glen, Don Wilkinson on bike, Brian Craven, Gil Goldfinch, Unknown, Bill Andrew and Mike Parker.
Joe Wake and Keith Dyer tell me my unknown rider is Pete Sampson
John says: An excellent idea to kit out the team in NUFC football shirts
---
Gil Goldfinch & Vic Lonsdale
1961 or 1962?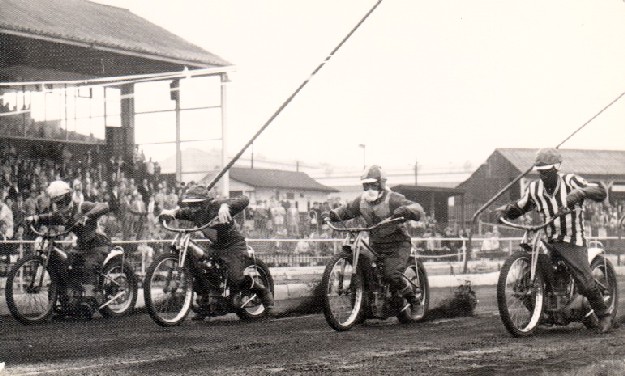 A great photo. Rear of the above photo says Taylor, Squibb, Goldfinch and Lonsdale, can you confirm John. It is great to be looking at this reminder of Brough Park in the early 1960s. The 4th bend had some vantage points if you weren't interested in the start finish line. It was a bit cheaper than the main straight so most of my boyhood speedway nights were spent around the 3rd and 4th bends.
---
Bradford Greenfield v Newcastle
1962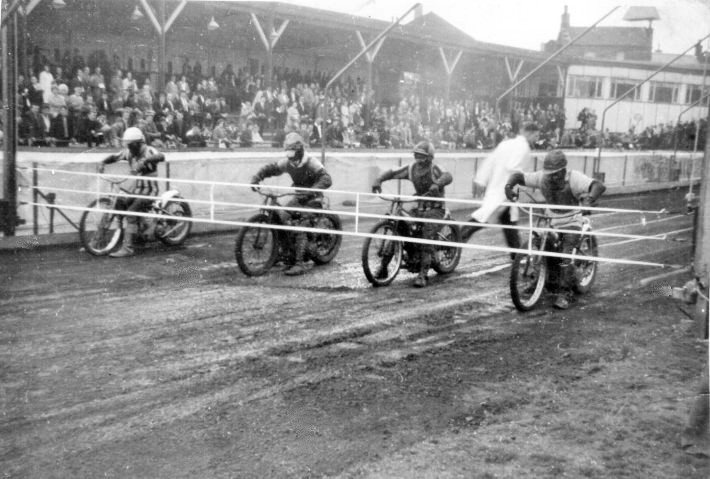 John says: I think the home team is Cradley Heath on gates 1 & 3 with Newcastle 2 & 4. I think this is 1962. Please help name the riders and the year John
Colin Jewes says: I've looked at your site. Its NOT Cradley, so no Cradley riders to name! I can understand why its thought a possibility John, Cradley had a stand with diagonal cross-braces, but it was forward of the start line. Prior to the start line was a seated area with no cover and at the back of that a bar. In your pic there's some other light building, at an angle possibly, aligning with the 4th bend, it would seem. There was nothing at Cradley on the 4th bend. The inside rider isn't Ivor Brown: the shirt is short-sleeved and the race jacket isn't half white., It possibly looks like an Archer, ie Long Eaton, so the stand, – its style and age – , would fit. Suggest trying a LE supporter.
Nick Short says: Hi John, I do not recognise the track as yet, however I agree it does not look like Cradley, if I remember right it was more open. Nice crowd though. I believe Newcastle's rider on gate 4 is Gil Goldfinch. Keep up the good work.
Dave Train says: Hi John, just looked at your defunct tracks site and believe the pic you have is of Plymouth and is Gil Goldfinch Vic Lonsdale Jimmy Squib and Chris Blewett I think.
Bob Boardman says: Hi John, It is always very difficult to identify riders in photos such as this. I am almost certain it is Cradley and it looks like Ivor Brown as you say. As for the Newcastle riders it looks very much like Vic Lonsdale next to Ivor and possibly Mike Watkin - he is wearing the white helmet and I would have thought yellow/black more appropriate for him as it is not an all reserves race. I will give this more thought and let you know if I come up with anything else .
Bob Andrews says: Sorry John. 1962 I was scoring well at Wimbledon. I got to ride for Cradley about '65. Although the stand looks a bit like Cradley's the white building wasn't there. they had one on the first bend that looked a bit like that. Although if it was '62 then it might have been there??? I don't think it is Ivor Brown. ( not his handlebars ) and he looked a lot "tidier" the other team looked a bit like Southampton riders but they were in first Division then. White hat looks like Geoff Mudge or Peter Van Den Burgh and Yellow looks like Dick Bradley or Chum Taylor only looks like but may not be them Sorry Hope I 'aint confused you Ha Ha Bob.
Colin Jewes says: Hi John, I could agree with Dave Train that the rider on gate 3 may well be Jimmy Squibb, – and that the emblem on the 2 jackets is therefore a Devil. So quite possible its Plymouth.
Chris Roper says: Hi John, As a regular Plymouth Devils supporter in the early 60's it certainly looks like Pennycross Stadium.
It does look like Jimmy Squibb my only doubt being his bike was always immaculate and that looks like the track spare which may account for him only scoring 3 points at this meeting. The rider on the inside gate is Chris Julian. I looked up Speedway Researcher and found the Devils v Diamonds fixture and this is where you might help being a Diamonds man. In heat one it was Squibb, Julian, Craven and Robinson and in heat five it was Squibb, Julian, Watkin and Goldfinch. I would plump for heat one but someone else said that thought it was Gil Goldfinch on the outside which would bring heat 5 into the equation.
Nigel Bird says: I can emphatically state this is not Cradley Heath (I was a Cradley fan in the 60s) and the rider in gate 1 is emphatically not Ivor Brown. I am sure this is Bradford Greenfield 1962. The rider on gate one is wearing a short sleeved shirt under his race bib as is the rider on gate 3. the race bib is plain with a number on the front. looks like No 1 (gate 1) this is probably Tommy Roper, the rider on gate 3 possibly Dennis Jenkins (Team photo, Speedway star "Digest" 1963 p.64) There is white box with windows on the right of the photo at the end of the home straight. There is I believe an identical one at the other end of the home straight, a feature of Bradford Greenfield.
Phil Heffernan says: Hi John, I'm sorry I can't name any of the riders but I can tell you that it definitely not at Plymouth. The start line was on the Grand Stand' side and the stand shown is not correct. Also the safety fencing is not that of Plymouth.
John says: This photo is giving our brains a work out. It isn't Cradley or Plymouth. Nigel Bird thinks it could be Bradford Greenfield.
---
1962 Inter-League Match
Provincial v National Leagues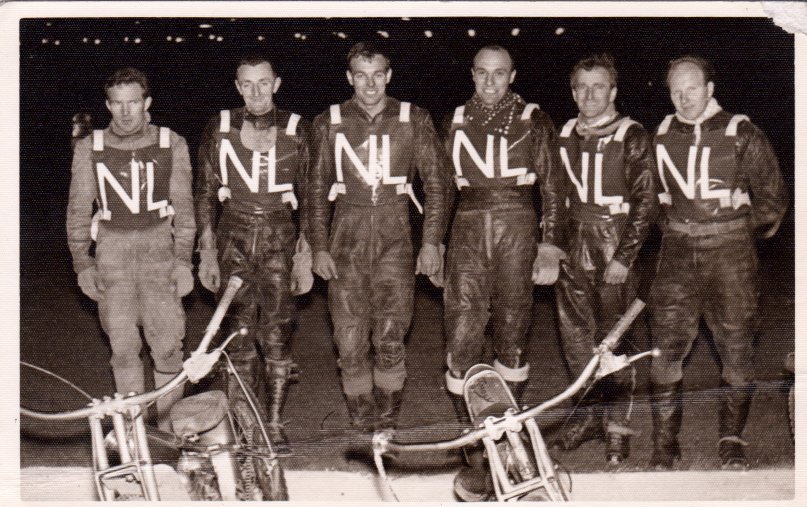 Here we have a National League team at Brough Park in 1962, can you name the riders John
Joe Wake has named the NL Team he says:- John, the NL team from 1962 (L to R) is Dick Fisher, Gerald Jackson, Peter Vandenberg, Colin Goody, Jimmy Gooch and Jim Tebby
Jack Hides and Keith Dyer have also named the same line up.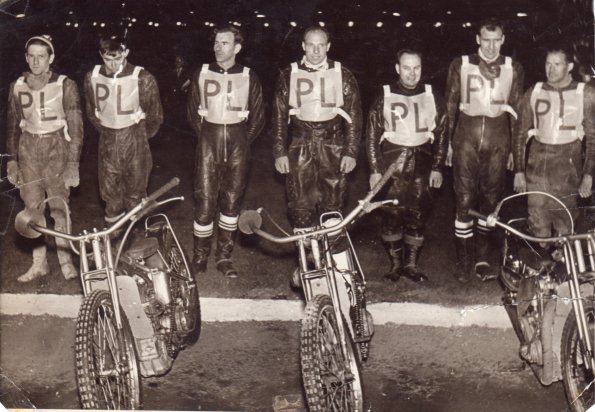 So can anyone name the 1962 PL team
Terry (Mr Rayleigh) Stone has been in touch he says: - Hi John, The PL team are Brian Craven, Wayne Briggs, Ivor Brown, Doug Templeton, Eric Boothroyd, Gil Goldfinch. Regards Terry. Does anyone disagree? John
Joe Wake noticed that Terry had missed the rider at far right and Joe says it's Brian Mckeown
John says: Thank you Joe for tying the photo up. I will be putting both photos on the 1960's 1 page in the near future but I will leave both here for a while to see if anyone dares to disagree!
---
1963 Bob Duckworth Signs For Diamonds


---
Bob Duckworth,
Ivan Mauger &
Johnny Fitzpatrick 1963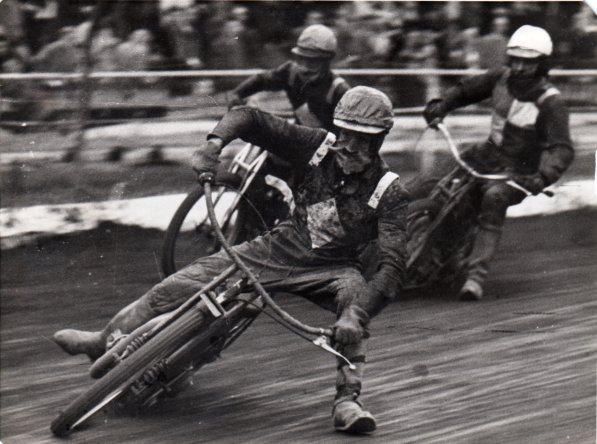 Bob Duckworth leading Ivan Mauger and Johnny Fitzpatrick
Bob Duckworth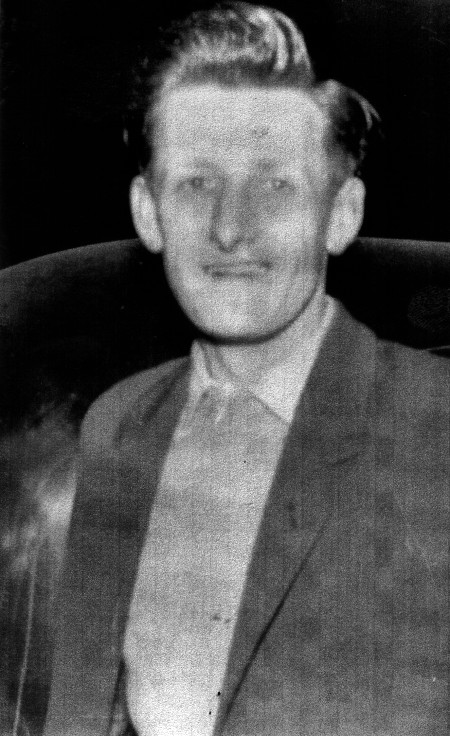 ---
Diamonds At Edinburgh's
Old Meadowbank Stadium 1962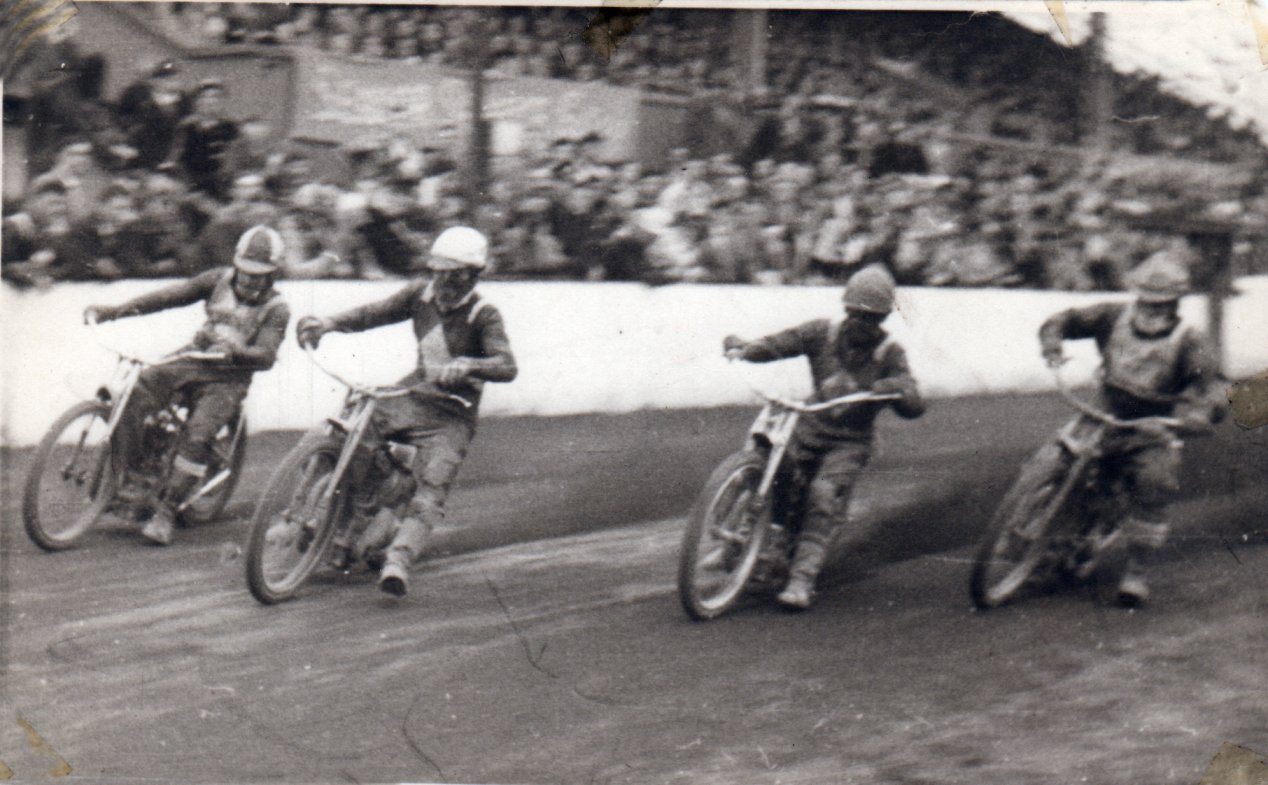 1962 Old Meadowbank Willie Templeton Gil Goldfinch, Brian Craven and Doug Templeton. Newcastle and Edinburgh battled many times in the 1960's our encounters were regarded as derby matches. This was the "Rider of the Night Final". Each rider has acres of space around them on their way to the first bend.
---
Newcastle United's Football Shirts Used By The 1962 Diamonds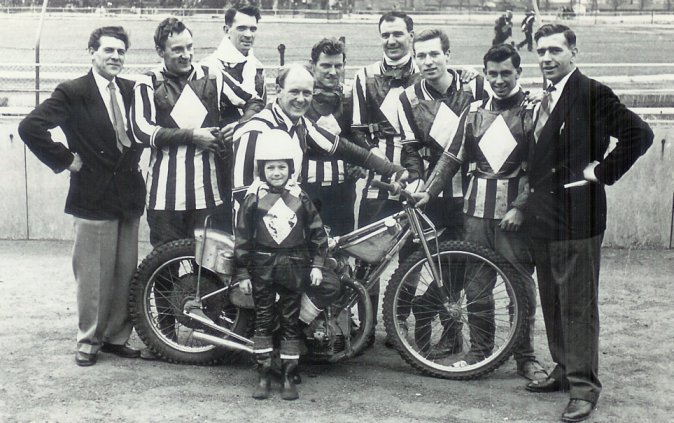 Courtesy of Barry Stephenson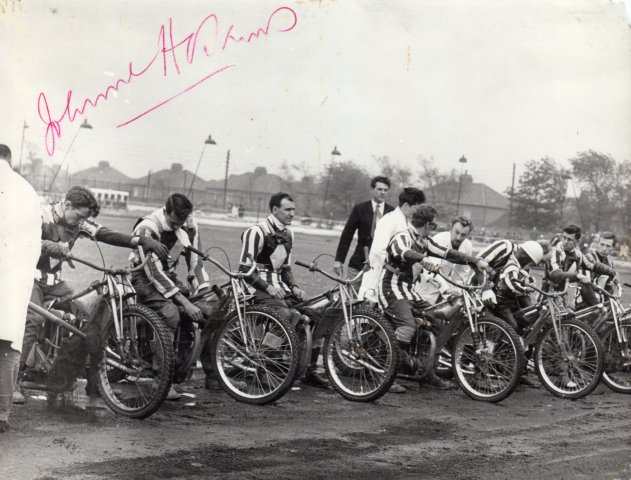 1962 team Brian Craven, George Glen, Gil Goldfinch, Vic Lonsdale, Don Wilkinson, Bill Andrew, Mike Sampson, the "suit" is Maurice Morley and the signature is that of Johnnie Hoskins. Even the mascot has a NUFC shirt
---
Exeter's Jack Unstead
(Spotted Neckerchief) &
Newcastle's Don Wilkinson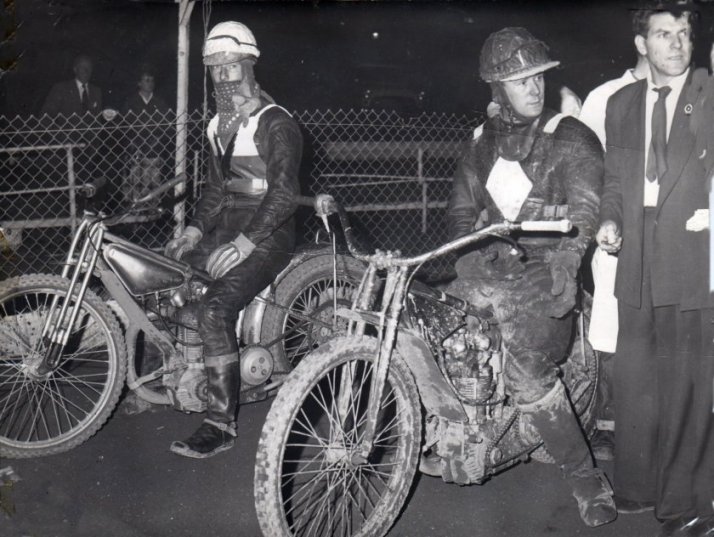 Dave Train supplied this picture: Exeter's Jack Unstead (spotted neckerchief) and Don Wilkinson, facedly these two were hard to tell apart. I hope to get pictures showing them to be "twins"
---
Johnny Green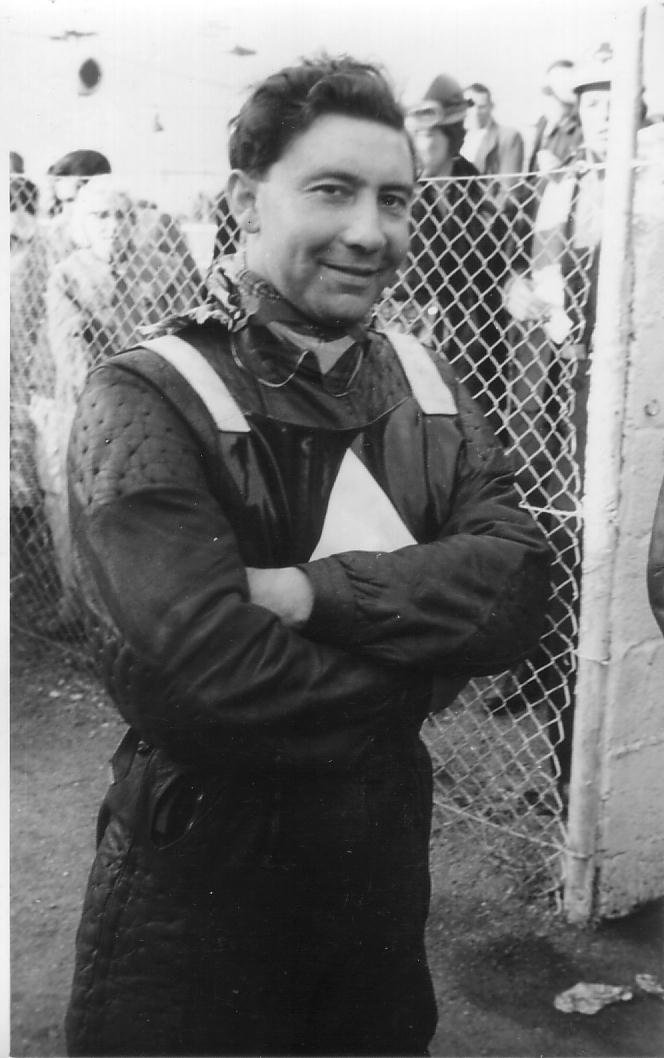 My friend Larry thinks the above picture is of Johnny Green. I think it's Crusty Pie, can anyone confirm?
Kevin Lyth has been in touch saying: "I think this is Cyril Maidment he came to ride for Ellesmere Port"
John says: I can see a similarity between the person in the photo and Cyril but cannot remember Cyril Maidment wearing the Diamond race jacket or riding for Ellesmere.
Joe Wake has been in touch saying, it certainly is Johnny Green - not Crusty Pye or Cyril Maidment (Can't understand the reference to Ellesmere Port with Maidment either).
---
Norman Redmond
1962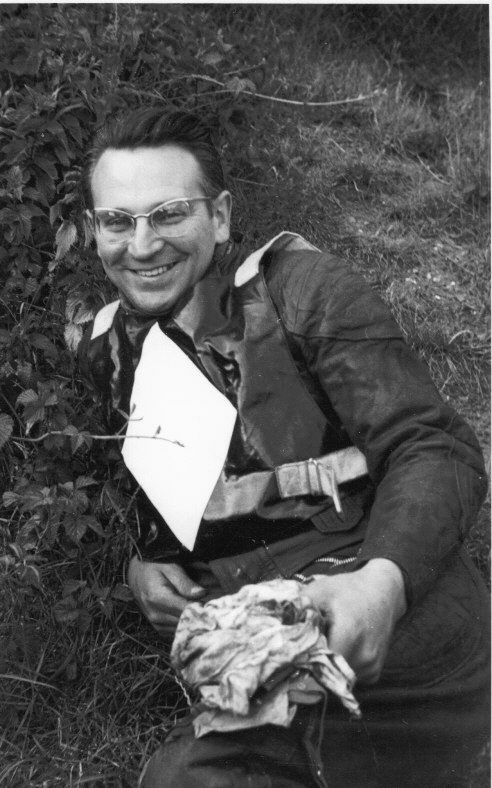 Stormin' Norman Redmond. Norm is wearing the first Black n White race jacket, prior to 1961 our team was red n white!. The jackets in the first part of the 1960s were simply black with the white diamond then came a change and the later 1960s jackets had a white border.
---
Brough Track Record Holder Frank Hodgson
During our comeback year 1961 the track record was never shown in the weekly programme.This clipping came from the Speedway Digest magazine.

By old wheel it means the 22 inch diameter wheels in use in the 40's and 50's when the rules were changed to the use of 19 inch wheels. The best time in 1961 that I have is 76 4/5 seconds by Cliff Cox (Plymouth) on 4th August. Here's a couple of pictures of Frank our "1961" record holder.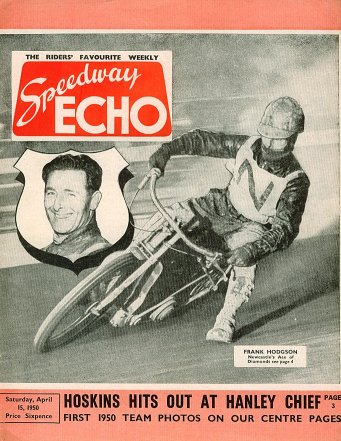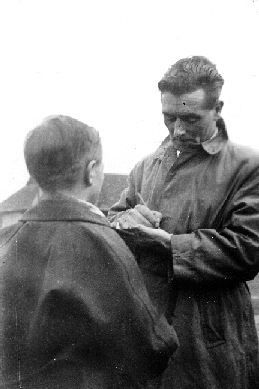 23rd April 1962 first meeting of the season, still no track record in the program. However Don Wilkinson clocks 76-2/5 seconds in Heat 4. The next week Brian Craven clocks 75-1/5 seconds in Heat 5 then no improvement till 30th July. In my program notes I have an unscheduled track record attempt during the Interval, Brian Craven clocks 74-3/5 then Jimmy Squibb (for Plymouth the visiting team) clocks 75-3/5. Interestingly I have noted down the track length at 361 Yards (The old length was 359 yards). This is the first reference to track length in any program from the reopening in 1961 till now, I assume they had finally measured the track. The following week 6th August the track length is in the program at 361 Yards and the track record holder Brian Craven 74-3/5 seconds. Unfortunately they have entered the date, as 30th June 1962 (There was no meeting that day) instead of the correct date as 30th July 1962.
---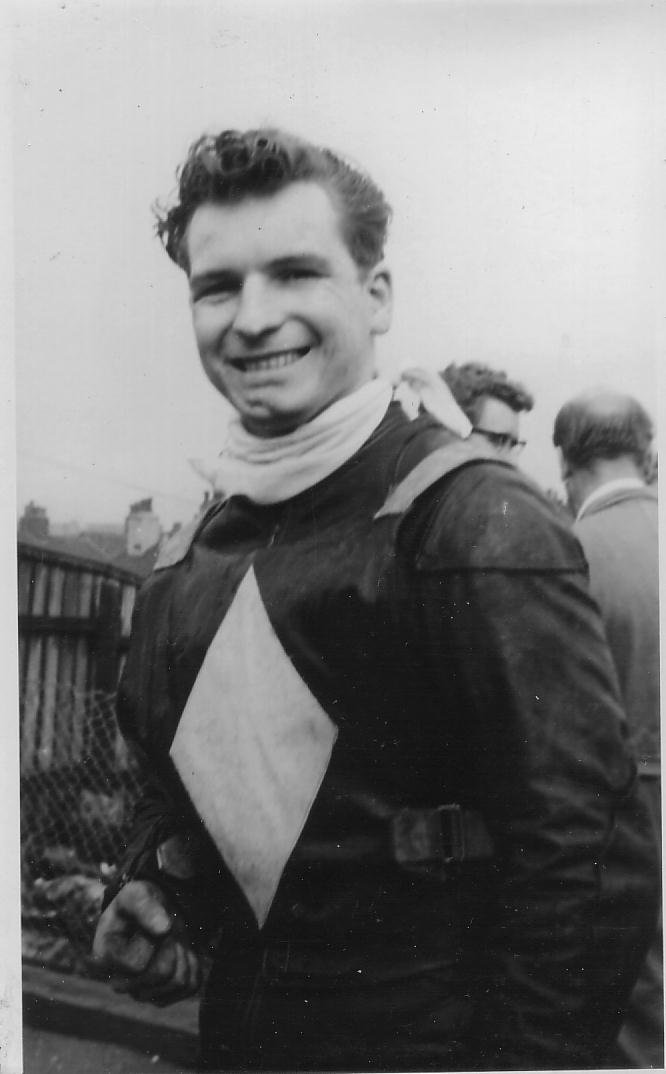 Slant Payling: Question: Anyone know where Mr Payling got the name Slant from? Answer: From Johnnie Hoskins after Johnnie saw Maurice's handwriting which had a pronounced "slant" Behind Slant in the above picture is a guy with glasses, he is my cousin Jim Newman whom emigrated to South Africa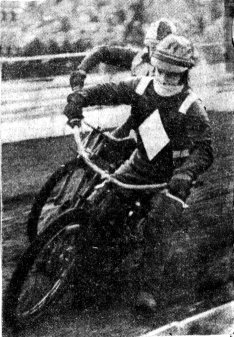 Above: The Diamonds 3rd heat leader from 1961 Maurice "Slant" Payling
---
Memories
John Skinner says: I was there in '61 for the first time, I was 8 years old and I cannot remember much. However, I remember it being cheap to get in coz I often took pop bottles back to the shop for the refund and that paid my admission otherwise I had to climb over the fence! The Diamonds got beat a lot. The crowds were big' The heat times at the beginning of 1961 were around 80 seconds and by the end of the season were down to 78 seconds. The best time I have is 76 4/5 seconds by Cliff Cox (Plymouth) on 4th August, Harry Edwards (Rayleigh) on 18th September, and Les Owen (Coventry) 2nd October (riding for the National League in a challenge match).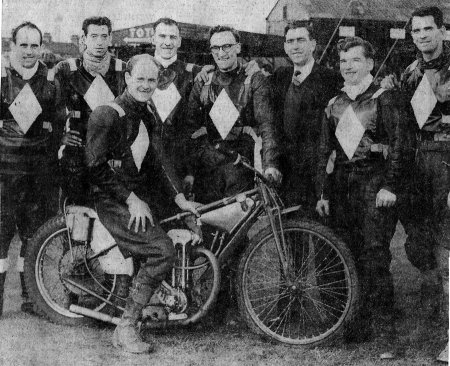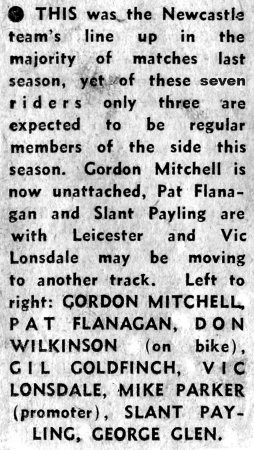 ---
Peter Lloyd
1947-48, 1961
Great Photo
Peter Lloyd 1947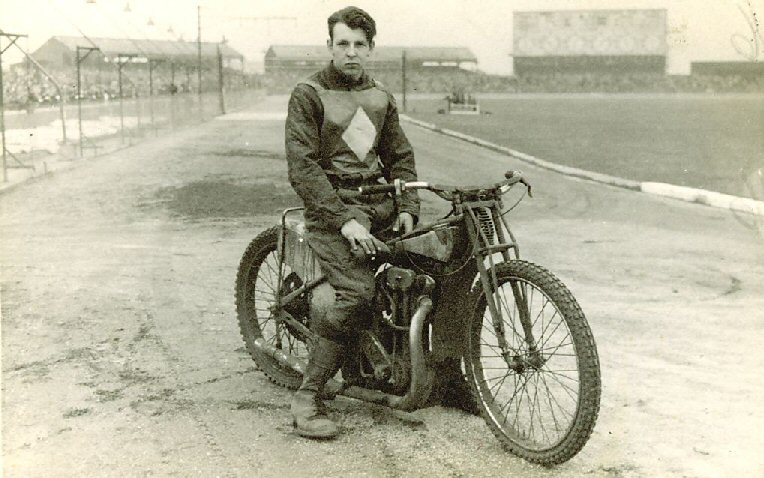 This is Peter back in 1947. I include it here on my 1960s page as I love the picture, look at the Brough Park crowd!

Peter came back to Newcastle in 1961
---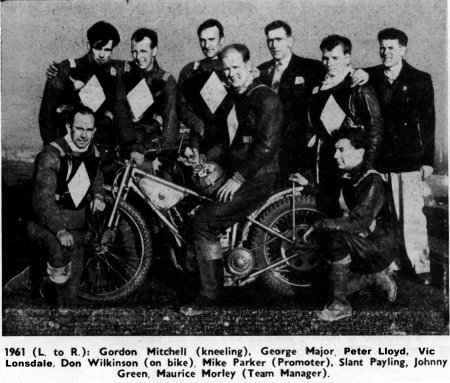 1961 After Team Strengthening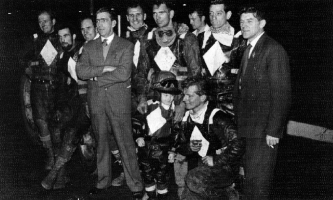 1961 after team strengthening: Don Wilkinson (Capt), George Major, Gordie Mitchell, Mike Parker (Promoter), Gil Goldfinch, George Glen, Pat Flanaghan, Maurice Morley (Manager), and kneeling Slant Payling, Anyone know who the mascot was and anyone know why George Glen was wearing a Halloween pumpkin around his neck!
---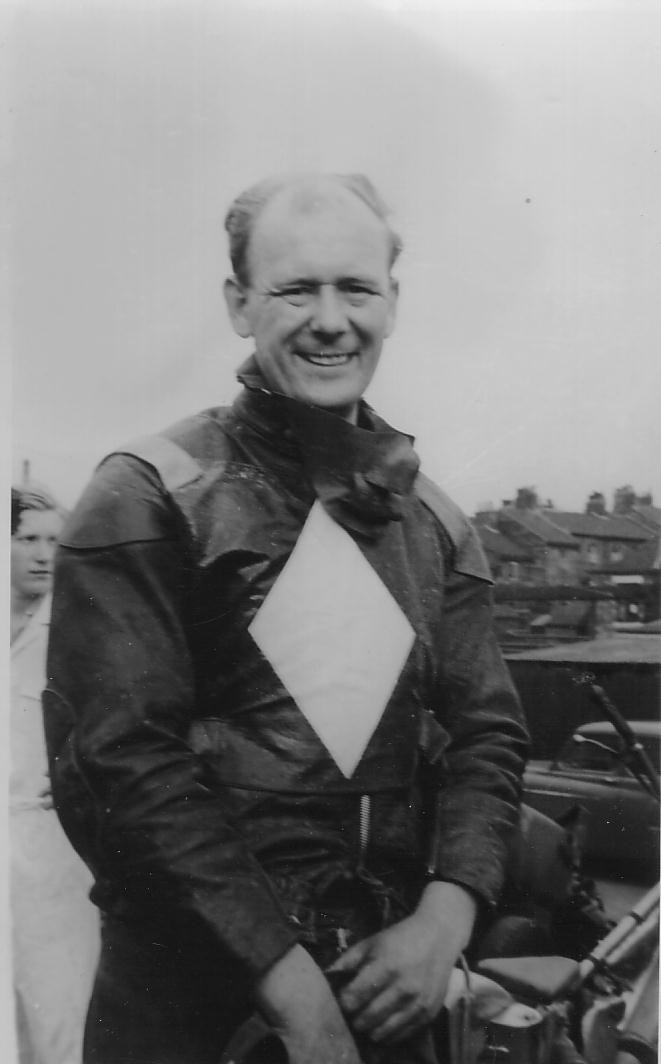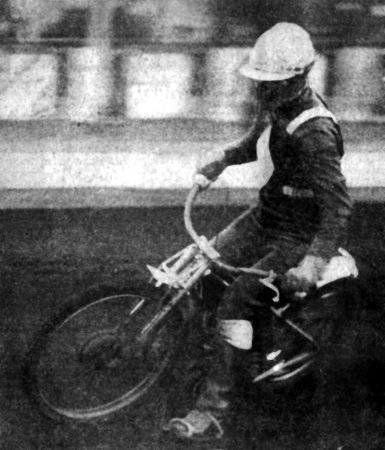 Photo courtesy of George Ince.
Don Wilkinson Newcastle's captain1961. Don held the Newcastle track record for a while in the days when Brough measured 361 yards. I believe his fastest time was 72 &1/5th or 72.2. The times in those pre-decimal days were given out in fifths of a second.
Don's daughter, Helen has been in touch and has forwarded the following photo image: -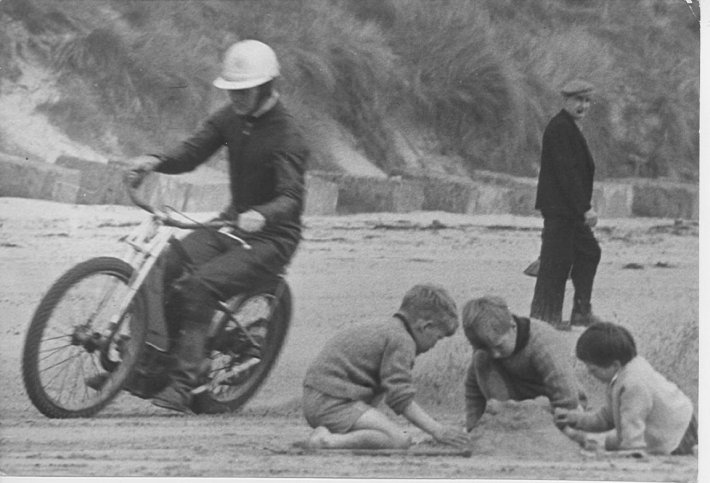 Helen says: I have attached a photo which appeared in the Daily Express almost 50 years ago. That's me on the right, playing with my brothers while my Dad was practicing at Druridge Bay in Northumberland.
John says: As a parent myself I find it amusing that the kids do not find it interesting what their dad was doing in the background. The remote Druridge Bay was accessible in the 1960s for extreme activities like riding motorbikes. Now in 2012 it is a conservation area and bikes are not allowed.
---
South African George Glen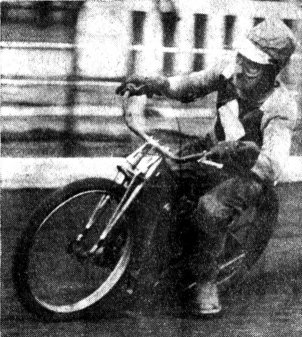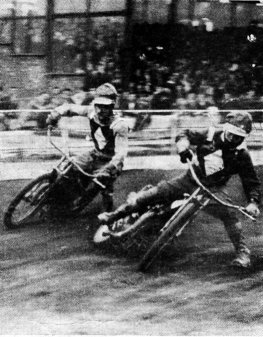 Two photos of George Glen (one riding with Russ Dent) Was George the only South African to ride for Newcastle? I believe he went home at the end of 1962 and was going to start road racing again. The only other South African Speedway riders I can remember from that time are Reg Duval (Bradford) and Doug Davies (New Cross). Was Peter Vandenberg a South African? Apparently not! he was an Australian.
Joe Wake has been in touch he says: - Other than George Glen, Byron Becker who rode once for the senior team as well as for the Gems is the only South African I can recall riding for Newcastle
1961 was not a good year for the Diamonds, although towards the end of our first season back we started winning more!.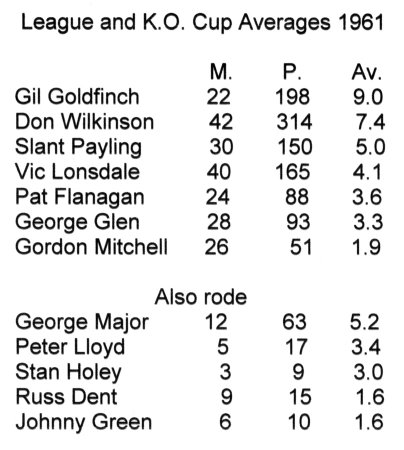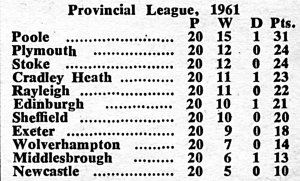 Like I said earlier, 1961 was not a good year for the team but better was to come in the 1960's
---
George Major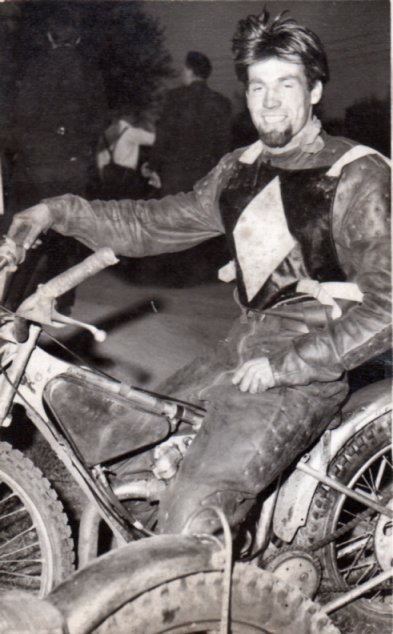 ---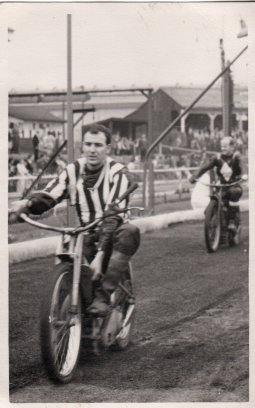 I cannot name the rider in foreground but I do recognise the lack of hair on Don Wilkinson's head behind, help me with the foreground rider please John
Joe Wake has been in touch he says: - John, Some excellent additions to the site. The rider in the foreground you cannot identify in front of Don Wilkinson is Gil Goldfinch. Regards, Joe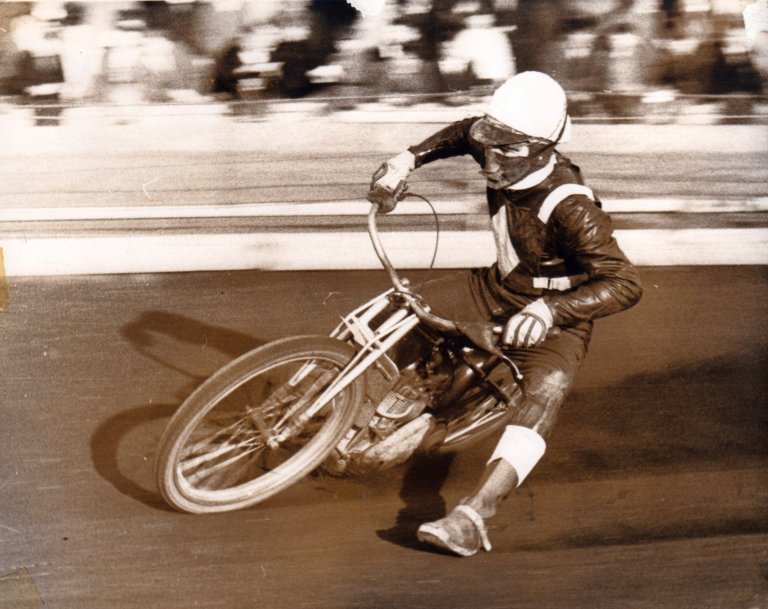 Gil Goldfinch at Cleveland Park in 1962. Gil was the most stylish rider Newcastle had in the entire 1960's, he scored many points for us too.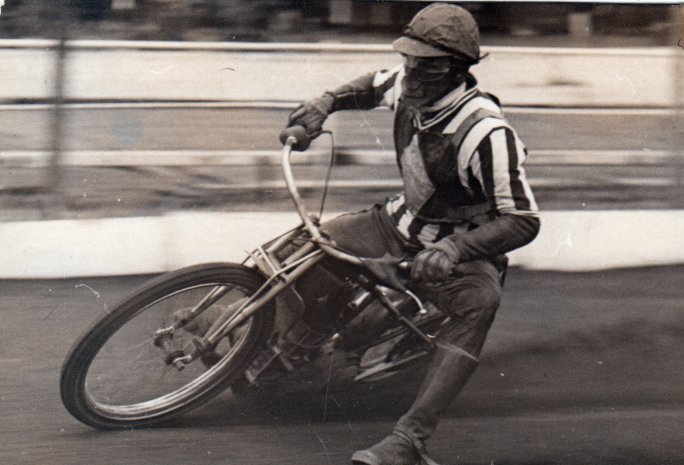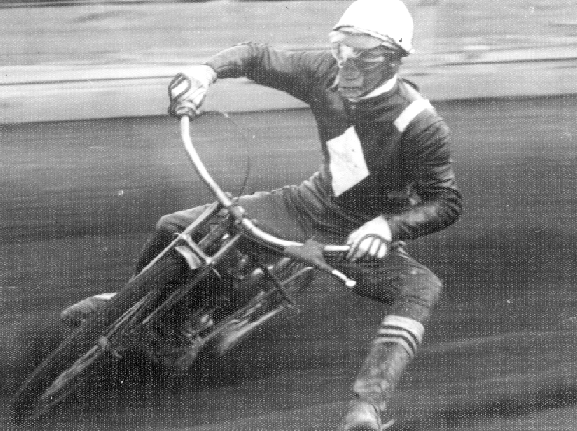 The left leg was his trademark. He was the very stylish Gil' Goldfinch 1961 / 62 who appears to be in white helmet so probably not taken at Brough Park.
Joe Wake has been in touch he says: - Gil Goldfinch picture is from 1961 or 1962. He rode for Long Eaton in1963
Thanks Joe
Dave Train says: A story for the site about Gil Goldfinch. He was down at no7 for Long Eaton away to Middlesbrough. Me and a mate were down there on our Lambrettas, we had a quick word with Gil before meeting. I told him there were a few bus loads of Diamonds fans there, just to see him do his stuff against the bears. He said "oh! really"! but I'm not so well these days, but I'll do my best! Well he went out, nodding to the fantasy support, scored 9 and Long Eaton got an away win!
Thanks Dave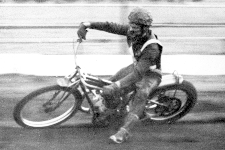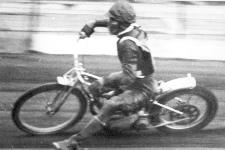 Photo's courtesy of George Ince.
These 2 pictures are of Gil at Brough, taken by my uncle George Ince. My memories of Gil are a bit vague but I do remember him always looking immaculate and winning more than he lost! Looking at the size of the front mudguard I wonder now how he managed to look so immaculate! Answer: he was usually out in front.
---
Newcastle v Middlesbrough
At Brough Park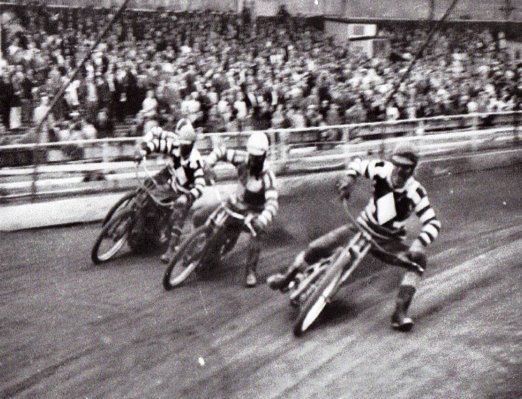 Newcastle v Middlesbrough at Brough Park. Can you name the riders and maybe the year John
Dave Train says Vic Lonsdale Johnny Fitzpatrick, Gil Goldfinch. Possibly Torpie in background
---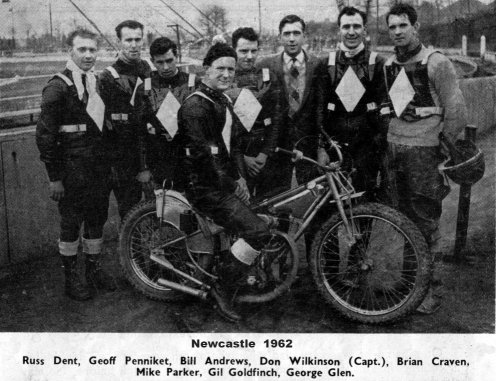 ---
1962 Figures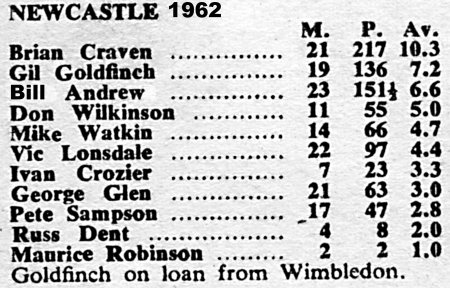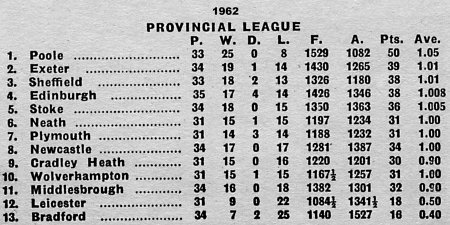 Gil in '63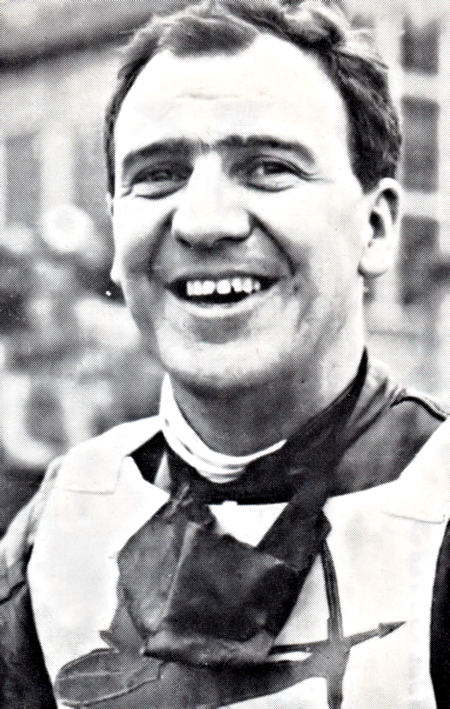 Gil Goldfinch was with the Diamonds for just 2 seasons, 1961 and 1962. 19 63 saw him join Long Eaton Archers and become involved in controversy with his old team! The Speedway Star had this to say: -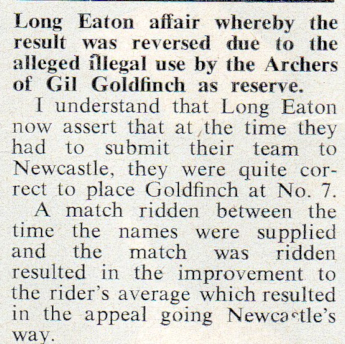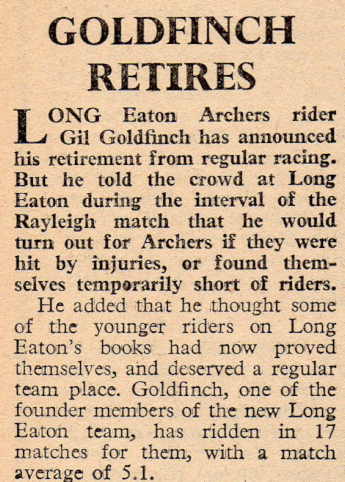 ---
George Glen
1961-1962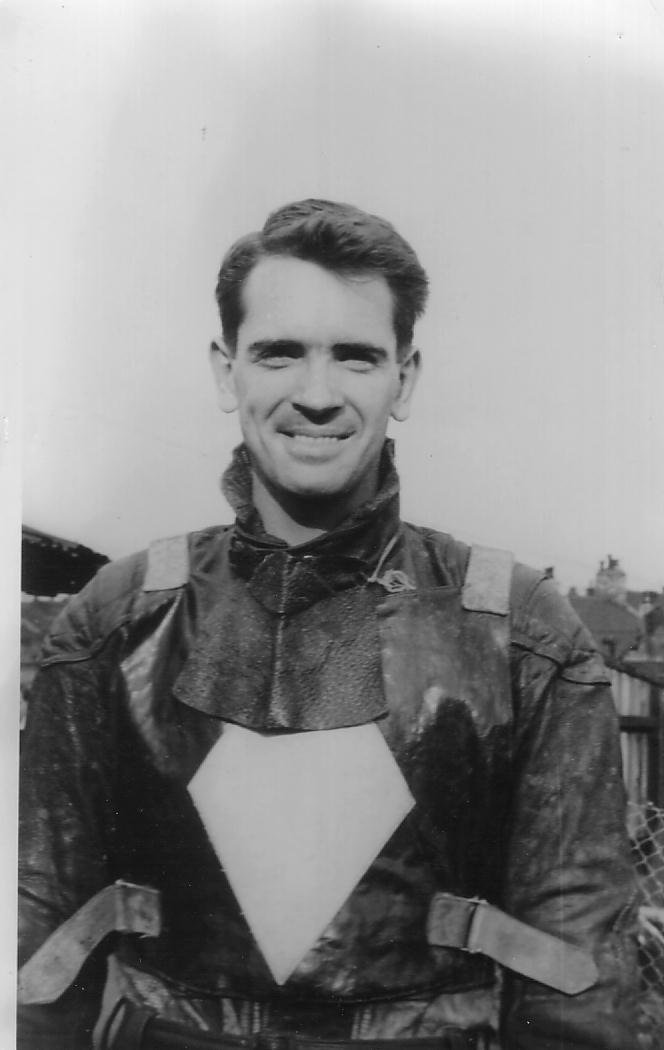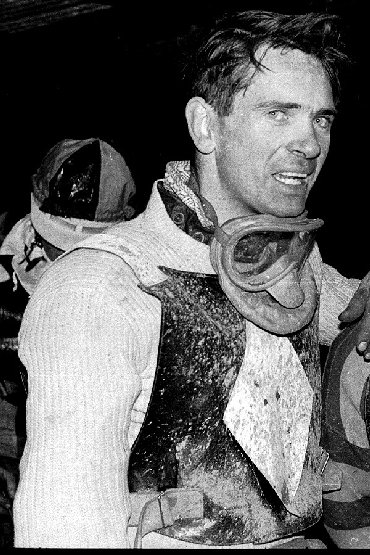 George arrived at Brough Park midway through the 1961 season. The team that started the 1961 campaign lost so many matches that wholesale changes were necessary and in came George with a number of others.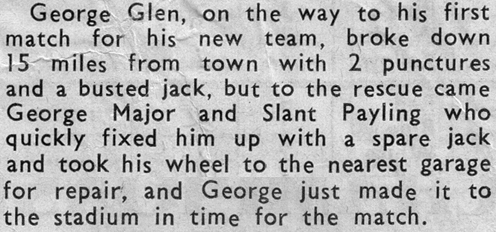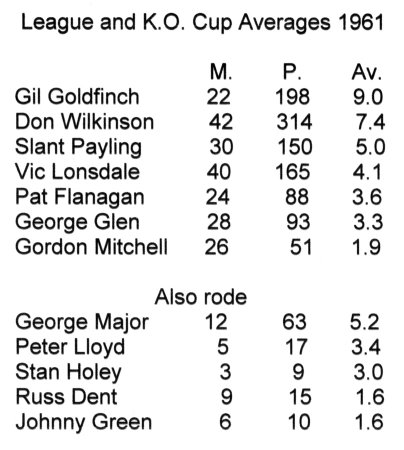 This caption shows George as first reserve in the improved team.
Newcastle's First
South African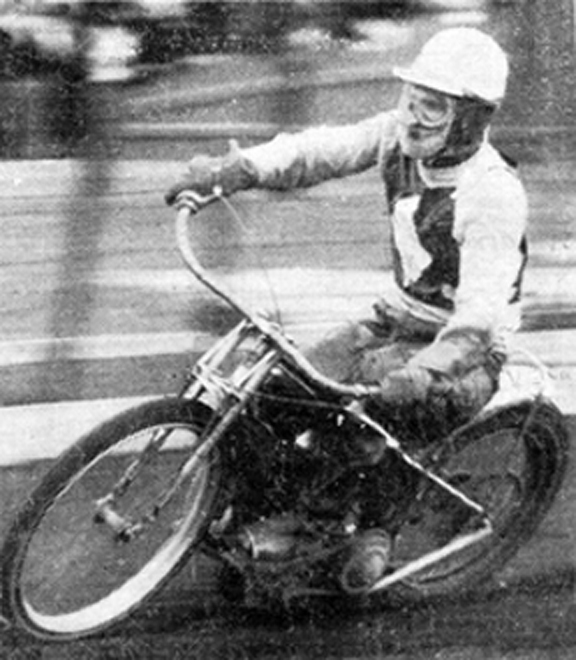 George in 1961. Newcastle's first South African, Byron Becker in 2005 was the second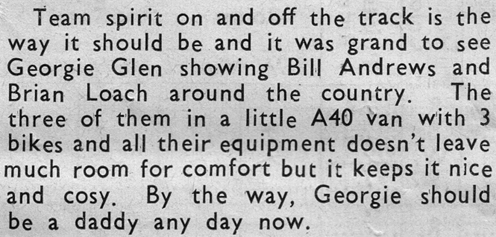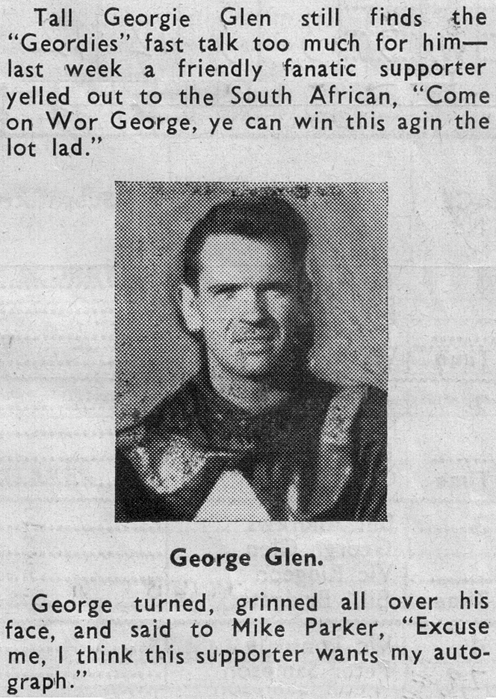 ---
Vic Lonsdale &
Gil Goldfinch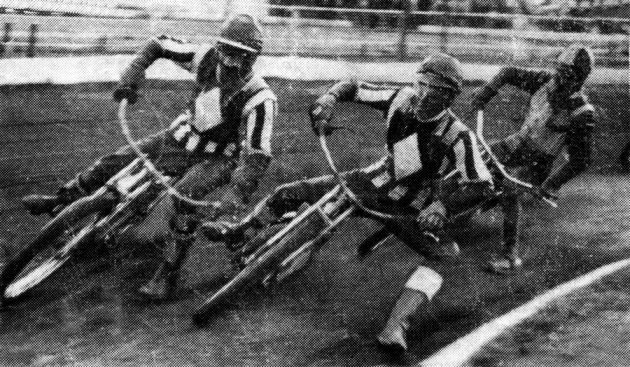 ---
Picture Taken (April 1962) At Old Meadowbank (Edinburgh)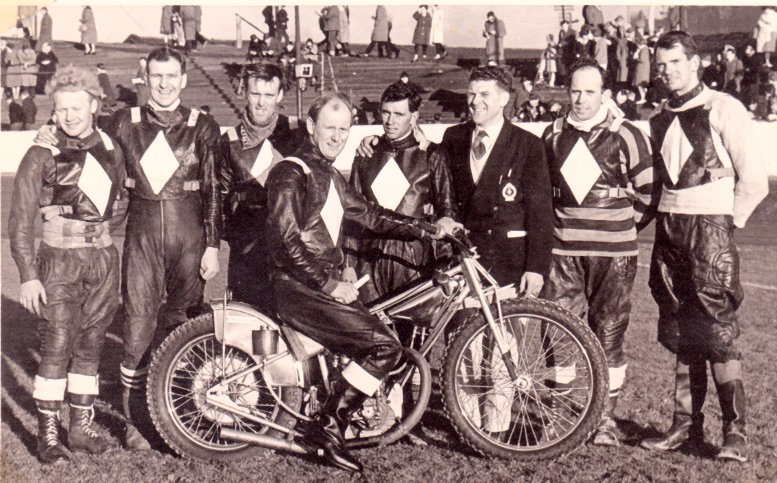 Russ Dent, Gil Goldfinch, Geoff Pennikett, Don Wilkinson, Bill Andrew, Maurice Morley, Gordie Mitchell and George Glen
---
Late 1962 Figures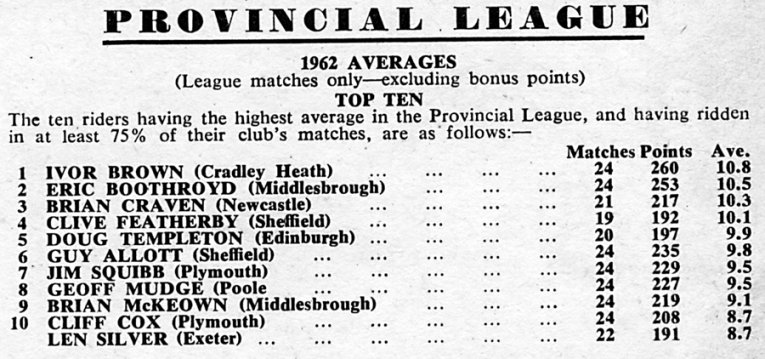 1962 and mid table respectability for the Diamonds. Middlesbrough a bit lower. My first hero Brian Craven was 3rd top of the PL averages
23rd April 1962 first meeting of the season, still no track record in the program. However Don Wilkinson clocks 76-2/5 seconds in Heat 4. The next week Brian Craven clocks 75-1/5 seconds in Heat 5 then no improvement till 30th July. In my program notes I have an unscheduled track record attempt during the Interval, Brian Craven clocks 74-3/5 then Jimmy Squibb (for Plymouth the visiting team) clocks 75-3/5. Interestingly I have noted down the track length at 361 Yards (The old length was 359 yards). This is the first reference to track length in any program from the reopening in 1961 till now, I assume they had finally measured the track. The following week 6th August the track length is in the program at 361 Yards and the track record holder Brian Craven 74-3/5 seconds. Unfortunately they have entered the date, as 30th June 1962 (There was no meeting that day) instead of the correct date as 30th July 1962.
1964. Brian Cravens record of 72-3/5 seconds from the previous year fell on the 11th May 1964 to Ivan Mauger. Ivan clocking 72-2/5 seconds. Then Peter Jarman got it down to 71-4/5 on 10th August 1964.
---
Ivan Crozier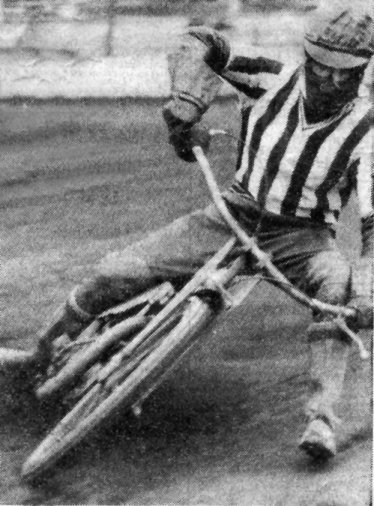 This is New Zealander Ivan Crozier. He appeared in the 1962 Diamonds team and famously recommended Ivan Mauger to Promoter Mike Parker. Parker decided to take Crozier's advice to Bring Mauger back to the UK. I am told Ivan (Crozier) became something of a recluse in his later years. He died a few years ago.
---
Diamonds v Monarchs 1963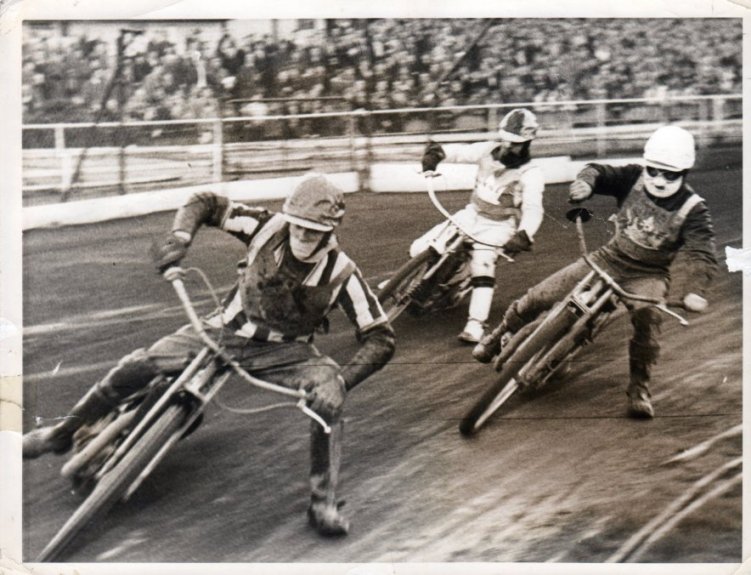 A packed Brough Park watching the Diamonds and Edinburgh Monarchs. The white ghost is in this one in 3rd place. Who are these three? Early 60's Newcastle V Monarchs. Please put me right.
Terry Stone says the rider in white leathers is Ken Cameron
Dave Train says: M Watkin Ken Cameron Dudley Mckean Diamonds v Monarchs 63.
---
Newcastle v New Cross

Courtesy of John Spoor
---
Ivan Mauger
1963-1968
Left: Mike Parker says. Right: Danny Carter says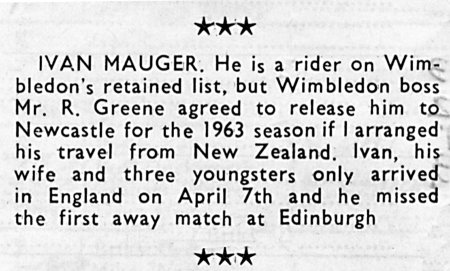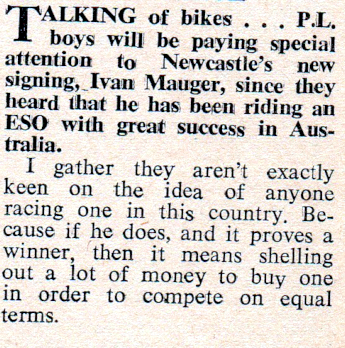 Courtesy of John Spoor
What a gaff by Wimbledon who had just loaned out the man who was to become the worlds greatest rider!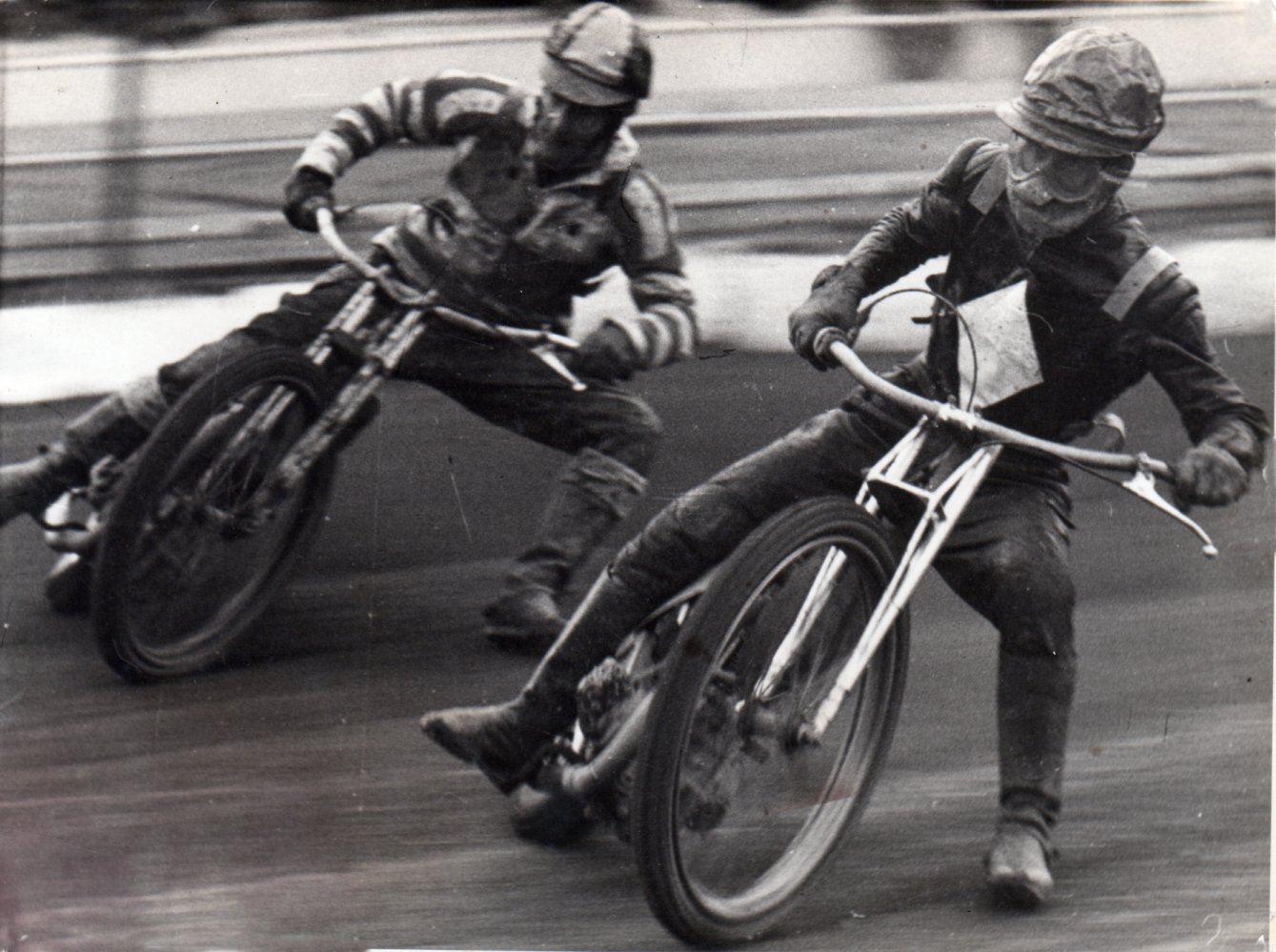 1963 Middlesbrough's Clive Hitch with Ivan Mauger. Much more on Ivan on the later 1960s pages. Mike Parker would have been unaware in 1963 that he had just signed the worlds greatest rider, who would set Brough Park alight and conquer the entire speedway world. Step up Ivan Mauger and make history!
---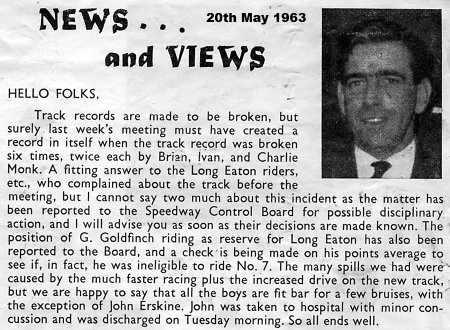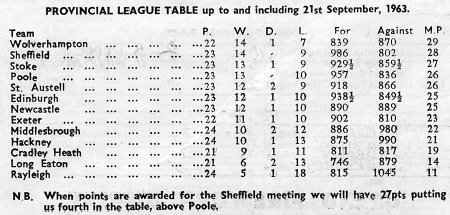 Brian Craven was my hero and when Ivan came along I stuck with Brian as my favourite until he retired, see below. He was track record holder 72 3/5'ths at the end of 1963 even though Ivan outscored him.
---
1963 Newcastle Team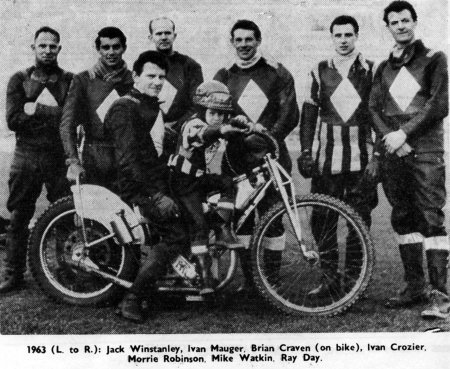 ---
1963 Another Newcastle
Line Up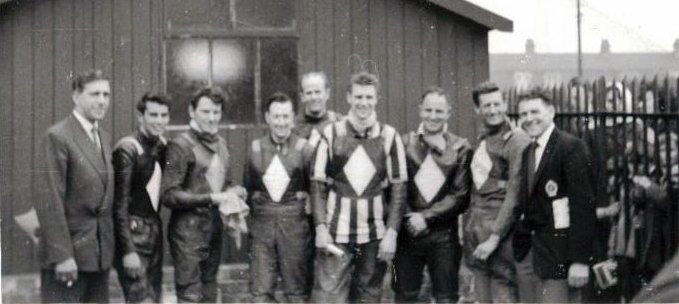 Mike Parker, Ivan Mauger, Brian Craven, Peter Kelly, Don Wilkinson, Mike Watkin, Jack Winstanley, Ray Day and Maurice Morley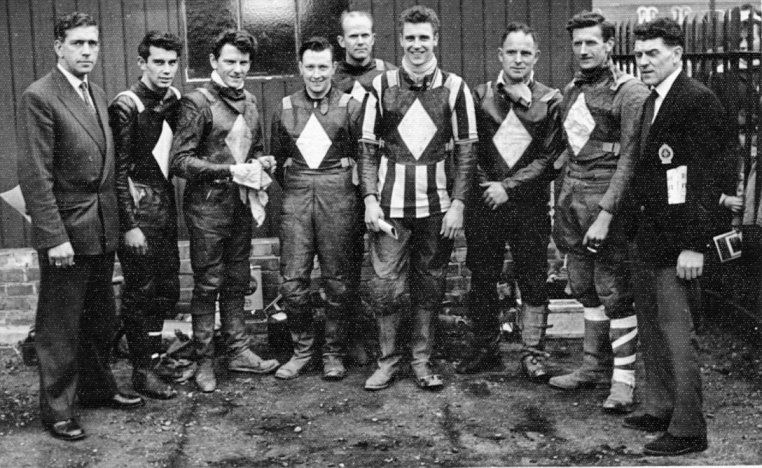 The same group, a split second later! Courtesy of Barry Stephenson
---
1963 Team
(The Tale Of Two Ivans!)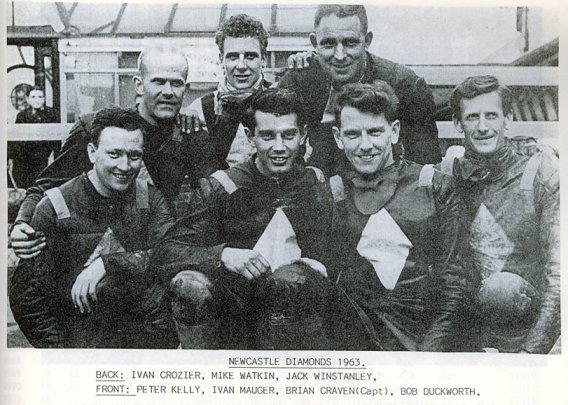 Is it just me or do you agree that black leathers looked better than modern multi-coloured riding suits? Maybe its an age thing and I need to move with the times! Ivan Crozier recommended fellow New Zealander Ivan Mauger to Mike Parker and that is how Ivan Mauger came to be a Diamond.
---
1963 Newcastle Article Courtesy
Of Speedway Star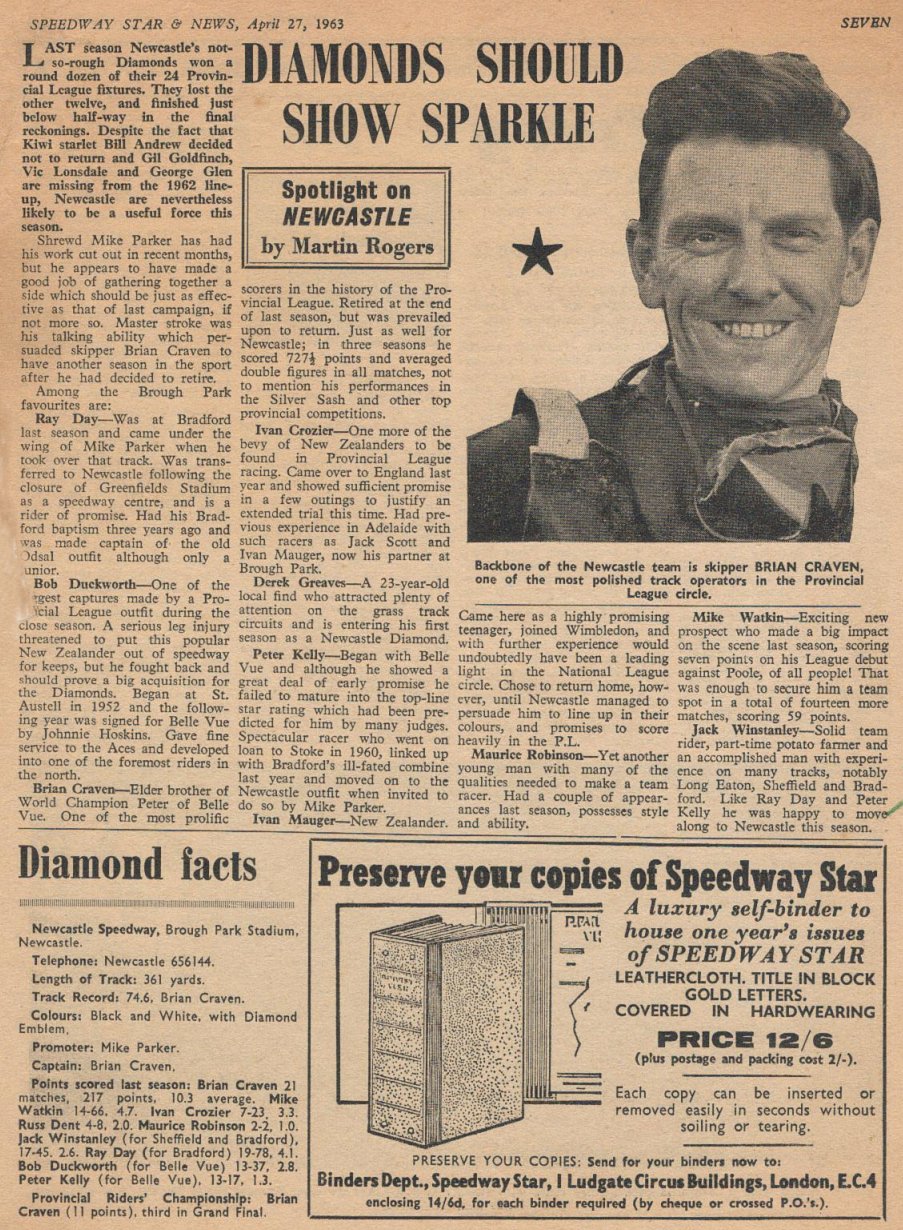 ---
Big Handlebars 1963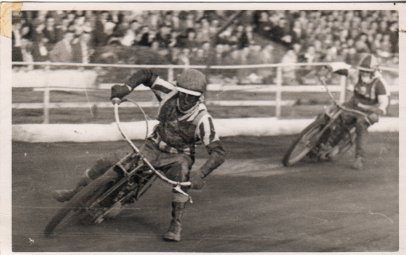 John says: The Handlebars on this shot stand out, why don't BSPA bring them back, racing would be so much more entertaining. I cannot recall seeing bigger bars than these. Anyway can you help with names and year John
Keith Dyer has been in touch he says its Mike Watkin at a guess
John says: I don't think its Mike, the leg is too short for Mike
Dave Train says: I think it's Peter Kelly and possibly Jon Erskine (Long Eaton) 1963
---
1963 Stoke's Ken Adams &
Jack Winstanley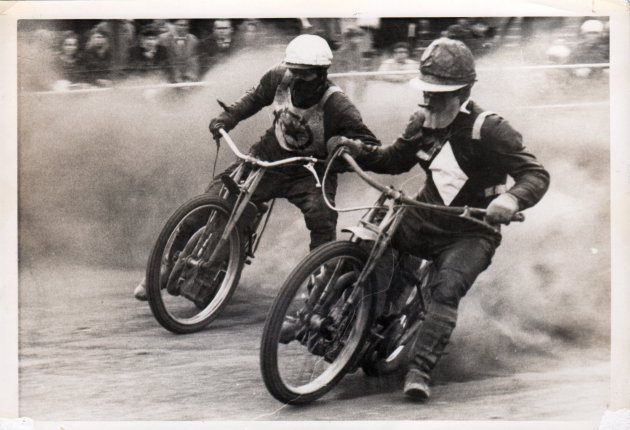 ---
Ivan Mauger &
Peter Craven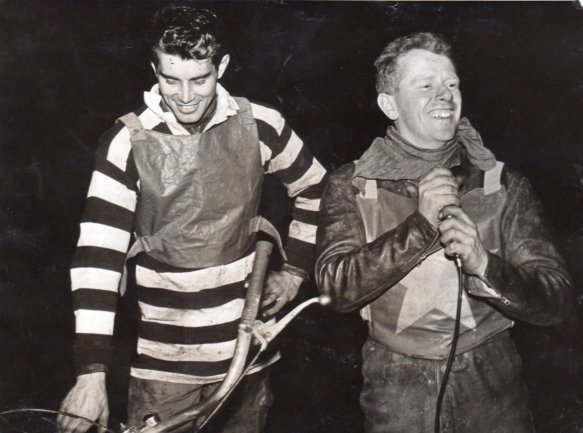 Ivan wearing a strange race jacket can anyone shed any light on it? I think the picture was taken at Middlesbrough in 1963. Ivan may have been guesting for the 'Boro The man on the mike is England's greatest ever rider Peter Craven whom I know was guesting for Norwich hence the Star race jacket. Peter unfortunately lost his life in a track incident later in the year. If he ever rode at Brough Park I would like to see a picture. John
---
George Glen &
Gil Goldfinch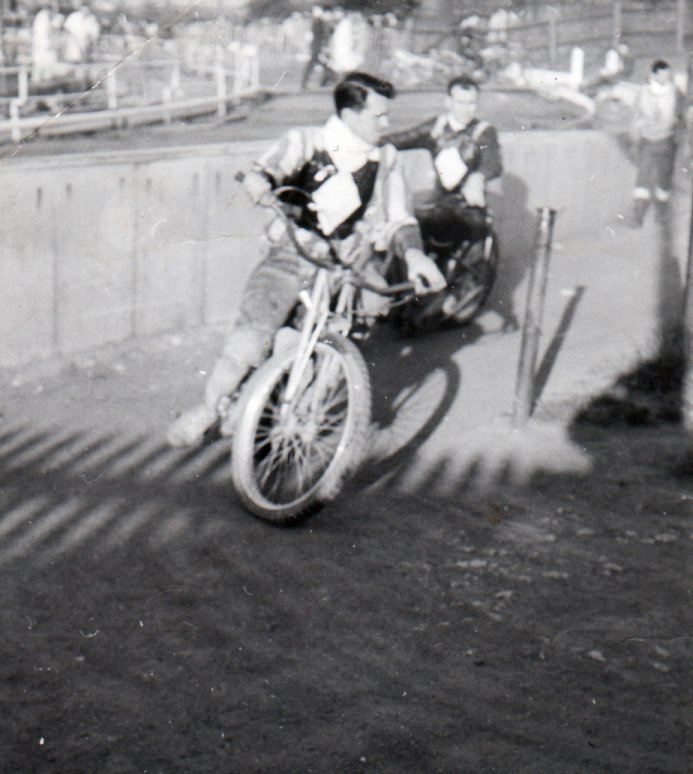 A different view - riders returning to the pits after the pre match parade. They are George Glen and Gil Goldfinch
---
The "Red Devil"
Mike Broadbanks
Leading Ivan Mauger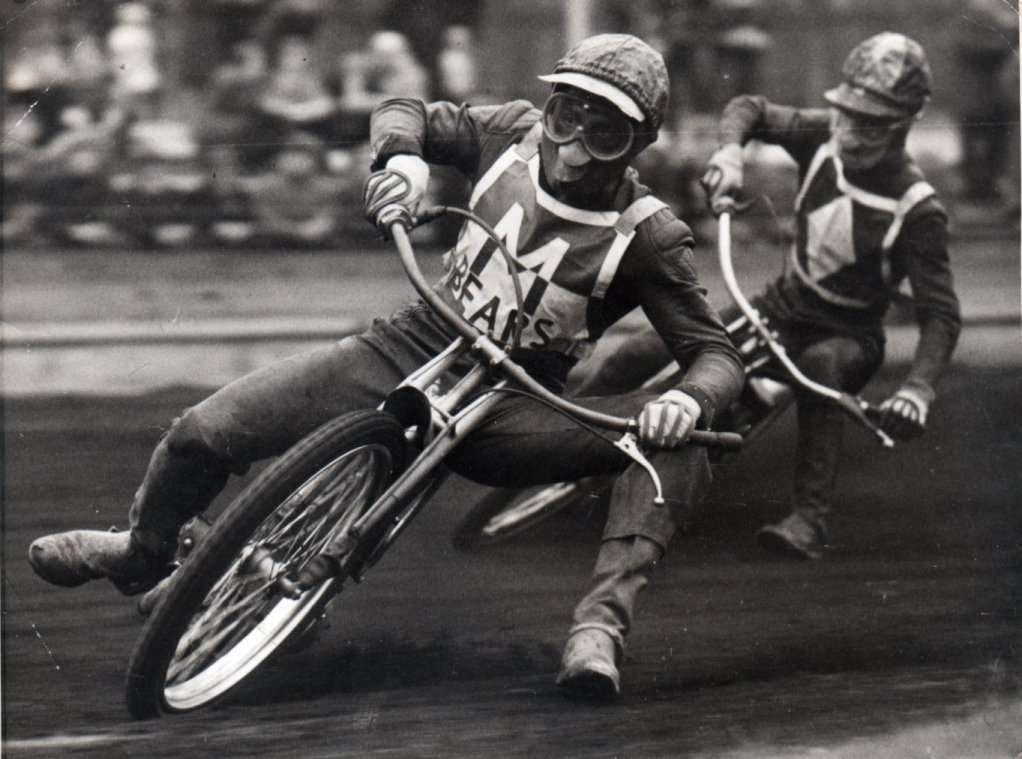 One of the most spectacular riders of the 1960's. Mike Broadbanks riding in red leathers, guesting for the Bears at Cleveland Park. Ivan Mauger for once is behind
---
Silver Sash Match Race Opponents
Brian Craven & Jimmy Squibb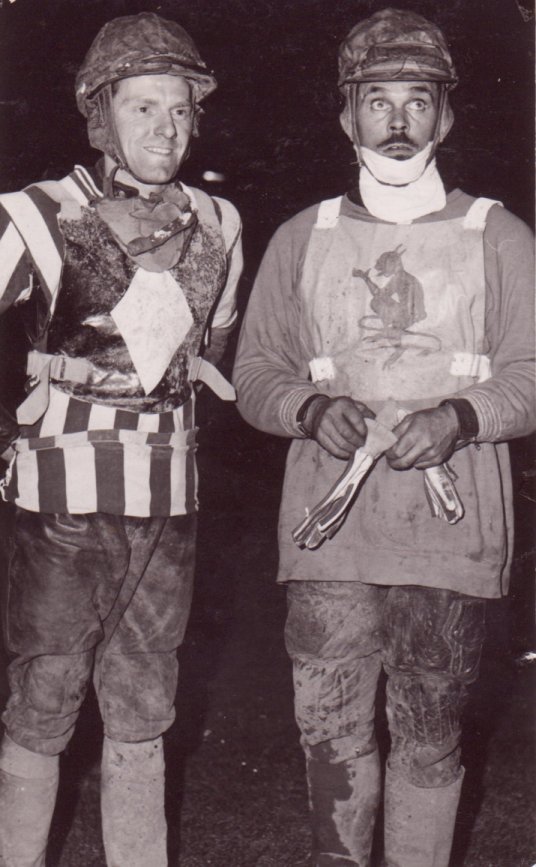 Silver Sash match race opponents Brian Craven and Pat Flanagan Brian manages a smile while Pat keeps an eye on a passing flying saucer!
John Fishley Says: Sorry but Brian's opponent is not Pat Flanagan, but it is the legendary Plymouth Devils No: 1 gentleman Jimmy Squibb (see his race jacket) and this would be 1962, the only year he rode for Plymouth. Great site, Brian Craven was regarded highly at Plymouth
Ivan Mauger And The
Silver Sash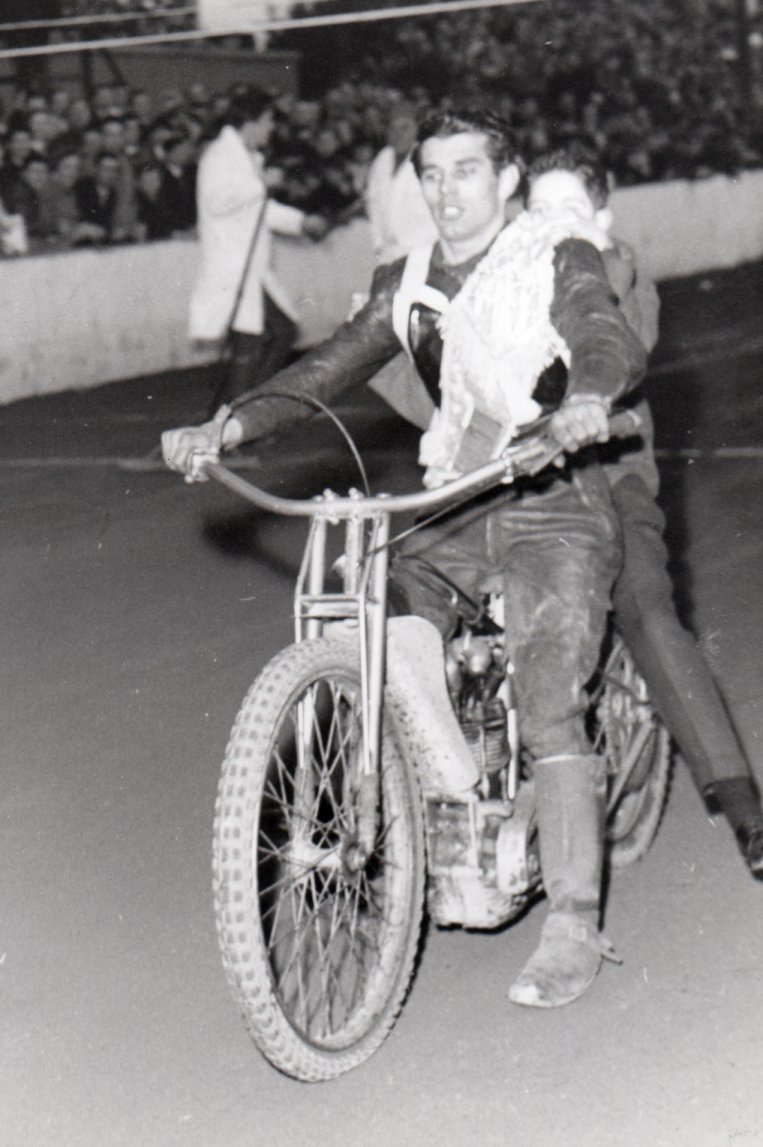 Ivan Mauger after a successful defence of his Silver Sash
---
1963 Newcastle Line Up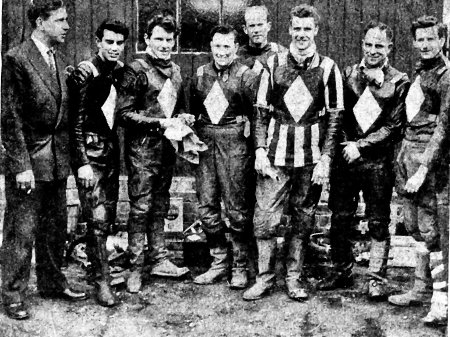 ---
Brian Craven: Date of birth 21/03/1932, Liverpool; death recorded as Registration District: Birkenhead, April 1993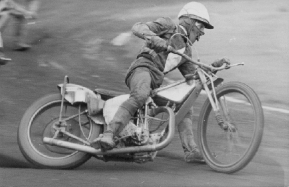 Photo courtesy of Nick Short, thanks Nick and keep visiting the site.
This shot shows the "straight through" pipe, no silencing, no dirt deflector, I can almost smell the fuel. Known to me then as "White Whisky". Others say the smell was Castrol R. Remember that anyone? E-mail me
Brian Craven With A Champions Sash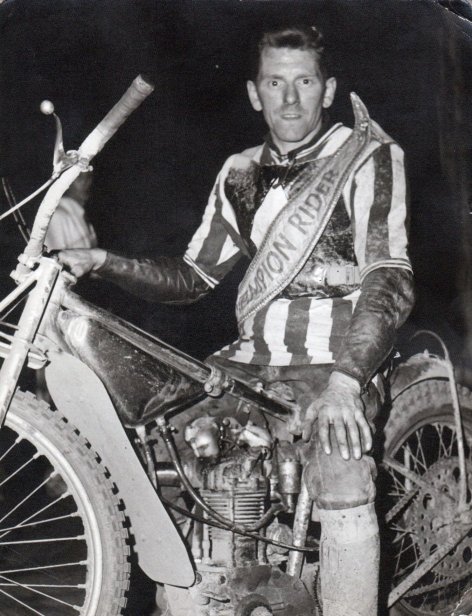 Brian Craven with a sash, I can only remember the provincial league silver sash. Can anyone say what the sash was
1962 Brian Craven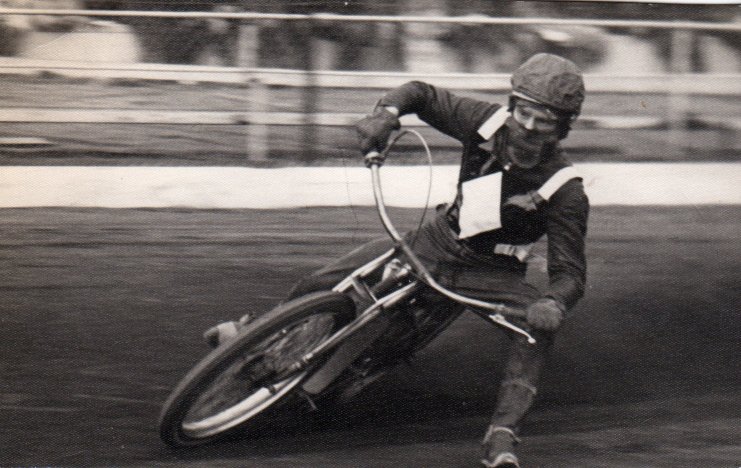 1962 Brian Craven, my first speedway hero, I was 10 years old. What was the mask protecting I wonder?
Six Shots Of Brian Craven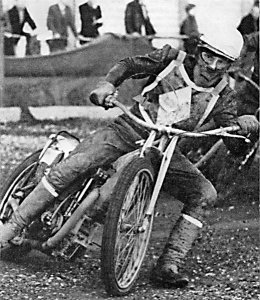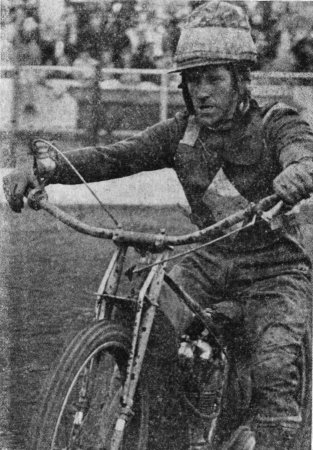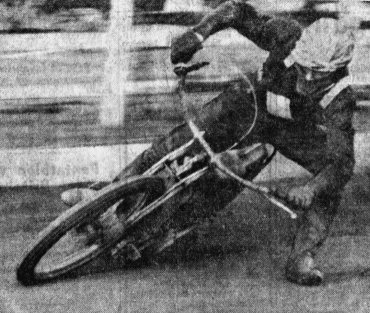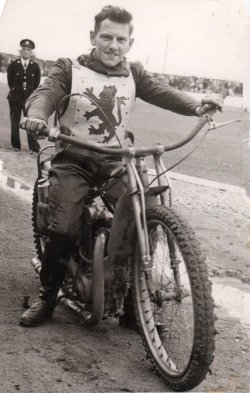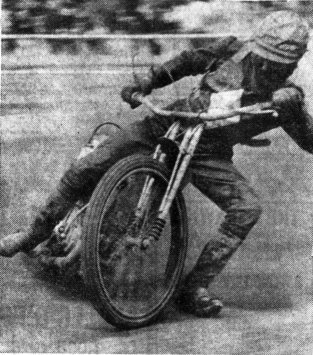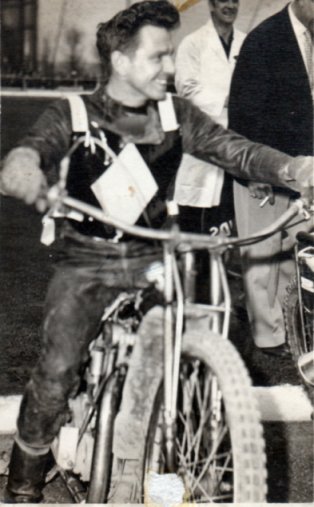 6 shots of Brian Craven
Brian was a Liverpudlian and the older brother of Peter Craven. Double World Champion, Peter was one of England's best ever riders and Brian was one of Newcastle's best ever riders although Brian was a club man who never set the international scene alight like younger brother Peter. Brian joined the Diamonds in 1962. He averaged around 9.00 points in 62 and 63.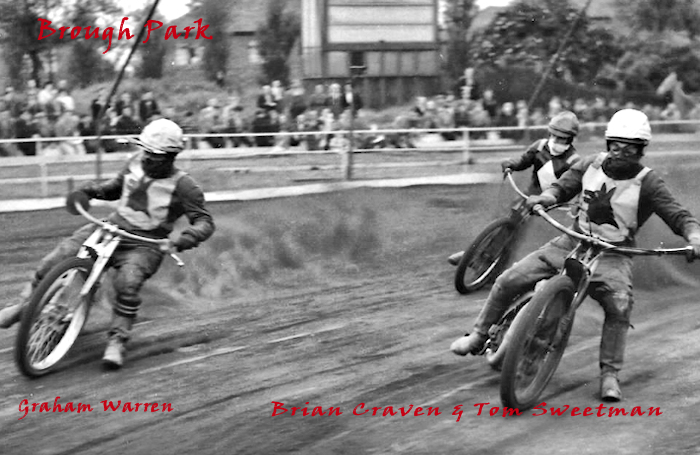 Courtesy of John Spoor
The Cravens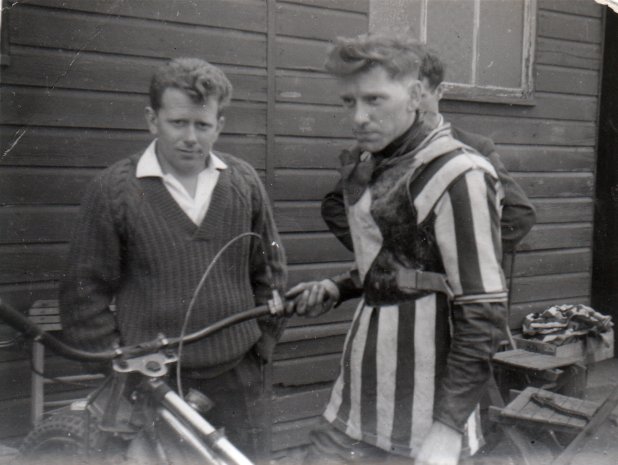 Brian warming up his engine with brother and world champion Peter at his side.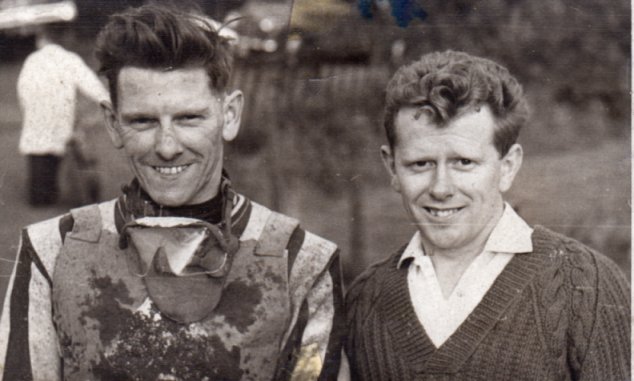 Peter Craven was killed in a track crash in 1963 at Edinburgh's Old Meadowbank, this affected Brian badly and he missed the whole of the 1964 season. He was back at Brough again for the 1965 season and he retired for good at the end of '65.
Brian Craven 1963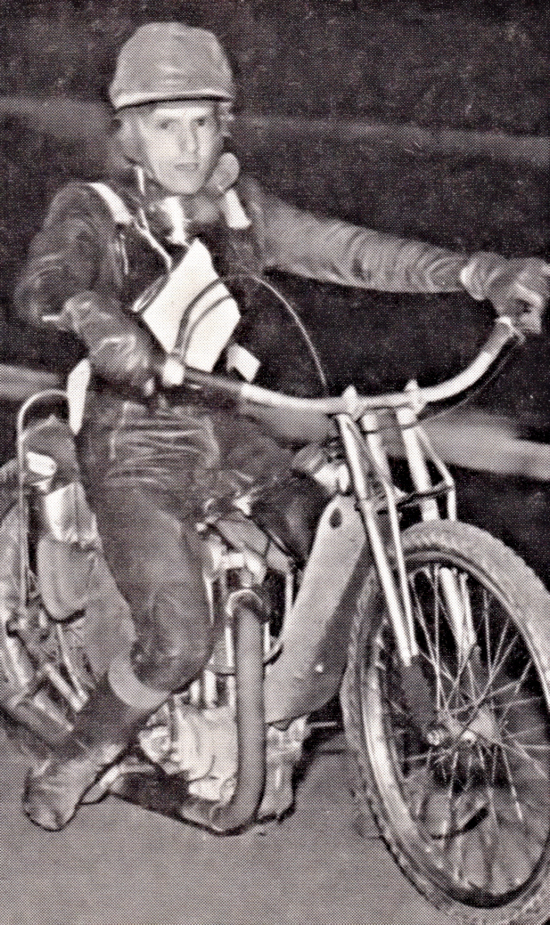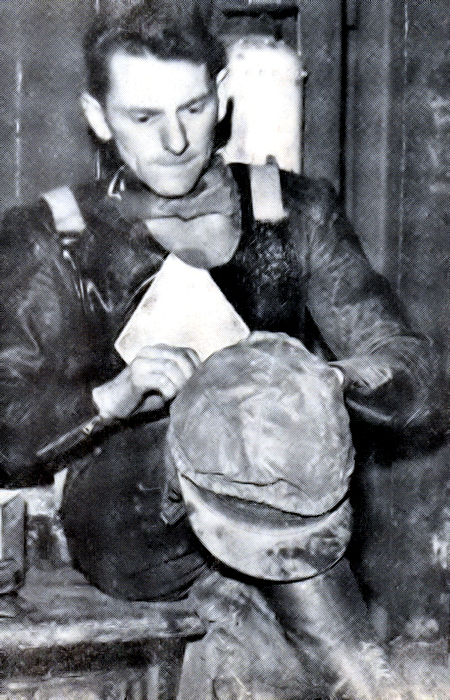 Courtesy of John Spoor
Brian had retired end of season '62 but when Bill Andrew didn't return from NZ Brian answered the call to line up again for the Diamonds in 1963.
The Continuing Saga of Brian Craven Retiring or Not


Courtesy of Speedway Star 1963
---
Brian Announcing His
1965 Comeback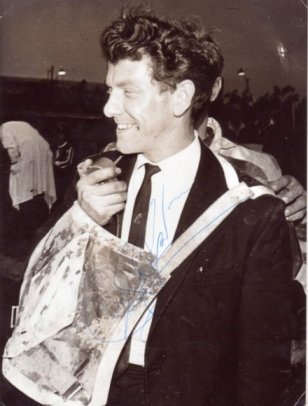 This is Brian being Interviewed by Ivan Mauger in 1964 and after a year out he was ready to give it another go. Brian had lots to say about the state of Ivan's race jacket
---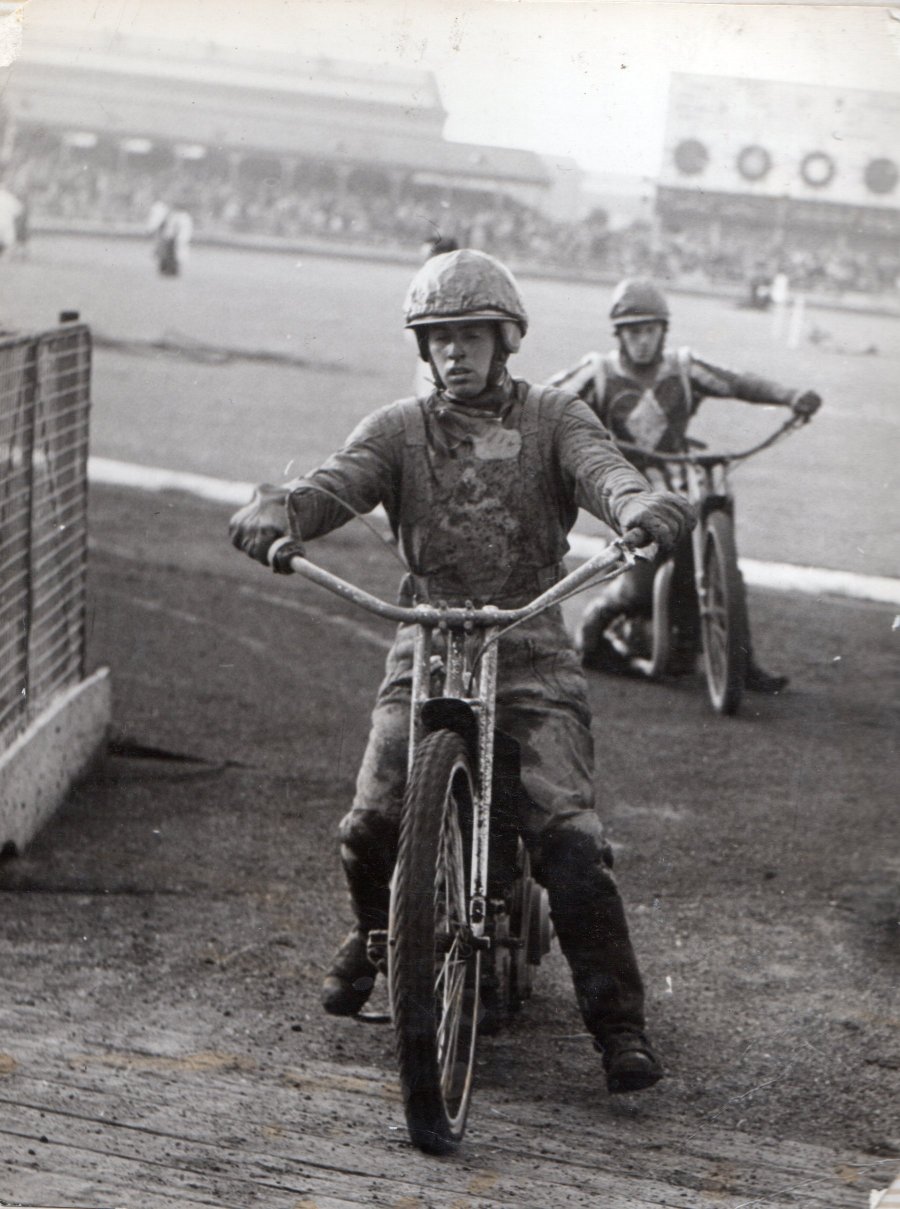 1962 Bill Andrew leading Brian Craven back to the pits. If you are old enough you will remember the substantial wooden stand on the fourth bend, CA Parsons Factory looming in the background and the Greyhound Tote Board that dominated that end of the stadium. Not much of the original stadium remains these days but look at the crowd around bends 3 and 4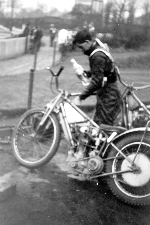 Photo courtesy of George Ince.
This is Bill Andrew getting ready for action. Wonder why he has a Molotov cocktail in his hand.
Diamond - Bill Andrew
v Poole Pirates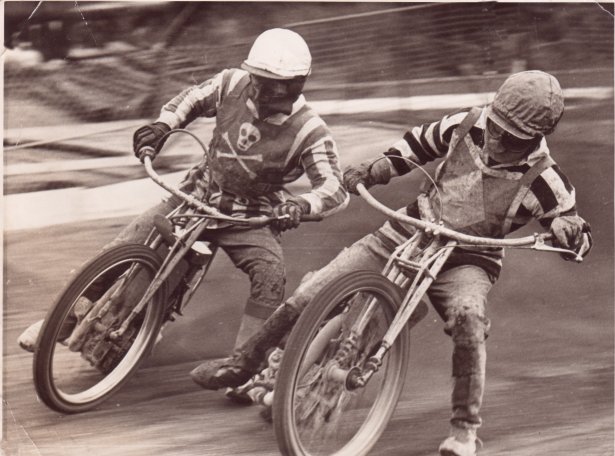 John says: Help please with the riders and the year
Terry Stone has been in touch and he says: "The Poole rider could be Geoff Mudge and the Newcastle rider Bill Andrew"
Dave Train says: This is Ross Gilbertson and Bill Andrew in 1964
Colin Jewes confirms: The pirate is Ross Gilbertson
Michael Stone says: the Poole rider is in fact Geoff Mudge and not Ross Gilbertson.
Andy Best says: It is Geoff Mudge
John Says: Whilst arguments rage over the identity of the Poole rider can we accept that the Diamond is Bill Andrew? This is after all the Newcastle History Website!
Bill Andrew Poole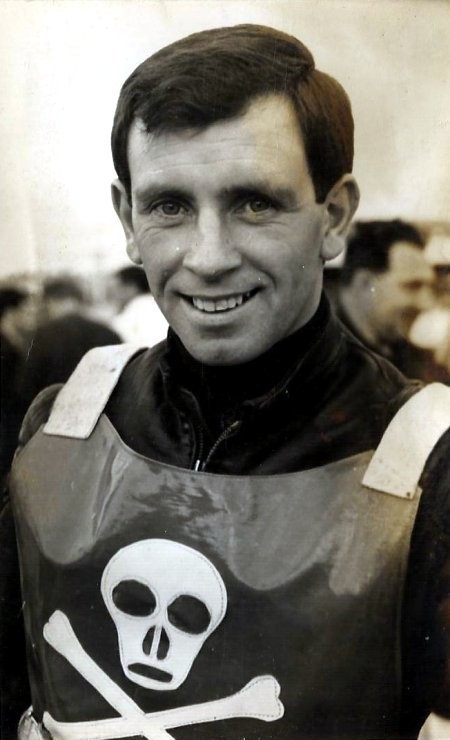 This photo of Bill Andrew in Pooles colours is included as I don't have a good portrait of Bill when he was a Diamond. I was always a bit disappointed with Bill as he never quite managed to make the step up despite his obvious talent.
---
Newcastle's Four
New Zealanders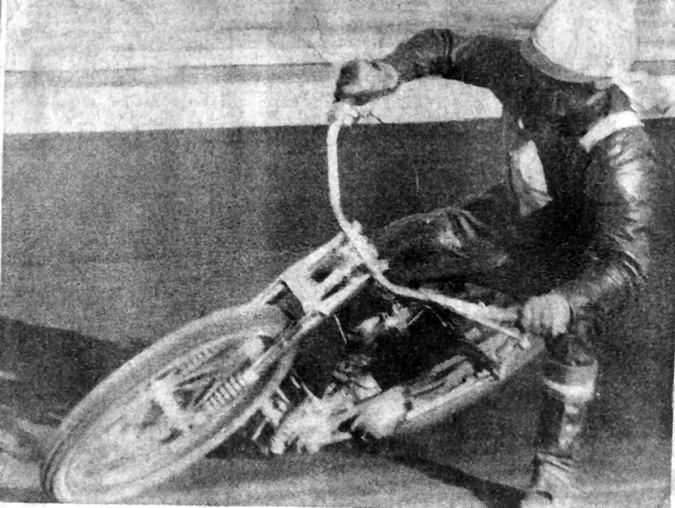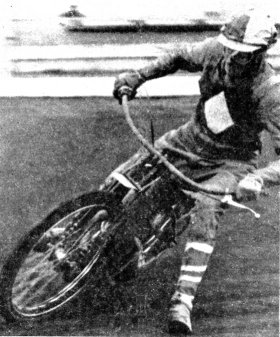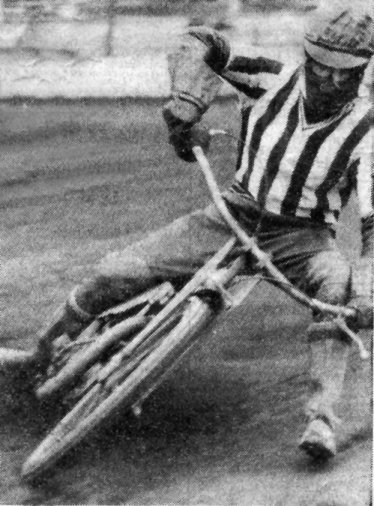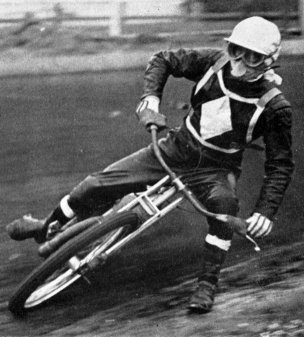 4 New Zealanders Bill Andrew, Bob Duckworth, Ivan Crozier and Goog Allen
Newcastle had a lot of New Zealanders in the 60's I can remember eight at least. There appears to have been a tradition of colonial riders coming to Brough, seems English riders didn't want to travel this far north for "home" meetings!
---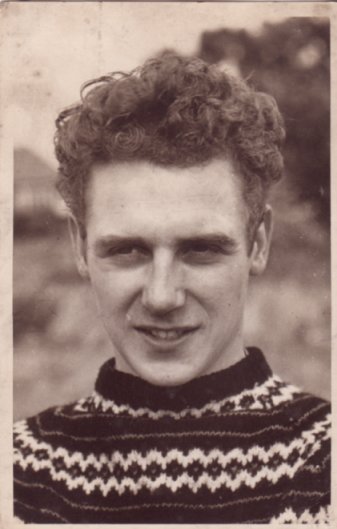 Courtesy of Dave Rowland
1962 Mike Watkin After Winning The Novice Race!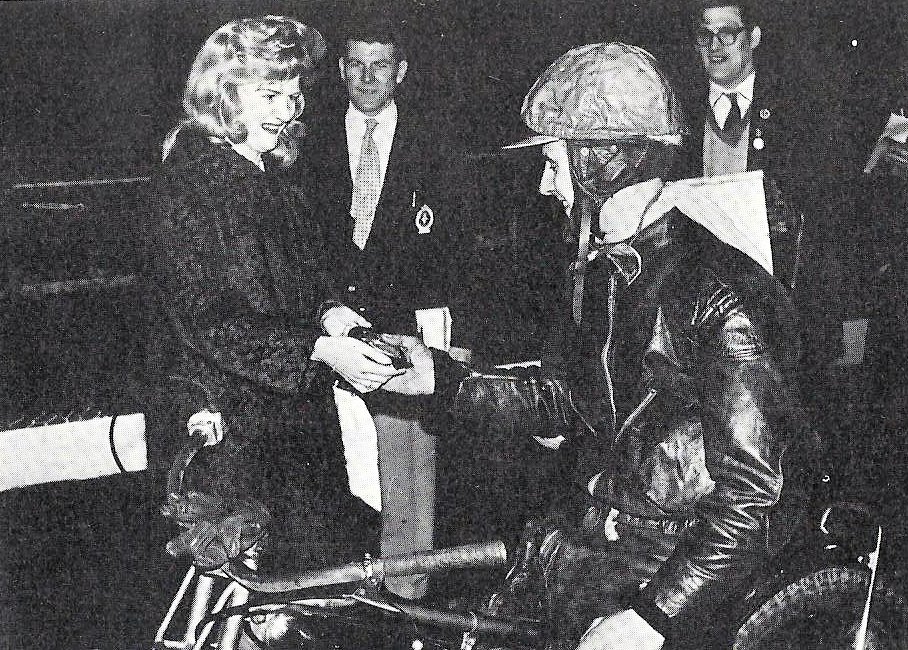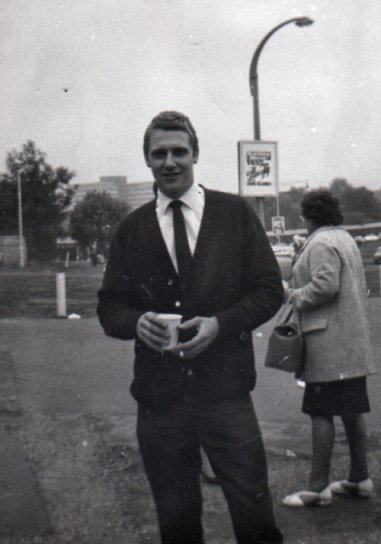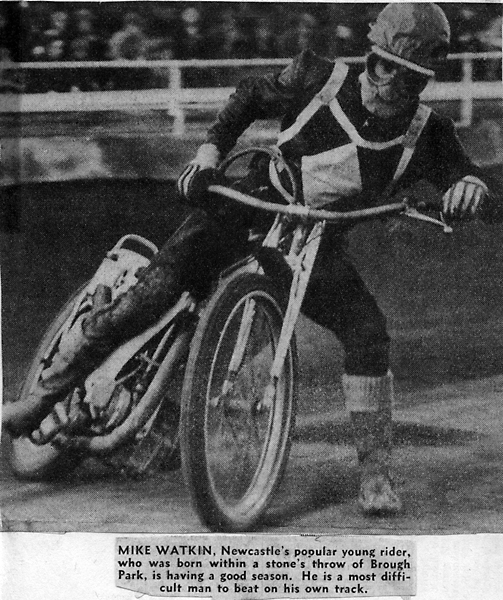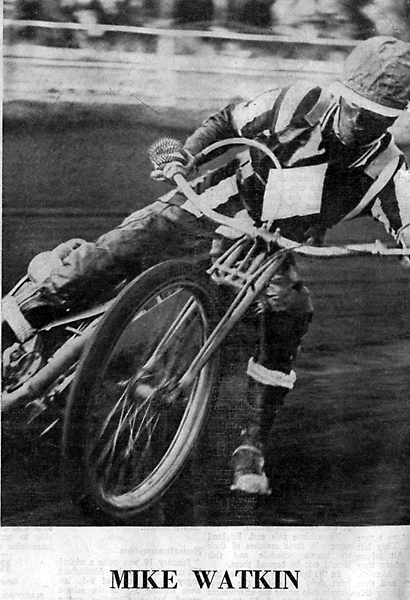 Mike was the backbone of Newcastle's side during the later years in the 60's. A local man, Mike was ever popular, particularly amongst female fans! I remember him beating everyone on Monday nights when the track was wet. Barry Briggs was a notable scalp (not wet that night) claimed by Mike when Barry was the reigning world champ and Swindon Robins came to visit. Someone must have better quality pictures of Mike, than those shown above. So come on get in touch please. E-mail
---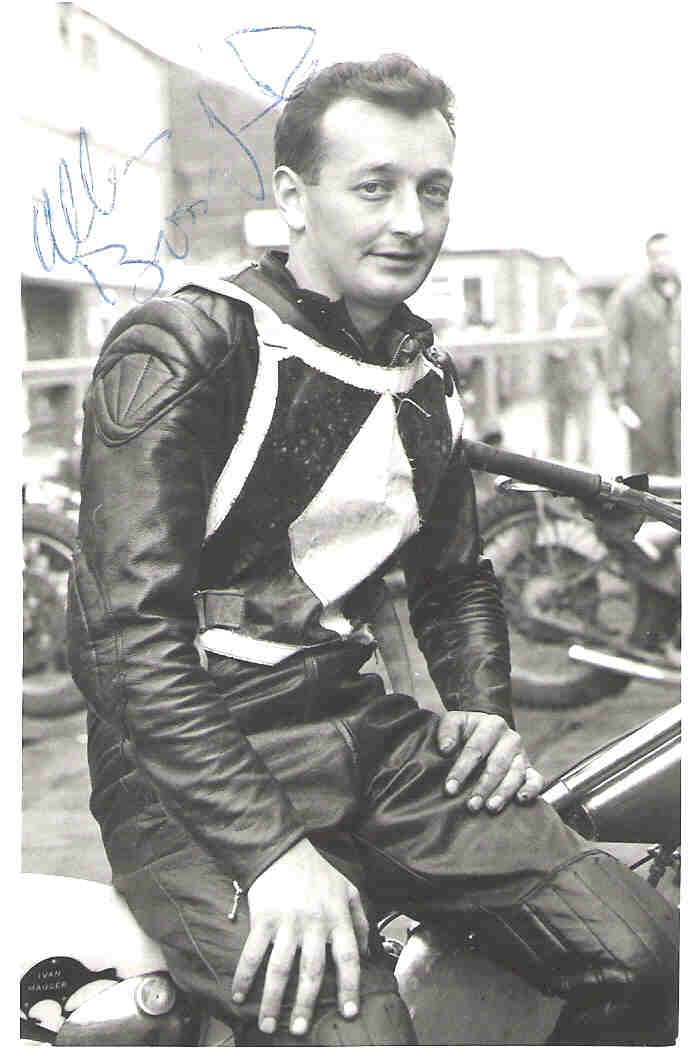 A great team man, Alan was the first rider in the Newcastle team to use a Czechoslovakian ESO engine which he housed in a Mattingley frame. He still lives locally in Consett, Co Durham. "Butters" is well known for his interest in classic machines, he has 6 classic British bikes and farm machinery including a "Vintage Plough",- What's that about then Alan? He takes part in vintage ploughing competitions, which I hope to get along to see one day.
---
Provincial League Riders Championship Qualifier At Brough In 1963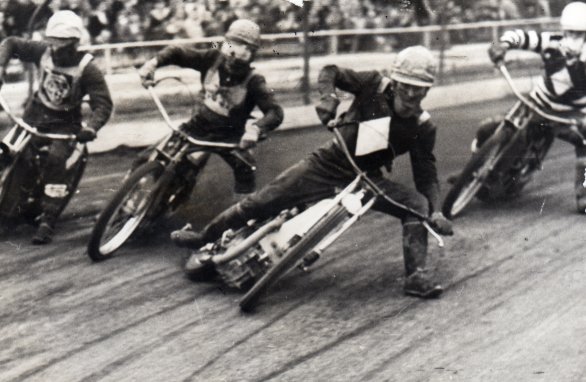 Qualifier for the Provincial League Riders Championship at Brough in 1963. John Dews (Sheffield), George Hunter (Edinburgh), Brian Craven (Newcastle) and Mike Watkin (Newcastle)
---
Newcastle v Belle Vue
At Brough Park
23rd September 1963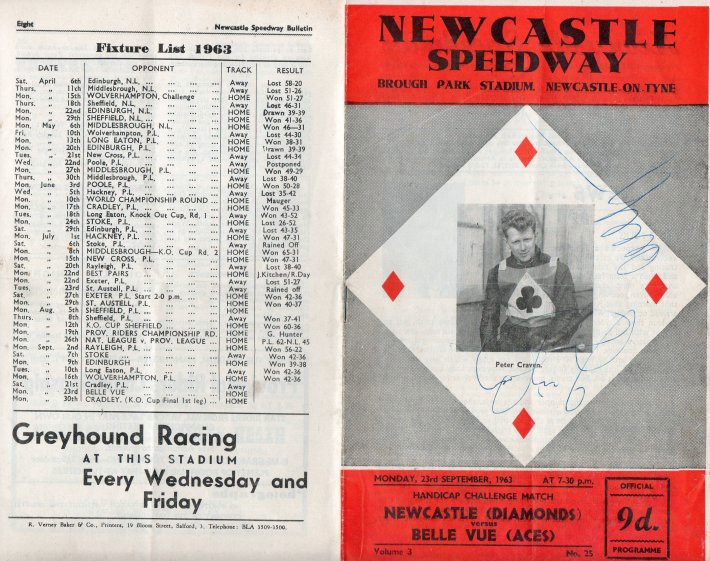 The Aces were visiting the home of the Diamonds with their superstar rider Peter Craven, twice a world champion. This "Handicap Challenge Match" took place on the night before Peter's fatal crash up in Edinburgh.
Trevor James says: Hi John, I was just looking at the site and noticed an error. Where it shows the Newcastle v Belle Vue programme 23/09/1963, it states that this meeting took place the night prior to Peter Craven's fatal accident at Old Meadowbank, Edinburgh. The accident was on the previous Friday (20th Sept). Peter actually passed away on 24th September, the day after the Aces visited Brough Park. Hope this helps and can be amended in due course. Regards
---
To continue Newcastle's Speedway History click 1960's part two
---
The contents of the site are © and should not be reproduced elsewhere for financial gain. The contributors to this site gave the pictures and information on that understanding. If anyone has any issue or objections to any items on the site please e-mail and I will amend or remove the item. Where possible credit has been given to the owner of each item.