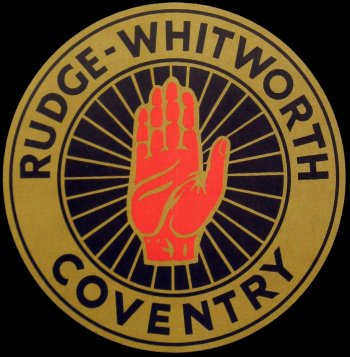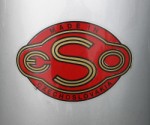 ---
Team Photographs
I
would like to display here, on one page, a team shot or two from every year from 1929 to date. For the years where Newcastle wasn't in operation it would be good to show a shot or two from our close neighbours, Sunderland and Middlesbrough. So can you help? Lets have your team shots for the missing years below.
John
There are a few pictures of the teams where I cannot name the riders, perhaps you can help me by naming the riders.
---
1929
1929

Newcastle Brough Team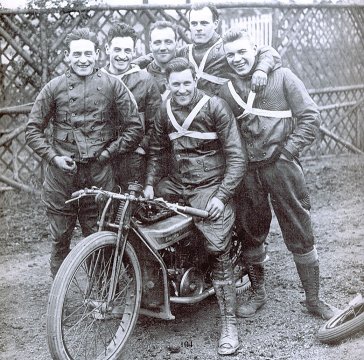 Newcastle Brough 1929
This is the earliest Newcastle Team line up that I know of. They rode together at Brough during June 1929 (Brough started 17th May 1929). Left to right : Fred Creasor, Phil Blake, Walter Creasor, Ernie Smith, Tommy Storey and Percy Dunn
---
1929


Newcastle Gosforth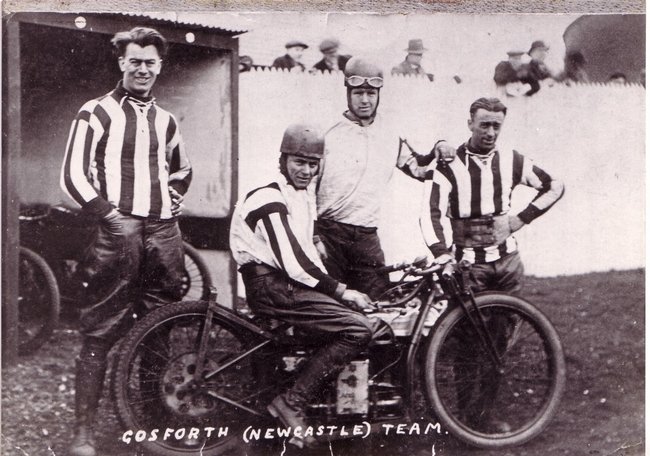 Newcastle Gosforth 1929 (began 1st June 1929)
Harry Huntly, Jim Holden, Frank (Yank) Harrison and Arnie Cattell on the bike. This team were wearing the Black n White stripes of NUFC which Brough's 1960s teams adopted too.
---
1930

No Team Picture
1930 - no picture. As Newcastle Brough staged open meetings only in this year, a team shot is unlikely. Newcastle Gosforth did operate in the Northern League so maybe someone will have a team photo of the Gosforth riders. Can you help? John
---
1931-1937 - Both Tracks Closed
Brough Park closed down on 4th July 1930 and Gosforth Park closed 3rd October 1930 although Newcastle Gosforth tried a one off experimental meeting on 29th July 1931. The venture was deemed a failure and Gosforth has never seen speedway again and an ASDA store occupies the plot that was the Gosforth Speedway Track. Brough Park remained closed from 1930 - 1937 and reopened in 1938, brilliant timing as war clouds were gathering.
---
1938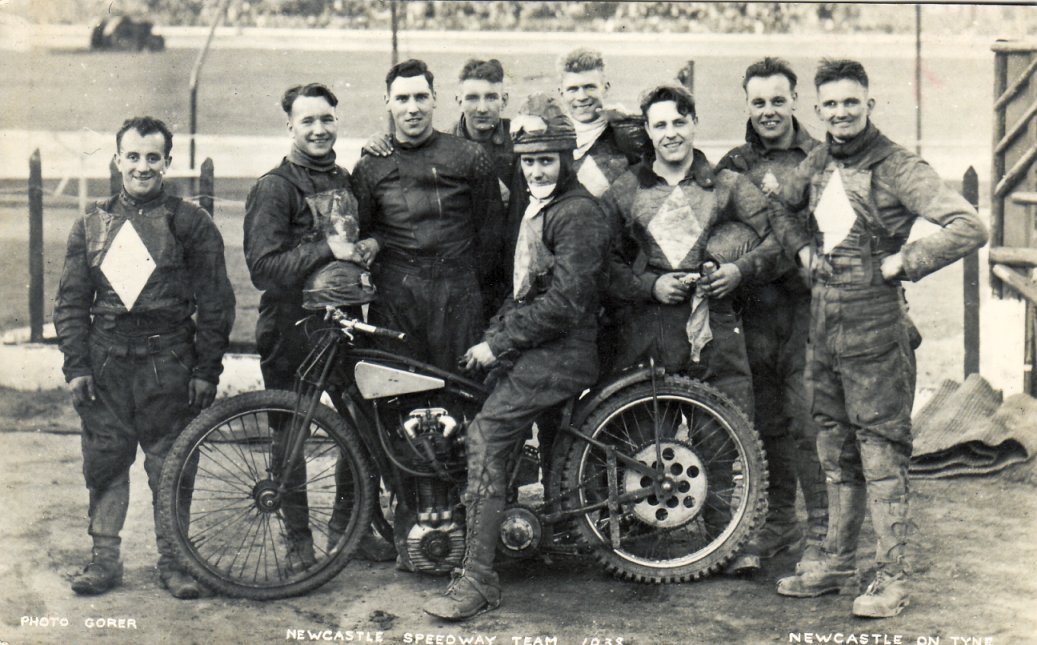 Courtesy of Keith Dyer
Newcastle 1938. A white diamond on a red background.
Speedway was brought back to Brough Park by Johnnie Hoskins after an 8 year gap . The fans flocked to the stadium despite the depression and they started a supporters club. Reg Hay extreme left, Rol Stobbart 3rd from right, George Pepper is on the bike. Can you name rest of the riders
John
Col Greenwell says: I think 2nd from right is Maurice Stobbart and 4th from left Kid Curtis
Tom Marriott says: From the left standing 2nd is Bruce Venier, 3rd is Bob Sparks, 5th is Elwood Stilwell.
Bill Walsh says: Norman Hargreaves is at extreme right.
Another

1938

Team Photograph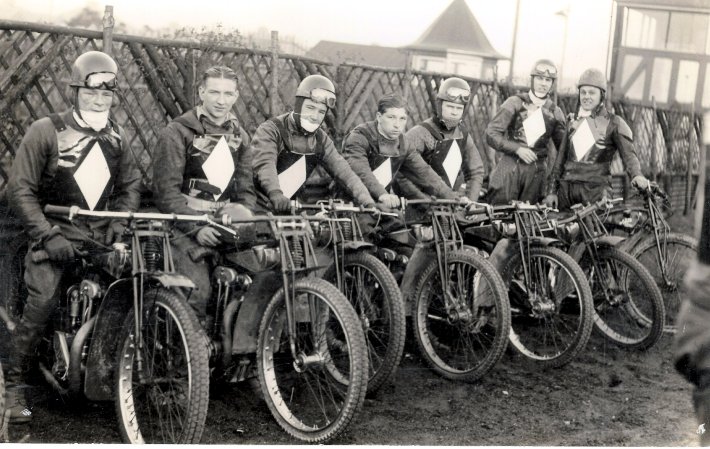 Courtesy of Ian Young
I have received the team photo scan from Ian, shown above. Can you confirm the year (I think 1938?) If you can name the riders please let me know so I can update this webpage
John
Tom Marriott says: From left. 3rd Bruce Venier 5th Elwood Stillwell 6th Robert (Bob) Sparks. All Canadians.
I have received the team photo scan from Ian, shown above. Can you confirm the year (I think 1938?) I think it is possible that Norman Newton is at extreme left. If you can name the riders please let me know so I can update this webpage John
I
an Young says: first rider on the left could be Norman Newton.
John says: I agree it looks like him from another photo on the site and the two standing at right hand side look like Bob Sparks and Rol Stobbart. Help please with the rest
John
Tom Marriott says: From left. 3rd Bruce Venier 5th Elwood Stillwell 6th Robert (Bob) Sparks. All Canadians.
More info received via my name the riders pages on my
Defunct Speedway
website as follows: -
I have received the Newcastle Diamonds team photo scan shown above from Ian Young. Can you confirm the year (I think 1938) If you can name the riders please let me know so I can update this webpage
John
The Diamonds in those days wore a white diamond on a red background unlike the team since 1961 which has always been Black n White.
Reg Fearman says: Pre war Newcastle Diamonds. Looks like Fred 'Kid' Curtis to me second left and Butch Williams fourth left, both were attached to West Ham later. Butch Williams went to Dagenham in 1939 and in 1946 joined West Ham as a mechanic - that was when all first division tracks, at least, had their own workshops. 'Kid' was on loan to Middlesbrough then reverted to West Ham. Hope this is a start for the photo.
John says: Yes it has got us off the starting gate Reg! Can anyone name the rest and confirm what I think, that these are some of the riders Newcastle used in 1939 or was it 1938?
John
Col Greenwell says: Norman Newton? I don't know him, but he looks to be the rider nearest the camera on your unnamed Diamonds team from 1938/39 Kid Curtis second along from left.
John says: I am wavering over the year and now think it is earlier, probably 1938
Steve Baker says:
Hi John, I have done a bit of research on the Norman Newton and Pre War Diamonds pictures and have found out the following. Firstly Norman rode a handful of meetings for the Diamonds in early 1938 and then seems to have disappeared! He didn't ride in 1939 therefore I believe the team photo of the Diamonds was actually 1938 not 39. The Diamonds team in that picture is left to right Norman Newton, Kid Curtis, Bruce Venier, Unknown ( I'll come back to that in a moment ), Elwood Stillwell, Bob Sparks and Maurice Stobbart.
As far as the unknown guy is concerned, I have to disagree with Reg Fearman when he says it is Butch Williams as I don't think he ever rode for the Diamonds. There are a number of big names missing from the photo such as George Pepper, Rol Stobbart and Norman Hargreaves, though none of these are the missing man. The only other names I can come up with are Percy Dunn and Fred Marshall who made brief appearances in 38, however as I have no idea what these chaps look like I cannot say if the mystery man is either of these. Maybe someone else can throw some light on that one!
---
1939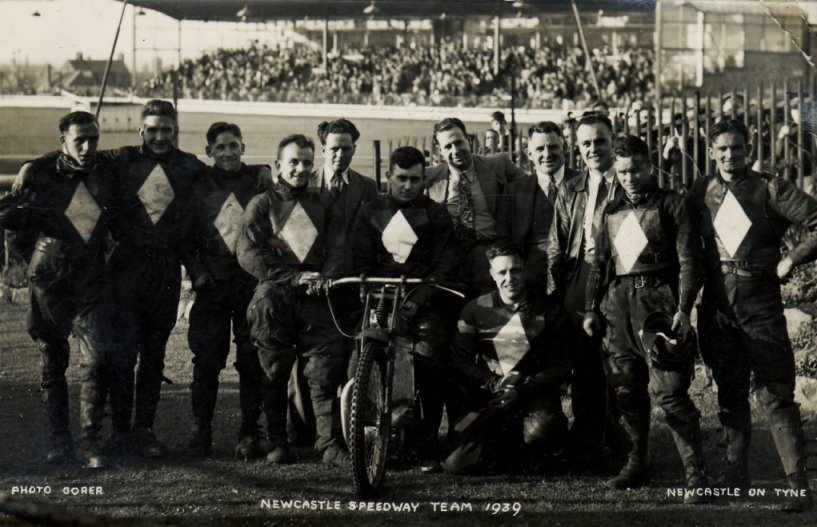 Courtesy of Keith Dyer
Bill Goodall, Kid Curtis, Sid Littlewood, Maurice Stobbart, Team Manager - Reg Hey, George Pepper (Capt. on Machine), Promoter Johnnie Hoskins, Rol Stobbart (kneeling), Ken Brett, and Norman Hargreaves. I don't know who the other 2 suits are.
---
1940-1944
Track Closed for the duration of World War 2! September 1939, along came Hitler and the second world war, so the track action was cut short as riders and the fans had more important things to do for the next few years.
---
1945 - No Picture
As the track only staged open meetings in this year, a team shot is unlikely. Can you help?
John
---
1946 - No picture
No team photo for 1946. Can you help?
John
---
1947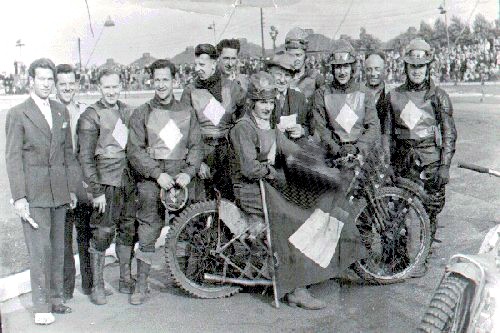 1947 team Left to right: Ken Le Breton , Danny Calder, Doug McLachlan, Johnny Hunt, Peter Lloyd, Pat Smith, John S Hoskins (Promoter), Alec (Farmer) Grant, (Grandfather of Rob Grant Junior), Wilf Jay, Len Gallagher, Bonny Waddell, Norman Evans (Captain).
---
1948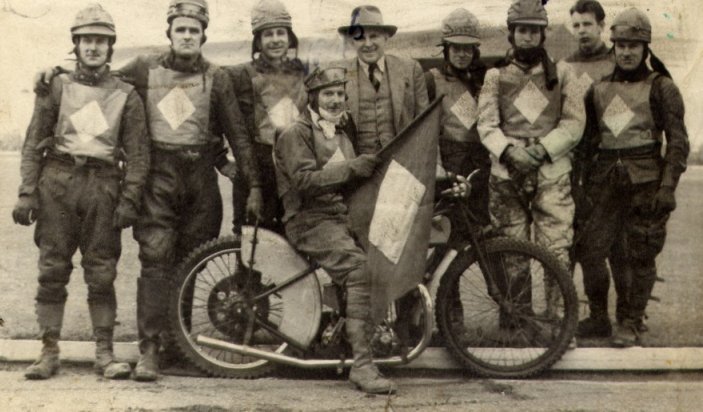 1948 team: A photo from Gavin Parr's collection. Unknown, Alec Grant, Unknown, Norman Evans on bike, Johnnie Hoskins, Ern Brecknell, Ken LeBreton, Peter Lloyd Unknown
Another

1948

Photo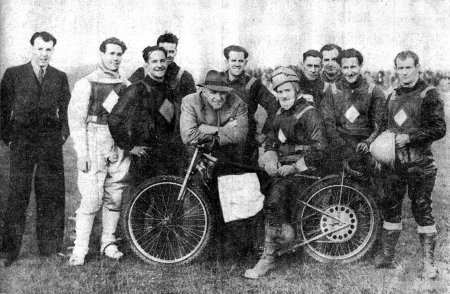 Newcastle Diamonds
Red & White
Until

1961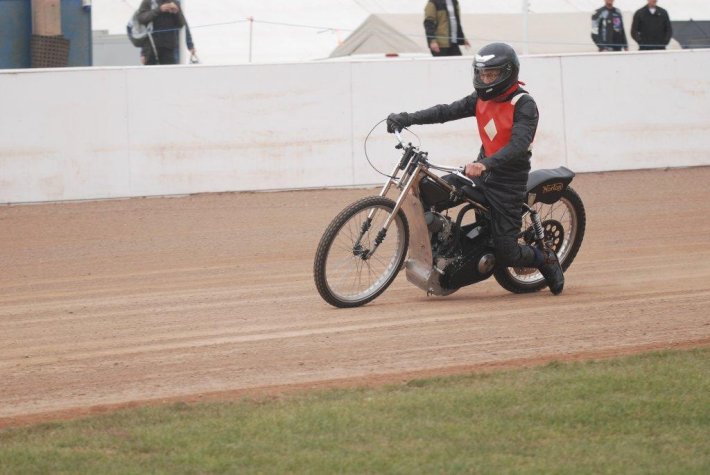 As there are no colour photos from this era (that I have seen) I am including the above "modern" colour photo. Veteran rider Tag Allison wearing the 1940s Diamonds body colour. It is a replica worn by Tag in demonstration races. Red and white was used in 1938-39, 1946-48, 1950-51 and changed to a large N for the 1949 Magpies season with the change of promoter.
The familiar black and white diamond was seen for the first time in 1961
---
1949

Newcastle Magpies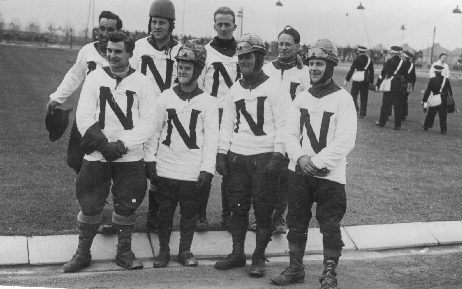 Left to right, back row: Jack Hodgson, Ken Thompson, Joe Arthur, Herby King. Front row: Derek Close, Ern Brecknell, Frank Hodgson (Captain), Son Mitchell.
---
1950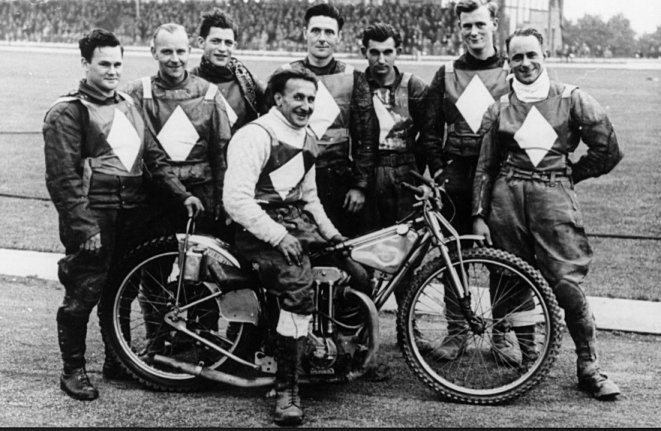 Ern Brecknell Son Mitchell Don Lawson Wilf Jay (on bike) Bill Lowther Derek Close Don Wilkinson Herby King pose and in the background a packed back straight grandstand. Why did the promotion pull out just a year later? Attendances were great!
---
1951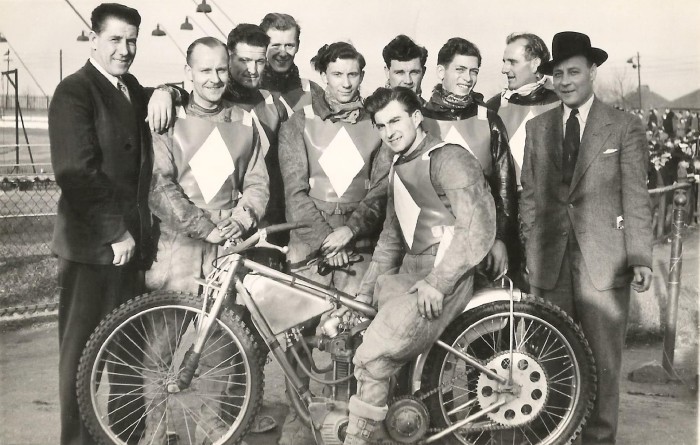 ---
1952-1960
Track Closed
---
Early

1961

Line Up
Promoters Mike Parker and Reg Fearman reopened Brough Park with Mike at the helm. The Diamond was kept but the team colours were changed from red and white to black and white. I understand the team captain Don Wilkinson suggested to promoter Mike Parker that the previous era saw Newcastle Diamonds in Red and White but he (Don) thought Newcastle should be black and white like the football team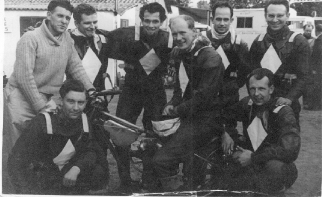 Above: Early 1961 Team : Maurice Morley (Manager), Slant Payling, George Major, Gordie Mitchell, Norman Redmond, Front: Johnny Green, Don Wilkinson (Capt), Peter Lloyd
Later 1961Team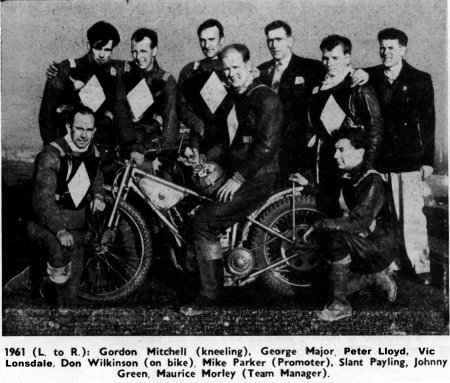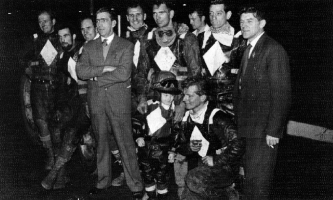 1961 after team strengthening: Don Wilkinson (Capt), George Major, Gordie Mitchell, Mike Parker (Promoter), Gil Goldfinch, George Glen, Pat Flanaghan, Maurice Morley (Manager), and kneeling Slant Payling, Anyone know who the mascot was and anyone know why George Glen was wearing a Halloween pumpkin around his neck!
---
1962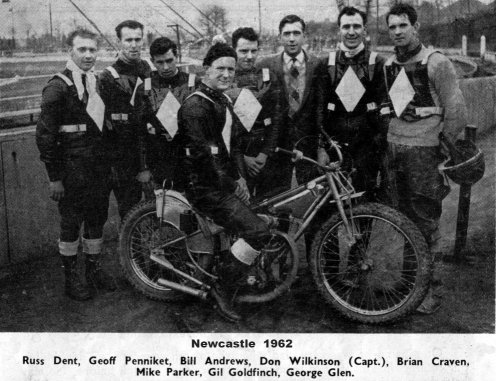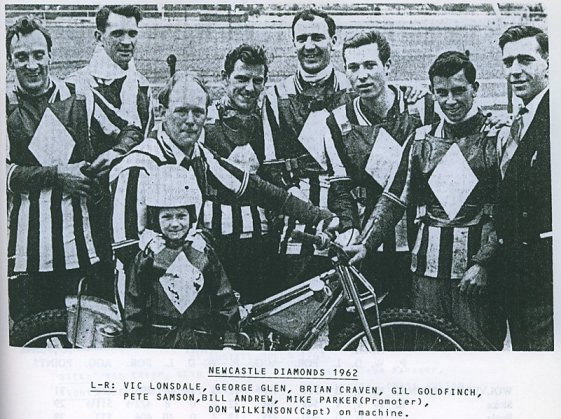 ---
1963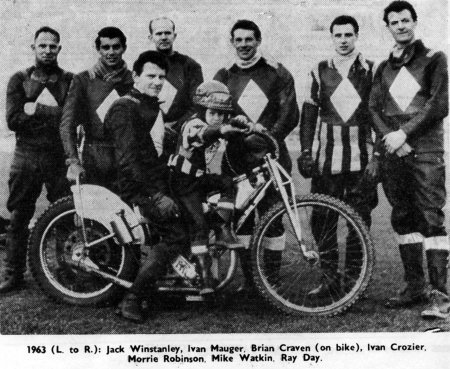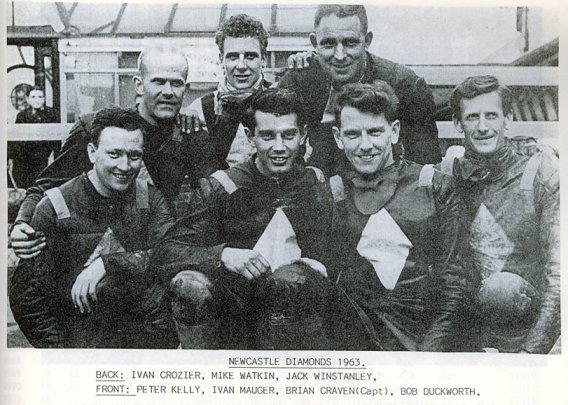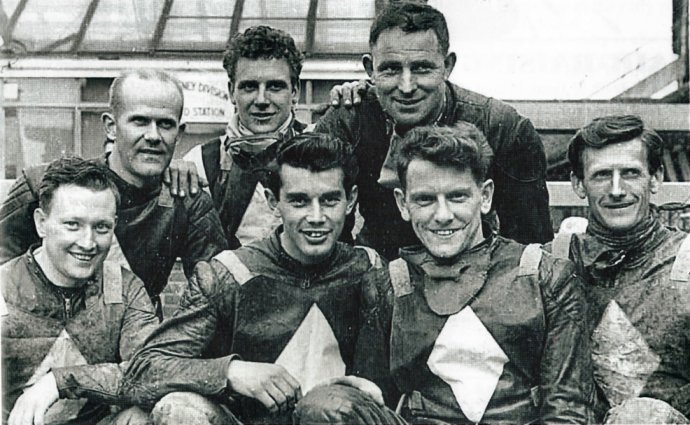 Peter Kelly, Ivan Crozier, Mike Watkin (I think) Jack Winstanley, Ivan Mauger, Brian Craven and Bob Duckworth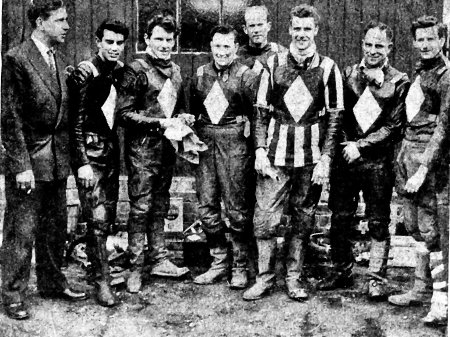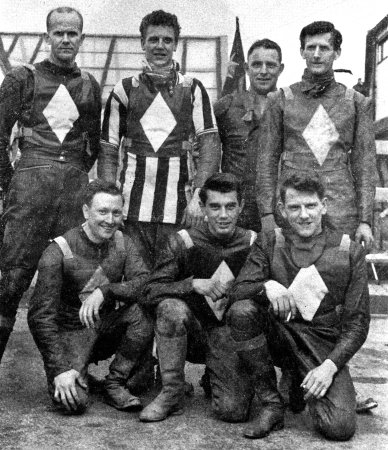 Ivan Crozier, Mike Watkin, Jack Winstanley, Bob Duckworth, Peter Kelly, Ivan Mauger and Brian Craven. The team were kitted out with 2 different race jackets in the 1960s. In Seasons 1961, 1962 and 1983
The race jacket was black with a big white diamond as can be seen above. From 1964 to 1969 the race jackets also had a white border around the diamond
---
1964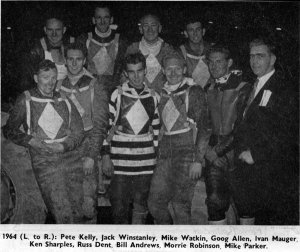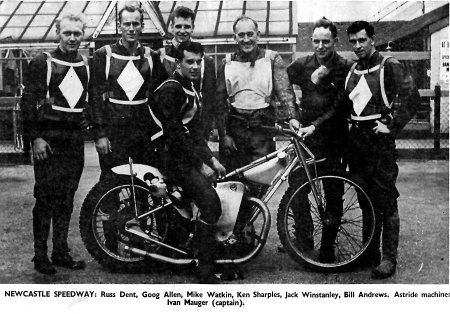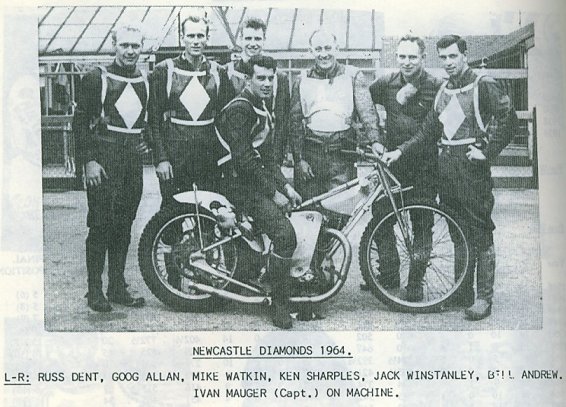 ---
1965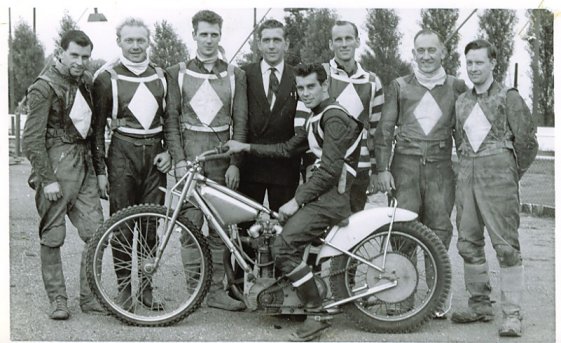 Bill Andrew, Russ Dent, Mike Watkin, Mike Parker, Ivan Mauger, Goog Allen, Ken Sharples and Peter Kelly. Ken and Peter are modeling the pre 1964 race jackets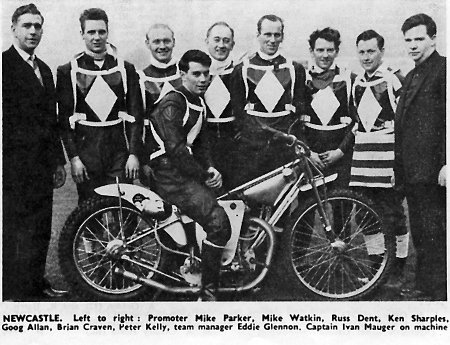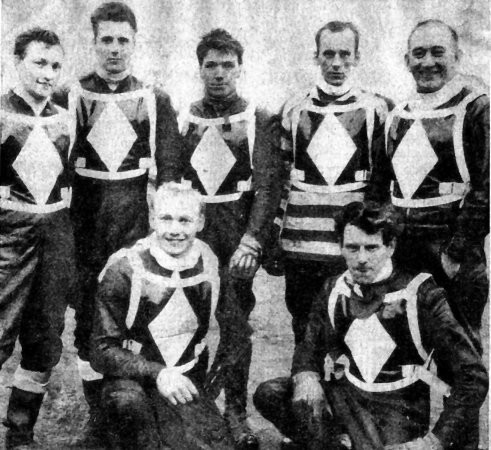 Peter Kelly, Mike Watkin, Brian Brett, Goog Allen, Ken Sharples. Kneeling Russ Dent and Brian Craven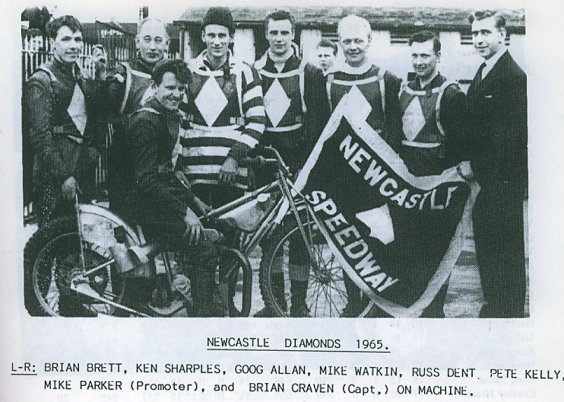 ---
1966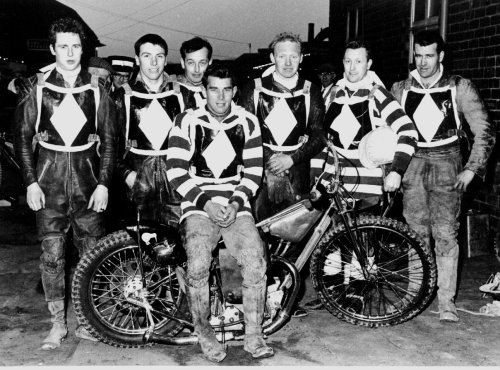 Mike Watkin, Brian Brett, Alan Butterfield, Ivan Mauger (on bike) Russ Dent, Peter Kelly, Graham Coombes.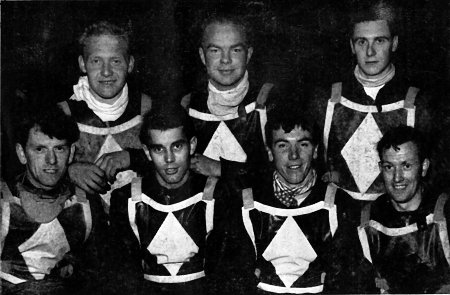 Back: Russ Dent, Dave Gifford and Mike Watkin Front: Brian Craven, Ivan Mauger, Brian Brett Peter Kelly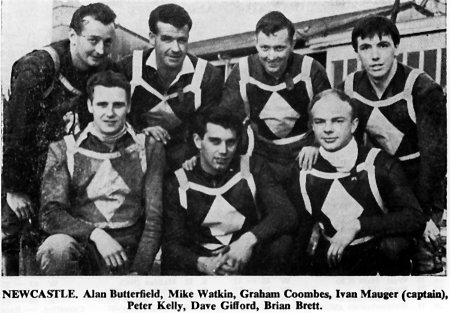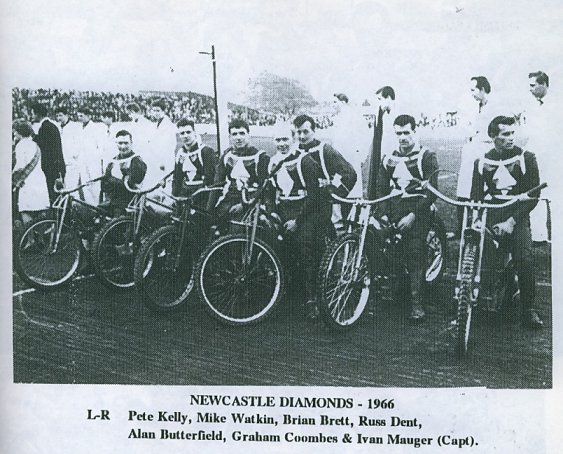 ---
1967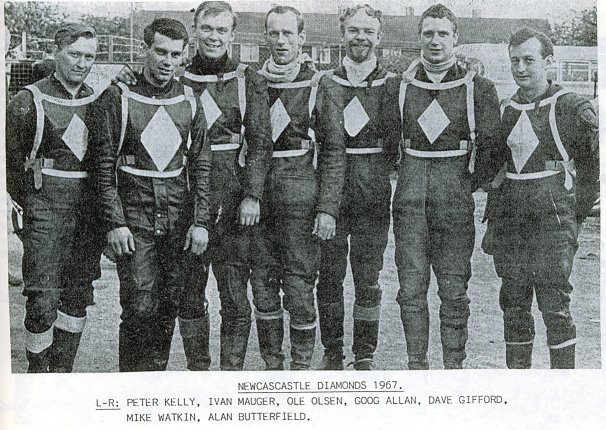 The above picture's race jackets feature bigger diamonds worn by Ivan & Butters for no reason I can recall
---
1968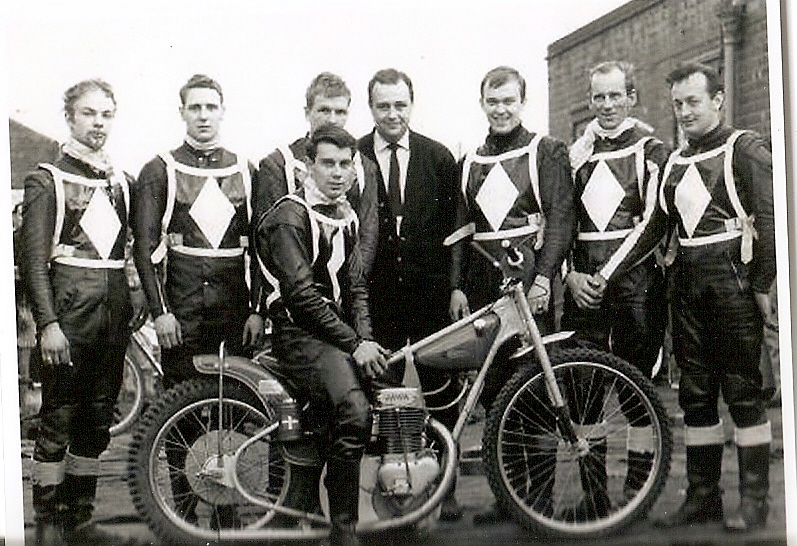 Dave Gifford, Mike Watkin, Alf Wells, Tom Graham, Ole Olsen, Goog Allan, Alan Butterfield with Ivan Mauger on the bike which is an ESO
---
1969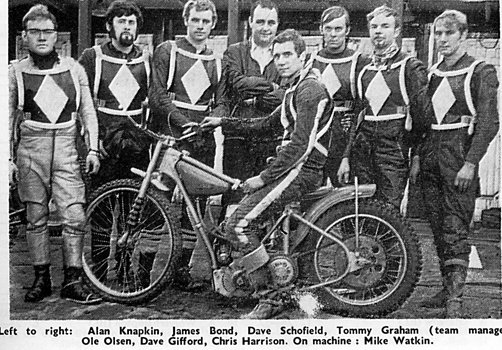 ---
1970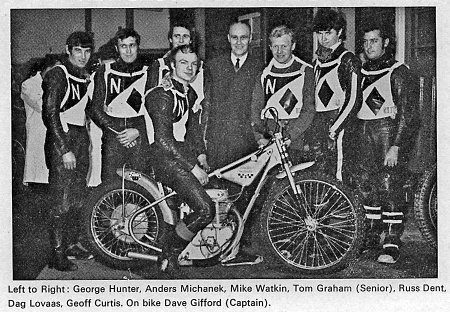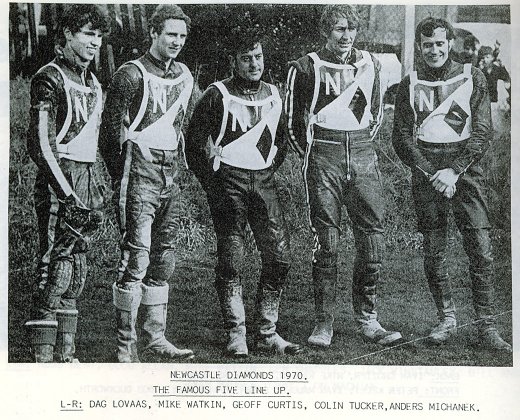 With the 1960's drawing to a close out went Ivan Mauger, Ole Olsen and promoter Mike Parker. In came Anders Michanek, Dag Lovaas and promoter Ian Hoskins (Son of Johnnie Hoskins whom was in charge during 1938/39 and our post war boom years). The race jacket was changed for 1970 to that modeled above
At the end of the 1970 season the promoters wanted to drop down to the second division but the stadium owners, the Greyhound Association said no to that plan and consequently the track was to close down for the fourth time since 1929. What business was it of the Greyhound landlords whether we dropped down a league to continue having speedway paying rent to them.
---
1971-1974
Track Closed
---
1975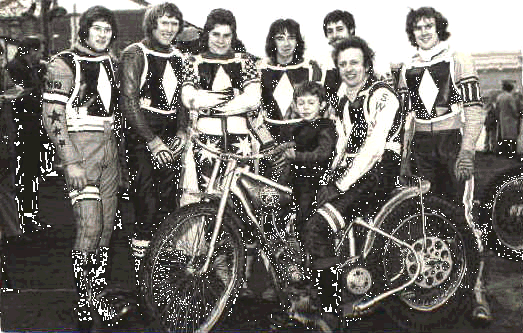 Ron Henderson, Tim Swales, Joe Owen, Robbie Blackadder, Phil Michalaedies, Town Owen Brian Havelock on bike with son Gary Havelock
---
1976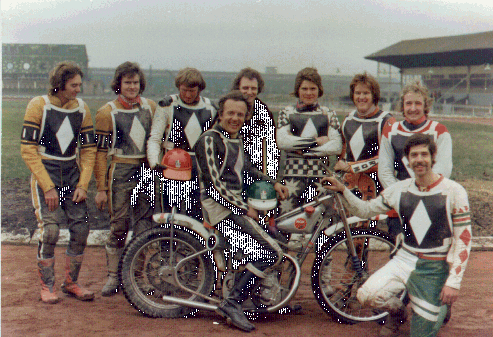 Robbie Blackadder, Tom Owen, Tim Swales, Brian Havelock (on bike), Dave Younghusband, Joe Owen, Ron Henderson Andy Cusworth and Phil Michelides (kneeling)
---
1977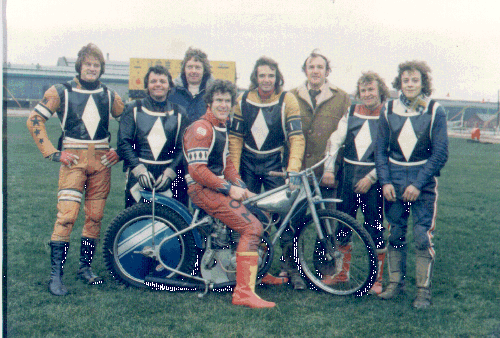 Ron Henderson, Taffy Owen, Dave Younghusband, Tom Owen, Robbie Blackadder Brian Larner, Andy Cusworth Phil Kynman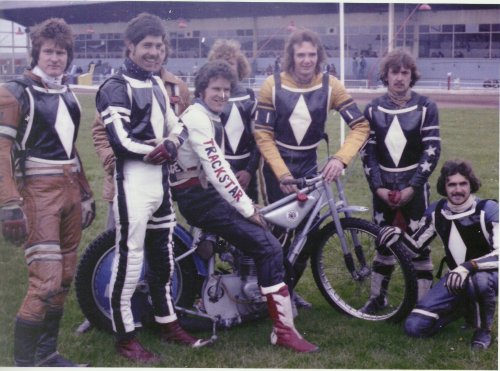 1977 Ron Henderson, Phil Michelides, Dave Younghusband, Tom Owen (on bike), Nigel Crabtree, Robbie Blackadder, Robbie Gardner and Eddie Argall
---
1978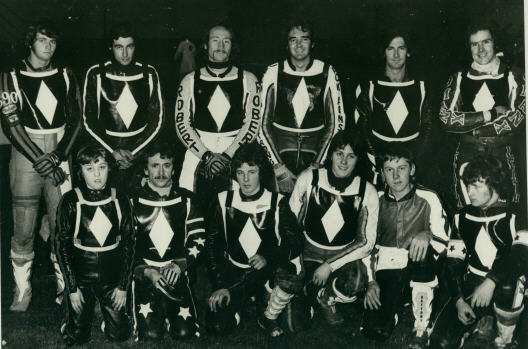 1978 Diamonds Back: Kevin McDonald, Peter Moy, Rob Maxfield, Robbie Blackadder, Neil (Fish) Coddington, Tom Owen. Front: Paul Cook (mascot), Robbie Gardner, Kenny Carter, Chris Prime, David Bargh, Nigel Crabtree.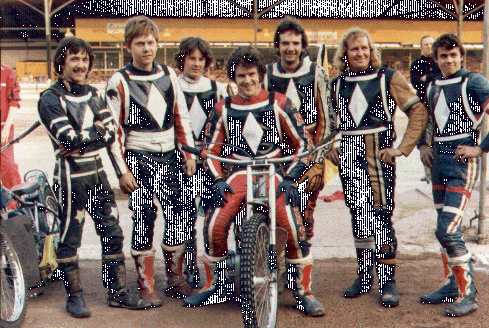 1978 Robbie Gardner, David Bargh, Kenny Carter, Tom Owen, Robbie Blackadder, and Rod Hunter
---
1979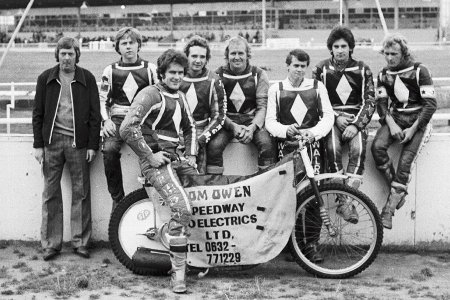 1979 - Dave Younghusband, David Bargh, Tom Owen (on bike) Robbie Blackadder Graeme Stapleton Rod Hunter Neil Coddington Nigel Crabtree
---
1980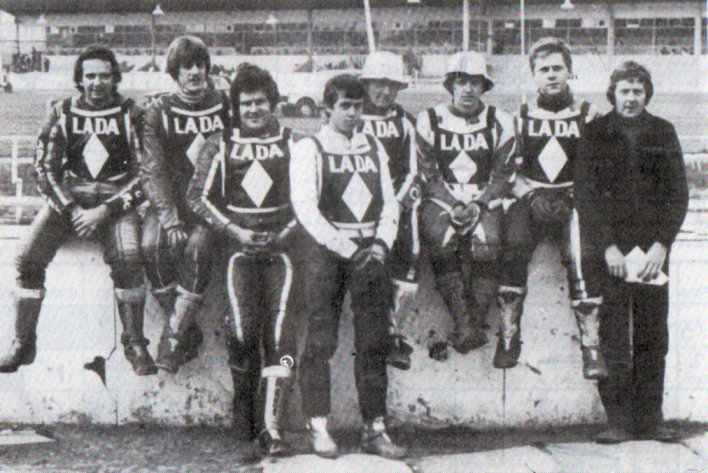 Robbie Blackadder, Derek Richardson, Tom Owen, Rod Hunter, Nigel Crabtree, Keith Bloxsome, David Bargh and team manager Dave Younghusband
---
1981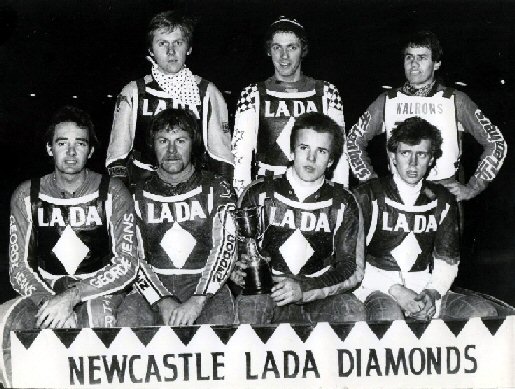 1981 Back row: David Bargh, Alan Emerson, Rod Hunter, Front: Robbie Blackadder, Glen MacDonald, Local rider Paul McHale and Keith Bloxsome.
---
1982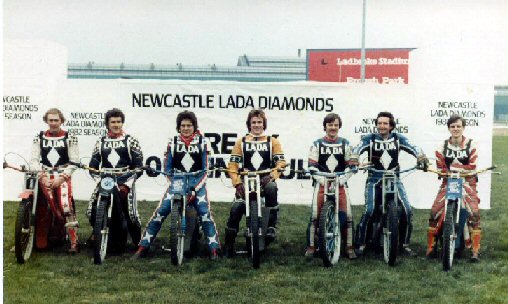 Left to right: Alan Emerson, Tom Owen, Joe Owen, Paul McHale, Bobby Beaton, Robbie Blackadder, Keith Bloxsome.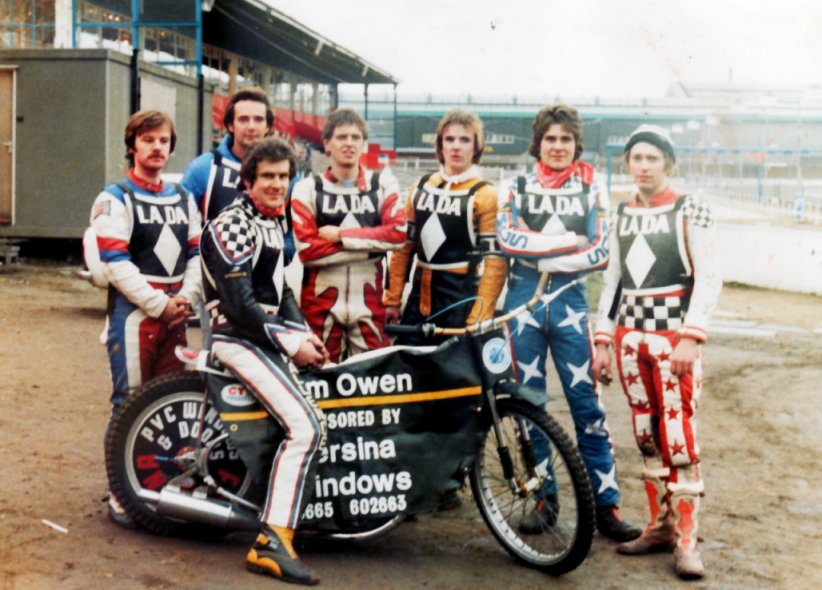 1982 press day. Bobby Beaton, Robbie Blackadder, Keith Bloxsome, Paul McHale, Joe Owen, Alan Emerson and Tom Owen on the bike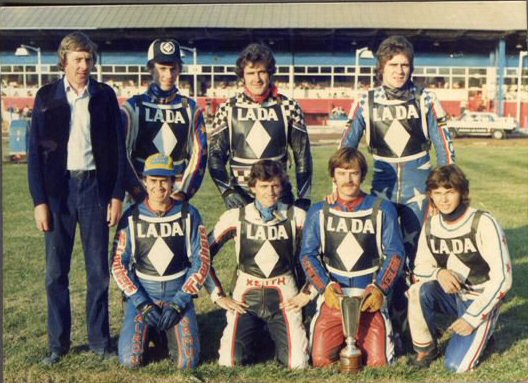 1982 Team with the 4 team tournament trophy. Dave Younghusband (Manager), Alan Emerson, Tom Owen (Capt.), Joe Owen, ..Front: Rod Hunter, Keith Bloxsome, Bobby Beaton and Robbie Foy, was it 1982 or 1983?
Joe Wake advises that the picture is 1982
---
1983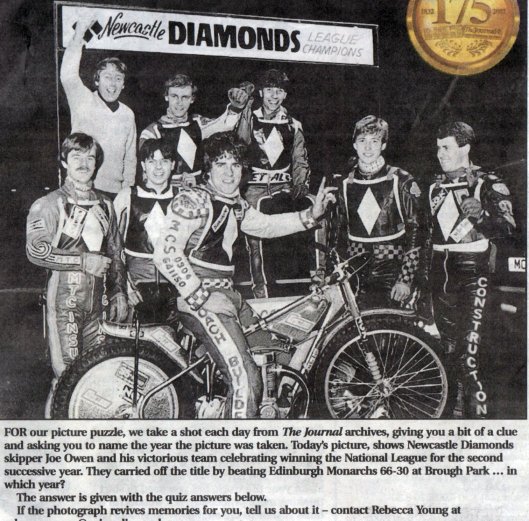 The year? 1983 - The picture is courtesy of The Journal and was given to me by Dave Rowland as the site did not have a picture of the all conquering 1983 side. Now as to the riders in this photo (my memory isn't good) I say Bobby Beaton, Dave Younghusband, not known, David Bargh, Joe Owen, not known, not known and Rod Hunter. Help please John
Tony Richardson says:
I think they are Bobby Beaton, Dave Younghusband, This looks like Dave Walsh, Alan Emerson, Joe Owen, Bernie Collier, Martin Scarisbrick, Rod Hunter.
Andy Daly
says: The riders are from the left: Bob Beaton, manager Dave Younghusband, 'mystery man' 3rd from left is, I am almost certain Dave Walsh, Alan Emerson, Cap Joe Owen, Bernie Collier, Martin Scarisbrick, and Rod Hunter. Should the 'mystery man' turn out not to be Dave Walsh, then as I say, an educated guess would be John Place. Regards, Andy
---
1984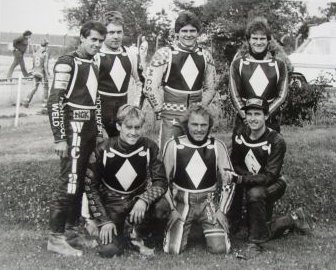 1984: Rod Hunter David Bargh Joe Owen Phil White. Front Martin Scarisbrick, Reg Wilson and Eddie Ingels. This 1984 team competed in the tough British League after promoter Ian Thomas bowed to fan pressure and "promoted" the Diamonds to the top league. They struggled and poor Ian lost money heavily he pulled out at the end of the 1984 season and speedway at Brough Park closed down for the 5th time! We can thank Ian (now deceased) for the most successes ever, by Newcastle teams over Ian's 10 year stint in control.
---
1985 Track Closed
p
---
1986

Newcastle
(Federation Specials)
Only closed for one year ( 1985) Promoter John Turner brought the sport back. He had a sponsorship with the local "Ace of Clubs" Federation Brewery and renamed the team Newcastle Federation Specials to advertise the sponsors name.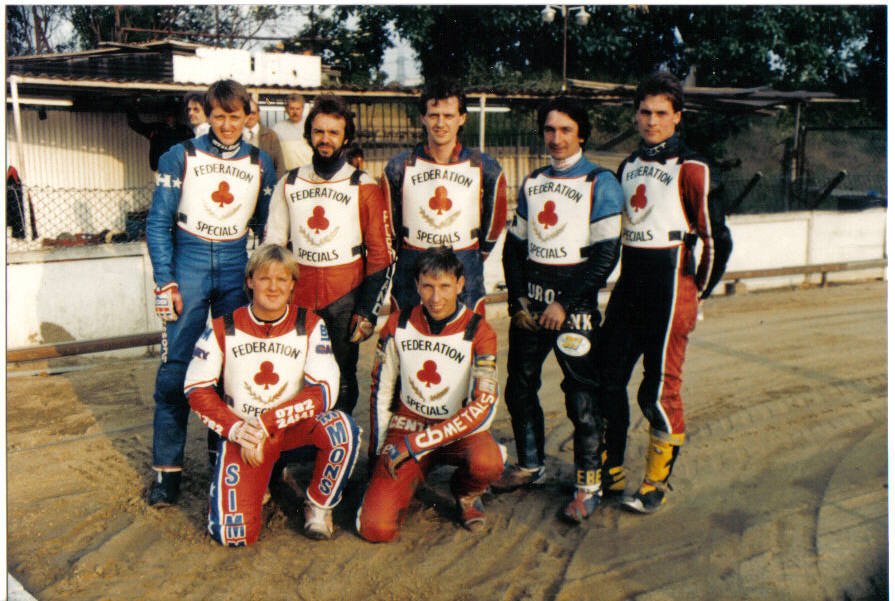 1986 team standing left to right:- Paul Stead, Dave Morton, Keith Bloxsome, Dave Perks, David Blackburn. Kneeling: Gary O'Hare and Bernie Collier.
---
1987
Eric Stead took over for his unsuccessful spell as Newcastle Promoter lasting just one season and Brough Park closed it's doors to speedway in September 1987 that was the 6th time the track put up the shutters.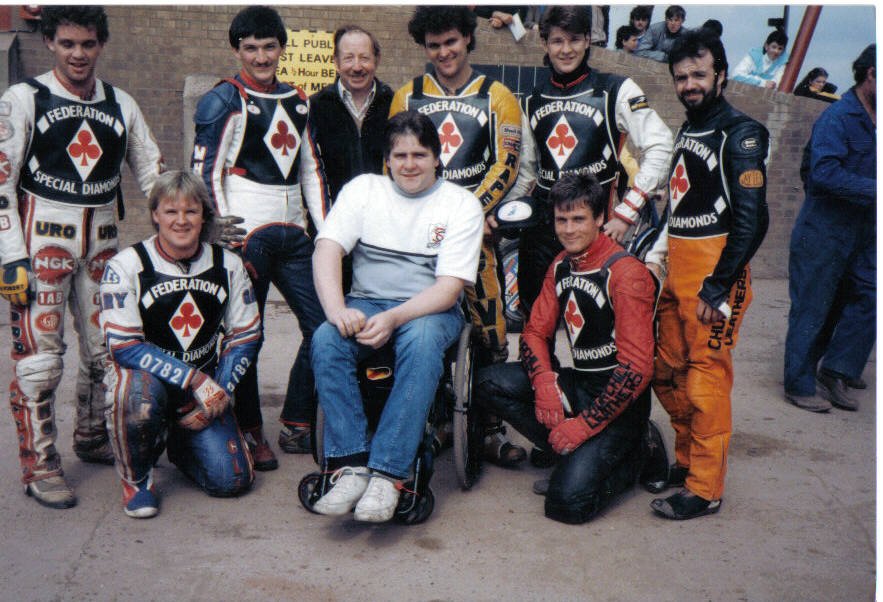 1

987 team. Standing left to right: Mark Courtney, Paul Cooper, Eric Stead (promoter), Roland Tebbs, Bobby Duncan, Dave Morton. Kneeling: Gary O'Hare and David Blackburn, with Joe Owen (team manager) in the middle.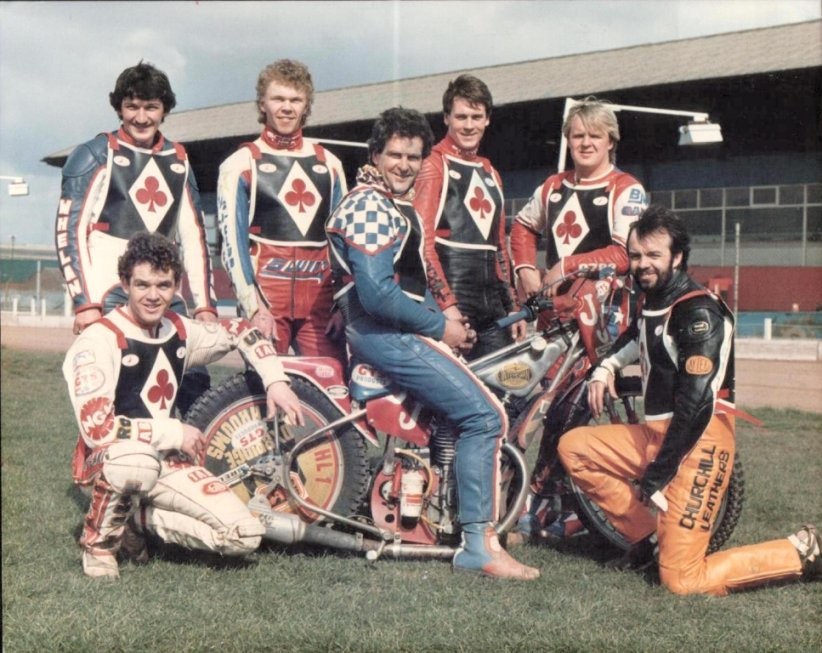 Courtesy of Mike Birtles
Firstly many thanks to Mike for sharing his photo with us. Mike thinks his photo is from 1975/76 and features Steve Wicks, Tom Owen (on bike), David Blackburn ,Gary O Hare, kneeling Mark Courtney and Dave Morton.
John says: I agree the riders names Mike but the picture is of the 1987 Federation Diamonds
---
1988 Track Closed
---
1989 - 1990
No Photos
Barry Wallace and Richard Bailey under the name Spectake saved the day and re-opened Brough Park for the 7th time in 1989. Can you help me with team pictures of 1989 and 1990
John
---
1991
Debmat Diamonds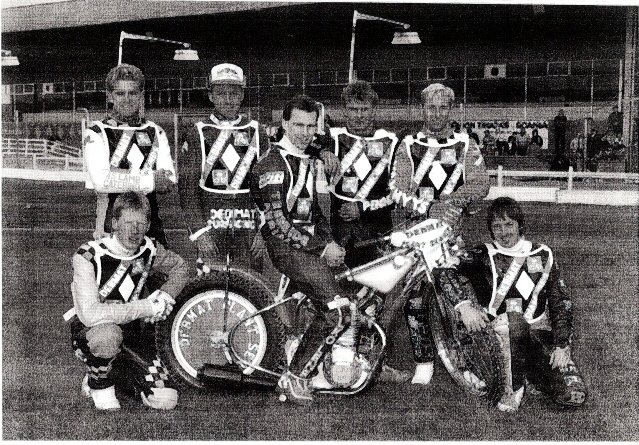 1991 Barry Wallace stepped down as promoter and Richard Bailey and Bill Reay headed a large group, I think my shares made me one of them? to keep the Diamonds going. You may notice kneeling on the left Richard Juul. Dickie's affiliation with Newcastle Speedway goes back a lot of years. I make it 10 years as a rider and a few more helping behind the scenes. This 1991 iamge is poor but I can make out David Bargh and Mark Thorpe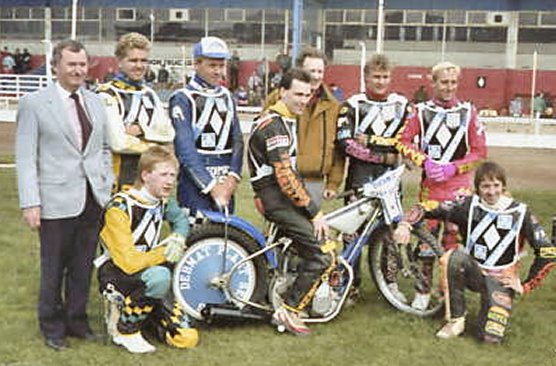 1991 team photo from a different angle, can you name them please John
Tony Richardson says: Team from left to right Promoter not known, Scott Lamb, Kneeling Richard Juul, Dave Bargh, Martin Dixon (on bike), Brian Havelock (Team Manager), Mark Thorpe, Jamie Habbin I think (nickname Pink Panther I think), kneeling not known
Update: Craig McCurdy says: - I think the rider kneeling on the right is Brian Nixon (Australian)
Steve Park says: The Promoter is Bill Reay
---
1992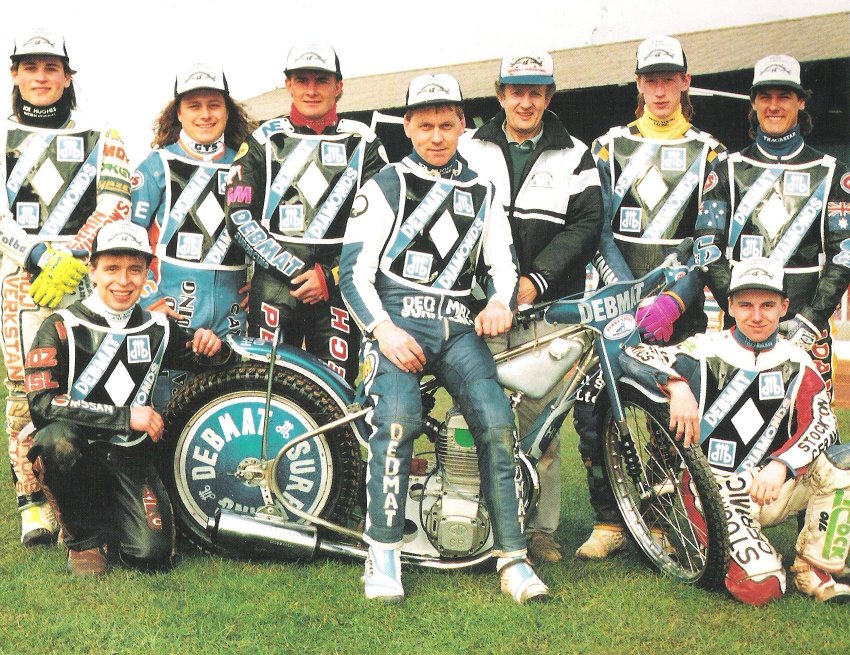 Debmat Diamonds 1992
David Nagel Wayne Garratt Mark Thorpe David Bargh Brian Havelock Richard Juul Scot Norman Kneeling Phil Jeffrey and Max Schofield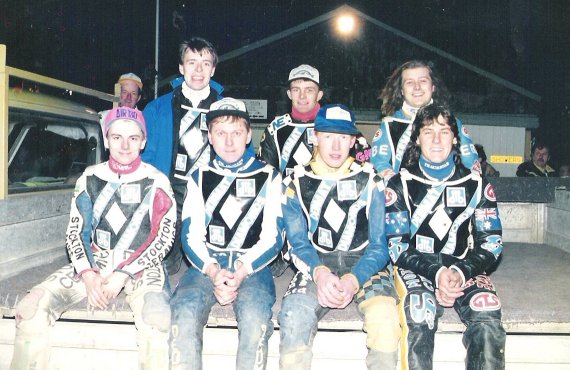 Wayne Garratt in 1992 back row, far right, became the 4th rider to lose his life as a result of crashing at Brough Park. He joined Chris Prime 1978 and in 1946 Charlie Appleby and Bill Nichol. I hope this list will never again be added to.
---
1993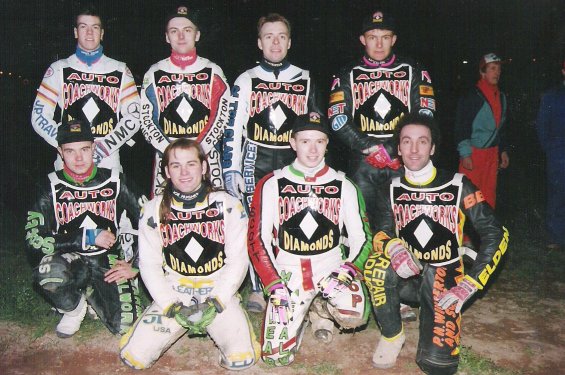 1993: A change of body jackets and sponsor these are the Auto Coachworks Diamonds. Rear: Garry Stead Max Schofield Phil Jeffrey Mark Thorpe Front: Scott Robson David Nagel Stuart Robson Paul Thorp. Both Robbo's in this line up. Stuart is a member of the current Diamonds line up (2014 as I type this!) Scott has hung up his kevlars. Stuart is the "youngster", second from the right, front row, 21 years ago Stuart! keep going mate you are still doing the business in 2014.
---
1994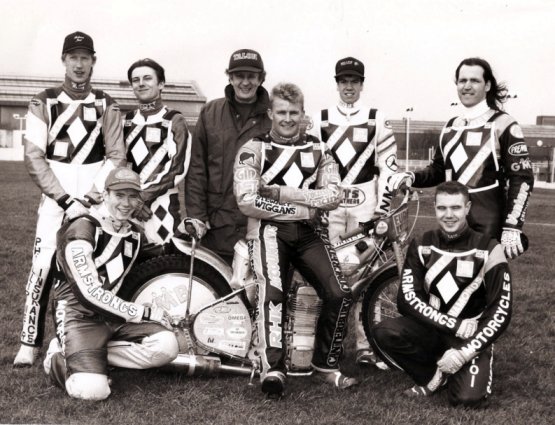 Brough closed down, the 7th time at the end of 1994. I thought then that we needed local promoters that were prepared to run things as a vocation not as a business. I thought we had closed a couple of times when we could have kept going if only we had had local promoters prepared to weather the storms.
---
1995 - 1996
Track Closed
---
1997
Many fans came back in 1997 wondering how long the team would last this time, me amongst them. Happily this re-opening saw local men George English junior and Dave Rowland as promoters under the name Newspeed. Newcastle joined the Premier League which was actually the sports second tier for the eighth re-opening, ninth if you counted the first opening season 1929! Maybe Brough had just won the British Speedway re-openings title!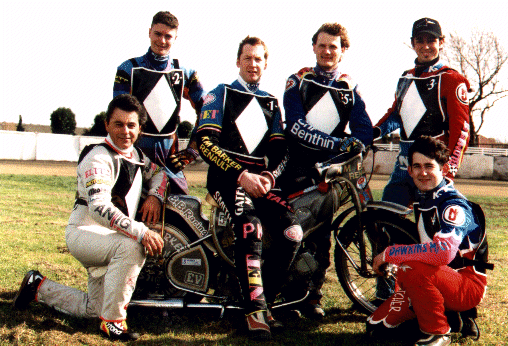 1997 - Glyn Taylor, Brian Turner, Paul Bentley, Jesper Olsen, Andre Compton and Stuart Swales. My favourite Diamonds racejacket. The promoters George and Dave in my opinion could do the job but I thought we still we needed a benefactor to come in with some real cash. I looked at my bank statements and decided even though I wanted to, I couldn't help, so George and Dave would have to go it alone without any help from yours truly.
---
1998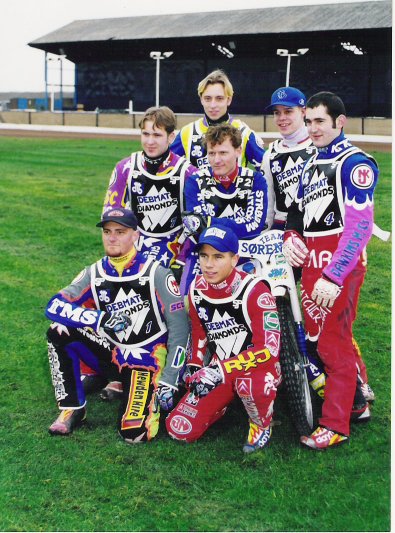 L-R Jonathon Swales, Malcolm Hogg, James Birkenshaw and Stuart Swales, Jesper Olsen on the bike, Brent Werner and Nicki Pedersen kneeling. Nicki turned out to be the best signing Newcastle had made since Anders Michanek back in 1970 with due respect to Tom and Joe Owen. Nicki was better and he went on to be world champion 3 times (as at 2014)
---
1999 - 2000
No Team Pictures
Can You Help, send me an email John
---
2001
In 2000 Darryl Illingworth joined George English and Dave Rowland as promoter. Darryl's arrival gave the promotional team a bit more collateral. He was not a millionaire but he did inject some much needed cash to help the team. Which must have taken a lot of pressure off George and Dave.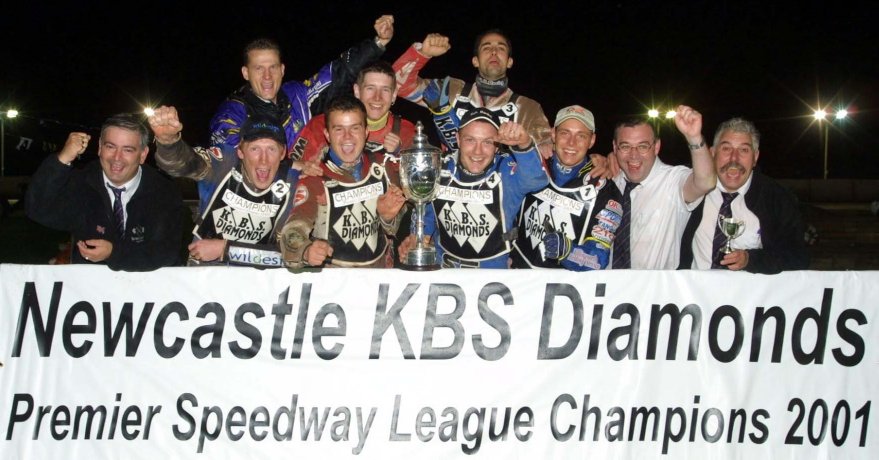 Darryl Illingworth Jesper Olsen Richard Juul Rob Grant Kevin Little Andre Compton Bjarne Pedersen George English and Kenny Smith celebrating major success. The winning 2001 team was led by Bjarne Pedersen but behind Bjarne at number 1 were fine riders who got the points needed over the season to win the title.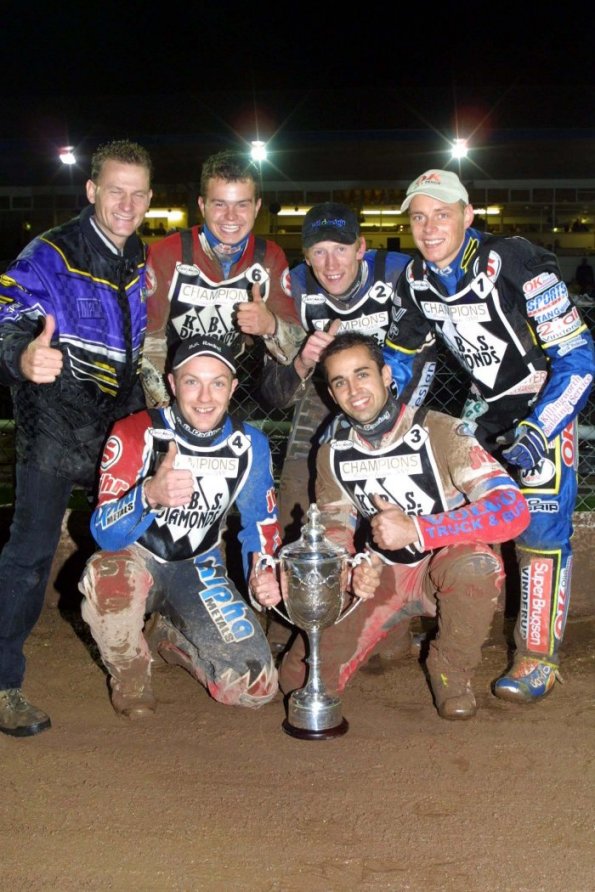 2001 Champions Jesper Olsen, Rob Grant jnr, Richard Juul, Barne Pedersen Kneeling: Kevin Little and Andre Compton. Jesper was suffering badly from a dislocated shoulder. If he had been fully fit the championship win would have been easier. Rob Grant was from a speedway dynasty. His father Rob Grant senior was a top performer for Berwick over the years and young rob's grand father Alec "farmer" Grant was a member of Newcastle's team in the 1940s
---
2002 - 2004
No Pictures
(Can You Help)
---
2005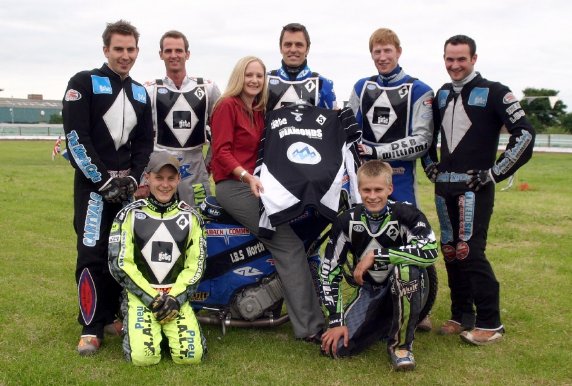 James Grieves Christian Henry Phil Morris Richard Juul Jamie Robertson with Josef "Pepe" Franc and Lubos Tomicek Kneeling and no I don't have the girls phone number!
---
2006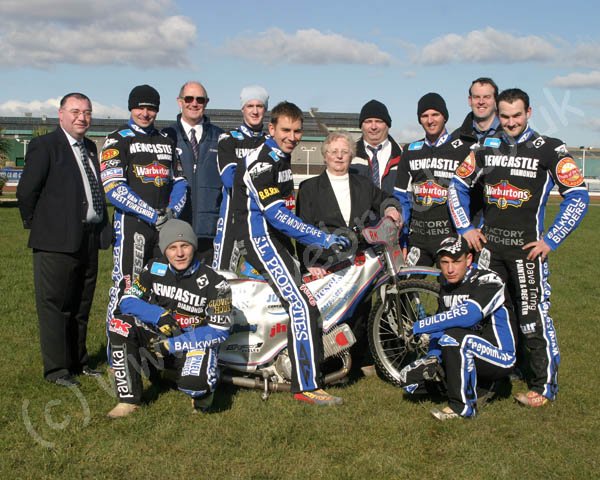 A good shot of everyone from 2006 courtesy of Steve Brock. line up is George English, George Stancl, Barry Wallace, Adam Mckinna, Joan English, Darryl Illingworth, Christian Henry, Andrew Dalby, Jamie Robertson, James Grieves on the bike and Kneeling Josef Franc and Manu Hausinger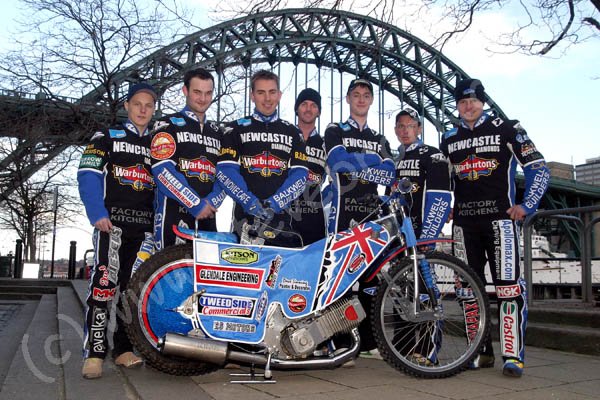 2006, The Tyne Bridge. Josef (Pepe) Franc, Jamie Robertson, James Grieves, Christian Henry, Adam McKinna, Manu Hausinger and George Stancl. These are 2 of many great photographs from the camera of Steve Brock, Visit his website here Steve
---
2007
No Pictures
(Can You Help) John
---
2008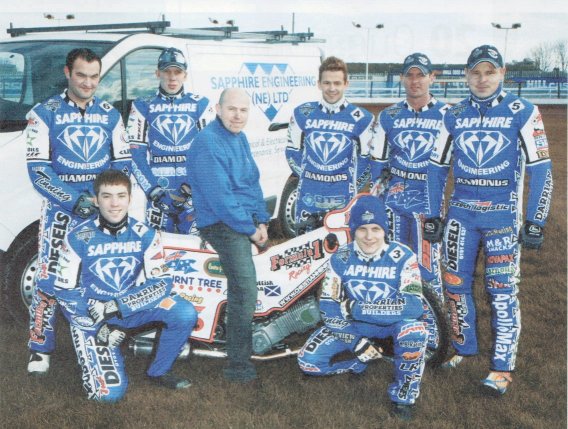 2008 Sapphire Diamonds with the team Sponsor
Jamie Robertson Sean Stoddart Ben Powell Jason King Josef Pepe Franc Christian Henry and George Stancl
---
2009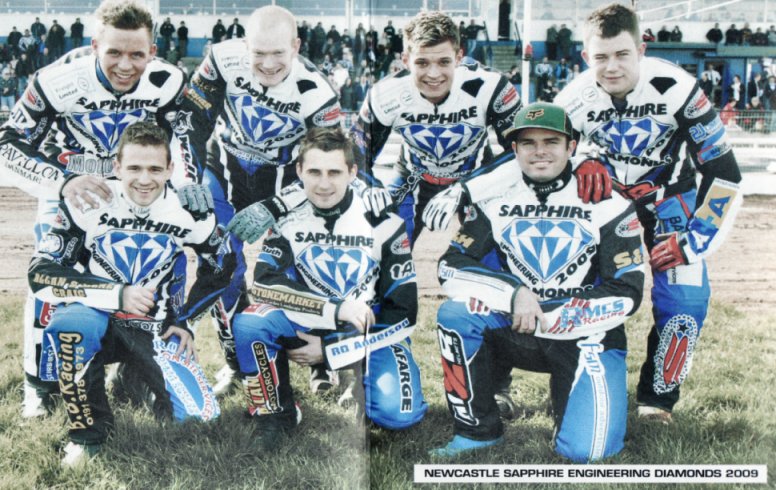 ---
The contents of the site are © and should not be reproduced elsewhere for financial gain. The contributors to this site gave the pictures and information on that understanding. If anyone has any issue or objections to any items on the site please
e-mail
and I will amend or remove the item. Where possible credit has been given to the owner of each item.