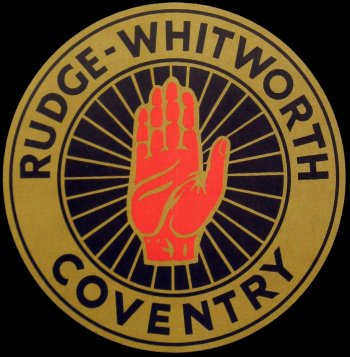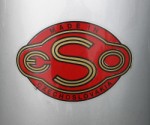 ---
Newcastle's
Pre War Riders
Part 2
1938 -1939
Syd Littlewood Kid Curtis and Pudding Basin Helmets Tony Fox's Photos Rol and Maurice Stobbart Spencer Smokey Stratton George Pepper 1938 Line Up 1939 Line Up Johnnie Hoskins at Newcastle
---
1938

Brough Park Badge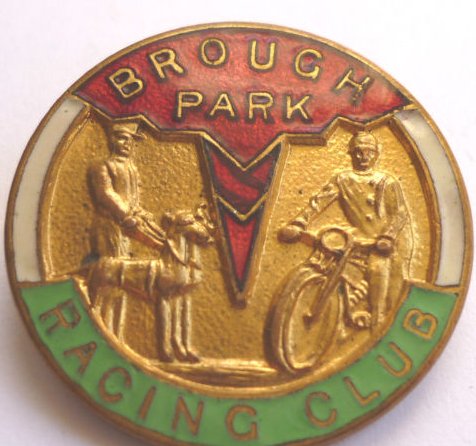 1938 Brough Park badge showing Greyhounds and Speedway, I believe this badge to be worth around £250.00 and no! I do not have it. 74 years old and amazingly the Greyhounds and the Diamonds still share the Brough stadium. Bill Walsh says he owns one. It was given to him when he was a lad by rider Norman Hargreaves in 1938
---
Johnnie Hoskins
At Newcastle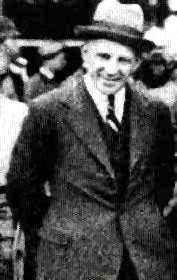 Johnnie S. Hoskins
MBE
(born 1892
Waitara
,
New Zealand
– died 1987
in Kent England. In short Johnnie is considered to have "invented" speedway! If that is not true then Johnnie certainly played the leading roll in developing/promoting the sport. Johnnie had humble roots working on a farm and then as a postman in NZ. He left his homeland and arrived in Australia hoping for fame and fortune. He took a train ride spending his last few bucks on a ticket to anywhere! That was West Maitland and he had to get off the train there.

His entrepreneurial skills found him running street stalls, boxing and a number of other "attractions". He was elected Charity Carnival organiser for the Local Hunter River Agricultural Horticultural Society, when the secretary resigned, Hoskins took on his position, as secretary too.

Johnnie was a keen motorcyclist and he set about persuading the Horticultural society to run motorcycle racing around their trotting track at their annual show. On 1st December 1923, the following notice appeared in the local newspaper, the Maitland Daily Mercury: "Motor cycle races will be a novel feature of the sports carnival to be held on December 15 on the West Maitland Show Ground. The track is in splendid order, and it is expected that over 40 entries will be received for the different motor cycling events. This will be the first time that motor cycling races have been held on the Show Ground, and the events should therefore prove of great interest."

In his capacity as Secretary to the Local Hunter River Agricultural Horticultural Society, Hoskins organized a sports charity carnival called the
Electric Light Carnival
, staged on the Maitland Showground on 15 December 1923, to benefit the local orphanages as well as the Local Hunter River Agricultural Horticultural Society. The programme of events staged that night consisted of horse races, including trotting, cycling events, athletics, and motorcycle racing. This was the first time motorcycle racing had been staged at the venue, and this date is widely recognised as the day on which motorcycle speedway in its current form was born. Hoskins ran speedway at Maitland for two years and then moved on to Newcastle in New South Wales.

Johnnie moved around Australia promoting speedway
notably at Newcastle, Sydney and Claremont
. By 1927 he was making big money promoting racing and his ambitions led him towards the UK. In 1928, Hoskins decided to try promoting speedway in the United Kingdom. He set sail on the
Oronsay
, arriving in England without the use of a suitable track. But not for long. He was asked to promote speedway in London, at Wembley Stadium, why not start at the top!

1938 saw Hoskins in the north east of England restarting Newcastle Speedway. Hoskins operated at Newcastle in 1938, 1939, 1945, 1946, 1947 and 1948 before pulling the plug and moving on to Glasgow in 1949. Johnnie firmly establish Newcastle as a speedway city and even if he did leave us in the lurch in 1949 we can thank him for building the sport up on Tyneside.
---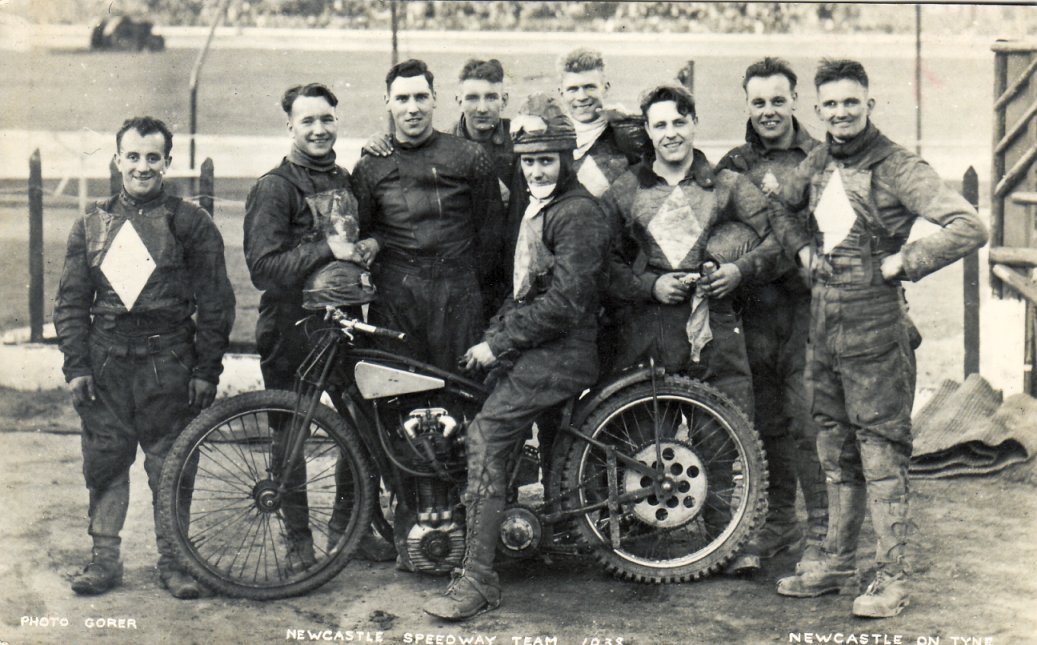 Courtesy of Keith Dyer
Speedway was brought back to Brough Park by Johnnie Hoskins after an 8 year gap . The fans flocked to the stadium despite the depression and they started a supporters club. Reg Hay extreme left, Rol Stobbart 3rd from right, George Pepper is on the bike. Can you name rest of the riders
John
Col Greenwell says: I think 2nd from right is Maurice Stobbart and 4th from left Kid Curtis
Tom Marriott says: From the left standing 2nd is Bruce Venier, 3rd is Bob Sparks, 5th is Elwood Stilwell.
Bill Walsh says: Norman Hargreaves is at extreme right.
---
Norman Newton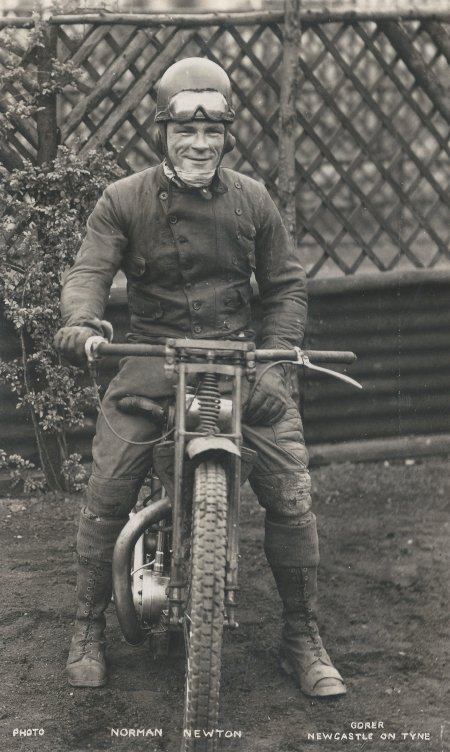 Joe Wake says: Norman Newton rode in at least half a dozen matches for Newcastle in 1938.
---
1938

Programme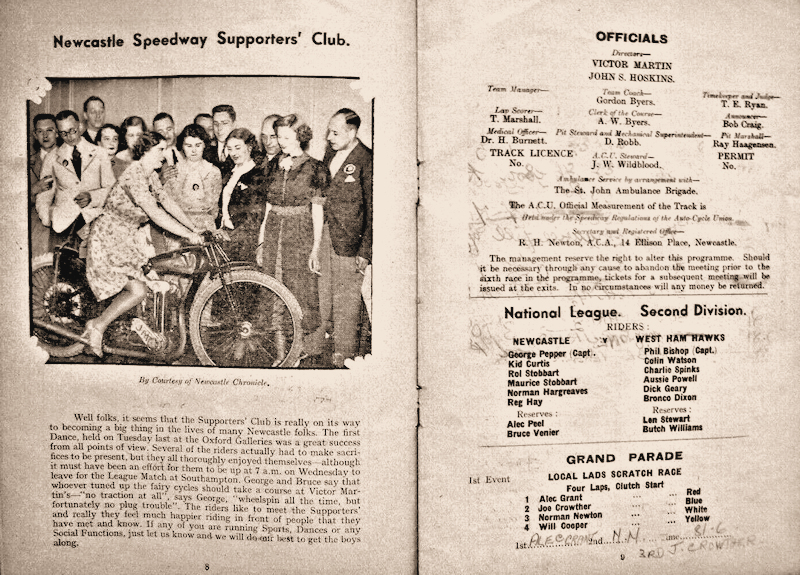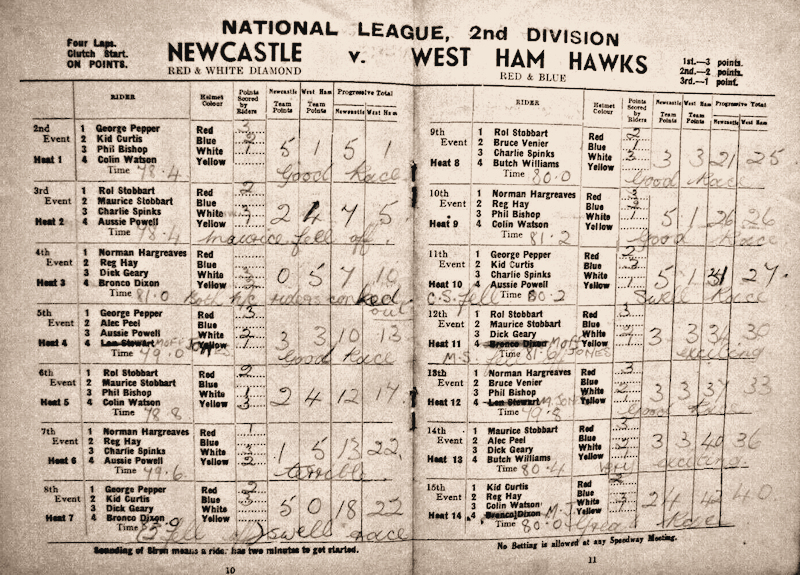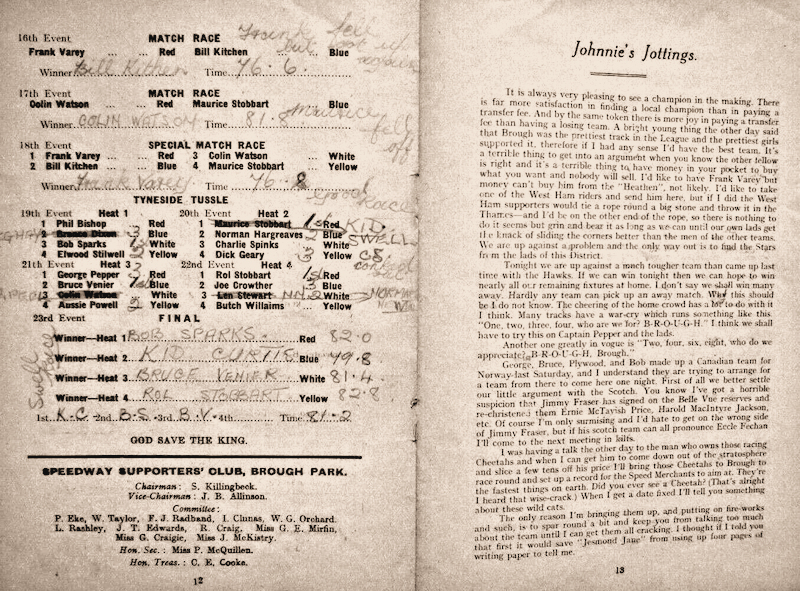 ---
Another
1938
Diamonds
Line Up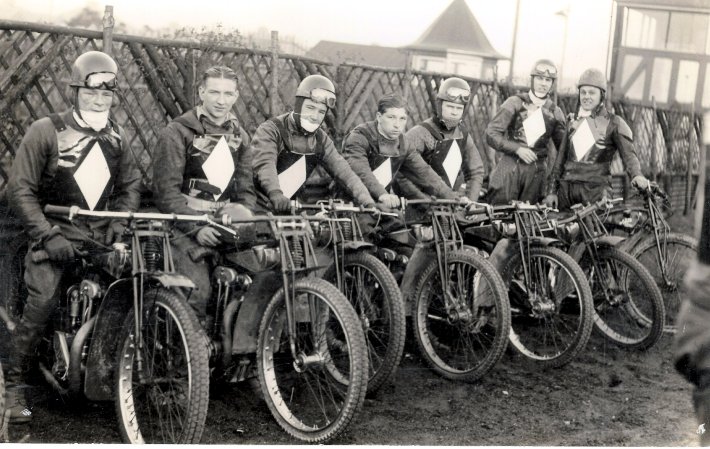 Courtesy of Ian Young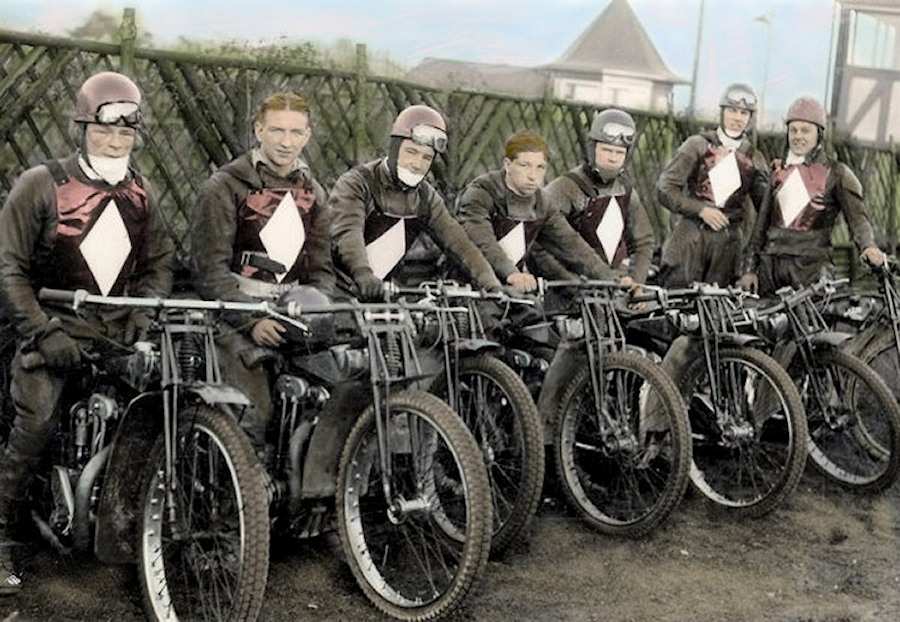 The same photo in colour - Courtesy of J Spoor
I have received the team photo scan from Ian, shown above. Can you confirm the year (I think 1938?) I think it is possible that Norman Newton is at extreme left. If you can name the riders please let me know so I can update this webpage John
I
an Young says: first rider on the left could be Norman Newton.
John says: I agree it looks like him from another photo on the site and the two standing at right hand side look like Bob Sparks and Rol Stobbart. Help please with the rest
John
Tom Marriott says: From left. 3rd Bruce Venier 5th Elwood Stillwell 6th Robert (Bob) Sparks. All Canadians.
More info received via my name the riders pages on my Defunct Speedway website as follows: -
I have received the Newcastle Diamonds team photo scan shown above from Ian Young. Can you confirm the year (I think 1938) If you can name the riders please let me know so I can update this webpage
John
The Diamonds in those days wore a white diamond on a red background unlike the team since 1961 which has always been Black n White.
Reg Fearman says: Pre war Newcastle Diamonds. Looks like Fred 'Kid' Curtis to me second left and Butch Williams fourth left, both were attached to West Ham later. Butch Williams went to Dagenham in 1939 and in 1946 joined West Ham as a mechanic - that was when all first division tracks, at least, had their own workshops. 'Kid' was on loan to Middlesbrough then reverted to West Ham. Hope this is a start for the photo.
John says: Yes it has got us off the starting gate Reg! Can anyone name the rest and confirm what I think, that these are some of the riders Newcastle used in 1939 or was it 1938?
John
Col Greenwell says: Norman Newton? I don't know him, but he looks to be the rider nearest the camera on your unnamed Diamonds team from 1938/39 Kid Curtis second along from left.
John says: I am wavering over the year and now think it is earlier, probably 1938
Steve Baker says:
Hi John, I have done a bit of research on the Norman Newton and Pre War Diamonds pictures and have found out the following. Firstly Norman rode a handful of meetings for the Diamonds in early 1938 and then seems to have disappeared! He didn't ride in 1939 therefore I believe the team photo of the Diamonds was actually 1938 not 39. The Diamonds team in that picture is left to right Norman Newton, Kid Curtis, Bruce Venier, Unknown ( I'll come back to that in a moment ), Elwood Stillwell, Bob Sparks and Maurice Stobbart.
As far as the unknown guy is concerned, I have to disagree with Reg Fearman when he says it is Butch Williams as I don't think he ever rode for the Diamonds. There are a number of big names missing from the photo such as George Pepper, Rol Stobbart and Norman Hargreaves, though none of these are the missing man. The only other names I can come up with are Percy Dunn and Fred Marshall who made brief appearances in 38, however as I have no idea what these chaps look like I cannot say if the mystery man is either of these. Maybe someone else can throw some light on that one!
---
Canadian Diamond
Elwood Stilwell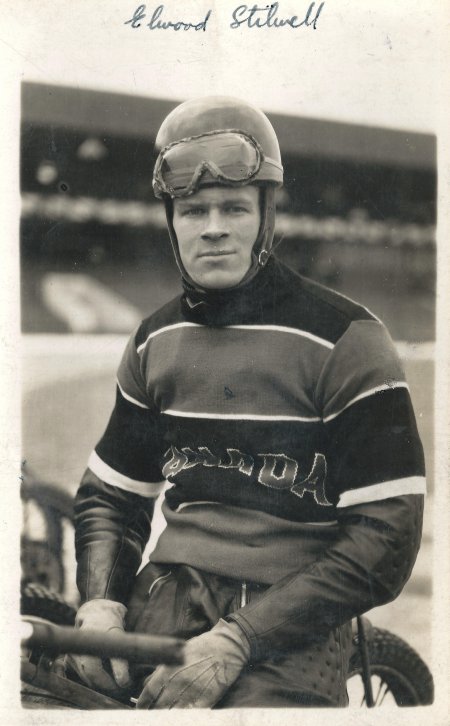 I believe Newcastle's pre war teams 1938 and 1939 utilised at least 4 Canadians.
---
1938 Programme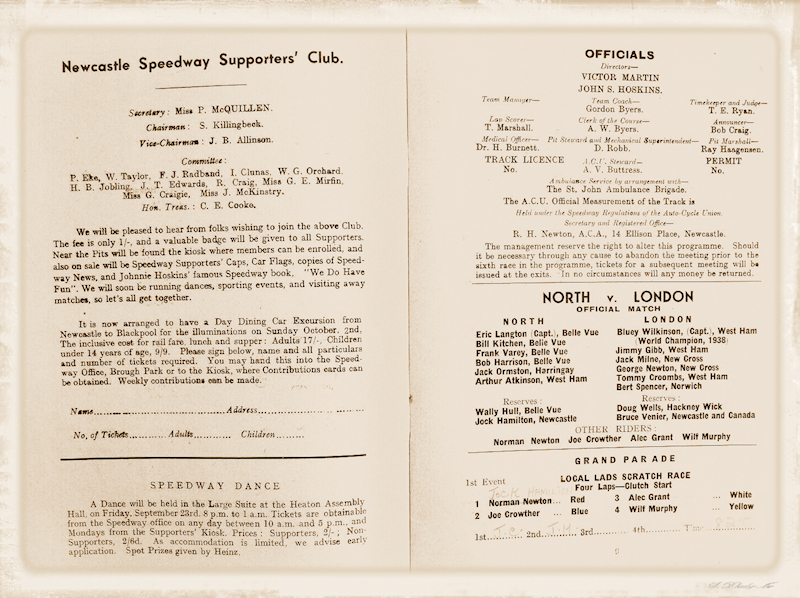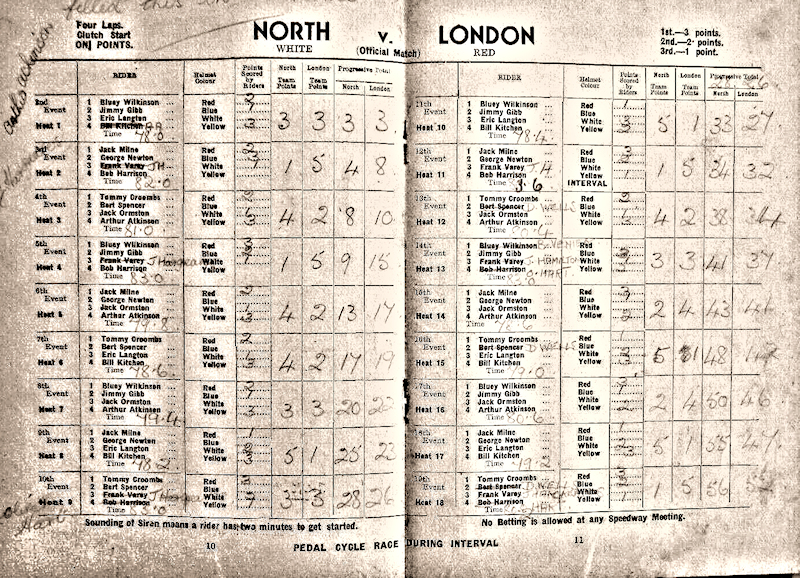 ---
Newcastle v Sheffield
12

th September

1938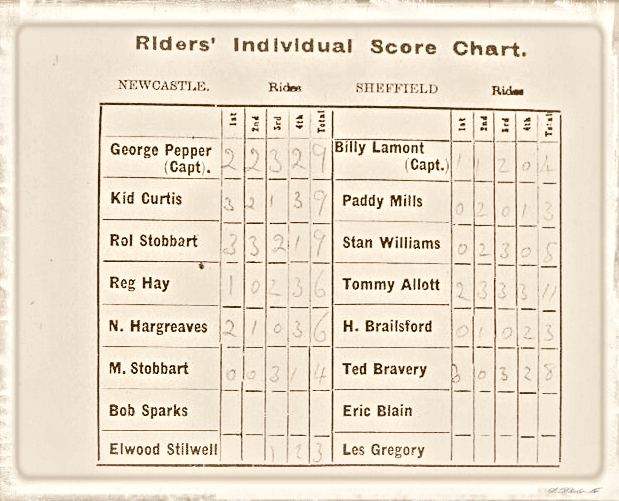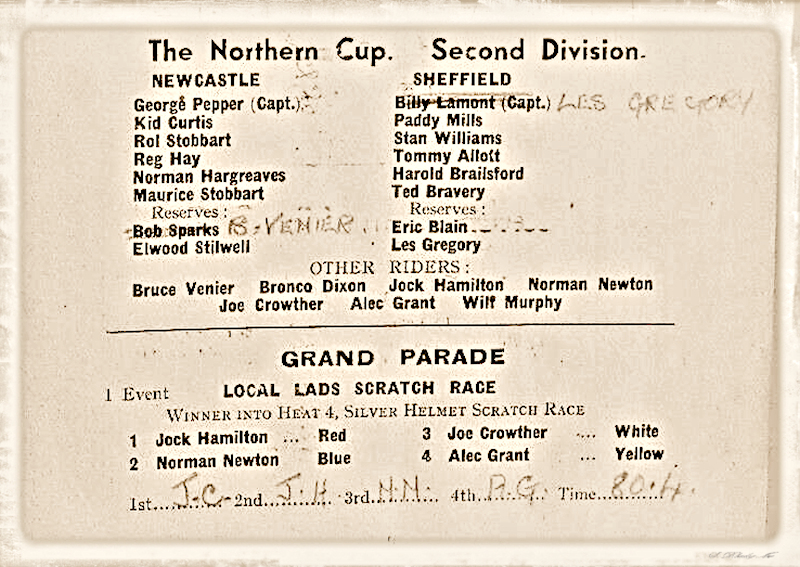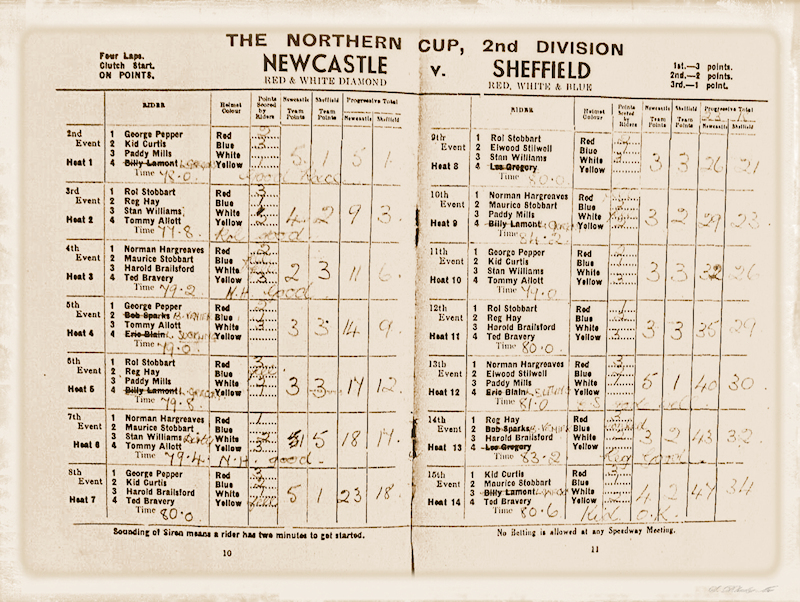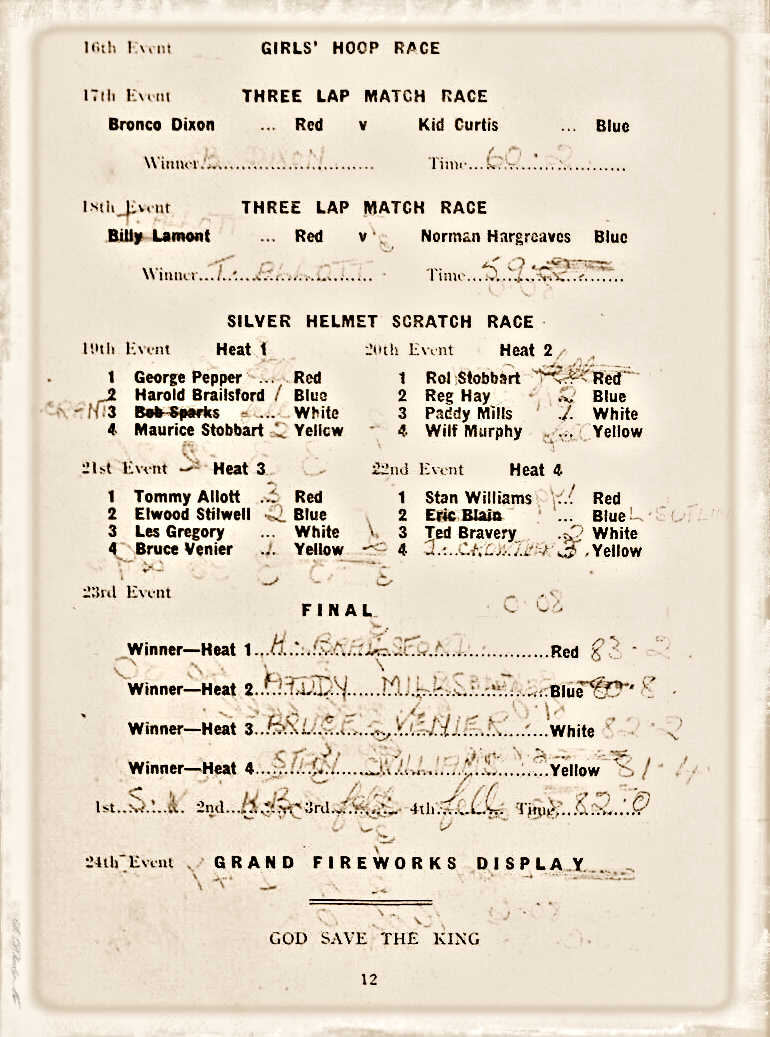 ---
1938

Newcastle Speedway
Supporter's Club Minutes/Journal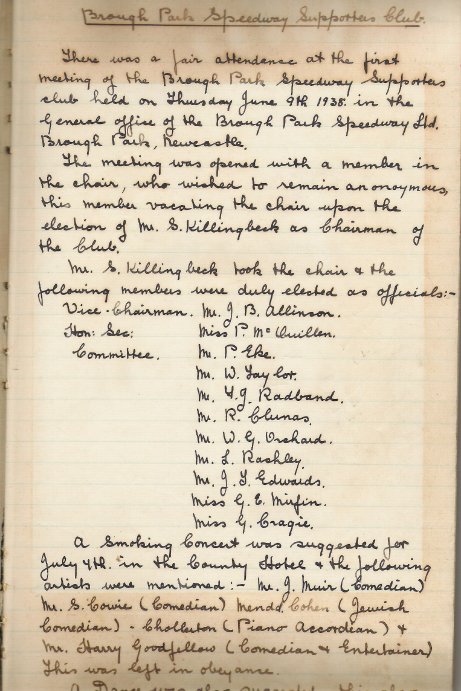 In 1938 the club got their first ever Supporters Club. This is the first entry in the 1938 Newcastle Speedway Supporter's Club Journal. Is anyone old enough to remember Smoking Concerts" ! Do you recognise any of the committee members names?
John
George Dutch says:
The vice chairman is Miss Phyllis McQuillan who was secretary to Johnny Hoskins and the team in the early forties. I do not go as far back as 1938 but started at Brough in 1946 when Phyllis wrote a regular item in the programme
Johnnie Hoskins'

Telegram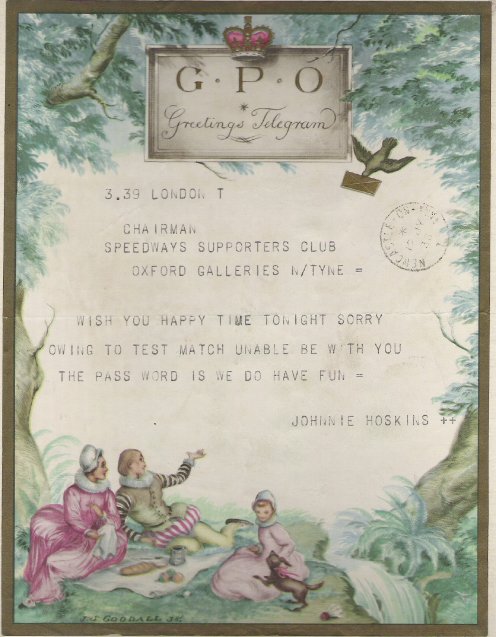 The supporters club organised a dance at The Oxford Galleries in Newcastle City Centre which was held on 12th July 1938. Promoter Johnnie Hoskins was unable to attend but he sent them a telegram copied above.

---
Pre War

1938 Or 1939


(The Riders Are A Mystery)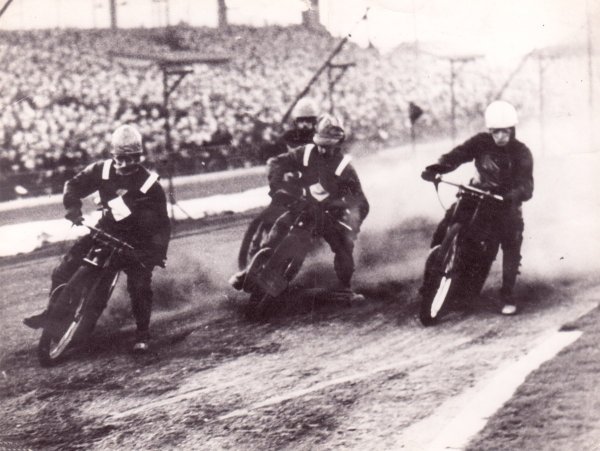 I need help with this one! Probably dates from 1938 email me please John
John says: Pre War action in front of a packed Brough Park grandstand can you name the riders and guess the year John
Dave Train says: I think it's Ern Brecknell in the centre from 1949.
John says: Don't like to disagree but the handlebars suggest the photo is pre war?
Colin Greenwell from Middlesbrough points out that 1949 Newcastle were named the magpies.
John says I agree Col. If it was 1949 I would expect a "N" race jacket and as the riders are wearing a diamond I maintain that this photo is probably pre war 1938 or 1939. Help please with this one and who are the riders?
John
---
Spencer Charles
"Smoky" Stratton
New Zealander Spencer Stratton was an accomplished 1920's/1930's rider. In 1938 he took the job of Manager at Brough Park, Newcastle Speedway, working with the Aussie "father of speedway", Johnnie Hoskins. Smokey went over to Cumbria for a speedway/dirt track exhibition at Workington. On the way back to Newcastle Spencer collided head on with another car, tragically Smokey lost his life in the accident.
In the car with Spencer were 3 Newcastle Riders (all Canadians) Ellwood Stilwell, Bruce Venier and Robert Sparks. They all required hospital treatment, Bob Sparks was the most seriously injured but all 3 recovered.
Speedway Rearcher Jim Henry has passed onto me some newspaper clippings of the accident. I am showing them below: -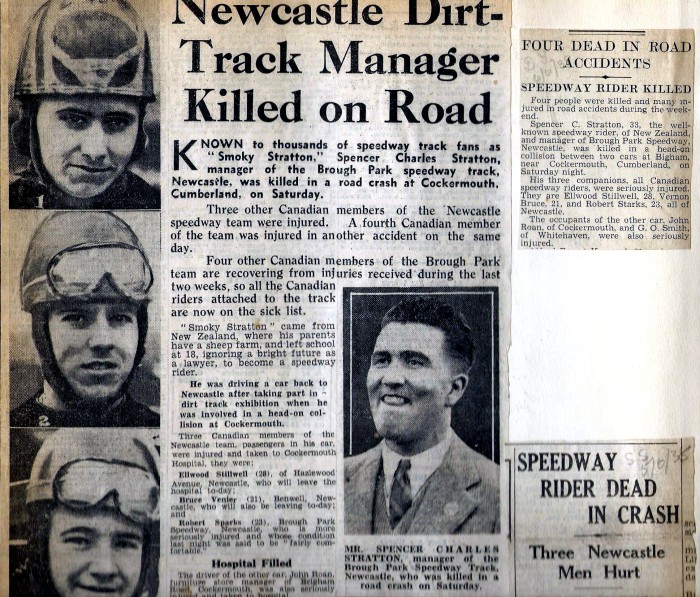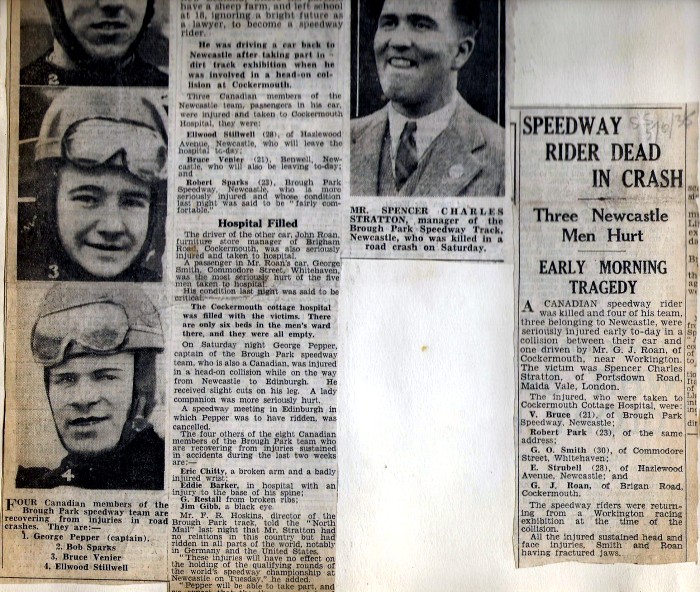 It seems from the newspaper accounts that Newcastle's Canadian riders were a tad unlucky on the British roads but apart from New Zealander Smokey, all the others survived the smash.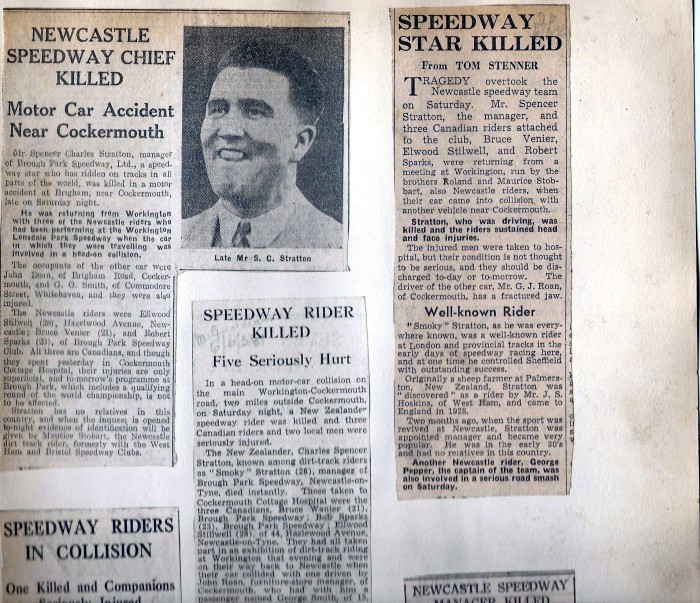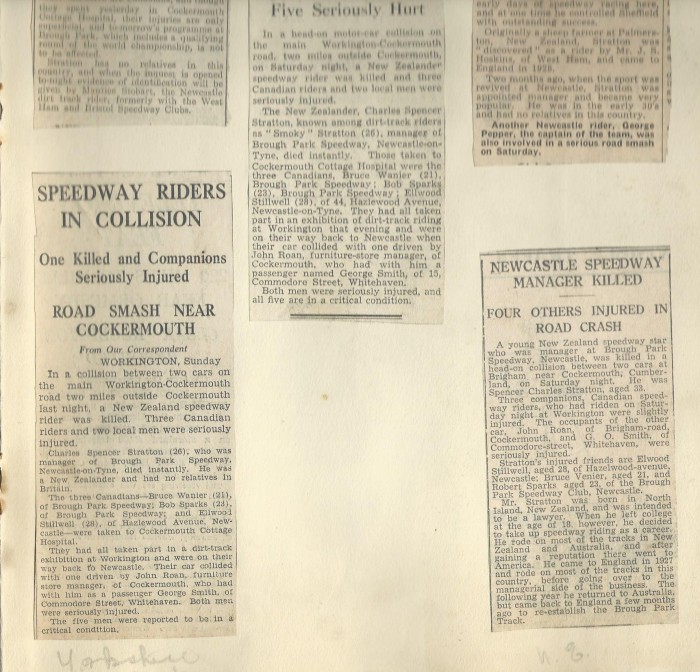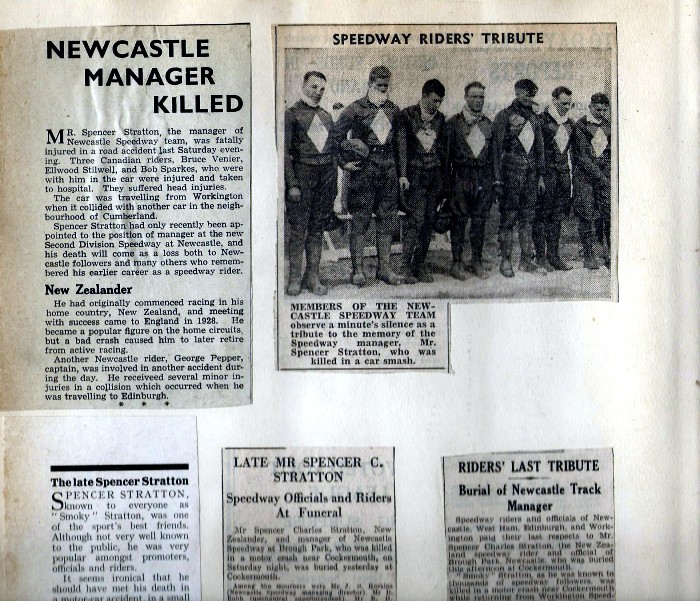 1938: Newcastle riders, track staff and fans observed a minutes silence at Brough Park in respect of Spencer Stratton track boss at Newcastle. Such a tragic waste of a young life Spencer was just 38yrs old
---
Newcastle Diamonds 1939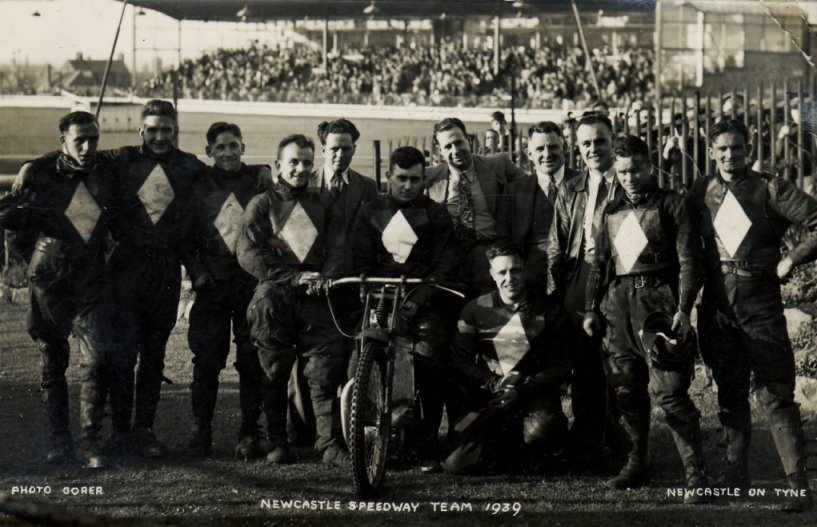 This picture courtesy of Mrs Jane Stobbart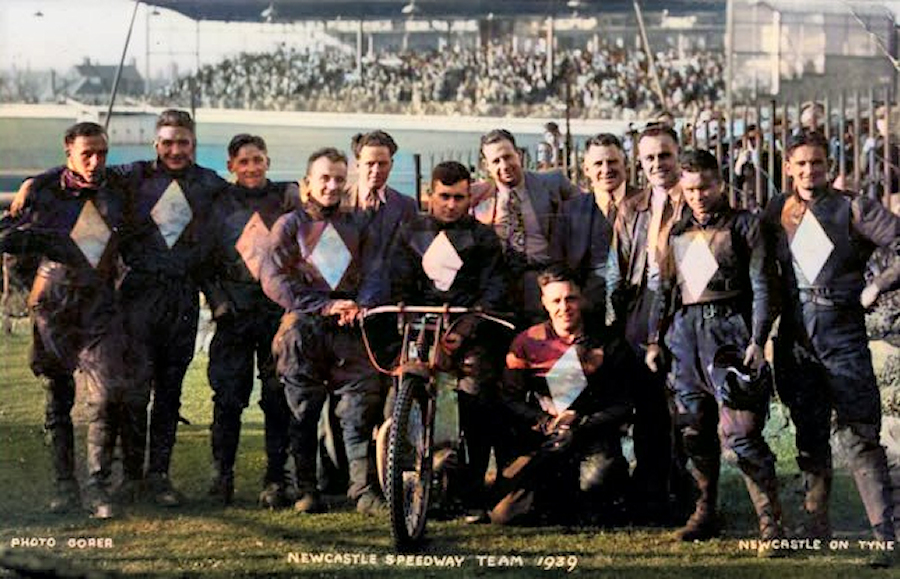 The same photo but in colour - courtesy of J Spoor
John says: The riders are:
Bill Goodall, Kid Curtis, Syd Littlewood, Maurice Stobbart, Team Manager - Reg Hay, George Pepper (Capt. on Machine), Promoter Johnnie Hoskins, Rol Stobbart (kneeling), Ken Brett, and Norman Hargreaves. I don't know who the other 2 suits are
Col Greenwell says: I have been looking at your Newcastle 1939 pic. I think the guy (with the tie!) between George Pepper and Johnnie Hoskins is Billy Lamont.
Trevor James says: I have looked at this picture and am sure that 3rd from the right is Ken Brett (collar & tie); then Jack Tidbury; Norman Hargreaves is the last on the row.
John says: My mate Col Greenwell has supplied all of the names as follows: Bill Goodall, KidCurtis, Syd Littlewood, Reg Hay, Maurice Stobart, GeorgePepper (on bike), Billy Lamont, Rol Stobart (kneeling), Johnnie Hoskins, George Baker, Ken Brett, Norman Hargreaves. Unless you know better!
---
Belle Vue v Newcastle
The Union Cup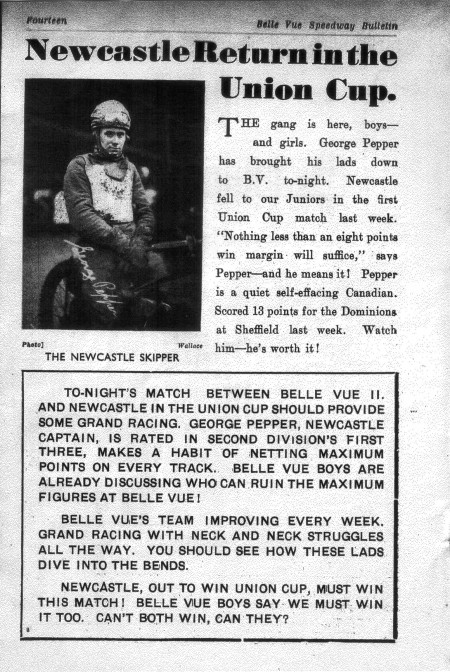 Courtesy of Graham Gleave
George Pepper In Colour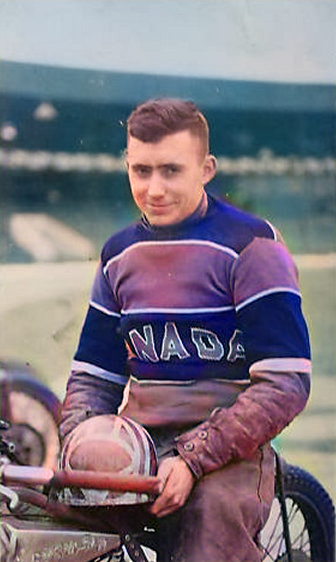 Courtesy of J Spoor
---
Norman Hargreaves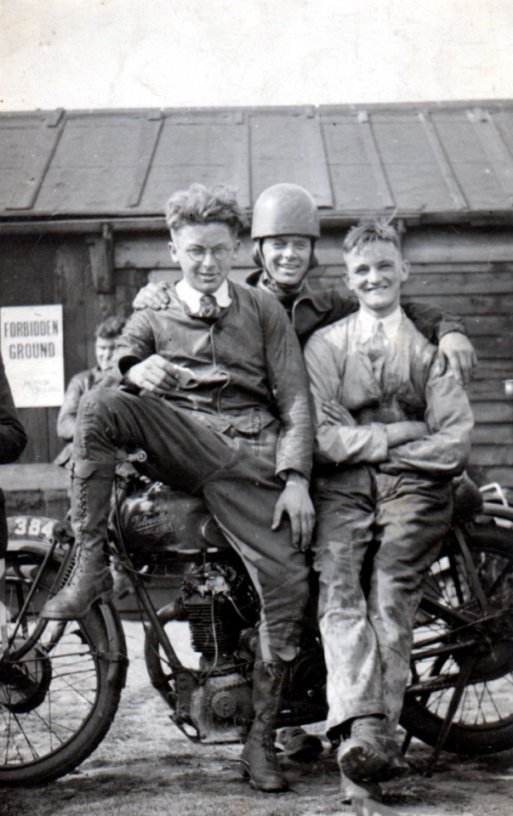 Courtesy of Bill Walsh
Bill Walsh says:
Hi John, I was just going through some old stuff and pulled out this photo of Norman Hargreaves which shows him wearing the same haircut in the photo of the 1938 team which you weren't sure about. This photo shows Norman with his cousin Jack Hargreaves of Belle Vue fame, who was sadly killed in a road crash in 1942. The other chap was another neighbour, Clifford Brierley, who rode grass track himself, and acted as Jack's race mechanic. He gave me this photo and a few others about 1950 when I was just a lad, and I still have them tucked away. These three were all neighbours and mates of my dad and Norman's wife Molly was my mother's best friend so I spent a lot of time in their house when I was young.
I just thought you would like to see it.
John says: The bike they are sitting on is a Velocette
. Not competitive with the JAP machines in wide use on the speedway in those days
---
Maurice Stobbart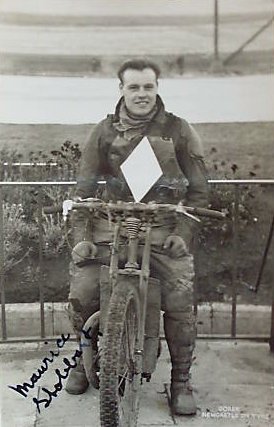 ---
Newcastle At Glasgow
In

1939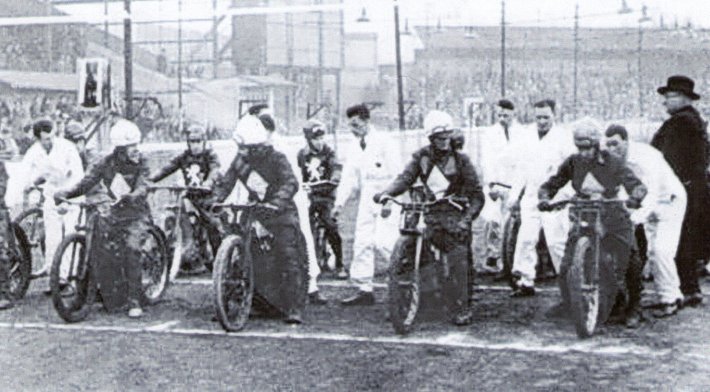 Billy Lamont, Maurice Stobart, Kid Curtis and Norman Hargreaves. Behind are Colin Watson, captain of the Glasgow team, and Phil Bishop".

This is Newcastle at Glasgow in 1939. The Glasgow side were known as the Lions hence the riders sporting a rampant lion on their race jackets. I don't suppose anyone will be able to put names to the riders pictured but if you can please email me here John
Peter Colvin says: Re the above photo I paid a visit this morning to the Mitchell library in Glasgow which has indeed proved fruitful.
The photo was not in either the Herald nor the Evening Times but appeared in a slightly wider format in the Daily Record dated Monday May 8, 1939. The photo in the paper showed all six Newcastle riders, rather than just the four in the photo shown in the archives and on your website. The newspaper caption said, "The line-up for the parade of riders at the first speedway meeting of the season at the White City, Glasgow, on Saturday night. Left to right are George Pepper, Rol Stobart, Billy Lamont, Maurice Stobart, Kid Curtis and Norman Hargreaves. Behind are Colin Watson, captain of the Glasgow team, and Phil Bishop".
So this was the first speedway meeting at White City since the last one on 7th July 1931. A crowd of 15,000 watched Newcastle beating Glasgow 23-31 with Colin Watson unbeaten on 9 points. They must have liked what they saw because 20,000 came the following Saturday!
---
Newcastle Speedway Dances
For younger supporters whom attend Supporters club discos these were the forerunners: Dance bands /Orchestras. I am 64 yrs old and this was before my time! I just about managed to dance in discos but the earlier style of dancing looks too hard to master.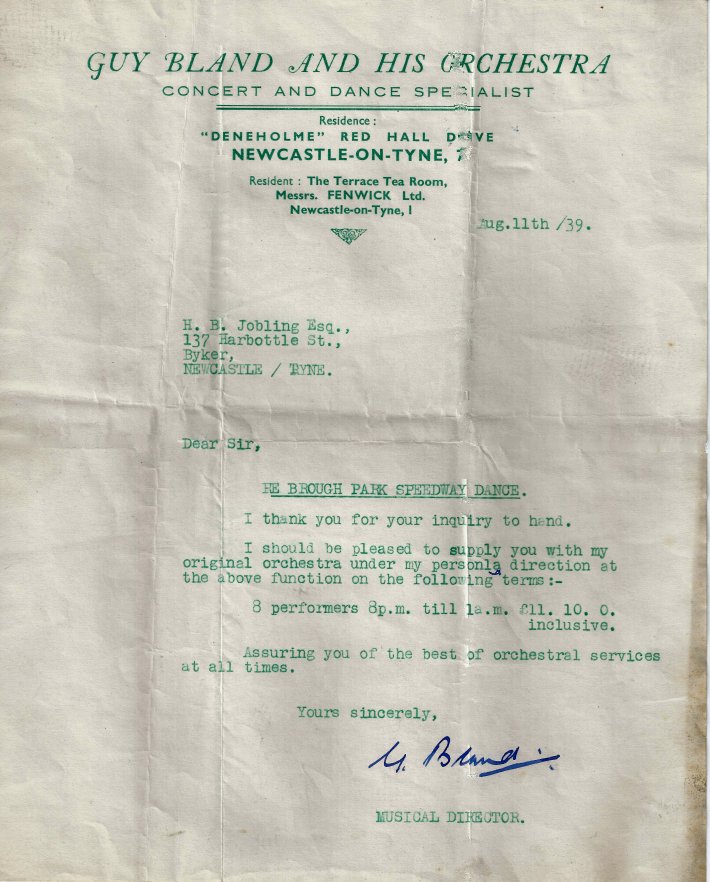 Courtesy of Ian Young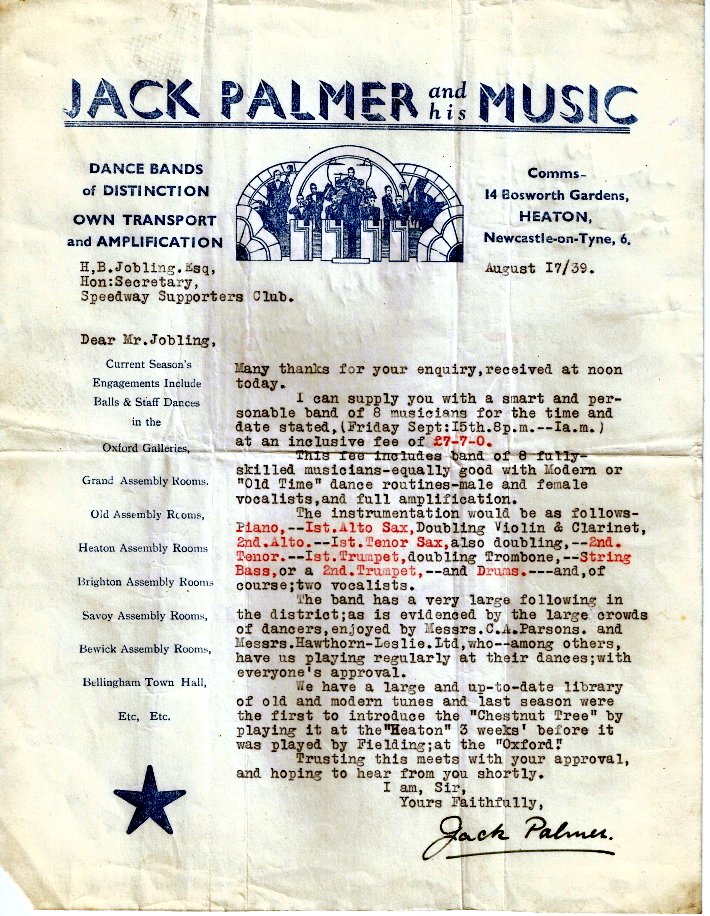 Courtesy of Ian Young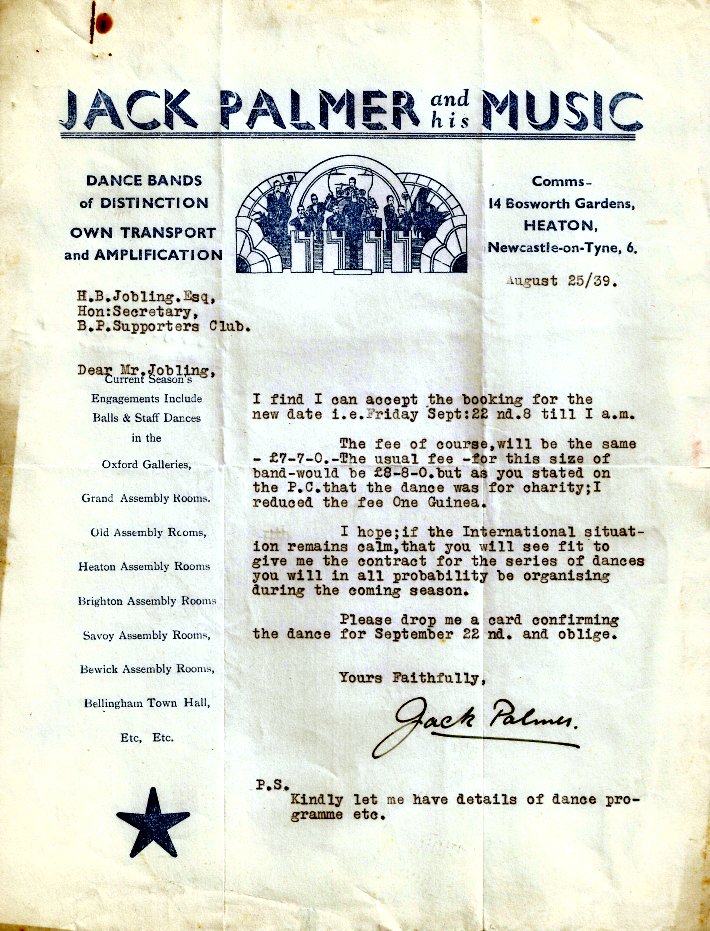 Courtesy of Ian Young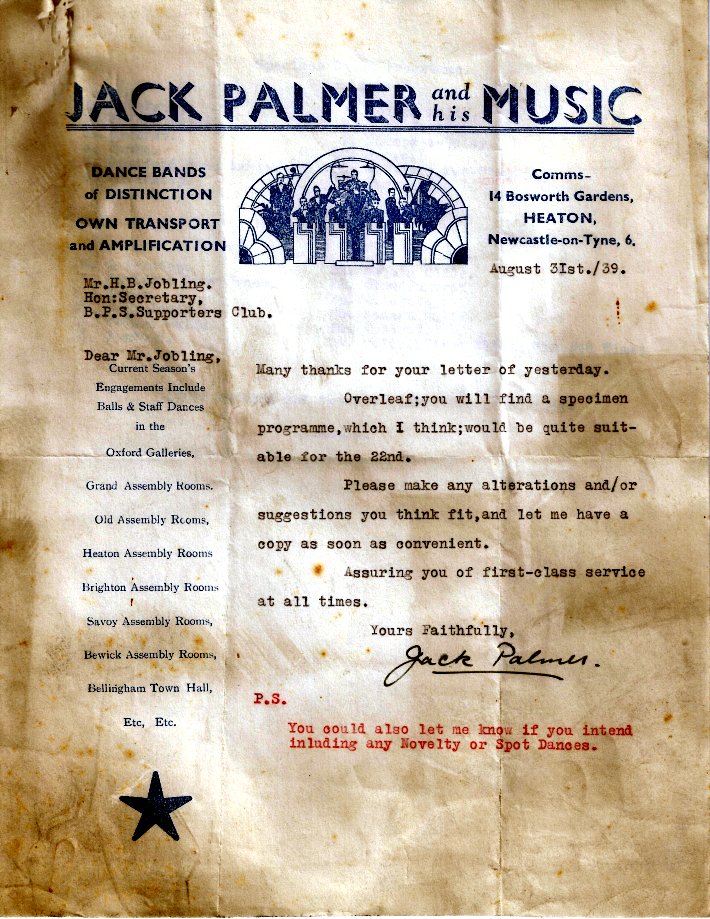 Courtesy of Ian Young
---
Supporter's Club Trips
1939 Supporters Club Day Trip To Morecambe By Rail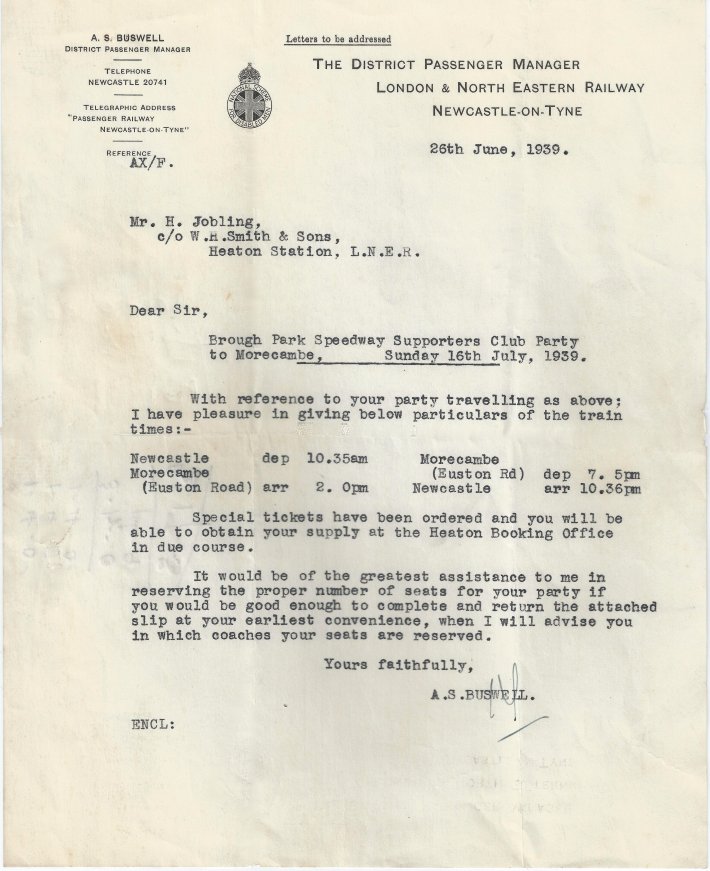 Courtesy of Ian Young
1939

Supporters Club Away Trip To Middlesbrough
By Coach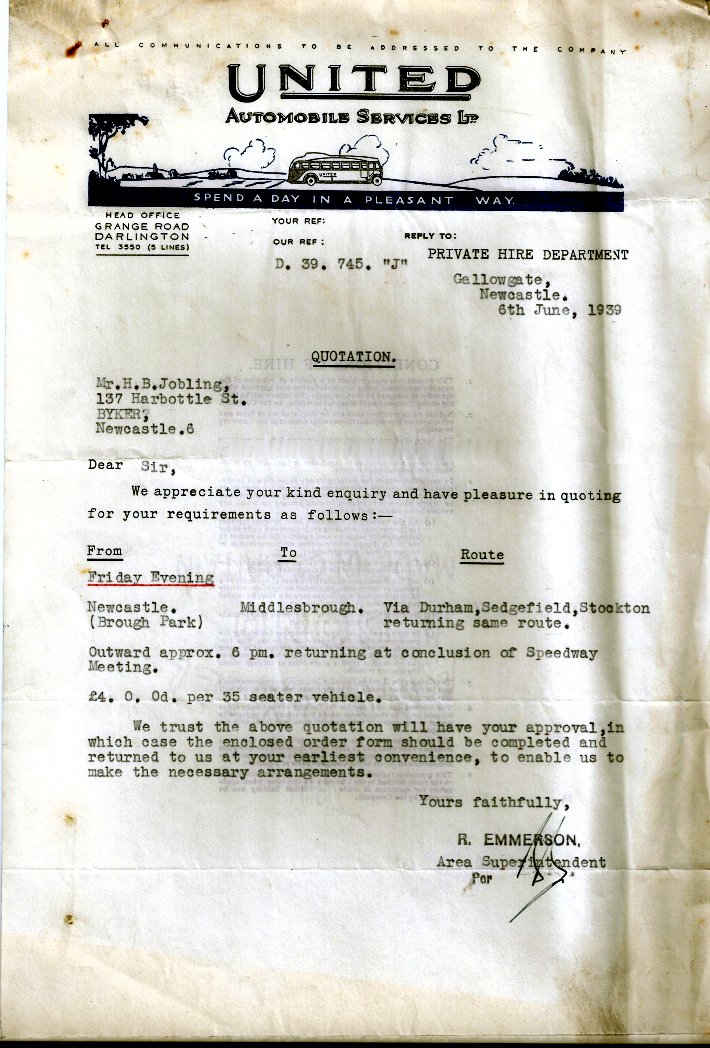 Courtesy of Ian Young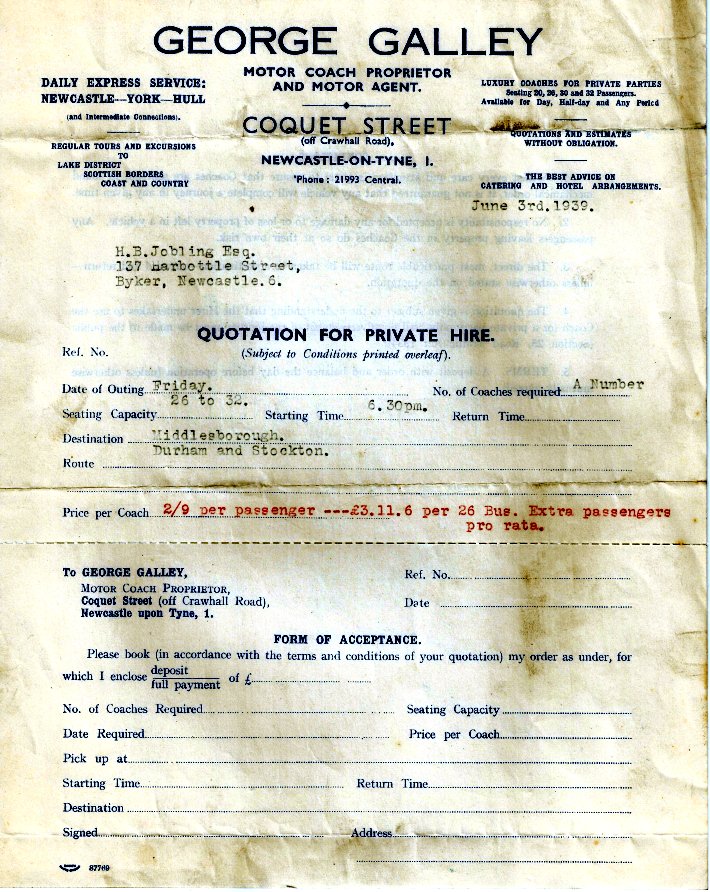 Courtesy of Ian Young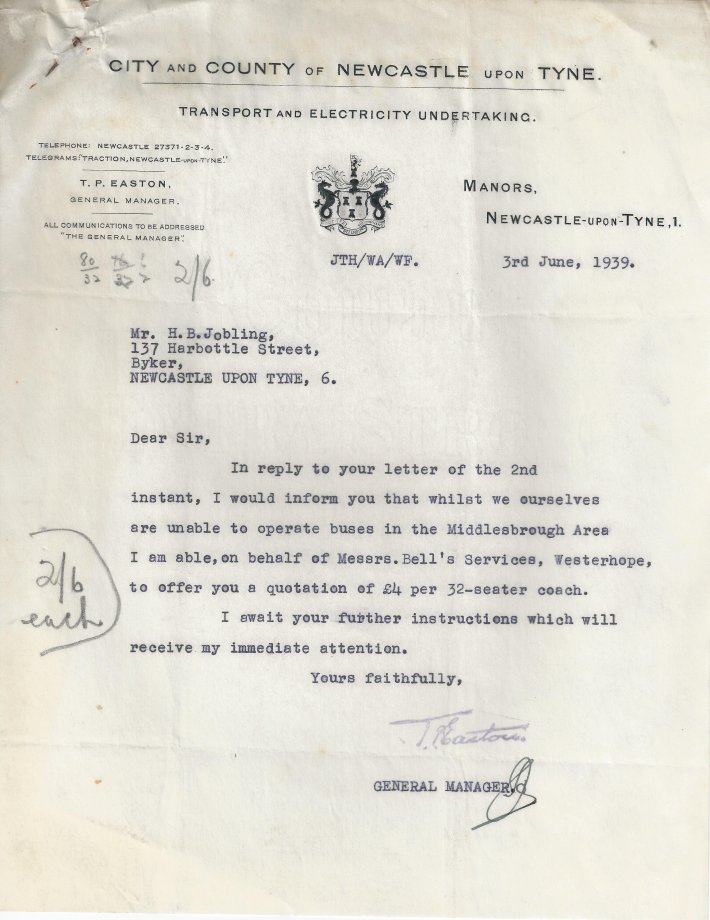 Courtesy of Ian Young
---
Newcastle Evening Chronicle

Rider Photographs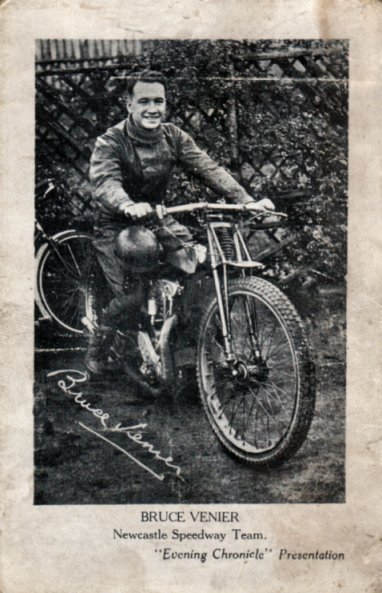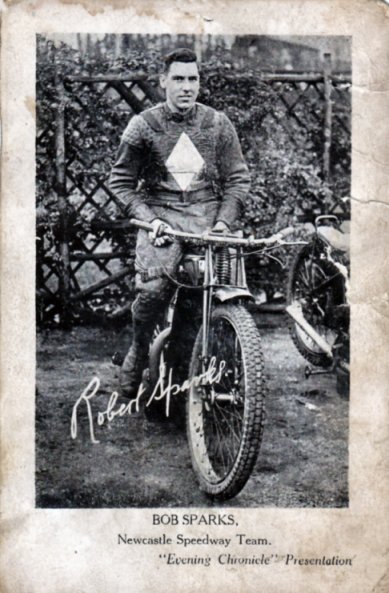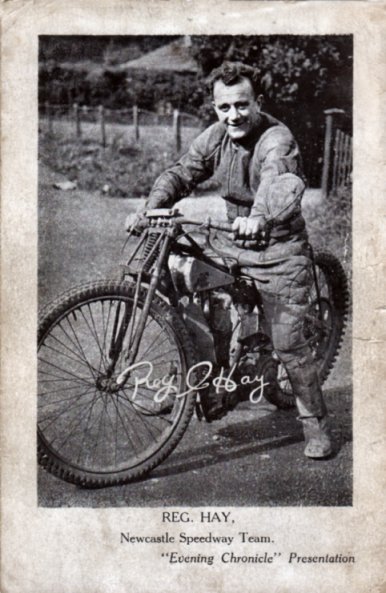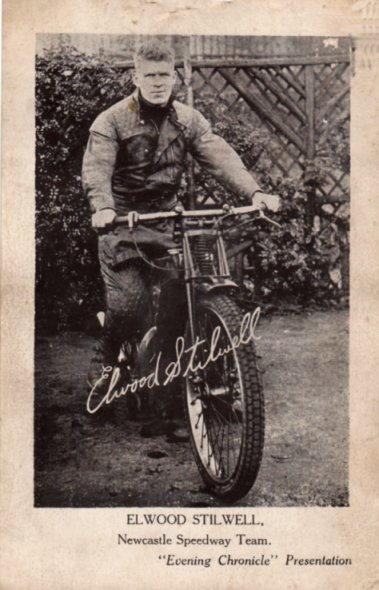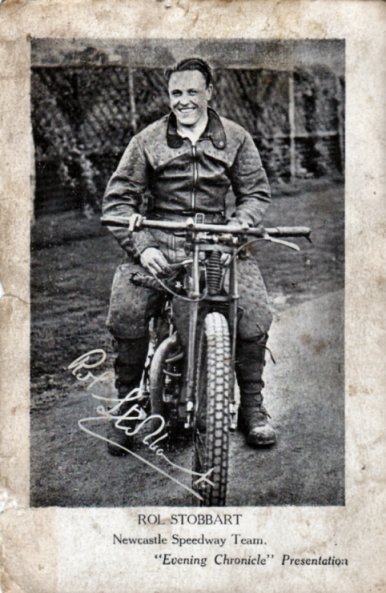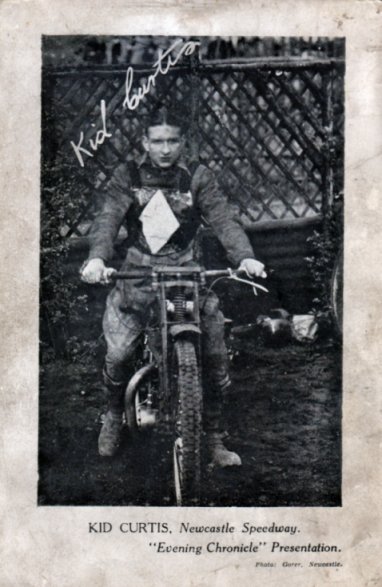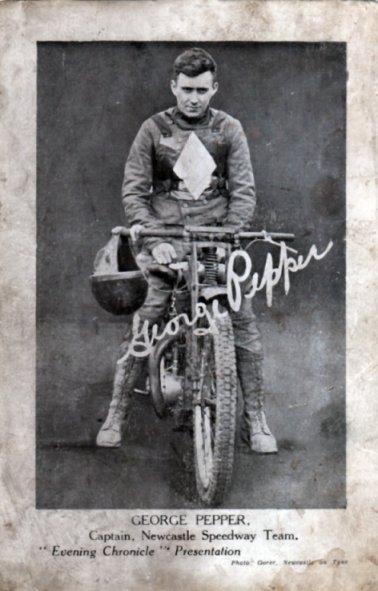 An excellent pre WW2 set of autographed photographs
---
More

1938 &1939

Photographs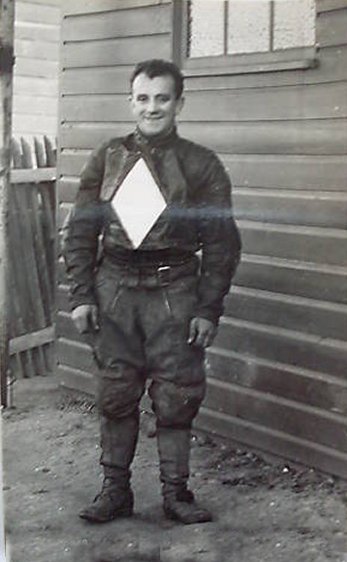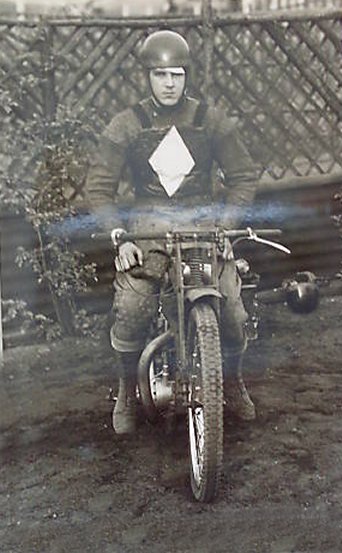 1939 Reg Hay & 1938 Bob Sparks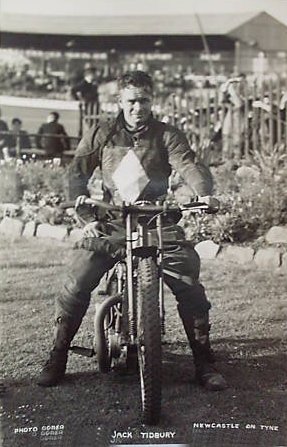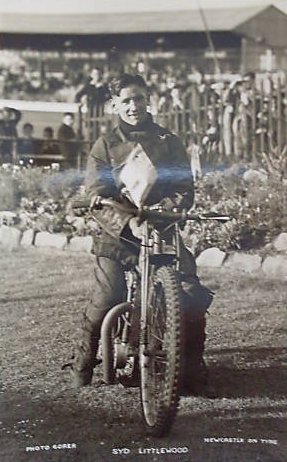 1939 Jack Tidbury & 1939 Syd Littlewood
I have heard from Aussie based Tony Webb who has supplied some info on Syd Littlewood.
Tony W

ebb says: Syd Littlewood, Newcastle rider of 1938/1946. I managed to track down his only son Trevor who lives nearby in Algester a Brisbane suburb. Syd passed away in 2000 at the age of 86. his wife Gladys, a Norwich girl, is alive and well at 92! Syd retired to Queensland at the end of the 1950 UK season. he rode at the EKKA in Brisbane 1951/52, but found Australian speedway not entirely to his liking. He was very friendly with Bob Leverenz and Alec Hunter who often stayed with Syd on their travels to Brisbane. Syd returned to his trade of fitter and turner, and for a while was in business with former rider Morrie Bond. I will be writing a fuller biography which I will forward to you. Trevor has a great collection of photos of Syds career. Regards Tony Webb Brisbane
John says: Well Tony I for one look forward to hearing from you re Syds career and them photos please for the website mate. Contact me
Here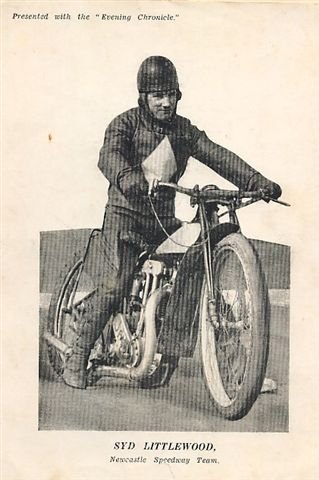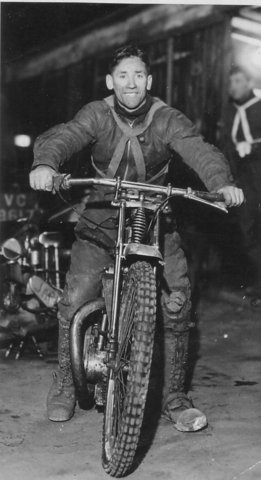 Syd in 1939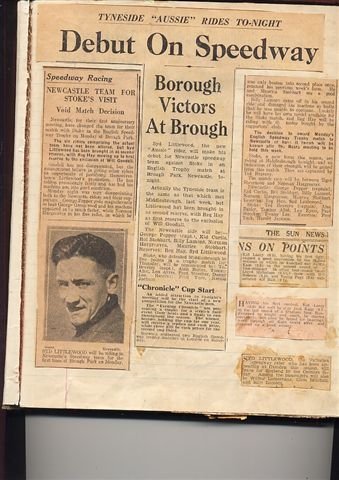 These

items supplied by Syd's wife Gladys and his son Trevor, there are more photos from Gladys and Trevor on the first post war page.
---
Newcastle's Brough Park
In

1939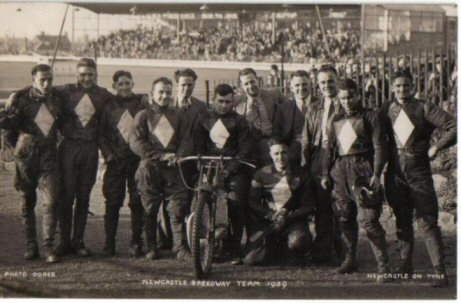 This was Brough Park in 1939, Track length 359 yards. This team competed in the National League Division 2. The crowd looks to have been quite large so the club was probably looking forward to a good few years but of course along came Hitler and the second world war, so track action was cut short and the fans had more important things to do for the next few years.

The 1939 Diamonds were leading the league as at September 1st 1939 when Germany invaded Poland bringing GB into the war
---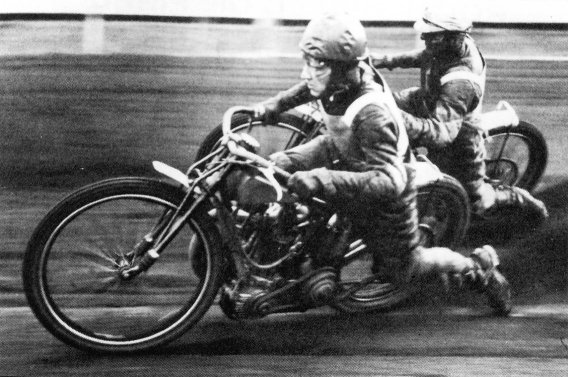 Kid Curtis and Oliver Hart
John says: This is my favourite picture from the hundreds of images on the website. Please bring back these bikes & handlebars!
Kid Curtis's "Pudding Basin" Helmet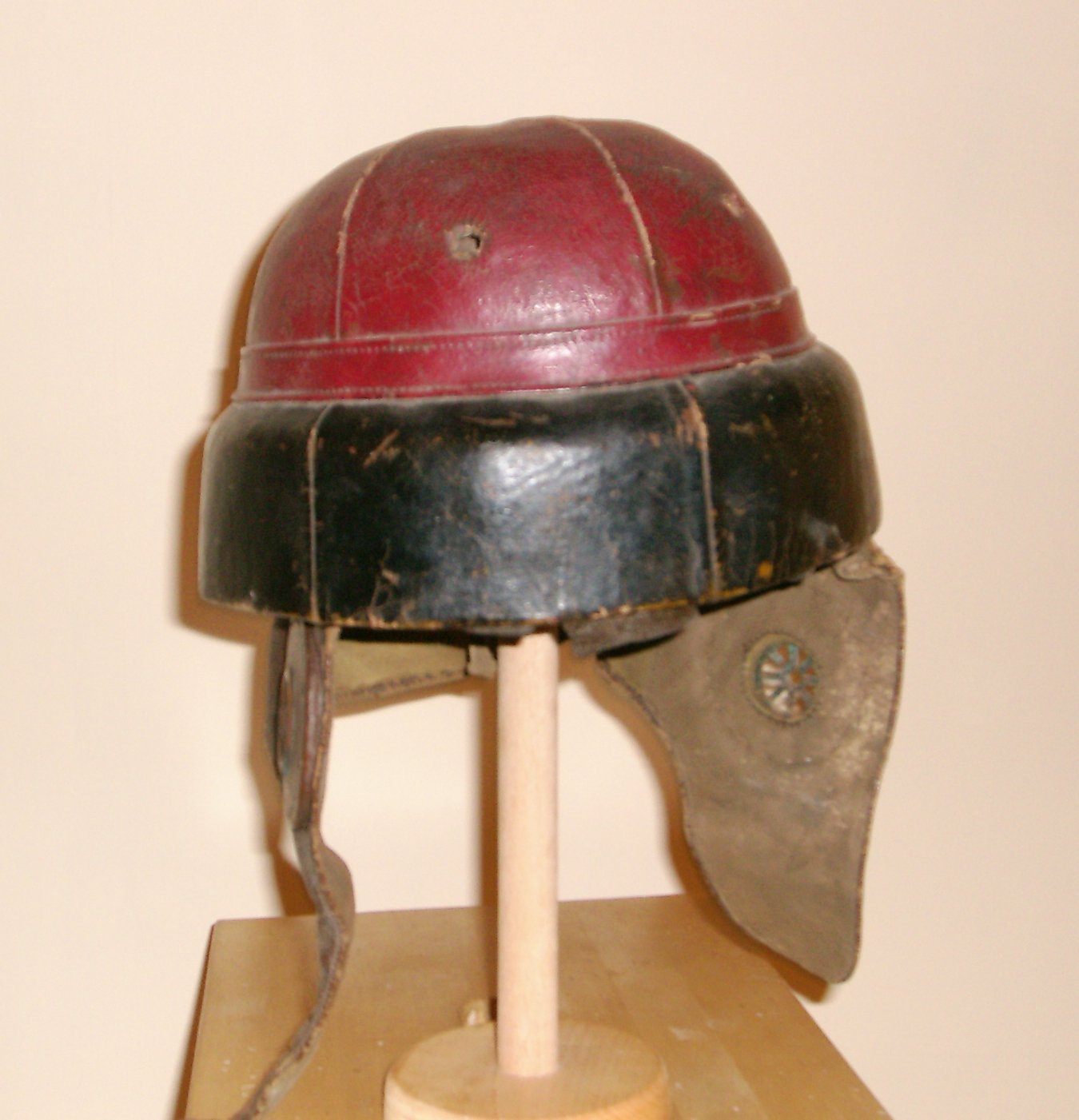 Helmet loaned by Kenny (3rd bend smithy) Smith now sadly deceased was manager of Scunthorpe and was in charge of The Newcastle Gems junior league side.
This is Kid Curtis's crash helmet. which appears to have been made of cork, by Hobson and Sons of London. Pudding basin helmets offered no facial protection, so my admiration of the early riders has grown after seeing what scant protection they used. I have added this helmet to the pre-war pages but Kid rode for the Diamonds briefly in 1945 as well, so the helmet may be post war, but I doubt it. If anyone can help with pictures or some paragraphs of text regarding Kid Curtis then please get in touch
John
Reg Fearman says: Hi John, yes the Pudding basin helmet had its limits. There was padding at the neck and the inside had two sets of webbing in case the first one snapped. You are right that the modern full face helmet has saved lives, but I can tell you that between 1946 and 1965 I can not remember any rider that ended up in a wheel chair. Since the full face helmet came in there are dozens. My theory is that the helmet is so strong when the head/helmet hits the ground, or hard fence the shock goes down the spine and snaps the weakest point.
Pictures From The Scrapbook Of Bill Walsh
In New Zealand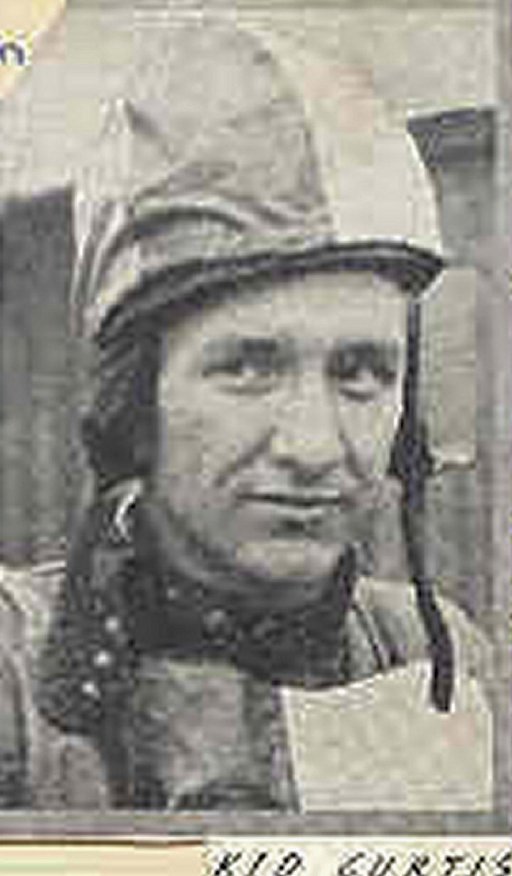 Kid wearing a pudding basin helmet like the one pictured above although this picture dates 1950-53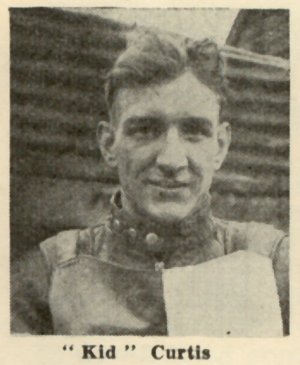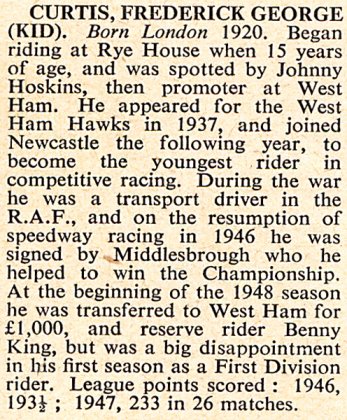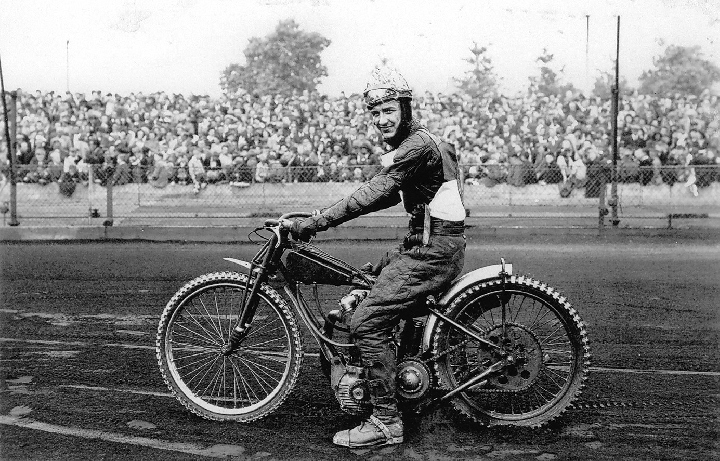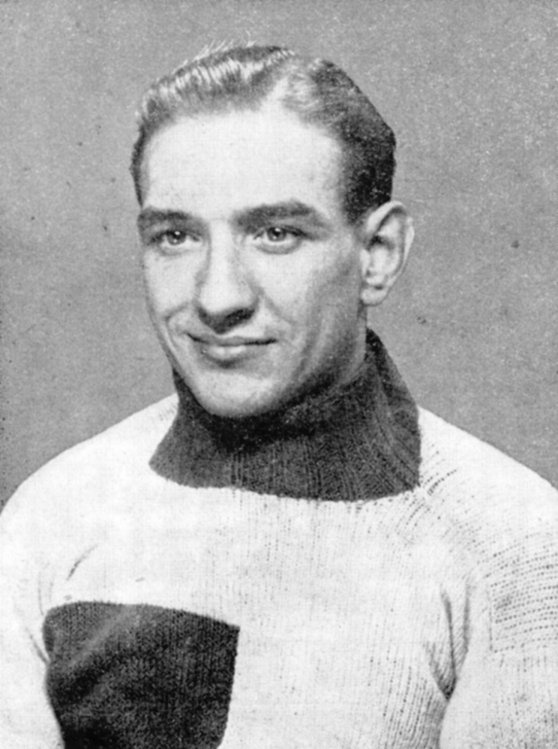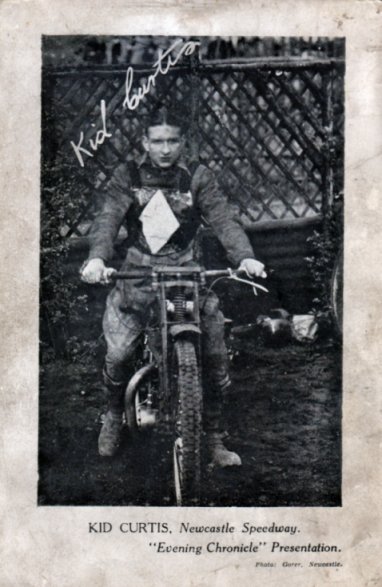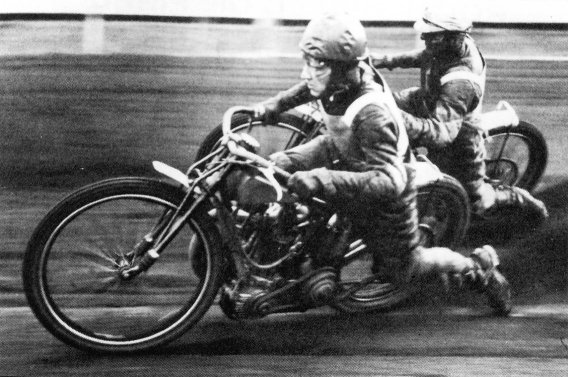 I presume because he was the youngest rider in the league during 1938. Fred earned the "Kid" nickname. Apparently he never climbed the heights as a rider but for me he is important as his action photo shown above is my all time favourite speedway picture. If you have any pictures of Kid in Newcastle colours then please get in touch.
John
My friend Colin Greenwell has sent me the following scan because he knows I like the action picture of Kid Curtis:-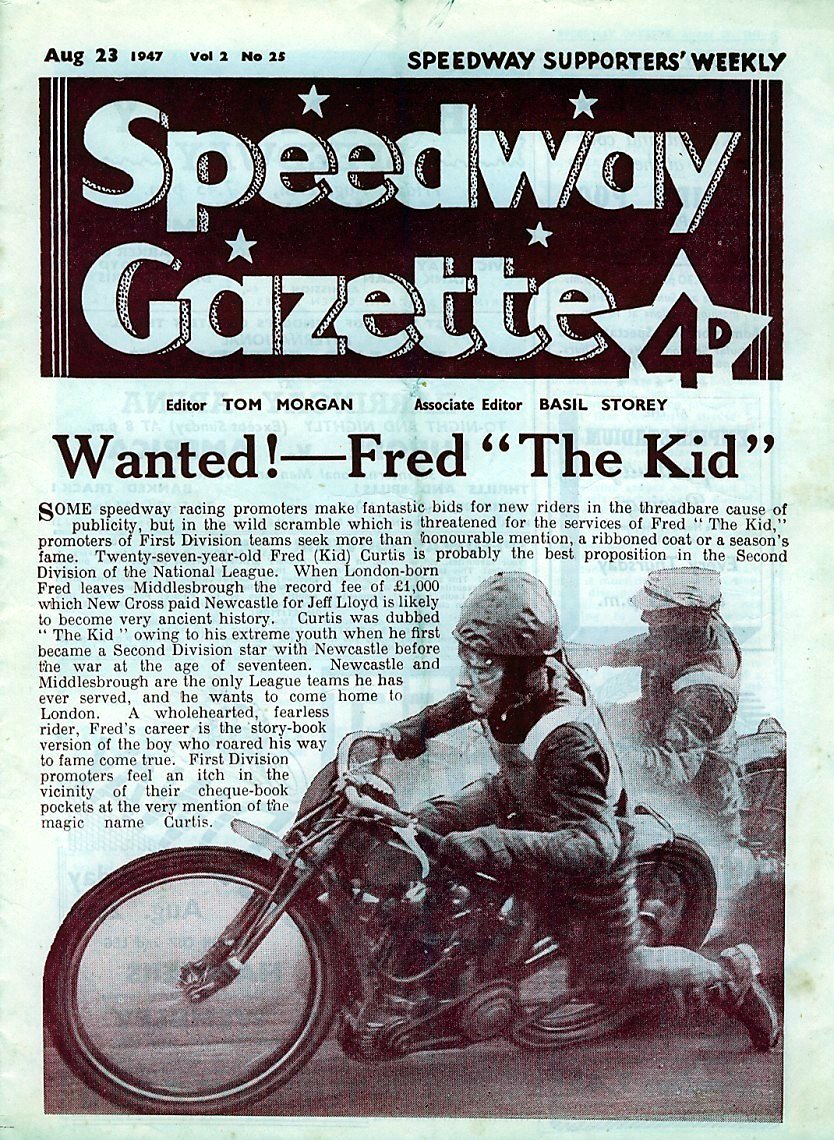 What a great photo! This is the Speedway Gazette from 1947 showing Fred [Kid] Curtis and Oliver Hart. Kid was a Newcastle discovery (aged 17) before the war but apart from riding at Brough in 1945 did not appear in the Newcastle 1946 team. He moved down the road to Middlesbrough and was a bear in 1946 and 1947, hence some of the above photos showing him in Bears colours.
---
Tony Fox's Photos
The Pudding Basins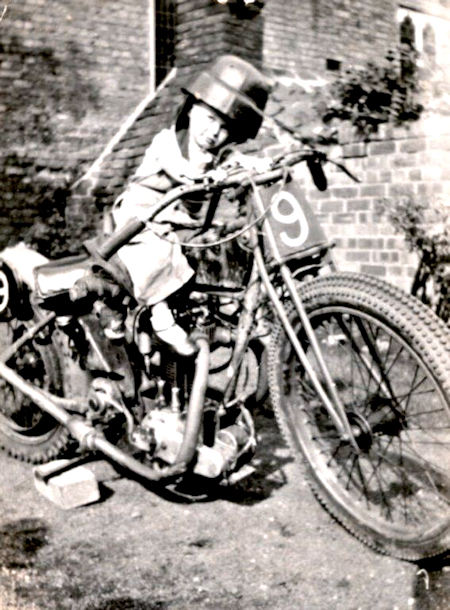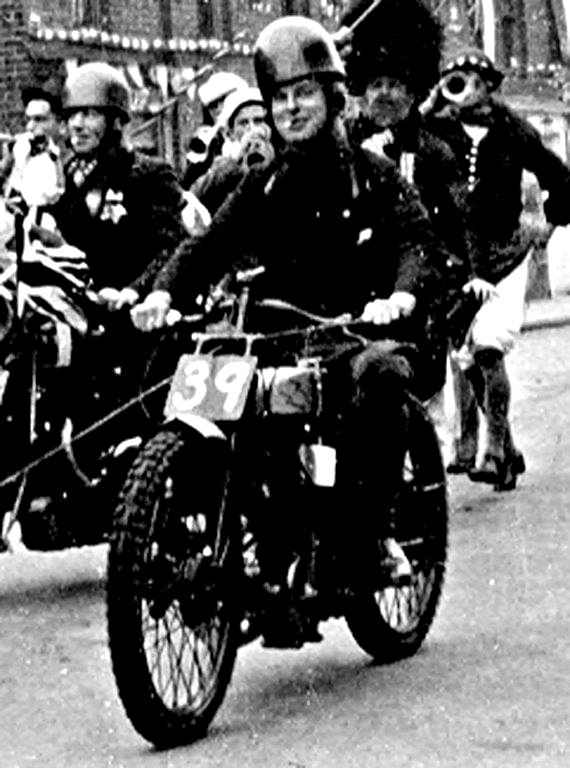 Pics Courtesy of Tony Fox
Tony Fox says: Pic 1: Me wearing the helmet in question in 1939 and Pic 2: my father in a parade at Holbeach in I believe in 1920 or a few years earlier. Motor bikes are not built like that today thank goodness the same said for the helmets. It was all grass track racing and not the well known cinder track racing he took part in.
Tony continues: First of all the 1920 date of the Holbeach parade is incorrect it was 1930 as the number 6 bike picture is the one in the parade. I have spoken to my brother who points out in the parade it is being towed. The tow rope is just visible . Born in 1912 he would have been 18 at that time.
The two number 39 bikes were definitely taken in 1930. ( It appears cigarettes were all the rage then.) The press cutting is dated on the reverse side was August 13th 1935 On reading the heat events F (Sonny) Fox my Dad L Fox his brother my Uncle G(Pip) Mills is most interesting as I believe he was Gordon (Pip) Mills the brother of Freddie Mills the famous boxer.
The helmet pictures I hope will give some idea of the age of the Kid Curtis one. Inside shows the maker and on zooming in the date is just visible as 1916 with a hand written 1917 marking also note the missing cork pieces.. Front view the AJS letters can also be visible on zooming in.
The details above are memories of my child hood days and to the best of my knowledge accurate. I hope they open satisfactory if not let me know
Tony's photos of his old helmet are shown below: -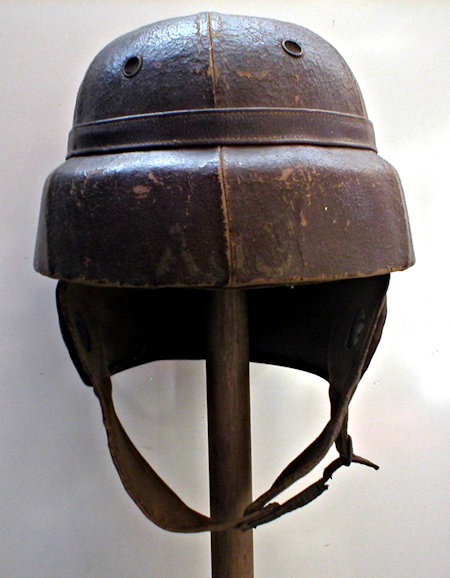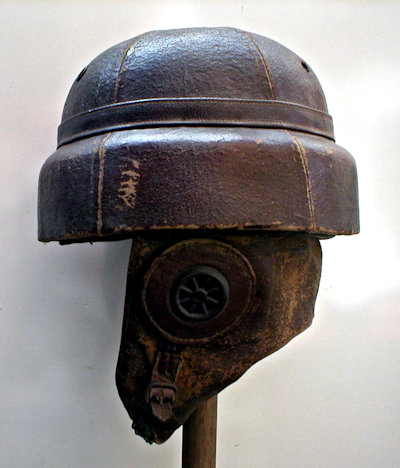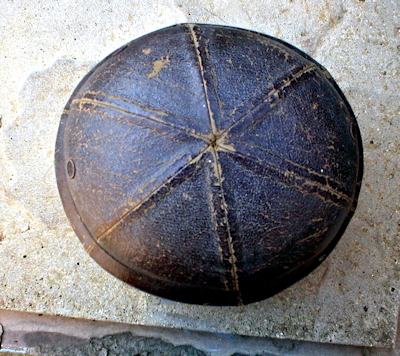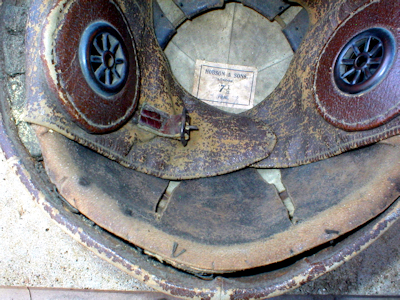 Courtesy of Tony Fox
---
Rol At Barrow In

1930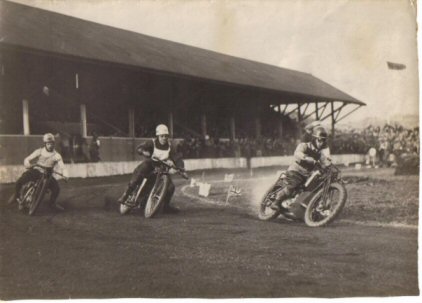 Photo Jane Stobbart
Rol Stobbart and his brother Maurice were in Newcastle's 1938/39 and 1948 teams, but here above, we have Rol in the
centre. The venue is Barrow, year 1930,
but who are the other two riders?
email
Adrian Pavey says: Picture from Jane Stobbart; This is definitely Barrow, Holker Street in 1930. The speedway moved to Little Park in 1931. The rider in the centre is definitely Roland, he's easy to recognise on his Rudge as he always had his tongue out while he was racing. The rider in front is Frank Burgess riding a Scott he bought from Frank Varey. Frank Burgess was Bill Kitchen's uncle and accompanied Bill just about everywhere in the early 30s. FB was also a top grass track racer in the north west during early 30s and also appeared for Belle Vue Southern league team on a number of occasions. BTW - I didn't realise Roland's wife was still around. I used to visit Maurice and his wife before he passed away a few years back. Adrian Pavey - author of Speedway In The North West... all of these photos are in my book too along with a few more
Maurice Stobbart The Workington Red

1937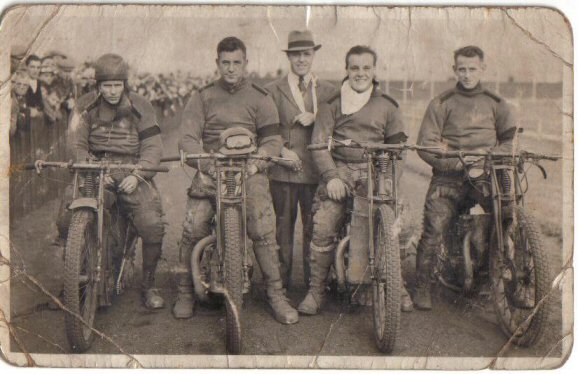 Photo Jane Stobbart
Maurice Stobbart second from right and Rol standing behind him. Can anyone help with a date, venue and the other riders names?
Col Greenwell says: - Its The Workington "Reds" who beat Lancaster 28-6 on 14th August 1937. Left to right.. Bill Desmond, Sam Marsland, Roland Stobbart acting as team manger with arm in a sling, Maurice Stobbart and Albert "Aussie" Rosenfield.
The venue is Lonsdale Park.

Confirmation received from Bryan Tungate:-I can agree these names as I saw a photo like this in an old paper some years back and found out at the time that Aussie Rosenfield was the victim in a track crash at Odsal, Bradford in the 1946 season. He died from injuries he suffered in that crash.
Adrian Pavey says: The Workington Reds picture - Colin Greenwell is spot on about the Workington "Reds" photo - I sent him a copy of this photo a few years ago after I had scanned the same photos from Maurice Stobbart's scrapbook. The team are all wearing black arm bands in memory of Stan Hart who was killed at Birmingham few days earlie
r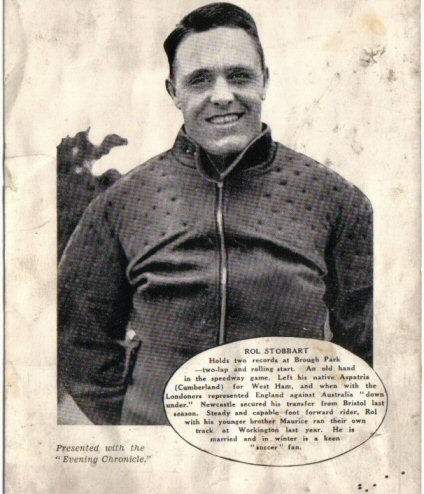 Photo courtesy of Jane Stobbart
Another of Jane's pictures of her late husband Rolland Stobbart. I believe Cumbrian Rol came to Newcastle from Bristol in 1939 although he may have arrived in 1938? I asked Barry Wallace about Rol Stobbart and found out the following. Thank you Barry: -
Barry Wallace says:"Rol Stobbart joined brother Maurice in the 1938 Diamonds team just a few weeks into the season after a couple of heavy defeats."
"He did not resume riding immediately after the war and was presumed to have retired.
However, when Newcastle were short-handed towards the end of 1948 due to their Aussies and Kiwis heading home, both Maurice and Rol were persuaded by Johnnie Hoskins to help out."
Rol In Action
Photo courtesy of Jane Stobbart
I have no details at present of this photograph apart from knowing one of the riders is Rol. Is that him in 2nd place? This shot shows just how close things can get out on track, you can literally throw a blanket over all 4 here.
Through the websites "Name the Rider" page, I now have details of the above picture thanks to Newcastle Speedways guru Barry Wallace: -
The 4-rider action shot featuring Rol Stobbart was taken at Bristol on 13th May 1949 when the Bulldogs were at home to Ashfield. It shows from left to right, Rol Stobbart (Ashfield), Eric Salmon (Bristol), Ken Le Breton (Ashfield) and Roger Wise (Bristol). Wise won the race from Le Breton and Stobbart after Salmon was excluded.

Bristol won the match 63 - 21.
Thanks Barry, your help is appreciated
Rol & Maurice Stobbart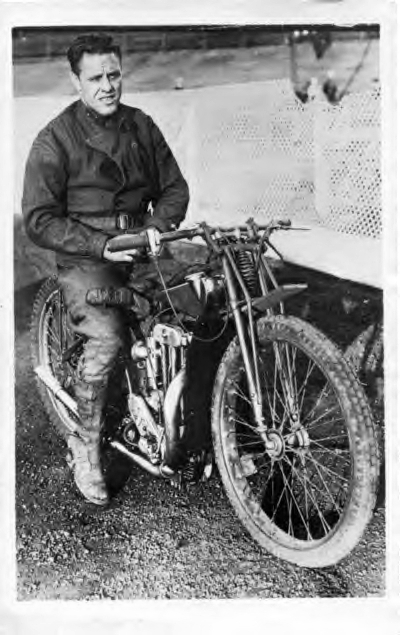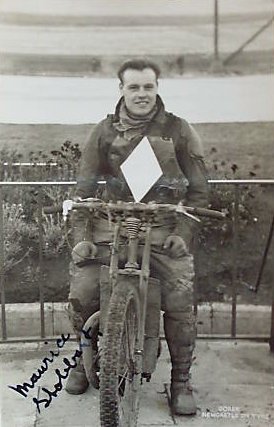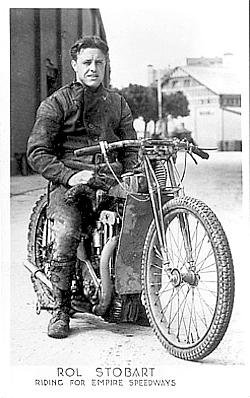 Maurice in the middle flanked by two pictures of brother Rol. Does anyone have any pictures of Maurice to balance this section as I have more on Rol than Maurice if so, please email me John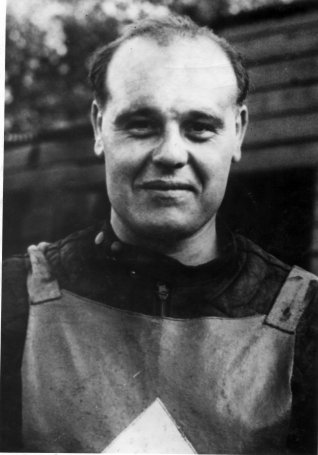 My thanks go to Jon White for sending this picture of Maurice Stobbart
Courtesy of Ian Young
This concludes the section on the Stobbart brothers
---
Canadian George Pepper joined the Diamonds in 1938 and became the fans favourite pre war rider.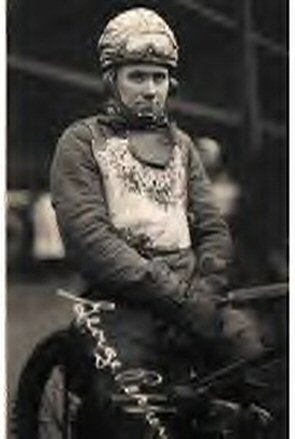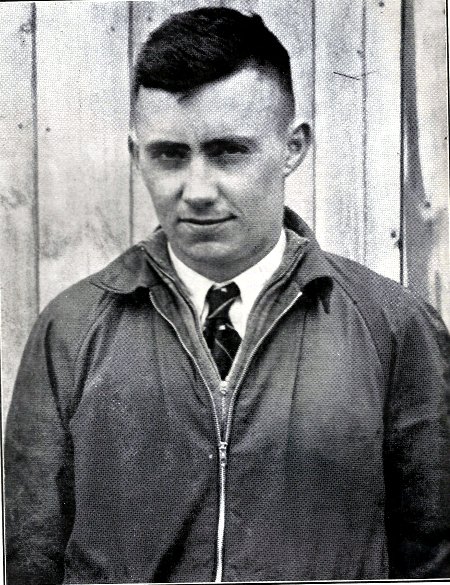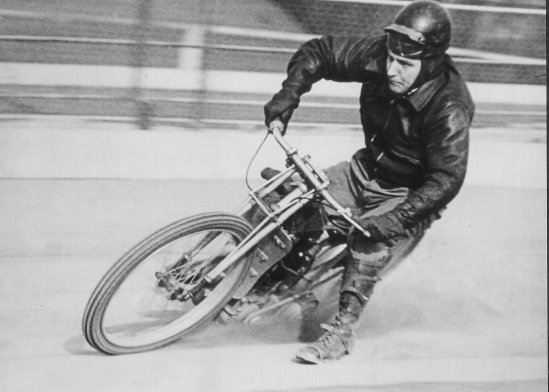 Courtesy of Mike Kemp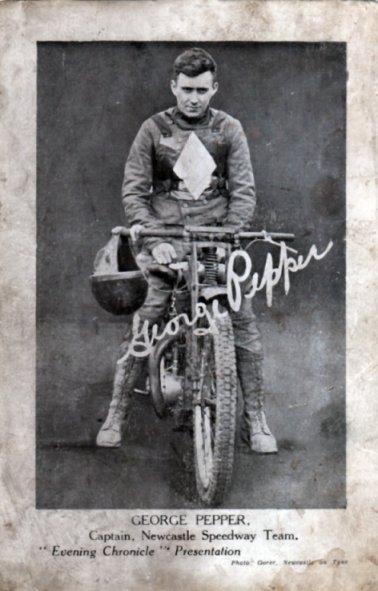 George Pepper was a Newcastle rider in 1938 -39. Unfortunately, the outbreak of war in 1939, stopped speedway in it's "tracks" and Brough did one of it's closing down acts. George joined the air force swapping wheels for wings. He was a night flyer. His Mosquito planes' 2 man crew were known as "Salt and Pepper", the plane crashed and both men were listed as "killed in action".
Ian Taylor has been in touch he says: Hello John.

I'm interested in the photos of George Pepper . George was from Belleville , Ontario , Canada . George also won the Canadian Championship 200 mile road race (1936) held here on the City streets . This was the only race in North America to be held on city streets . I am doing research on this race , much more than what has been written already but finding good photos of George is hard to come by .

20,000 people attended this historic event but no pics seem to be available ( I have a few ) even from the people of Belleville .

So to see a nice photo of George is Great . George was a very good fighter pilot , sadly George died during a training flight with a childhood buddy .
George Pepper On
International Duty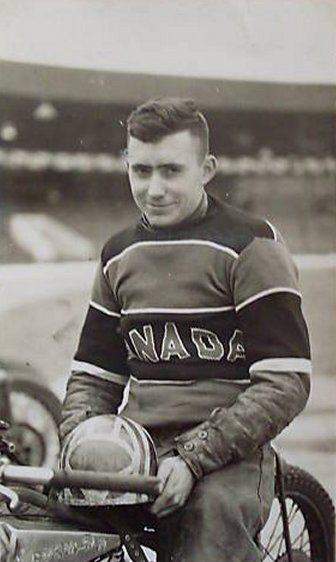 George Wearing The
"Maple Leaf" Of Canada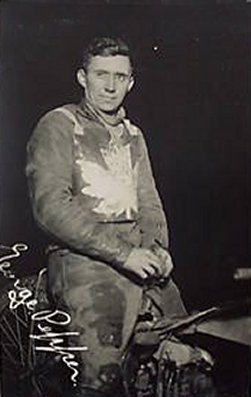 George With The
Canadian Team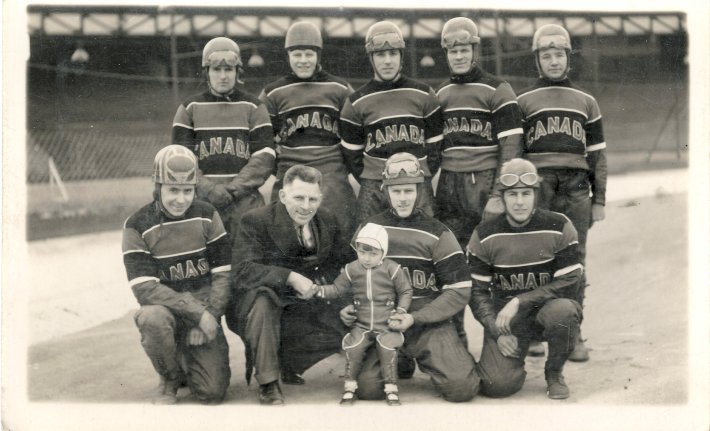 Courtesy of Ian Young
Back row: Goldie Keital, Eddie ?, Bob Sparks, Elwood Stillwell, Bruce Venier front: George Pepper, Johnnie Hoskins Eric Chitty, Jimmy ?
Their names were written on the back of the photo but 2 of the riders surnames are unreadable So can you help with surnames for Eddie and Jimmy.
John
The presence of George Pepper (also a pilot), makes the photo a pre war one as he lost his life when his plane crashed during the war.
So four Newcastle riders in this Canadian team. Bob Sparks, Elwood Stilwell, Bruce Venier and George Pepper.
Newcastle's Canadian Riders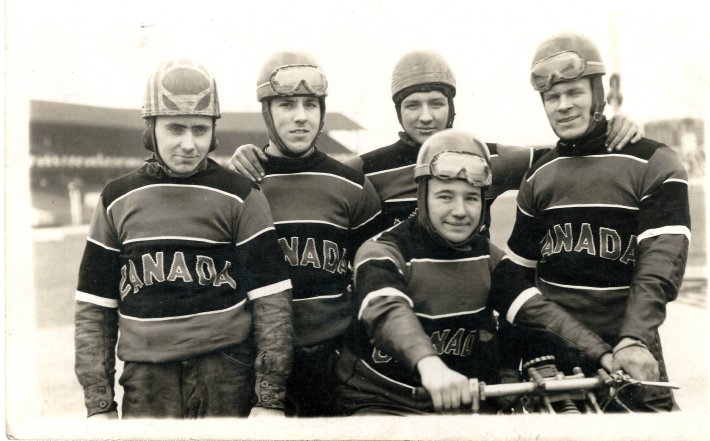 Courtesy of Ian Young
George Pepper, Bob Sparks, Bruce Venier, Elwood Stillwell. Not sure of the rider on the bike, can you help please?
John
---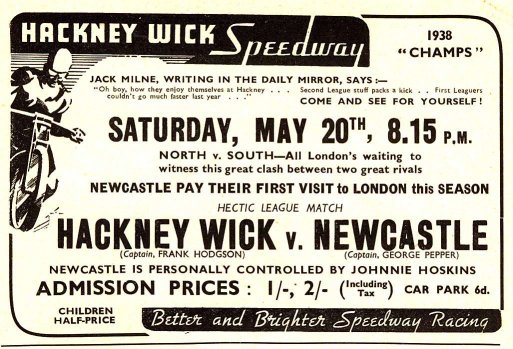 C
ourtesy of Colin Greenwell
Newcastle visit Hackney in May 1939
Do you want to continue with the History of Newcastle Speedway? then click here.
The Post War Years
---
The contents of the site are © and should not be reproduced elsewhere for financial gain. The contributors to this site gave the pictures and information on that understanding. If anyone has any issue or objections to any items on the site please
e-mail
and I will amend or remove the item. Where possible credit has been given to the owner of each item.