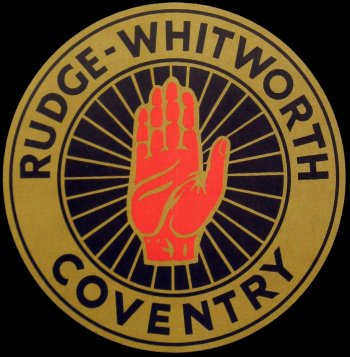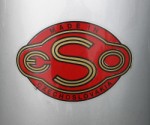 ---
Alan Johnston's Photos
Alan Johnston says: Hi John, By chance I stumbled upon your excellent website; I was looking for a date for a photo via google search I'd taken at the same time as a meeting between the Diamonds and Red Star Belgrade. I have photos from at least 10 meetings starting with Teesside on 19/04/76. There must be over 500 negatives and many photos in the loft (if I can find them all). They are not all the "typical Speedway Star type" photo.

I was a Graphics student at Newcastle Poly in the mid seventies. So some of the photos were taken to show speed hence blurring, colour etc. Some I messed around with (an example is the one of Tim Swales, Les Collins & Andy Cusworth). Not all were printed but I should have all the original negatives (that I haven't messed around with).

I've tried to scan some of the negatives today and the results were ok to poor (some are attached). I'll need to find to find the tool to clean the negative scanner if you want any for your website. I've attached a selection of my photos. All are compressed for the email. I'll email full size ones if you want any.

The signed photos by Tom and Joe are 14"x12" prints that I photographed today - they won't fit in my scanner. There is also some examples of a couple of my original contact sheets and a couple of strips of thumbnails. I hope this gives you an idea of what I have. I am willing to send you whatever you want for your website. It seems criminal that they are gathering dust in my loft.

Alan Johnston
30th September 2021
John says: Thank you Alan, I have given you your own page on the History Website and put your photos on this webpage. I would like you to send me the rest. I will fit them on the website no matter how many there are!
Tom Owen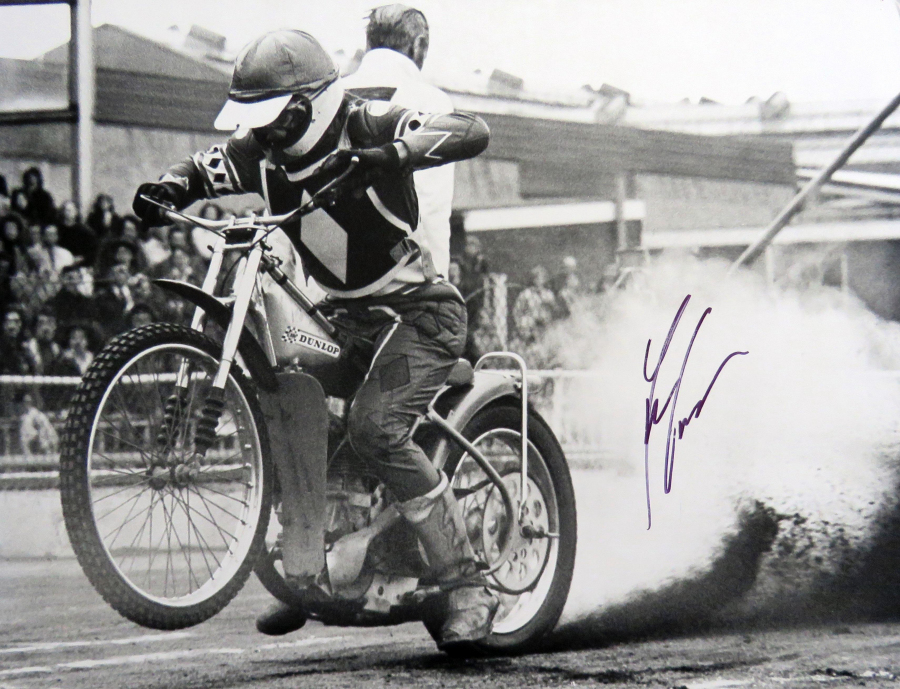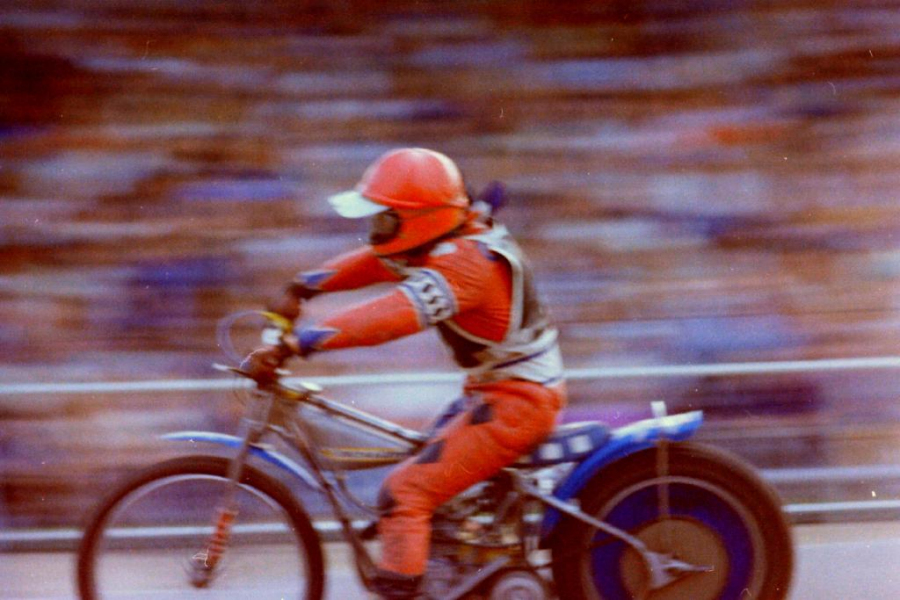 Tom Owen Signing Autographs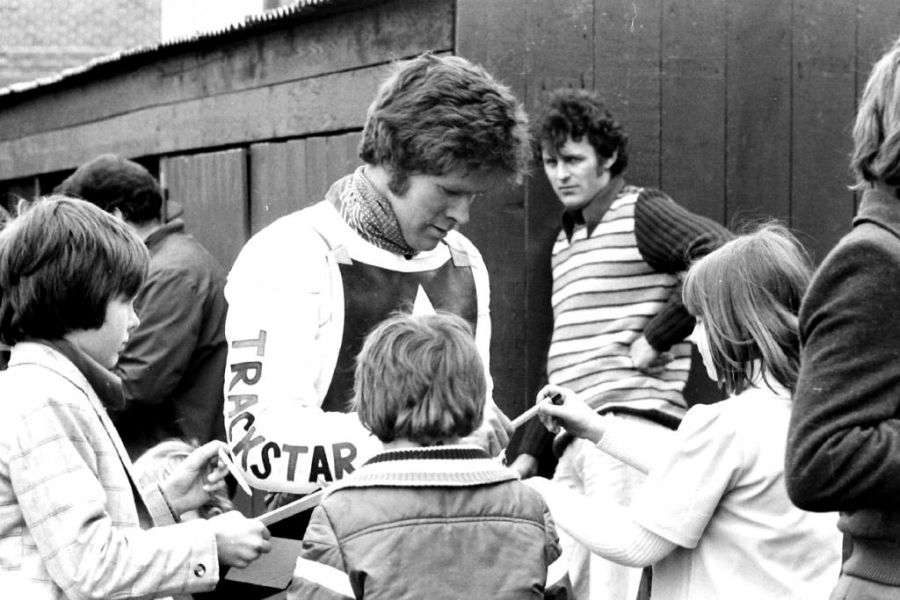 Tom Owen (R) & Graeme Stapleton (B)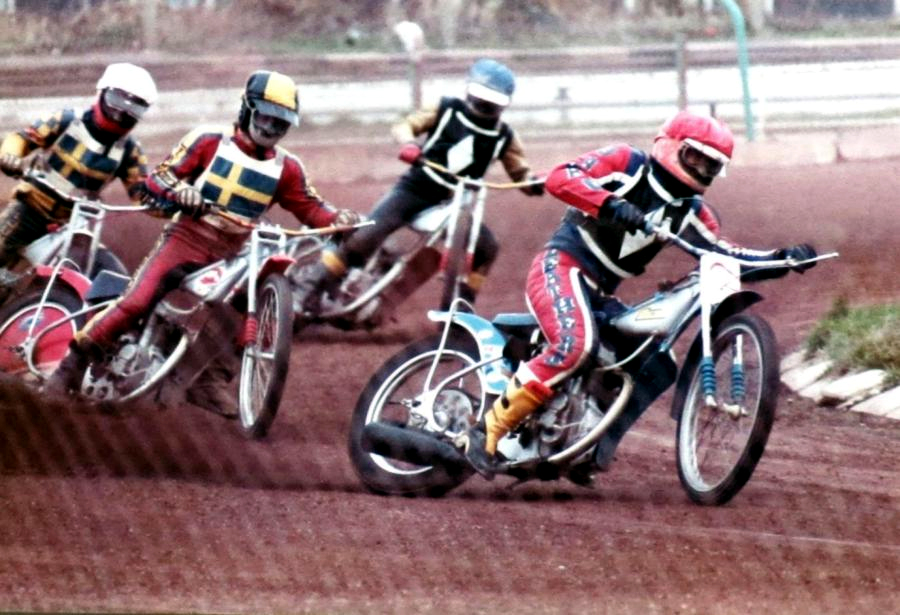 Tom Owen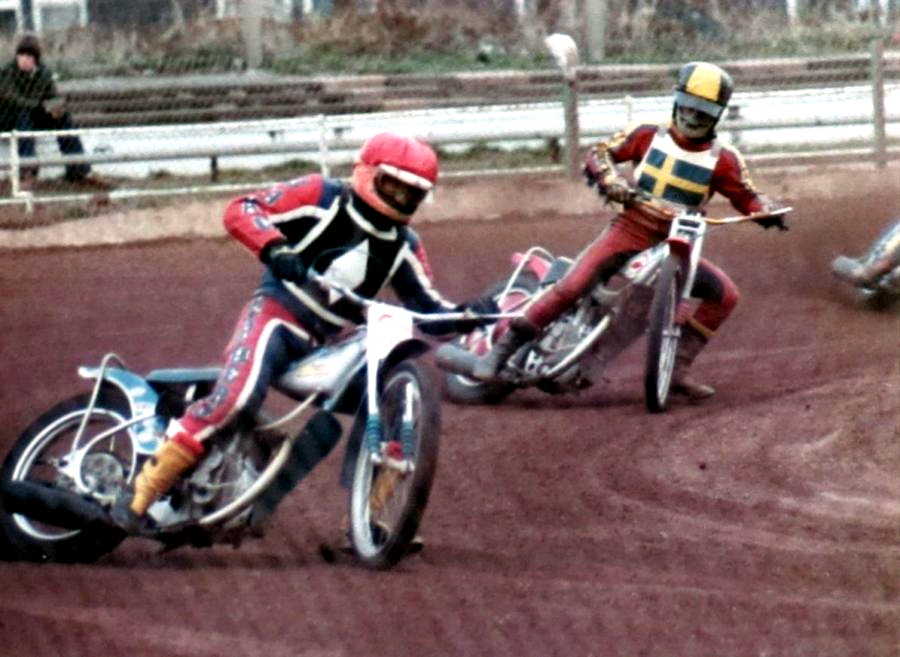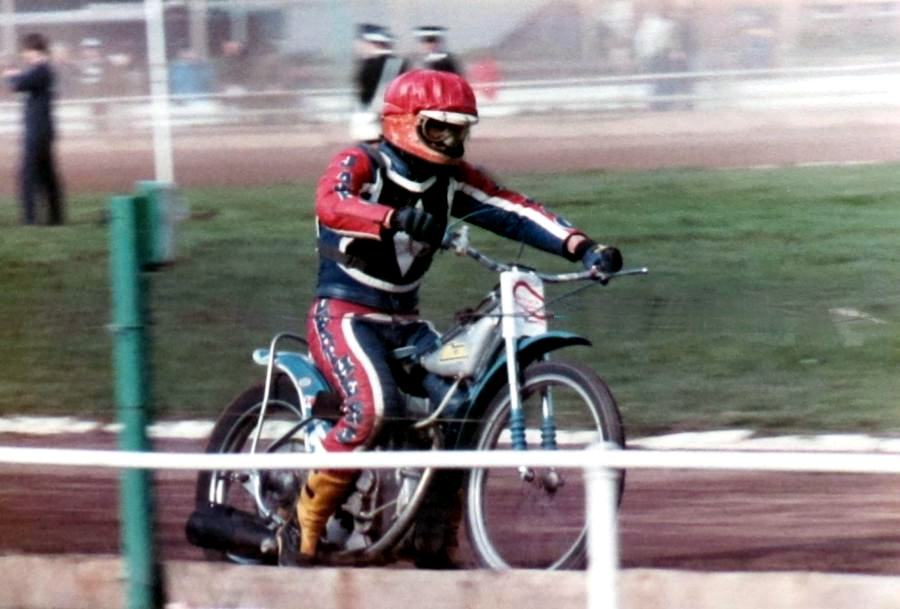 ---
Joe Owen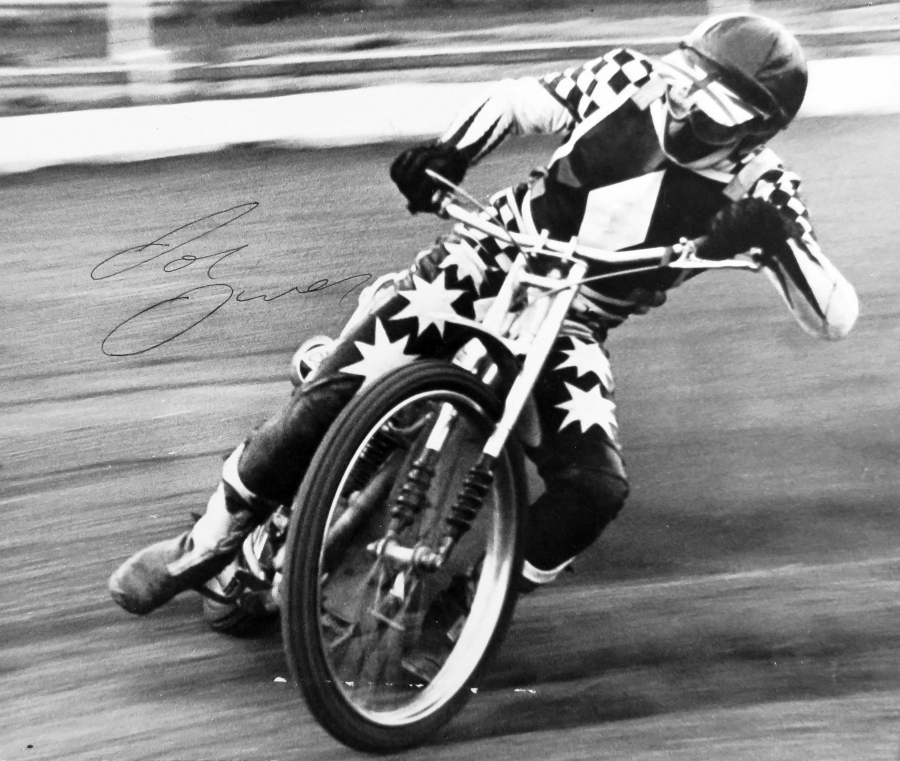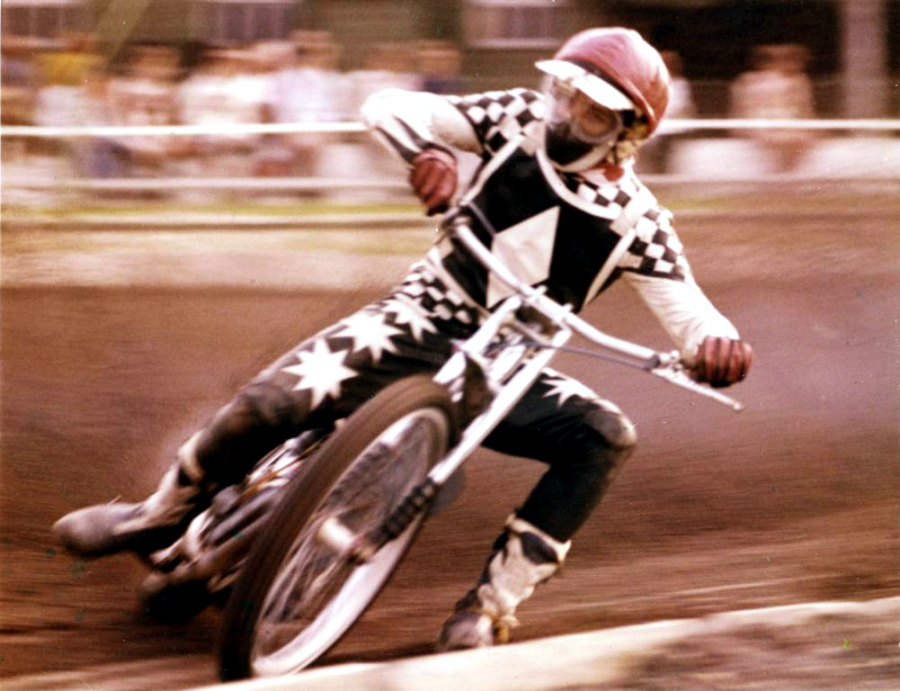 Joe Owen v Barry Briggs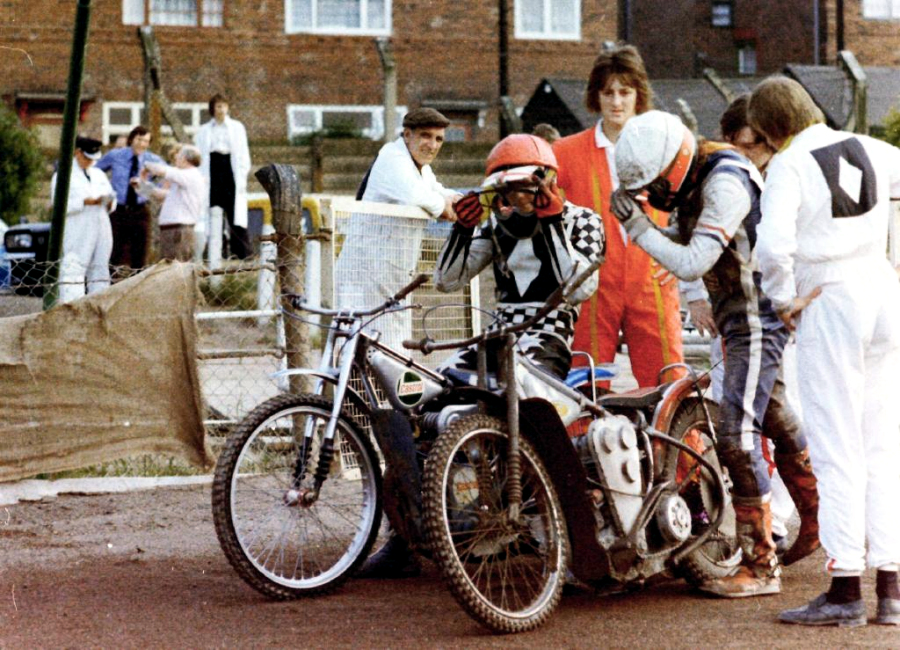 Joe v Barry was a Match Race on 5th July 1976 before the meeting with Peterborough.
John says: Alan's photo shows both riders were using machines with the large cover and 3 bosses. I sent an email half the way around the world to my mate Dave Gifford in New Zealand asking him about this modification. Giffy responded with the following: -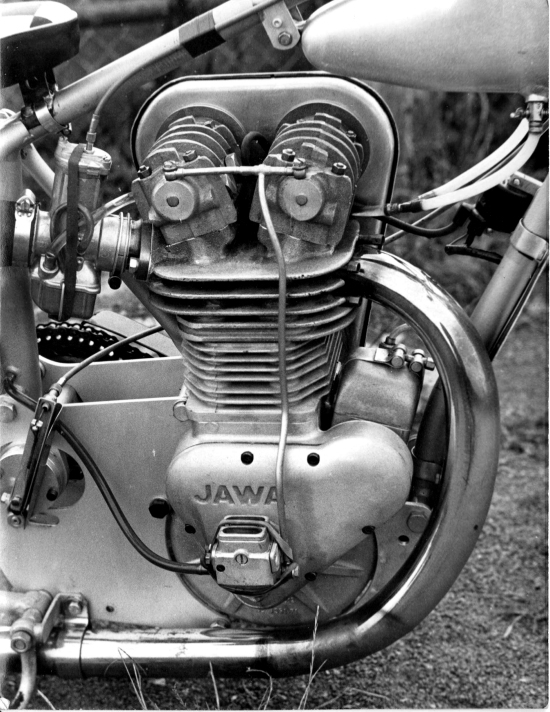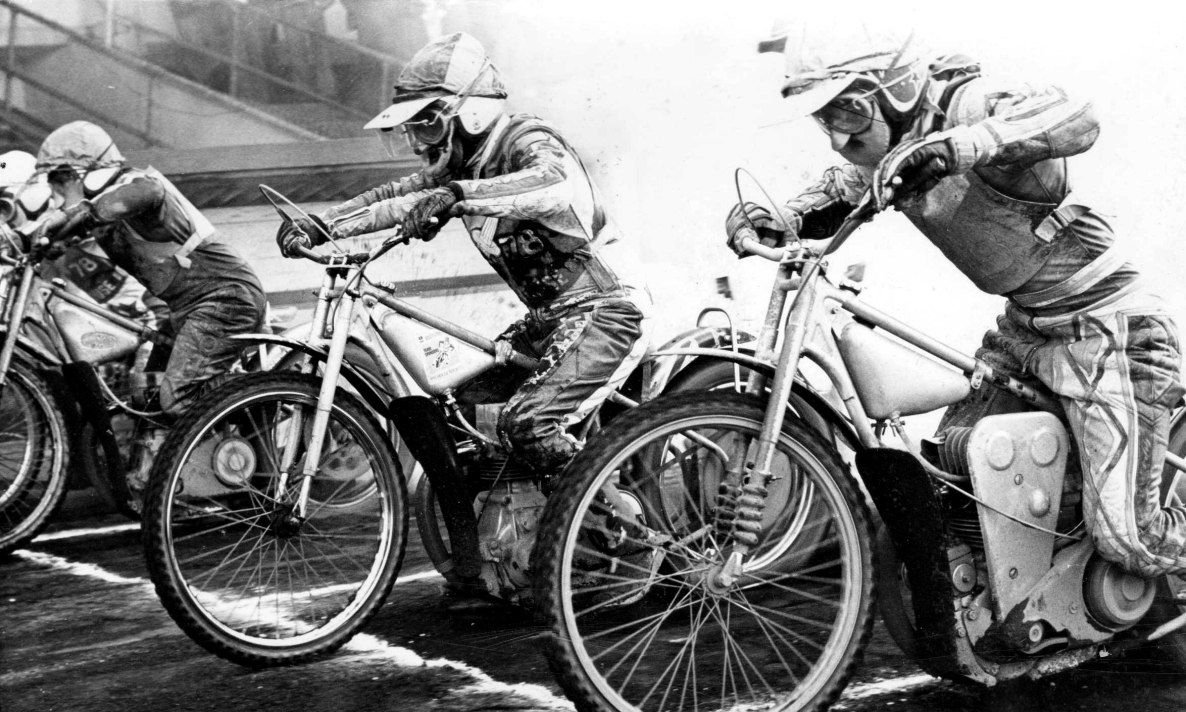 Dave Gifford's pics of his Street Conversion
Hi giffy mate: I hope you are well and haven't contracted covid. Newcastle came v close to closing down a few weeks ago but the promoter Rob Grant junior had second thoughts and has committed himself to Brough having speedway for at least 2022, god knows after that. You will know his dad Rob Grant senior from your Berwick days, no doubt! I am writing to ask you about bikes in the 1970s. Have a look at Briggo's bike in the attached photo. I am a bit puzzled by the large grey plastic thing with the 3 bosses on it. I assume it was to protect the engine from a nuclear attack! but i could be wrong. I have always had an interest in the machines and I cannot believe the shields were in wide use coz I don't remember them at all. So what were they used for and why the 3 bosses?
Giffy says: Hi John, how nice to hear from you and to know that you are well. Things are not too bad heare but I fear we all have a long way to go before we return to some sort of normality.
Now to the picture you sent of young Joe and the other bloke. The motor in question is a double overhead cam Mk 1 4 Valve Street. Developed by Neil Street and Ivan Tighe in Australia around 1975. The design was the only true overhead cam where the cam opens the valve directly unlike the Jawa and GM which use rockers in between the cam and valve. The plastic thing with the bosses you mentioned is actually aluminium and covers the cam chain which is driven by a sprocket behind the primary chain sprocket . The two top bosses are where the two cam sprockets are located and the lower one is where the adjustable idler is. The British made conversions made by Neil Street used chain covers of beaten aluminium sheet while the ones made in Aussie by Ivan Tighe were castings. Hope this all makes sense old friend, I have att a couple of pics (see above), of a Street motor I used at Berwick. Hope things get sorted at Brough. All the very best John and stay safe, regards, giffy
Joe Owen Putting his Street Conversion Through a High Speed Test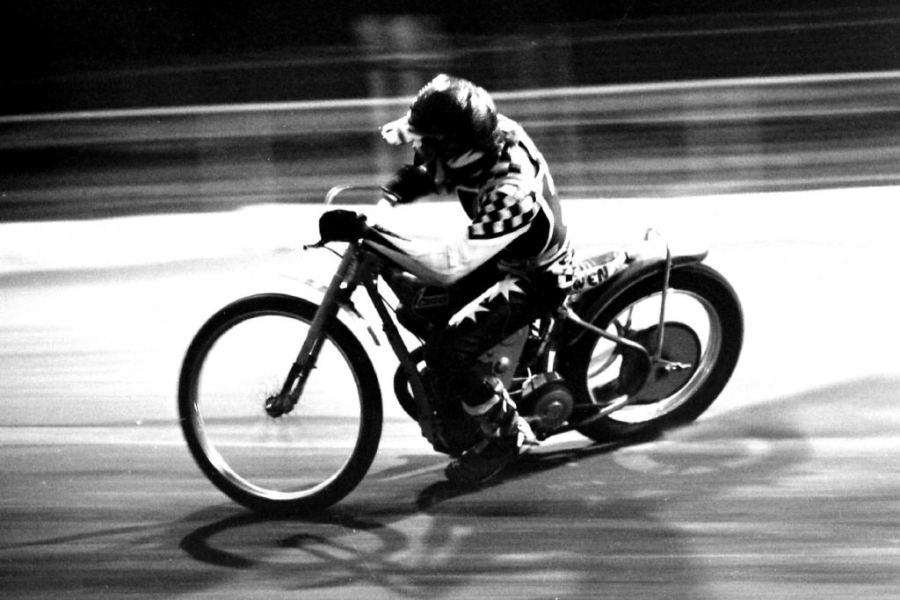 ---
Peter Collins v Ron Henderson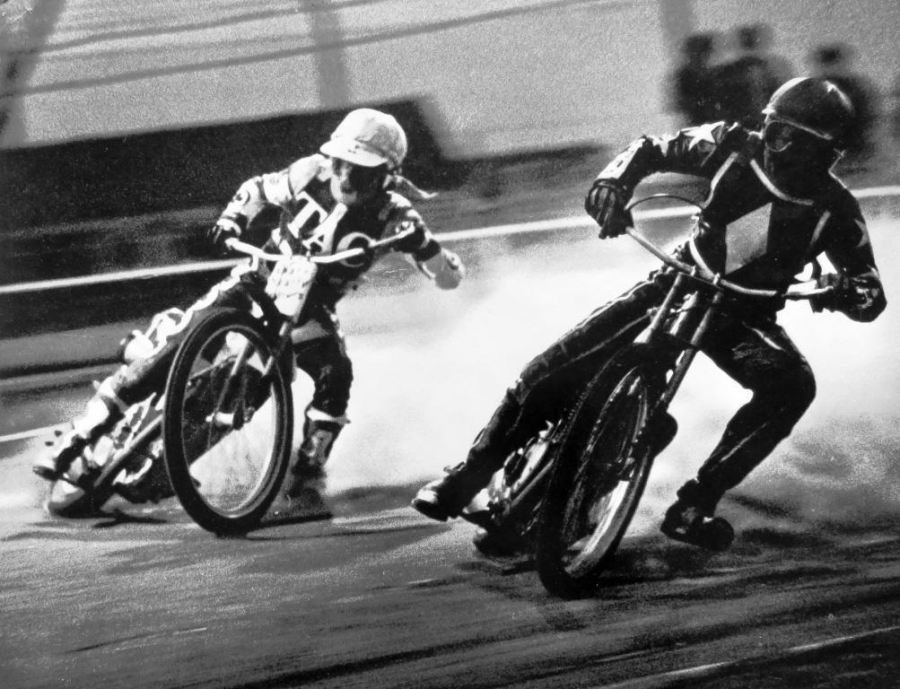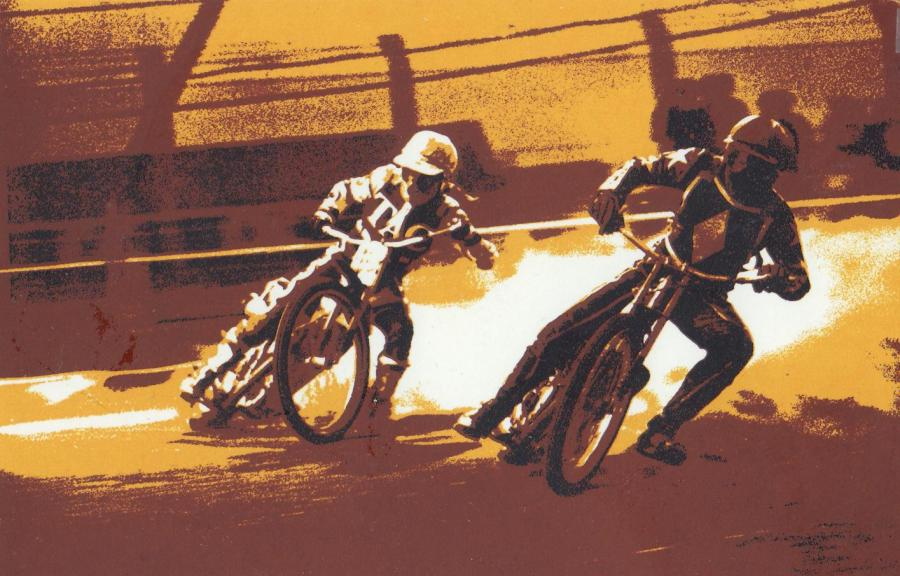 Artistic version by Alan Johnston
---
Red Star Prague
1976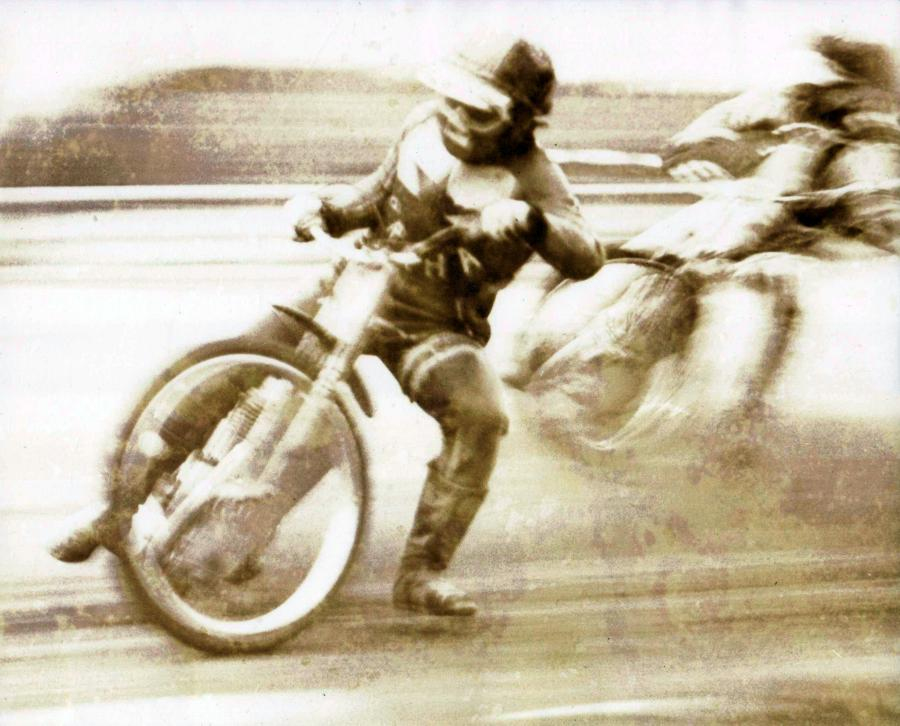 Artistic version by Alan Johnston
---
Phil Michaelides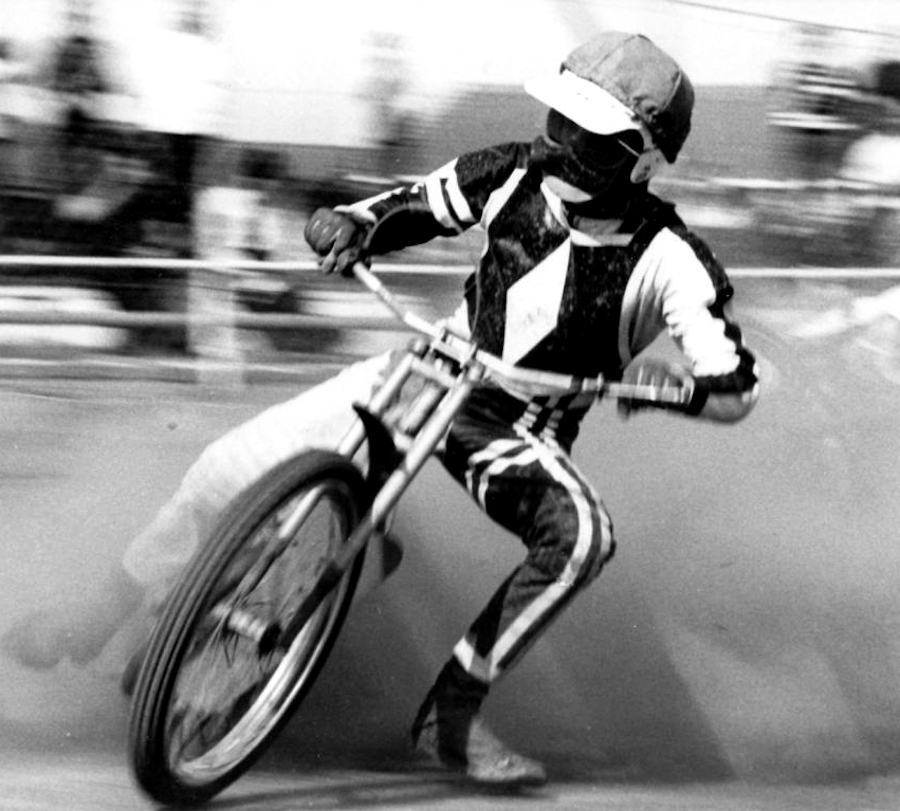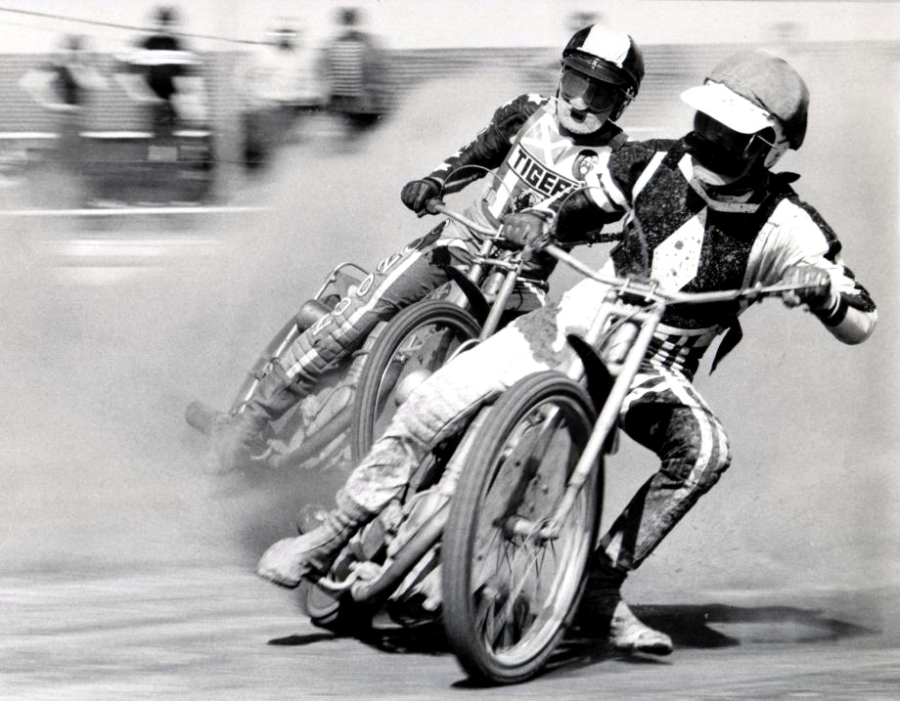 ---
Robbie Blackadder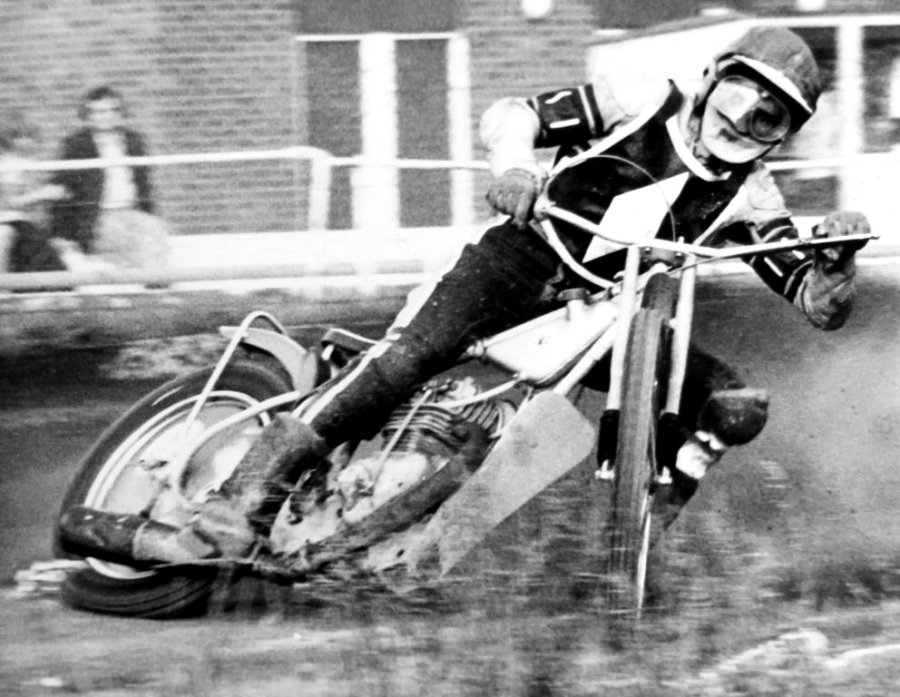 Robbie Blackadder &
Michael Easton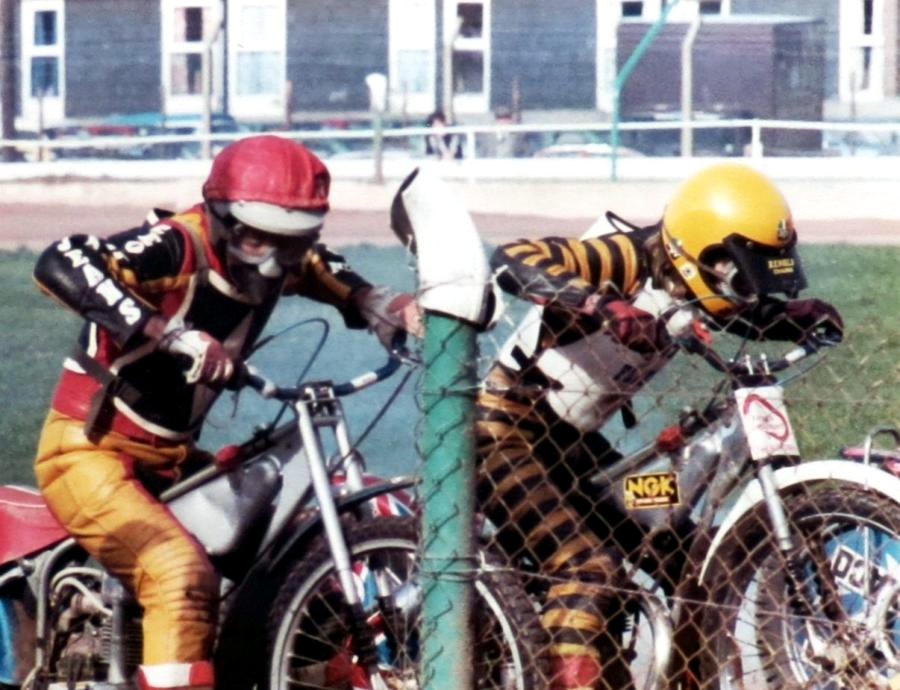 Michael was a junior rider who lives in Rowlands Gill, which is about 15 miles from Brough Park.
---
Ron Henderson & Tom Owen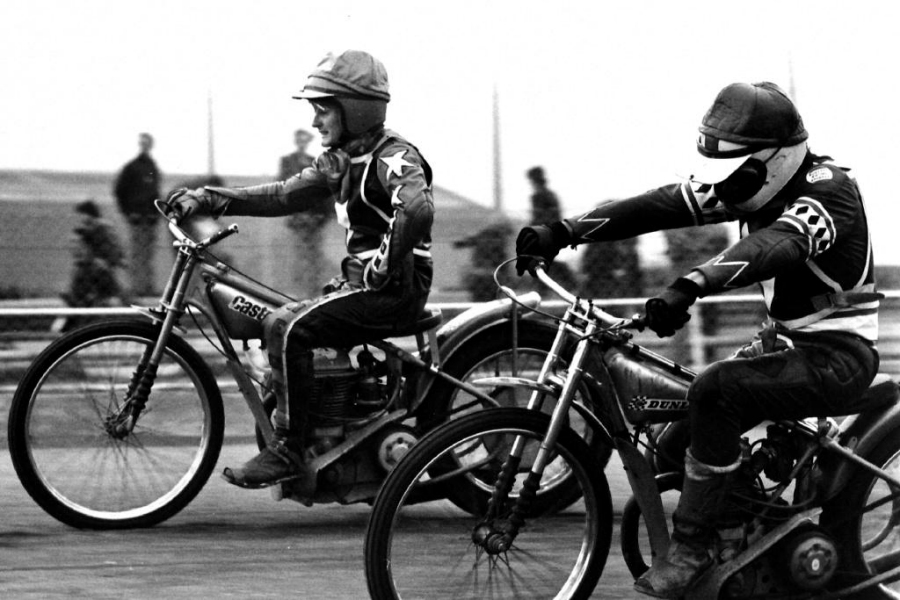 ---
Tapes Up v Scunthorpe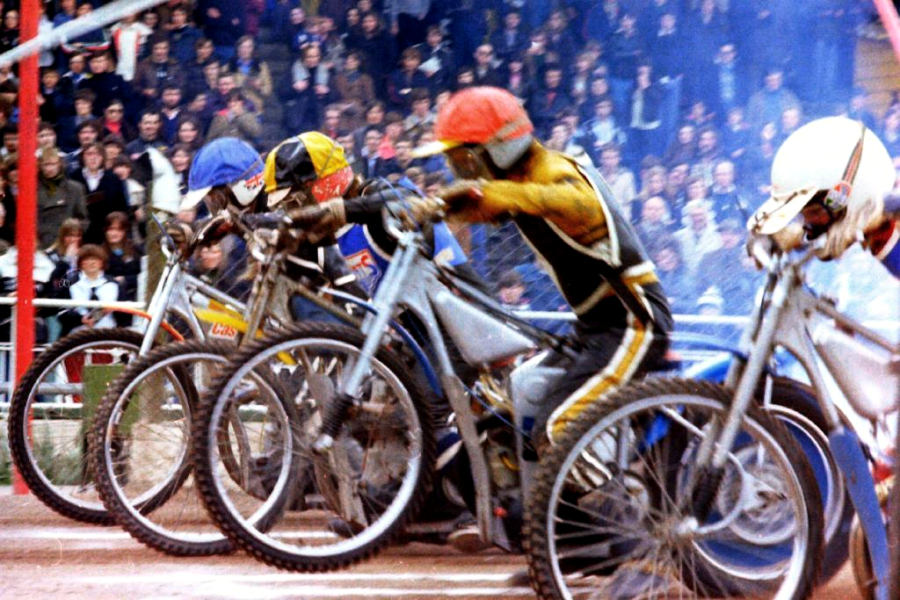 ---
Tim Swales Les Collins &
Andy Cusworth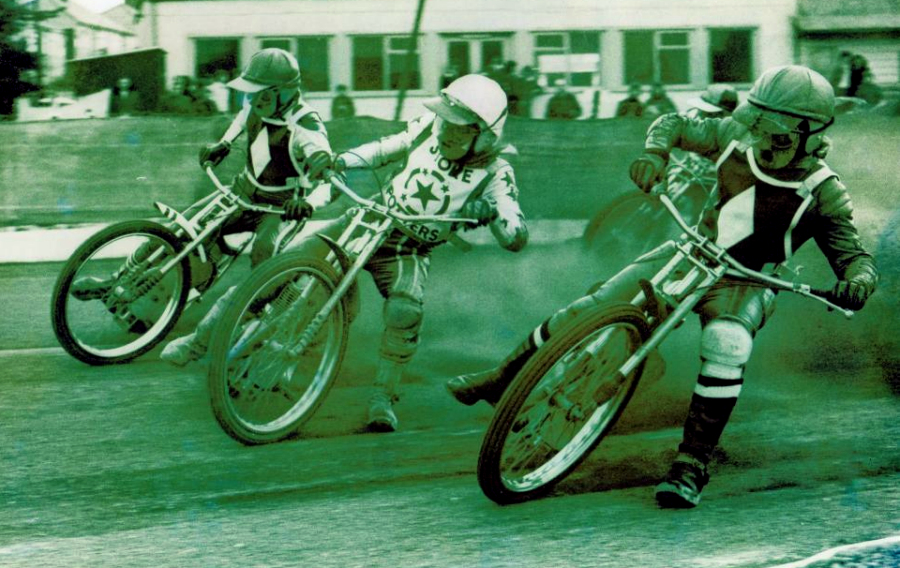 A touch of photoshopping 1970s style
---
Barry Briggs & Phil Collins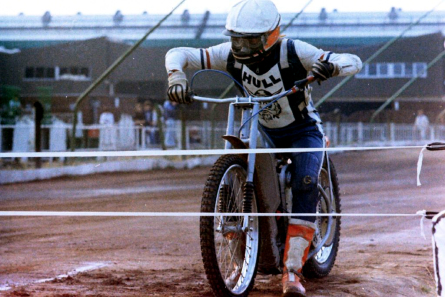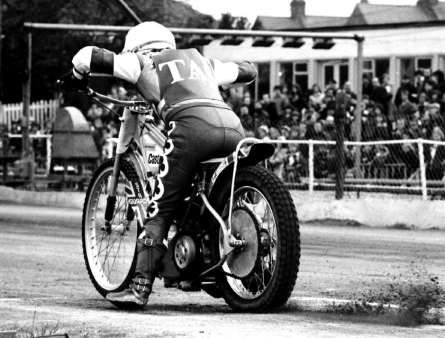 ---
Alan's Contact Prints
& Thumbnails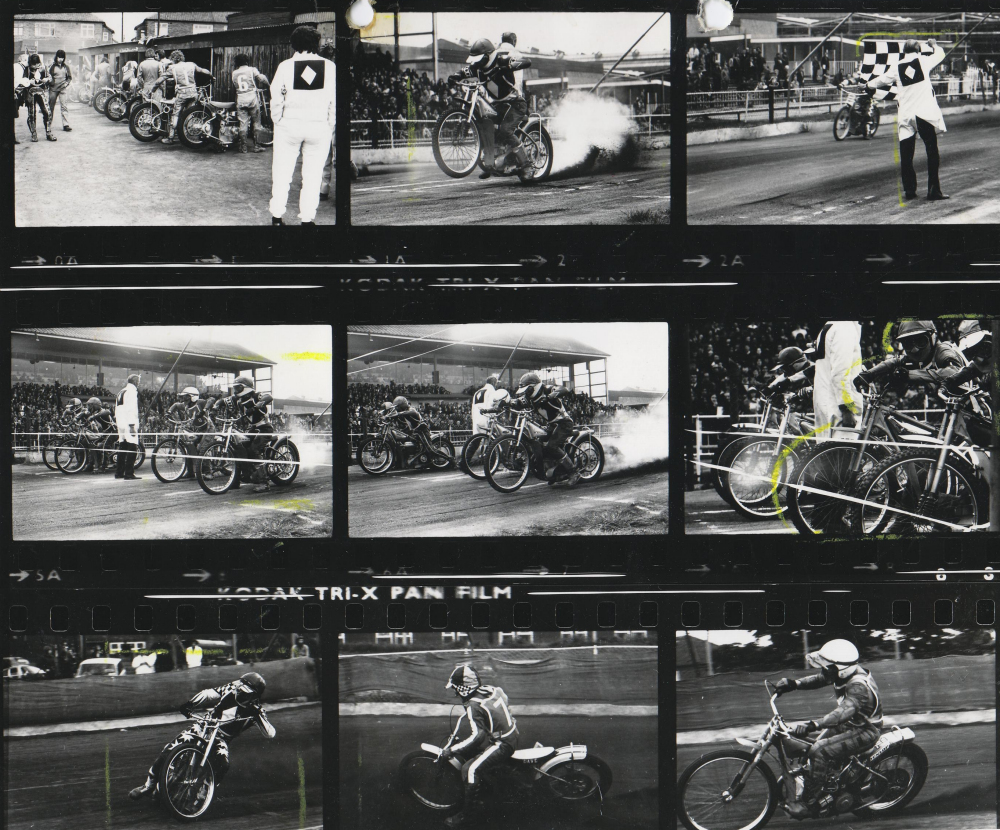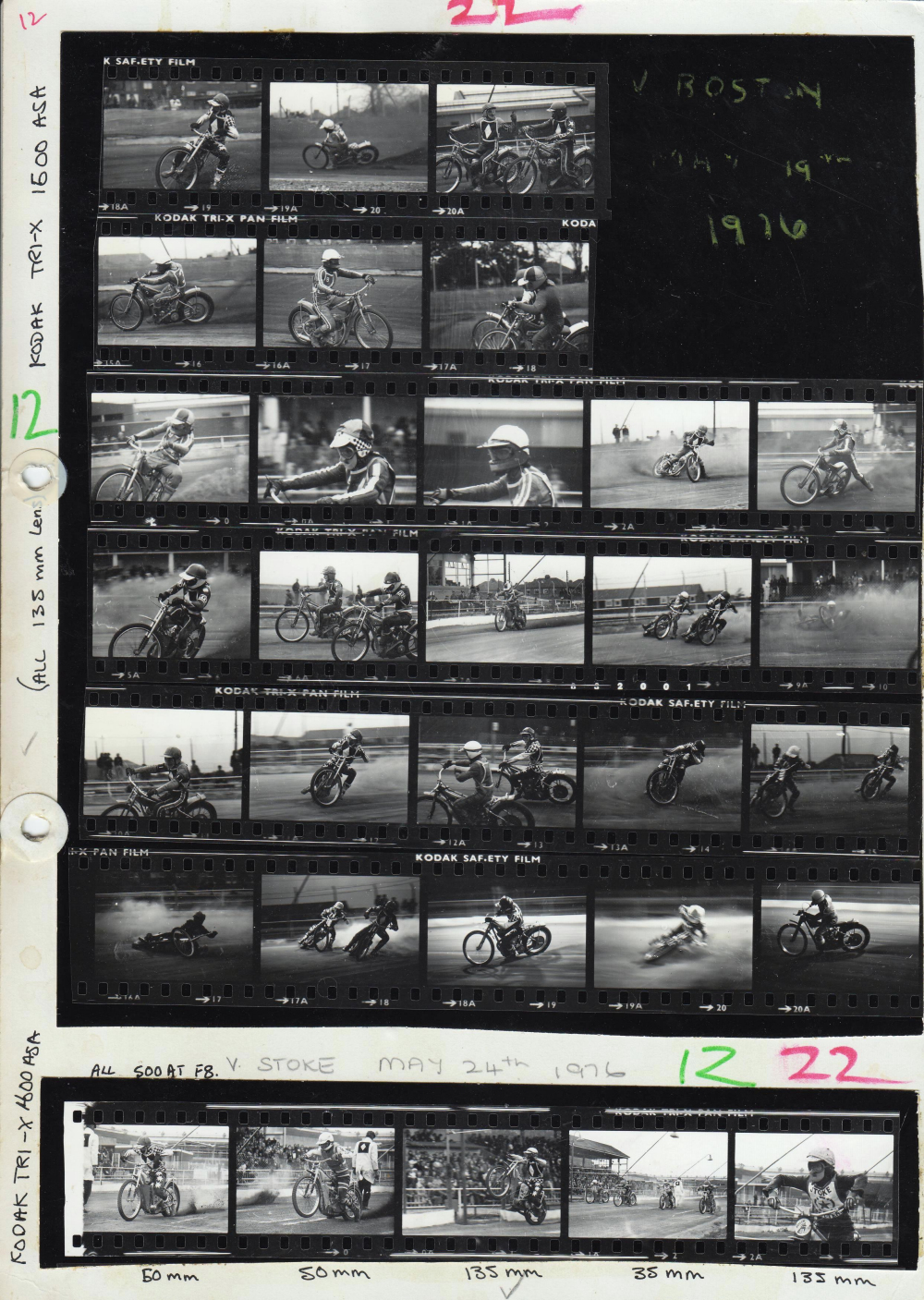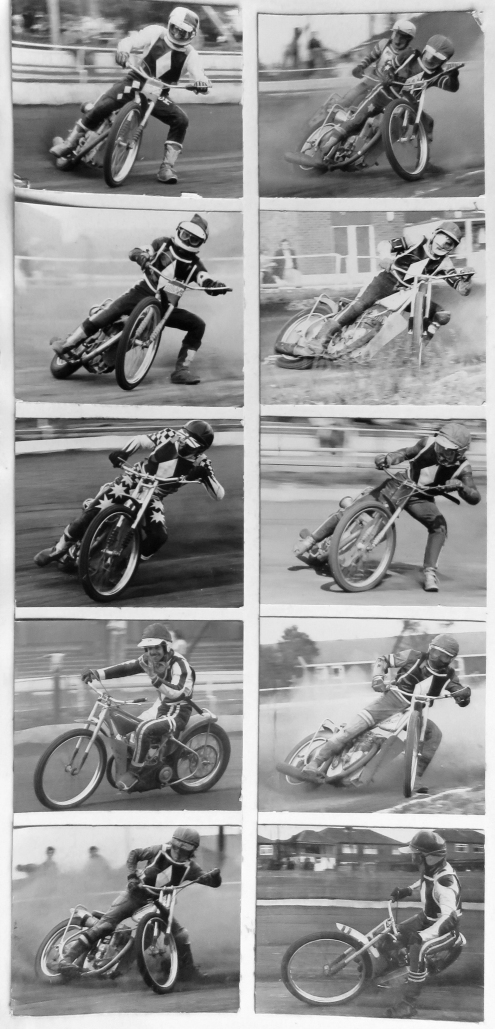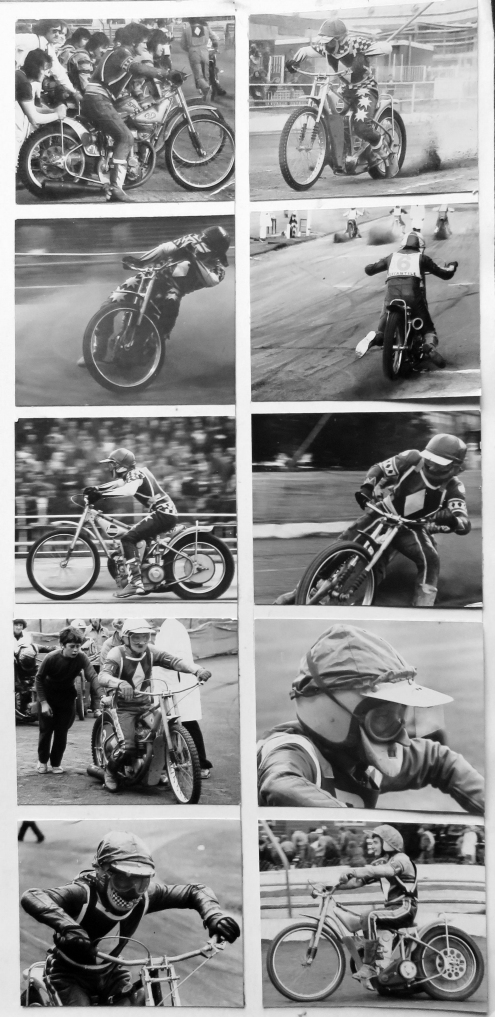 The above thumbnail pics were part of Alan's coursework when he was at Newcastle Poly in the 1970s. I hope he will send us many more of his unique photo collection
---
My prayers have been answered! Well, Alan has sent me some more of his excellent photographs, see below: -
Joe Owen & Billy Burton
17th May 1976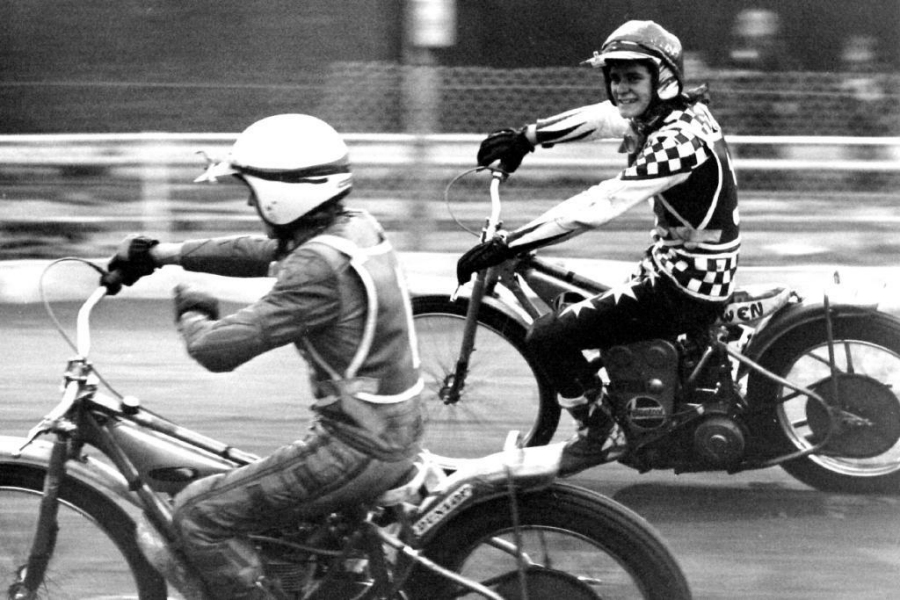 Who won? Well Joe looks pleased with himself and Billy is checking the time on his watch. In the days pre "Kevlar", I was impressed by the designer of Joe's leathers and the lad was always immaculately turned out.
The 1970s Brough Park Pits
17th May 1976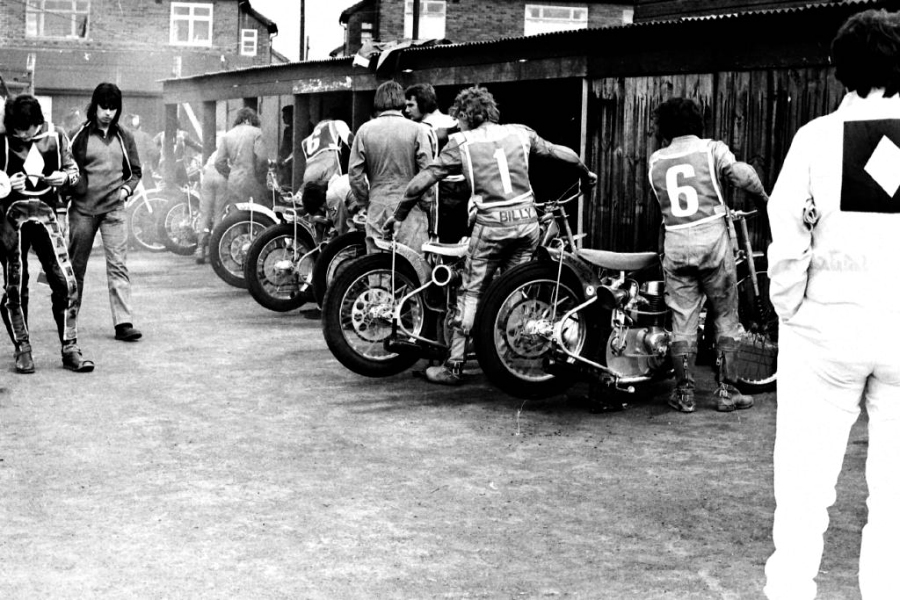 The rather ramshackle looking 1977 Brough Park pits with Ron Henderson, Tim Swales, Robbie Blackadder, Billy Burton & R Cooper
Tom Owen & Ron Henderson
Get The Drop on Boston
17th May 1976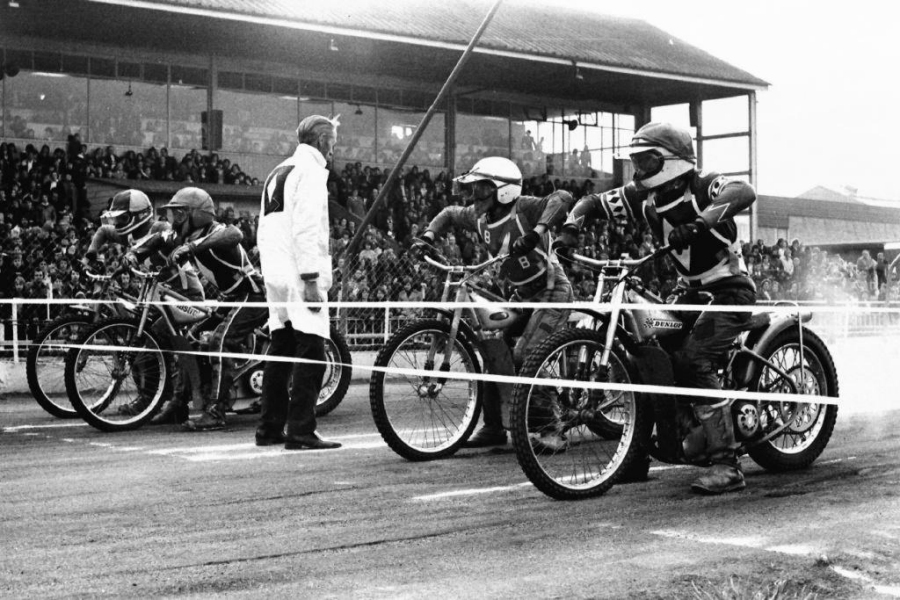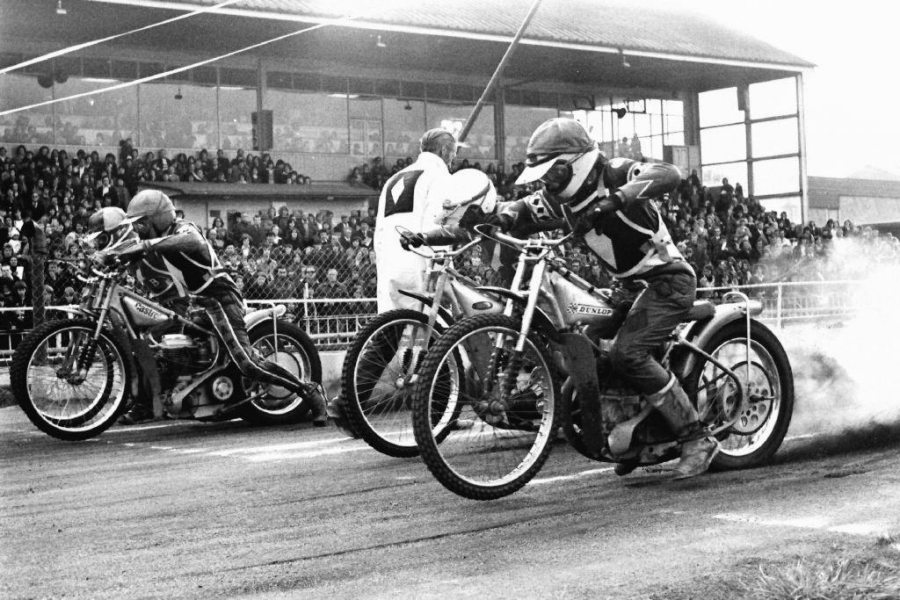 Tom & Ron make the gate against Billy Burton (off gate 2) and Trevor Whiting on the outside
Nigel Crabtree
4th July 1977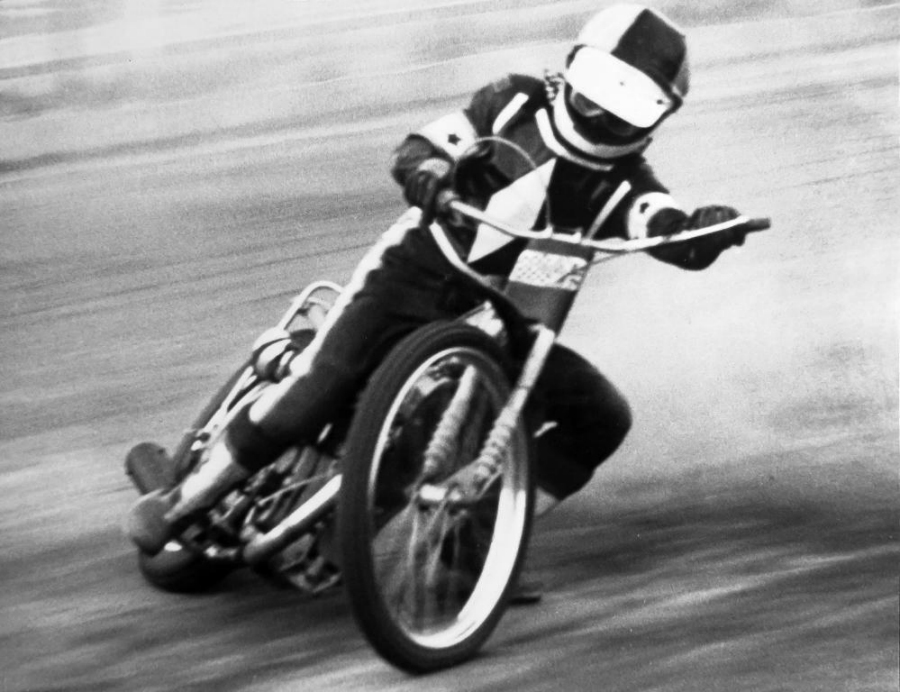 Nigel Crabtree (Blue) v
Young Sweden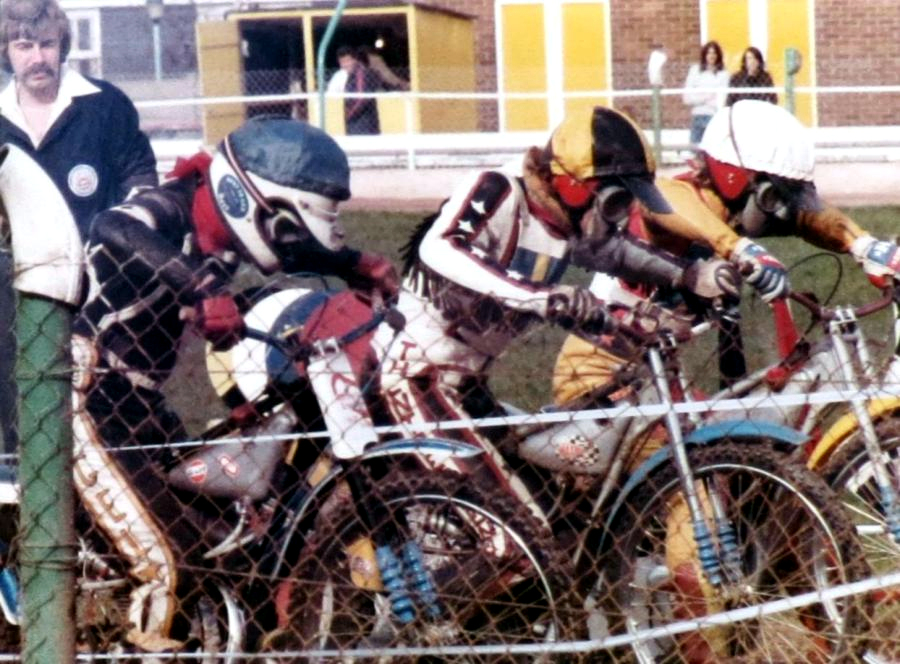 ---
Phil Kynman
4th July 1977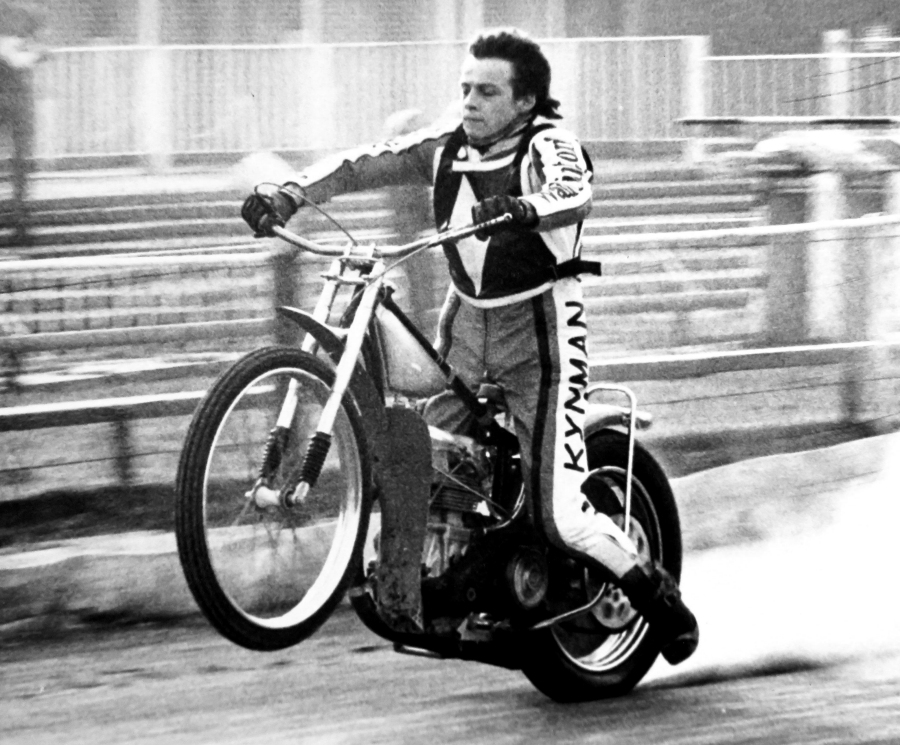 ---
Robbie Gardner
v Mildenhall
4th July 1977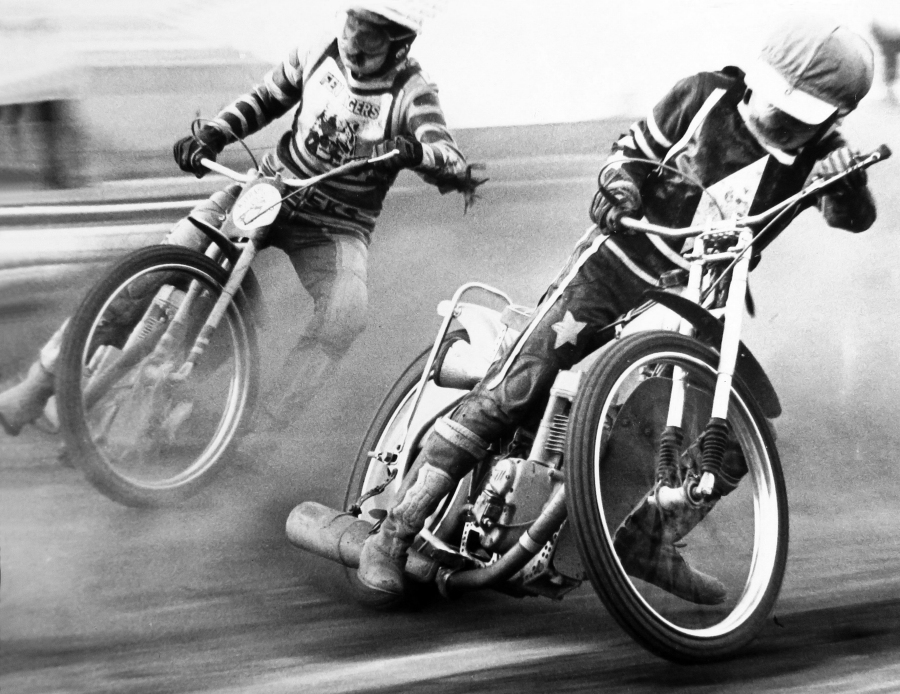 Eddie Argall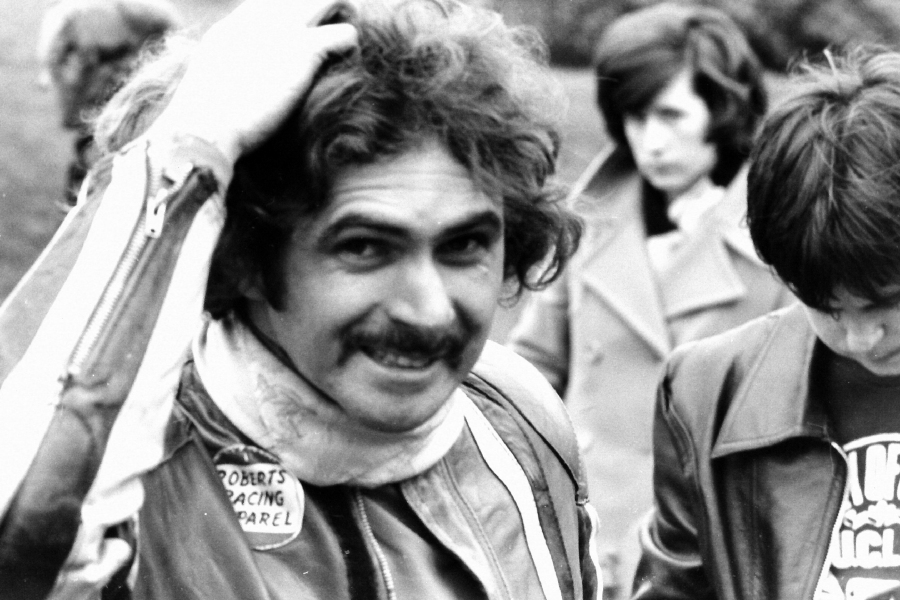 ---
Joe Owen v Steve Weatherley
1976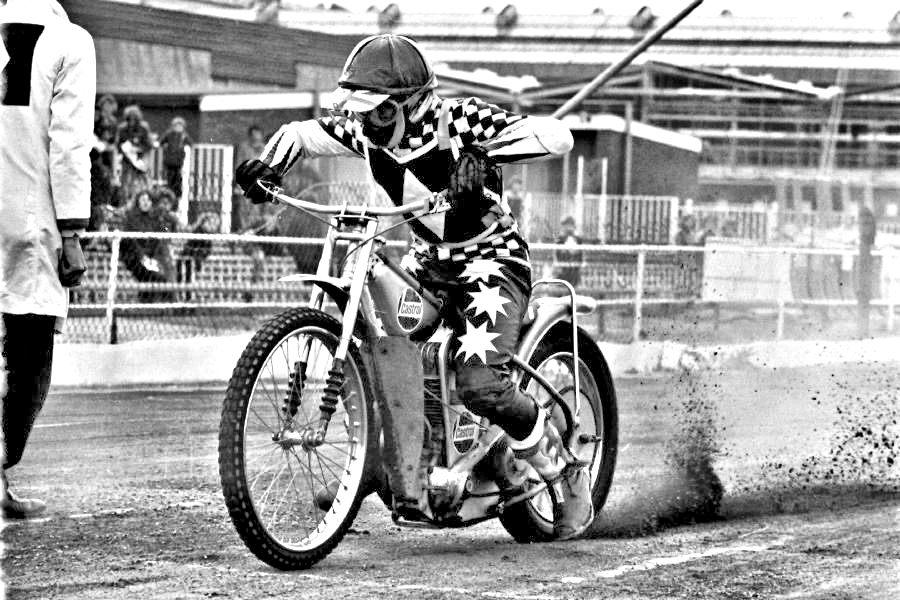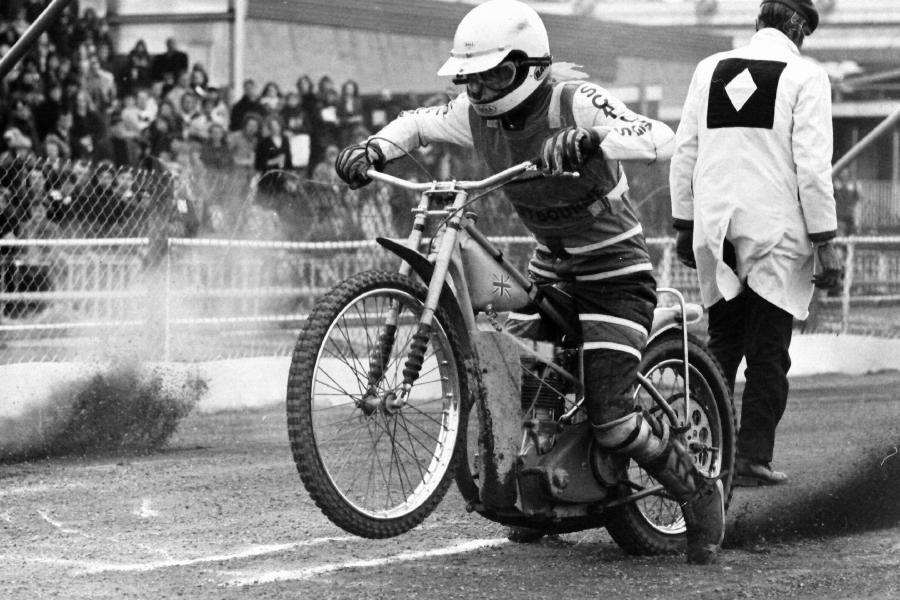 Courtesy of Alan Johnston
Joe Celebrates a win v Steve Weatherley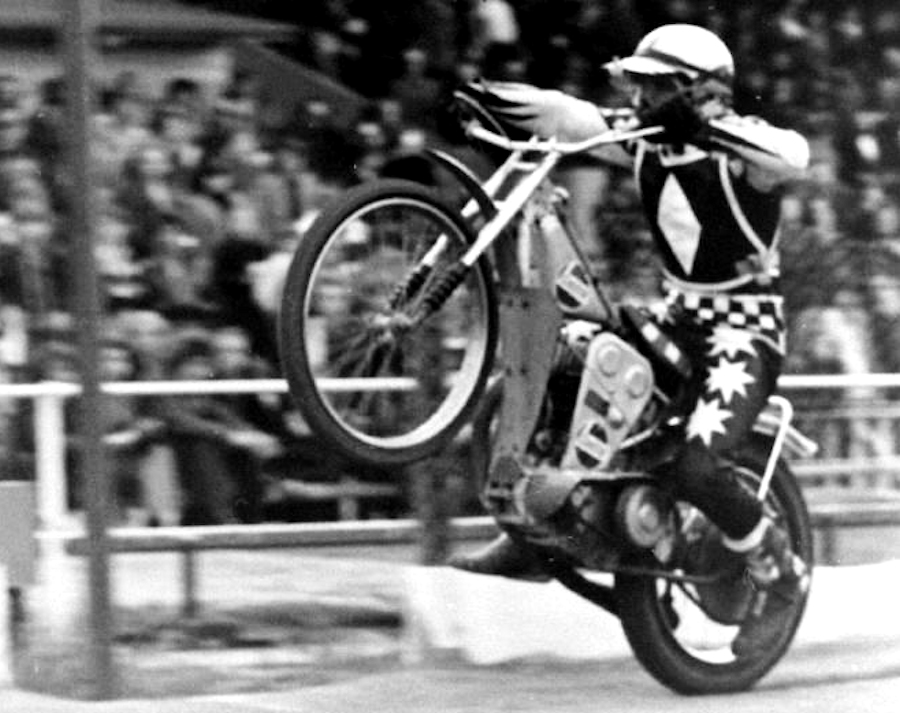 Alan Johnston says: The match race pics of Joe and Steve Weatherley were taken before the meeting with Stoke Potters. Two talented riders both suffering terrible injuries in later crashes.
---
The contents of the site are © and should not be reproduced elsewhere for financial gain. The contributors to this site gave the pictures and information on that understanding. If anyone has any issue or objections to any items on the site please
e-mail
and I will amend or remove the item. Where possible credit has been given to the owner of each item.