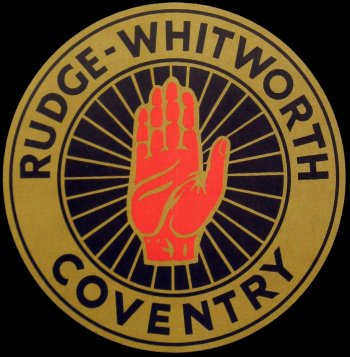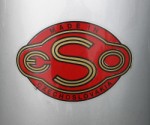 ---
Newcastle Gems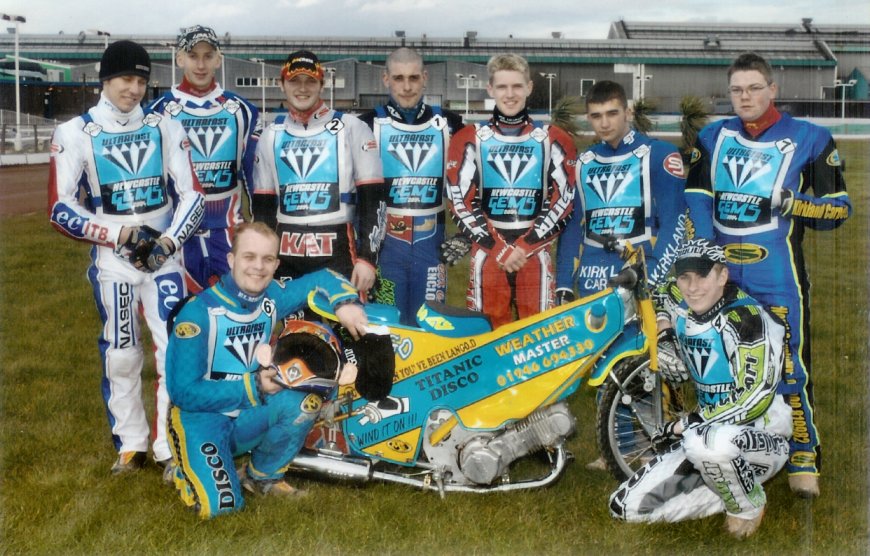 Newcastle had a junior team known as the Newcastle Gems, I would like to hear from anyone with pictures or knowledge of the Gems
John
The Gems
Following the Diamonds being declared Premier League Champions in 2001 (writes Dave Rowland), it was decided to run a team in the lower league namely the Conference League. Their meetings were to be standalone meetings on the Sunday afternoon with the Diamonds riding on the Monday evening.
Because of my interest in helping junior riders, I was asked to take charge of the team and its affairs. The late Kenny (3
rd
Bend) Smith had a history of helping riders as a mechanic and had been a mechanic to Jonathan Swales, a previous Conference League Riderís champion when with Mildenhall. He had organised the second halves at Brough for sometime and was well known and appreciated especially by the junior riders. We appointed Kenny as the Team manager and together we built a team of good youngsters up to the standard of the league.
Steven Jones resumed riding league racing, Richie Hall who had made his debut for the Diamonds the year previous, Jamie Swales joined the team, Bengi Compton was no stranger to us, Jamie Robertson was at a very early stage in his riding career and Will Lawson joined us from being the mascot at Edinburgh. It was an exciting time with so many riders showing a lot of development which was only spoilt by the broken leg that finished the season for Will Lawson who had fell trying to avoid a fallen rider on the 4
th
bend. Prior to that he had shown immense promise but it was Jamie who caught the eye with his trademark sweeps around the outside of the 3
rd
/4
th
corners to get unexpected race wins. He had also held the Bronze Helmet match race title, despite not being the number 1 in the Gems team at the time, and he beat many ex Premier riders during his run as the Helmet holder.
The Gems, being the only CL team in the North East, attracted riders from other neighbouring areas notably Cumbria. Craig Branney joined us early on and was joined later by his brother John who broke his ankle on the 4
th
bend riding against us as a guest for Rye House. In the 3 years that we ran a CL team, other Cumbrians followed namely Phil Babb, Karl Langley, David Haig, Kris Irvine. Kenny used to regularly go to the newly opened Northside Training track and check out riders for including them in the Gems team. From other areas we signed Mike Pickering, Carl Shield, Ash Johnson, Gary Flint, John McPhail, Danny Hughes, Danny Hodgson, John Morrison and a host of riders who only rode the occasional meeting.
At all times the team was used for young rider development but unfortunately not all teams had this purpose and it was usually the standalone teams. Their circumstances were different and needed a stronger side to maintain their fans. They more than often paid above the agreed rates but, with only the odd exception, we paid the leagues rates but in all cases we doubled the travel payment from 5p to 10p a mile to help the riders. It was never our intention to win the CL but to produce riders who could go on and have decent speedway careers.
Unfortunately, as a stand alone meeting on a Sunday afternoon, we failed to get sufficient fans to continue as we were and a different arrangement had to be made. Newport had always combined their meetings riding the Wasps meetings followed by their CL team on a Sunday afternoon and this was the model that we copied.
Unfortunately costs continued to rise and we had to introduce several riders such as David Meldrum, Lee Dicken, Cory Blackman, Paul
Sharples to be competitive with the other teams.
At the end of 2004 the decision was made to cease running a CL team due to the rising costs. Although we only ran a CL team for 3 seasons we did see the start of the careers of Will Lawson, Jamie Robertson, Craig Branney, John Branney, Richie Hall, which, I think all would agree, justified the original decision to enter the team in the CL. I know from feedback from others, and the meeting reports, that the performance of the Gems and our financial principles were applauded by other fans and most of the other CL promotions.
Dave Rowland (and on behalf of the Late Kenny Smith)
John says: Thanks to the promoters,( mainly Dave Rowland) and team manager Kenny (3rd bend Smithy) Smith, Newcastle had the excitement of 3rd tier racing between 2002-2004. If you missed it, you missed a helluva lot. I hope National League racing comes back to supplement our Premier League racing real soon. John
---
2002

Newcastle Gems Team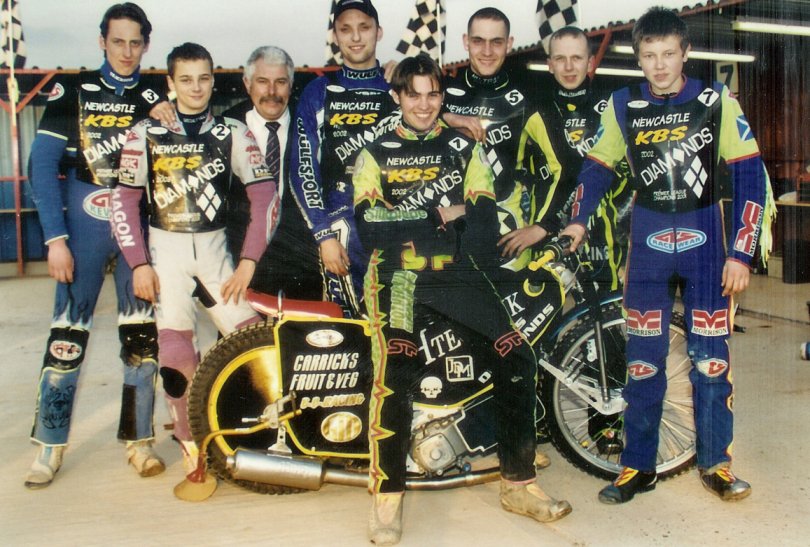 The 2002 Gems with Manager ,"The Late" Kenny Smith. I can only name Richard Hall and William Lawson. Help please
John
Dave Rowland says Stephen Jones, Benji Compton, The late Kenny Smith, Gary Flint, Rich Hall, Carl Shield, Will Lawson. Jamie Swales on bike.
Steve Wilkes says: It looks like the picture was taken at Peterborough.
Scott Nettleship &
The

2002

Gems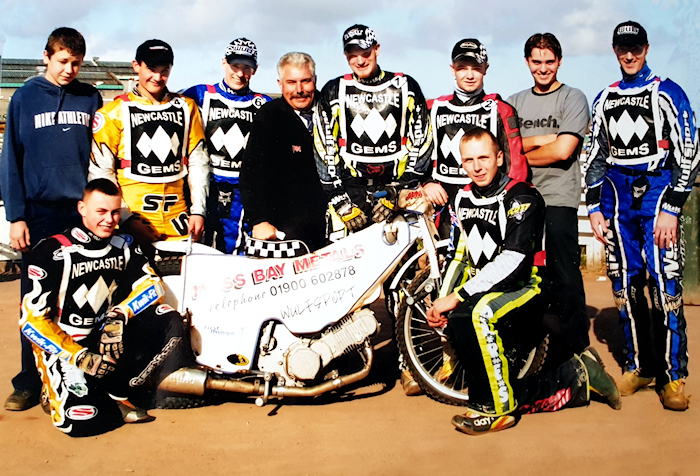 Courtesy of Scott Nettleship
Scott Nettleship says: Newcastle Gems team from 2002 I think the first year they raced. I believe this was one of last home meetings of the year if not the last it was after William Lawson broke his leg. The riders in that photo are from left to right Standing: William Lawson, Jamie Robertson, John Branney, Kenny Smith (team manager), Craig Branney, Gary Beaton, Jamie Swales and Phil Bragg. Kneeling: Scott Nettleship and Carl Shields.
---
2004

Newcastle Gems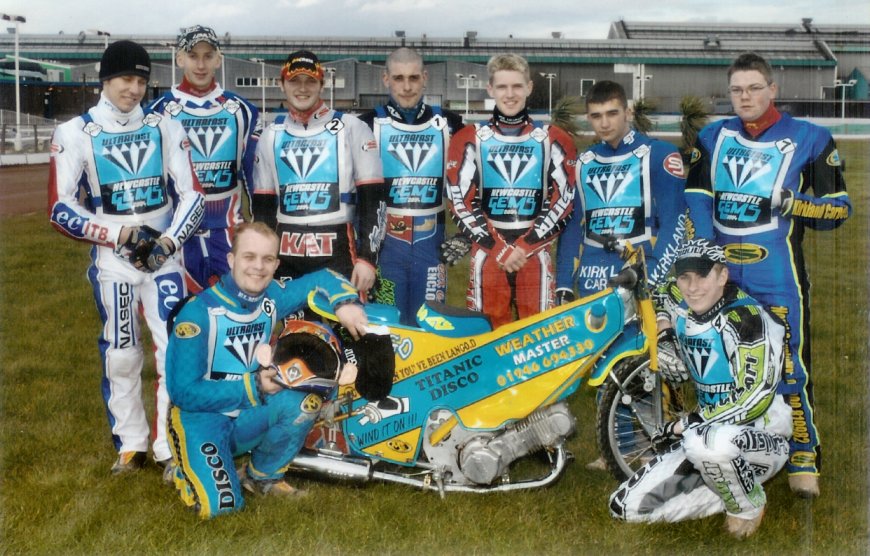 Courtesy of Barry Stephenson
From the left Ashley Johnson John McPhail Mike Pickering Danny Hughes Adam Scott David Haigh Kriss Irving Karl Langley kneeling John Branney kneeling
---
The Gems At Buxton

4th July 2004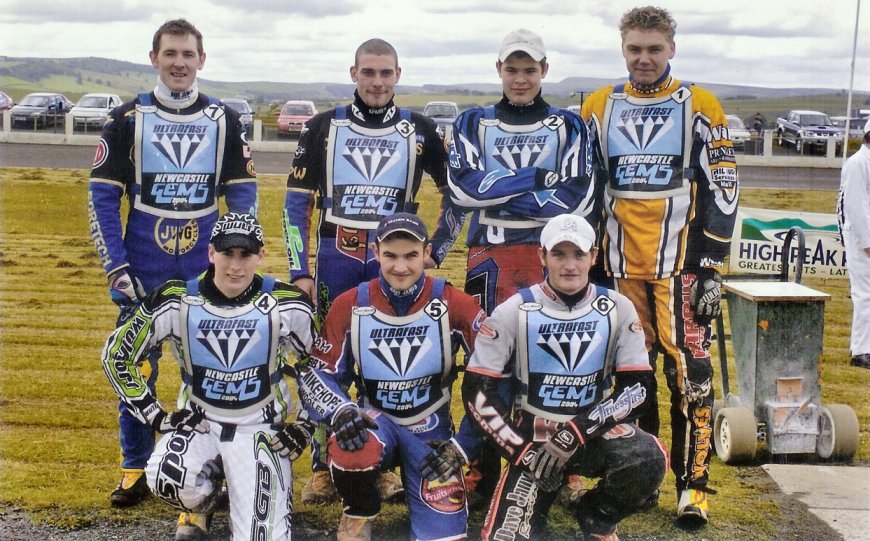 Courtesy of Barry Stephenson
The Gems at Buxton on 04.07.2004. Photographer Ian Charles. The line up was back row Paul Sharples Danny Hughes John Morrison Lee Dicken front row John Branney Jamie Robertson Mike Pickering
---
Danny Hughes
George Hughes says: I have sent you some pics of my son Danny Hughes from his time with the Gems. We spent 2 years with Newcastle under the late Kenny Smith we came to Newcastle from Belle Vue with Lee Smethills as part of the deal for Kenneth Bjerre . Danny had ridden at Newcastle before Kenny had asked us to come and join the gems that year, but we said no. Guess Kenny got his wish with the deal. We did race for the diamonds at the start 2004 season till Scott Smith came over from OZ that was hard on our limited funds but it was good.
Danny suffered a bad accident when he broke his back in two places. He now spanners for Lee Smethills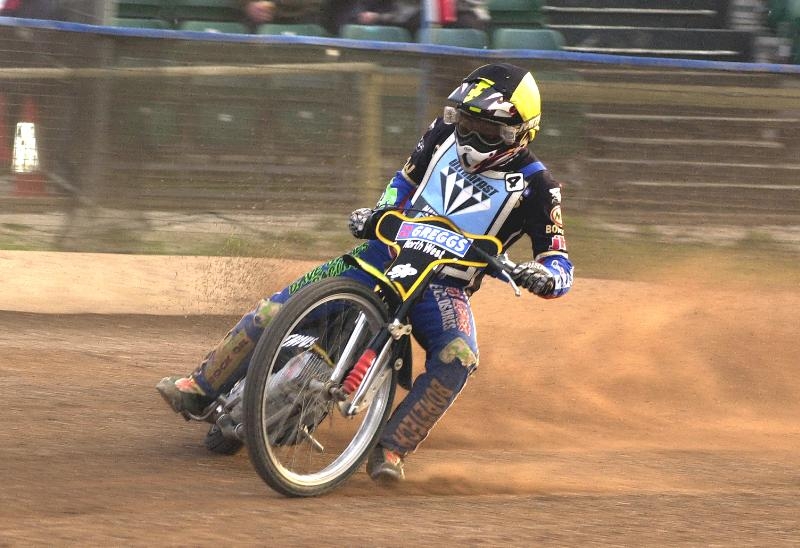 Courtesy of George Hughes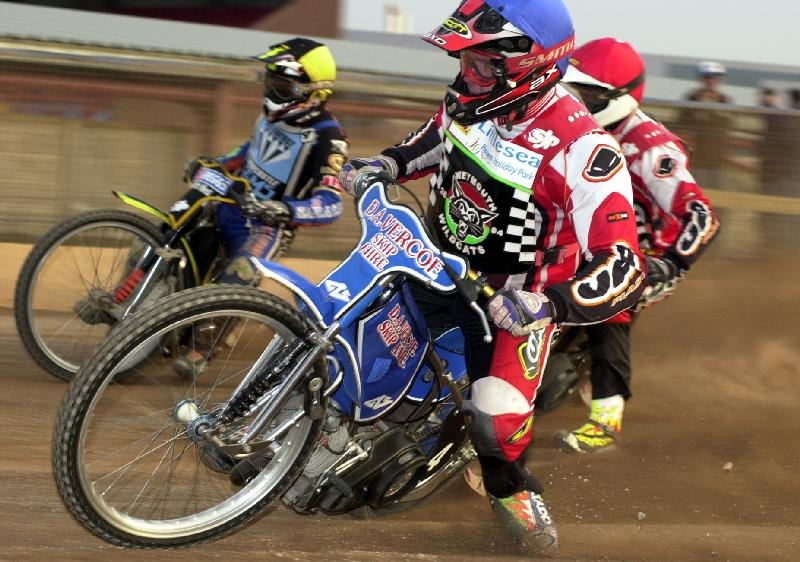 Newcastle Gem Danny Hughes. So many young hopefuls start riding expecting to be world champion. Then their dreams are shattered by injury.
The sport needs facilities which Newcastle offered in 2002-2004. Some venues (Newcastle included) cannot afford to run junior teams but loud applause for the tracks that do run teams in the 3rd tier.
2019

Season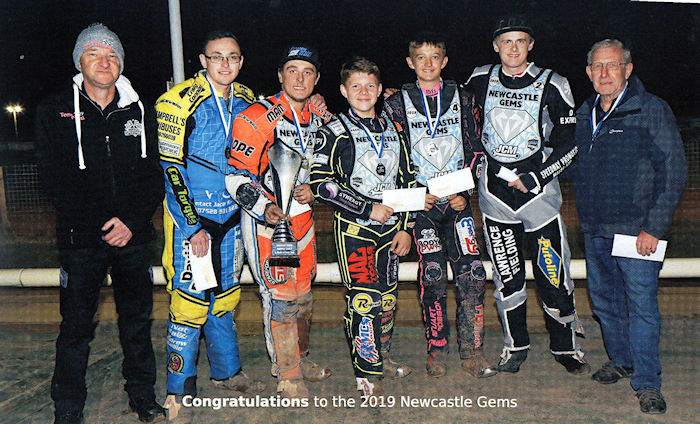 ---
The contents of this website are © and should not be produced elsewhere for financial gain. The contributors to this website gave the pictures and information on that understanding. If anyone has any issue or objections to any items on my website please email me and I will amend or remove the item. Where possible credit has been given to the owner of each item.