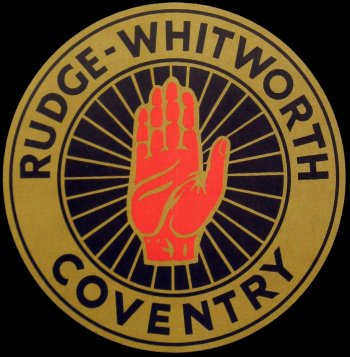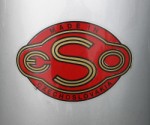 ---
Newcastle Speedway
Programmes & Badges
It is my intention on this page to show a programme cover, a badge and maybe a bit of information from every year that Newcastle have operated from 1929 to "now". I will need the help of a collector out there so don't go away. It has also been suggested to me that the page could show a list of Newcastle riders for each year. I think that may prove difficult unless there are fans out there with collections who want to share the information they have with the rest of us. If you can, then please email me and we can see what we can achieve.

John


M

ost of the programmes on this page have been provided by Keith Dyer without whose help I wouldn't even had started.


Long time supporter and member of the track staff, Richard Nicholson has sent scans of his metal lapel badge collection. I have put them in year order with the programmes. Thank you Richard, they look great. We do not have scans of badges from 1930, 1948 and 1950 so if you can help with this please email me John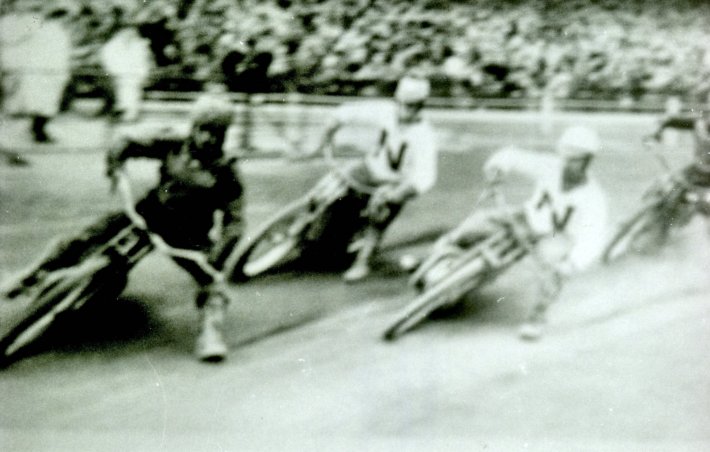 ---
Identify The Year
Before I go on with my programmes and badges. I would like to enlist more collectors to help me fill up this page. Please email me to get in touch. You can email me here: -
John
I have been sent scans of two Newcastle badges by my Scottish friend: Wattie Dunlop. He doesn't know what year they are from and neither do I. See the badges below and we still need scans of badges from

1930, 1948 and 1950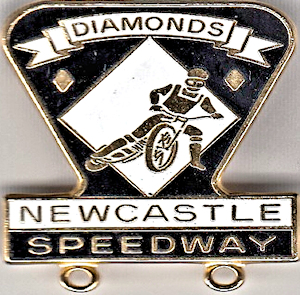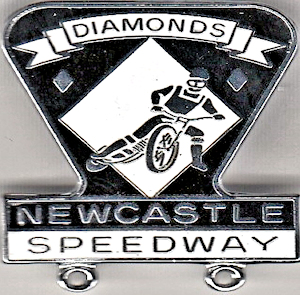 Courtesy of Wattie Dunlop
---
1929

English Dirt Track League
Newcastle Brough were in the 1929 English Dirt Track League. The campaign does not appear to have been successful as the promoters dropped out of the league before season 1930 started.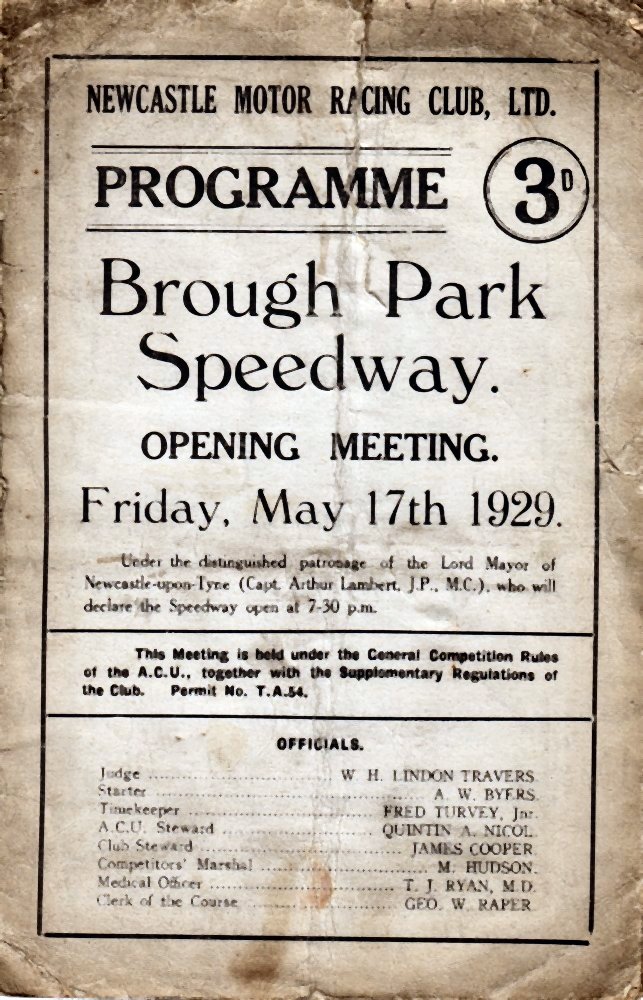 This is Brough Parks first ever programme.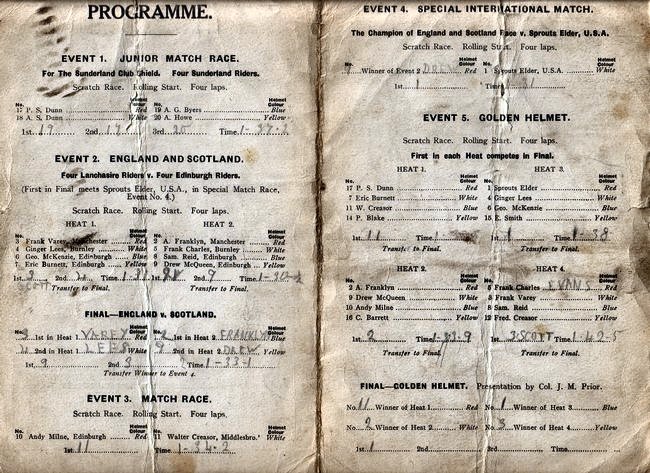 Thanks to Harry Huntly's son for sight of the above programme. Dad Harry, from Chester le Street also rode in the 1929 season at both Brough Park and Gosforth
The meeting was promoted by Newcastle Motor Racing Ltd. The track was opened by the Lord Mayor, Capt., Arthur Lambert JP MC. Details deciphered from the above programme are as follows: -
Event
1.
Junior Match Race for the Sunderland shield. Four Sunderland riders took part, won by Gordon Byers 97.00 seconds. Yes, Gordon won the first ever race at Brough Park.
2.
3 Heats: England V Scotland (Four Lancashire riders v four Edinburgh riders) they were Frank Varey (Manchester) Ginger Lees (Burnley) A Franklyn (Manchester) Frank Charles (Burnley) George McKensie (Edinburgh) Eric Burnett (Edinburgh) Sam Reid (Edinburgh) Drew McQueen (Edinburgh)
Heat 1 Was won by Frank Varey (mounted on a Scott) second: Ginger Lees.
Heat 2 Arthur Franklyn from Drew McQueen 90.5 seconds
Final England v Scotland Frank Varey, Ginger Lees, Arthur Franklyn and Drew McQueen. Won by Drew McQueen from Frank Varey in a time of 93.1 seconds.
3.
Match Race Andy Milne (Edinburgh) v Walter Creasor (Middlesbrough) won by Walter Creasor 94.2 seconds.
4.
Special International Match Race Sprouts Elder (USA) v Drew McQueen (Scotland) won by Sprouts Elder in 91 seconds.
5.
Golden Helmet (4 heats and a final)
Heat 1 won by Walter Creasor.
Heat 2 won by Arthur Franklyn.
Heat 3 won by Sprouts Elder.
Heat 4 won by Frank Varey. These 4 riders went forward to the Golden Helmet final
Golden Helmet Final Won by American Sprouts Elder
---
1930 Brough/Gosforth
Open Meetings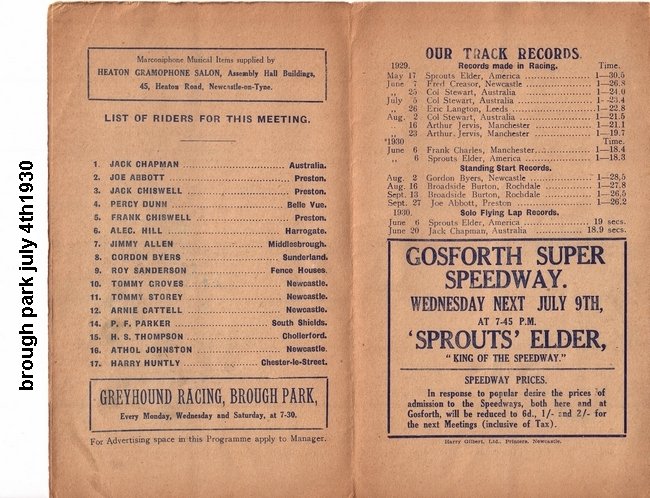 The promoters pulled out of the English Dirt Track League and ran open meetings in early 1930 until Brough Park's last programme on 4th July 1930 sportingly advertising a meeting at rival company Gosforth Super Speedway. The Brough Park management would have been happy to show the advert as this programme was from the last meeting at Brough Park for a number of years!
---
Brough Park Was Closed Between
1931 & 1937
Gosforth Lost Forever
I have no idea why Brough Park had no speedway action between 1931 and 1937. By this time the defunct track at Whitley Bay was only a fading memory and Gosforth too closed in 1931. The fans had to wait until Johnnie Hoskins came to the north east's rescue. New Zealander Johnnie had a speedway pedigree second to none going back to 1923 in Australia and he brought the sport back to Newcastle in 1938.
---
1938 National League Division 2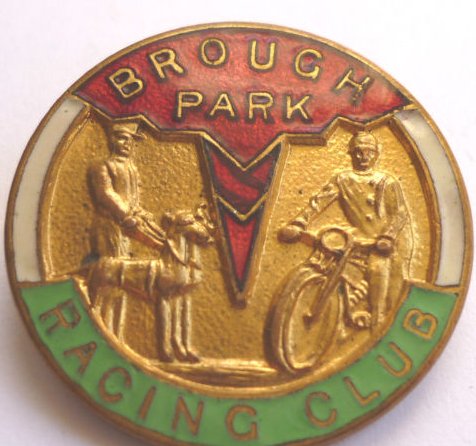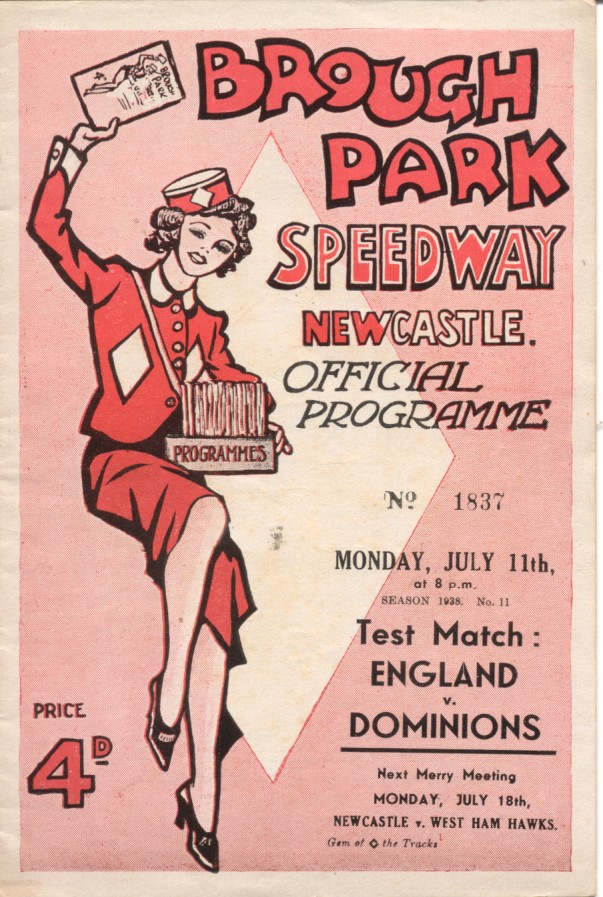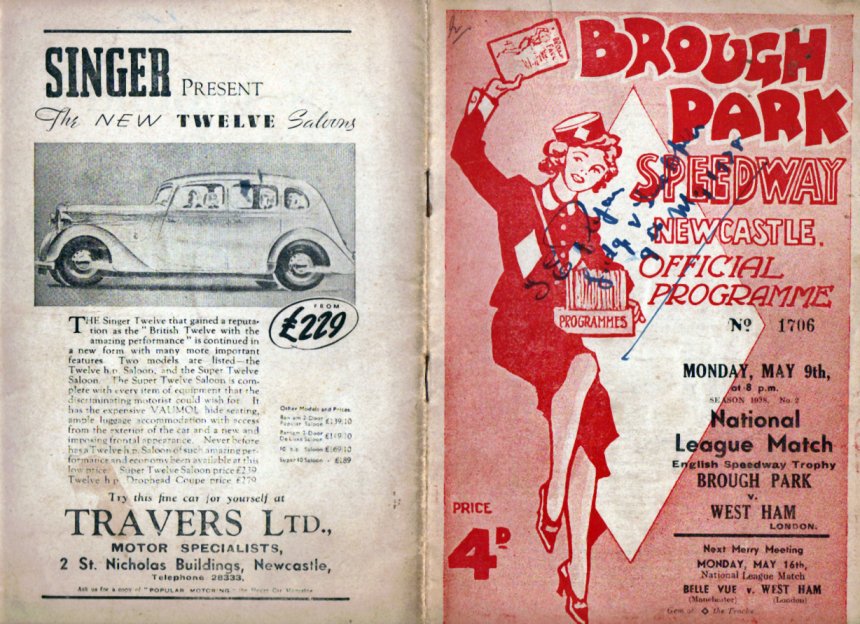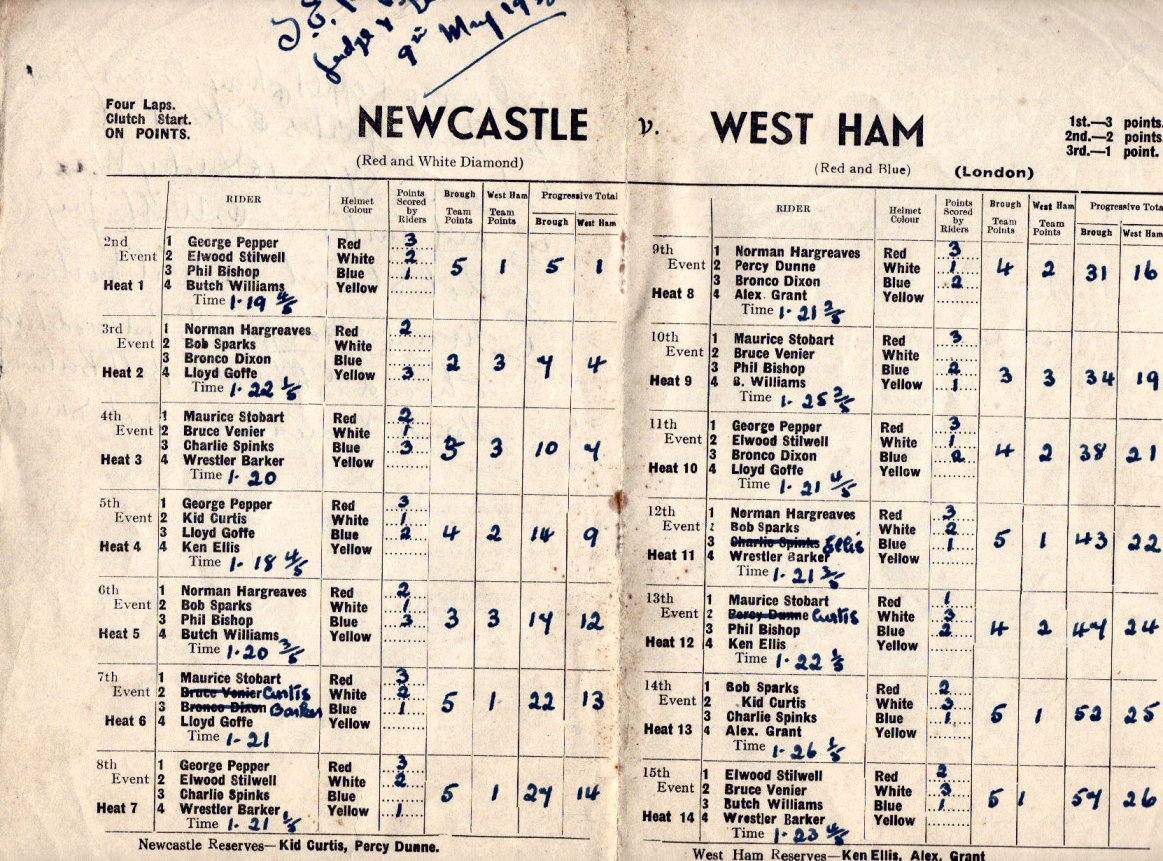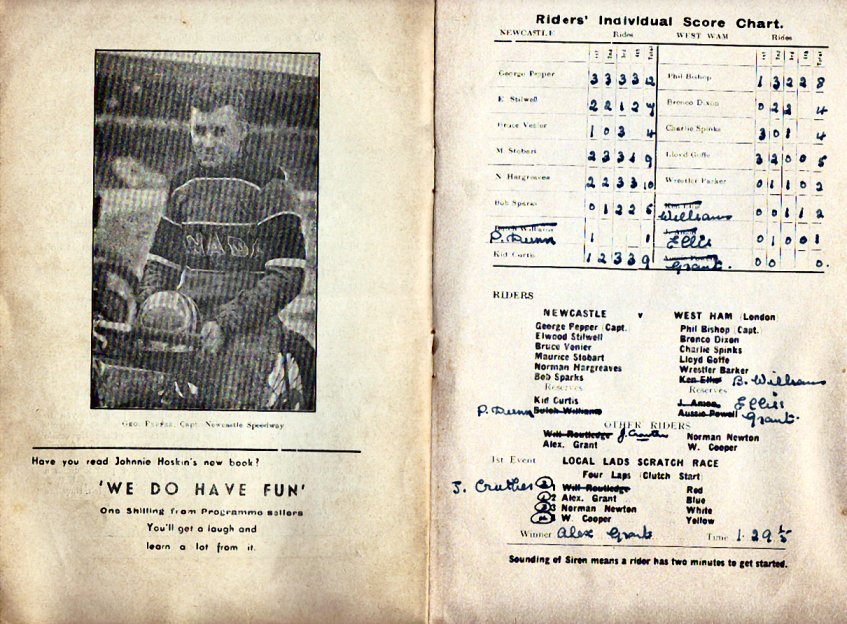 George Pepper was the individual star of the match with Norman Hargreaves, Maurice Stobbart and Kid Curtis also scoring well for the "Red and White" Diamonds. I would like to feature a colour photo of the team or a single rider in red and white. Do any colour photographs exist?
John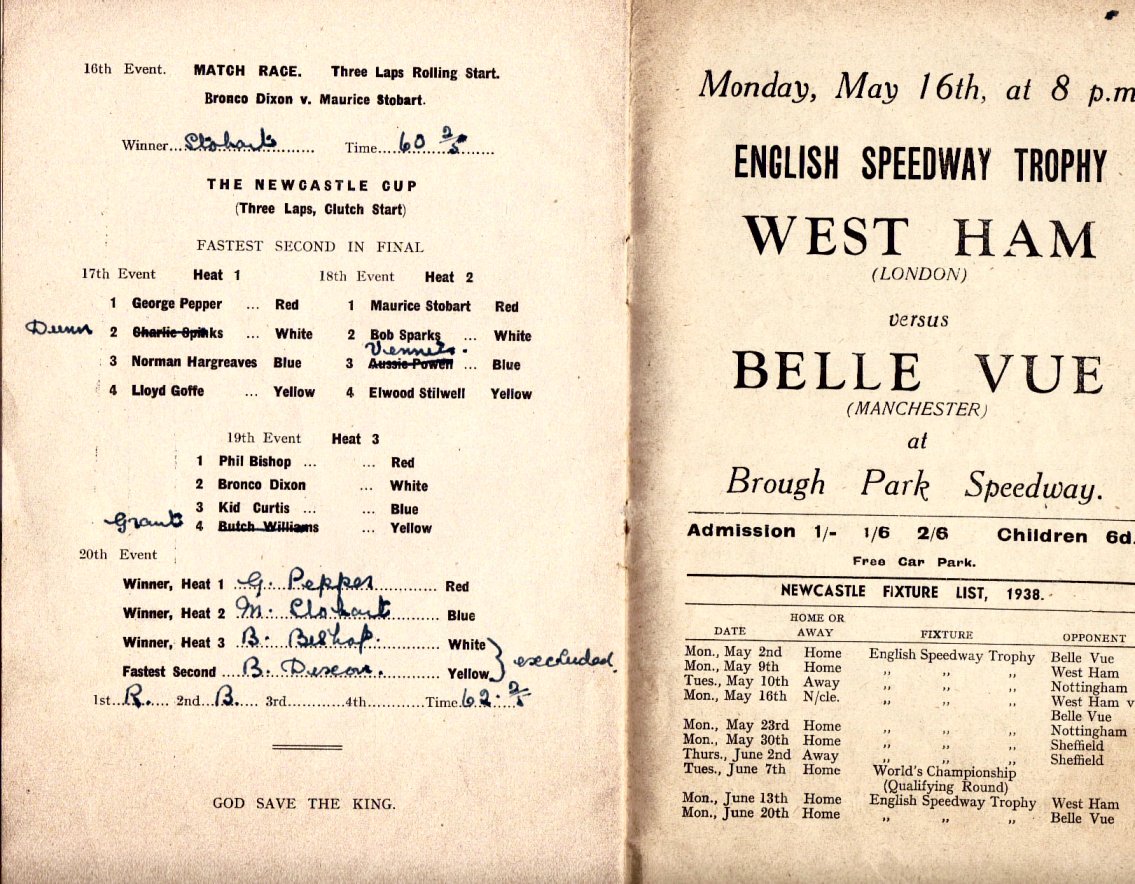 I like the idea of a free car park (above right) However in 1938 the majority of our fans probably did not have a car and the car park may not have been very big. We were involved in the English Speedway Trophy. During 1938 a Canadian rider George Pepper emerged as the crowd's favourite.
---
1939

National League Division 2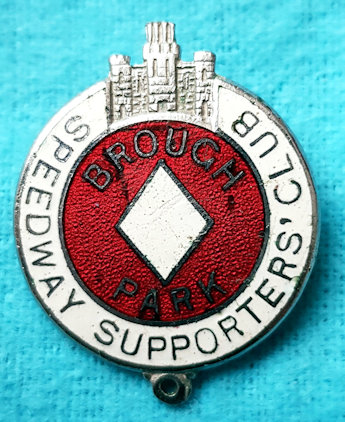 I was sent the blurry photograph (above right) and was told the badge dates from 1939. Then Brian Williams sent me his photograph of his dad's badge (above left), also said to be from 1939. Brian's message follows:-
Hi just to let you have a picture of my dads badge from pre war 1939 hope it help you Brian Williams.
John says: My thanks to both badge's owners for sending the images to me. Can anyone shed any light on the matter John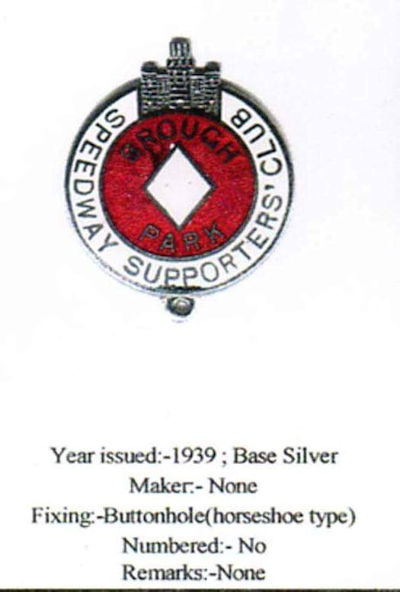 Courtesy of Brian Williams
Brian Williams has been in touch again, he says: That's the information I received but my father always said he got it when his brother in law took him to see the speedway can remember him saying at the time mostly single guys racing think one had a nick name the farmer? He was 19 at the time 1939 there is a similar badge but have two loops for year plates this one has only one
John says: Thanks to Brian the website now has another badge, see above. The "farmer" nickname refers to local rider Alec "Farmer" Grant. Farmer rode for us 1946-1948 but he is reported to have riding in 1939 so Brian's dad's memory is probably spot on. If you have anything to add to this topic please email me John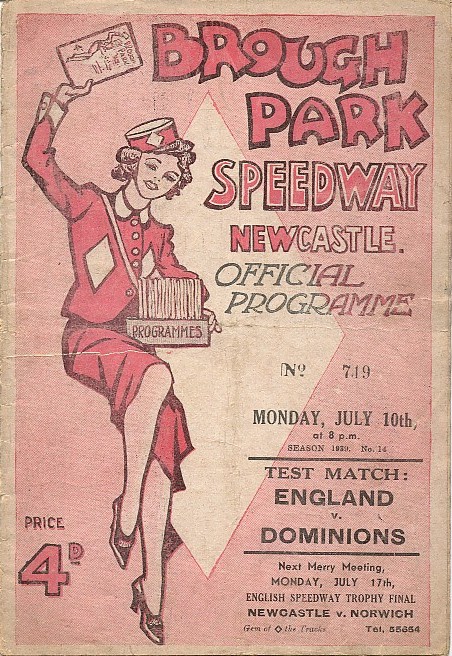 Newcastle were sitting pretty on top of The National League Division 2 when we had to close down due to the onset of World War 2
---
Brough Park Was Closed Between
September 1939 & May 1945
---
1945

No League Competition
Open Meetings Only
Newcastle's pre war promoter John S Hoskins lost no time in running speedway at Brough Park again. 1945 was too soon after the war for Newcastle to recommence league racing, so Johnnie ran a number of open meetings during 1945. Newcastle would run in The Northern League from 1946.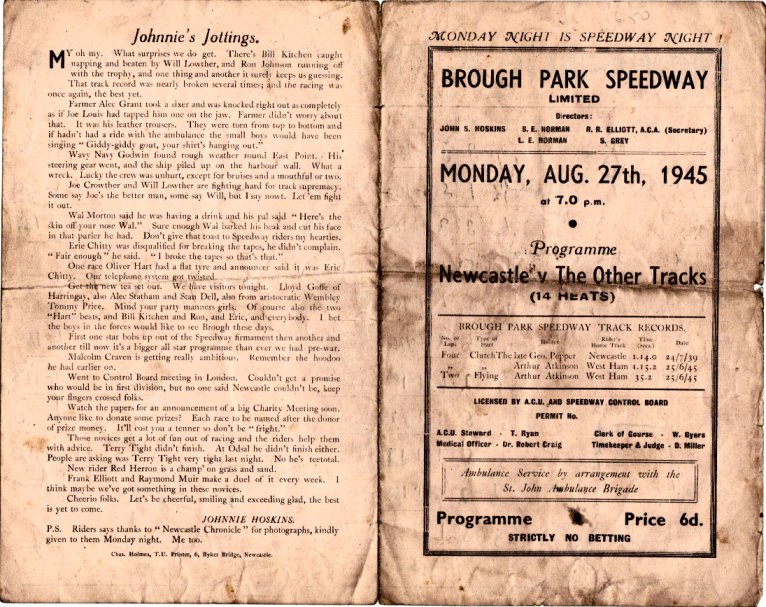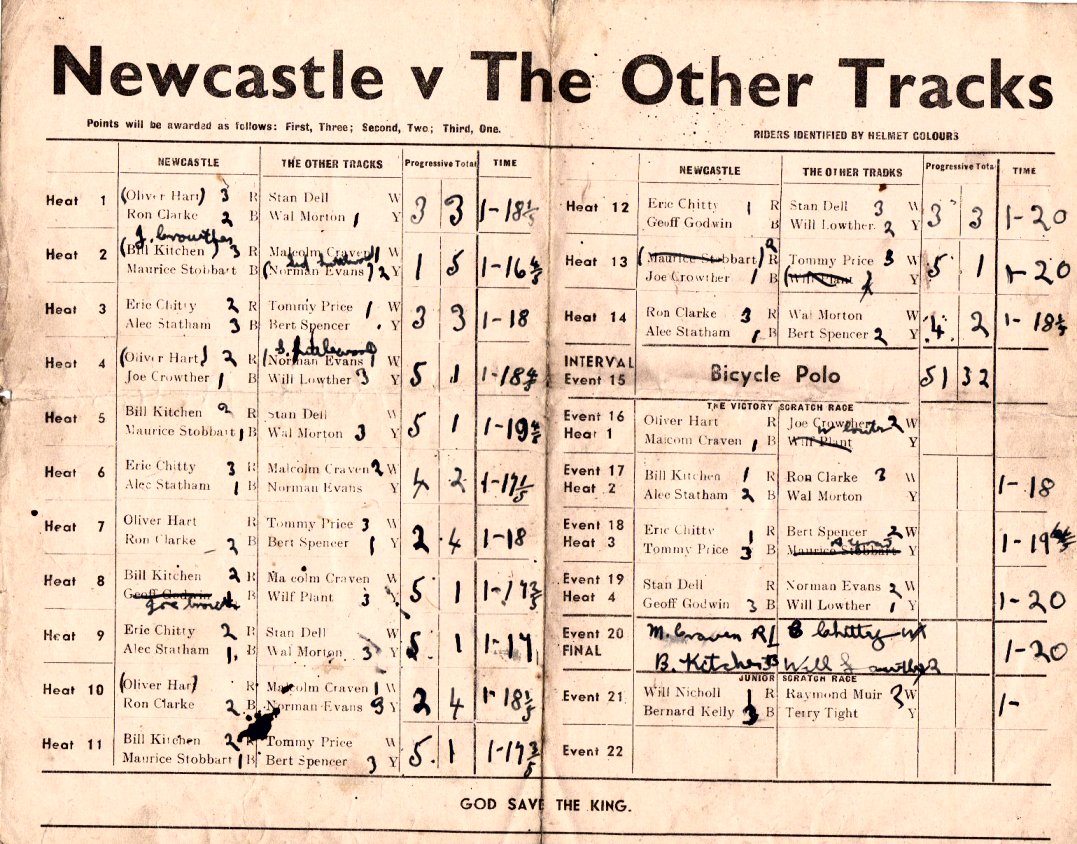 Event 21 of the above programme, The Junior Scratch Race shows Will Nicholl. I believe Will or Bill was a local man whom had a serious crash the following year and sadly lost his life.
---
1946

Northern League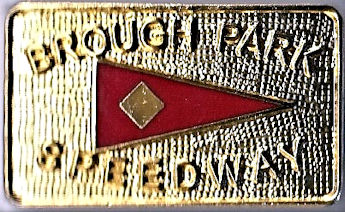 The above left badge was sent by Richard Nicholson, it is the genuine 1946 article. The above right badge is a modern day reissue from 2002 sent to me by Wattie Dunlop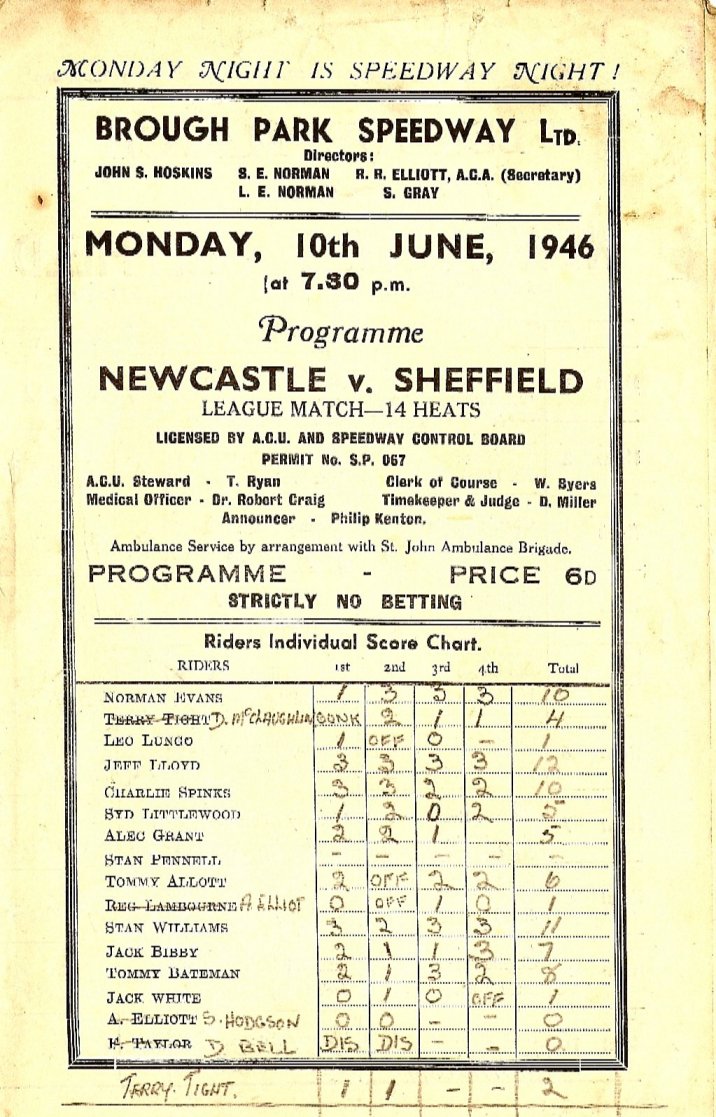 In post war Britain speedway got off to a great start with entertainment starve fans turning out in their thousands to support their local teams. The 1946 programme was a plain affair, maybe coloured productions were held back by post war austerity? Jeff Lloyd was the star on this night with a maximum from four rides.
---
1947

National League Division 2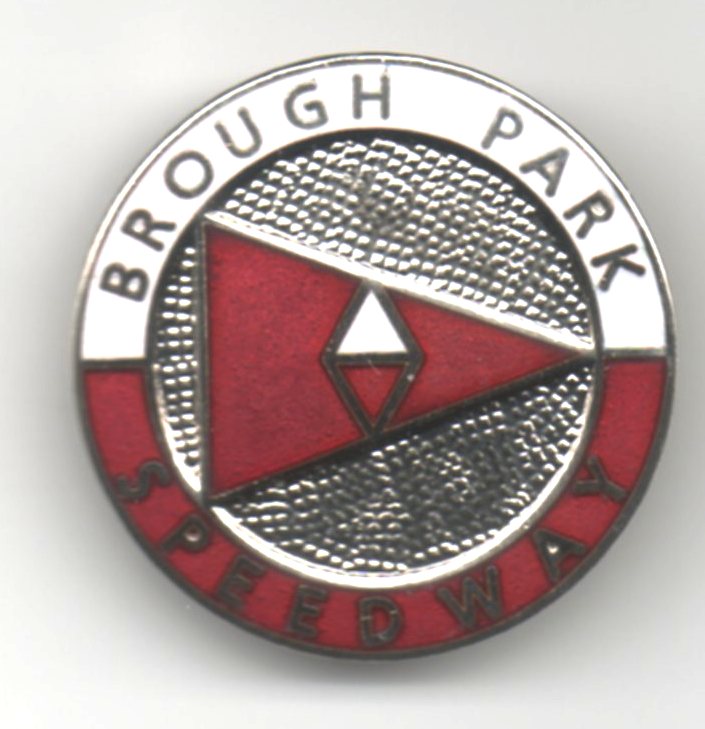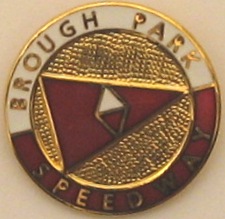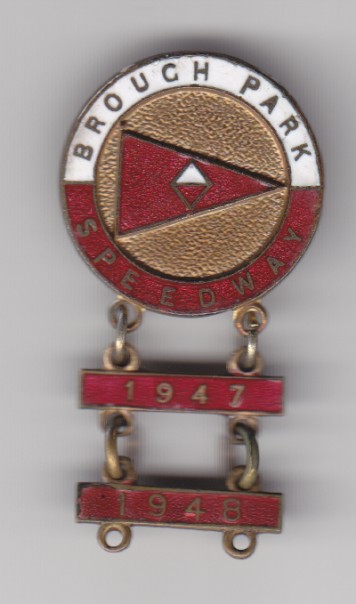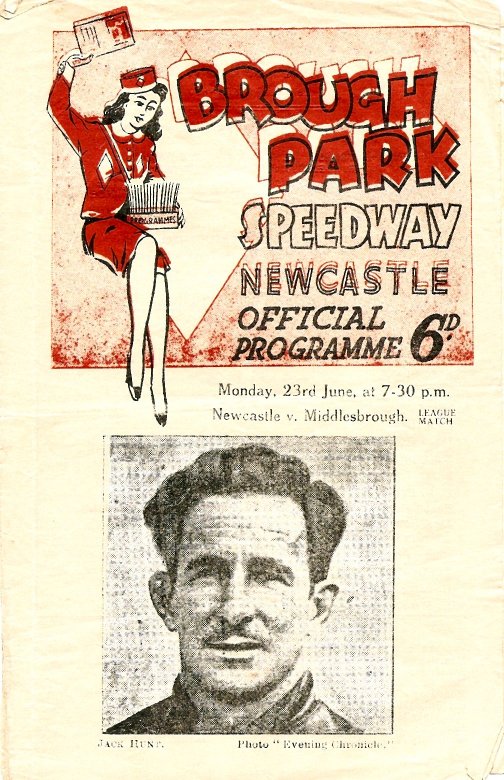 ---
1948

National League Division 2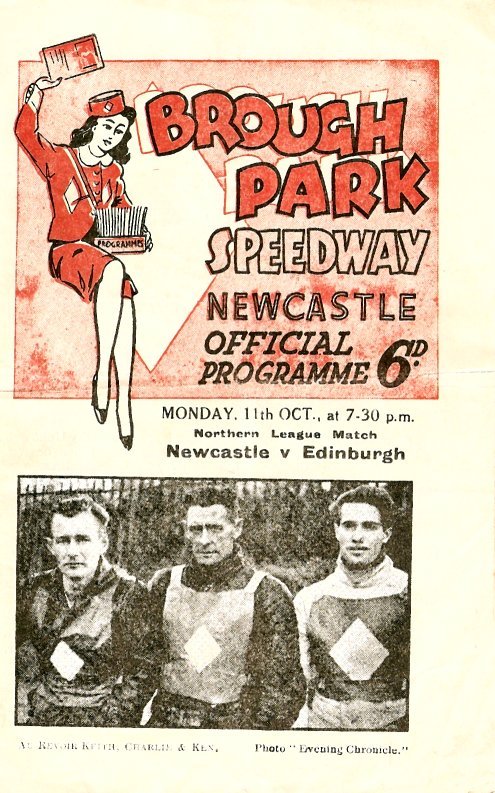 | | | | | | |
| --- | --- | --- | --- | --- | --- |
| 1948 League Table | PL | W | D | L | Pts |
| Bristol Bulldogs | 32 | 23 | 0 | 9 | 46 |
| Birmingham Brummies | 32 | 20 | 1 | 11 | 41 |
| Middlesbrough Bears | 32 | 18 | 2 | 12 | 38 |
| Sheffield Tigers | 32 | 17 | 1 | 14 | 35 |
| Norwich Stars | 32 | 17 | 0 | 15 | 34 |
| Glasgow White City Tigers | 32 | 14 | 3 | 15 | 31 |
| Newcastle Diamonds | 32 | 11 | 0 | 21 | 22 |
| Fleetwood Flyers | 32 | 10 | 1 | 21 | 21 |
| Edinburgh Monarchs | 32 | 10 | 0 | 22 | 20 |
1948

Top 5 Riders (League Only)
Rider

Team

C.M.A.

1

Fred Tuck

Bristol Bulldogs

10.20
2

Frank Hodgson

Middlesbrough Bears
9.84
3
Graham Warren
Birmingham Brummies
9.84
4
Wilf Plant

Middlesbrough Bears

/

Fleetwood Flyers

9.24
5
Jack Hunt
Newcastle Diamonds
9.22
Jack Hunt was also known as John Hunt or Johnny Hunt and an average of over 9 points a match which is great in any league
---
1949

National League Division 2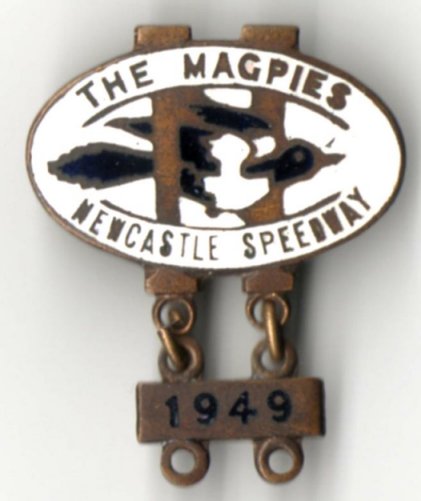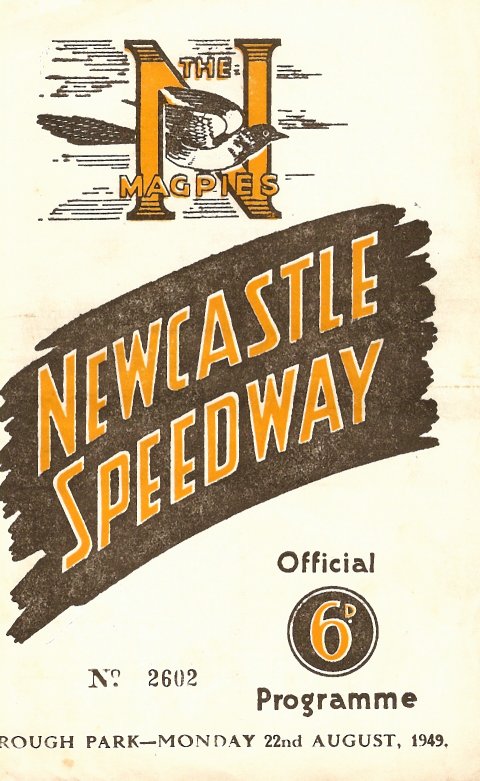 This Badge and Programme are from 1949. The year that the team were known as "The Newcastle Magpies". No Magpie on the race jackets though! The team turned out with a large "N" in black on a white background.
---
1950

National League Division 2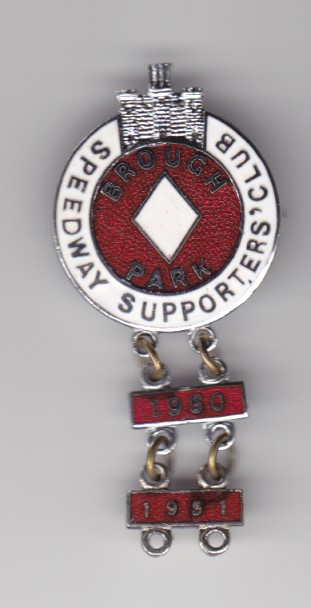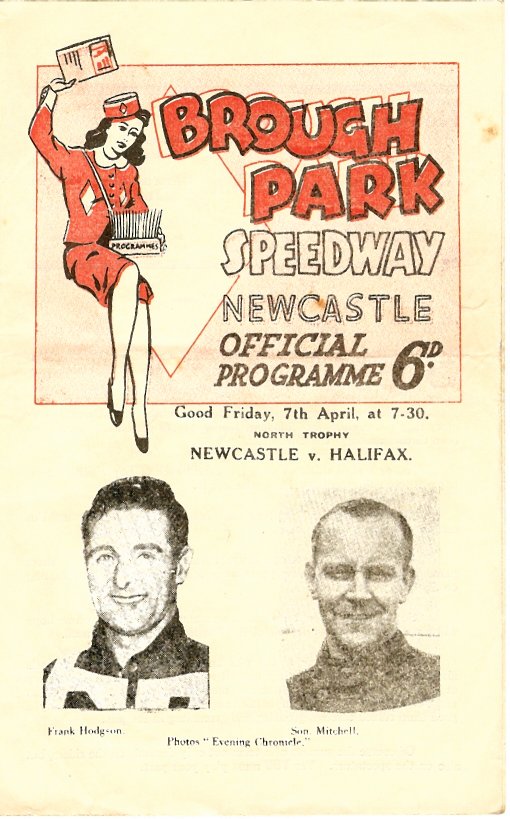 Badge from Colin Greenwell
---
1951

National League Division 2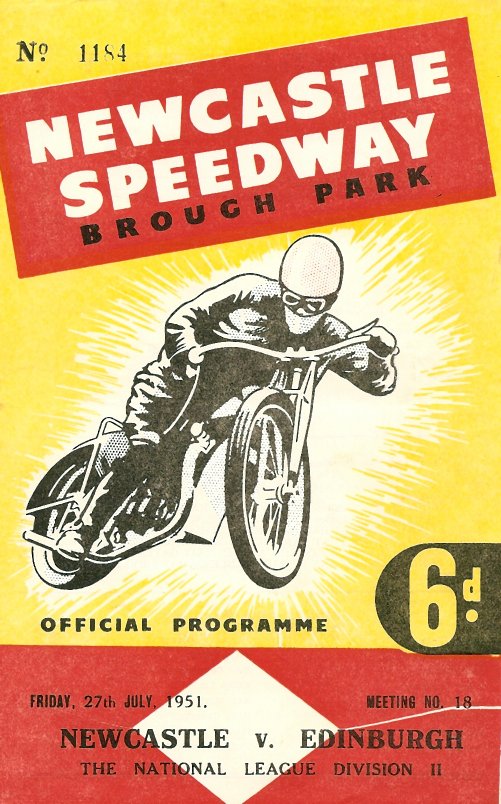 ---
Brough Park Was Closed Between


1952 & 1960
---
1961

Provincial League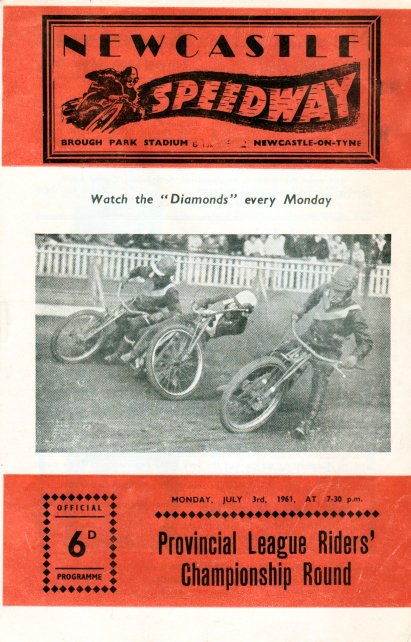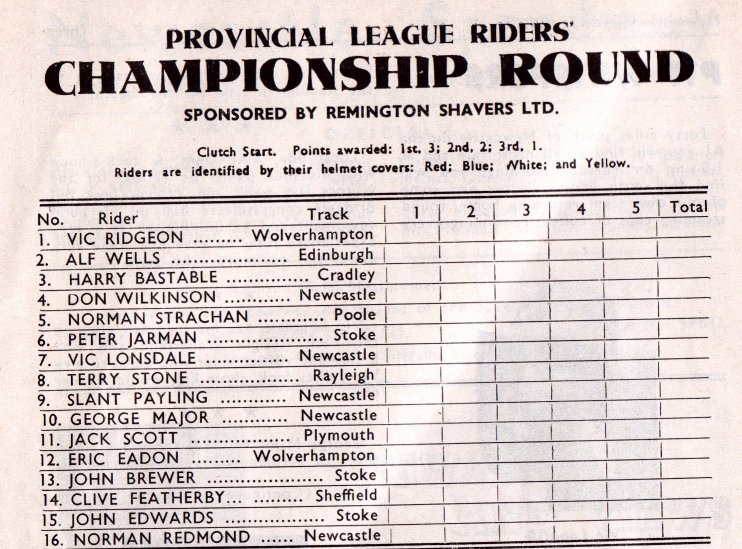 The 1961 comeback was a great year for Tyneside's speedway fans. Many existing fans had waited 9 years for the return of the sport. Lots of 1960s fans were seeing speedway for the first time, myself included. The badge shown above is probably the best remembered badge as many collectors added year bars to the 1961 badge.
---
1962

Provincial League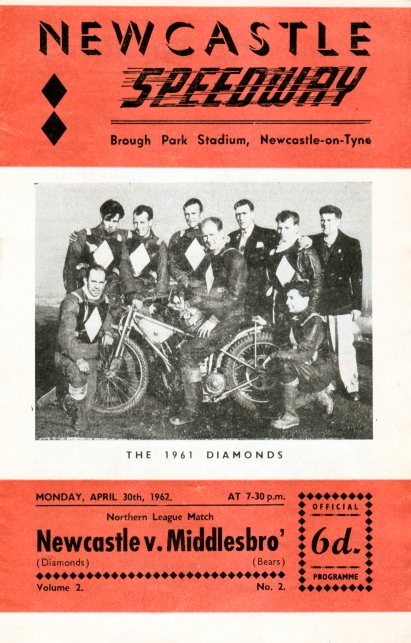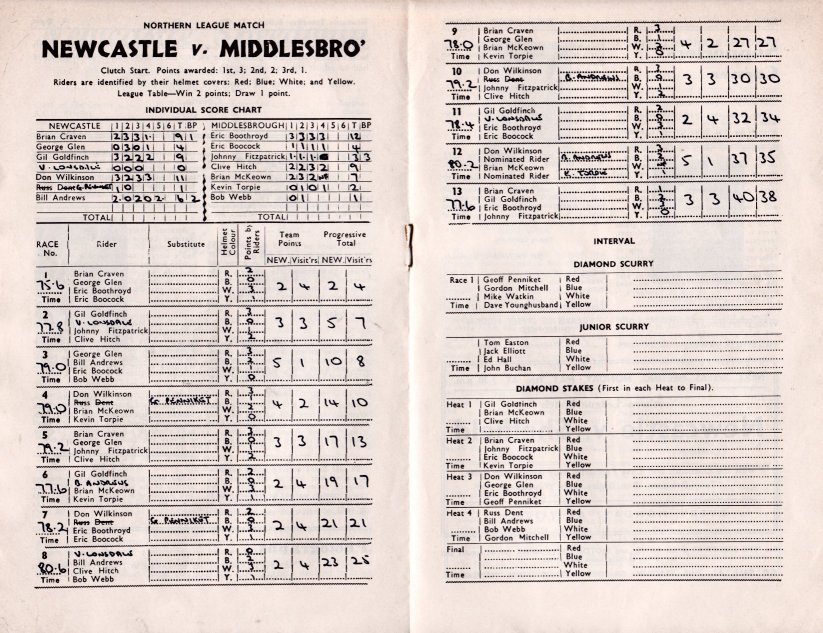 In the days of 13 heat matches the scoreline likely to send most home supporters away happy was 40-38 especially against Middlesbrough!
---
1963

Provincial League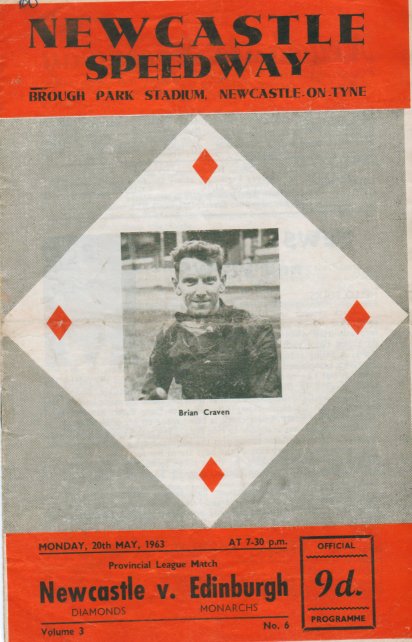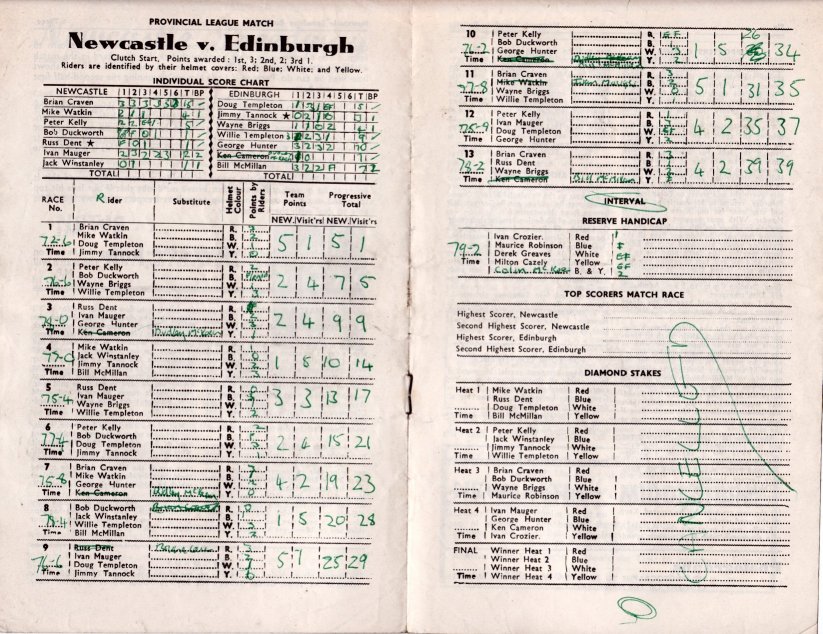 Season 1963 and another last heat decider against "local" team Edinburgh. Scoring 12+2 in the unfamiliar number 6 berth was Ivan Mauger. We were impressed by Ivan even then, but how many of us in 1963 could have forecast just how good he would become?
---
1964

Provincial League
p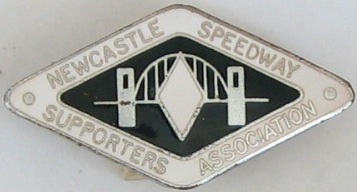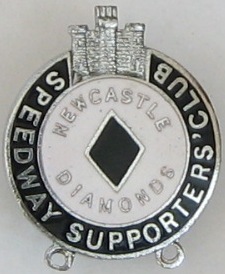 Badges from Richard Nicholson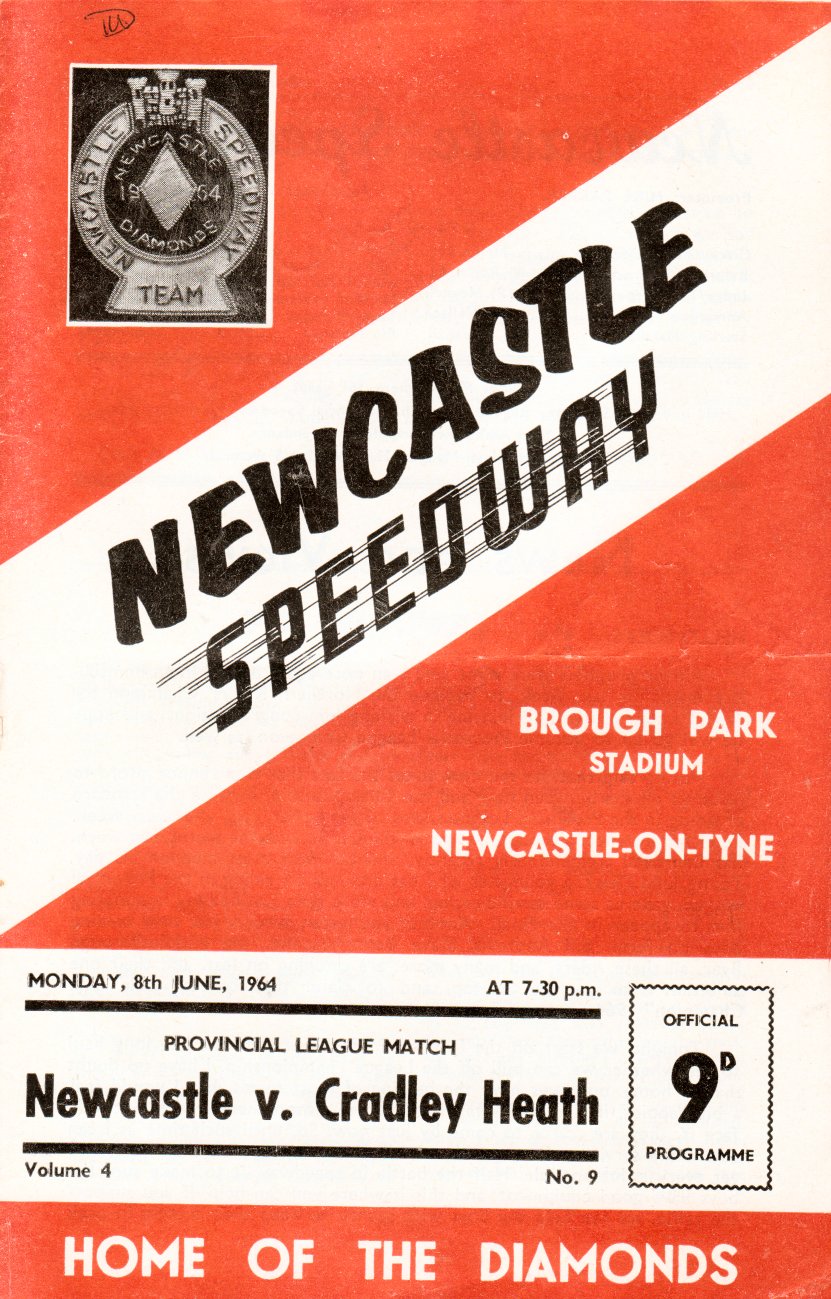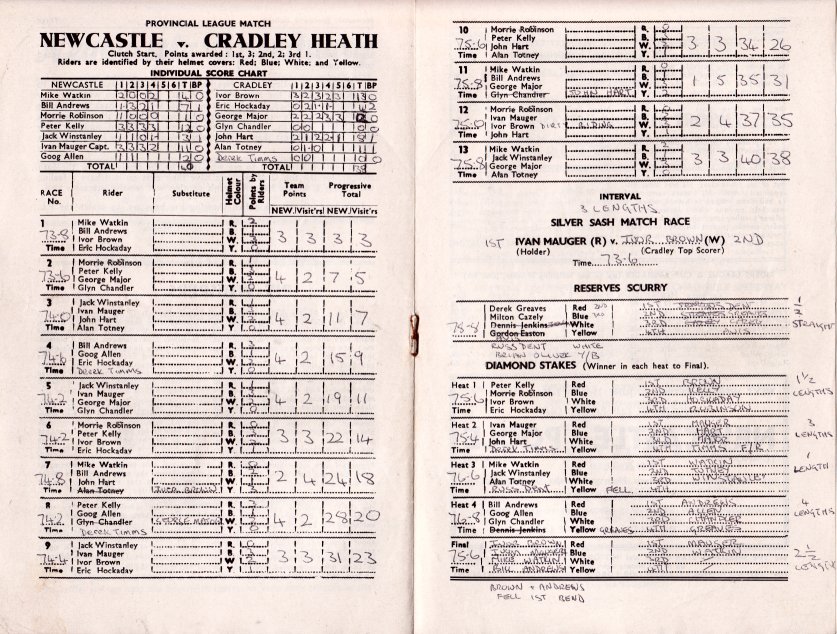 1964 and another last heat decider 40-38 over Cradley Heath. Peter Kelly top scored with a 12 point maximum. Ivan got 11 points and then defended his silver sash match race over Heathen Ivor Brown. The Diamonds had a great season and were crowned Provincial League champions.
---
1965

British League
The two leagues, National and Provincial amalgamated into the "British League" from 1965. Newcastle fans were wondering how star man Ivan Mauger would go against the best the new league had to offer. Well he did well despite suffering injuries. He missed some matches and rode in others whilst not fully fit.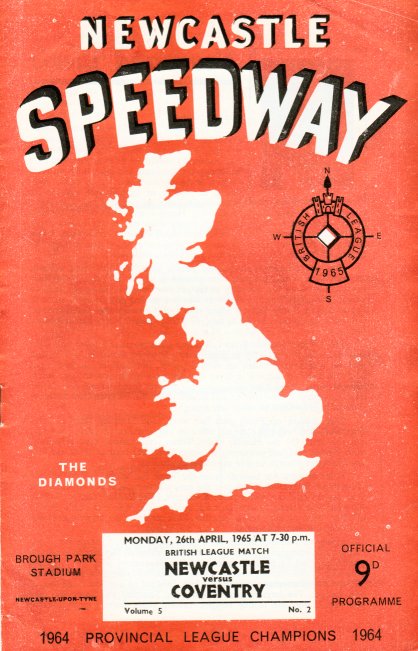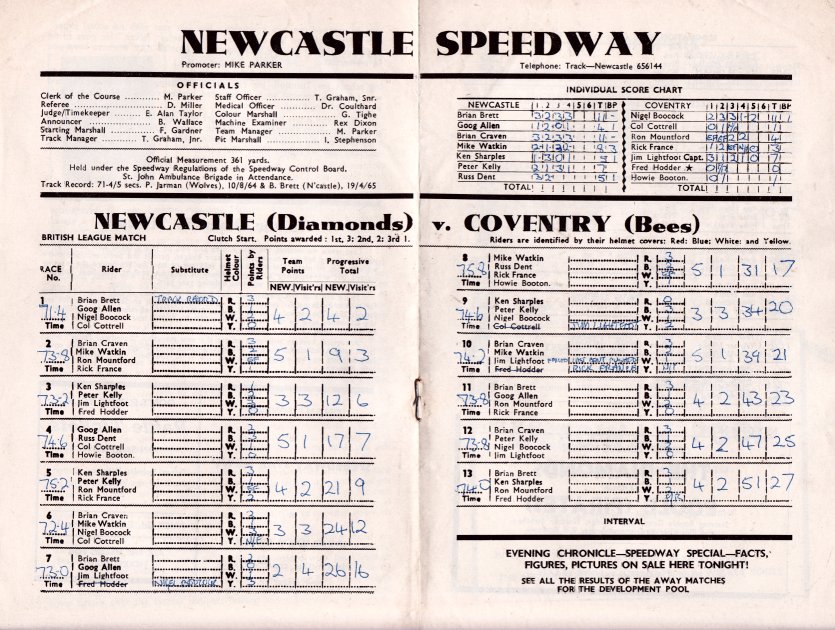 Brian Brett was brought into the side as cover for the injured Ivan Mauger
---
1966

British League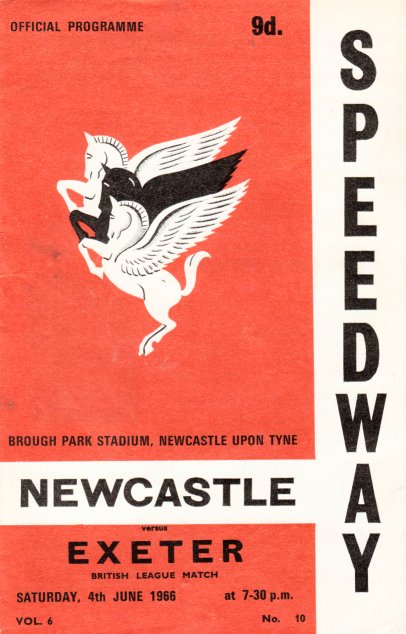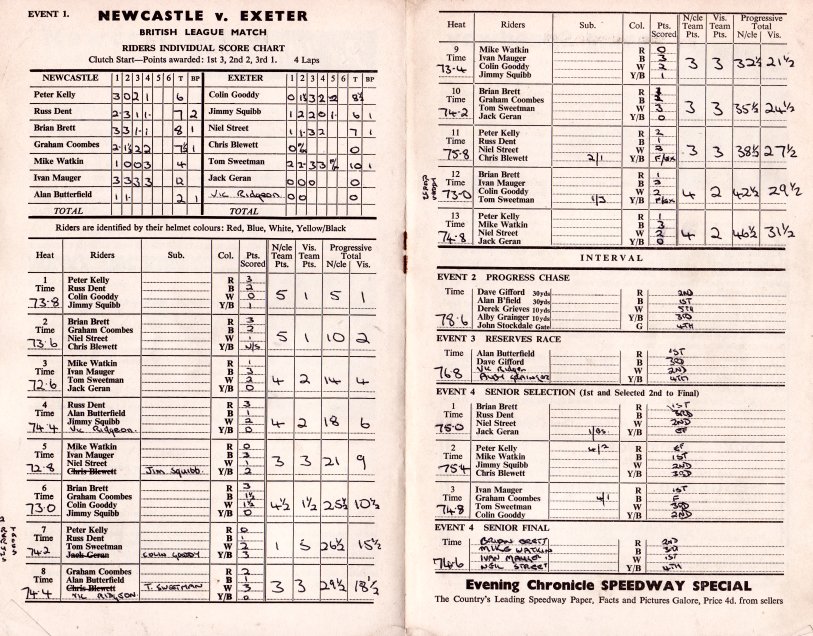 Ivan led the way to victory with his customary 12 point maximum. A rare event in heat 6, a dead heat between Graham Coombes and Colin Goody meant keeping your wits about you when completing your programme.
---
1967

British League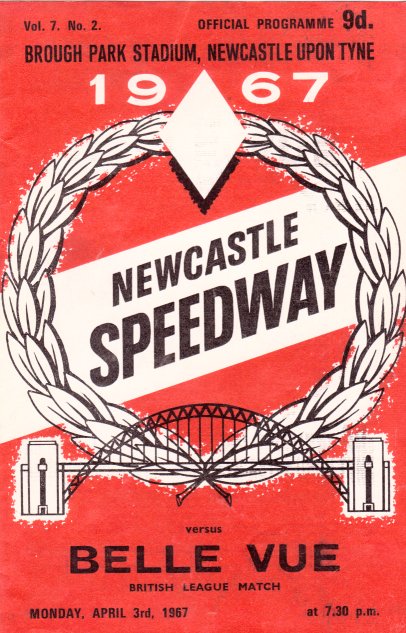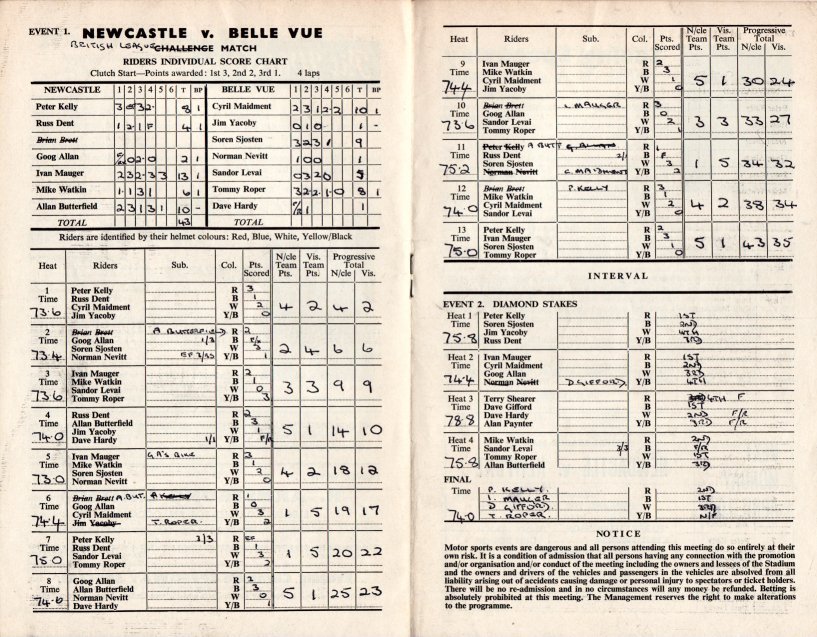 Another last heat decider against one of the leagues most attractive sides, Belle Vue. After 11 heats we were just 2 points up. Peter Kelly and Mike Watkin managed a 4-2 in heat 12. Meaning Belle Vue needed a 5-1 to draw the match, but with Ivan and Peter storming to a 5-1 in the last heat, the match points went to the Diamonds.
---
1968
British League
Division 1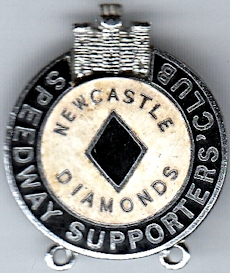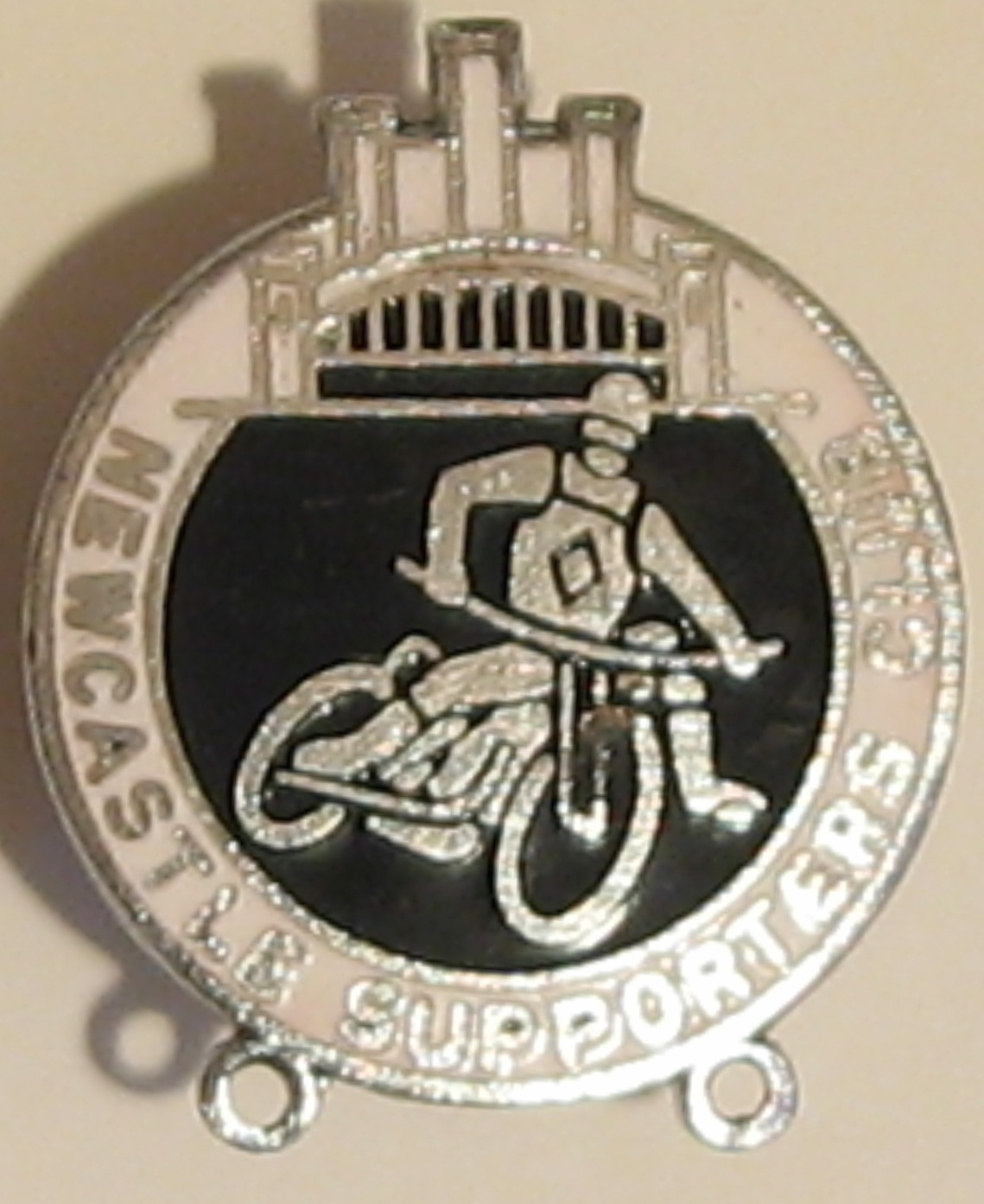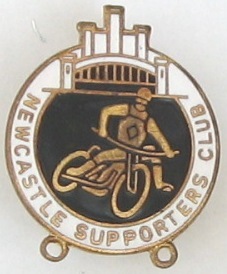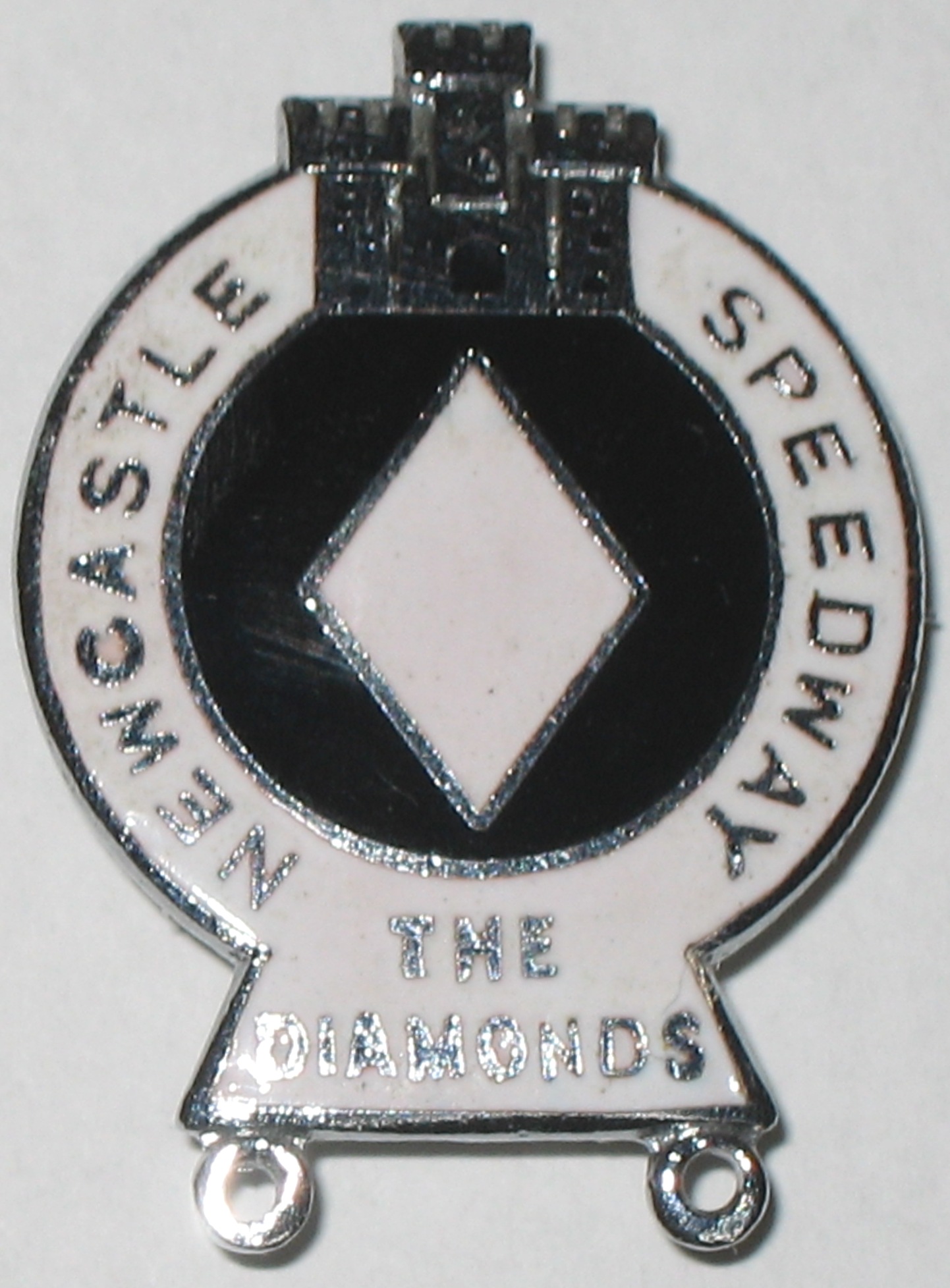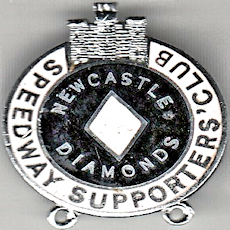 Badges from Richard Nicholson & Wattie Dunlop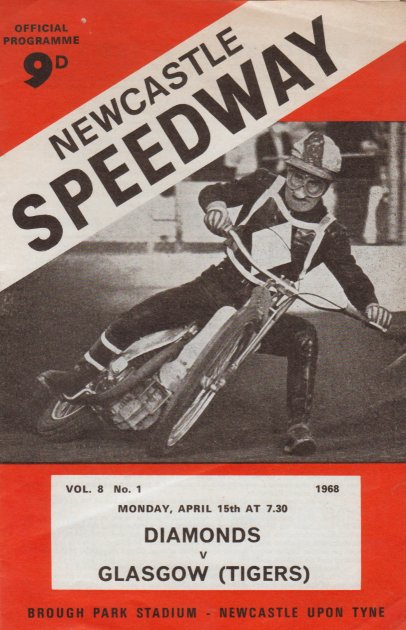 The cover picture is Ivan Mauger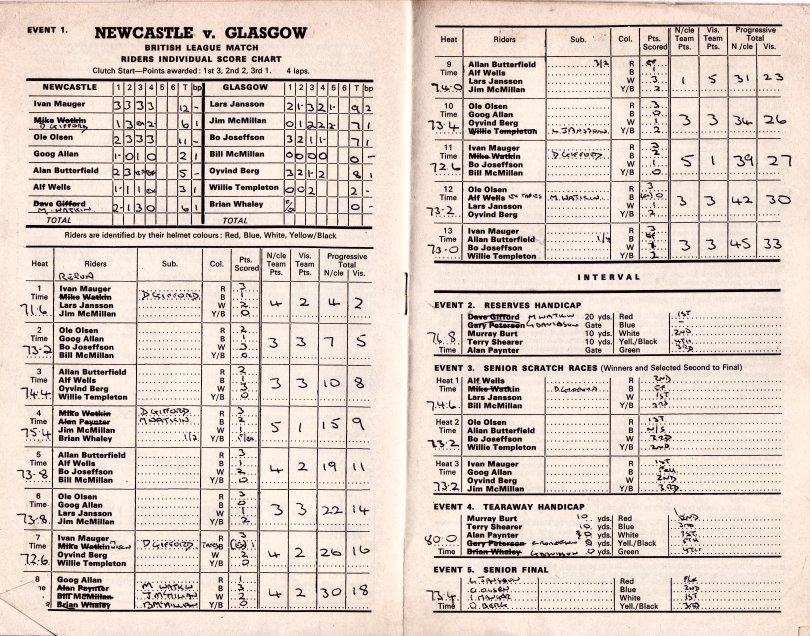 Newcastle 1968 boasted Ivan Mauger and Ole Olsen topscoring against Glasgow and with solid scores from the rest of the Diamonds Newcastle won this British League match.
---
1969

British League
Division 1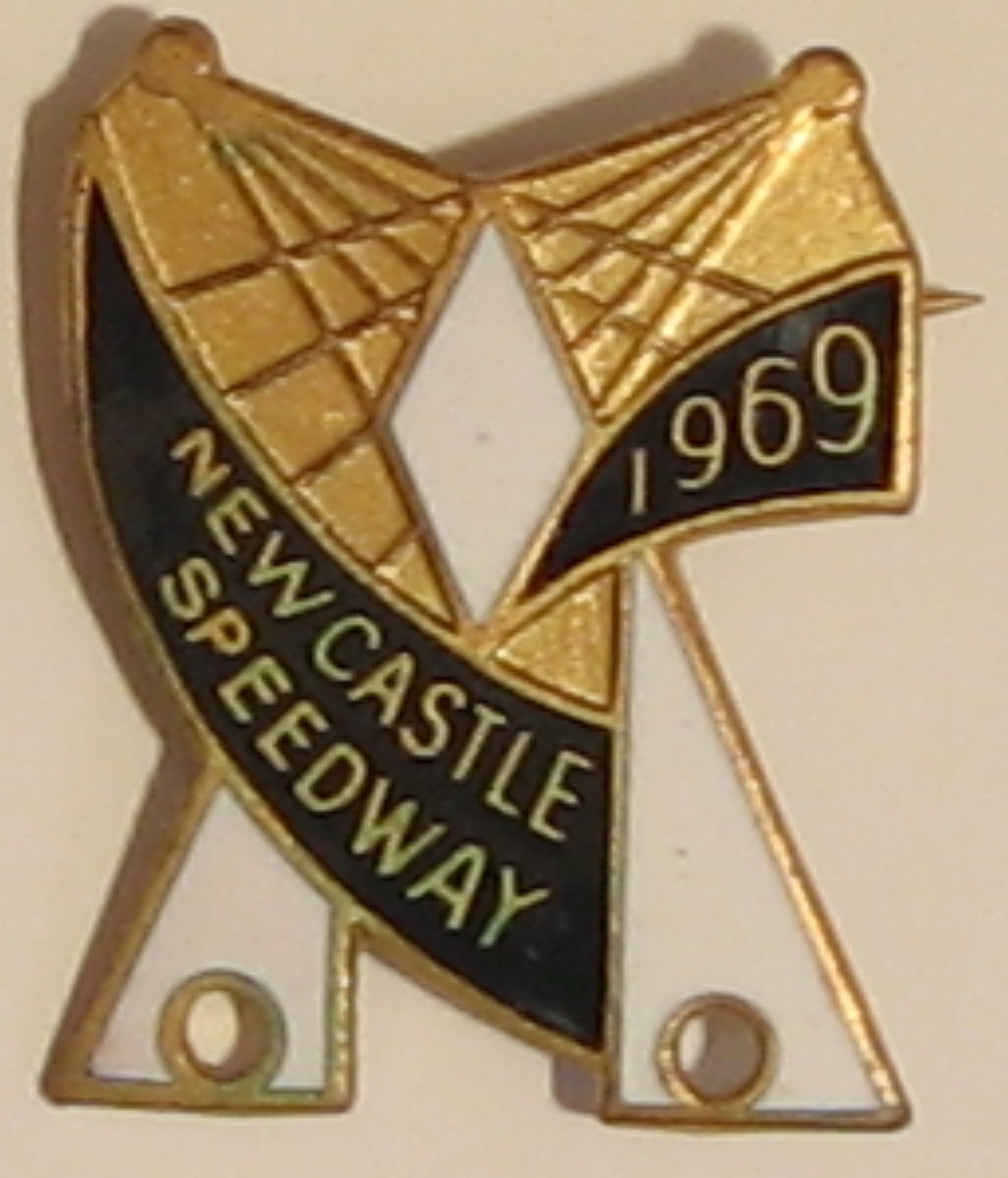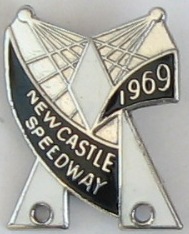 Badges from Richard Nicholson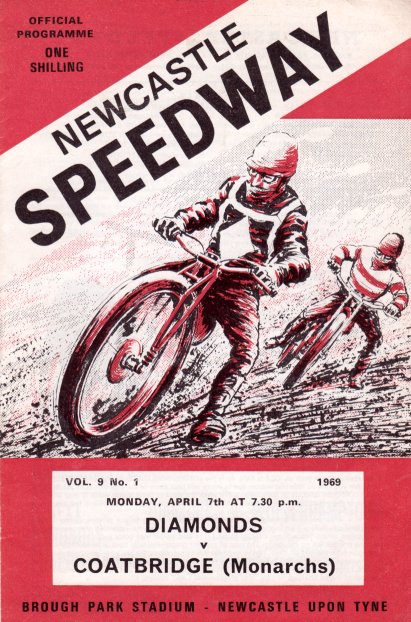 John says: Of all the 1960s programmes this 1969 cover was my favourite.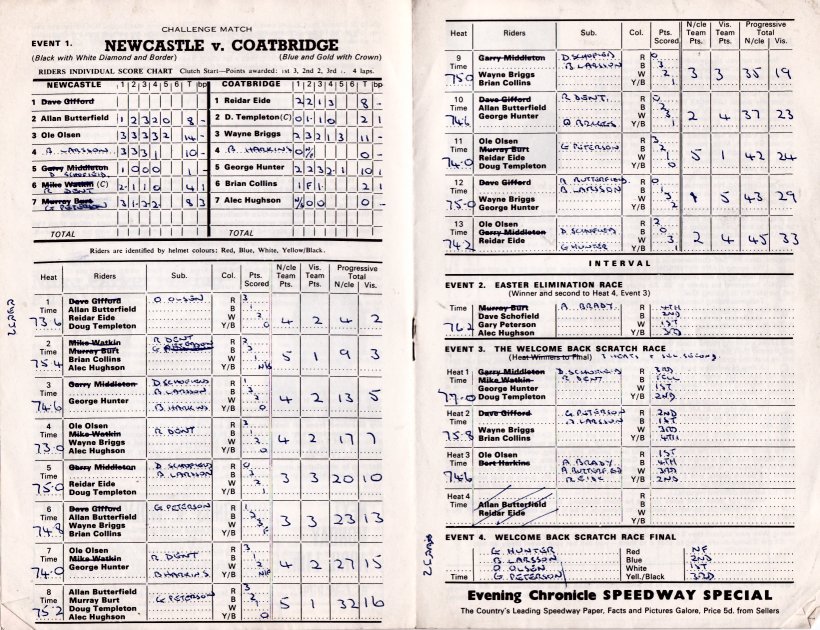 Ivan Mauger had moved on to ride for Belle Vue. He was irreplaceable but in our own Ole Olsen we still had a great number 1 heat leader. The 1960s came to a close. For many of us fans the golden era of speedway in Newcastle came to a close at the end of the season. Promoter Mike Parker was to walk out on Newcastle taking with him our star man Ole Olsen.
---
1970

British League
Division 1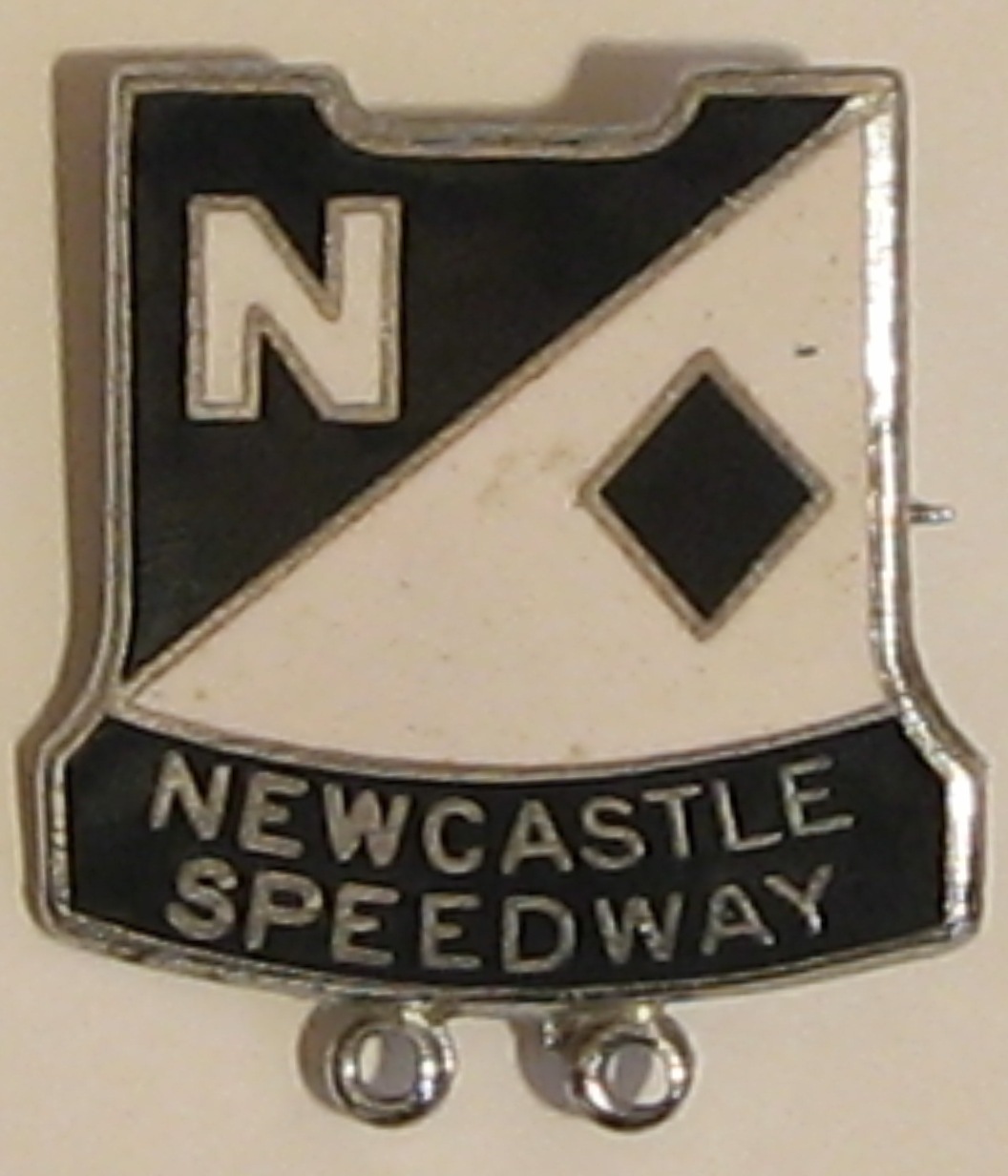 Badge from Richard Nicholson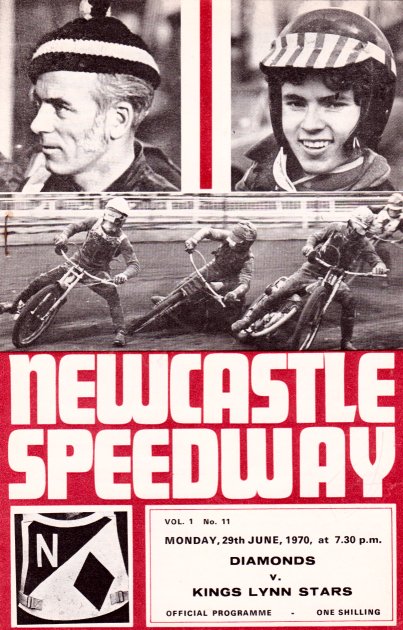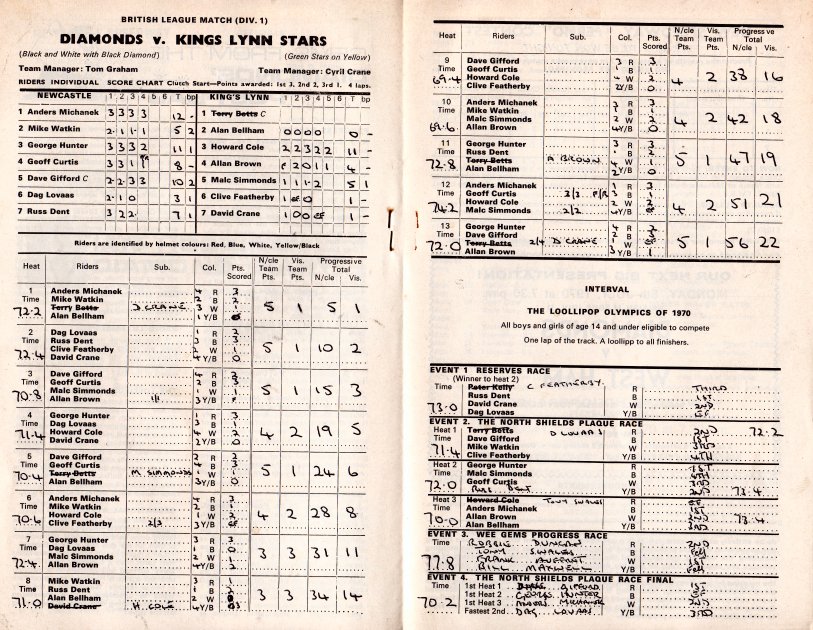 So 1970, No Ivan Mauger and no Ole Olsen and no Mike Parker. The track may have closed down but Allied Presentations took over the promotion with Ian Hoskins the man in charge. Ian the son of 1930s and 1940s promoter John S Hoskins had a mountain to climb. Losing Mauger had been a blow but then Parker taking Olsen with him to Wolverhampton was an even bigger blow. The support had dropped away and Newcastle was in disarray. Ian Hoskins brought in Anders Michanek a Swede who looked a very good signing and also the prospect, Dag Lovaas from Norway. But really the problem was with the falling crowd numbers and I believe no promotion could have done any better than New Zealander Ian Hoskins. The writing was on the wall. After season 1970 the promotion wanted to swap licenses with second Division Reading but strangely this was vetoed by the landlords. How the Greyhounds could do that is beyond my knowledge but that stopped Newcastle joining the 1971 British League Division 2 and we closed down.
---
Brough Park Was Closed
Between 1971 & 1974
---
1975

New National League
Newcastle came back in what was really division 2, the New National League, making a mockery of the landlord saying no to lower tier speedway in 1971! The lifeline was extended by Promoters Ian Thomas and George Graham. Newcastle took over the license from near neighbours Sunderland who had just closed down.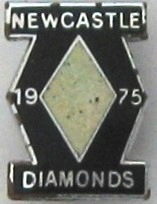 Badge from Richard Nicholson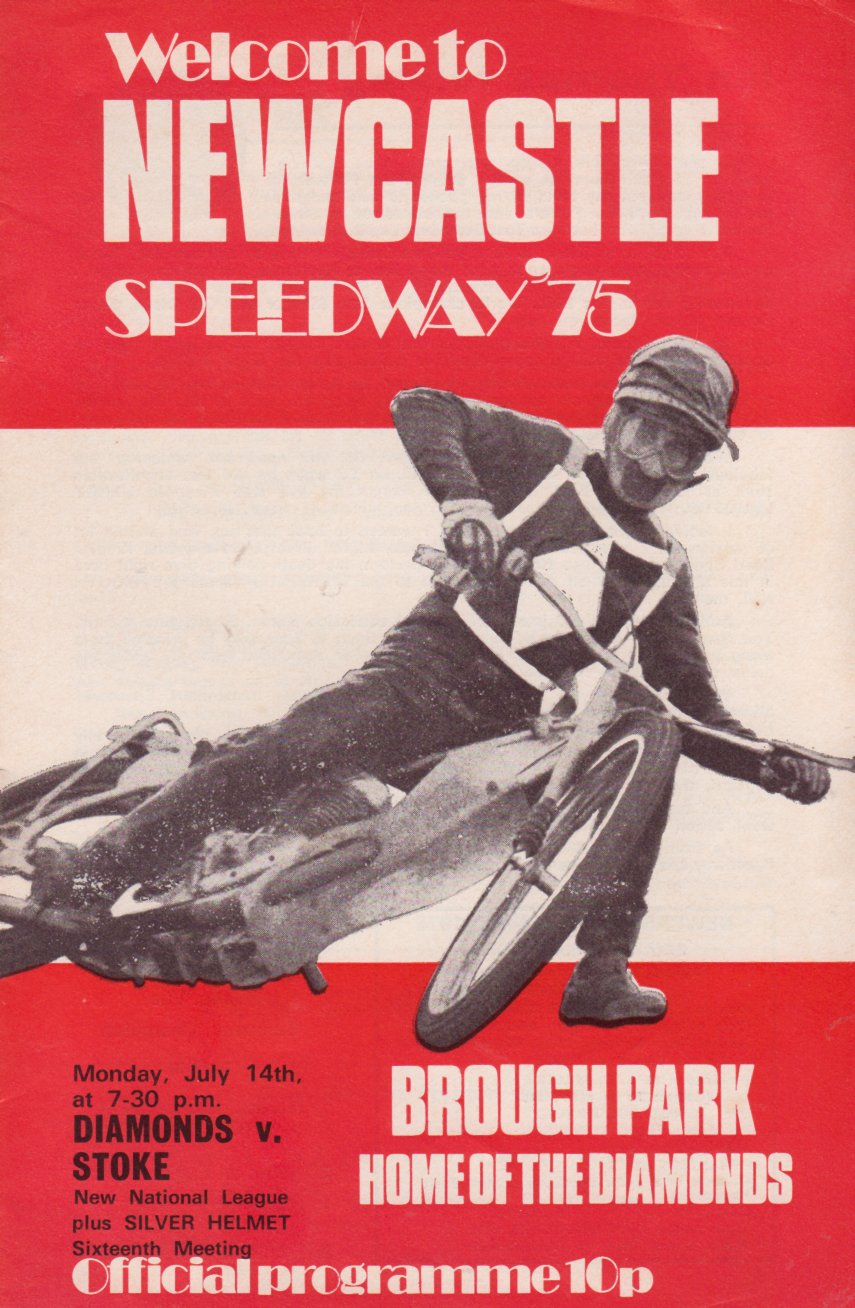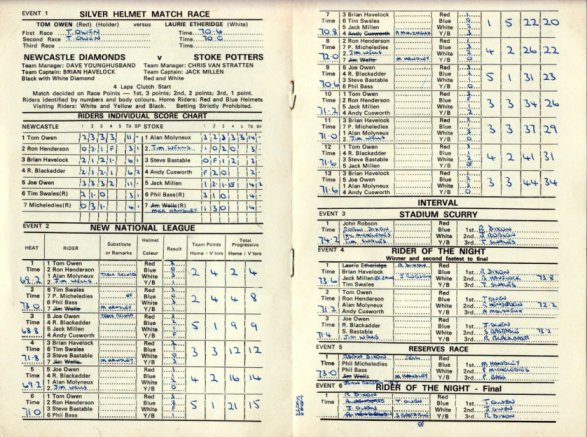 Newcastle's team was built around the Owen brothers Tom and Joe from Ormskirk in Lancashire. We were delighted to be able to watch the sport again and in Tom and Joe we had substitutes for Ivan, Ole and Anders though not world beaters, in the lower tier. I saw every match and didn't miss the British League big guns at all. We were supporting the National League Team well our crowds were very good.
---
1976

National League
Promotional change George Graham was replaced by Brian Larner. Ian Thomas and Brian took Newcastle to the heights of National League success, the Diamonds were 1976 league champions. Our first league success since 1964. OK we weren't tracking world champions in the second tier but we were enjoying the racing just the same or maybe more so?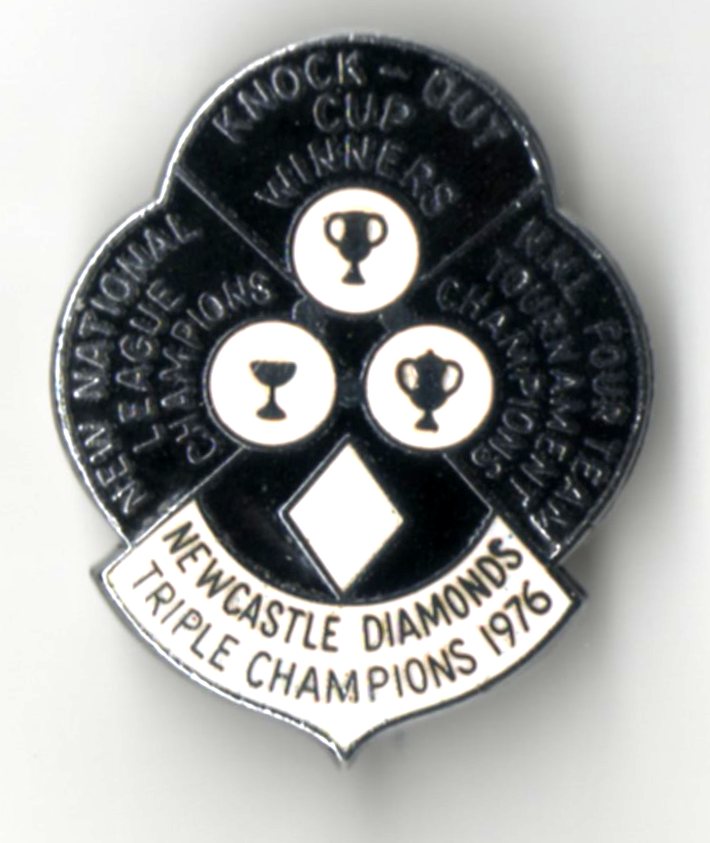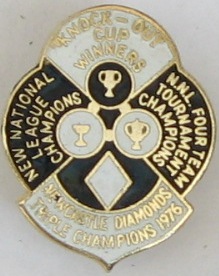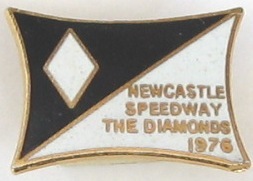 Badges from Richard Nicholson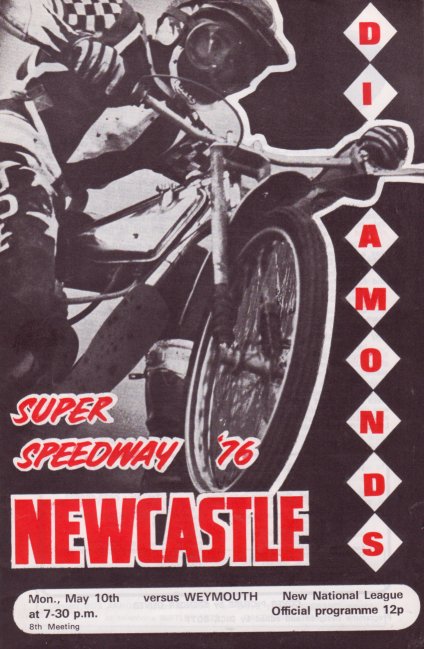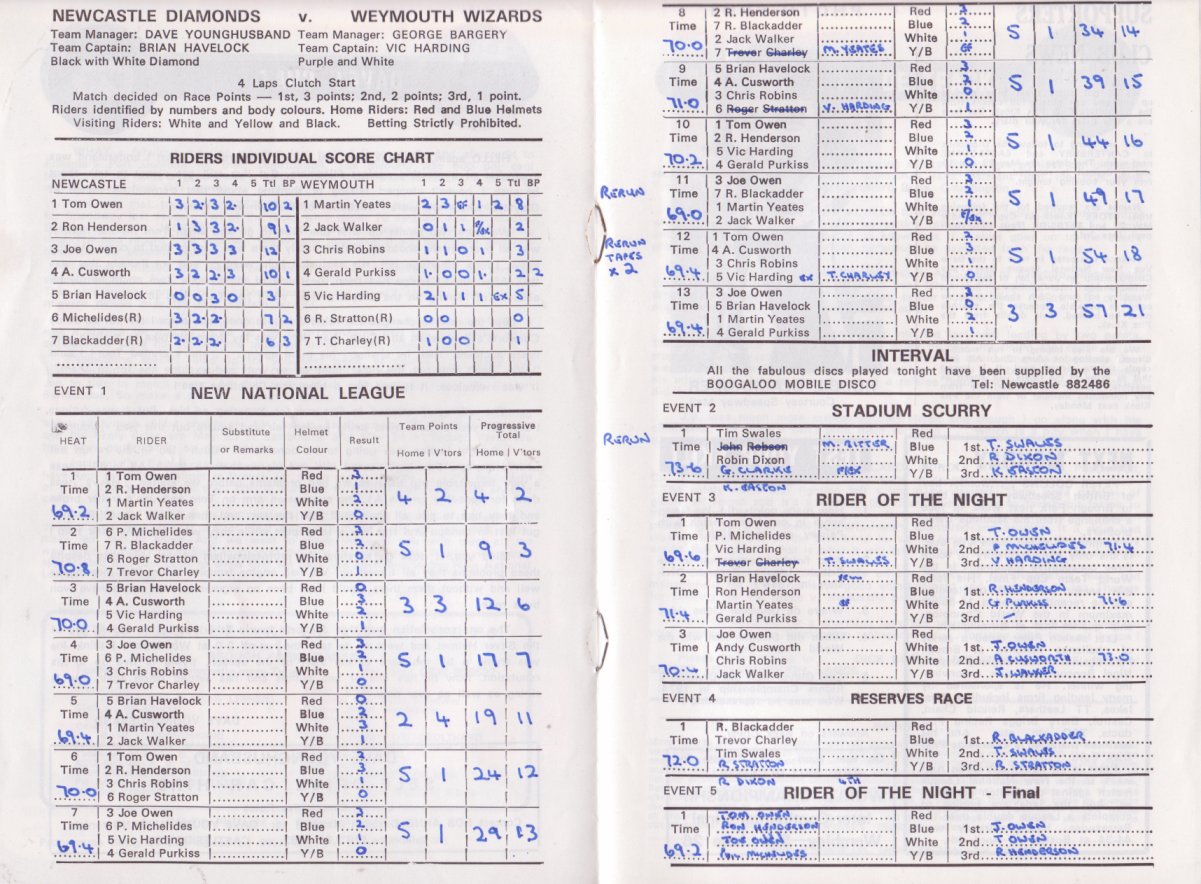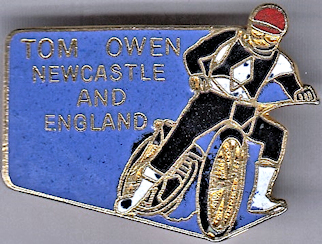 Tom Owen badge year unknown. Can you name the year

John
---
1977

National League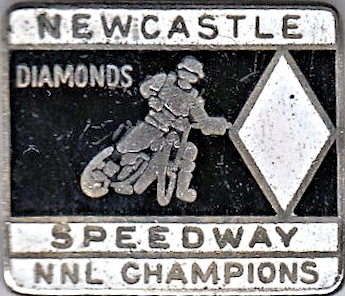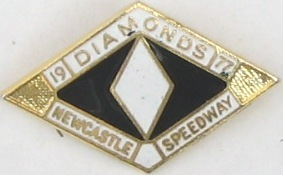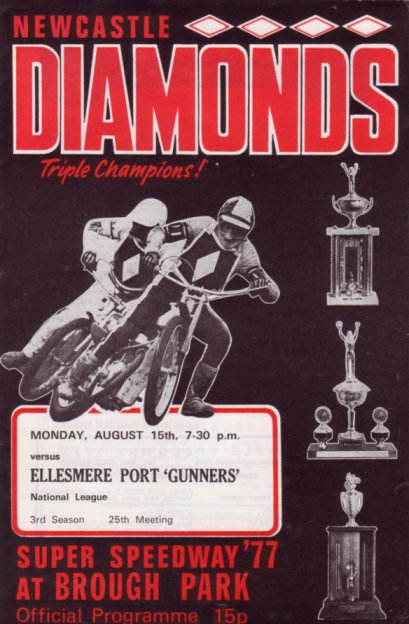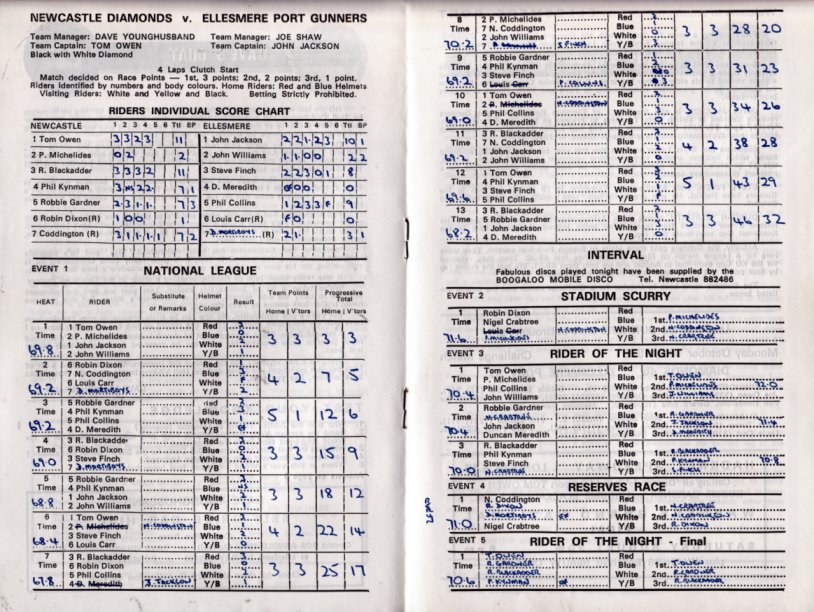 ---
1978

National League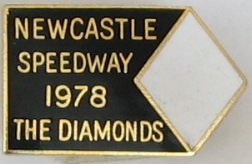 Badge from Richard Nicholson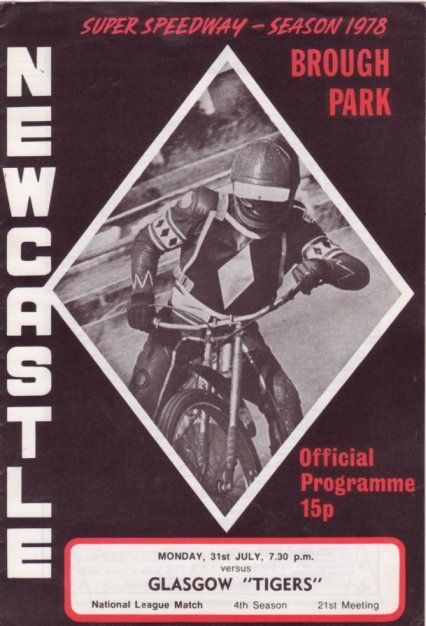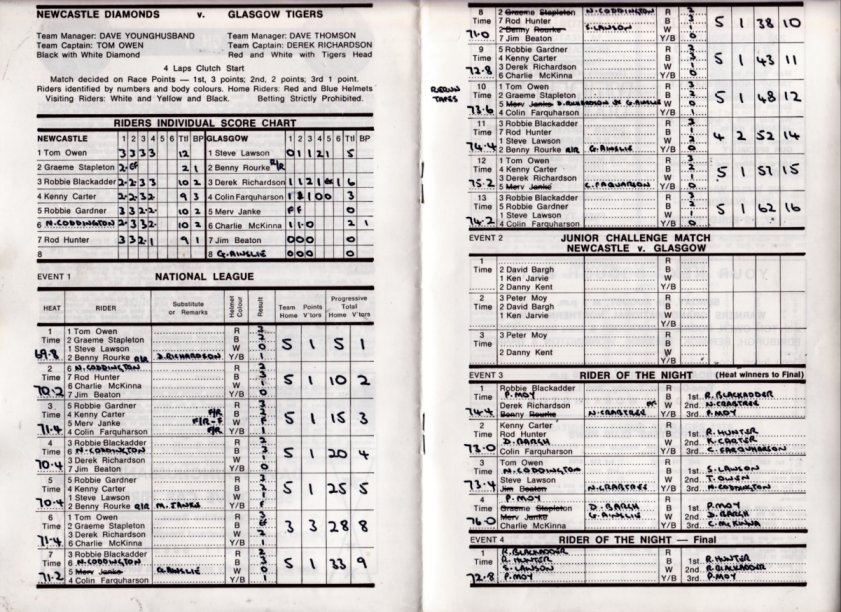 Newcastle hammered poor Glasgow, 11 of the 13 heats were Newcastle 5-1s. Five Newcastle riders were paid for maximums! You will note Newcastle rider Kenny Carter notching a paid max. Kenny went on to be world class before ending his own life in tragic circumstances.
---
1979

National League
Newcastle's 50th Anniversary Season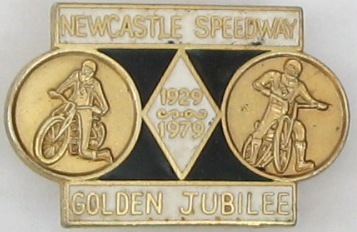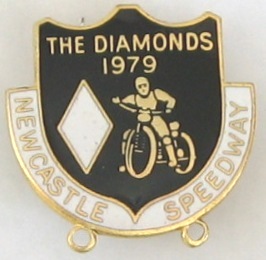 Badges from Richard Nicholson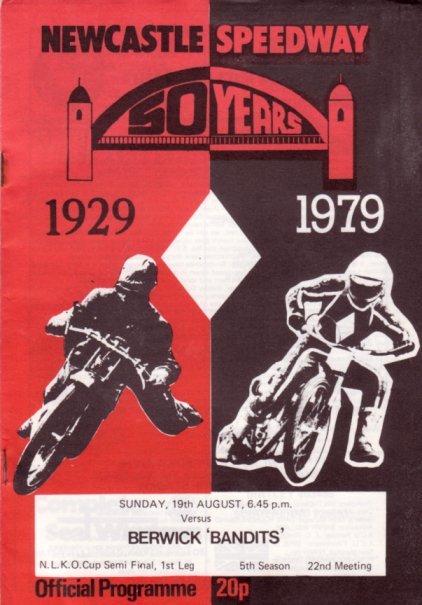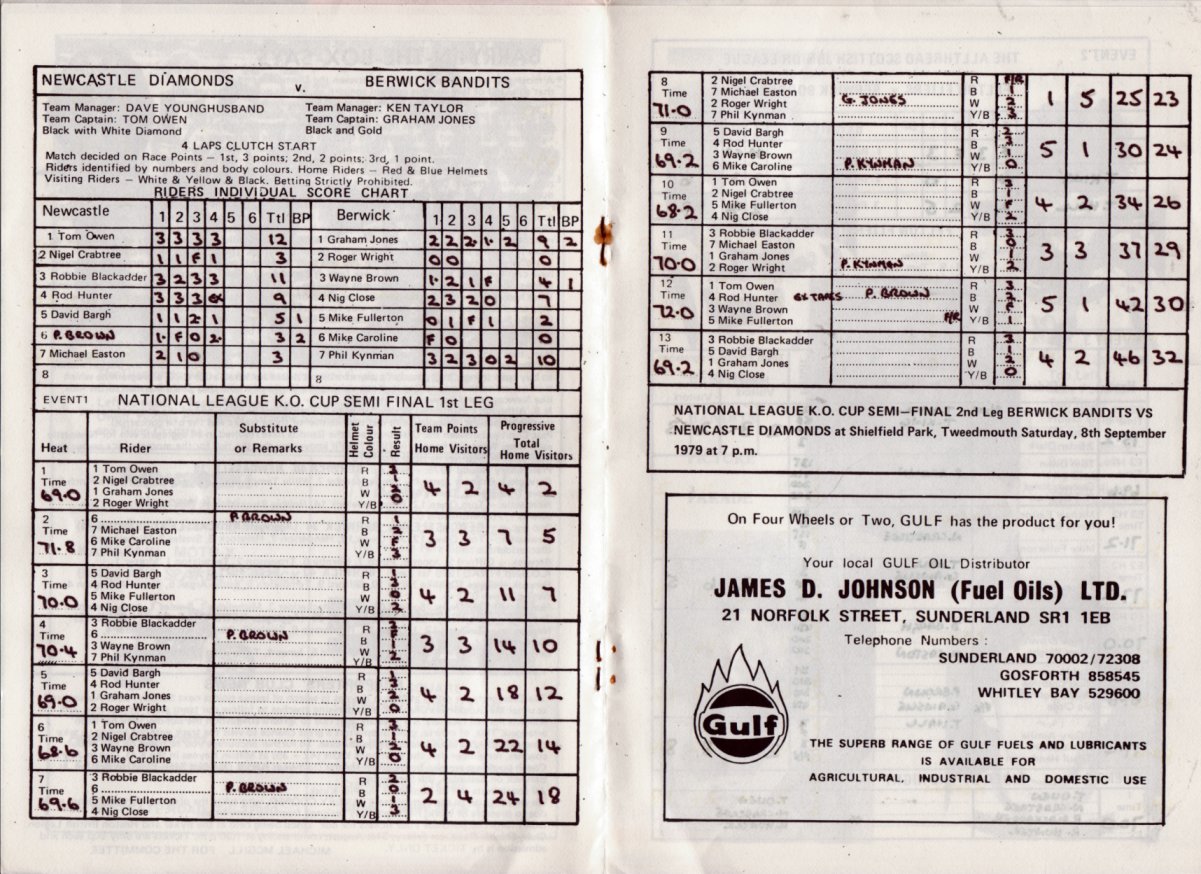 Newcastle continued to dominate but without any local riders. I personally was very happy that Michael Easton was occasionally in a reserve berth. Michael lives down the road from me in Rowlands Gill about 15 miles from Brough Park. I never met him but good luck Mike. If you read this send me an email
John
---
1980

National League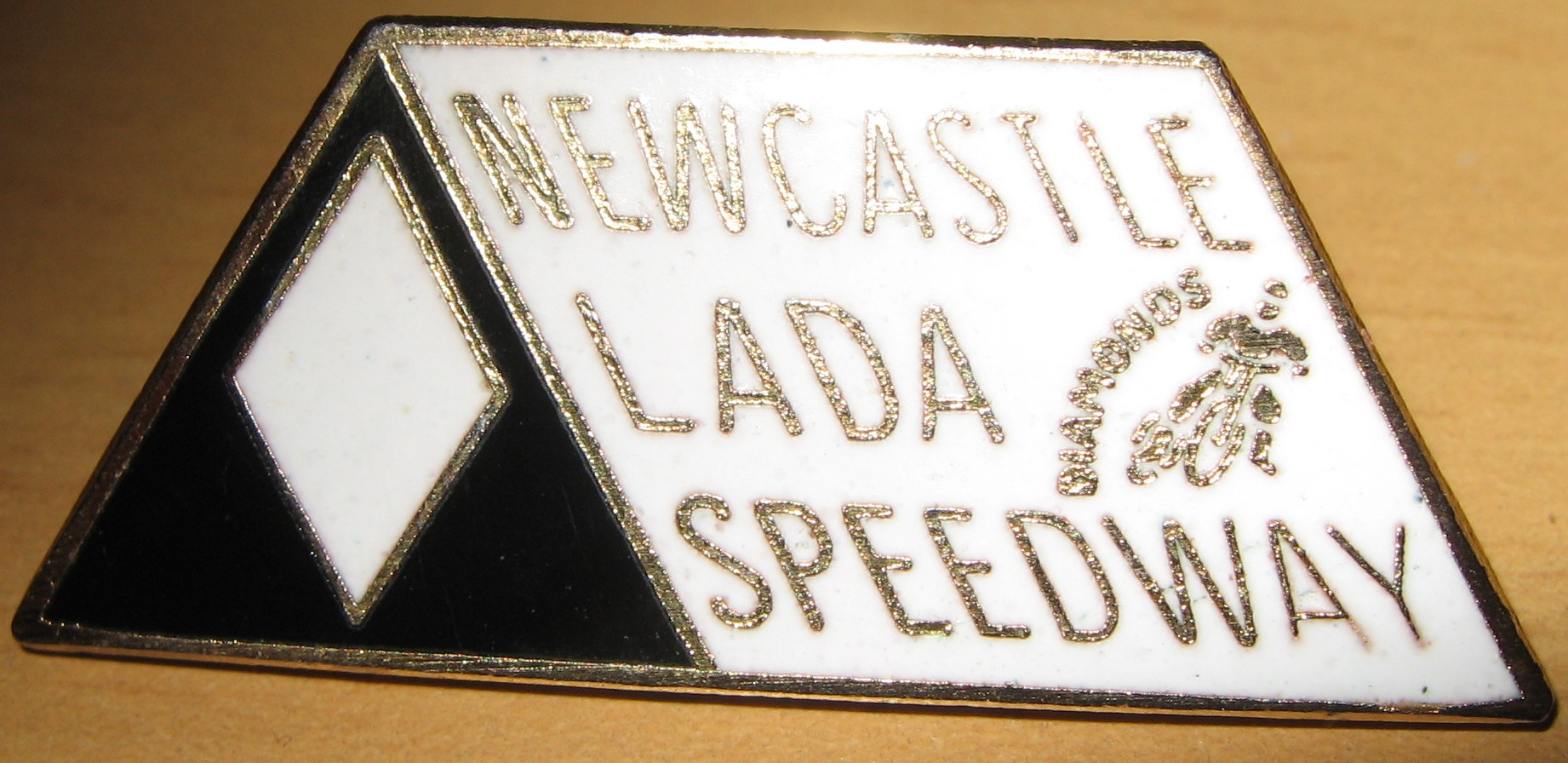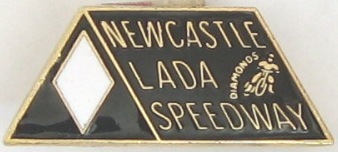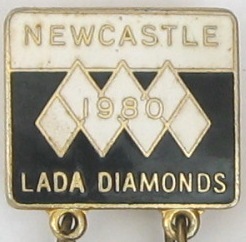 Badges from Richard Nicholson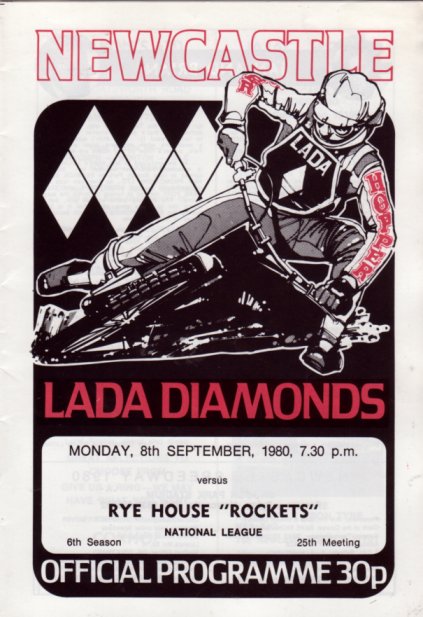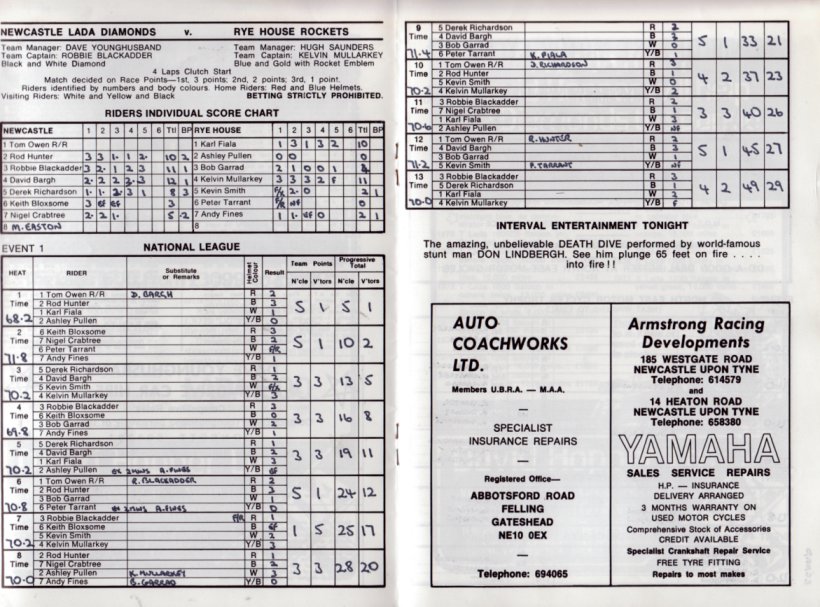 Karl Fiala emailed me some time ago. Karl says Brough Park was his favourite track. So how come you never rode for us Karl?
---
1981

National League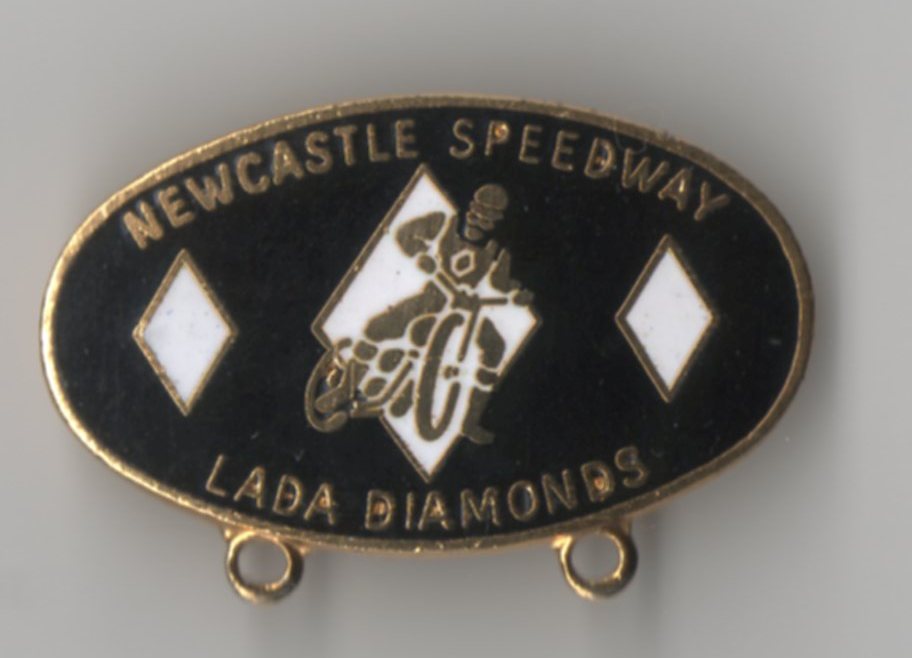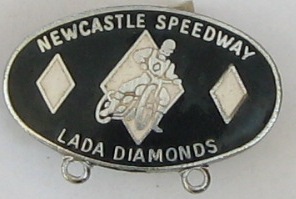 Badges from Richard Nicholson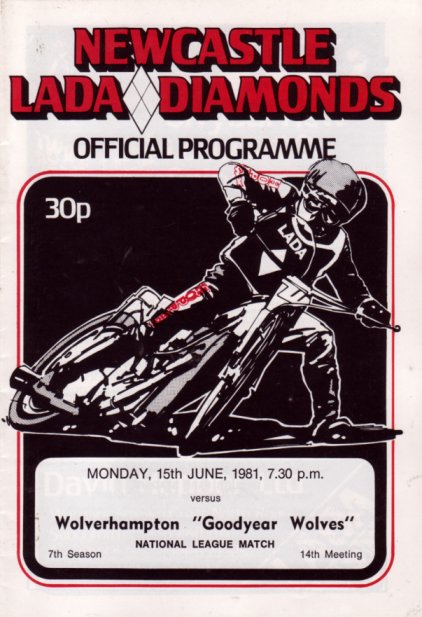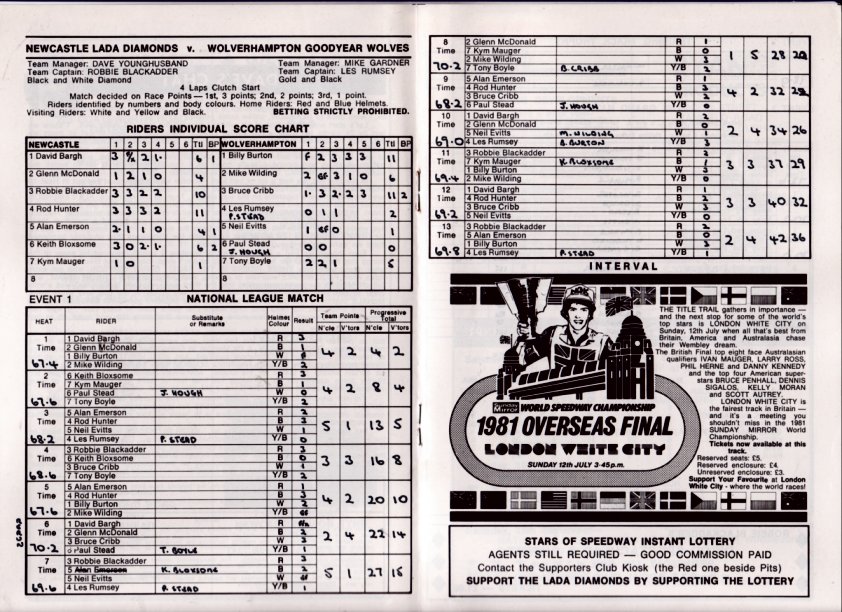 Two of my favourite riders top scored in this match Aussies Rod Hunter and Robbie Blackadder. A famous name at number 7 Ivan's son Kym Mauger. Kym had an impossible task living up to the Mauger name. He also rode long track and I believe he won the long track world title in New Zealand. He did his old man proud.
---
1982

National League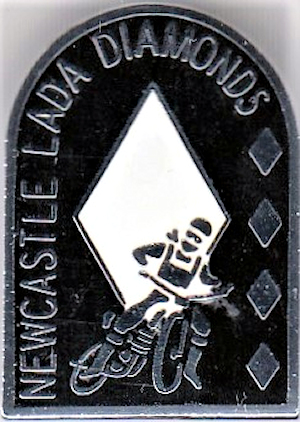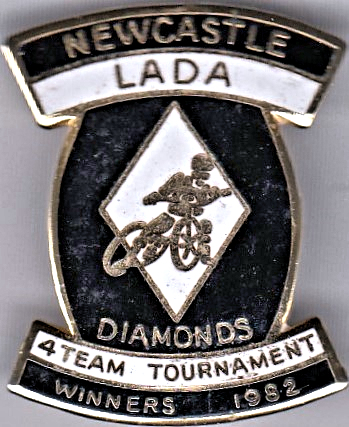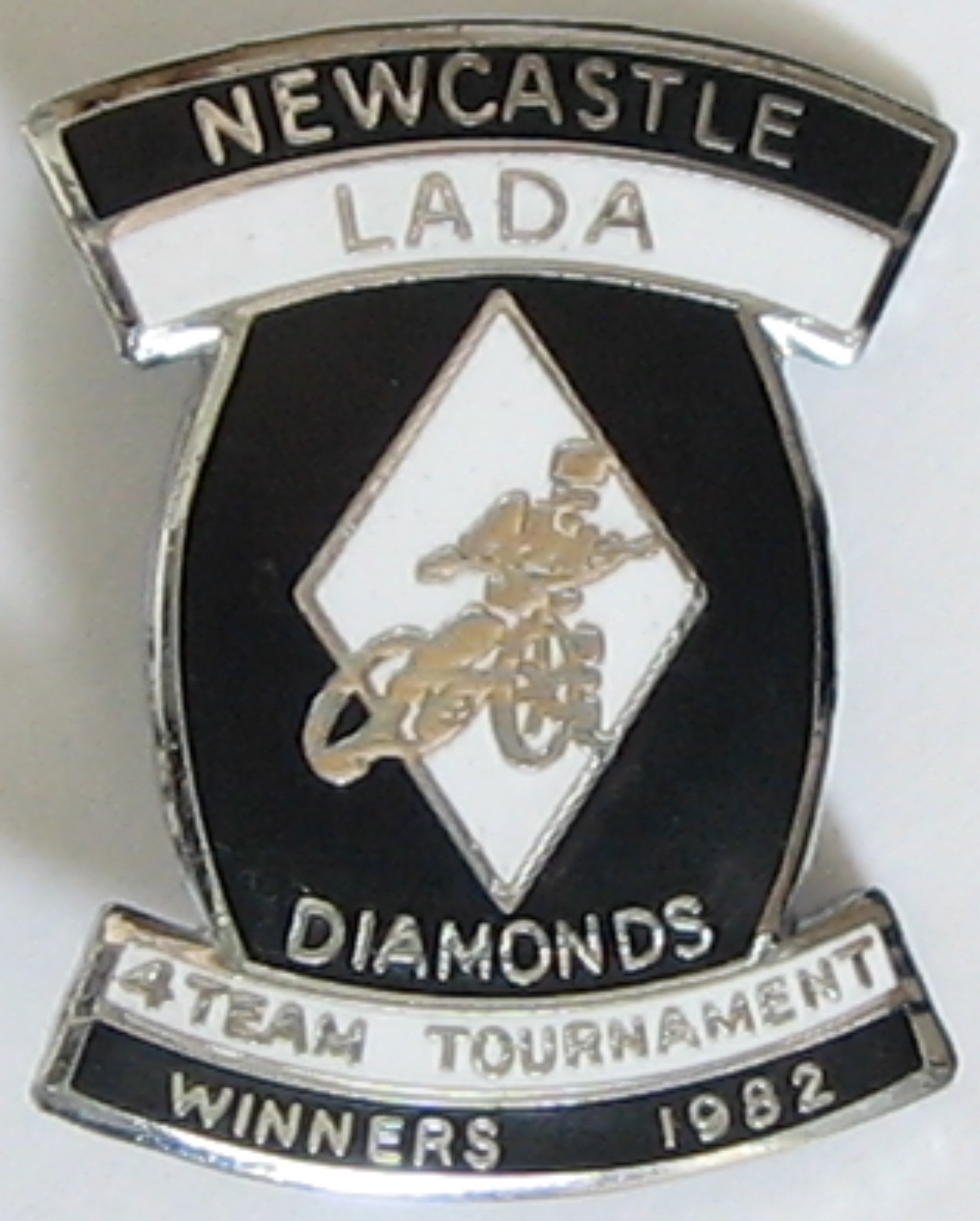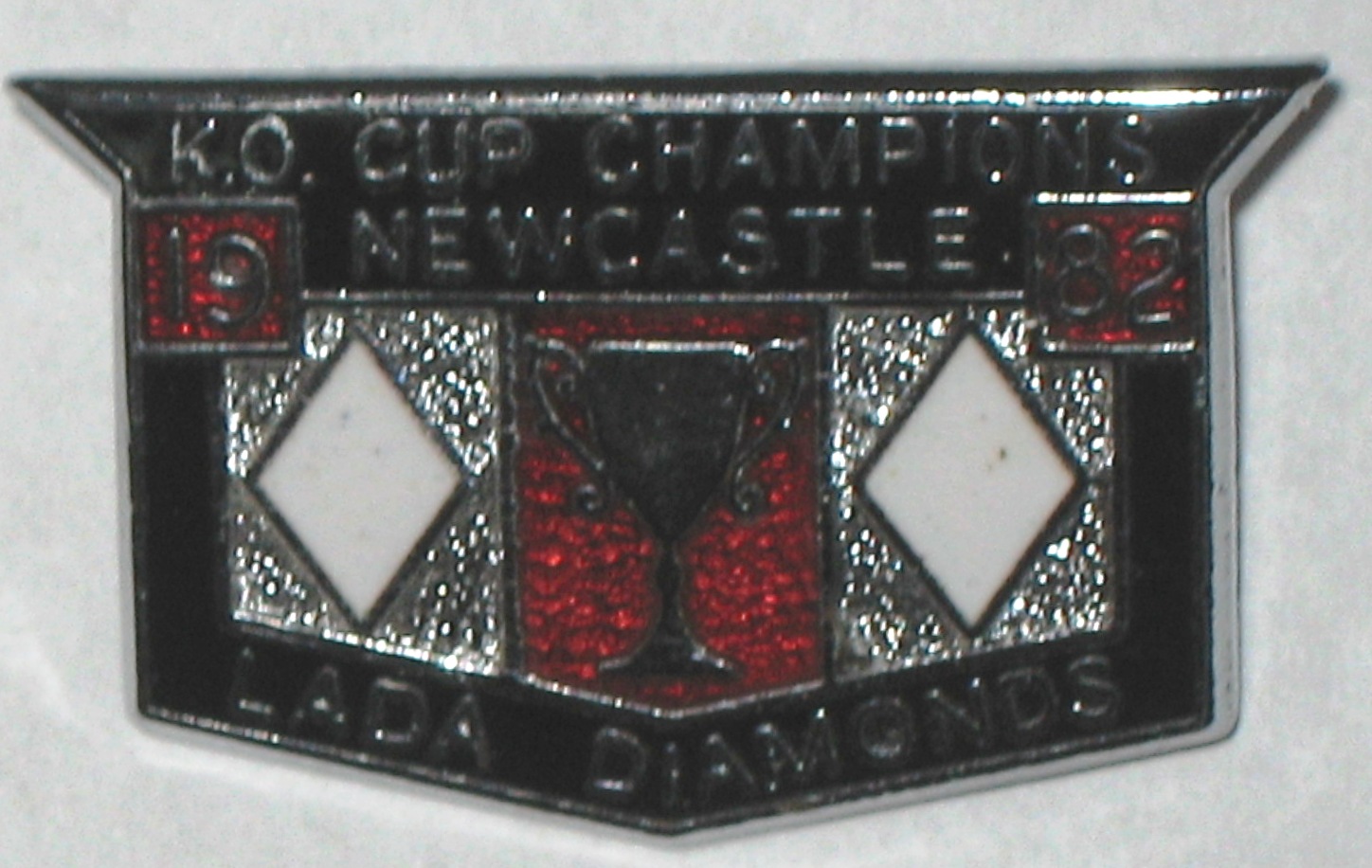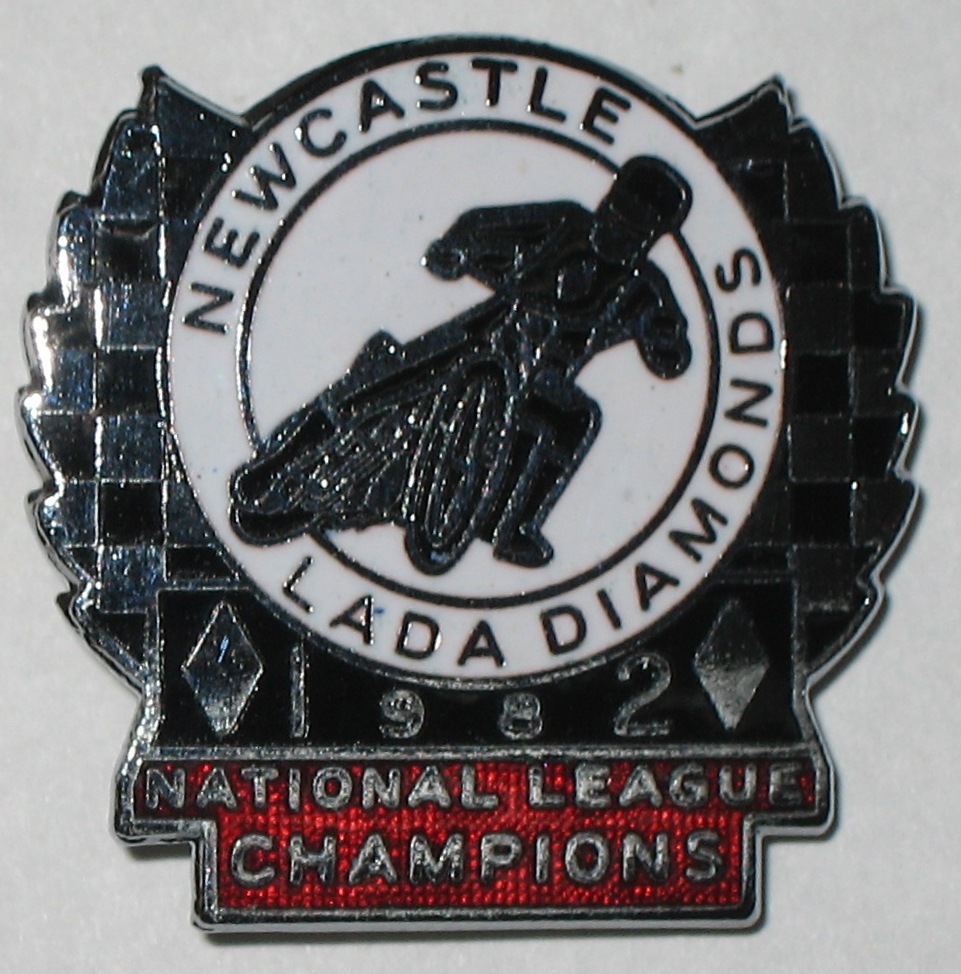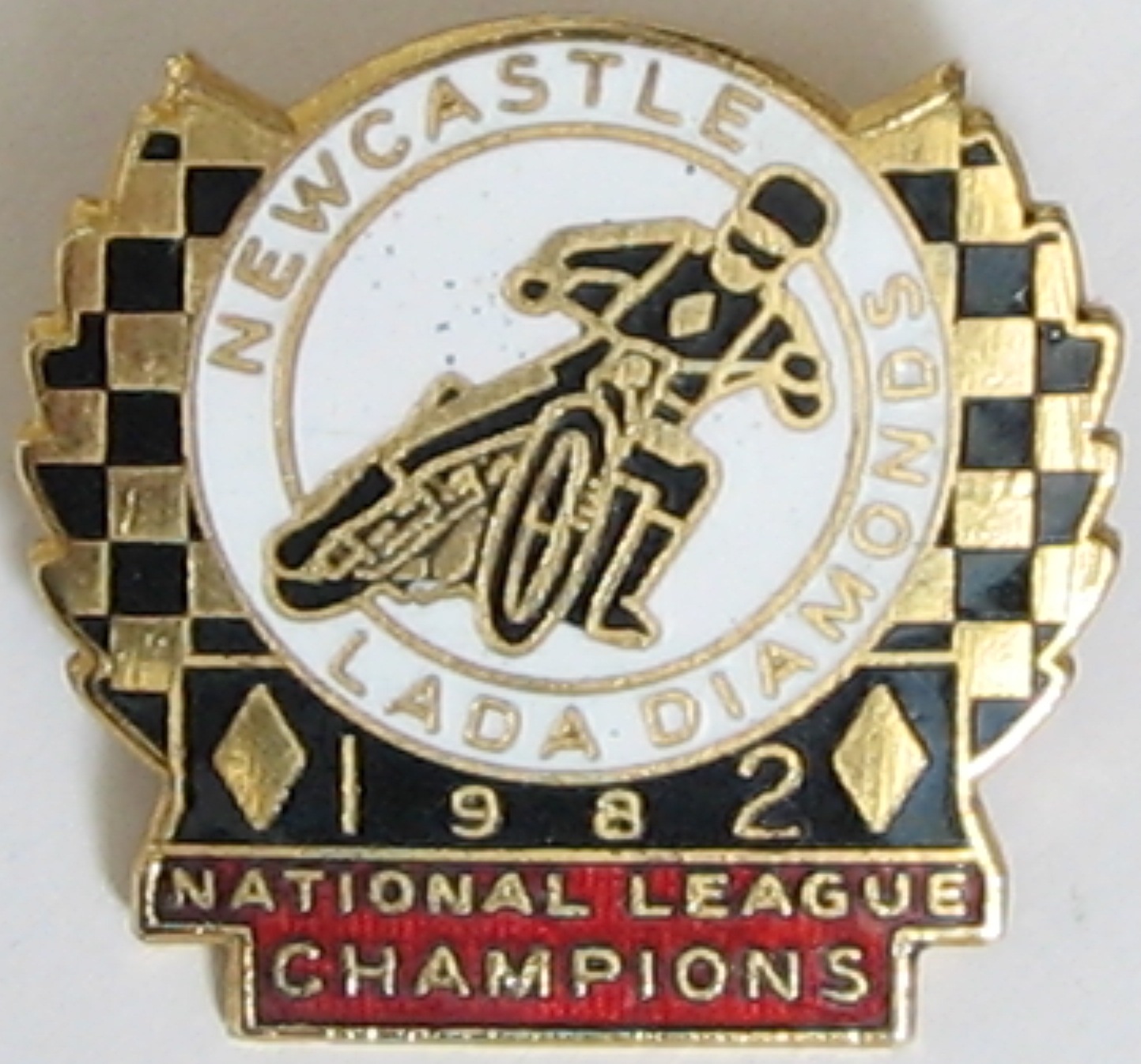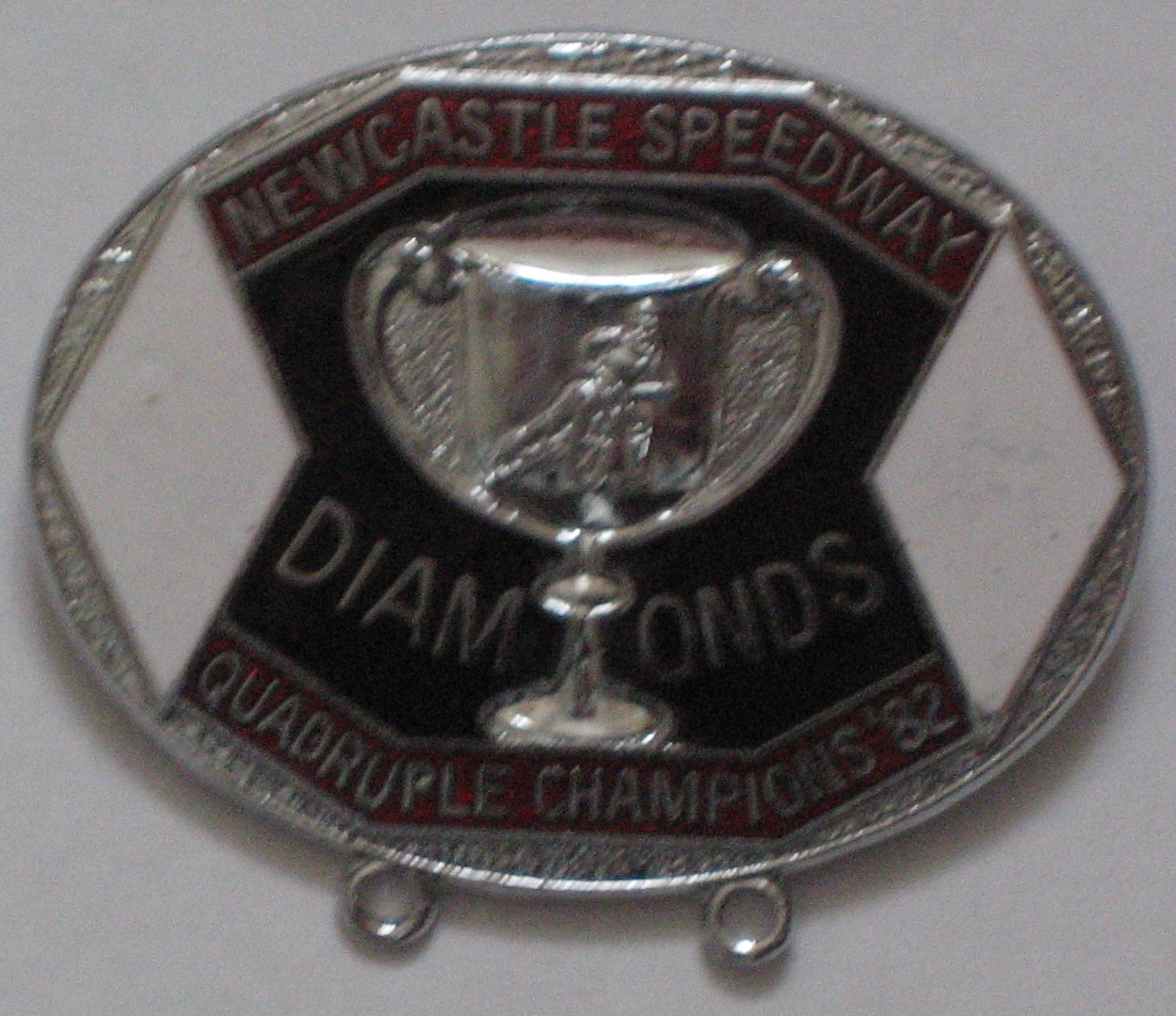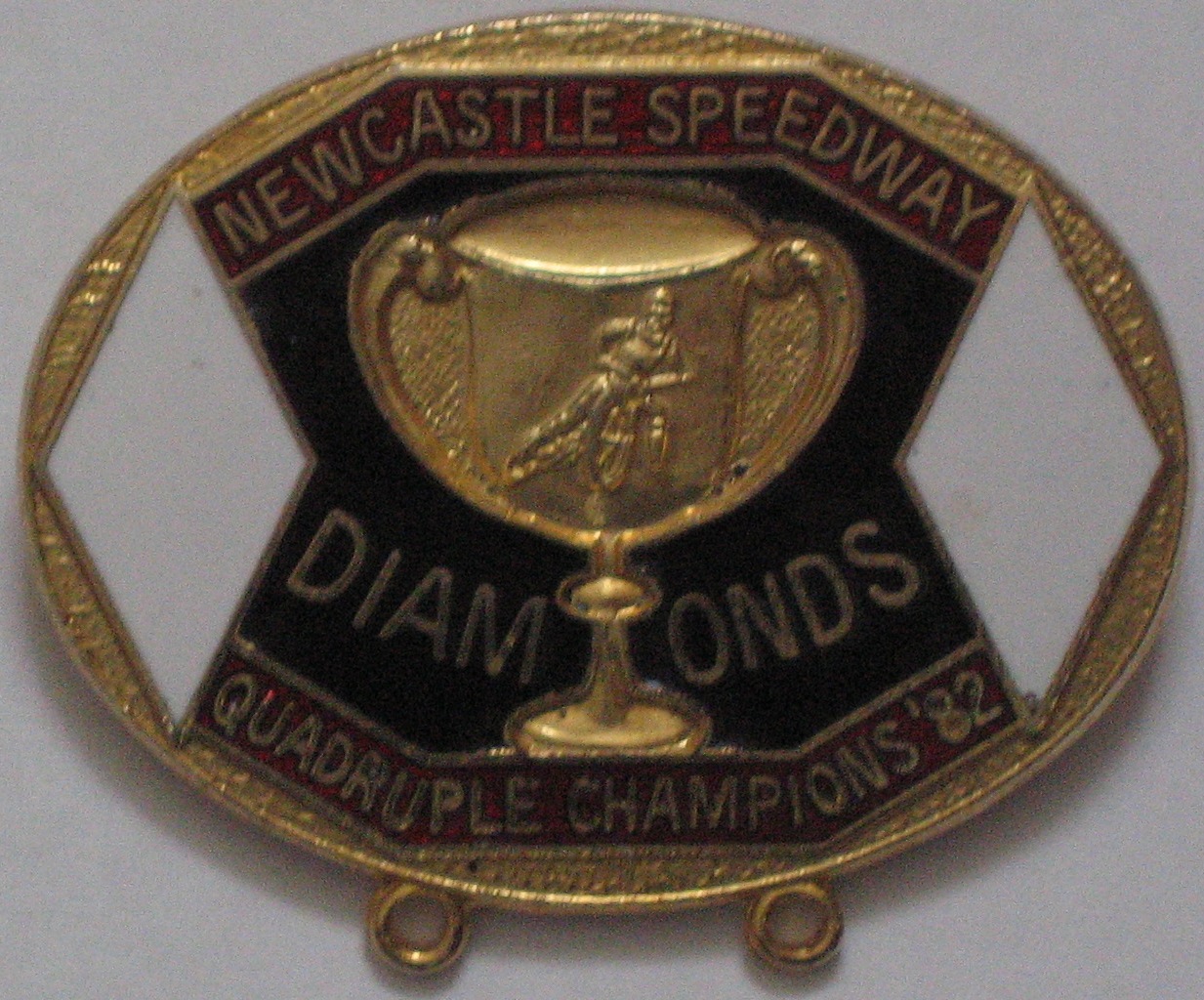 We won so many competitions in 1982 the badge makers had a field day! These badges are from Richard Nicholson's & Wattie Dunlop's collections. Those of us old enough to have been there in 1982 witnessed a treat watching the Diamonds every week.
Tom Owen Badge
1982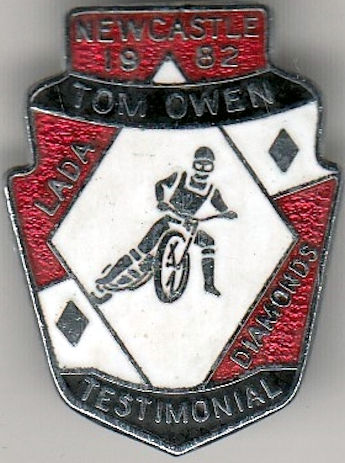 Courtesy of Wattie Dunlop
Joe Owen Badge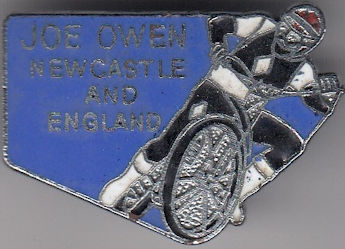 Wattie Dunlop has sent me the above scan. Not sure what year this badge is from so if you can help please send me an email John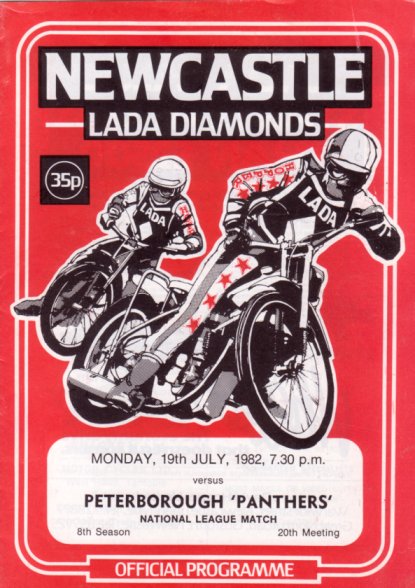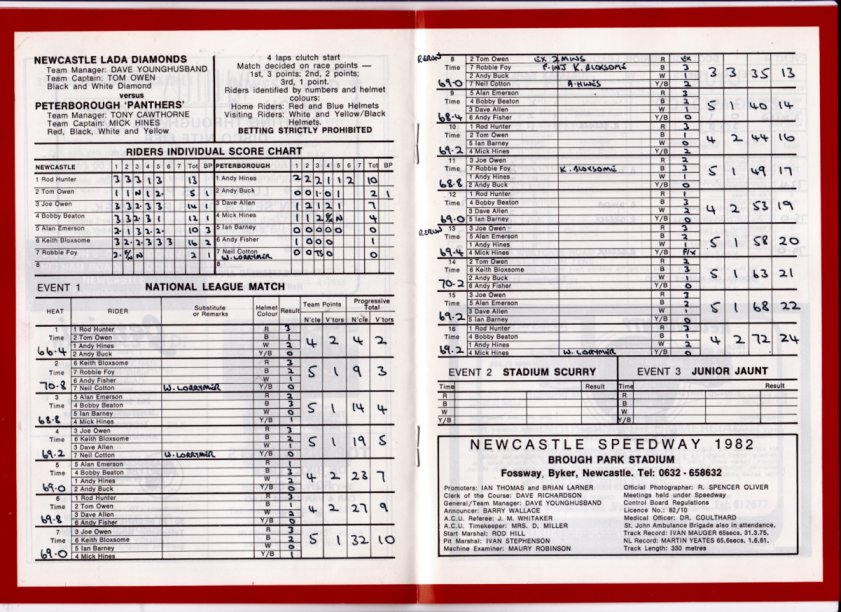 The all conquering 1982 Diamonds beat Peterborough 72-24. Diamonds match winning 18 point paid max from Keith Bloxsome was a treat to watch. Keith was kept at reserve by Newcastle's high scoring team.
---
1983

National League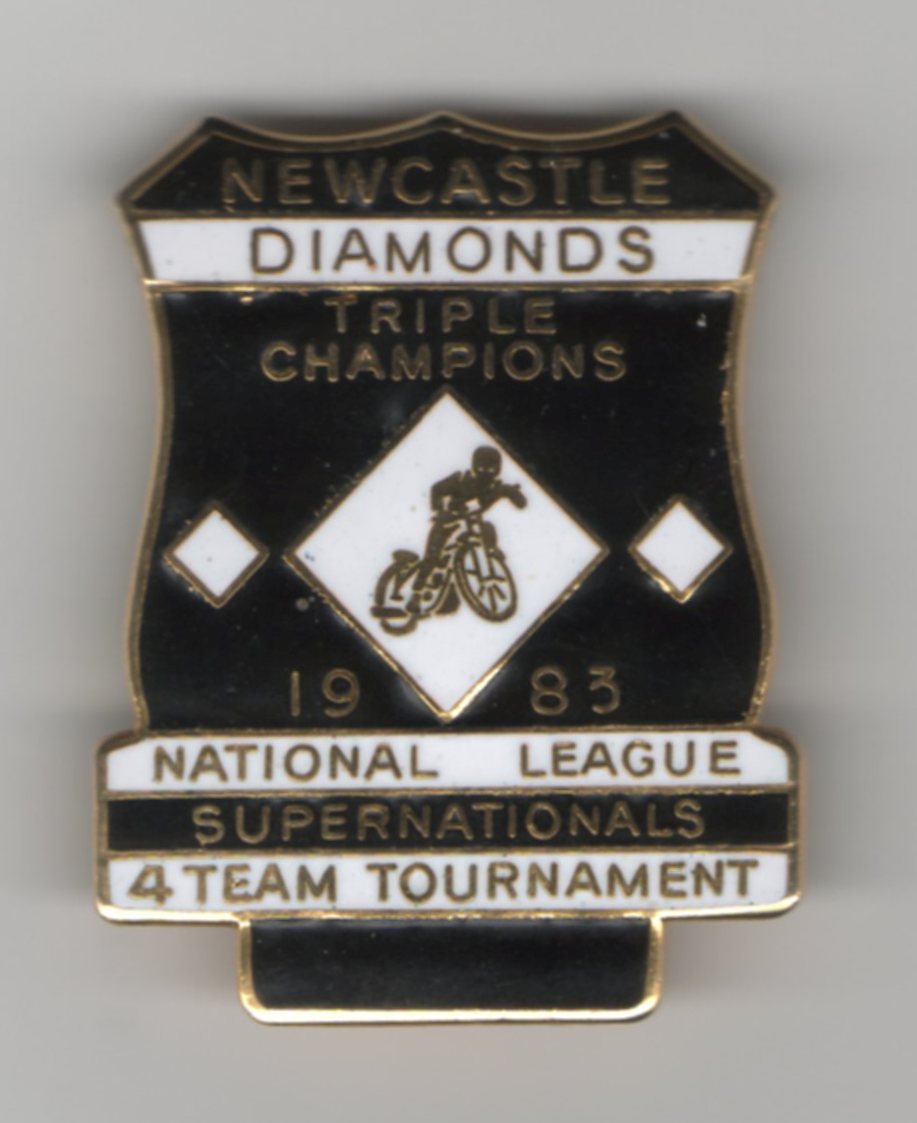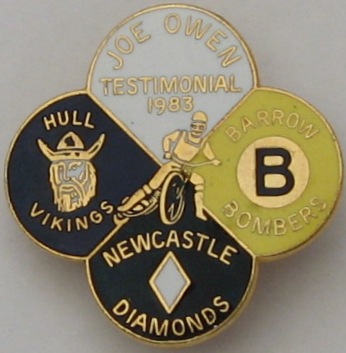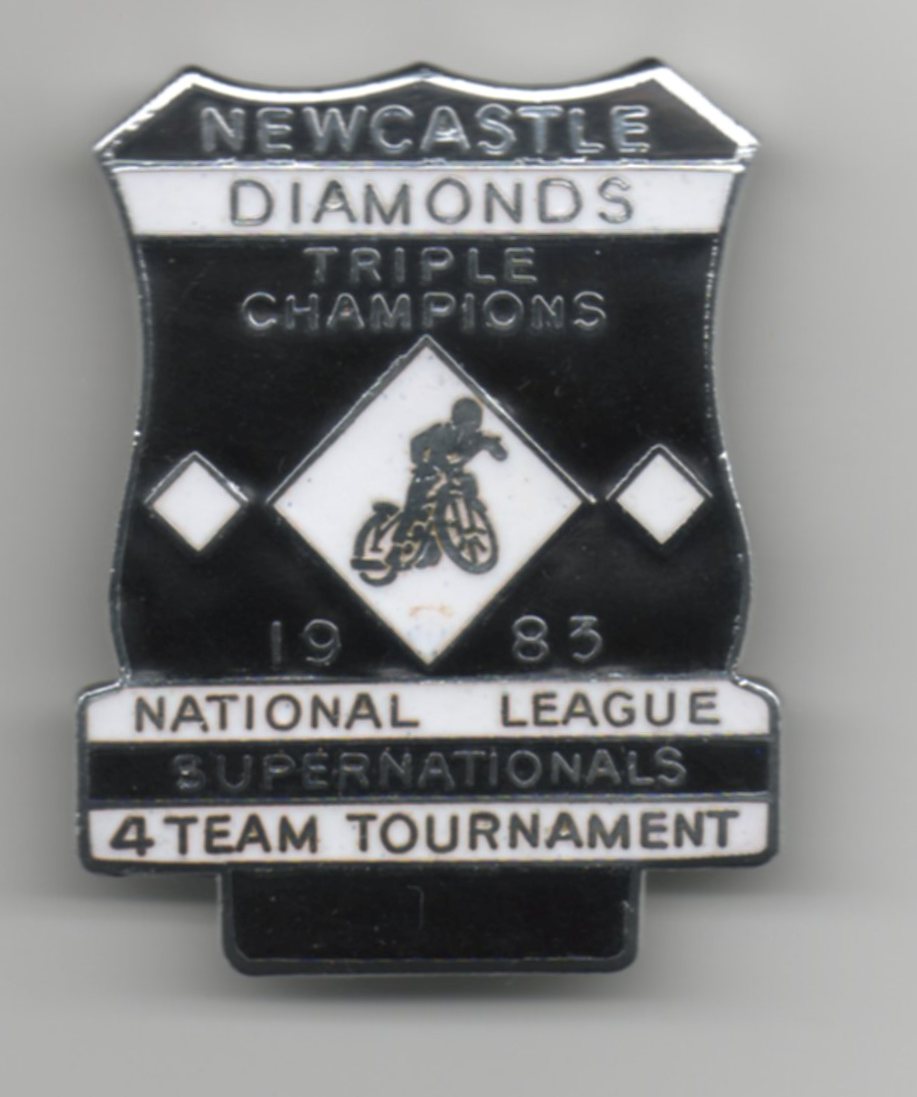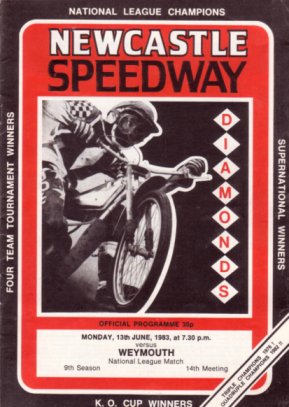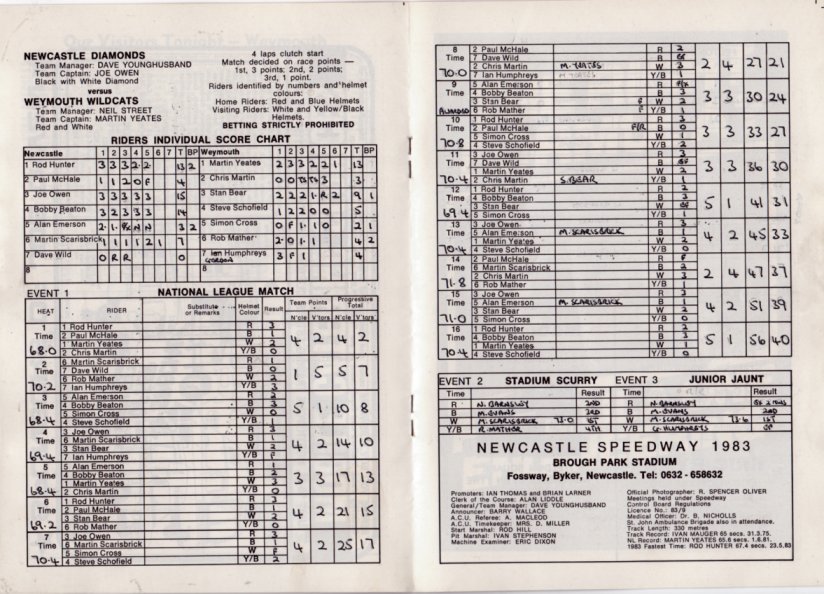 ---
1984

British League
As Newcastle had won practically everything the National League had to offer the only thing to do was elevate the team to the highest tier of racing in the land and hope it was the right thing to do. 1984 saw Newcastle in the very tough British League.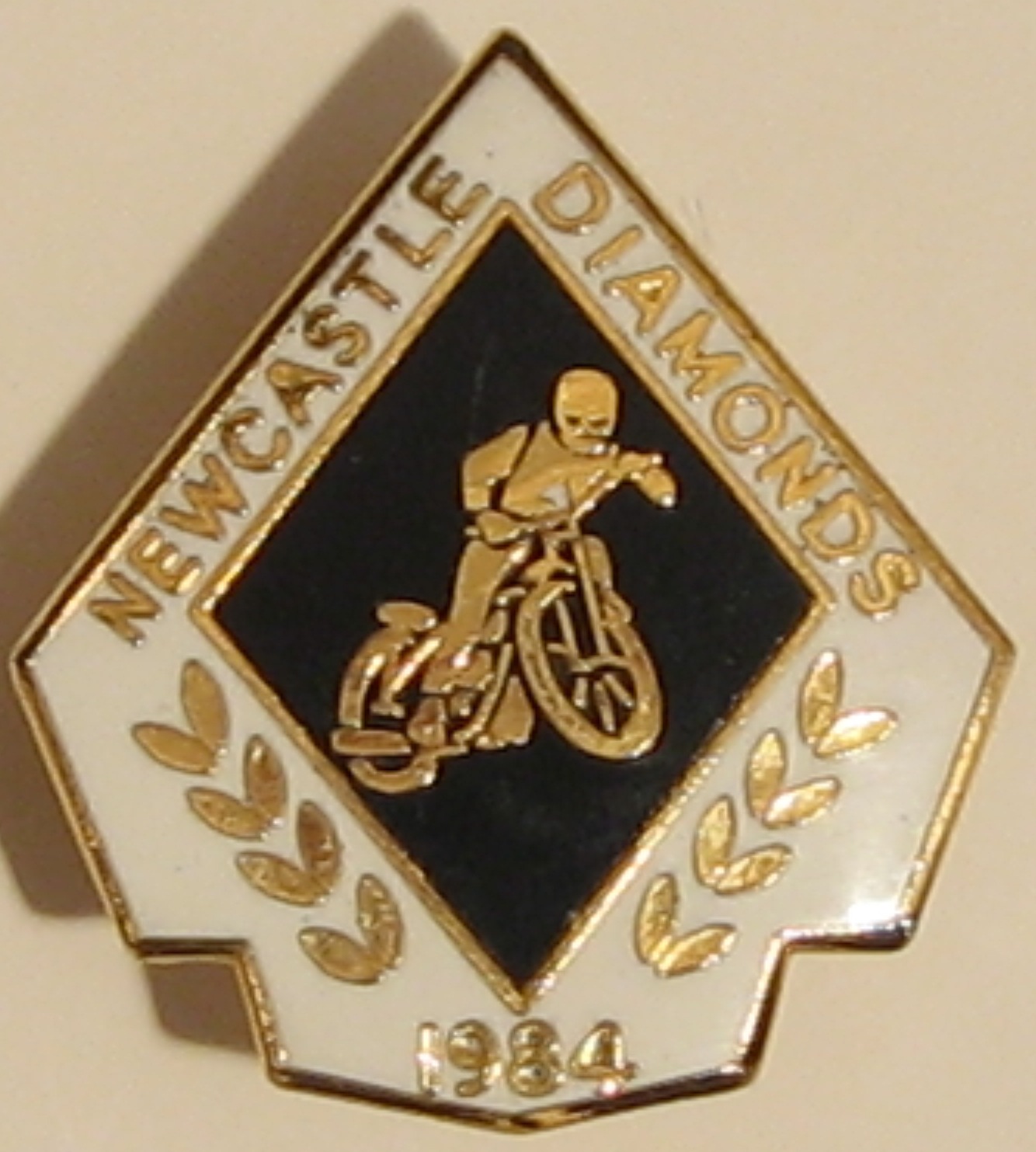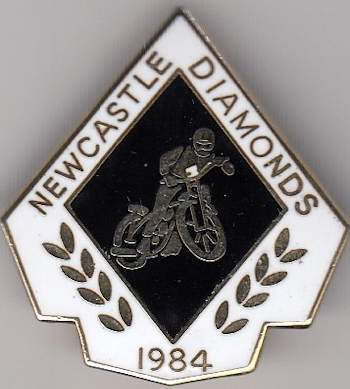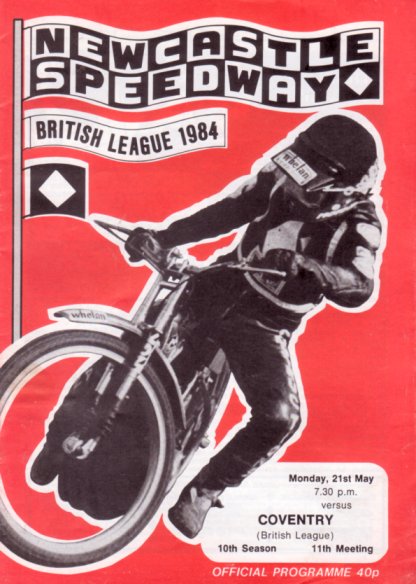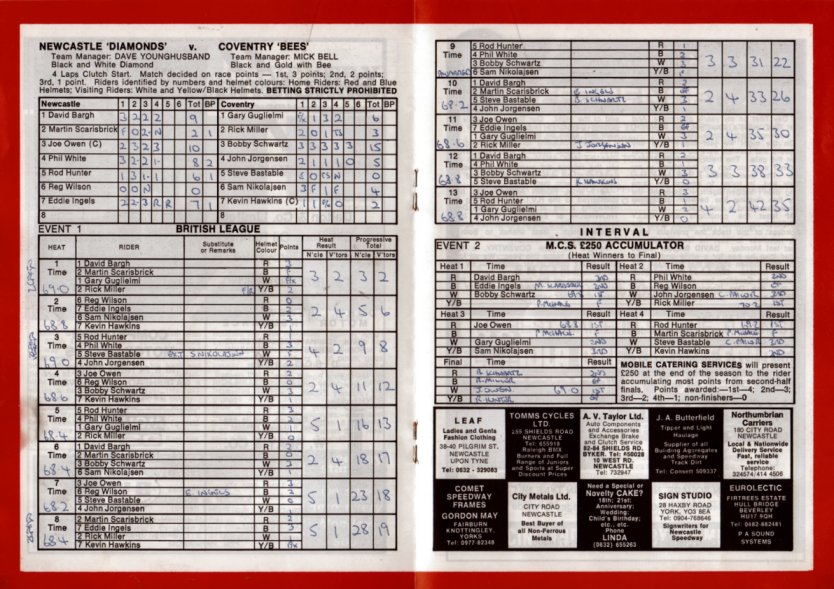 1984 British League Table
Team
PL
W
D
L
Pts
Ipswich Witches
30
25
2
3
52
Belle Vue Aces
29
23
3
3
49
Cradley Heath Heathens
30
21
2
7
44
Reading Racers
30
17
1
12
35
Sheffield Tigers
30
15
0
15
30
King's Lynn Stars
30
15
0
15
30
Wimbledon Dons
30
15
0
15
30
Oxford Cheetahs
30
14
1
15
29
Swindon Robins
29
12
2
15
26
Wolverhampton Wolves
30
13
0
17
26
Eastbourne Eagles
30
12
1
17
25
Coventry Bees
30
11
2
17
24
Poole Pirates
30
10
1
19
21
Halifax Dukes
30
9
3
18
21
Exeter Falcons
30
8
2
20
18
Newcastle Diamonds
30
9
0
21
18
1984 proved to be a total disaster. Our team struggled and we finished rock bottom, the crowds were just not good enough and promoter Ian Thomas lost thousands of pounds. Arguably £1000 a match. At the end of the season Ian quit (who could blame him) and we closed down again.
---
Brough Park Closed During 1985
---
1986

National League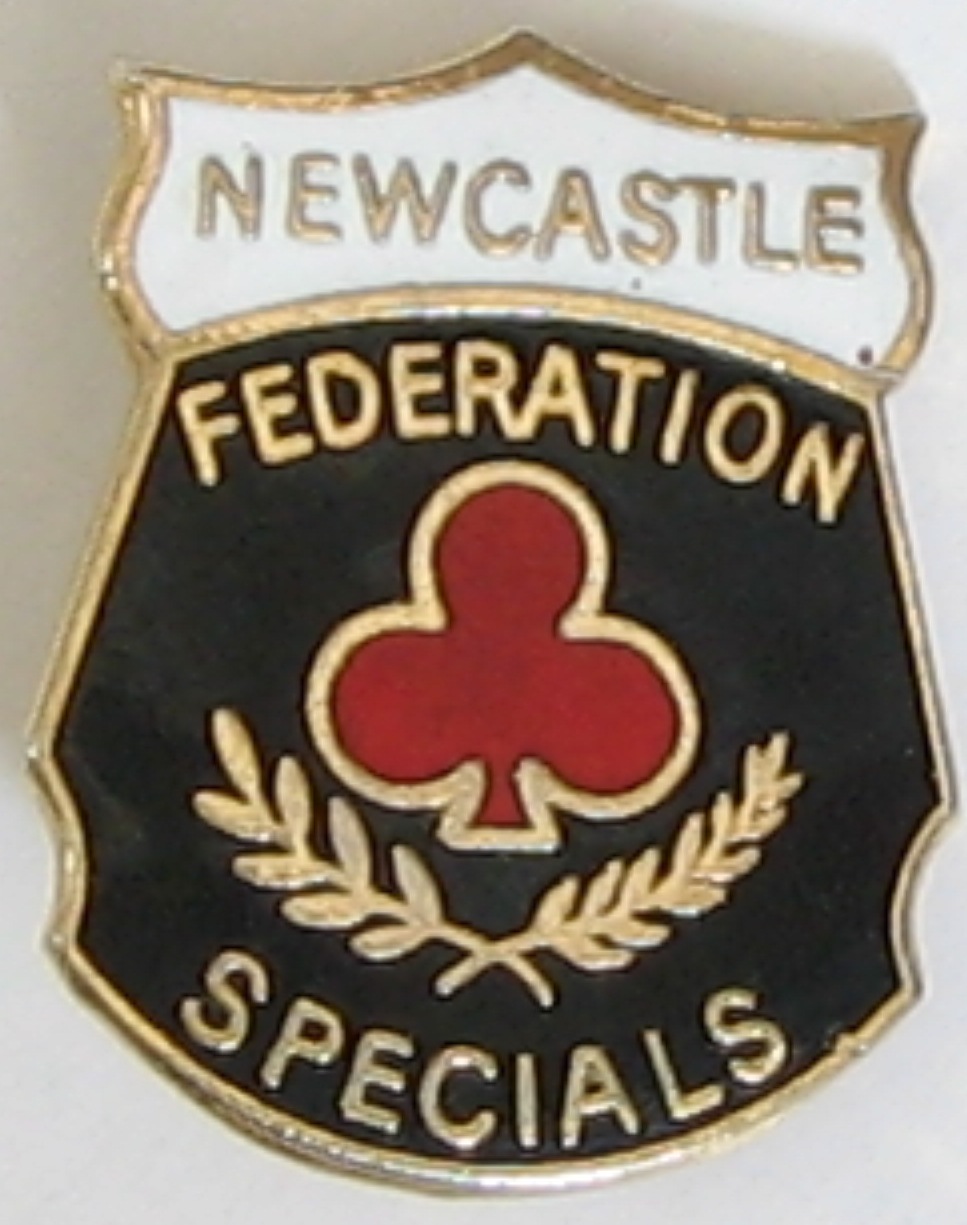 1986 The Federation Brewery came in as sponsors and our promoter, John Turner, changed our name and logo from Diamonds to Federation Specials. This was only the 2nd time we were not "The Diamonds" the other year was 1949 when we were Newcastle Magpies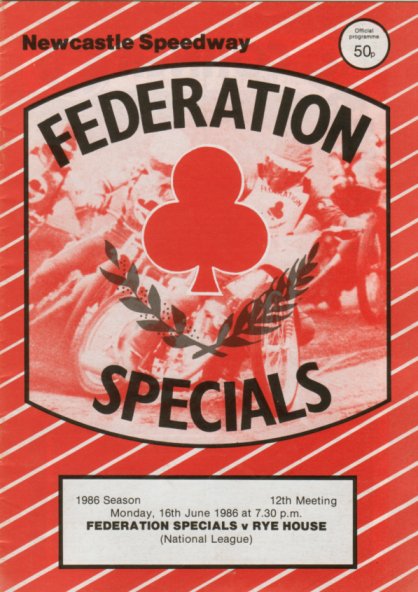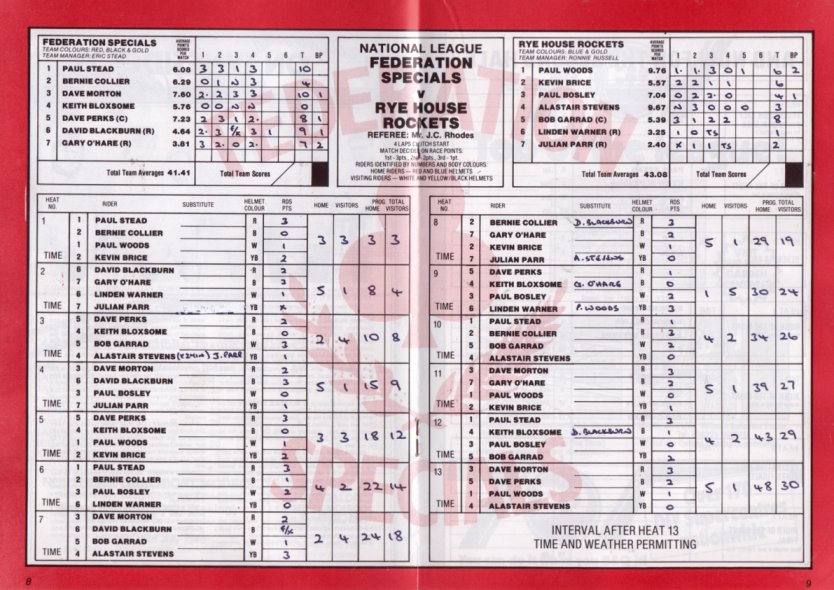 ---
1987

National League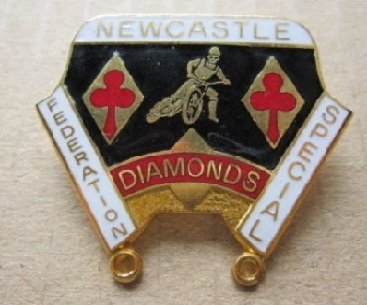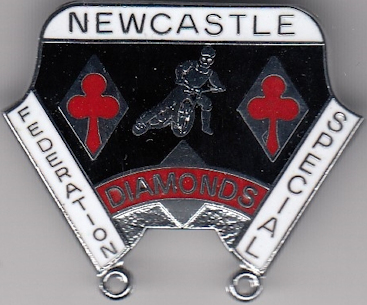 Badge scans courtesy of Wattie Dunlop
Another change of promoter saw Eric Stead take over. Things didn't work out and Eric pulled the plug at the end of 1987.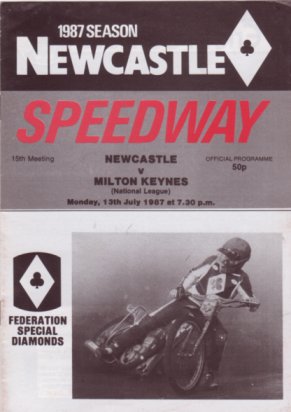 ---
Brough Park Was Closed Again In 1988
---
1989

National League
Speedway was back under the control of Spectake Ltd namely Barry Wallace and Richard Bailey.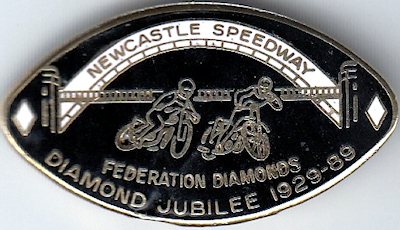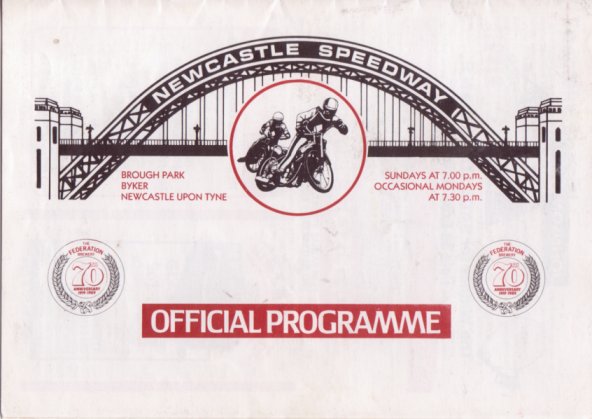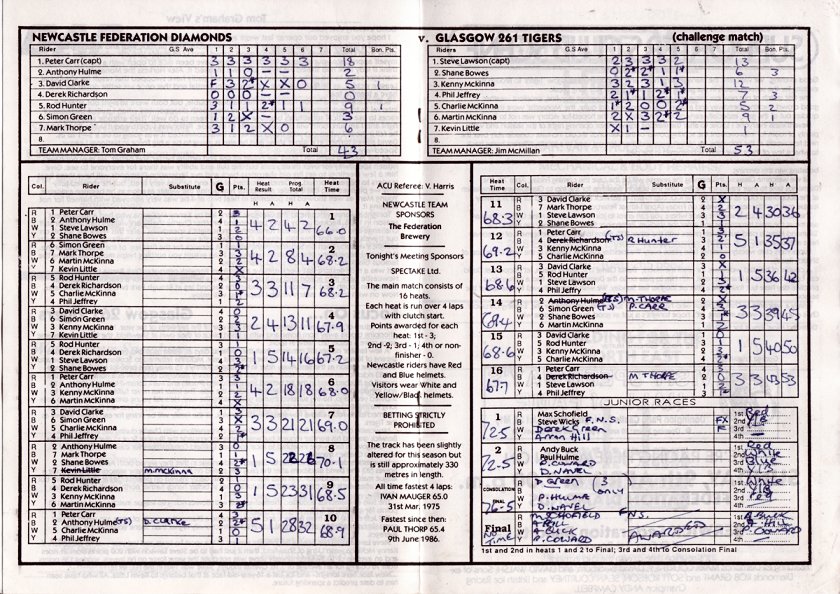 ---
1990

National League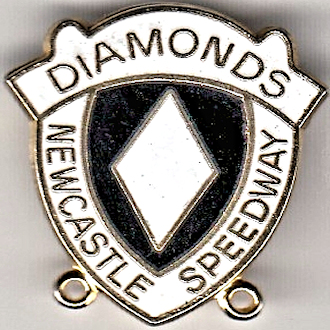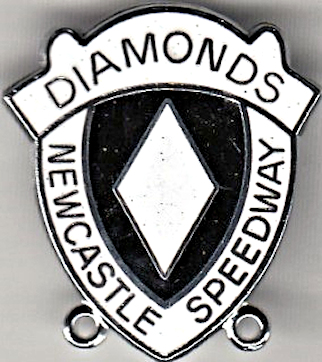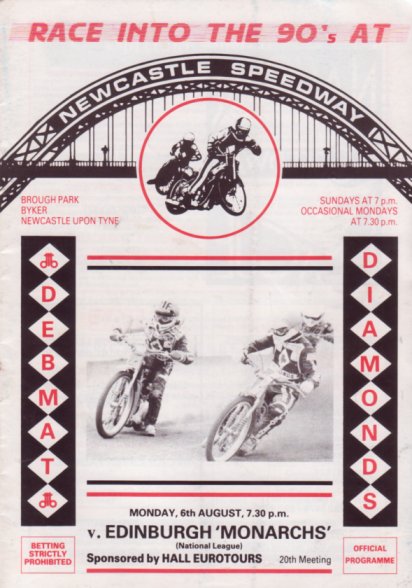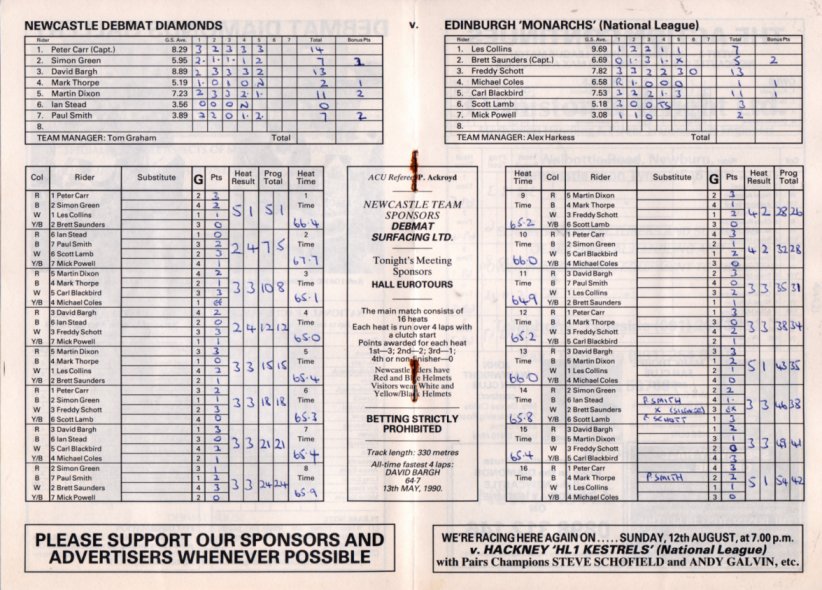 ---
1991

British League Division 2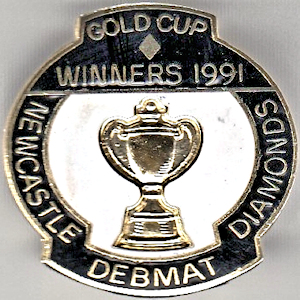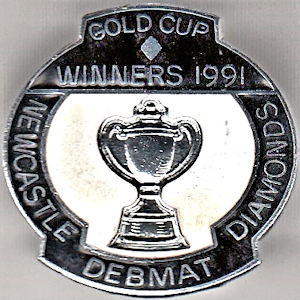 Badge Scans Courtesy of Wattie Dunlop
Two 1991 badges commemorating the team winning that season's Gold Cup. One badge shows gold highlights and the other shows silver. Badge collectors will love the silver badge as it must be rarer than a Gold, Gold Cup Badge? I wouldn't have produced the silver badge but hey, what do I know?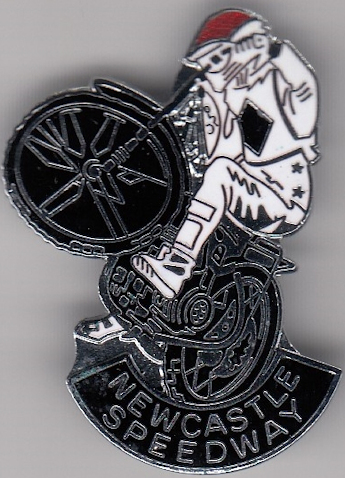 Badge Scans Courtesy of Wattie Dunlop
Would I be right in thinking 2 other badges showing Blue and White helmets were issued? If you have them please scan and email me
John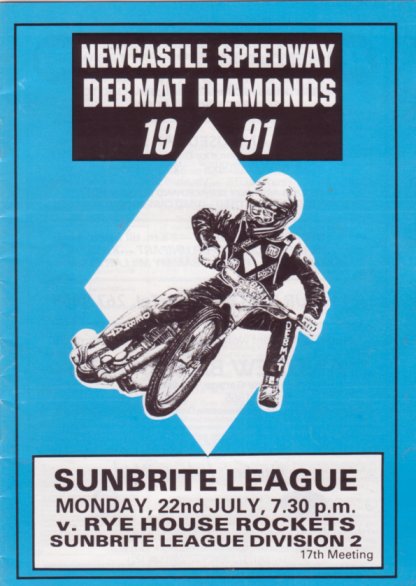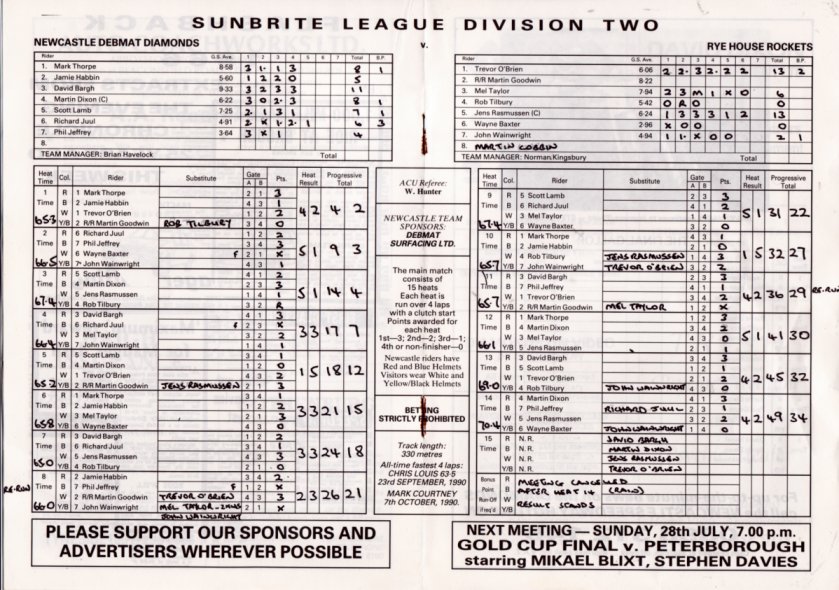 ---
1992

British League Division 2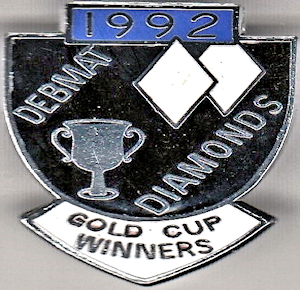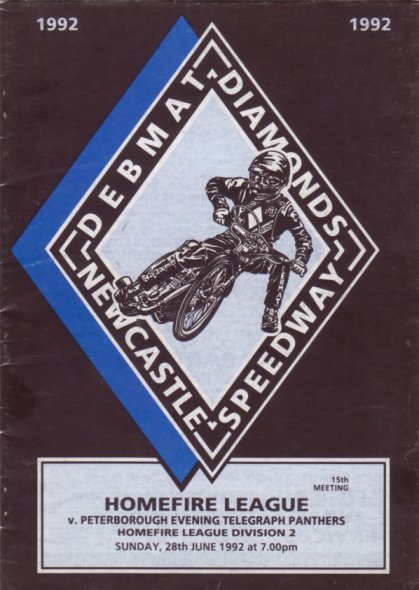 Note visiting reserve Jason Crump
1992 Newcastle Badges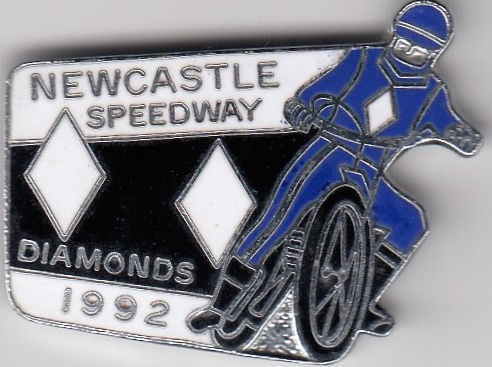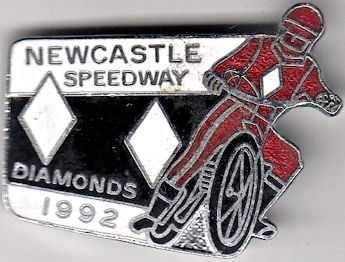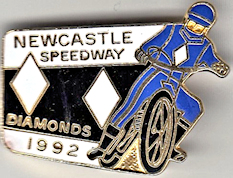 Courtesy of Wattie Dunlop
---
1993

British League Division 2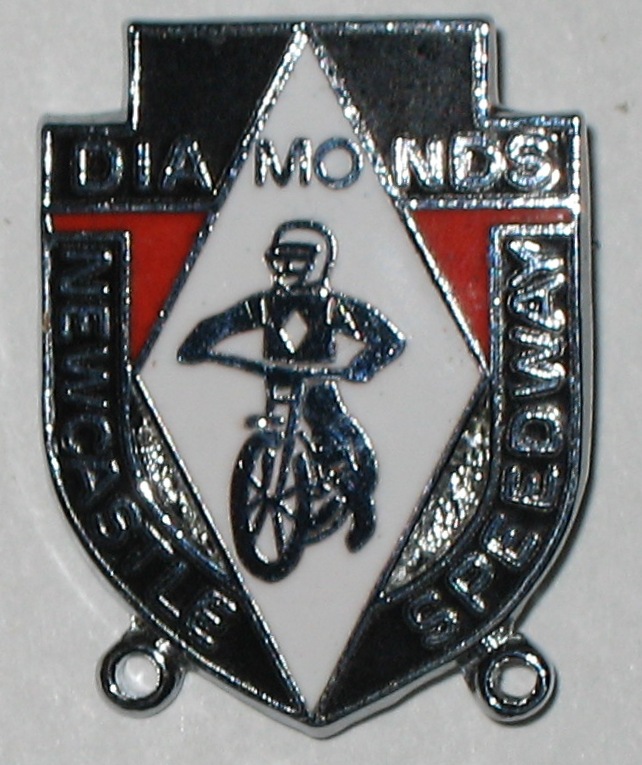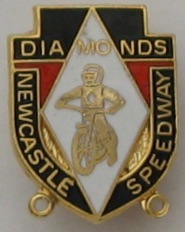 Badges from Richard Nicholson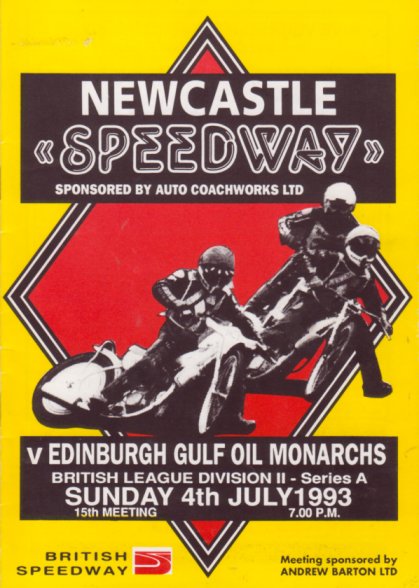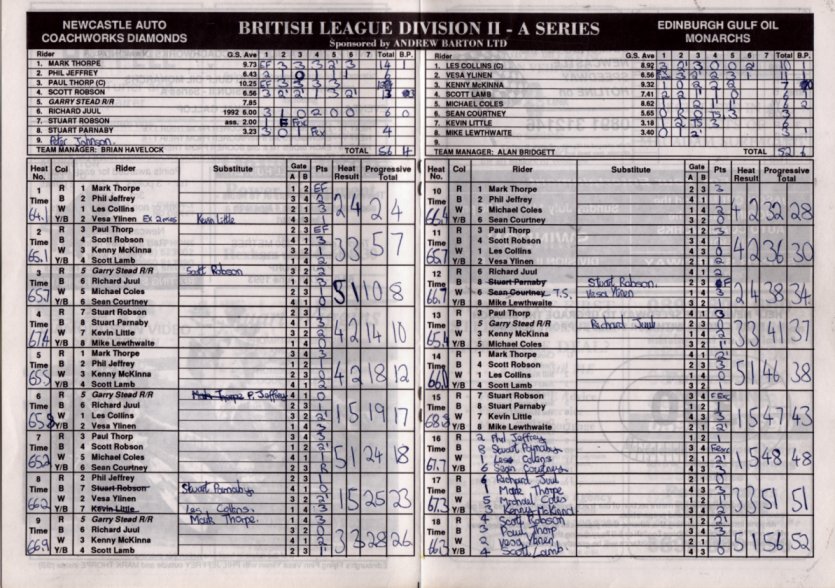 ---
1994

British League Division 2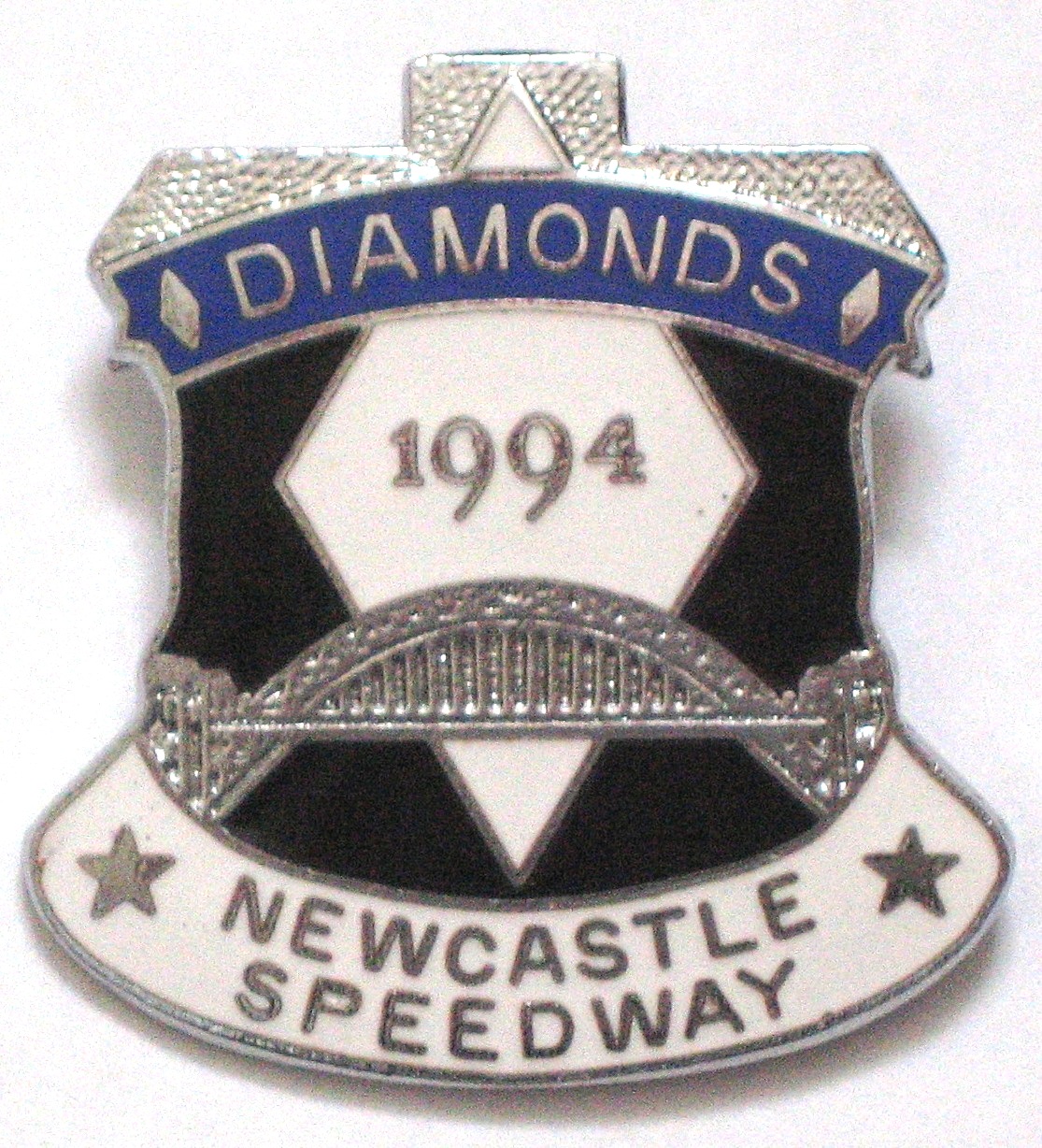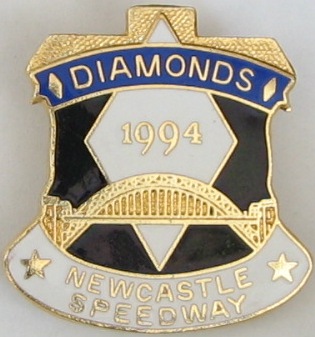 Badges from Richard Nicholson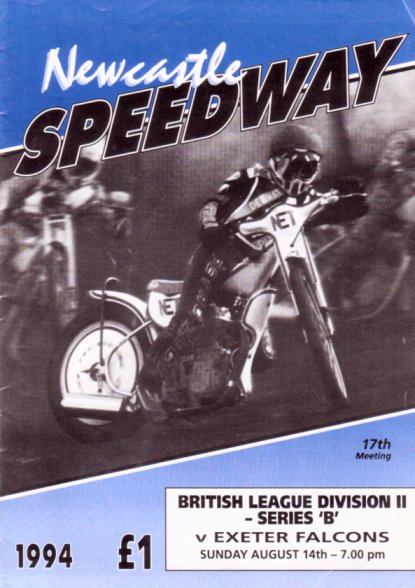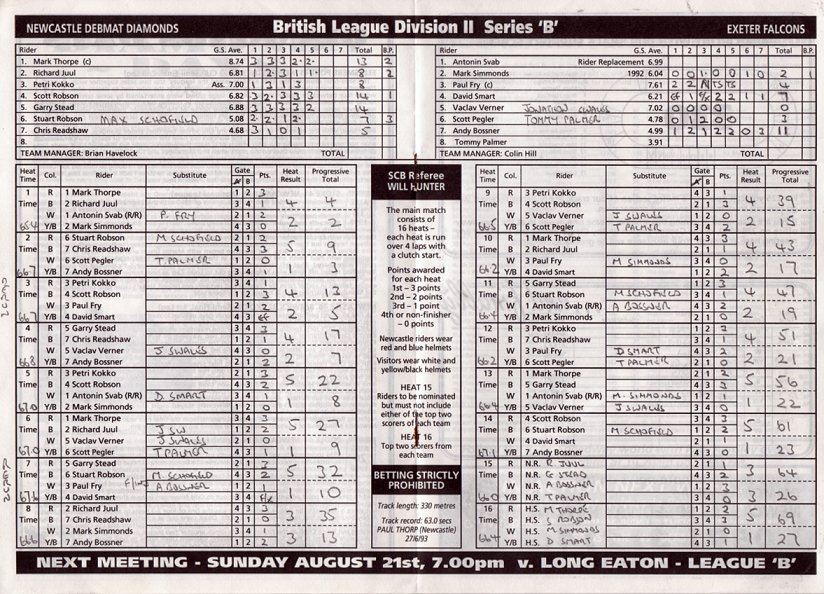 ---
Troubled Newcastle Speedway Was
Closed Yet Again In
1995 & 1996
---
1997

Premier League
In 1997 local men George English jnr and Dave Rowland under the name Newspeed Ltd., rescued the sport at Brough Park and entered a team in the newly formed Premier League (the second division by another name). The history of Newcastle Speedway is littered with closures and reopenings. This re-opening was the ninth time since the beginning in 1929 no less!

George jnr, son of George English snr, now deceased, (who did quite a few things, very well over the years, he was chairman of the clubs most successful supporters club for one!) George jnr also had the support of his mother Joan English. It is common knowledge that Joan runs many things backstage for Newspeed Ltd.

George & Dave came in at the right time to stop the rot as they were both committed Diamonds fans unlike the promoters before them and as it proved, they were prepared to take the rough with the smooth and keep the Diamonds going. Unlike uncomitted businessmen from Yorkshire or elsewhere.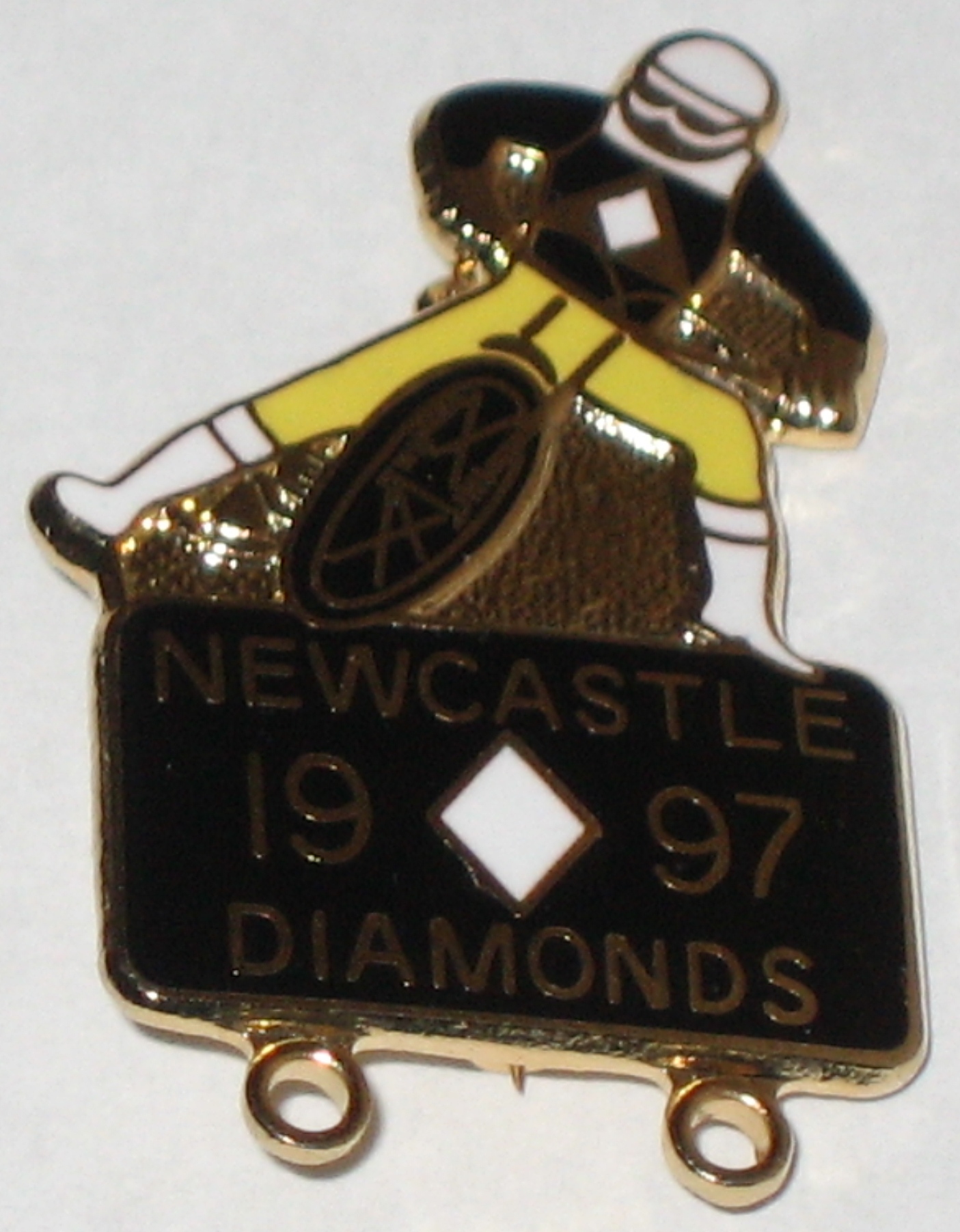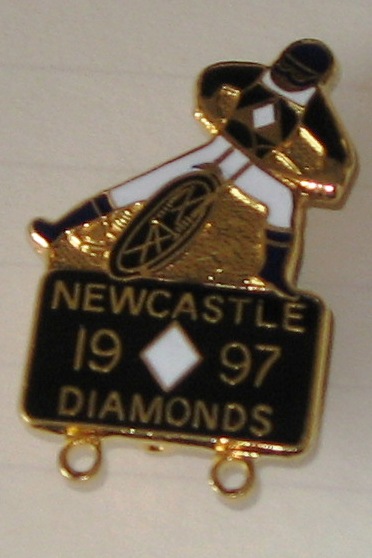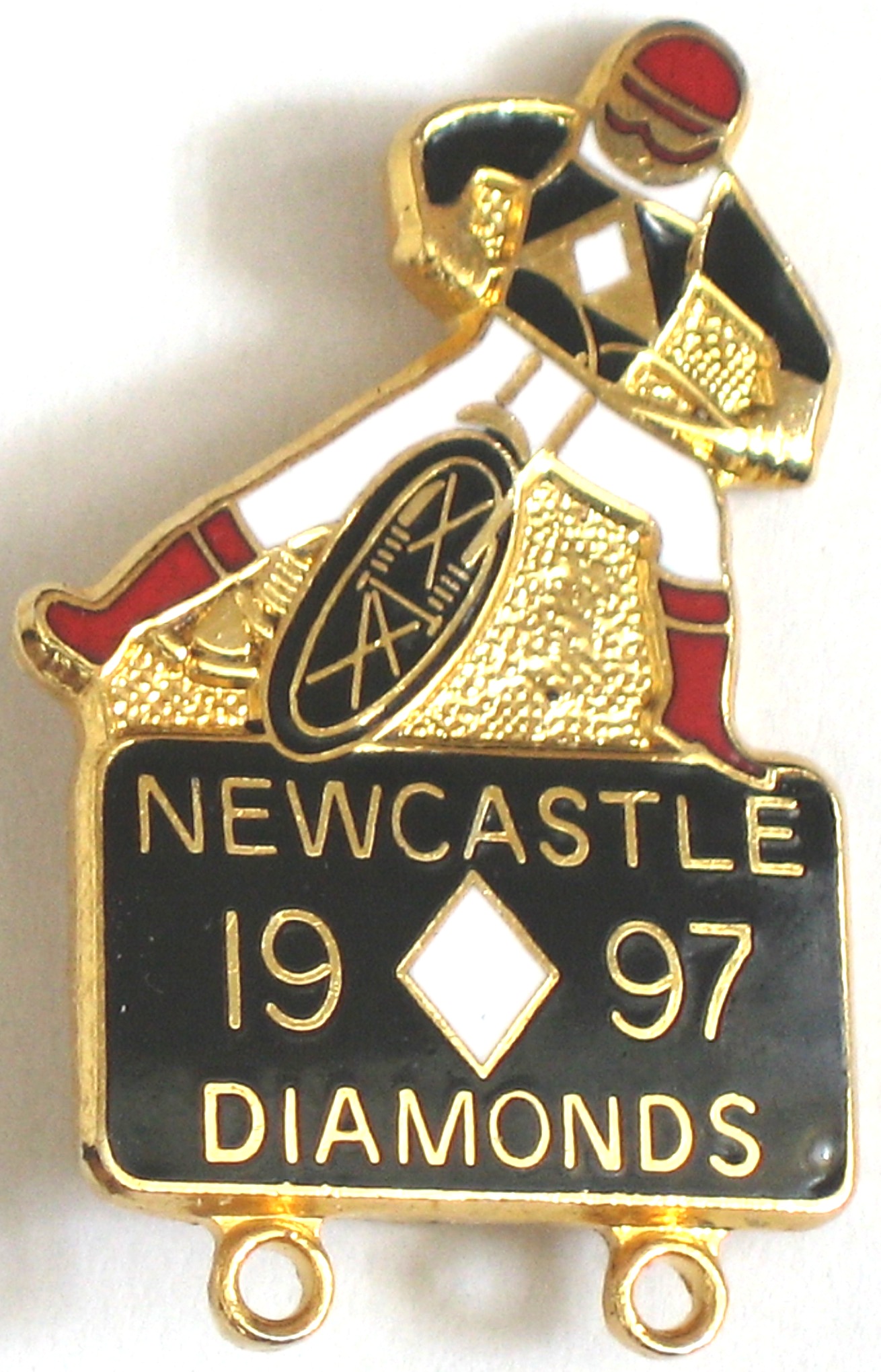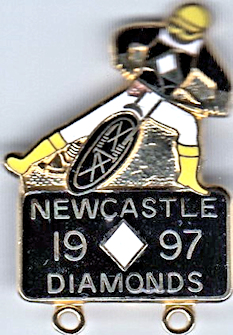 Badges from Richard Nicholson and Wattie Dunlop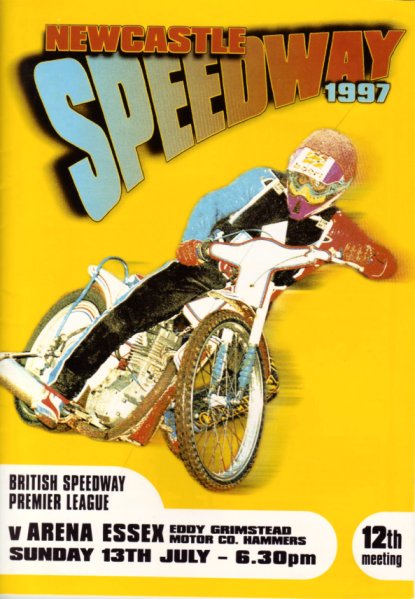 ---
1998

Premier League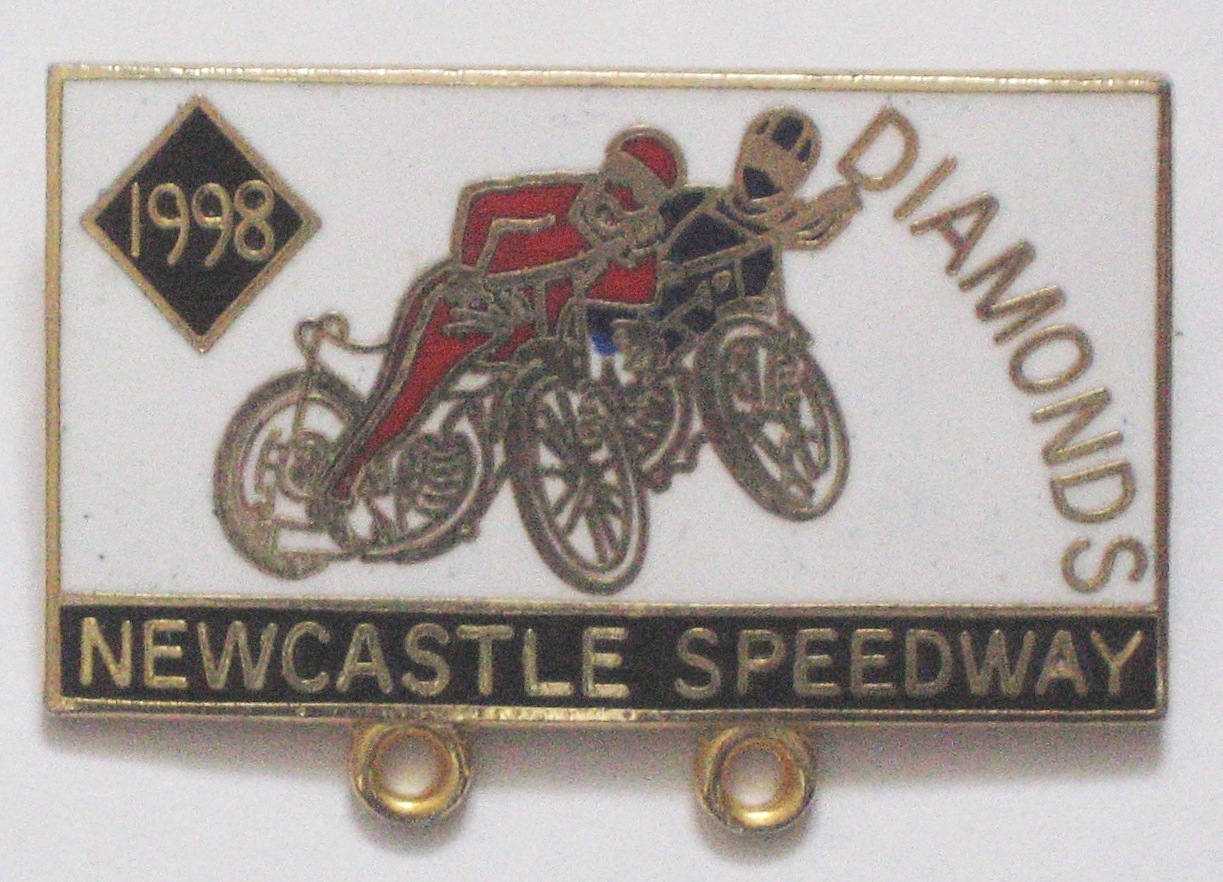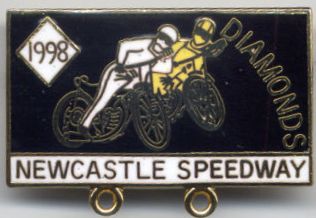 Badges from Richard Nicholson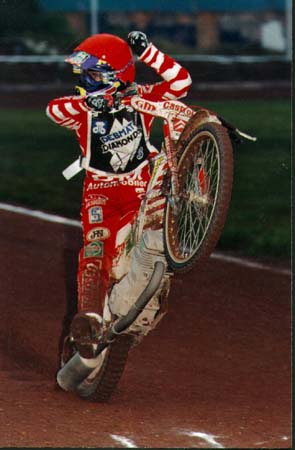 Newcastle's star man in 1998. Denmark's Nicki Pedersen. Young Nicki impressed us as a future world champ. He went on to be champion of the world 3 times under the grand prix system. Nicki races hard and sometimes causes incidents on and off track. Many fans boo him, but not at Newcastle, where we remember him fondly from 1998.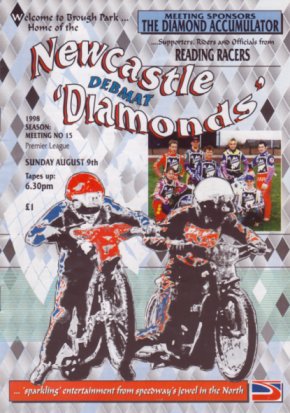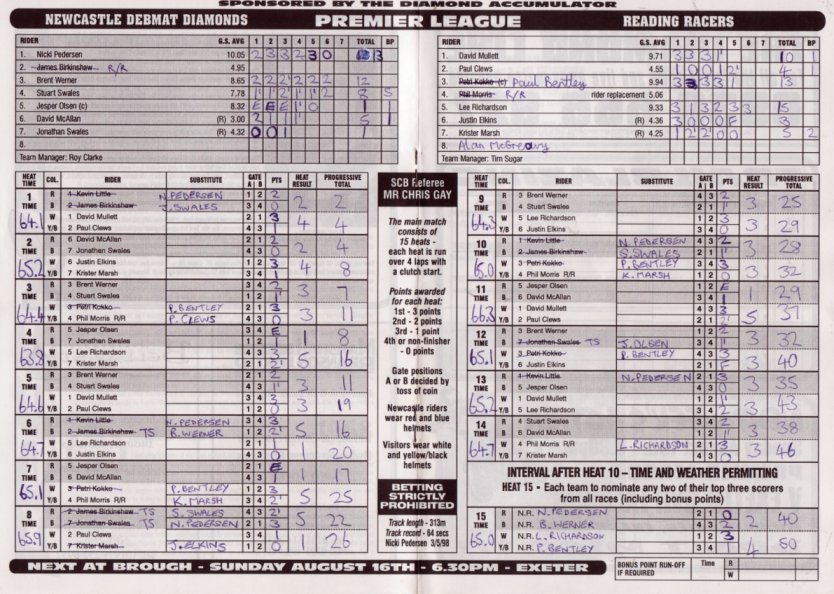 I remember this match, we were beaten due to Reading bringing in Newcastle born and bred resident Paul Bentley as a guest. Lee Richardson now deceased, top scored for the Racers. Nicki's 13 points and Brent Werner's 12 was not backed up well and so we lost the match.
---
1999

Premier League
Newcastle's

70th

Birthday Badge & Programme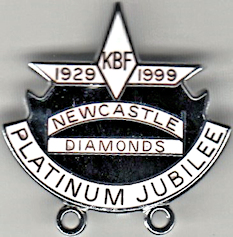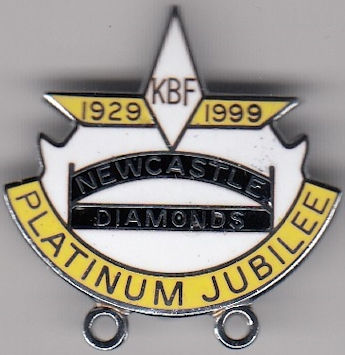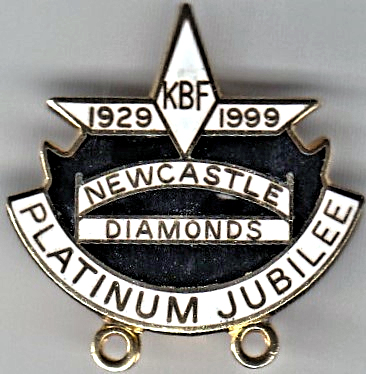 Courtesy of Wattie Dunlop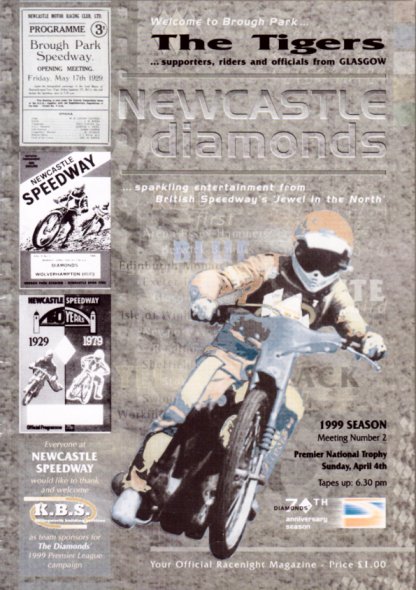 1999 was Newcastle, Brough Park's 70th birthday, hence the old programme covers inserts on the above 1999 cover.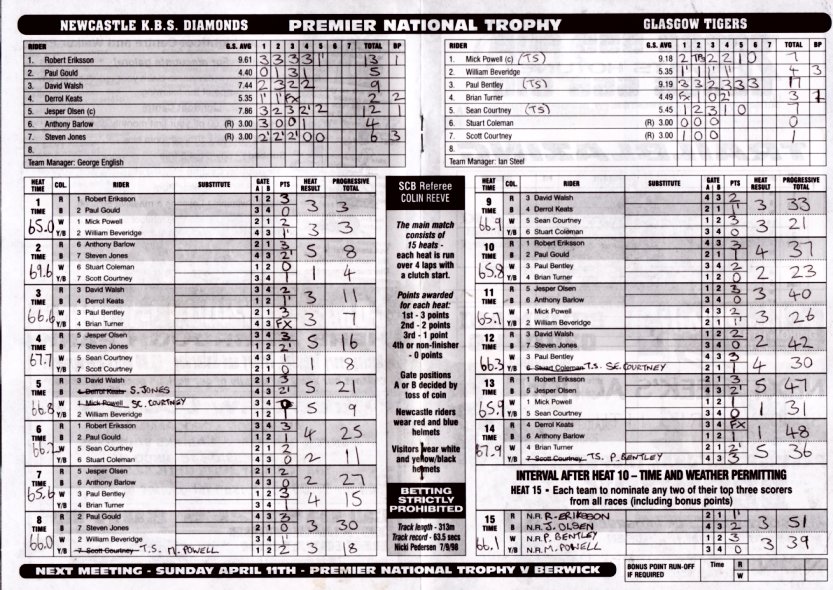 Swede Robert Eriksson and Dane Jesper Olsen led the Newcastle scorers to victory over Glasgow who had Newcastle born Paul Bentley on 17 points.
---
2000

Premier League
Newspeed Ltd welcomed local builder Darryl Illingworth to join George English and Dave Rowland as co-promoter.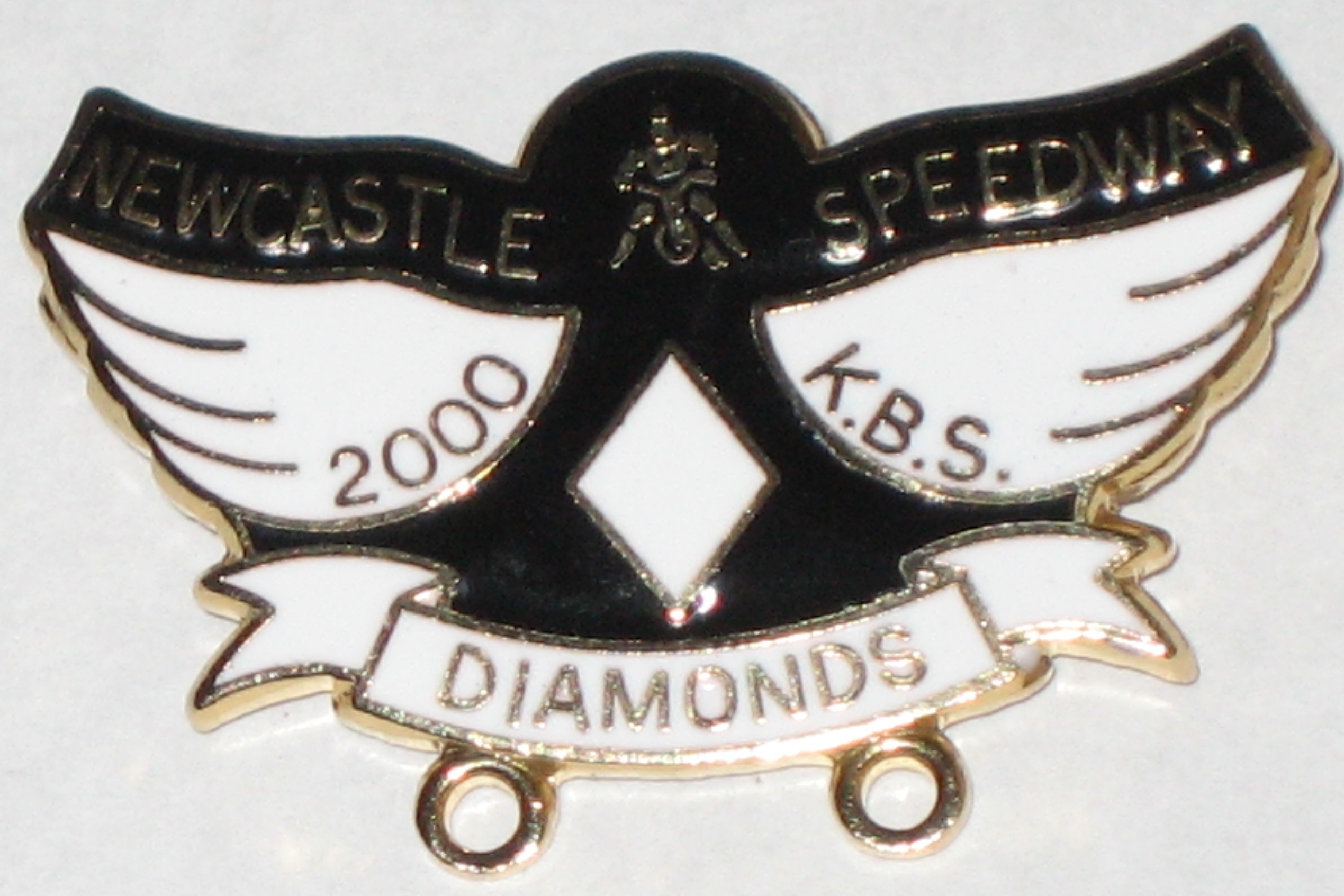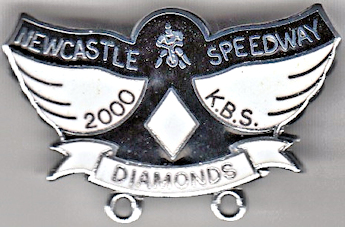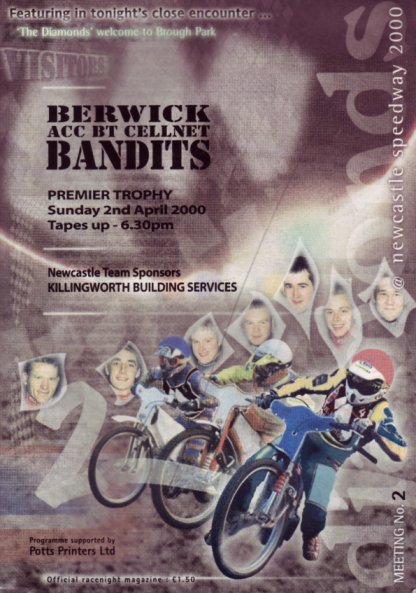 ---
2001

Premier League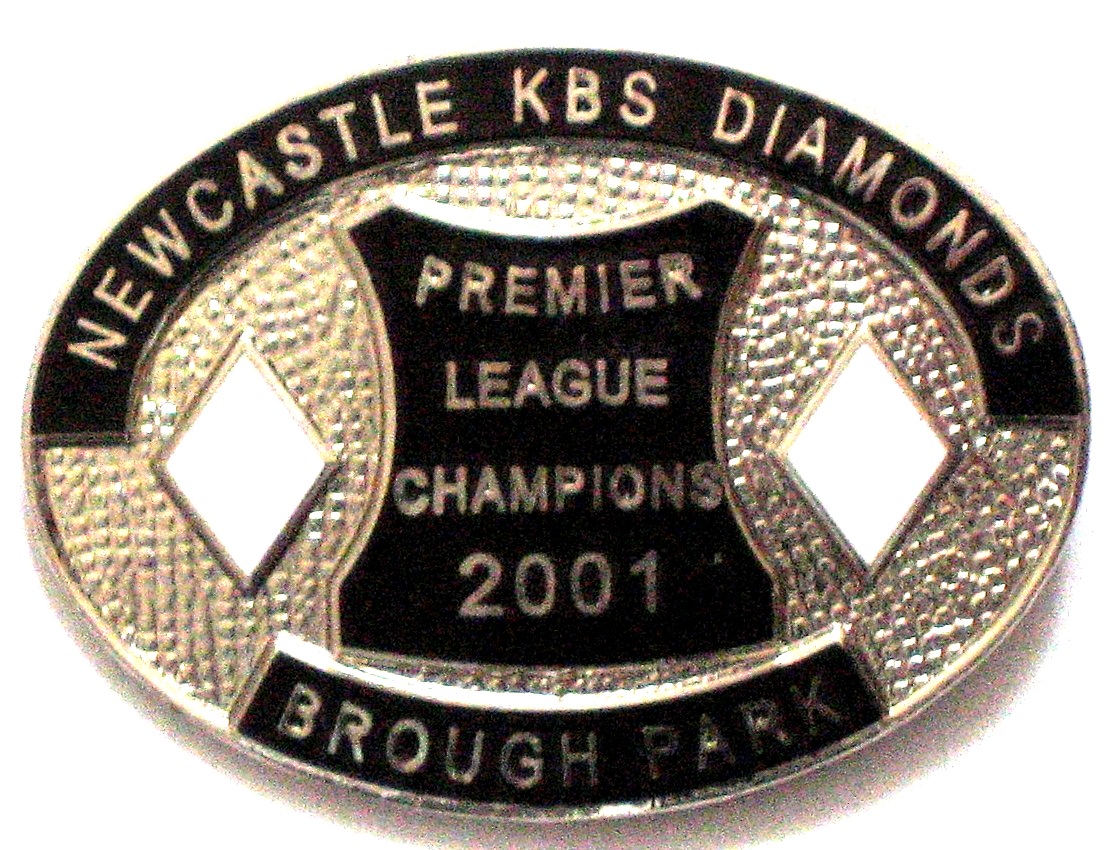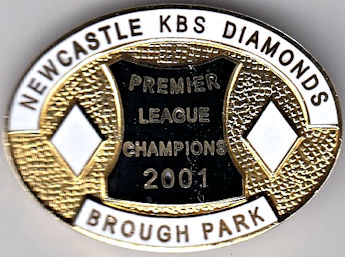 Badges from Richard Nicholson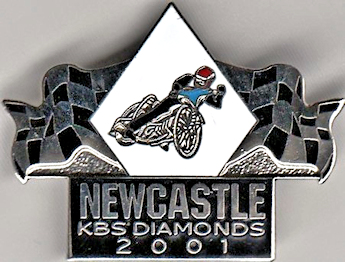 Badge from Wattie Dunlop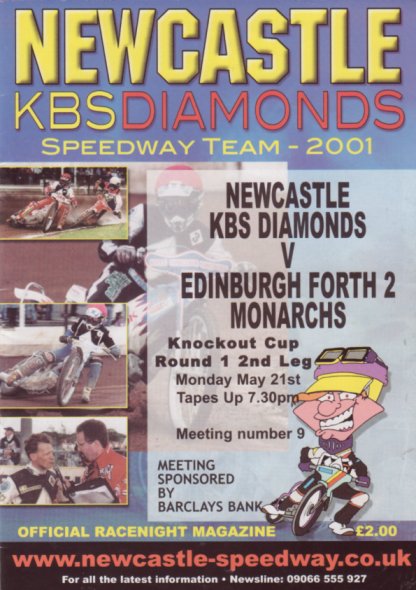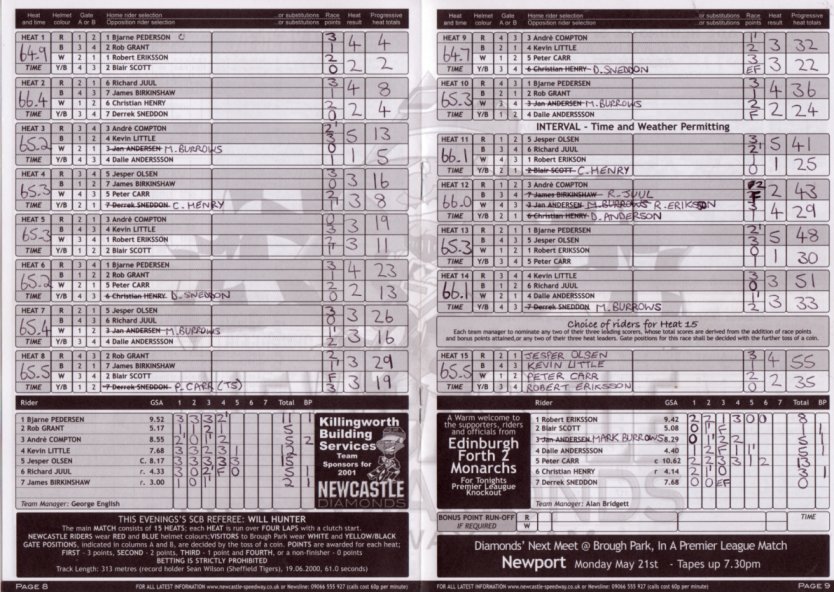 Diamonds v Monarchs matches are always attractive fixtures. This encounter shows an easy win for Newcastle led by Jesper Olsen and backed up by Bjarne Pedersen and Kevin Little. Newcastle ended their 2001 campaign as league champions thanks largely to Bjarne Pedersens points.
---
2002

Premier League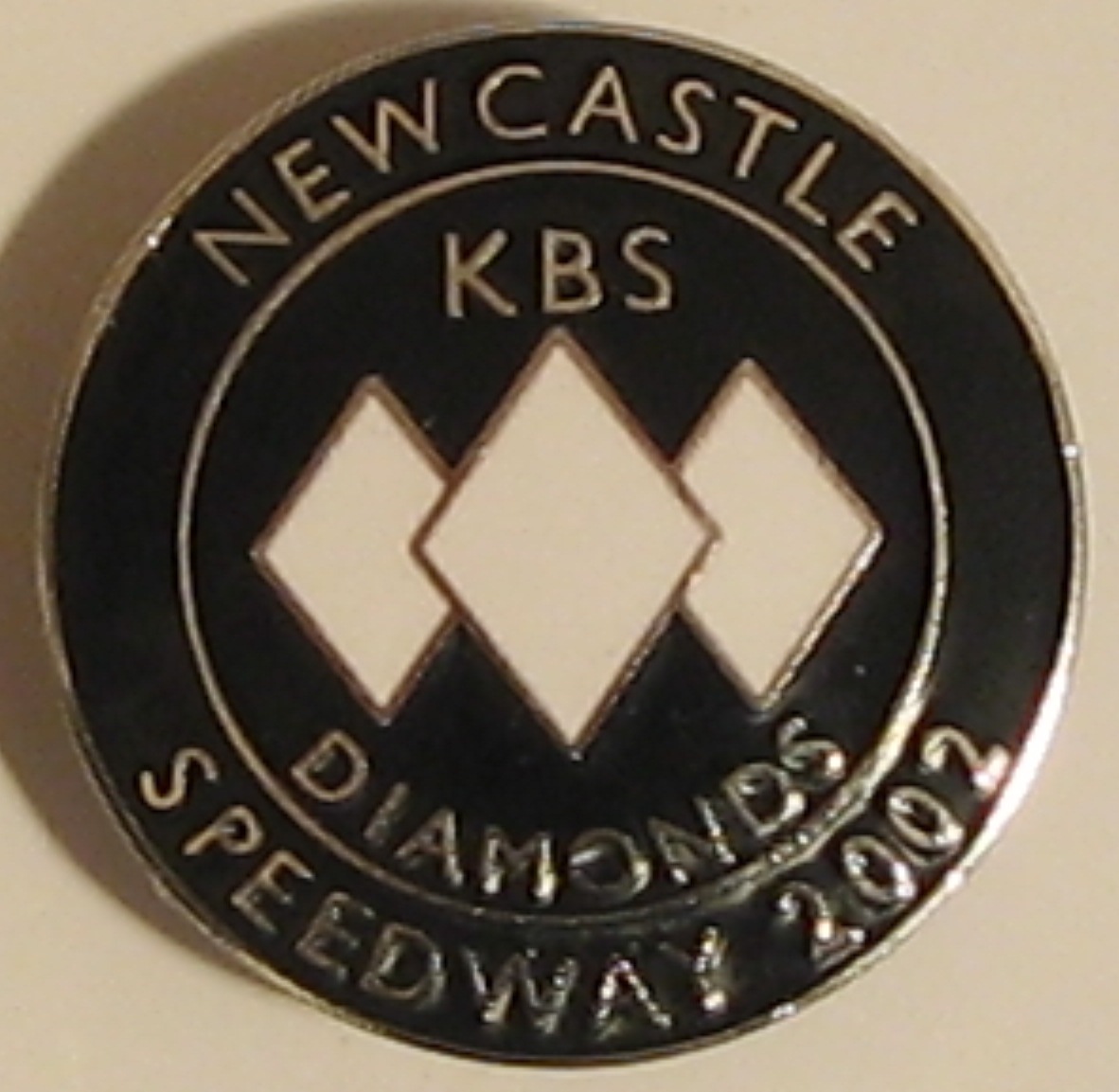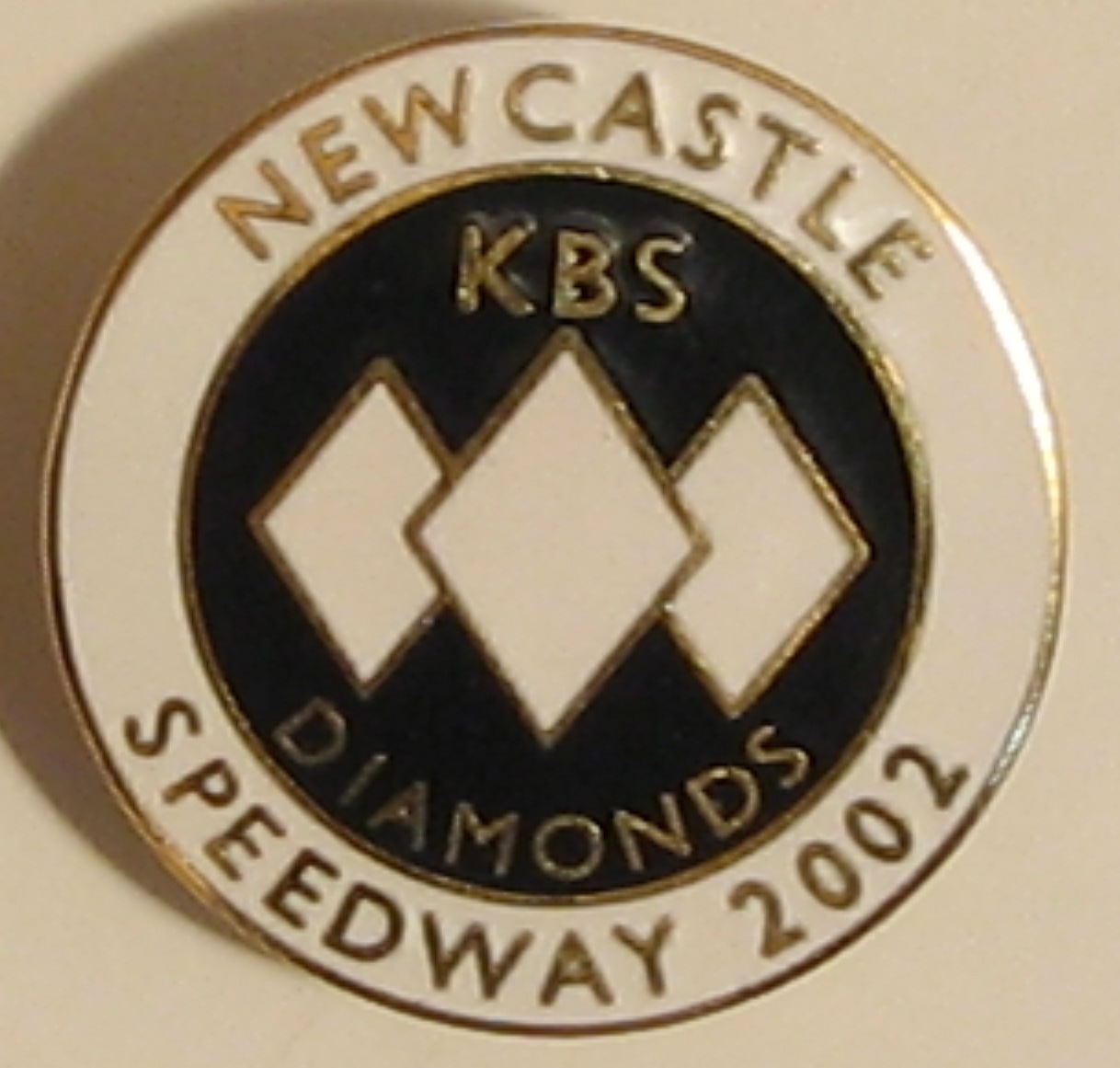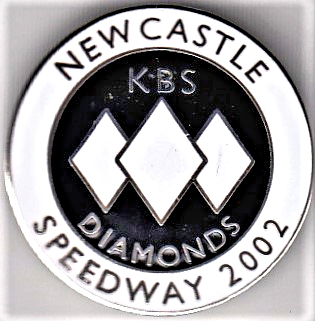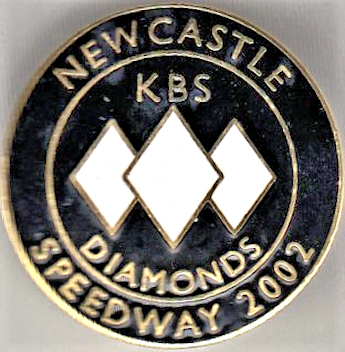 Badges from Richard Nicholson and Wattie Dunlop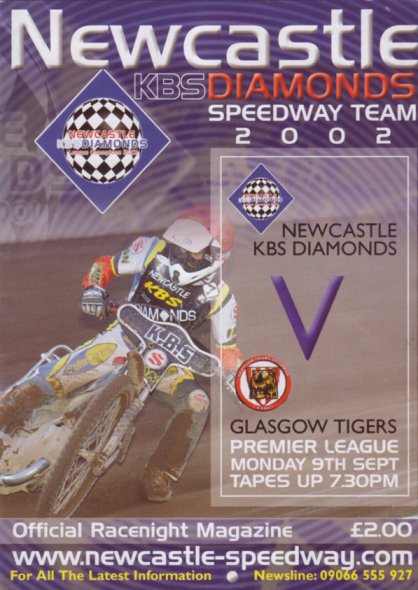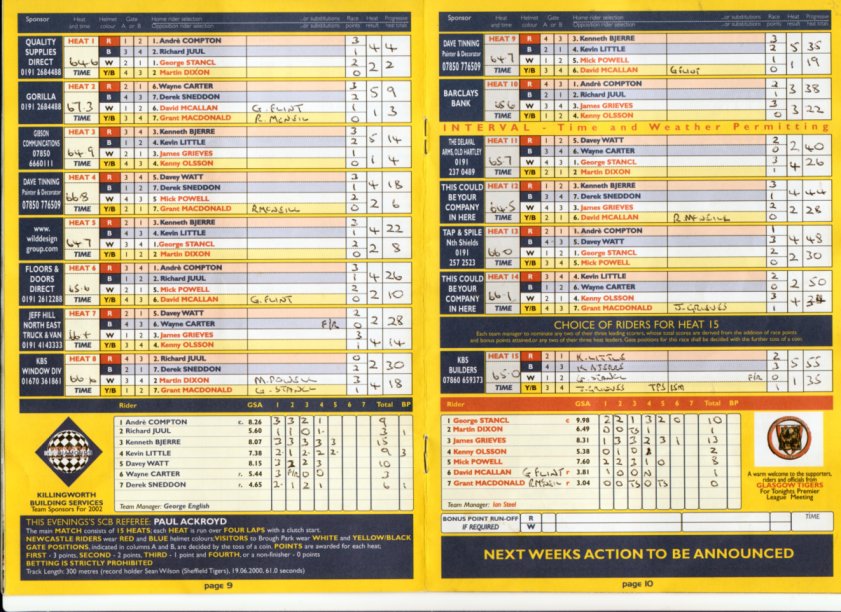 2002 saw the 3rd Great Dane Kenneth Bjerre hitting a maximum 15 points as Newcastle again triumphed over Glasgow.
---
2003

Premier League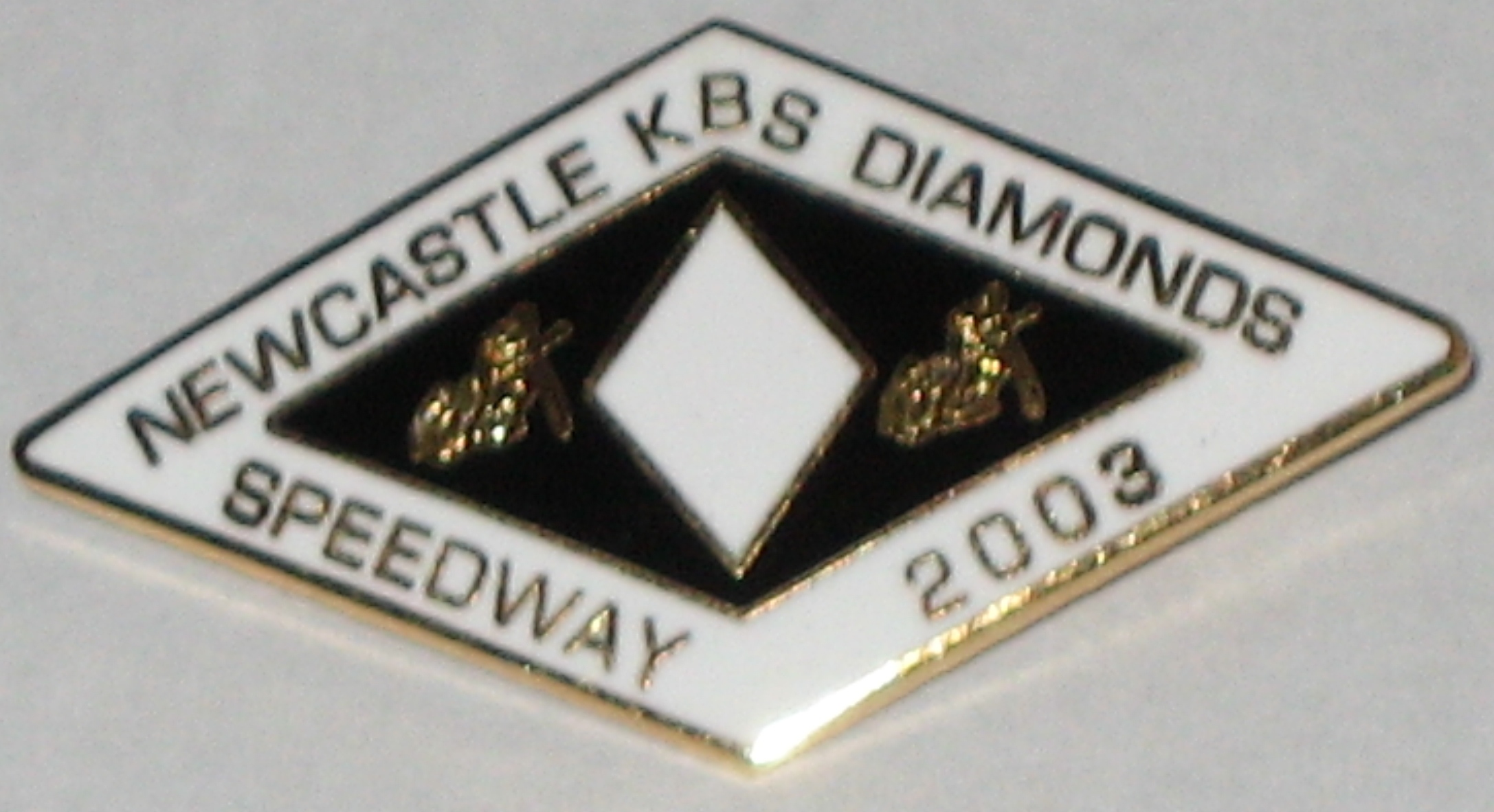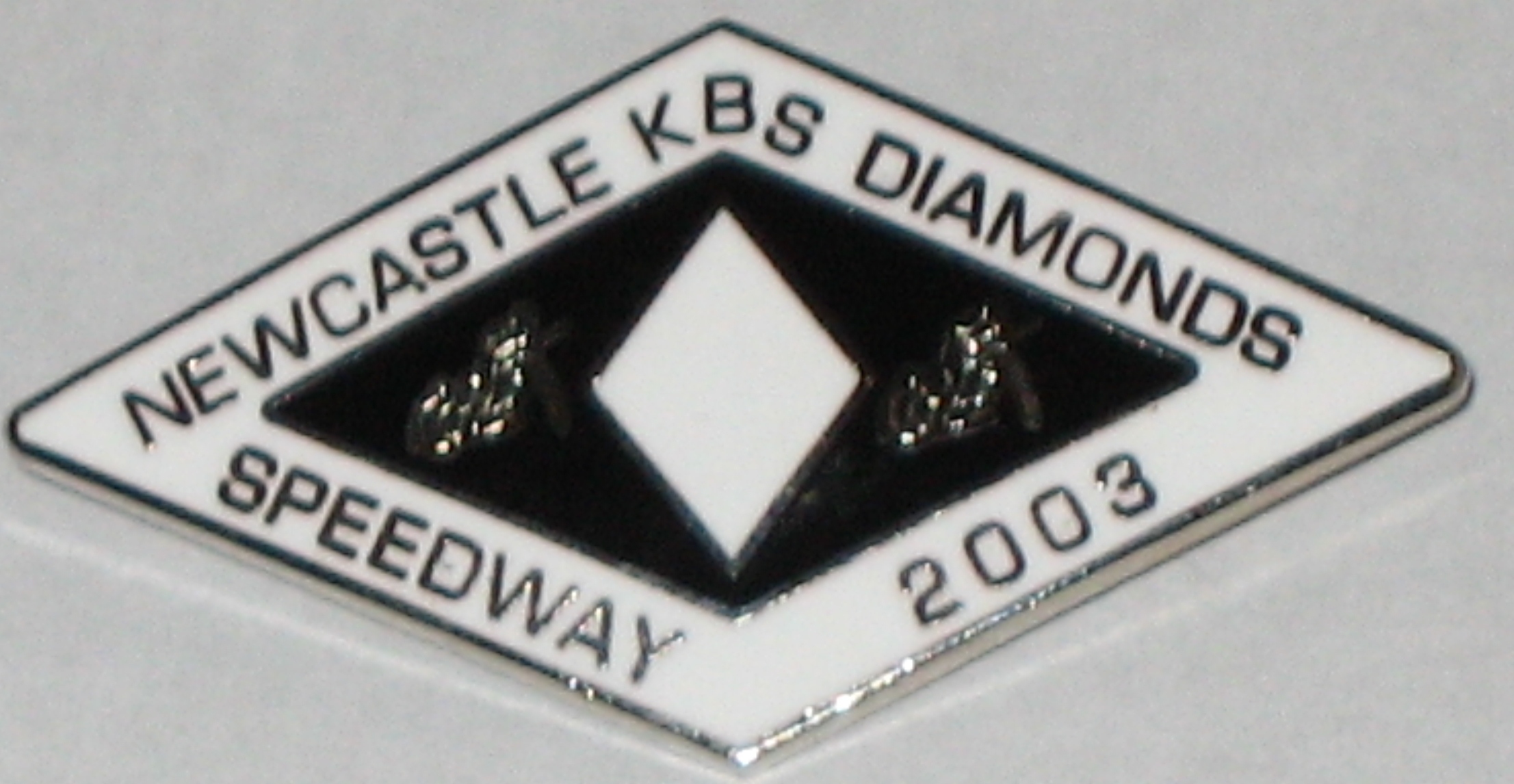 Badges from Richard Nicholson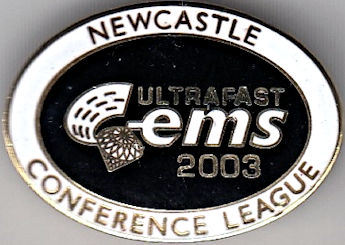 Badge from Wattie Dunlop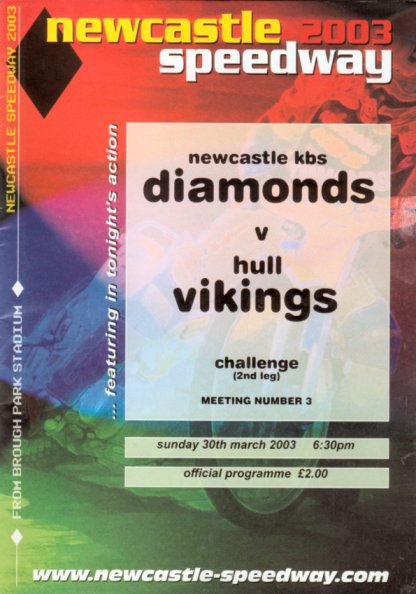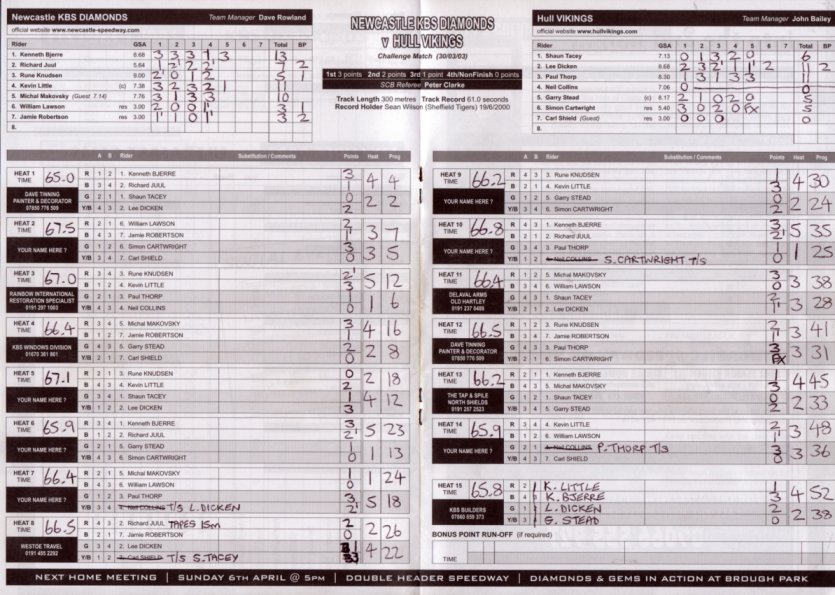 This programme shows 2 Newcastle Gems William Lawson and Jamie Robertson in our reserve berths. Dave Rowland a champion of junior riders was involved with our Junior side Newcastle Gems but Dave decided to step down as a co-promoter at the end of 2003.
---
2004

Premier League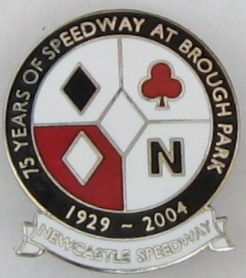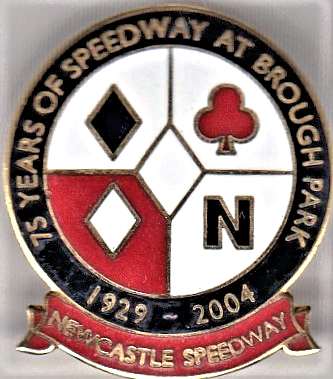 Newcastle's 75th birthday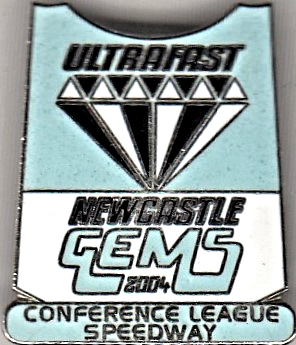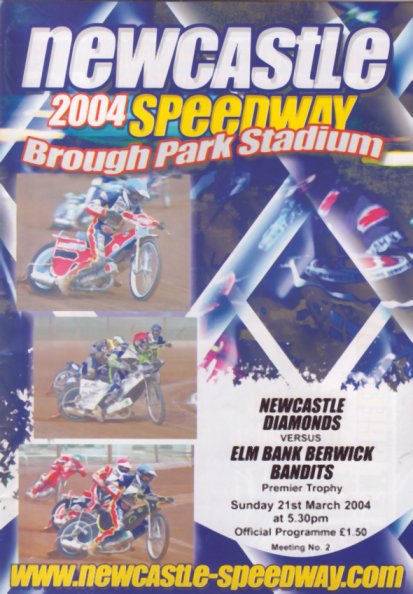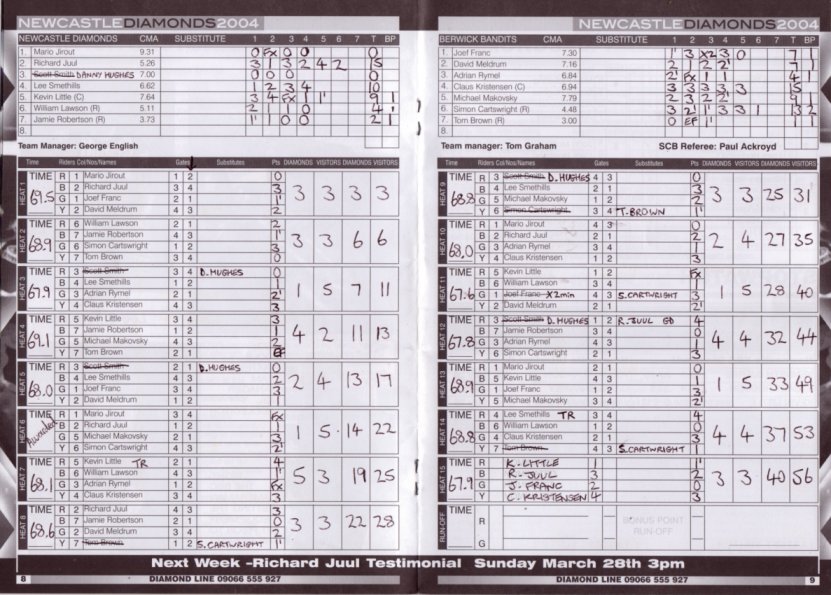 The Bandits came raiding and carried off a 16 point win! Richard Juul racked up a career best (maybe?) score of 15 points but we were not strong enough to win the match.
---
2005

Premier League
Barry Wallace came in as co-promoter with George English and Darryl Illingworth. Fans:- John Skinner (me), Mal Ridley, Keith Dyer and a few others joined up under the name "The Diamond Geezers" to assist the struggling promotion team with matters that the promoters did not have the time to devote. The Diamond Geezers showed the promoters that they weren't alone in their struggle to keep the team going and we did survive what in 2004 was looking like another Newcastle Speedway close down! I (John Skinner) began this website in the hope of attracting new supporters and sponsors. I have met with dozens of people either new to the sport or fans from way back who decided to come back to watch the Diamonds and it is still happening now 2014.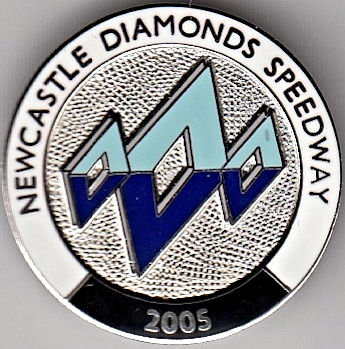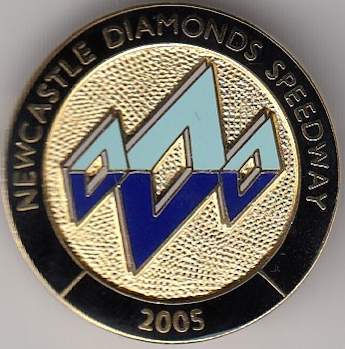 Badge Scans Courtesy of Wattie Dunlop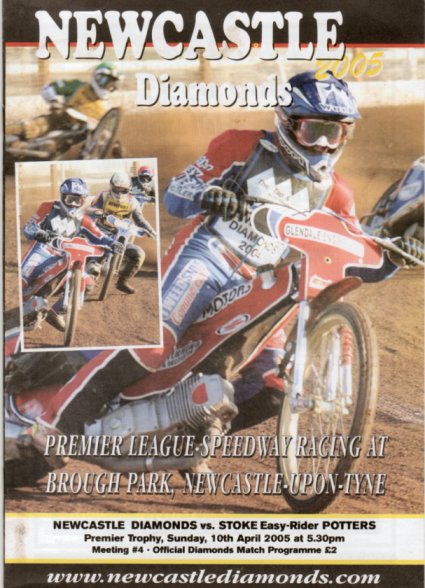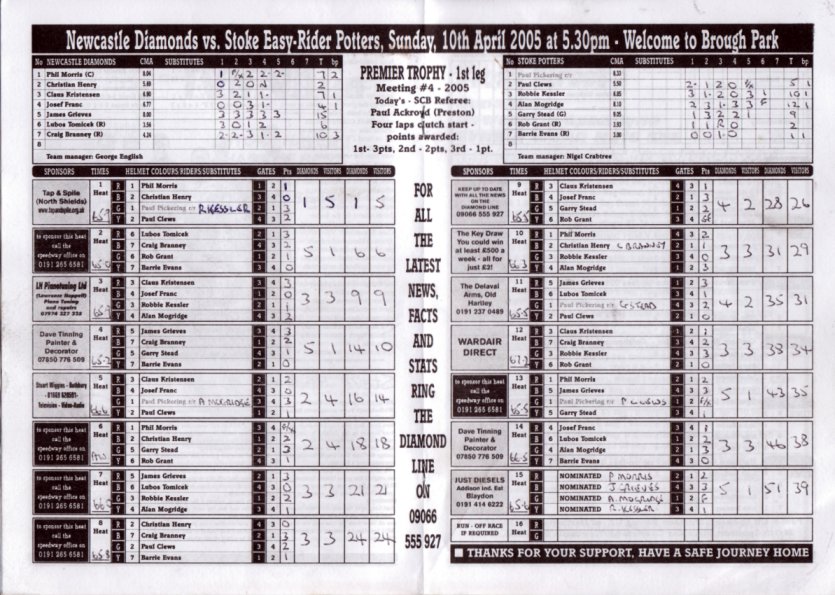 This score chart shows reserve Craig Branney stepping up from our Junior Team "The Gems" scoring a paid 13 points. Craig promised well but didn't stay in the sport.
---
2006

Premier League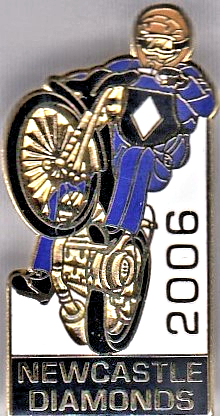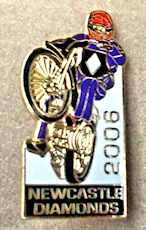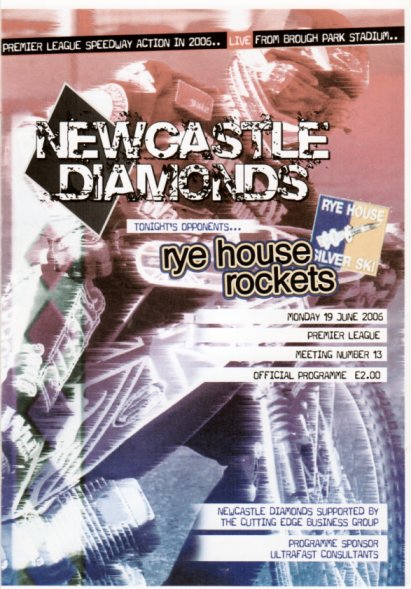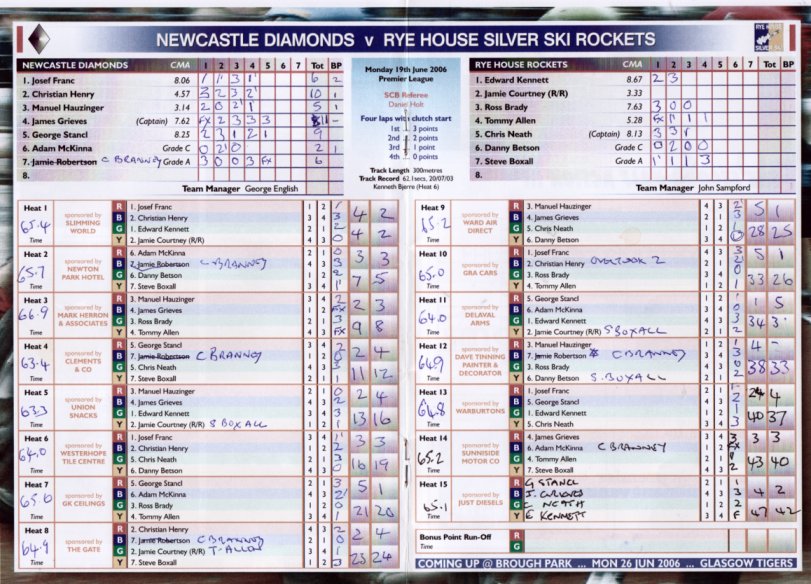 ---
2007

Premier League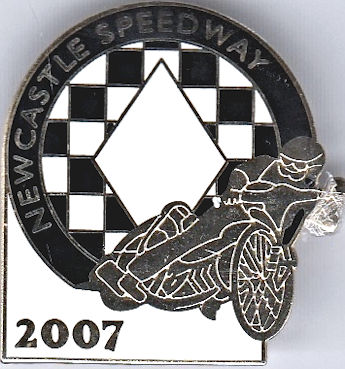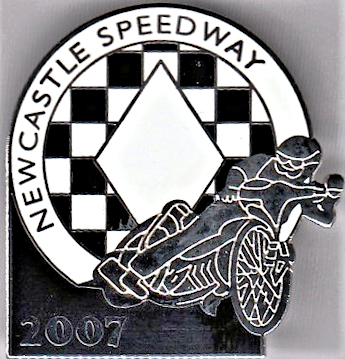 Courtesy of Wattie Dunlop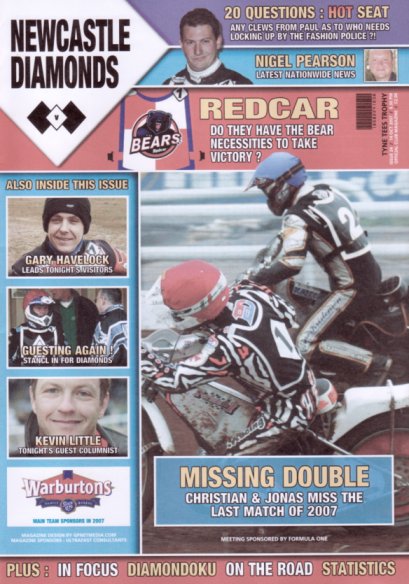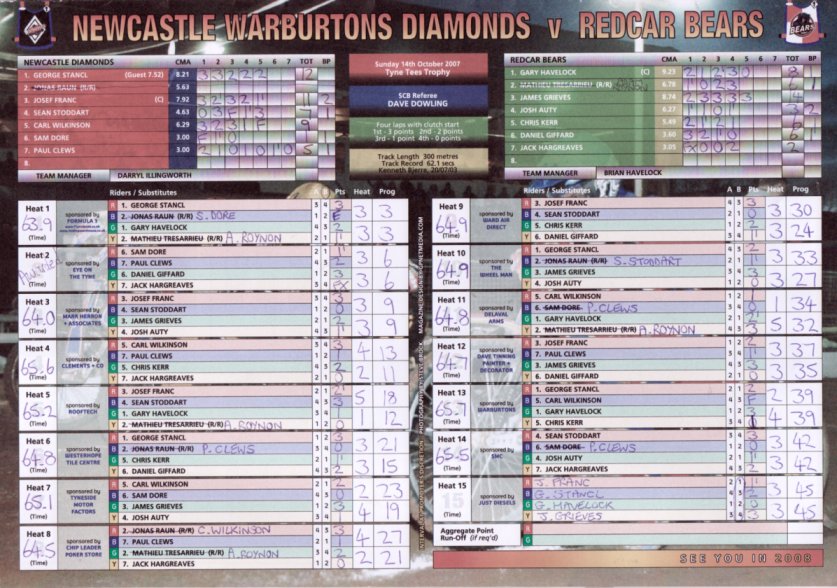 ---
2008

Premier League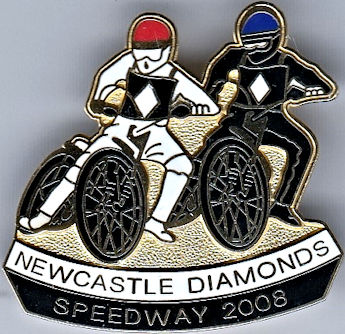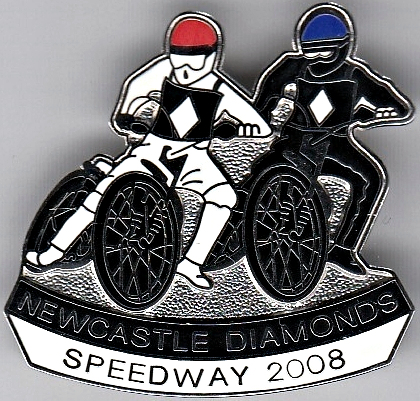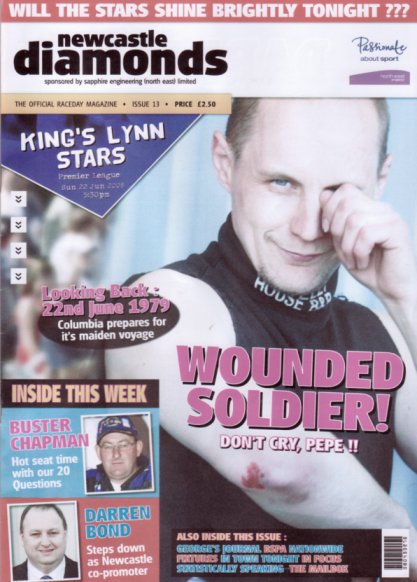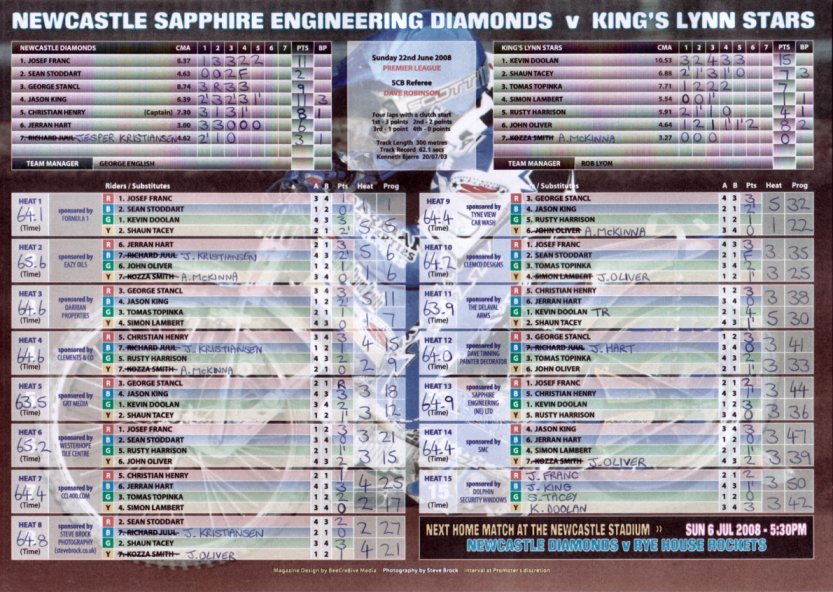 Jason King was involved in this match. Jason's brother Danny King joined the Diamonds in 2014 as our number 1 rider.
---
2009

Premier League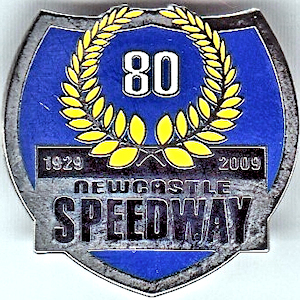 Badge Courtesy of Wattie Dunlop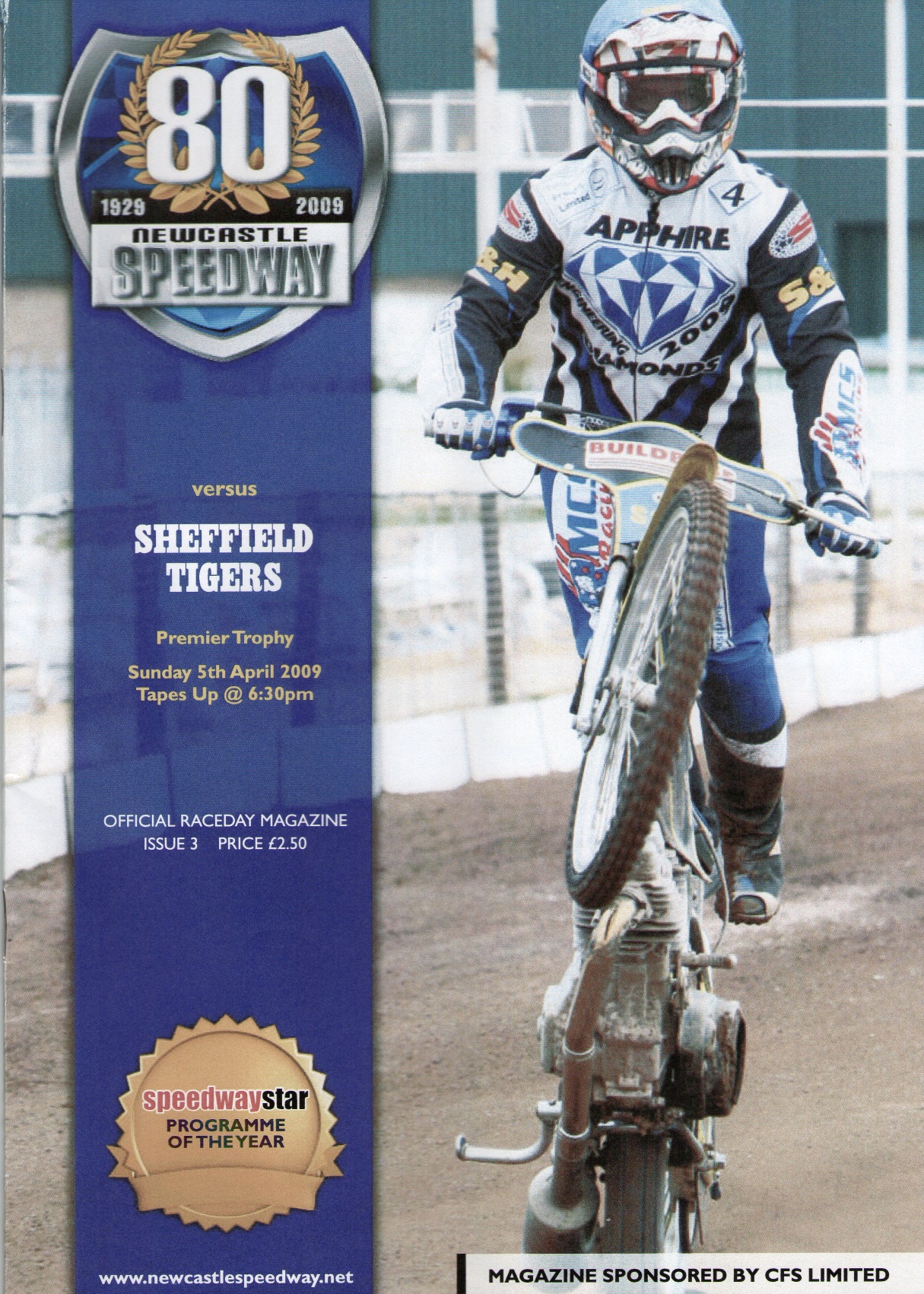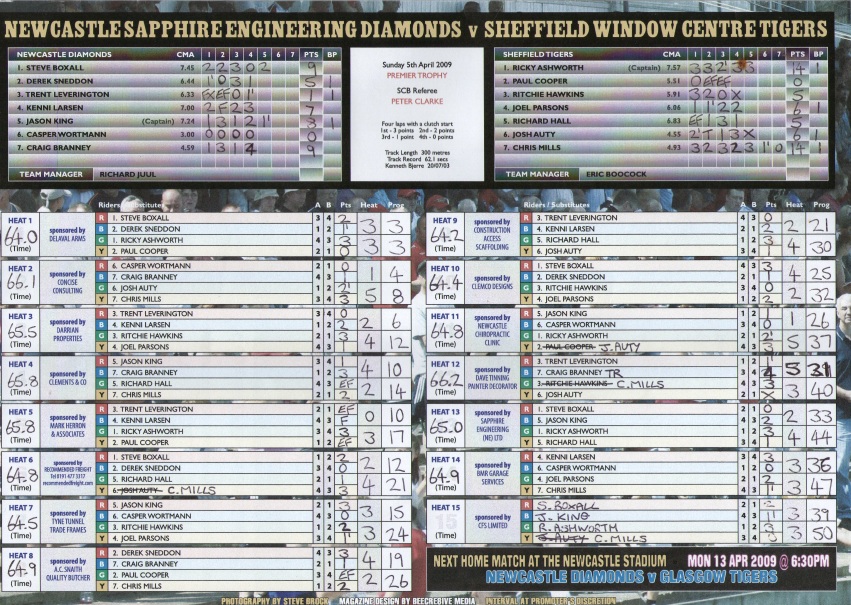 2008/2009 saw Dane Kenni Larsen begin his campaign in the UK. Kenni went on to capture the track record 61 seconds in 2010, Kenni also won the PLRC title for 2010
---
2010

Premier League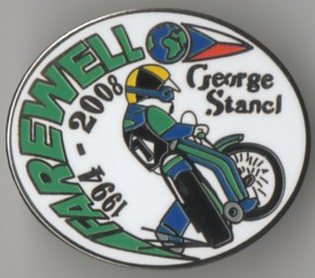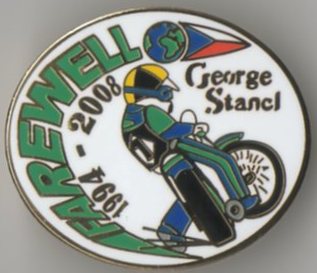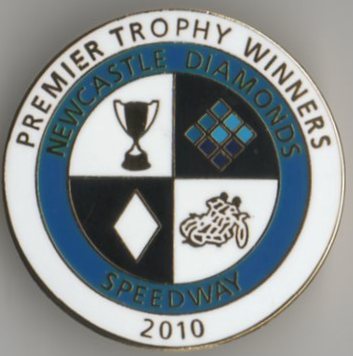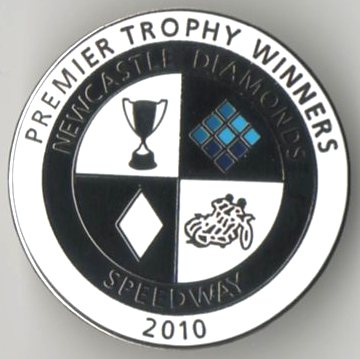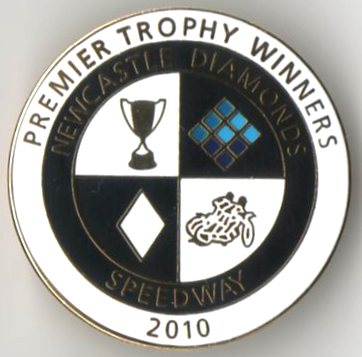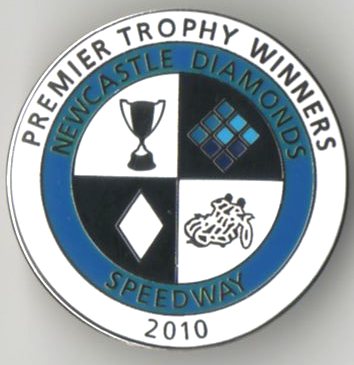 Richard Nicolson supplied these 2010 badges, he says each badge has a subtle difference. Nah! I cannot spot the differences Richard apart from the bottom right having a blue circle. Ex No1 Newcastle rider George Stancl has been granted a testimonial at Newcastle Stadium hence the two badges at head of this section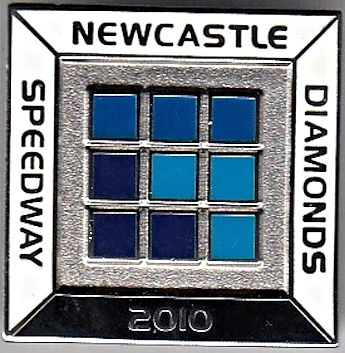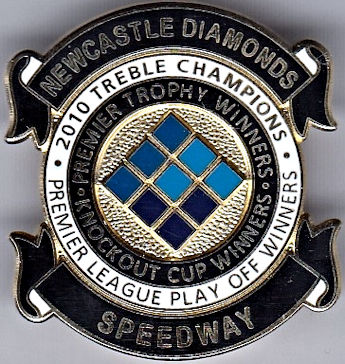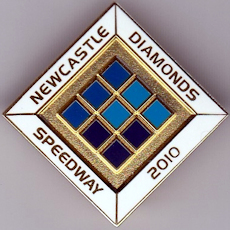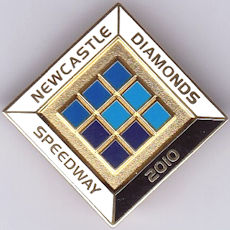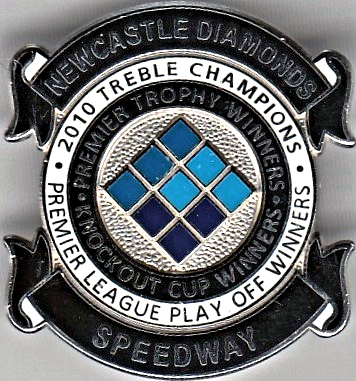 6x Badge Scans Courtesy of Wattie Dunlop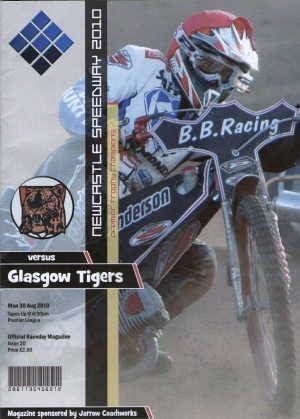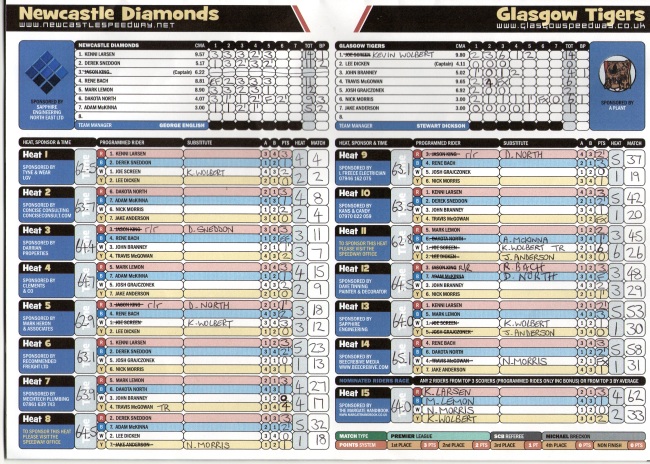 A big home win for Newcastle against Glasgow.
---
2011

Premier League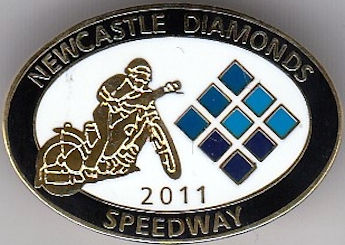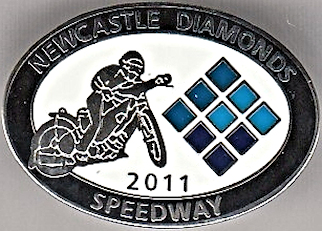 Courtesy of Wattie Dunlop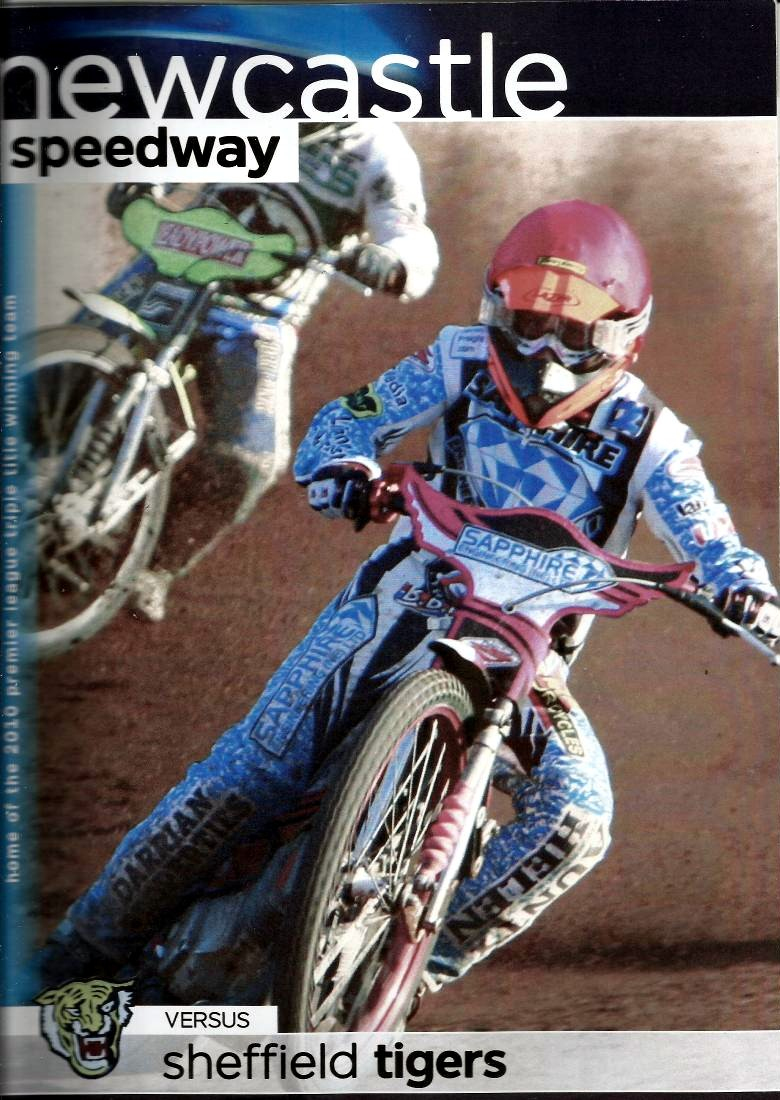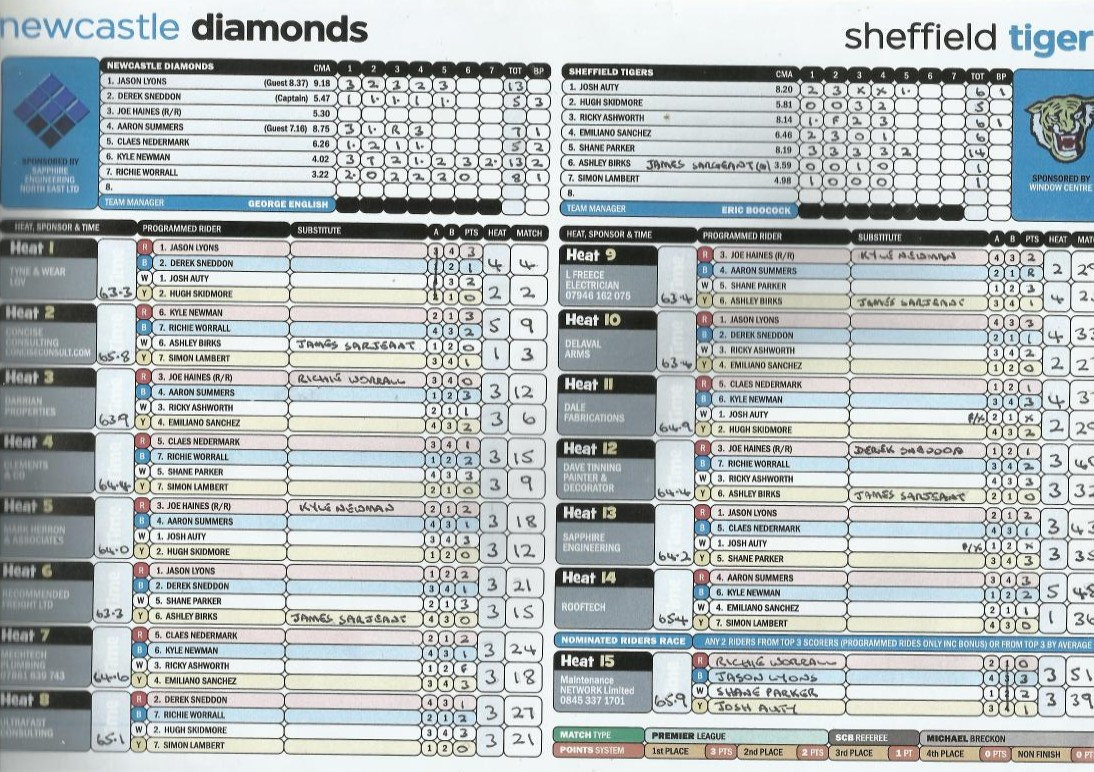 2011 Programme Courtesy of Keith Dyer
Riding at number 7 for the diamonds was Richie Worrall. Richie a little later and much improved moved on and his twin Steve Worrall came back in a couple of seasons later. The twins were and still are a force to be reckoned with in British speedway
The weakened Diamonds had to resort to using two guests and rider replacement in their league match against Sheffield. Reserve power was the difference, with Newcastle getting paid 24 to Sheffield's 2.
---
2012

Premier League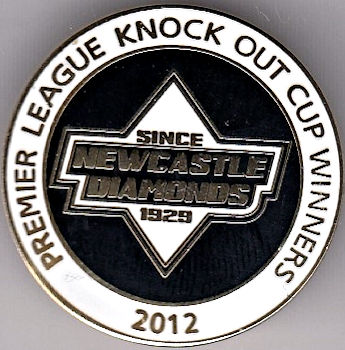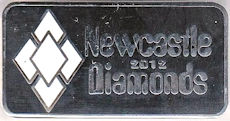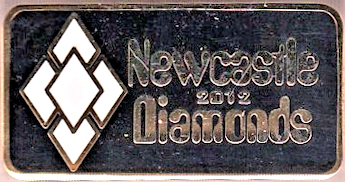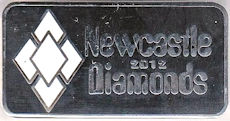 Courtesy of Wattie Dunlop
18 March 2012 v Redcar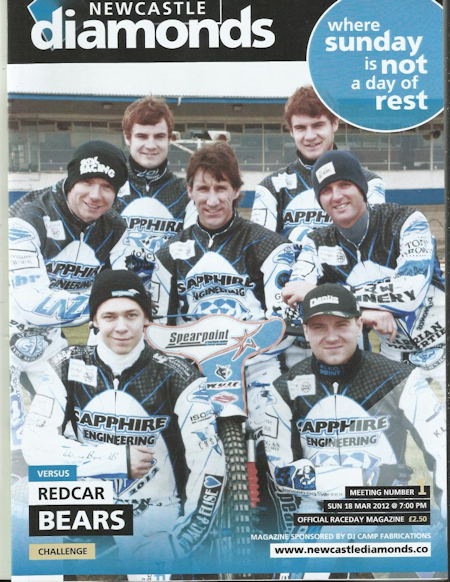 Courtesy of Keith Dyer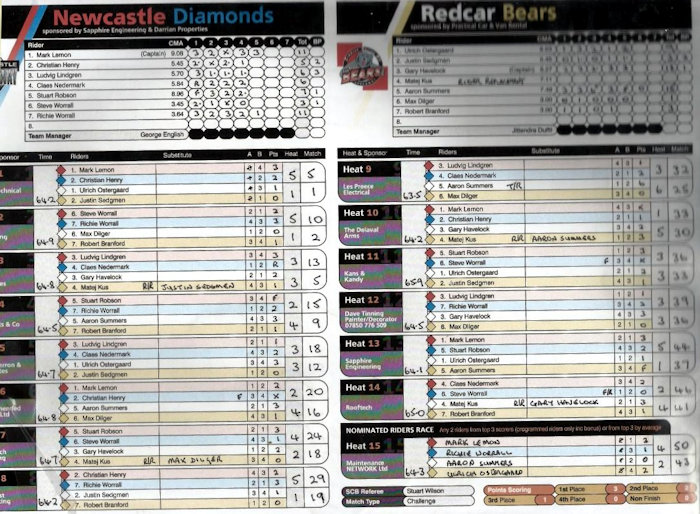 Changes from 2011 saw Derek Sneddon and Kyle Newman move on. Replacements were the returning Christian Henry, newcomer Ludvig Lindgen and Steve Worrall. Newcastle finished top of the league, but lost the title in a six team play-off.
---
2013
Premier League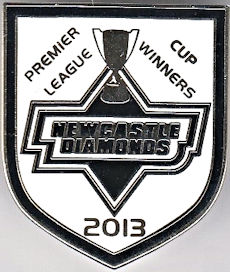 Badges Courtesy of Wattie Dunlop
29 September 2013 v Redcar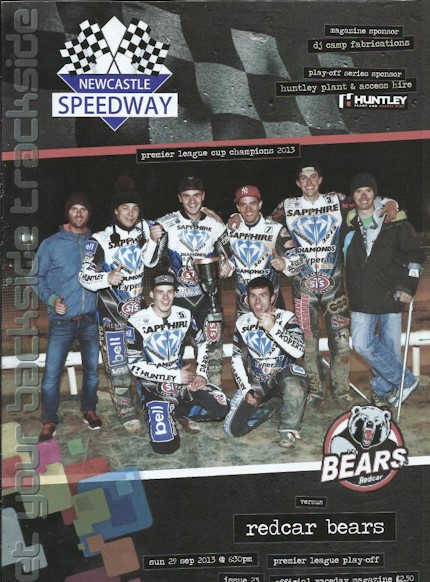 Courtesy of Keith Dyer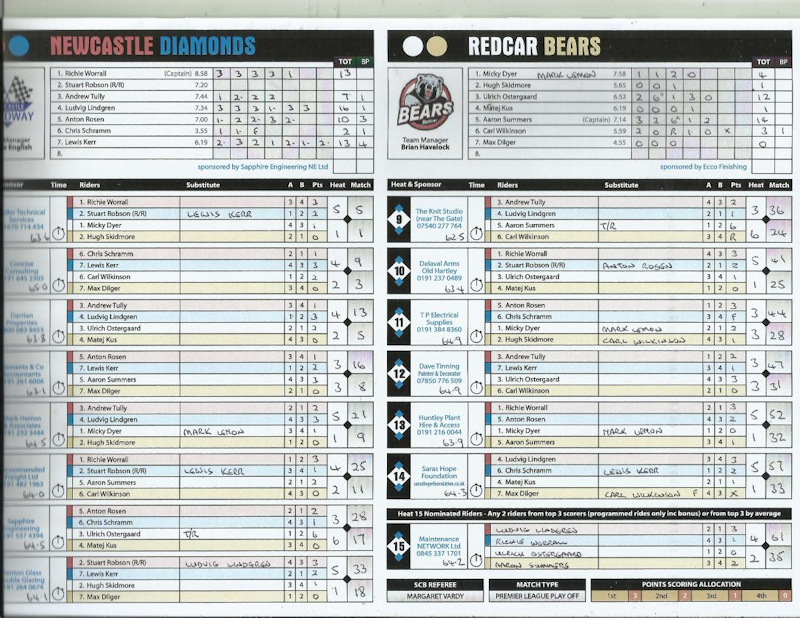 Courtesy of Keith Dyer
We show Newcastle v Redcar 2012 and 2013 programmes as it is of interest to compare both north eastern teams
---
2014
Premier League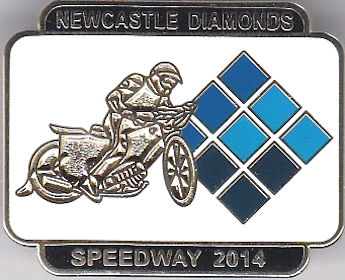 Badge Courtesy of Wattie Dunlop
Newcastle v Edinburgh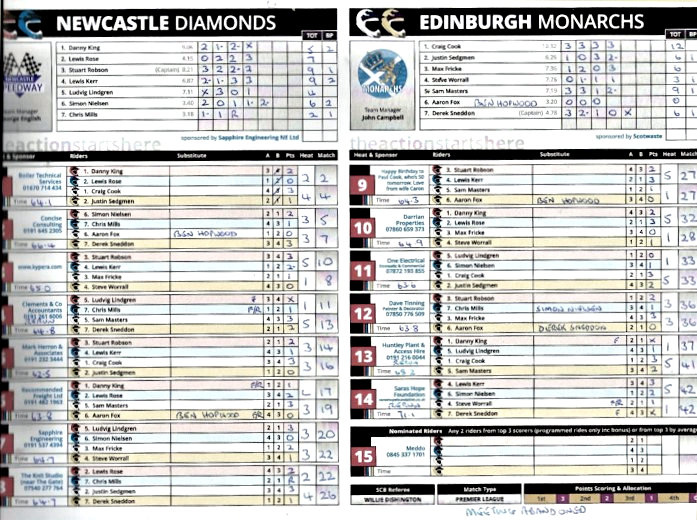 Courtesy of Keith Dyer
2014. Newcastle have only race day to prepare the track, today the water bowser broke down, leaving the track very dusty. Then the rain came and despite expected abandonment the meeting ploughed on. Finally things were brought to a close after heat 14 with the scores level.
---
2015
Premier League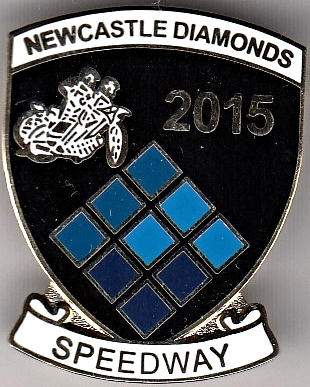 25th May 2015 v Glasgow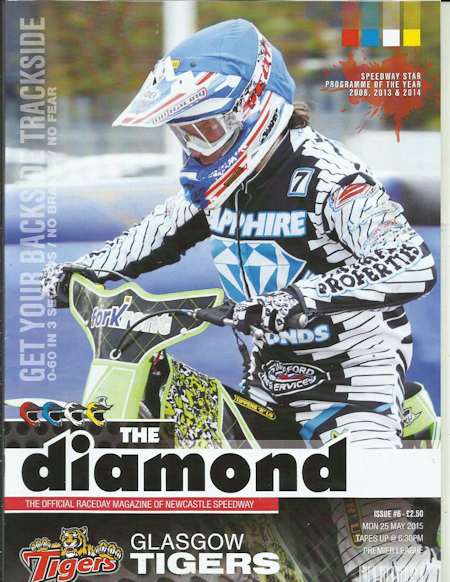 Courtesy of Keith Dyer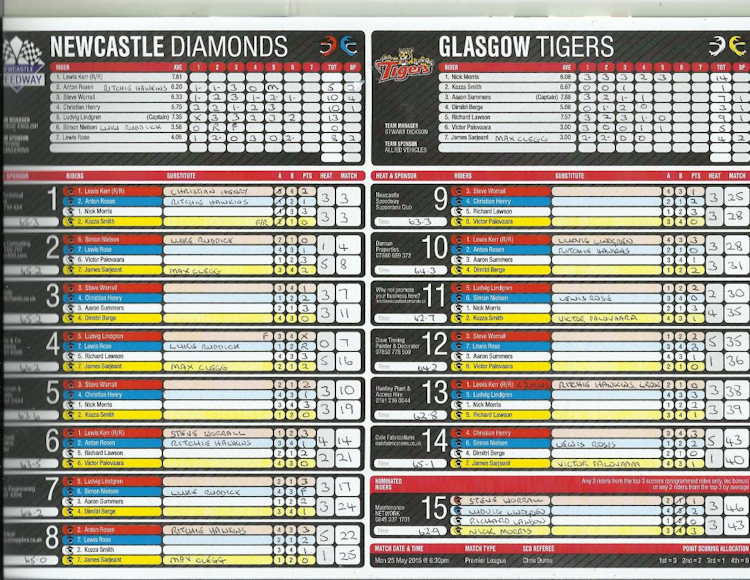 Courtesy of Keith Dyer
2015 Newcastle were weakened by injuries. but still managed to see off Glasgow in a last heat decider. Glasgow's reserves are of interest, as Palovaara and Clegg feature in future Newcastle teams.
---
2016
Premier League
No Badge: If you can scan your badge and email it to me click here
John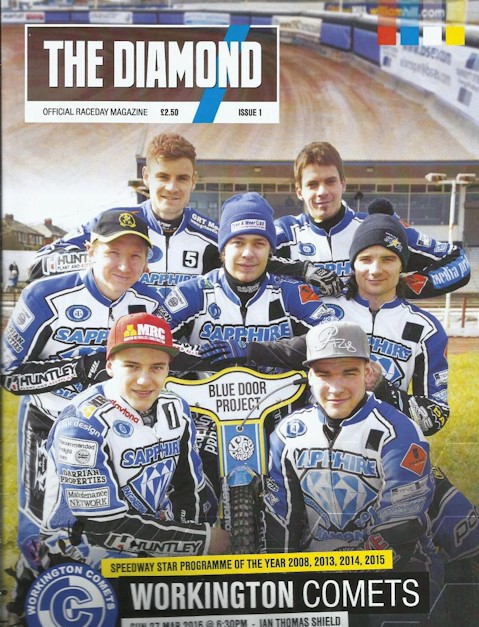 Courtesy of Keith Dyer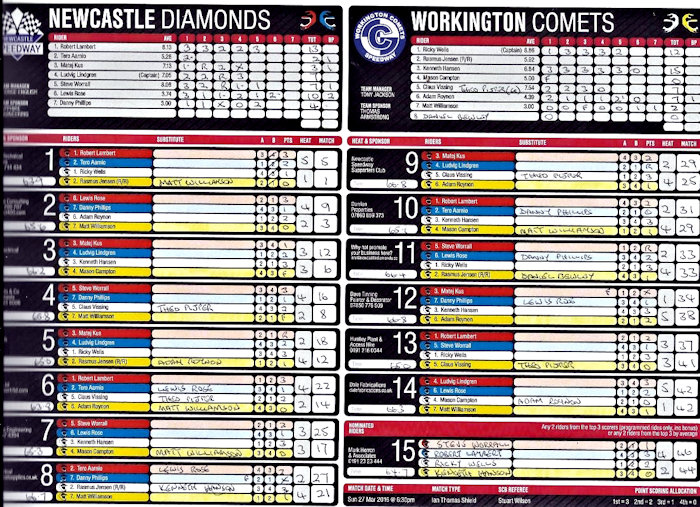 Courtesy of Keith Dyer
2016 Future World finalist and GB number 2, Robert Lambert was a surprise signing this year. Here he won the vital heat 15 with Steve Worrall third to get the win over Workington by two points.
---
2017
Premier League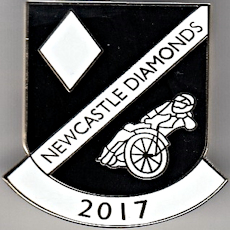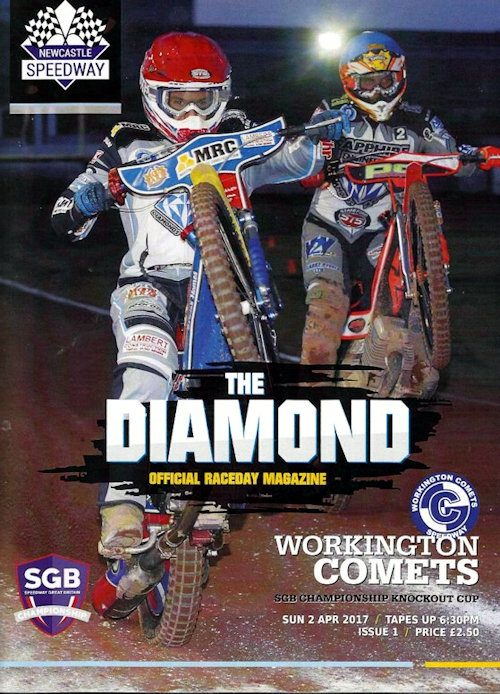 Courtesy of Keith Dyer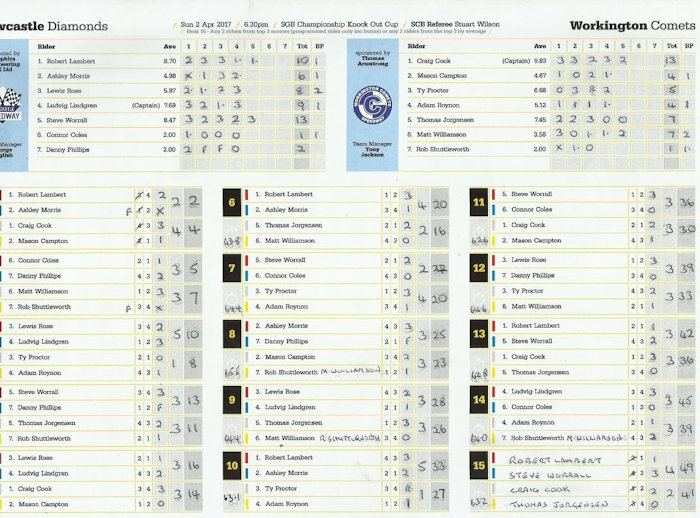 Courtesy of Keith Dyer
2017 The same two riders featured in heat 15 against Workington again. Craig Cook shows how much he likes Brough Park, he was to top score many times in the future.
---
2018 Premier League
No Badge: If you can scan your badge and email it to me click here John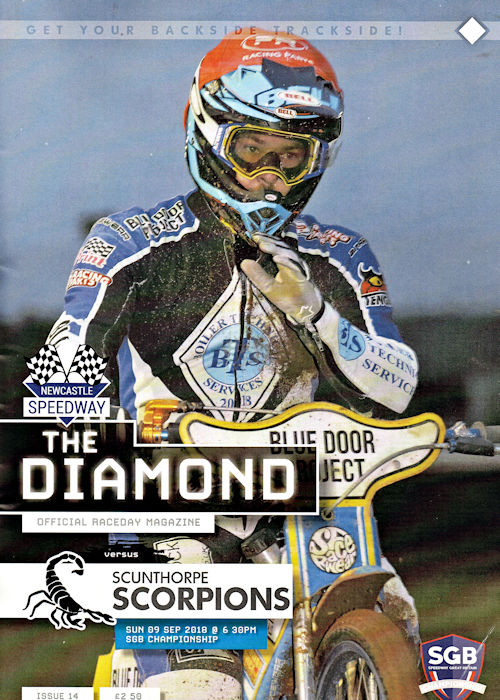 Courtesy of Helen Skinner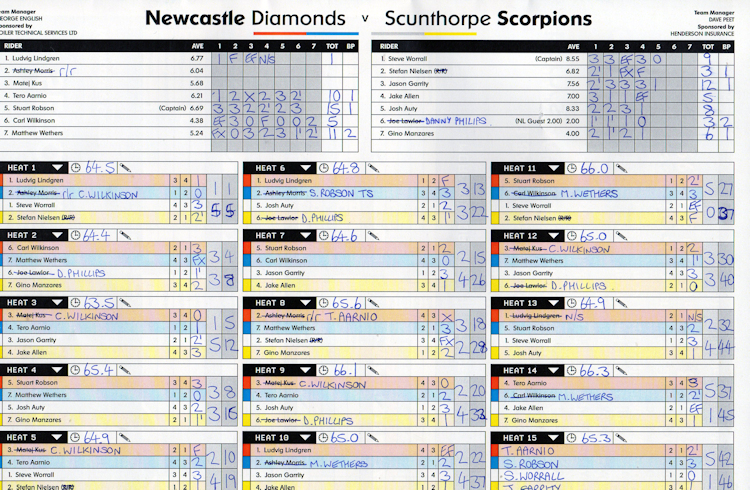 Courtesy of Helen Skinner
2018 a weakened side saw just 5 Newcastle riders take to the track that plus a disaster for Ludvig Lindgren allowed Scunthorpe to win the match
---
2019
Championship League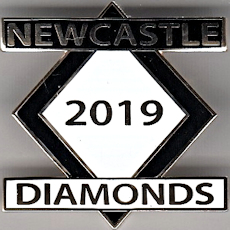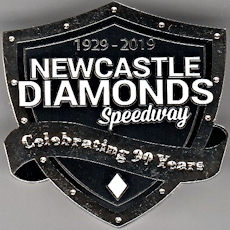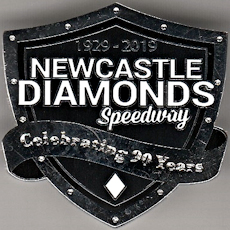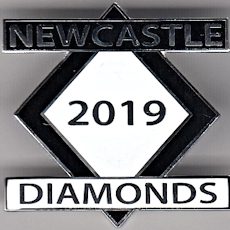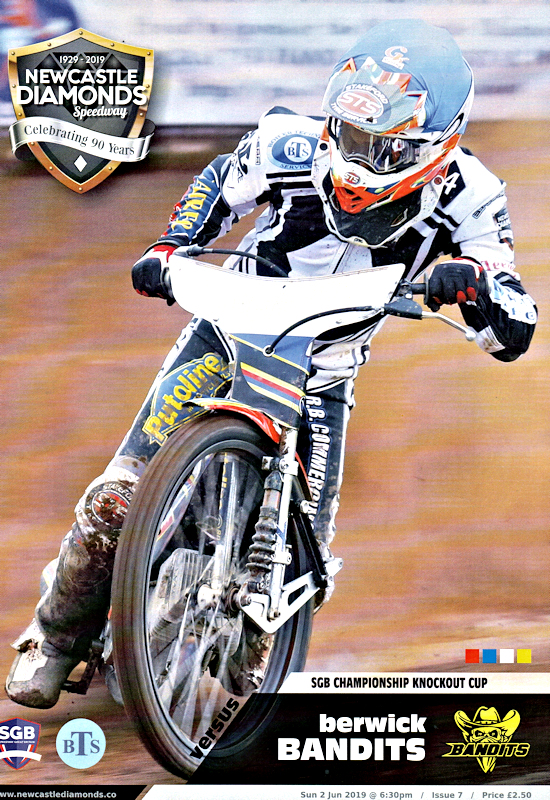 Courtesy of Helen Skinner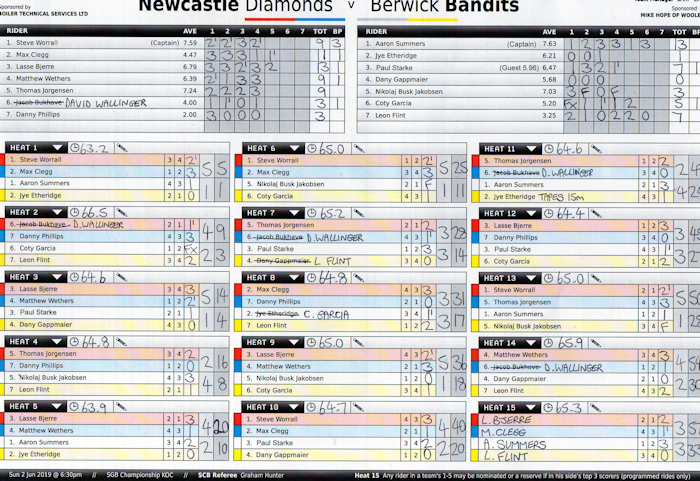 Courtesy of Helen Skinner
---
2020
Championship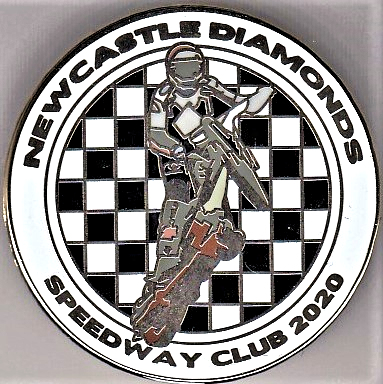 2020

Gold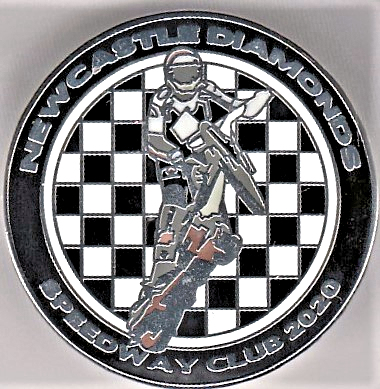 2020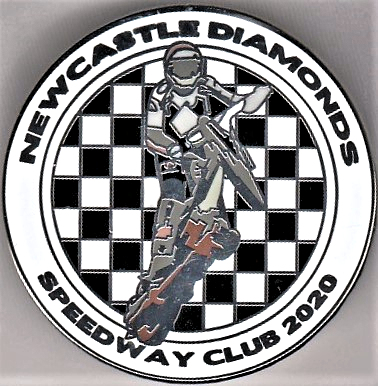 2020

Silver
All 3 Badges courtesy of Wattie Dunlop
No programmes due to the Coronavirus Pandemic wiping out the entire 2020 campaign
---
The contents of this website are © and should not be produced elsewhere for financial gain. The contributors to this website gave the pictures and information on that understanding. If anyone has any issue or objections to any items on my website please email me and I will amend or remove the item. Where possible credit has been given to the owner of each item.