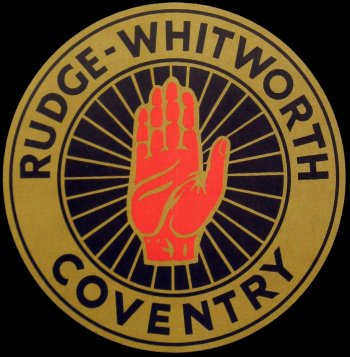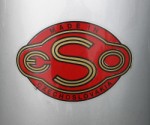 ---
Miscellaneous Part 1
My intentions with the Miscellaneous pages is to have a section of the website where the items do not fit elsewhere on the site. So if you have any "Miscellaneous" items please email me John
St John Ambulance Register of Injuries at Brough Park in the 1940s
Brough Park Greyhounds
Tote Board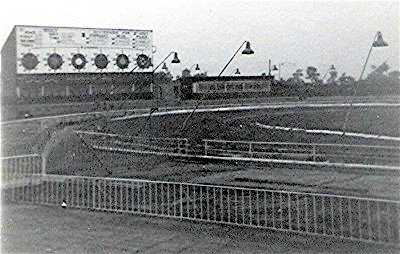 Brough Park's landlords are the Greyhound's company. The stadium is currently (2014) owned by bookmakers William Hill. The speedway promoters pay rent to the dogs to stage speedway at Brough Park. For many years the 3rd and 4th bend had the colossal greyhound racing totaliser board dominating things. With the onset of computerisation the Tote Board was no longer needed and the structure was demolished. The above photo also shows the single story building
to the right which if my memory serves me right was once a bar, certainly my dad could be found there!
---
2011
News from
Down Under

(Ex Newcastle Riders)
Andrew Ward says:
1. Dave and Vicki Bargh lost their home to the New Zealand earthquake.
2. Graeme Stapleton is working for his son. They run a school minibus in Christchurch but the school was flattened by the earthquake and sadly, lots of the kids died.
3. Ivan Mauger has appealed for fans to purchase his autobiography as all profits from his book go to NZ earthquake appeal. He would like a collection to occur at
Newcastle Stadium for this.
4.
Glenn McDonald says hi. He drives a bus taking folks on the great ocean road near Melbourne.
5.
Rod Hunter is a successful business man after winning the Aussie lottery. He has a bike and quad bike business. He does not wish to supply anything for me to send for the website.
I still hope he changes his mind and gets in touch with me
John
Hey Rod I remember you well here on Tyneside, cut out the bad stuff and let us hear from the great rider you were.
6.
Kym Mauger is now married and is living in Queensland. That's all Ivan says but he has shares apparently in Quicksilver Tours that run people out of Cairns to the Barrier Reef
according to a woman called Tracey whose sister Kym married.
John says: Thank you Andrew for the above info. John says: If you can add anything to this section please get in touch and if you are Rod Hunter definitely get in touch, you still have fans
I am one of them! John
Andrew Ward says:
My update on past riders for you.
1. Keith Bloxsome runs a bulletproof vest company for speedway riders for protection. I assume he also sells the same for parents who have to
attend a Justin Beiber concert with kids.
2.
Rod Hunter answered the phone and told me to p*** off, as it was a past life, over 30 yrs ago!
John says: Now come on Rod you must have enjoyed being here at Newcastle you stayed with us long enough (what was it 7 or 8 years) and we all liked you, well I did anyway!
3.
Kym Mauger is in Queensland. One of his mates runs catamarans out of Cairns 2 Green Island and the Barrier Reef.
4.
Glenn McDonald was supposed 2 meet me for a beer at fortune of war pub in rocks Sydney and never showed up. I got a bus to Robbie Blackadder's house to find he
was staying with Barry Wallace in Newcastle UK not NSW! I have Glenn's address and fone number.
5.
Graeme Stapleton from Christchurch. Lovely guy but badly affected by earthquake.
6.
Remember Phil Michaelides? He passed away a few years ago! Sad news!
7.
Eddie Ingels. He now helps out Greg Hancock. Eddie is an ace engine tuner and he was on UK TV at Cardiff GB grand prix for world championship.
Andrew says: Any messages for the fans I will personally read out at Brough on Sunday 28th September 2011. I fly home to Newcastle from Melbourne via Singapore tomorrow.
A killer! I must do NZ on tour. Kirra tours pulled my tour this year. I will be in Christchurch next summer.
That country seems so beautiful. Most of Oz is too.
John says: I am astonished by Andrew Wards info shown above. I trust that all of Andrew's bullet points are correct, in particular the death of Phil Michealides. I am really upset to read that! However I think the person calling himself Andrew Ward has a screw loose and he should seek Psychiatric help!
Gavin Searle says: I wish to point out some incorrect information on your website. On the miscellaneous page, concerning David Bargh and losing his house.
The 2011 earthquake that killed 182 people was in Christchurch in the South Island, no where near Palmerston North in the centre North Island where David lives.
I bumped into David at the recent Speedway GP in Auckland and he has never lived in Christchurch
Gavin adds: I also have seriously doubt if the information about Graeme Stapleton is correct as well as Stape does not live in Christchurch, but in a rural area outside Christchurch and all the
deaths sadly happened in Christchurch, so respectively ask that this page be amended.
Freelance Speedway Reporter
Christchurch
John says: I accept information from hundreds now approaching thousands of sources in good faith and will always comment on, amend or remove items that are incorrect or offensive. Gavin has made his comments so
Andrew Ward can you contact me please John
---
Ronnie Moore's Crash
At Brough Park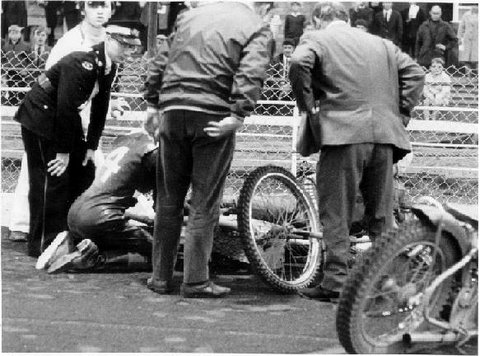 Courtesy of Dave Gifford
Ronnie Moore's crash in the 1969 test between NZ and England at Newcastle in 1969. Result was a broken ankle. The guy with his back to us on the left is Tom Graham Jnr
and on the right is NZ team manager Trevor Redmond.
---
Mike Parker's 1960's
Italian Venture - Rimini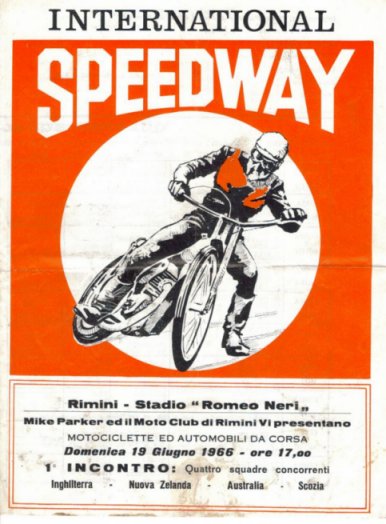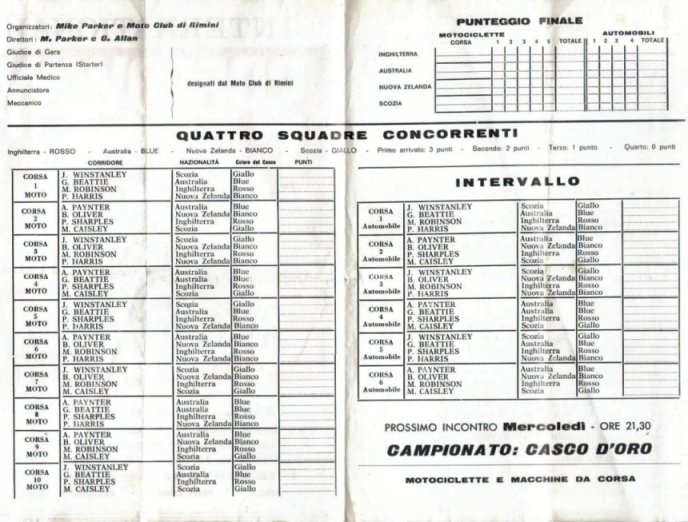 John says: Mike took a party of riders with Newcastle connections to Rimini, Italy in 1966. If you have any details of this trip, please let me know.
George Winstanley (Jack's son) says:
This is an interesting one.
Mike Parker took a few Newcastle riders to Rimini,
to introduce the sport to Italy, in the summer of '66
when they
came back they put on shows
at different stadiums. the "Cavalcade of Thrills" included scrambles,
midget cars and the ring of fire.
I can remember vividly my dad (Jack Winstanley)
practicing in our front yard (a farm) with the midget cars, a
nd building a ramp for the ring of fire.
H
e had just finished trying out the ramp, and was chatting to his mates about it, when
I decided to have a go. I peddled my pushbike as fast as I could go,
and just about managed to topple over the end of it, into a heap. oh, how brave we are when we are young!
Jack Winstanley &
The Ring Of Fire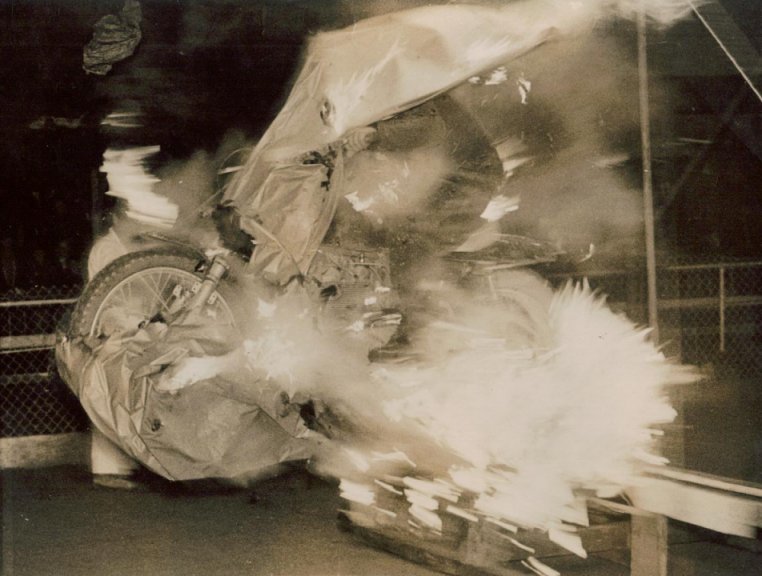 Courtesy of George Winstanley
If you look closely you can just make out Jack surrounded by flames. Jack was a promoters dream, he was a showman willing to try anything and Mike Parker relied on the
Lancashire rider for speedway and other jobs. This death defying feat was carried out at Brough Park in 1966.
Newcastle's

1960s

Race Jackets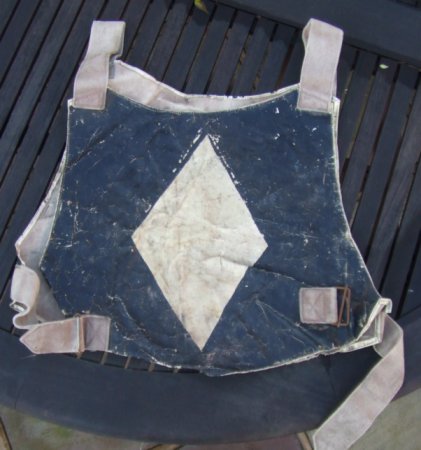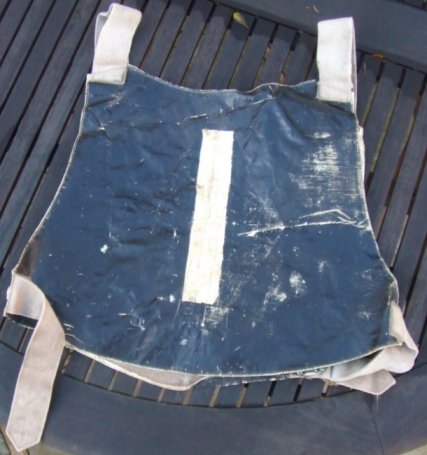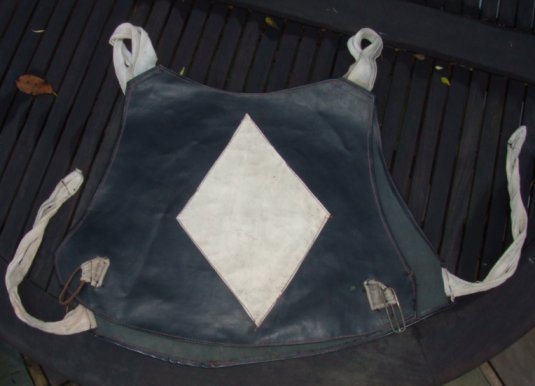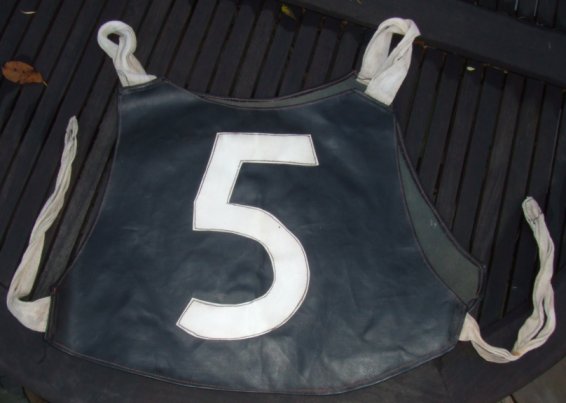 Picture courtesy of George Winstanley
Early 1960's race jackets. It was just the early 1960s when the race jacket had just a plain black background. The late 1960s race jackets had a white border. George thinks the no 5 jacket was his dad's Jack Winstanley. I guess that the Number 1 jacket belonged to my boyhood hero Brian Craven, but maybe not!
A "Thank You" Trophy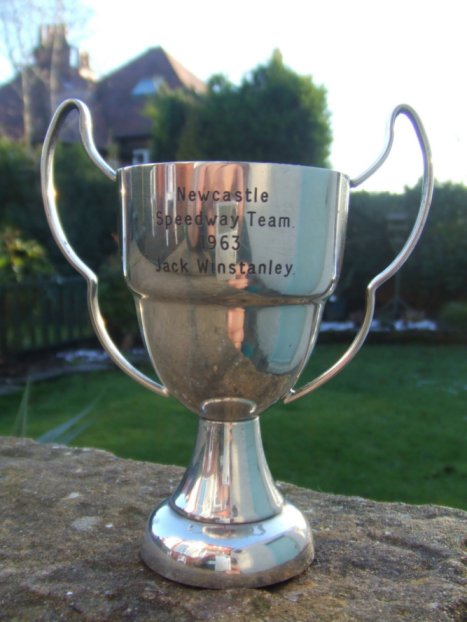 Courtesy of George Winstanley
George Winstanley thinks this cup was just a thank you to his dad from Mike Parker as Jack did a lot more than just turn up and ride every week.
---
Sidecars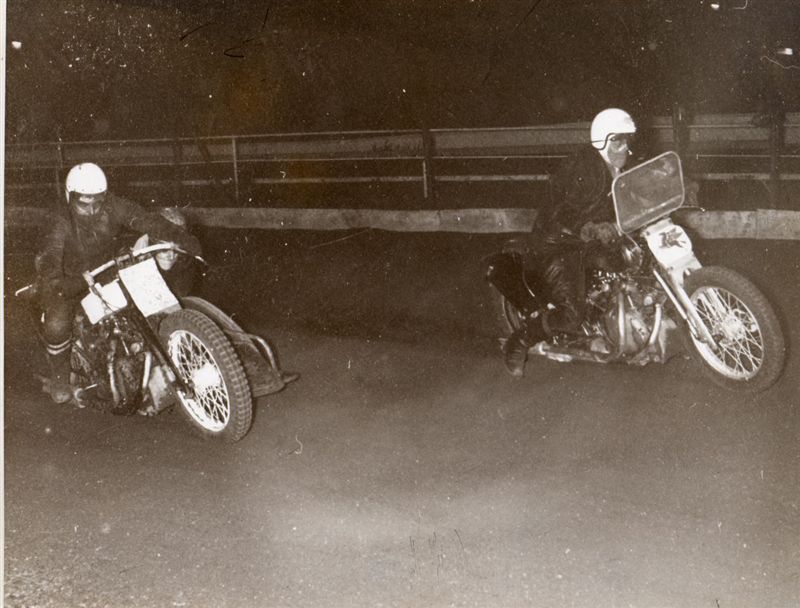 Courtesy of Aussie Rod Webb
Two

Australian sidecar units came over to the UK and here we see them at Brough Park during the 1960's. They are 1000cc Vincent's with chairs on the other side hence the opposite direction they are racing in. Can anyone advise anything about this?

John

I remember being there that night but I don't know the names race times etc. 3 names suggested are Harry Denton, Len Bowes and Brian O'Shea.
Bryan Tungate says:

I think the sidecars are Len Bowes & Harry Denton. They appeared at Norwich during that tour. Olle Nygren wanted to have a go in the chair at the Firs but the Meeting Controllers flatly refused to let him try it. Harry Denton later rode both Speedway and Sidecars at Kings Lynn.
Joanne Denton says: Hi John, Bryan Tungate is right. I can confirm that the rider on the outside is Harry Denton and the other rider is Len Bowes. The picture was taken at Newcastle in 1963, Brian O'Shea did not travel to the UK with Harry until 1965. Regards Joanne Denton
Graeme

Hartshorn says: Hi John, Could one of the two Aussie outfits be Harold Hill who my late father raced against in 1963 at Brough park? My father Alan Hartshorn and his passenger Billy Brough who raced all types of sidecar racing (i.e scramble, grasstrack, sandracing) were north east scramble champions in 1963,1964 and 1965.The bike a 650cc triumph which ran on methanol was put together in three nights. They had three races against the Australians and won two out of the three. Regards Graeme (Photo of Alan and Billy at Brough Park is shown below)
Alan Hartshorn & His "Passenger"
Billy Brough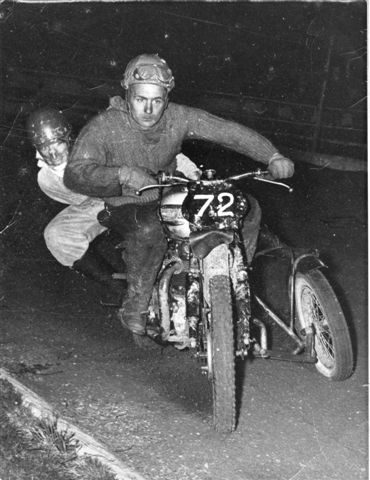 Name The Riders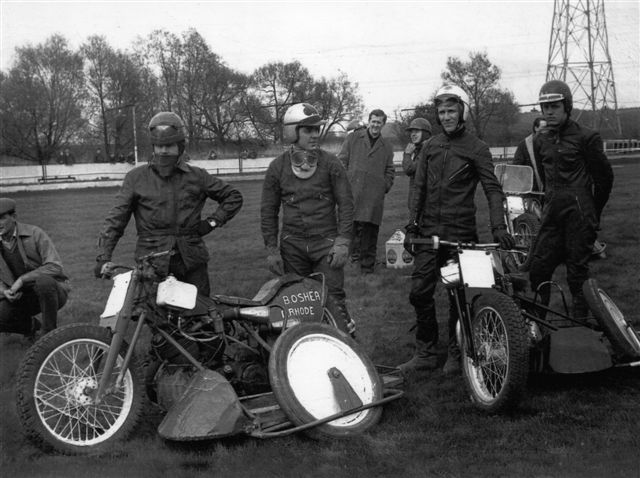 Courtesy of Joanne Denton
Joanne Denton says: Here is another photo that I could use some help with.
The rider in the helmet on the left, is Brian O'Shea who rode in the UK with my dad in 1965. The man in the cap crouching on the left hand side is Aussie solo Rider Neville Slee who was riding in the UK at the time and passengered for Brian on some occasions. I don't know at which track it was taken and have no idea who all the other people are. Maybe someone can identify them for me. I presume they not Aussies. Cheers Jo.

So can anyone help Jo? email John
here
Terry Stone says: The rider taking helmet off in background is Roy Trigg and Alex Ford team manager of Hackney Track is Rye House: (from Bob Andrews). The rider second from Right could be Malcolm Simmons and far right is John Mills (from Terry Stone)
Harry Denton On The Bike & Roy Trigg Is
"The Swinger"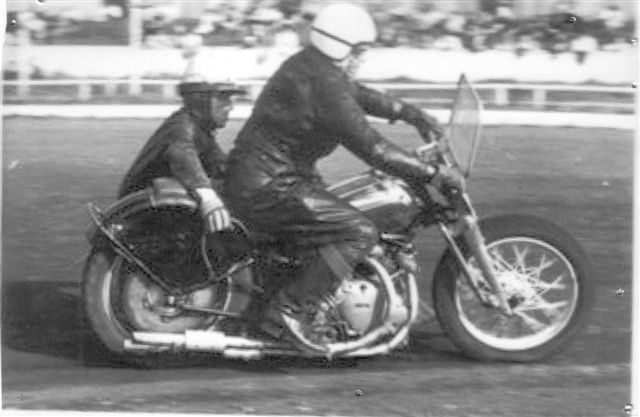 Courtesy of Joanne Denton
Another of Jo's Photo's she knows who these are.
Hi John, This one is Harry and the swinger is Roy Trigg taken in 1963 at Rye House. Roy told me he chose to ride with Harry rather than Len Bowes because dad was the "old guy" and Roy believed he would take it steadier than Len. He was wrong of course! Dad did a wheel stand and nearly tossed Roy off. He hung on for grim death and it scared the living daylights out of him. Roy was later banned from swinging for Dad because it was considered too dangerous. The photo is from Roy's private album. Cheers Jo
John says: The bike is a 1000cc Vincent
---
NZ Rider Spencer "Smokey" Stratton
Spencer Was The

1938

Newcastle
Team Manager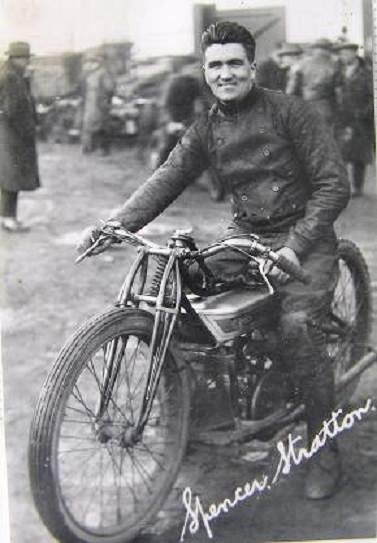 The photo comes courtesy of Susan Webb a relative of Spencer
Dave Gifford says: New Zealander Smokey Stratton was a pioneer in the truest sense of the word, a free spirit forever looking for new challenges and new horizons. He left his homeland to race on the grass, dirt and concrete tracks in Australia at the age of nineteen in 1923, the following year he travelled to the USA to try his luck on the American tracks and returned to Australia later the same year. At this stage of his career he had a pair of Indians, one a 350cc and the other a 990cc. He survived an horrific crash at the Hamilton Speedway in Newcastle NSW, promoted incidentally by our old friend Johnny Hoskins. He recovered and resumed his career setting track records at a number of venues in Australia with the odd visit home to race in NZ. In 1926 it was back to the States to ride as a member of the official Indian Works team, with several meetings on the incredible board tracks at Altoona, Rockingham and Fresno. After that he returned to Australia but when Johnny Hoskins travelled to the UK in 1928 Smokey was a fellow passenger as the flood of Aussie riders began to make their way to Britain. He switched to Dirt Track Douglas bikes when he rode in the UK and in 1931 was a partner in the company that built the Sheffield Speedway at Owlerton. During his time in Britain he continued to look for new challenges and made several trips to the Continent to race. He made a brief visit to New Zealand in 1933 but it appears he never actually rode on a New Zealand speedway at any time in his career. In 1938 he was appointed Manager at Newcastle Speedway but was tragically killed in a car crash at Cockermouth when returning from a league match at Workington.
T
his is only a very condensed summary of a fascinating character and a great Kiwi. If anyone can help with information on the life and career of Spencer Stratton I would love to hear from them, particularly regarding his trips to Germany, Austria etc.
Giffy
giffords@xtra.co.nz
---
New Zealand Veterans
Re-Union 2008
Newcastle Speedway has had links with New Zealand going back to the early days Spencer Stratton may have been the first Kiwi connected to Newcastle Speedway and then famously we had the two Ivans, Mauger and Crozier in the early 1960s and Dave Gifford from the late 1960s. Then we had others David Bargh Mark Thorpe etc so I am happy to record the NZ Veterans on the website.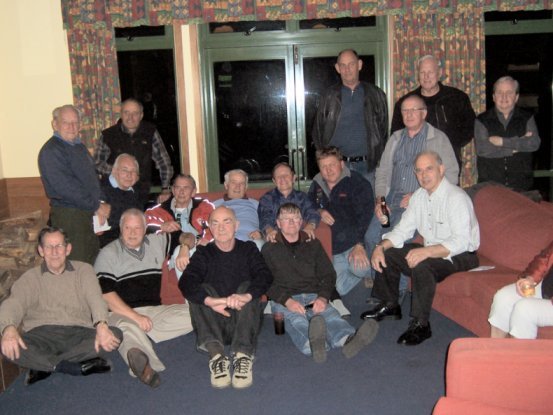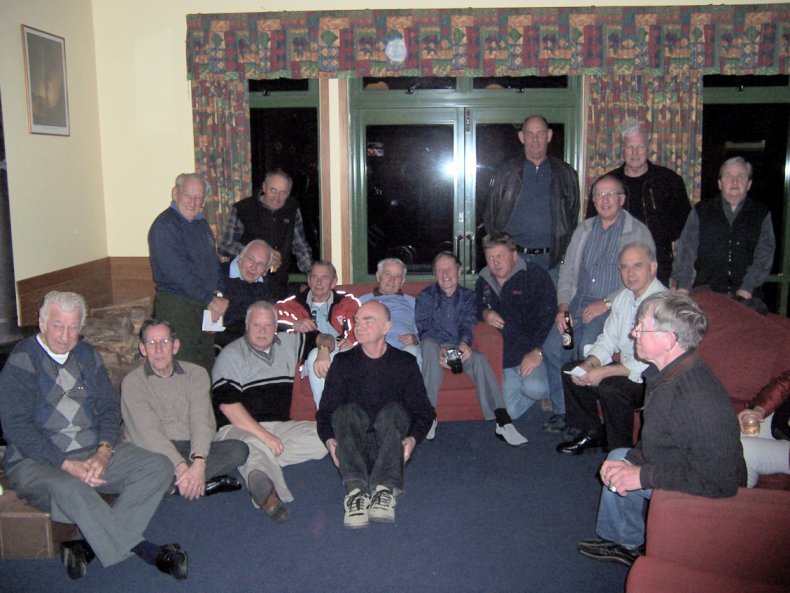 Giffy sent me the pictures and has put names to faces as follows, thanks Dave:
Giffy says: Hi John, I will try to put names to the faces!!! Back row standing. Ron Lancaster, Auckland, Dave Whittaker, Plymouth? Joe Hicks, Glasgow. Bruce Ovenden, Glasgow. Brian Clements, Southampton. Couch level, Tommy Sweetman, Wolves, Ronnie Moore, Dons. Keith Lancaster, Auckland. Bob Andrews, Dons etc David Bargh, Diamonds, Roy Trigg with bottle, Hawks. Sprouts (Ivan Mauger) Diamonds. Ground level, Kevin Hayden, Cardiff. Pete Gay, Coventry, Dave Gifford Diamonds
---
Sunderland Born Gordon Byers
At Brough Park

1929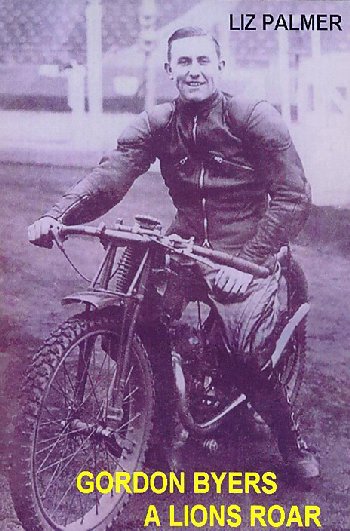 Read about Gordon the winner of the first race at Brough Park in 1929. The book is on sale now £9.99 +£2.00 p&p send me an email if you want a copy
John
---
The Match Is Off!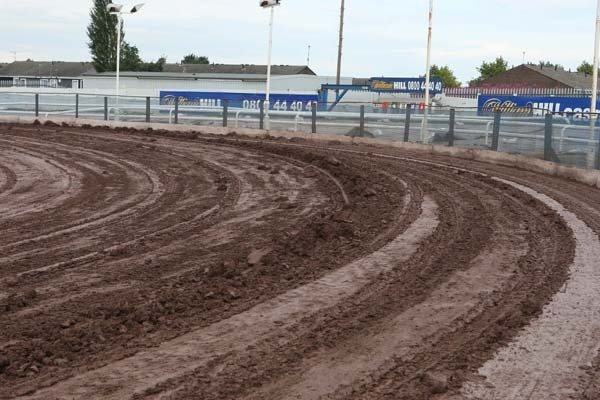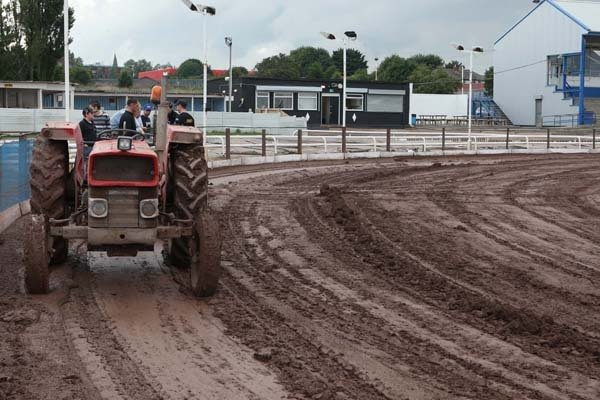 Newcastle v Scunthorpe 2008. After 36 hours of rainfall this is what was left behind, maybe ripping the surface was the wrong thing to do but no-one can complain about the meeting being called off.

Another in vain attempt to Stage Newcastle v Scunthorpe in 2008!
---
A Possibly Unique Item Follows?
St John Ambulance Service
Their "R
eports Log" On Brough Park Accidents In The1940s
Jim Henry of the Speedway Rearcher has sent me some scans from the St John Ambulance service. Their 1940s injury register from Brough Park makes interesting reading.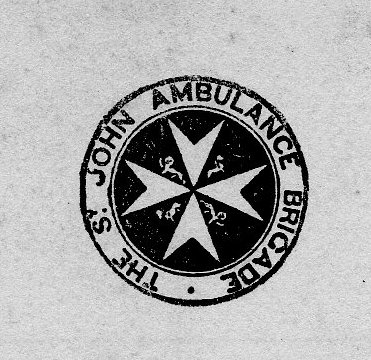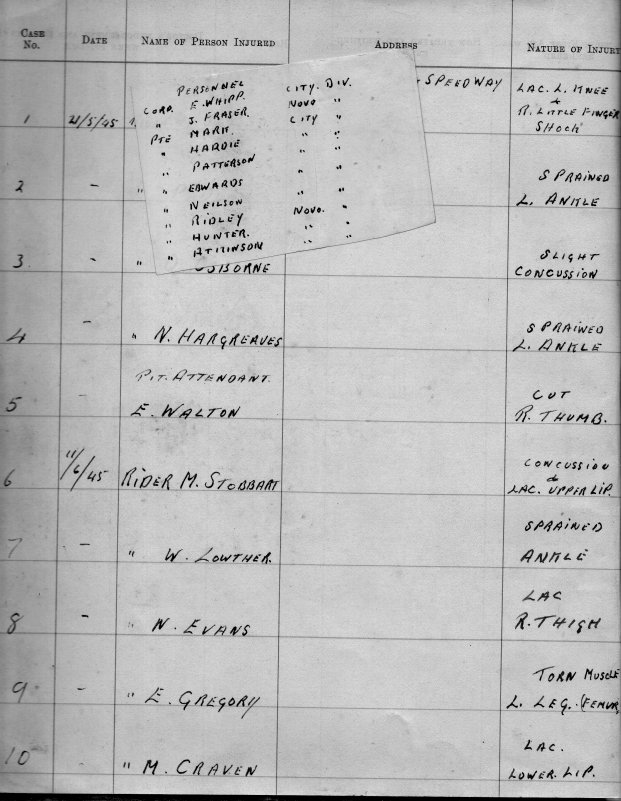 John says: This page shows lacerations to riders lips. In 1945 crash helmets were like upturned pudding basins offering no facial protection, many riders wrapped nothing thicker than a scarf around the lower half of the face. Modern full face helmets must prevent lots of injuries of this type.
I used a slightly more modern version of the pudding basin crash hat when I took to two wheels in the 1960s.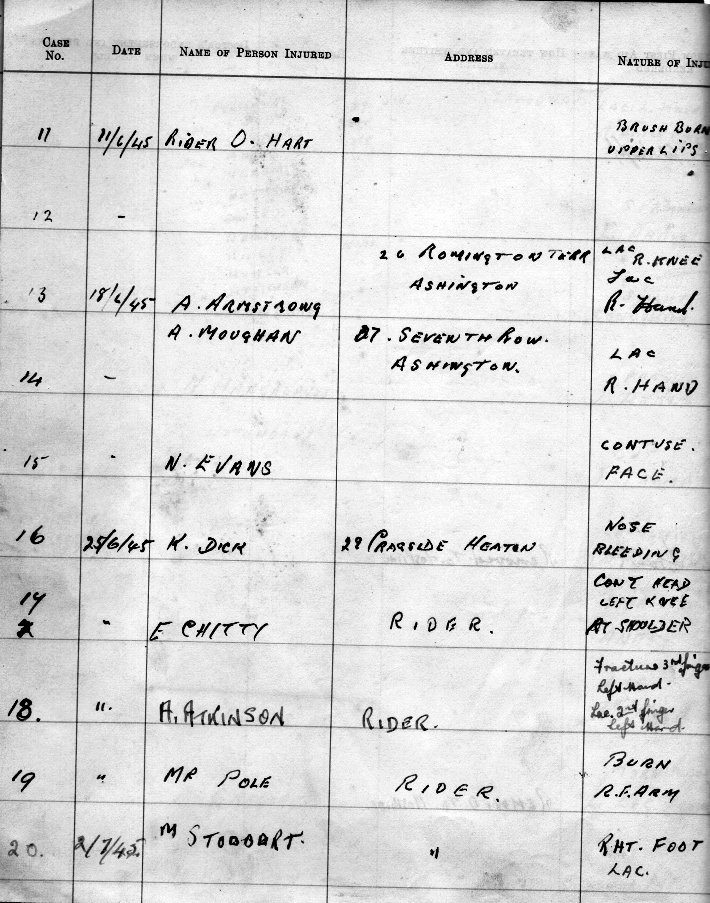 More of the same. Mal Stobbart had a right foot laceration and Norman Evans had a contusion on his face (is that a bruise?), whilst K Dick was treated for a nose bleed. West Ham's Canadian rider, Eric Chitty appears to have had a shoulder injury. Top of this list shows rider D Hart, could be Oliver Hart? had a "brush burn" whatever that is, to his upper lip. Fascinating!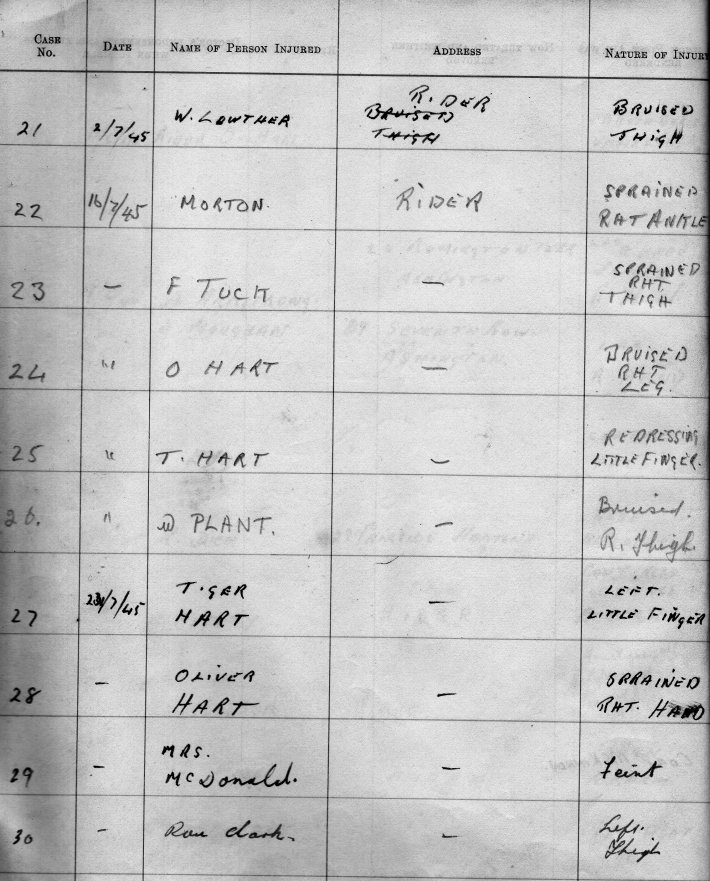 Will Lowther bruised his thigh. The greatest leg trailer of them all Oliver Hart appears twice on the injury list whilst his namesake Tiger Hart hurt his little finger, ouch! The most interesting entry on this page goes to Mrs McDonald who it appears feinted. I suppose her treatment involved the use of smelling salts to revive her?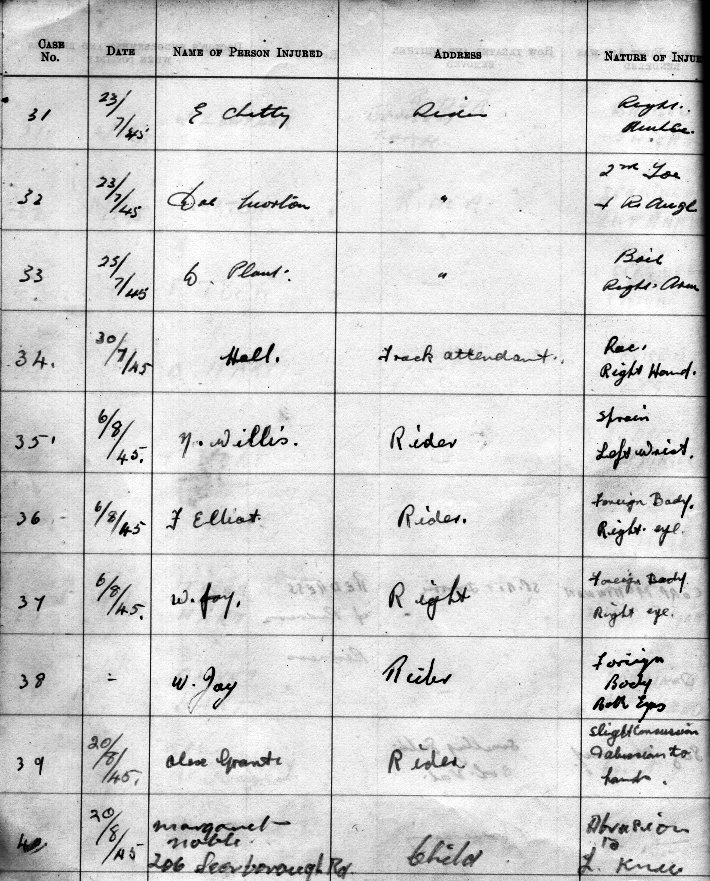 Eric Chitty appears again. He probably didn't like coming to Brough Park much! Wilf Jay appears to get foreign bodies in his eyes! And Alec Grant who only had one eye was treated for concussion and abrasions to his hands. Alec's grandson Rob Grant jnr rode for the diamonds a few years ago.
The last entry Margaret Noble a child from Scarborough Rd was treated for scrapes to her left knee. Now amazing as it is, she is likely to be my aunt, Meggie Noble, whom i think lived in Scarborough Rd in Walker close to the Brough Park track. My mother would know if this was my auntie Meggie but alas both are dead now. The Nobles had a connection with my mothers side of the family, the Dinnings so if anyone from Walker who knew my aunt Meggie/Margaret reads this please get in touch with me
John Skinner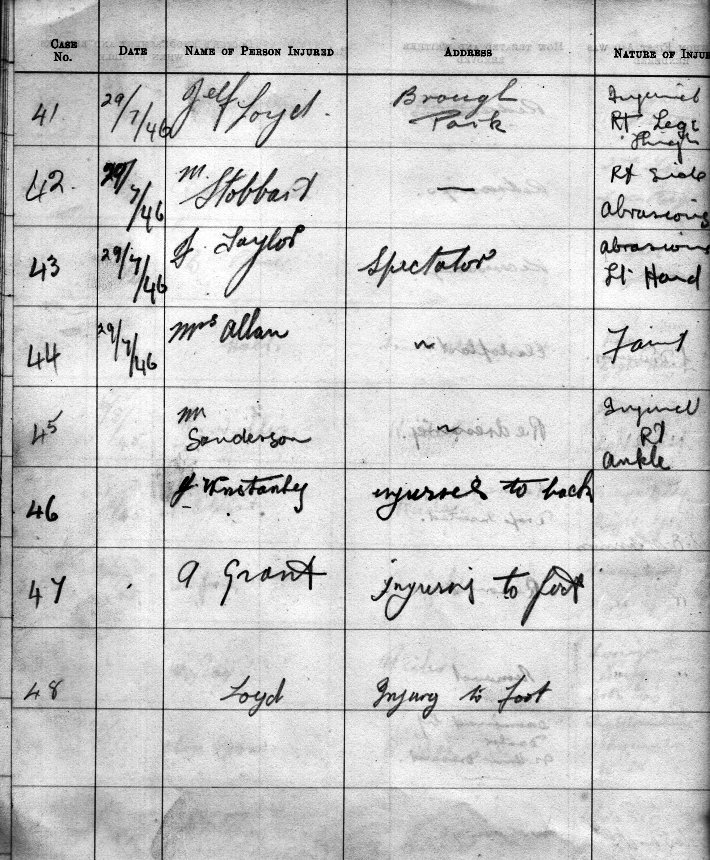 Riders Jeff Lloyd, Mal Stobbart , Jack Winstanley and Alec Grant are named in the injury book. Jack Winstanley became a Diamond in 1948 and again in the 1960s so I expect his back injury was not a life changing injury!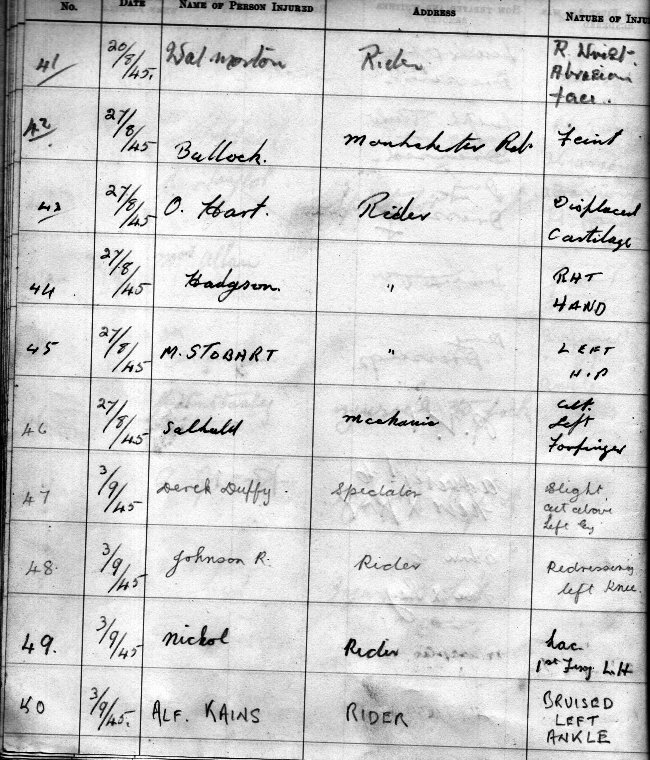 Another feinting lady. This one was named Bullock she feinted and was treated by the St John guys. Amazing how so many lady fans feinted in 1945. why was that? It doesn't happen now, or does it? On a serious note a local rider Bill Nichol lost his life in 1946 after crashing at Brough Park. I am guessing that entry 49 above showing just the surname Nichol is Bill? suffering on this occasion a lacerated finger.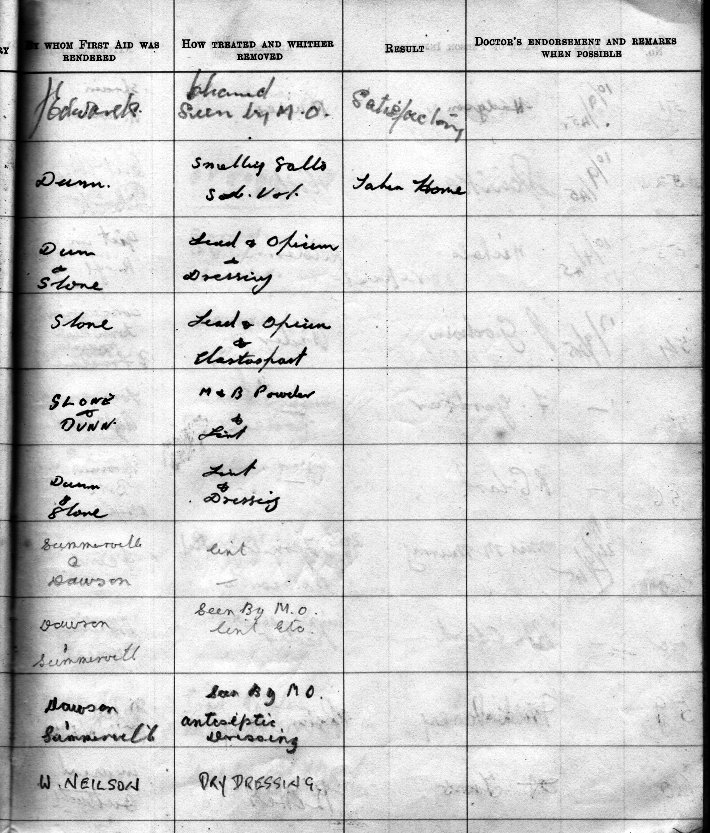 Dunn administered smelling salts and the lady was taken home. I am amazed that fainting was happening so frequently in 1945 was it something to do with poor diet during the war years? Or was the speedway so exciting ladies were dropping like flies?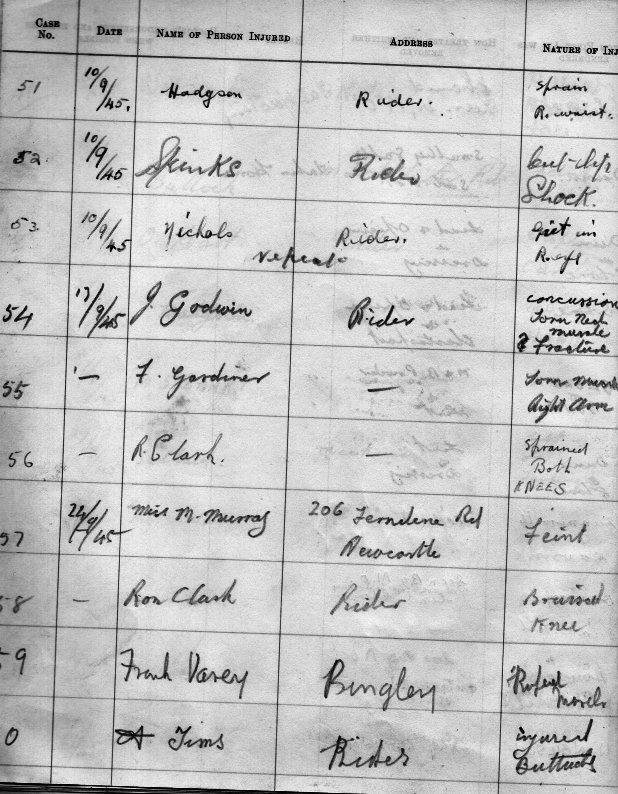 On a serious note a local rider Bill Nichol lost his life in 1946 after crashing at Brough Park. I am guessing that entry 53 above showing just the surname Nichol is Bill? suffering on this occasion some dirt in his eye. R Clark sprained both knees! A Tims injured his buttocks whilst yet another lady Miss M Murray feinted. I apologise for highlighting the funnier entries as some of the injuries in the journal are serious sounding but I just can't resist the stranger entries. My respect goes to the patients and the St John people for whom this journal is a serious historical record of injuries during each meeting.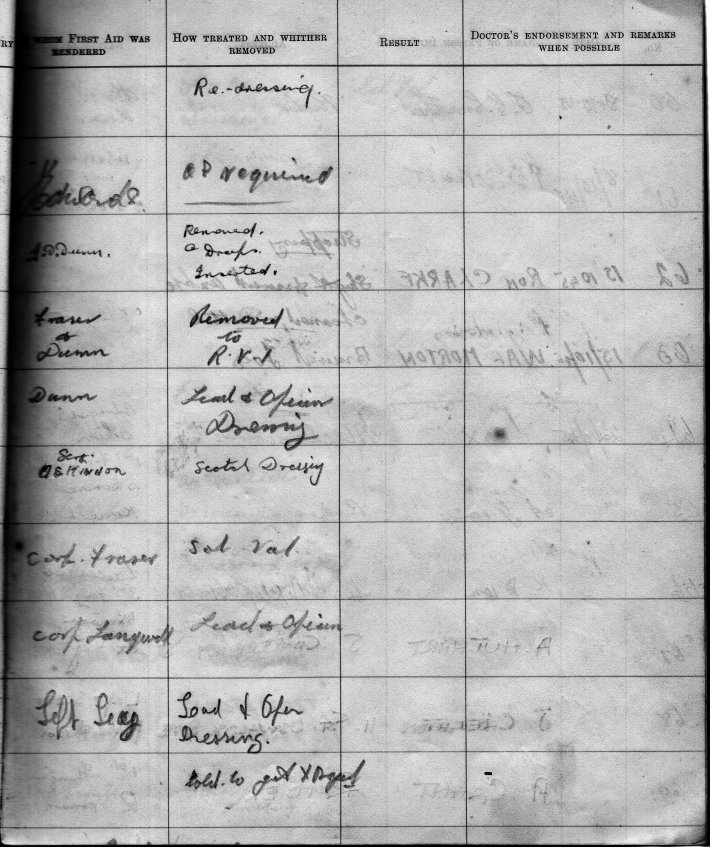 On this page "Lead and Opium Dressings" were widely used. Lead and Opium sound dangerous to me but must have been ok? One rider was told to get an x-ray, presumably he was walking wounded. Another rider was removed to the RVI. The RVI was Newcastle's casualty dept back then. If he went to the RVI in a track ambulance the match probably went ahead without an ambulance at the track. That doesn't happen now.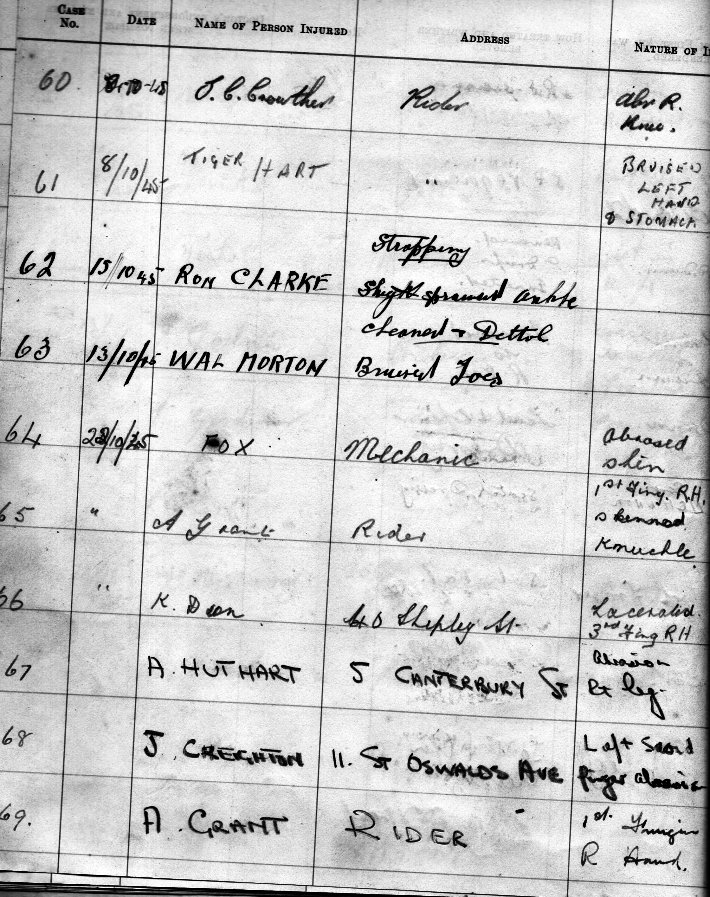 A Hutchart lived in Canterbury Street which is very close to Brough Park, he would have limped home wit an abrasion to his right leg. Riders Alec Grant (Robs Grandfather) Tiger Hart and Wal Morton were in the wars on this page.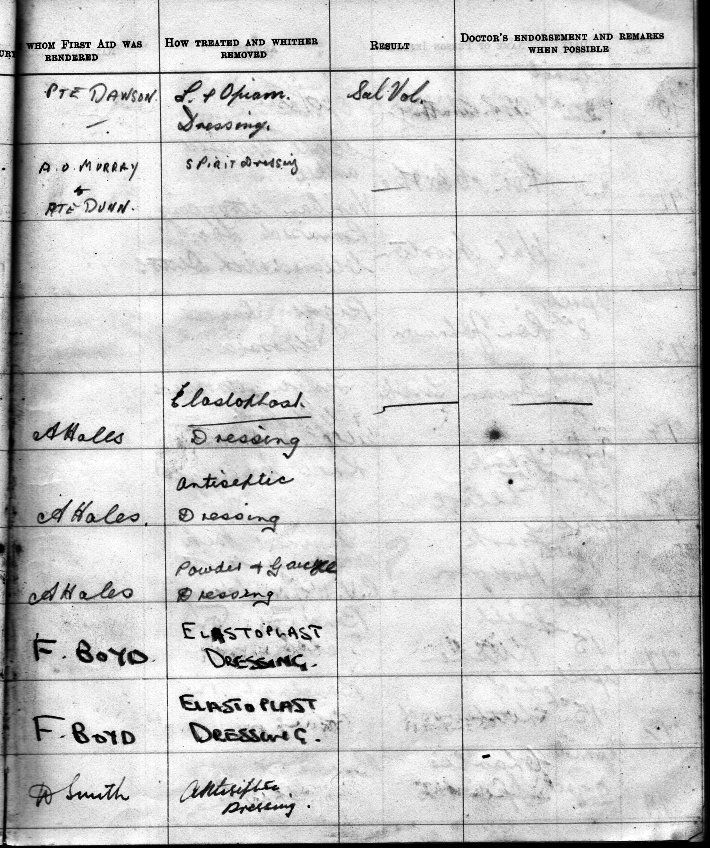 Nothing serious sounding on the page just a variety of Elastoplast and ointment dressings.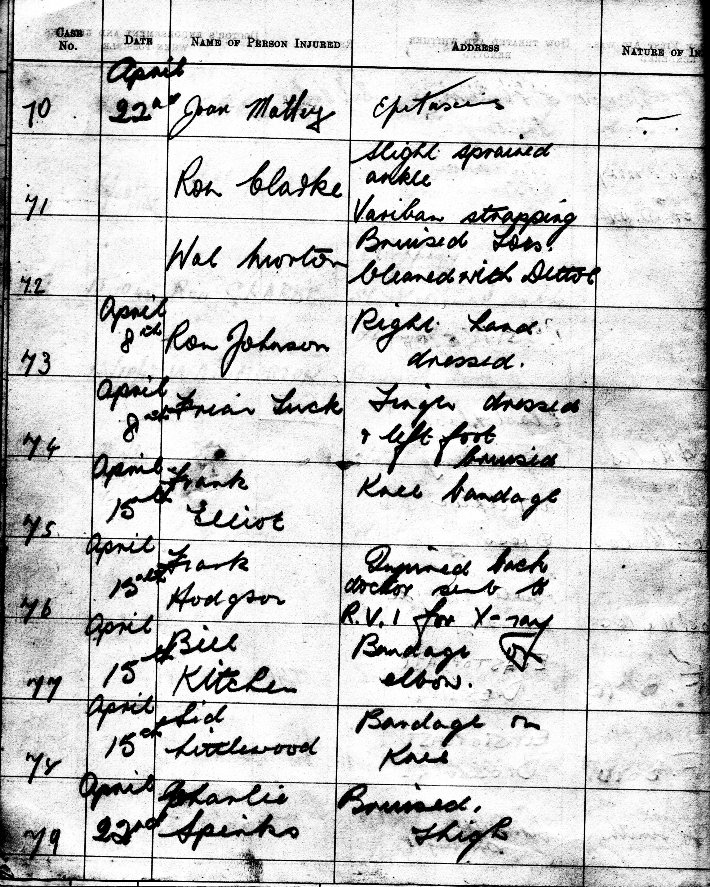 Lots of riders on this page. Teessider Frank Hodgson had a back injury and was sent to the RYV for x-ray. The entry that stands out appears to be for someone called Friar Tuck, handwriting bad so maybe I am mistaken? "Friar" had his finger dressed and his foot looked at.
Jim Henry says: Friar Tuck was Fred Tuck and he was star man for Bristol in those days.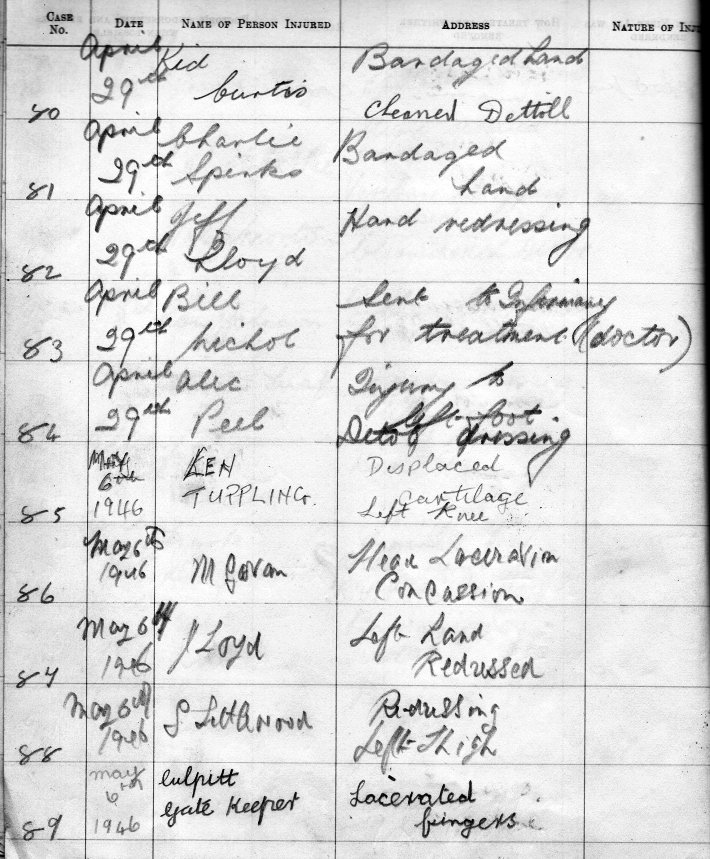 This page contains a tragic entry, re Bill Nichol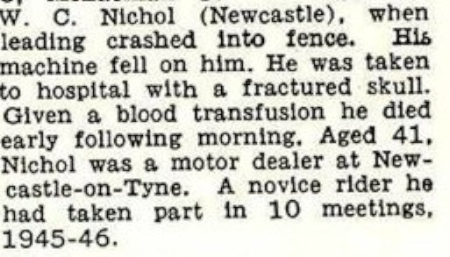 A much more serious entry. Bill Nicol (aged 41) was fatally injured April 1946 at Brough Park. Bill crashed into the fence when leading and his machine fell on him. He was taken to a Newcastle hospital who found him to have a fractured skull. he was given a blood transfusion but died the following morning. Bill was a Newcastle motor dealer. A novice rider whom had completed only 10 meetings in 1945 and 1946. My sympathies go to the surviving family of Bill. A sobering entry in the St John journal which goes to show just how important their role is in what is a very dangerous sport.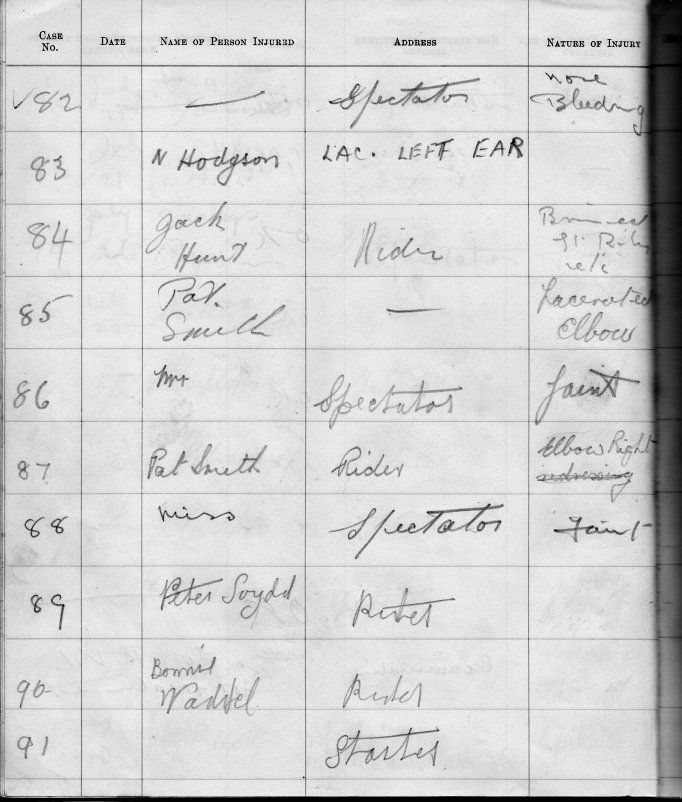 Two more spectators fainted and another fan was treated for a nose bleed.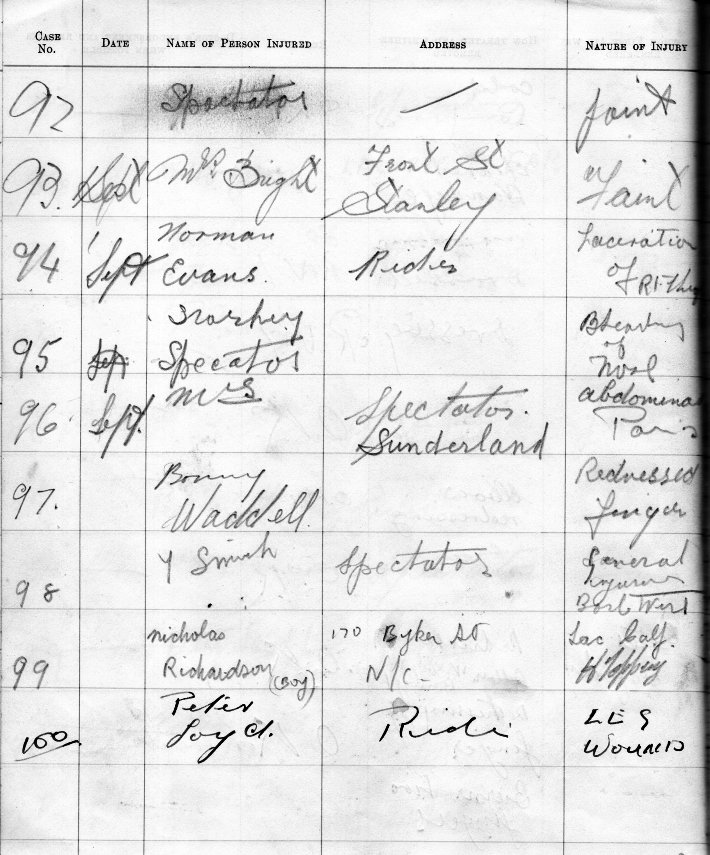 More ladies feinting. How come men don't appear in this journal as feinters?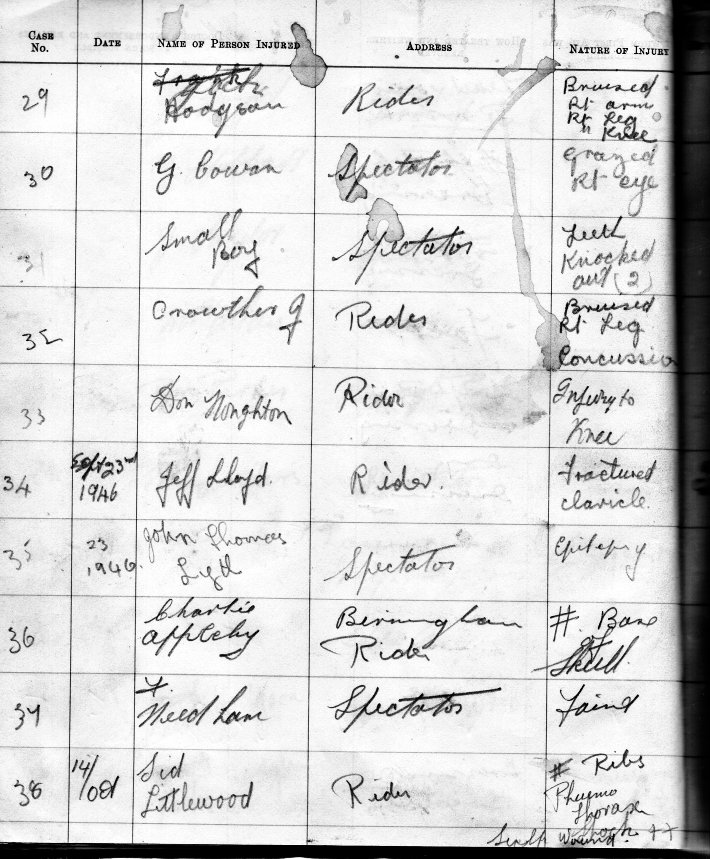 The above page has at entry 36. Charlie Appleby Birmingham Rider who had an injury to the base of his skull and was taken to the R.V.I. where he died from his injuries becoming the second rider to lose his life at Brough Park in total and the second in 1946.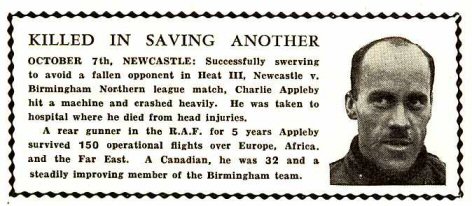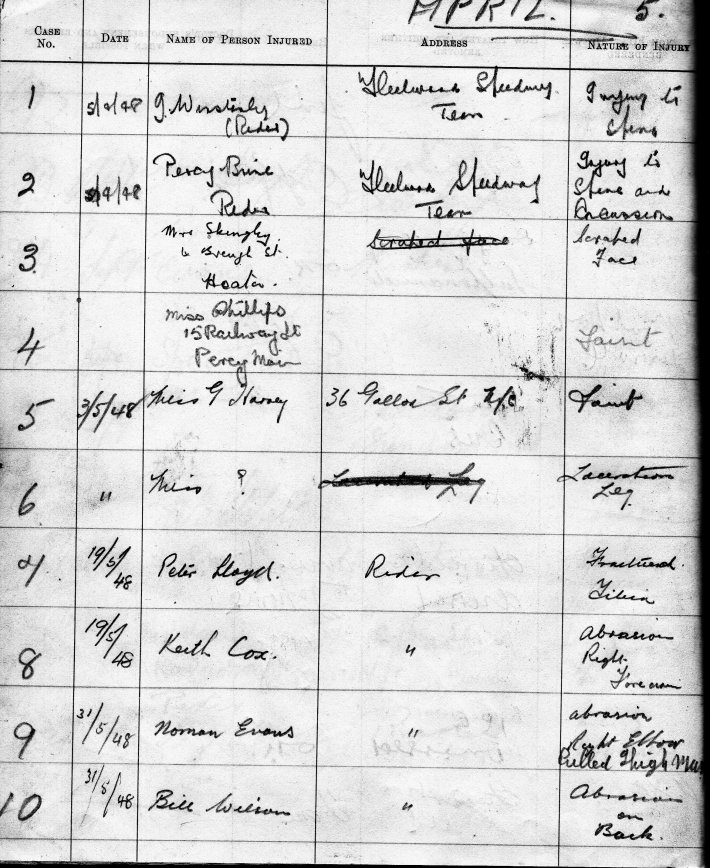 Jack Winstanley injured his back a second time at Brough Park. It didn't put Jack off as he signed for us in 1948. Two more fainting ladies on above page. My wife has never fainted so why was it common in the 1940s.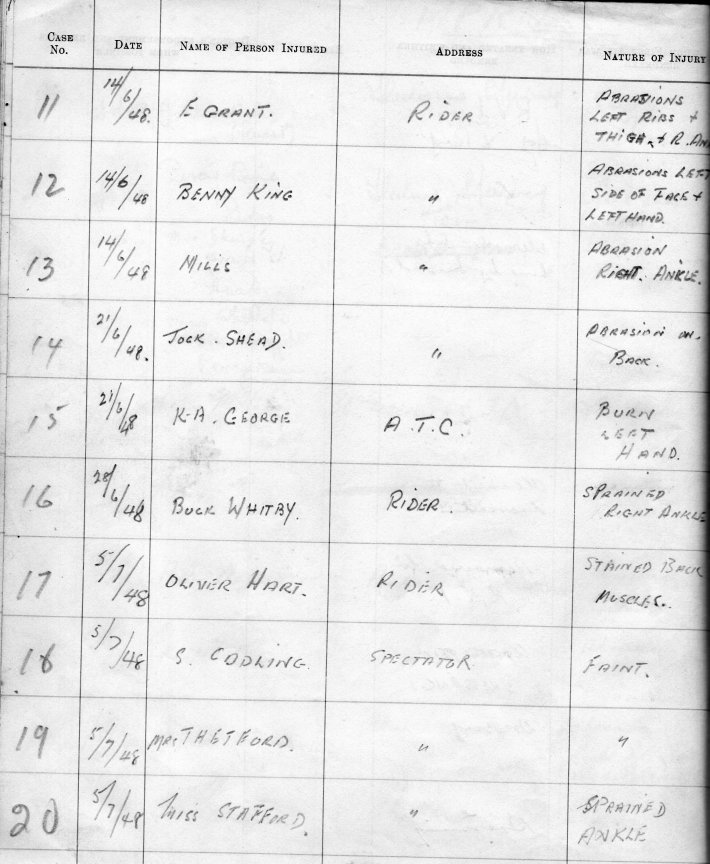 1948 register shows the white ghost Ken Le Breton suffering a facial injury.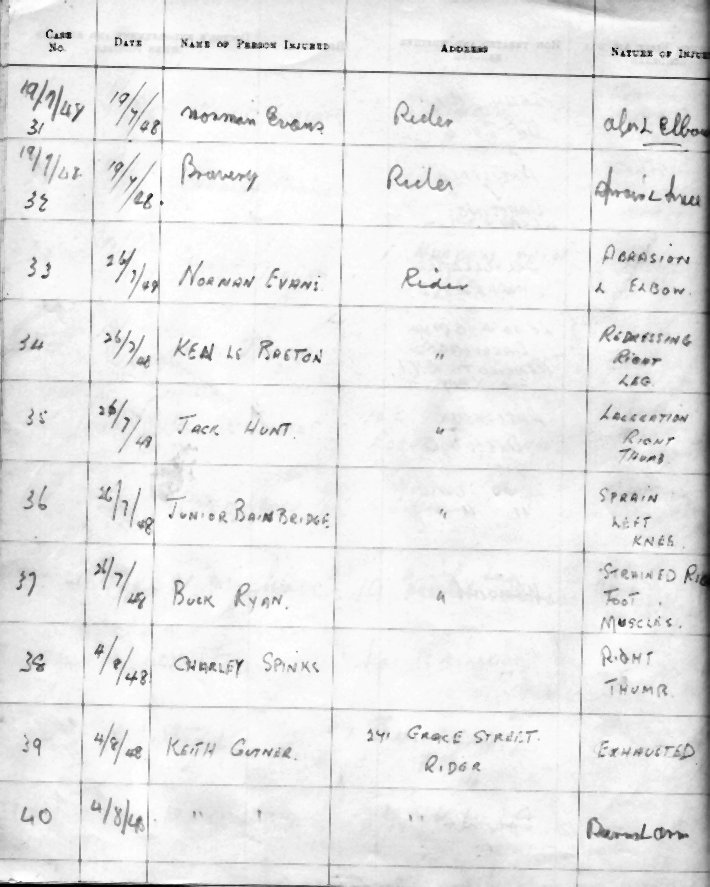 An exhausted

Australian Keith Gurtner gave his address as Grace Street which is right next door to Brough Park. I wonder if he lodged there with a fans family?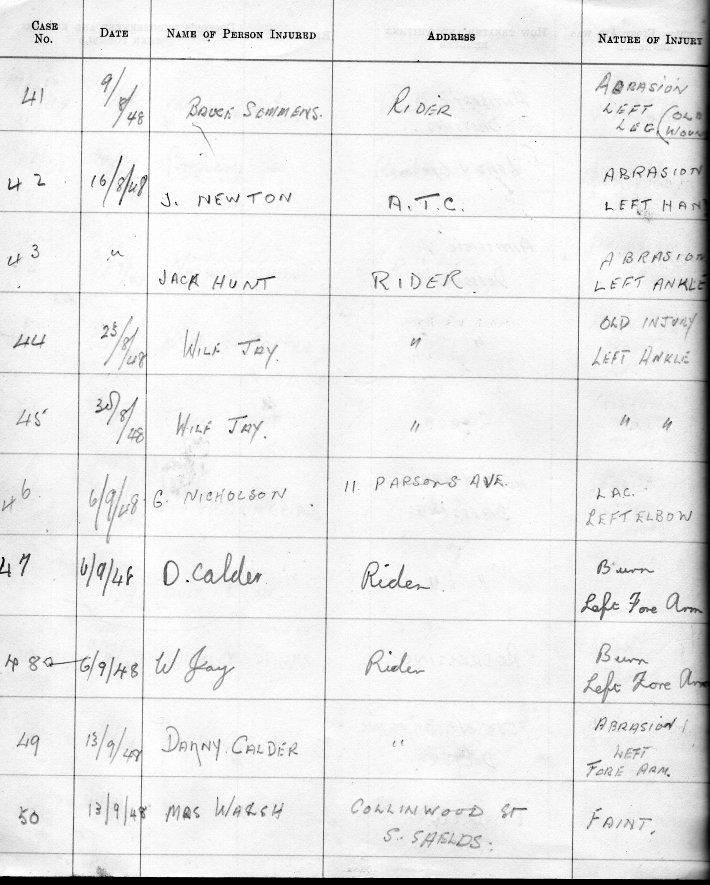 Just for good measure this page has a lady from South Shields fainting. Why?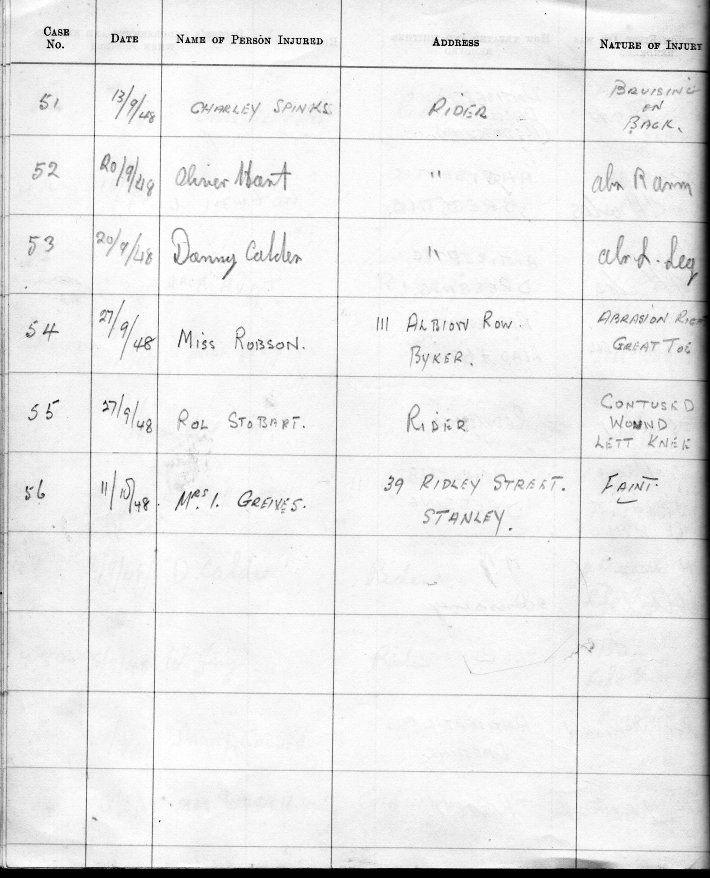 No I am not even going to mention this pages fainter! Modern ladies have it easy. How would your wife/girlfriend cope if they fainted at the speedway or anywhere else for that matter.
My thanks go to Jim Henry for deciding to share this fascinating insight of the St John Ambulance service. They have been at hand for many many years at speedway tracks the length and breadth of the UK and without whom speedway could not operate. They and the track doctors deserve a pat on the back. We fans are in your debt.
Miscellaneous Part 2
Home
---
T
he contents of this website are © and should not be produced elsewhere for financial gain. The contributors to this website gave the pictures and information on that understanding. If anyone has any issue or objections to any items on my website please email me and I will amend or remove the item. Where possible credit has been given to the owner of each item.