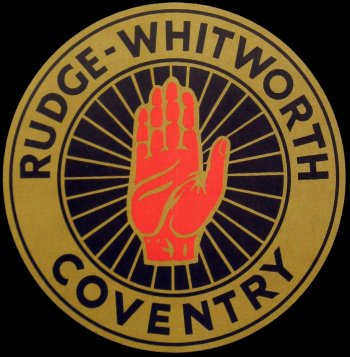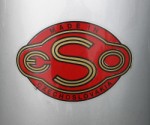 ---
The History Of
Dirt Track Racing
The Origins Of The Sport
USA Or Australia?
The origins of the sport are not entirely crystal clear but it is generally accepted that Australian farmers started it all.
They were racing their motorcycles around rough oval dirt tracks during the 1920s.
Early motorcycle owners in the USA can tell a similar story but they did not have a man like Australia's Johnnie Hoskins who got organised.
In
1923
,
Johnnie was the secretary of the West Maitland (New South Wales) Agricultural Show. As a "side attraction" he
introduced motorcycle racing on an oval dirt track under lights. Speedway had just been born!
From West Maitland it spread across Australia like wildfire.
Hoskins the entrepreneur was so keen on promoting the sport he had helped to invent that he soon had ambitions that lay outside Australia.
Pound signs were flashing, the UK was beckoning.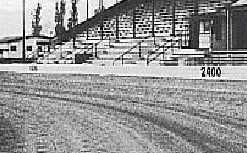 Above: West Maitland Showground track and below: Maitland's Commemorative Plaque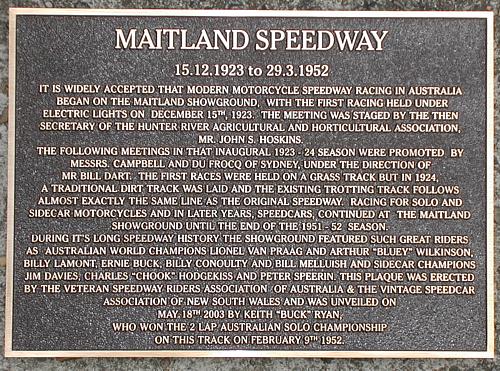 By 1927 Johnnie had set sail and arrived in Great Britain to introduce the spectacle of Dirt Track Racing to the unsuspecting British public.
---
UK

Dirt Track Racing
Arguments rage amongst speedway's historians, although most agree that "Dirt Track Racing" first took place in English Towns in the following order; Camberley, Droylsden and at High Beech.
1.
Camberley
in Surrey w
as first. They
staged racing on 7
th
May 1927. It bore little resemblance to speedway.
The "track" was mainly sand so this does not really qualify as a Dirt Track.
2.
Droylsden
near Manchester
w
as next, 25th June 1927. This track was cinder covered (Cinders were a by-product of the local power station). Cinder tracks became the norm at this time, presumably because cinders were cheap and in plentiful supply from Britain's heavy industries. The Droylsden venture suffered from council objections. It never "took off" as a venue.
3.
High Beech
in Epping Forest attempted to stage racing in 1927 but their application for a license was refused until 1928. The opening meeting at High Beech was staged on 19 February 1928 before an amazing crowd of 30,000 spectators. It was a huge success and High Beech is considered to be the birthplace of British Speedway.
Other British tracks got in on the act, they are too numerous to mention. Brough Park's first speedway meeting took place on 17th May 1929. I believe the stadium now has a claim to fame as the longest serving speedway venue in the UK, that is still running (I write this in 2014).
---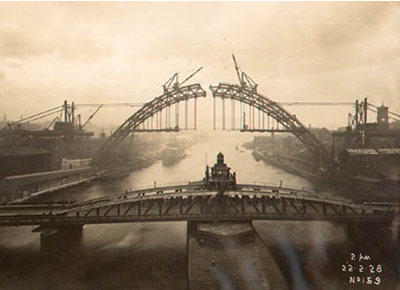 The iconic Tyne Bridge under construction in 1928. It was only a few months old when speedway started in the Tyneside region. Newcastle's link with Sydney Australia, the Tyne Bridge
Dirt Track Racing On Tyneside
This totally novel form of entertainment immediately hooked a large section of the UK public and the North East didn't lag far behind, with not one, nor two, venues. There were three! which opened on Tyneside!
The
Newcastle Motor Racing Club Ltd
applied to lay a track inside the recently built horseracing
venue at,
Brough Park,
Byker. A rival company
Tyneside Speedways Ltd.,
applied to use
Newcastle's Rugby Union
ground in
Gosforth Park
and
also
the
Rockcliffe Rugby Ground
at
Hillheads, Whitley Bay
for
dirt track racing.
These ventures had to wait until 1929 to stage their first race meetings.
The Burnhills Racetrack at Greenside
staged motorcycle racing in 1928. Whether this was "Speedway" is open to debate as the racetrack was more grass and dirt than cinder. I am researching the Burnhills track and when I find out exactly what was happening there 75 years ago I will update this page accordingly.
1.
First up was
Whitley Bay.
Tyneside Speedways Ltd
staged their first Dirt Track racing on
20th April 1929
2.
The first Dirt Track racing at
Newcastle's Brough Park
took place on
17th May 1929.
3.
Then
Newcastle's Gosforth Park
opened it's doors for Dirt Bikes on
1st June 1929.
---
Newcastle Evening Chronicle


1929

Article

I copied the above article from the archive held in Newcastle City archive. I couldn't get the quality better than this. I am putting it on my website as I think the content is very interesting. The above newspaper article gave advice for motorcyclists on converting their road bikes for Dirt Track racing. I like the reference to "Making the bikes brakes ineffective". I will bet that raised a few eyebrows in 1929!
1. Hillheads Stadium, Whitley
Bay
may have been the first to open but unfortunately they were the first to close down too, after just 11 meetings. The Hillheads stadium survives to this day (2014) as a Football Club.
2. Gosforth Park Stadium
,
Newcastle Gosforth
lasted until 1931 before closing, but by then had played its part in establishing Newcastle as a
Dirt Track Racing city.
3. Brough Park Stadium.
It was left to
Brough
Park
in
Byker
to entertain the Geordie speedway
fans and "Newcastle Brough"
remains as the city's only Speedway Track to this day 2014.
However, no other venue in the UK can equal Brough Park's record of "Off and On" from 1929 to 2014 and counting. We have the countries oldest venue (85 yrs) and still in use today, yes we have closed but always made successful comebacks, our latest unbroken spell under our ever present co promoter George English 1997 to 2014 (at time of writing) is the longest unbroken run in Brough Parks 85 yr history. Well done George and Dave Rowland, Barry Wallace, Darryl Illingworth, Andrew Dalby, Alan Hedley and anyone else who has slipped my memory
Programme Covers From The
Tyneside Tracks Operating In

1929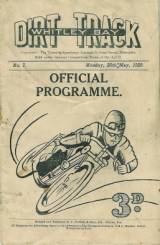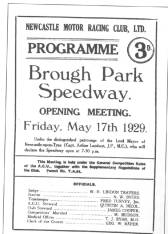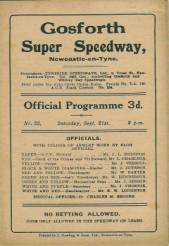 Whitley Bay, Newcastle Brough and Newcastle Gosforth
Early programme cover pages from all three of our Tyneside tracks. All very collectible items, Whitley Bay's Programme shows more imagination than the other two. At three pence in "old money" they may well have been more affordable than any of today's programmes (priced at Ł2.50). Here are a three more fine examples of old Newcastle Brough Park programme covers.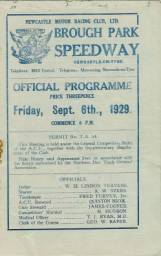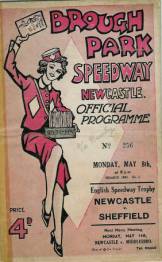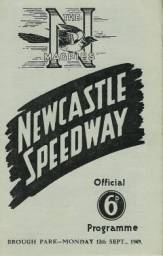 Many Tyneside families have been formed by young people meeting at the speedway.
Now it is common to see grandparents, parents and young children at Brough Park, all enjoying a truly family orientated day out at the Speedway, so ask your family if they have any old programmes, photographs, badges etc. Grandad just might have stashed them away in the attic.
An old programme like these will be worth far more than 3d now!
I would love to hear from you if you have any photos etc that you would like me to put on this website. email me here John
---
Adverts from Friday 24th May 1929 Newcastle Evening Chronicle.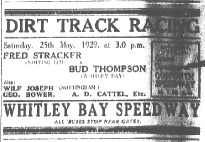 Brough's rival company Tyneside Speedways Ltd include here an insert in their Whitley Bay advert for the " Grand Opening" of Gosforth Speedway. Anyone know who Whitley's Bud Thompson was? e-mail me
John
---
The contents of this website are © and should not be produced elsewhere for financial gain. The contributors to this website gave the pictures and information on that understanding. If anyone has any issue or objections to any items on my website please email me and I will amend or remove the item. Where possible credit has been given to the owner of each item.