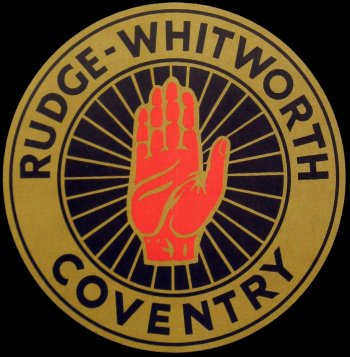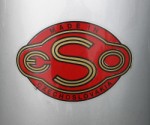 ---
The Diamond Geezers 2004/2005
Why are the Diamond Geezers on the History Site? Because we are no more that's why. Hopefully the New Newcastle Speedway Supporters Club will be able to do some of what the Geezers achieved alongside the things they are doing.
During the second half of the 2004 season George English did warn that it was looking like another closing down act for Brough Park, never to re-open due to council regulations. So I and a number of other users of the Newcastle Speedway Internet forum started posting about the threat of closure. I suggested that we club together a few pounds each and do something to help. Like "what" someone wrote? "Well how about brown road-signs", I answered, as it had long been an idea of mine to be a road sign sponsor. After a while I began collecting donations from the forum users, and then from others who heard about this on the grapevine. The Diamond Geezers was born and we decided to supply help to the promoters by tackling some issues outside of the promoters remit. To do anything costs money and none of us John Skinner, Keith Dyer, Mal Ridley and a number of others had personal fortunes to invest in Newcastle Speedway. We set up a bank account and asked for a regular donation of £3.00 a month. Not many supporters wanted to take part in donations so the idea bumped along on the ground and only took off when we organised a sponsored football match and then a sponsored abseil from the Tynebridge. John collected the proceeds and we paid for Brown Roadsigns saying Newcastle Speedway and bought 2 advertising trailers. The DG idea was a good one and if only more than a handful of supporters had contributed £3.00 a month we would have been funded to do a whole lot more.
The Main Diamond Geezers
Dave Rowland, John Skinner, Keith Dyer, Mal Ridley with 2005 captain Phil Morris
John Skinner says: 2004, (Newcastle Speedways 75 birthday year) was disastrous on track and off. I decided to try and help out by creating a bit of publicity in the hope that it would bring a few extra admission payers into the stadium. I rang, wrote and e-mailed any organization I could think of. There were others like me who wanted to help and we put the case to the promoters at the Tap and Spile in North Shields. The promoters wanted a supporters club but I said running a supporters club was not something I wanted to do or would feel comfortable doing. I proposed the Diamond Geezers as a self financing support group without the social element of a conventional supporters club. The 2004 season had ended and the promoters asked the road sign sponsors, a small band of fans like me to meet with them at the Tap n Spile in North Shields. That would be around November 2004. We discussed the financial situation, finishing bottom of the league and plans for opening again in 2005. The promoters wanted to continue but were in two minds whether to risk it again at Brough Park and in fact anywhere else on Tyneside. It transpired that closing was likely but after the meeting they had decided to keep going. Our presence helped them make their minds up to continue. That in itself may be the most important thing the Diamond Geezers did.
Fundraising Success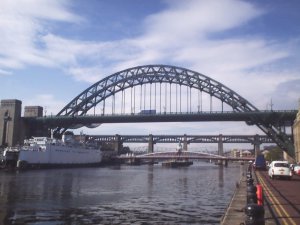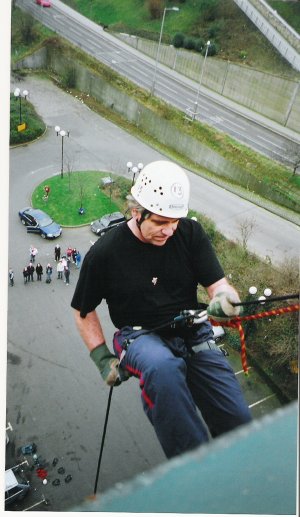 John abseiling from the Tynebridge in 2005, The Diamond Geezers did the dangling from a rope, raising lots of sponsorship dosh for the cause.
---
We contacted lots of organisations appeared on local radio three times, placed a Newcastle Speedway stall at numerous functions, all to encourage a few folk to come to Brough Park. I started this history website to publicise the speedway
I made approaches to both the Newcastle Discovery Museum and Beamish. With a website to back up telephoning and sending emails & letters it became clear that the two museums wanted our speedway jubilee display. The problem I had was that the promoters were losing cash every week and were unable to put on a Jubilee meeting to focus the interest of the museums. I thought that each museum visitor could be given a half price admission voucher for Brough Park and I still think the museum idea is a good one. They are visited by families and that is the target of Speedway isn't it, families.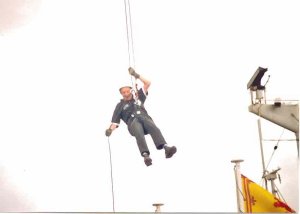 I think this is Dave Rowland doing his abseil? It took bottle to do it, just look at how little we were compared to the bridge: right hand pic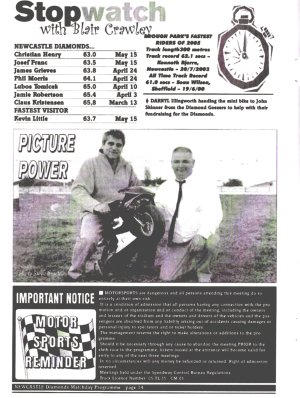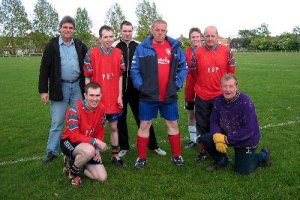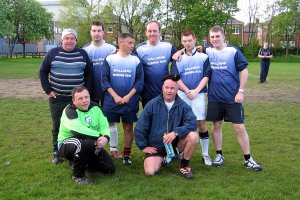 Tribute to trackman Bruce, far left standing in the right hand team photo. Everyone's friend Bruce Hiscock died later in 2005. That's his younger brother Billy in the green jersey. Bruce came to many DG meetings and his comments were always welcome. We miss you big guy.
Those fans with me at the Tap and Spile meeting all agreed to help as a body, as long as I took it on as leader. Well being a shy lad I said I would but I didn't want to try and run a conventional supporters club as that just wasn't for me, I would probably make a hash of it. So, to cut this ramble down The Diamond Geezers was born, mainly me and Malcolm but others too. We opened a bank account and set about doing things. Mal and I appeared on local radio and I had an extended solo spot on Radio Newcastle's Blue Bus as they had noticed my website. Malcolm and I became even busier as the main two in the Geezers but a lot of time was devoted by other members Dave Rowland, Keith Dyer and Paul Brassell to name just a few.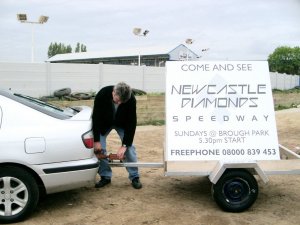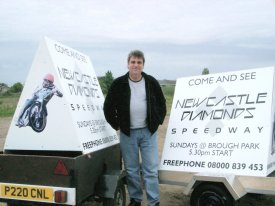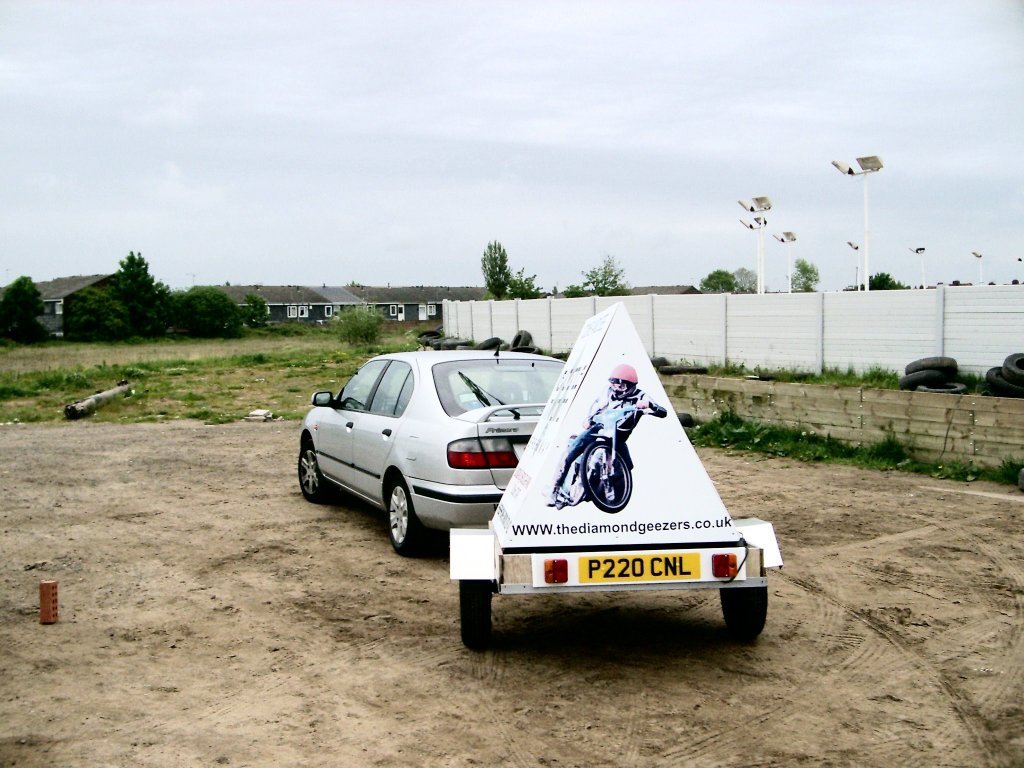 John bringing the trailer to Brough for the first time
Paul Brassell and I bought and fixed up 2 trailers. Darryl did the rest, he made the triangular parts and they were ready for advertising the club. One was placed near Gosforth Park and the other beside the Metrocentre. Darryl received telephone calls asking about the speedway and he considers the trailers were a success. I had the job of towing them around and on some shopping trips to large stores like Silverlink the trailer turned lots of heads and everyone who came up to me seemed to know all about Ivan Mauger and Tom and Joe Owen.
I think there is potential to have a better trailer or a van painted up in same way. Over to you Newcastle Speedway Promotion.
Newcastle Speedway Display Stall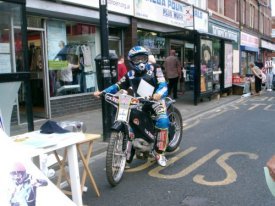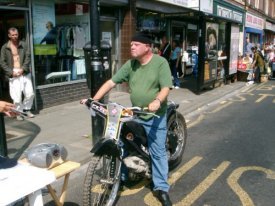 The Geezers were out and about during the last 2 years (2004/2005) with bikes and memorabilia on our display stalls. We were able to offer the visitors free admission or half price admission and we got numerous new faces came to Brough as a result. We got them there and it was up to the sport itself to make them want to come back. I know of one family who had free entry vouchers came in and enjoyed themselves and the mother won £20.00 on our key drawer!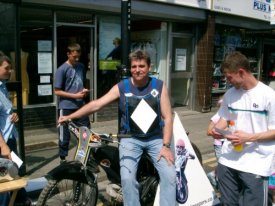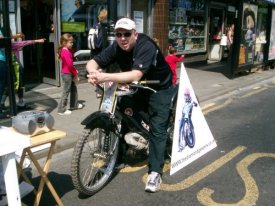 On top of the type of event shown above Mal visited schools with a display. John and Mal and others manned Corbridge Classic Bike Show and Bikewise in Durham. Another notable show for John was at Greys Monument for the turning on of Newcastle's Xmas Lights..
Brown Road Signs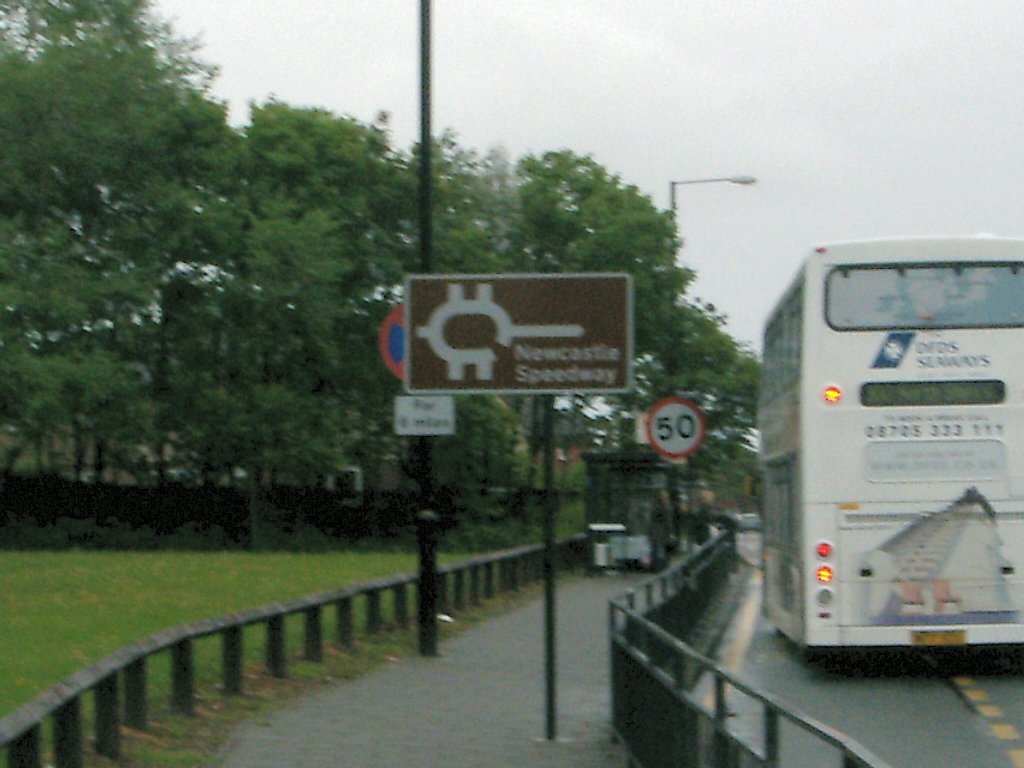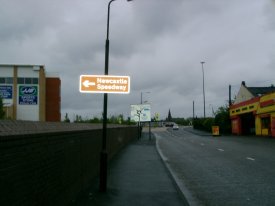 Newcastle Speedway now has 6 Brown signs on roads where there is a constant flow of traffic and is the only track in the UK to have Brown Tourist signs with their name on them. Thanks go to the many people who backed the Diamond Geezers with monthly subs, cash or by paying sponsorships via the abseil or football match. The Geezers can drive past the signs and be proud of the achievement.
What else did we do? Distributed posters and leaflets made telephone calls sent emails wrote letters. Appeared on local radio and the History Site. The history site does encourage people to come back to Brough. Activities of this sort are time consuming and my experience now leads me to defend the promoters when they are criticised for not doing "this or that".
Although the Diamond Geezers no longer exist John Skinner has decided to keep on helping the cause. He has been active throughout 2006 with the help of a few others, notably Scott Nettleship (appearances with his bike) out and about publicising Newcastle Speedway.
---
The contents of this website are © and should not be produced elsewhere for financial gain. The contributors to this website gave the pictures and information on that understanding. If anyone has any issue or objections to any items on my website please email me and I will amend or remove the item. Where possible credit has been given to the owner of each item.