---

Newcastle

1990's

Most of the photos on this page were taken by Steve Brock. If you want to buy prints or engage Steve for his photographic services please visit his website




---

1990

Newcastle Team

Courtesy of Derek Green

Rear: David Bargh, ? Tom Graham, ? ? Simon Green, front kneeling: ? Mark Thorpe. I do not know all the names or the year, can you help please

John




Update: Tony Richardson says: could the one next to Dave Bargh be Richie Owen? And the other one kneeling be Scott Norman? Newcastle 1990 Team, I think this is the year Rod Hunter swapped places with Martin Dixon. Rear left: David Bargh, ? , Tom Graham Team Manager, Martin Dixon, Peter Carr on Bike, Simon Green. front kneeling: ? Mark Thorpe




Update: Andrew Farrar says: This has Peter Carr on the bike, with Tom Graham standing behind him and Martin Dixon to Graham's left and Simon Green to Dixon's left with Mark Thorpe kneeling in front of Green. With David Bargh in the red leathers, it's just the two riders in predominantly green leathers remaining.




Dave Rowland says: The unnamed pair are John Wainwright & Spencer Timmo

---

Derek & Simon Green

Courtesy of Carl Nicklin

Simon Green

Courtesy of Carl Nicklin

The Greens
With Their
Fan Club Secretary

Courtesy of Dave Rowland

John says: Not very sure about this photo. I think it is Simon and Derek Green with their sponsor, please confirm

John




Carl Nicklin says:

it is Simon and Derek Green!




Dave Rowland says: The lady in the middle is Maureen Dowling, wife of the referee David Dowling, who was then the secretary of the Green twins fan club.

---

1990 Newcastle Team

Courtesy of Carl Nicklin

---

David Blackburn

Courtesy of Carl Nicklin

---

John Wainwright

Courtesy of Carl Nicklin

---

G Whitaker

Courtesy of Carl Nicklin

---

Peter Carr

Courtesy of Carl Nicklin

---

Rod Hunter

---

Shane Bowes

Courtesy of Carl Nicklin

---

Mark Courtney

---

Mark Thorpe
Mark Thorpe. The latest Kiwi in a long line to come to Newcastle. Mark was born 26.03.1969, Christchurch, New Zealand. His British clubs were Newcastle (1989-1994) Bradford (1994) and Swindon (1995, 1996)

Courtesy of Carl Nicklin

Newcastle v Berwick


Picture courtesy of Helen Jobson

Mark Thorpe Flanked By Tom Graham & Ivan Stephenson

---

Mark Thorpe With Joan English & George English Junior

Courtesy of Dave Rowland

George English Jnr and mum Joan with what looks like Mark Thorpe, can you confirm that it is Mark and maybe you recognise the person at the right hand edge?

John




Tony Richardson says: Is the rider on the far right David Nagel?




Carl Nicklin says Yes it is David Nagel

---

David Bargh

Courtesy of Carl Nicklin

---

Mark Thorpe

Courtesy of Carl Nicklin

---

Garry Stead

Courtesy of Carl Nicklin

---

1991

Newcastle Team

1991 team, can you name them please

John


Tony Richardson says: Team from left to right Promoter not known, Scott Lamb, Kneeling Richard Juul, Dave Bargh, Martin Dixon (on bike), Brian Havelock (Team Manager), Mark Thorpe, Jamie Habbin I think (nickname Pink Panther), kneeling not known




Craig McCurdy says: - I think the rider kneeling on the right is Brian Nixon (Australian)




Steve Park says: The Promoter is Bill Reay




Carl Nicklin says: Is the mystery riding kneeling on the right not Dave Hamnett?

1991 Newcastle Gold Cup Winners

Courtesy of Carl Nicklin

Back row: David Bargh, Martin Dixon, Brian Havelock (Team Manager) with the Gold Cup, Scott Lamb, Richard Juul. Front row: Mark Thorpe, middle = not known and right Jamie Habbin.

Greg Alder says: The missing names are, Phil Jeffrey black leathers holding cup and Max Schofield centre front.

---

Max Schofield

Courtesy of Carl Nicklin

---

The "Pink Panther!"

Jamie Habbin, was a Diamond for 12 meetings in 1991 averaging 3.91.

---

Wayne Garratt

Wayne Malcolm Garratt

(born 30 October 1968 in Halesowen, England - died 28 September 1992) He started his speedway career with the Cradley Heath Heathens in the British League. Wayne was also a junior grasstrack champion at the age of six. He showed a lot of promise but due to the points limit restrictions he was loaned to the Arena Essex Hammers in the National League for two seasons. He was recalled to Cradley again in 1991 but was forced out again by the points limit for 1992. However, in 1992, whilst on loan with Newcastle he was involved in a crash at Brough Park on Sunday 13th September and was rushed to hospital and placed on a life support machine. Wayne died after 15 days and never having regained consciousness. His body was transported back to the West Midlands.

The above clips were sent by Malcolm Ridley, thanks Mal

Wayne In Action

Courtesy of Carl Nicklin

Wayne's death was the fourth as a result of accidents on the Brough Park track. The other fatalities were: -
Name
Date of Accident
Bill Nichol
A novice rider from Newcastle upon Tyne
April 1946
Fractured Skull
Charlie Appleby
A Canadian riding for Birmingham
Oct 1946
Head Injuries
Chris Prime
Born Hull and was in his second season as a Newcastle Junior.
April 1978
---
1992

Newcastle Team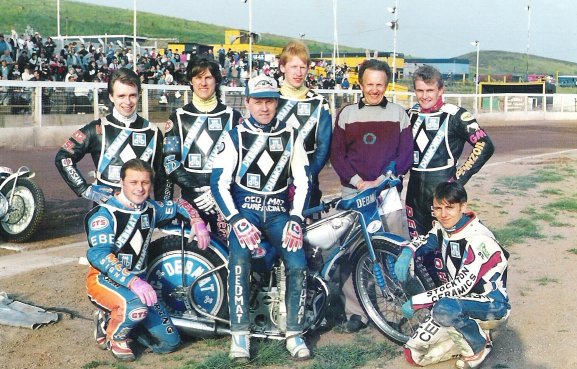 1992
Phil Jeffrey Scott Norman David Bargh Richard Juul Brian Havelock Mark Thorpe With Kneeling Wayne Garratt and Max Schofield. These photos of 1992 were supplied by Annette Aisbitt who no longer comes to the speedway. Come back Annette the team needs you!
---
Richard Juul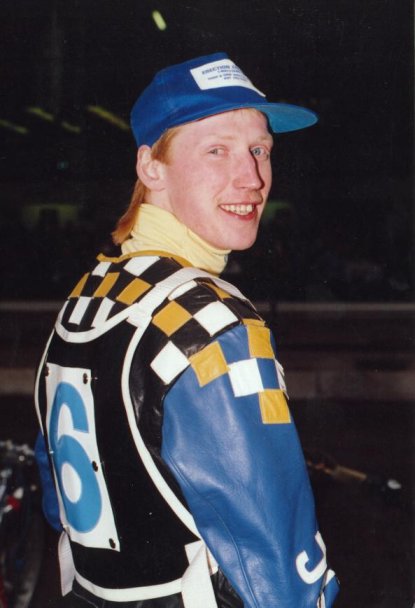 Courtesy of Carl Nicklin
---
Scot Norman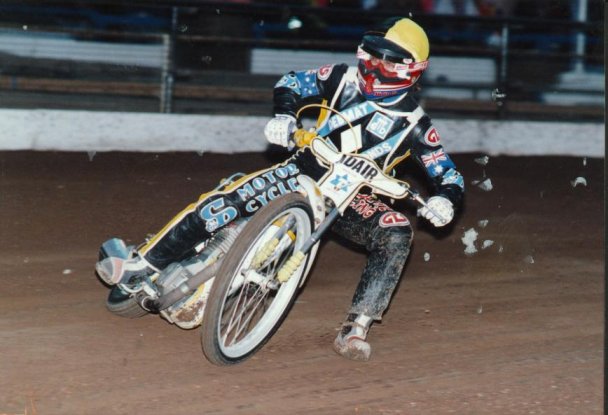 Courtesy of Carl Nicklin
---
Three Instantly Recognisable


1992

Riders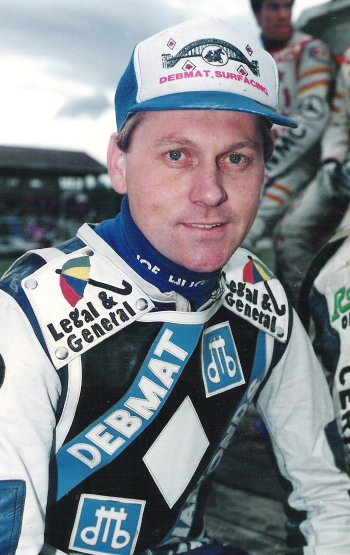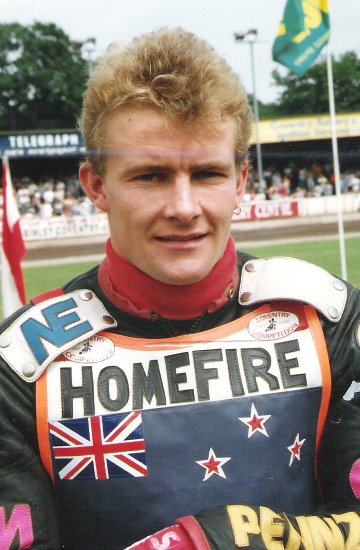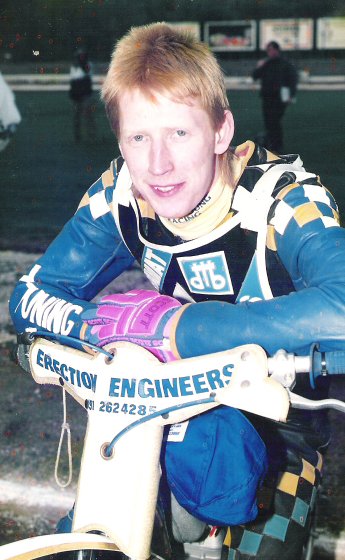 David Bargh, Mark Thorpe and Richard Juul from the Debmat Diamonds of 1992
---
Phil Jeffrey
Courtesy of Carl Nicklin
Phil Jeffrey &
Max Schofield?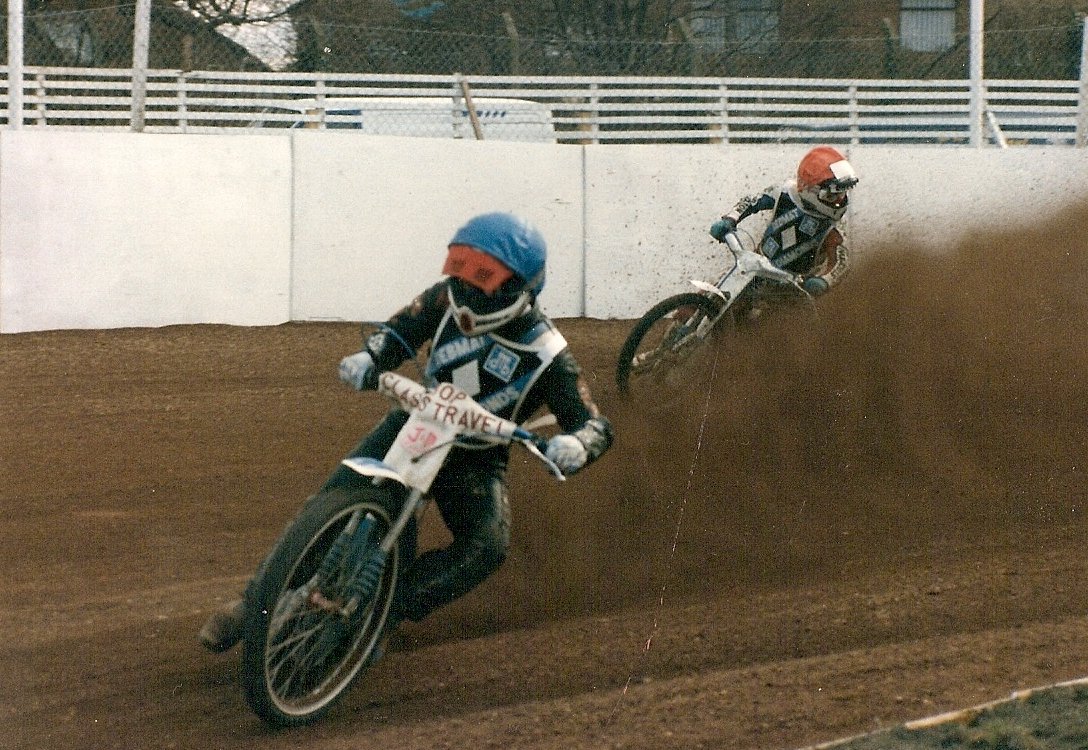 ---
p
1992 Newcastle Gold Cup Winners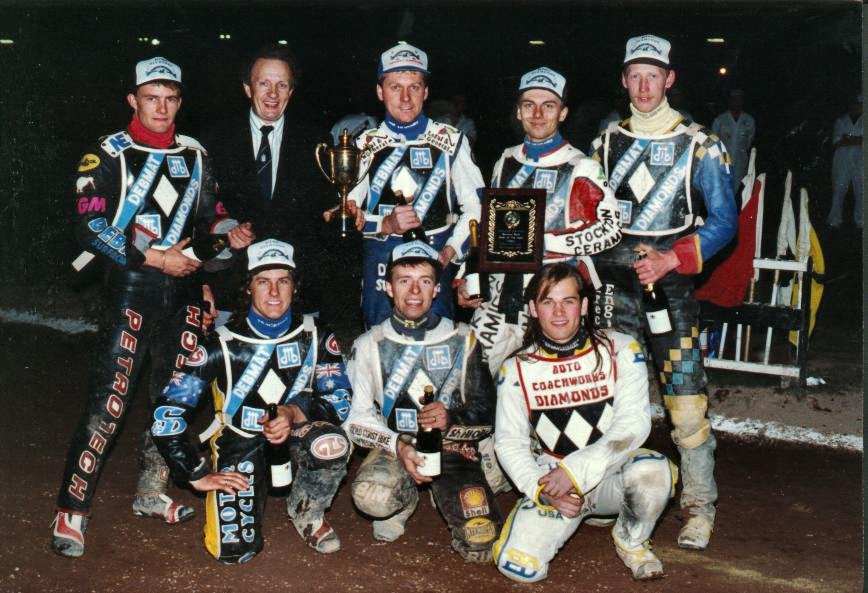 Courtesy of Carl Nicklin
---
1993

Newcastle Team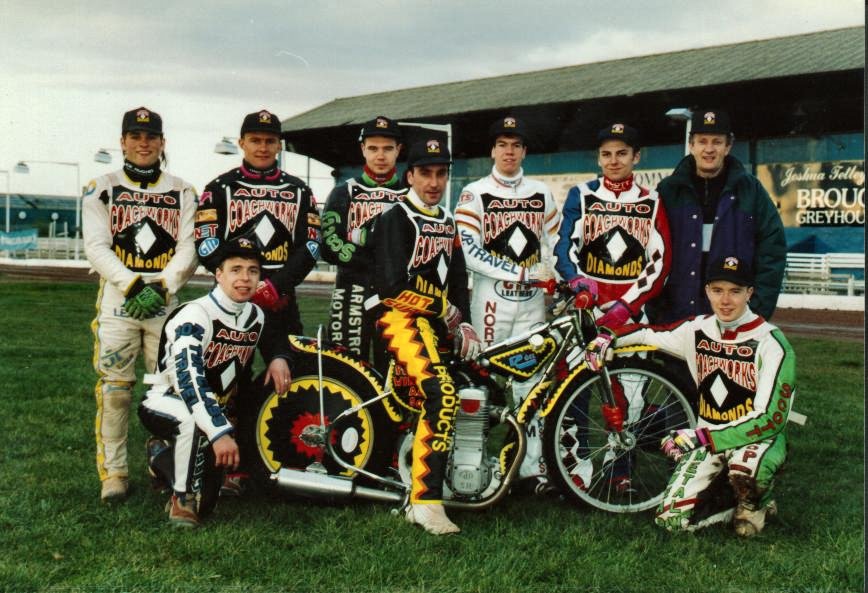 Courtesy of Carl Nicklin
---
Paul Thorp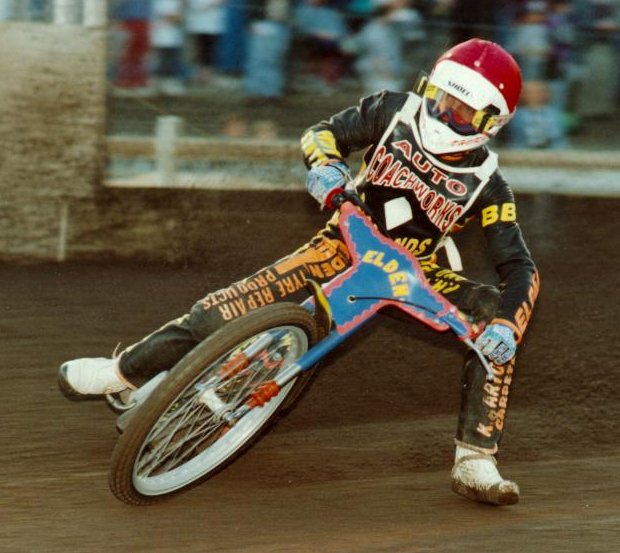 ---
1994

Newcastle Team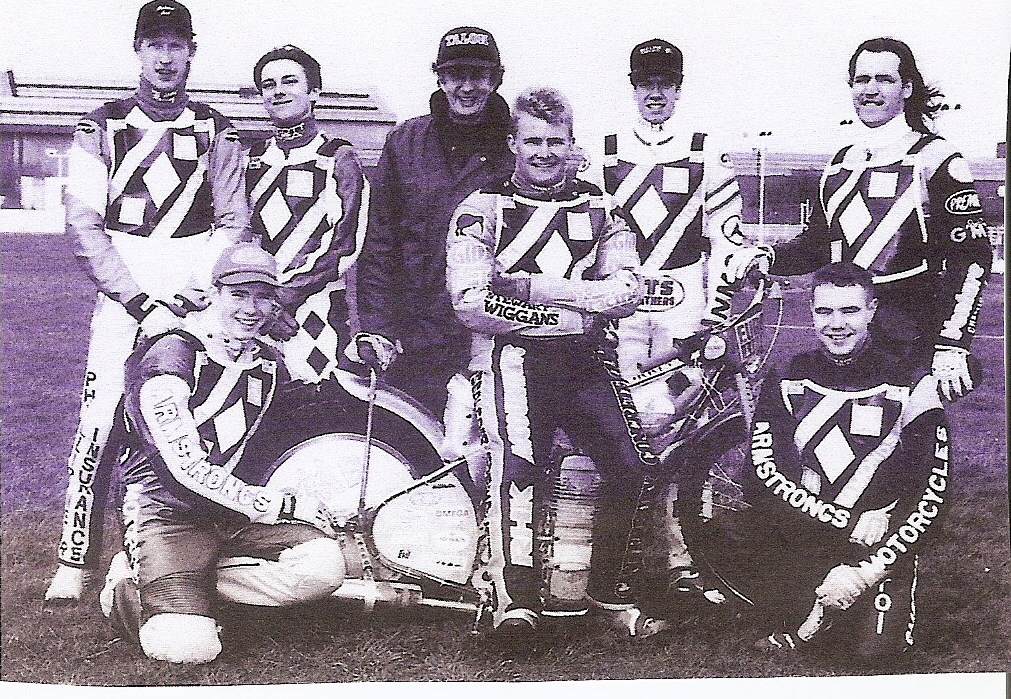 Back row - Richard Juul, Max Schofield, Brian Havelock (manager), Garry Stead, Neil Evitts, kneeling & on bike - Stuart Robson, Mark Thorpe, Scott Robson. Evitts only rode a handful of meetings and then retired to be replaced by rider replacement and, subsequently, Petri Kokko.
---
Petri Kokko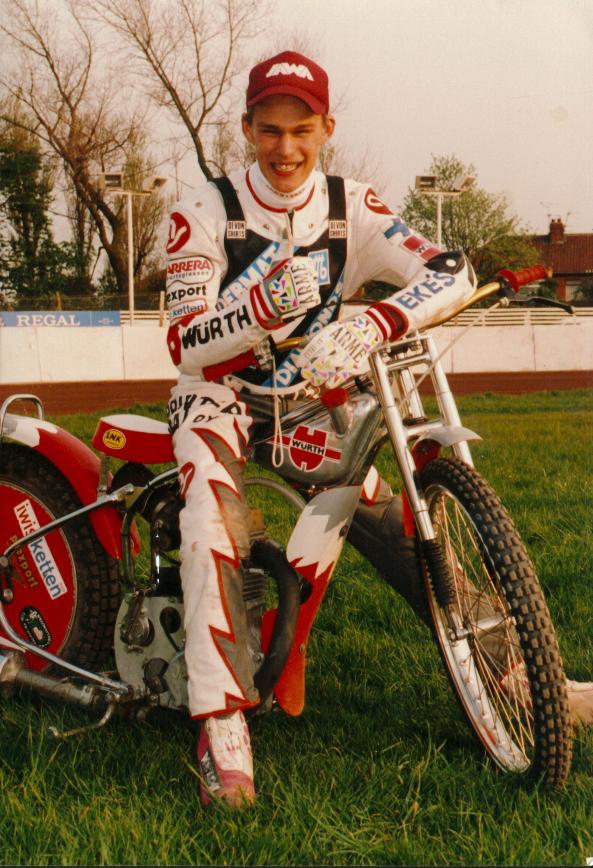 Courtesy of Carl Nicklin
1994 Newcastle Team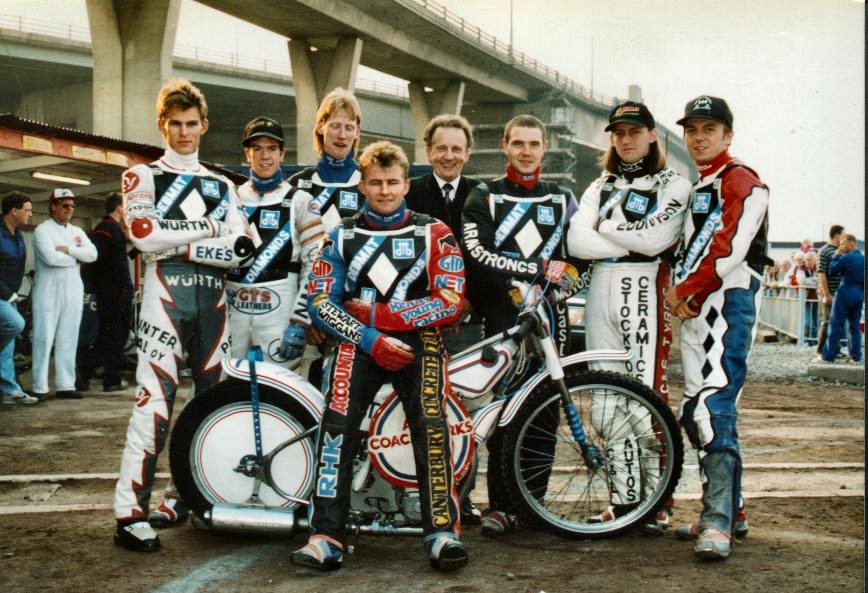 Courtesy of Carl Nicklin
---
1995 & 1996

Track Closed
---
George English jnr
The Most Successful All Time
Newcastle Speedway Promoter ?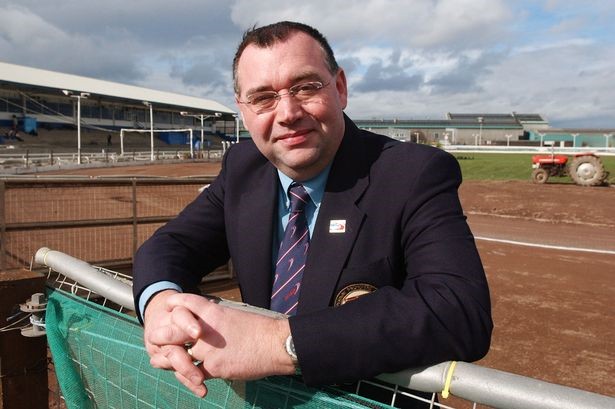 John says: Considering all of Newcastle Speedways promoters. I salute George English as the best promoter Newcastle has ever had. He has kept the speedway going despite low spots where the crowds have declined. Well done George, your dad would be proud of you!
Newcastle's Speedway fans were yet again denied their fix of the sport as it closed at the end of 1994 and didn't open again until 1997 with a new promotion and a new team.
George English and Dave Rowland on behalf of Newspeed Ltd., brought the bikes back to Brough. George and Dave were foremost Newcastle Speedway fans. Dave stood down as promoter and has been instrumental lately at bringing on young talent and seeing to the track and safety fence work every winter. George's parents George senior and Joan English ran the supporters club but George English junior began his role as promoter in 1997 a reign of some 20yrs to 2017 as main promoter a feat not equaled since 1929 when speedway started at Brough Park. Previous promoters Johnnie Hoskins, Mike Parker and Ian Thomas may have had more charisma and made money out of running Newcastle Speedway, Ian Thomas won more trophies than George but non of them have lasted 20 years as a promoter. Keep up the good work George the fans depend on you.
---
1997 Newcastle Team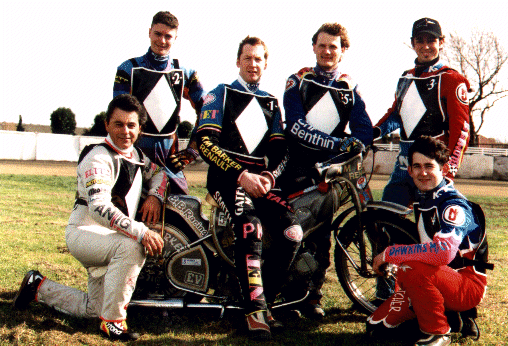 1997 - Glyn Taylor, Brian Turner, Paul Bentley, Jesper Olsen, Andre Compton and Stuart Swales. This team was led by Newcastle born and bred Paul "Banger" Bentley, backed up by Danish import Jesper Olsen and Andre Compton. Unfortunately, Compton broke an ankle on practice day at Brough Park and missed several matches at the start of the season. Stuart Swales was a big favourite with the fans for his never say die riding.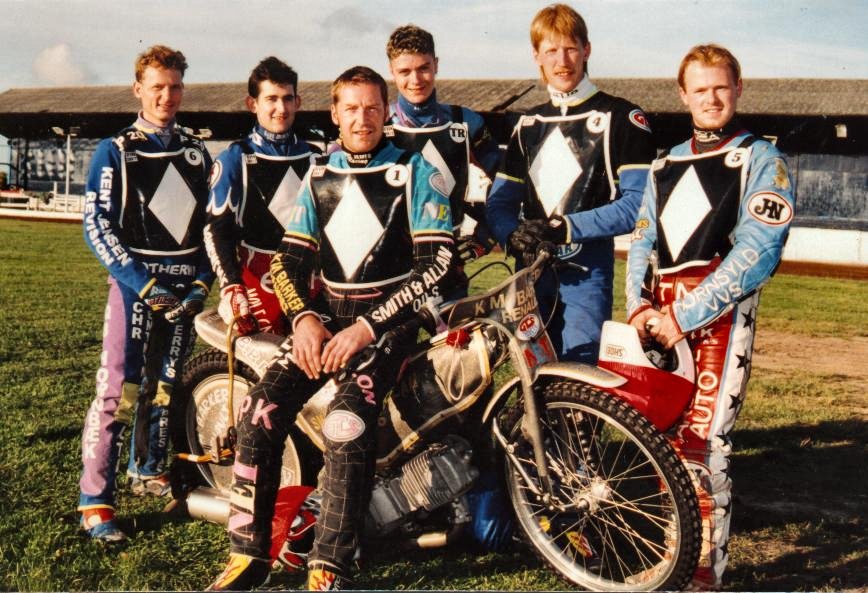 Courtesy of Carl Nicklin
---
Phil White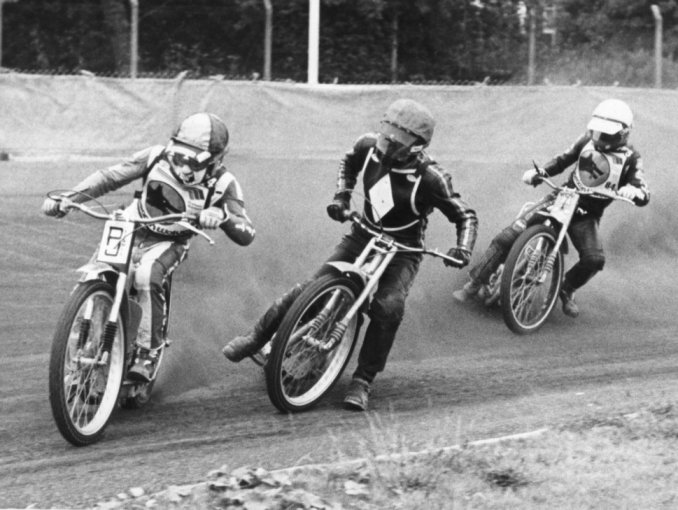 Courtesy of Carl Nicklin
Phil White sandwiched between two Wolves
---
Jesper Olsen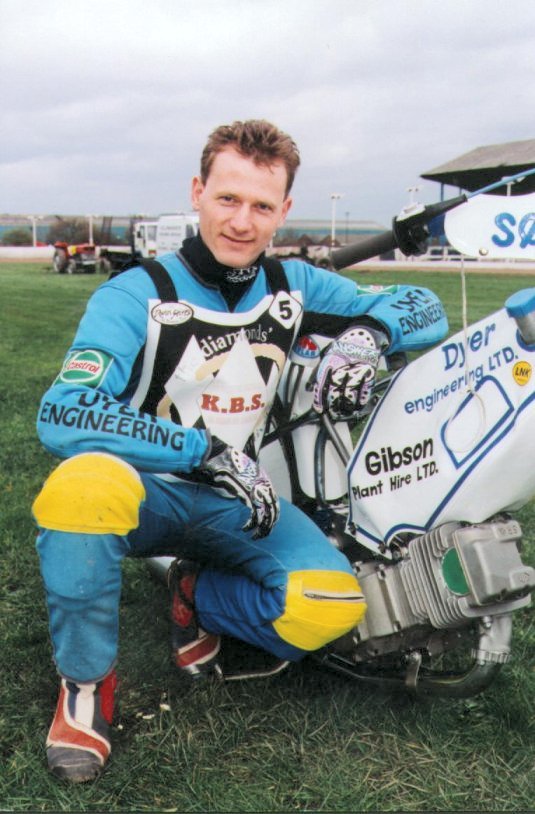 Courtesy of Carl Nicklin
Another of my favourites Dane Jesper Olsen joined Newcastle in 1997 and began a long association with the Diamonds. He was a professional heatleader and a great team man and captain. He has settled on Tyneside with his wife a local girl and family. After the 2 year spell without speedway at Brough things would never be the same again. Newcastle's association with Aussies and New Zealanders gave way to a long association with Danish Riders beginning with Richard Juul and Jesper"O" See the Jesper section on the 2000 page for more information.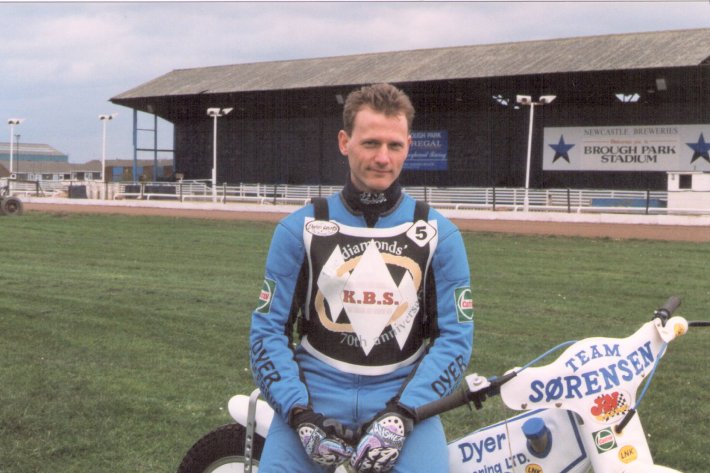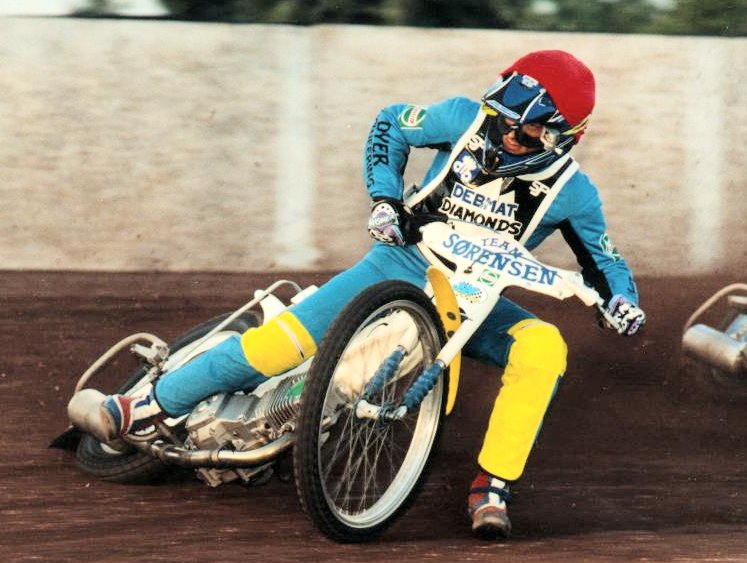 Courtesy of Carl Nicklin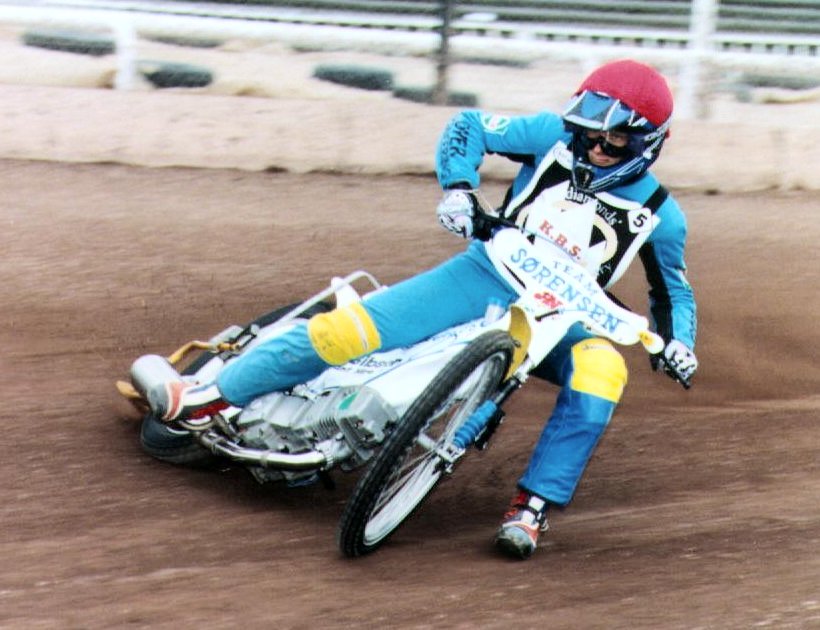 Courtesy of Carl Nicklin
Jesper On The "Box"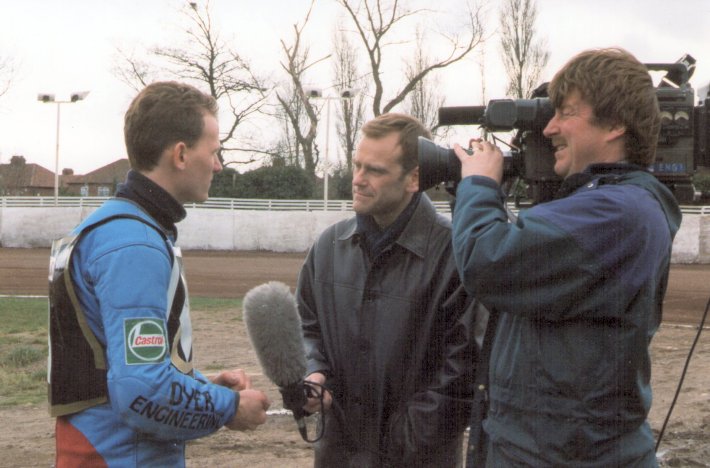 I have only spoken a handful of times with Jesper but I was impressed that he could talk 19 to the dozen in what to him was a difficult foreign language. Here he is being interviewed by BBC man and speedway fan Jeff Brown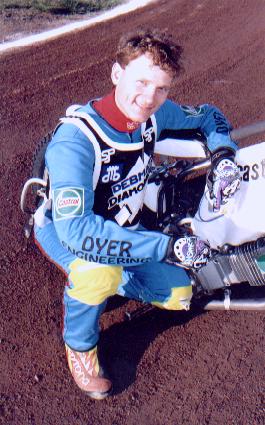 Jesper O now an adopted Geordie, married to local girl Carole Gibson and living on Tyneside
---
1998 Newcastle Team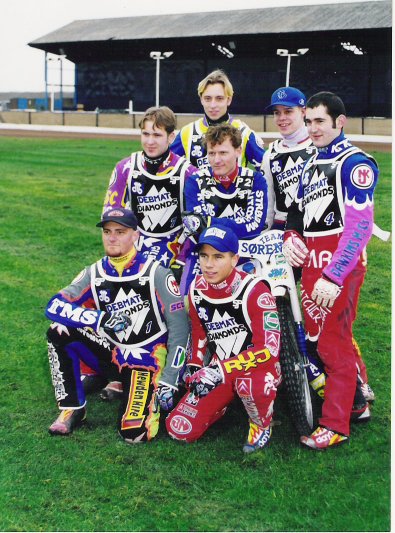 1998 team. L-R not sure who 1st two are! James Birkinshaw and Stuart Swales are other 2 standing, Jesper on the bike, Brent Werner and Nicki Pedersen kneeling
Paul Brassell says: Hi John the 1998 team photo the 2 riders at the back are from the left Jonathon Swales & Malcolm Hogg... Johnny helps with the track now at Redcar & Workington and Malcolm Hogg makes Kevlar racing suits for the riders S.F. race ware is his company name. Hope this has been some help to you. Cheers for now.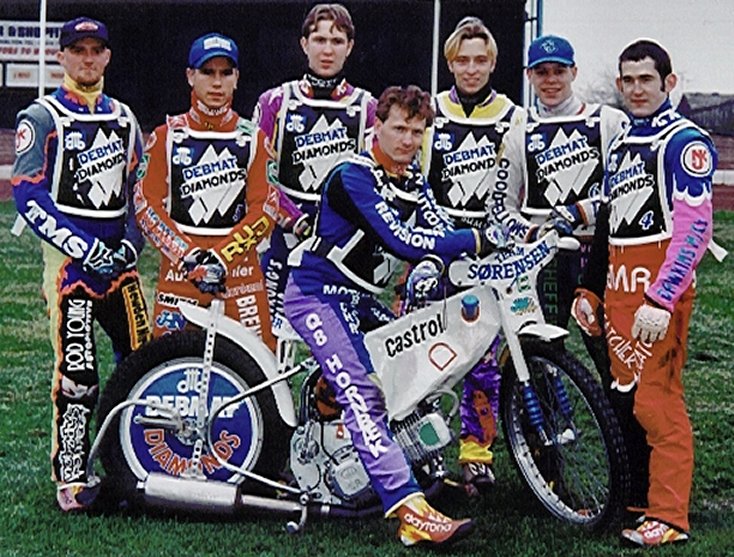 Courtesy of Carl Nicklin
1998 Diamonds: Brent Werner, Nicki Pedersen, Jonathon Swales, Malcolm Hogg, James Birkinshaw, Stuart Swales and captain Jesper Olsen on the bike.
---
Brent Werner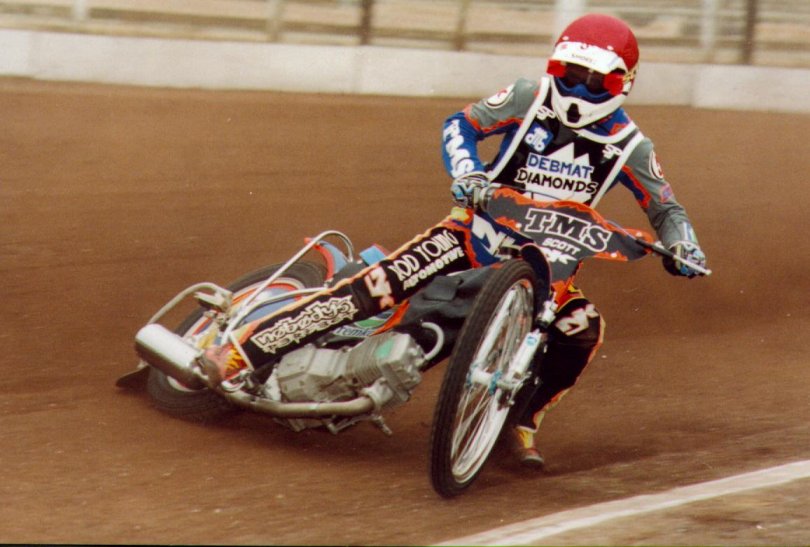 Courtesy of Carl Nicklin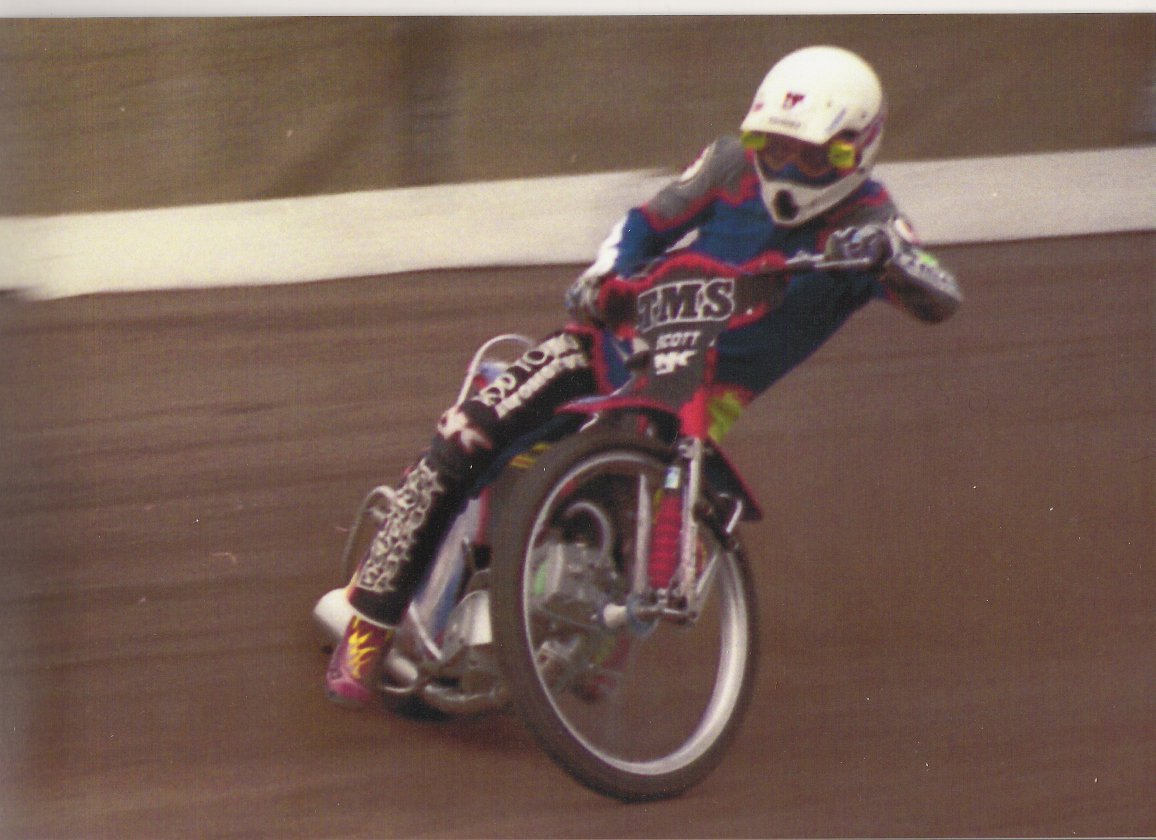 American Brent Werner
---
Nicki Pedersen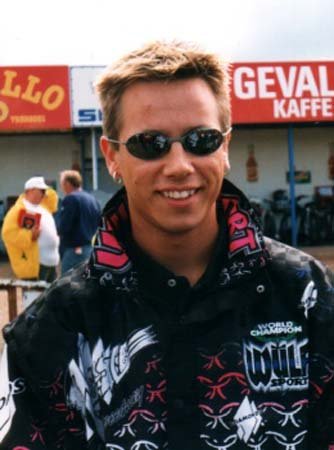 Nicki. Newcastle's 3rd Great Dane
The 2003 world champion Nicki Pedersen was a Newcastle rider in 1998. Wild man Nicki entertained us by never giving up. He raced flat out, caused crashes, walloped fences, great stuff! I remember saying to my daughter in 1998, "There goes a future world champ" Then we waited 5 years for it to happen. Nicki was a smash at Newcastle and only stayed one season before joining the worlds elite, but he is part of our history like Ivan, Ole and Anders. Four world champs have been Newcastle riders. His riding style wins him no friends within the riding community and he is the rider the fans love to boo! But not at Newcastle!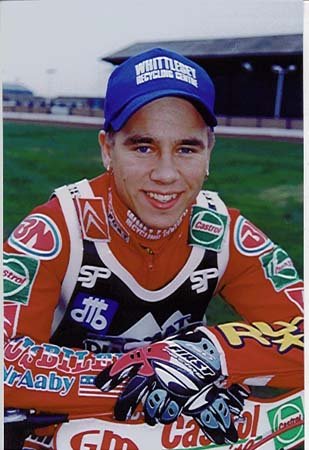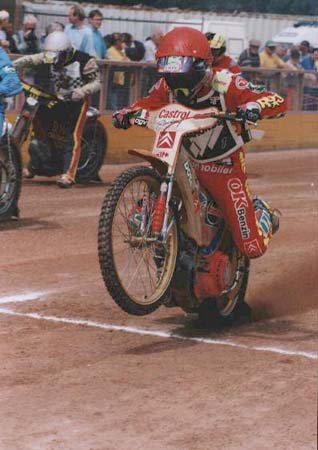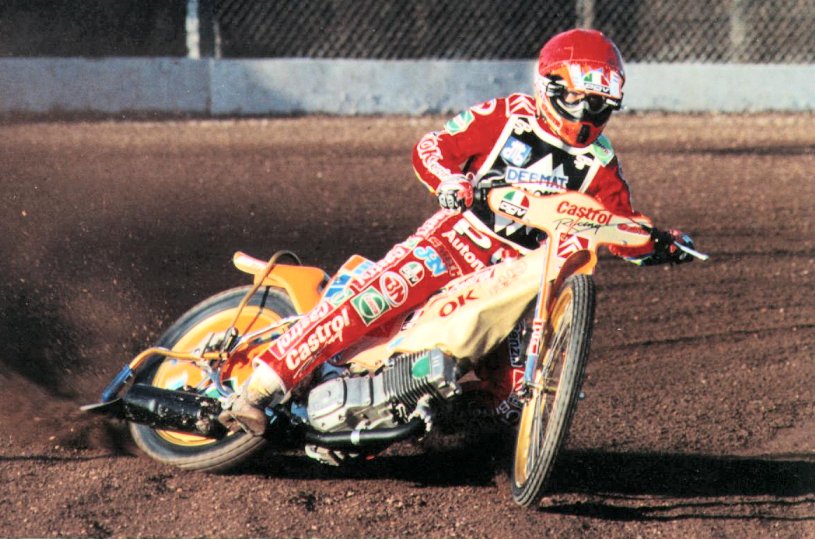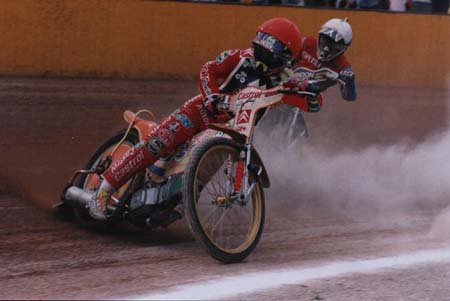 Nicki Pedersen, Newcastle's 4th World Champion
0
---
1999 Newcastle Team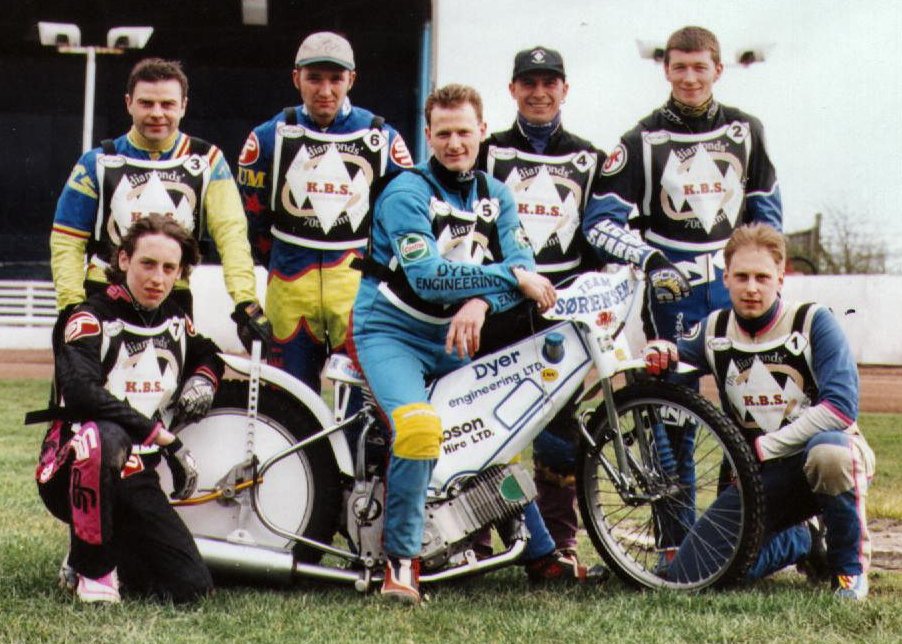 Courtesy of Carl Nicklin
Steven Jones (kneeling), David Walsh, Anthony Barlow?, Jesper Olsen (on bike), Derrol Keats?, Paul Gould, Robert Eriksson (kneeling)
---
Robert Eriksson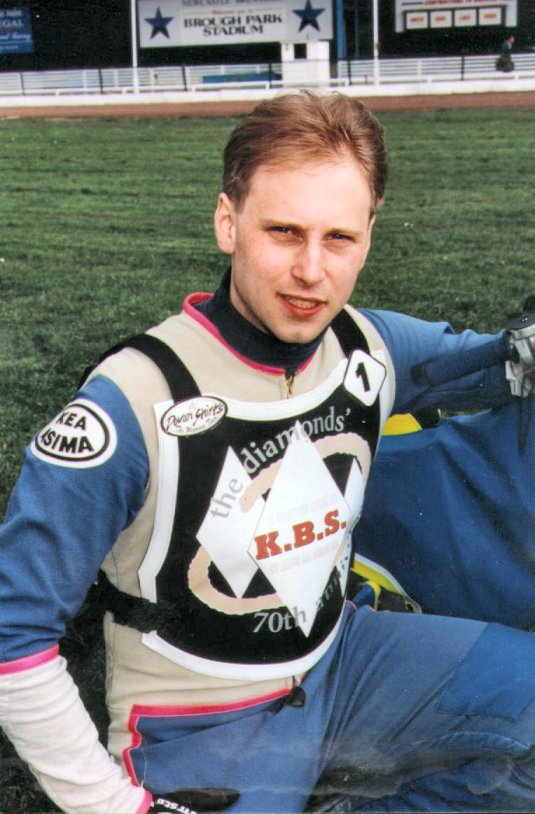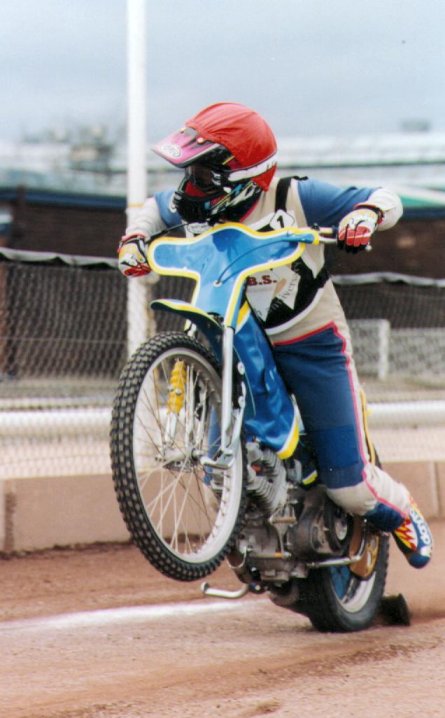 Courtesy of Carl Nicklin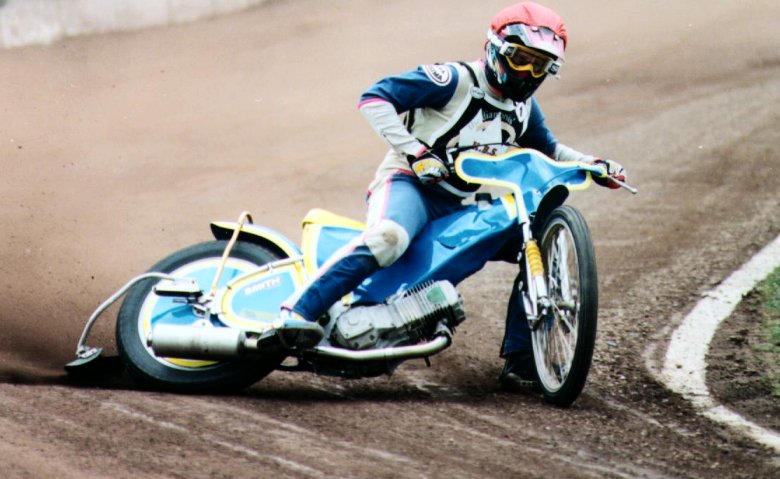 Courtesy of Carl Nicklin
---
Paul Gould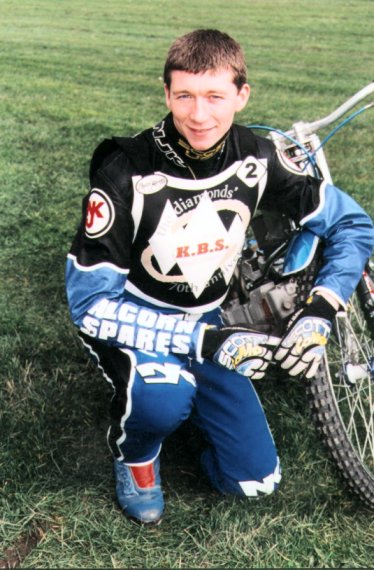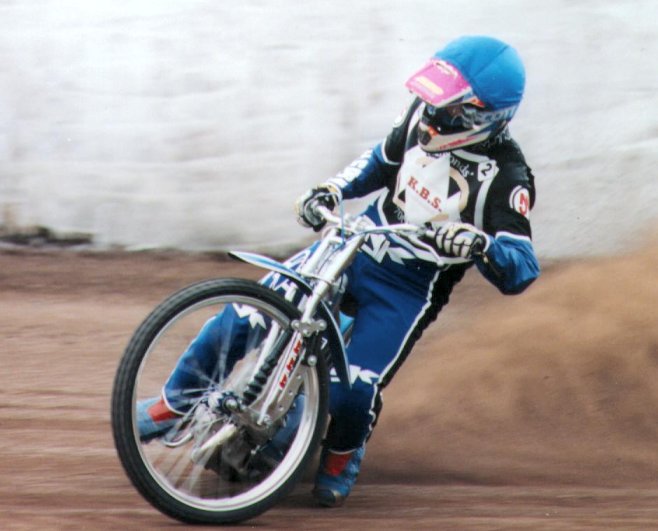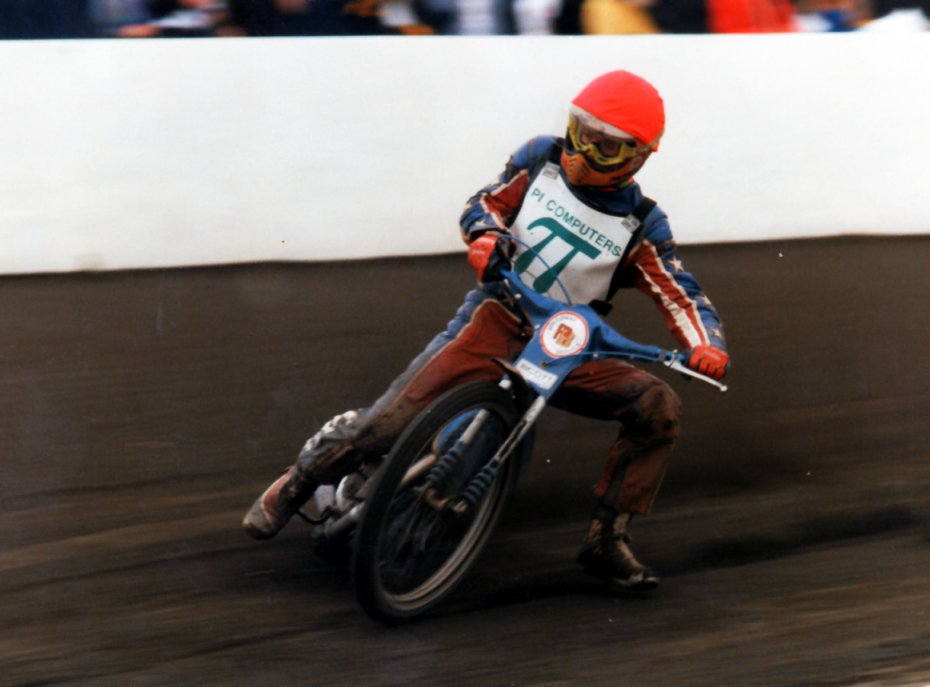 Courtesy of Carl Nicklin
Paul Gould in unfamiliar race jacket. He wore a Diamonds jacket in 1999 and was averaging around 6.00 points by September.
---
Anthony Barlow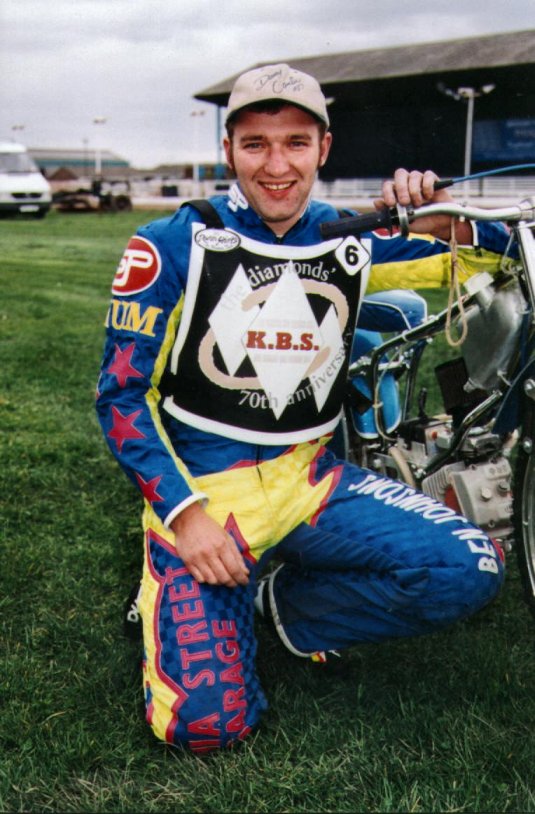 Courtesy of Carl Nicklin
---
David Walsh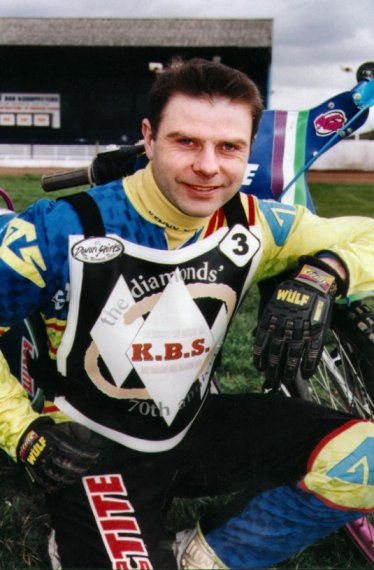 Courtesy of Carl Nicklin
David Walsh &
Jesper Olsen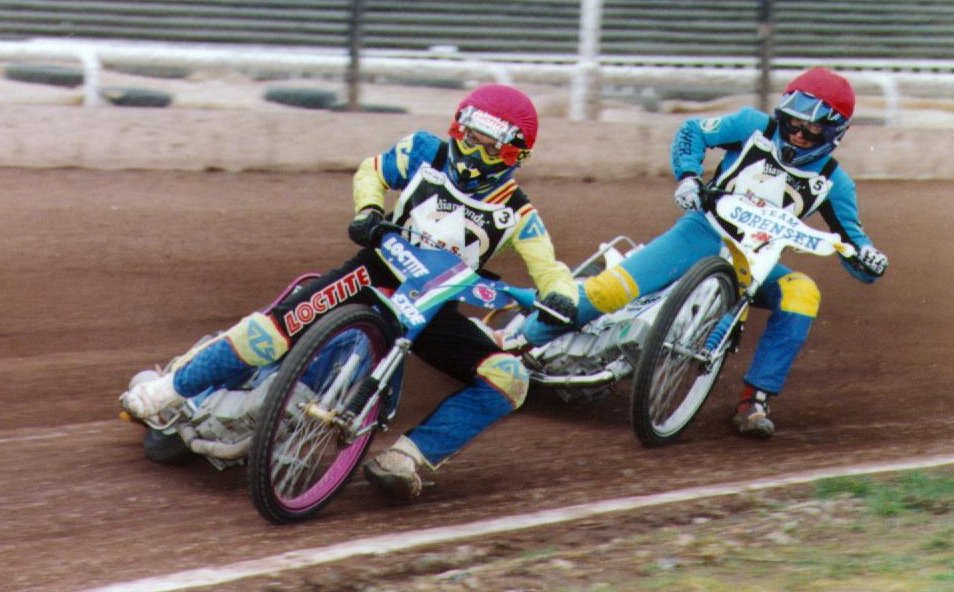 Courtesy of Carl Nicklin
David Walsh With
His Back Wheel In The Dirt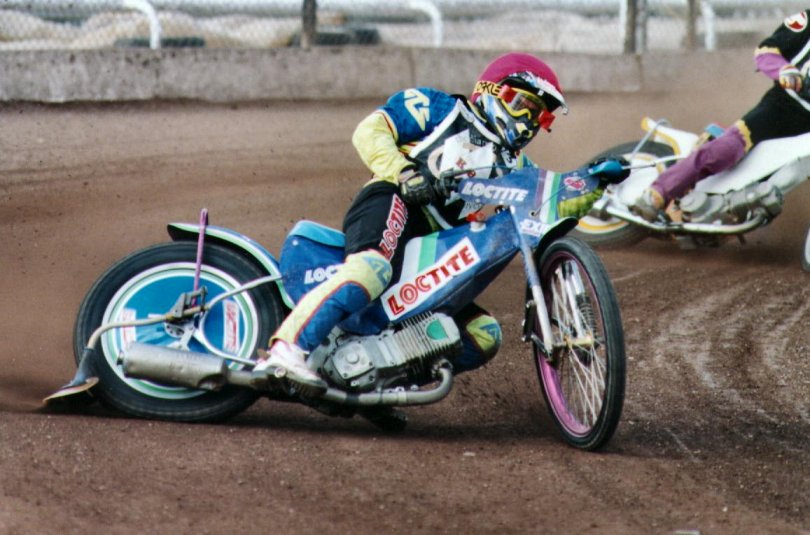 Courtesy of Carl Nicklin
---
Derrol Keats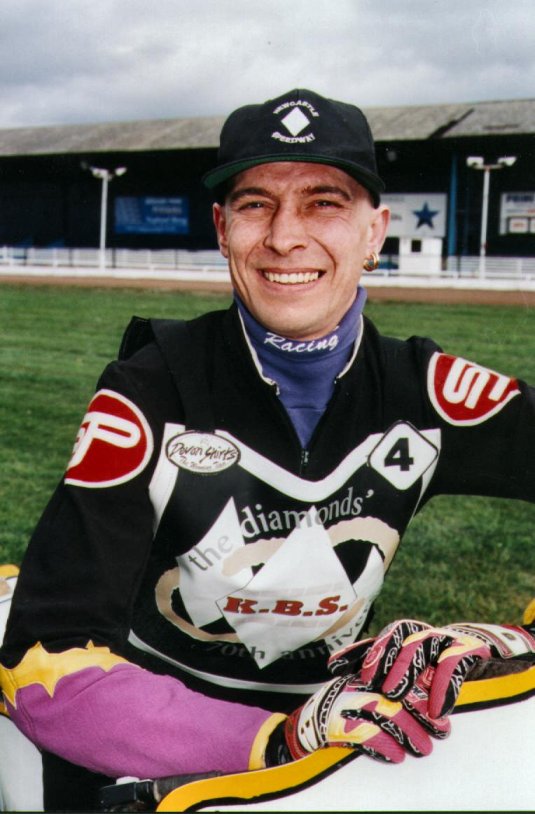 Courtesy of Carl Nicklin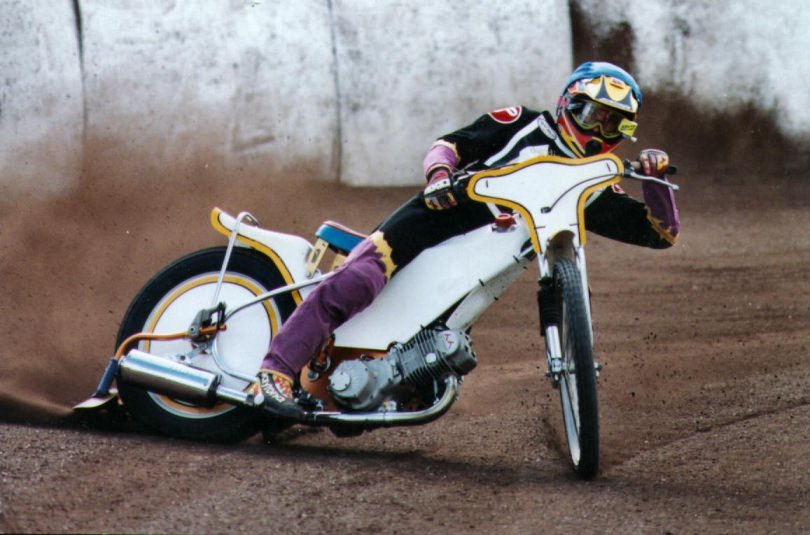 Courtesy of Carl Nicklin
John says: One of the best action shots I have seen for a while. Derrol was never a star rider but he had his moments.
Keith Dyer says:
He was a Diamond in 1999. He started the season, but was either released or injured, likely injured as he had a 5.75 average after 19 meetings.
1999

Derrol Keats,
Robert Eriksson (Red)
& Steve Jones
p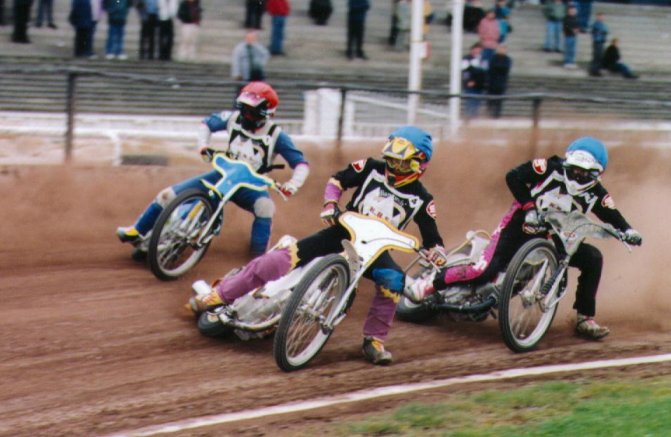 Courtesy of Carl Nicklin
1999: Derrol Keats Robert Eriksson (Red) and Steve Jones.
Paul Gould,
Derrol Keats &
Red Robert Eriksson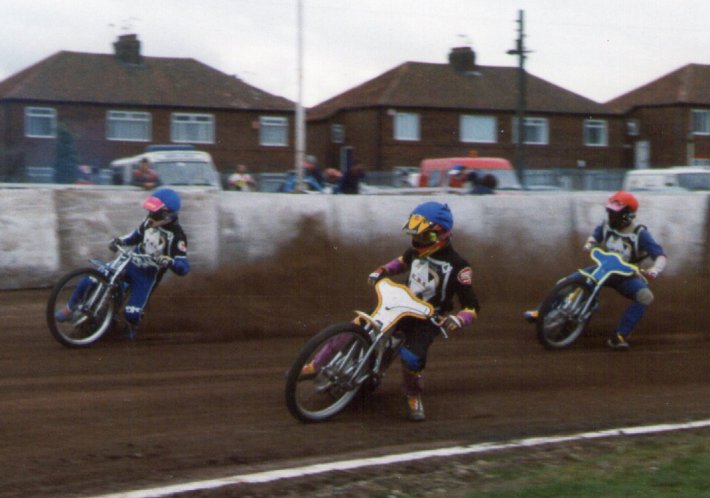 I wonder why there are two blue helmets and 3 Diamonds in these 2 shots? Perhaps it was the pre-match parade!
---
Derrol Keats

1999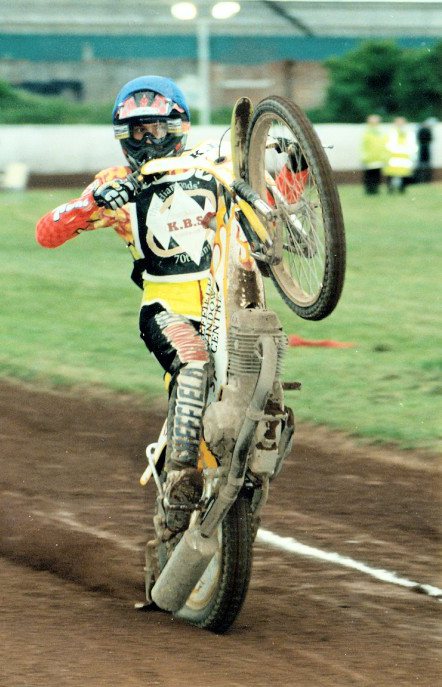 Courtesy of Kevin Rabbitt
Steve Baker says: Derrol Keats 1999
---
Steven Jones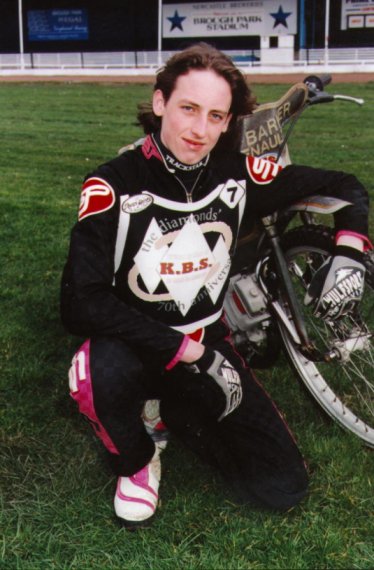 Courtesy of Carl Nicklin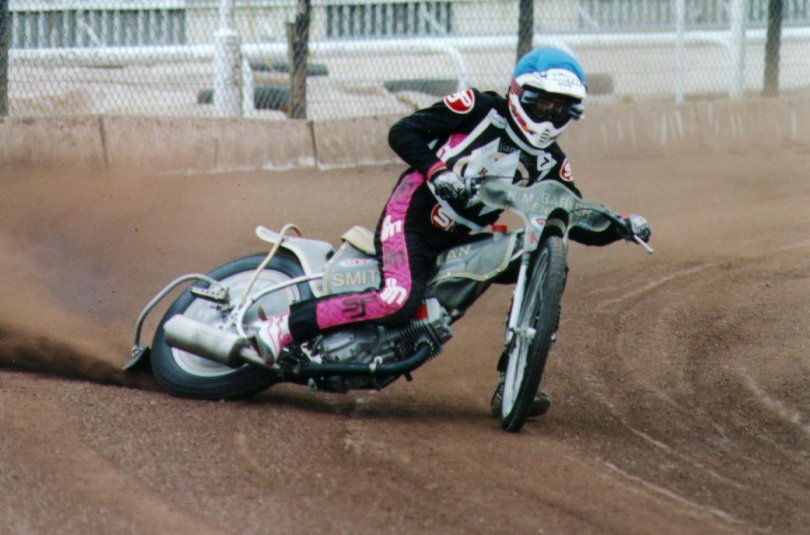 Gateshead's Steven Jones, always appeared to be on the verge of breaking through to Premier League level but never quite managed to make the step up.
---
Jesper Olsen 1999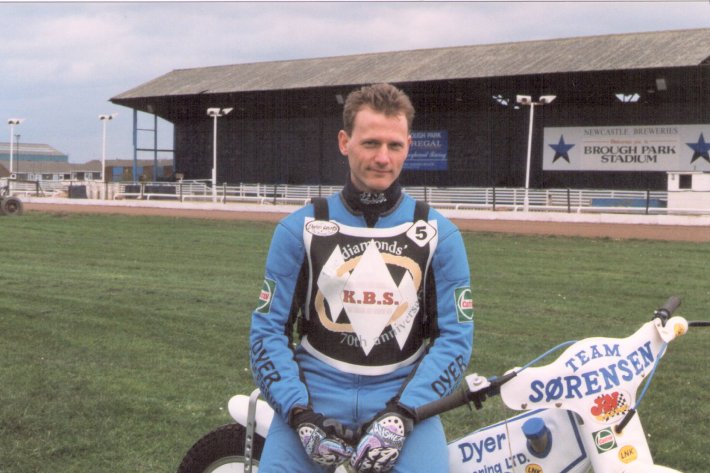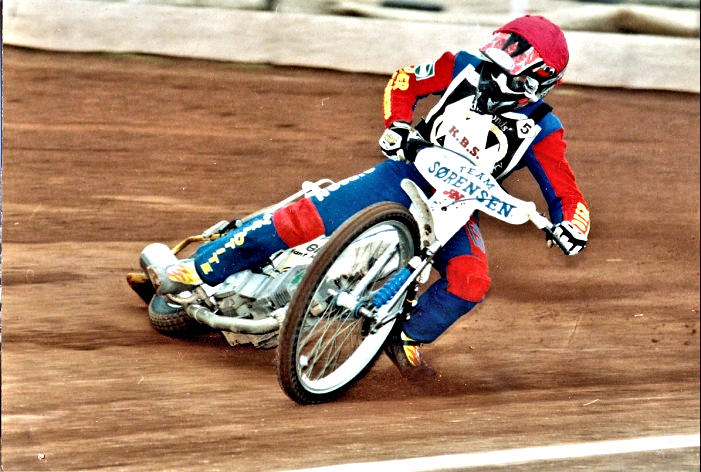 Courtesy of Kevin Rabbitt
John says: Looks like Jesper Olsen.
Steve Baker confirms it is Jesper Olsen in 1999
---
Brough Park's 70
th Anniversary
1999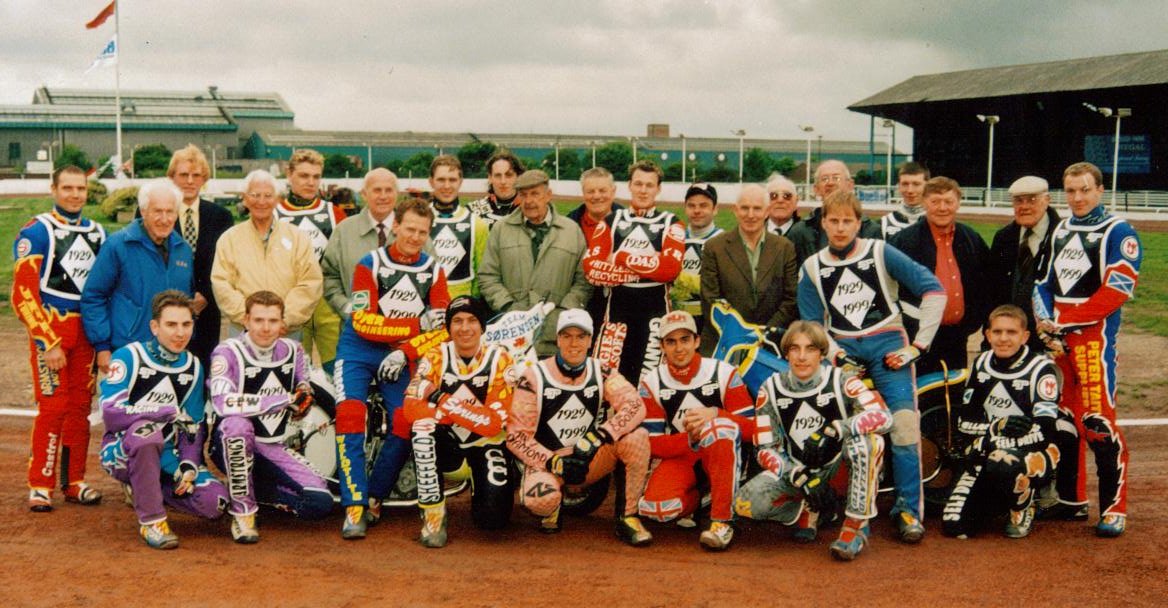 Courtesy of George Winstanley
70th Birthday of Newcastle Speedway. The current team shared their places in this photo with a number of ex diamonds. If you recognise yourself or your dad etc. please email me
John
Mick Redmond says: My dad Norman Redmond is in the light coloured jacket, second from the left, in the second row
George's photo shows his dad Jack Winstanley in the brown jacket. How many others can you name?
John
Dave Rowland says: Left to right Scott Robson James Grieves Tim Swales Stuey Robson Lee Dicken Jesper Olsen Jonathan Swales Derrel Keats Steve Jones Garry Stead Darren Smith Andre Compton David Walsh Jack Winstanley Grant McDonald Robert Eriksson Paul Gould Russ Dent Scott Lamb Kevin Little hope that is OK for starters
---
Continue with 2000 onwards
Home:
---
`
The contents of this website are © and should not be produced elsewhere for financial gain. The contributors to this website gave the pictures and information on that understanding. If anyone has any issue or objections to any items on my website please email me and I will amend or remove the item. Where possible credit has been given to the owner of each item.