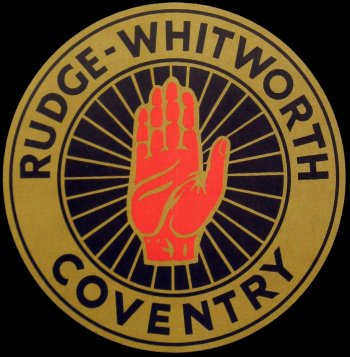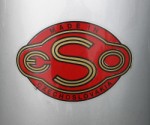 ---
1980's Part 2
David Bargh Derek Richardson Rod Hunter 1984 British League Newcastle Federation Special Diamonds Diamonds v Fed Specials Mark Thorpe Simon & Derek Green Steve Wicks
---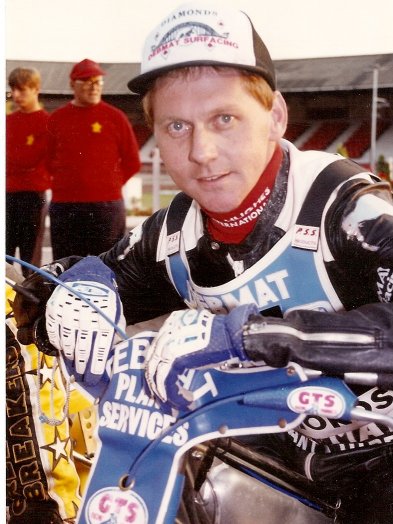 Davi
d
B

arg

h, - Born: Martinborough, New Zealand on 14 March 1962. Newcastle's relationship with riders from NZ continued with Barghy who was such a popular guy at Brough Park.
David like Ivan Mauger came to us from New Zealand, like Ivan pronouncing his name took a while before his riding ability made it a household word (amongst Tyneside speedway fans anyway) . David's team riding was brilliant he would shepherd his partner around to score maximum points whenever possible. Long time partner was English rider Derek Richardson and we all expected them to be first and second every time with David sitting behind and Derek sweeping around the outside. Great to watch.
Barghy rode for us in 1978,79,80,81,84,90,91,92 which means he spanned 3 decades, sorry if that makes you feel old David!
I recently exchanged emails with Andrew Ward whom had contacted David to ask him questions on my behalf.
David says:
I would like to say a big thank you to Newcastle speedway fans for all the fun over the years and good times it has been good to look back on, would love to do it again all of which could not happen without the fans and promoters. I would like to acknowledge all the help I had from a lot of good people. Have been earthmoving contracting for the past 19 years building river stopbanks, roading and tower sites for New Zealand windfarms, also doing subdivision work for new housing in Palmerston North and irrigation dams plus other farm work building cow races. Would love to come over at some stage. Please say hi to Rob Gittus for me. Please let Eddie, Tom, Chris know all is well may be meet up one day Regards David and Vickie Bargh
Barghy In Y/B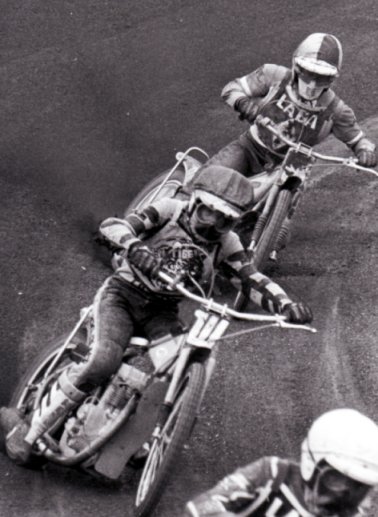 David Bargh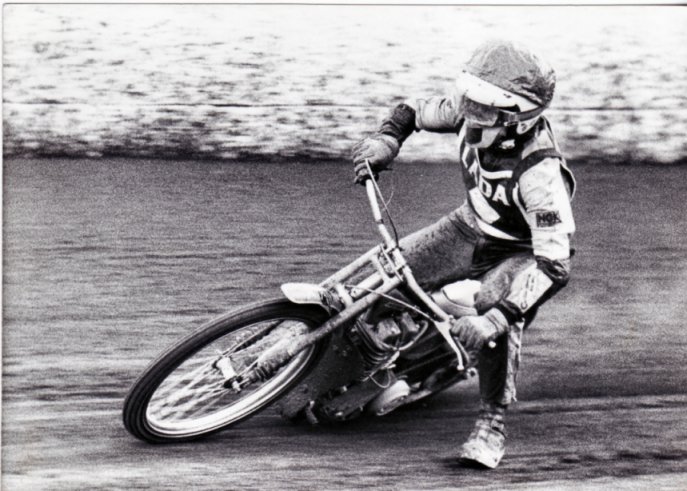 David was in my opinion second only to Ivan Mauger amongst all of the Kiwi riders at Newcastle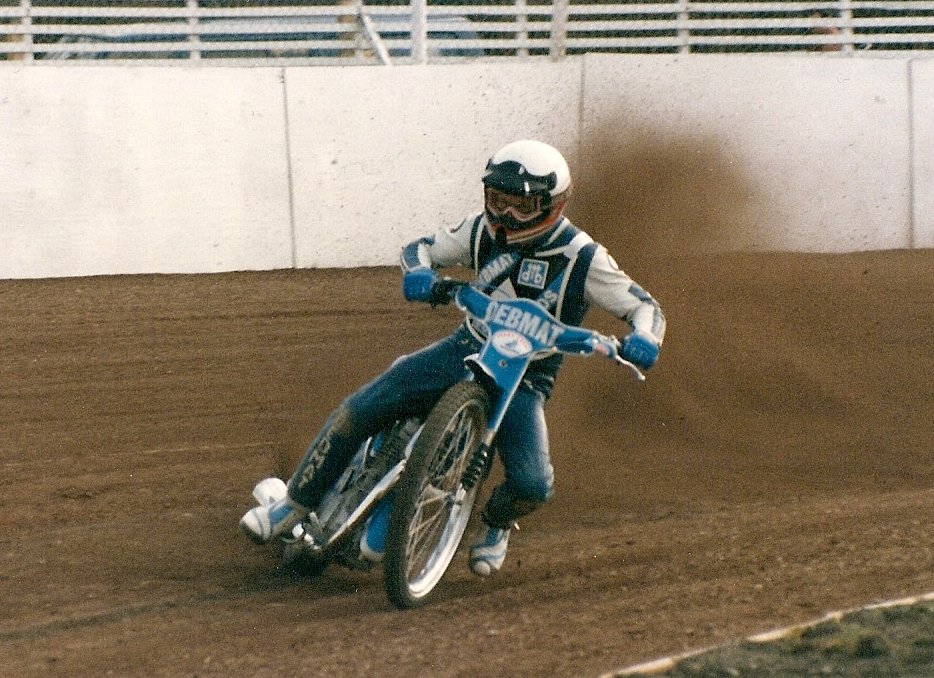 The unmistakable and "Steady" style of the second great Kiwi to ride for Newcastle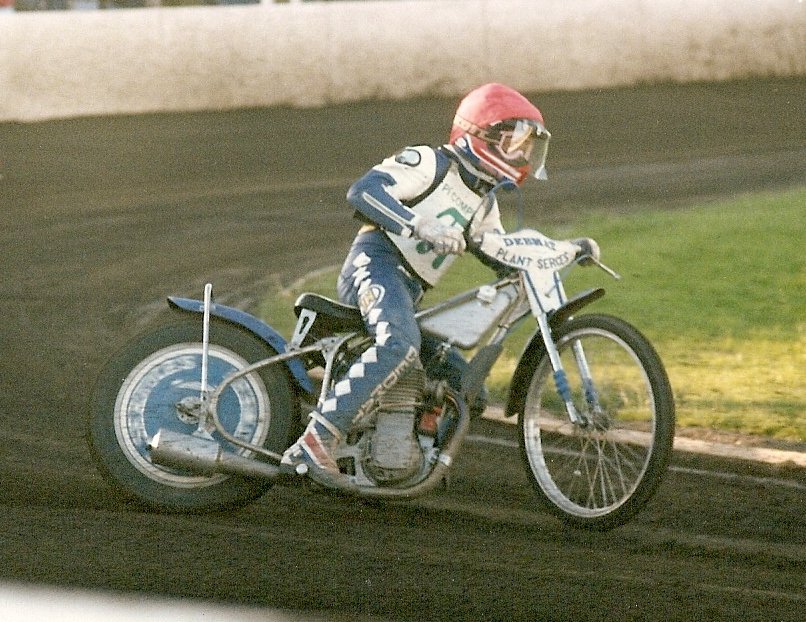 I don't recognise the race jacket. Anyone able to say what it was? John
Update D A Farrar has been in touch, he says: Further to your request for information on the David Bargh race jacket, it appears to be the symbol for Pi and would therefore have been for an individual meeting at Berrington Lough sponsored by the infamous Terry Lindon whose computer company was called Pi and used the symbol. It was probably taken in 1990.
Barghy Wearing The Federation Specials Race Jacket In

1987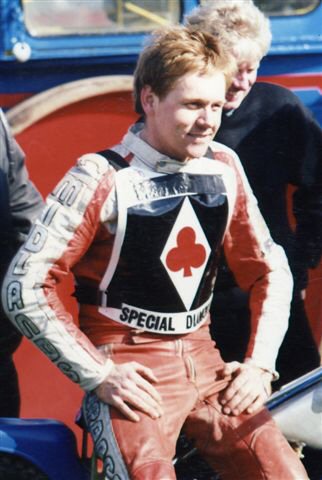 Barghy wearing the Federation Specials race jacket in 1986. The team lost it's Diamonds nickname due to the sponsorship deal with the Federation Brewery but the tie up only lasted one season and in 1987 The Diamonds nickname was back much to the relief of the supporters. This was the second time during the long history of the Diamonds that the nickname was changed. The other occasion was way back in 1949 when they were known as The Newcastle Magpies.
Update: D A Farrar says: Bargh is wearing the 1987 Newcastle race jacket when the Diamonds were the "Federation Special Diamonds", which was a compromise with the sponsor. In 1986 it was the "Federation Specials", but in 1987 "Diamonds" was added.
John Skinner says: Thank you D. A. I have noticed the word "Federation" has been obliterated with black tape! Also I am informed that David rode for us 1978,79,80,81,84,90,91,92 ? No mention of him in the side 1986 or 1987. So the mystery deepens. Hopefully someone will read this section and email me with further advice
John
Dave In Action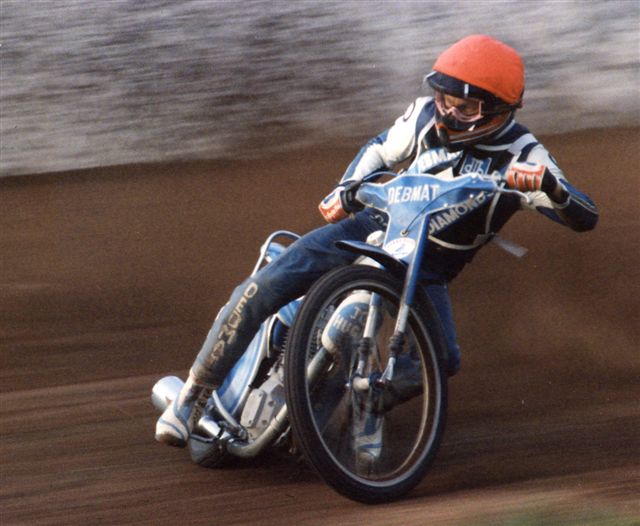 Photo courtesy of Paul Brassell
In my opinion one of the best action shots on the whole website. David Bargh, one of the all time most popular Newcastle riders. I hope that one day Barghy will email me from NZ with some of his memories of his time with the Diamonds. My efforts to contact him have been fruitless!
David Bargh
Newcastle v Red Star Prague May 1981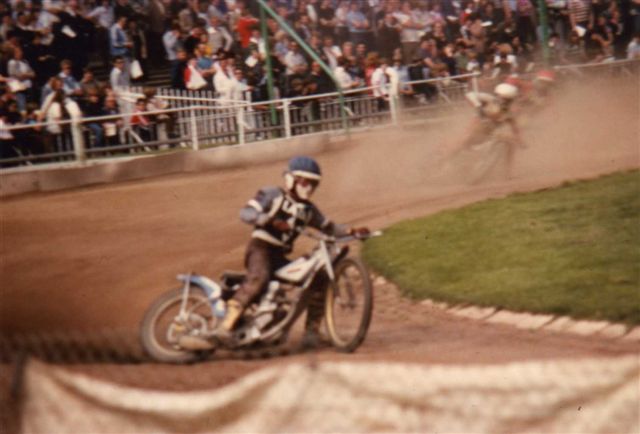 Courtesy of John Abel
1981

Brough Park Pits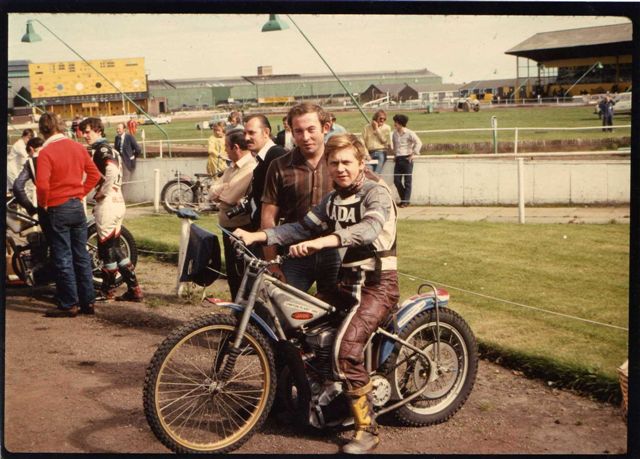 Courtesy of John Abel
David Bargh with his mechanic, John Abel, May 1981. A great shot of the two guys but also of the once great stadium! The big grandstand shown was the back straight stand. I used to get in there for part of each match and have a couple of bottles of Newcastle Brown Ale
John Abel says: In red jumper is Mike Fullerton with Keith Bloxsome and Rod Hunter, In the background to right of Keith, the man in the yellow boiler suit is Mick Oldham, former pit staff, who still keep in contact. To right of David leaning on wall is Tony Coupland in yellow shirt, former Teeside Team Manager talking to Mike Caroline, Berwick rider and local Newcastle Boy.
May 1981 David & Derek Richardson v
Red Star Prague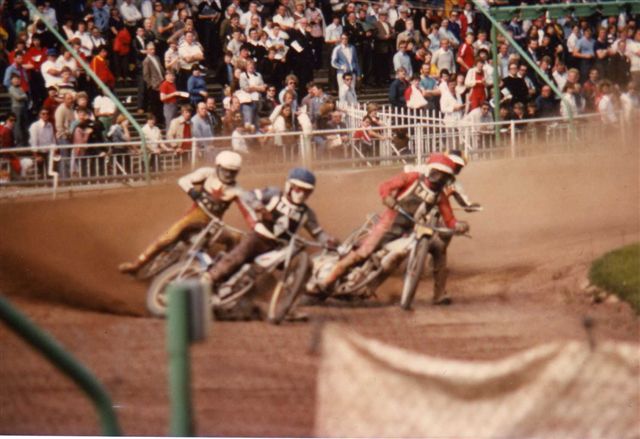 Courtesy of John Abel
The Best Pair David & Derek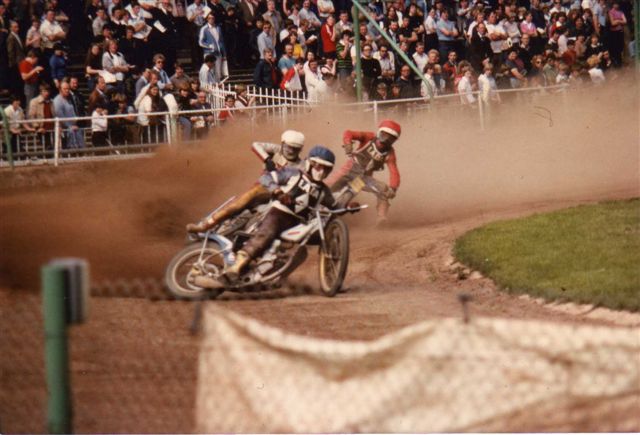 Courtesy of John Abel
David and Derek again with a Red Star Prague rider in-between them. The track looks like it could do with some water
Lada Diamonds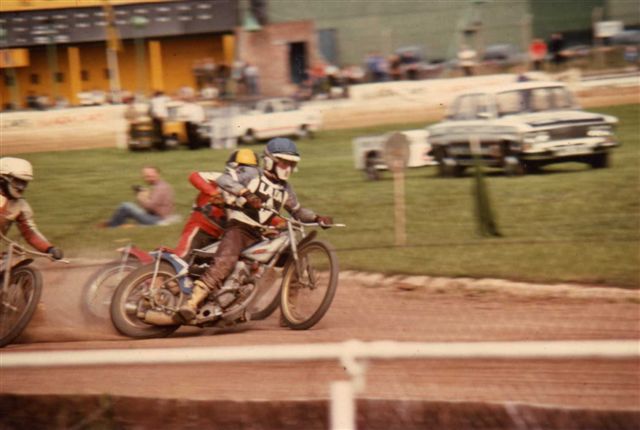 Courtesy of John Abel
David heading the field on the way to the first corner. Team Sponsor in 1981 was Russian car maker Lada and their cars are on the centre green
1992

David & Friends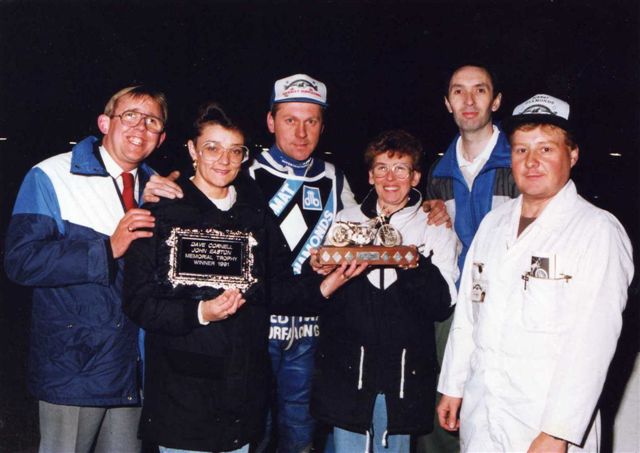 Courtesy of John Abel
Looks like David was the winner of another trophy, I think 1992
John Abel says: We had a visit to UK, left to right- Paul Ridely, Carol Gullen, Barghie, Anne Innard, Trevor ? and Ken Hedley, all friends from Speedway and Forest Hall.
David With John Abel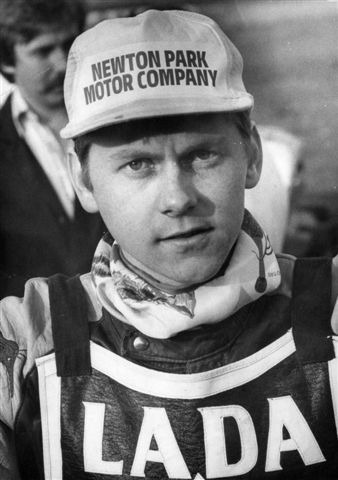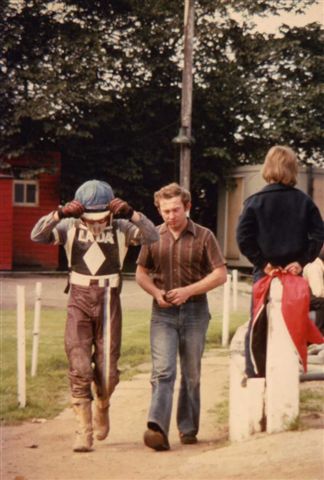 David with sponsors cap & Barghy and John Abel. Dave's cap: "Newton Park Motors", was in Benton opposite the Newton public house. If anyone has any stories or photos of David Bargh please email me
John
---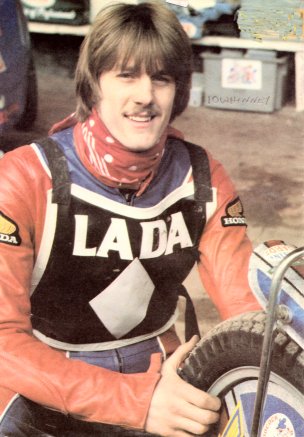 Derek was born 22.07.1958, Earlsheaton, England. He rode for the Diamonds
1980-81, 1989 and is best remembered for his on track rides partnered with David Bargh. When they were both on song they were worth the admission money on their own, team riding to many 5-1s
Dave Younghusband & Tom Owen Flanking
Derek Richardson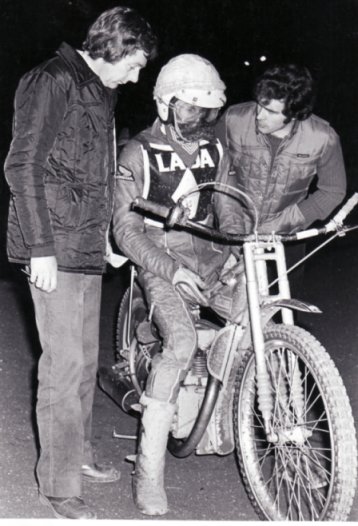 Courtesy Lyn Thompson
Team manager Dave Younghusband and injured captain Tom Owen geeing up Derek Richardson
Derek Richardson & Co Promoter
Brian Larner

1980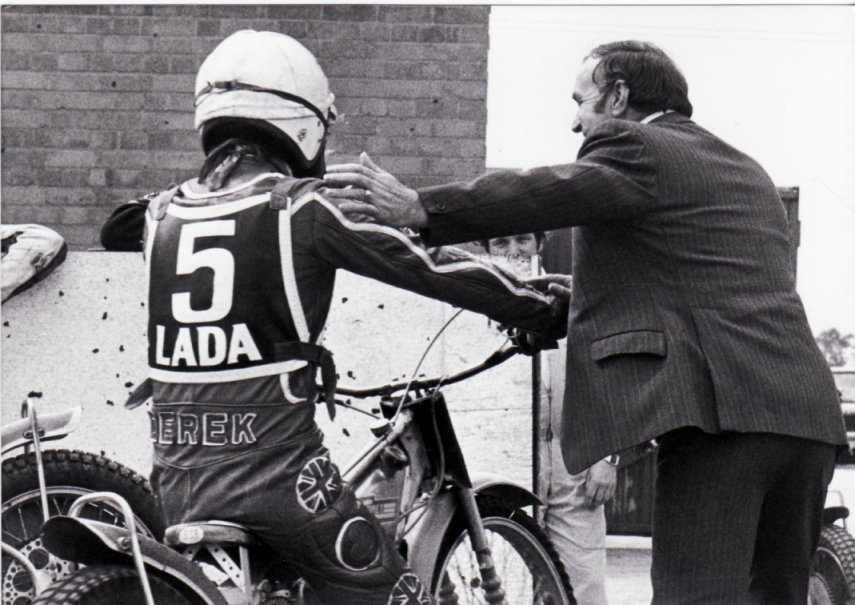 Courtesy Lyn Thompson
Derek Richardson receiving a pat on the back from Co Promoter Brian Larner in 1980
---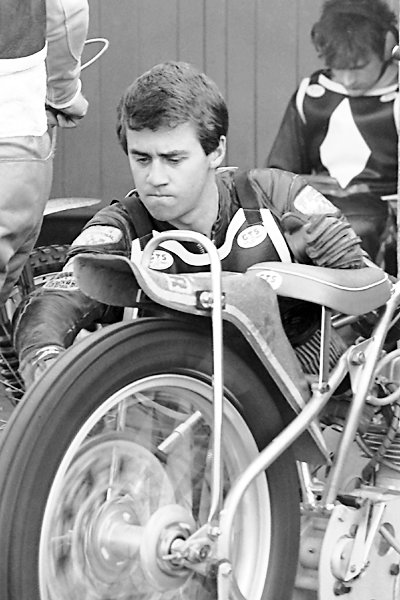 Rod was born 25.04.1956, Melbourne, Australia. He rode for us

1978-84, 1989-90 and became a very good rider in the lower division maybe but he was great to watch. He had great throttle control and entertained his many fans by popping wheelies and staying up on one wheel when the other riders had dropped back down. I became a fan of Rod er! not for his wheelies but for skill as a rider. If there was a gap Rod would squeeze through it. He hit a 21 point maximum at Oxford if my memory serves me right?
Helen Jobson's Photos

1984
Rod was one of my all-time favourite Diamonds. I mentioned this to ex speedway photographer Helen Jobson who said he was her favourite rider too!, so I asked Helen for some pics of Rod for this section. These 5 excellent black and white shots, shown below were all taken by Helen in 1984.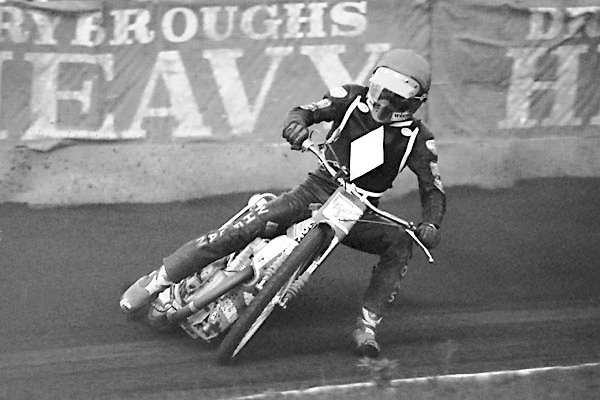 Photo courtesy of Helen Jobson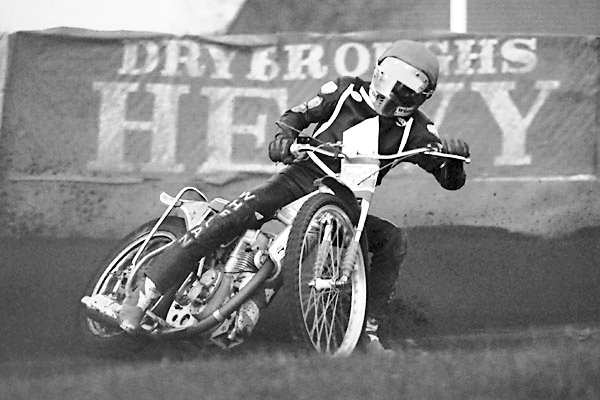 Photo courtesy of Helen Jobson
Martin Scarisbrick (Outside)
With Rod Hunter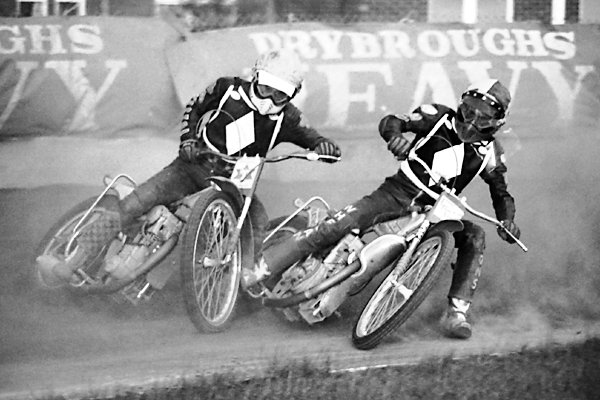 Photo courtesy of Helen Jobson
Rod Accepting What Looks Like A
Bottle Of
Langs Whisky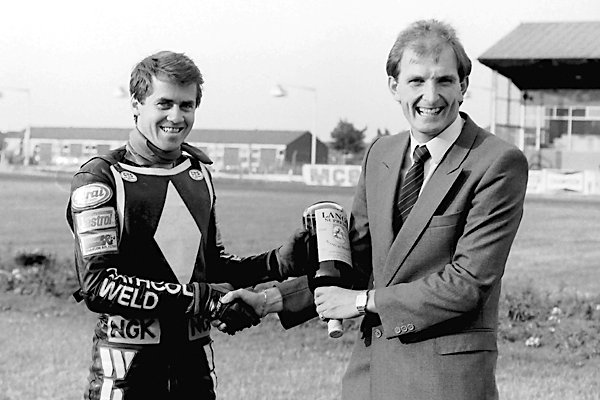 Photo courtesy of Helen Jobson
Rod Hunter,

9

Seasons With Newcastle
Aussie Rod Hunter came to us as a raw recruit in 1978 and spent 9 seasons with the Diamonds spanning seasons: 1978-1984 & 1989-1990. He had legions of Newcastle fans, myself included he was a skillful rider who usually made a lightnin' fast start but his talent on a bike usually meant he would come from behind to make up for an odd poor start
Rod Leading

2

Mildenhall Riders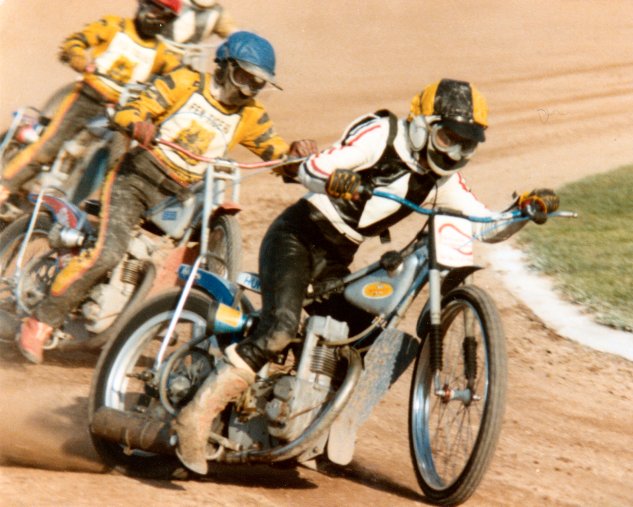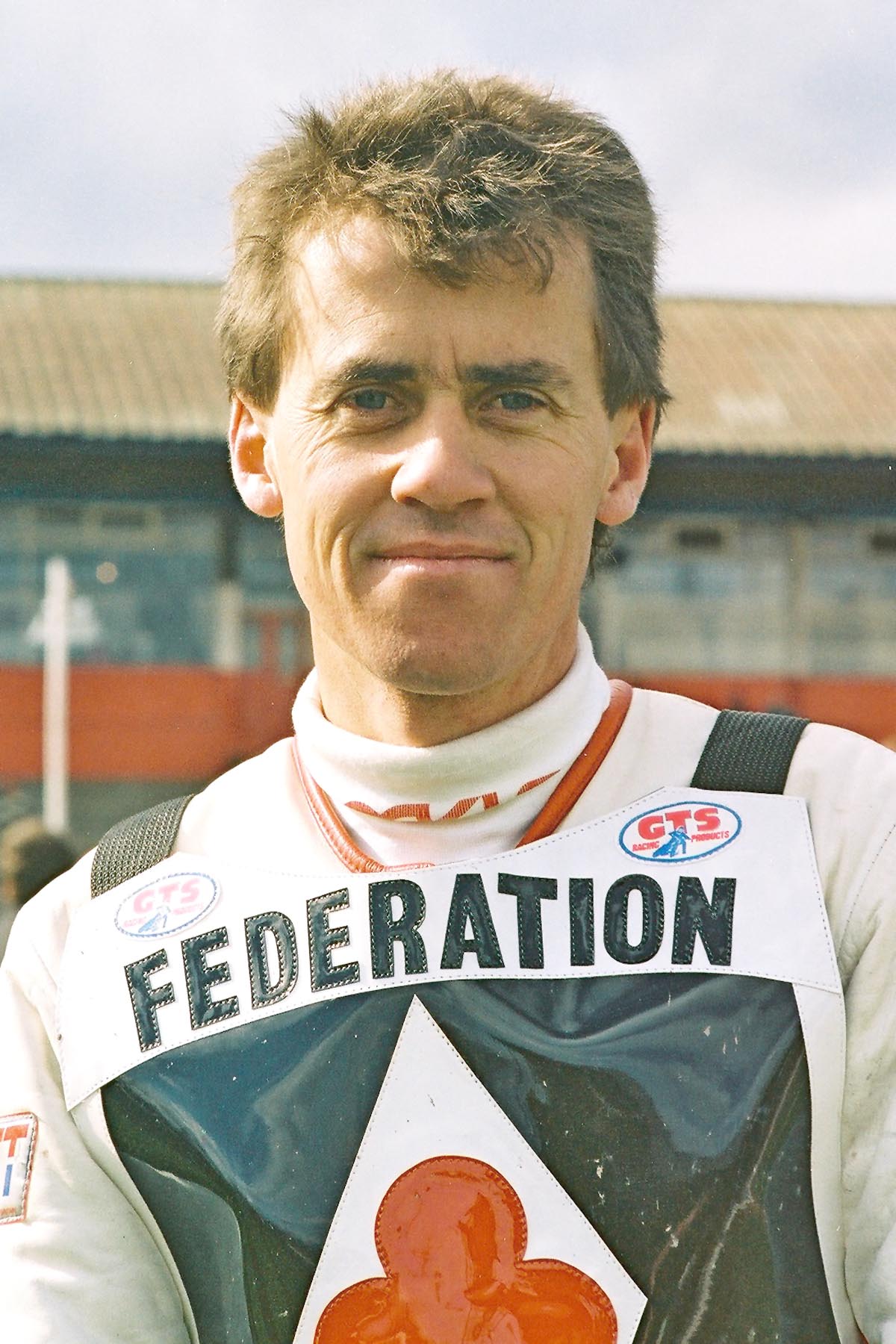 There follows: 3 Steve Brock pictures of Rod Hunter. Rod was Newcastle's longest serving Australian rider. A lightning fast gater, he usually won races from the front but when he needed to he would squeeze past right on the fence or cut back, get his wheels in line first and power past the opposition on the white line. Rod possessed bags of talent and could give lessons in throttle control! His controlled whole lap wheelie celebrations are still a talking point at Brough Park today.
Steve Brock's

1986

Pictures Featuring
Rod Hunter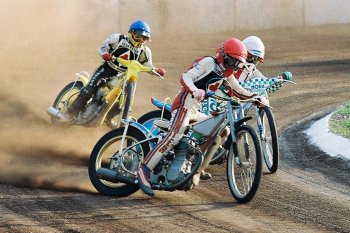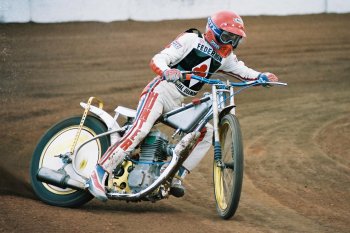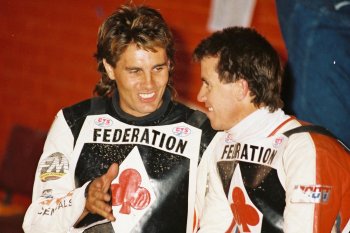 My Thanks go to Steve Brock for these pictures from 1986 of Rod.
DA Farrar says: The photographs of Rod Hunter are probably 1989, since Hunter sat out the 1986 (although a regular at Brough Park on the terraces), 1987 and 1988 seasons. He returned for one season in 1989 and then promptly retired (paving the way for David Bargh), only to reappear for Middlesbrough at the last moment in 1990. Hunter was always a curious little fellow.
John says: Thanks for putting me right! Rod was a favourite of mine, can anyone supply the site with his career details or at least his arrival and departure dates, my memory is a bit iffy!!
DA (Andrew) Farrar says: Rod's career details, as far as I can ascertain and remember:1978 Newcastle and Glasgow - started at Newcastle, loaned to Glasgow (where he rode one meeting) and then returned to Newcastle.1979-1984 Newcastle, although a dispute in 1982 saw him sit out the start of the season, until his sponsor Pat Whelan persuaded him to race for the Diamonds (Hunter had wanted to go BL).
1985 Halifax
1986-88 inactive
1989 Newcastle
1990 Middlesbrough
Note: During Newcastle's NL days Hunter will have rode for BL clubs as well.
John says: Thank you Andrew. This site will never be finished so I will update parts of it when I get any info and I hope Rod will one day return my emails (he keeps saying he will)! to allow his complete history to be displayed on the website
---
1984
British League
"First Division"
Newcastle had had 8 successful years in the National League ("Second Division") when promoter Ian Thomas gave way to fan pressure against his better judgement and Newcastle were elevated to the top tier i.e. The British League for 1984. Unfortunately, the team finished the season at the foot of the table and worse was to come as Ian Thomas had to pull out after suffering considerable financial losses and we could not operate in 1985! A very expensive lesson learned about economics. No subsequent Newcastle promotion has considered joining our team with the upper tier ever again.
1984

Newcastle's British League Team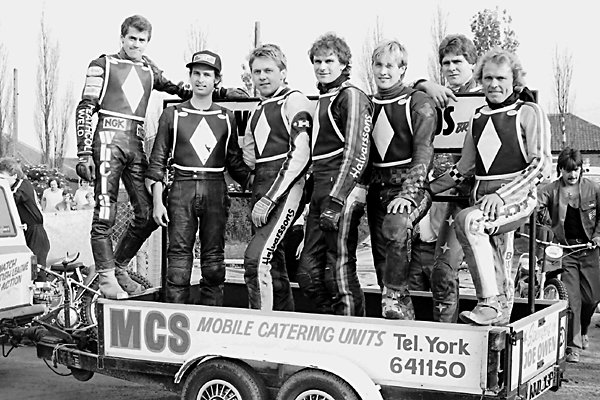 Photo by Helen Jobson, taken 7th September 1984, left to right: Rod Hunter, Eddie Ingels, David Bargh, Phil White, Martin Scarisbrick, Joe Owen and Reg Wilson
---
1984

Rod Hunter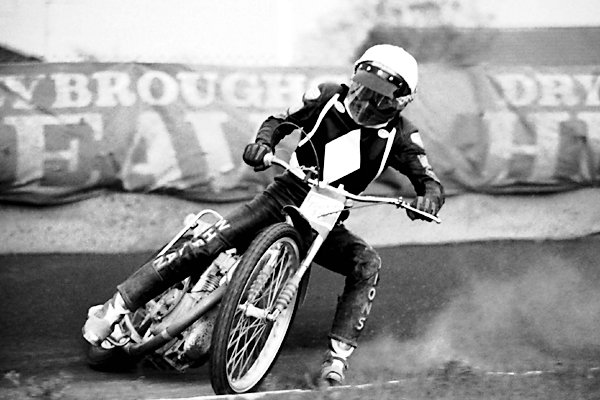 ---
1984
Eddie Ingels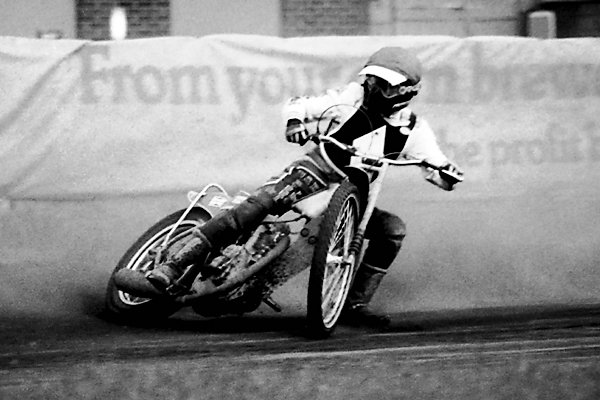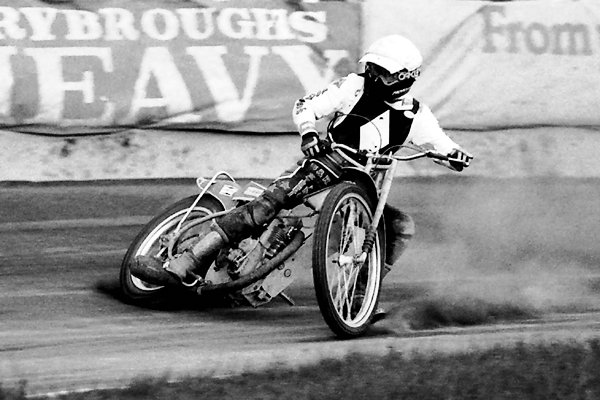 ---
The

1984

Chris Prime
Memorial Trophy Winner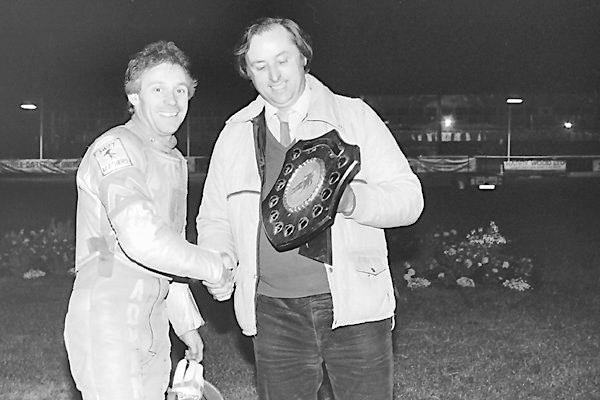 This is John Louis winning a shield at Brough Park possibly 1984 (John was British League and we were in that league in 1984). We do not know what this trophy is for, can you help?
John
Keith Dyer says:
24th September 1984 Newcastle raced King's Lynn losing 35-43. Winners of 3 second half races and the fastest second contested the final for the Chris Prime Memorial Trophy. John Louis was the winner from Eddie Ingels and Richard Hellsen.
John Skinner says: Newcastle fans old enough to remember Chris crashing back in 1978 will be saddened by this item. Newcastle has had a long history going back to our first meeting 17th May 1929. In that time there have been 4 fatalities Bill Nichol & Charlie Appleby who died in 1946, Chris Prime who died in 1978 and Wayne 'Bodger'' Garratt who died in 1992. Of course even one death is one too many but in Newcastle's 85 yr history the death toll could easily have been higher. My thoughts are for the families of the four riders.
---
1984

The R Spencer Oliver Memorial Trophy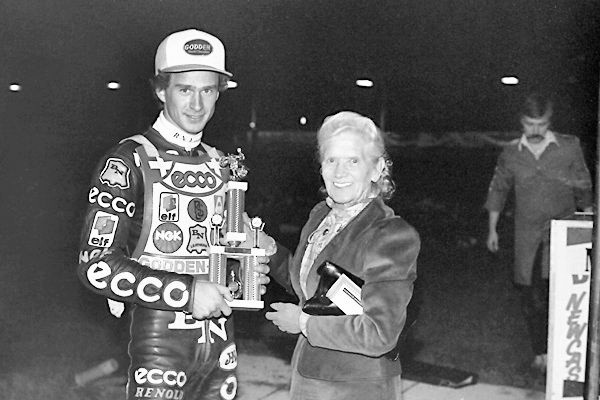 This is Hans Neilsen winning a trophy at Brough Park possibly 1984 as Hans was a world class British League star and we took part in the British League in 1984. We do not know what this trophy is for, can you help?
John
Keith Dyer says: Hans Nielsen won the Farewell Trophy (The Spencer Oliver Trophy) on 1 October 1984. This was after a run off with Phil Crump, after both had scored 14 points. Peter Ravn was third with 10. Spencer's widow Mrs Gloria Oliver presented the trophy.
John says: Spencer Oliver was an ace photographer who was born not very far from Brough Park. He did my mother's 2nd wedding photos in the 1950s!
---
1984

Joe Owen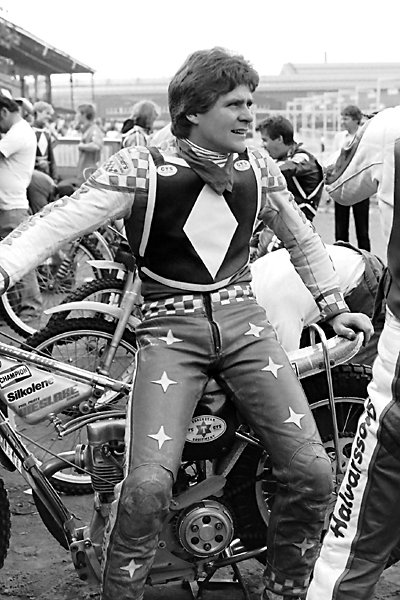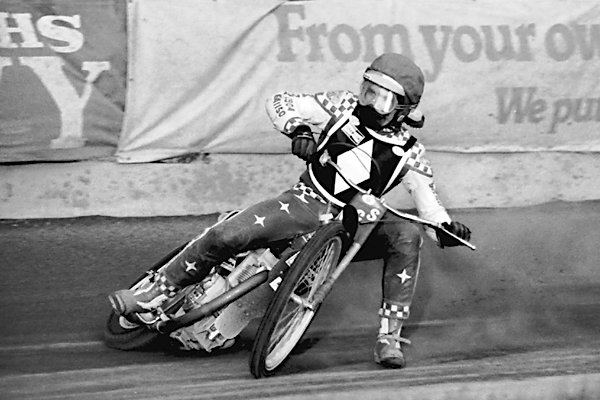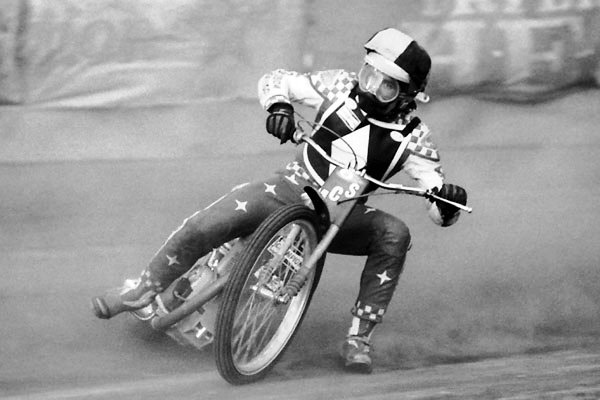 Joe Owen was practically unbeatable around Brough Park in the lower league. After promotion to the top rung he again was very hard to beat but the higher league stars often got the better of Joe. We needed an out and out top rider with Joe and Eddie Ingels backing him up but top riders do not grow on trees. Newcastle have never again competed in the top league. Were we fans bothered to be in the lower league? No not at all just as long as we had speedway to watch.
---
1984

Rod Hunter & Martin Scarisbrick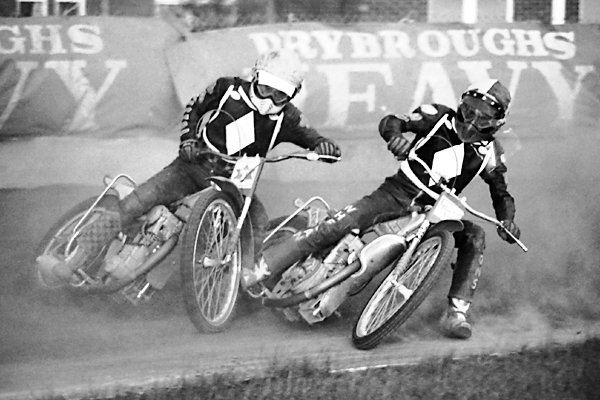 Such a pity that Newcastle seemingly cannot run in the top flight. However, the entertainment we witness every week from the lower tier of teams is excellent. So I for one will be happy for Brough to be running in the lower league to keep down the promoters costs.
1984

British League Team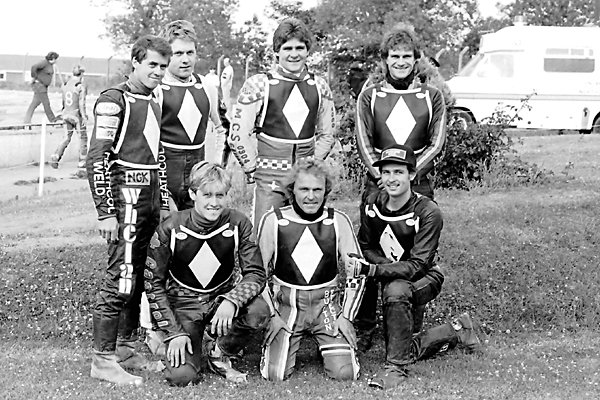 Photo by Helen Jobson, taken 7th September 1984: left to right Rod Hunter, David Bargh, Joe Owen Phil White front: Martin Scarisbrick, Reg Wilson and Eddie Ingels
---
1985

Closed Down
No Speedway
---
Federation Specials

1986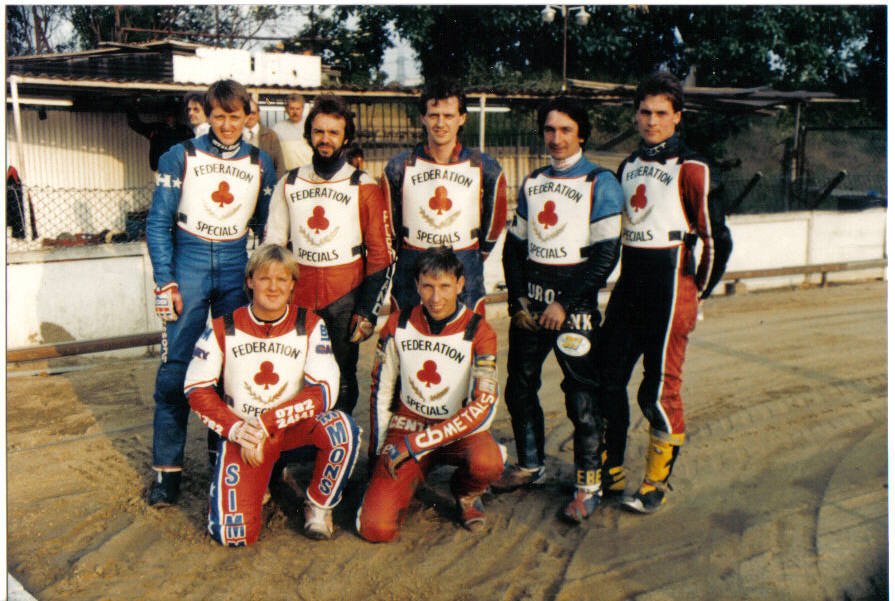 Courtesy of Doug McFarlane
The team standing left to right:- Paul Stead, Dave Morton, Keith Bloxsome, Dave Perks, David Blackburn. Kneeling: Gary O'Hare and Bernie Collier.
---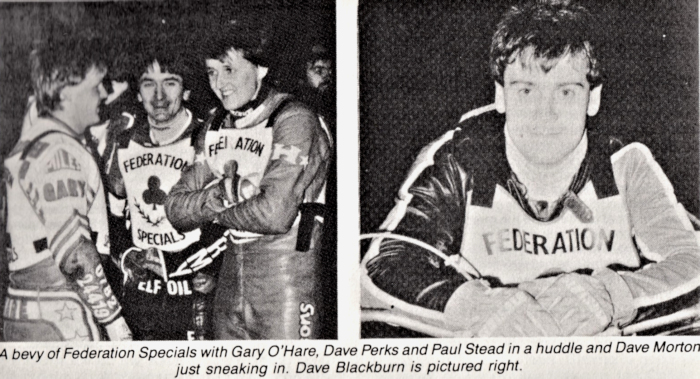 Courtesy of Wattie Dunlop
---
Gary O'Hare With
An Unknown
Boston Rider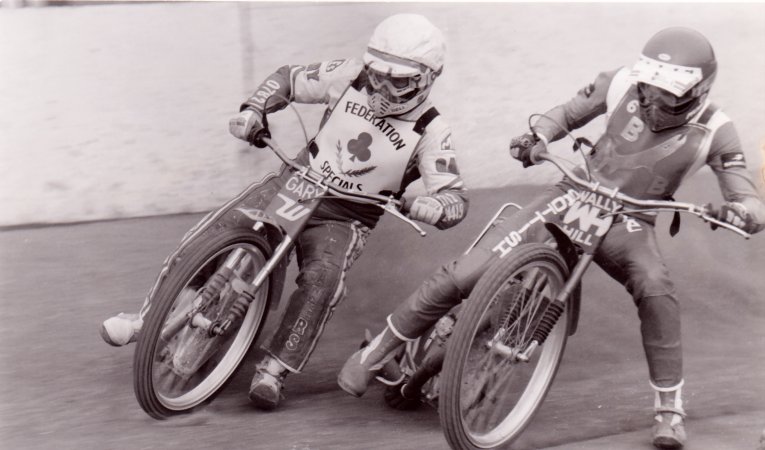 Gary O'Hare with an unknown Boston rider presumably taken at Boston as Gary is wearing white
.
D A Farrar says: The Boston rider in the "Gary O'Hare" photograph is New Zealander Wayne Ross.
---
Federation Special Diamonds

1987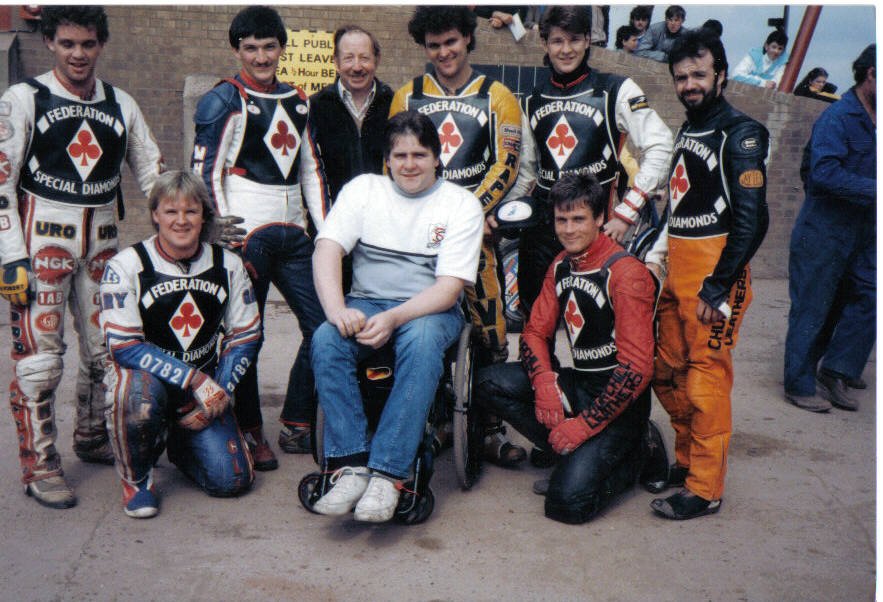 1987 team standing left to right: Mark Courtney, Paul Cooper, Eric Stead (promoter), Roland Tebbs, Bobby Duncan, Dave Morton. Kneeling: Gary O'Hare and David Blackburn, with Joe Owen (team manager) in the middle.
Another

1987

Team Photo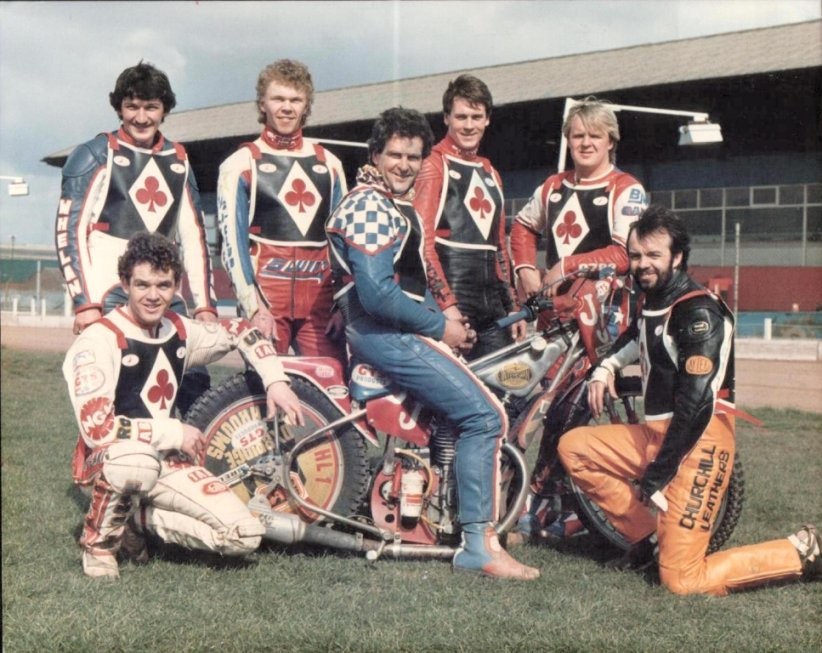 Courtesy of Mike Birtles
Firstly many thanks to Mike for sharing his photo with us. Mike thinks his photo is from 1975/76 and features Steve Wicks, Tom Owen (on bike), David Blackburn ,Gary O Hare, kneeling Mark Courtney and Dave Morton.
John says: I agree the riders names Mike, but the picture is of the 1987 Federation Diamonds
---
1985

Silver Helmet Match Race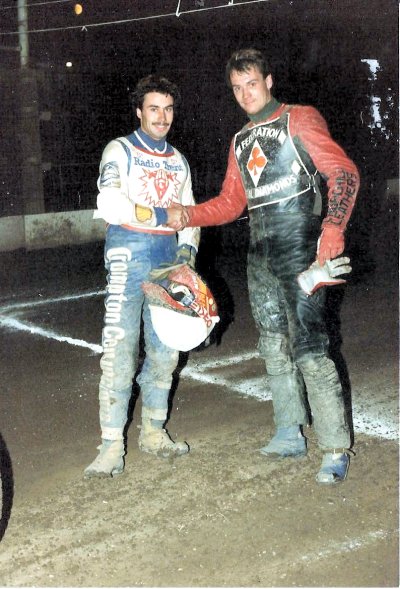 Courtesy of Paul Burton
Paul Burton says: This is Glenn Doyle (Long Eaton) & David Blackburn (Newcastle) shaking hands before a Silver Helmet match race in 1985
---
Joe Owen Benefit Meeting
Joe had moved on from Newcastle to join Ellesmere Port. He was involved in an accident which left him paralysed and wheelchair bound. Such a shame for a young man. There was a great turnout for his benefit meeting. Pity he hadn't stayed with the diamonds and avoided the awful injury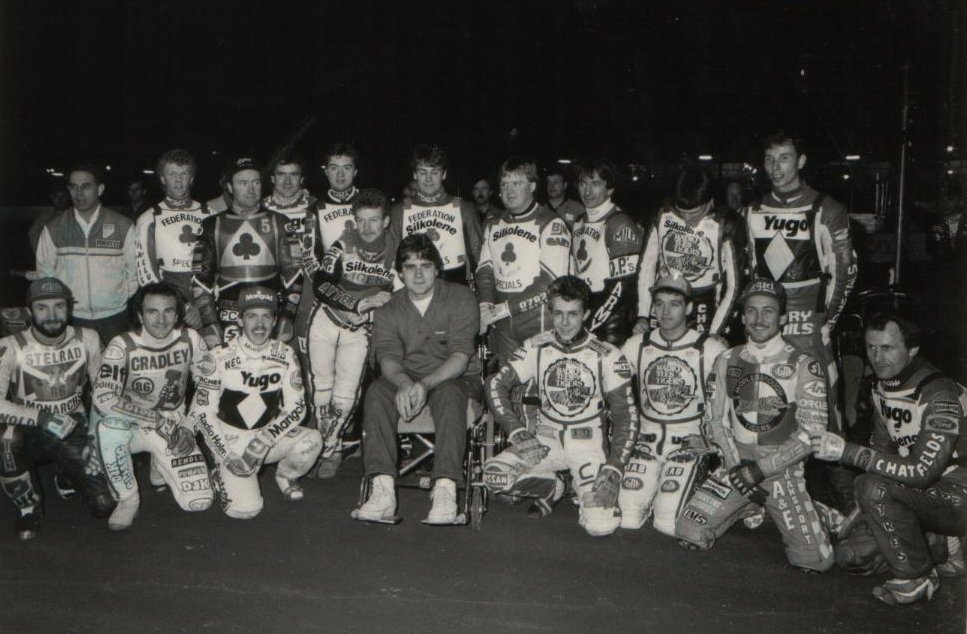 Courtesy of Steve Wicks
L-R Ivan Mauger, Mark Thorpe, Peter Collins, Tom Owen, ? Neil Collins ? Gary O'hare, Dave Perks,? ? Front row: Les Collins, ? Erik Gundersen, Joe Owen, Gary Havelock, Alan Emerson, Kelly Moran and Nigel Crabtree
Dan Gibbs says: The photo of the Joe Owen benefit meeting, I'd like a go at naming them (back row L-R - Ivan Mauger, Steve Wicks ???, Peter Collins, Tom Owen, Kelvin Tatum, David Blackburn, Gary O'Hare, Dave Perks, Martin Dixon ???, Bernie Collier ??? Front row L-R Les Collins, Phil Collins, Erik Gunderson, Neil Collins leaning on Joe Owen, Gary Havelock, Mark Courtney, Shawn Moran and Nigel Crabtree.) that's a pretty good line-up.
As an older than most Newcastle fan I do know and occasionally wonder about Joe and Tom too. If anyone is in contact with the lads please ask them to send me an email and I will use the site to convey any comments to their friends on Tyneside. email me here
John
---
Mark Courtney Inside Arena Essex Rider
Mark Chessell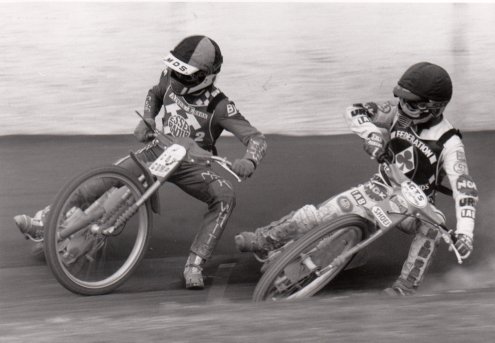 Mark Courtney inside Arena Essex rider Mark Chessell. Courtney had a distinctive style, he laid his bike over lower than most on the corners. He was great to watch. Mark was and always will be a controversial character, see below:-
Andrew Farrar says: Further to the photograph denoted Mark Courtney inside an Arena Essex rider, I came across Joe Owen's damning verdict on Mr Courtney's performances for the "Special Diamonds" in 1987 the other day. Young Owen stated in his "Joe's Own View" programme notes towards the end of the season:
"At the start of the season I was delighted to have signed a rider of the calibre of Mark Courtney. I thought I knew how to get the best out of him and how to continue to keep him at his best throughout the season. But like others before me, I have been proven wrong. Over the season as a whole Mark has been a great disappointment and I feel badly about it as I was the one who talked Eric [Stead, Newcastle's promoter at the time] into laying out a substantial sum of money to bring him here. We have not been repaid with results on the track and Mark's average is only about half-a-point better than the man he was signed to replace, Dave Perks." Suspiciously, Courtney managed to average over ten points a meeting in 1988 for Berwick. I guess Davie Fairbairn did know how to get the best out of Courtney, which was probably a threat that he'd be sleeping with the fish if he didn't give his best for the Bandits. Davie Fairbairn was not a man to cross.
John Skinner says: Thank you Andrew, lots of us fans thought the same. Mark was such a talent and for whatever reason his skills were never produced in his time as a Diamond. If a person such as Joe Owen could not get the best out of a rider like Mark that had to be a real shame. I will forever remember Mark riding against us as a Teesside rider, he was quite brilliant!
---
Joe Owen's Birthday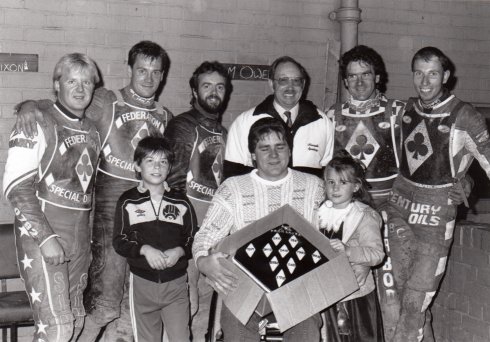 Gary O'Hare, David Blackburn, Dave Morton, Tom Owen Bernie Collier and Joe Owen in the front, can anyone say what is in the box
D A Farrar says: The box in the Joe Owen as team manager photograph would appear to contain a cake, which, if memory serves, was for Owen's birthday.
---
Shane Bowes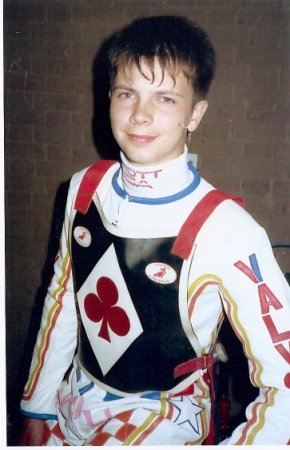 Shane Bowes, an Australian who rode for Newcastle Federation Specials in 1986.
D A Farrar says: Shane Bowes joined Newcastle for the 1987 season and the photograph shows him wearing the "Federation Special Diamonds" (1987) race jacket, so it is probably 1987.
---
My Daughter Helen Skinner With
Tom Owen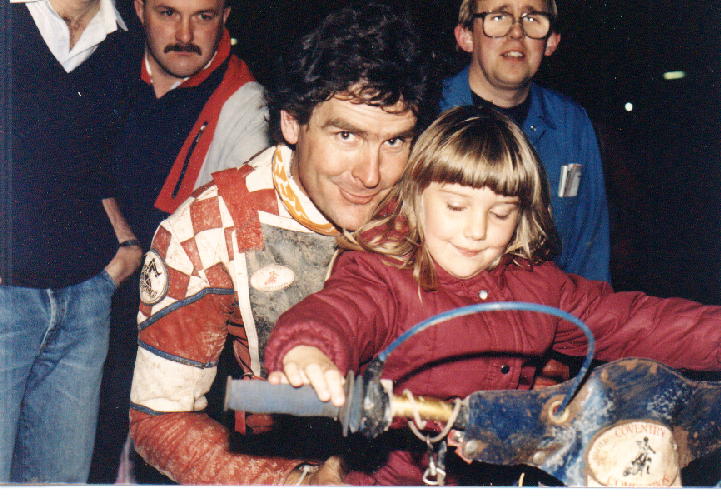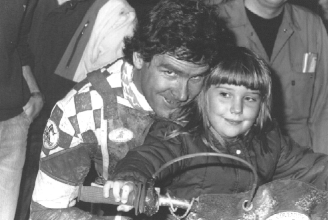 Here's Tom Owen in 1987 receiving expert advice from my 6 year old daughter Helen, (she is now 33 and is always with me at matches home and away). After Helen showed Tom what he was doing wrong with his throttle he went out and scored a string of maximums! A candidate for the most popular Newcastle rider ever? Tom Owen. He had his testimonial in 1982. Tom was the perfect rider for me. He could win vital races against the best and rattled up maximums galore but that was not all, he was ever smiling and was a camera mans dream! Every club would benefit from a "Tom Owen" in the side. Newcastle's greatest ever captain? Probably?
Tragedy struck the Owen family when Tom badly broke his leg and Joe suffered a paralyzing injury. They are both carrying the scars of their great days on Tyneside, Joe still in a wheelchair and Tom walking with a pronounced limp. They are welcome visitors at Brough and have more fans on Tyneside still, than any other riders. They cannot get to Brough very often but hey, come on lads come up more often and shake hands with your old fans and mates. You two are sure of a standing ovation. If you are in contact with Tom or Joe please give them my email
John
1987

Tom In His Final Year
As A Diamond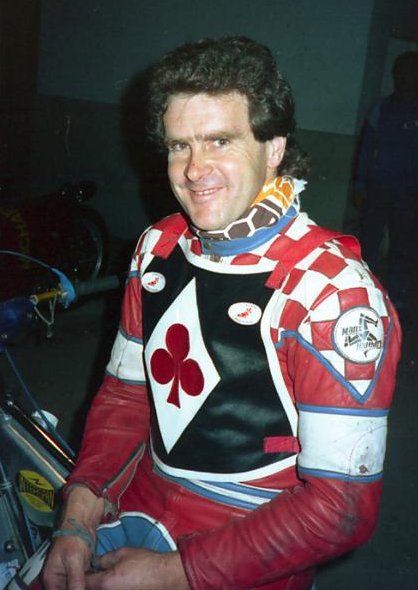 Possibly the greatest captain and team man Newcastle has ever had
---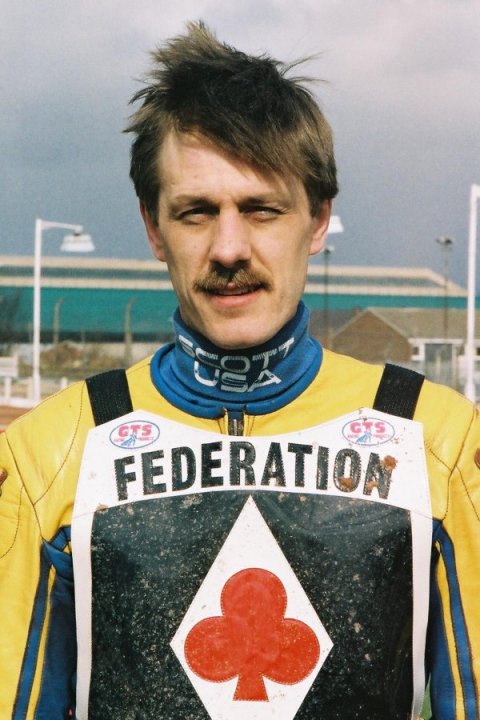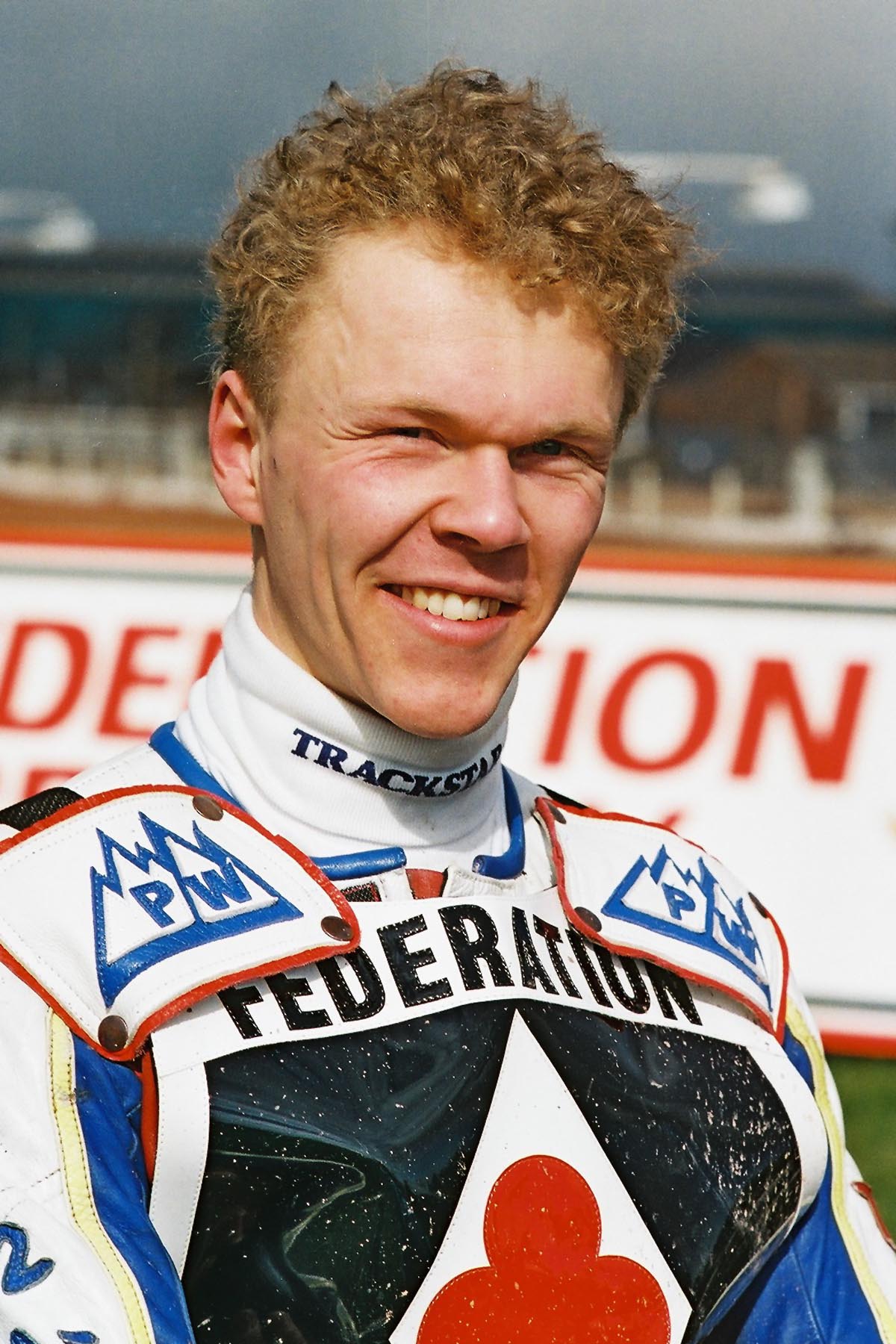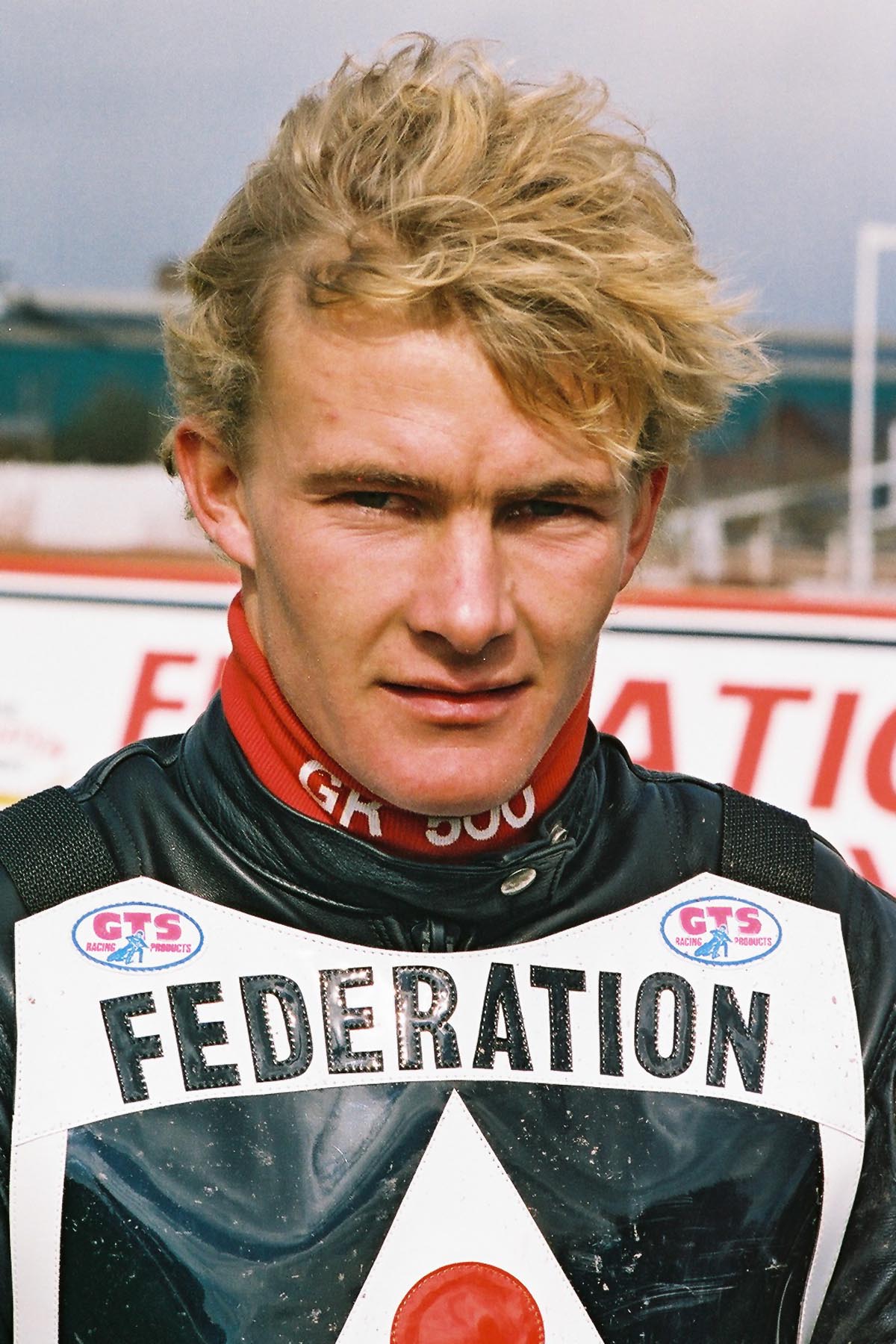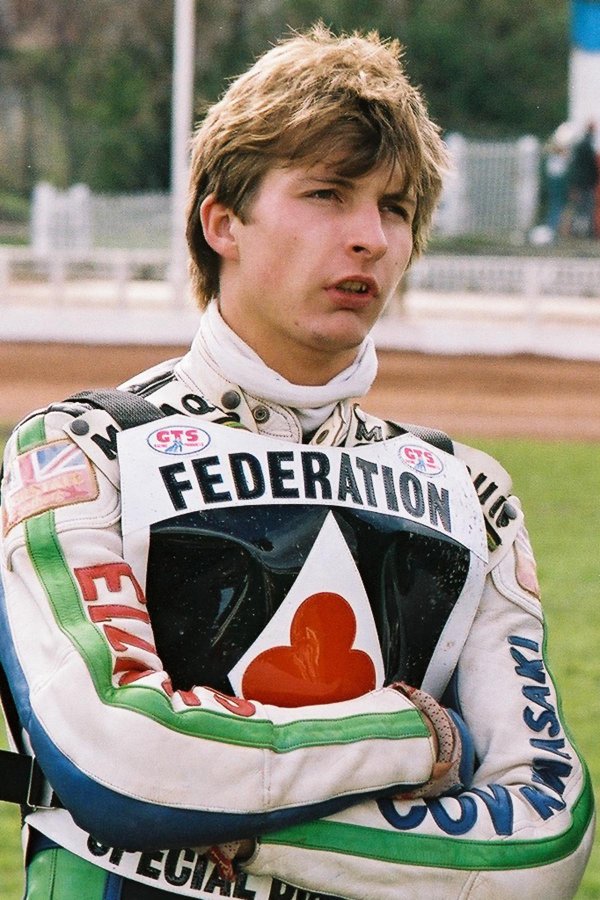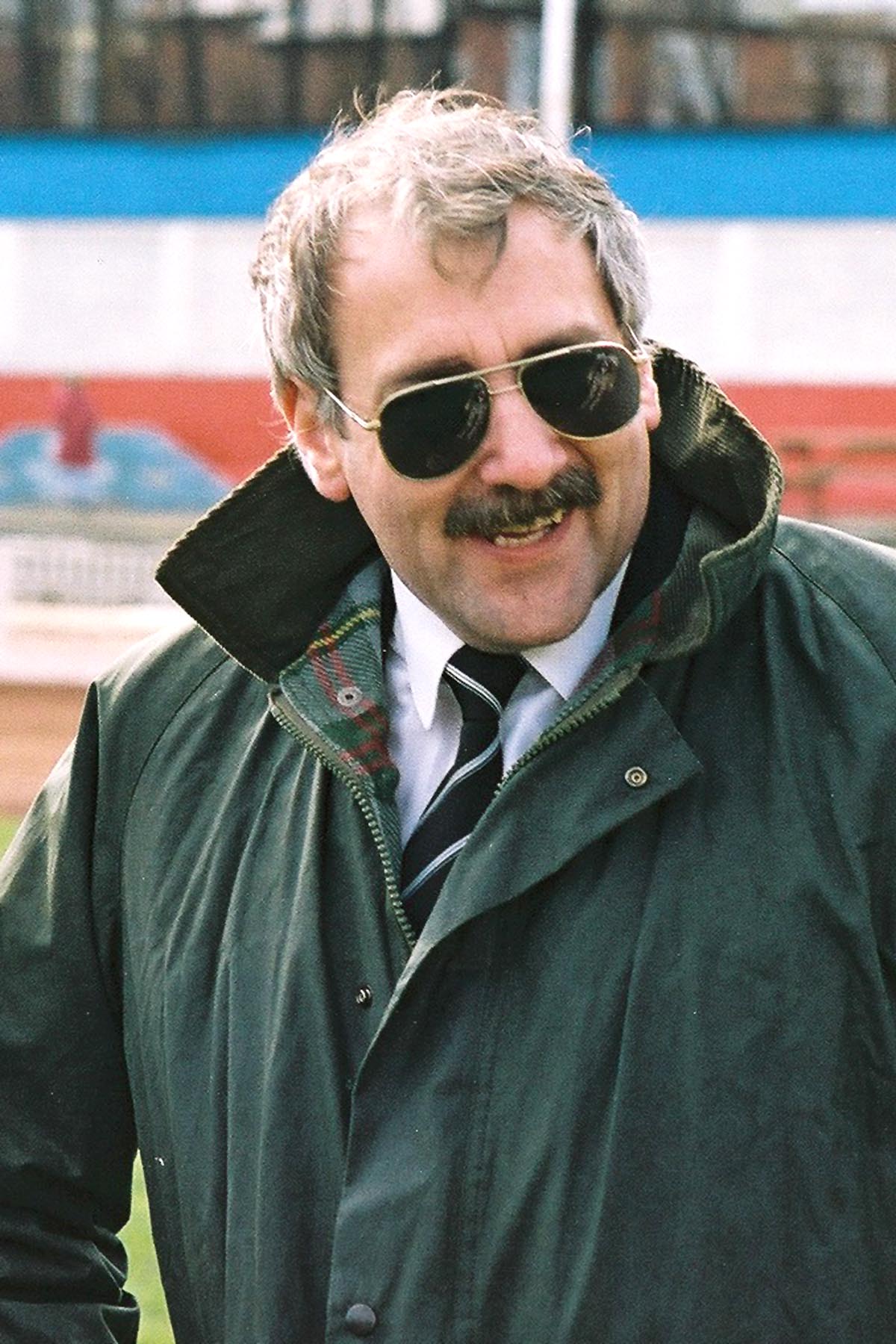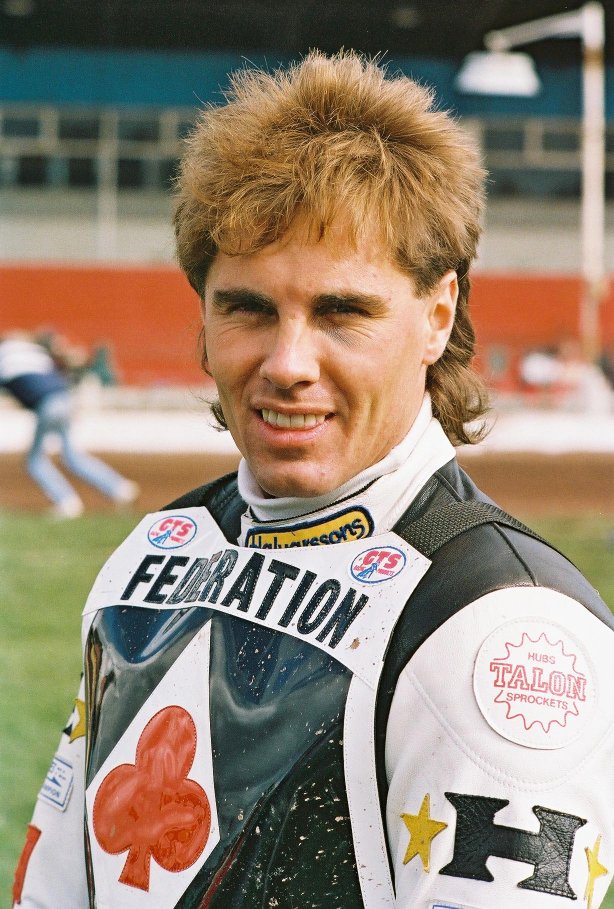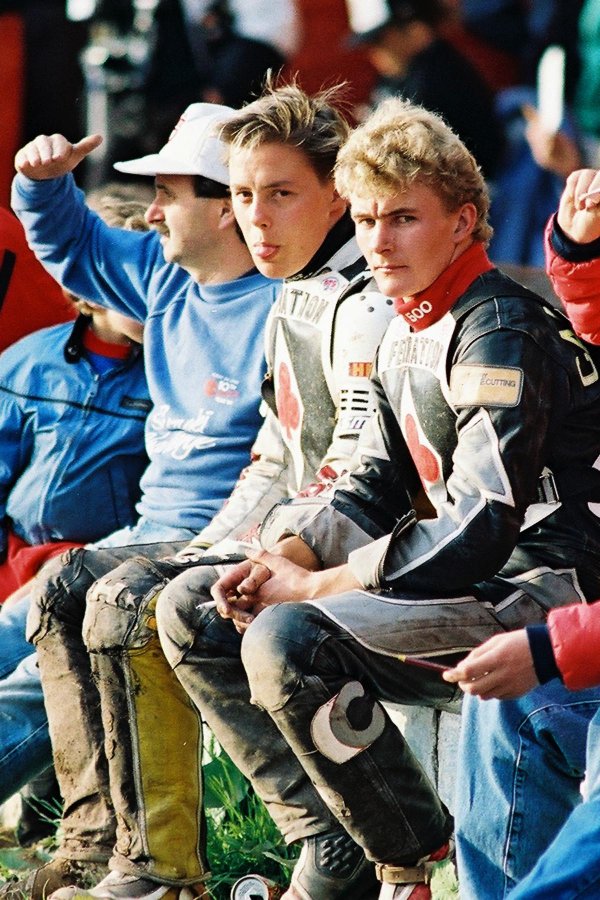 1986 one of two years when the team were not called the Diamonds. Sponsorship from the local Federation brewery sidelined the Diamonds nickname. The other year was 1949 when our "Diamonds" name was changed to Newcastle "Magpies"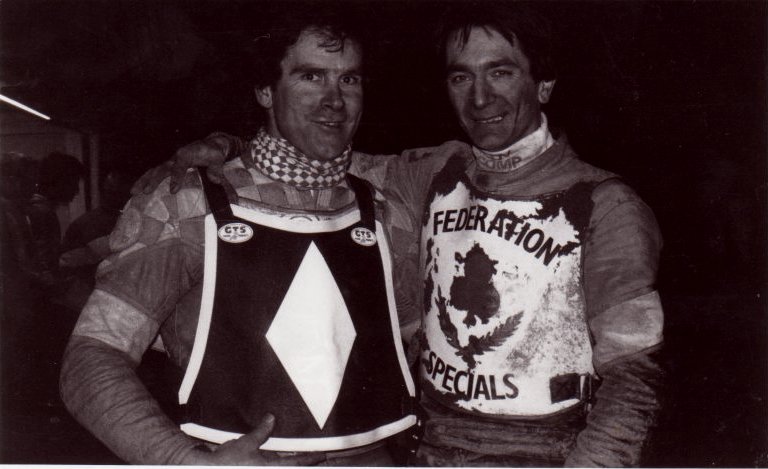 Tom Owen and Dave Perks in 1986, can you tell me why Tom is wearing the classic Diamond race jacket John
Ex-Newcastle junior Tony Richardson has been in touch with an explanation of the race jackets
Tony says:
"Was this the meeting for Joe Owen when Newcastle staged a 4 team tournament between 1986 Newcastle team, Joe Owen select team Middlesbrough team & The Collins family team."
John says: Thanks Tony It rings a bell. I wasn't there that night so any info would interest me
Andrew Farrar says: The previous answer from Tony Richardson to the photograph of Dave Perks and Tom Owen seems reasonable enough, but a few more details of the meeting. The meeting was a 4TT won by the Specials (27 points) over a Middlesbrough team that included Shawn Moran (25 points), a Diamonds team that included Erik Gundersen (21 points) and a Collins Clan team that included, well, a lot of Collins and Brian Clark at reserve (23 points).
Andrew Farrar says:
If I may share a personal memory of this meeting, the pits at the time were located in front of the back straight grandstand, so if you got there in plenty of time it was possible to watch preparations and goings-on in the pits while seated in the grandstand. And that's what we did. Ahead on one heat in this meeting, both Gary Havelock and Shawn Moran appeared to be preparing for the same race and since both were riding for Middlesbrough that wasn't possible. They bumped into each other as they walked the ramp onto the dog track and for a moment confusion reigned between them. Havelock must've suggested that Moran check his programme, for the little American came running back into the pits, checked his programme, thumped the side of his helmet and when he took it off looked a little red-faced. He'd been preparing for the wrong race.
John says: Thanks Andrew a great story
Rob Best says: The picture of Tom and Perksie was taken at Stoke and the race jacket Tom has was mine (1984 BL season Joe Owens) I am not sure how the picture has ended up public but it does not matter. Start Marshall Phil Day has the race jacket now as I sold it to him last year for a considerable profit.
John says: Good for you Rob surprised the pic was taken at Stoke, assumed it was Brough!
---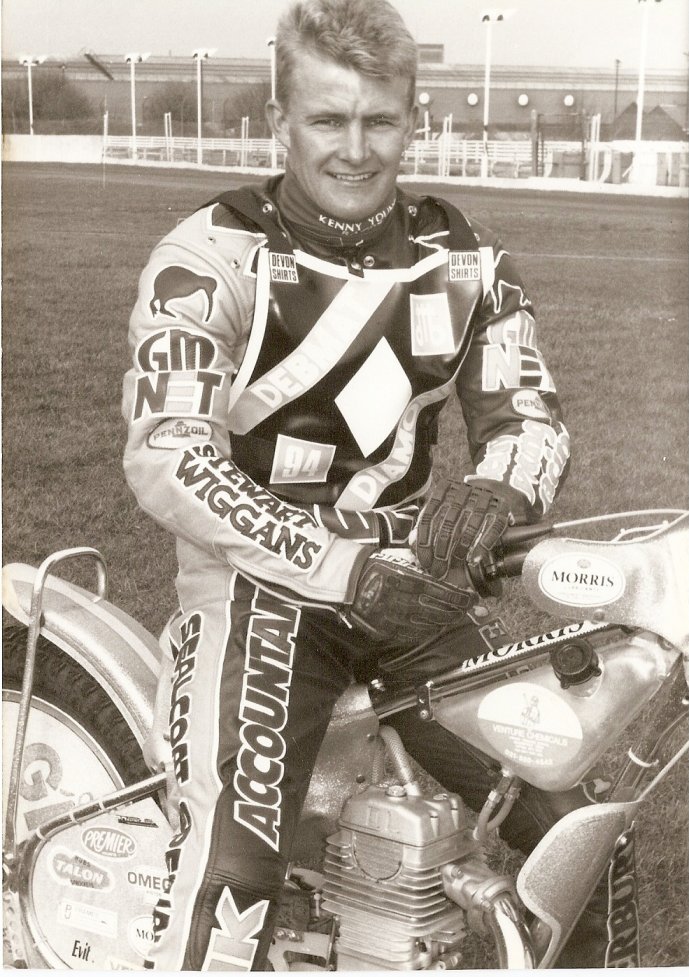 Mark Thorpe born 26.03.1969, Christchurch, New Zealand is yet another Kiwi that found his way to Brough Park. He rode for Newcastle (1989-1994) If Ivan Mauger was the number 1 Kiwi and David Bargh number 2 then Mark must be the 3rd best with all due respect to the others like my mate Dave Gifford, but Dave was born in England anyway.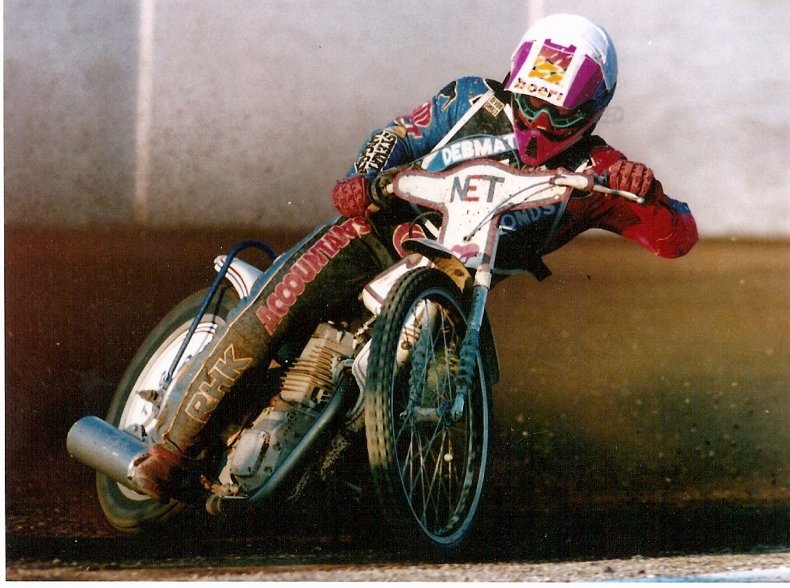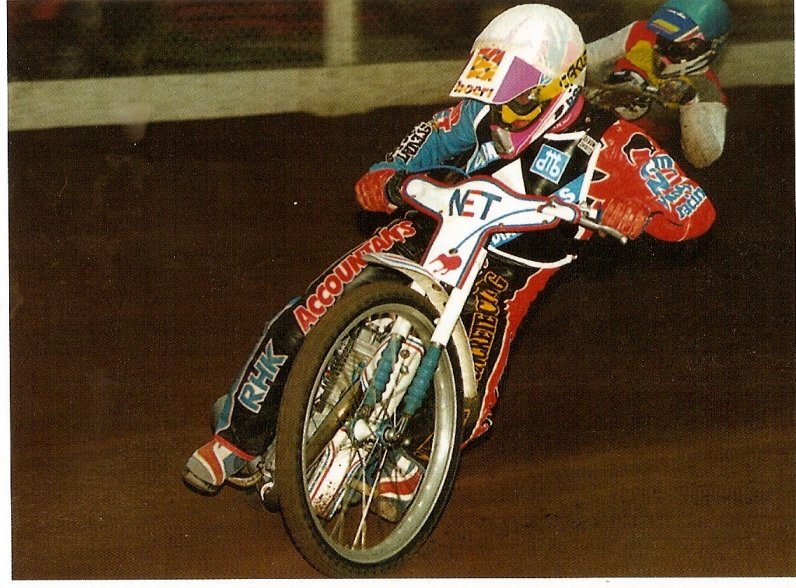 Mark Second
From Left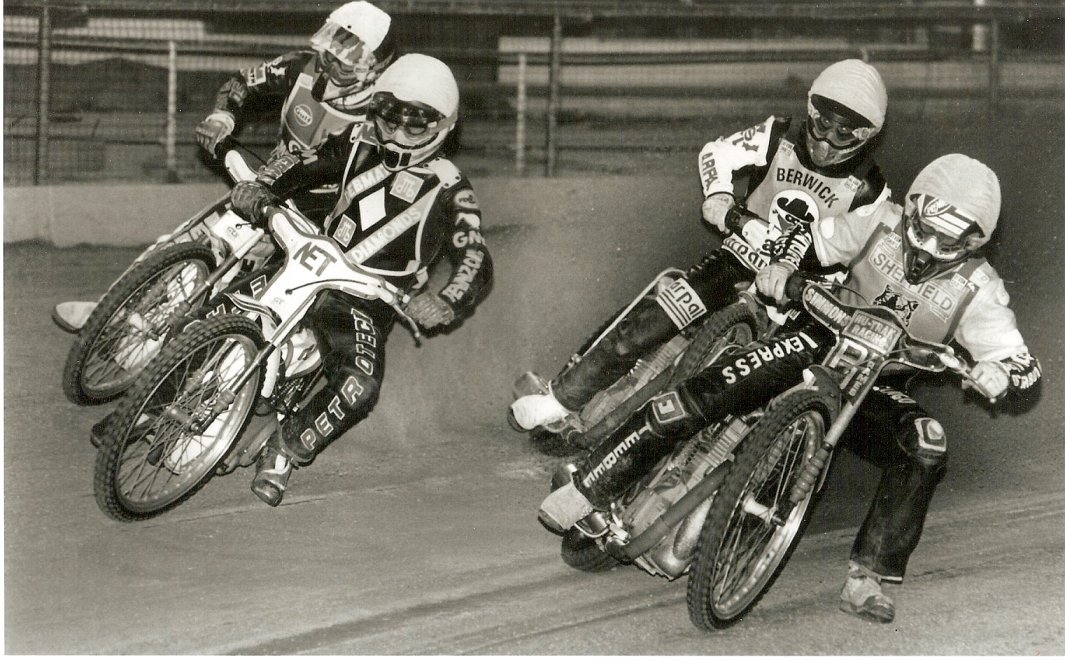 Above pics courtesy of Joe Wake
Mark second from left. He appears to be taking part in an individual meeting or 4 team tournament?
Can anyone supply the years Mark rode for the Diamonds?
John, Six seasons 1989 to 1994. He then went to Swindon. Regards, Joe Wake
---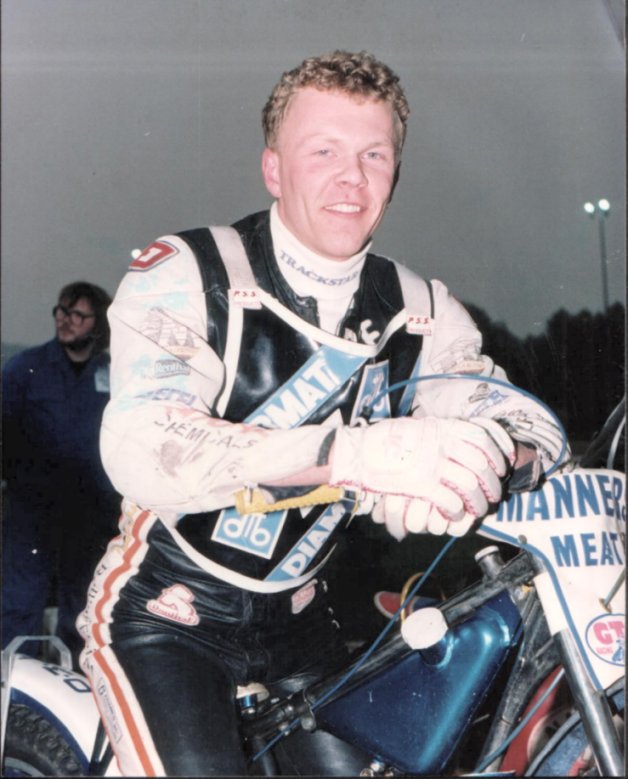 Courtesy of Steve Wicks
Steve Wicks born 13th January 1968 was around for a few seasons. There are 6 photos in this section all supplied by Steve himself.
Keith Dyer says:
1986 10 meetings average 2.00
1987 5 meetings average 3.20
1989 12 meetings average 2.42
1990 2 meetings average 2.00
Steve rode in the 1990 reserve league having 5 meetings and an 8.00 average.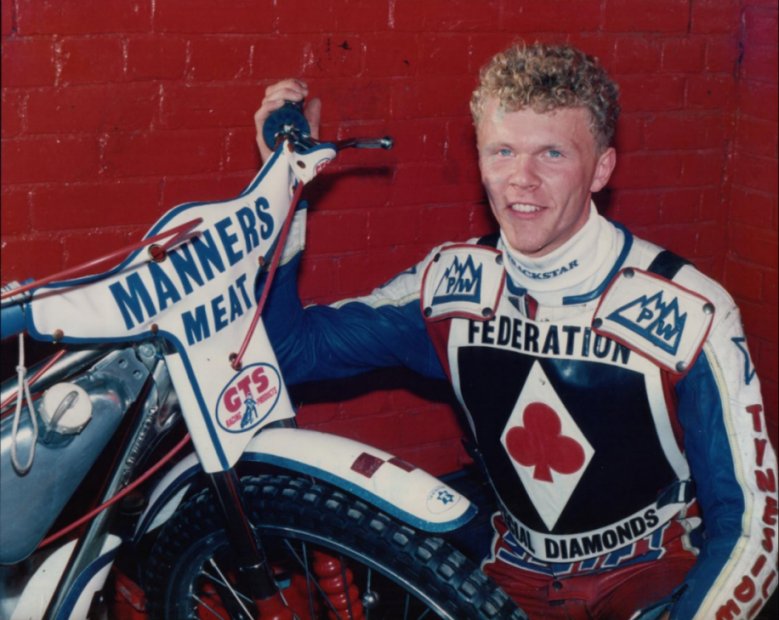 Courtesy of Steve Wicks
Steve was obviously not a vegetarian! Here he is kitted out for a league match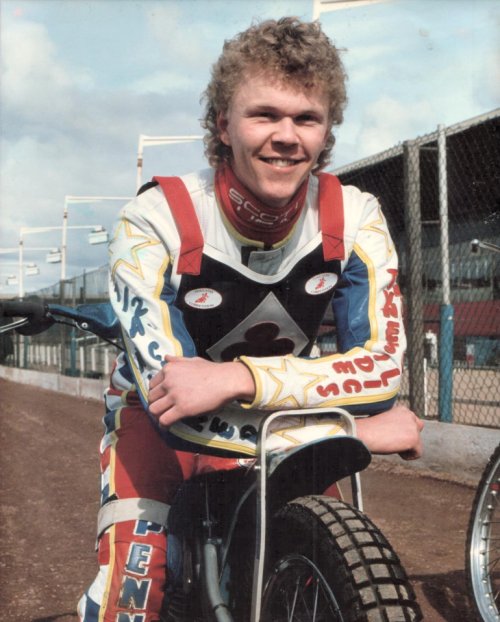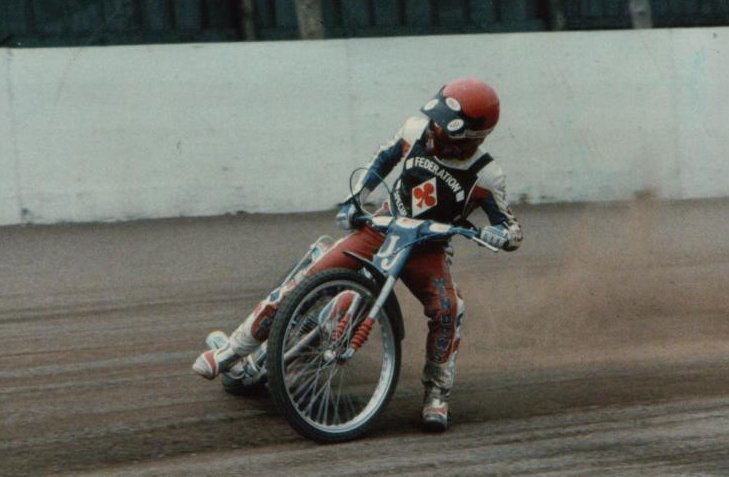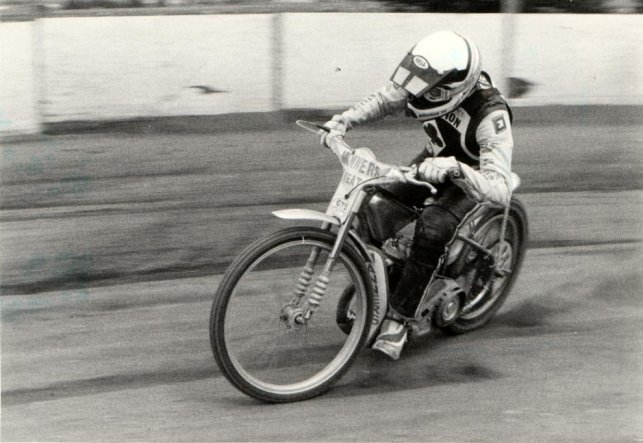 My favourite image of Steve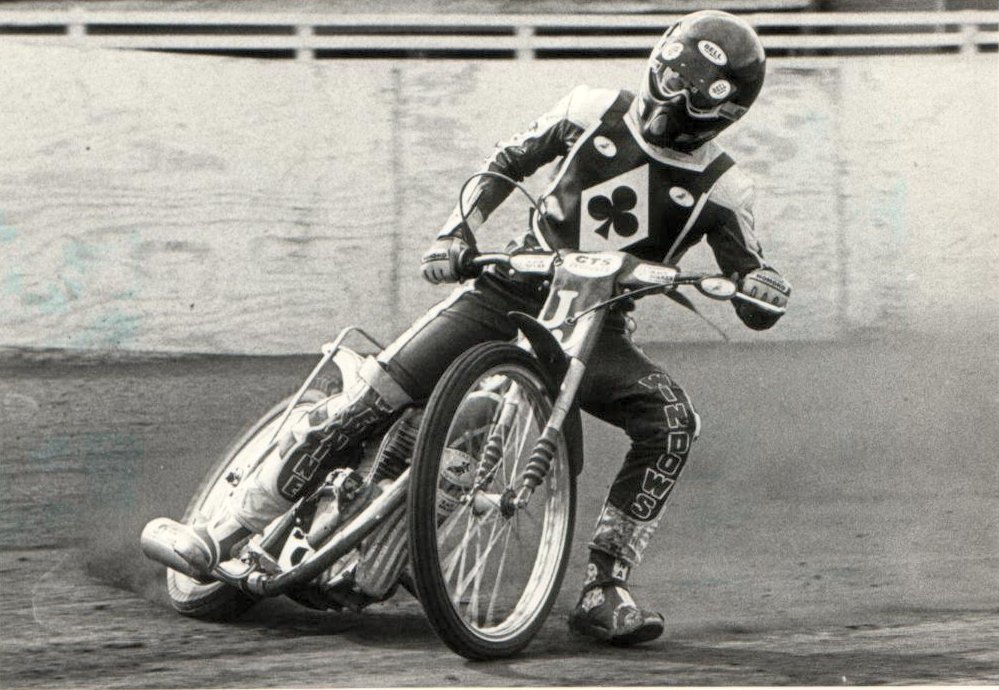 All 6 of these photos (above), of Steve Wicks are courtesy of Steve's photo collection
---
Derek Green's Photo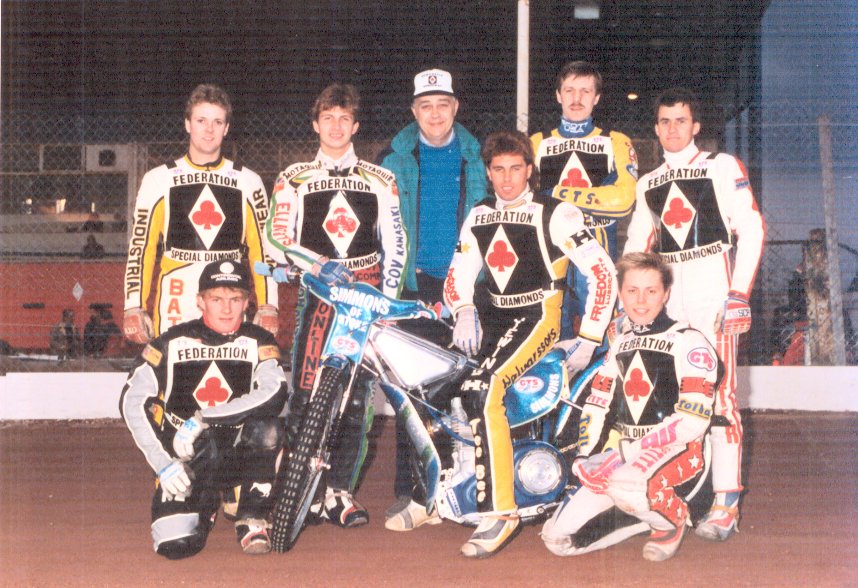 Courtesy of Derek Green
John says: I do not know all the names or the year, can you help please John
Andrew Farrar says:
The team photograph is certain 1989 (the presence of Rod Hunter gives it away). The two kneeling riders are Mark Thorpe and Simon Green, while Peter Carr is on the bike again. Rod Hunter is standing extreme right of the photograph and it looks like Derek Richardson next to him.
Tony Richardson says: I
think it is 1989. Back Row: ?, Peter Clarke (I think), Tom Graham (Team Manager), Derek Richardson, Rod Hunter. Front Row: Mark Thorpe, Peter Carr (on Bike), Simon Green.
Peter Baldwin says: The rider next to Anthony Hulme is 'David' Clarke, not 'Peter'.
Another 1989 Line Up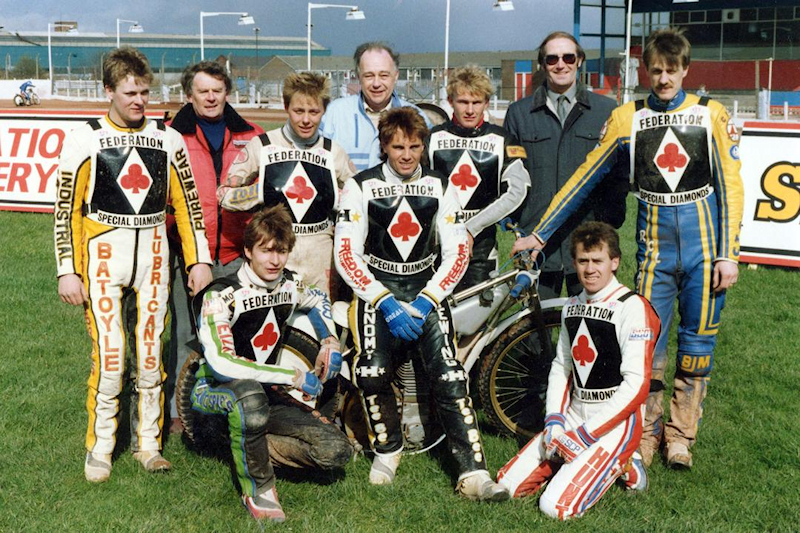 Courtesy of Steve Brock
Please help with the line up
John
Peter Baldwin says1989 riders: Anthony Hulme, Simon Green, Mark Thorpe, Derek Richardson, on machine Peter Carr, kneeling David Clarke and Rod Hunter
---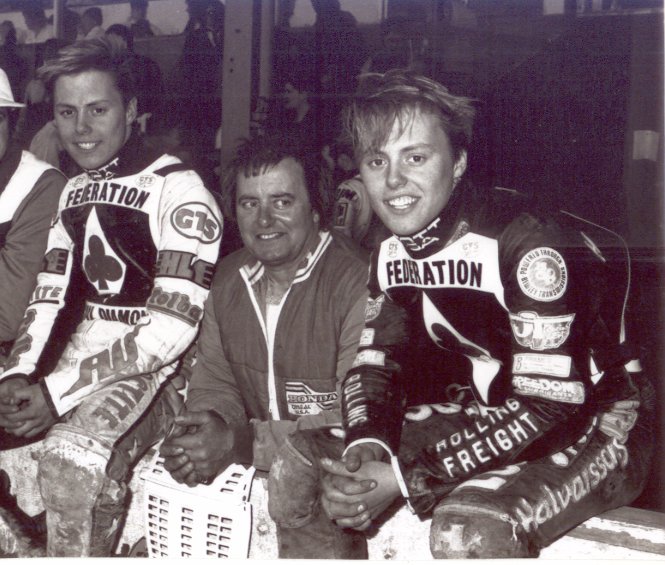 Courtesy of Derek Green
Simon on left, dad (also Derek) centre, Derek on right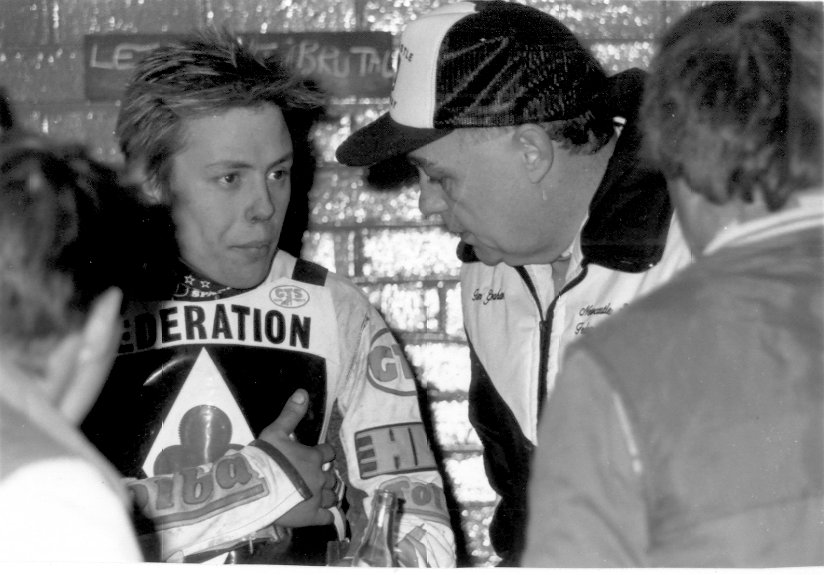 Courtesy of Derek Green
Simon Green after crashing. Derek Green on left, Team Manager Tom Graham (wearing cap)
Simon Green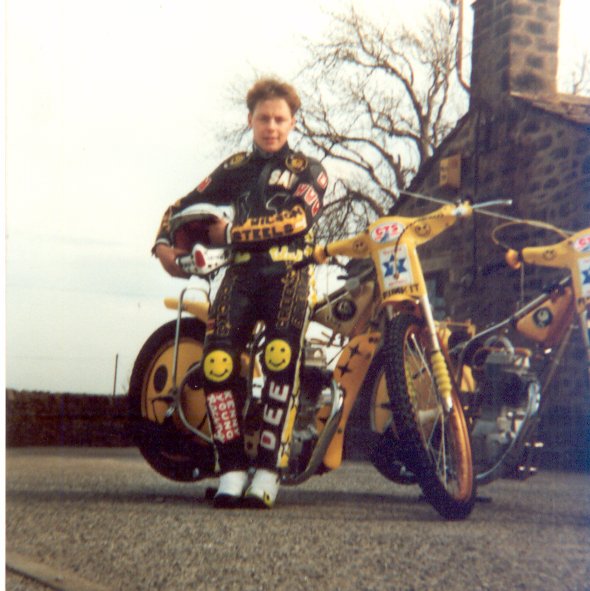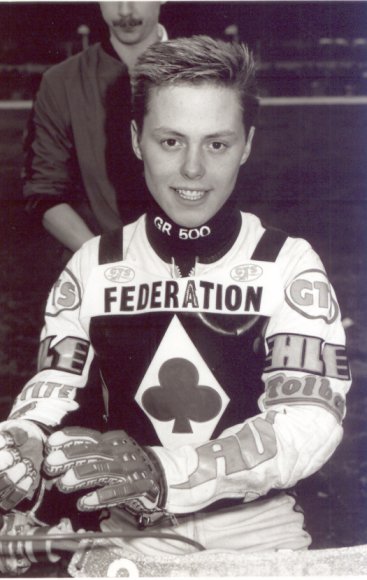 Courtesy of Derek Green
---
The contents of this website are © and should not be produced elsewhere for financial gain. The contributors to this website gave the pictures and information on that understanding. If anyone has any issue or objections to any items on my website please email me and I will amend or remove the item. Where possible credit has been given to the owner of each item.