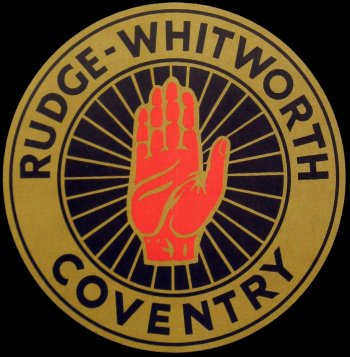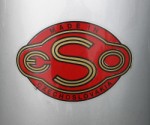 ---
1970s Newcastle
Part 2
Ian Thomas Brian Havelock Robbie Blackadder Ron Henderson Tom Owen Joe Owen Andy Cusworth Phil Michaelides Tim Swales Oxford v Newcastle 1976
---
Phil Michaelides Leading
Robbie Blackadder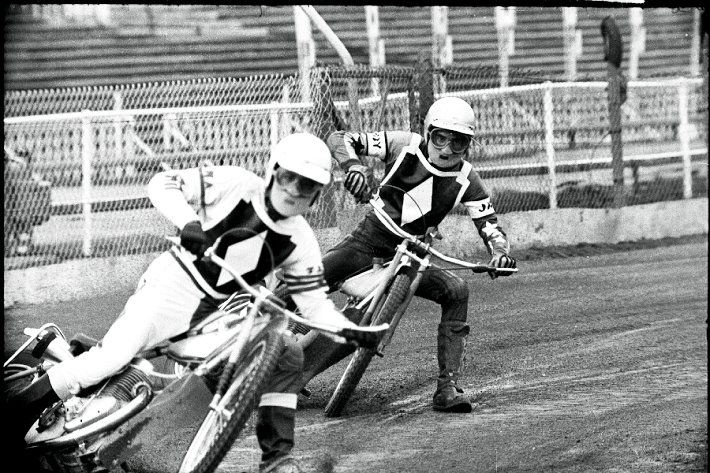 Courtesy of the R Spencer Oliver Collection
Robbie Blackadder was with the Diamonds 1975 -1981 during which time he rose from rookie status to heat leader, he began a relationship with a local girl and took her back to Aussie with him. I believe they are still together. Phil also from down under was with us between 1975 - 1977. Phil's career as a speedway rider did not fulfill his potential although he seemed a hit with the fans.
---
Brough Park

1975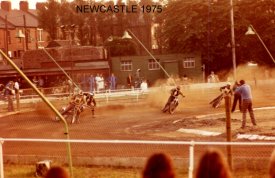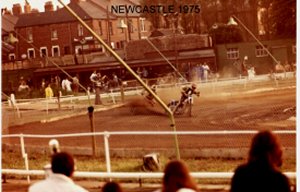 Back to 1975 The purpose of these pictures is to show the old office and shower building. It's the green building with 3 windows.
Tim Swales
1975 -76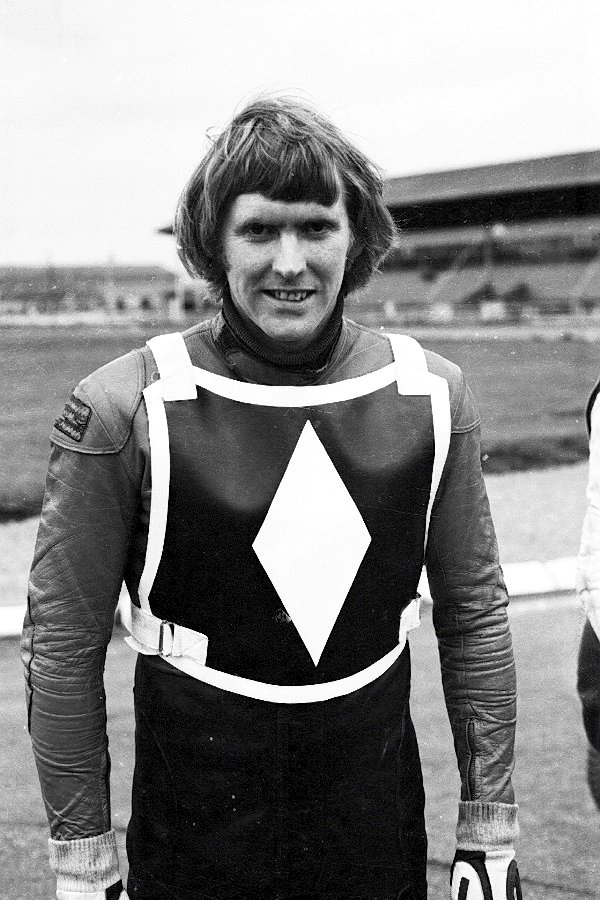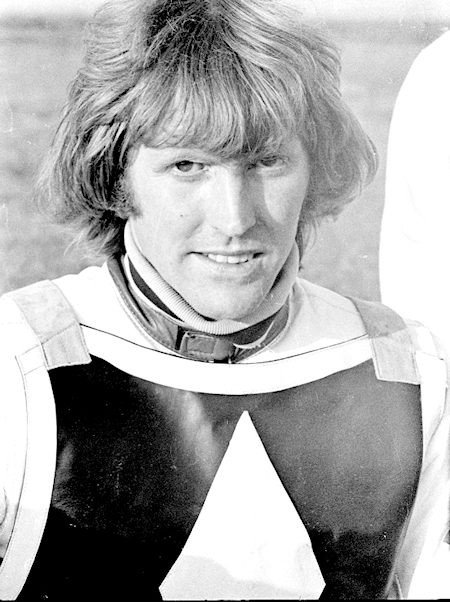 Left: Courtesy of the R Spencer Oliver Collection Right:Courtesy of photographer Keith Lawson
Havvy Senior & Tim
Courtesy of the R Spencer Oliver Collection
Tim Swales, on the right with 1975 captain Brian Havelock. The Swales name is a well known one in speedway. Quite a few Swales' have tried their hand and Tim from Teesside was a Diamond
1970 (Ian Hoskins) and 1975-76
(Ian Thomas). Brian Havelock joined up under Ian Thomas for two seasons 1975 - 76. Brian often had his young son Gary with him at Brough Park acting as a mascot. We never had the pleasure of Gary signing for Newcastle, mores the pity!
1976

Newcastle Team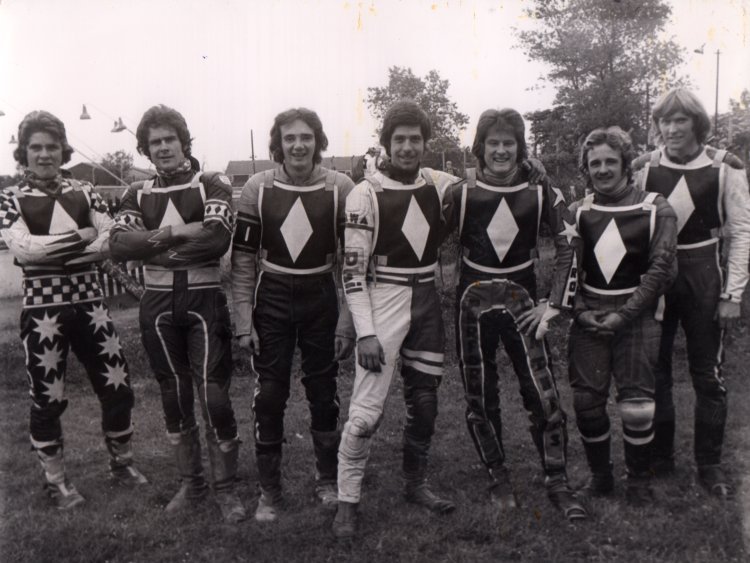 1976 Joe Owen, Tom Owen, Robbie Blackadder, Phil Michelides, Ron Henderson, Andy Cusworth and Tim Swales
Oxford v Newcastle
May 1976
Photos by Keith Lawson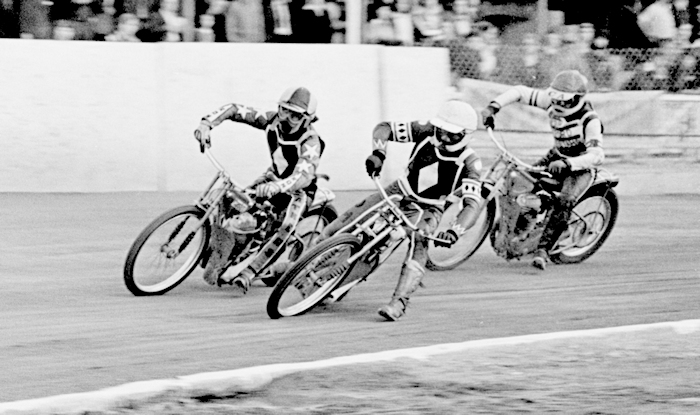 Pic 1. Heat 1 Action: Ron Henderson Tom Owen and Carl Askew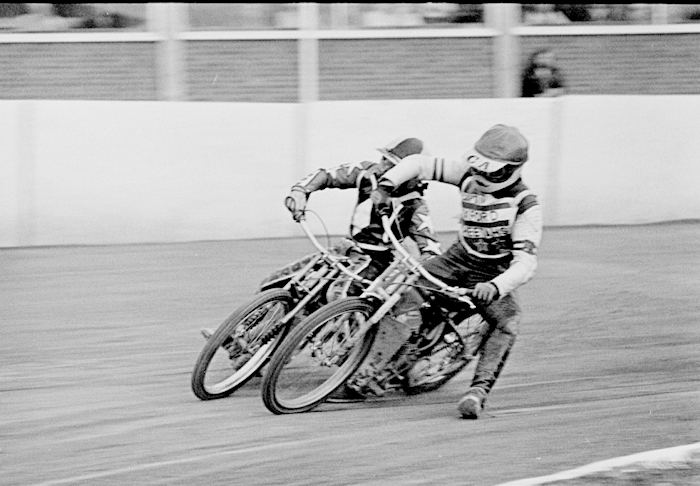 Pic 2. Also taken in Heat 1 Ron Henderson and Carl Askew. So what happened to Tom Owen?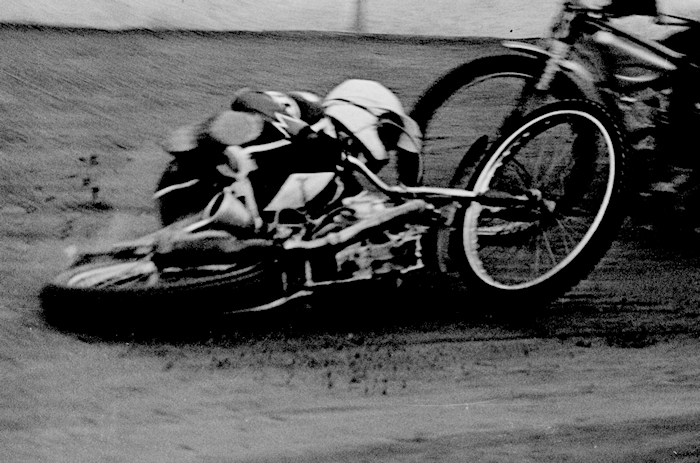 Pic 3. Also taken in Heat 1 Tom comes to grief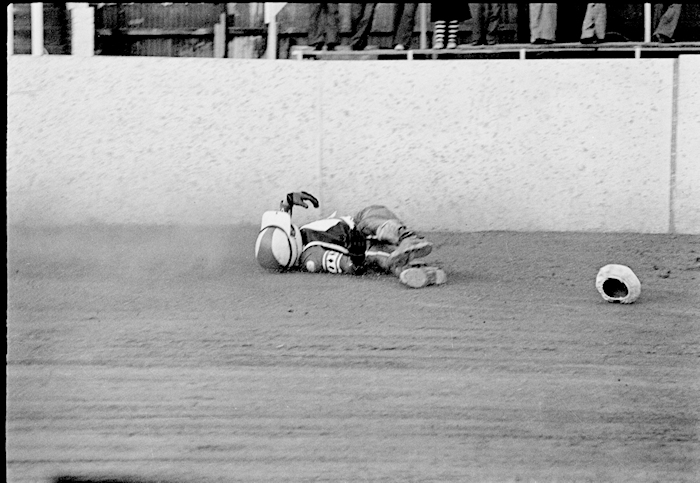 Pic 4. Also taken in Heat 1 great photos by Keith Lawson
---
1976 Newcastle National League Champions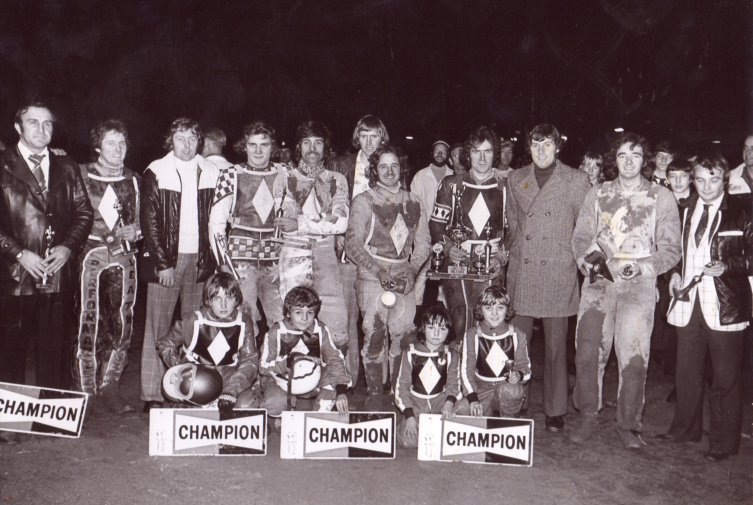 Collecting the silverware
Brian Larner, Ron Henderson, Dave Younghusband, Joe Owen, Phil Michelides, Tim Swales, Andy Cusworth, Tom Owen, Brendan Foster, Robbie Blackadder and Ian Thomas
---
1976
Ron Henderson & Tom Owen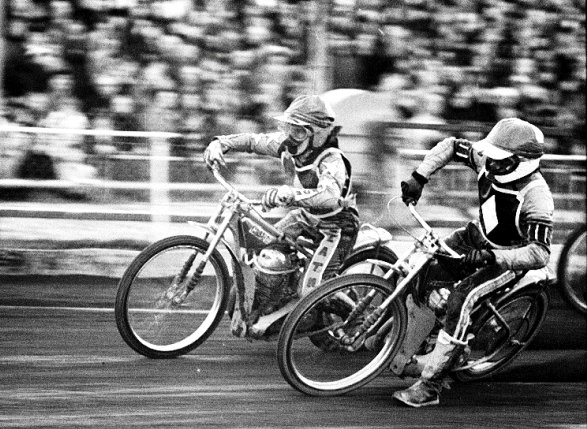 Courtesy of the R Spencer Oliver Collection
Ron Henderson was a very popular Aussie who signed up for 3 seasons 1975 - 77. I seem to recall him quitting the sport to concentrate on a "proper job" as a social worker? Tom Owen was with us
1975-82, 1987
---
1976

Rider Of
The Night Final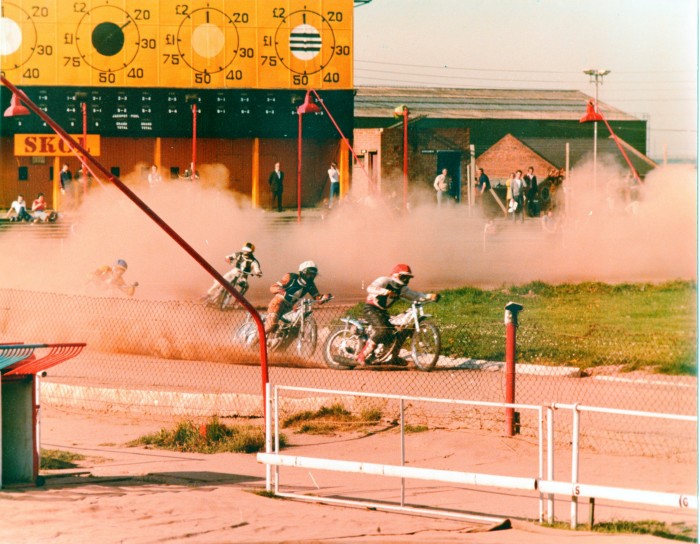 Terry Casson says: I've attached a pic for you for now, which actually includes Ron Henderson from that long hot summer of 76.
The print was horribly pink with age so have tried adjusting the colour to somewhere near to where it should be.
4 Diamonds made the rider of the night final they are: - Tom Owen (R), Ron Henderson (W), Robbie Blackadder (B) and Phil Michelides bringing up the rear. Regards, Terry
John says: My thanks go to Terry for his original pictures taken by himself from the "wrong side of the fence". I like the hint of pink Terry!! but not too much eh? Your picture invoked so many memories. Ron's orange leathers Tom out in front, he usually was! The clouds of dust around the 3rd and 4th bends, it was often like that. The Parson's factory building and the Greyhound Track's Tote Board dominating that end of our track.

Modern day referees would probably halt the match and order track work with a water bowser before letting any further racing take place to get rid of the dust and I would agree with them. In the 1970s we paid good money to watch an entertaining speedway match and we often were faced with peering through clouds of dust which got in your eyes, up your nose and messed up your clothes. It hasn't been a problem for the last 20 years of so so well done to whomever praises should be heaped upon!
Tom Owen
The Herts Gold Cup Winner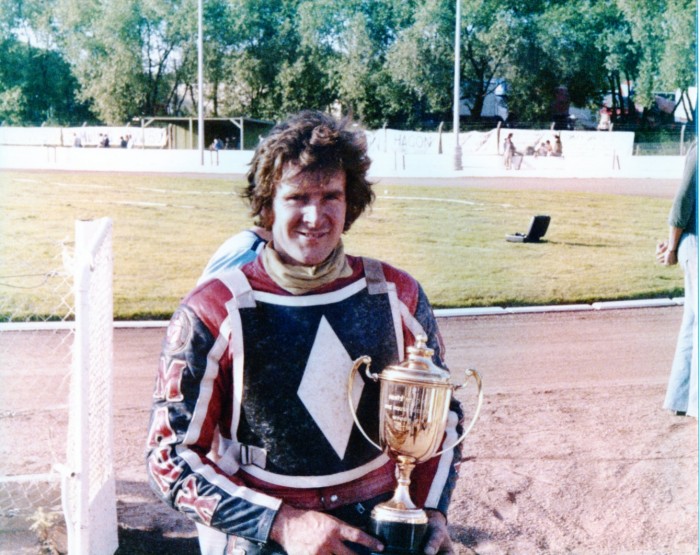 Courtesy of Terry Casson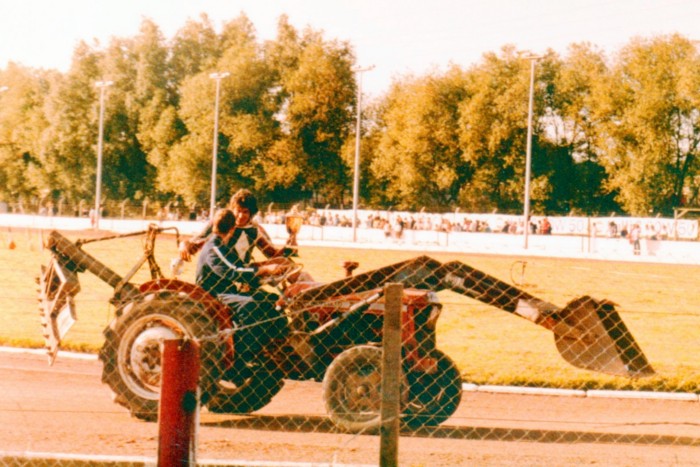 Courtesy of Terry Casson
Terry Casson says: Here above are a couple I took at Rye House in 1978 when Tom Owen won the Herts Gold Cup
Newcastle v Coatbridge Tigers Knock Out Cup
2nd Leg

22nd June 1977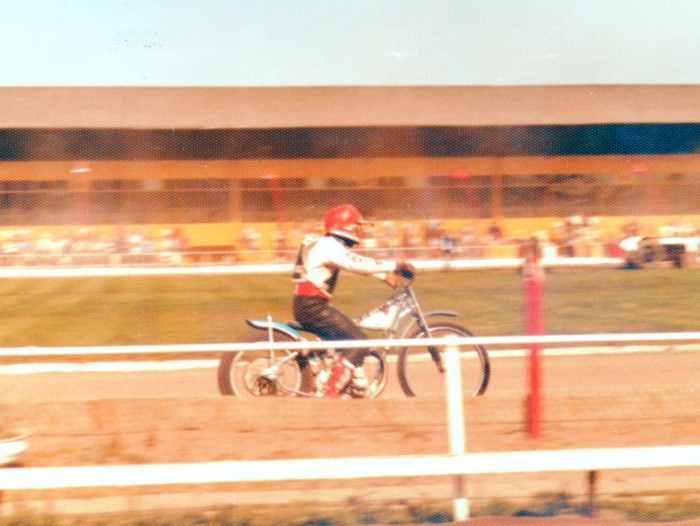 Tom Owen leads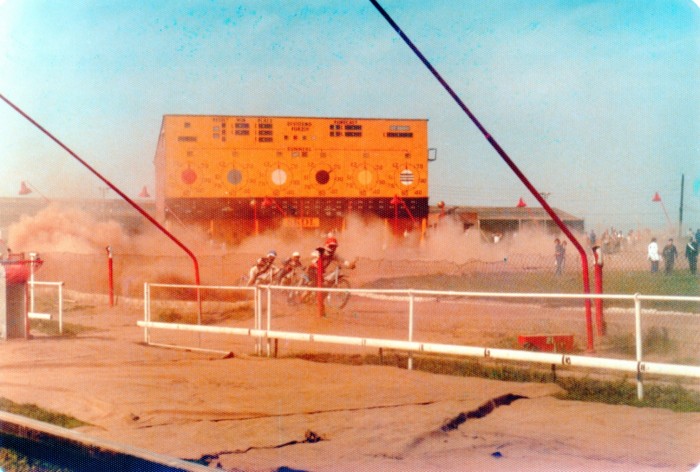 Tom Owen leads Phil Michelides & Mick McKeon
John Says: Every picture I see of the 3 and 4 bends during the 1970s is shrouded in dust, maybe we couldn't afford a water bowser or even a hosepipe in them days. The upright engined bikes would not have dirt deflectors fitted to the back wheel so maybe that contributed big-style to the dust clouds, so well done whomever brought in dirt deflectors.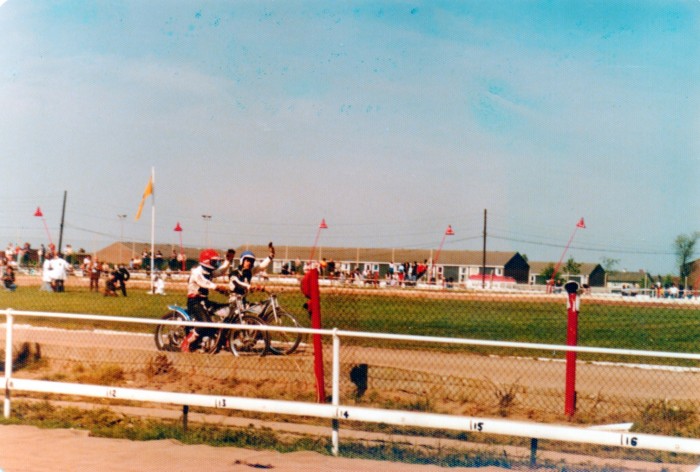 Tom Owen and Phil Michelides celebrate their 5-1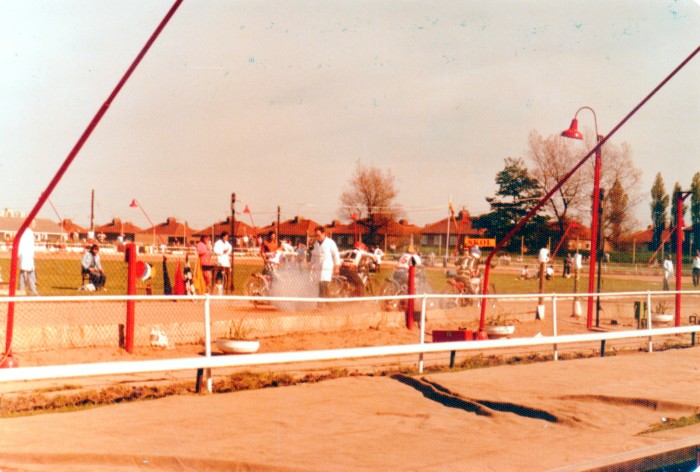 Left to Right: Graham Dawson, Tom Owen, Mick McKeon & Robbie Gardner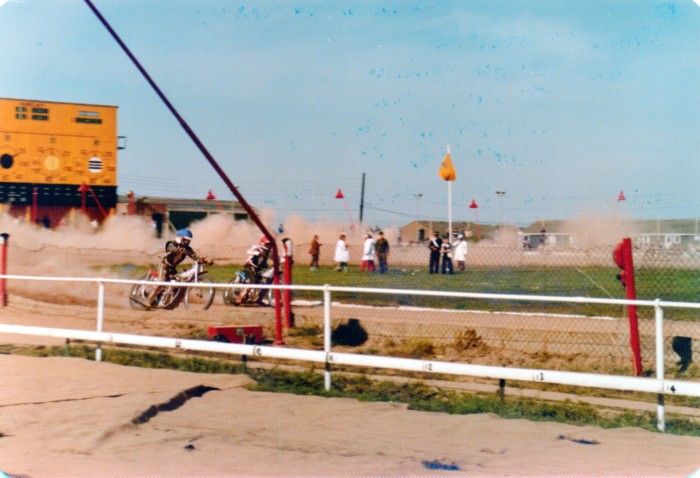 Robbie Gardner and Tom Owen enjoying their usual 5-1 heat result. The Coatbridge riders are somewhere in the dust of Tom and Robbie's wake
The Victorious Team's Tractor Ride
"Lap Of Honour"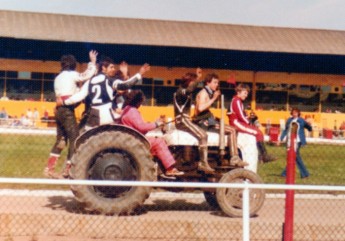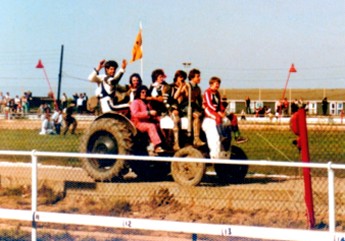 ---
If you were a fan during the 70's and 80's, you will remember the promoter who brought us the most successful spell of our 75 year history. Ian Thomas has now sadly passed away, but not before Ian and I have corresponded recently and he supplied some answers to questions that I have reproduced with his permission below: -

Q..
What made you want to re-open Newcastle when it had failed in 1970?
A.. I felt after being closed for 5 years it was ready to re-open and fortunately I was proved right.
Q..
Did you understand Geordie when you first came amongst us in 1975?
A..
I never had much trouble with the accent.
Q..
Can you remember the first team signings you made and did you expect the Owens to be so dominant?
A..
Re the Owen's. I knew they were good but to be honest I did not expect them to be as good as they turned out to be. Not sure who my first signing was but I relied on my Australian contacts so maybe it was an Australian.
Q..
What was the biggest crowd of your era, (approx), and what was it for?
A..
Just over 6,000 at the opening meeting in 1975. I had booked Ivan Mauger v Jim Mcmillan in a series of match races. The traffic tailed back to the Tyne Bridge.
Q..
What was your favourite team line up?
A..
I didn't have a favourite line up. As a team manager / promoter I feel you have to be impartial.
Q..
Did you really bow to pressure from fans alone when we moved into the first division ?
A..
Yes, I think so? but the bottom line was the decision was mine.
Q..
What forced you to pull out and did you regret it?
A..
Financial - Newcastle was losing over £1,000.00 per meeting. That's a lot of money now let alone in the 1980's. It was the correct decision but it is always hard having to close a track.
Q..
Did you ever consider re-opening Newcastle again during its frequent closing down acts ?
A..
No
Q..
What was your high spot and your low spot at Newcastle?
A.. The high spots were the continued success the team had over the years. The low spot was having to close down and meeting Robin Stannard.
Q..
Were any of your riders a real pain or a real treat to work with?
A..
Yes several were a pain to deal with so I got rid of them, most were good however -they were well paid. I showed them respect and they showed respect to me. That's how it should be.
Q..
How do you rate Newcastle's track for racing compared to the big tracks like Workington?
A..
I like both tracks but in general I prefer tracks where the crowd is nearer to the track. i.e. no greyhound track in between the fans and the track. I also prefer speedway under lights, it looks faster.
Q..
Were you offered a Lada by the sponsors and what happened to it? scrap yard eh?
A..
Yes, I drove a Lada for several seasons and provided you didn't have to go round corners they were fine! They also sponsored Hull.
Q..
Can you list everything your Newcastle sides or individual riders won ?
A..
No!
Q..
You had a go yourself at riding in the 60's how did that go?
A..
Yes / Like I was no good! - I was however, paired with Ivan Mauger once in a challenge match at Brough Park.
More From Ian Thomas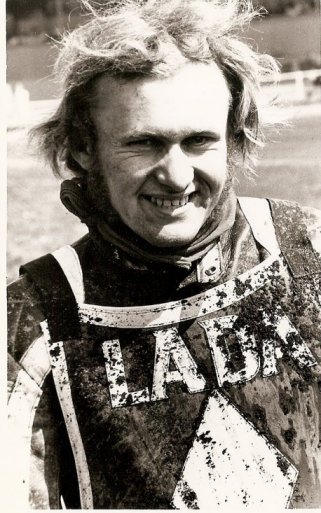 When I signed Nigel Crabtree he cost me £61.00 and I sold him for £6,000.00. I could not agree a fee with Scunthorpe for Nigel so we said that Newcastle would pay £100.00 for every point of his average at the end of the season. He attained a 0.61 average, hence the £61.00. He came good later and I sold him for £6,000.00. One of the most popular press conferences was when we signed Tom Owen for life. (we did release him later). We booked a model with hardly any clothes on and covered her in balloons - we told the press boys we would burst a balloon for each question they asked. It took about 2 minutes for her to end up virtually naked!

Scunthorpe came to Brough one Sunday afternoon. Their promoter Brian Osborne messed us about terribly! He would not let us water, we had a dustbowl and it took 3 hours to complete the meeting! The following day the diamonds were down at Scunthorpe. I took 4 rabbits with me and released them just before the first race! Their meeting was delayed by 45 minutes while they ran around catching them!
Sad news that former Newcastle, Belle Vue & Workington Promoter/team manager Ian Thomas has died (2011) after a recent illness.
---
Brough Park

1975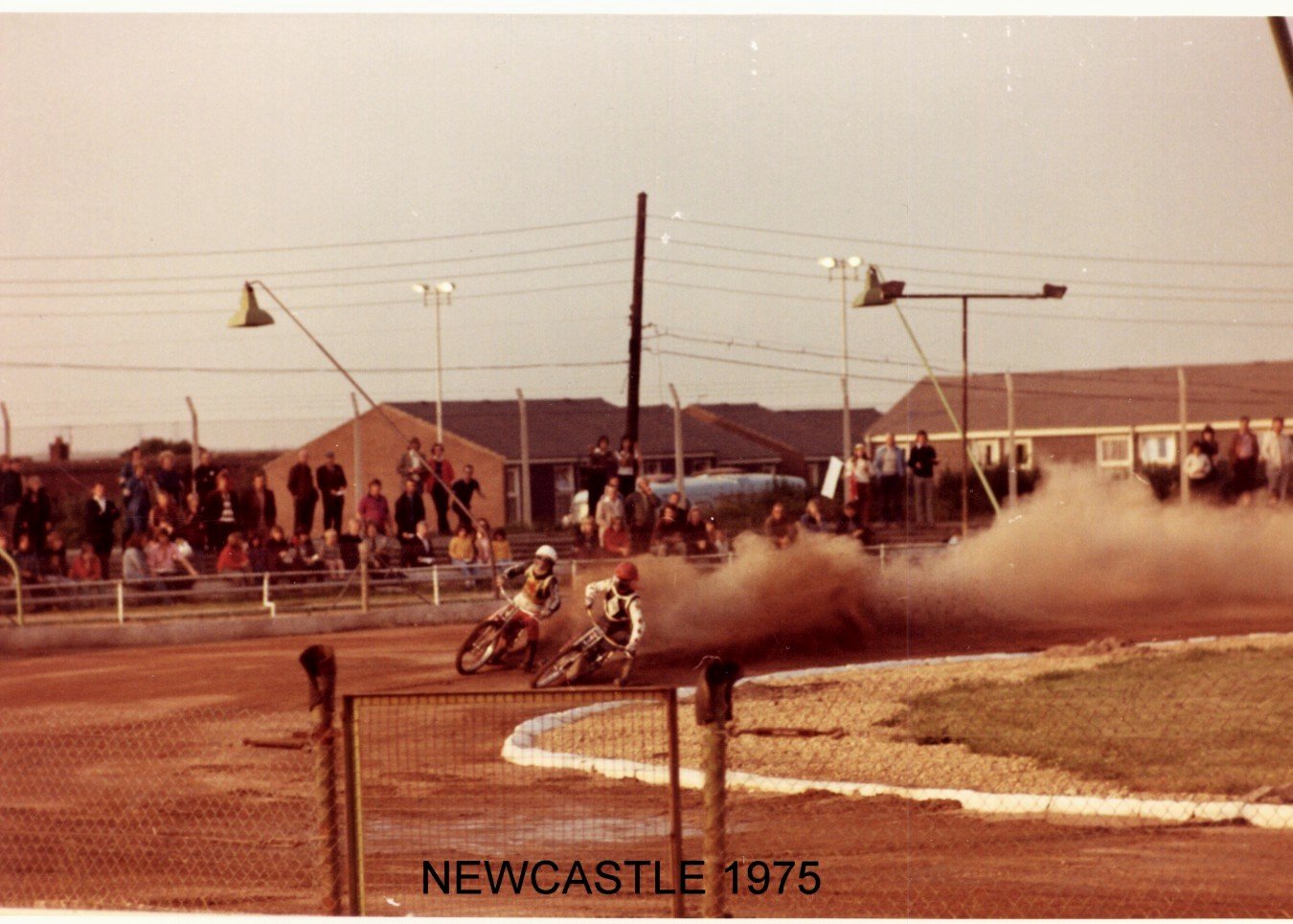 Dry and dusty! Brough Park is hard to ride in any state but spare a thought for the rider hidden by the dust and that section of the crowd about to be blinded.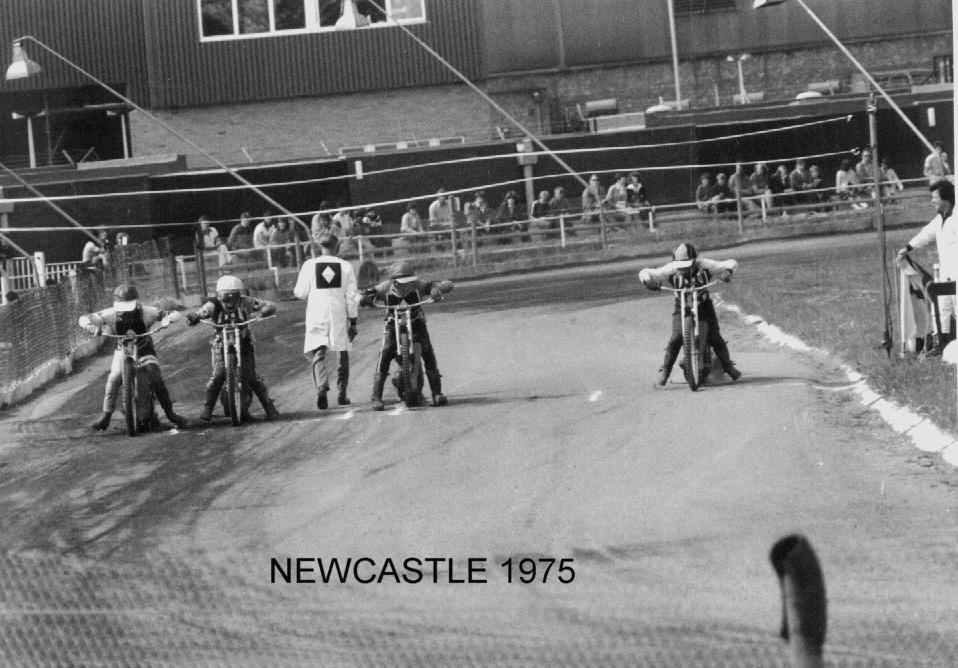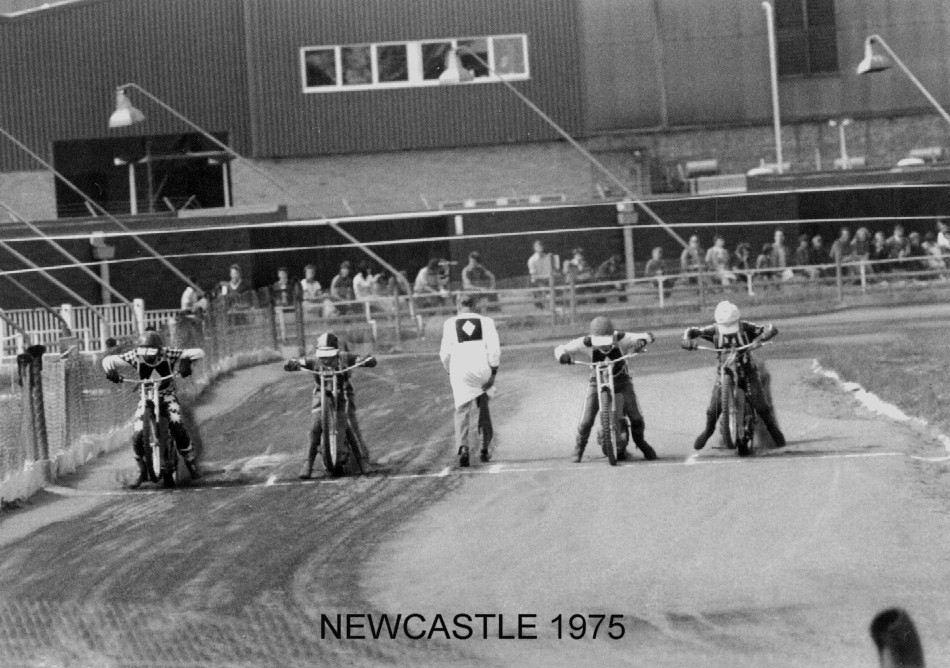 2 shots Newcastle v Glasgow or v Coatbridge I think? I can make out Joe Owen at gate 4 on the right hand picture anyone help me with the others?
---
1976

Shielfield Park (Berwick)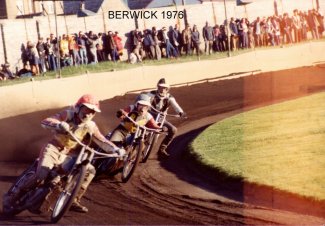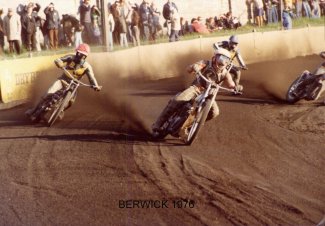 I cannot make out the riders, if you can then send me an email John
---
1975

The Boulevard (Hull)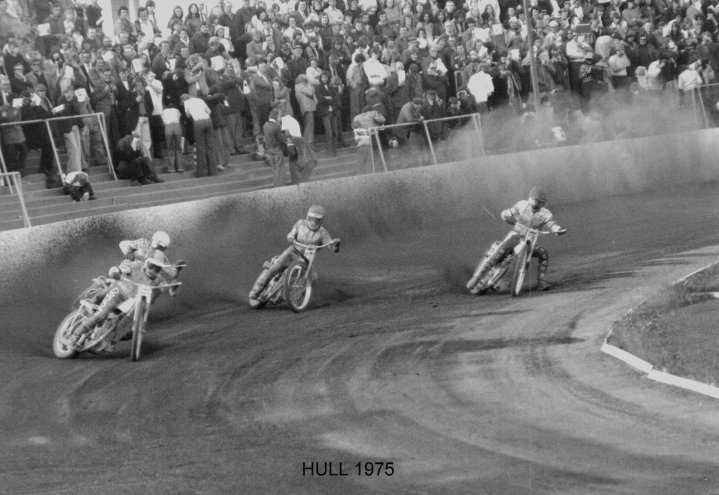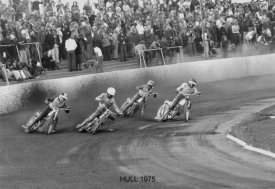 Tom leading Joe on outside at Hull? Not sure who the riders are on the right hand picture. This was the Boulevard, long since closed. Our Promoter Ian Thomas also operated the Hull Vikings in those days. Help me out with names etc if you can.
John Mather says: OK, on the two Hull pictures on Newcastle, 1970's part 2. I think both pictures are from the Yorkshire Television Trophy meeting on 21 July 1976. The left picture is heat 6 and it's Peter Collins leading with Joe Owen just behind, Mitch Graham in the center of the track and Ivan Mauger on the inside. The right picture is heat 7 and from left to right it's Jim McMillan, Terry Betts, Chris Morton and Reg Wilson. Dave Jessup took the winners trophy that night with a 15 point maximum, Joe finished with 7 points. I have to say that Joe Owen was a total pleasure to watch and worth the price of admission on his own. Many happy memories following the Vikings and a lot of them are down to Joe, thanks Joe.
John Skinner says: You are right on the money! Joe was my second all time favourite I put him just behind Ivan Mauger
but ahead of our 3 other world champs Ole Olsen, Anders Michanek and Nicki Pedersen based solely on how skillfully Joe rode our track
---
Newcastle v
Cradley Heath
Inter-Divisional Cup

27th June 1977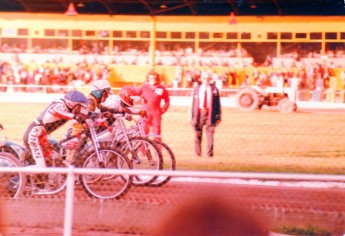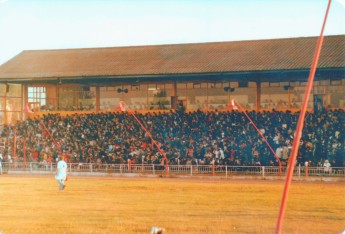 Above left is the start of Heat 1 Phil Kynman (Blue) finished third. Swede Bernt Persson (White), he won the heat and Tom Owen (Red) was second. The other rider in this heat, Heathen Bob Valentine is out of shot he ran in last. The right hand photo shows the home straight grandstand packed to the rafters.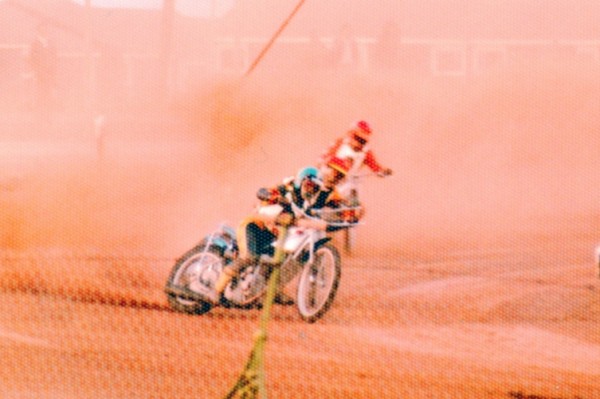 Modern day speedway does not tolerate conditions like this. Clouds of dust obscuring the action and dirtying spectators clothing. At the first sign of dust we expect the water bowser to come out and damp down the dust but not way back in the 1970s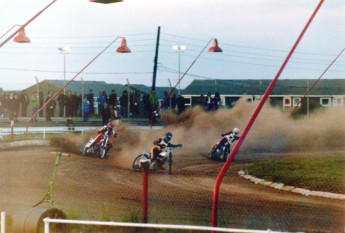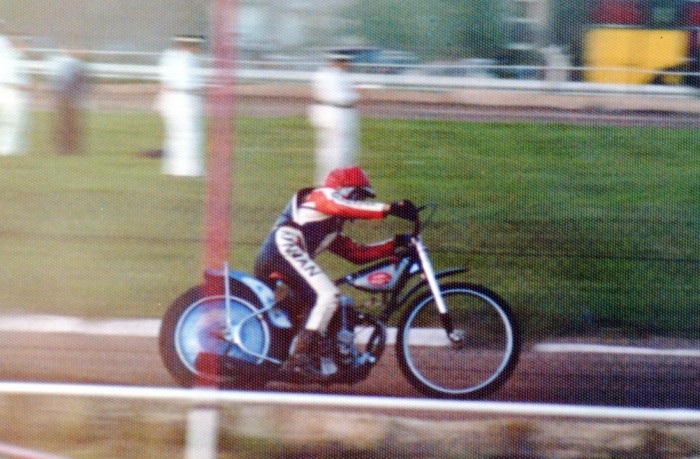 Another Inter League Cup Match in 1977. Left hand photo shows the Rider of the Night Final . Swede Bernt Persson leads (In Blue) from Phil Kynman outside in Red and Steve Bastable in white. Right hand picture is Newcastle's Phil Kynman taken during the rider of the night final.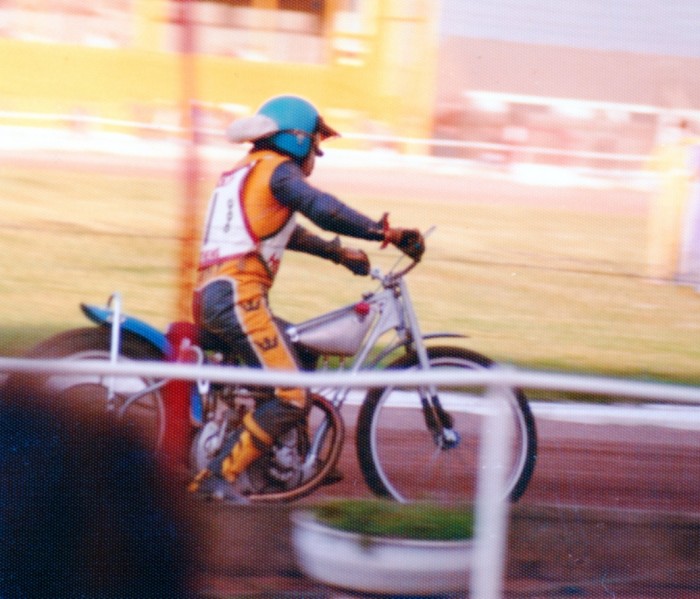 An artistic picture of Cradley Heath rider Bernt Persson.
We are looking through orange coloured glasses at this pic. This is Heat 13 and Newcastle are running the top tier Cradley side close
---
Taffy Owen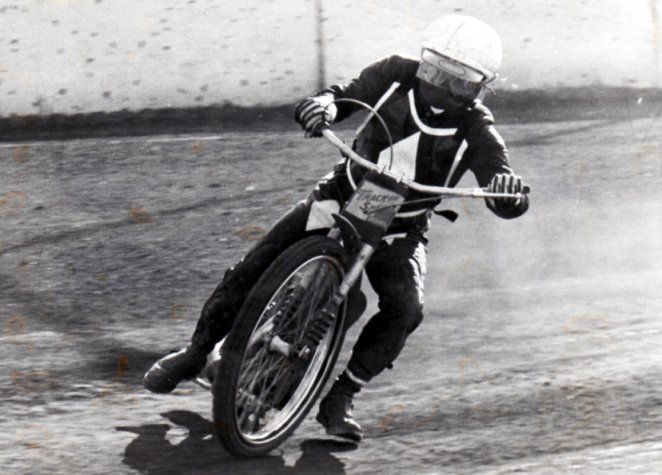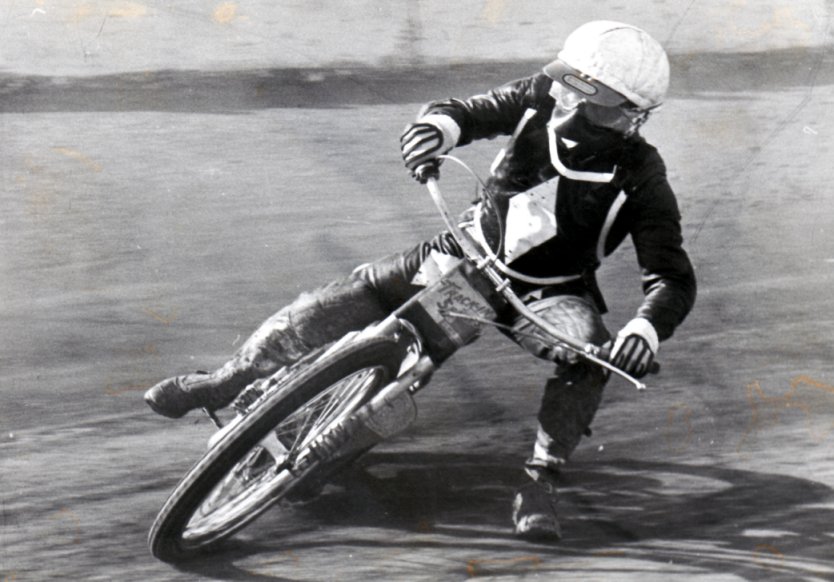 No relation to Tom and Joe Owen. Taffy rode for Newcastle in 1977
---
Newcastle v Hull
Inter-Divisional Challenge

22nd August 1977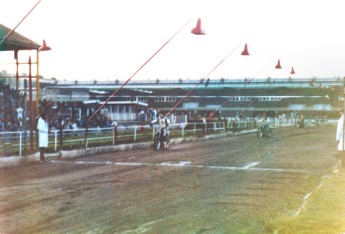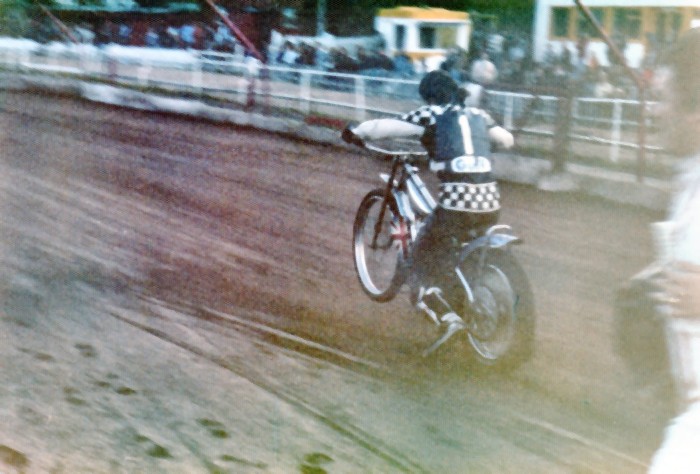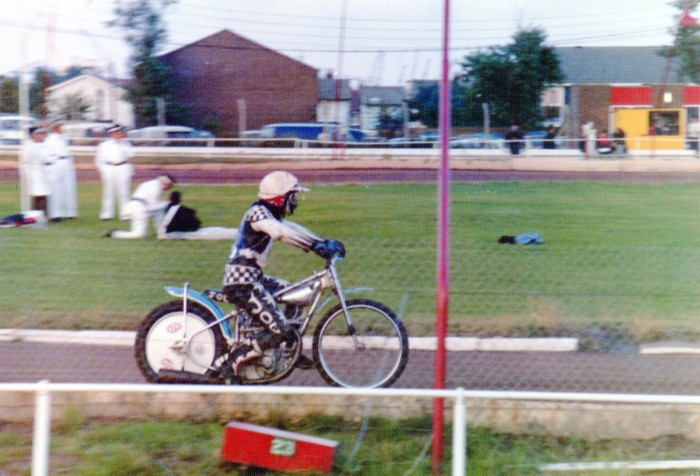 Joe Owen. Pre match parade and Joe ready for action in heat 1. He is in white as he was riding for Hull against Newcastle. Just as Newcastle in the 1960s was Ivan Mauger's time, Joe dominated Newcastle in the 1970s. In the largest picture is a yellow hut on the back straight. I think it was there for selling programmes? Note also the cars parked behind. Brough's modern day car park would have been overwhelmed then as the crowd then was 4 or 5 times what we get now in 2016.
Heat 1 Tom Owen (Red) Phil Kynman (Blue) and Viking Joe Owen in White. Older fans will remember the grass on the dog track and spectating from all parts of the stadium. I tried the second bend but didn't like it much. The appealing thing about having access to all of the stadium was that you could put on sun-glasses and stand in the sunshine! Now the crowd is restricted to the home straight which is mainly in shadow and a few degrees colder!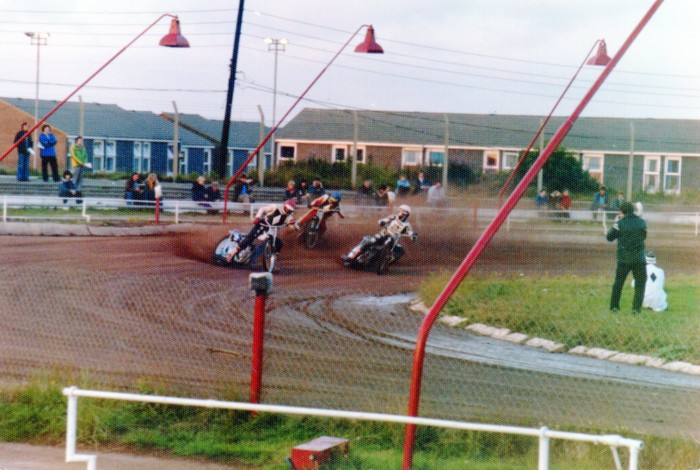 Tom Owen (Red) Phil Kynman (Blue) and Joe Owen white in heat 1. A few hardy souls are watching from the third bend. You got peppered with shale from that location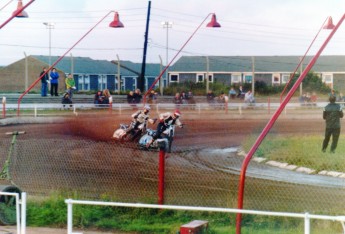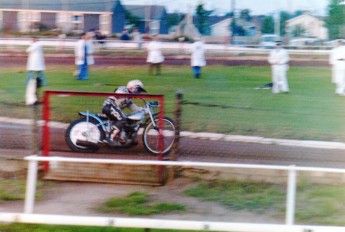 Tom holding Joe behind him around bend 3
Second tier Newcastle could not contain the first tier Vikings. The score was Newcastle 37 Hull 41 (13 heat match formula) and another chance to glimpse the massive back straight grandstand. I use to down a few cold bottles in that bar and exchange a few words with promoter Ian Thomas he often stood alone in the back straight bar. I remember him wearing a sheepskin coat. Ian has unfortunately passed away. He remains as Newcastle Speedways most decorated promoter, league, cup, fours & pairs Ian's Newcastle teams won them all
---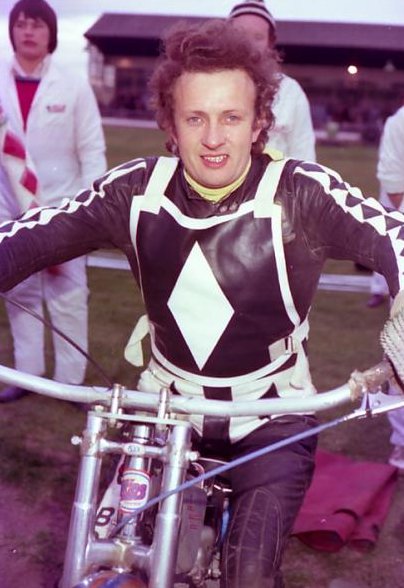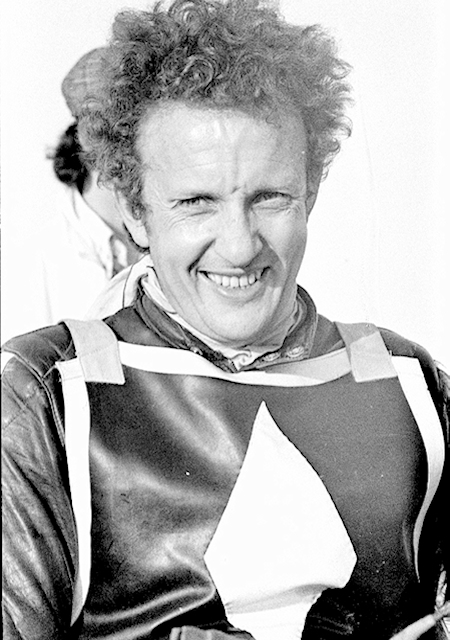 Black and White pic courtesy of photographer Keith Lawson
Brian and Tim Swales. Both hailed from the Teesside area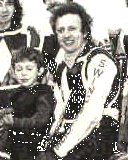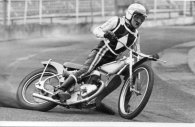 Brian Havelock was the captain of the 1975 Newcastle side. Here he is with his son, Gary Havelock, who became world champion in the 1990s and above right a pic of Brian riding the Brough Park track.
Havvy Snr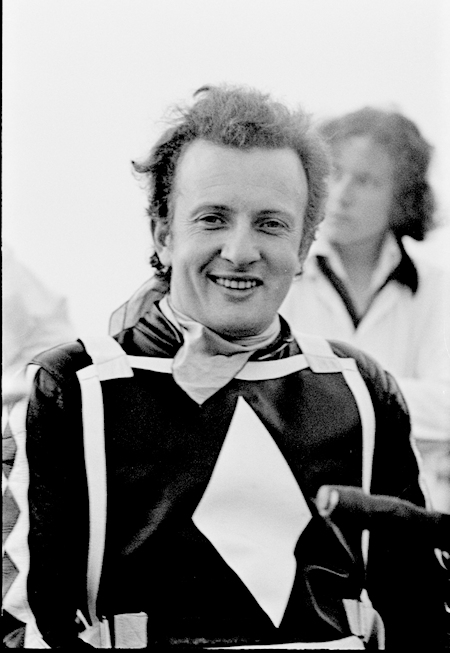 Photo by Keith Lawson
1975

New National League Pairs Winners
Tom Owen & Brian Havelock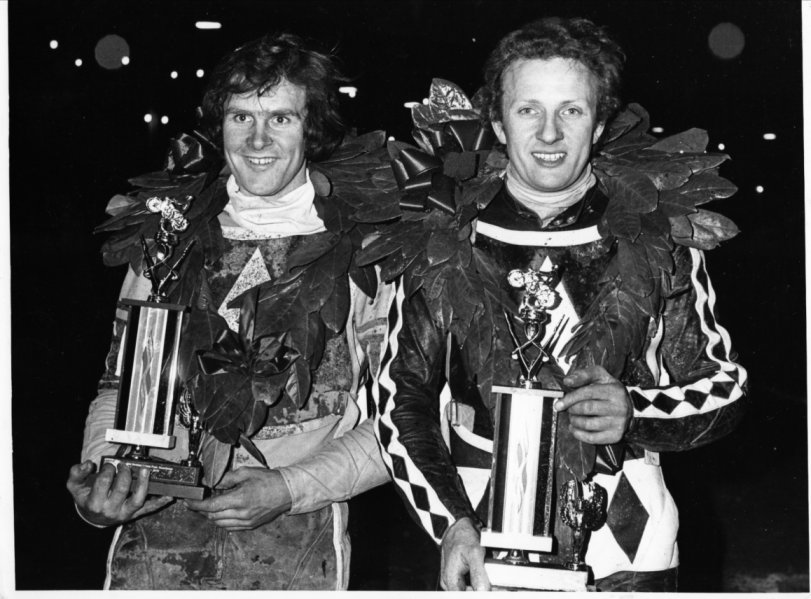 This must rank high as a career topping achievement for Brian and Tom too
---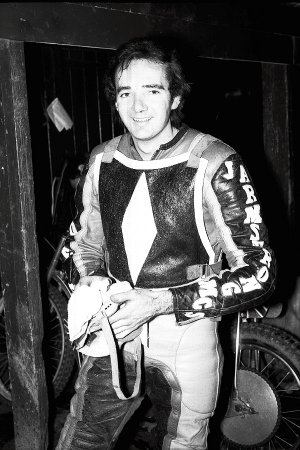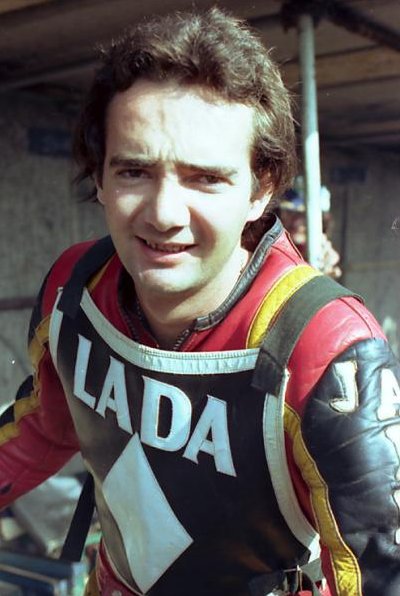 Pictures courtesy Richard Nicholson
This Aussie was very popular during his 1975 -1981 spell at Brough Park. He was a bit of a wild racer but a great team man, he went back to Australia with Denise, a local girl who used to work in the offices of Newcastle's Fenwick's department store. Sadly all of my attempts to obtain action pictures and some news of him have so far failed. If you, like me were a fan of Mr. Blackadder's then please come to the rescue and supply us with some pictures and news. John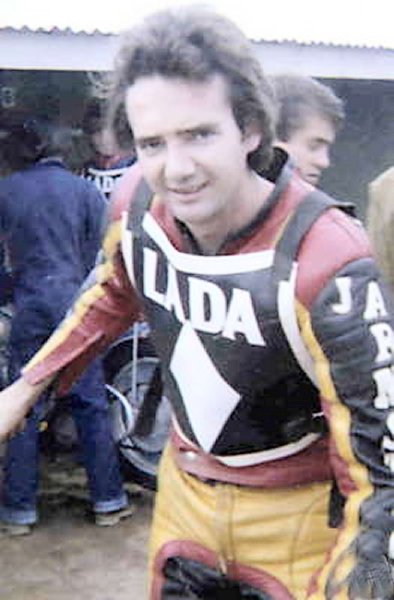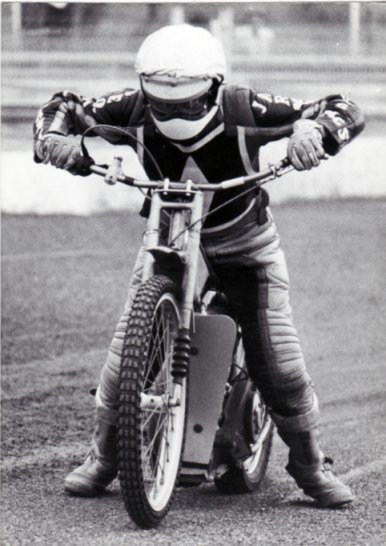 Right: courtesy Lyn Thompson
I think the "head" over Robbies shoulder is Rod Hunter?
The name of the Australian "Blackadder" could even have its origins in the north east of England. There is a village and a river called Blackadder in north Northumberland. Hey Robbie you could be the heir to a country seat!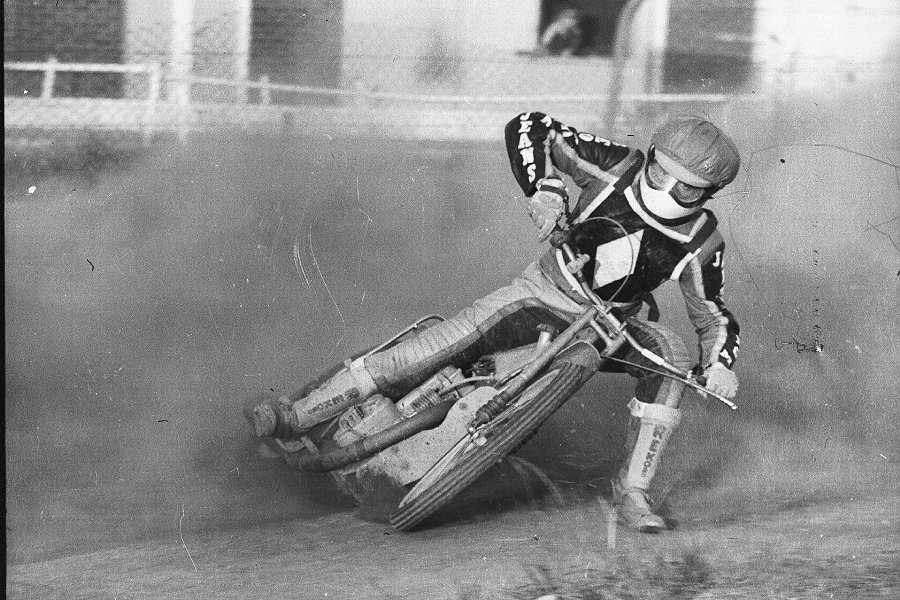 Rob Best tells me that Robbie was a bit careless at tying his bike onto the back of his car. He was on his way to Canterbury when the bike and car parted company. The bike was wrecked but happily no-one was hurt.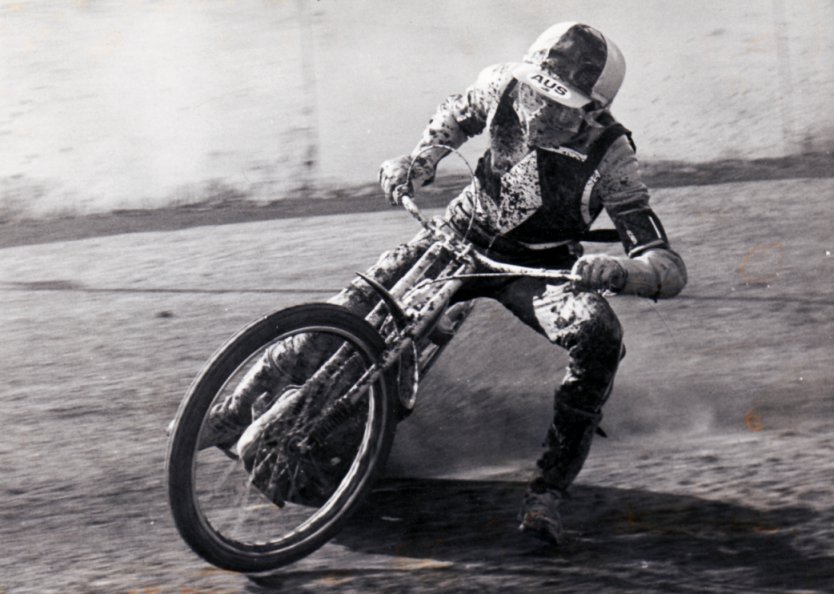 Courtesy Lyn Thompson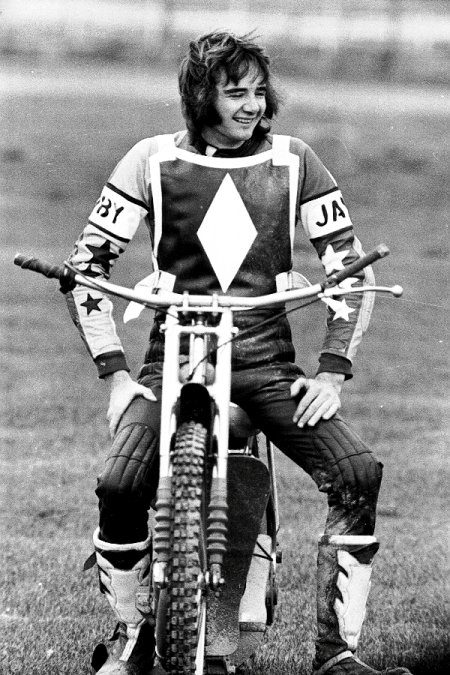 Taken at 1975 Press and Practise day
Robbie at Oxford 1976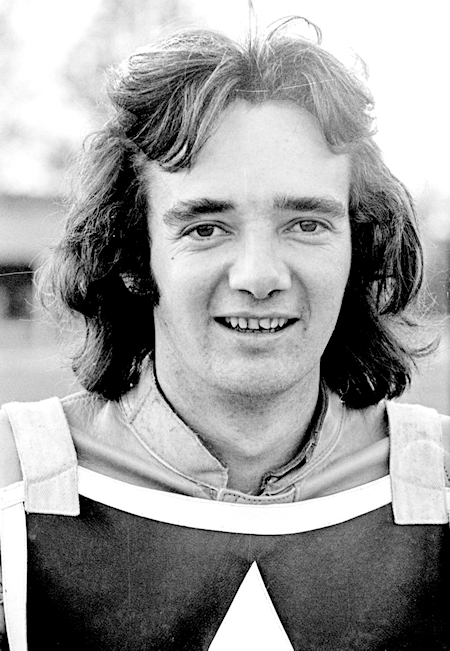 Courtesy of Photographer Keith Lawson
Robbie Blackadder's Diamonds career spanned 7 years 1975 - 1981 there are more pics of Robbie on the 1980's pages.
---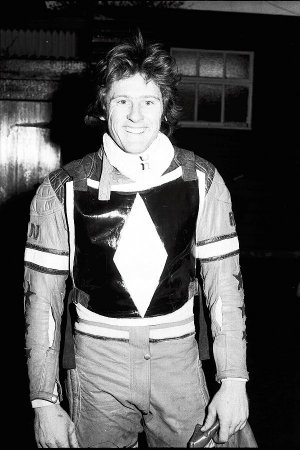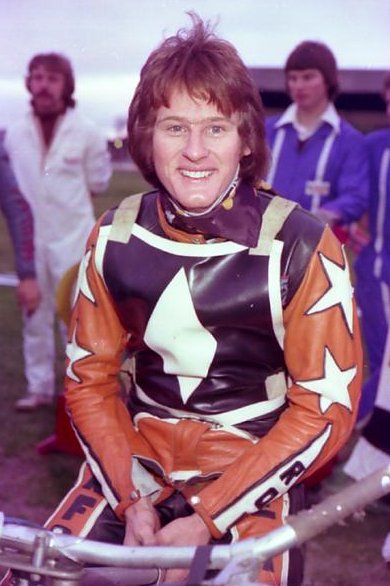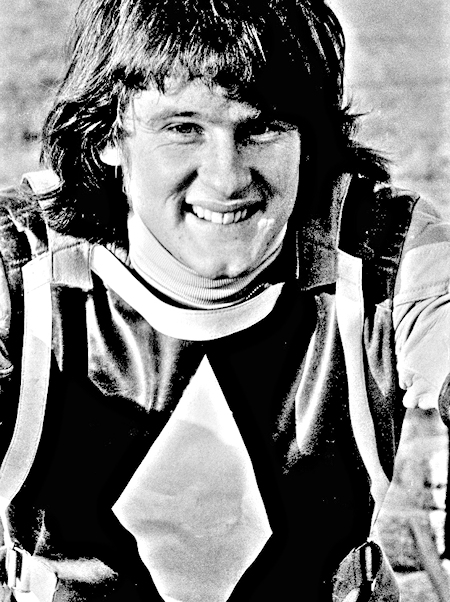 Right hand pic courtesy of photographer Keith Lawson
Australian Ron Henderson joined us when we reopened in 1975 and stayed until 1977. Another popular Aussie of the mid 70's side. Ron Struggled for a while then just as his talent started to become noticeable he decided to quit and I believe he became some kind of social worker.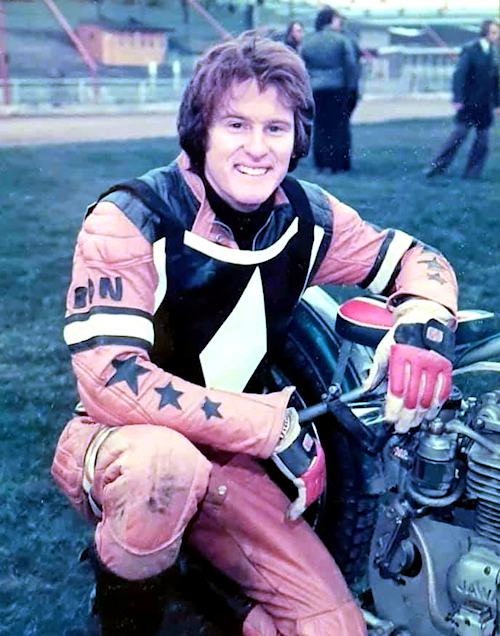 Ron at Oxford
May 1976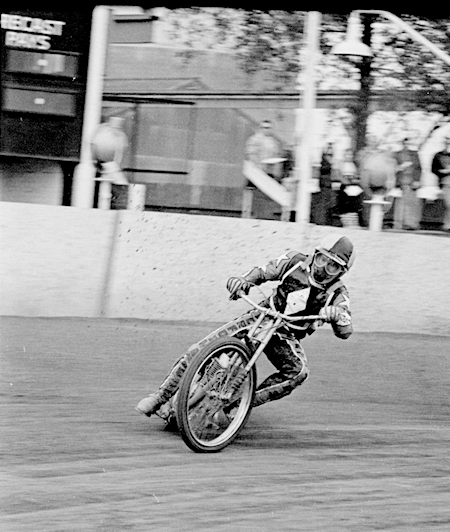 Photo by Keith Lawson
"Hendo" 1977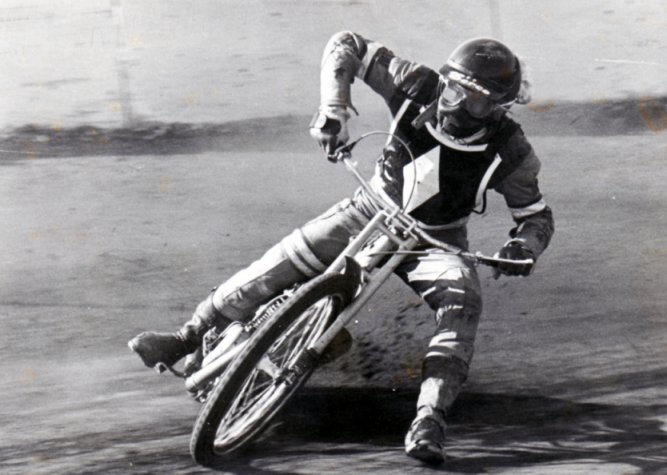 1976 Ron Henderson Team Riding With Tom Owen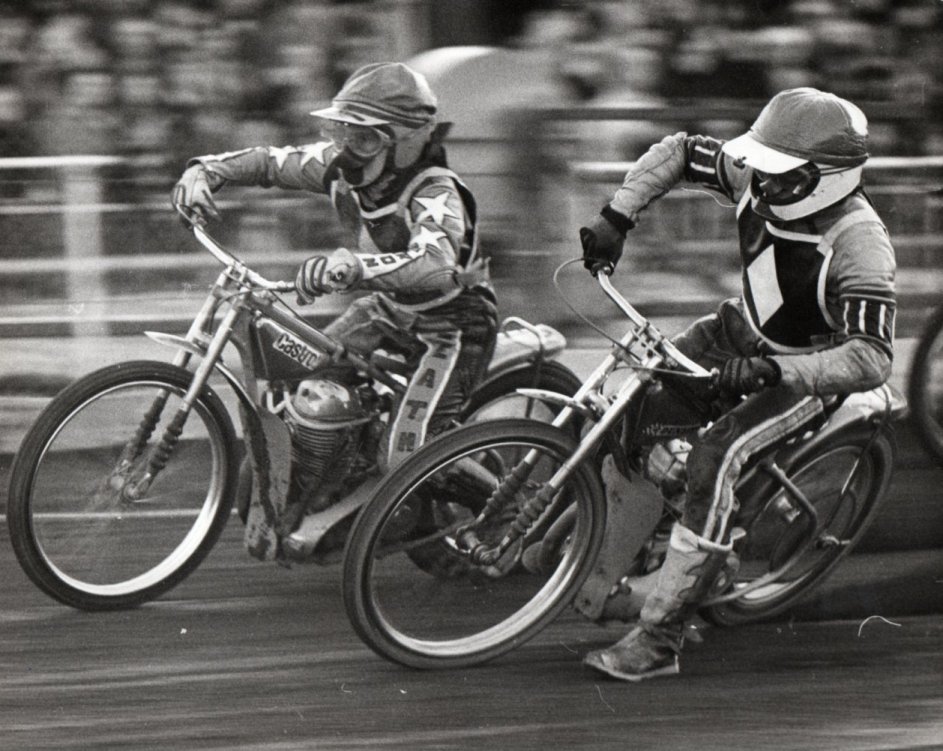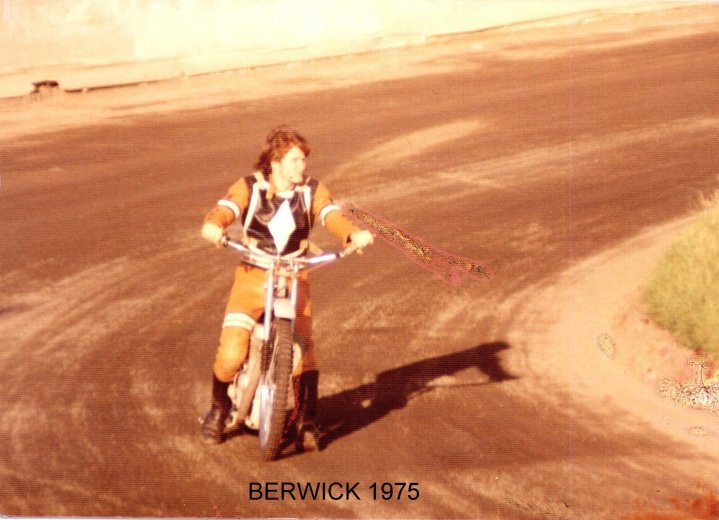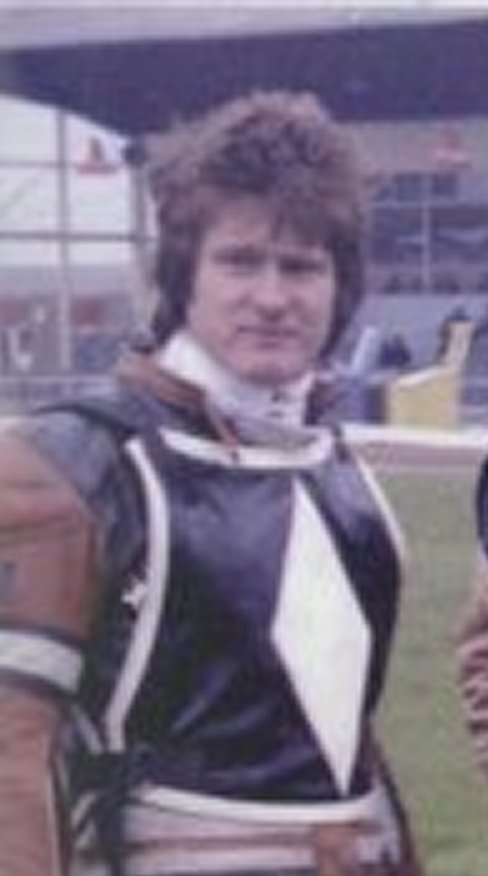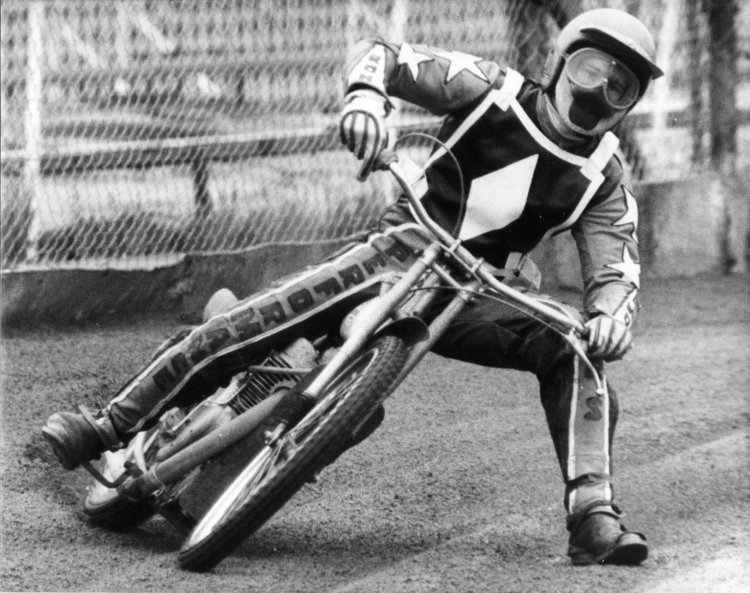 Ron used to ride around in a top hat on pre match parades, have you a picture of him wearing it? email me please
John
see pic below
Ron at Oxford
May 1976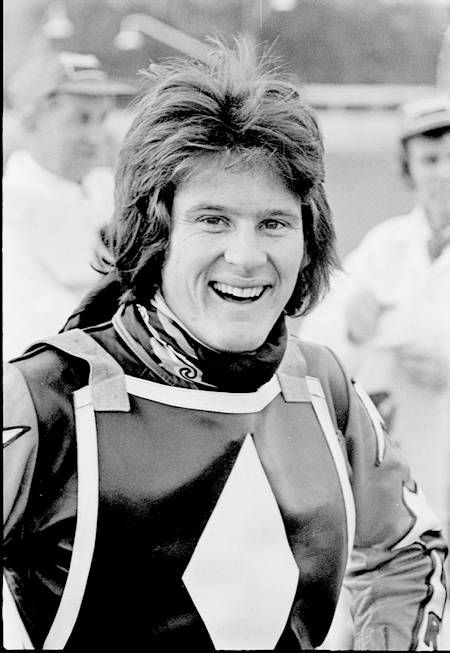 Photo by Keith Lawson
Memories Of Ron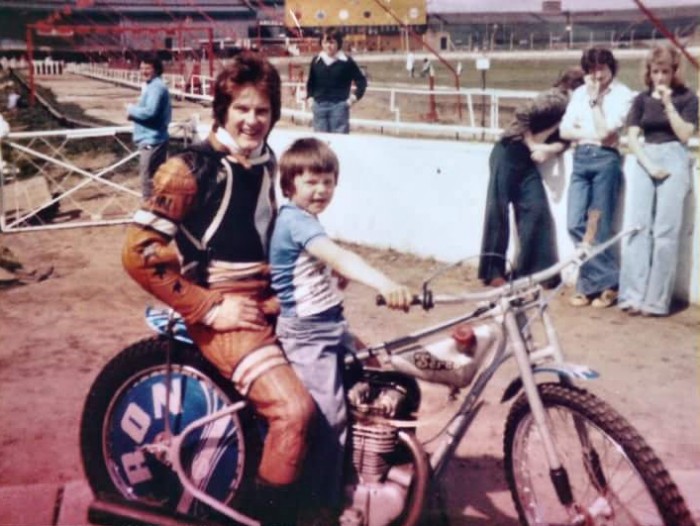 Mark Waters says: Hi John, just looking at the website and reading about Ron Henderson. He was a friend of my father's and we got to know him well. He went back to Australia and he became a paramedic making his way up to chief. Lost contact with him now but I heard a tale that he was enticed back into racing over there and ended up winning his race then immediately retired again. Would love to know how he is doing as he was a hero of mine, me being a small boy in the 70 ' s, as you can see from the above photo. Regards Mark.
Ron and Tom v Boston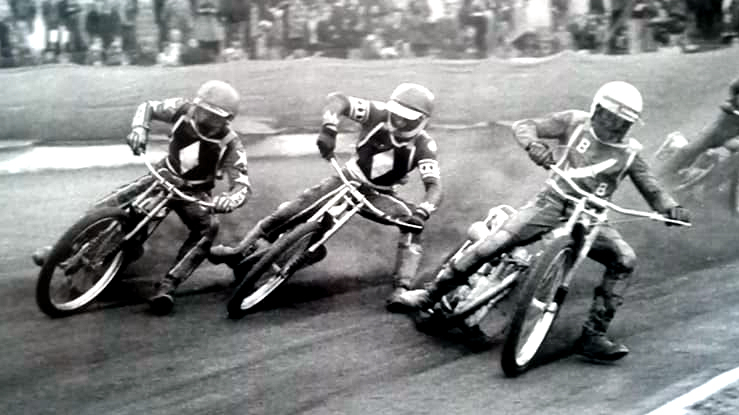 Courtesy of Ron Henderson
Tim Swales Ron Henderson
& Tom Owen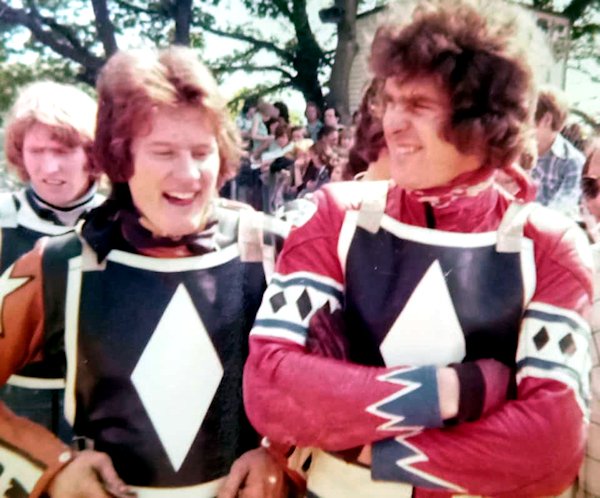 Courtesy of Ron Henderson
When I think of Ron. A picture of him on a pre match parade always comes to mind. Does anyone else remember him going round the track with a purple top hat on his head!
John
Ron In The Topper!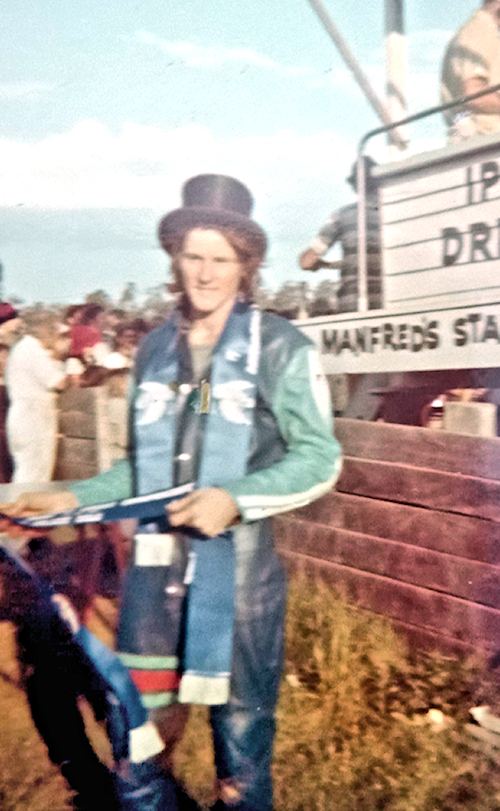 Courtesy of Ron Henderson
Ron has come to the aid of the History Website with a photo of himself wearing the topper. The photo was taken in Ipswich Queensland
---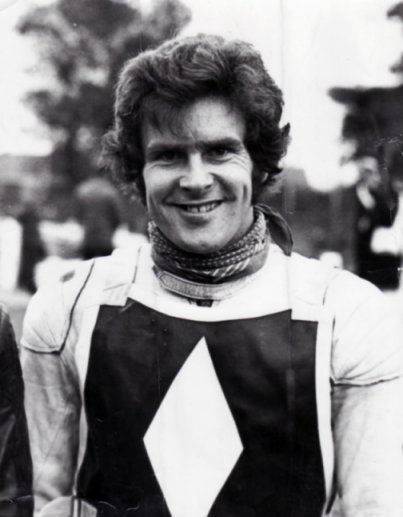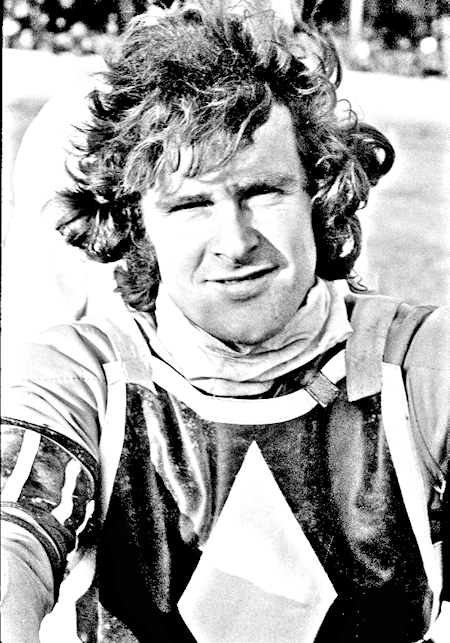 Right hand pic courtesy of photographer Keith Lawson
Tom Owen is from Ormskirk Lancashire. He was born 19th June 1951. Tom is the eldest of 3 speedway riding brothers, Tom. Joe and Ritchie Owen. Tom started racing 1972 at Holker Street Stadium in Barrow, he stayed until 1974 when Barrow closed down. He also rode for Hull and Newport in 1974. Ian Thomas reopened Brough Park, Newcastle in 1975 and he signed both Tom and his younger brother Joe. Tom was with the diamonds 1
975-82, 1987.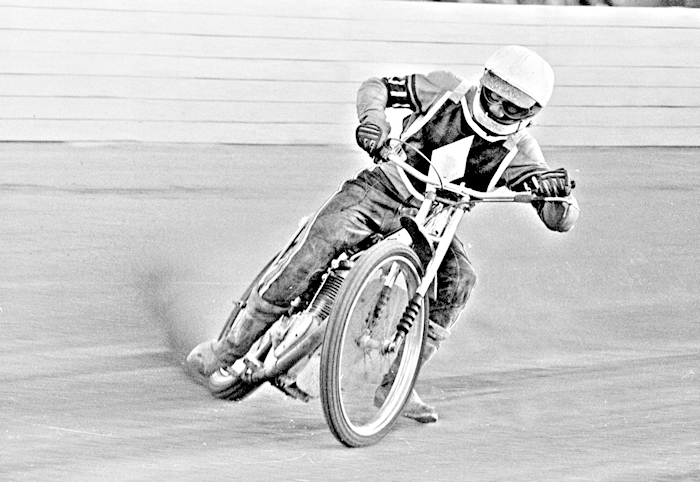 Courtesy of photographer Keith Lawson
Tom at Oxford
May 1976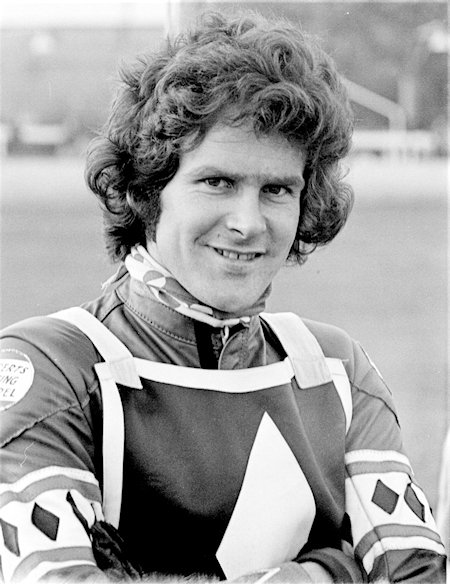 Photo by Keith Lawson
Newcastle's Owen Brothers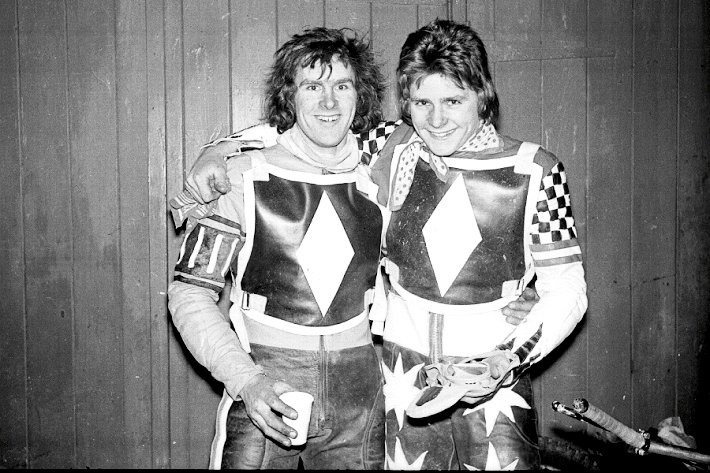 Photo taken by R Spencer Oliver
Tom and Joe April 1975. The lads were having a bad hair day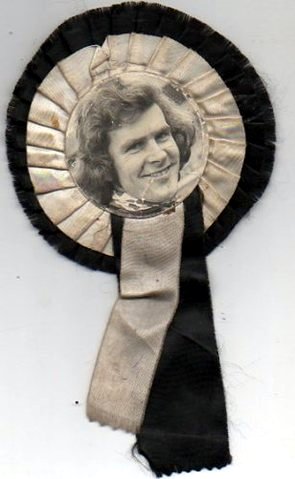 Tom & Joe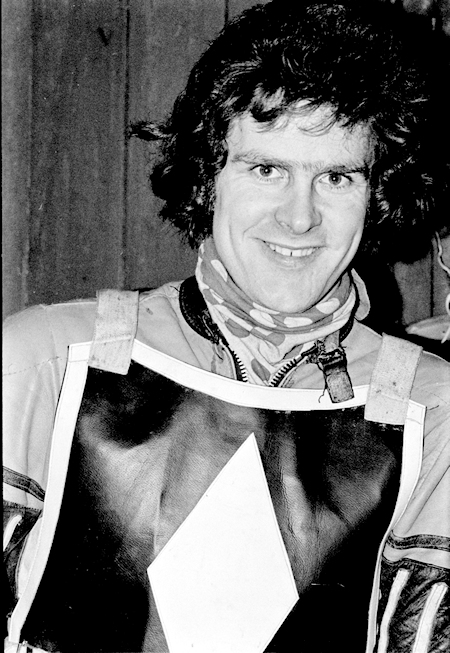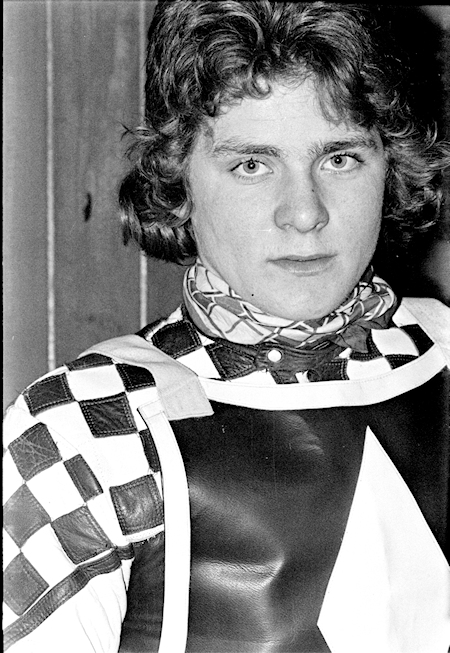 Photographs by Keith Lawson
---
Tom & Stape!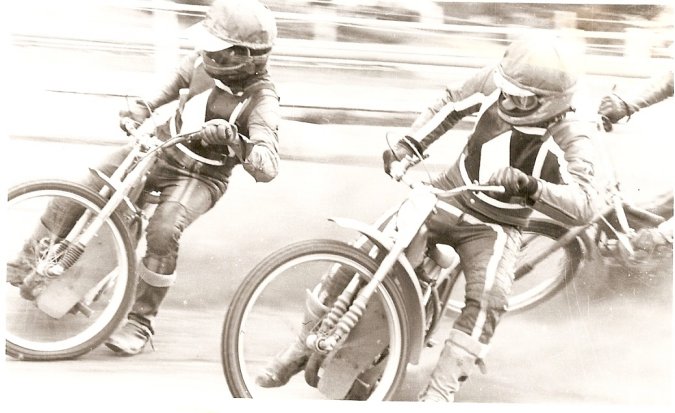 A skilled team riding pair, Tom inside with New Zealander Graeme Stapleton blasting around the outside heading for their usual 5-1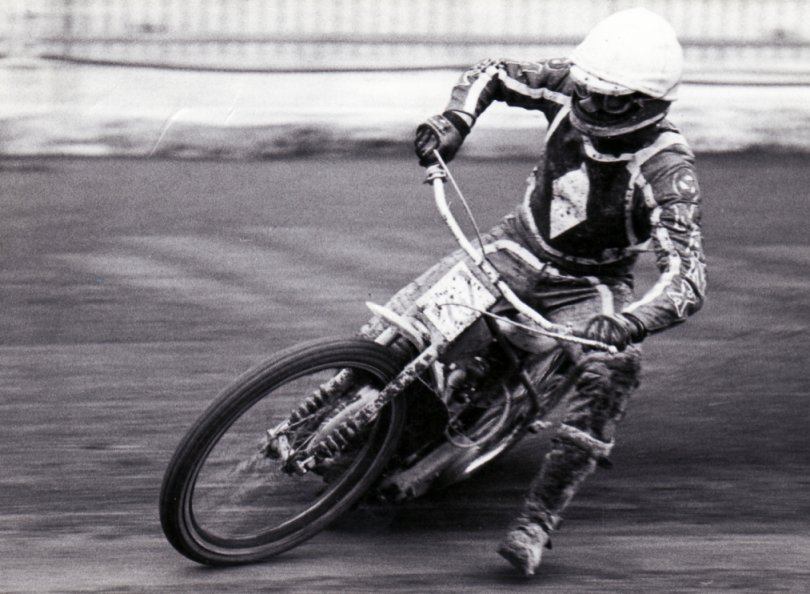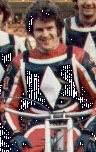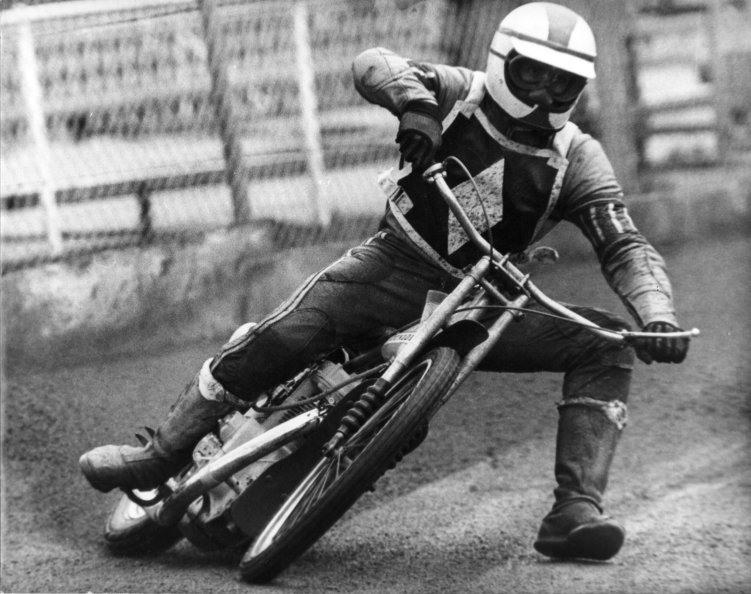 1976 Tom Owen At Canterbury
With Barney Kennett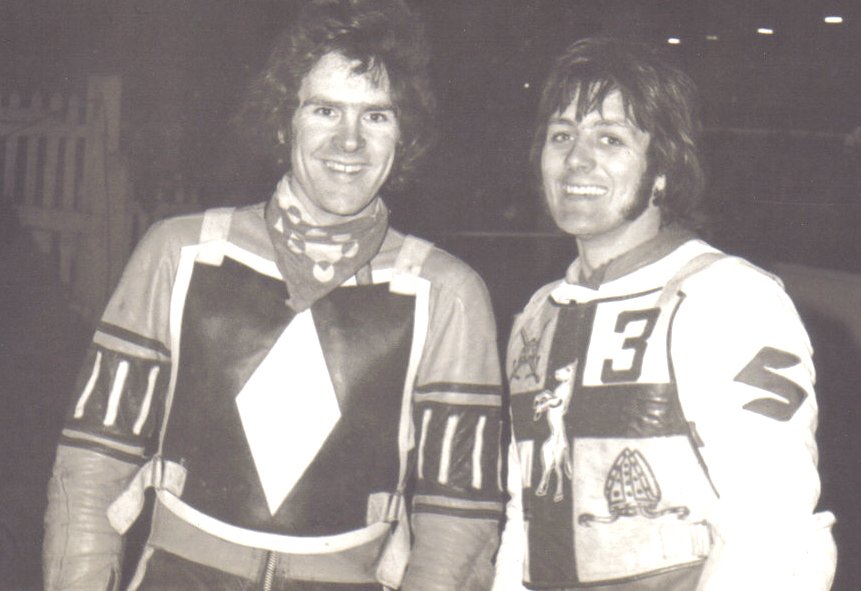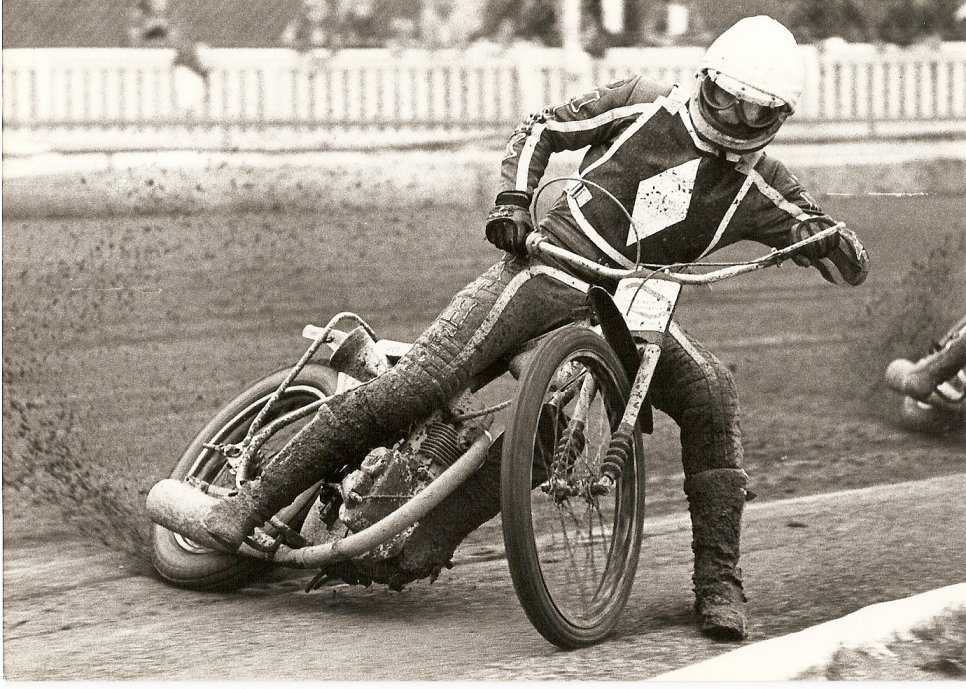 Tom riding the white line
---
Tom Owen v Colin Richardson
Silver Helmet

27th June 1977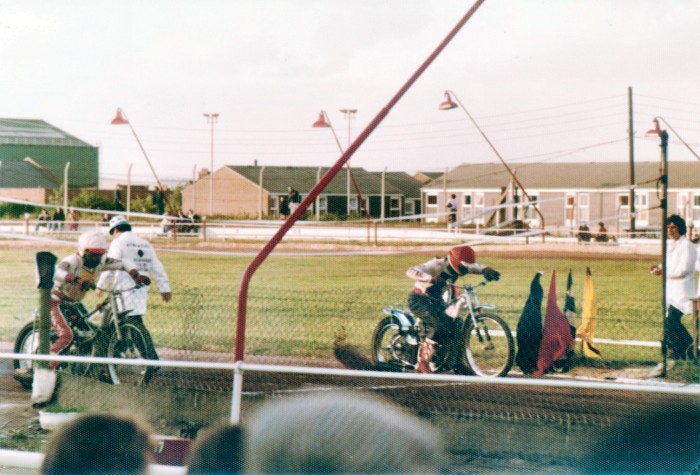 Start of heat 1 of the Silver Helmet match race. Eastbourne's Colin Richardson (White) was the holder and Tom Owen was the challenger. Tom won the leg 2-1.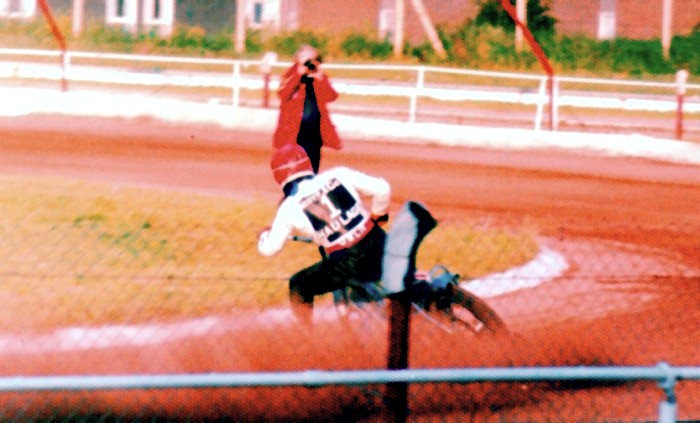 Tom heading for a 2-1 win over Colin Richardson. The Silver Helmet was raced for by the leagues top riders consisting of 3 heats at home and 3 heats away from home.
---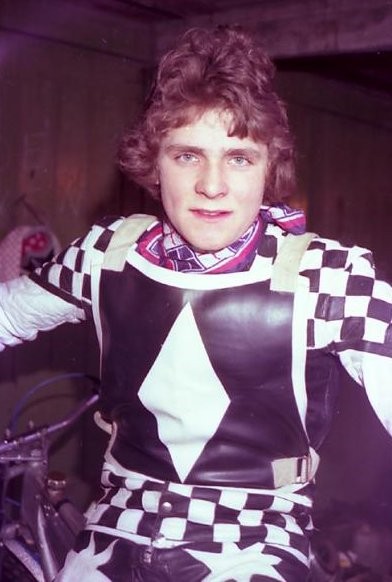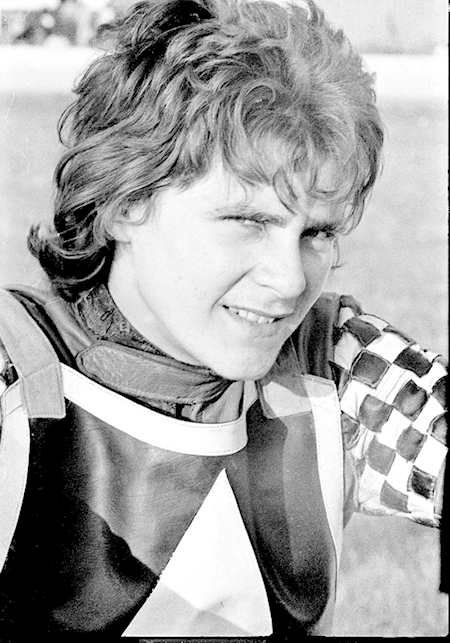 Black and White pic courtesy of photographer Keith Lawson
Joseph William "Joe" Owen (born 13 September 1956) was the 2nd eldest of the three speedway riding brothers from Ormskirk, Lancashire. Older brother Tom and younger brother Ritchie complete the trio.
Joe took up speedway at the age of fourteen at Belle Vue training school. In 1973 he had joined Barrow in the British League second division

and

by 1974 he was averaging over seven points per match. Barrow closed down and Ian Thomas made a move for Barrow's Owen brothers and In 1975 he moved with Tom to Newcastle Diamonds.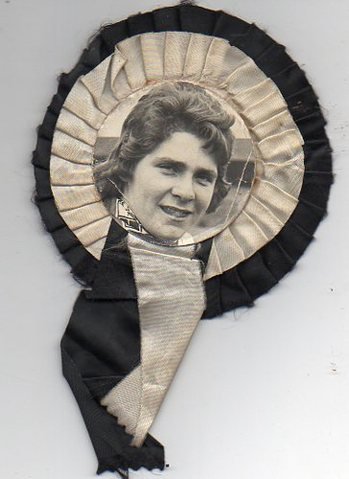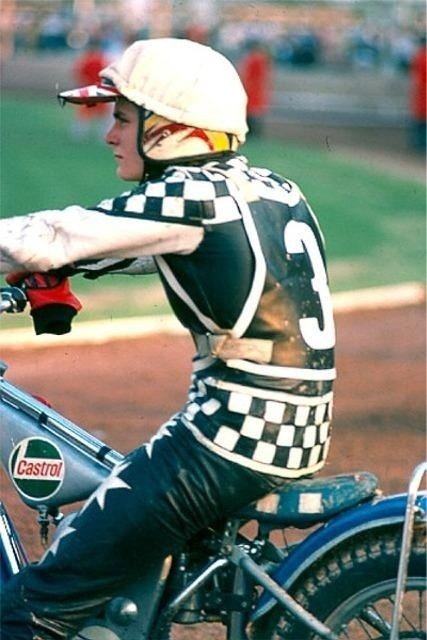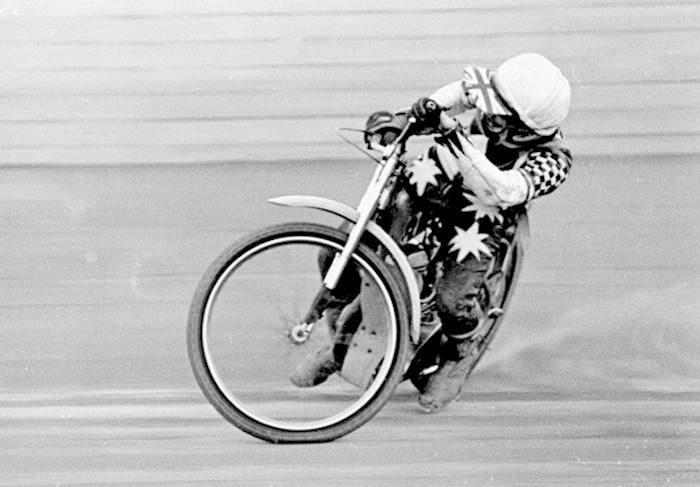 An excellent photo of Joe
Photo By Spencer Oliver At Berwick
14th April 1975
Tom & Joe Owen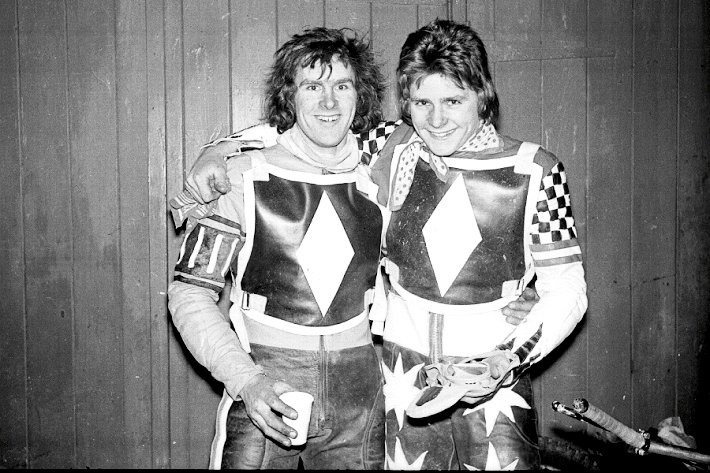 Joe's Skill At Riding Brough May Have Been Bettered Only By Ivan Mauger!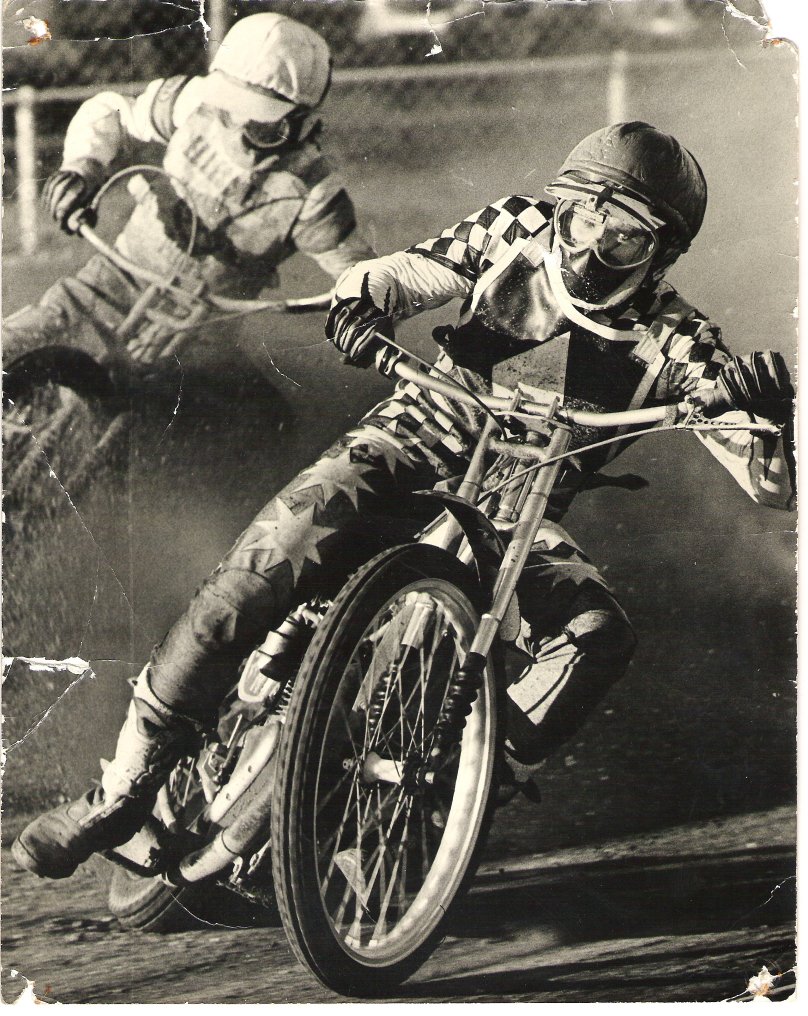 His skill at riding Brough may have equalled that of Ivan Mauger, well maybe not quite, but that is the biggest compliment I can think of to pay Joe. This crumpled picture is from 1976.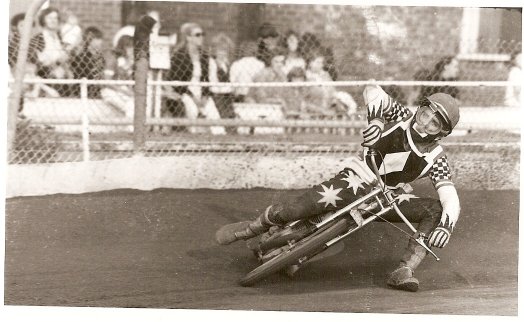 The rider in white can only watch as Joe powers to the lead.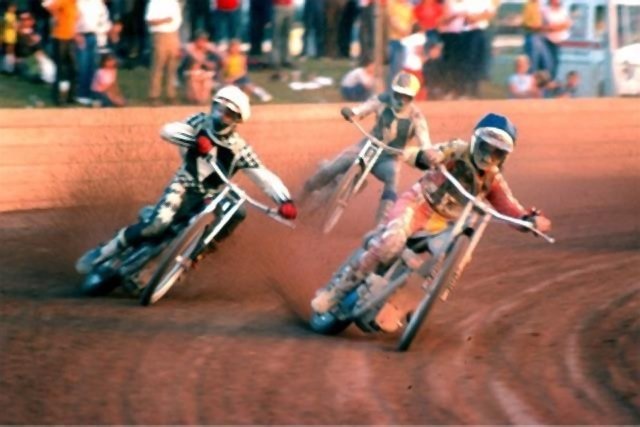 Peterborough's Ian Clarke is claiming a win over the sometimes unbeatable Joe Owen in white. Not sure who the other Newcastle rider is. It could be Tim Swales
Joe Owen at Oxford
May 1976
Photo by Keith Lawson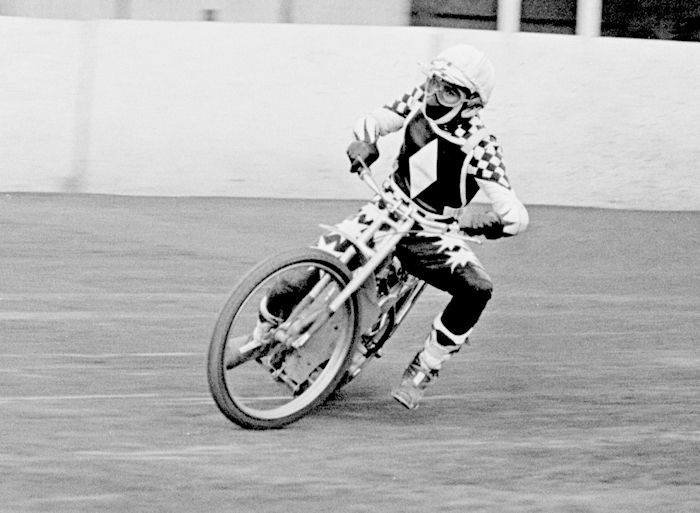 Photo by Keith Lawson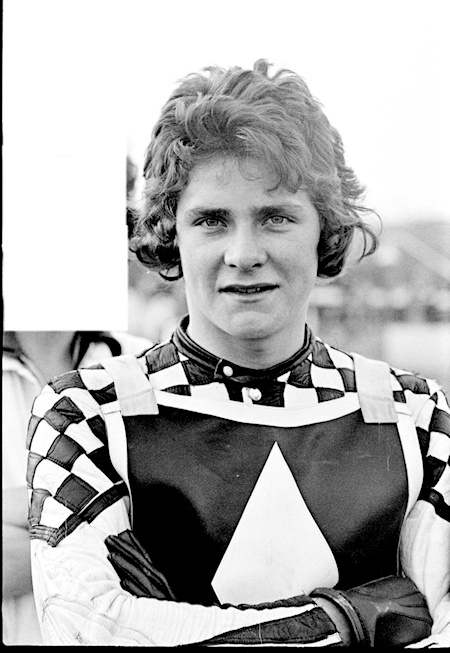 Photo by Keith Lawson
---
Weymouth v Newcastle
22 July 1975
Photographer Keith Lawson sent me the following pics he took when Newcastle visited Weymouth in the mid 1970's. Newcastle were a very entertaining side then with Tom and Joe spearheading a strong National League team.
Joe Tames The Wizard!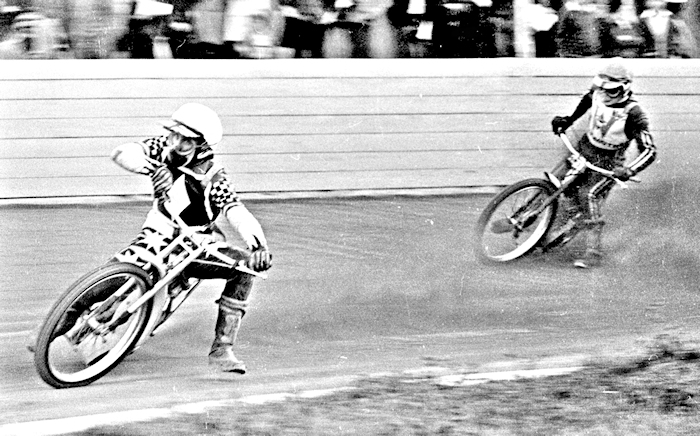 Courtesy of photographer Keith Lawson
Joe & Robbie Blackadder at Weymouth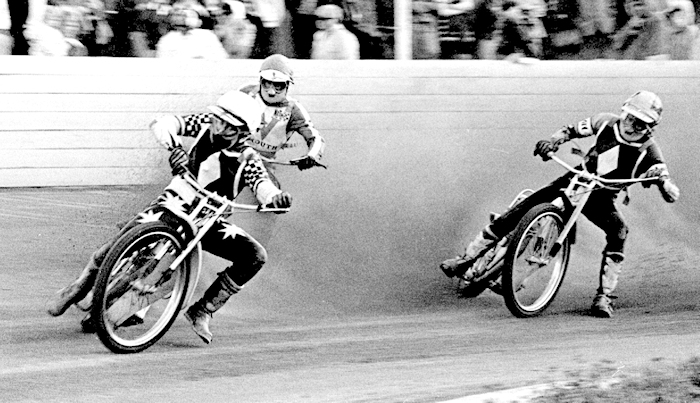 Courtesy of photographer Keith Lawson
Joe Owen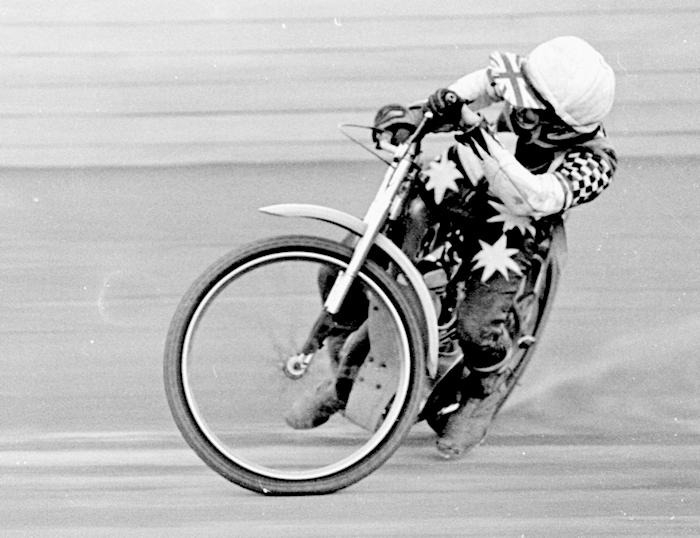 Courtesy of photographer Keith Lawson
Tom Owen Leading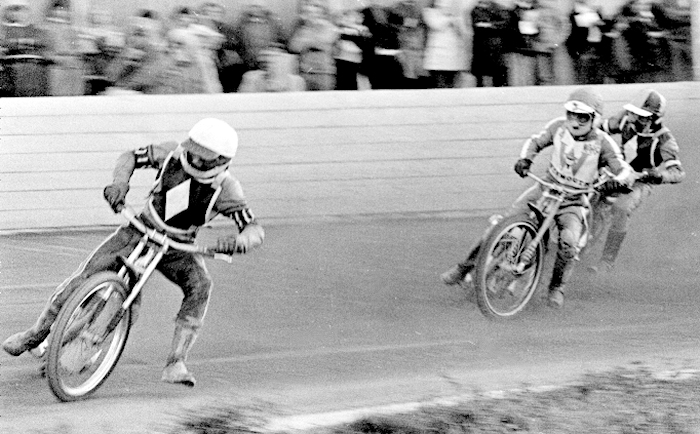 Courtesy of photographer Keith Lawson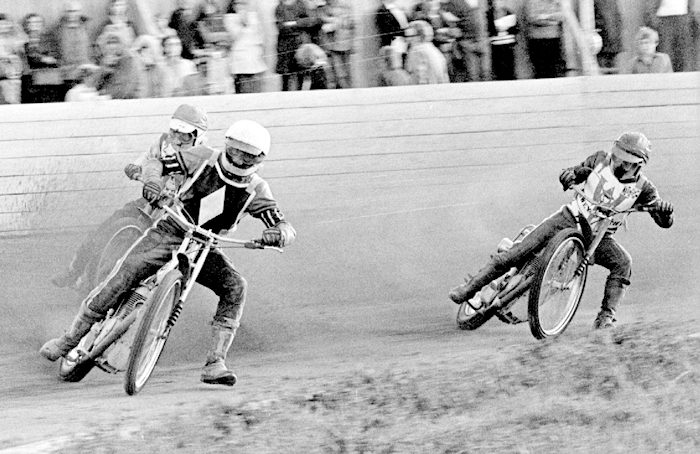 Courtesy of photographer Keith Lawson
These two photos show Tom Owen riding exactly the same line out in front. Joe Owen may have cut a bit more dash as a younger brother but Tom was always there and both deserve equal plaudits. They were great riders and Newcastle was priviledged to have both Owens in the same side.
---
1978

Canterbury v Newcastle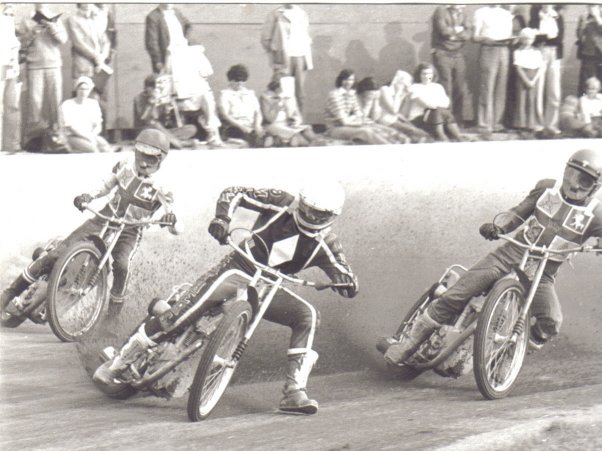 Above left: 1978 Tom Owen leading Steve Koppe and Graham Clifton and above right: Steve Koppe and Rod Hunter 1978 at Canterbury
---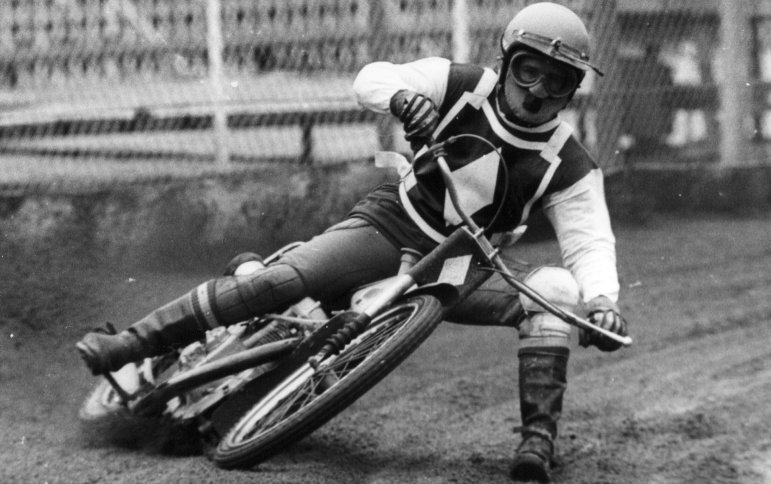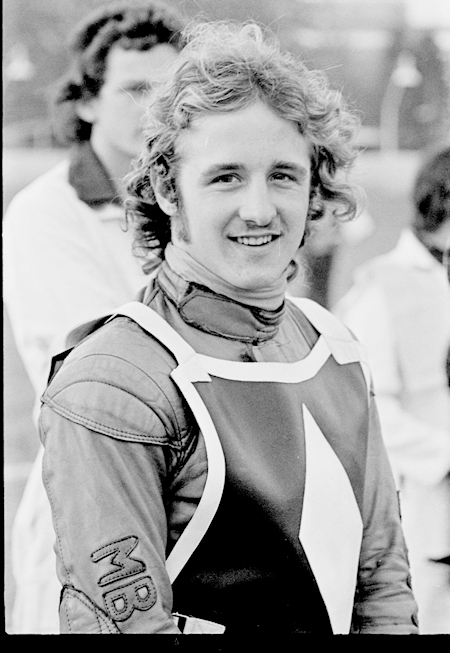 Photo by Keith Lawson
Andy Cusworth Born: 20/04/1957, Dewsbury Yorkshire. Andy rode for the Diamonds in 1976 he was a good team man and popular with the fans
---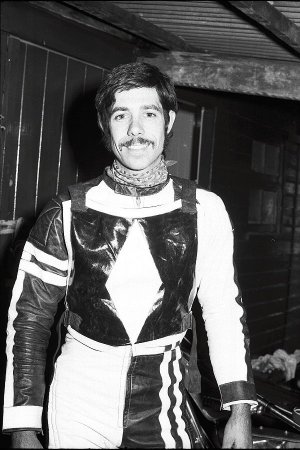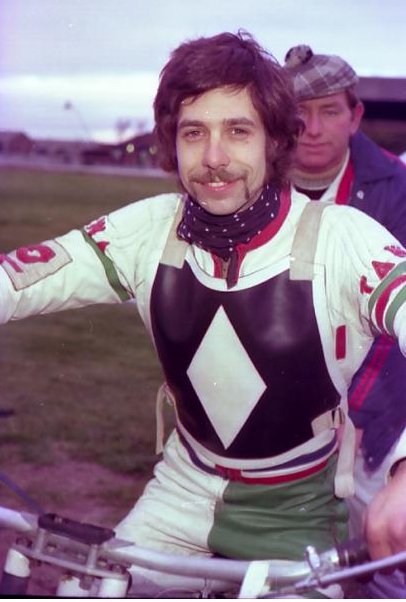 Phil Michelides hails from the "Land Down Under" he was with us for 3 seasons 1975-1977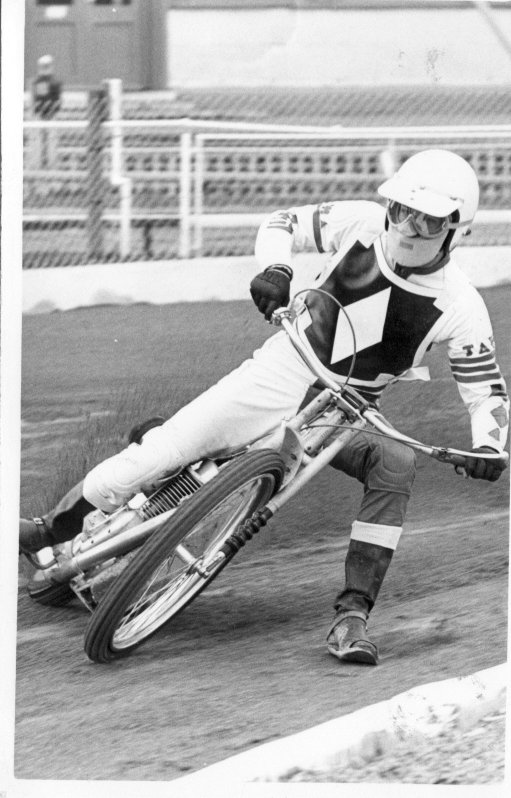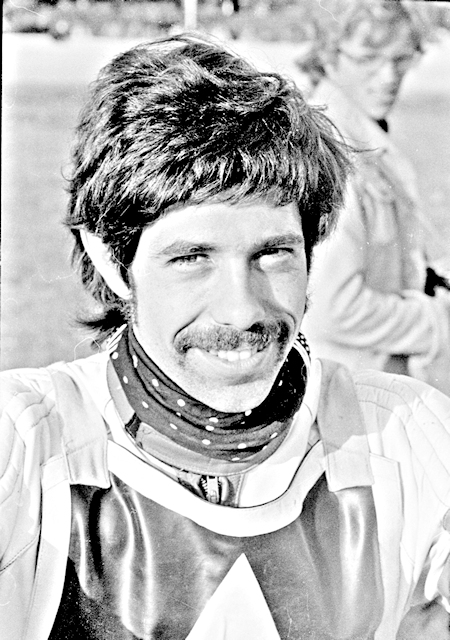 Portrait Courtesy of Photographer Keith Lawson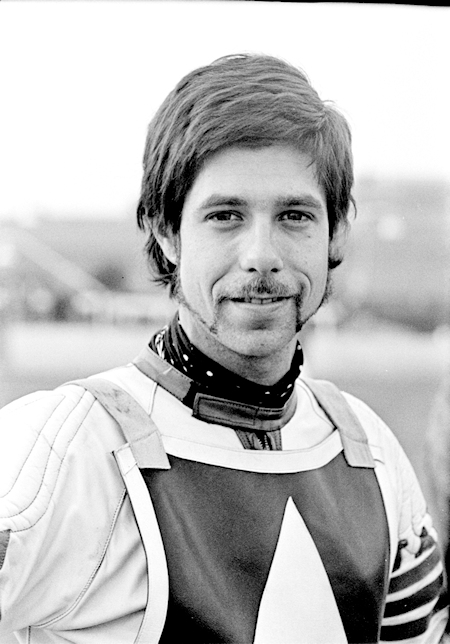 Portrait Courtesy of Photographer Keith Lawson
Phil In
1977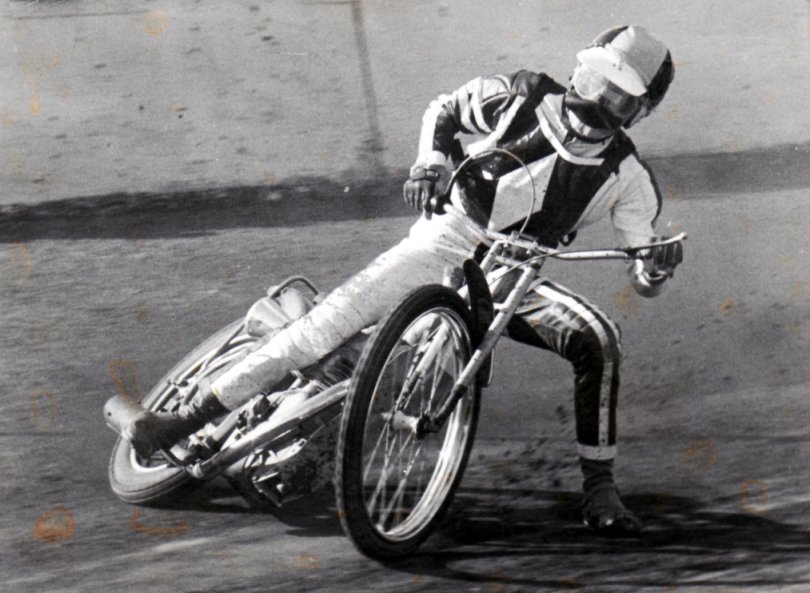 1977: Phil was never a big scorer but he made the effort every time he took to the track and when he was in front he took some passing.
Caroline Michelides says: Hello John, Just some info for your webpage. Phil returned to Australia after an up and down season in the UK during 1977. He decided to give up speedway racing and get a "proper job". He married his Geordie girlfriend Caroline in 1978.

Phil had his own business for many years and after flirting with go karts, TQ's (Formula 500's) and road racing bikes he took up yacht racing. Now retired and living in south east Queensland, cruising on his yacht and enjoying retired life. The Michelides have two sons, Ross and Dean whom are both married. Phil is Pa Pa to two adorable little girls.
John says: I have asked Caroline for some pictures and a bit more info.
Continue with the History of the Diamonds? click here
1970's Part Three
Home:
---
The contents of this website are © and should not be produced elsewhere for financial gain. The contributors to this website gave the pictures and information on that understanding. If anyone has any issue or objections to any items on my website please email me and I will amend or remove the item. Where possible credit has been given to the owner of each item.