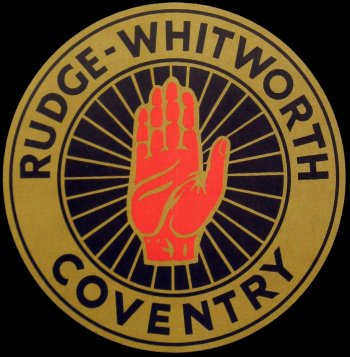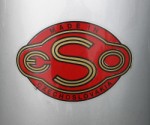 ---
The 1960's - Part 3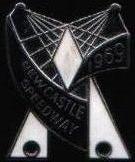 Ole Olsen &
Ivan Mauger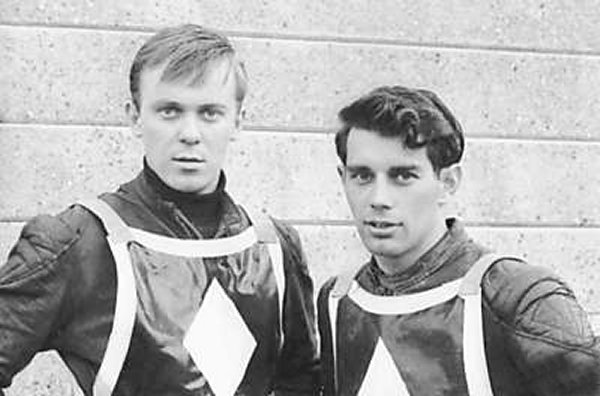 Fresh faced youngsters Ole Olsen and Ivan Mauger, we watched them get better and better then they went on to dominate world speedway
---
Ivan & Giffy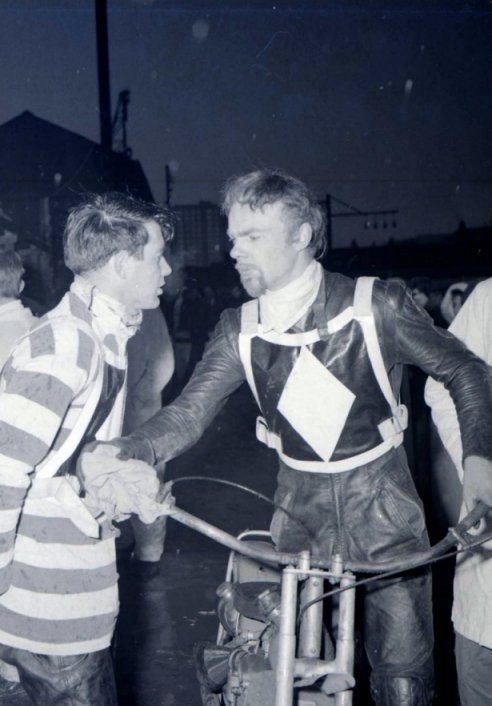 Courtesy of Dave Gifford
Ivan Mauger chatting to "mean and moody" Dave Gifford at Old Meadowbank
---
On Top Of The World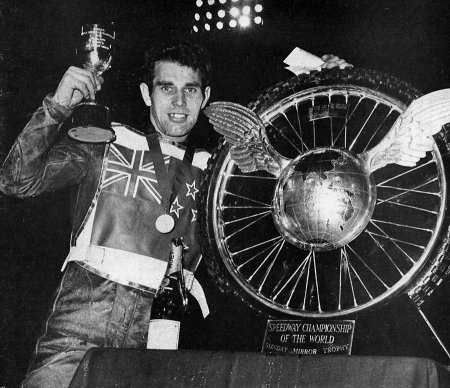 ---
Ivan Winning Yet Another Trophy
Ivan after winning yet another trophy, his house must have been full of them
Is It Ivan?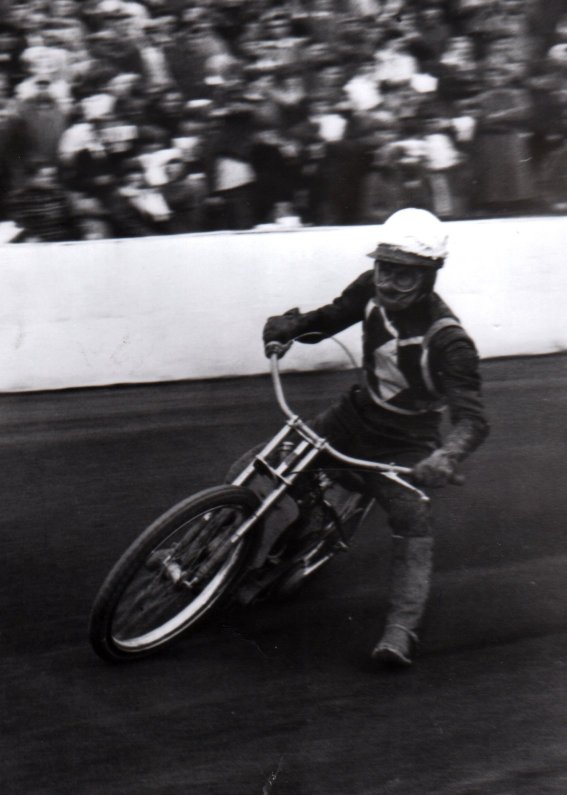 Photograph collectors immediately look at the back of newly acquired pictures, hoping someone will have written the riders name etc. This pic did not have anything written on the back. I think it could be Ivan Mauger. If you know different please email me John
---
Long Eaton v Newcastle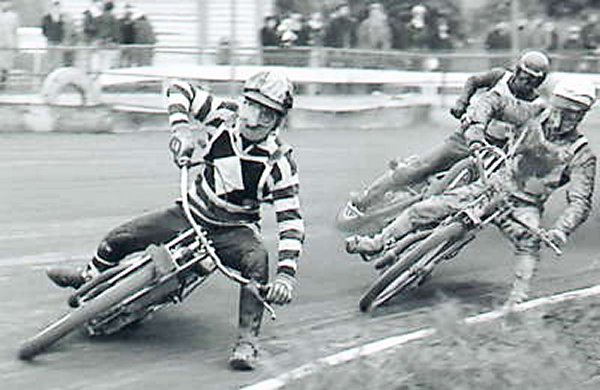 Ivan Mauger in Y/B. I don't recognise the track or the other riders. Ivan was riding with a broken ankle (Right) his boot was taped up to make it more comfortable for him.
Mike Letch of Melbourne Oz says: The other riders are Ray Cresp and Ray Wilson (Long Eaton) and the track is possibly Station Road, Long Eaton. Ray Cresp is on the inside. He is riding a Rotrax Jap with some innovative sprung forks with rubber band shock absorbers on them a'la grass track style. There is a photo of him on this bike on one of the old West Ham sites. And I am pretty sure that is Ray Wilson bringing up the rear. I still see Crespy at speedway reunions here in Melbourne. Mike Letch
Trophy Presentation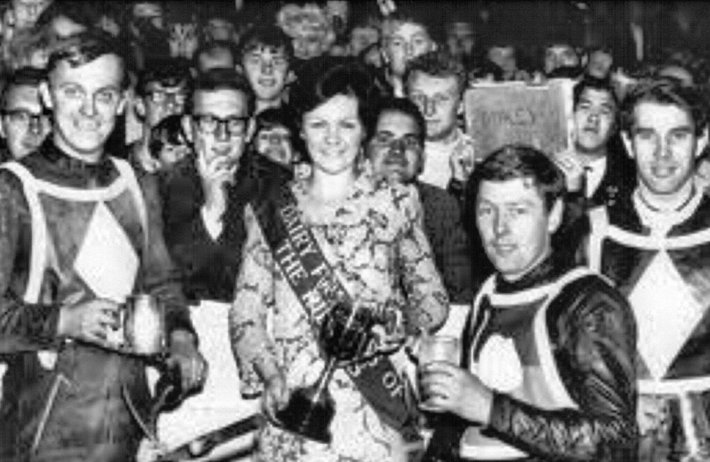 Courtesy of Archie Cooper
Not sure what the occasion was but it appears to be something to do with Dairy Farmers? Ole Olsen (left) Ivan Mauger (right) It appears the winner was local man Dave Younghusband on the bike. Well done Dave you would have been well pleased to beat both Ivan AND Ole
---
Polish Rider on an ESO
At Brough Park in 1967
Coal News Northumberland edition
August 1967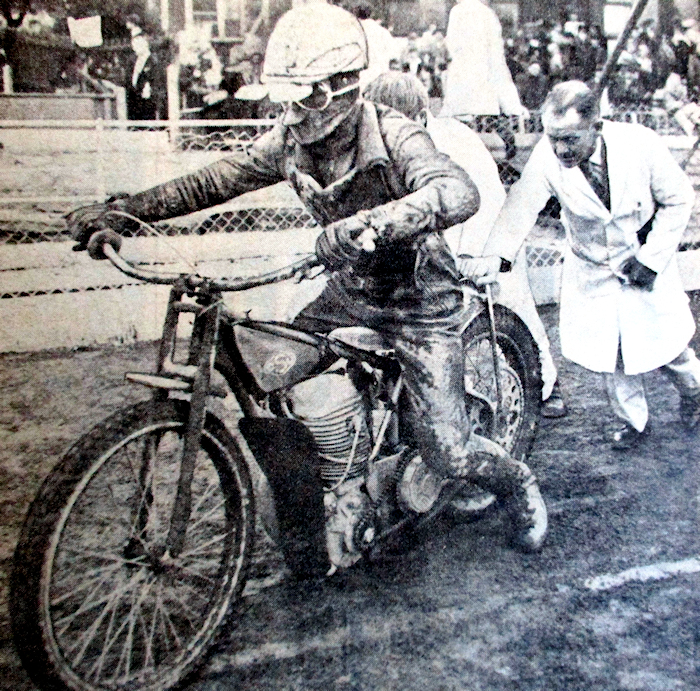 John says: Unknown Rider, He was Polish and the year was 1967. If you know whom he was please send me an email
The George Tighe Story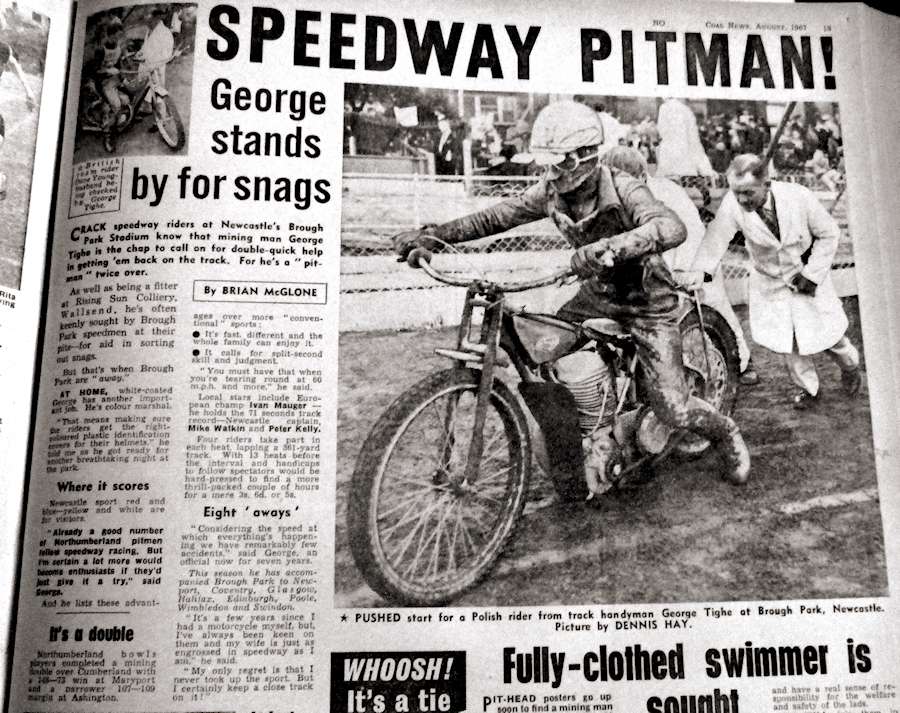 Courtesy of Jim Henry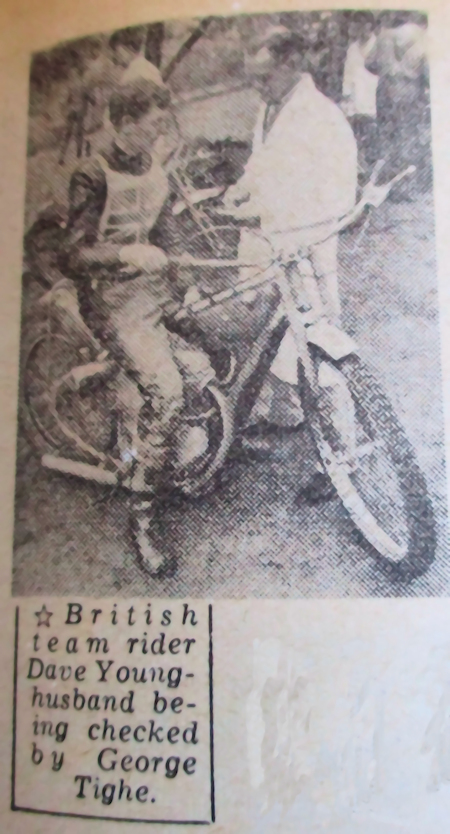 Courtesy of Jim Henry
George was a familiar sight in his white coat when he was marching out to "Diamonds" (by Jet Harris) with the riders, St John Ambulance men and staff prior to each home match.
---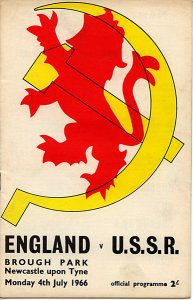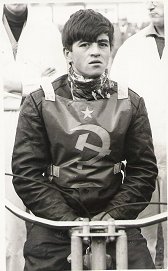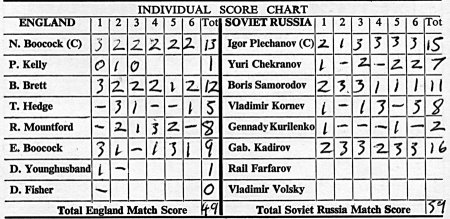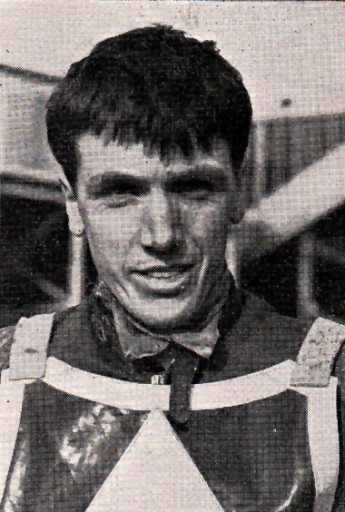 Brian Brett
Andy Taylor says: I think the un-named Russian rider pictured alongside the programme cover is Gabdrakhman (Gab) Kadirov. From memory Kadirov was the youngest rider on the Russian team (he would then have been 25) and created something of a sensation on that tour on account of his ďBeatleĒ hairstyle and the fact that he was outscoring the more established Russian stars like Plechanov and Samorodov. Kadirov was also one of the greatest ever ice-speedway racers winning the World Championship in 1968, 1969 and for a further 3 consecutive years from 1971 -1973. He died in 1993.

I was at this test match and I can remember a huge crowd easily the biggest I have ever seen at Brough between 1961 and the present time. I have the attendance figure of 12,000 in my mind but that is unconfirmed.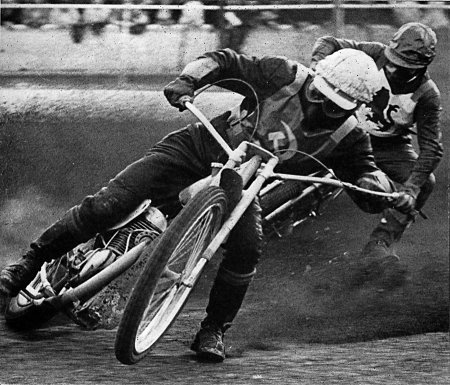 Have you noticed the old fashioned gauntlets Igorís wearing, bits of a rarity even in those days. From memory I believe his leathers were an older style as well, unlike the more modern gear the England riders were wearing. Itís a complete contrast to modern day Speedway with its flashy gear. However Igor didnít need flashy gear to be world class and he certainly was. He put Russian Speedway on the map. Again from memory something tells me Igor didnít look settled in his first two rides but I canít remember if it was due to the track or his bike, but he certainly flew in his last four outings. Here is his profile from the program.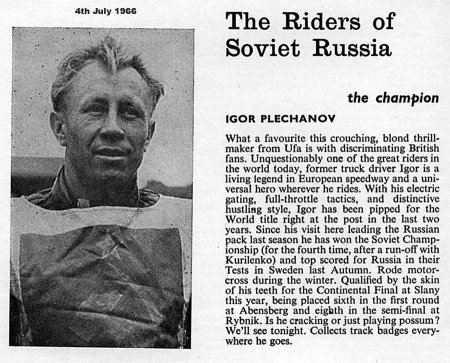 Boris Samoradov &
Brian Brett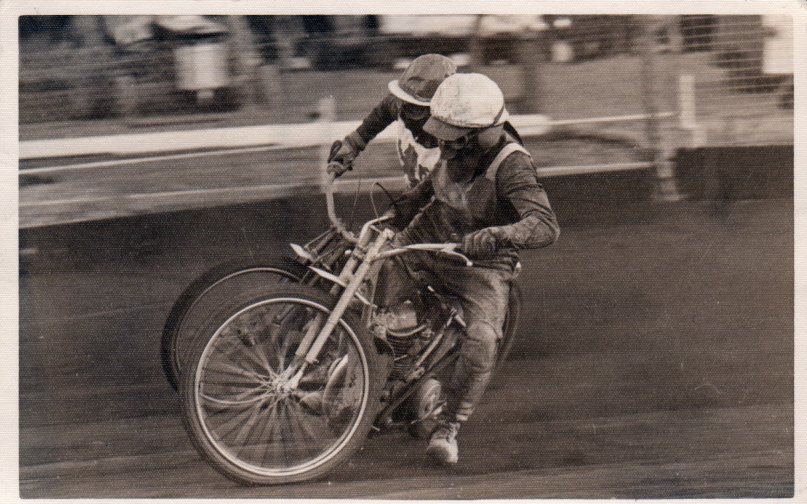 Boris Samoradov and Brian Brett racing before a crowd of 12000 at Brough Park in 1966. I was there aged 13 and can say it was the biggest crowd I have ever been part of at Brough Park.
Viktor Trofimov
Igor Sokolovskiy says: Speedway July 4, 1966 Viktor Trofimov debuted in England. The translation of Igor's following piece did not work very well but I think we can understand enough of what he says.
And if Vitaliy Shilo in 1964, she became the day of the racing career, after a serious injury in the first race of the first tour of England in the USSR national team against Team Great Britain for Konstantin Krishtal Ė in the same year, only the opportunity to go on the Wembley on view (although due to other circumstances, he became famous in the whole world speedway), Viktor Trofimov came on this day in history as a debutant in the English tracks
It was July 4, 1966 beginning of the third tour of the USSR national team on the island, where in July of that year was held on 5 test-matches England Ė USSR. And in the race in Newcastle for the first time the USSR national team won against the hosts in the series of test matches Ė 49:59.
The best match racer in the day was Viktor Trofimov, who collected the race the most points Ė 16.
(John says: I think he meant Gab Kadirov, not Victor Trofimov, it was Gab who scored 16 points.)
45 years ago, England were waiting Viktor Trofimov in 1965, but for various reasons not managed then to get into the USSR team, saw him in full force! They were in shock: after all, but powerful Igor PLEKHANOV, Boris SAMORADOV, Gennady KURYLENKO, Gabdrahman KADYROV, the Soviet Union and still have TROFIMOV! And itís not a bluff, but true
A local newspaper wrote that the mystery of water (full name of the city - Newcastle-upon-Tyne), for sure, launched its direction of flow in the reverse order, regretting that the race could not take part Ivan MAUGER...
Viktor Trofimov remembers everyone in England a long time...
Igor Sokolovskiy. Rovno, Ukraine.
---
1967 Newcastle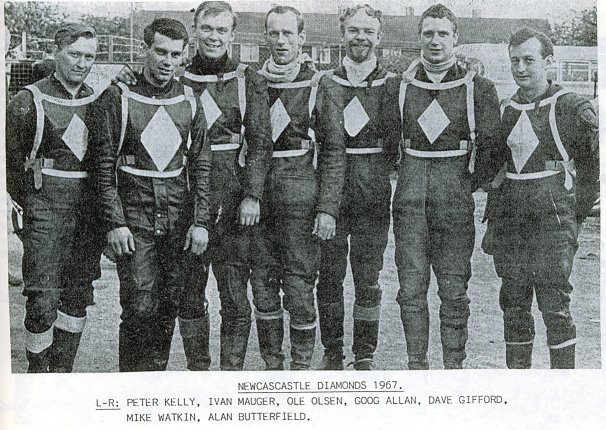 ---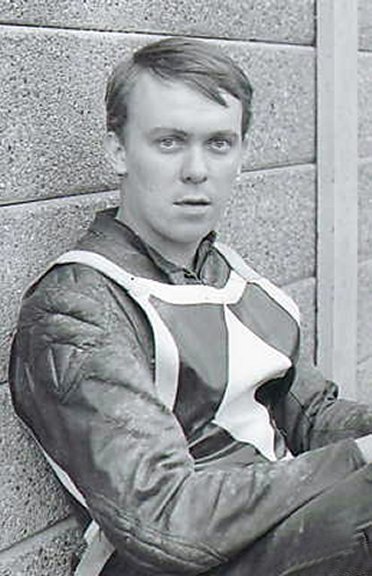 Ole from Vojens in Denmark came to Newcastle on the advice of Ivan Mauger in 1967. Famously Mike Parker asked Ivan to nominate any good Danes from Ivan's training school, whom could speak good English and Ole could speak our lingo well so Parker brought him over. I remember Ole riding an ESO with the distinctive clip on handlebars and I spent many Monday nights in the pits as a 14 year old looking at him (hadn't seen a Dane before) or an ESO up close, although Alan Butterfield has informed me that he had one before Ole. I remember Ole's first match, he scored 8 points (four second places) on a very wet track. Ole took over from Ivan as the crowds favourite when Ivan departed in 1968 for Belle Vue. Ole became a triple world champion but never quite matched up to Ivan (no one yet has done that). Ole is now a well respected figure as an administrator in the Speedway Grand Prix series. He departed to Wolverhampton for 1970 when Mike Parker pulled out of Brough Park.
Ian Hoskins told me recently that had Ole stayed at Newcastle when Ian took over in 1970 the club may have survived, instead it closed down at the end of the 1970 season.
1967 Ole Olsen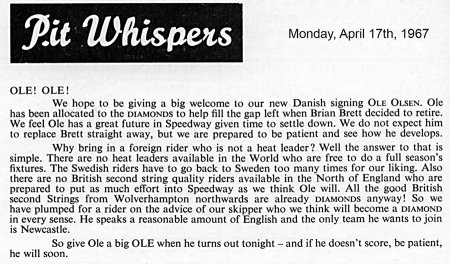 Well Ole did score and went on to win the world championship 3 times and if had still been at Newcastle in 1970 we probably wouldn't have closed according to a conversation I had with 1970 promoter Ian Hoskins.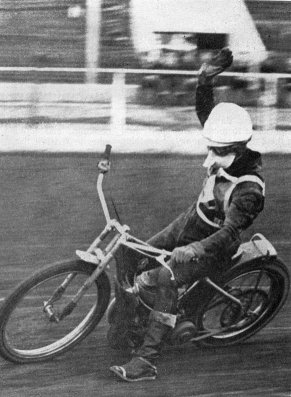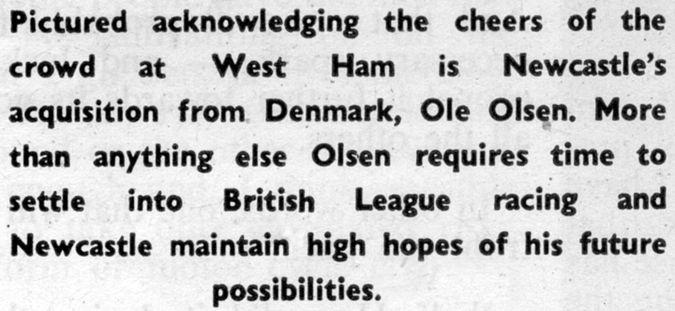 1968 Ole Olsen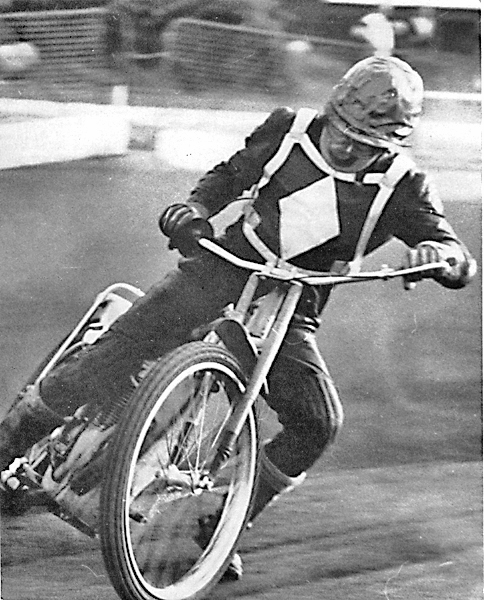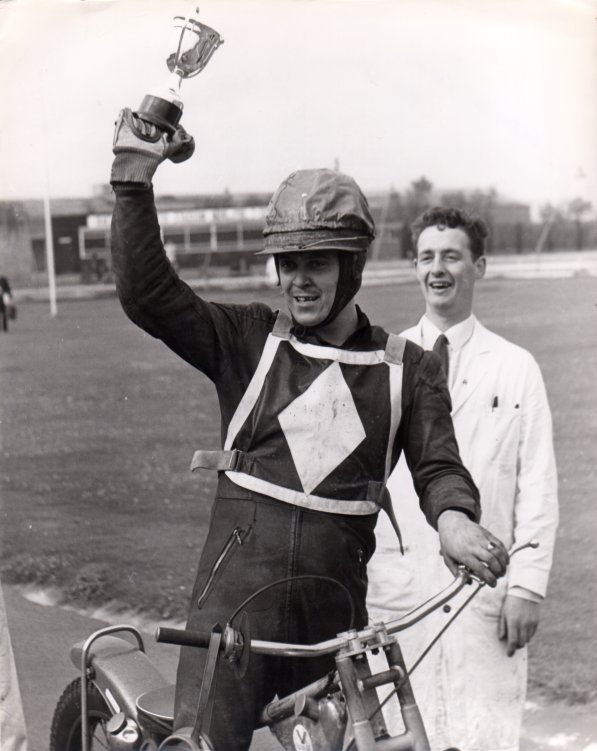 Ole in 1968 with the Eddie Glennon Trophy
Ole Olsen Leading Mike Watkin
In 1968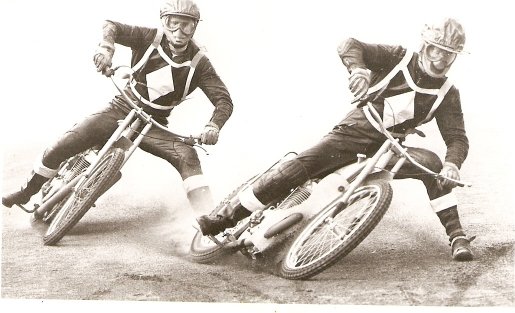 Picture from Joe Wake who doesn't know who these 2 1960's diamonds are, neither do I although I think the rider on the left maybe Mike Watkin? Please email if you can shed any light. John
Larry says: Itís Ole Olsen leading Mike Watkin in 1968.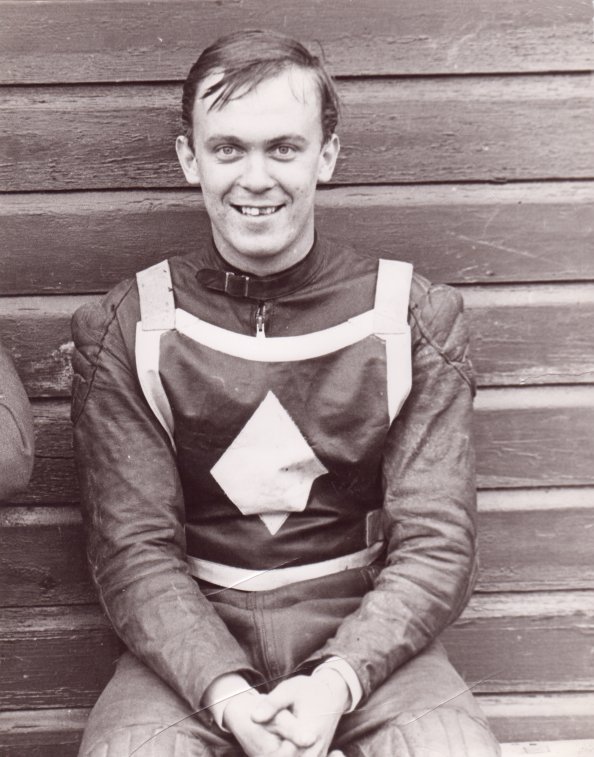 Sweden's
Bernt Persson & Dane
Ole Olsen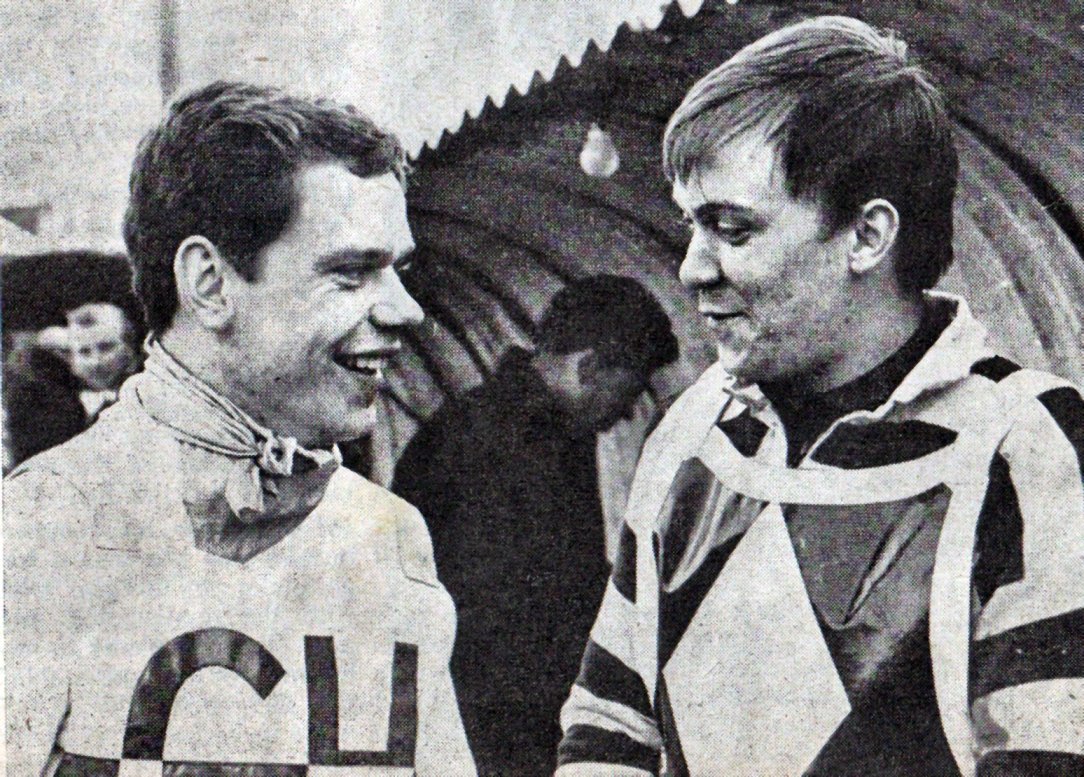 Courtesy of the Speedway Star
Sprouts & The Dane!
By Giffy
Here is Dave (Jackanory) Gifford's account of Ole and Ivan driving back to Geordie-land from an an open meeting at Wimbledon, a big open meeting he says, maybe it was the Internationale or the Laurels.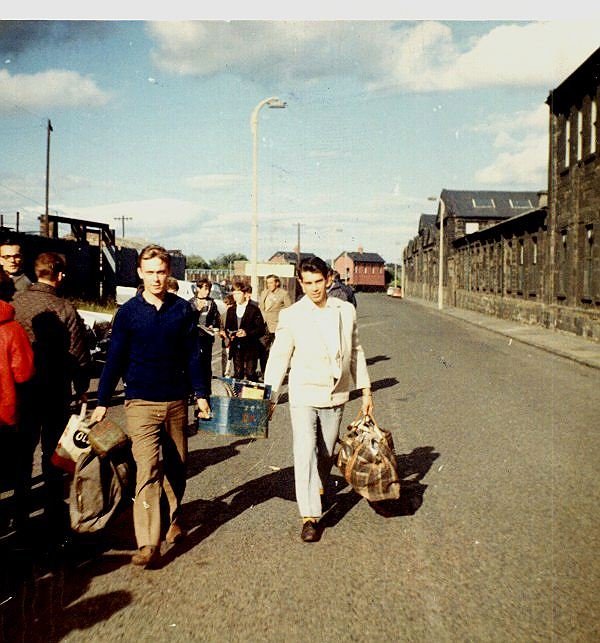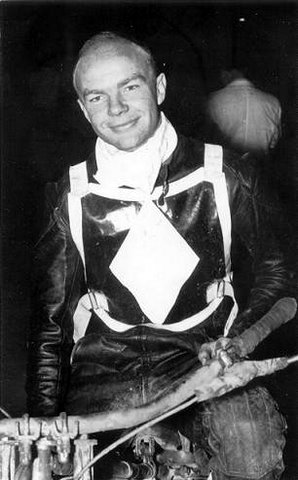 Left: Ole and Ivan Centre: Giffy and Right Ole
Giffy says: This happened sometime around 1968 when Ivan, Ole and I were riding for the Newcastle Diamonds. Both Ivan and Ole were invited to ride in one of Wimbledonís big open meetings, the Internationale or maybe the Laurels and to cut the costs they shared a car and took Ivanís trailer.
For reasons that are still not quite clear I was not invited to ride but the story is still pretty good even without me in it. (John: We know you should have been invited too mate, an oversight and a massive blunder by Wimbledon).
The meeting ran its course, I donít know who won or any of the details but I do know that after the meeting as they were about to begin the long journey back to the North, Ivan pulled into a Service Station for petrol.
A sweet young lady came out to serve them. Ole was sitting in the passenger seat looking pretty miserable, so Ivan said to the girl "Do you think you could give my mate a quick wink as you go by, he's had a really crap night and it might cheer him up a bit?"
Well the dear wee thing got all flustered, she turned red and spilt the petrol before she was able to stammer out ďThis is a service station and what sort of a girl do you think I am anyway? Iíve a good mind to call the manager"
Well, poor old Sprouts! he didn't know what to make of all this, he didn't think the suggestion warranted that sort of response and it wasn't till he'd gone several miles up the road that it suddenly dawned on him what had happened.
Whether it was the Kiwi accent or the London lasses ear that was to blame, who knows, but for what ever reason the word "wink" had been misunderstood completely and the poor dear had thought that the request had been for something quite different!!
Which just goes to prove that when youíre a Dane in England and having a bad night it will always get worse before it gets any better?
Cheers the noo!
Giffy
---
Ole Wins The
Peter Craven
Memorial Trophy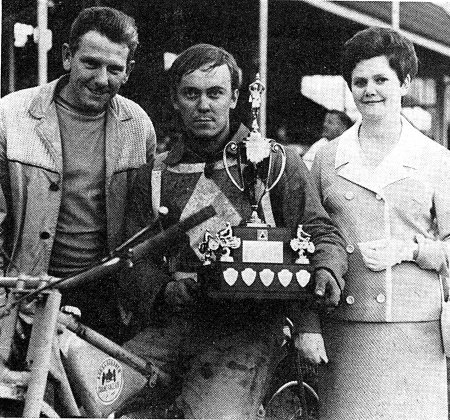 ---
Pit Whisperers!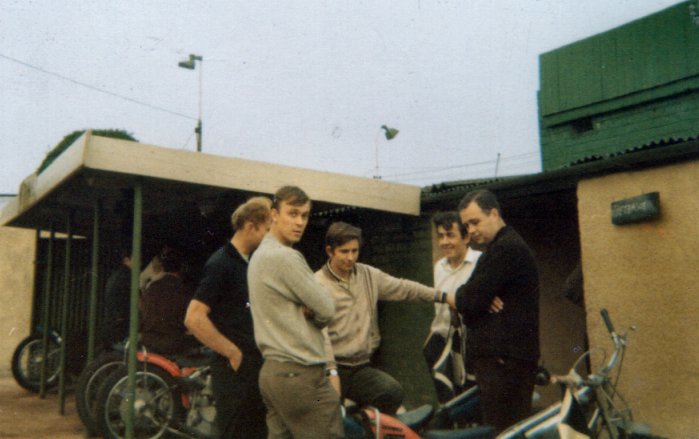 Courtesy of Dave Rowland
This photo shows Ole Olsen (second from left) and Tom Graham (right) The guy in the white shirt looks like Murray Burt. Can you confirm and name the other two? John
Jack Hides says: Dave Gifford & Gary Peterson are the other two guys.
Yes that looks like Giffy partly obscured by Ole Olsen, I will email Dave to see if he recognises part of himself and the little dark haired guy
Giffy says: Dave Gifford, Ole Olsen, Gary Peterson, Murray Burt and Tom Graham (Jnr) not sure where it was taken. Kings Lynn maybe?
---
1972 World Champion
Ivan Mauger With
Ole Olsen (Right) &
Bernt Persson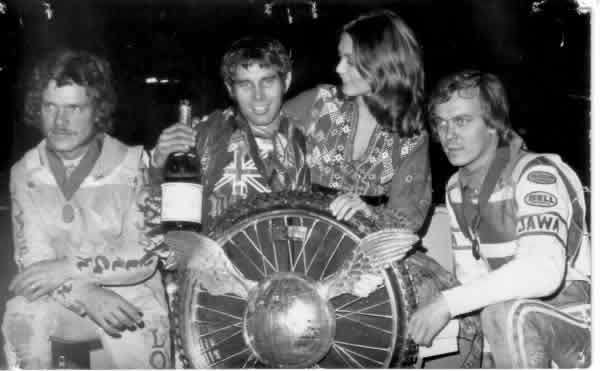 ---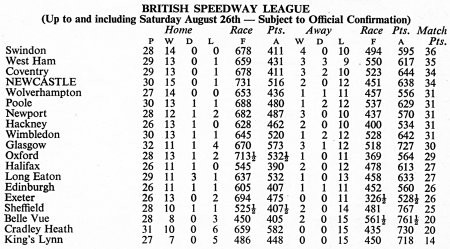 No change to track record all season (71.0 seconds Ivan Mauger 9/5/1966) I think Alan Paynter was the only other rider to turn out for the Diamonds (3 Meetings 0 Points) Russ disappeared from the program mid-season, I canít remember why. I know he had problems keeping his place in the team. Did he move to another track?
---
Briggo Loves Brough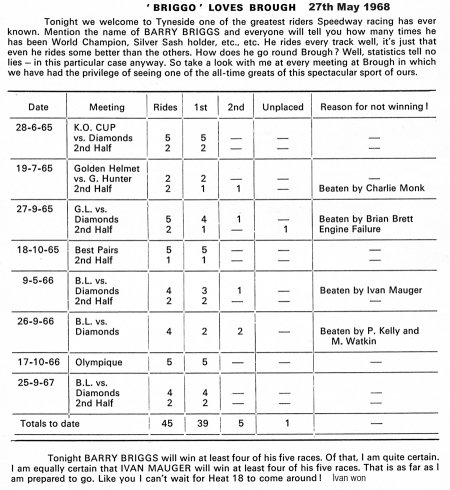 When Ivan beat Barry on 9-5-66 Ivan broke the track record which stood for 2 years Ole Olsen equalled Ivanís 2-year-old track record on July 22nd 1968 (71.0 seconds) in the scratch race final of all races.
---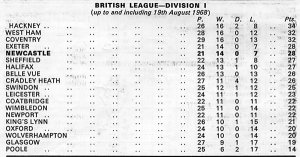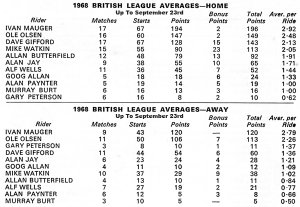 ---

For non residents of Tyneside best of luck in reading the above. If you need a translation from Geordie ask Barry Wallace.
---
Murray Burt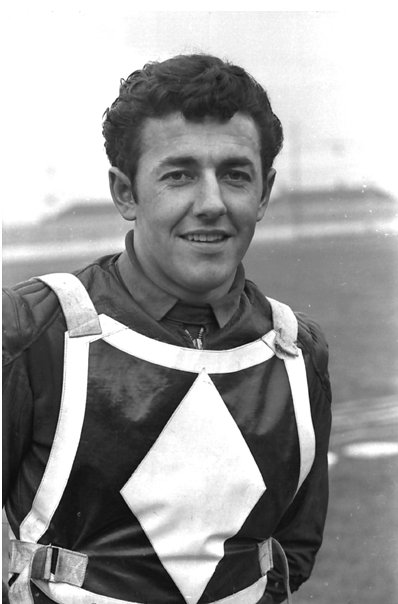 Murray Burt. Could be either 1968 or 1969. A New Zealander who rode for Wimbledon in 1967. In 1968 and 1969 he rode for Nelson in Div 2 and doubled up with Newcastle in Div 1.
---
1968 Newcastle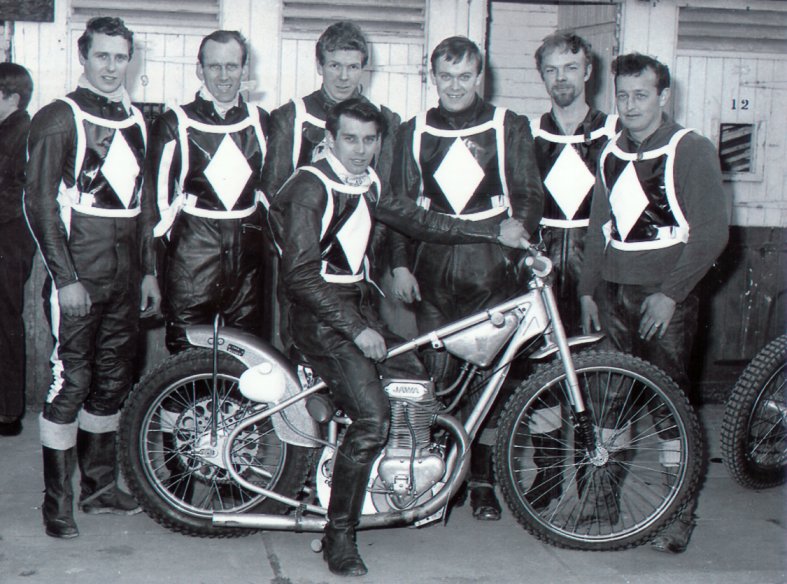 Courtesy of Barry Stephenson
Mike Watkin, Goog Allen, Alf Wells, Ole Olsen, Dave Gifford, Alan Butterfield with Ivan Mauger on his Bike
---
Dave Schofield
Eric Tilgaard &
Ole Olsen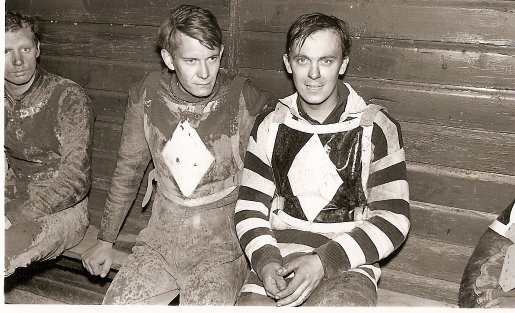 Dave Schofield, Eric Tilgaard and Ole Olsen. Ole obviously was winning that night or he was sponsored by "Flash"!
---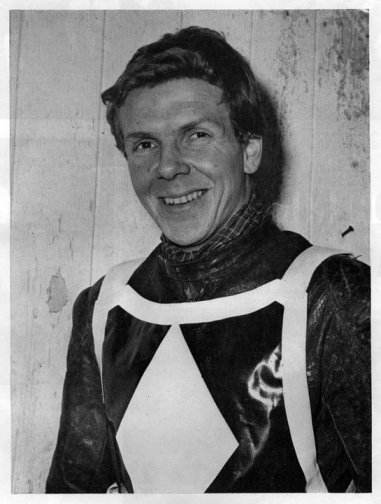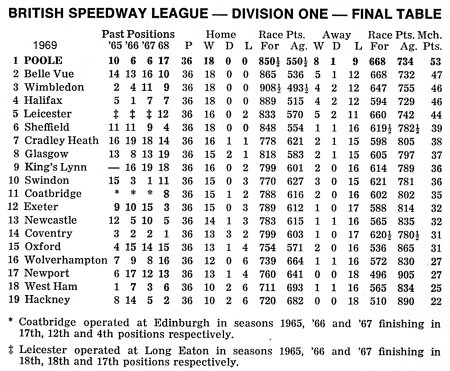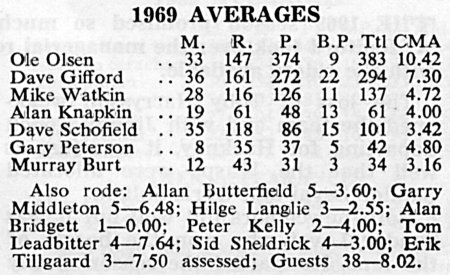 Ole Olsen got the track record down to 70.8 seconds on 29th July. I was a regular at Brough from 1961 to 1970 and I feel 1969 was one of the low points in Newcastle Speedway History. No replacement for Ivan Mauger. Guest riders or rider replacement all season what a farce. A sad end to the 60ís and the Mike Parker era.
---
Kiwi Gary Peterson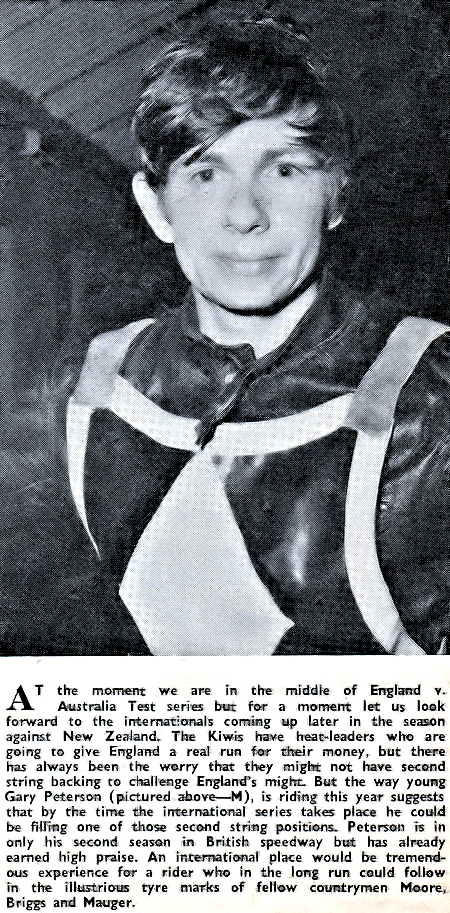 Courtesy of John Spoor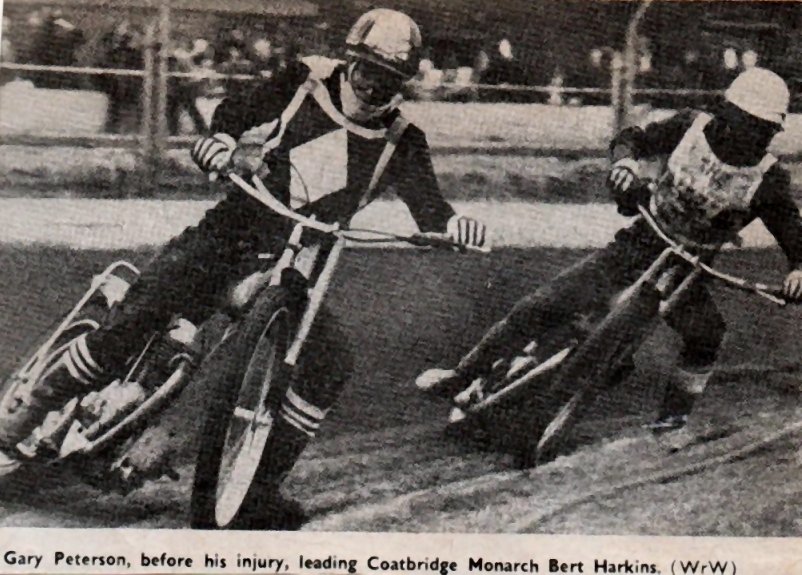 Courtesy of John Spoor
Gary was a Newcastle rider in 1968 and 1969
---
Ole & Giffy
---
Australian Garry Middleton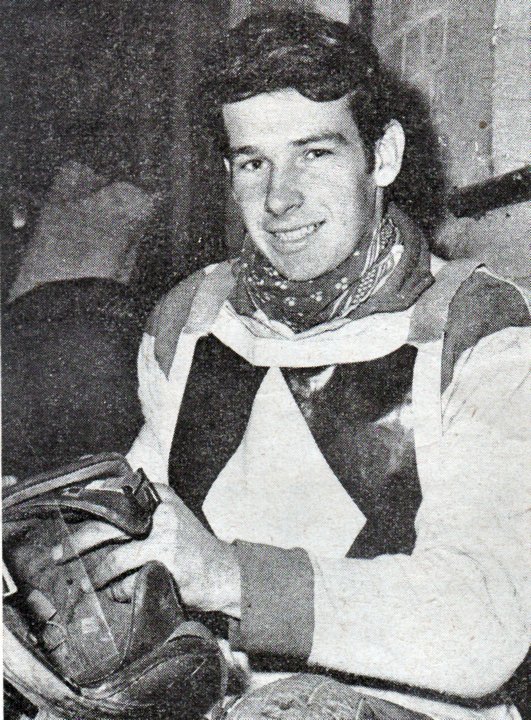 ---
Newcastle At Newport

Newcastle at Newport Norman Strachan leads Alan Butterfield Dave Gifford and Jon Erskine
---
Gary Peterson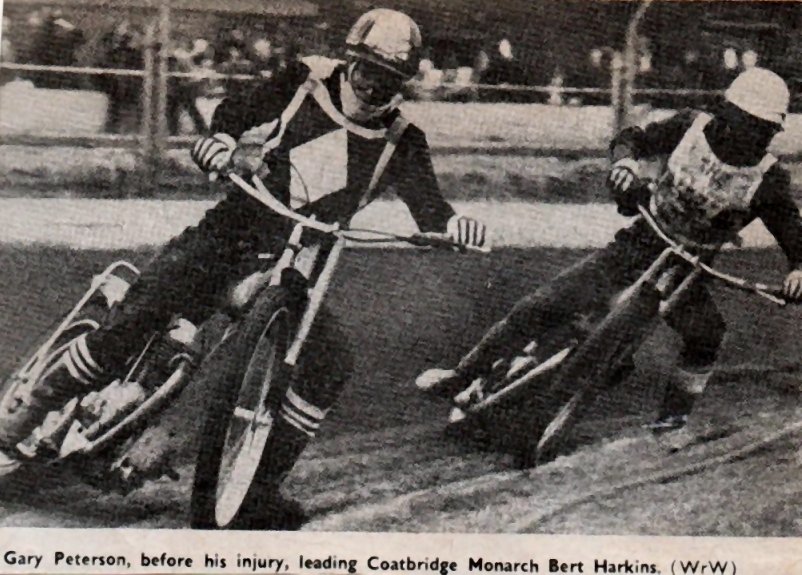 Courtesy of Ted Hearns
---
Home:
---
The contents of the site are © and should not be reproduced elsewhere for financial gain. The contributors to this site gave the pictures and information on that understanding. If anyone has any issue or objections to any items on the site please e-mail and I will amend or remove the item. Where possible credit has been given to the owner of each item.