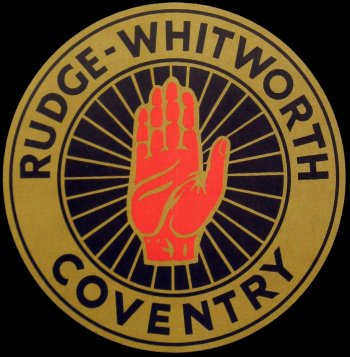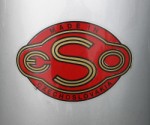 ---
The 1960's - Part Four

The Peter Kelly Story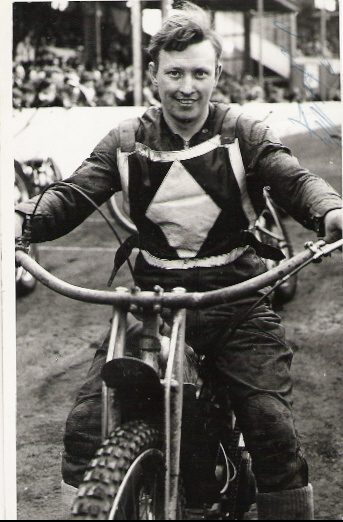 Peter and his daughter Helen Marshall (nee Kelly) have been in touch with me. The site now has so much about Peter that this separate page has been devoted to show it all. After Peter's memoirs are the many photos Helen sent to me. Please don't reproduce them for financial gain without obtaining permission.
Berwick's club icon Dennis McCleary says; Hi John, I made contact with Peter's son David near Christchurch NZ Peter and Moira are doing well. They live 8 miles from David. Peter is 83 in May.
John says: Hi Dennis, Thank you for the above info, supporters of Berwick and Newcastle will be pleased to hear PK is doing well. I remember watching some meetings in really murky/dark weather and I could always spot Peter by his white scarf flapping in the wind. I am writing this on the eve of the 2018 season. I hope the promoters at both north eastern venues see plenty gate receipt money all season!
---
Helen writes on 15th August 2007. Hi John, Thanks for getting back to me so quickly I have had dad over here today looking at the web site, for the pictures you would like to be named dad says the 1st picture is Slant Payling (most likely wrong spelling) the 2nd he recognized the face but can't think of the name sorry the 3rd is Don Wilkinson and that is all he recognized.
As far as his memoirs goes I know dad well enough to know he wouldn't write anything to you so I got a tape set it up and talked him into doing a sort of interview with me so that I could write it all down for you, I hope this was the kind of thing you wanted:-
Peter Kelly was born in Denton, Manchester in 1935. He used to cycle speedway for a while but liked speedway motorbikes so he wrote to Johnny Hoskins asking if he could work in the pits as he thought that would be more fun than just watching - that's how he got to work and he helped Jack Parker at Belle Vue as a young boy for a couple of years.
His first novice race happened because one of the novices didn't turn up so Dad got a bike, went out, fell off and damaged his leg. He thought "well, that's it". Some years later though he put a bike together starting from a frame and wheels of Jack Parker's and rode at Ainsdale Beach a few times - he fell off and hurt his shoulder but still in February1960 he went to Belle Vue for a meeting where novices can have a go around the track riding on your own for 4 laps as long as you have a bike, the leathers and sign insurance.
Ken Sharples was the manager then and he told Dad that Mike Parker was having a meeting for the Stoke Provincial League team and invited Dad. Dad didn't go that week but turned up a week later and had a go riding with others; he must have done okay because Reg Fearman asked him to come the next week, which he did and won all of his races. The following week was Good Friday and Dad found himself in the team racing against Liverpool - he won 3 races and was 3rd in the 4th scoring 10 out of 12 points. The following Monday he went to Liverpool where he won 2 races and was 2nd in two races winning a silver cigarette case. After that his racing days just snowballed.
When Dad first joined Stoke it was a 'weakish' (as Dad put it) team. Dad said, "not that I would have noticed being such a novice and weakish rider myself." However, Les Jenkins who used to ride for Stoke came on board, then Ken Adams who had been riding for Oxford came back and captained the side. So according to Dad, "we were doing all right with the likes of Reg Fearman, Les Jenkins, Ken Adams, Ray Harris and later on Brian Craven". Dad rode at Stoke until August 1961.
Then he was transferred to Belle Vue. Dad says, "Looking back it was the worst decision I could have made. I hadn't got enough experience to go there and more importantly my equipment just wasn't up to scratch. You can be the best rider in the world but if your equipment won't go you simply aren't going to win."
Dad was at Belle Vue in 1962. Here he found himself with the top riders in the world like Barry Briggs, Ronnie Moore, Arne Panda, Gordy Norman, Cutzie Noots (the spelling most definitely will be wrong, sorry) these guys came from Sweden or were Danes but they also had top English riders like Nigel Boocock too. Dad says he did win some races but he remembers it was a struggle and he even contemplated quitting (he was working hard at his job, with a wife and two babies to support). In the last 6 weeks he transferred; actually he had had two offers - one from Bill Bridget who offered a place at Wolverhampton and the other from Mike Parker with the Newcastle Diamonds.
Peter joined the Newcastle Diamonds in 1963. He decided to join up with them as his mate Bob Duckworth was joining up at the same time, Ivan Mauger was there and he'd always liked the Geordie crowd. He stayed with the club until 1967. I know he had a really fun time there. He always got on well with his team mates and management.
I asked him who was his favourite rider to be paired with and he told me Brian Craven because he was always easy going. I asked him if he had a favourite starting position and he told me the inside gate (number one) was always the easiest so that was the best place to be but after that he didn't really have a best spot. He used to race twice a week at home on Mondays and one away meeting. If you look back in the programmes you will see that his scores were always well up there, I know he wouldn't say this himself (it's not his style) but he was a good member of the team scoring good points for the Diamonds. I know he also rode against the Russians for England. He liked the supporters too and I can remember mum saying he would often stand for ages signing autographs, until everyone's were signed and he was always jovial with them.
Bikes
His bikes are what I think is a funny topic. He did tell me a lot of guys did their own bikes; it cost too much otherwise and Dad was no exception. In the earlier days it was a bit of trial and error too as he didn't have all the knowledge - he recalls when he rode at Belle Vue he had a cracked frame. You just couldn't race with it like that, so Howard Jackson welded a piece of metal from left to right around it and he raced like that for ages. At the start of the season (in 1964?) he was riding in an away meeting at Meadowbank, Edinburgh. He'd just bought a new frame which was a big deal. In the first race, as he took off Bert Harkins reared up and hit him, purely by accident...well, Peter fell off and the bike went smashing into the fence. The diamond (talking about the bike!) was all right but it smashed the forks. Dad remembers at the time thinking "Bloody Hell !!"
Tracks
His favourite track was Newcastle. As he explained, you always knew your own track the best because you rode it each week, but his other favourites were Meadowbank Edinburgh, Glasgow, Wolverhampton and Newport. His worst track was Exeter, it was large enough but had ruts due to water running down at the top end - it meant you had to get your bike in the right place because if you hit a rut it could give you a big wobble or worse you could smack into the fence.
I asked him for a bit of a story to give you from when rode for Newcastle and he told me of an away meeting that was being held at Meadowbank in Edinburgh. It was the last race of the match and a pretty important one too as the other team had to win to draw the match. As the riders approached the line, gate 1 was George Hunter, gate 2 was Peter Kelly, gate 3 was McKeown (Dad can't remember his first name but he remembers he was a New Zealander who used to ride for Swindon) and gate 4 was Brian Brett. (The Edinburgh rider was Kiwi Colin McKee.) I'll put the story into dads own words:
"Bang, we were off! Hunter got away and I got in behind him on the line, I could see Bretty coming on the outside of me and this McKee was trying to push him out. He (McKee) was being a bit rough, but he couldn't quite push Bretty - his bike was too far ahead, and if he had tried any harder his front wheel would have hit Bretts back and he would have sent himself flying at the embankment. I was going past him on the inside and when he realised this he tried to change tactics and chop across my front wheel. I was on the line and had no intention of stopping so I braced myself, we collided, I went down the straight, he went flying off, just missed Brettys back wheel and hit the fence. Up in the air he went flying, knocked hell out of himself, knocked all the stuffing out of himself. So the race had to be started again and he was excluded. He tried to blame me but I was having none of it, I said I was on the line, you came onto me!
As we came back up to the start again the crowd was going wild - they were booing, throwing stones and spitting, they were awful. Bang the race was off again. Brett and me were all over George who had a lot of pressure on him, Brett got around him and I was right behind him. George panicked and dropped it (the bike) so we scored a 5-0 and won the match. The crowd hated me - only saw what they wanted to, of course! I quickly loaded my bike onto the car while the last of the scratch races were being run. By the time I'd had my shower and was ready to go with my leathers in my bag I needed a police escort out that night, to protect me from the crowd."
Keith Dyer says: Enjoyed the Peter Kelly feature. For your interest or to add on the site. Peter was right about Edinburgh. It was 26 June 1965 scores were 36-36 and Newcastle got a 5-0 to win 41-36 Peter had a poor night until then with 2 efs and a third. I was there but can't remember it!
Colin McKee himself says: In regard to your enquiring about the "incident' between myself and Peter Kelly, of course I remember it quite plainly. Edinburgh was at home to Newcastle and in that particular race I was out in front coming out of turn 2, I lost a bit of drive, Pete Kelly was on the inside and we touched, I guess it was his footrest broke my primary chain, I coasted around and didn't want to get off the track, hoping for a re-start (as you do!) however, no red lights came on and I pulled off. The Edinburgh supporters were quite vocal to poor old Peter and gave him a hard time which was a shame 'cos he is a really nice bloke.
Years later Dad rode for Berwick (end of 1968, 1969 and 1970) and the manager Elizabeth Taylor didn't gel well at all with Dad; she was a Scot and let him know why - she was there that night and told Dad she blamed him. Dad still says it wasn't his fault, McKee did it all to himself!!
Dad rode for the Newcastle Diamonds until June or July 1967 when he had a real bad accident at Hackney Wick. He remembers Colin Pratt, Mike Watkin, and himself in the race but didn't remember who was the fourth rider. He smacked into the fence and fractured his skull. He had to take a whole year off riding because it took him a long time to get over it, as it was very serious. When he went back to riding he went to ride for Berwick. When he finished up in 1970 (he's not too sure which year he finished - he says 1970/71), he never kept in touch with anyone or went to races, although I can remember visiting Spencer Oliver and his wife who was a photographer, but that was all.
For Dad he got a thrill out of riding the bike; it was all he was really after. He liked the power of the machine and enjoyed the slide on the corners. According to Mum he actively avoided any kind of reporters - he just wasn't into that sort of thing, didn't want to show off (that's how he felt). He must have been a nightmare for them - he's always been a bit private. He says he loved the crowd so I guess that must mean he liked the noise and the buzz being at the line up, although he must have loved Newcastle people because he moved us all down there in 1964 and I lived my childhood in Newcastle upon Tyne!
For me personally, I wish I could have seen him ride at Newcastle. I do have memories of him riding but they are probably from when he rode for Berwick. I can remember him working on his bike in the garage at home, and sometimes his frustration at not being able to get it going. When he chucked his tools around we'd go off and play somewhere else. I loved travelling to away meetings with the bike in the back of the car coz young guys would toot at us as they passed or wink and for some reason this made me feel very important. It also meant we'd be allowed to stay up late and get fish and chips on the way home for tea. But my favourite memory were the bikes warming up in the pits before any racing had started - I for some reason loved that smell.
Helen Marshall.
John says: Thank you very much Helen. Peter Kelly was always very well liked at Newcastle. Your "interview" with your dad is one of the best speedway pieces I have seen.
---
Peter At Belle Vue
In 1960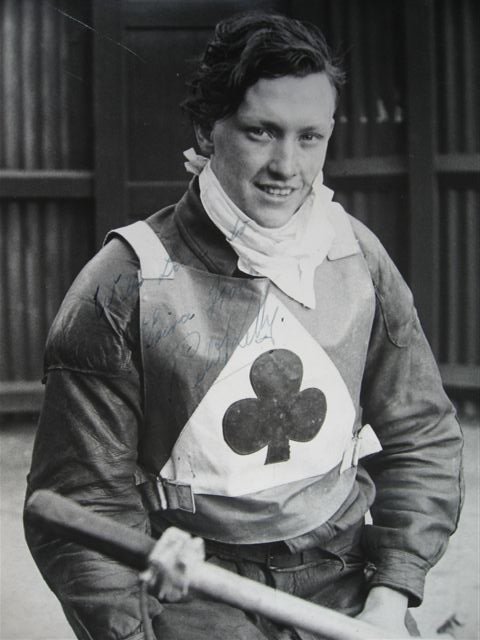 Young Peter where it all began for him - Belle Vue in 1960
---
Peter Learning The Hard Way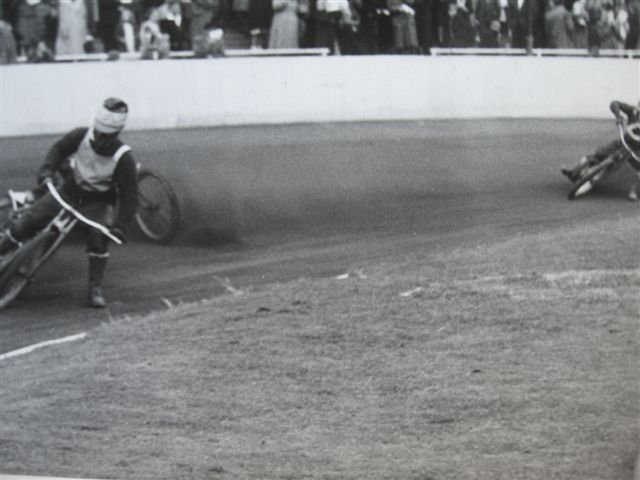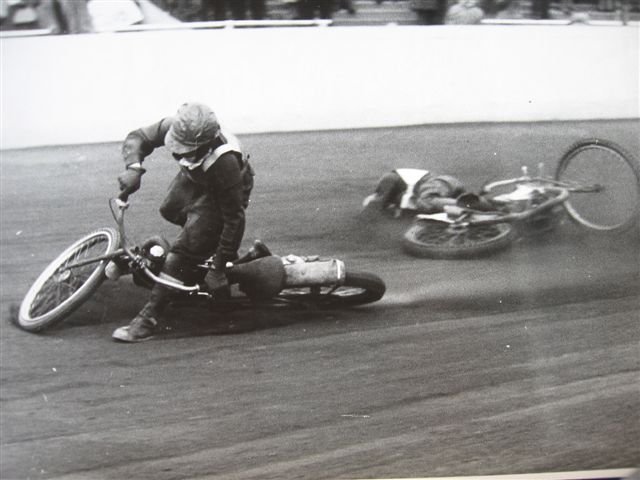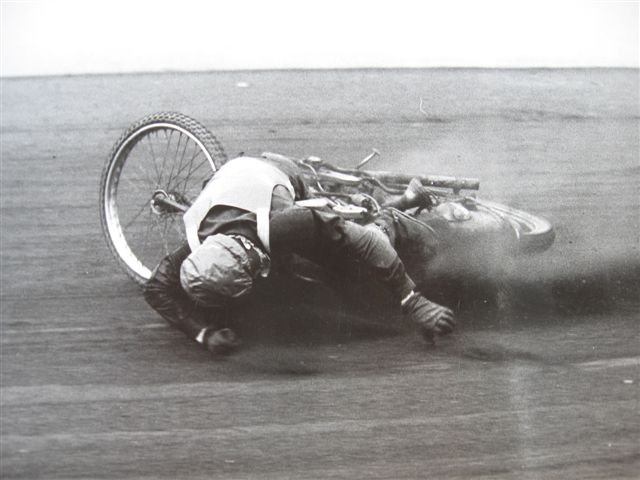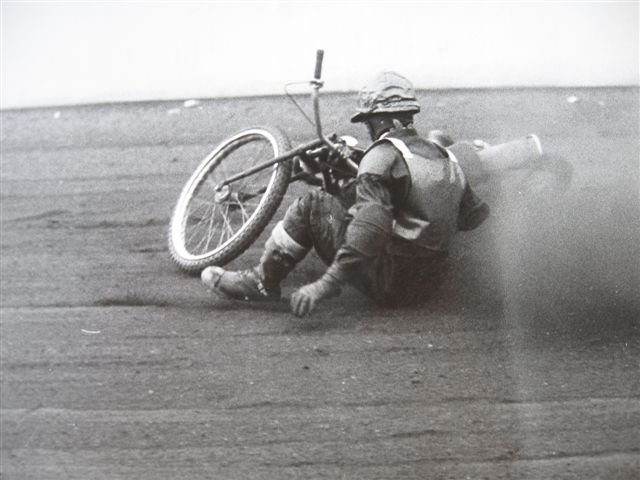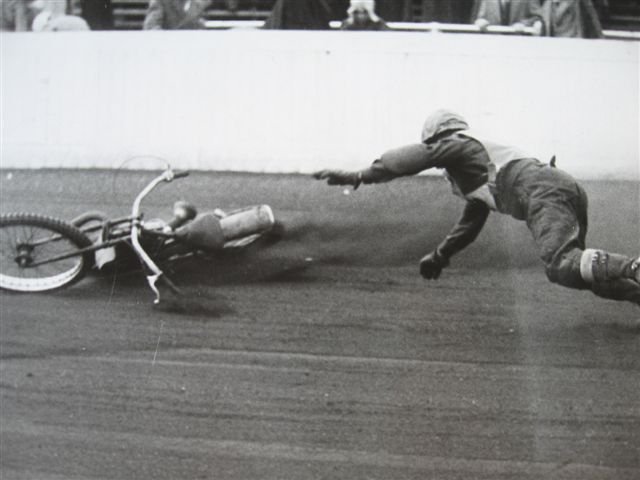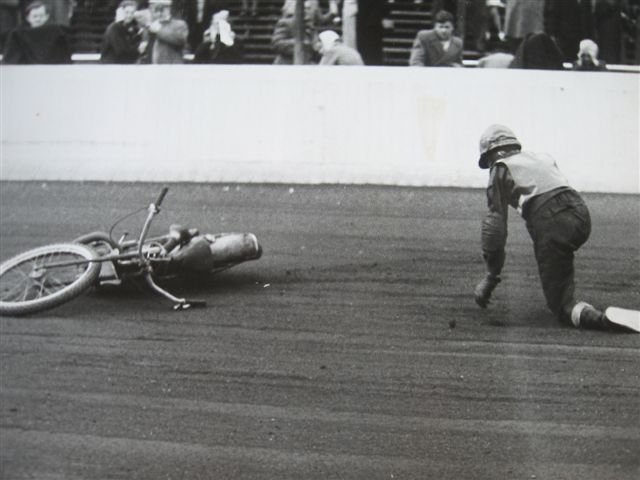 The 6 shots shown above feature PK at Belle Vue Zoological Gardens. "Aping" about you might say!
---
Peter The Diamond

After Learning
The Trade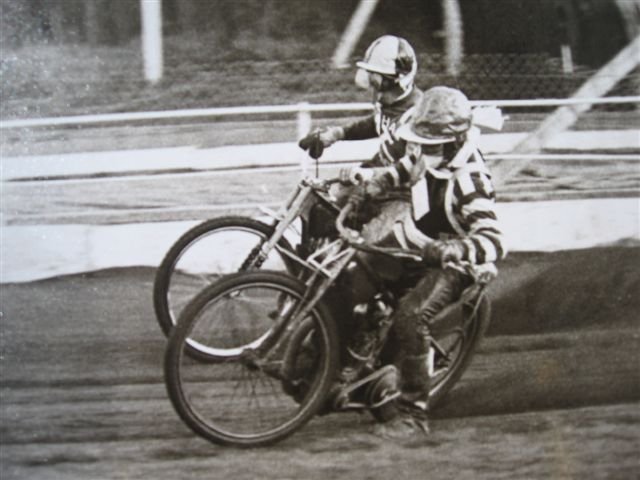 Peter after he had learned the trade heading England no1 Malcolm Simmonds
---
Peter in Action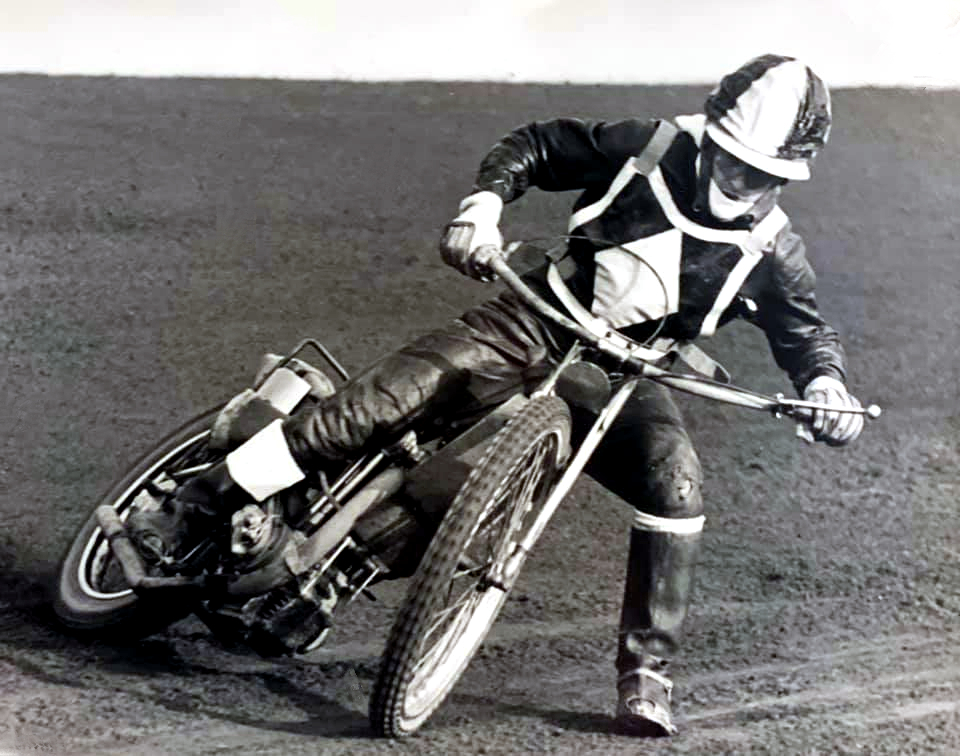 Courtesy of David Kelly
---
Ken Sharples &
Peter Kelly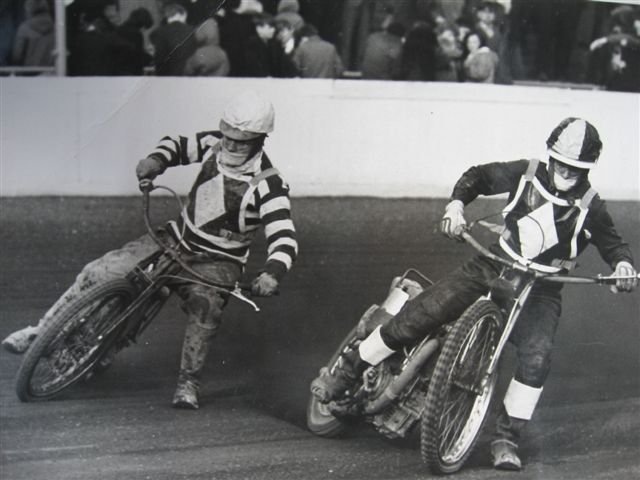 ---
Belle Vue v Newcastle
Dick Fisher,
Peter Kelly &
Sandor Levai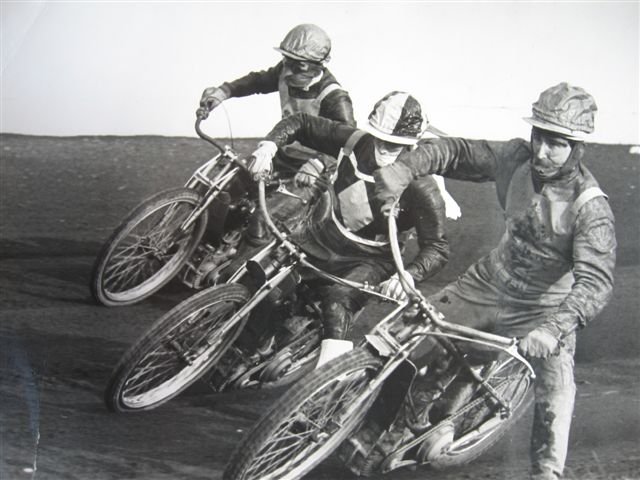 ---
Peter Kelly At
Brough Park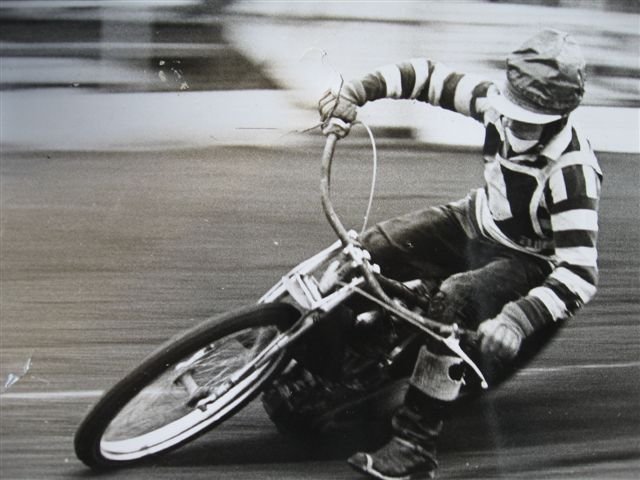 A great shot of Peter at Brough Park
---
Newcastle v Poole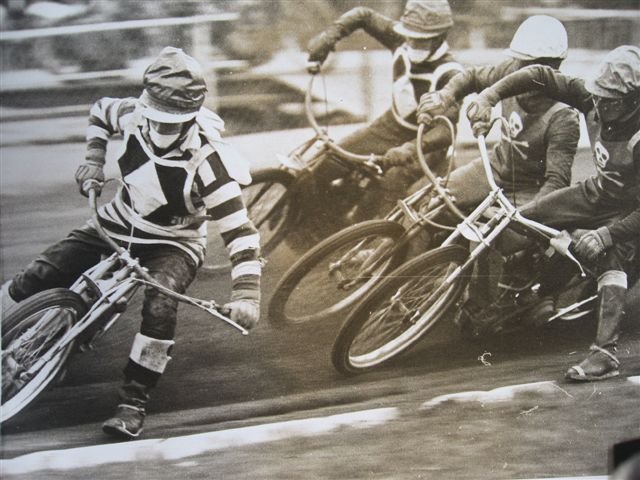 Newcastle v Poole. Peter leads from Russ Dent and Geoff Mudge. Young fans will be amazed by the big handlebars, necessary on deep tracks
---
Peter Messing About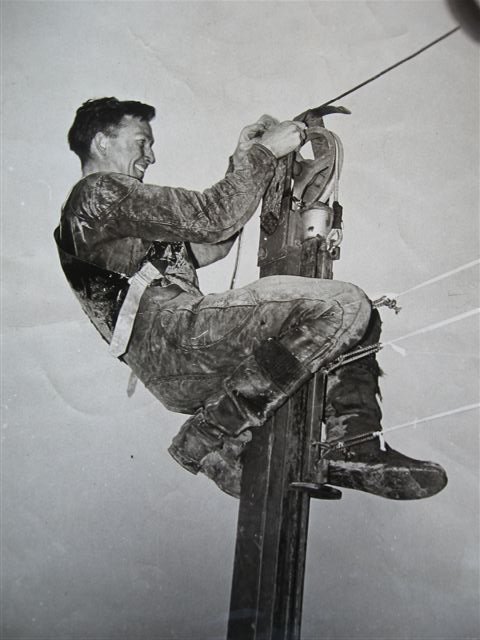 Peter messing about! That is promoter Mike Parkers tie that Peter has up there! Mike was livid as he had to spend money on a new tie. He probably docked Peter's wages!
---
Provincial Riders Championship Round
Peter Kelly
15 Point Maximum!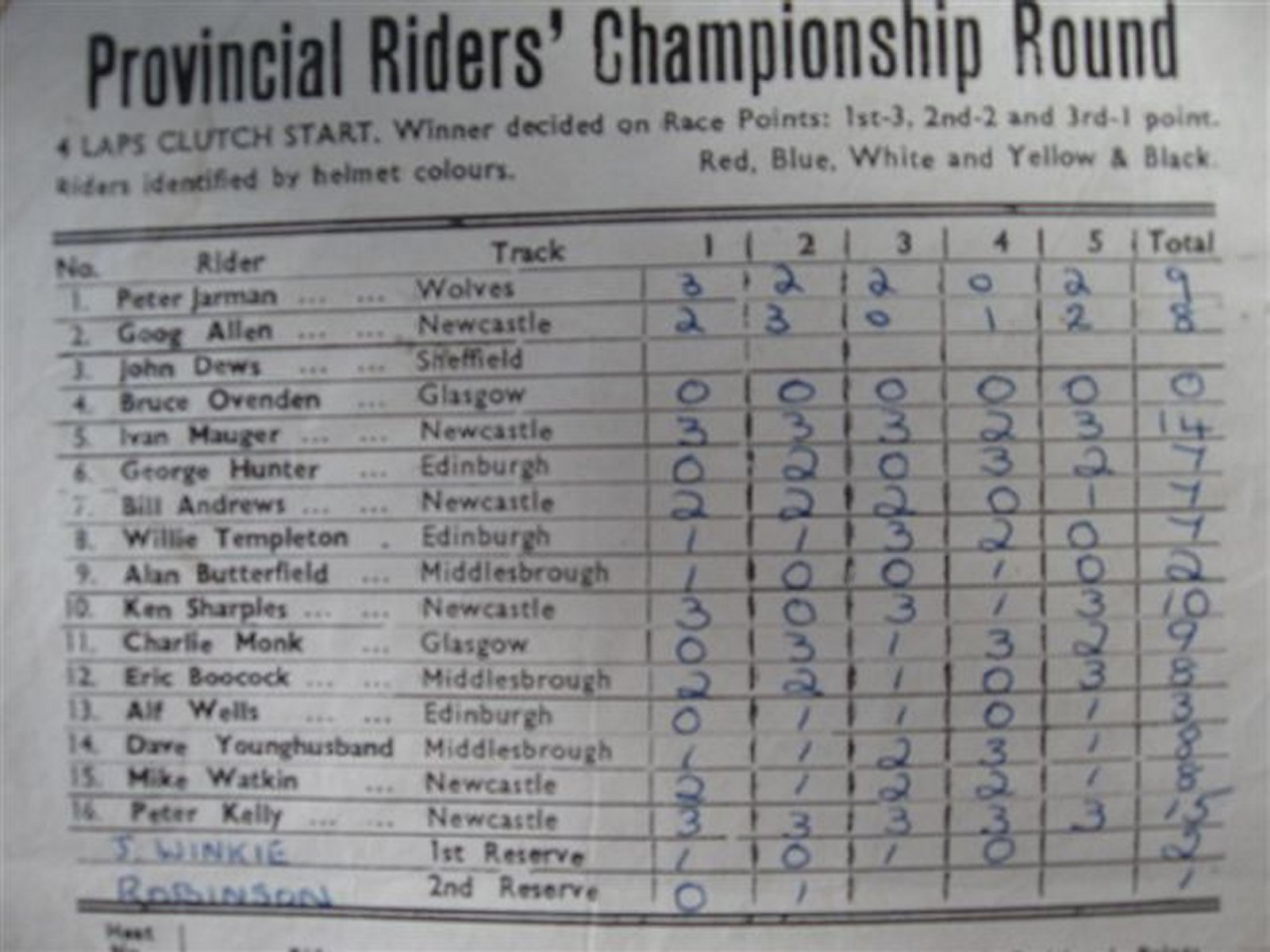 ---
Brian Brett &
Peter Kelly
At Belle Vue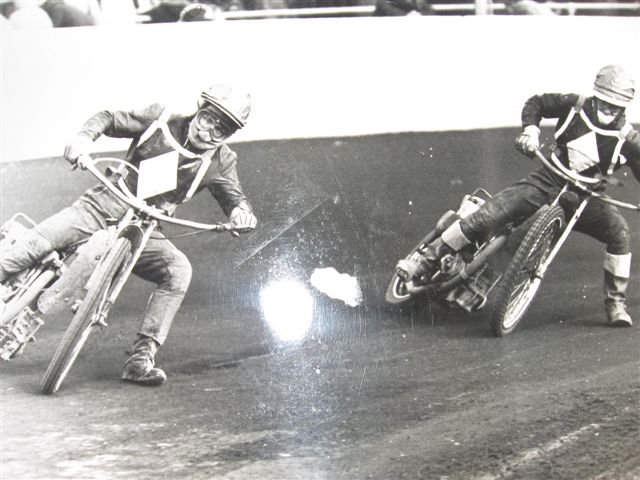 ---
Russ Dent,
Nigel Boocock & Peter Kelly At
Brough Park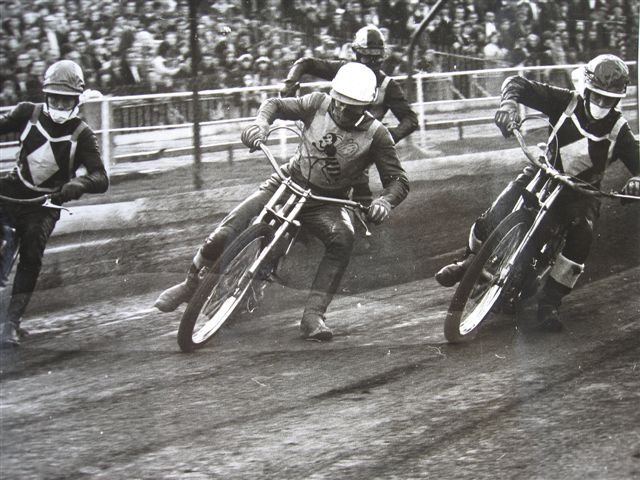 ---
Peter Kelly Leading
Cyril Maidment
At Belle Vue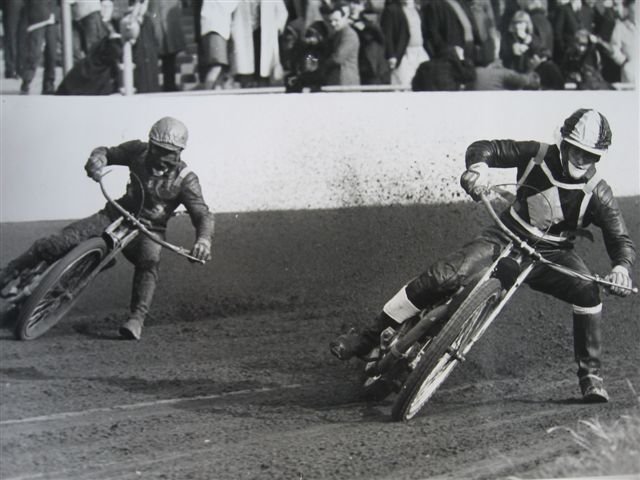 ---
Peter At Brough Park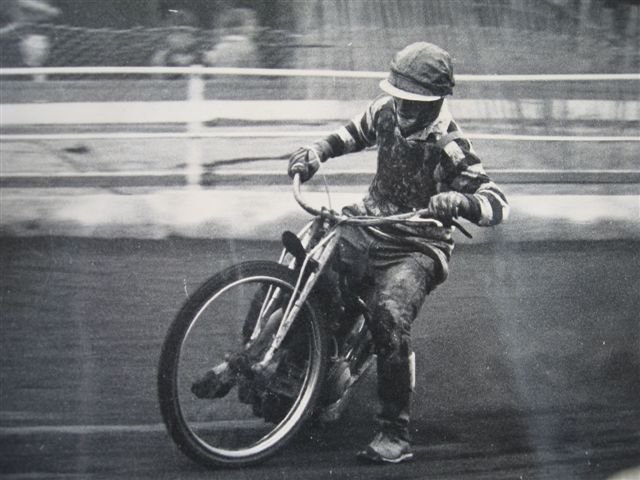 ---
Peter Kelly Heading
Brian Craven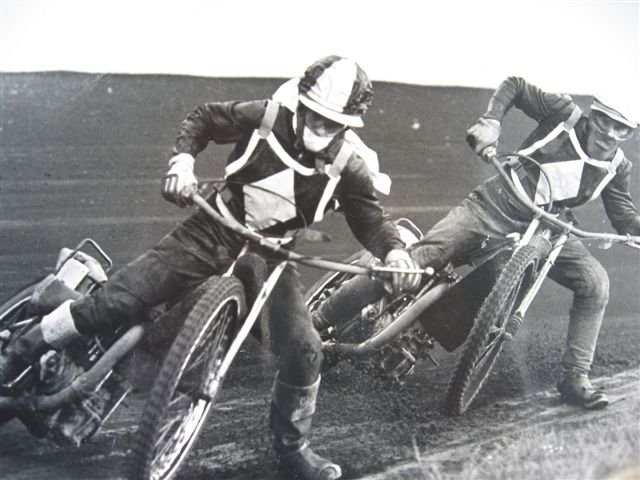 ---
Peter Kelly &
Ivan Mauger
In Christchurch NZ 2009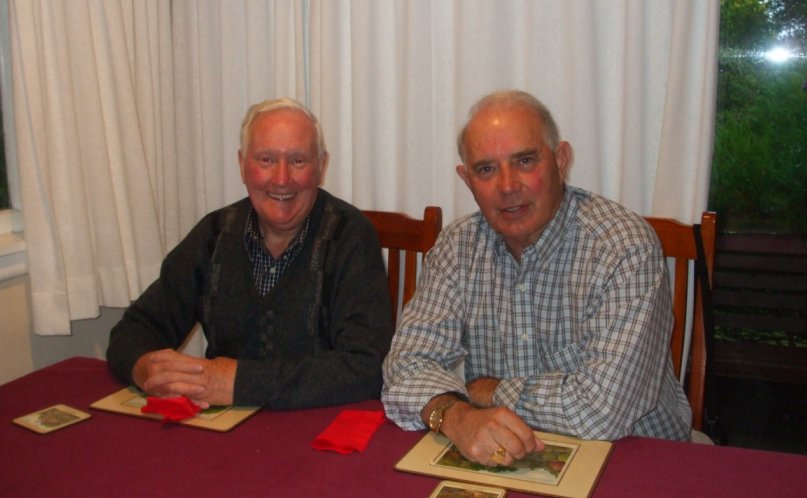 Courtesy of Ivan Mauger
Peter Kelly with Ivan Mauger at Larry Ross's NZ home
Peter Kelly,
Ivan Mauger
& Larry Ross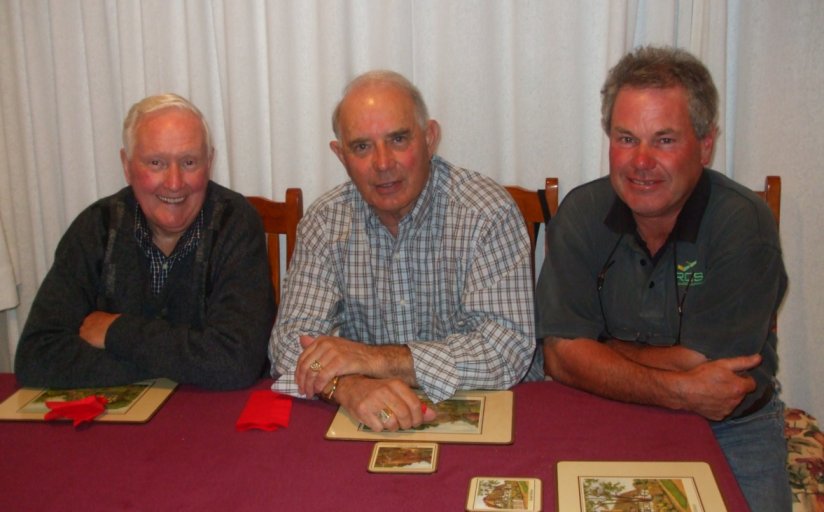 Courtesy of Ivan Mauger
Peter Kelly with Ivan Mauger and Larry Ross at Larry Ross's NZ home
---
To continue Newcastle's Speedway History click Part 5 Ivan Mauger
Home:
---
The contents of this website are © and should not be produced elsewhere for financial gain. The contributors to this website gave the pictures and information on that understanding. If anyone has any issue or objections to any items on my website please email me and I will amend or remove the item. Where possible credit has been given to the owner of each item.