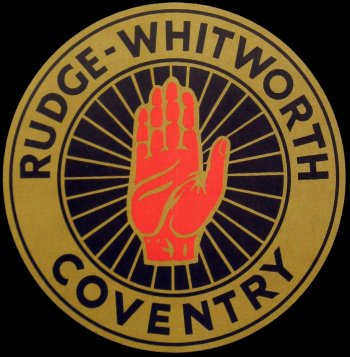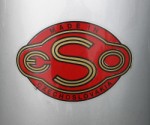 The 1960's - Part Six
Dave Gifford"
Giffy"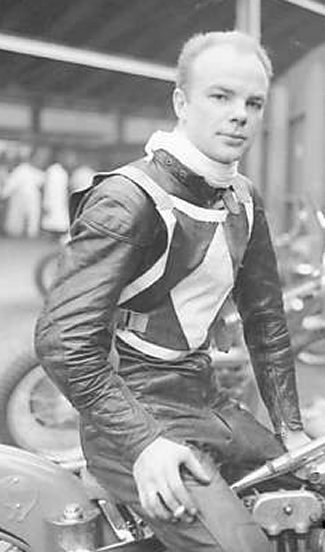 Giffy rode for Newcastle for 6 years, 1965 - 1970 and when the shutters went up at Brough Park at the end of 1970 he decided to ride in California for the whole of the 1971 season. After his year out he rejoined his old boss from Newcastle, Mike Parker at Wolverhampton but it didn't work out for Dave so he tried his hand with Coatbridge, which by all accounts was good for him. 1975 came around and Newcastle made a comeback with Ian Thomas, but without Dave, who had signed for Berwick and stayed there for 4 seasons.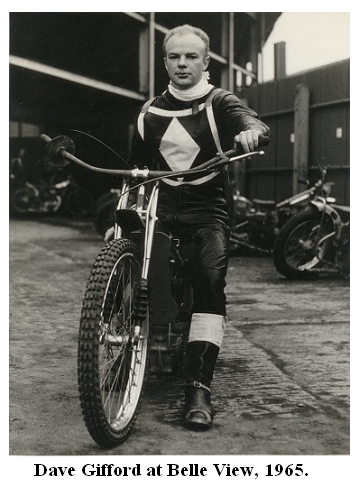 Er! whoever put the text on the above picture is not the world's greatest speller it should read Belle Vue 1965!
Dave Gifford was without doubt, one of Newcastle's best assets. Giffy came to us from his adopted home New Zealand and he settled in well on Tyneside, developing a love for Newcastle Brown Ale (allegedly!) He was an instant hit with the fans, we all had his autograph even before he had won anything! He eventually did the business and got points for the team when they mattered. He was a bit of a wild man but never dirty as a rider. Giffy was involved in lots of exciting races and he gets my vote as the 1960's Mr. Entertainer.
Dave is active still in NZ., not riding though, he exhibits bikes, memorabilia and trophies, mainly Ivan Mauger's around his native NZ and restores old speedway bikes. I have seen evidence of Giffys restoration work, he is exceptional at it in my opinion.
Most of the pictures on this page are from Giffy's own collection, thank you for sharing them with us Dave.
---
Ivan (The Clean One!)
& Me (Giffy)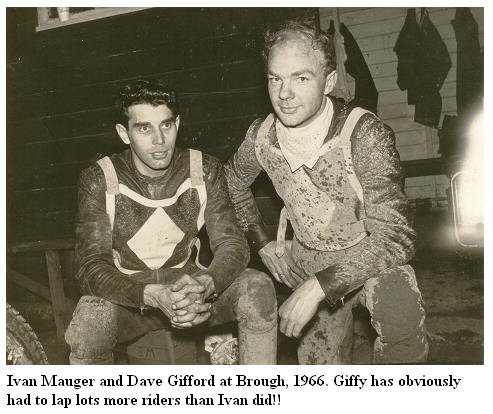 Hmmmm? I think we know why you're covered in dirt Giffy and Ivan is spotless! But then again you maybe entertained us more than the great man did by coming from the back a lot?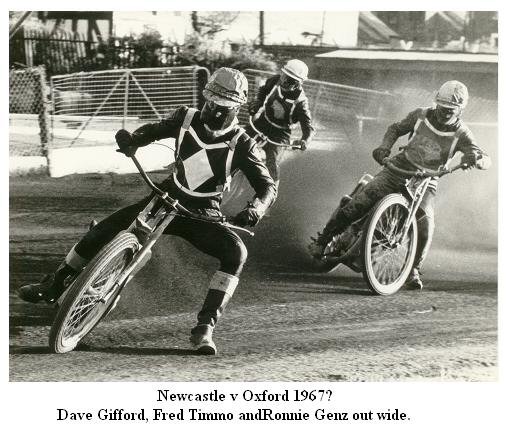 ---
Dave Gifford
In a Good Mood!
1969
Giffy with a goatee, "Handsome Dave," posing like a film star for this picture! What follows below is the guy's tribute to us all on Tyneside. Dave is an "adopted Geordie" and it is clear he enjoyed being here from 1965 - 1970
Newcastle's 80th Anniversary


1929 to 2009
Giffy says: So there has been 80 years (He wrote this in 2009), of Speedway at Newcastle, I find that a rather humbling thought. Think of all those great riders of the past who must have raced there in front of the greatest bunch of speedway supporters in the world and all the history they created, it really is a remarkable achievement.
They say you never forget your first girlfriend but I have and a few more besides, but I've never forgotten the first British Team I rode for, that is something you remember for ever if the team happens to be the Newcastle Diamonds.
I've always considered myself most fortunate to have spent five magical seasons at Newcastle and although I can't be with you in person my thoughts are most certainly with all the wonderful people on Tyneside who were responsible for memories that don't fade, even with the passing of time.
I hope the Celebrations are a huge success and may the Brown Ale flow like the Tyne itself, HAWAY THE LADS!!!
Peace, Giffy
---
1966
Newcastle v Wolverhampton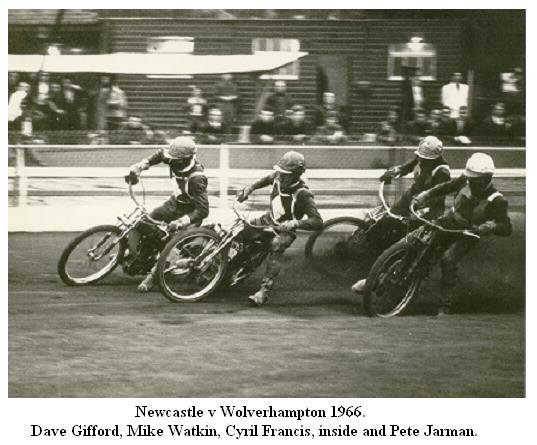 Giffy In 1966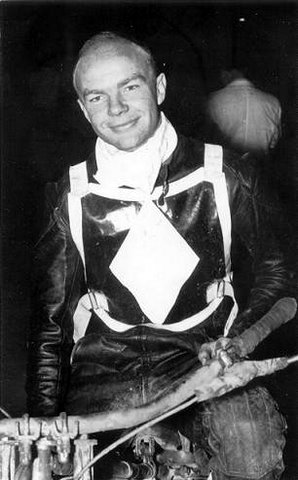 Courtesy of Dave Gifford
Dave obviously won all his races that night to finish in such a clean state!
---
Newcastle v Gornik (Poland)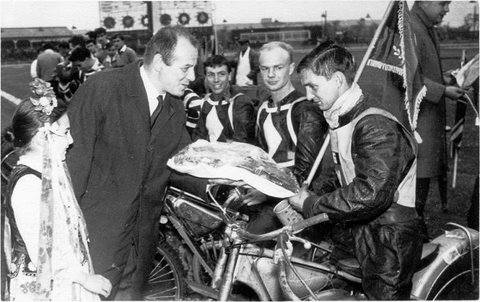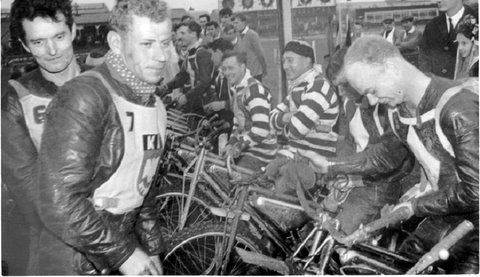 Courtesy of Dave Gifford
Polish tourists Gornik. Left hand photo with Brian Brett centre next to Giffy. We think the guy with the flowers is Antonin Wyglenda.

Above Right: Another pic of Gornik's visit to Brough Park. 1965 or 1966? and It might be Pogorzelski on the left, not sure. Not sure how to spell it either!
---
England v
New Zealand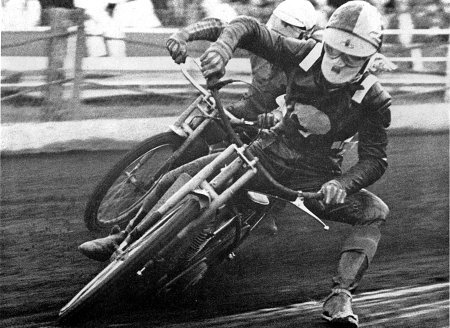 This photo was in the November 1969 Speedway Post. Do you think it was taken at Brough Park? If it was then, it would be the England v New Zealand match on August 18th 1969. Giffy did very well scoring 14 points from 6 rides. He rode Number 4 and Ronnie Moore rode Number 3, so I guess thatís Ronnie on the outside. The final score England 47 New Zealand 61. Giffy has dual nationality so he could have ridden for England and his old country could have done with his 14 points!
---
Edinburgh
Coatbridge v Newcastle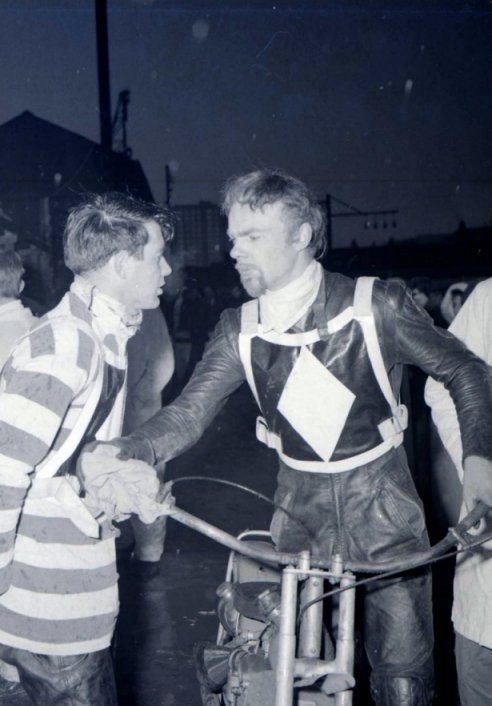 Courtesy of Dave Gifford
Ivan Mauger chatting to a mean and moody looking Dave Gifford at Old Meadowbank
Peter McCann says: This item should read Coatbridge v Newcastle'.
---
"Sprouts" & The Dane
By Giffy
What follows below is Dave Gifford's account of Ole Olsen and Ivan driving back home from an an open meeting at Wimbledon, a big open meeting he says, so maybe it was the Internationale or the Laurels?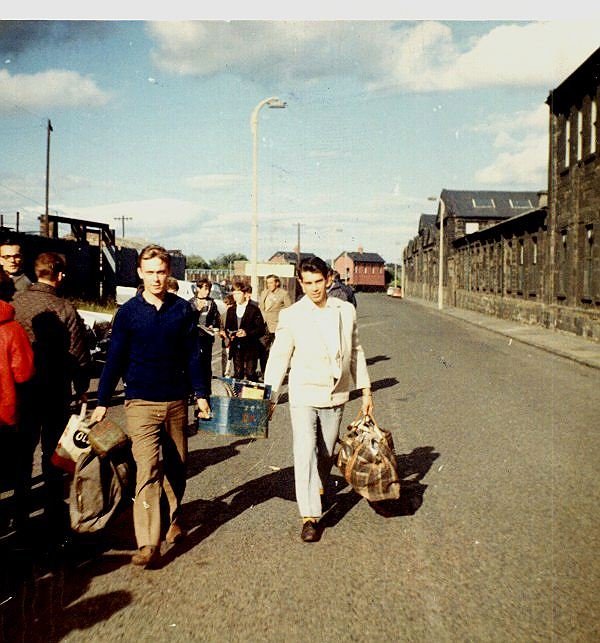 Ole and Ivan 1968
Giffy says: This happened sometime around 1968 when Ivan, Ole and I were riding for the Newcastle Diamonds. Both Ivan and Ole were invited to ride in one of Wimbledonís big open meetings, the Internationale or maybe the Laurels and to cut the costs they shared a car and took Ivanís trailer. For reasons that are still not quite clear Giffy was not invited to ride in the big meeting, but the story is still pretty good even
without me in it.
(John Skinner says: We all know you should have
been invited too Dave mate, an oversight and a massive blunder by Wimbledon.
Nearly as big a blunder as they made when they transferred "Sprouts" to Newcastle in 1963)
The meeting ran its course, I donít know who won or any of the details but I do know that after the meeting as they were about to begin the long journey back to the North, Ivan pulled into a Service Station for petrol.
A sweet young lady came out to serve them. Ole was sitting in the passenger seat looking pretty miserable, so Ivan said to the girl "Do you think you could give my mate a quick wink as you go by, he's had a really crap night and it might cheer him up a bit?" Well the dear wee thing got all flustered, she turned red and spilt the petrol before she was able to stammer out ďThis is a service station and what sort of a girl do you think I am anyway? Iíve a good mind to call the manager"!
Well, poor old Sprouts! he didn't know what to make of all this, he didn't think the suggestion warranted that sort of response and it wasn't till he'd gone several miles up the road that it suddenly dawned on him what had happened. Whether it was the Kiwi accent or the London lasses ear that was to blame, who knows, but for what ever reason the word "wink" had been misunderstood completely and the poor dear had thought that the request had been for something quite different!!
Which just goes to prove that when youíre a Dane in England and having a bad night it will always get worse before it gets any better?
Cheers the noo Giffy
---
Giffy & "The Dane" Ole Olsen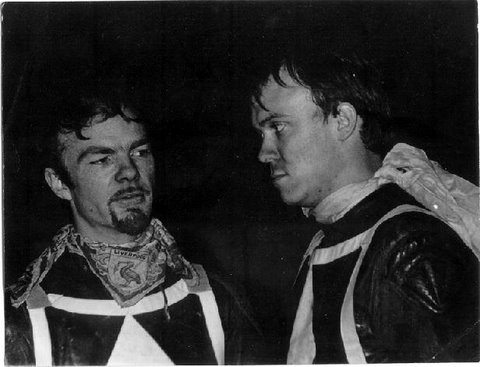 Courtesy of Dave Gifford
---
Murray Burt & Giffy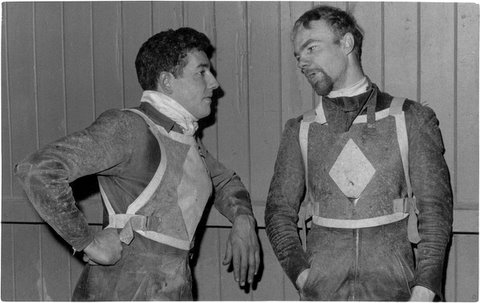 Courtesy of Dave Gifford
Dave could be telling Murray why his diamond was smaller than Murrays!
---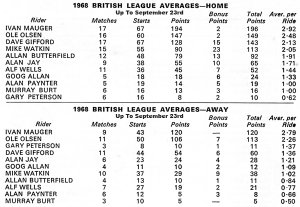 ---
1968

Newcastle Diamonds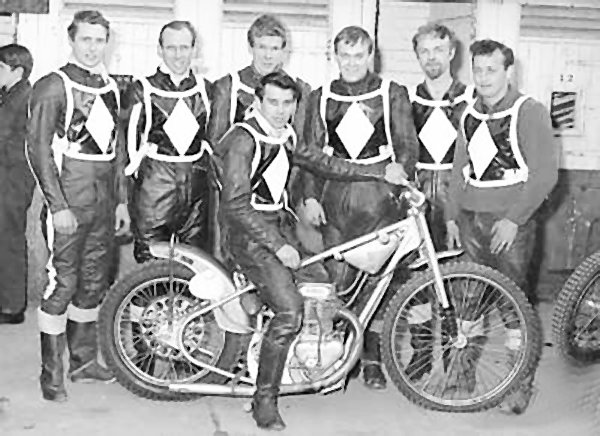 Courtesy of Dave Gifford
Mike Watkin, Goog Allen, Alf Wells, Ole Olsen, Dave Gifford, Alan Butterfield with Ivan Mauger on Alan's Bike
---
Season
1969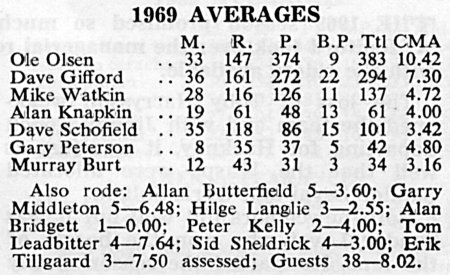 Courtesy of Dave Gifford
A strange looking Newcastle table i.e. No Ivan Mauger! He had transferred to Belle Vue. Ole Olsen was a superb filler for Ivan, at number 1. Dave Gifford was easily our number 2 rider on an average of 7.30 in the very tough British League Division 1.
Ole got the track record down to 70.8 seconds on 29th July 1969. I was a regular at Brough from 1961 to 1970 and I feel 1969 was one of the low points in Newcastle Speedway History. No replacement for Ivan Mauger. Guest riders or rider replacement all season, what a farce! A sad end to the 60ís and the Mike Parker era apart from the riding of Dave Gifford he must have enjoyed his 1969 season.
---
1969
Ole & Dave
At Leicester
Courtesy of David Gifford
Giffy averaged 7.30 but 1969 wasn't a good year for the fans. It is summed up pretty well by the Evening Chronicle's Sam Brooks, as follows: -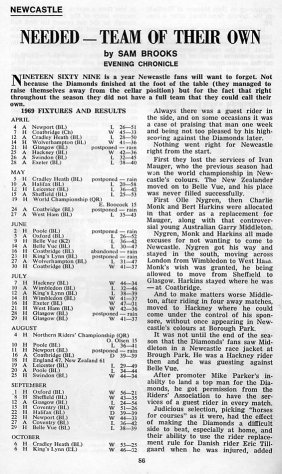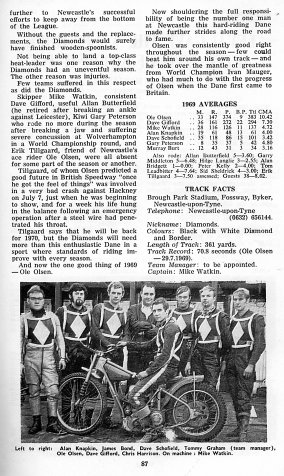 ---
Newcastle At Newport

Norman Strachan leads Alan Butterfield Dave Gifford and Jon Erskine
---
The contents of this website are © and should not be produced elsewhere for financial gain. The contributors to this website gave the pictures and information on that understanding. If anyone has any issue or objections to any items on my website please email me and I will amend or remove the item. Where possible credit has been given to the owner of each item.